This post may contain affiliate links, meaning if you book or buy something through one of these links, I may earn a small commission (at no extra cost to you!). Please see my disclosure.
Is Nashville on your bucket list? What I call home, you may very well be longing to visit. I'll admit – I didn't use to understand the appeal to my home city. However, as I've gotten older…and wiser, I get it. I really do. Nashville has something for everyone. Want to get out and explore the rolling hills of Tennessee? We got you. Want to eat until you burst? Pack leggings only. Want to pose in front of 100+ murals? Better start getting creative with your poses. Want to listen to live music? Man…you came to the wrong place. Just kidding. We've got more than enough music – and get this – not just country music. I've put together this large list (I'll be adding things because I've inevitably forgotten things and Nashville is always changing) of attractions, food, and more to add to your Nashville bucket list.
I still don't want anymore bachelorette parties here though. Mkay?
---
Nashville Bucket List Map
---
Nashville Bucket List – Tourist Attractions in Nashville
1. Hatch Show Print
Hatch Show Print, a working letterpress print shop since 1879, uses its collection to educate diverse audiences and to create iconic designs that express and commemorate America's evolving cultural identity. By maintaining a focus on preservation through production, Hatch Show Print will remain a vital artistic force, working at the highest level of excellence.
Location: 224 5th Avenue, Nashville, TN 37203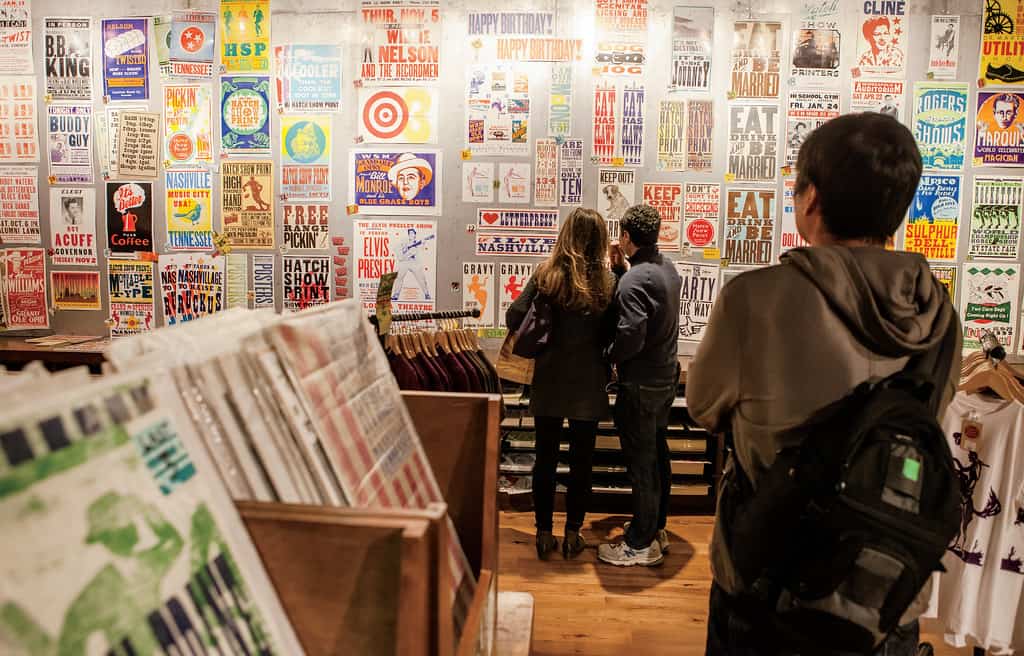 2. Printers Alley
Printers Alley was once the center of Nashville's nightlife and then became the center of Nashville's printing industry. Speakeasies later took up residence here when Prohibition went into effect. Now, you'll find bars and nightclubs in this entertainment district.
3. Grand Ole Opry
What began as a simple radio broadcast in 1925, the Grand Ole Opry showcases a mix of country legends and the contemporary chart-toppers who have followed in their footsteps. The Opry – an American icon and Nashville, Tennessee's number-one attraction – is world-famous for creating one-of-a-kind entertainment experiences for audiences of all ages.
See Ticket Prices
Location: 2804 Opryland Dr, Nashville, TN 37214
4. Ryman Auditorium
A gorgeous building with a rich history. Go to the place where Johnny Cash, Patsy Cline, Hank Williams and many more actually played and where the Grand Ole Opry got its start. A plethora of artists and genres now play at the Ryman nightly. This is a perfect date idea along with these other romantic things to do in Nashville!
Location: 116 5th Ave N, Nashville, TN 37219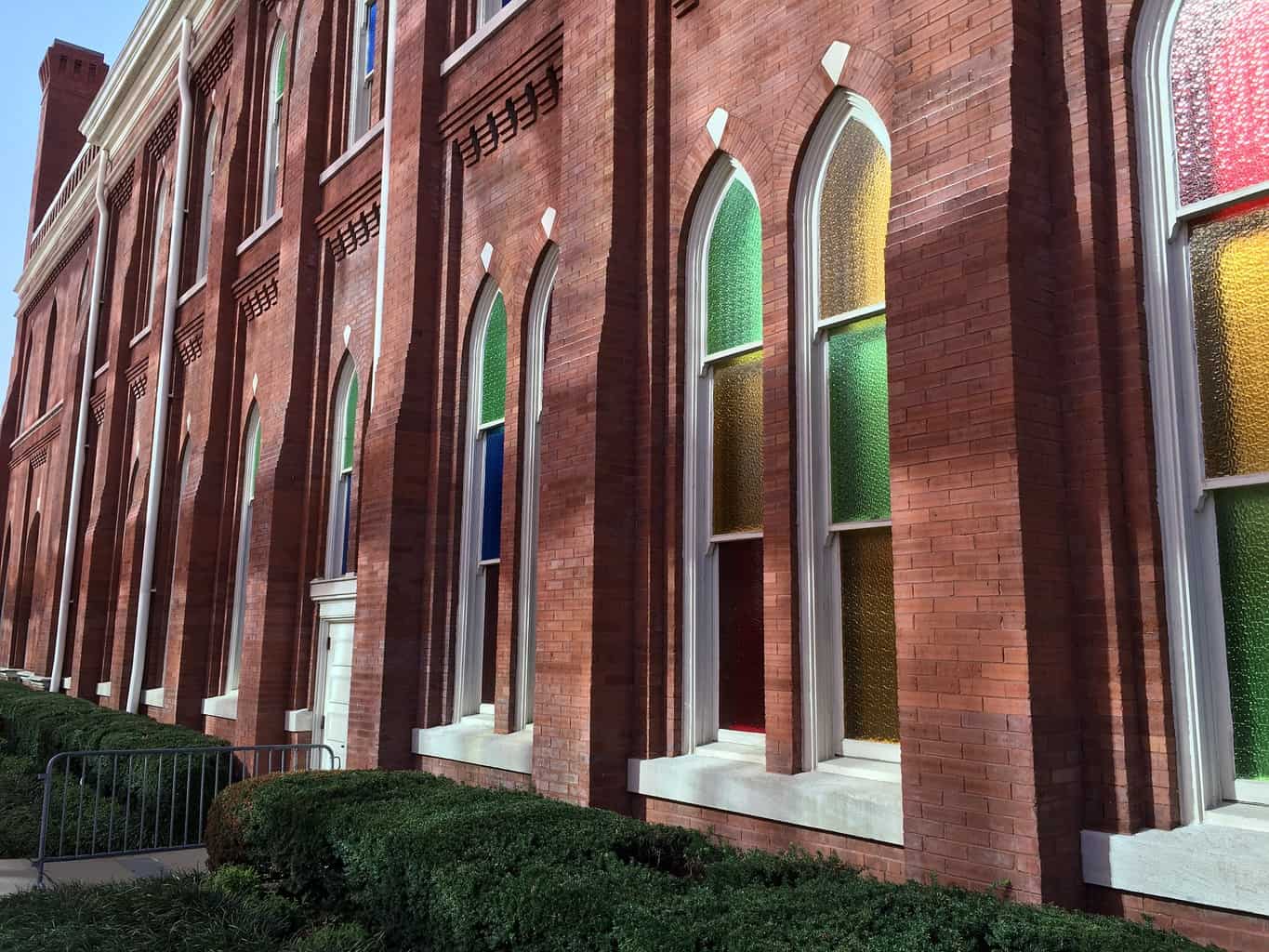 5. Visit Lower Broadway Honky-Tonks
This is probably the most touristy thing one can do in Nashville, but everyone should do it at least once. Bar hop from honky-tonk to honky-tonk where most places have zero cover charge, live music, and dancing.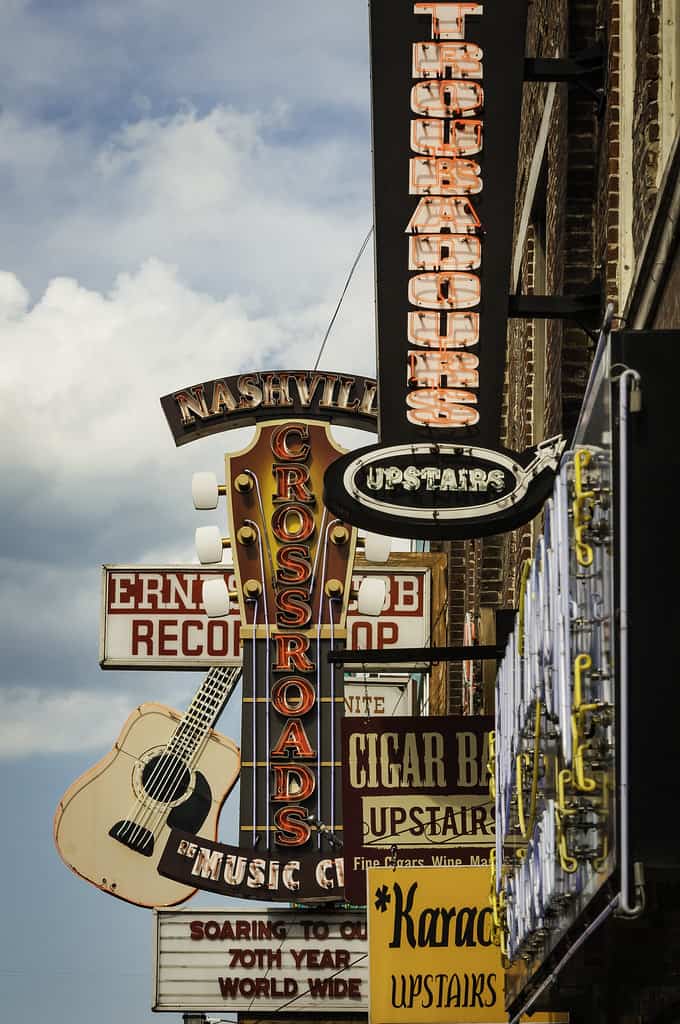 6. Nashville Public Library
Like many major cities' libraries, the downtown Nashville public library is beautiful inside and out. Make sure to visit the Civil Rights Collection – information that pertains to Nashville's involvement in the Civil Rights Movement from desegregating public schools to lunch counter sit-ins. This collection is an assembly of materials composed of primary sources and first-hand experiences.
Local tip: the Nashville Public Library parking garage is one of the cheapest places to park downtown. Also, if utilizing the library, they'll validate your parking for two hours.
Location: 615 Church St, Nashville, TN 37219
7. Walk on Pedestrian Bridge
The John Seigenthaler Pedestrian Bridge crosses the Cumberland River connecting downtown Nashville to East Nashville. It's also the perfect spot to get a fantastic view of the Nashville skyline and capture photos.
Local tip: If there isn't a Titans game going on, parking in Lot R of the Nissan Stadium parking lot is free and is located directly next to the pedestrian bridge making it easy walking distance to Broadway.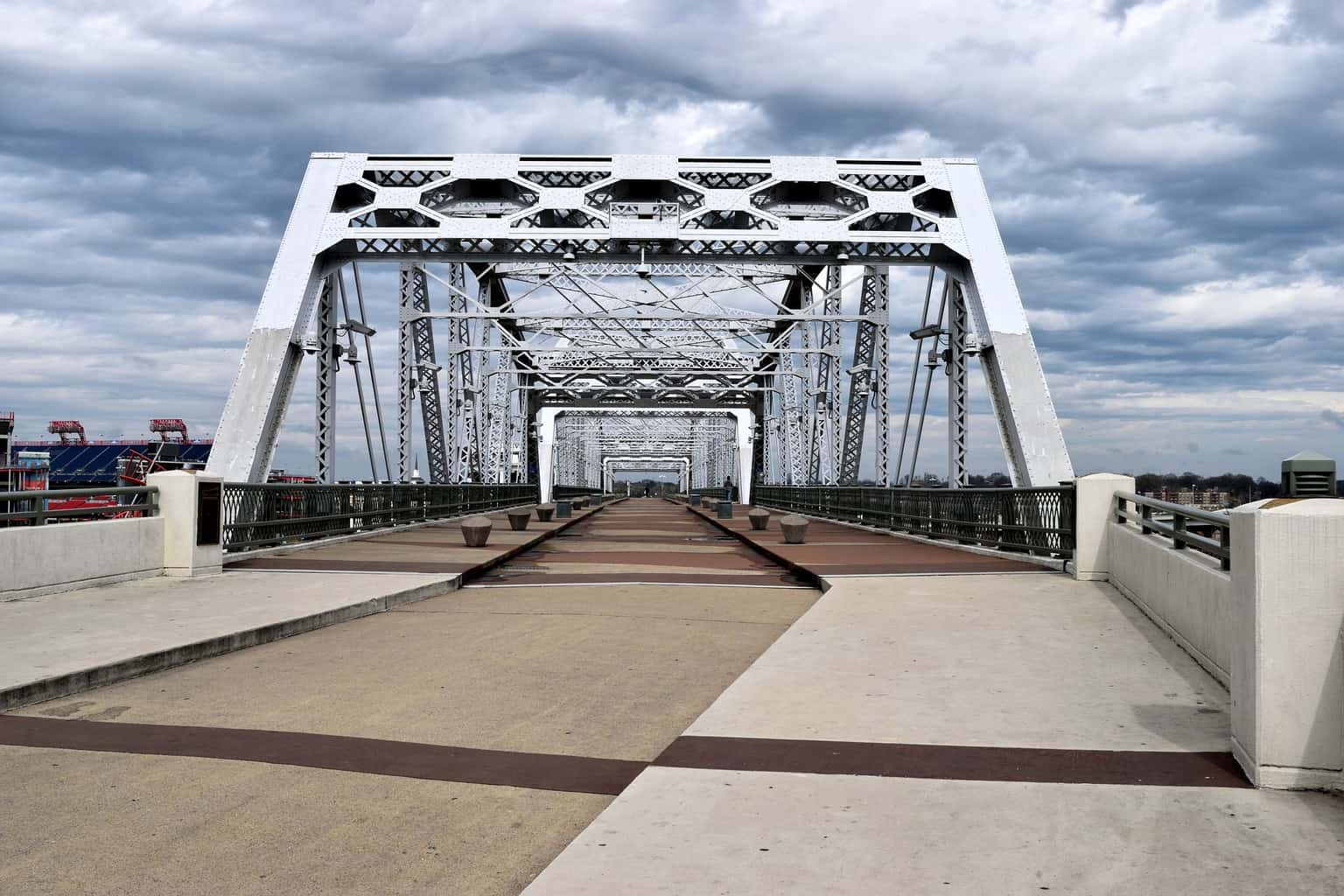 8. Gaylord Opryland Resort
The Opryland hotel is great to visit and just walk around one of the prettiest and most unique hotels in the country. This is definitely one of the best things to do around Christmas time with all of the lights.
Local tip: park in the Opry Mills parking lot and walk over to the hotel to avoid the parking costs.
Location: 2800 Opryland Dr, Nashville, TN 37214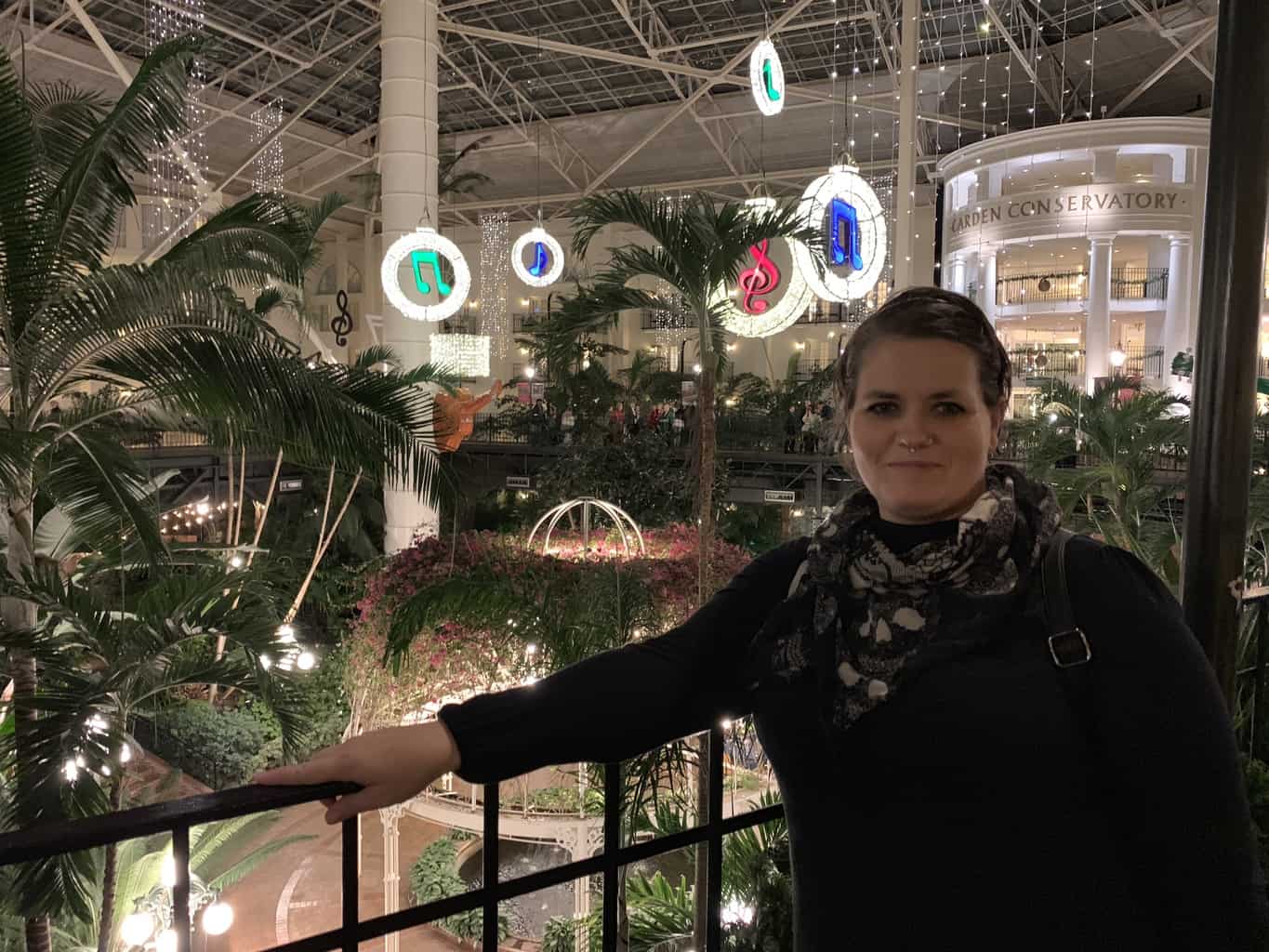 9. Find Street Art
Nashville is full of street art and one of these days I'm going to actually get around to finishing my guide on all of Nashville's street art. Until then, all you really have to do is walk or drive around and you're bound to see plenty of murals. There are probably over 200 at this point.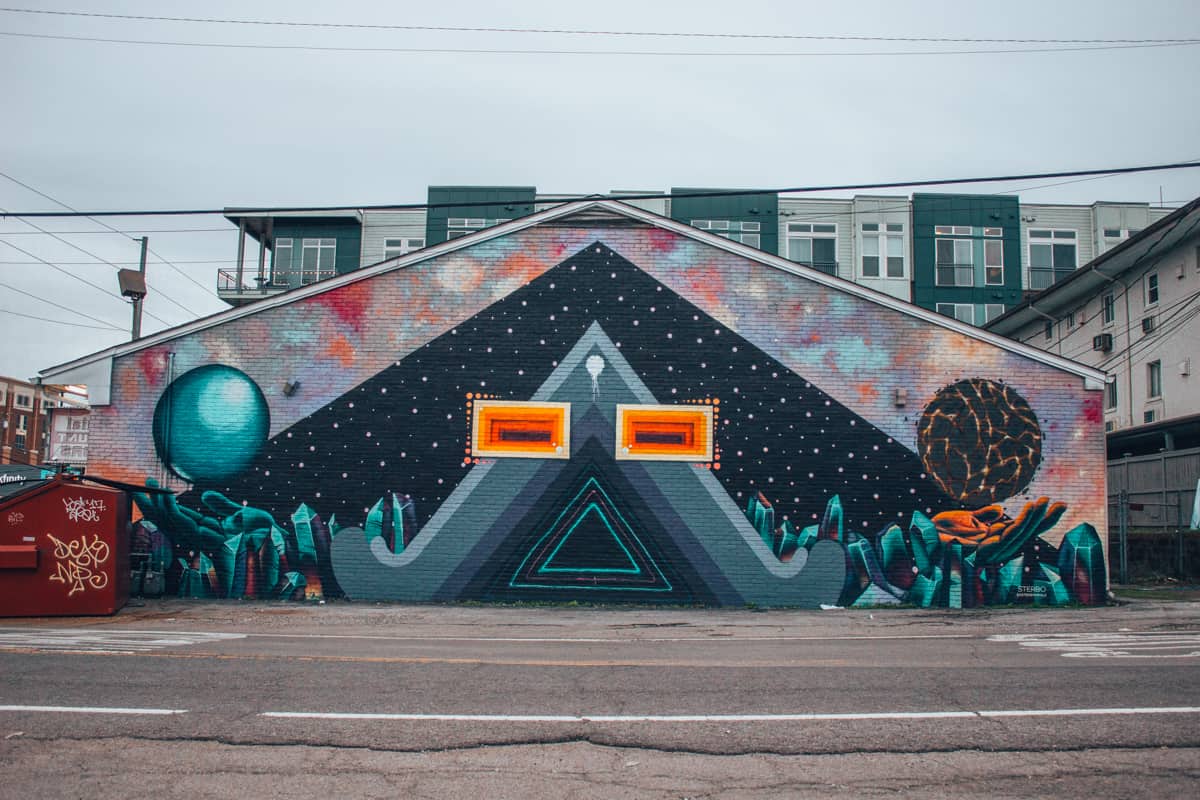 ---
Nashville Bucket List – Unusual and Unique Things to Do
10. Hail Dark Aesthetics
The shop, Hail – Dark Aesthetics, is full of all types of oddities and curiosities. This is the place to go for vintage items, crystals, tarot cards, and occult books.
Location: 2410 Gallatin Ave, Nashville, TN 37206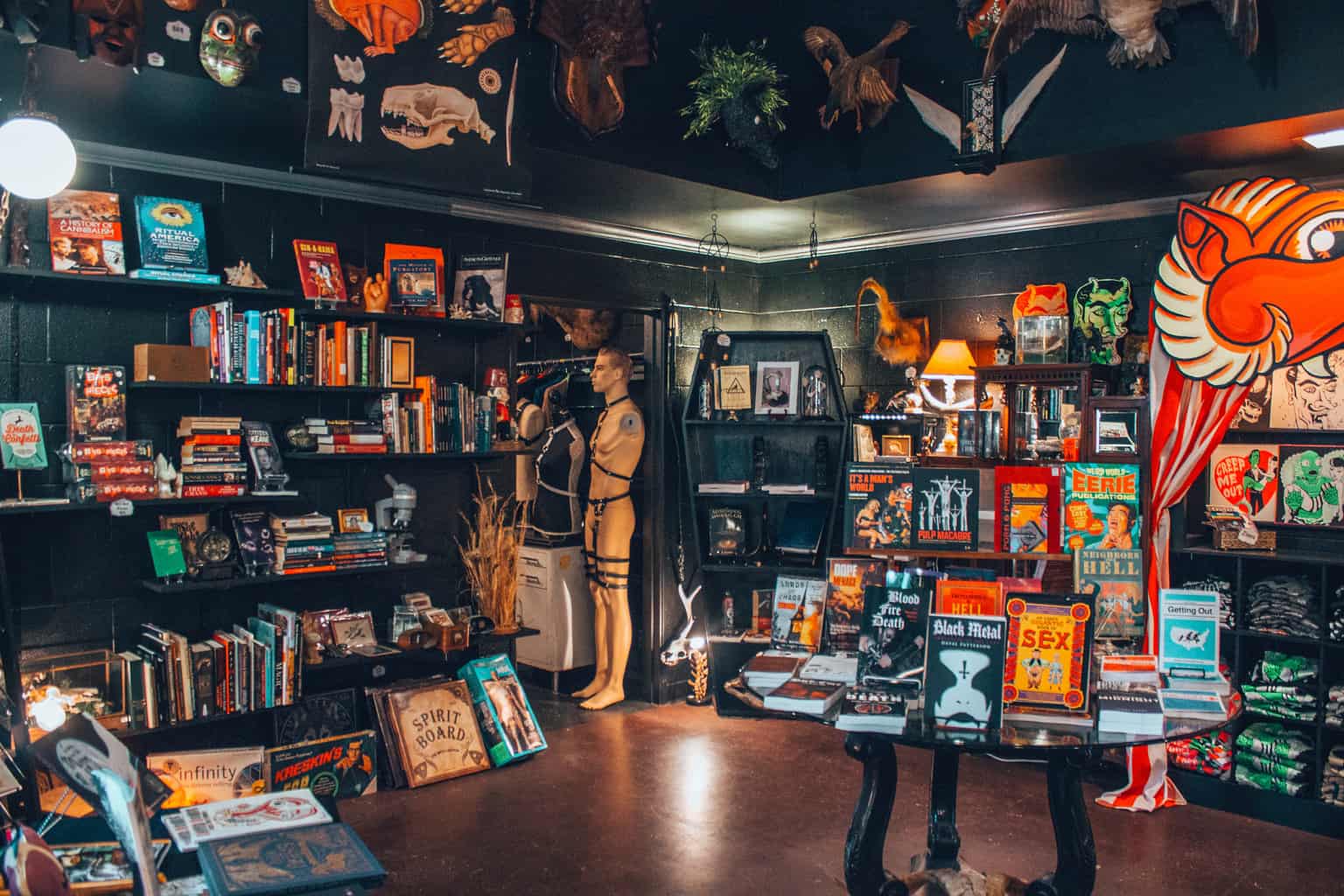 11. Visit the Men's Restroom at The Hermitage Hotel
Nashville's historic Hermitage Hotel was built in 1910 and is the only remaining Beaux-arts style commercial building in Tennessee, and the only AAA Five-Diamond hotel in the state as well. It's not unusual to see women going into the men's restroom, which is located downstairs at the Hermitage Hotel. This restroom features a truly spectacular and memorable design, with lime green and black glass tiles, lime green fixtures, and a shoeshine station right in the middle of the room. The men's room has been the setting of many business deals in the past as well as movies and music videos in current times.
Location: 231 6th Ave N, Nashville, TN 37219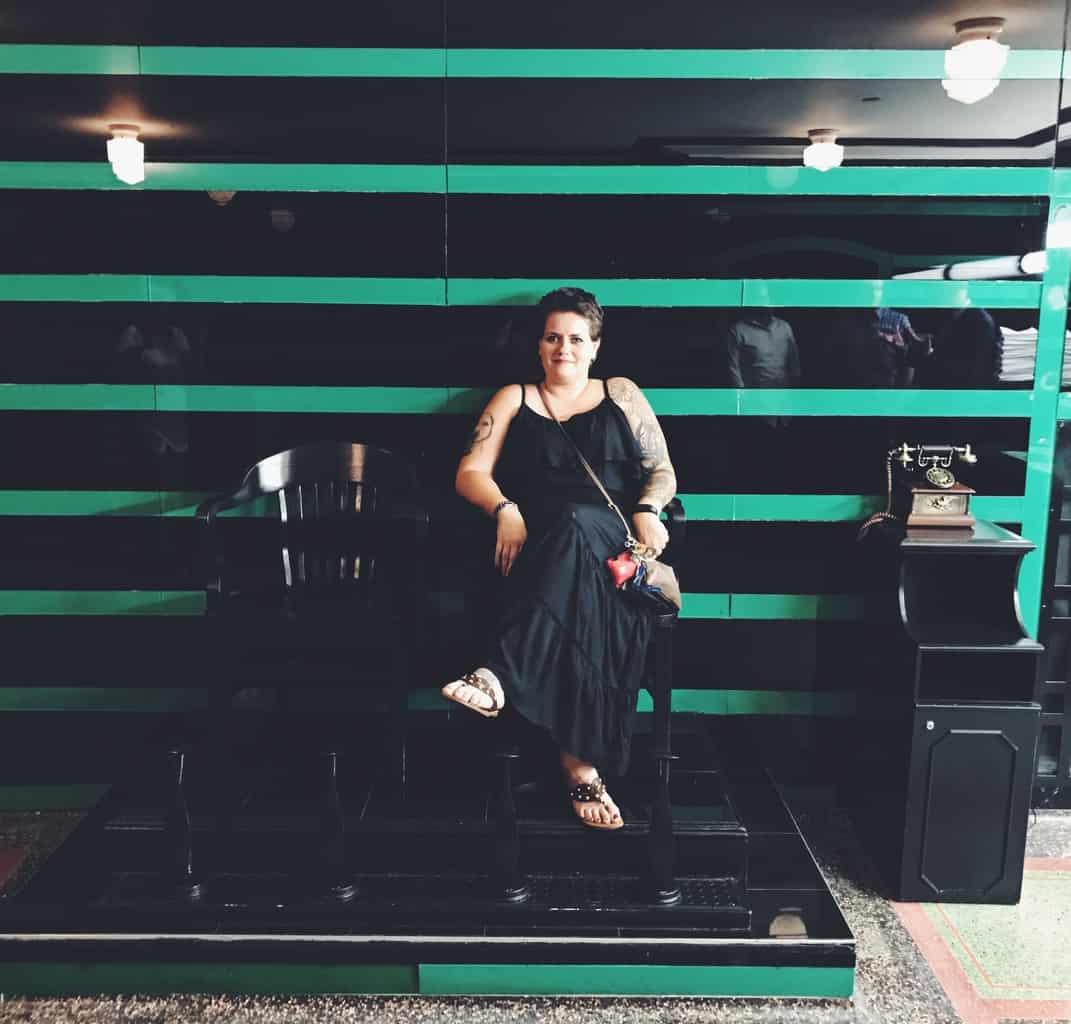 12. Dead People's Things Store
Their motto is "You Die. We Buy!" Do you really need much more description?
Location: re-opening in Fall 2019 with new location to be announced
13. Cragfont House
Cragfont is supposedly one of the most haunted places in the state so that makes it worthy of a visit in my eyes.
Location: 300 Cragfont Rd, Castalian Springs, TN 37031
14. Stay in Treehouse-Style Cabin
Listen – hotels in Nashville are crazy expensive. You almost have to have a car to visit Nashville anyway (if you want to see the real Nashville at least) so why not skip staying downtown and head to this awesome place.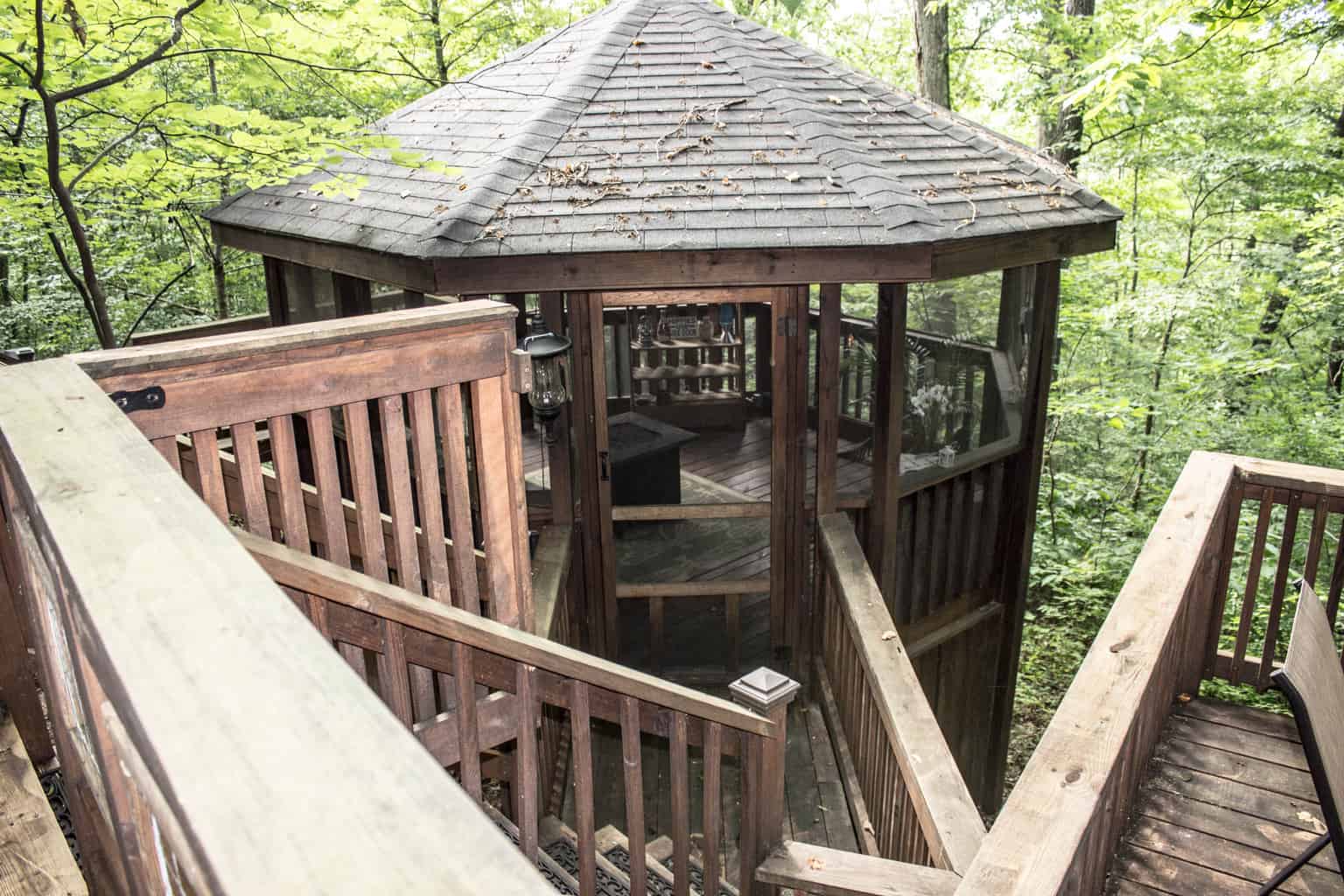 ---
15. Shelby Bottoms Greenway
Shelby Bottoms Greenway and Natural area is 960-acres big and located in East Nashville. There are three miles located right on the Cumberland River and you'll find hardwood forests, open fields, wetlands, streams, plenty of wildlife, and perhaps the infamous golden pheasant?
Location: 1900 Davidson St, Nashville, TN 37206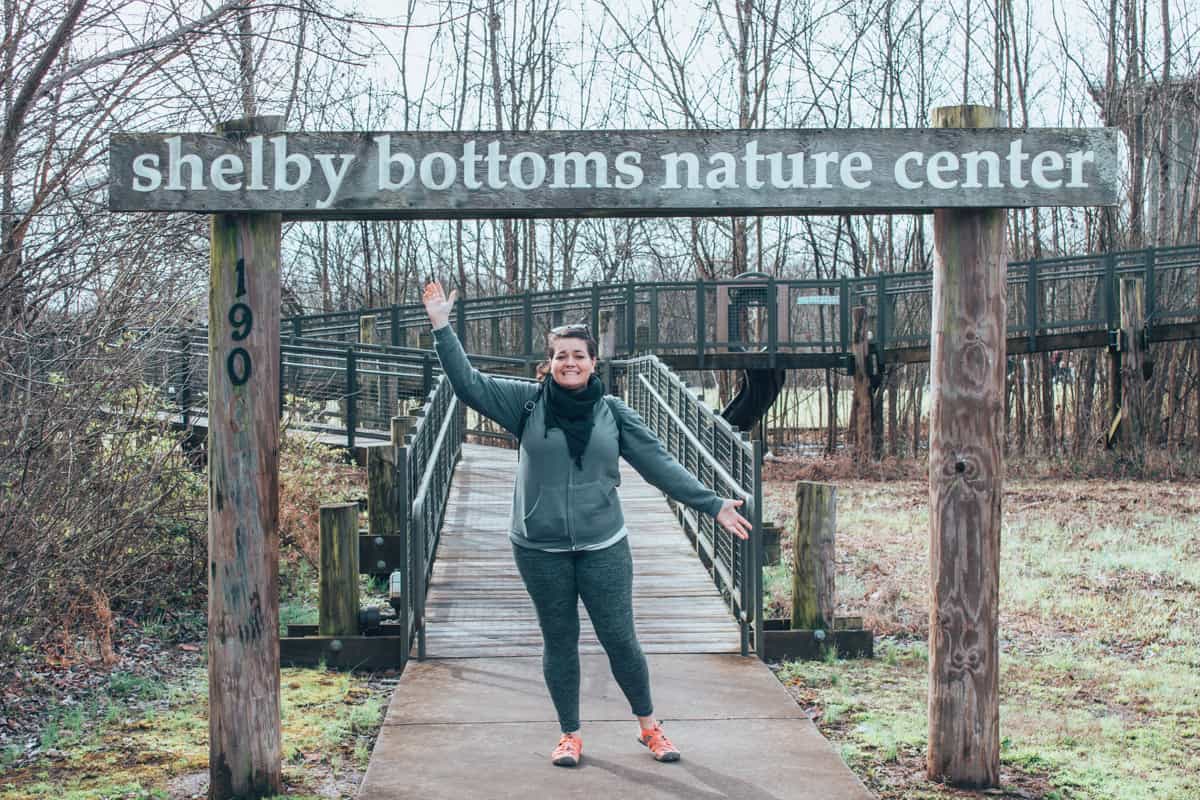 16. Cheekwood Gardens
Cheekwood is a 55-acre botanical garden and historic estate in Nashville, featuring art galleries, and seasonal festivals – most noteworthy Cheekwood in Bloom int he Spring and Octoberfest in the fall.
Location: 1200 Forrest Park Dr, Nashville, TN 37205
17. Canoe the Harpeth River
The Harpeth River is a 100+ mile Class 1 river – there are a few, mile rapids but it's mostly slow-moving. There are lots of spots to pull off on the bank so you can take as many breaks as you'd like
There are many canoe rental companies along the Harpeth including Foggy Bottom Canoe and Kayak Rentals.
Rates: $34-$39 per canoe depending upon the length of the river you want to travel.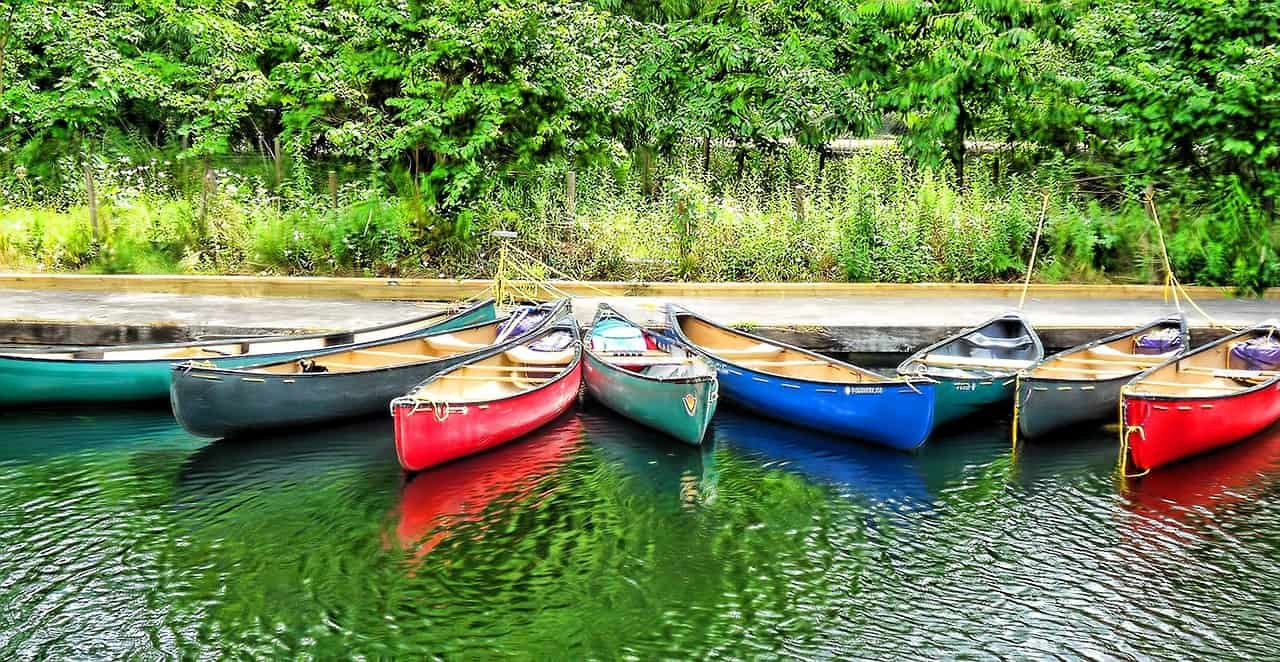 18. Bike the Natchez Trace Parkway
The Natchez Trace Parkway is on many bikers' bucket list. The Trace is 444 miles and stretches from Natchez, Mississippi to Nashville, Tennessee and the entire parkway prohibits commercial traffic and the speed limit max is 50mph. There are zero stop signs, stop lights, or cross streets.
The parkway is dotted with forests, farmlands, civil war battlefields, small southern towns, trails, and "cycling friendly" bed and breakfasts.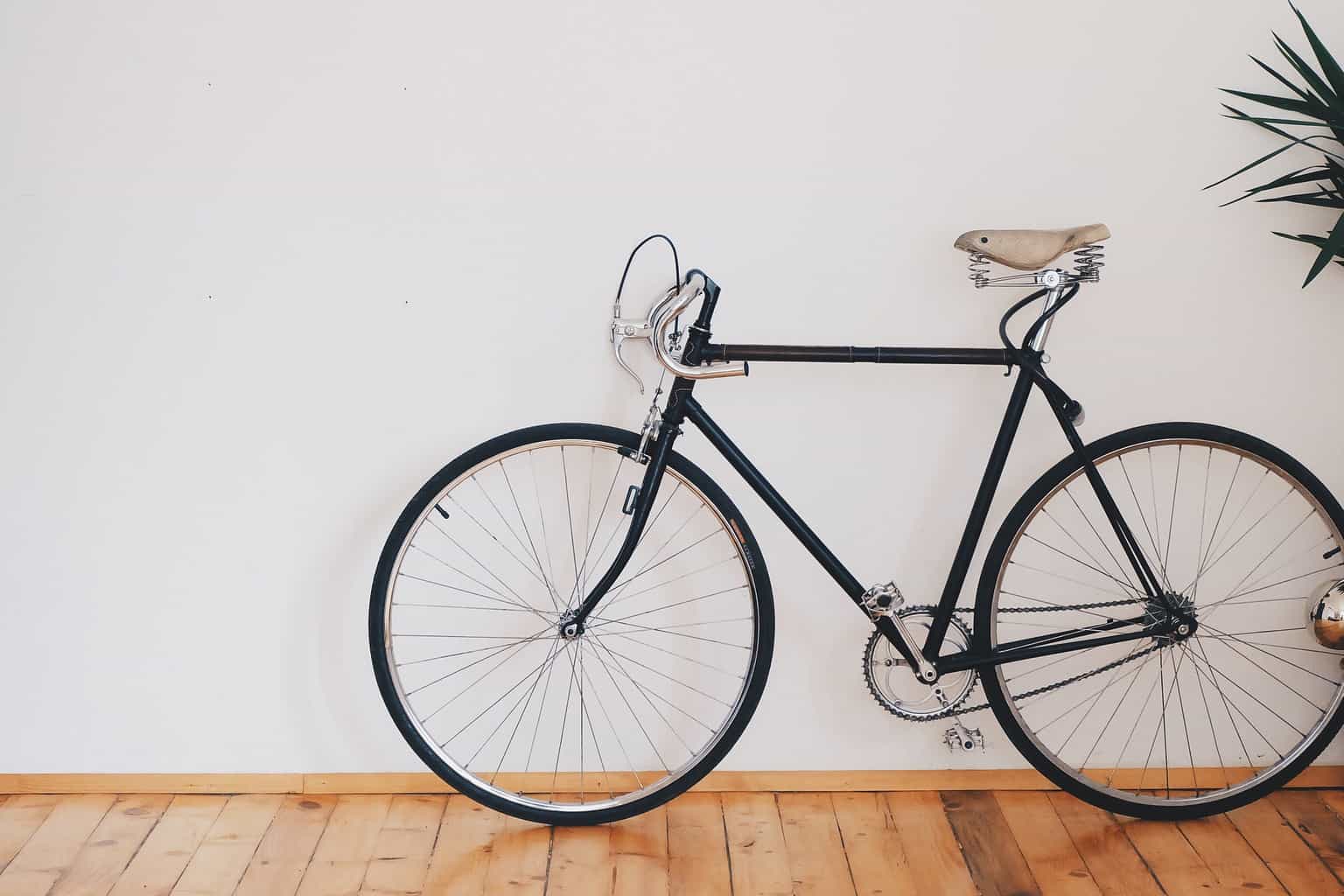 19. Warner Parks
Edwin and Percy Warner Parks, or "The Warner Parks," collectively span 2,684 acres, 12 miles of trails, nine miles of paved lanes for cycling and walking, and only 9 miles from downtown Nashville. The highest point of Percy Warner is the Luke Lea Heights overlook. Due to the clearing, you can see wonderful views of the city from here. The picturesque overlook is accessible by the Warner Woods trail which is a 2.5 loop moderate trail. The overlook is named after Colonel Luke Lea who envisioned the park, donated the original 868 acres and asked that the land be named after Percy Warner, his father-in-law.
Location: 7311 Hwy 100, Nashville, TN 37221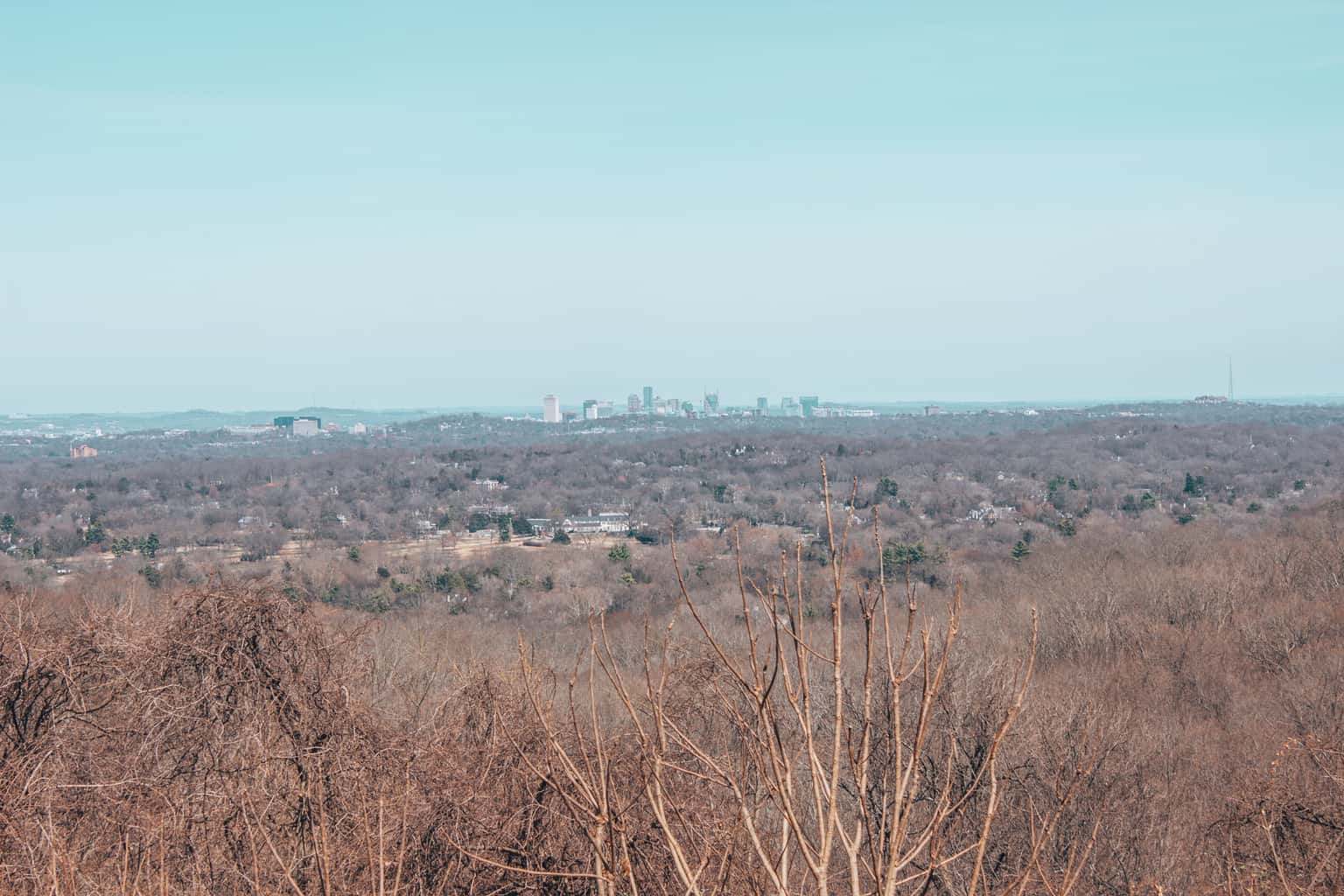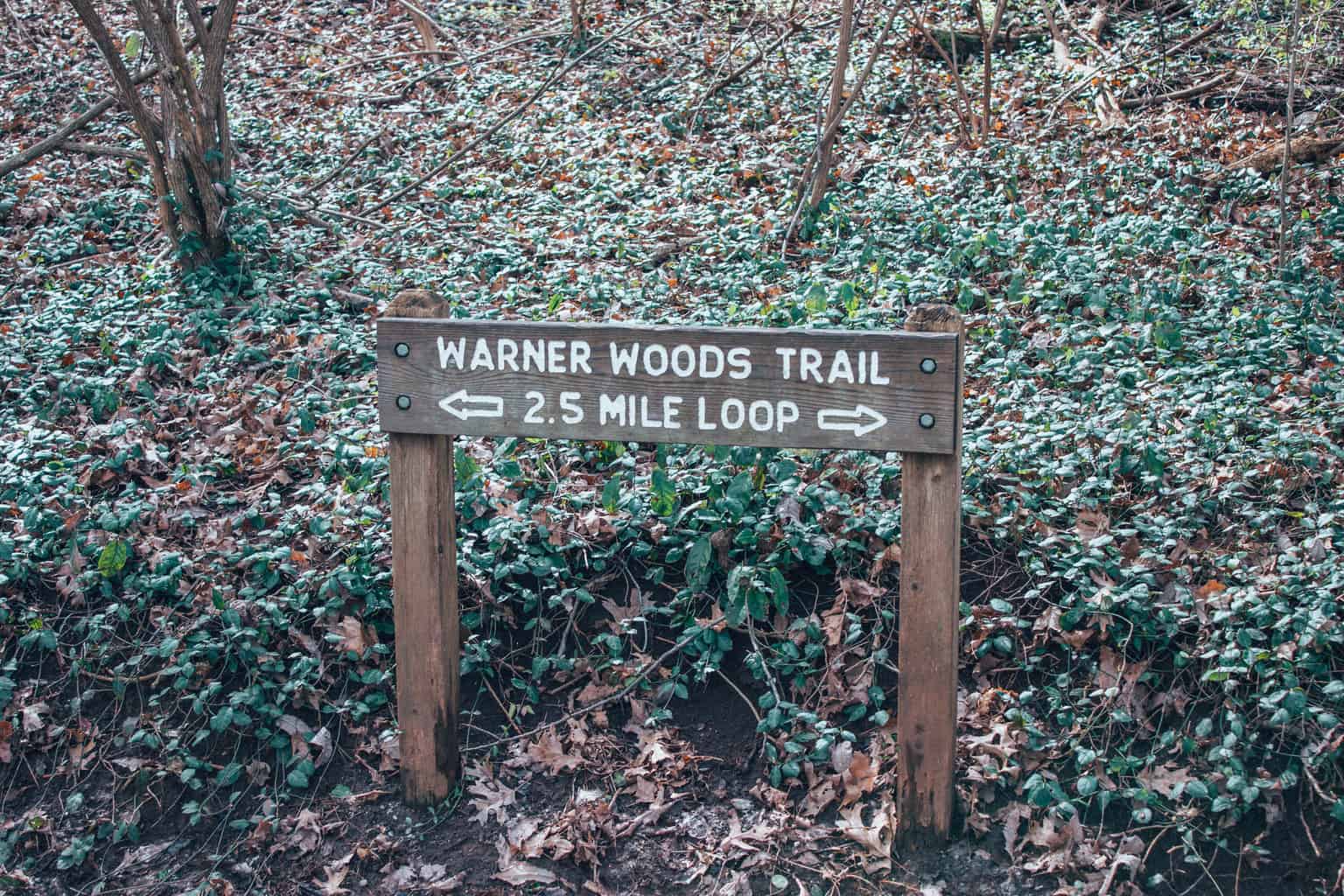 20. Percy Priest Lake
Percy Priest Lake is 42 miles long and was created by the Percy Priest Dam and is located only 15 minutes from downtown.
Location: 3737 Bell Road, Nashville, TN
23. Sunrise Hike at the Narrows of the Harpeth
Narrows of the Harpeth Hike Trail is a 1.1 mile moderately trafficked out and back trail located near White Bluff, Tennessee.
Location: 1254 Narrows of the Harpeth Rd, Kingston Springs, TN 37082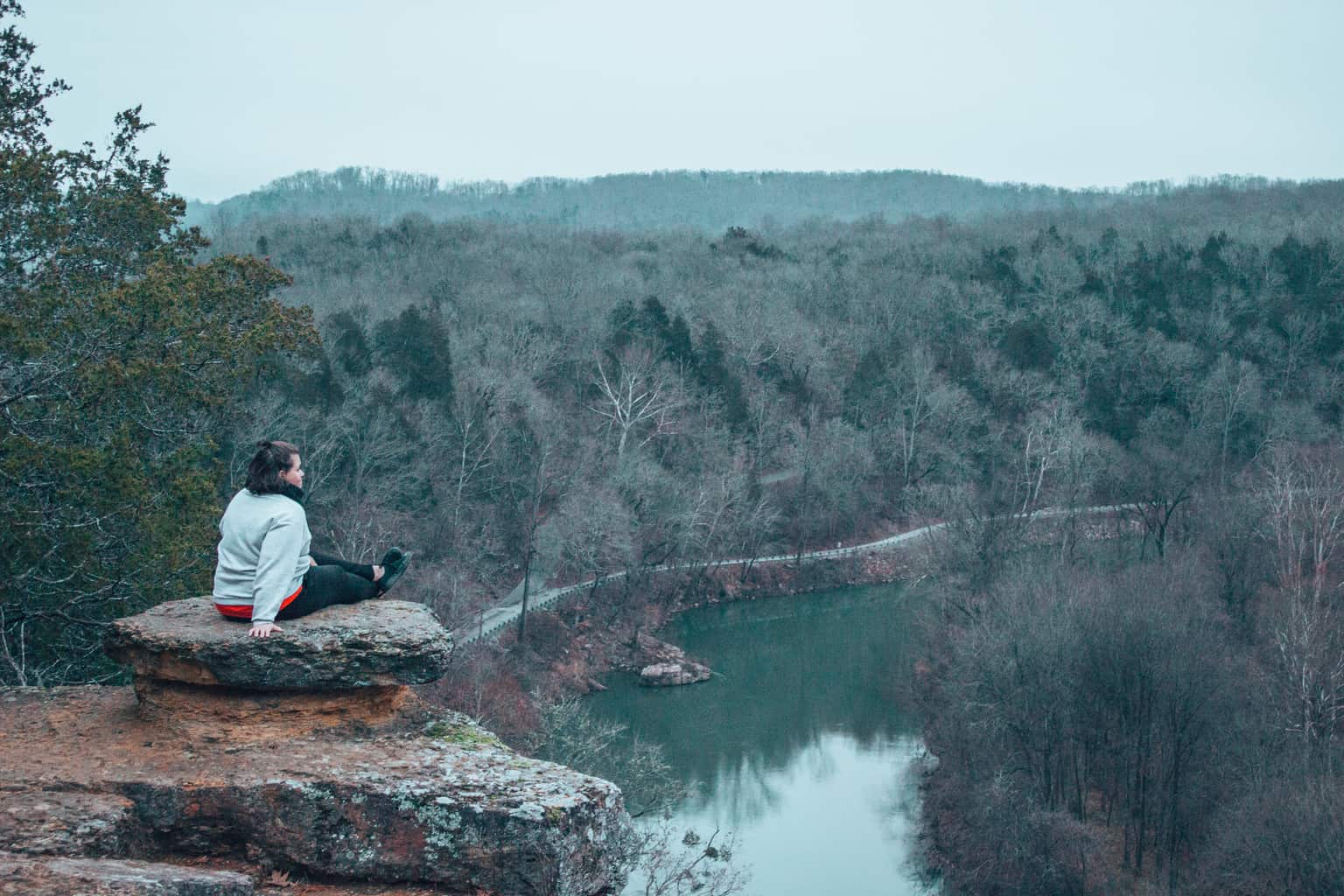 24. Take a Stroll in Bicentennial State Park
Bicentennial State Park is located in downtown Nashville and is a unique spot! While most state parks usually involved wooded areas with hikes, Bicentennial is a city park with lots of history, walking paths and plenty of green space. It is located directly next to the Nashville Farmer's Market so it makes for a great spot for a picnic. See more on Bicentennial Park here.
Location: 600 James Robertson Pkwy, Nashville, TN 37243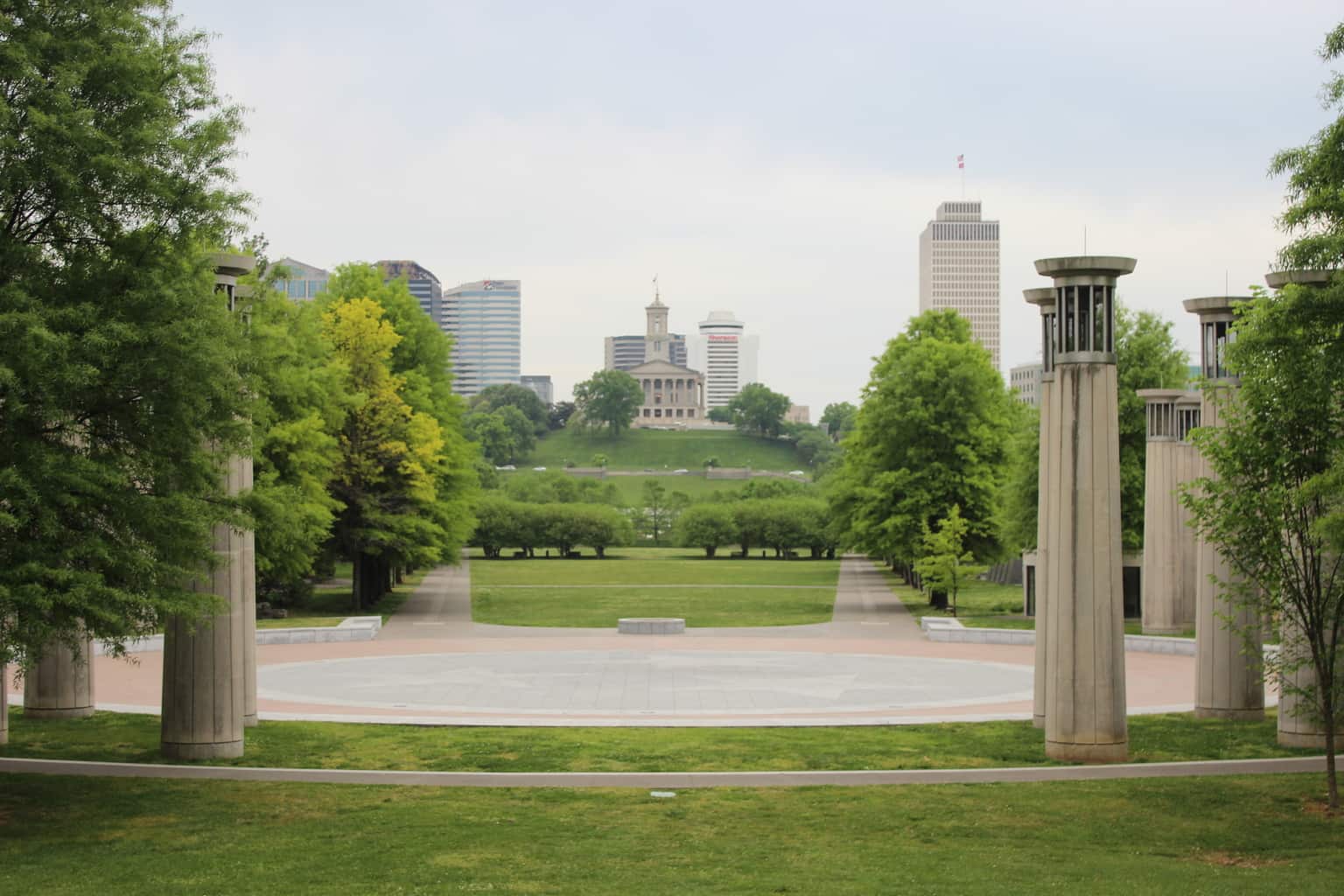 25. Go Hiking at Radnor Lake
Radnor Lake is one of my favorite places. It is one of the many state parks located near downtown and one of the few located within Nashville city limits. It is beloved by the local community and many volunteers work hard to keep it beautiful. You can find several hikes here from easy to difficult with the most common one being the lake trail which circles the lake. You can find all sorts of wild animals to snap photos of – I saw deer, turkeys, squirrels, turtles, and a chipmunk in one hike.
Location: 1160 Otter Creek Rd, Oak Hill, TN 37220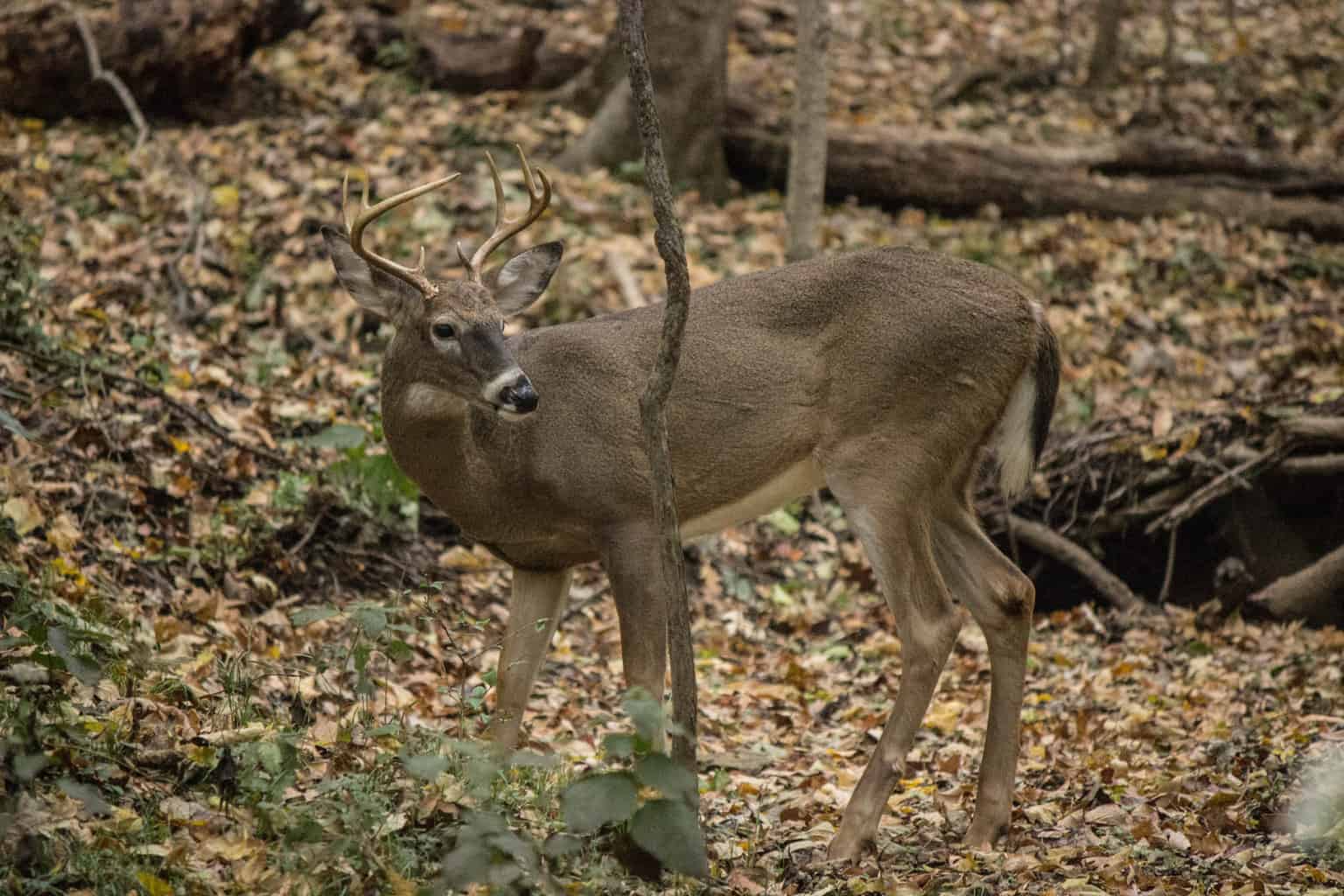 26. Centennial Park
Not to be confused with Bicentennial Park, Centennial Park is a must-see in Nashville as well. It is home to the only full-size replica of the Parthenon in Greece. It was built as a homage to Nashville's nickname – "Athens of the South."
Location: 2500 West End Ave, Nashville, TN 37203
27. Kayak and Camp at Primitive Islands at Percy Priest Lake
28. Long Hunter State Park
he 2,600 acres which make up this area became a state park in 1974 and has four sections, Couchville, Baker's Grove, Bryant Grove, and Sellars Farm. Lots of great hiking and lake views.
Location: 2910 Hobson Pike, Hermitage, TN 37076
29. Swim at an Actual Beach
Tennessee may be landlocked but we still have a beach with actual sand.
Location: 4010 Anderson Road, Nashville, TN
30. Love Circle
Want to take a trip to Nashville's lovers' lane? Love Circle Park is the place to go. Located at what was once the highest point in the city, Love Circle is situated in a residential neighborhood just off busy West End.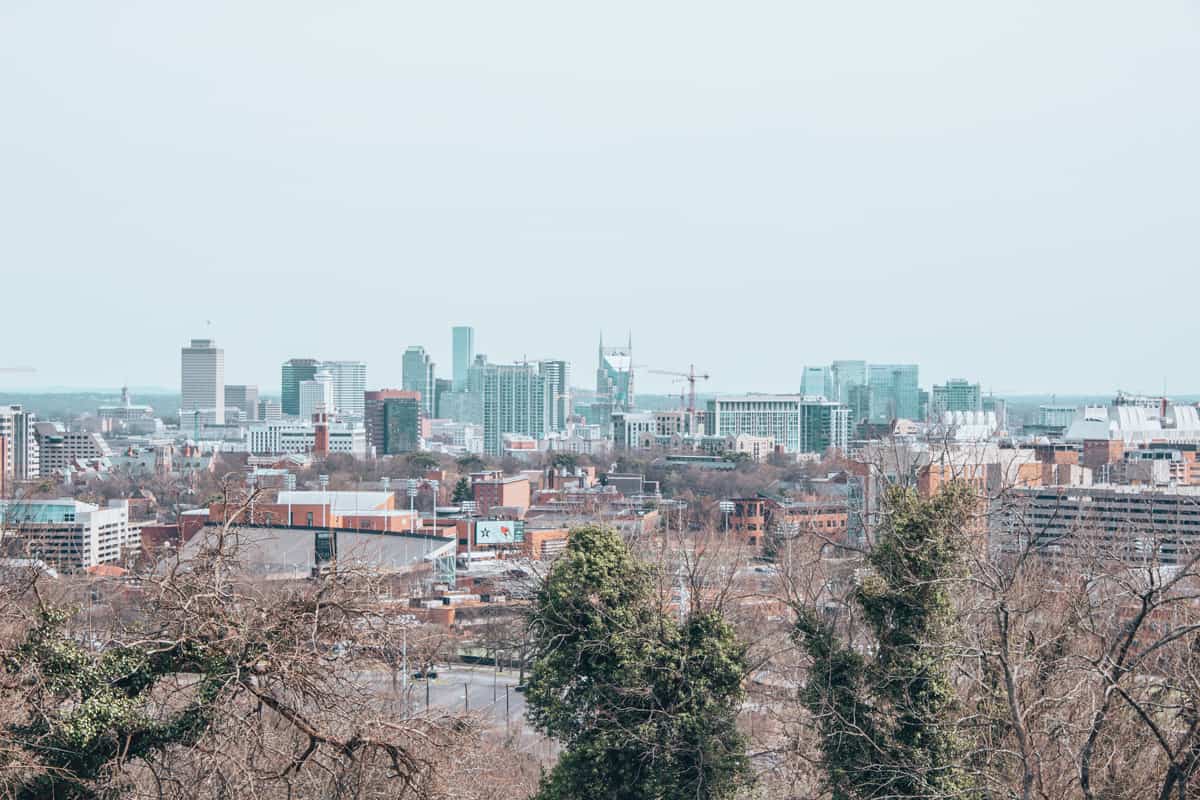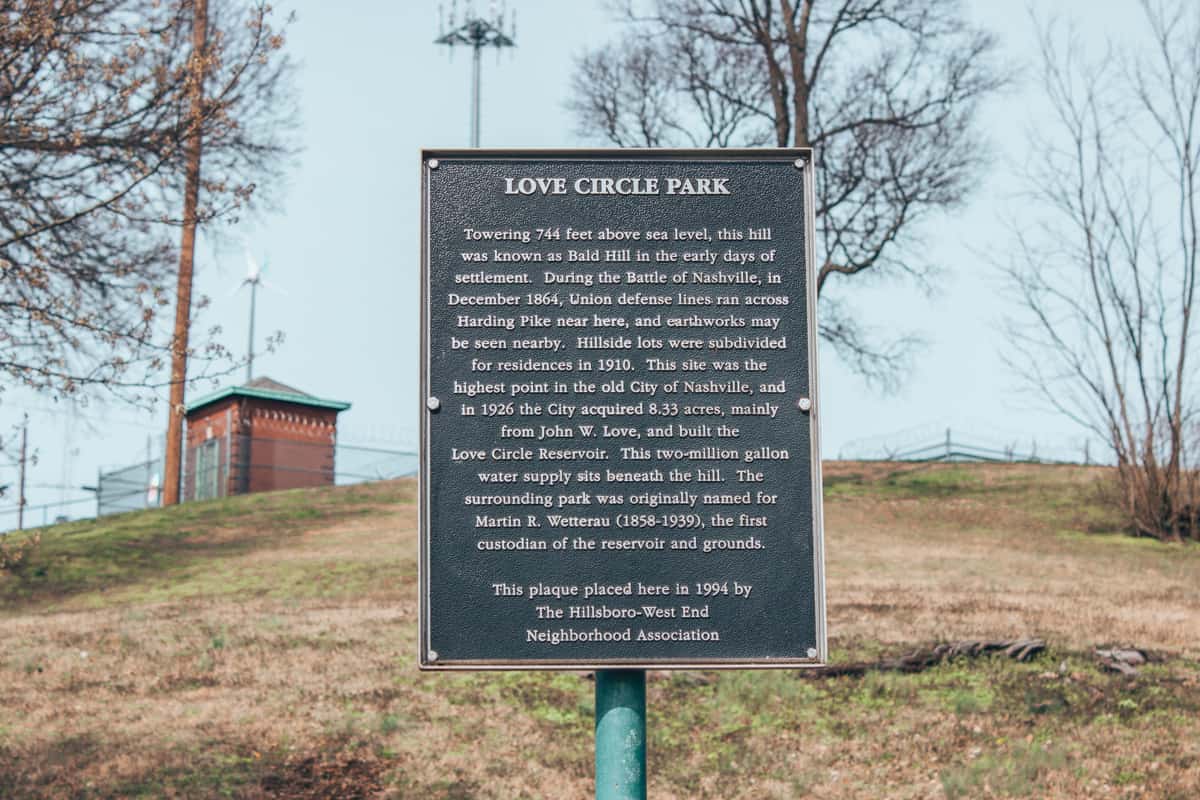 31. Rock Island State Park
Rock Island State Park is a beautiful, rugged park where you can go hiking, visit an old cemetery, bask in the greatness of Twin Falls, go kayaking or boating on the river, check out old historic buildings and more. I also suggest staying at this Rock Island campground while you're there.
Location: 82 Beach Rd, Rock Island, TN 38581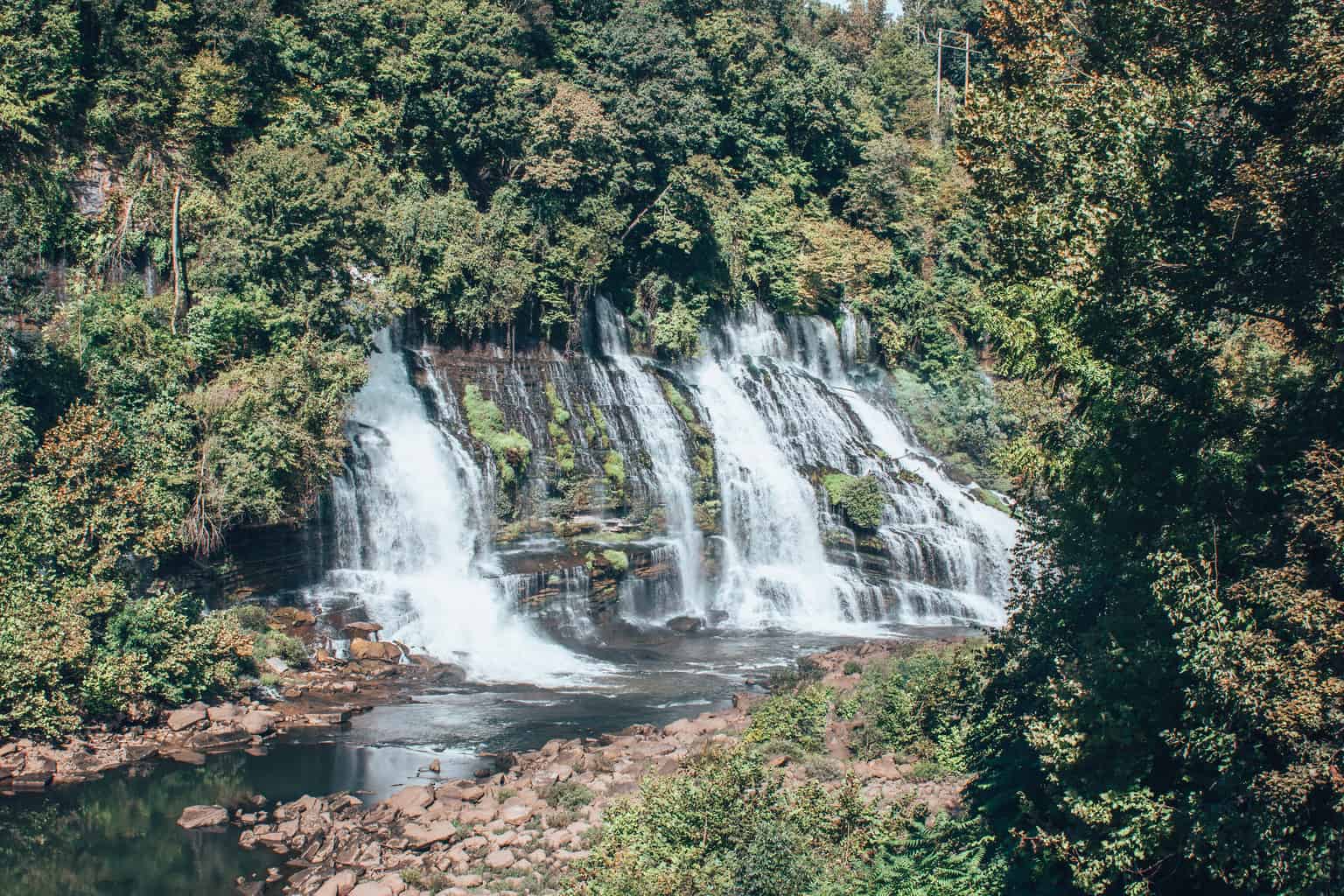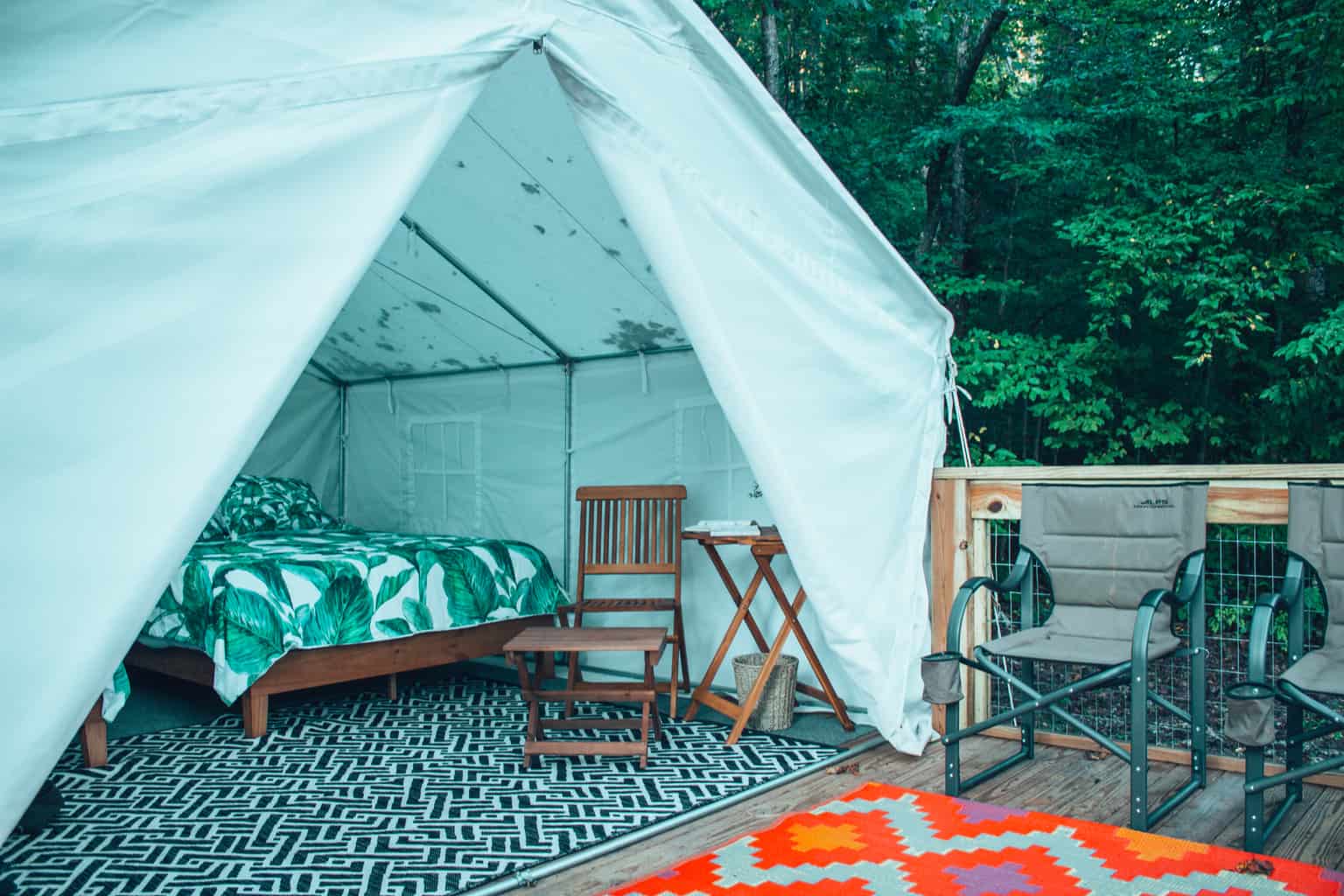 32. Bledsoe Creek State Park
Bledsoe Creek State Park was once a prime hunting ground for the Cherokee, Creek, Shawnee and Chickamauga Native American tribes. There are plenty of hiking trails, water activities, and camping.
Location: 400 Zieglers Fort Rd, Gallatin, TN 37066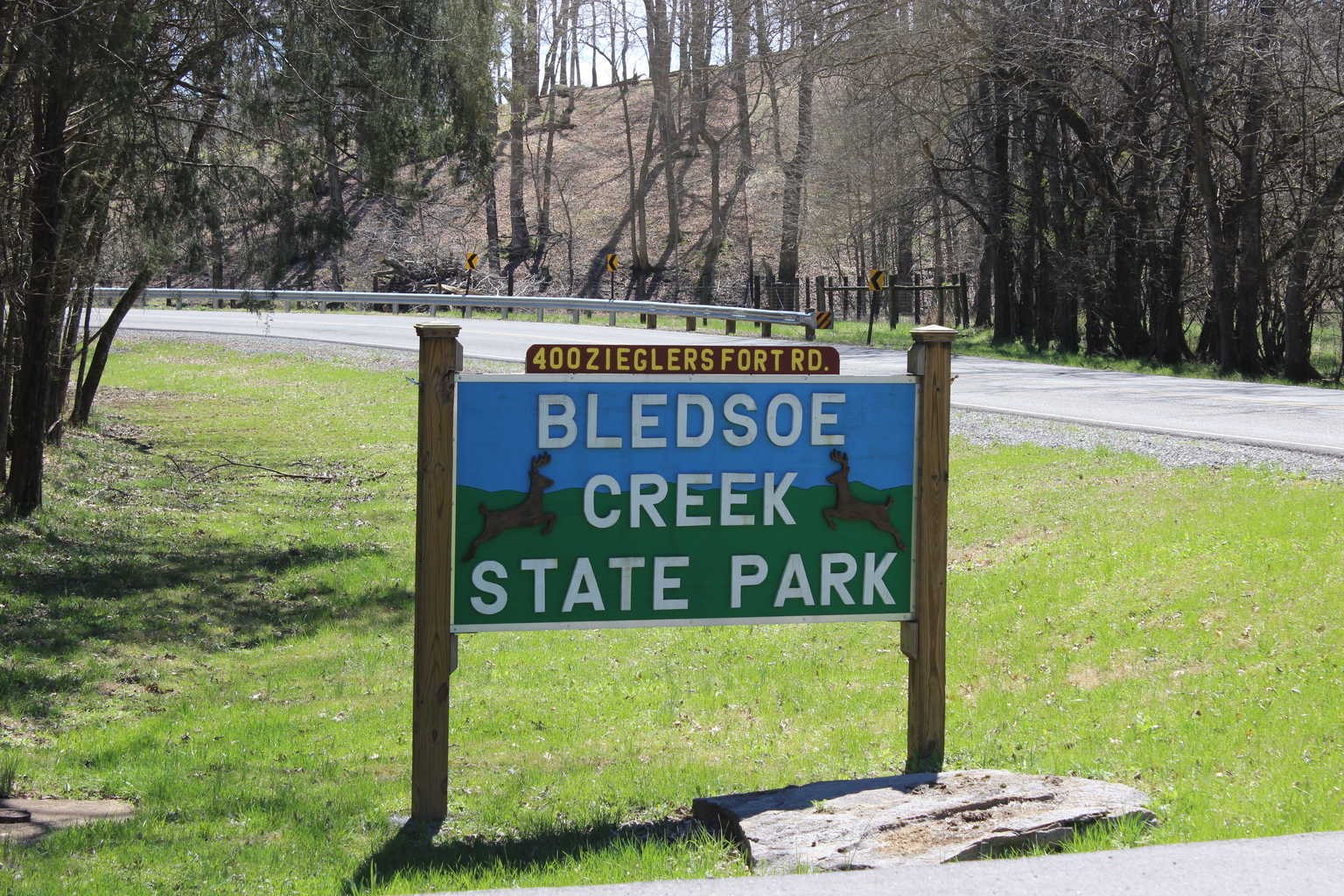 ---
Nashville Bucket List – Sports
Are sports your thing? Do you have a goal of visiting every football stadium in the US? Or, just really love diving into a local fan scene when you travel? I'm not an avid follower of anything – it's honestly just too much for me to try to keep up with. However, I love sports and I love my home teams and I'll support them all the way and go to games when I can.
33. Go to a Predators Game
The Nashville Predators is our hockey team and you better believe – Nashville is a hockey town. We even went to the Stanley Cup Finals! It was quite the event in Nashville and our city couldn't have been more proud. Additionally, Bridgestone Arena, where the Predators play has been named one of the best arenas in the US.
Location: 501 Broadway, Nashville, TN 37203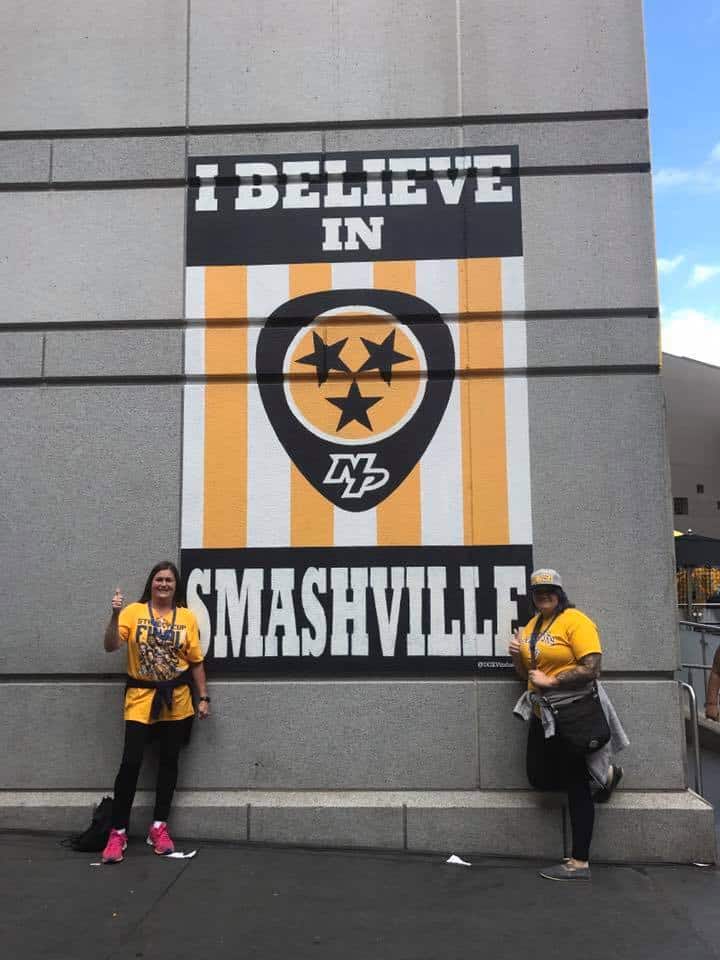 34. Go to a Titans Game
The Tennessee Titans kind of seesaw on their results but our fans stand behind them through thick and thin. Last year, we made it to the playoffs by the skin of their teeth and we won the first playoff game. Going to a Titans game and tailgating beforehand is quite the Nashville experience. Because of the short walking distance and our pedestrian bridge, you can easily pre-game right across the river on Broadway and 2nd.
Location: 1 Titans Way, Nashville, TN 37213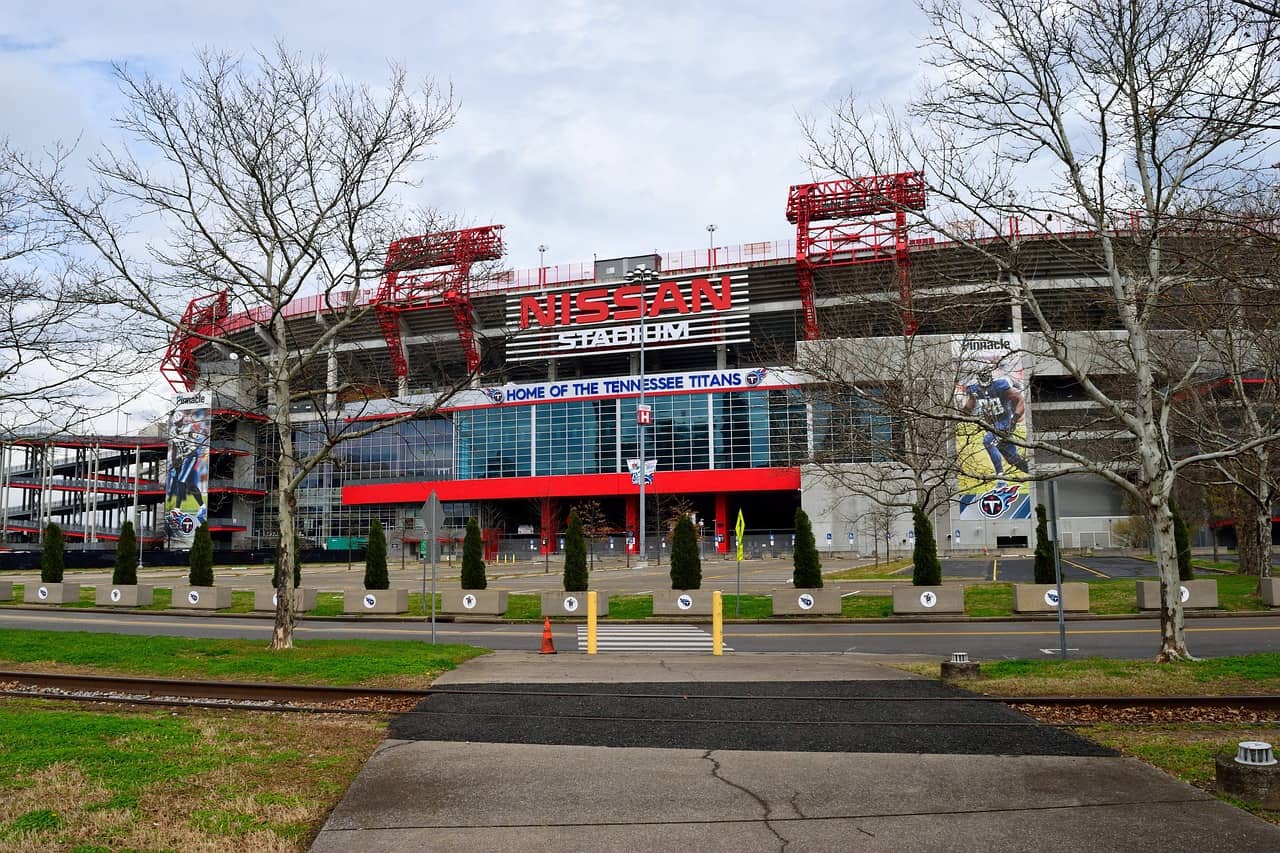 35. Go to a Sounds Game
The Nashville Sounds are our minor league baseball team. Don't let the word minor turn you off though. We love them. They've been around for a long time and I remember going to games when I was little and it is quite nostalgic for me. Three years ago, they moved into their brand new stadium in Germantown and I haven't been able to go yet but plan to!
Location: 19 Jr Gilliam Way, Nashville, TN 37219
36. Go to a Major League Soccer Match
That's right. We're getting a major league soccer team in Nashville. It was just announced in December that Nashville won the bid. I have no idea what kind of timeframe we're looking at here but I would suspect a couple of years. I'll admit – I've never been a big soccer fan but maybe that will change!
37. Go to a Roller Derby Match
We have our very own roller derby team in Nashville – the Nashville Rollergirls! I've been wanting to go to a match for several years and need to make it a priority this year.
Location: 625 Smith Ave, Nashville, TN 37203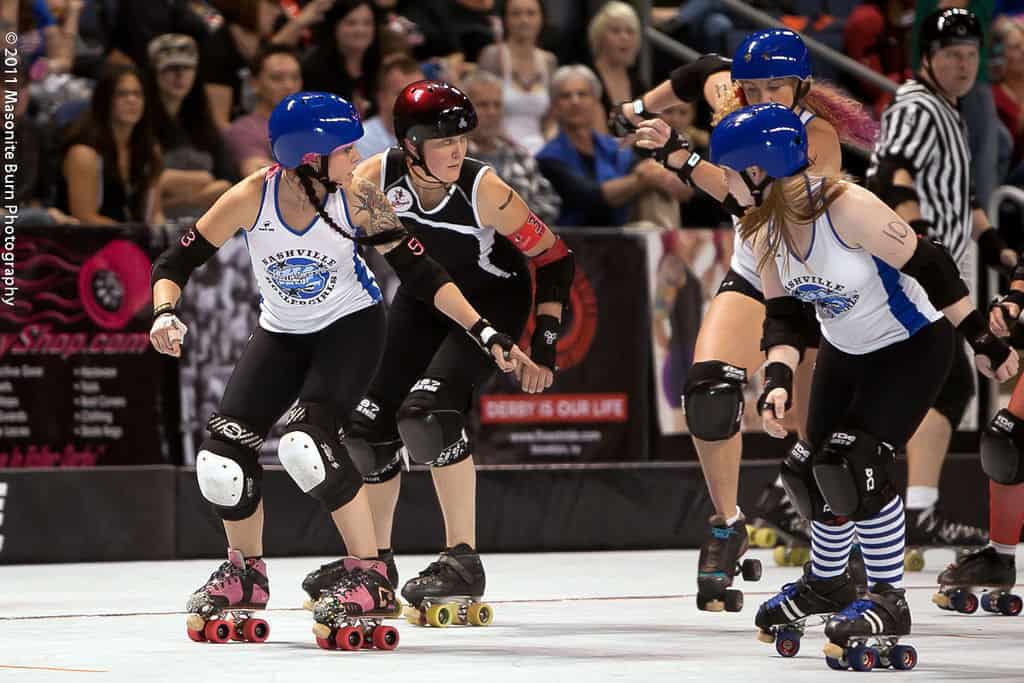 ---
Nashville Bucket List – Museums in Nashville
38. Tennessee State Museum
The mission of the Tennessee State Museum is to procure, preserve, exhibit, and interpret objects which relate to the social, political, economic, and cultural history of Tennessee and Tennesseans, and to provide exhibitions and programs for the educational and cultural enrichment of the citizens of the state.
Location: 1000 Rosa L Parks Blvd, Nashville, TN 37208
39. Frist Art Museum
Classic art deco building houses a museum with rotating visual exhibitions & educational programs.
Location: 919 Broadway, Nashville, TN 37203
40. The Parthenon
The Parthenon in Centennial Park, in Nashville, Tennessee, is a full-scale replica of the original Parthenon in Athens.
Location: 2500 West End Ave, Nashville, TN 37203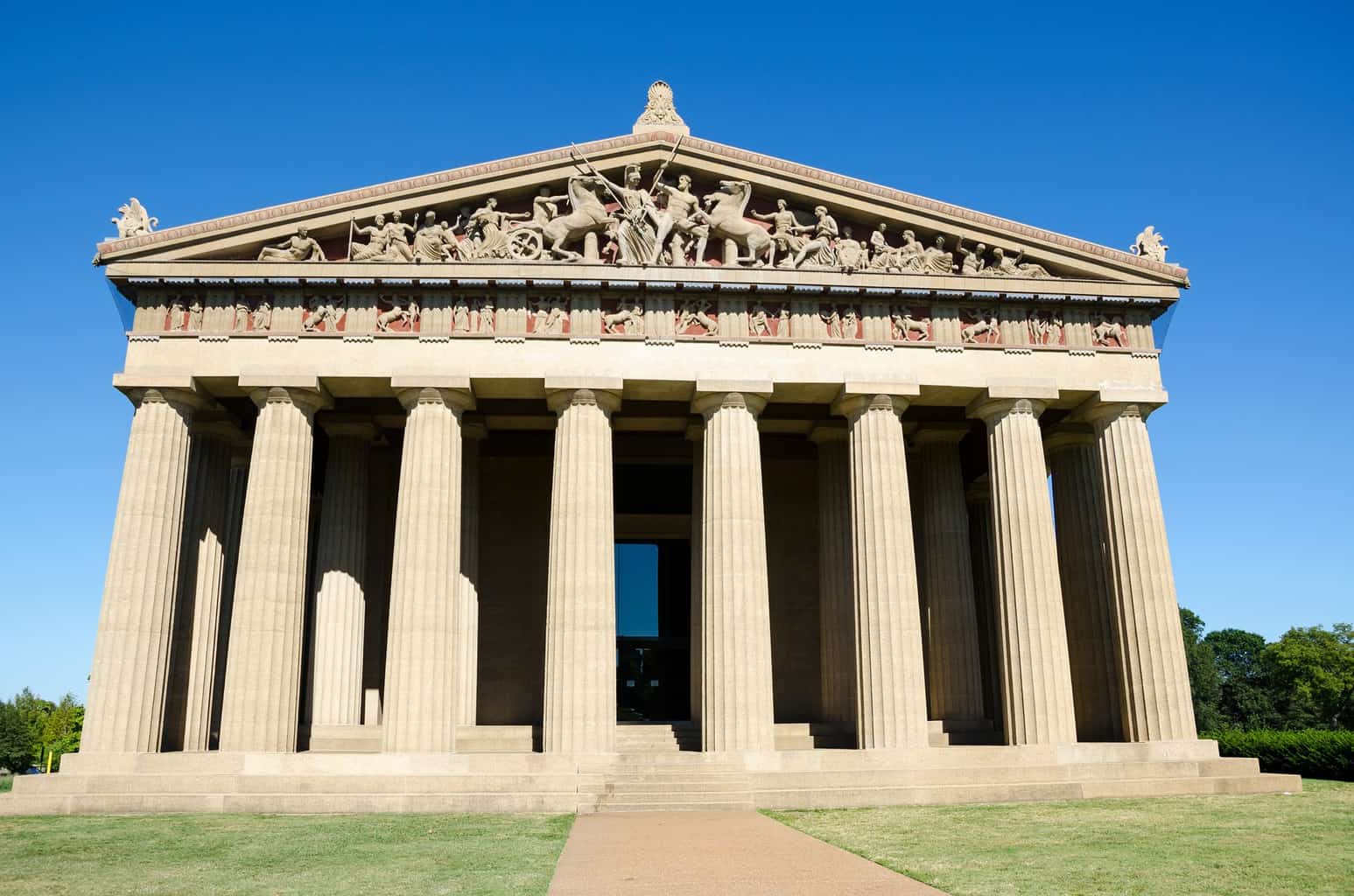 41. The Hermitage
Visit The Hermitage in Nashville, Tennessee to walk through Andrew Jackson's life and home, explore a beautiful, historic Tennessee farm and experience an important piece of Nashville and our nation.
Location: 4580 Rachels Ln, Hermitage, TN 37076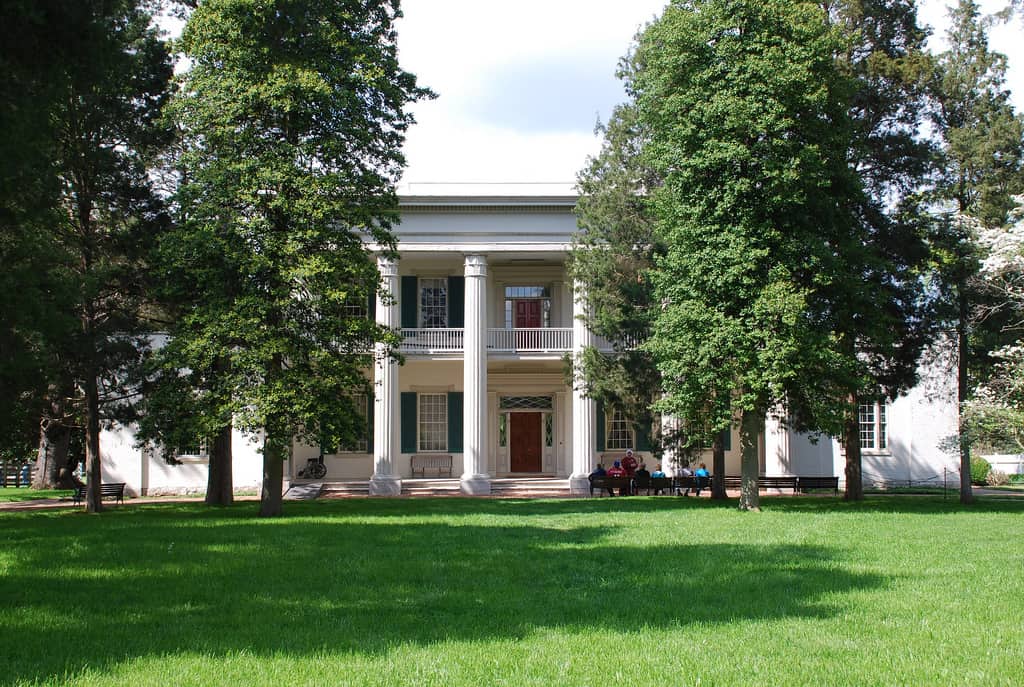 42. Adventure Science Center
Adventure Science Center is a non-profit science museum for children located in Nashville, Tennessee. The museum features over 175 hands-on interactive exhibits with themes including biology, physics, visual perception, listening, mind, air and space, energy and earth science.
Location: 800 Fort Negley Blvd, Nashville, TN 37203
43. Historic RCA Studio B
RCA Studio B is a music recording studio in Nashville, Tennessee built in 1956. Originally known simply by the name "RCA Studios", it became known in the 1960s for being an essential factor to the development of the production style and technique known as the Nashville Sound.
Location: 1611 Roy Acuff Pl, Nashville, TN 37203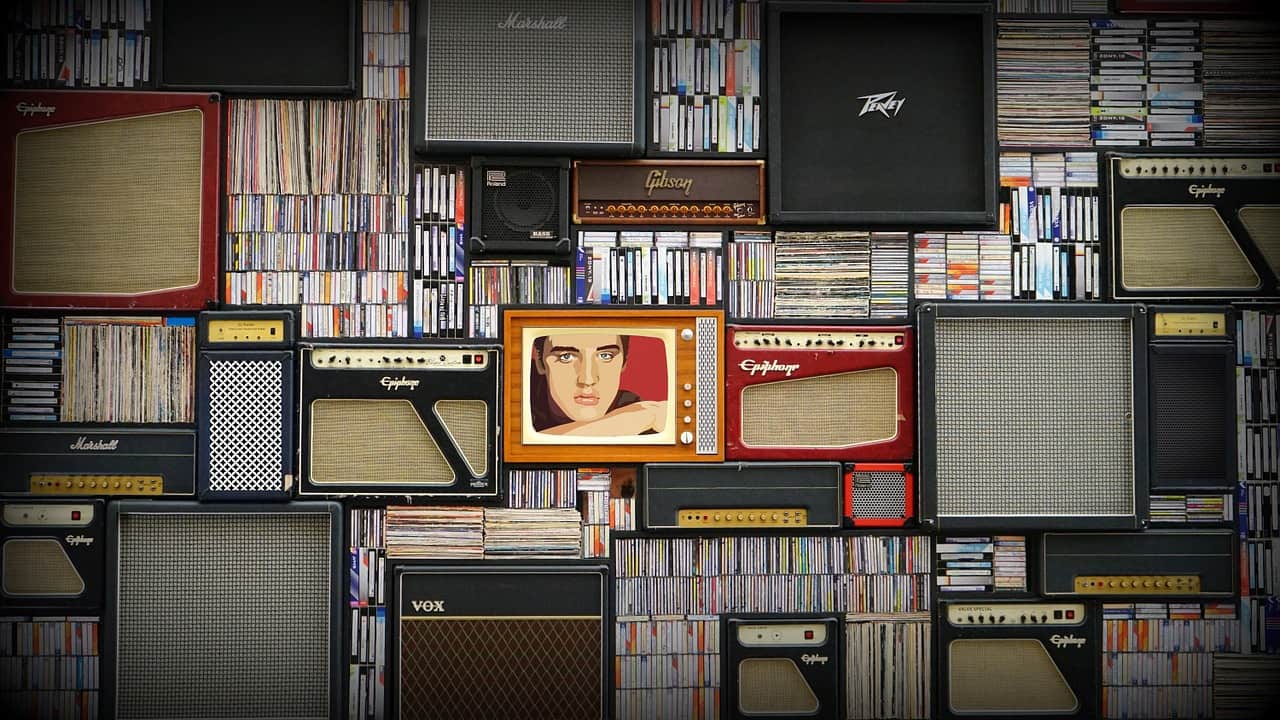 44. Belle Meade Plantation
Belle Meade Plantation, located in Belle Meade, Tennessee, is a historic mansion that is now operated as a museum.
Location: 5025 Harding Pike, Nashville, TN 37205
45. Madame Tussauds
Location: 515 Opry Mills Dr, Nashville, TN 37214
46. Country Music Hall of Fame
The building alone is worth a visit – how cool is it that it looks like piano keys?! I've heard so many people who aren't even country music people say that this museum is amazing and well worth it.
Location: 222 5th Ave S, Nashville, TN 37203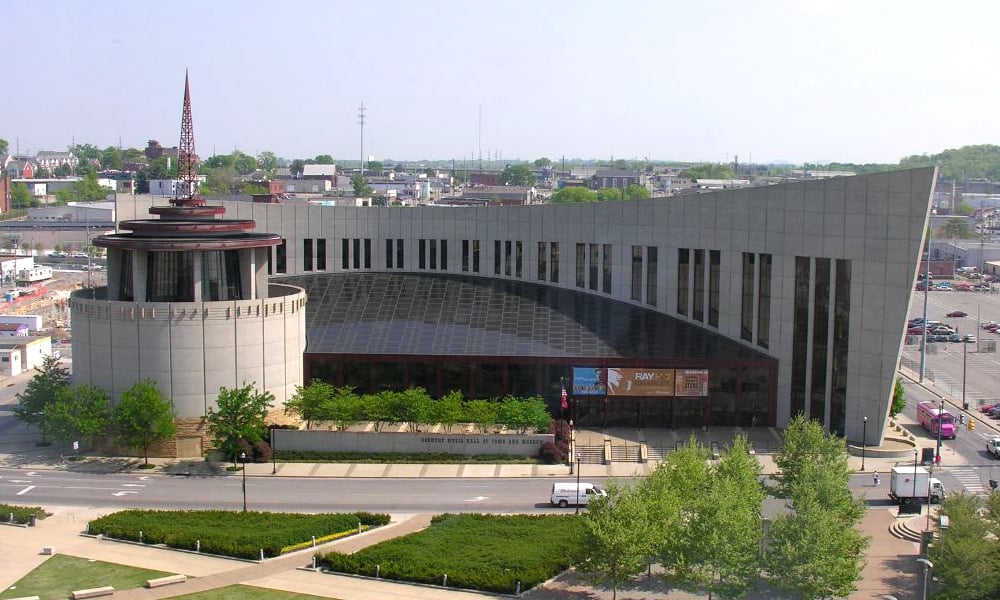 47. Johnny Cash Museum
119 3rd Ave S, Nashville, TN 37201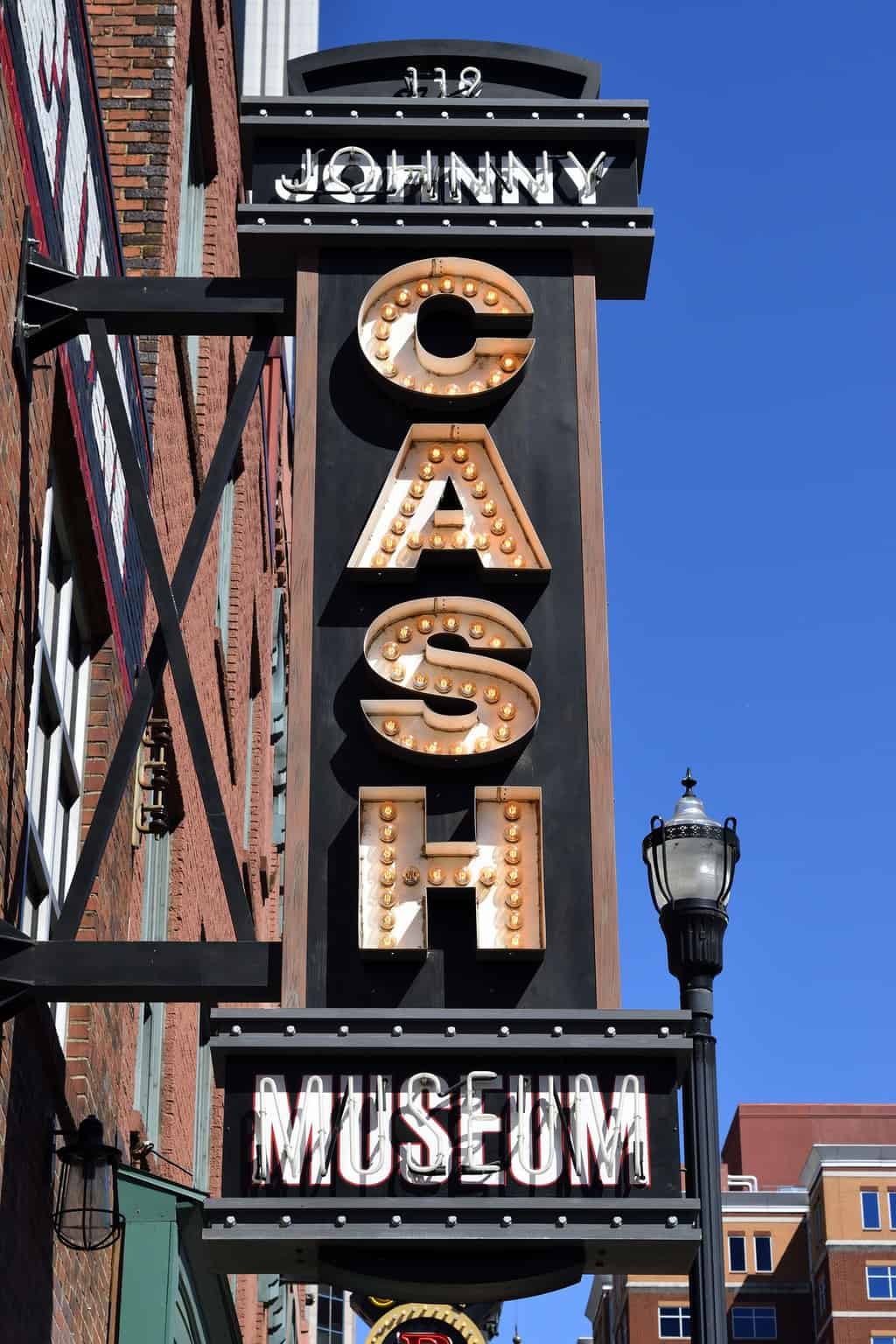 48. Patsy Cline Museum
Location: 119 3rd Ave S, Nashville, TN 37201
---
Nashville Bucket List – Food & Coffee
This could have an entire post about it on its own – and maybe it will! Make sure to try one of our many local, independent coffee shops while in town for sure!
49. Drink a Coffee Soda
Coffee soda is a shot of espresso or a serving of cold brew that's finished with seltzer water and it all started in Nashville.
50. Eat at The Grilled Cheeserie
The Grilled Cheeserie started out as a food truck several years ago, introduced by Crystal De Luna-Boga, a Le Cordon Bleu-trained chef and her husband. After much success, they opened a storefront in Hillsboro Village, a historic and hip neighborhood located close to Belmont College's campus with several vegan options as well, including vegan cheese for sandwiches, a vegan milkshake, tomato soup, and tater tots.
Location: 2003 Belcourt Ave, Nashville, TN 37212
51. High Garden
High Garden is a woodland tea house, sipping apothecary, a kombucha bar, and an oasis in the city. While there, you can sip on their loose leaf teas, and enjoy a wide selection of books and games. In addition, High Garden also offers interesting classes throughout the year, including spoon carving, mountain medicine, foraging and feasting, tree identification, and much more. But even so, it's a great place to take a quiet break in the afternoon.
Location: 935A Woodland St, Nashville, TN 37206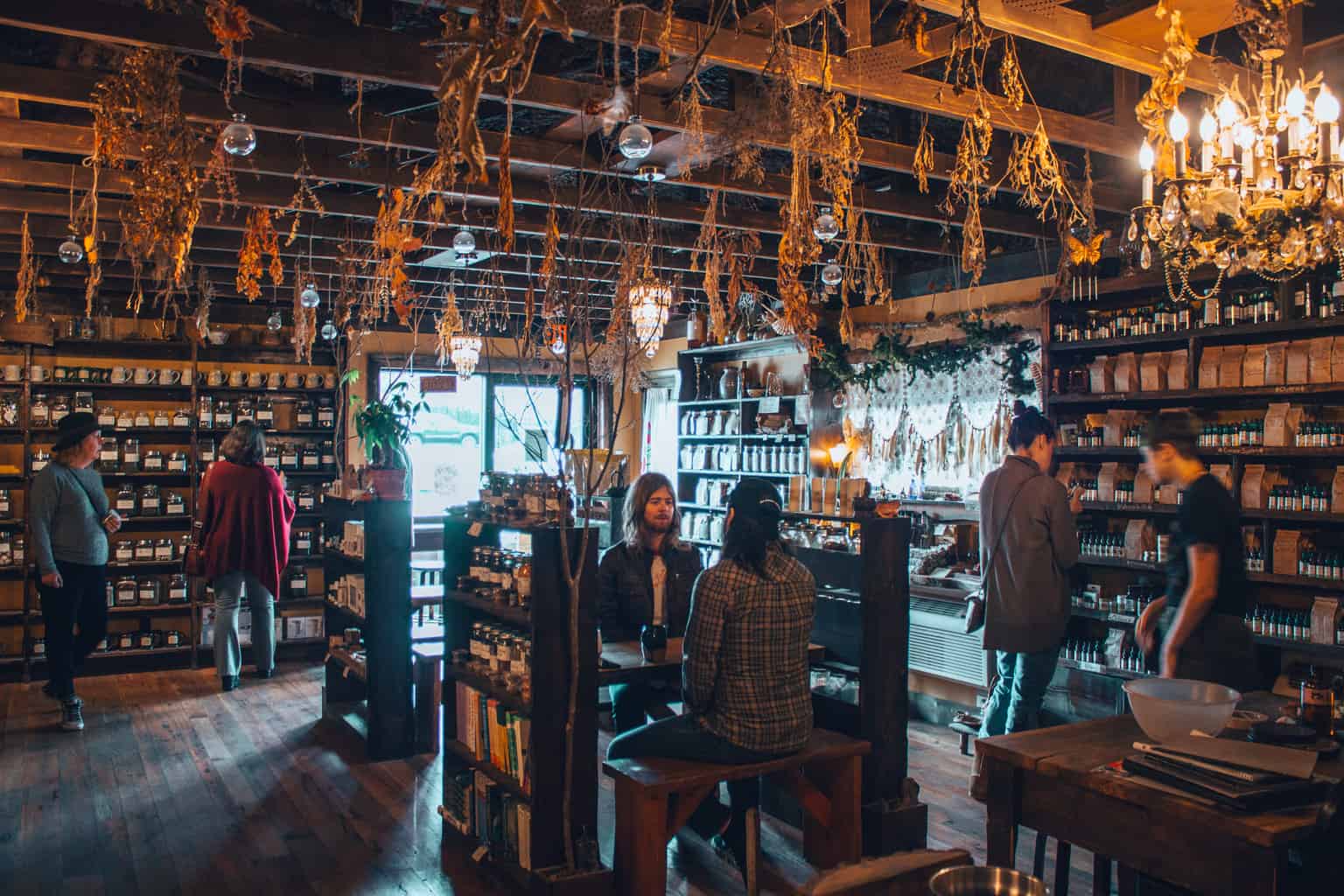 52. Have an Ice Cream at Jeni's
53. Las Paletas
Cozy shop offering Mexican ice cream bars & fruit pops in classic & creative, seasonal flavors.
Location: 2911 12th Ave S, Nashville, TN 37204
54. Eat at all the Vegan Spots
There are so many vegan restaurants in Nashville. Try them all!
---
Nashville Bucket list – Distilleries & Breweries
55. Jack Daniel's Distillery
I finally made it to Jack Daniel's Distillery last month after my trip to Huntsville. While I'm not a huge drinker, this is definitely a really cool place to see with a lot of history involved. I would highly recommend for anyone – they even have "dry" tours – you don't have to taste the whiskey to go!
Location: 280 Lynchburg Hwy, Lynchburg, TN 37352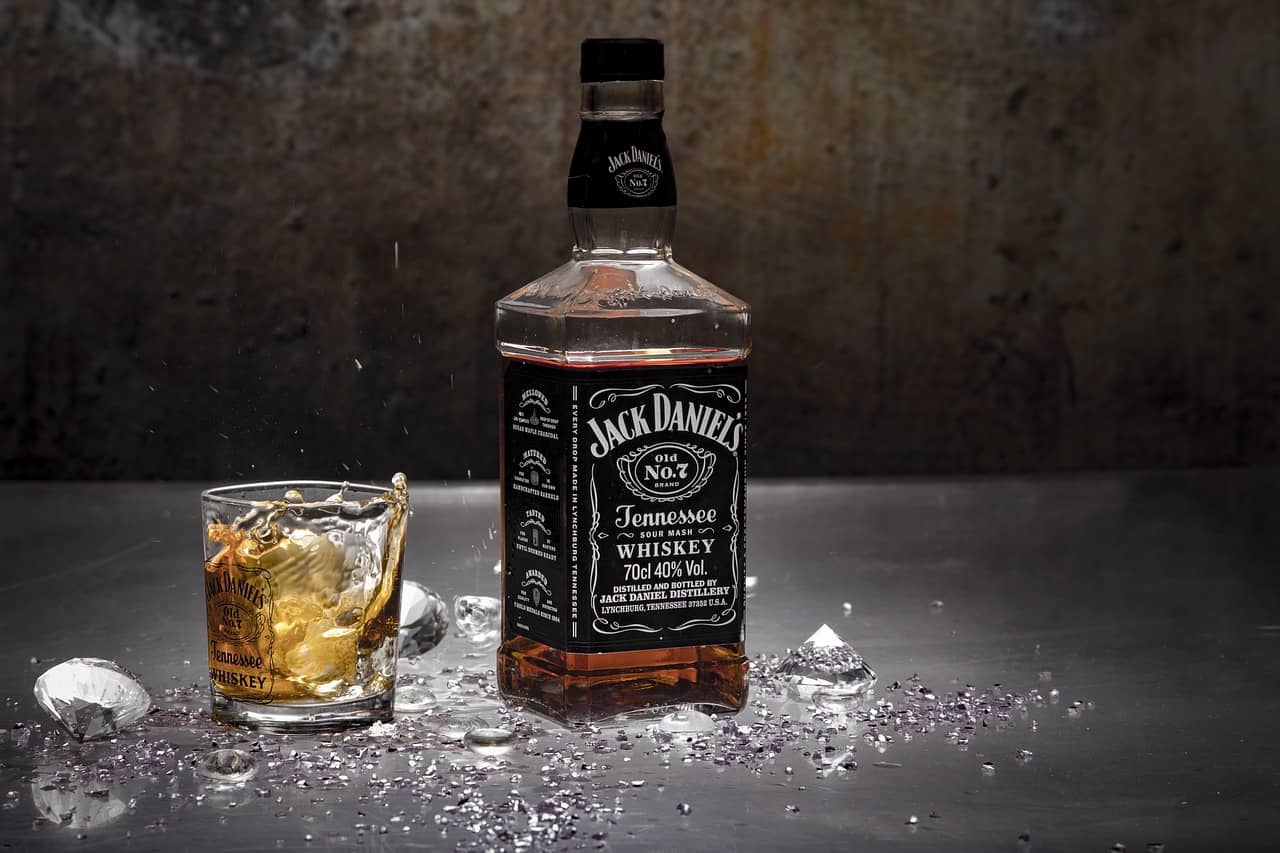 56. Corsair Distillery
Laid-back brewpub offering drafts of U.S. & German craft beers & tours of the microdistillery.
Location: 1200 Clinton St #110, Nashville, TN 37203
57. Leiper's Fork Distillery
Leiper's Fork Distillery is a small batch artisan distillery featuring unaged spirits, Leiper's Fork's first bourbon since prohibition and premium spirits.
Location: 3381 Southall Rd, Franklin, TN 37064
58. George Dickel Distillery
Small-scale Tennessee whiskey producer offering bottles for sale & tours of the distillery.
Location: 1950 Cascade Hollow Rd, Tullahoma, TN 37388
59. Jackalope Brewing Company
Industrial-style beer pub offering its own brand of microbrews, plus cheese curds & event nights.
Location: 701 8th Ave S, Nashville, TN 37203
60. Black Abbey Brewing Company
This relaxed taproom of a local brewery crafting Belgian-style beer has a monastery-inspired setup.
Location: 2952 Sidco Dr, Nashville, TN 37204
61. Fat Bottom Brewery
Industrial-chic taproom for specialty ales & seasonal beers served alongside burgers & comfort food.
Location: 800 44th Ave N, Nashville, TN 37209
62. Yazoo Brewing Company
Brewery & taproom offering twice-weekly tours where visitors learn about Yazoo & sample beer.
Location: 900 River Bluff Dr, Madison, TN 37115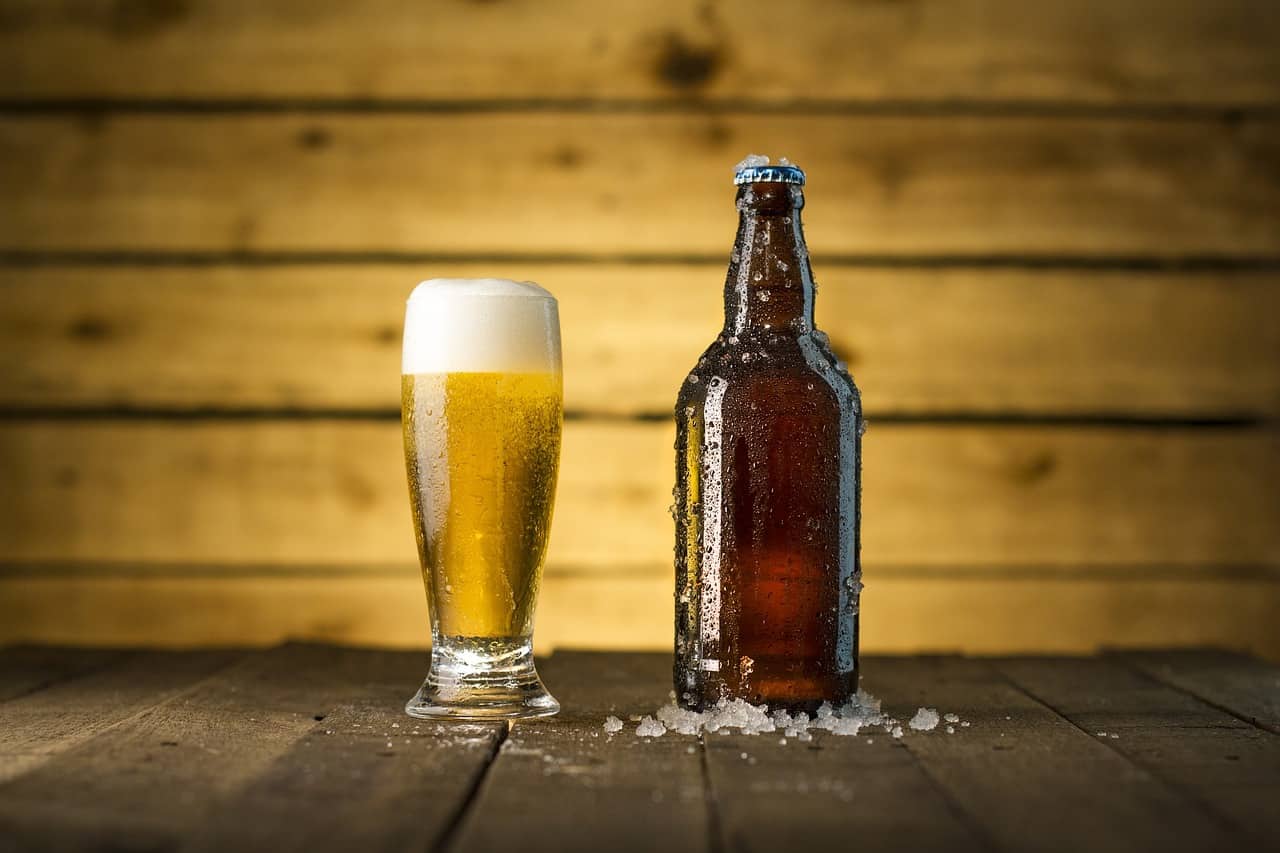 ---
Nashville Bucket List – Nightlife & Live Music
63. Santa's Pub
Busy dive bar in a double-wide, decked in holiday decor, offering karaoke & cheap beer.
Location: 2225 Bransford Ave, Nashville, TN 37204
64. Arrington Vineyards
Founded by Kix Brooks, Arrington Vineyards is located 25 minutes south of Nashville among the beautiful hills of Arrington, Tennessee.
Location: 6211 Patton Rd, Arrington, TN 37014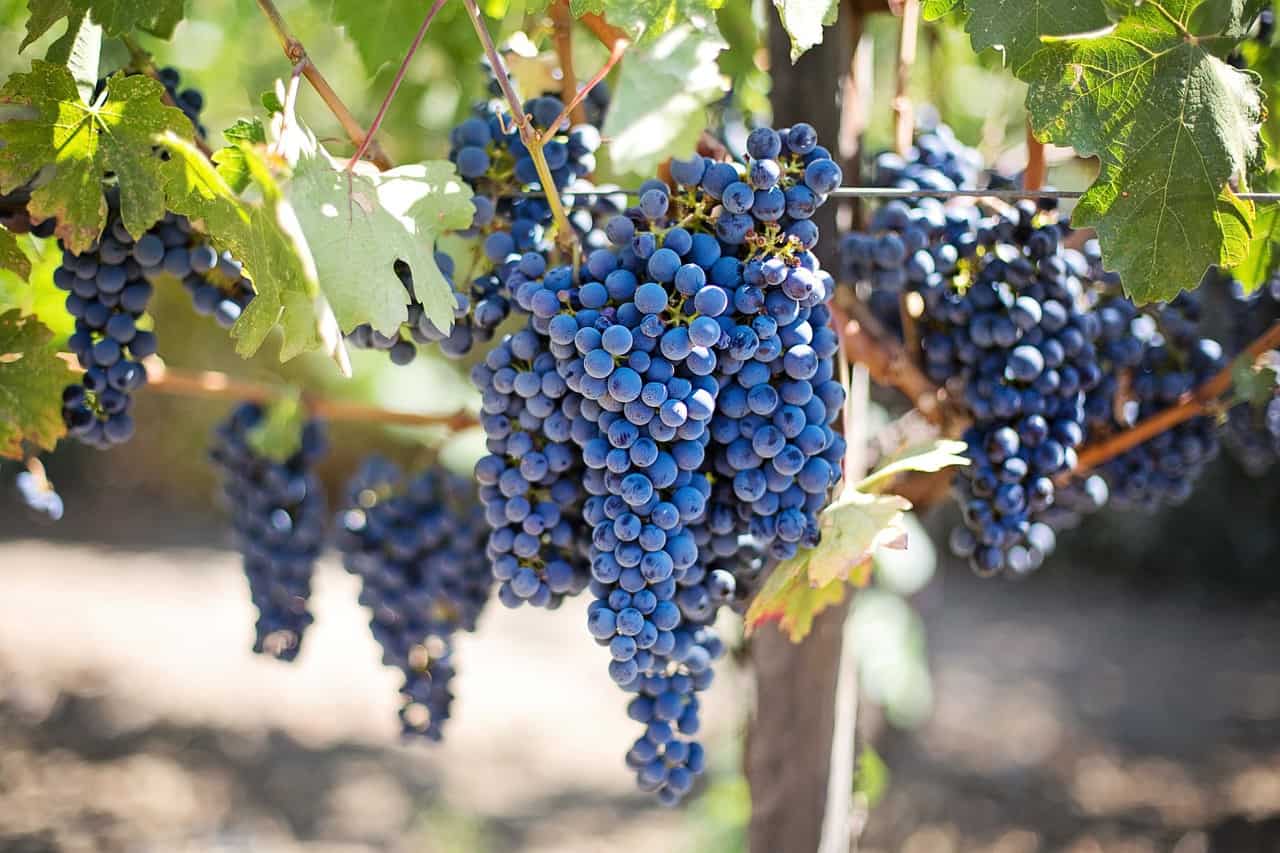 65. HQ Beercade
Funky arcade bar with loads of throwback video games plus craft beers & specialty cocktails.
Location: 114 2nd Ave S, Nashville, TN 37201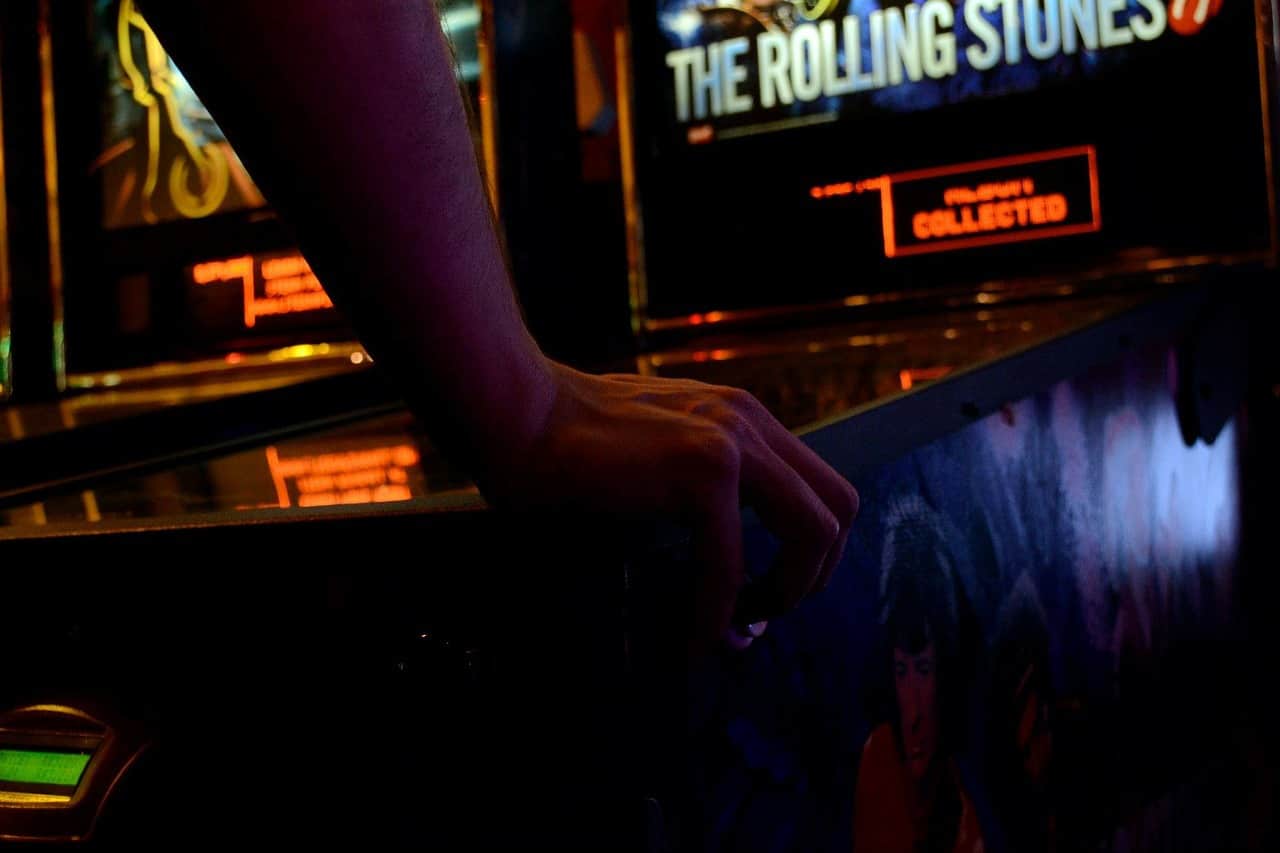 66. Belcourt Movie Theater
The Belcourt Theatre is a nonprofit film center located in Nashville's Hillsboro Village district.
Location: 2102 Belcourt Ave, Nashville, TN 37212
67. Pinewood Social
Trendy hangout featuring New American cuisine, cocktails & bowling in an industrial-chic space.
Location: 33 Peabody St, Nashville, TN 37210
68. Nashville Symphony
Location: 1 Symphony Pl, Nashville, TN 37201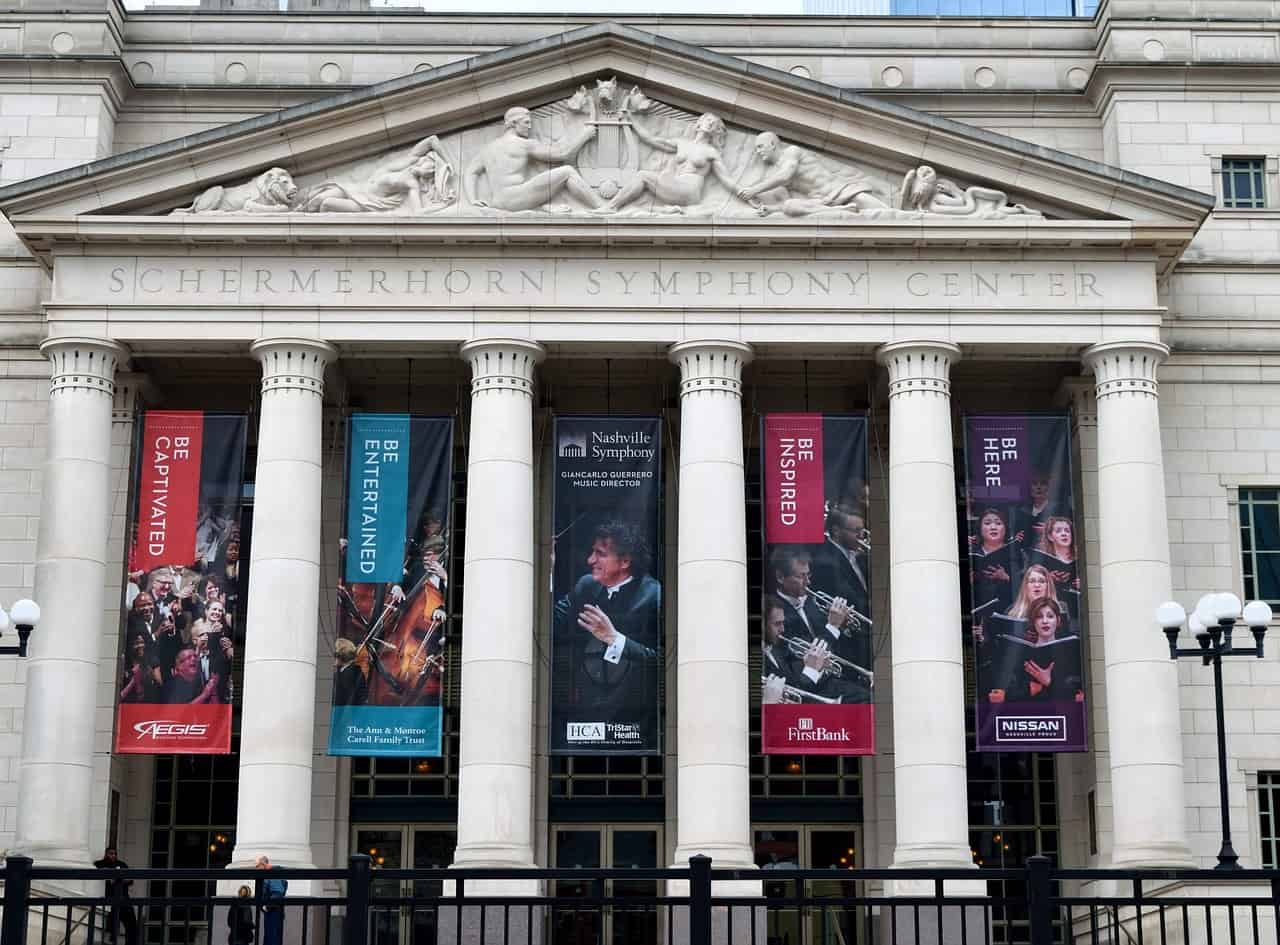 69. See a Concert at Ascend Amphitheater
The Ascend Amphitheater is an open-air event venue located on the Cumberland River.
Location: 310 1st Ave S, Nashville, TN 37201
70. See a Concert at Bridgestone Arena
I'll admit that I'm more of a small-venue type of girl when it comes to music. Sometimes, though, you have to go to the bigger arenas to see someone and Bridgestone is apparently one of the best in the country! It is the home of the Nashville Predators but when they aren't playing, there are constant music and other entertainment going on at the arena.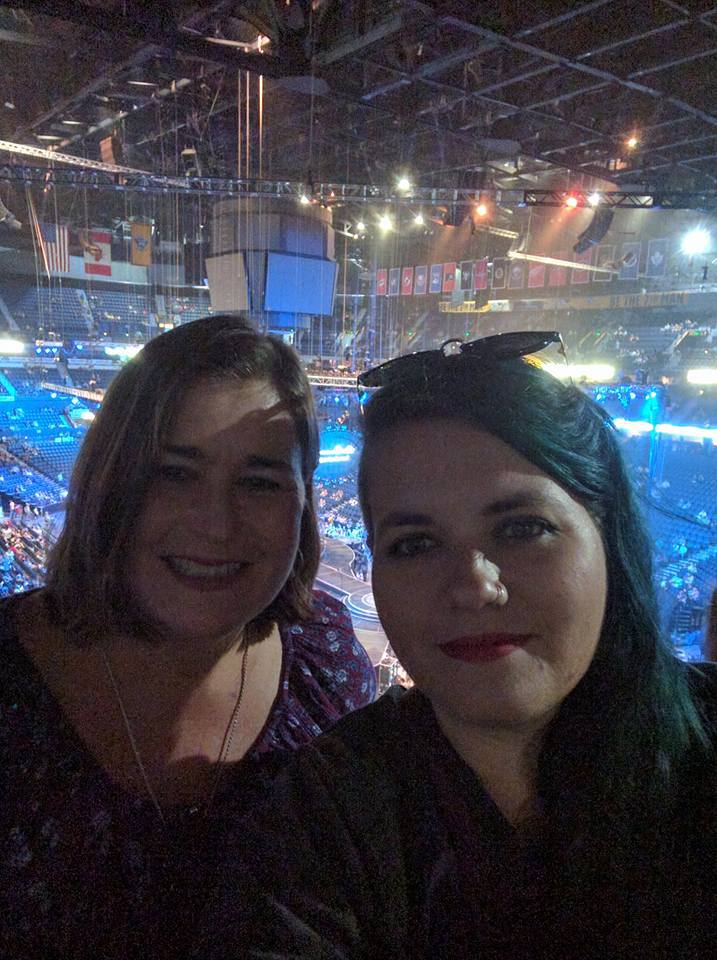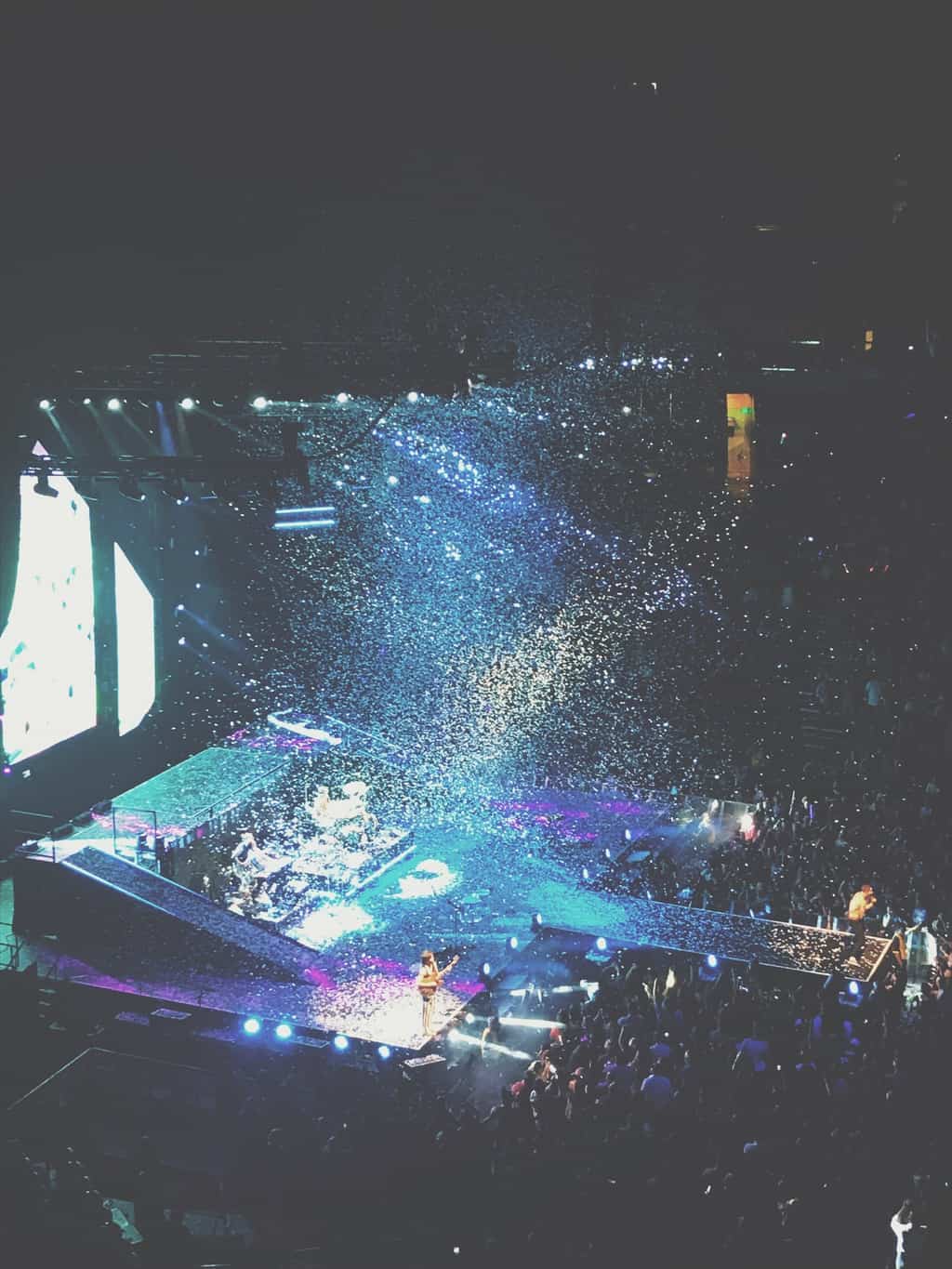 71. Go to the Bluebird Cafe
Tiny iconic club featuring up-&-coming & experienced songwriters.
Location: 4104 Hillsboro Pike, Nashville, TN 37215
72. Attend CMA Fest
I've been to CMA Fest one time several years ago and it's not really my scene but it was still fun! I think it's definitely a "you need to do this one time" kind of thing especially for Nashville natives or country music lovers. My friend Melody over at Wherever I May Roam has a lot more detailed information on the festival as she has been eight years! See her CMA Fest hacks here.
73. Attend Bonnaroo Music & Arts Festival
Now, Bonnaroo is more my jam (no pun intended). I went to my first Bonnaroo in 2015 and it was one of the most amazing weeks of my life. I hope to go back this year after trying and failing the past two years. I've put together several posts on my experience: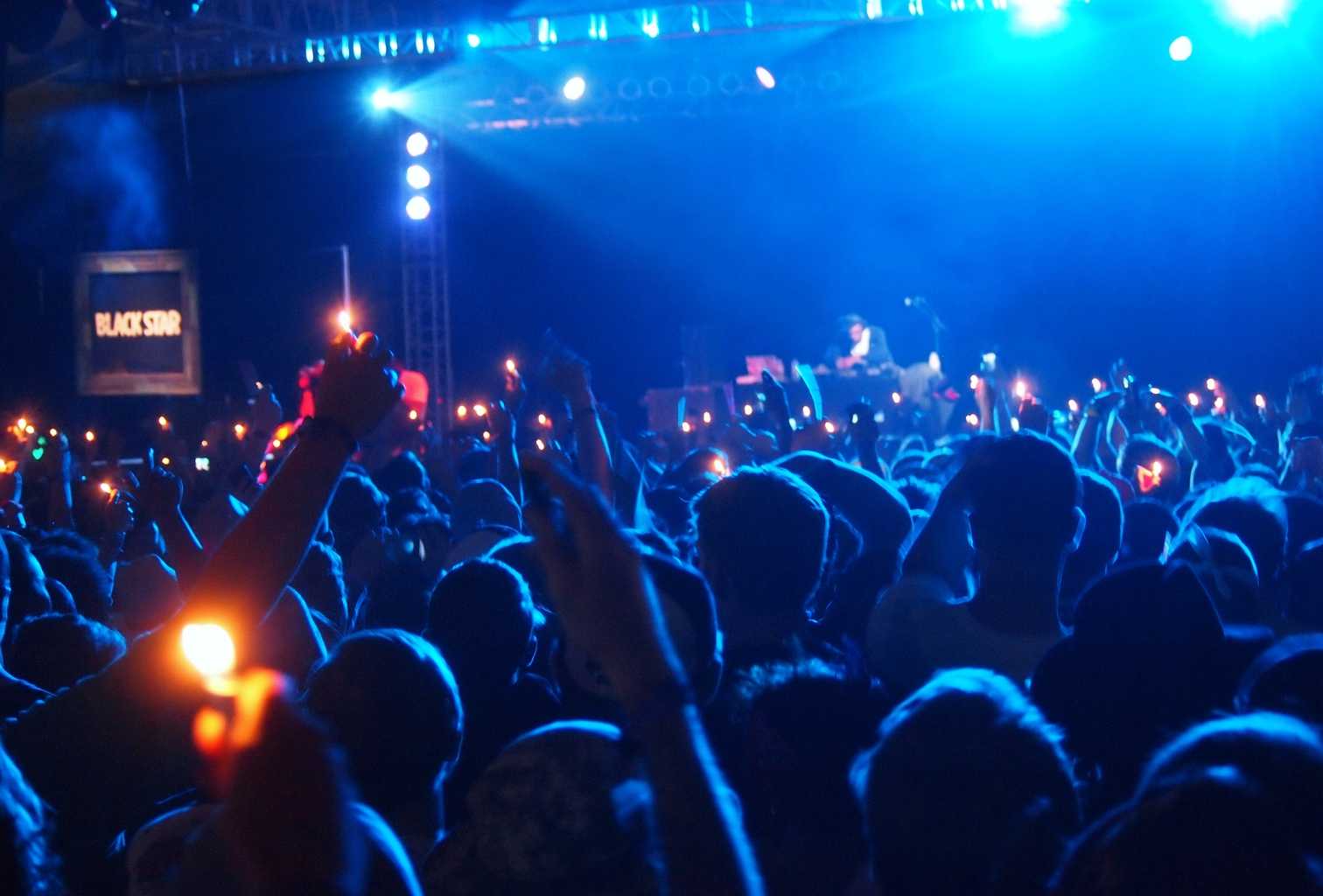 74. See a Show at Marathon Music Works
Location: 1402 Clinton St, Nashville, TN 37203
75. See a Show at Cannery Ballroom
I saw Katy Perry at the Cannery back before Katy Perry was Katy Perry – it was amazing! These are the kind of venues I enjoy – small and super intimate.
Location: 1 Cannery Row, Nashville, TN 37203
76. Live on the Green
Live On The Green is a free outdoor music festival during the summer.
77. Try Absinthe during The Green Hour
New Orleans isn't the only city where you can try this unique experience and drink.
Location: 1201 5th Avenue N, Nashville, Tempered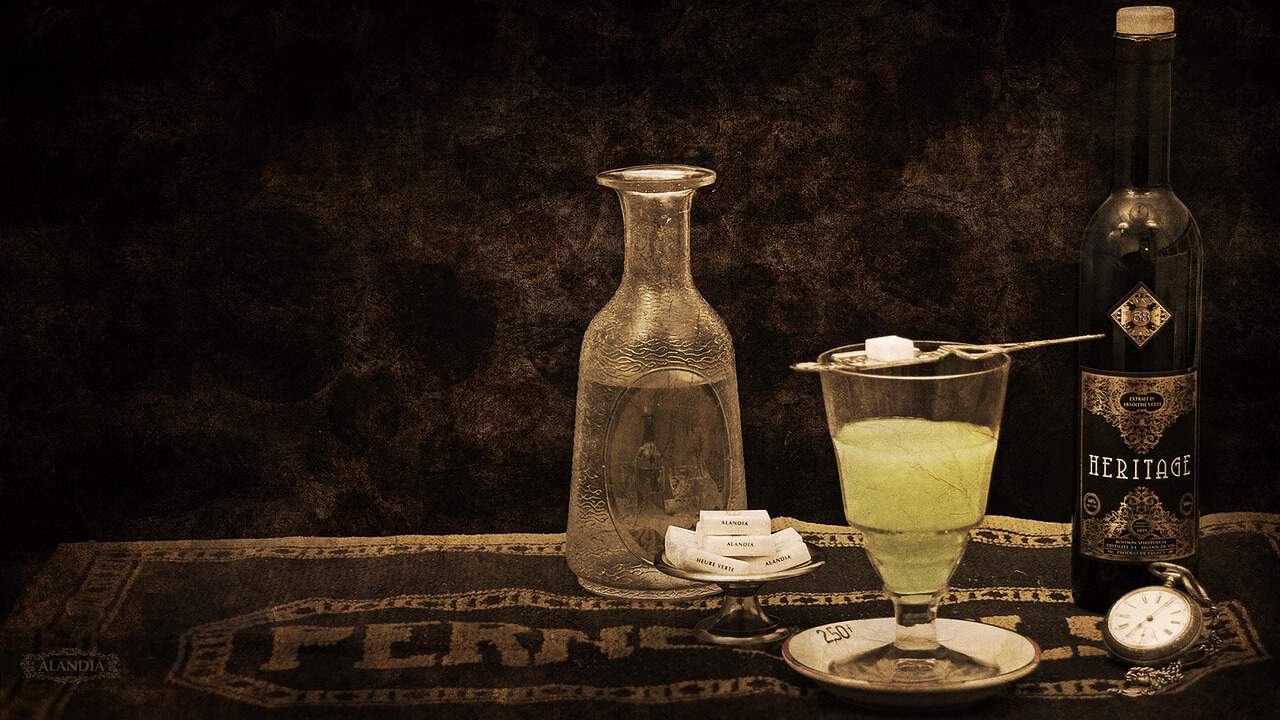 ---
Nashville Bucket List – Best Nashville Tours
78. Nashville Hop-On Hop-Off Trolley Tour
This tour offers free admission to several museums as well.
79. Homes of the Stars Tours
Take a tour to see all the homes of the country music stars that call Nashville home.
80. Civil War History Tour
Experience where the bloodiest battles of the Civil War took place in Franklin, Tennessee – just south of Nashville.
81. Mint Julep Tours
Offering several tours in Nashville.
82. Nashville Filming Locations
See all the filming locations for the hit tv-show Nashville.
---
Shopping
83. White's Mercantile
A general store for the modern-day individual owned by Hank Williams's granddaughter.
Location: 2908 12th Ave S, Nashville, TN 37204
84. Imogene + Willie
Spend an entire month's rent on these one-of-a-kind blue jeans.
Location: 2601 12th Ave S, Nashville, TN 37204
85. Project 615 Shop
Make sure to pick up a Project 615 t-shirt or hat from this philanthropic store selling hip tees & other apparel to benefit philanthropic causes in Tennessee.
Location: 1006 Fatherland St #205, Nashville, TN 37206
86. Nashville Farmers' Market
Lively daily market featuring a wide variety of local foods, produce, crafts, classes & chef demos. Right next to Bicentennial State Park – perfect for a picnic!
Location: 900 Rosa L Parks Blvd, Nashville, TN 37208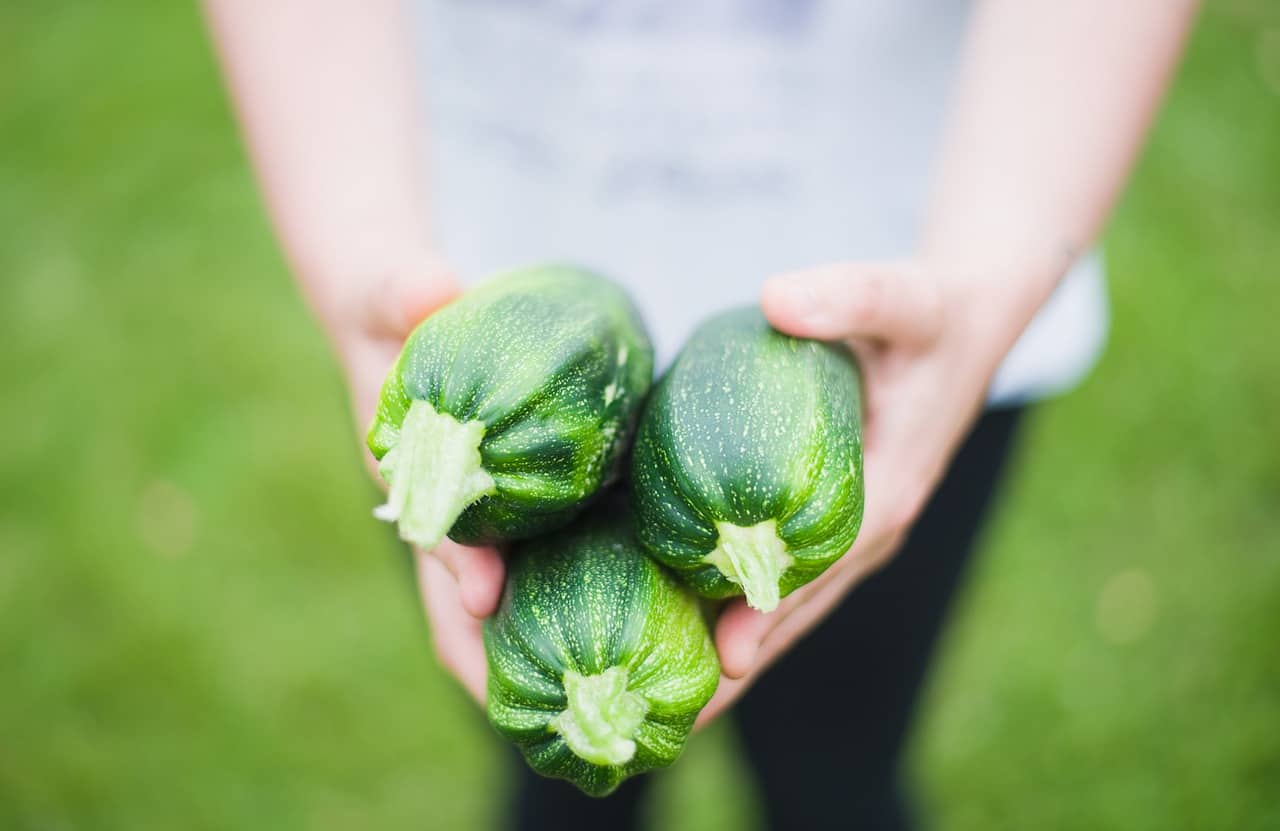 87. Nashville Flea Market
Okay, I know. You're thinking – really, a flea market on a bucket list? And, my answer is a resounding yes! This is one of the best flea markets in the country and it. is. HUGE. You can find anything here. Check out my local's guide to the Nashville flea market I wrote over at Souvenir Finder.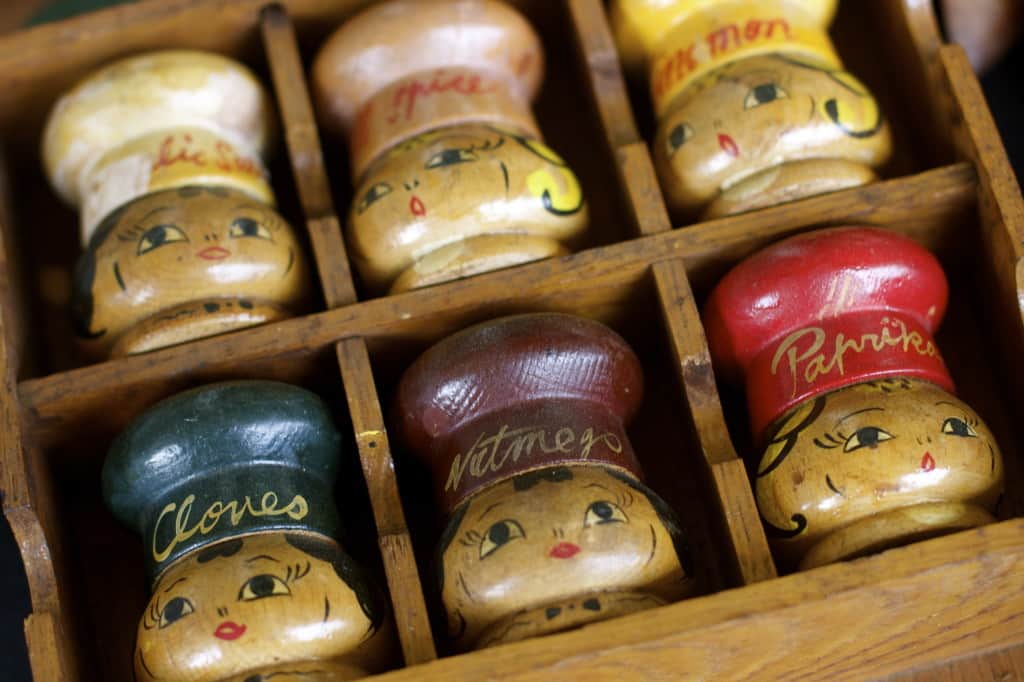 ---
Universities
I'll admit I love visiting college campuses when I go places. I love the feeling of being on a campus – a place so full of knowledge and hope for the future. In Nashville, we have several universities and my two favorite campuses to stroll around include Vanderbilt and Belmont.
88. Vanderbilt
I feel like Vanderbilt is a very well-known name. It is one of the best schools and hospitals in the country and possibly the world? The campus is beautiful and you can also eat at one of my all-time favorite places – Grins.
89. Belmont
Belmont isn't as well known and not as big but just as spectacular as Vanderbilt. They are also very close together, sandwiching Hillsboro Village – a very quaint, hip neighborhood. Eat at The Grilled Cheeserie (great vegan options!) and see a movie at the Belcourt Theater in this neighborhood.
---
Short Day Trips from Nashville
90. Bell Witch Cabin and Cave
Take a short day trip from Nashville to one of the most haunted places in the state.
91. Go Skydiving with Skydive Tennessee
See my skydiving in Tennessee experience.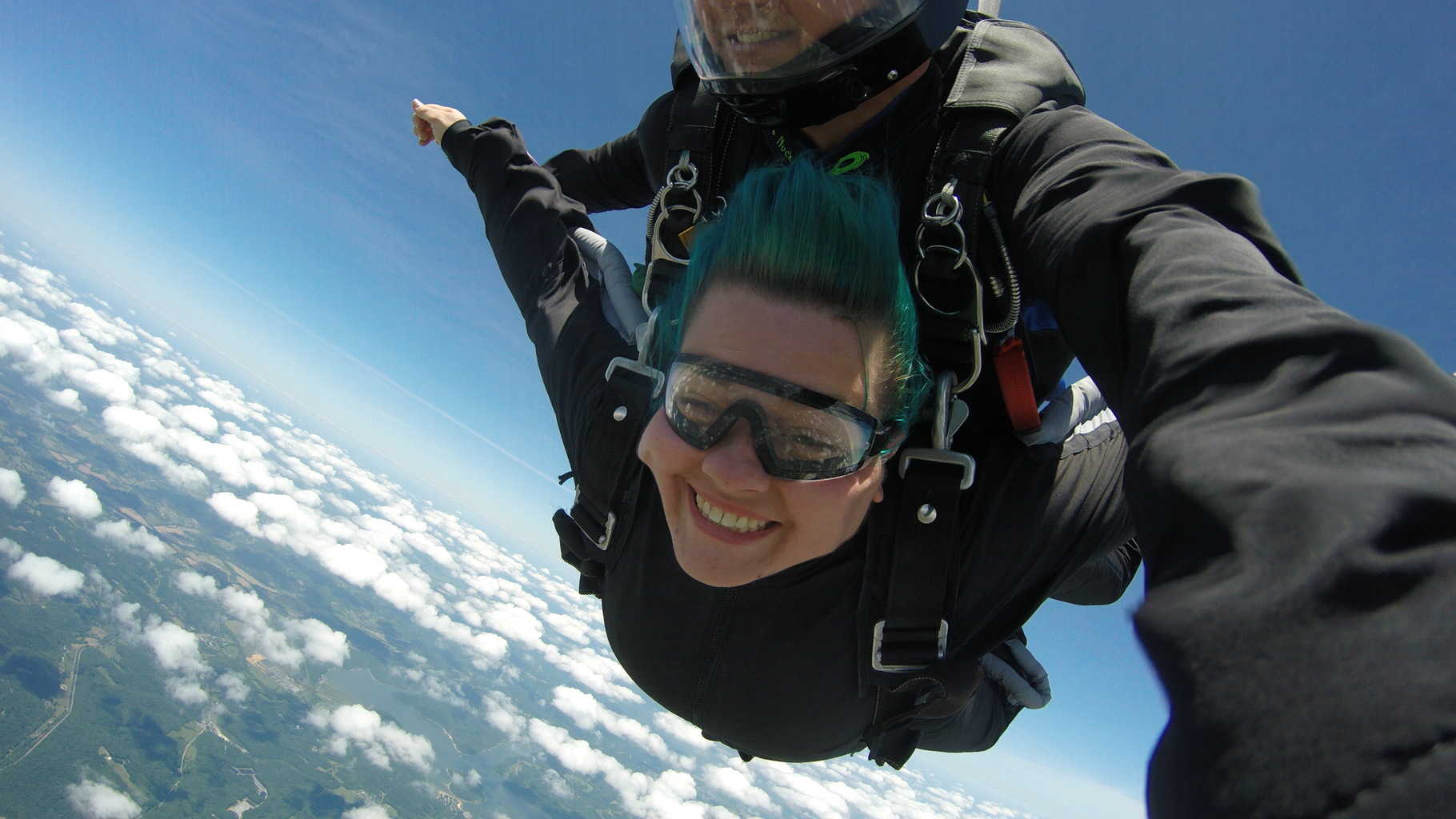 92. Scuba Dive in a Quarry
Scuba diver and hate being landlocked like me? There's a quarry only an hour away from Nashville that has super clear visibility and really cool things to explore underwater.
93.Leiper's Fork
Head down south for the day to get away from the city life.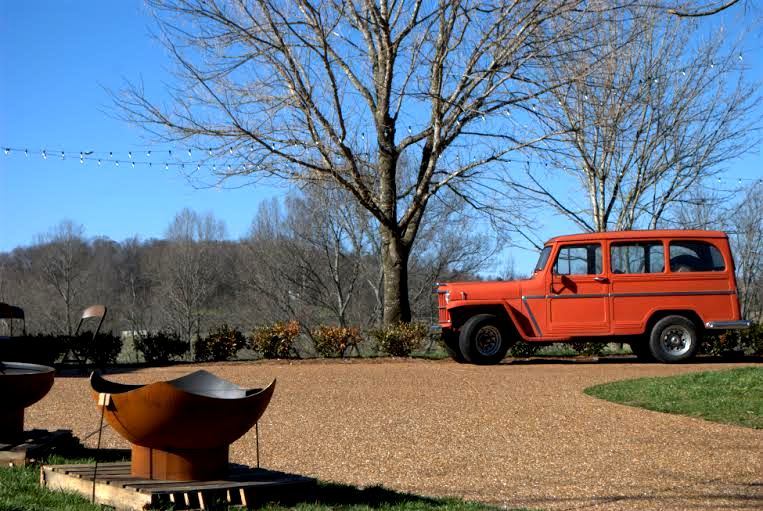 94. Civil War Sites in Murfreesboro
Still curious about civil war sites? Head to Murfreesboro to check out the civil war sites there.
---
Nashville Bucket List – Seasonal Events & Festivals
95. Oktoberfest
Oktoberfest has been happening in Nashville for 40 years! Join in the fun.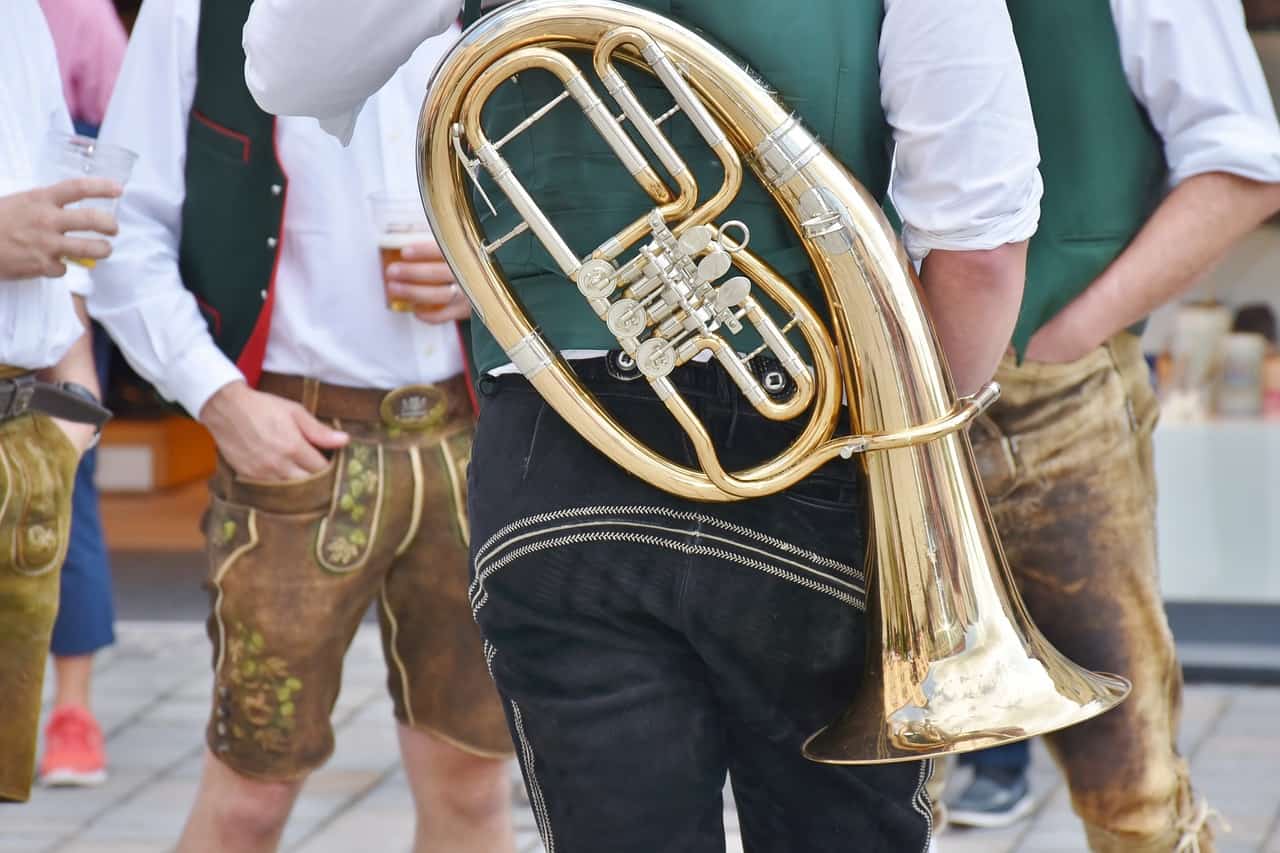 96. Full Moon Pickin' Party
Come on out to the barn and enjoy Nashville's tradition of pickin' in the park with 2,000 of your Warner Park friends!
97. Tomato Art Festival
Nashville best and wackiest art festival!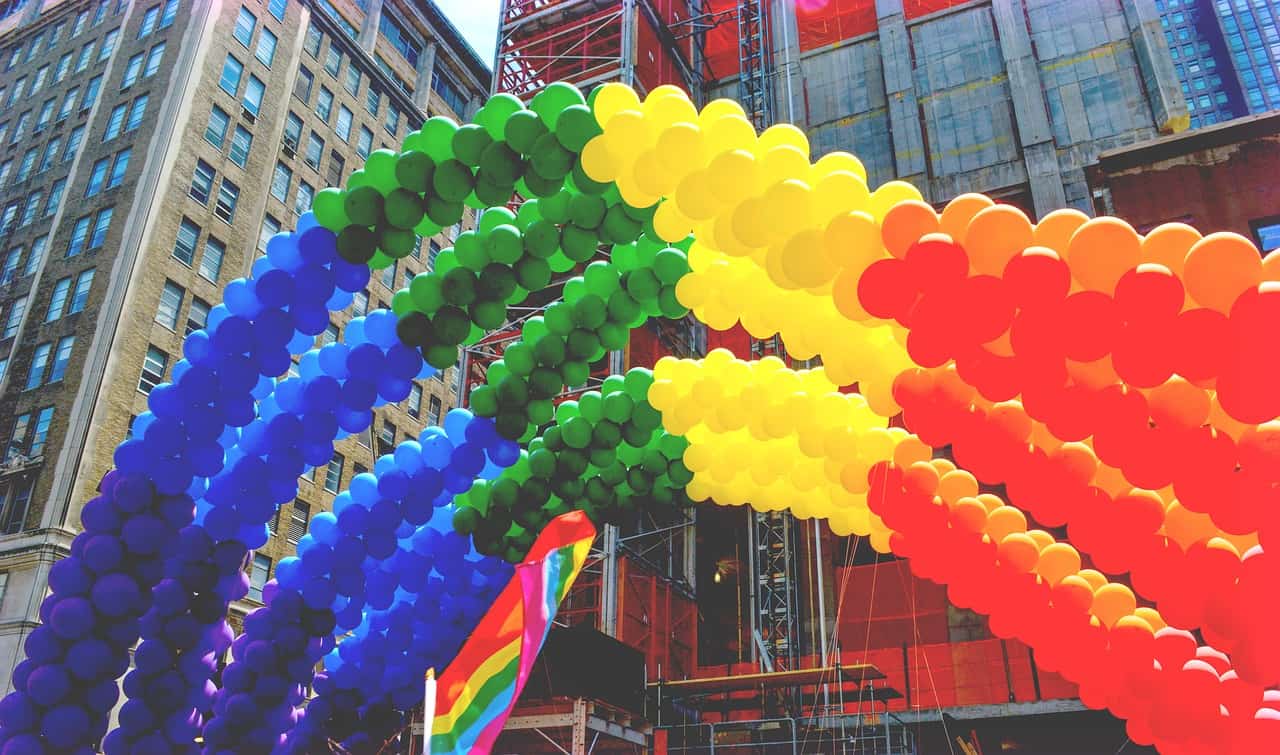 99. Southern Festival of Books
Thousands of book lovers come together to hear panels and solo sessions featuring 200 of the nation's foremost writers. In addition to attending sessions, attendees peruse exhibitor booths, food trucks, and enjoy musical, theatrical, and spoken word performances, along with events for children and youth, on our three performance stages on the Plaza.
100. Dickens of a Christmas
Each year, Main Street recalls the spirit of Christmases past when the Heritage Foundation throws its annual Dickens of a Christmas celebration!
101. Cherry Blossom Festival
The annual Nashville Cherry Blossom Festival is a free​ to the public, family-friendly celebration of spring and Japanese culture.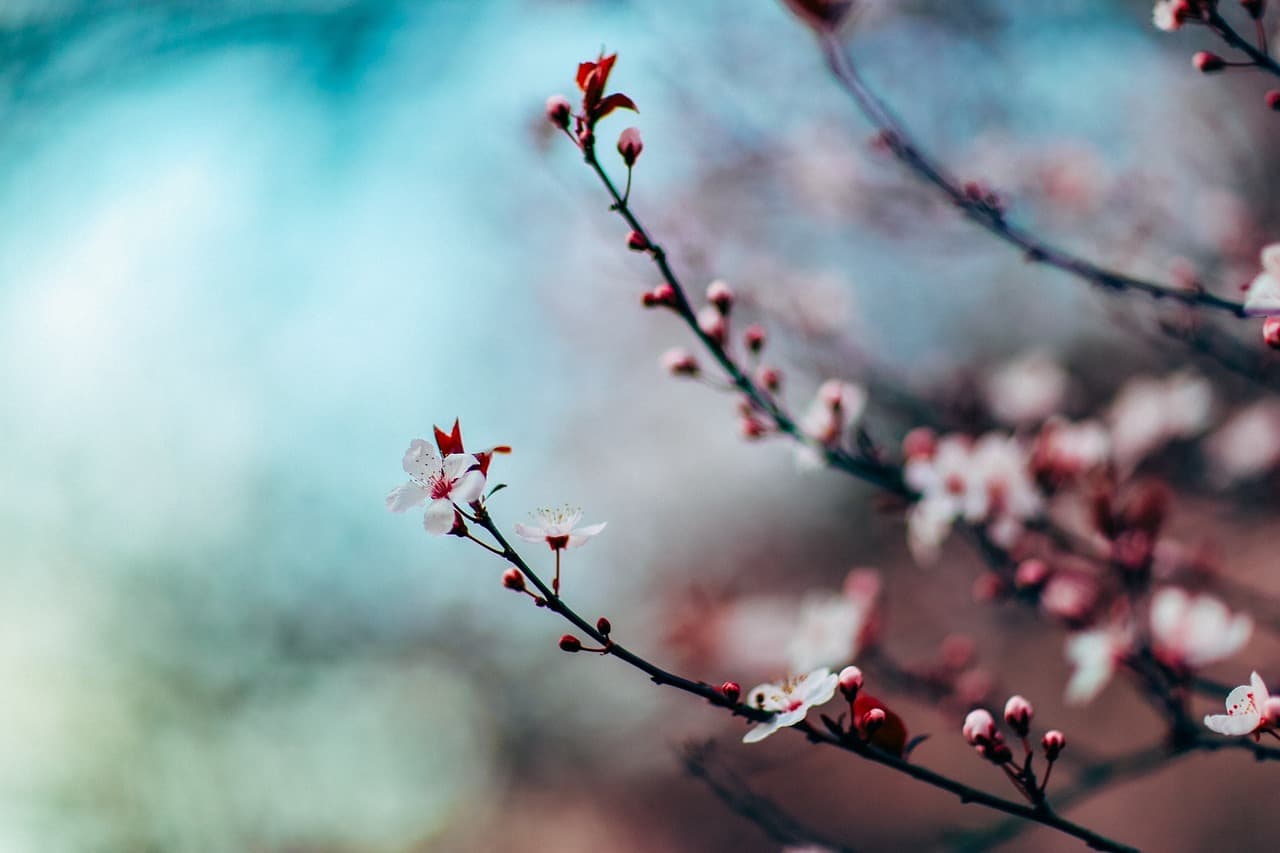 ---
Best Time to Go to Nashville
The best time to go to Nashville really comes down to what you're interested in seeing. There's not a bad time necessarily to visit, but it'll be dependent on the kind of weather you prefer. The winters can be quite cold and brutal and we don't get a ton of snow, but we do get ice which is no joke. The summers are extremely hot and humid. For weather reasons, I would suggest a spring or fall visit definitely!
Unless you're specifically coming for CMA Festival in June, I would avoid that entire week or two. Downtown is insane and prices are even more expensive than normal.
---
Where is Nashville
Nashville is located in middle Tennessee and is a great base to explore the rest of Tennessee, the Southeastern United States, the Midwest and more. There are tons of great destinations that are in driving distance for a weekend trip from Nashville.
---
Where to Stay in Nashville
While Nashville can be a bit pricey when it comes to accommodation, there are plenty of places to stay in Nashville no matter what your budget is!
Budget
Nashville Downtown Hostel
The Nashville Downtown Hostel is located 1-block off of Lower Broadway, the live music and entertainment area of Nashville making it a prime location.
See Reviews Here | Book Here (free cancellation!)
Music City Hostel
Located in Midtown, this is a true backpacker's hostel located near the college campuses and lots of live music.
See Reviews Here | Book Here (free cancellation!)
Mid-Range
Stay Alfred SoBro
There's nothing better than living it up Nashville style, and then coming "home" to comfort and quiet. That's what you get at this cozy Stay Alfred travel apartment located in the city's coveted South of Broadway (SoBro) neighborhood. Along with homelike, in-unit amenities like a living room and a full kitchen, you get a great location just three blocks from Music City's lively bars and yummy, chef-driven restaurants, plus, of course, a world-class music scene!
See Reviews Here | Book Here (free cancellation!)
Luxury
Hutton Hotel
Set in the city's lively West End neighborhood and steps from the heart of Music Row, the iconic Hutton Hotel offers Four- Star, Four-Diamond service and amenities inspired by our guests.
See Reviews Here | Book Here (free cancellation!)
Kimpton Aertson Hotel
Here in Midtown, locals unwind amid artistry and academia, cuisine and cocktails. It's an inside view of Nashville just beyond the glow of storied honky tonks and neon signs.
See Reviews Here | Book Here (free cancellation!)
---
↓↓↓ PIN IT FOR LATER ↓↓↓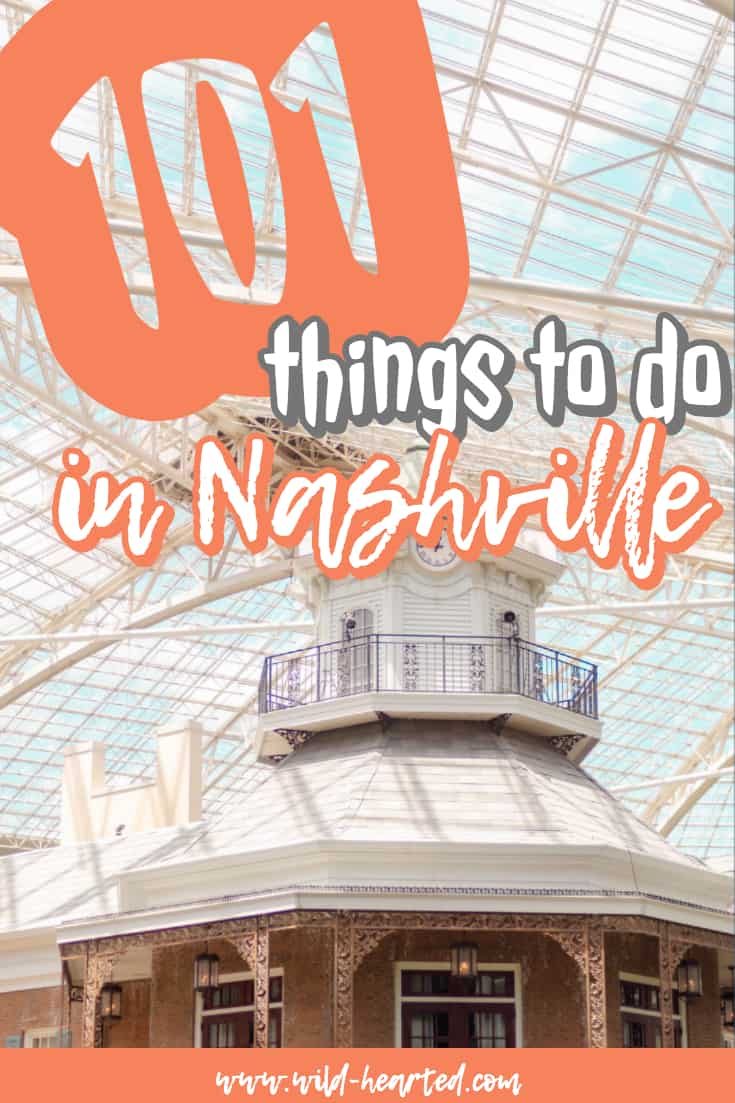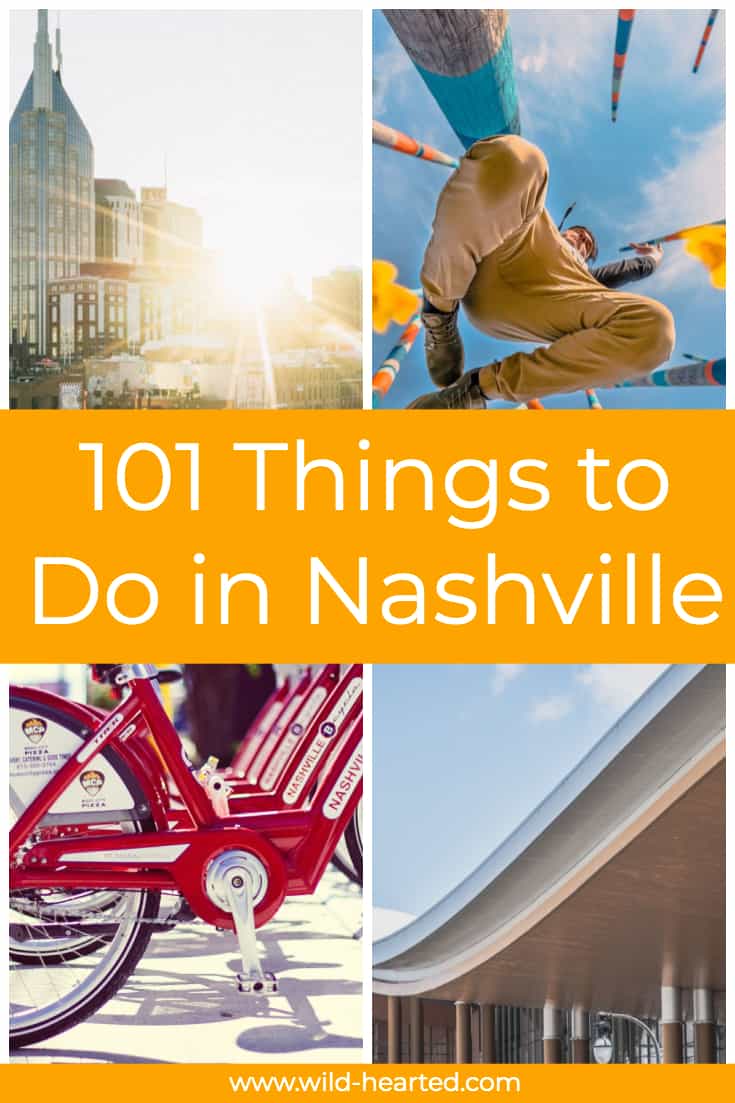 *photo attributions // rollergirls | parthenon | country music hall of fame
Latest posts by Ashley Hubbard
(see all)