This post may contain affiliate links, meaning if you book or buy something through one of these links, I may earn a small commission (at no extra cost to you!). Please see my disclosure.
Last September, I went to an area of my state I had always wanted to visit – Rock Island State Park. With a goal to visit all Tennessee State Parks, this was finally a chance to check one of the most anticipated ones of the list. If I'm being honest I was having a hard time getting in the mood to go anywhere though – I had gone through some personal things at the beginning of the month and was leaving in just a few days to go away for a week to Austin. I did end up going though, of course, and I'm so happy I did because not only did I get to visit the gorgeous waterfalls but I also found the best rock island campground to stay at and I can't wait to go back again.
I do love visiting larger cities all over the world, but at the end of the day I connect to nature and being in the middle of nowhere most of all. As I drove into the area of Rock Island, over the Caney Fork River, down backroads that were barely large enough for two vehicles, passing a large rafter of turkeys (I'm sorry, but did you know that a group of turkeys is called a rafter?! – learn something new every day right here, folks), I knew this weekend alone was exactly what I needed.
Psst: Looking for more Tennessee outdoors? Check out a few of our other posts!
What is Rock Island?
There is the community of Rock Island and there is Rock Island State Park. They are in the same area but a little different. Rock Island is an unincorporated community named after an island on the Caney Fork River and is home to the Great Falls Dam and Rock Island State Park. The park is an 883-acre park which includes the Caney Fork Gorge, some of the most stunning waterfalls, several hiking trails, a cemetery, and historic buildings.
---
Where is Rock Island?
Rock Island is located in Warren County, Tennessee which is located in Middle Tennessee. McMinnville is the largest and closest town to Rock Island. You can get to Rock Island from Nashville (less than 2 hours), Chattanooga (1.5 hours), and Knoxville (just over 2 hours) so it's easily accessible from most of Middle and East Tennessee.
---
Rock Island Campground – Where is Horseshoe Bend?
When visiting, what rock island campground should you stay at? My suggestion is definitely Horseshoe Bend Marina and Campground for their close proximity and accessibility to Rock Island and the state park, their amazing site that includes so many activities and amenities and, of course, their glamping tents which level up that camping experience.
For clarification purposes, Horseshoe Bend is actually located in Walling, Tennessee which is in White County. Due to it's extremely close proximity to the park, it is still definitely the best place to stay when visiting Rock Island.
Horseshoe Bend is located just…around the river bend.
Seriously, though, Horseshoe Bend is just around the bend from the park. By water, you can get there in a mile. You can also drive there which will take you about 10-15 minutes because backroads just take longer than a straight shot down the river.
---
Accommodations at Horseshoe Bend
Are you convinced yet to stay at the best rock island campground? Good, here are the types of camping you can do there.
Tent Camping – $18.31/night + tax
I grew up tent camping a lot. It will always be one of my favorite types of travel. There are two different types of sites. One is a site only (meaning only a spot for your tent) and the other type includes water hook-up, a picnic table, grill, and a firepit.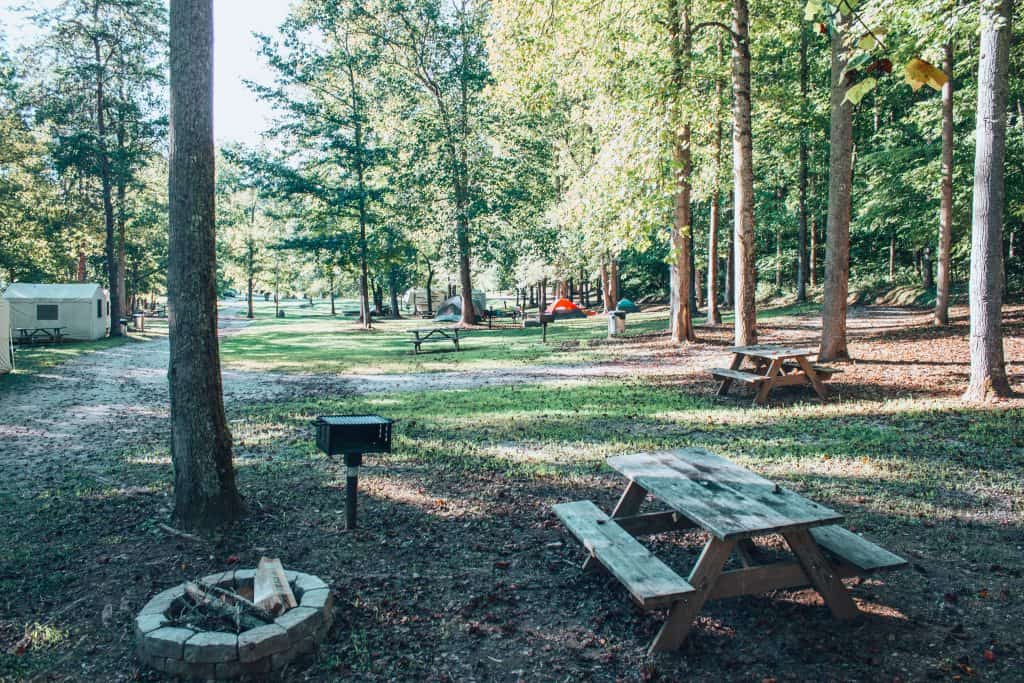 Ozark Tent – $75/night + nightly cleaning fee
As much as I love sleeping in a traditional tent, these are amazing. Room to move and an actual mattress? I felt like a camping Queen. The Ozark tent is a 10×12 tent that sits on a wooden platform and includes a deck and two chairs. You can either get one with two full beds, one queen bed or one king bed.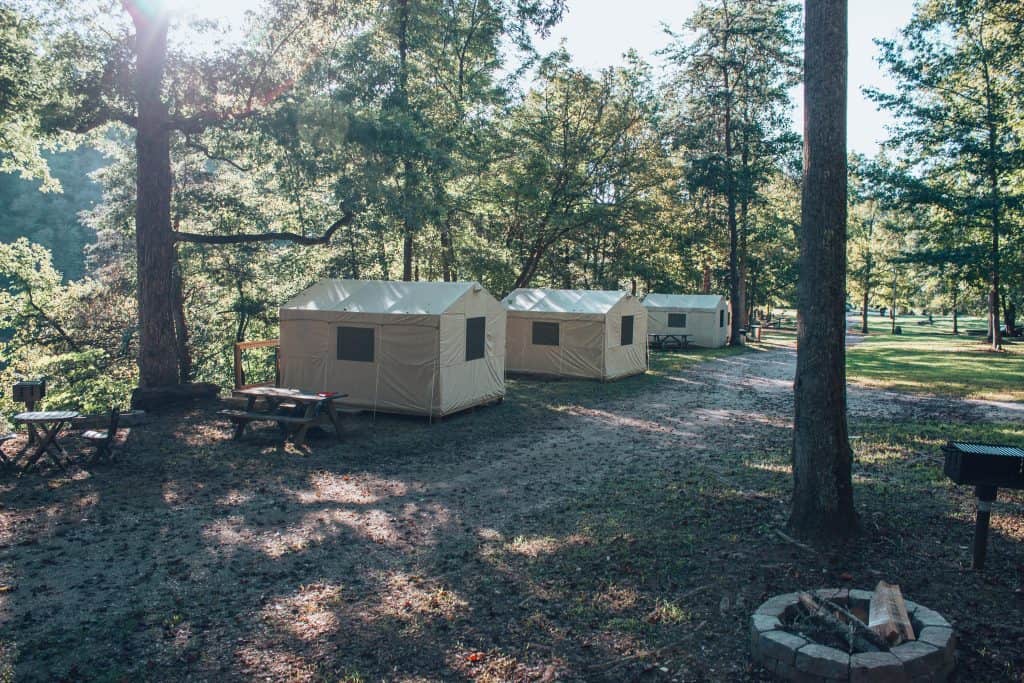 Elk Tent – $100/night
This is where I stayed on my visit and it was fantastic. It's a little bit bigger than the Ozark tents – it is 13×13 and has two beds as well. It's a little off to the side from the others so you have slightly more privacy.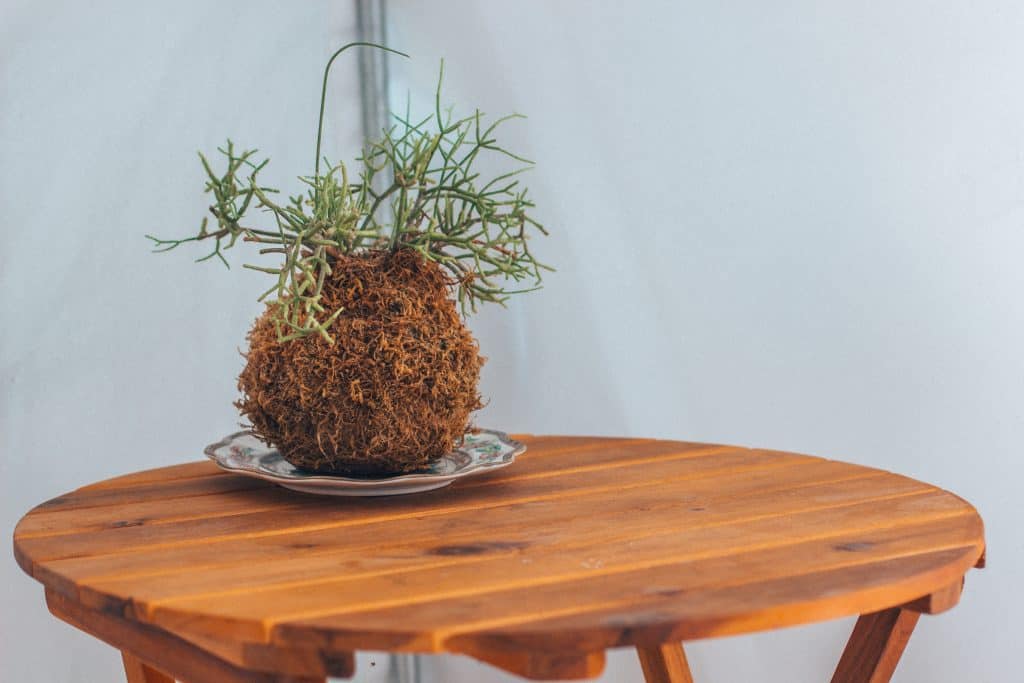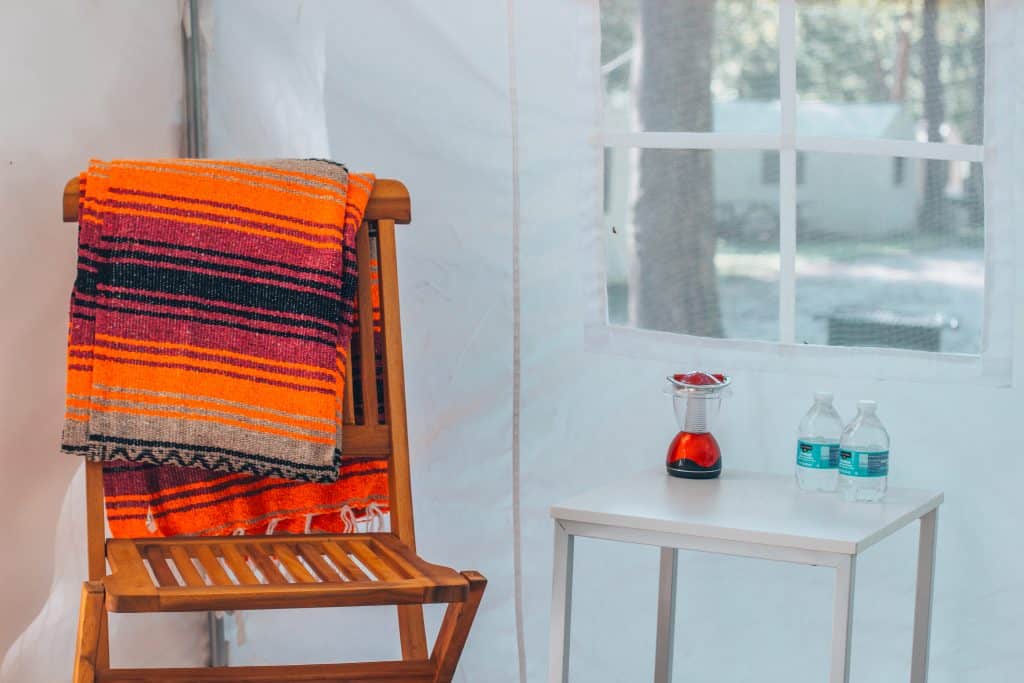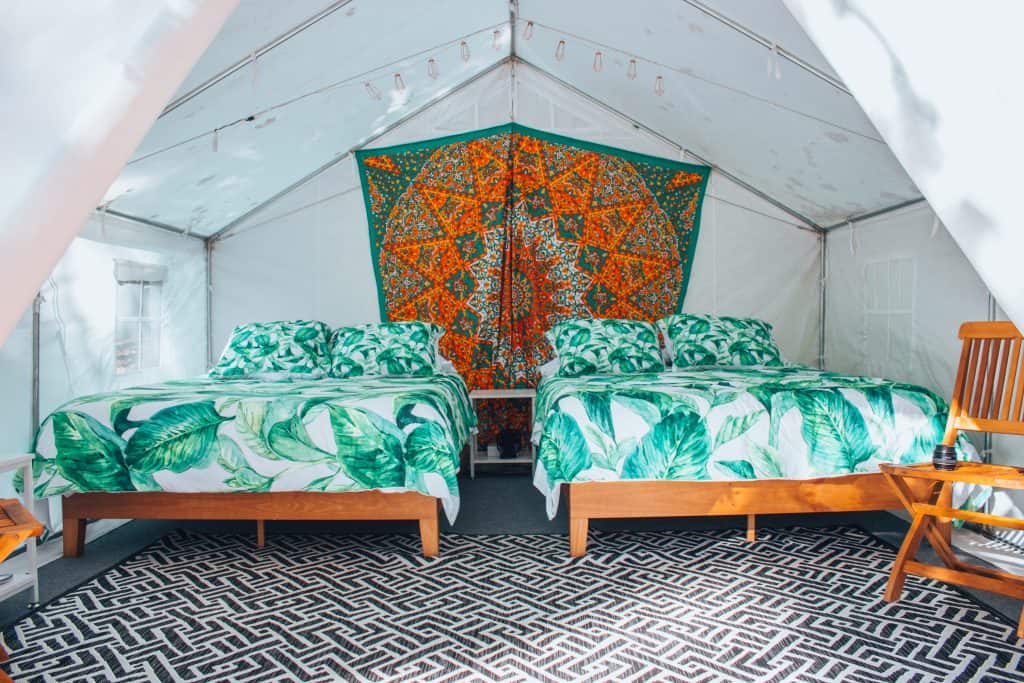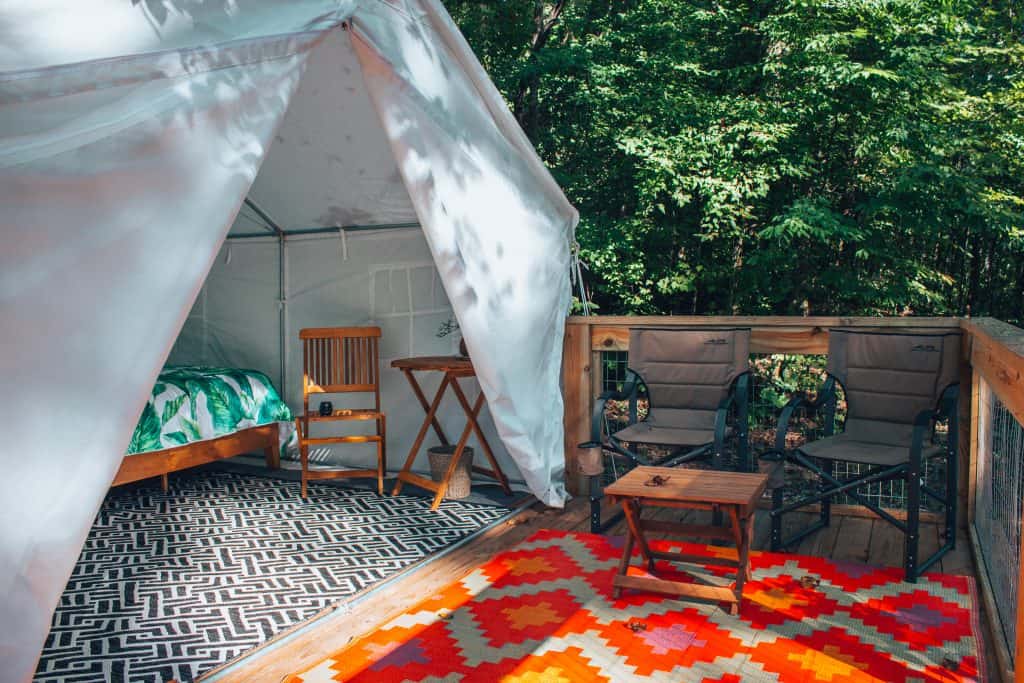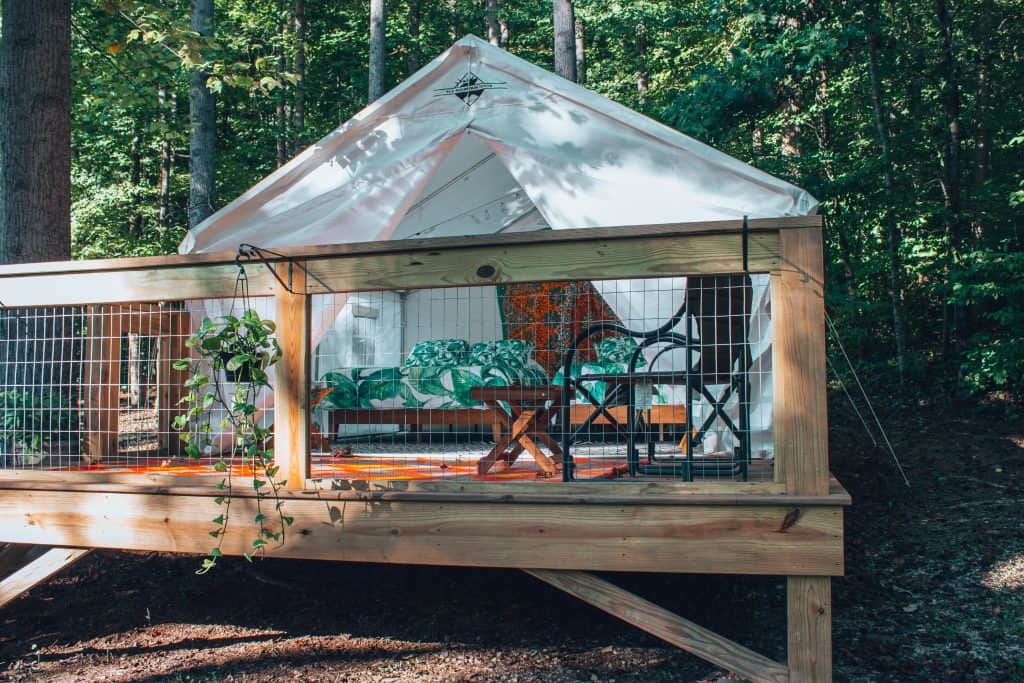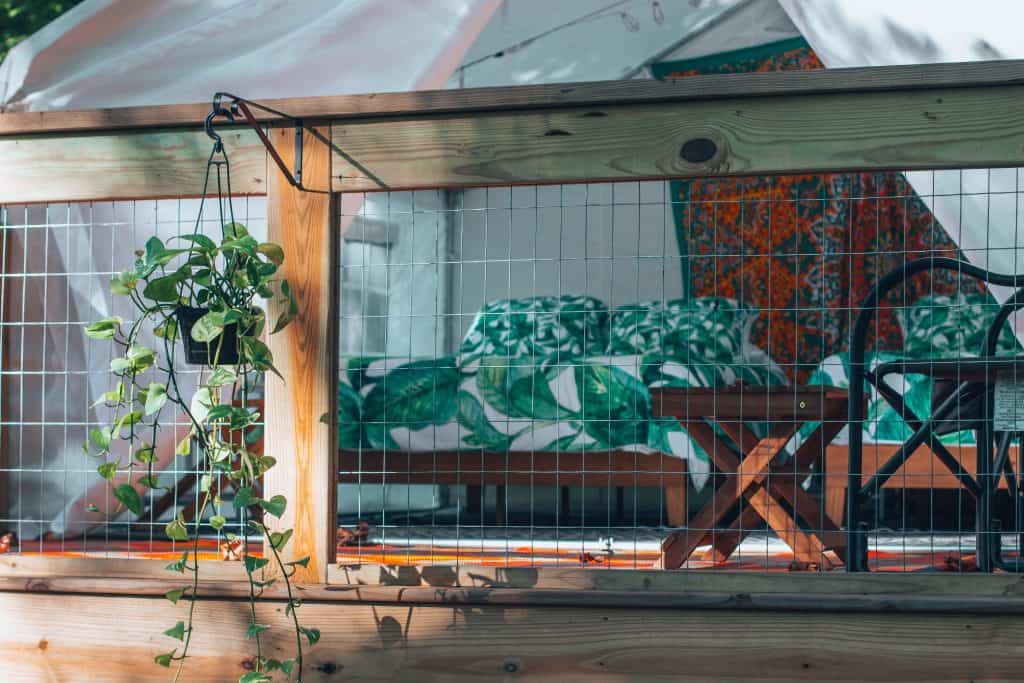 RV Sites – $22.81/night + tax
The RV sites come up with water and electric hookups plus the grill, firepit, and picnic table.
---
Activities and Amenities at Horseshoe Bend
What can you do at this rock island campground?
Some people like to go camping to just get away and relax – this is the perfect place to do that! Take your hammock, read a book, play cards and just chill out. If you're the go-go-go type though, there are plenty of activities at the campground to keep you busy.
Kayaking – rent single ($35 for a full day) or double ($45 for a full day) kayaks. Add on a 4-hour guide for $25.
Volleyball
Bonfire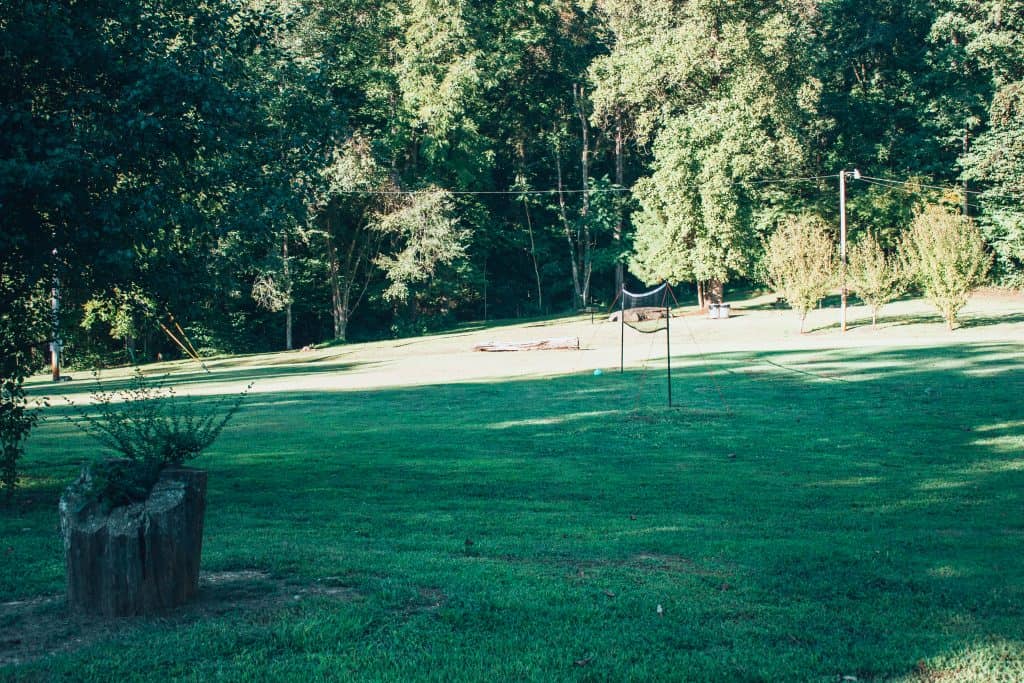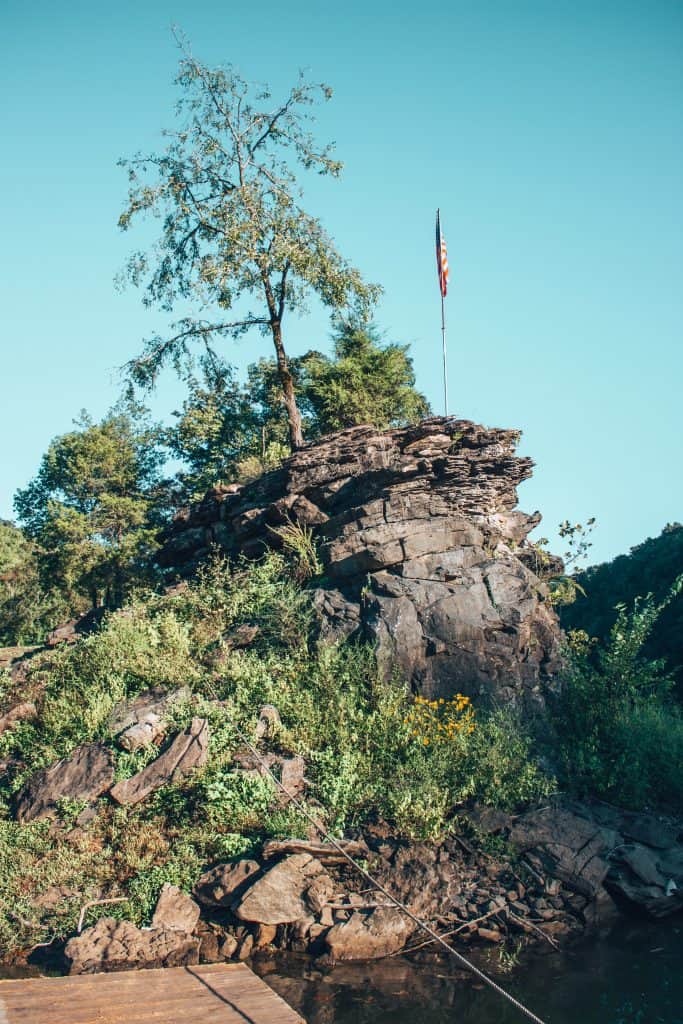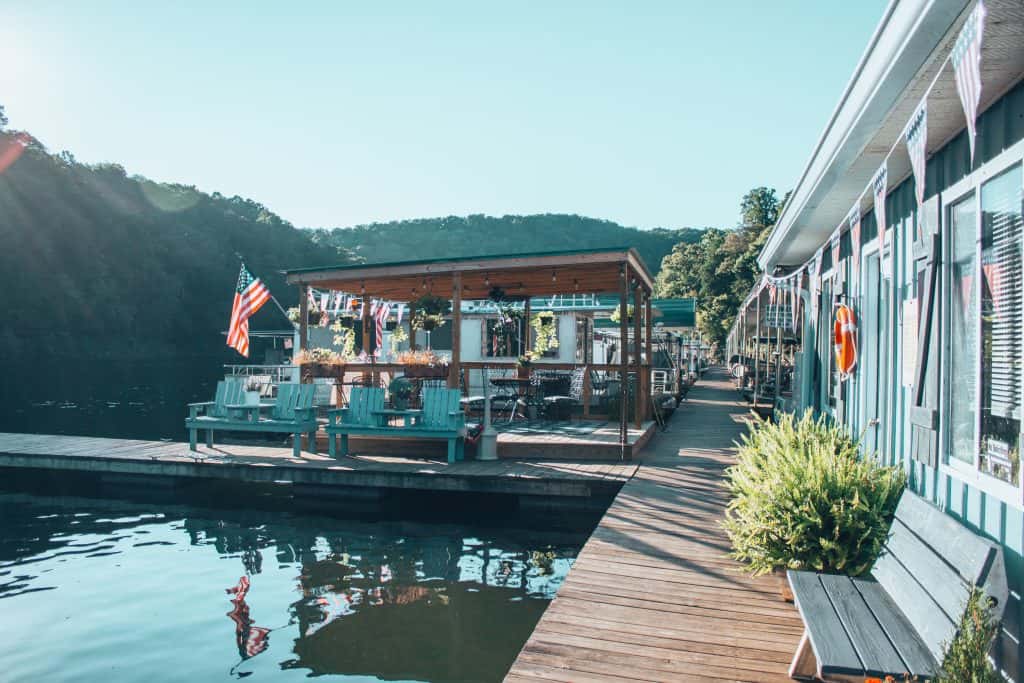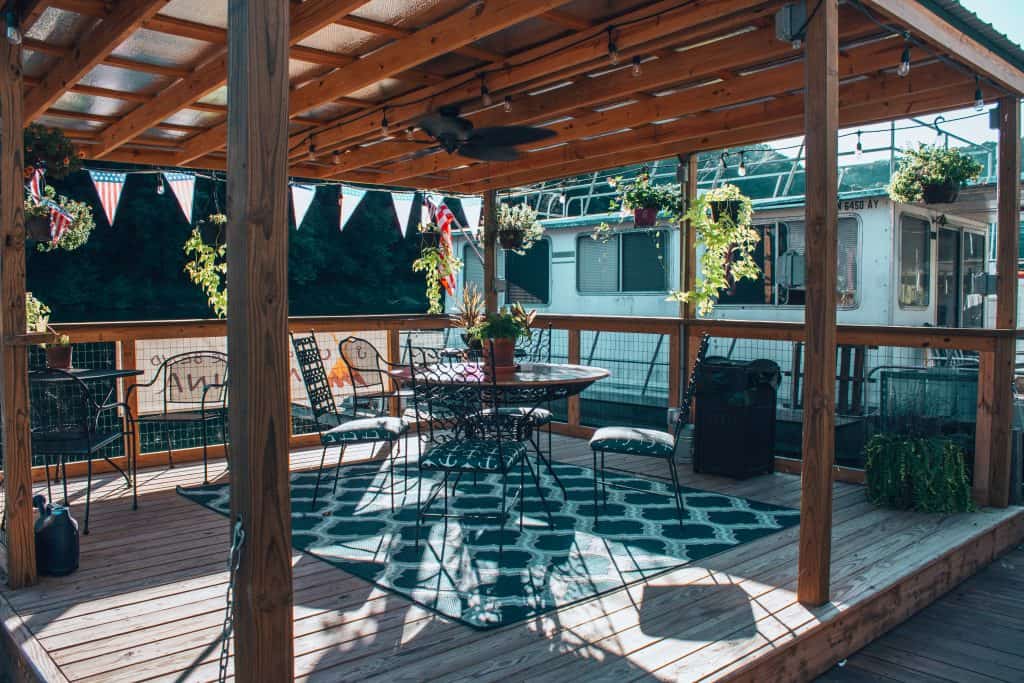 What amenities or facilities are available at this rock island campground?
Marina and Campground Store – you can get many supplies that you may have forgotten, snacks, firewood, and other items at this store.
Bathhouse – the bathhouse is newly renovated and cleaned regularly. There are two showers for both men and women.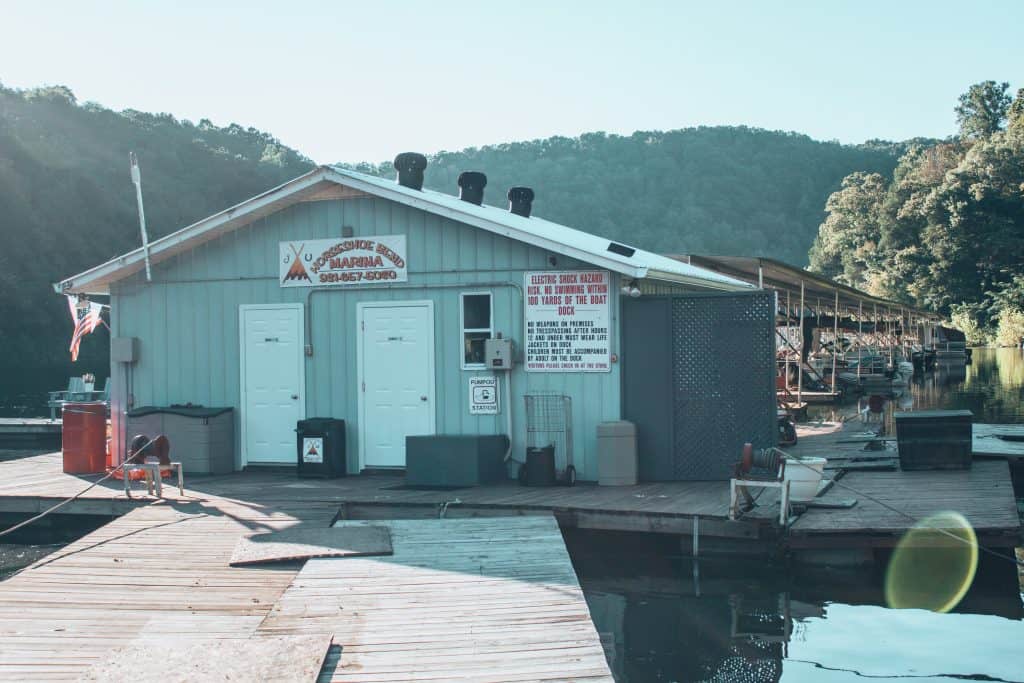 Additional amenities available
Campsite crudites – meal packages prepared to enjoy at your campsite – anything from a simple snack plate with wine to a full romantic retreat is available.
Backporch supper – can feed and seat up to ten people on the back porch of the manager's on-site house. This porch is gorgeous, huge and directly overlooks the river.
Special Events at Horseshoe Bend
I love that you'll find special events at this campground – it's not just a place to sleep at night. Here are some examples of special events they hold or are holding in the future:
Halloween Party – pumpkin carving contest, costume contest and more
Spring Yoga and Glamping Retreat – April 26-28, 2019
---
Things to Do in the Area
The main attraction near this rock island campground you may have guessed is…Rock Island State Park. At the park, you can go hiking, visit an old cemetery (I'm weird like that), bask in the greatness of Twin Falls, go kayaking or boating on the river, check out old historic buildings and more.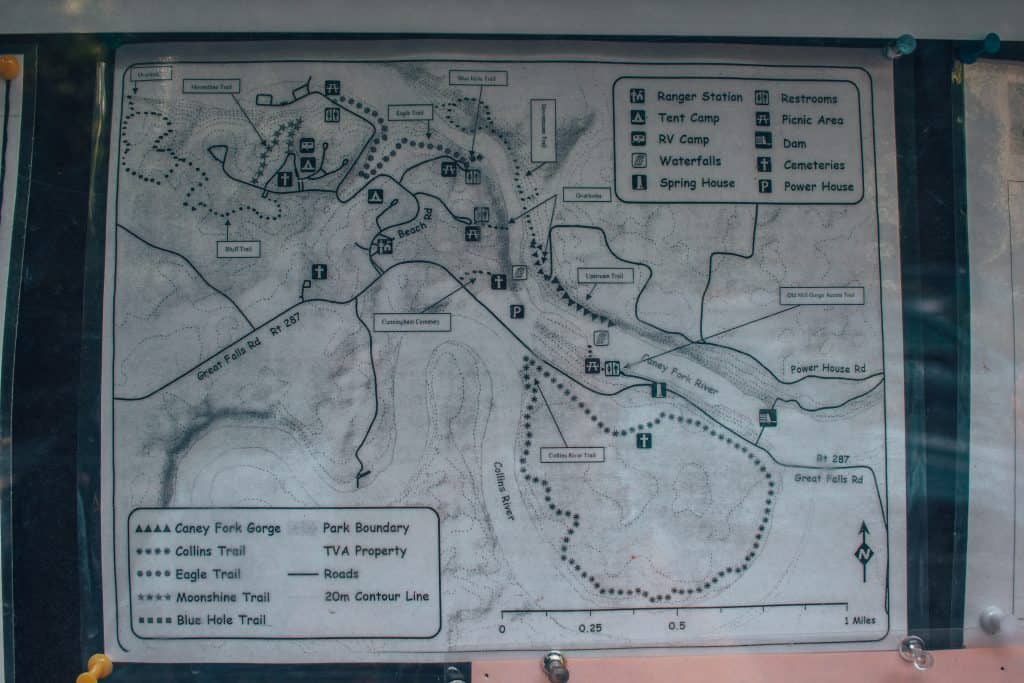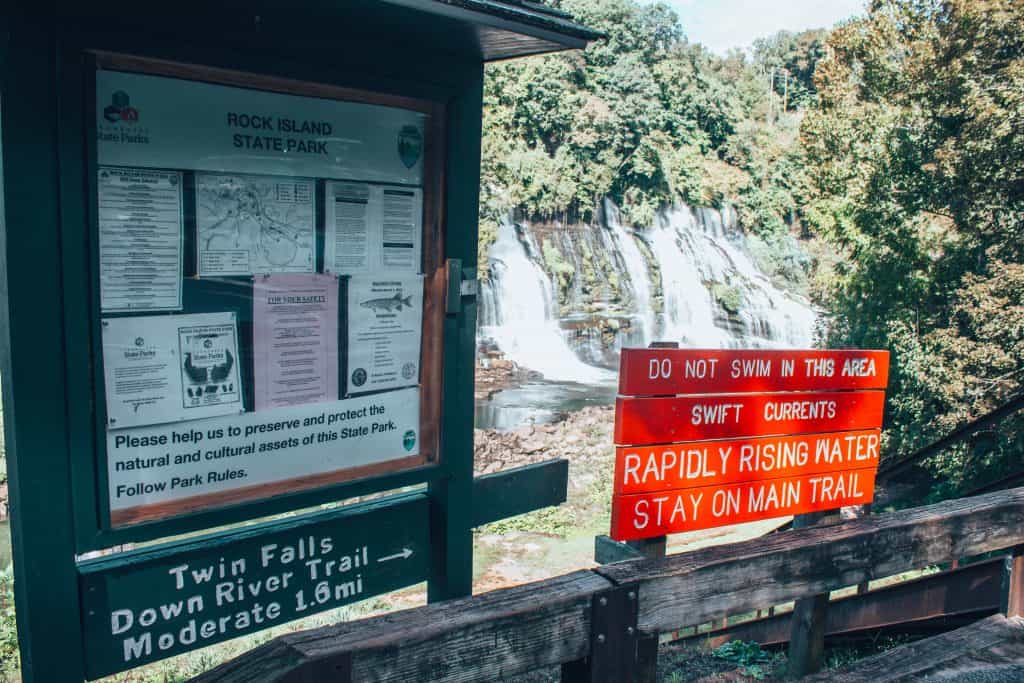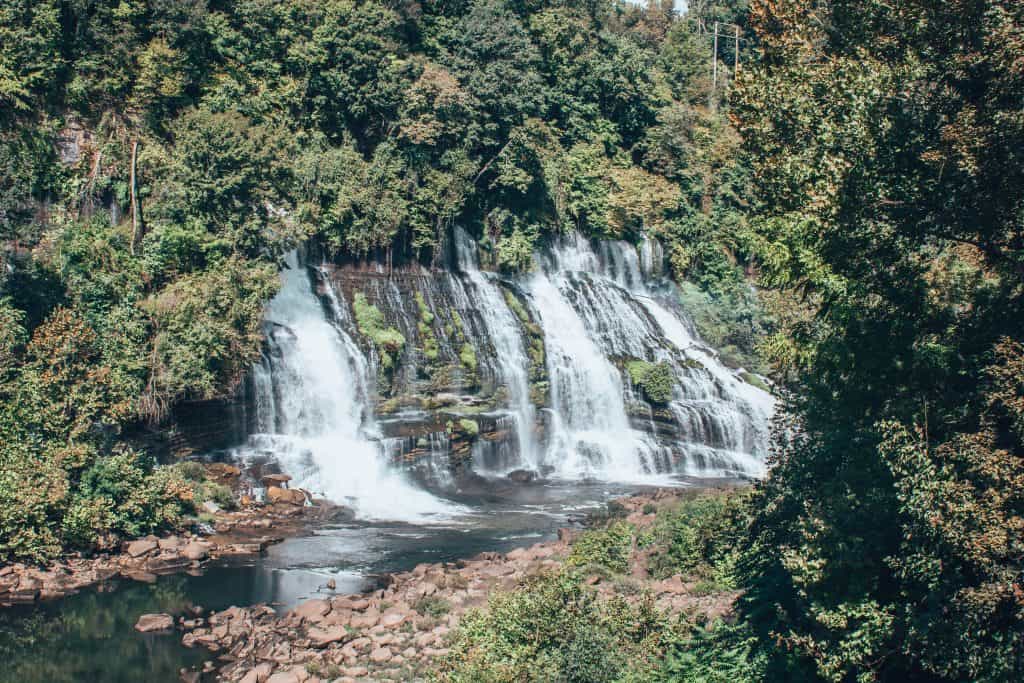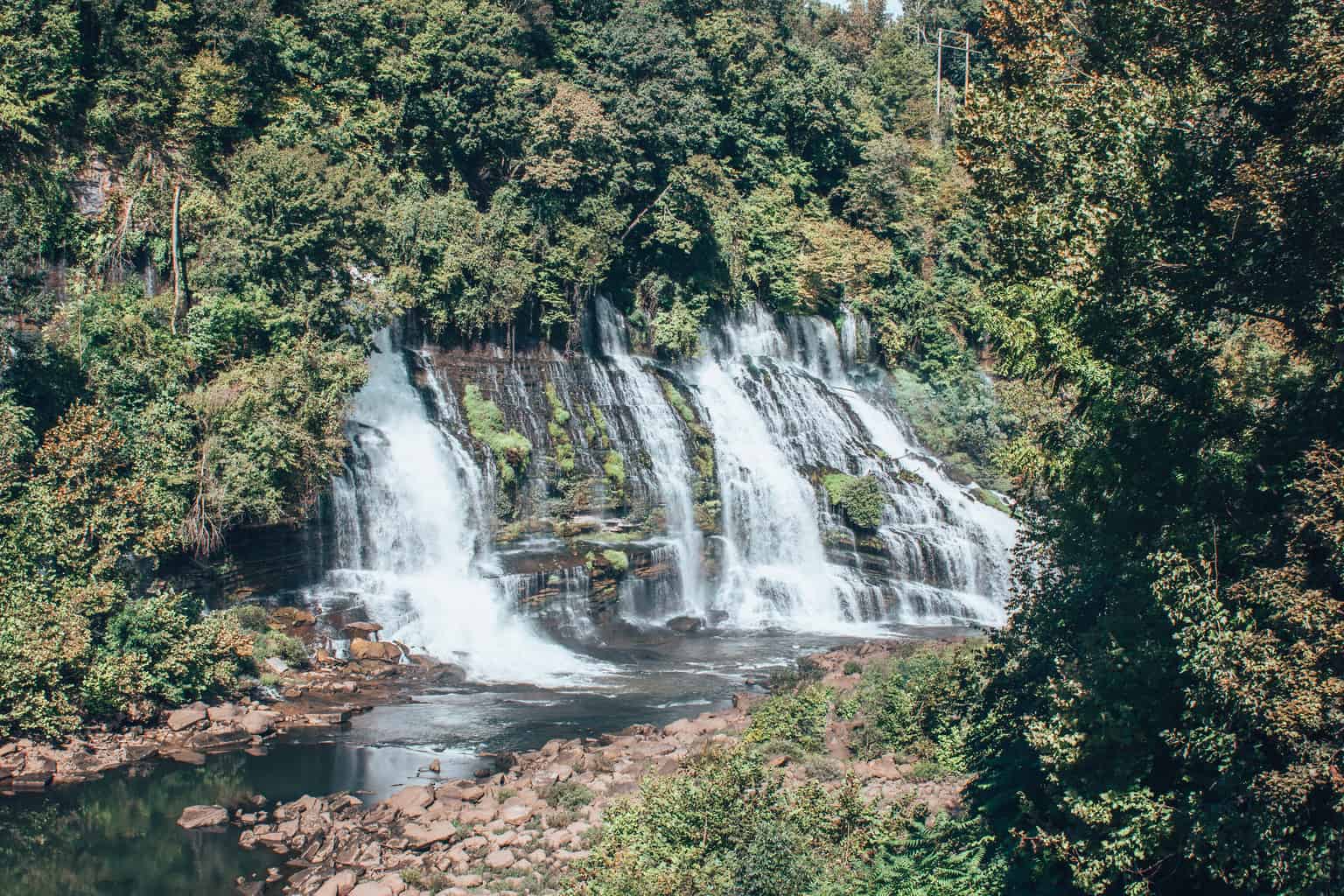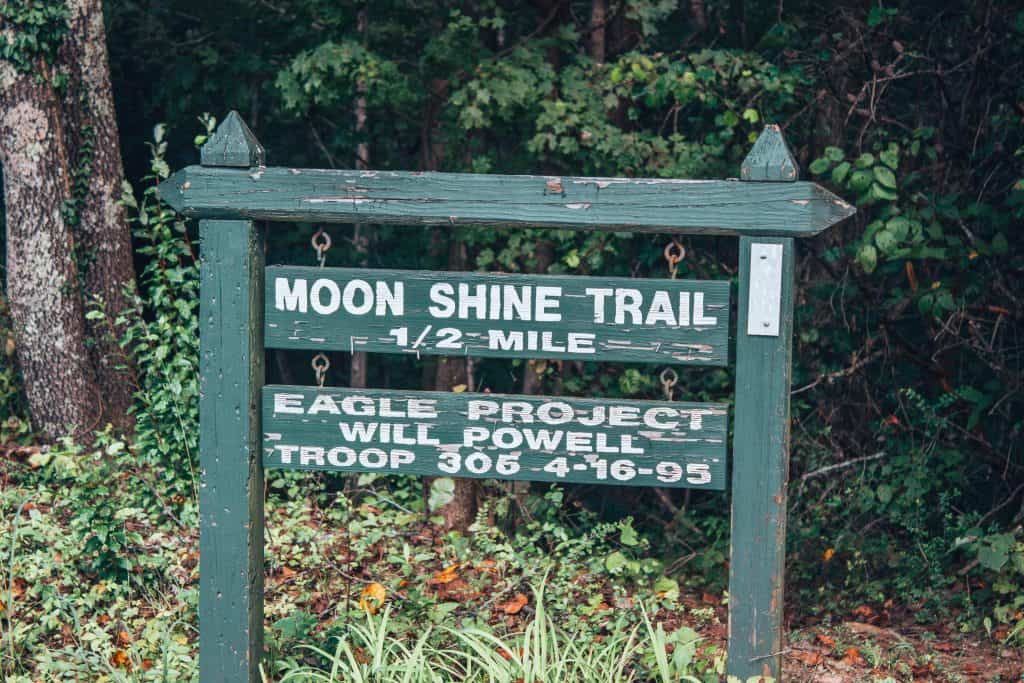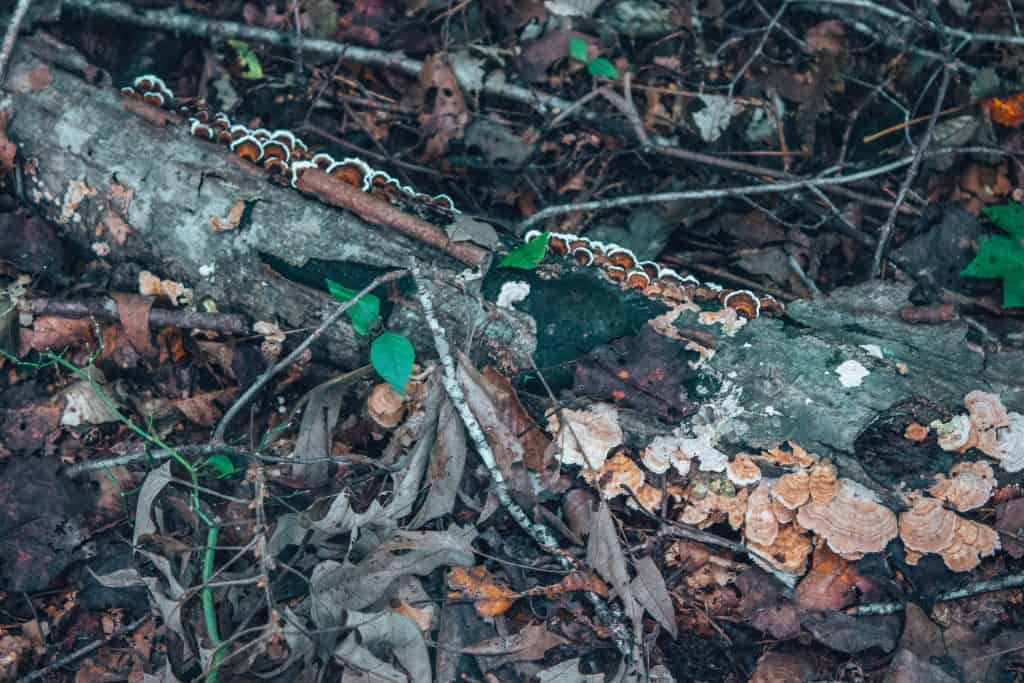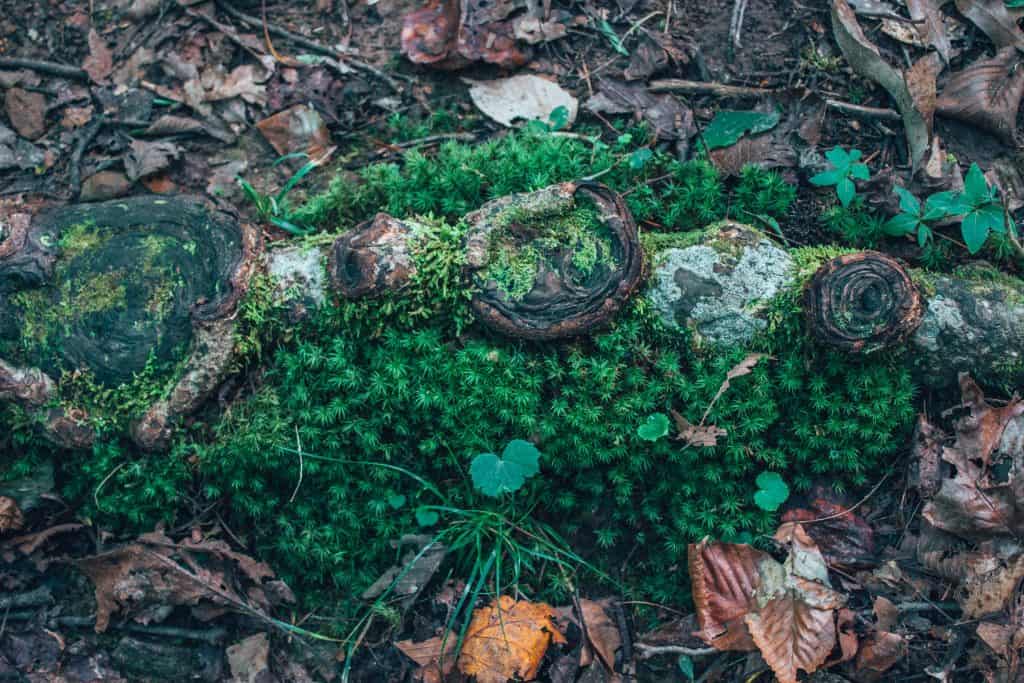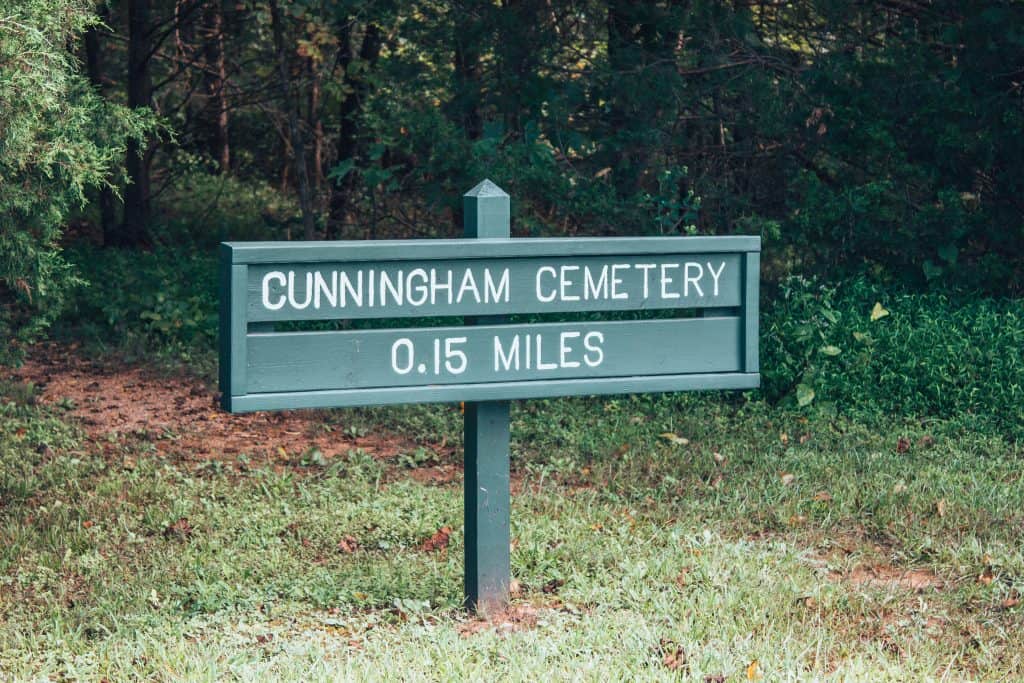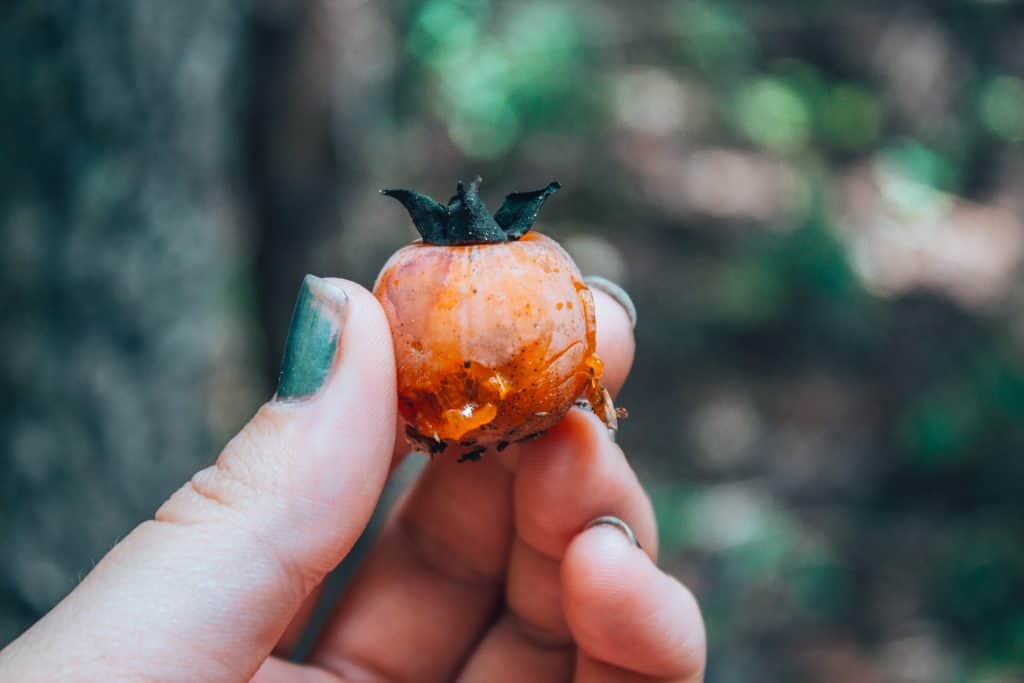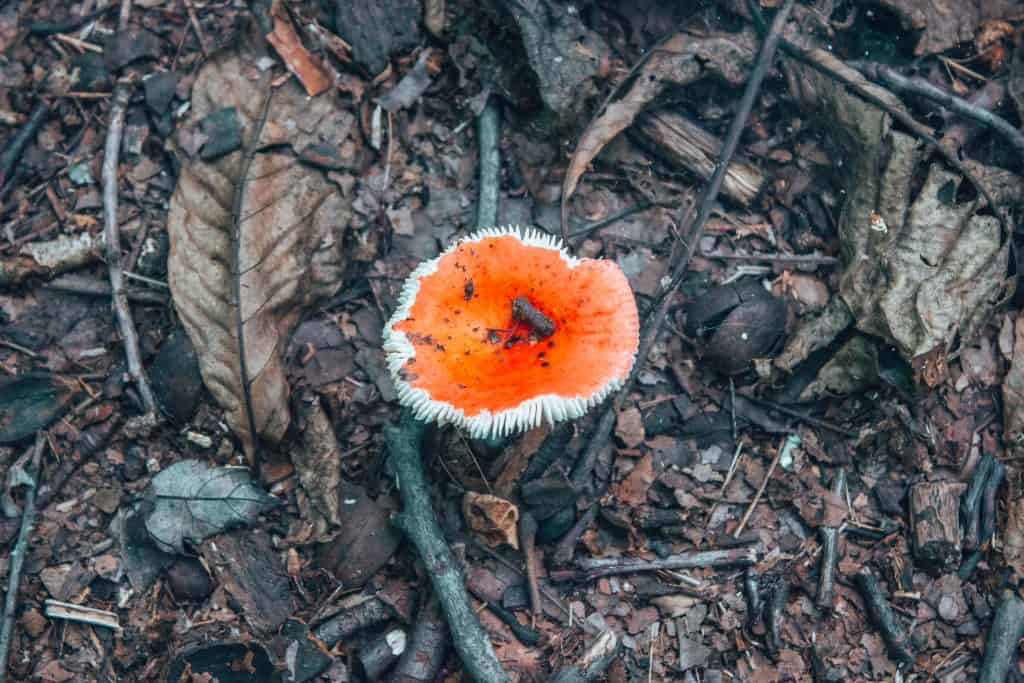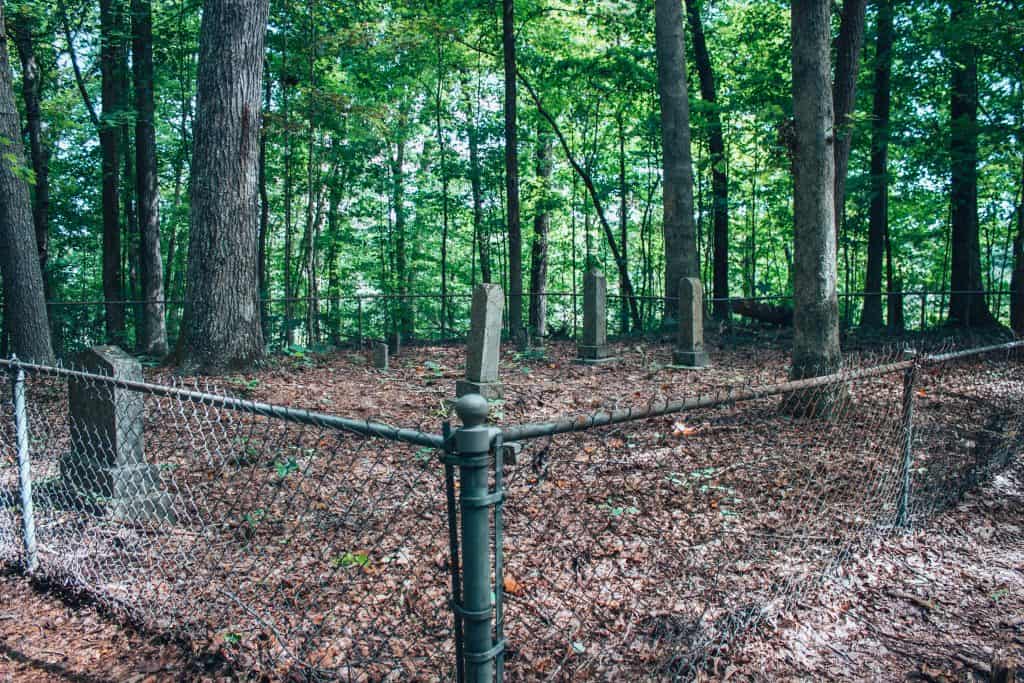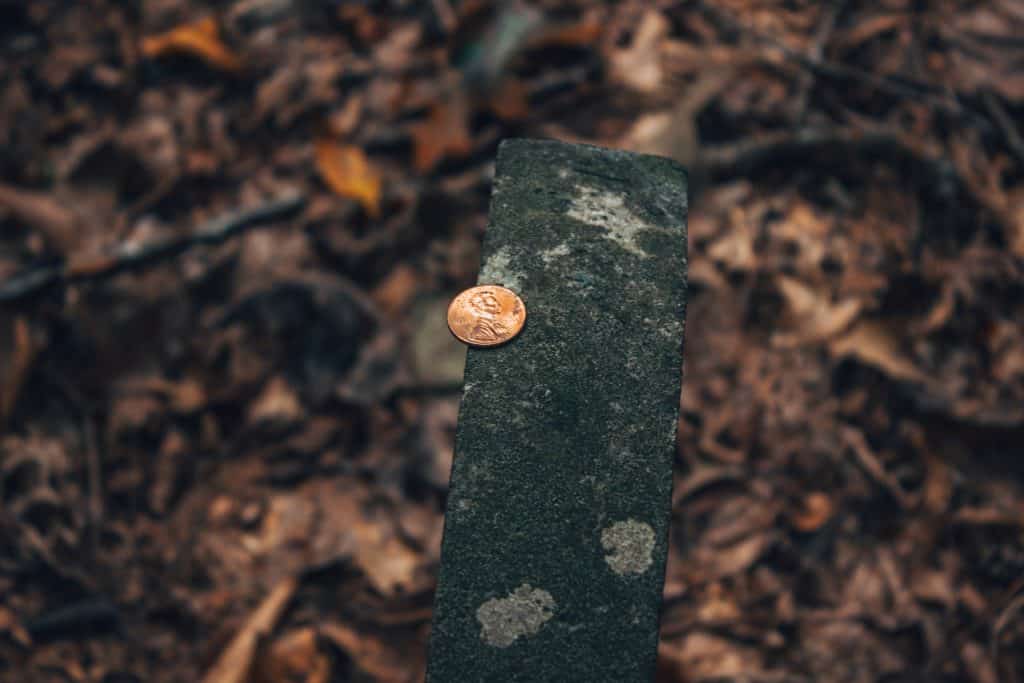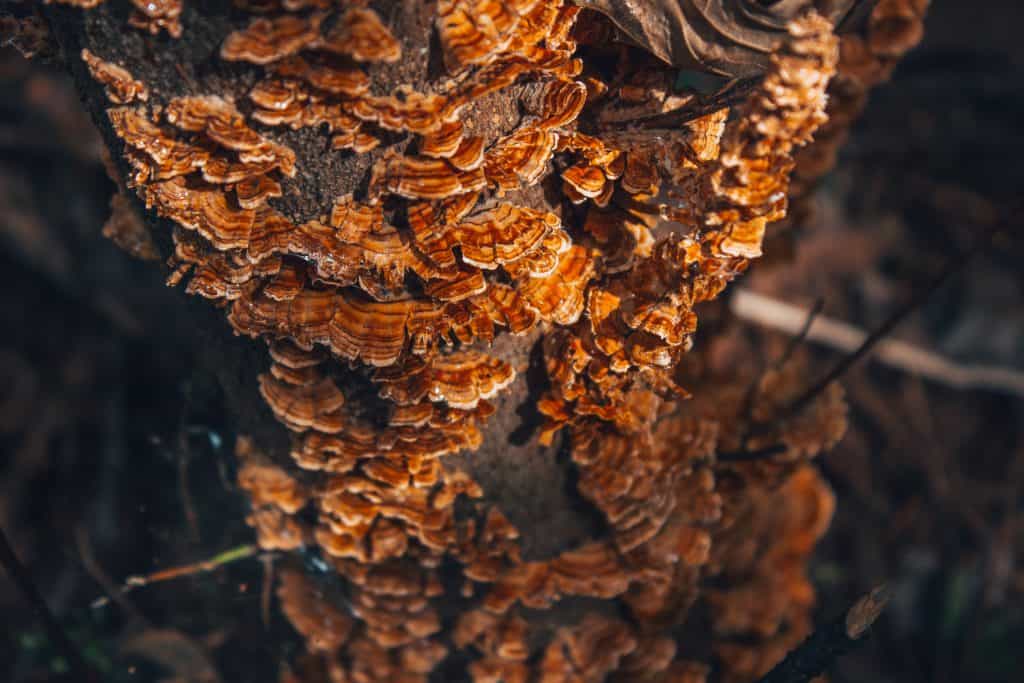 Horseshoe Bend and Rock Island State Park is the perfect weekend getaway for those in the Nashville, Chattanooga or Knoxville area (and further even!) The entire campground and marina was taken over by new management/ownership in 2018 and you can tell how much they truly care. This is not just camping – it's an experience. You can have privacy but you can also be very involved with the on-site management if you'd like to be through guided paddles, prepared meals and more. I hope you'll conisder this rock island campground on your next trip to this area.
---
Psst: Looking for more glamping posts? Check out a few of our other posts!
Tell me why you'd like to visit this rock island campground in the comments!
Looking for reviews? Check out reviews here and here.
Ready to book? You can book on their site here.
What else have I written? You can find more Tennessee posts here.
Like this post? Have Questions? Hit me up on Facebook | Twitter | Instagram | Pinterest | Email
↓↓↓ PIN FOR LATER ↓↓↓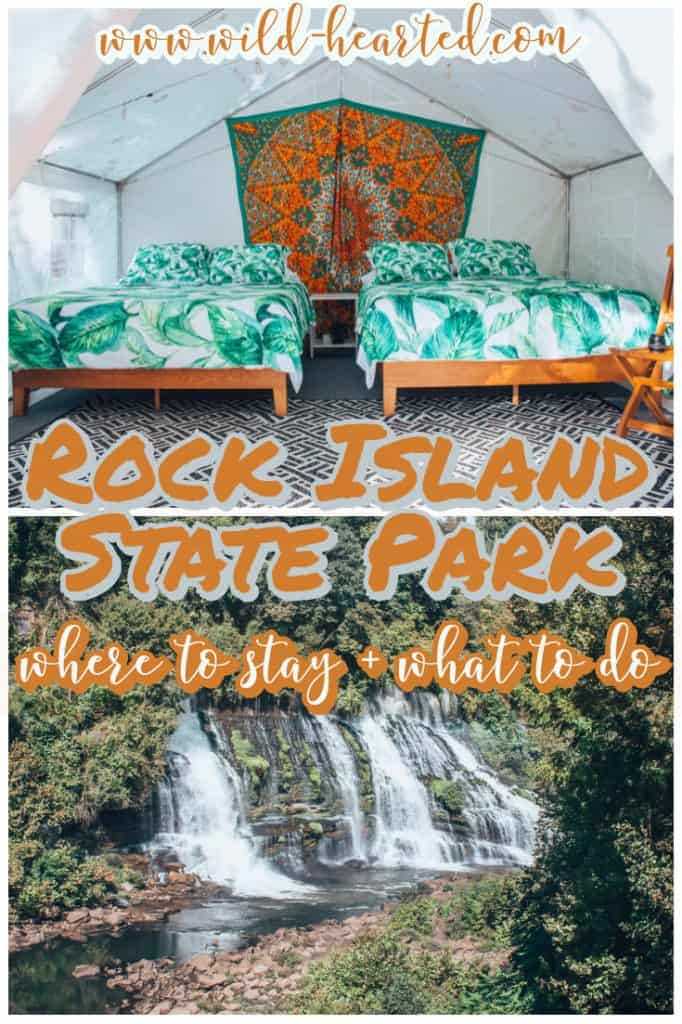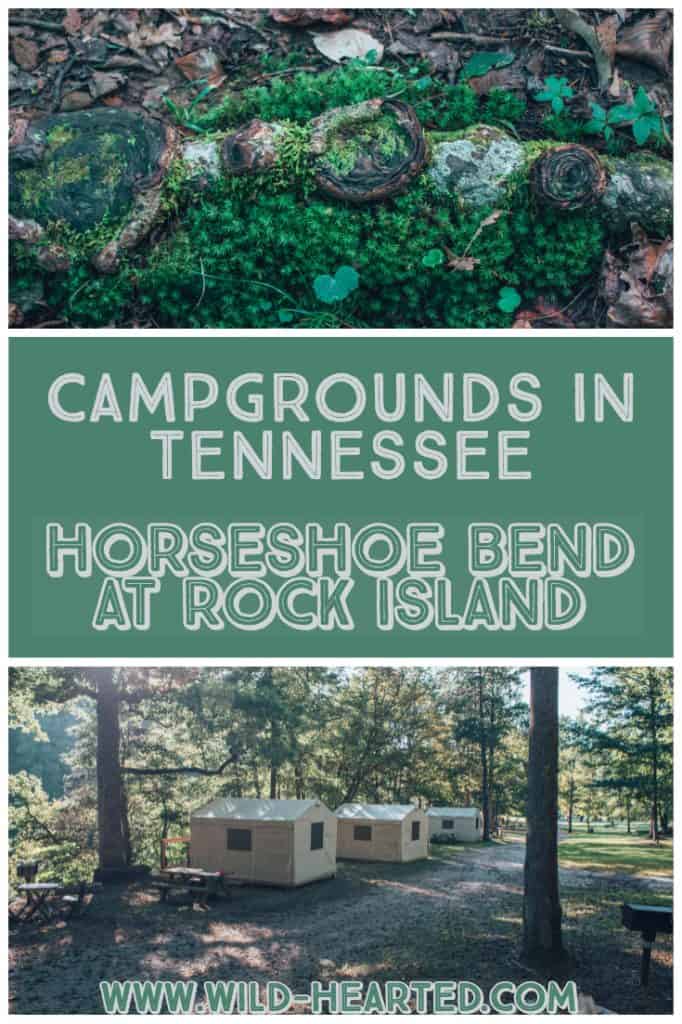 Latest posts by Ashley Hubbard
(see all)