This post may contain affiliate links, meaning if you book or buy something through one of these links, I may earn a small commission (at no extra cost to you!). Please see my disclosure.
Our Best Tips + Trips to Help You Survive Bonnaroo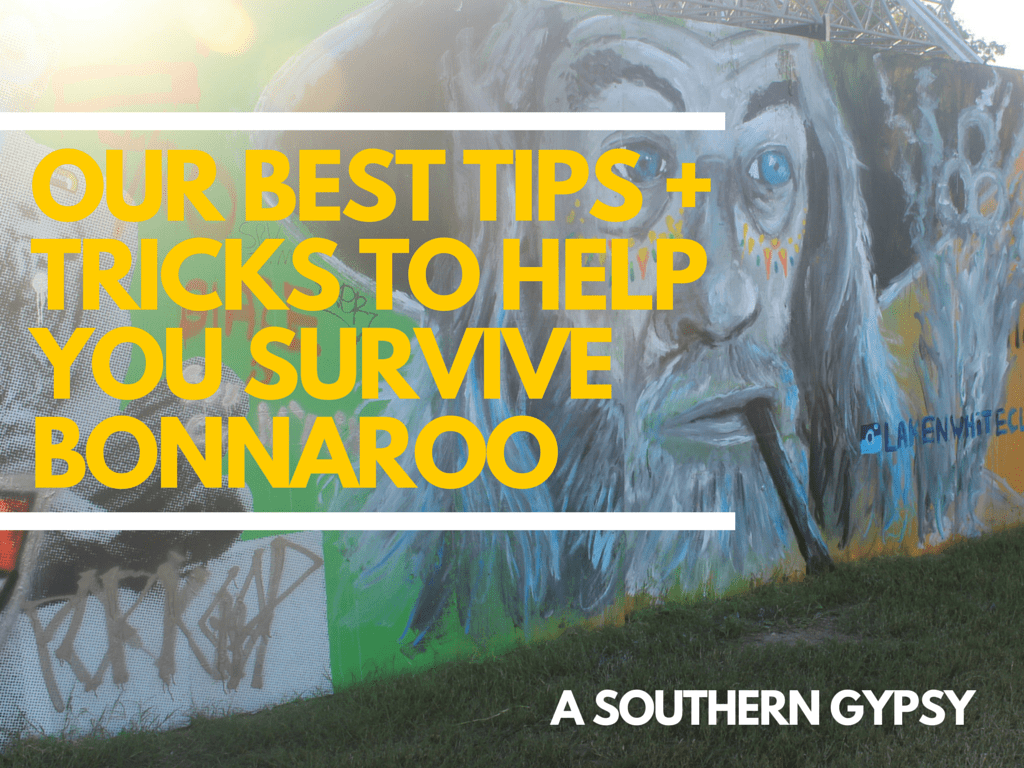 Guys, we survived our first Bonnaroo! Well, I survived my first one and Kaleb survived his first not working (he worked security for 6 years). And, let me just tell you something – the statement 'you don't know until you go' – as never rang truer. I knew Bonnaroo had potential to be epic but I didn't truly understand until last weekend was over. I analyzed and obsessed over our packing list and I think I did a pretty awesome job if I do say so myself but there was still things I wasn't prepared for completely. I've decided to make up a list of our best tips + tricks to help you survive Bonnaroo! Will you join us on The Farm next year?!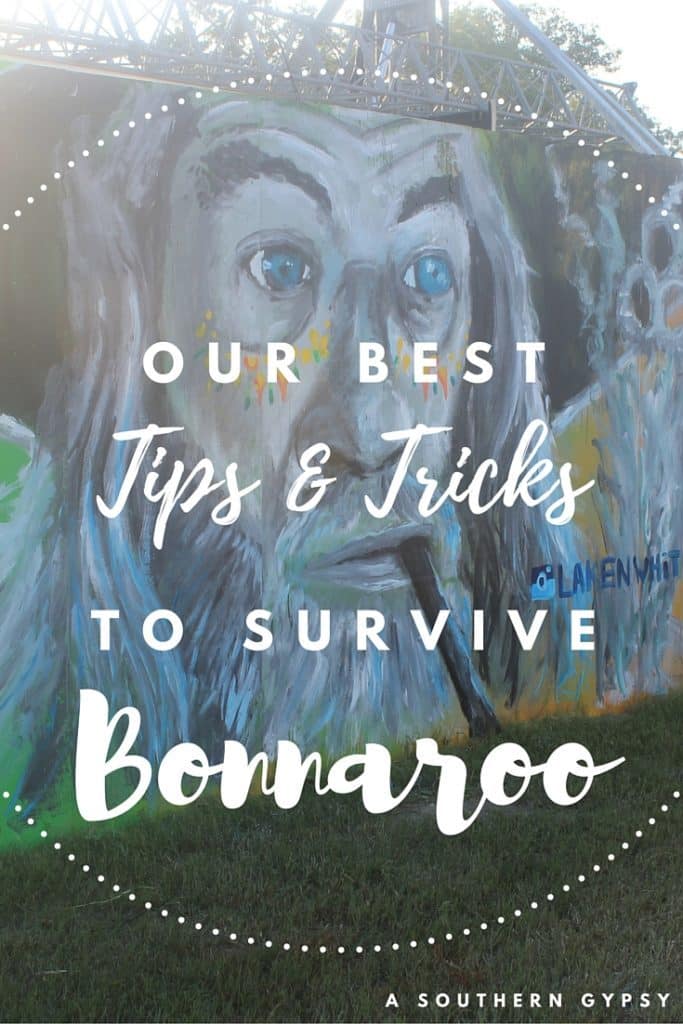 1. Wake up at 6am.
You're wondering if I lost my mind at Bonnaroo, aren't you? I did, but listen to this advice. Wake up at 6am. If you're like me, the sun will naturally wake you up. If you're not, set an alarm. Here's why : if you value non-existent bathroom lines and cell phone use AT ALL, you will need to get up early.
I had full bars on my phone at Bonnaroo, but I'm not exaggerating when I tell you the ONLY time I was ever able to send out messages, call someone or get on social media was early in the morning. This is, of course, due to the enormous amounts of people trying to do the same thing all day and night. Also, there are far fewer people trying to charge their phones at the charging stations at this time.
Also, if you wait like two more hours, until 8 am, the bathroom lines will be pretty long. If you don't want to wait a good bit, go early.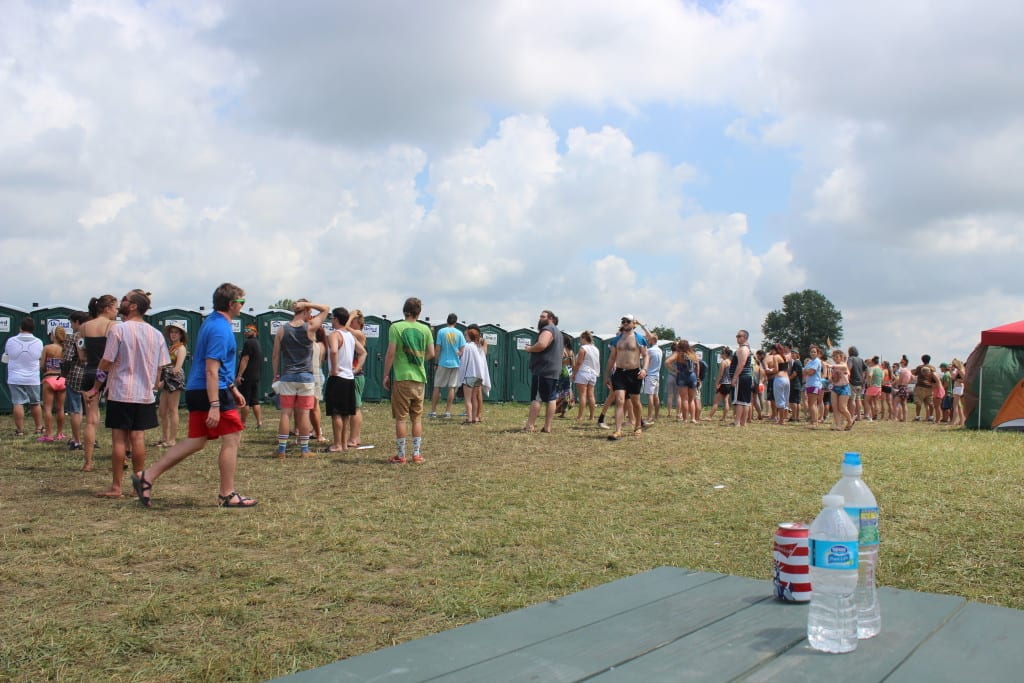 2. Go back to sleep.
Yep, I said it. Wake up early and then go back to bed. There's not really anything to do until at least noon anyway. And, you need to sleep any chance you can get. So, get up, charge your phones, let Mom & Dad know you're still alive, go to the bathroom and lay back down.
3. Pace Yourself.
I can't say this enough : pace yourself, pace yourself, pace yourself. This stands for everything – your drinking, your drug use, your spending, your sun exposure, walking….errrrrything. You're going to get there Wednesday night and want to see it all. Trust me, you have plenty of time.
4. Try New Things.
Bonnaroo is the perfect place to try new things with no judgement. Let this advice mean apply to whatever you want it to, but be adventurous (but not dumb)! If certain things aren't your thing – which is obviously fine – don't judge. Bonnaroo is the place to radiate positivity!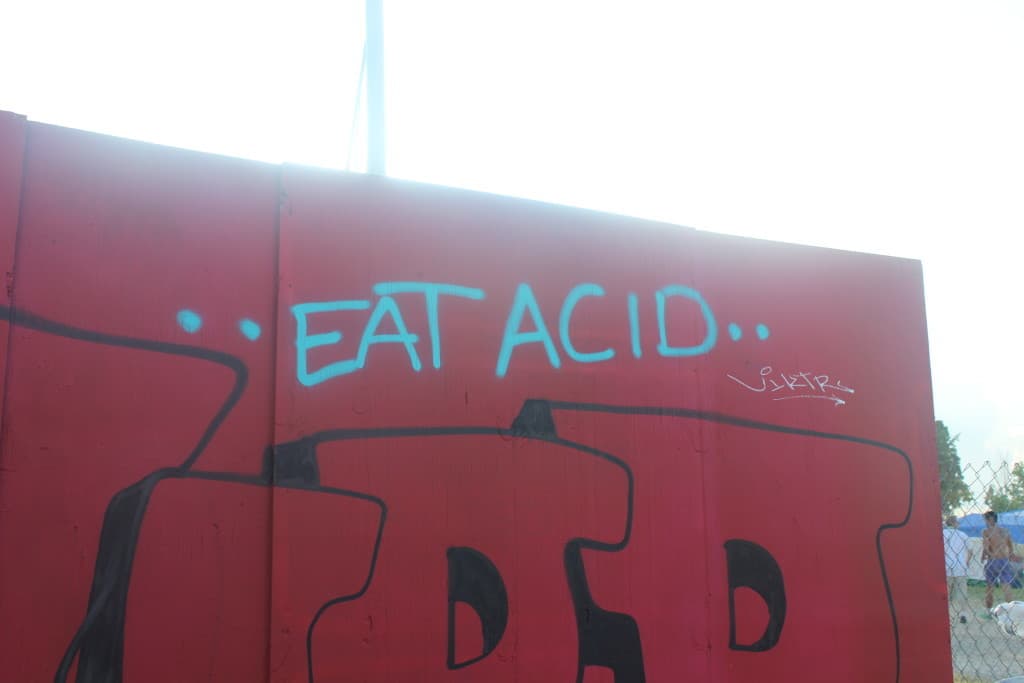 5. Bring your own Toilet Paper.
Yes, they stock the porta potties with toilet paper. And, yes, they replenish them over the 5 days. But, people take the toilet paper or it runs out OFTEN before it gets replenished. Take plenty (we took 4 rolls between the two of us which was plenty) and always carry it with you in your bag as you'll most likely always need it.
6. Baby Powder.
If you have a long walk to Centeroo like we did, baby powder those inner thighs up! Chafing can ruin your day more than almost anything else. It hurts and it makes you angry. If you do chafe, vaseline or aquaphor works well to make the pain less.
7. Try to Plan your Day to Minimize Walking.
Again, we were almost the furthest from Centeroo and the walk to Centeroo was easily 30-40 minutes one way. Try to plan your shows somewhat to cut down on walking.
8. Bring a Refillable Water Bottle.
There are water filling stations everywhere. Use them! Here's the one I use.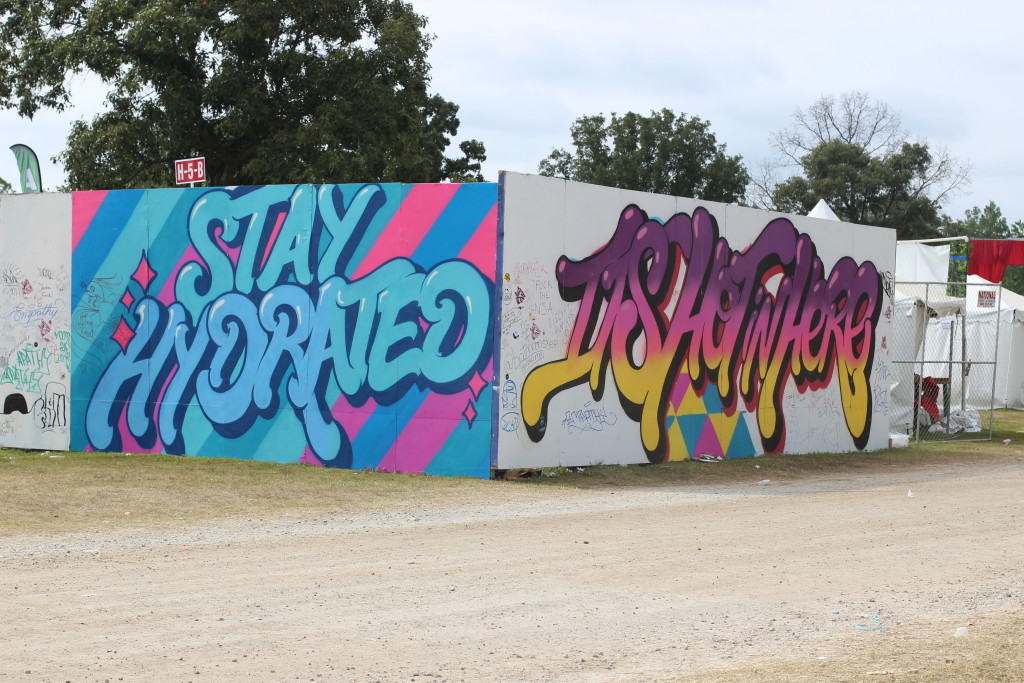 9. Keep Track of your Exit Buddy.
If you lose your friend, may as well just meet them back at your campsite. Finding them is not likely and you can't rely on phones to work.
10. Fill up your gas tank about 20 miles before Manchester.
Traffic WILL be lined up for miles down the interstate and within Manchester. You WILL be sitting in your car in line for AT LEAST three hours. Make sure to have plenty of gas, snacks, drinks.
11. Bring Camp Activities.
You'll have more downtime than you realize. Bring books, playing cards, games, etc. We saw someone with a giant Jenga set which was pretty awesome. Also, horseshoes, cornhole and ladder golf are excellent choices!.
12. Take a Canopy Tent.
Whether you're tent camping, sleeping in the bed of your truck like we were or sleeping on a cot (or another option), a canopy tent will be your best idea. Keeps the sun off of you, keeps your stuff from getting wet if it rains, keeps your stuff kind of in a barrier which I like and so on. This one is similar to the one I have.
13. Make Friends with your Neighbors.
Your neighbors are important. Y'all will look out for each other's stuff against theft and weather. Y'all will lend each other items the others forgot. I can't stress this enough. We were very lucky to have great neighbors on all 3 sides.
14. Catch a Movie or Comedy Show for the Air Conditioning.
If the heat is getting to you, catch a movie or a comedy show to cool down!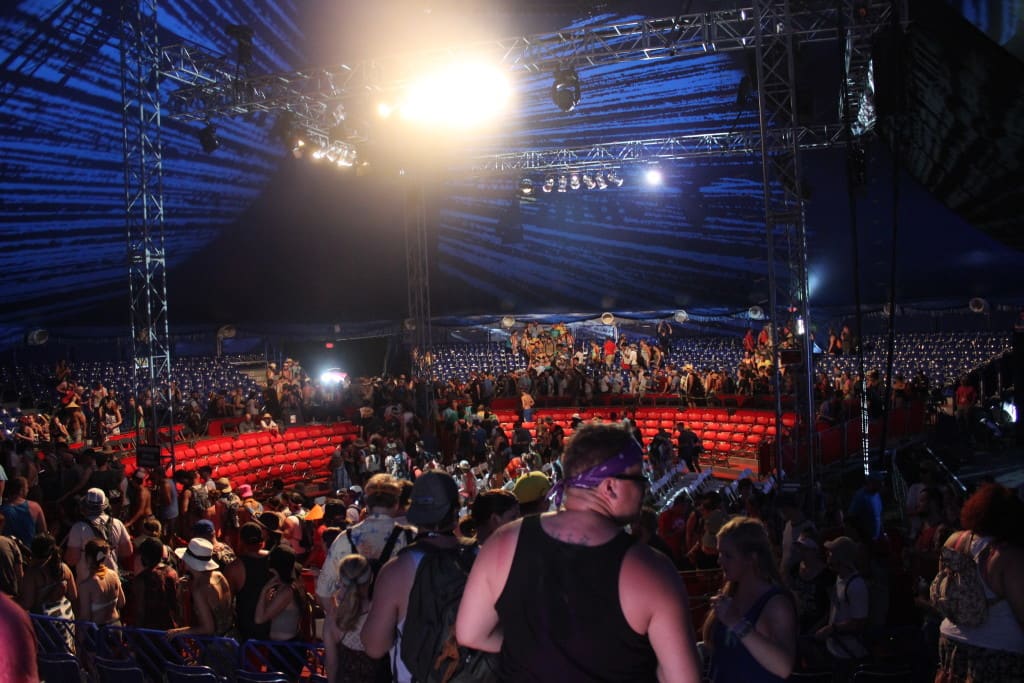 15. Take a Shower in the Filling Stations or Fountain.
Yep, everyone does it. It's better than paying $7 per shower.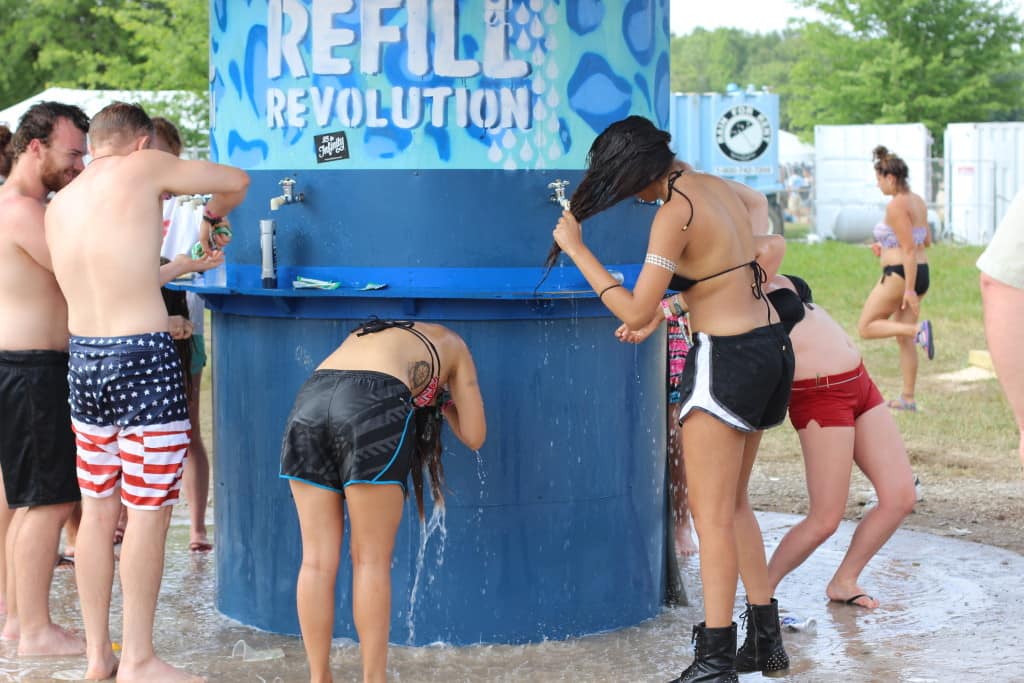 16. BABY WIPES!
Take plenty of baby wipes. If you're cheap like me and won't pay $7 per shower (especially when you'll feel gross 5 minutes later). Baby wipes are the best idea ever.
17. Take a Bucket for Ice Water.
We improvised on this one. We just happened to have a bucket and we filled it up with ice water. Was amazing for icing feet – for soreness, heat and because they are just plain filthy.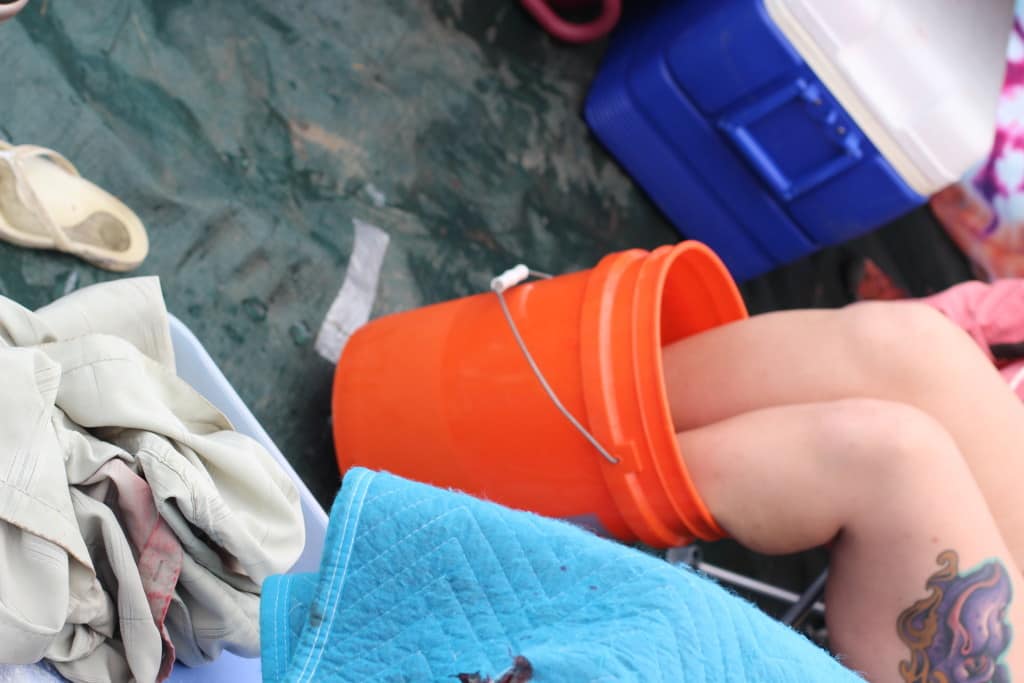 18. Sleep when you Can.
Something you'll see at Bonnaroo, is people passed out everywhere. There are shows going on from noon until 4am – you're gonna need to get some sleep in there somewhere if you're going to last through Sunday. People pass out in the grass in Centeroo, in hammocks, at their campsite, or places like in this picture.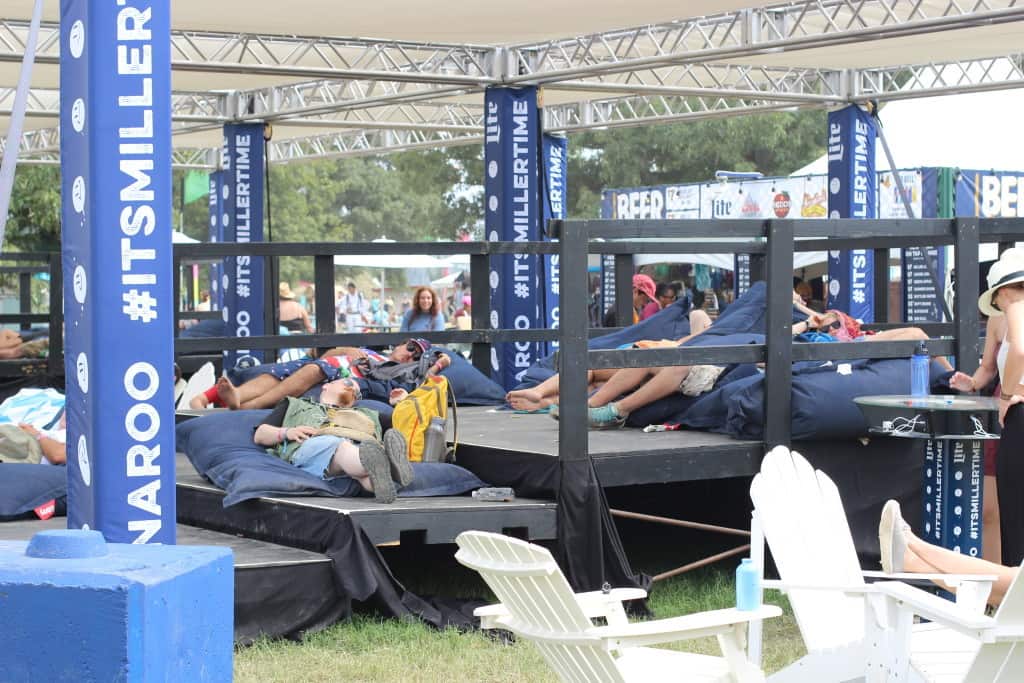 Have you ever been to Bonnaroo? What's your best tip or trick? Planning on going in the future?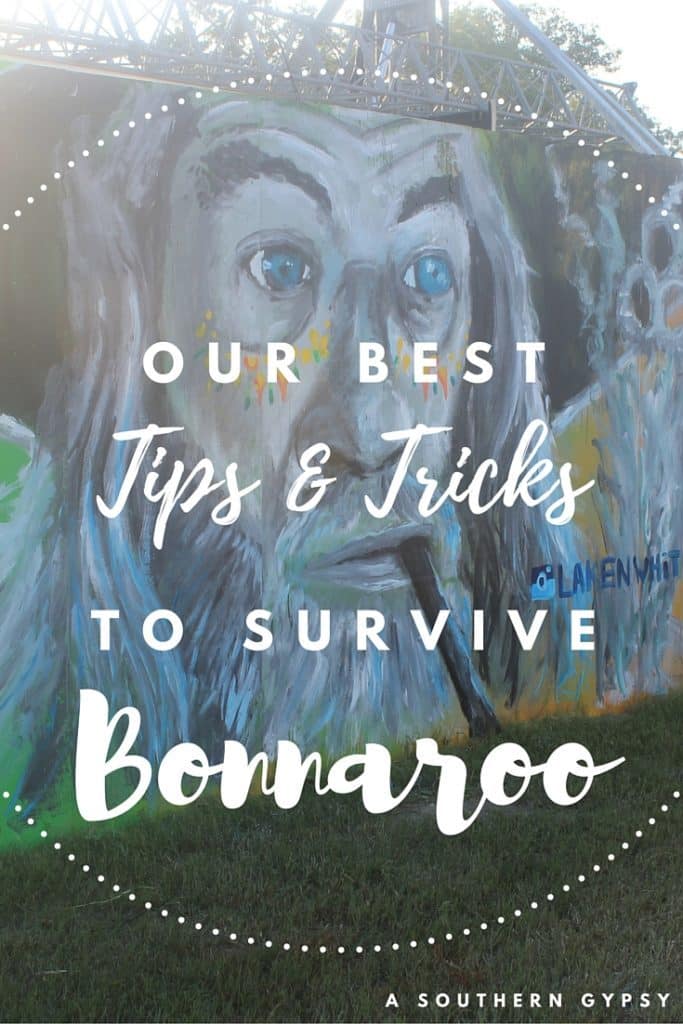 Latest posts by Ashley Hubbard
(see all)