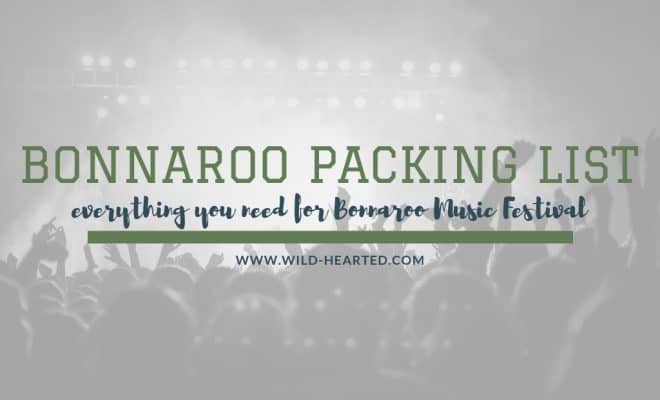 Bonnnaroo Packing List: Everything You Need
|
*This post may contain affiliate links, meaning if you book or buy something through one of these links, I may earn a small commission (at no extra cost to you!). Please see my disclosure.
Last Updated on
It has been a whirlwind couple of weeks! We didn't even know until 13 days ago that it was even possible for us to go to Bonnaroo this year. In those 13 days, we have probably changed our mind on going about 10 different times. Not because we didn't want to, but because we were trying to determine if it was logically even possible. Kaleb didn't really need to take off 4 days from work and I would also have to put off some things for those 4 days. It also so happens that my mom is having knee surgery the day before Bonnaroo starts. Plus, add in that we weren't even planning to go so we had not financially or otherwise, prepared for Bonnaroo AT ALL.
Psst: Looking for more information on Bonnaroo? Check out a few of our other posts!
However, I knew this was something we would regret not doing if we didn't go. Kaleb has worked security at Bonnaroo many times (but never attended just as a guest) and I've never been. So, Kaleb knows exactly what to expect (maybe more so than the normal person since security) and I know…nothing.
For 13 days, I've read every guide, packing list and forum possible and agonized (just ask Kaleb how annoying I've been!) over our packing list. I wanted our first (and possibly only) Bonnaroo to be perfect.
For our campsite, we ultimately decided to do a little truck camping. We just so happen to have a truck with a camper top and I thought 'well, why not just throw a mattress in the bed?' We have a tent, a very nice one actually, but if it rains the whole time, I really didn't want to deal with mud and water all in our tent. So, we found a free mattress on Craigslist, cut it to fit over the wheel well and…TA DA! Then, we have a 10×10 canopy tent (with walls) which will be our living area. One side will go just over the tailgate area so that "our bed" will open up into the canopy tent. Then we have a silver tarp to put over the top of the camper so as to keep it from feeling like an oven in there (read that tip somewhere).
Can't wait to fill y'all in on how all of my obsessive planning goes! In the meantime, here is the ultimate Bonnaroo packing list:
Bonnaroo Packing List
Shelter
Truck with Camper Top
Mattress (full size, cut to fit)
Canopy Tent (10×10 with detachable walls)
Tarps (5)
Bungee Cords (lots!)
Rope/Cord/Zip Ties/Duct Tape
Table (folding table to set all of our supplies on in the tent)
Camp Chairs (2)
Sheets
Pillows
Blankets
Citronella Candles (2)
Lighter
Shower Caps (to put shoes in if it is muddy)
Tie Dye Sheet (for decorating)
Food/Drink
Cooler for Food
Cooler for Drinks
Water Cooler
Large tub for Dry Food
Trash Bags
Ziploc Bags
Paper Towels
Plastic Cups
Paper Plates
Plastic Silverware
Cereal
Bagels + Cream Cheese
Bread
Lunch Meat & Cheese
PB+J
Fruit
Chips
Pop Tarts
Milk
OJ
LOADS OF WATER (2 – 40 packs)
Vodka (plastic bottles only)
Mixers (Fruit Punch, Coke, OJ)
Ice
Koozies
Hygiene
Toilet Paper (4 rolls – just in case they run out!)
Baby Wipes (3 big containers – remember no showers, unless you want to pay $7 each shower)
Deodorant (2)
Gold Bond Powder (giant thing)
Insect Repellent (2)
Hand Sanitizer (1 big, 2 small)
Sunscreen (2)
Hair Ties (lots!)
Bandanas (2 each)
Headbands (lots!)
First Aid Kit
Aleve
Dry Shampoo
Earplugs
Toothbrush/Paste
Aloe Vera
Hairbrush
Hair Chalk
Clothing
Sweatshirt
Rain Jacket
Floppy Hat
Baseball Caps
Bathing Suit
Underwear (lots!)
Bras
Shorts
T-Shirts
Tank Tops
Sundresses
Pajamas
All clothes went in one plastic tub (nothing gets wet if it rains)
Miscellaneous
Flashlights (3)
Glowsticks (16)
Backpack + Raincover (for carrying drinks, snacks, camera around)
Deck of Cards
Bubbles
Towels
Books
Batteries
Ponchos
Electronics
Phones
Phone Chargers
Camera
Camera Charger
Extra lenses
Extra batteries
GoPro + Charger
Personal
Wristbands
ID
Cash
Credit/Debit Card
Printed Map/List of Shows
Bonnaroo App on Phone
What would you add, take away or change? How does the list look?
Psst: Looking for more information on Bonnaroo? Check out a few of our other posts!
---
↓↓↓ PIN FOR LATER ↓↓↓