This post may contain affiliate links, meaning if you book or buy something through one of these links, I may earn a small commission (at no extra cost to you!). Please see my disclosure.
Life in January 2020
I didn't travel anywhere in January. Still just living it up at home, working a lot, getting a lot done on the blogs, spending time with family, friends, the boyfriend, and the dog.
But, that doesn't mean life has been boring! I've had a few exciting things going on.
Or, at least exciting to me!
Composting – One of my goals for 2020 is to be more zero-waste and one way I'm doing that is by signing up for Compost Nashville. I pay a monthly fee ($35) and every Friday they come and pick up my compost. Twice a year, they return garden-ready compost or I can donate it to a business that needs it. Since I live in an apartment, I'll be donating it. Really excited about this! And, isn't it cute!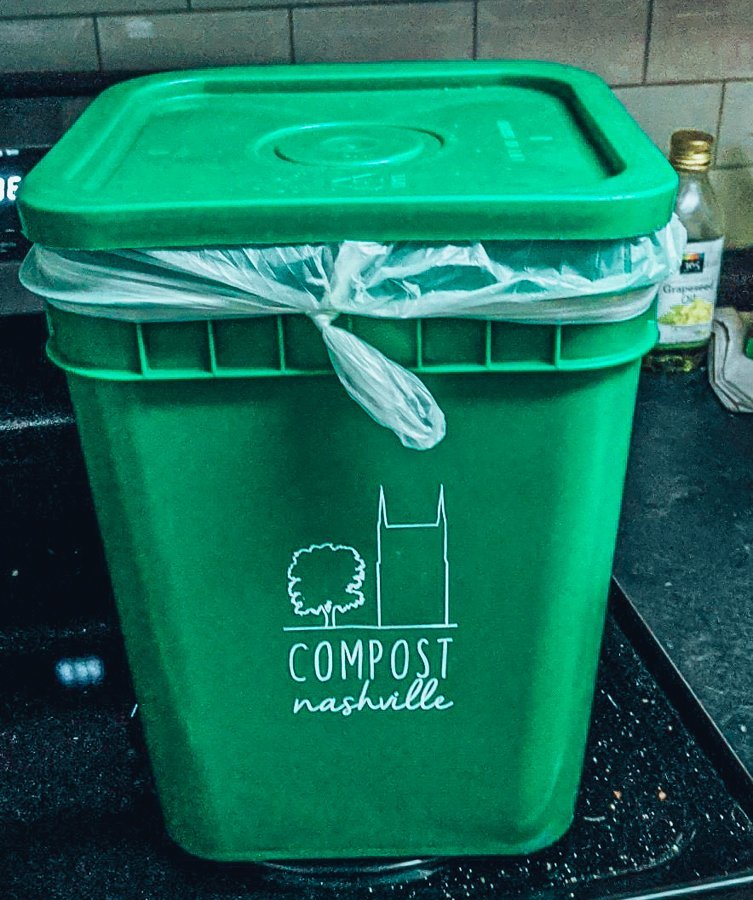 New tattoos – My Christmas present from my boyfriend was a tattoo gift certificate that I cashed in a couple of weeks ago. I got these two "matching" tattoos on my legs. They're anatomical hearts – one a forest theme and one an ocean theme. Symbolizing my love for nature and I swear I didn't do this on purpose but these really my Wild Hearted brand.
I'm in love. Yay for my boyfriend who finally fixed my like 5-year tattoo hiatus.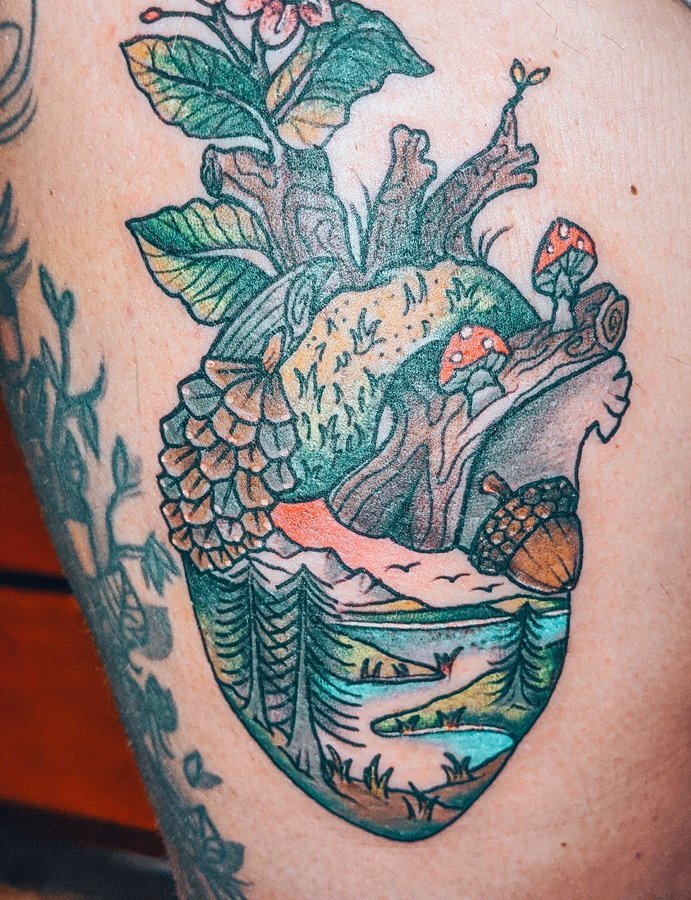 New phones – the boyfriend and I both upgraded our phones. I got the new iPhone 11 max pro and loving the wide-angle lens. He got the new Google Pixel which has an amazing night mode capability. We took this photo of our apartment with this 360 feature.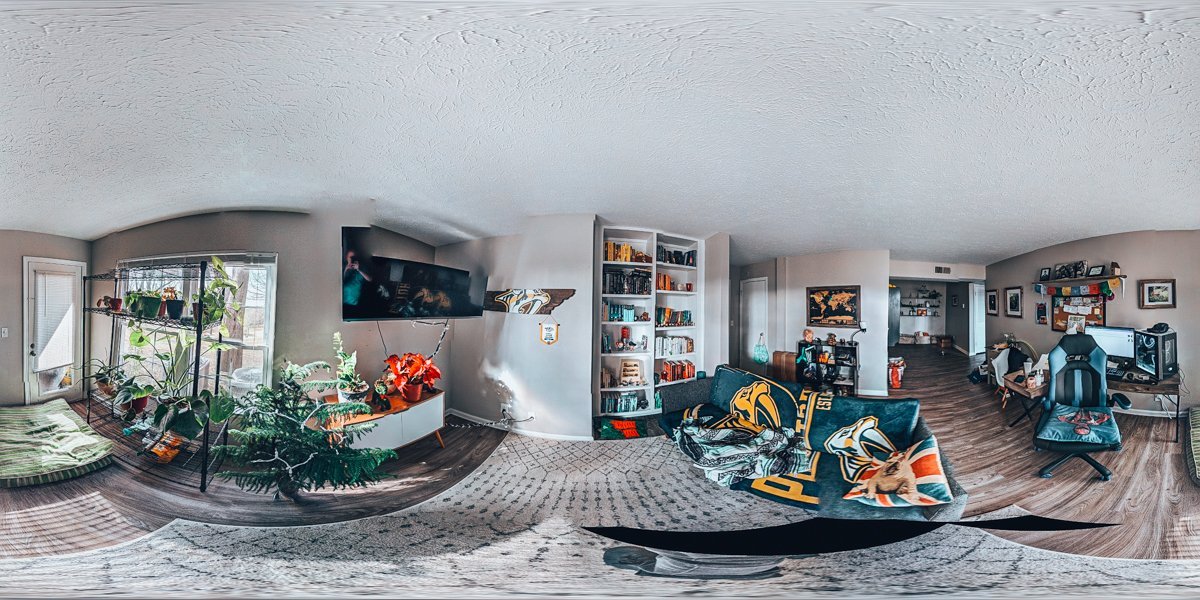 35 Before 35 Update
I'm adding this to my monthly post for my own accountability. I made this list back when I turned 30 and I do tend to be overambitious when making these types of lists, but it's still fun no matter if I don't complete them all.
Number of Items Completed: 5 of 35 – participate in a monthly book club, have a consistent brand, act more like an entrepreneur instead of a hobbyist, get my scuba certification, lead a compassionate and conscious life.
Updates to List: I removed Havasu Falls from my list. I actually scored a hard to get permit this year and was planning to go but I was feeling uncomfortable about the horrible abuse of pack animals and I decided it is not for me right now. If that changes in the future, I would probably go. Not sure what I want to replace it with yet. It is unfortunate because I want to support Native Americans, but I can't be a part of animal abuse.
List Items to Focus on in February: eat healthier, start vlogging, work on learning a second language (Russian), and continue yoga.
List Items to Focus on in 2020: hike long distance (looking to do my first multi-day hike in Isle Royale this year), be location independent, spend the night somewhere haunted, be comfortable in my skin, and visit all 56 Tennessee state parks.
Income Report for January 2020
I want to start sharing my earning and expenses every month and considered doing a separate post for this, but I think I'll just share it here for now.
Income
In January 2020, I earned a total of $1042.55 from my blog or projects obtained through my blog.
Affiliate Income: $109
Booking.com – $0
Amazon – $33.35
CJ – $75.65
Skimlinks – $0
Get Your Guide – $0
ShareASale – $0
Awin – $0
Ads: $88.55
Freelance Writing: $0
Freelance Projects: $0
Sponsored Posts: $845
Sponsored Instagram Posts: $0
EXPENSES: $296.19
Pinterest VA (for scheduling) – $90
Google Suite – $13.11
Tailwind (for Pinterest scheduling) – $14.99
Smarter Queue (for scheduling social Twitter/Facebook) – $39.00
Impact Travel Alliance – $9.99
Hashtracking (for tracking Twitter Chat results) – $18
Keysearch (for keyword research) – $13.60
Adobe (for editing) – $10.96
AWeber (for email campaigns) – $19
Facebook Ads – $30.04
NATJA membership – $37.50
Thoughts on my expenses – I'm always looking to see where I can trim down on expenses, but I also realize at some point you have to spend money to make money.
I decided to hire a Pinterest VA for scheduling only. I still make all of my own pins and do all my own Pinterest sharing threads. But, she goes in and schedules about 300-400 pins a week for me and this takes a lot off my plate that I wasn't getting done. And, I think the price is exceptional for the value.
Impact Travel Alliance is a sustainable travel network and who I traveled with to Nepal. I love the community. This network is not just for media – it's for anyone who is interested in or believes sustainable travel is important. If you're interested in joining, make sure to mention my name when you do so!
AWeber is a great tool but I need to actually use it more if I'm going to keep paying for it. Want to sign up for my email list and help me out?!
Since having to make a new Facebook page since Facebook is a jerk and wouldn't let me change my name when I changed my brand, I've been doing a very low promotion. I'm doing a hyper-focused campaign towards vegans and people interested in sustainable tourism. It's only about a $1/day and I'll probably continue doing it.
I eliminated the $4.99 a month for ShortPixel as my WordPress VA is using something else for compressing images. Small amount but I love getting rid of expenses no matter what.
I upgraded my SmarterQueue since I have the two Facebook groups I want to be able to schedule posts to now so it increased from $19 to $39 a month.
NET INCOME: $746.36
I didn't quite make my income goal this month but had a lot of freelance projects in the works that I just haven't received payment for yet – gotta love that freelance life.
Blog Traffic for January 2020
Monthly sessions for Wild Hearted: 19,387 (+ 9,961)
Monthly sessions for Oddities and Curiosities: 6,996 (+ 4,273)
Monthly page views for WH: 29,080 (+ 15,876)
Monthly page views for OC: 12,415 (+11,520)
Monthly users for WH: 17,513 (+ 8,896)
Monthly users for OC: 6,822 (+6,129)
Social media followers for WH: 67,892 (+ 166)
Social media followers for OC: 589 (+37)
Blog posts published/updated for WH: 19 (+13)
Blog posts published/updated for OC: 4 (+2)
Blog Goals for January 2020 Recap
These were my blog goals for January and how I did.
Start Facebook groups for each blog. I did this. You can join the Wild Hearted community here and the Oddities and Curiosities community here.
Write more affiliate based posts. I only got one done – this vegan backpack post!
Update 15 old posts. I updated 10 old posts and wrote 9 new ones. I'll take that as a win!
Reach 20,000 sessions on Wild Hearted. I came shy by just 600 sessions! I can not express how excited I am for this. I'm now going to apply for Mediavine – something I've been working towards for a long time.
Reach 5,000 sessions on Oddities and Curiosities. I DID IT. I honestly thought this was a far-fetched goal, but I did it.
Make $1500 in blogging/freelance income. Close, but not quite!
BLOG GOALS FOR JANUARY 2020
Get Mediavine approved and set up!
Write more affiliate based posts.
Update 15 old posts.
Reach 30,000 sessions and 40,000 pageviews on Wild Hearted.
Reach 5,000 sessions and 20,000 pageviews on Oddities and Curiosities.
Make $1500 in blogging/freelance income.
Most Popular Post
My post on the 20 most visited cities in the world and sustainable, underrated travel destination alternatives was my most popular post in January!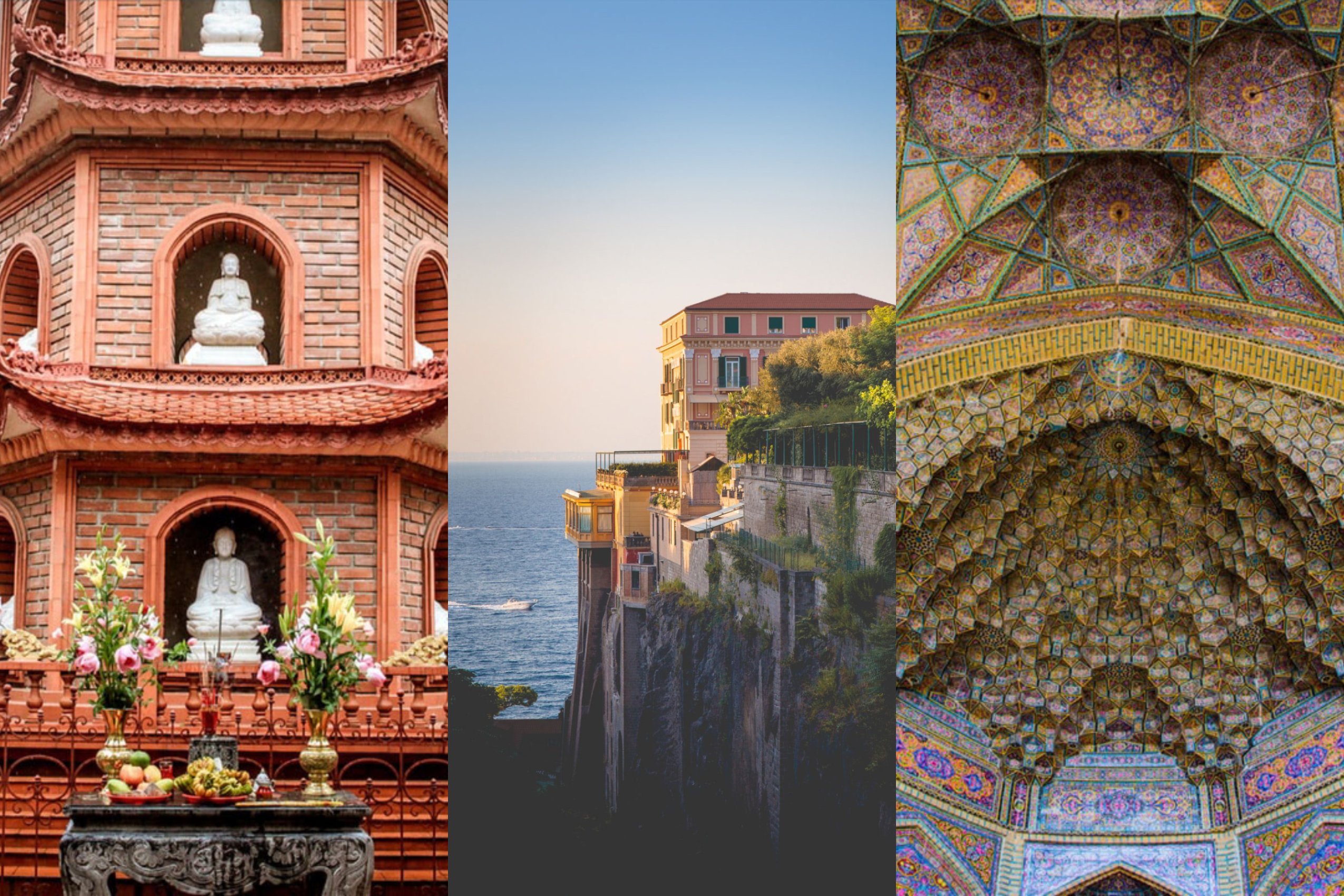 OTHER BLOG POSTS WRITTEN
Here are all the new posts I've written in January.
And, here are all the posts I updated in January!
Best Thing I Ate
I had a delicious breakfast at Sunflower Bakehouse and this sausage and cheese breakfast roll was everything I didn't know I was missing. That sauce? It's like queso basically. OMG.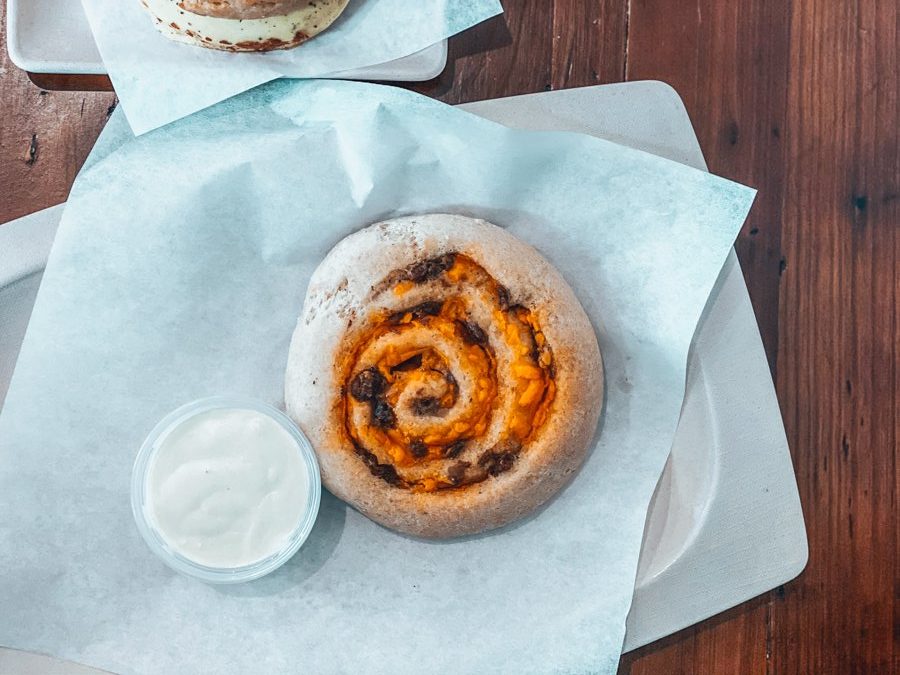 I also really enjoyed this vegan peach cobbler from the Peach Cobbler Factory. I was really surprised and excited to find out they have vegan options. This day, she had peach, cherry and blueberry vegan cobbler!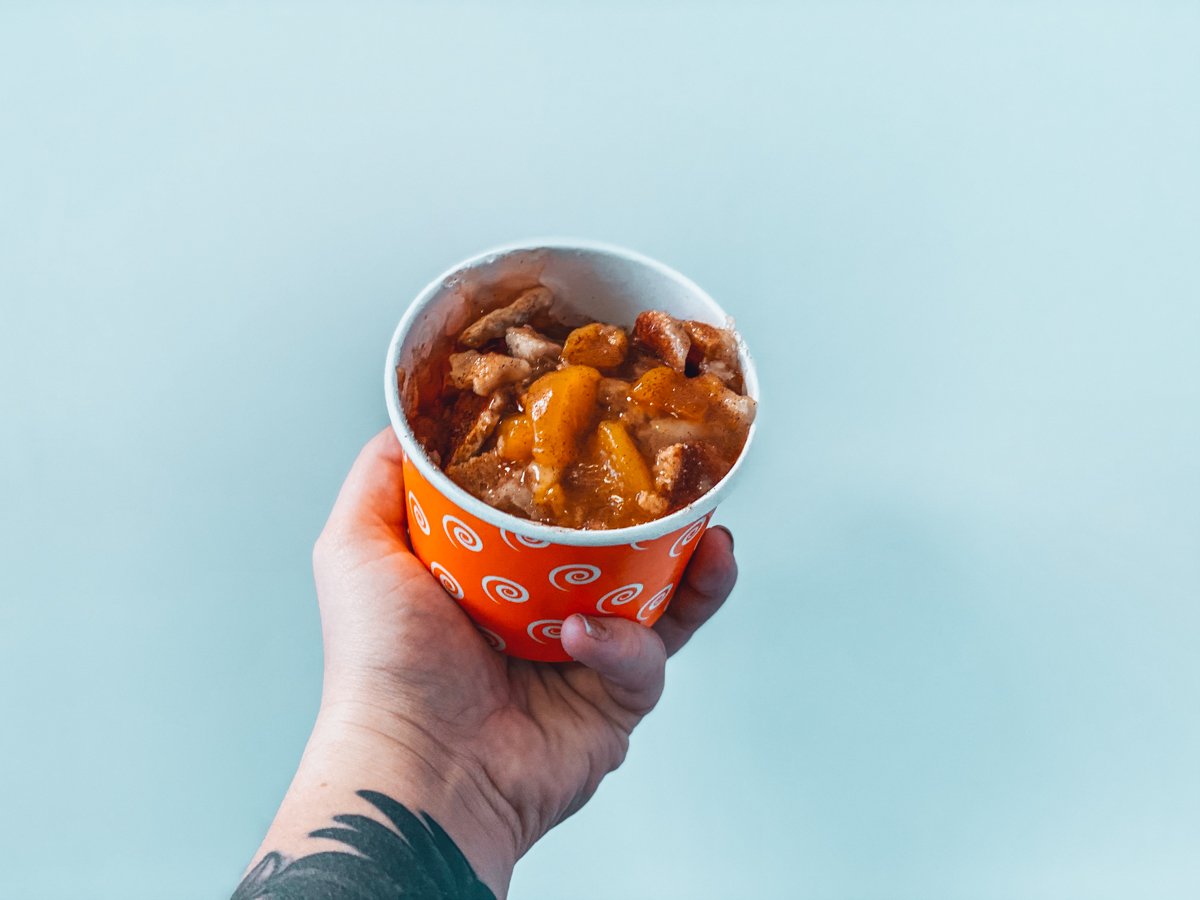 Most Loved Instagram Post
You can follow me on Instagram at @wild.hearted.blog.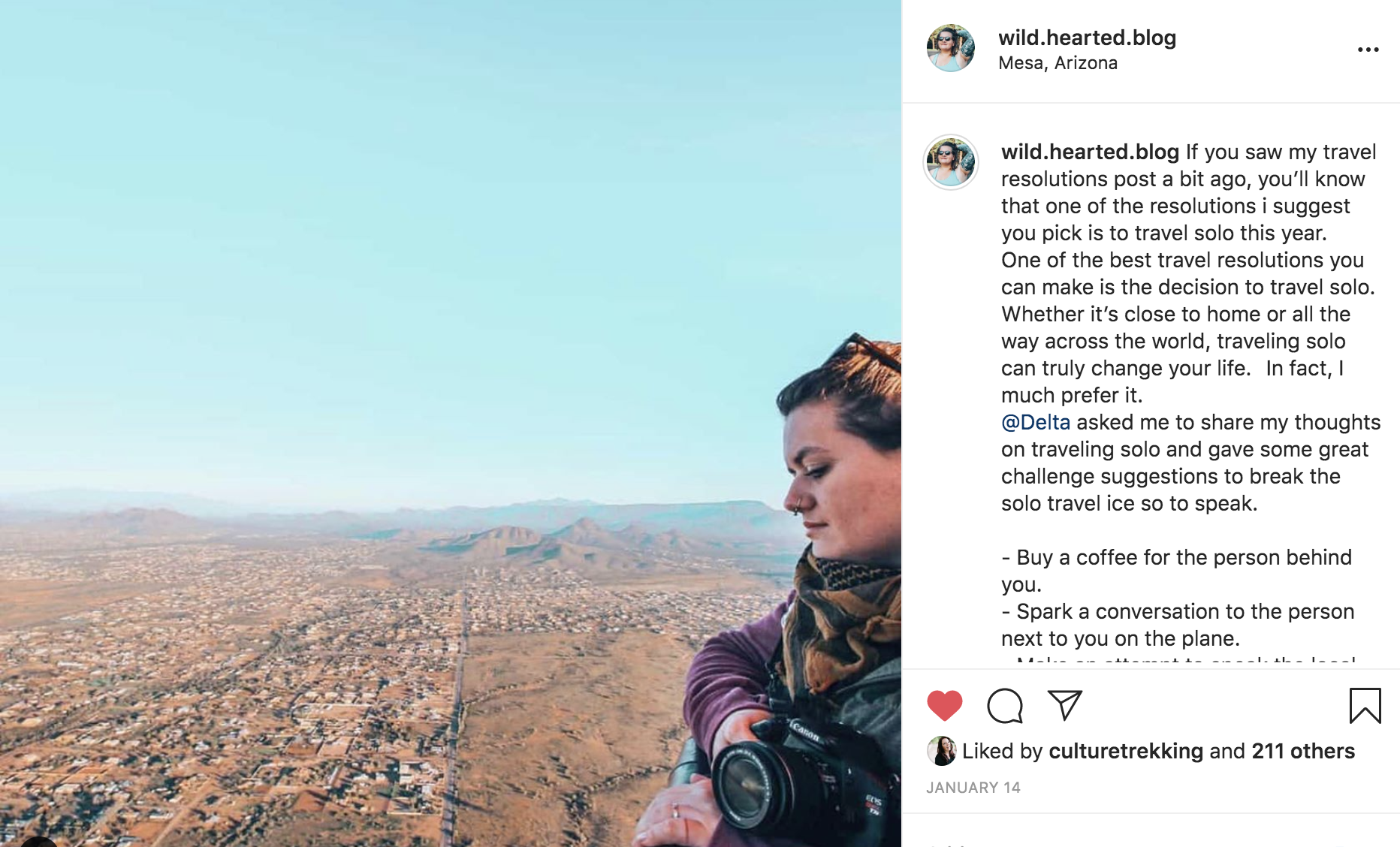 What I Read This Month
After reading 25 books last year [but really just in the last quarter of the year], I made a lofty goal to read 100 books in 2020. And, I'm happy to say, I'm well on track with having finished 8 books in January.
I've made a goal to read 100 books in 2020. Join me on Goodreads!
Dead to the World (Sookie Stackhouse #4) by Charlaine Harris – Slowly re-reading my way through the True Blood books again. I'll think I'm going to take a break after this one to read some other books on my to-read list.
A Discovery of Witches (All Souls Trilogy, #1) by Deborah Harkness – Not sure how to feel about this book, to be honest. It felt very Twilight-esque. The main male character was controlling and Diana, the main female character, seemed pretty cool in the beginning but never really developed or lived up to her potential. She's a historian, a witch, and an athlete but yet didn't really do anything exciting at all.
I also don't feel like there was a ton of storyline for a 600-page book. Just seemed like a really drawn out romance novel that never lived up to the potential story [which had a lot of potential]. I actually listened to the audiobook and I will say I was really impressed with the narrator.
 3/5
The Man Who Spoke Snakish by Andrus Kivirähk – This was a slow burn but once it picked up, I didn't want to stop reading. I don't know much about Estonian lore but now I'm highly intrigued to learn more.
 5/5
 4/5
Crush It!: Why Now Is The Time to Cash in on Your Passion by Gary Vaynerchuck – I'm already a fan of Gary Vee. I love his energy so this was easy for me to read in his energizing voice. However, as someone who already has an established blog, it didn't really help me with any "ah-ha" moments. Still was a quick, easy read that gave me a bit more motivation. I wouldn't count on this book to lead you to your epiphany moment – unless you're literally starting at the ground level.
 3/5
Wild by Nature: One Woman, One Trek, One Thousand Nights by Sarah Marquis – I'm starting out by saying that I have extreme respect for the journey that Sarah went on – it couldn't have been easy and it definitely took courage.
As a vegan, I loved her views towards animals [and by looking at her current Instagram, it seems she's moved from vegetarian to vegan which I was hoping for based on her comments]. I also liked the fact that she was opposed to taking photos of people felt it felt disresepectful.
HOWEVER – it was extremely cringeworthy how blatantly racist and xenophobic she is. I literally don't think she said a single nice thing about anyone she met [aside from maybe one or two] until she got to Australia.
A direct quote:
"I breathe deeply; I'm among my own people. For the first time in twenty years, I intimately understand my belongings to the ethnic group known as Caucasian."
YIKES.
 1/5
Norse Mythology by Neil Gaiman – I already love Norse mythology, but I didn't know much more than the basics. Gaimin is, of course, amazing and him reading the audiobook was the right choice by far. He takes all the stories and packaged them into nice little stories to make them easier to understand and digest.
If you love Norse mythology or are curious about it, definitely pick this one up. I'll probably read it again as I occasionally get distracted with audiobooks.
 4/5
The Last Dive: A Father and Son's Fatal Descent into the Ocean's Depths by Bernie Chowdhury – After ferociously reading Shadow Divers [make sure to read it first], I knew I needed to read this more in-depth account of their story. It's heartbreaking but moving. Also as a fairly new diver, the level of explanations into technical diving was very helpful and interesting for me but may seem redundant to experienced technical divers.
 4/5
In the Water: They Can't See You Cry: A Memoir by Amanda Beard – Unlike others, I actually didn't know who Amanda Bear was. I forget how I found out about her and then her book but it made it's way to my to-read pile a few months ago. Turns out, I couldn't put it down and finished over the weekend. I saw how some people said it read more like a diary entry but that doesn't bother me in a memoir.
As someone who suffers from depression and anxiety, I felt myself connecting with her on that level. All in all, I found it inspiring the way any Olympic athlete is inspiring but more so for her journey with mental illness and personal demons.
 4/5
On my Bookshelf for February
I'm currently reading:
Plans to read this month:
What are you reading this month?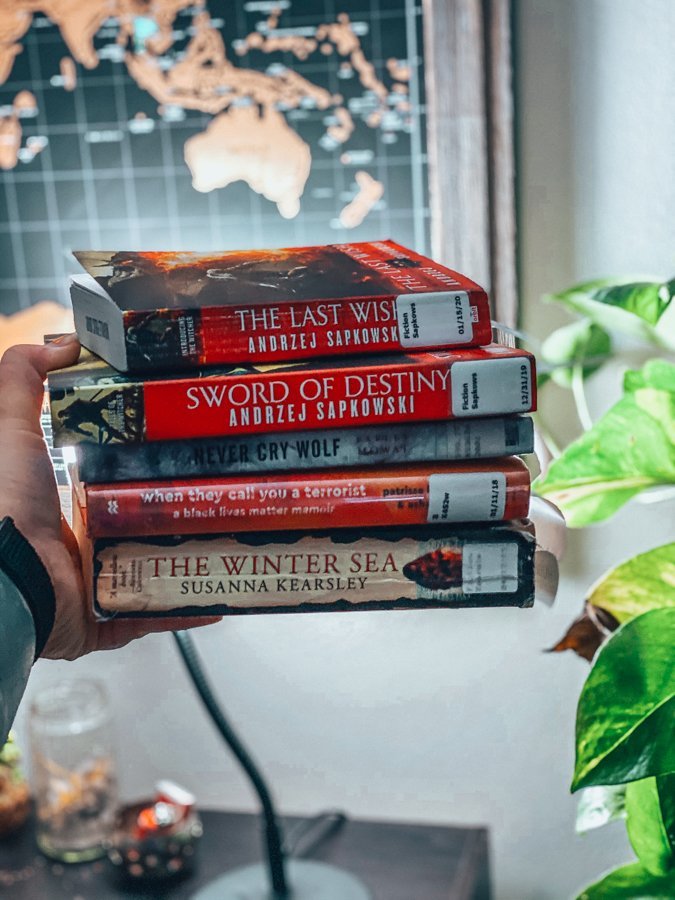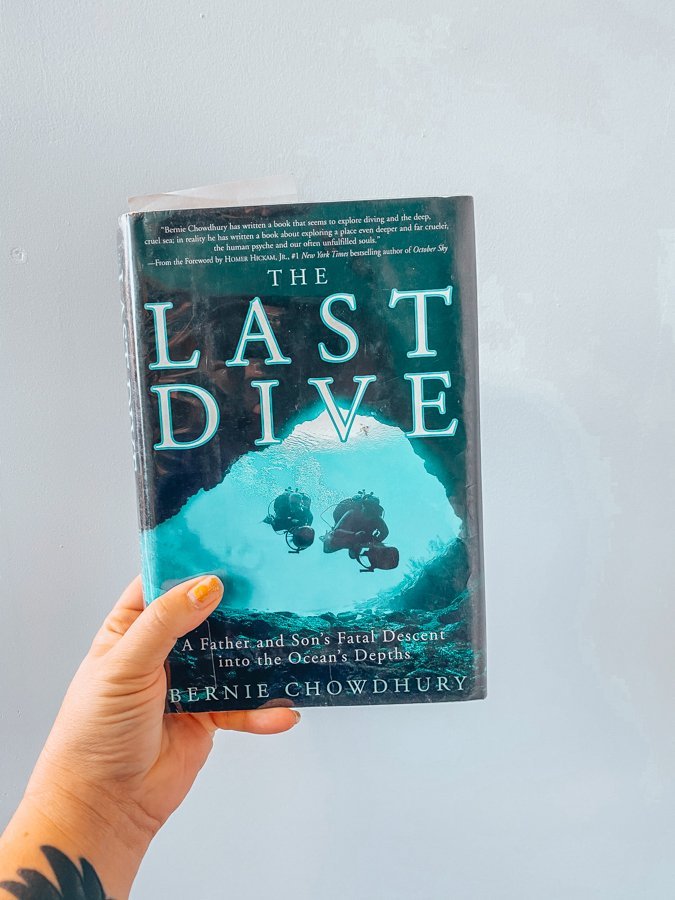 What I Watched This Month
Oh, boy, what didn't I watch?!
The Americans, Season 1-6 – I started watching this show a couple of years ago but got sidetracked after a few episodes. Finally revisited it this month and binged the entire series! [I do work constantly while I watch TV guys, promise!] This show is from the point of view of two Russian spies living like Americans and the expected drama that comes with that. So, so good. It just feeds my Russian obsession.
Penny Dreadful, Season 1-2 – Started watching Penny Dreadful and got through 1 of 2 seasons. A unique take on our most well-known supernatural stories like Dracula, Frankenstein and more.
Dracula – watched the new mini-series Dracula on Netflix. An even darker account of the age-old story.
Spinning Out – the Netflix original series about ice-skating and mental illness.
90 Day Fiance – Thanks to my friend, Taiylor, I got to continue my obsession by watching the latest season on Sling TV.
Teen Wolf – Finished the series this month!
The Outsider – If you haven't watched the new HBO series based on Stephen King's book by the same name, you're missing out. Starring and produced by Jason Bateman, this dramatic thriller is amazing. Also, the cinematography in this show is beautiful.
His Dark Materials – Another HBO series based on The Golden Compass books [which I haven't read yet] was very good. According to friends who have also read it, said this is one of the best book to tv adaptations.
Marriage Story – the Netflix original movie starring Adam Driver and Scarlet Johanssen – two of my favorites. This raw and emotional look at a loving marriage that slowly falls apart while still trying to remain a family with their son. Was up for a lot of awards (rightfully so!) but still, glad my boy, Joaquin Phoenix has been winning for Joker.
Joker – speaking of Joker, we bought it when it came out and re-watched it.
Aladdin – Michael had never seen the new Aladdin.
Midsommar – I love A24 movies [The Witch, Hereditary, Room, The Lobster, Swiss Army Man, Lady Bird to name a few]. They're artistic and, often, dark. And, yes, they're a little strange. Midsommar was no different.
Pet Sematary – Finally watched the new version of Pet Sematary. I'm a big Stephen King if you can't tell and really liked this new version. Just as creepy as the original.
The Revenant – re-watched the movie that finally got Leo his Oscar because Michael had never seen it. Forgot how good this was.
Coming Up in February 2020
I don't have much planned for February either.
Additionally, I'll be working a lot at my part-time job [which will be more like full-time this month], on both of my websites, some freelance projects, and planning future trips.
Trips I have booked so far include Ohio in March, Gulf Shores in April [for diving!], and Scotland in September. Trips that are probable include Colorado in April, Kansas City in May, Isle Royale in the summer, a Florida road trip, a North Carolina road trip, and possibly the Animal Rights conference in Portland, Oregon.
What do you have going on in February?
Latest posts by Ashley Hubbard
(see all)