This post may contain affiliate links, meaning if you book or buy something through one of these links, I may earn a small commission (at no extra cost to you!). Please see my disclosure.
Are you looking to travel off the beaten path in New Orleans? Here's an ethical & sustainable travel guide for NOLA that will leave you feeling like a local.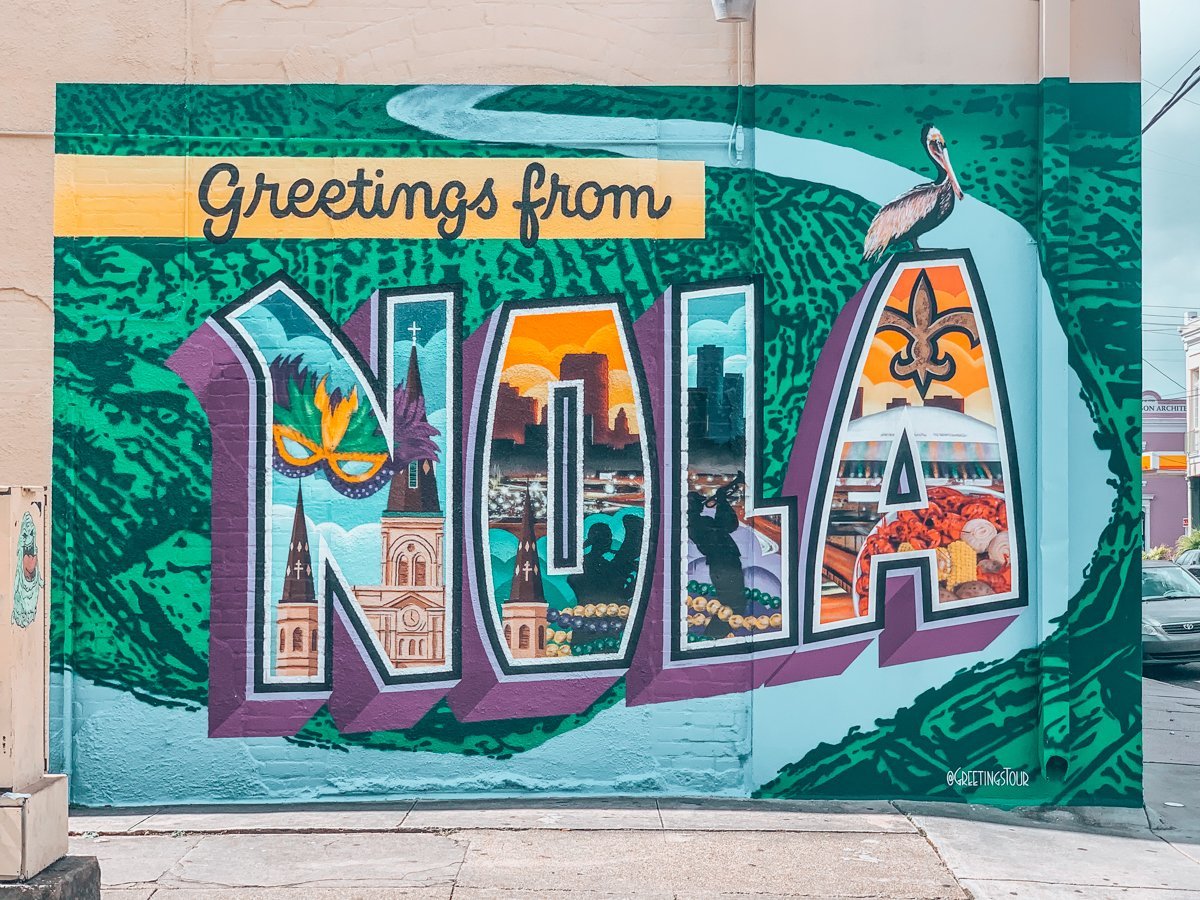 Louisiana, and New Orleans in general, may not be the destination you think of when you think of sustainability. If getting off the beaten path in New Orleans is your goal, then you may not realize it – but that's already focusing on sustainability.
New Orleans has a lot going for it in terms of sustainability including an amazing streetcar system making public transportation simple, plenty of vegan restaurants, organizations doing clean-ups, lots of local shops, farmers' markets, and more. All of these things make a difference and allow you to get off the beaten path in New Orleans.
Additionally, there are many ways to get off the beaten path in New Orleans and focus on social sustainability by learning more about the slave trade, the historical significances of New Orleans, visiting some of the lesser-visited neighborhoods and supporting the locals, and more. Not to even mention that there are way more festivals in New Orleans besides Mardi Gras – who would have known?!
If you're traveling to New Orleans soon and you're a fan of non-touristy activities, then you'll be pleasantly surprised to see how close it correlates with sustainable travel.
This is my full guide for what to do, where to stay, and what to eat for the ethically conscious traveler.
---
Off the Beaten Path in New Orleans Travel Guide
---
Discover the Green Spaces
These spots are completely free to visit and the best places to enjoy nature without having to leave the city.
City Park
City Park in New Orleans is a 1,300-acre public park – it's absolutely huge! In fact, it's about 50% bigger than Central Park in New York City.
Within City Park, you'll find a wide range of things to do including a massive and impressive sculpture garden, beautiful botanical gardens, a full-scale golf course, 25+ tennis courts, walking, running, and biking paths, a wooden carousel, and the world's largest stand of mature live oak trees.
No matter your preference of activity, there's plenty to do here and a large portion of it is free! You could spend a week exploring just City Park and probably not get to it all.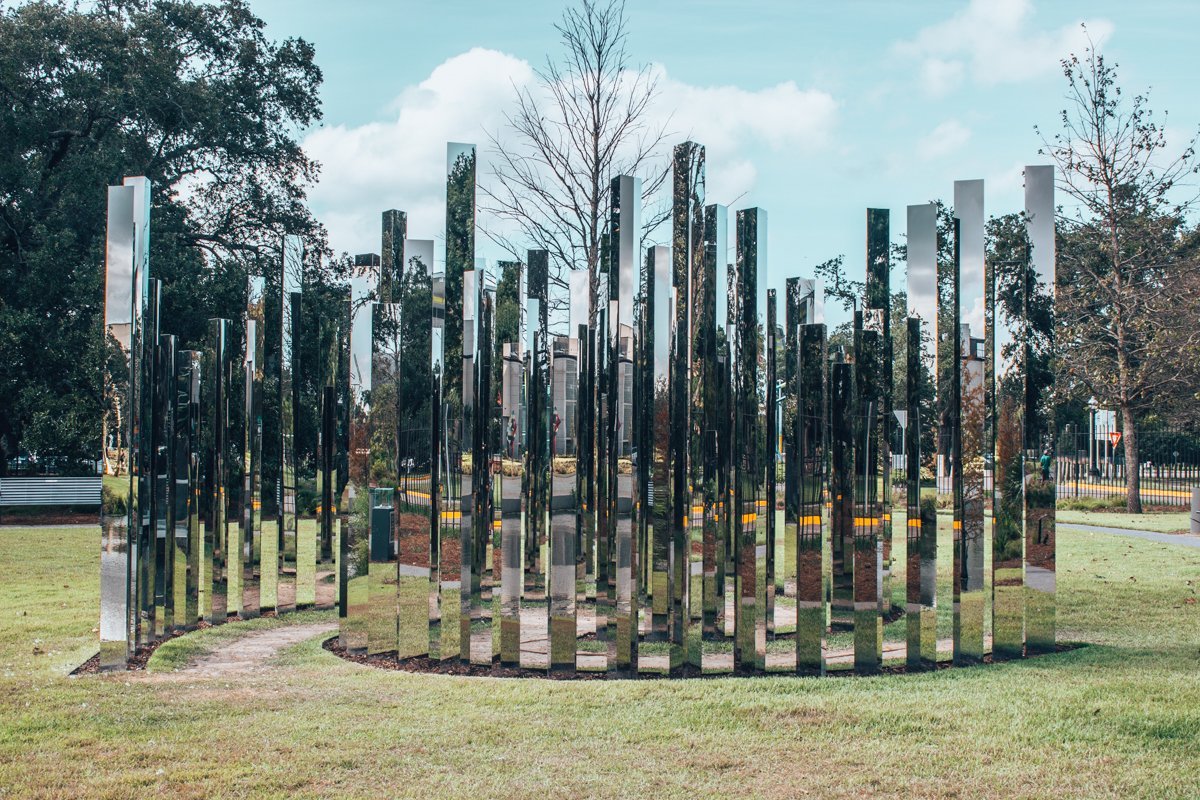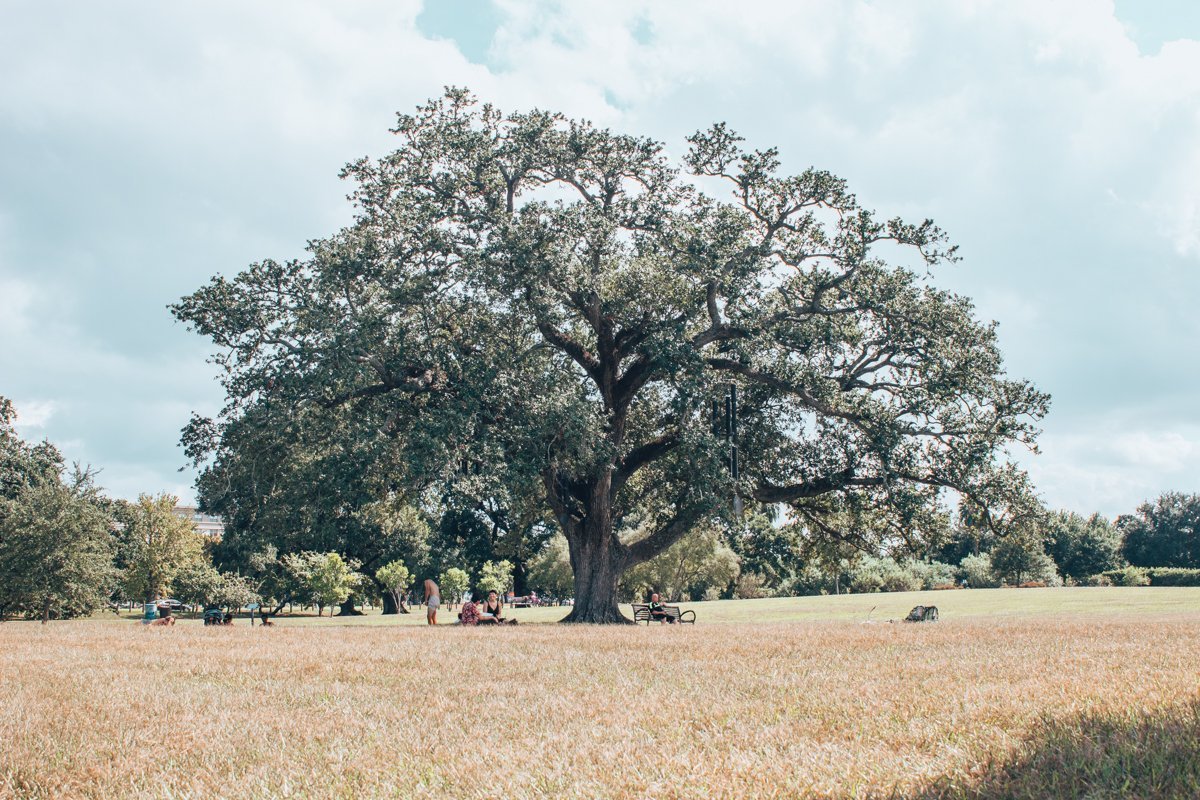 Audubon Park
Audubon Park is located in the Uptown neighborhood – just past the Garden District. It is only 350 acres compared to the City Park's 1,300 but still highly impressive.
Audubon Park is a great place to have a picnic and relax. There is also a jogging path, playgrounds, a lagoon, tennis courts, soccer fields, a pool, and a golf club.
Crescent Park
Crescent Park is a mile and a half long, 20-acre urban park meant to connect the community to the riverfront.
Here you'll find the perfect skyline views of New Orleans from across the river, indigenous plants and trees, biking and jogging paths, a dog run, and more.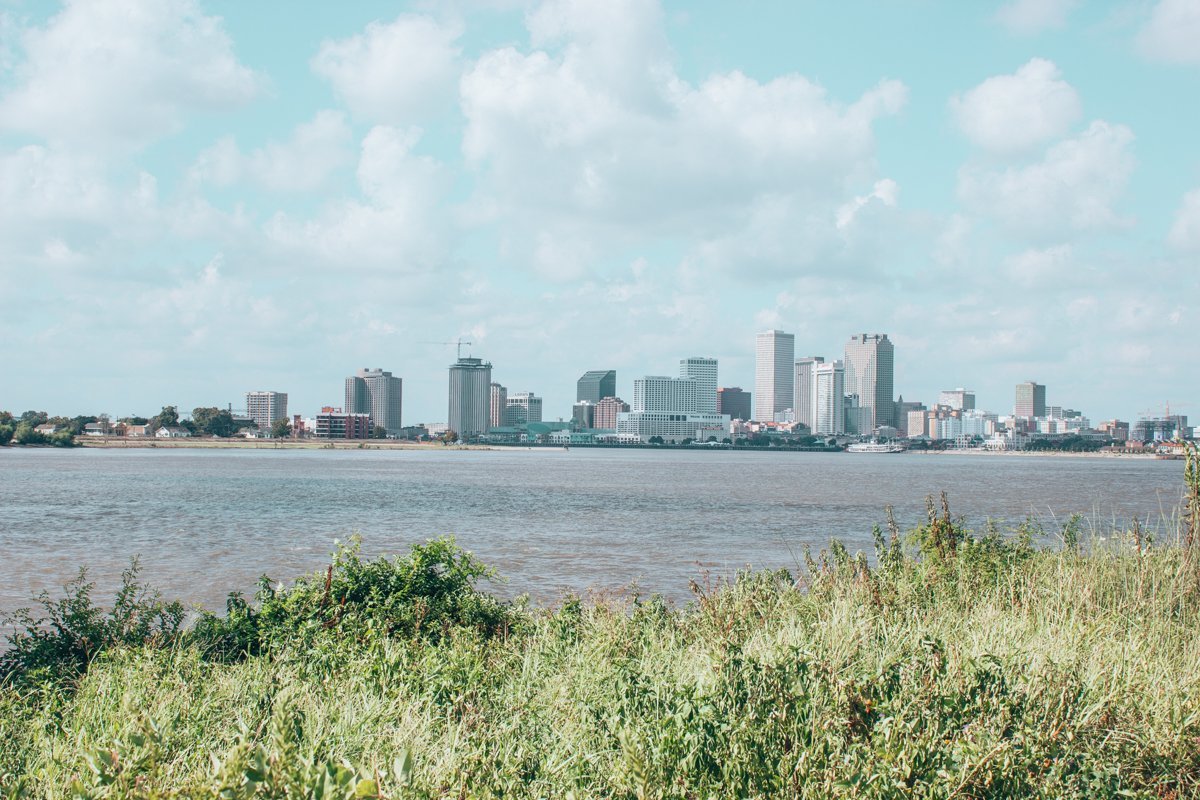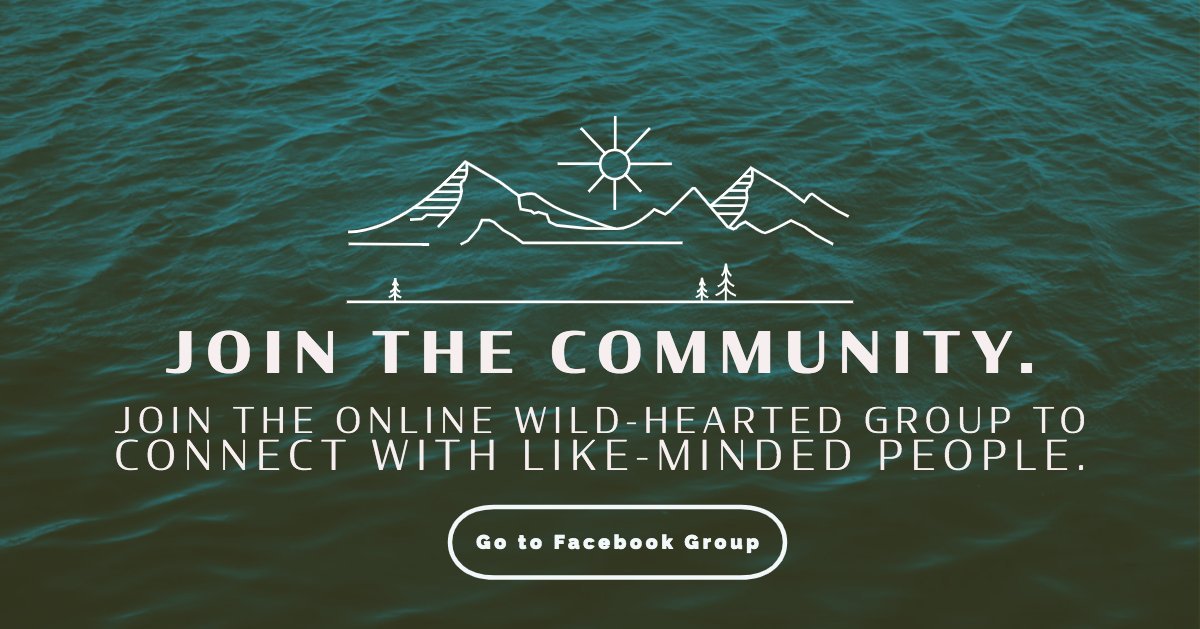 ---
Find the Many Farmers Markets Around the City
Crescent City Farmers' Market
Crescent City Farmers' Market is an umbrella farmers' market and operates seven weekly markets in the New Orleans area.
Most of the markets are year-round and all are rain or shine.
Tuesdays – Uptown in Uptown Square
Wednesdays – Bywater at the Rusty Rainbow Bridge and Ochsner Rehabilitation Center
Thursdays – Mid-City at the American Can Company
Fridays – Bucktown at the Harbor
Saturdays – Downtown
Sundays – Rivertown
---
Shop at Sustainable Stores
Who needs to visit one more store with the same shot glasses, t-shirts, and magnets?
Queork
Queork is a female-owned company in New Orleans that utilizes cork as their material of choice – a unique, sustainable and ethical material. You'll find all sorts of shoes, bags, accessories, yoga mats, and more.
Cork is the outer bark of the cork oak tree which then regrows making cork one of the most sustainable products in the world.
They also employ craftsmen through the Youth Empowerment Program.
Goods That Matter
Goods that Matter is a sustainable company that creates everyday design goods that have a positive impact.
They provide a trusted base for social and eco-conscious customers to purchase high quality, eco-friendly, handmade-in-America goods for everyday use.
Each product is handmade in the U.S. with eco-friendly materials and they give back to social and environmental causes. They are also the first B-corp in the state of Louisiana – a pretty proud crowning achievement!
Here is an example of a description for a product and what the proceeds are donated towards:
10% of proceeds are donated to the Backstreet Cultural Museum, who are dedicated to protecting and perpetuating New Orleans' unique culture. As New Orleans has become a more expensive place to live, many of the people that make our city what it is have found it more and more difficult to afford living here thus endangering its unique culture.
UP/Unique Products
UP is a retail gallery that is providing home decor, accessories, and lighting in an environmentally friendly way. Every item is individually designed and handmade by the artists utilizing items thrown away into the garbage that they then reuse and recycle into products.
Since the devastation of Katrina and the regrowth of the city, UP has been committed to eco and sustainable education.
The Green Project
The Green Project is a unique project that diverts 2 million pounds of usable materials from the landfill every year.
They collect these items and sell them at their Salvage Store at marked down price of course – usually 30-50% of normal retail value. This keeps trash out of the landfill and provides affordable building materials to the community.
Additionally, their Paint Recycling Program was the first of its kind in the Gulf South. They collect and recycle usable latex and water-based paint, mixing it into new, one-of-a-kind colors. Each year, they divert 40,000 gallons of paint from improper disposal in local ecosystems and from unnecessary incineration. You can also donate your good paint to them so they don't have to go fish it out of the trash.
In addition, they also use the paint to host Community Paint Collections at Whole Foods on the second Saturday of every month. They also redistribute paint to local nonprofits.
As if this wasn't enough, The Green Project also goes around to schools and provides environmental education to today's youth about local issues, waste diversion, recycling, and creative use.
Passion Lilie
Passion Lilie is a fair trade and eco-friendly clothing brand in New Orleans. Their mission is to empower artisans and use sustainable materials.
The products are produced in India but each design is created in New Orleans by the founder, Katie Schmidt.
---
Independent Bookstores in New Orleans
Visiting independent bookstores is a great way to get off the beaten path in New Orleans and contribute to sustainable travel. New Orleans has long been an inspiration for readers and authors including William Faulkner and Tennessee Williams.
Faulkner House Books
Faulkner House Books focuses on rare editions, fine literature and, of course, the works of William Faulkner. The small bookstore was once the home of William Faulkner and where he wrote his first book.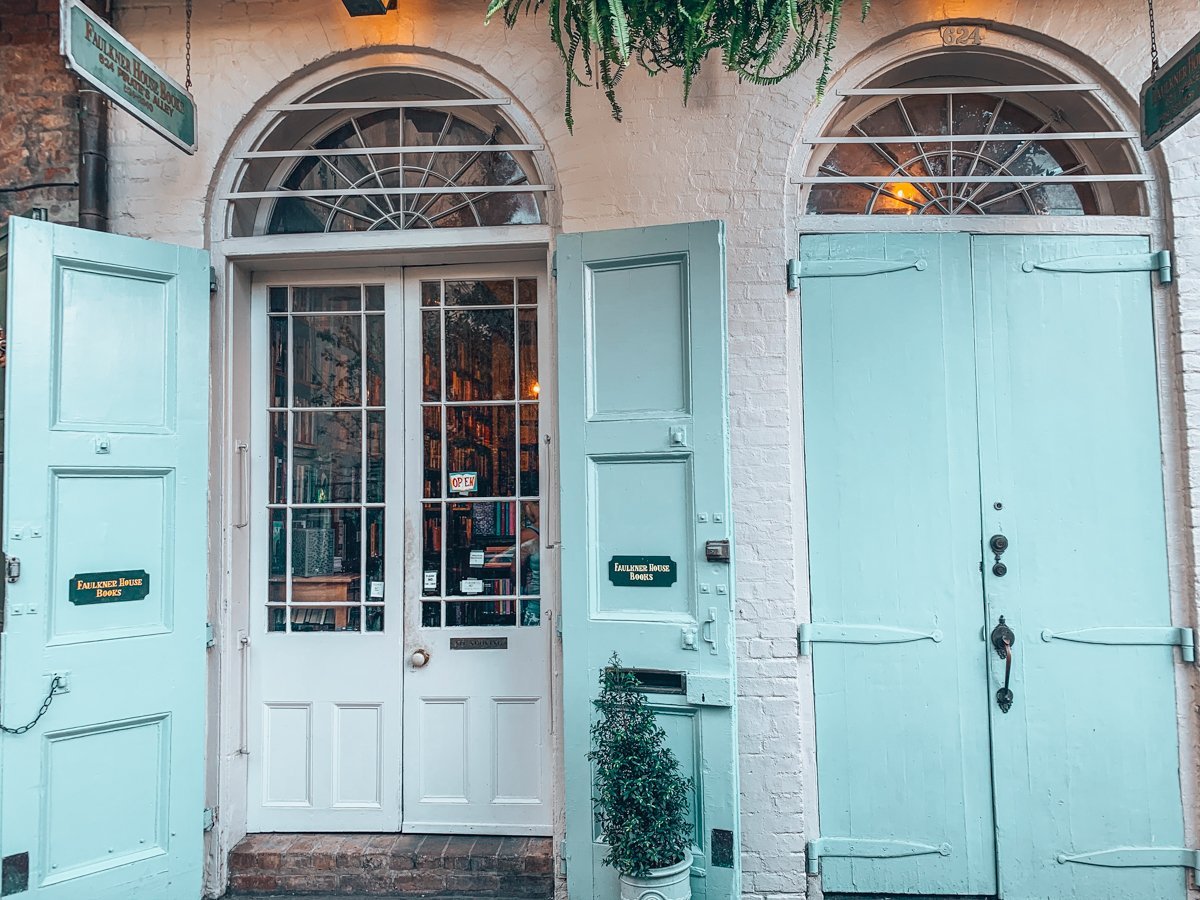 ---
Off the Beaten Path in New Orleans – Neighborhoods to Visit
If you want to reduce the strain of tourism in the most popular neighborhoods of New Orleans, check out these under the radar destinations that are still very much worth a visit.
Bywater
Bywater is colorful and vibrant. You'll find plenty of local art galleries, funky live music venues, art markets, Crescent Park, and more. Make sure to search for colorful street art murals, outdoor cafes, dive bars, quirky boutiques, and hip restaurants.
Lower Ninth Ward
One of the least visited neighborhoods lies on the East side of New Orleans. The Lower Ninth Ward is a multi-cultural residential community that has been revitalizing since Hurricane Katrina. Visit the House of Dance and Feathers which celebrates the Mardi Gras Indians, social aid, and pleasure clubs. If you're not heading out on a swamp tour, head here to the Bayou Sauvage National Wildlife Refuge where you can possibly see alligators while walking along the boardwalks. This area is also known for its Vietnamese cuisine.
Treme
Treme is the oldest African American neighborhood in New Orleans. As far back as the 18th century, this has been a place of pride and refuge for New Orleans' free people of color as they could buy property here. This neighborhood served as a place where they could congregate. Today, the St. Augustine Church still remains as the oldest African American Catholic parish in the country and you can visit Congo Square where slaves once gathered to make music.
This is also where you'll find the Backstreet Cultural Museum where visitors will see a side of New Orleans they don't normally see and find an amazing assortment of memorabilia indigenous to Mardi Gras, jazz funerals and other traditions found only in New Orleans.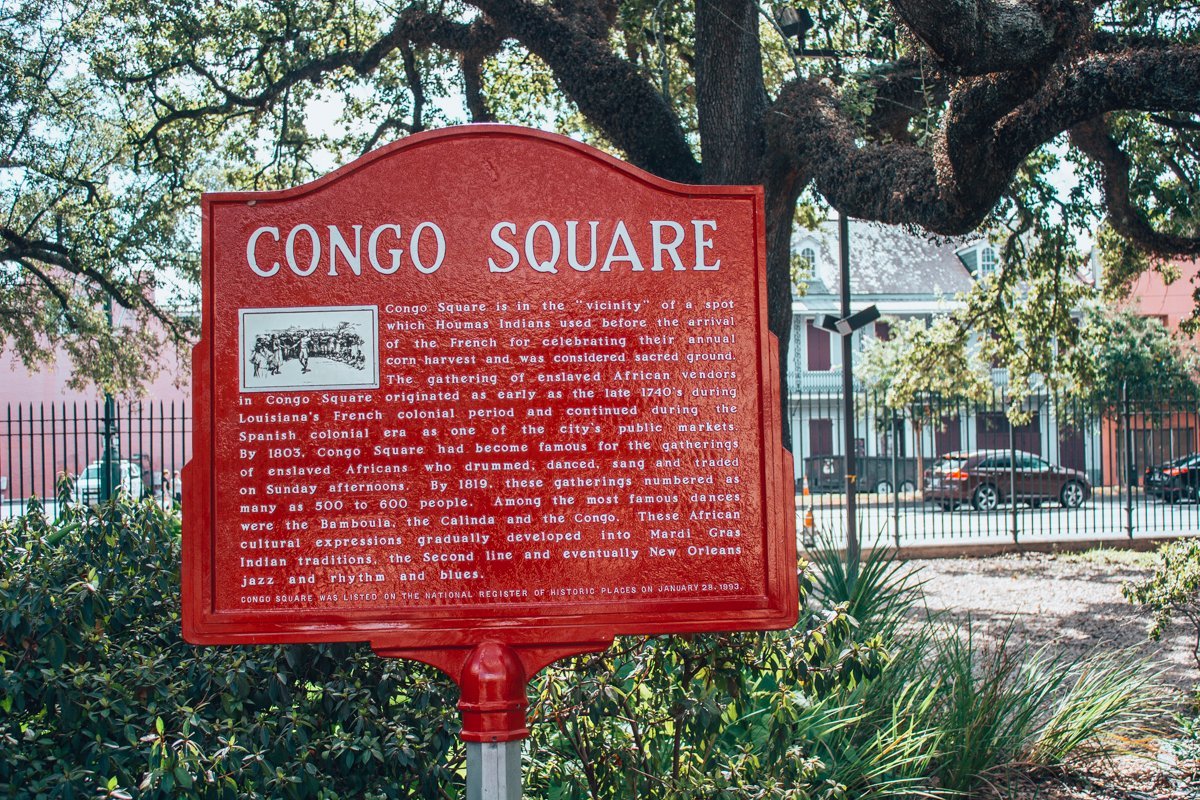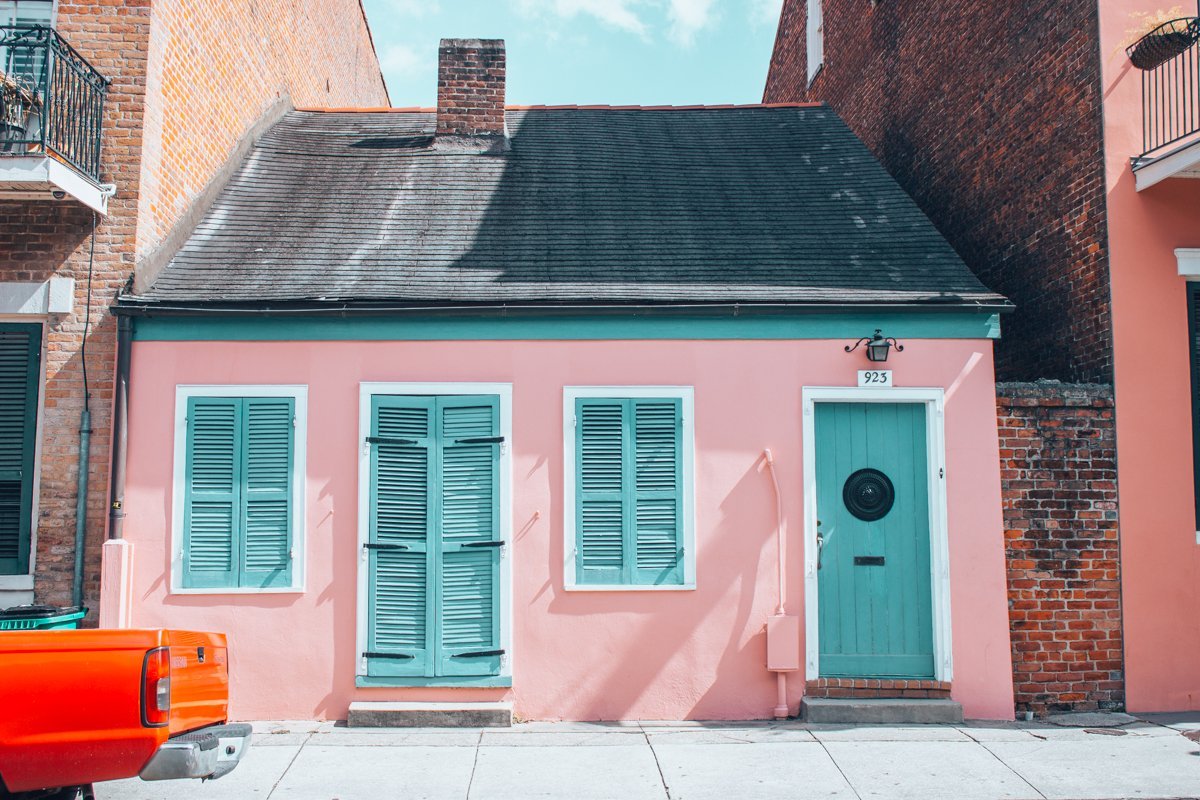 ---
Get Your Caffeine Kick at a Sustainable Coffee Shop
Fair Grinds Coffeehouse
Cozy coffeehouse with pastries, vegan snacks & fair-trade brews, plus outdoor seating. Not only do they use fair-trade coffee, but they grow their own vegetables and herbs at their farm in the Lower 9th ward.
Sólo
This coffeehouse is located in an unassuming locating off the beaten path in New Orleans – the lower Ninth Ward. They use beans from Miami's Panther Coffee.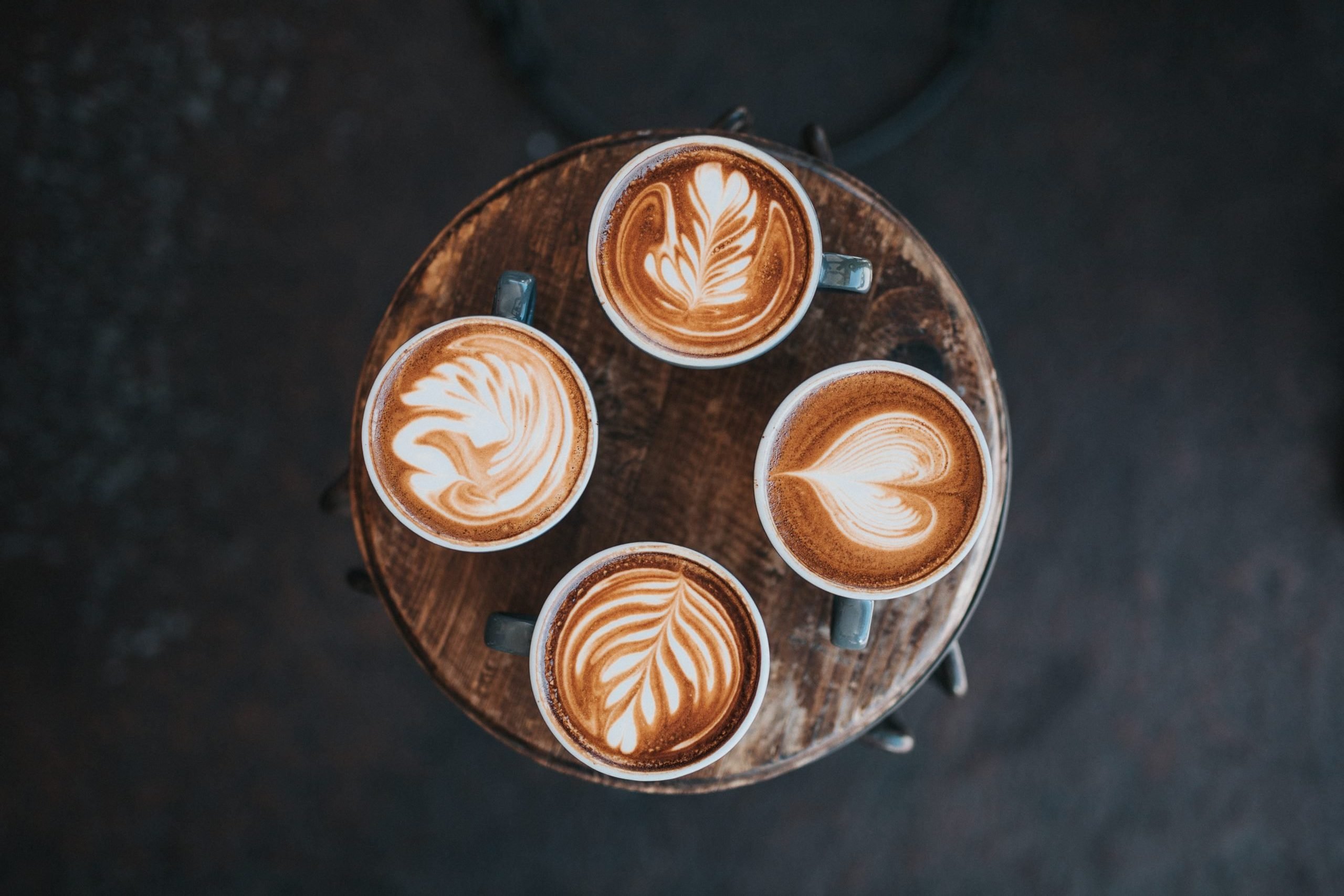 ---
Grab a Bite to Eat at a Sustainable Vegan Restaurant
There is a fantastic New Orleans vegan scene. What's kind of great is many of them require you to go outside of the French Quarter and off the beaten path in New Orleans. Check out my full guide linked above, but here are a few delicious options.
Sweet Soulfood
Located in the Bayou St John neighborhood, this is where you need to go to get traditional soul food and cajun food that is 100% vegan.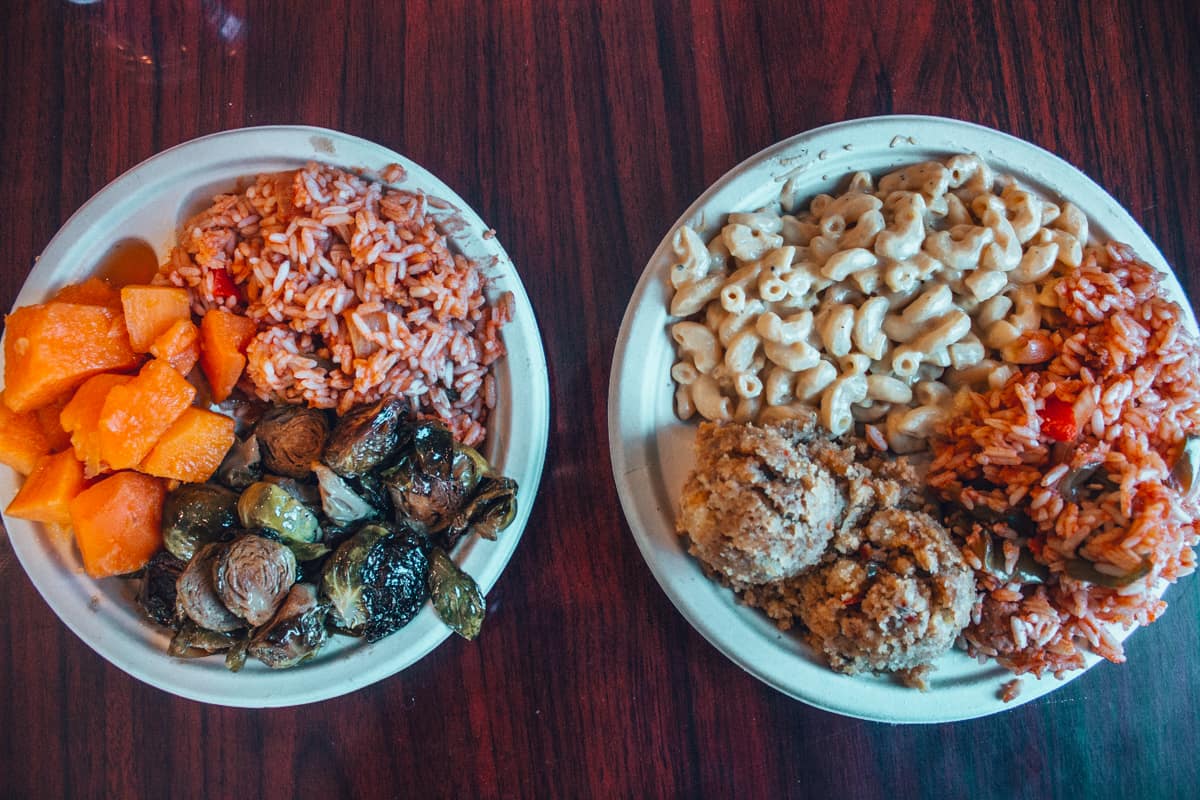 Breads On Oak
My favorite thing I ate in New Orleans was this meal at Breads on Oak which is located in the Uptown/Carrollton neighborhood – definitely off the beaten path! They're the only 100% vegan bakery in New Orleans.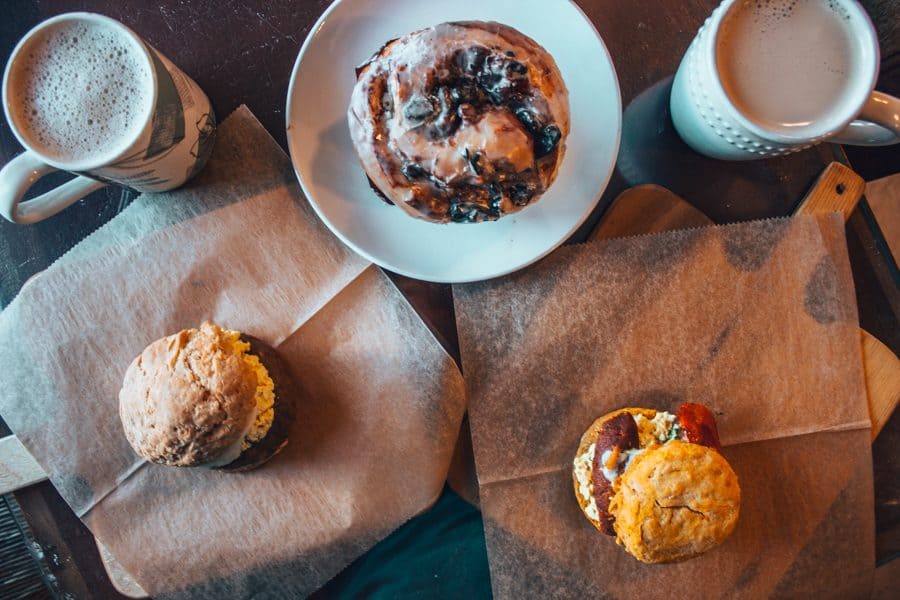 ---
Have an Eco-Friendly Spa Day
Nola Organic Spa
New Orleans' only vegan day spa is calling your name. All that walking around is sure to leave you tired and sore so why not pamper yourself for a day.
---
Go on Ethical and Eco-Friendly Tours
Black-Owned Tours in New Orleans
There are several black-owned tour companies in New Orleans and offer historical and modern perspectives and insight about the city of New Orleans in terms of jazz, slavery, and resistance.
New Orleans Kayak Swamp Tours
I know many people want to do swamp tours when they're in New Orleans and Louisiana and it's definitely a way to get off the beaten path in New Orleans. However, there's a lot of things to watch out for such as:
feeding of alligators and other wildlife
holding alligators
effects of airboats on wildlife
This is why I would suggest a kayak tour. This company offers several different tours which are much more natural and unobtrusive to the wildlife and they do not feed the alligators. I'd suggest taking their Bayou St. John Historical and Cultural paddle, their combo tour which includes kayaking and a visit to the Whitney Plantation, or one of their clean-up paddles. They offer transportation for several of their tours too.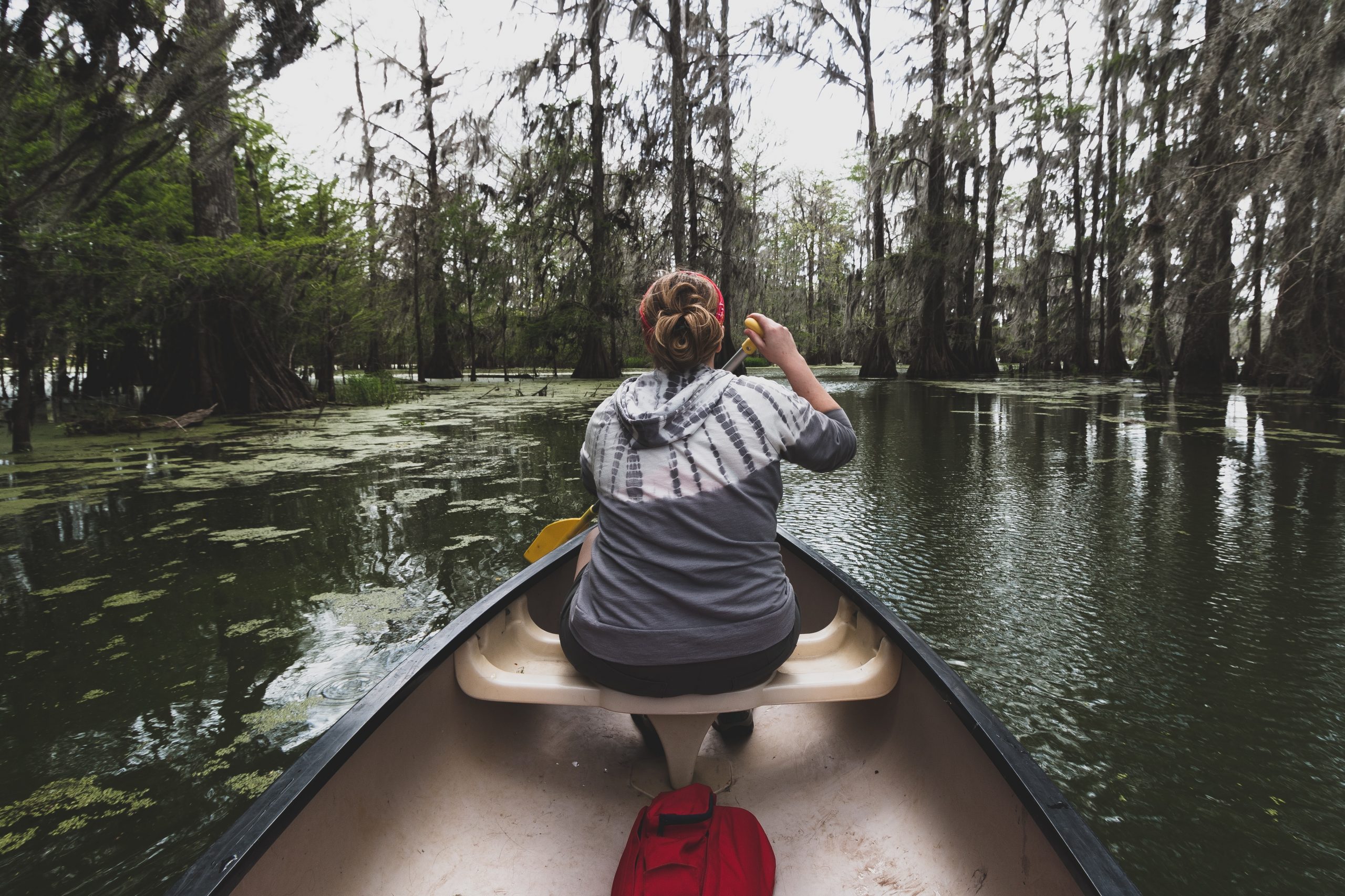 The Whitney Plantation
The Whitney Plantation is a museum devoted to slavery in the Southern United States. This is the only plantation I would advise visiting as it is the only one to focus on the slavery side of plantations as opposed to just the "beauty" of them.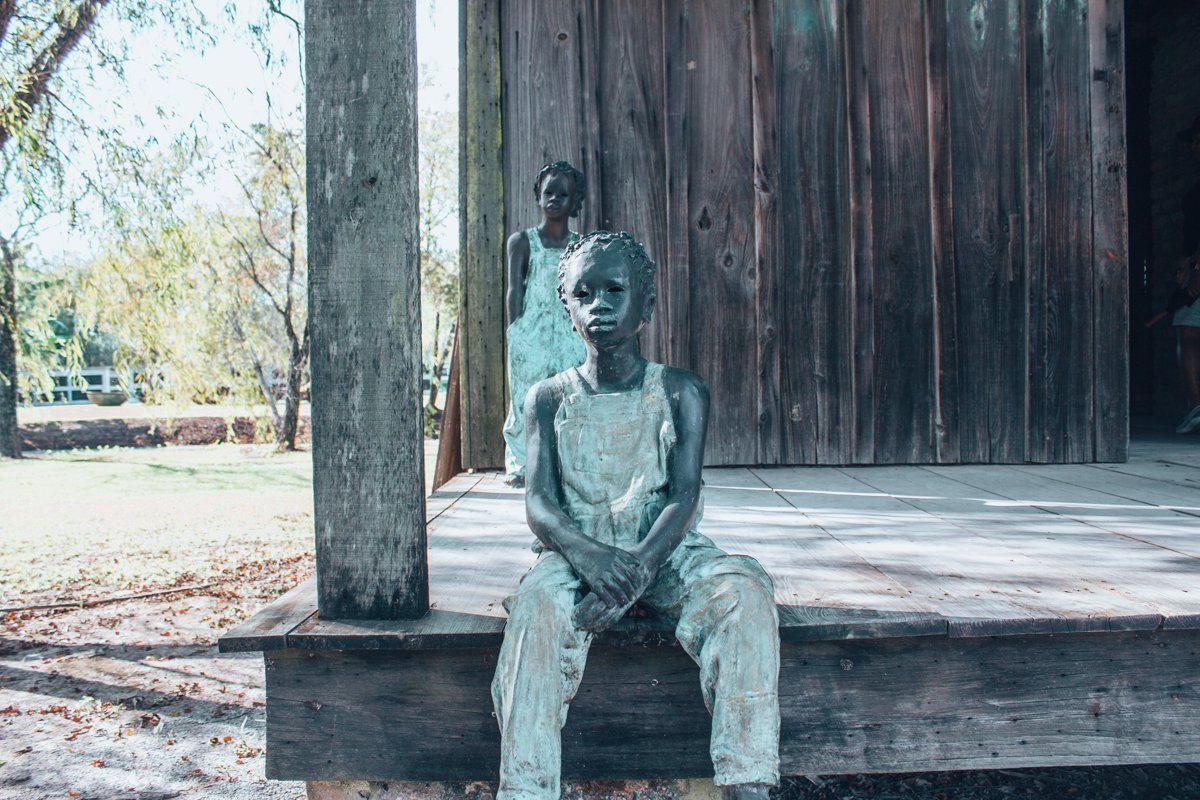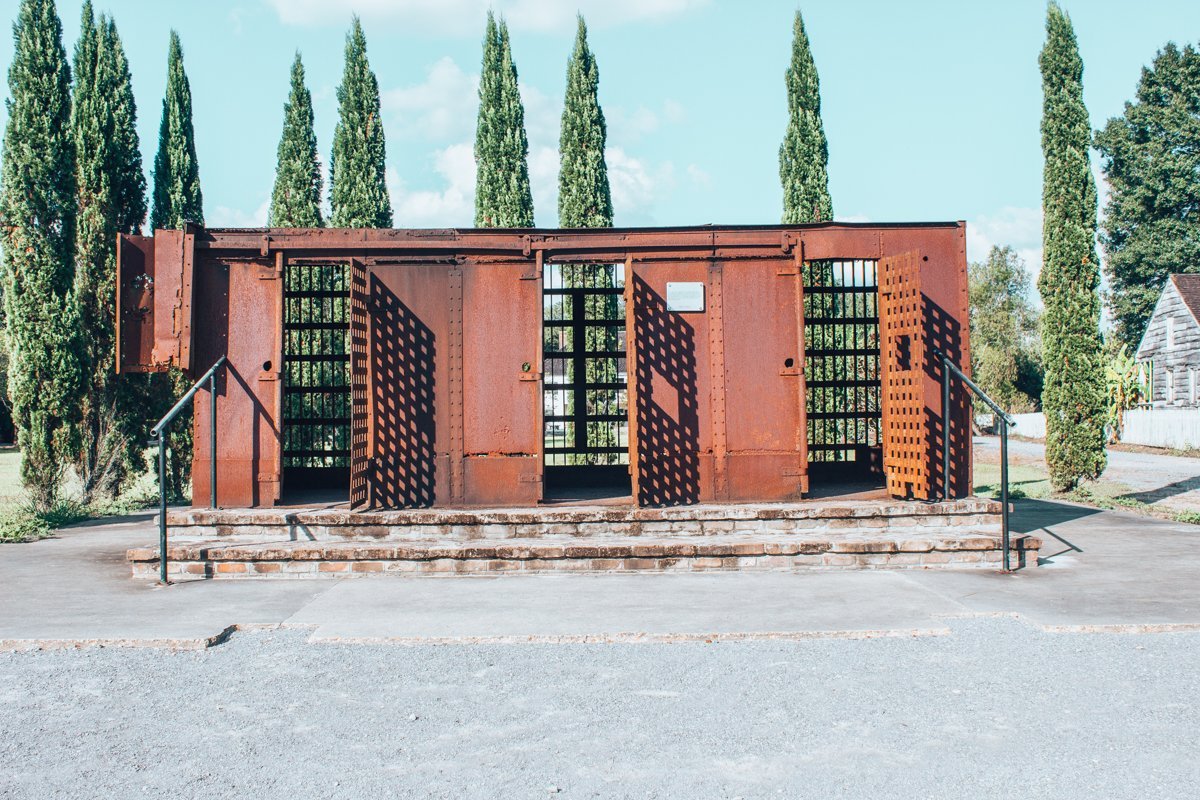 ---
HI New Orleans – Sustainable Accommodation
When trying to decide where to stay in New Orleans, it can be hard to decide on accommodation. There are so many choices, of course.
Hostels, in general, tend to be fairly sustainable. Airbnb can be tricky since they are playing a large role in gentrification. Companies are buying up properties and then renting them out to tourists – leaving nowhere for locals to live or jacking up the rent prices.
Hostels usually mean fewer resources being used, more interacting with others which leads to richer experiences and making friends all over the world. Hostel culture, in general, leans towards using public transportation or walking, experiencing a place "like the locals" and packing lighter which are all fantastic ways to contribute towards sustainable tourism.
Nearly all of the HI USA hostels are in repurposed buildings.
They are run by local staff.
Electricity is from wind power.
HI USA hostels offer free tours that dive into the history and culture of a city and often lead to off the beaten path in New Orleans.
Some amazing things about HI New Orleans include:
Location – located directly on Canal Street and directly in front of a Canal Streetcar stop – you can easily walk to all of the French Quarter or hop on a streetcar to get anywhere else you'd like to go.
Large Shared Spaces – if you've stayed in hostels, you know sometimes spaces can be cramped. You can't move in the kitchen without bumping into someone, there's not always somewhere to sit in the common area, and so on. But, the shared spaces at HI New Orleans are huge. The kitchen and eating area is very open and spread out looking over the reception and common area downstairs. The common area downstairs includes pool tables, a bookshelf, sitting areas, and work stations with plenty of space.
Free continental breakfast – it's free and it's better than most hotel continental breakfasts!
Events and Tours – every weekend they have a tarot & vintage pop-up. They also have donation-based yoga, farmers' markets, and tours.
See Reviews for HI New Orleans | Book Now (free cancellation!)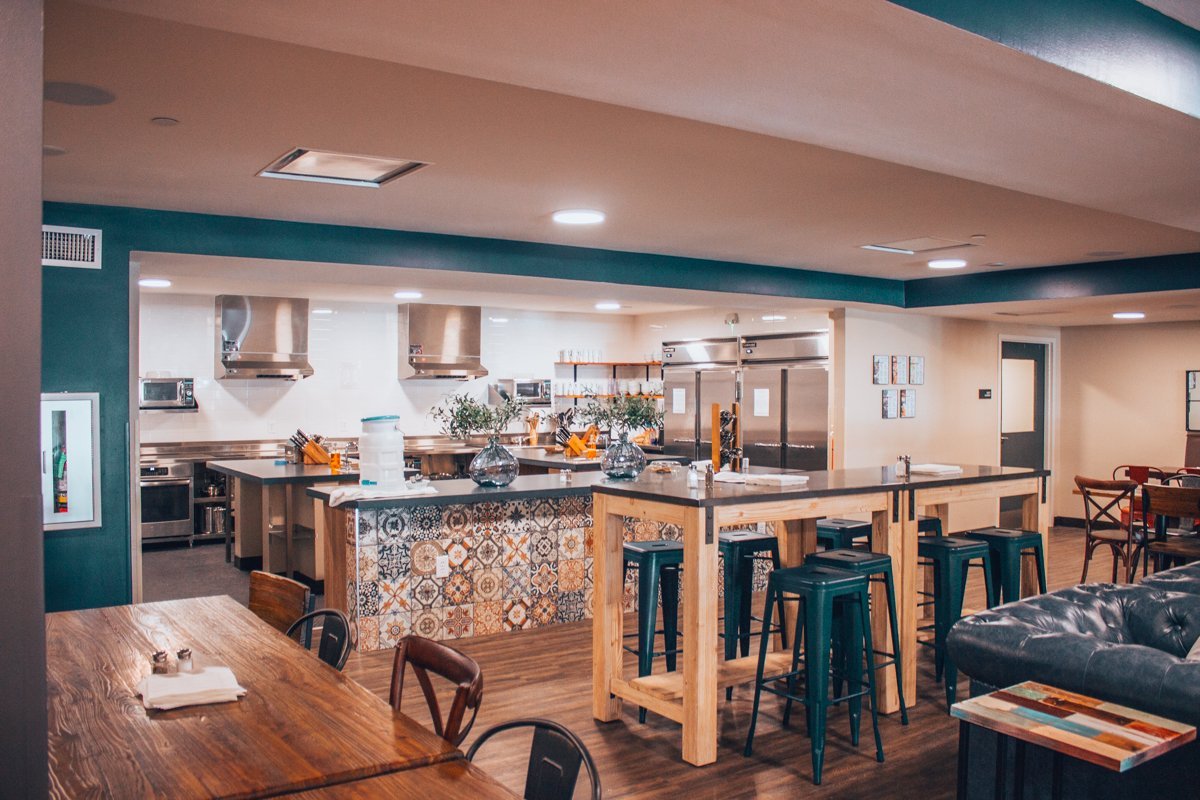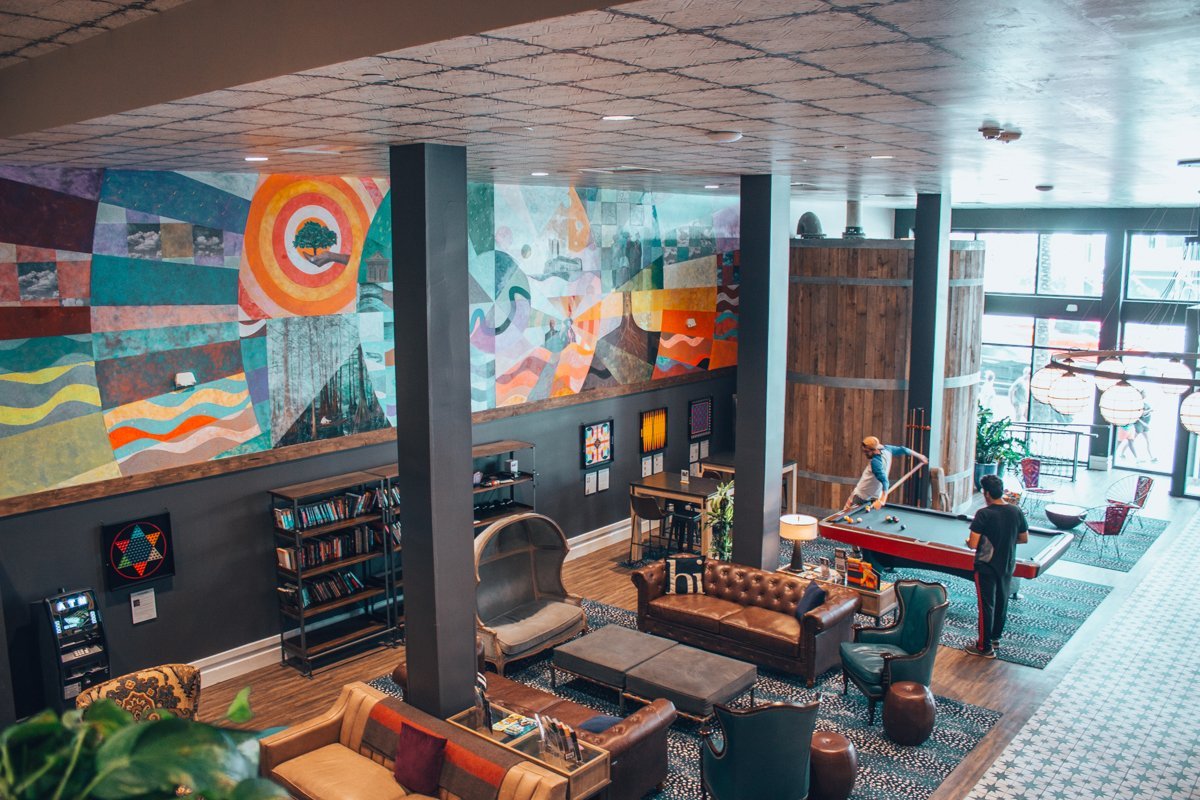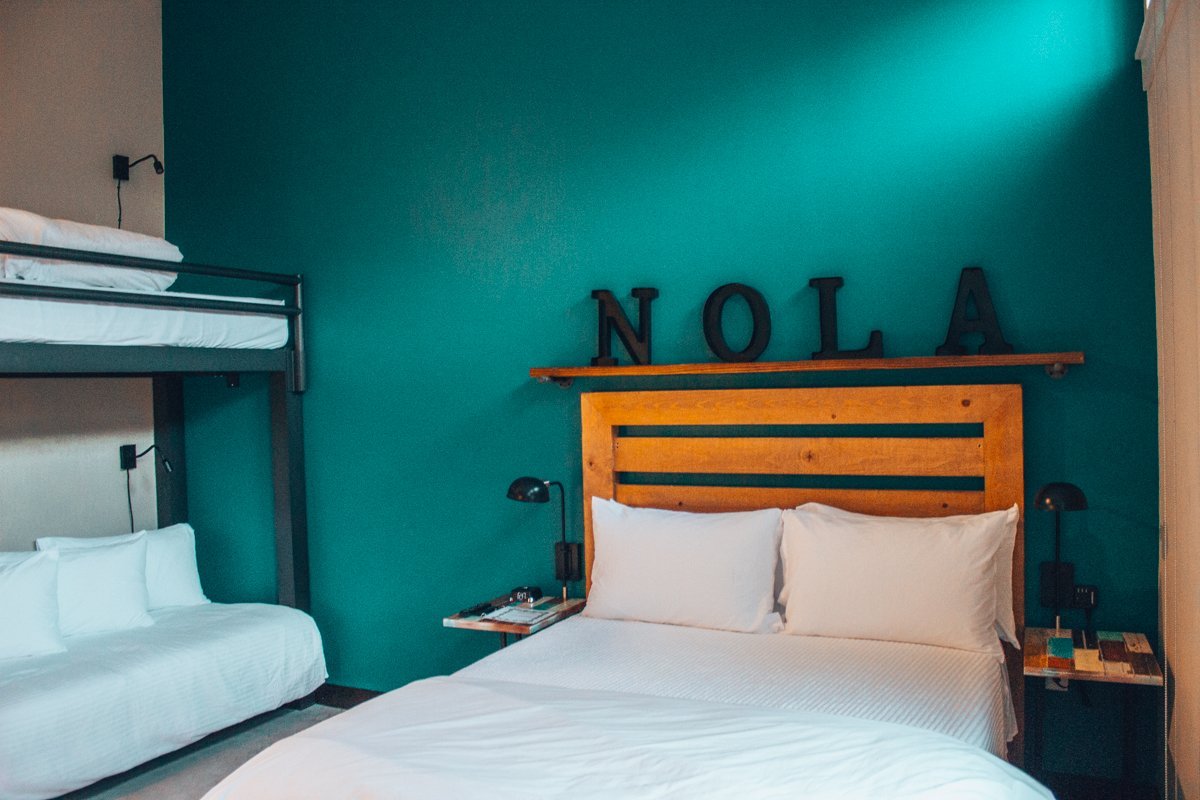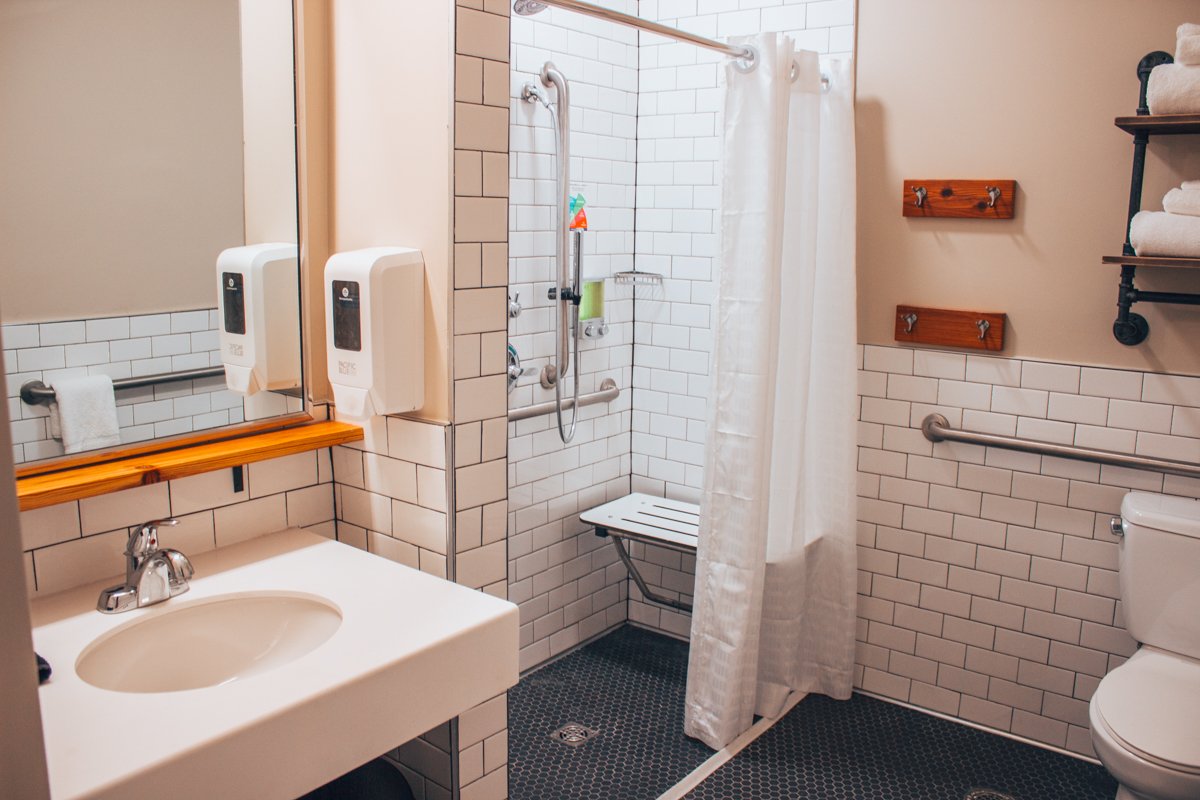 ---
Additional Sustainability Tips for NEW ORLEANS
Transportation
Other than walking, the best option to get around New Orleans is public transportation. It's inexpensive, very accessible, eco-friendly, and sustainable.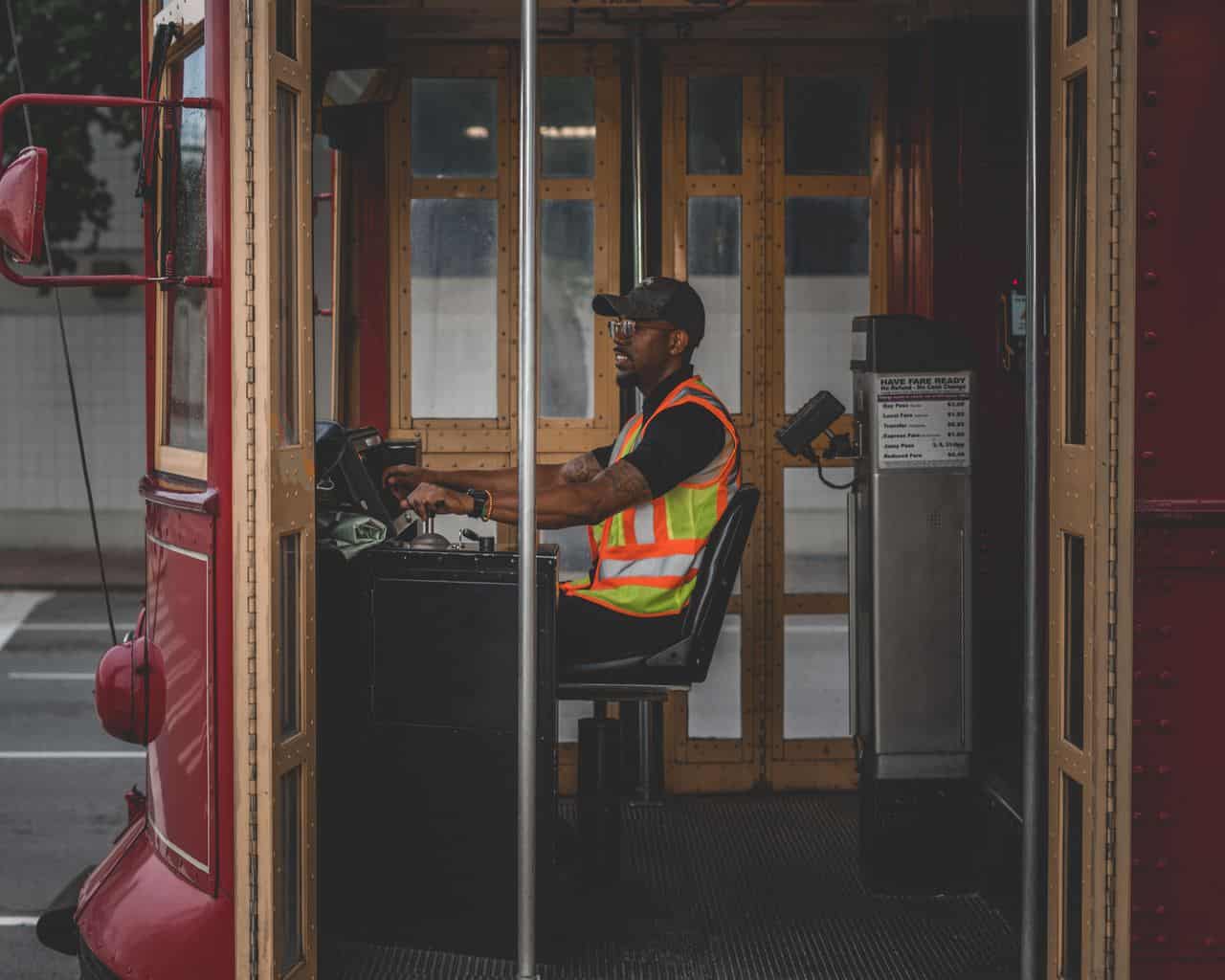 Additionally, you can use New Orleans' bike-share program – Blue Bikes. You can pay as you go ($.10/minute) or monthly for $15.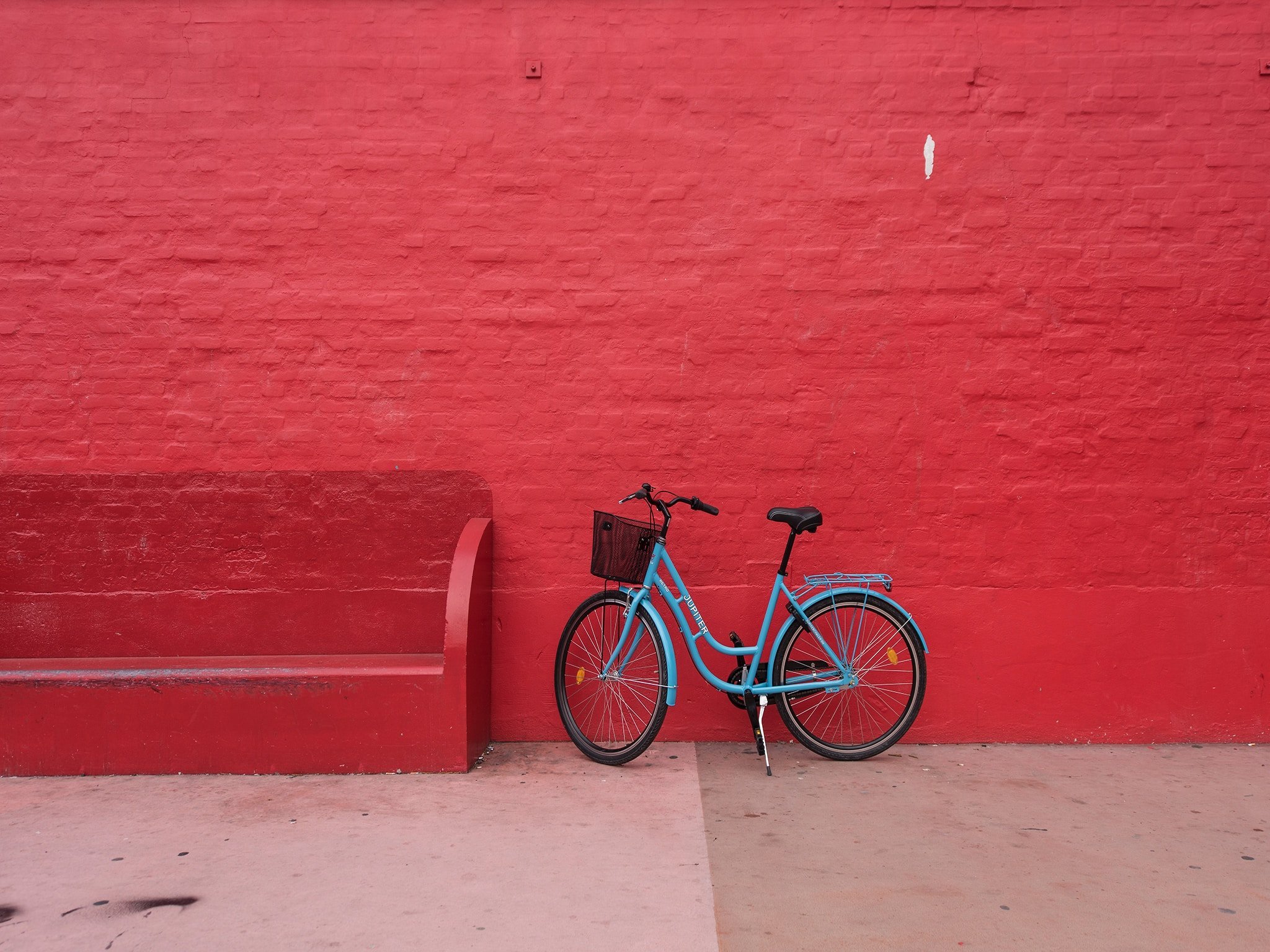 Flying into New Orleans
If you're flying into New Orleans, try and find a direct flight. Direct flights tend to use less fuel than non-direct flights that have to land and takeoff multiple times.
It's also worth packing light, not only for your own sanity when carrying luggage to and from your hotel, but because lighter luggage helps reduce the amount of carbon dioxide emitted by your flight.
Renting a Car
If you're dead set on renting a car instead of using public transit, ask for a hybrid or the most fuel-efficient car available. However, you really don't need a car in New Orleans as you can use public transportation for most everything.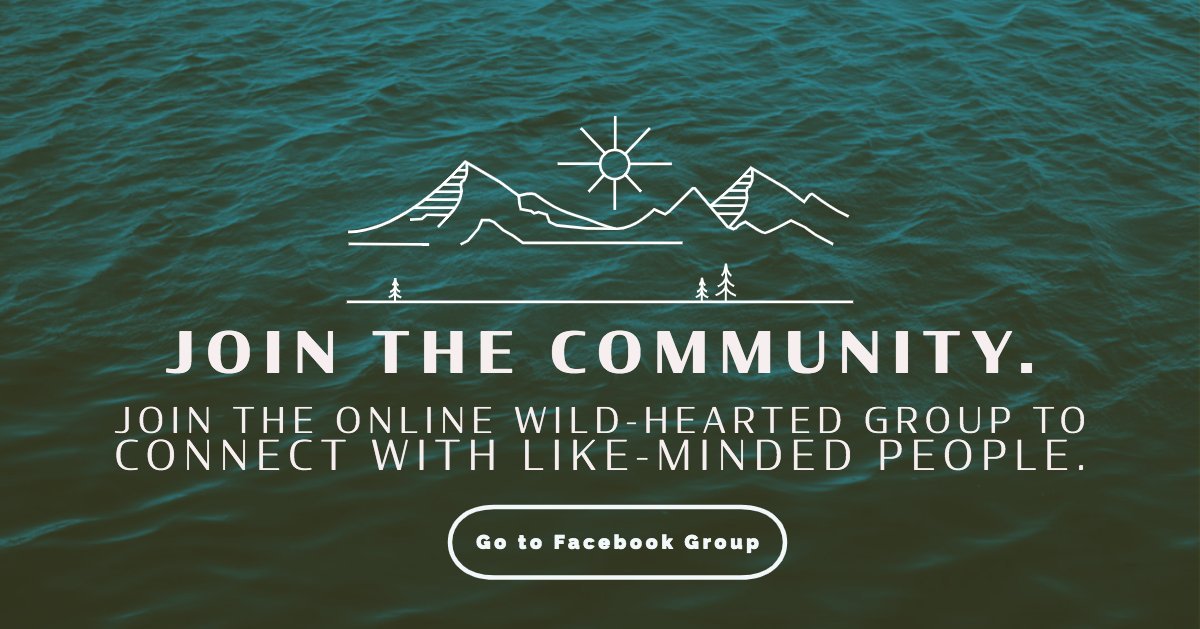 ---
PLANNING A TRIP?
Find accommodation, read accommodation reviews, and check flight prices.
Book attractions, tickets, or guides in advance.
Research using these guides or read my other New Orleans posts.
See my packing list.
↓↓↓ PIN FOR LATER ↓↓↓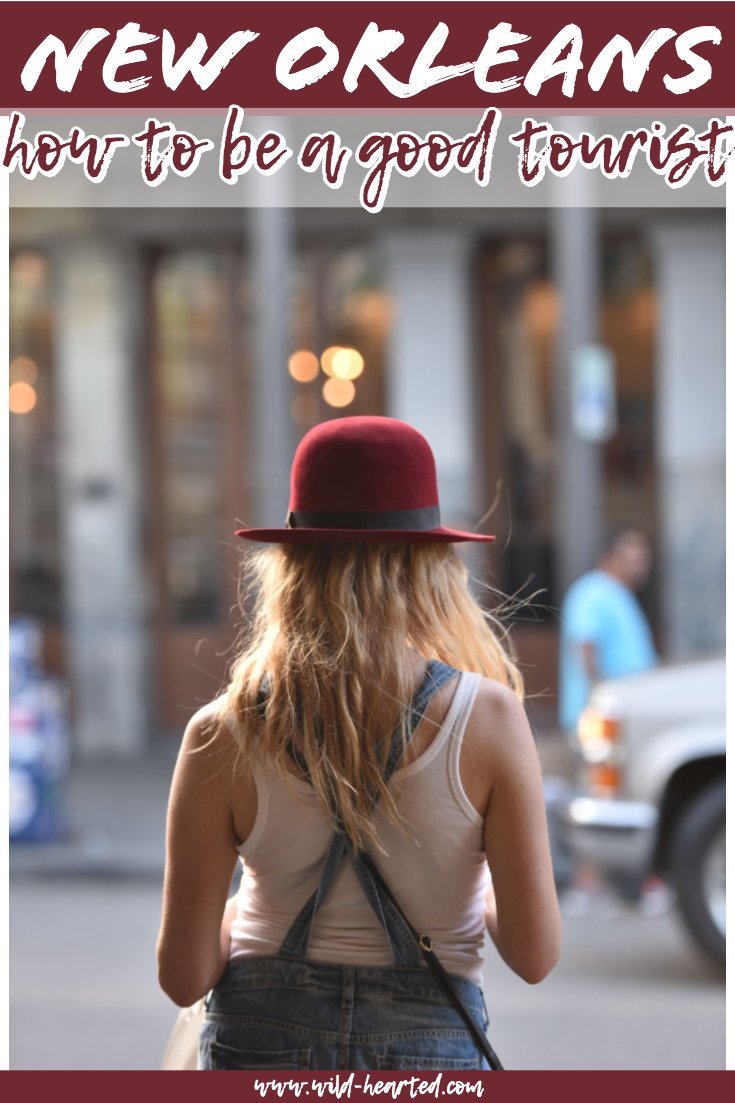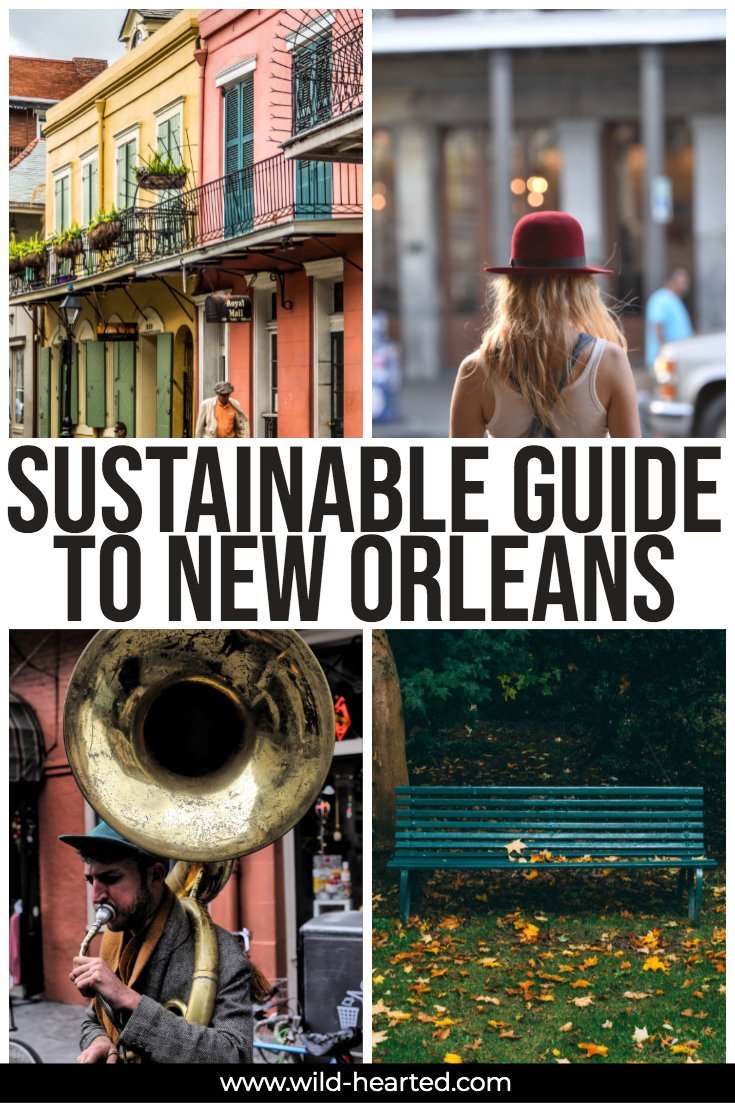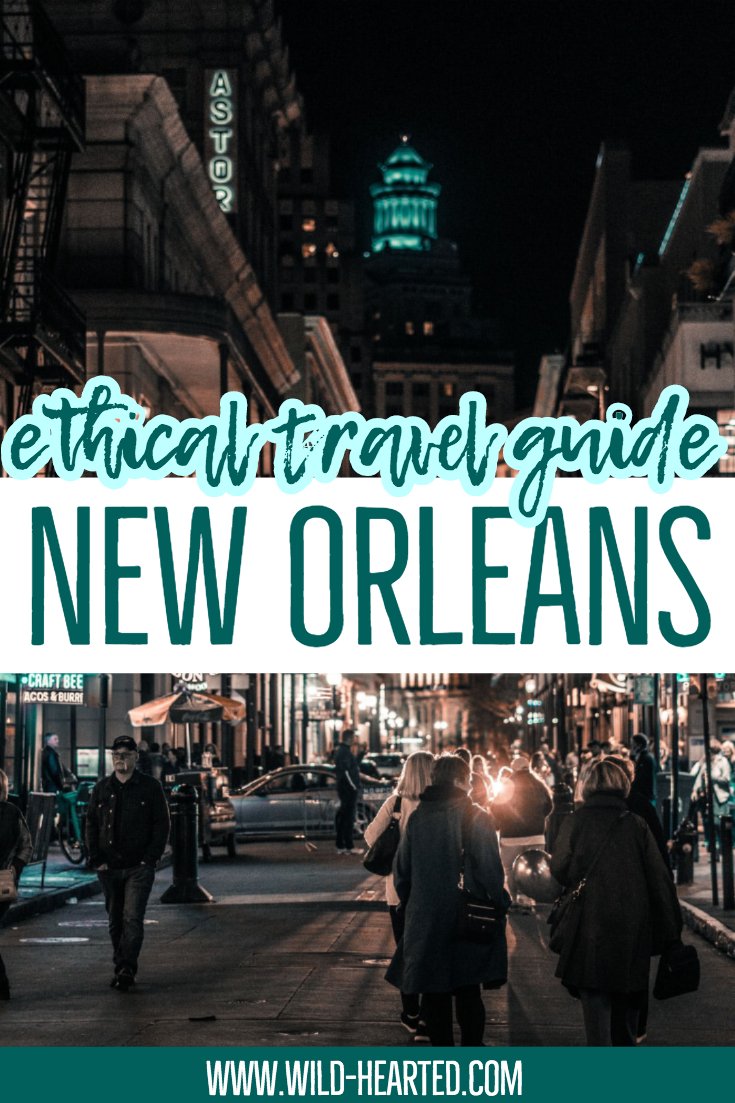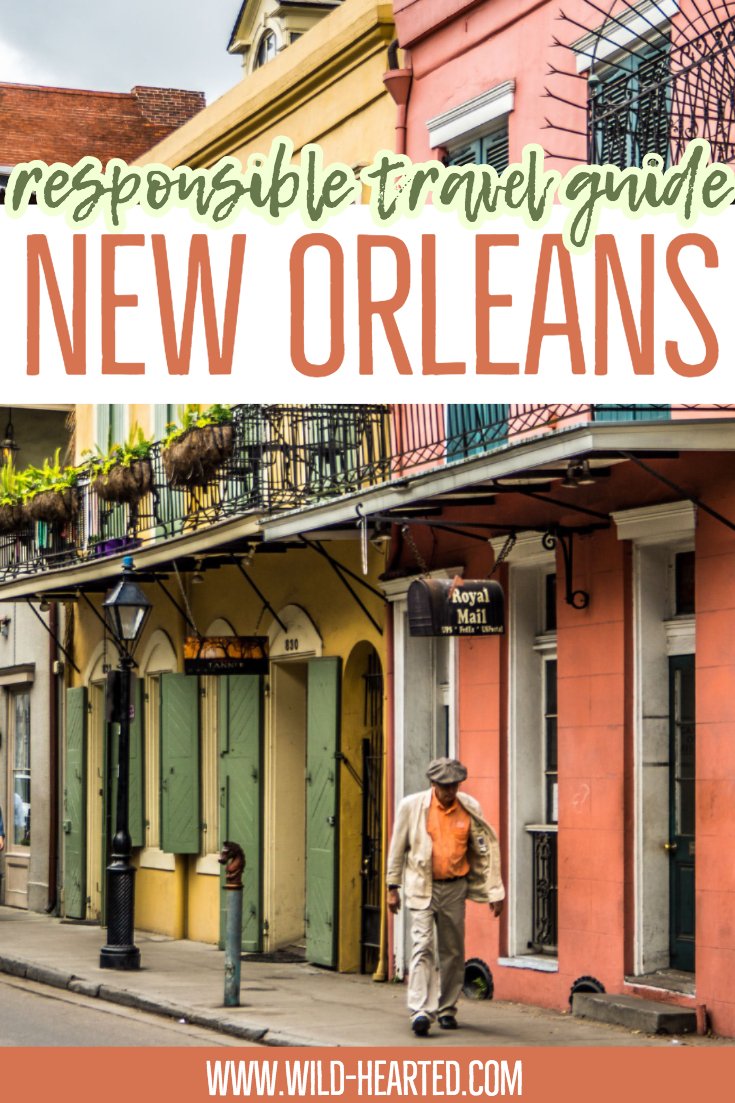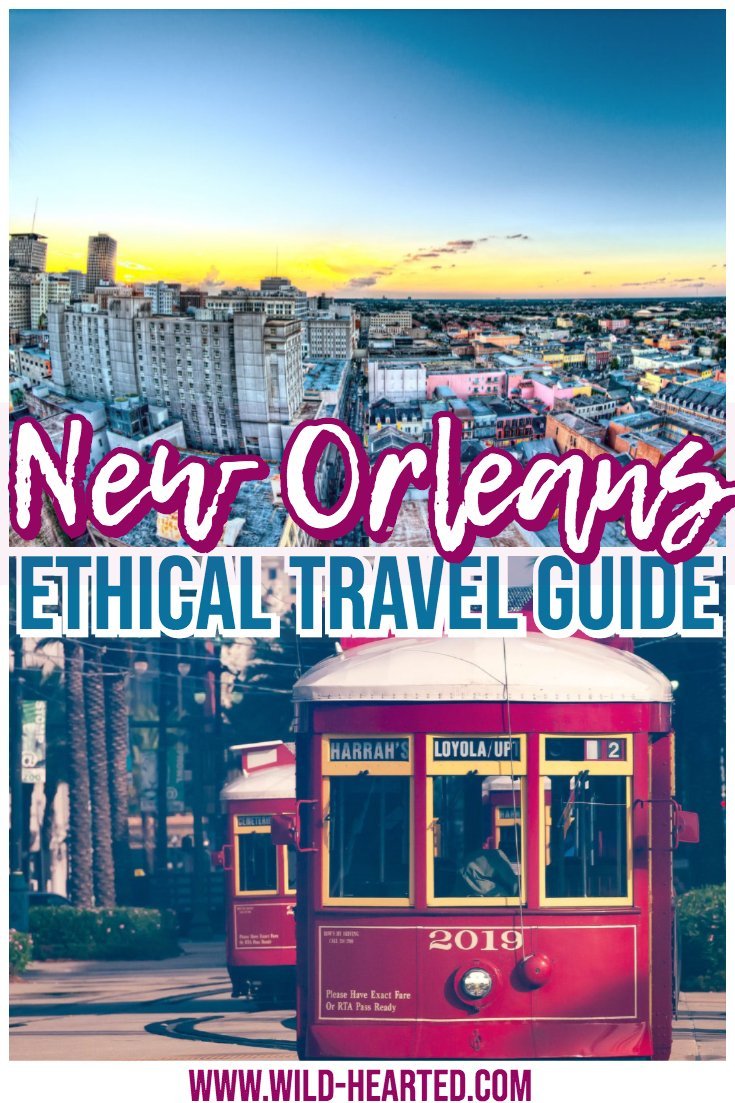 Latest posts by Ashley Hubbard
(see all)