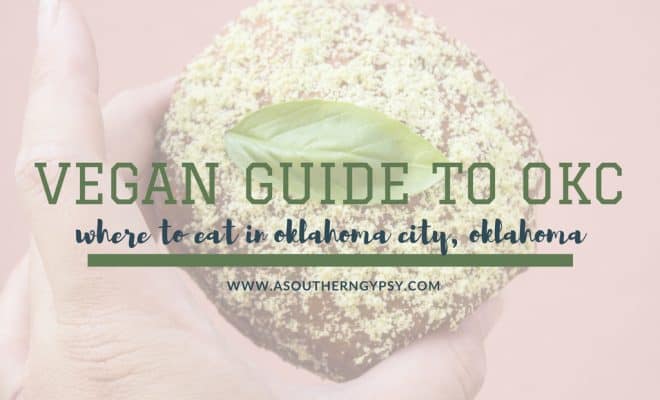 TRAVEL
Vegan Restaurants in OKC | Where to Eat in Oklahoma City
By |
This post may contain affiliate links, meaning if you book or buy something through one of these links, I may earn a small commission (at no extra cost to you!). Please see my disclosure.
Last Updated on
When I decided to go to Oklahoma City, I definitely didn't do it based on the vegan scene. In fact – I fully intended to survive on french fries the whole weekend but I was excited to visit a new city regardless. Even my Uber driver who picked me up from the airport confirmed my initial thoughts. Before knowing I was vegan, he goes "I hope you're not a vegetarian…" to which I replied "Nope, I'm not. I'm actually vegan." But he also said "What is there to write about in Oklahoma City?" so despite how nice he was, his opinion is totally untrustworthy.
However, I can see why he would think the way he does especially being from OKC. Oklahoma City is cattle country and home to the largest stockyard in the world which is located right in the city limits – you can literally be at a cattle market in just a few minutes and eat at a restaurant there. This is not the place you go to eat anything other than steak…right? I'm happy to report that's not true at all!
Times are changing – even in cattle country.
Oklahoma City's foodie scene is growing drastically as the city is being revitalized and more and more restaurants in OKC are popping up all over the place.
---
Vegan Restaurants in OKC
The Loaded Bowl
Right after I checked into my hotel, I immediately went to the Loaded Bowl. It had come recommended by several people and apparently, their claim to fame dish was macaroni and cheese so I was definitely there for that. The Loaded Bowl started as a food truck and now has a lovely brick and mortar location. I got the cashew mac & cheese, of course, and the chicken melt bowl. I also got a few baked goods to go because why not. I desperately wanted to get back here before I left but with only 48 hours in the city, I never got to.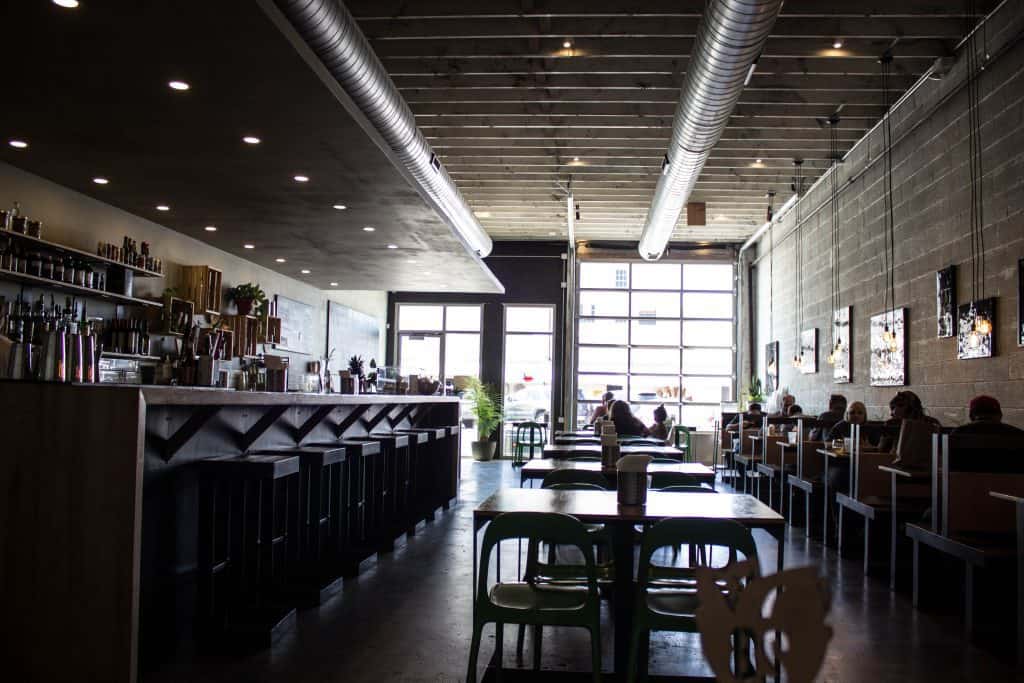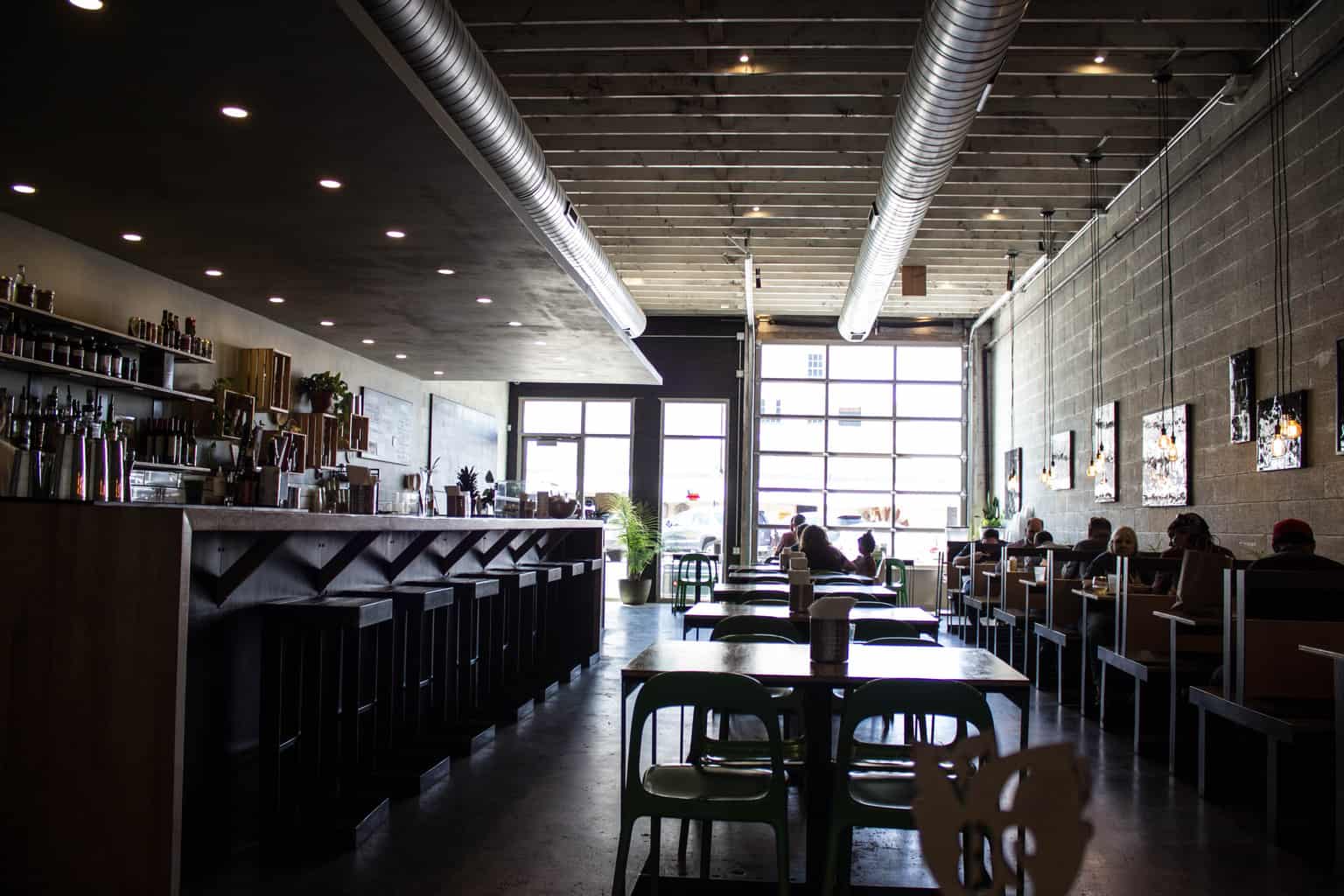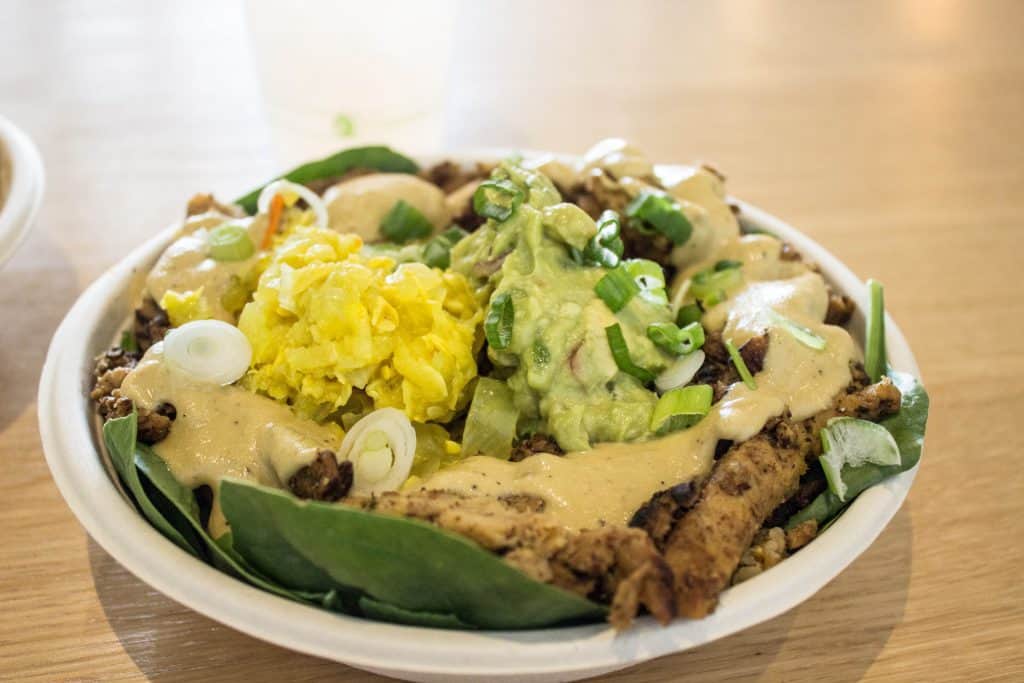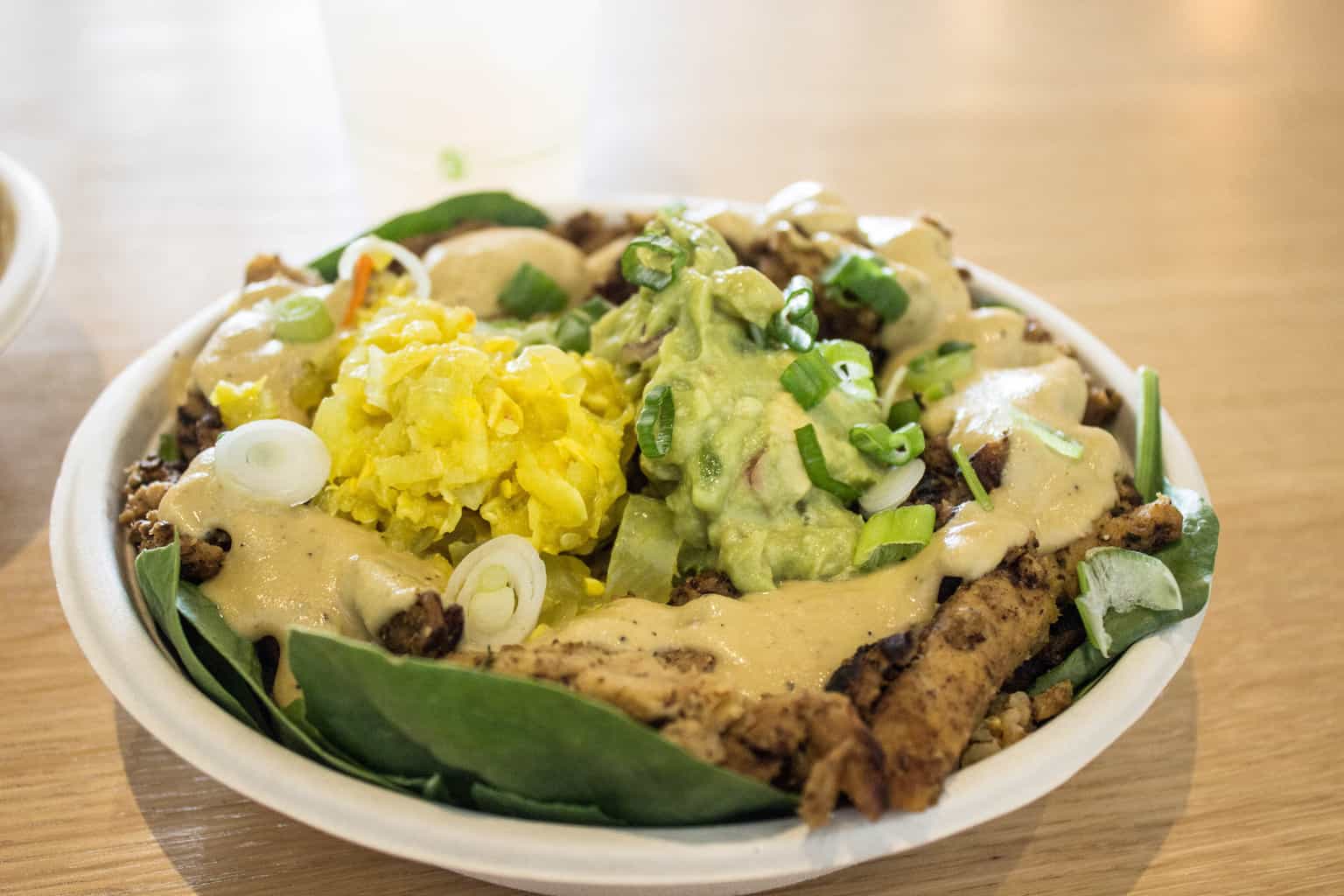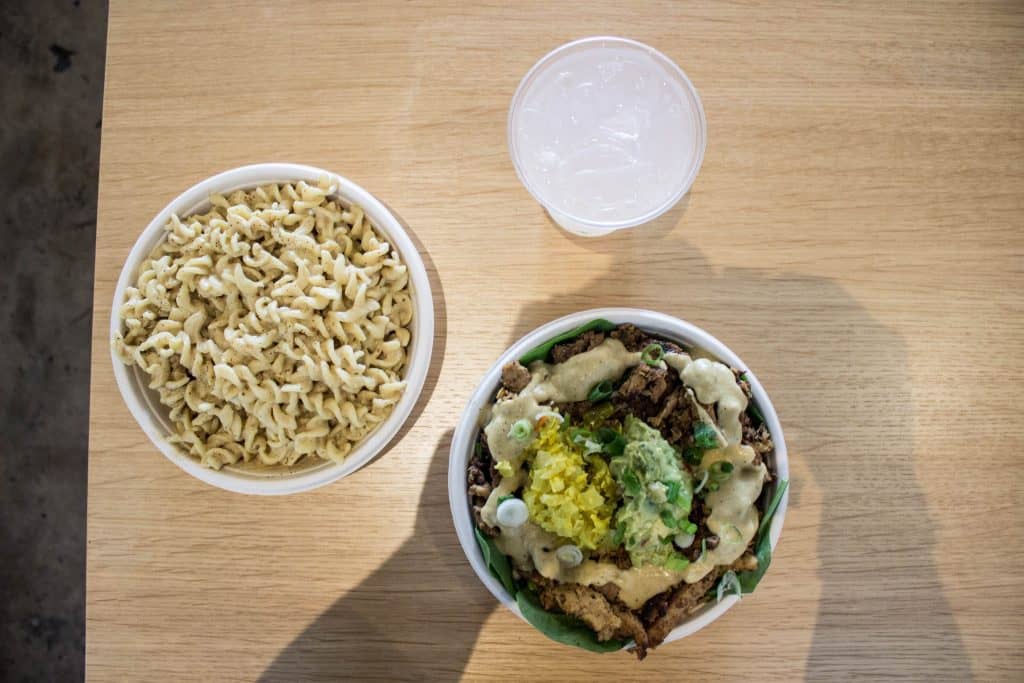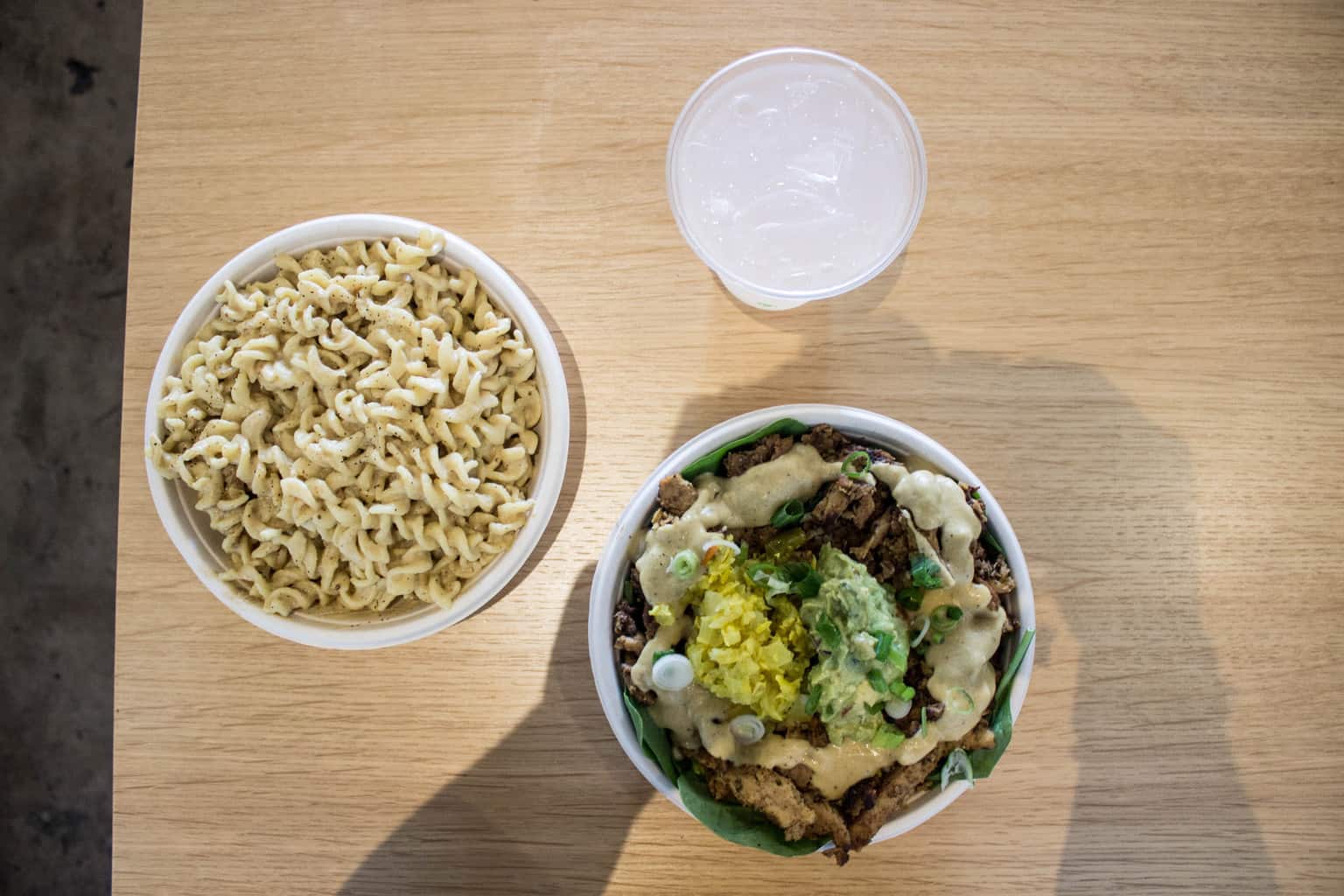 ESSENTIAL INFO
Hours // T-W 11a-10p; Th-S 11a-12a; Sun 11a-3p
Address // 1211 SW 2nd Street, Oklahoma City
Website // www.theloadedbowlokc.com
---
Nourished Food Bar
I didn't get a chance to go here but this is the other all-vegan spot in OKC. If you're looking for places to eat downtown OKC, then Nourished Food Bar is perfect. It's a grab & go clean eats spot with salads, soups, snacks and more!
ESSENTIAL INFO
Hours // M-F 8a-3p
Address // 131 Dean A McGee Ave, Oklahoma City
Website // www.nourishedfood.co
---
Holey Rollers
While I wouldn't classify Holey Rollers as all-vegan, all of their donuts are vegan. They did have dairy milk options for coffee and some breakfast sandwiches that I believe had non-vegan options. But, the donuts are what are important here – they're all vegan, very unique flavors and extremely delicious! Eater even named Holey Rollers as one of the best new restaurants in OKC.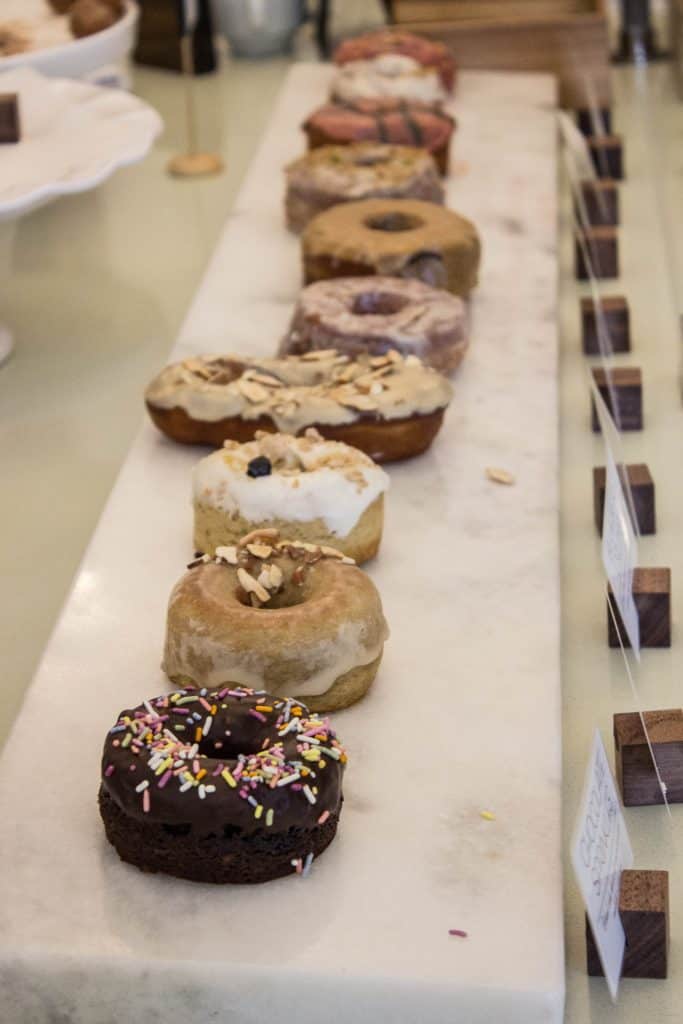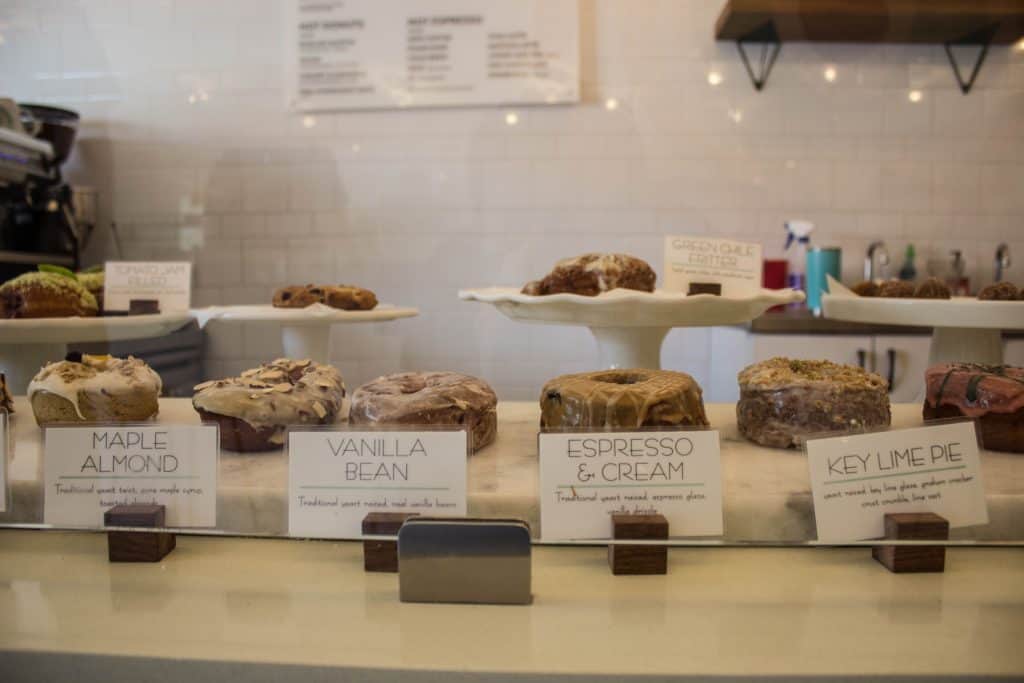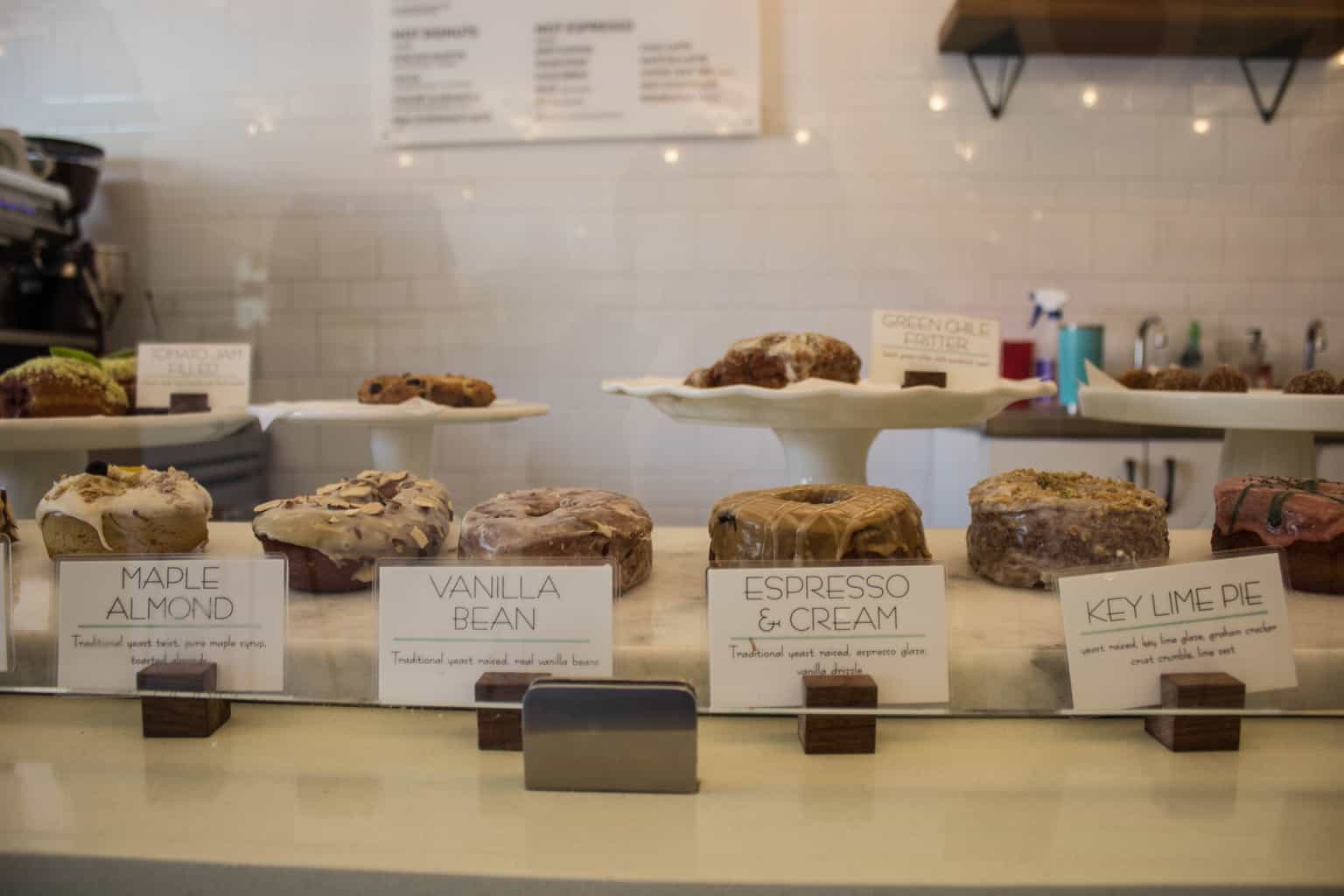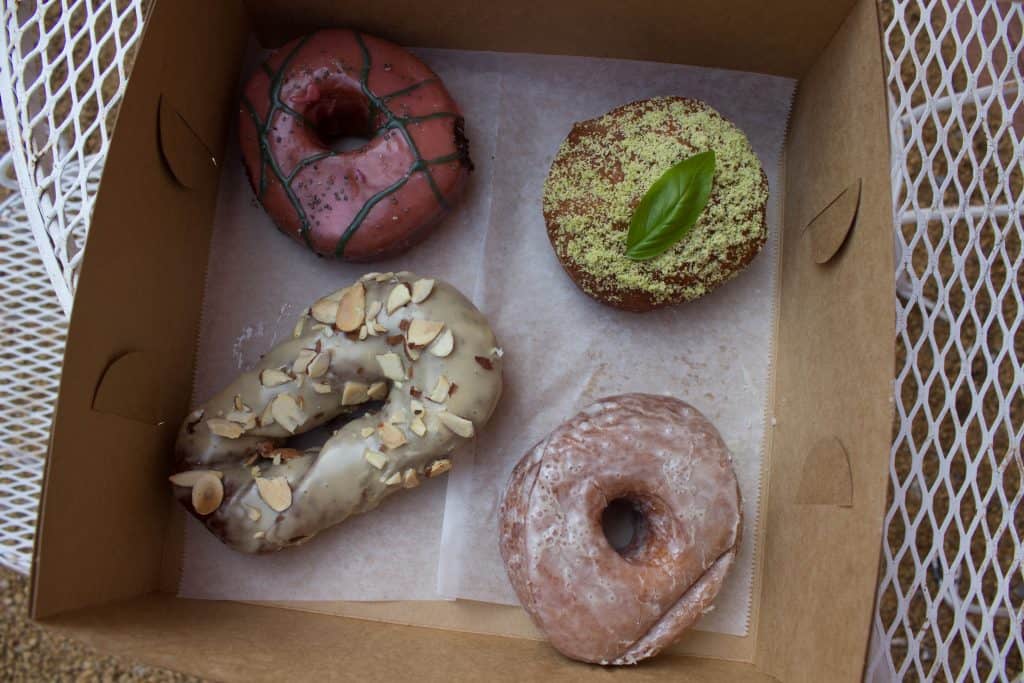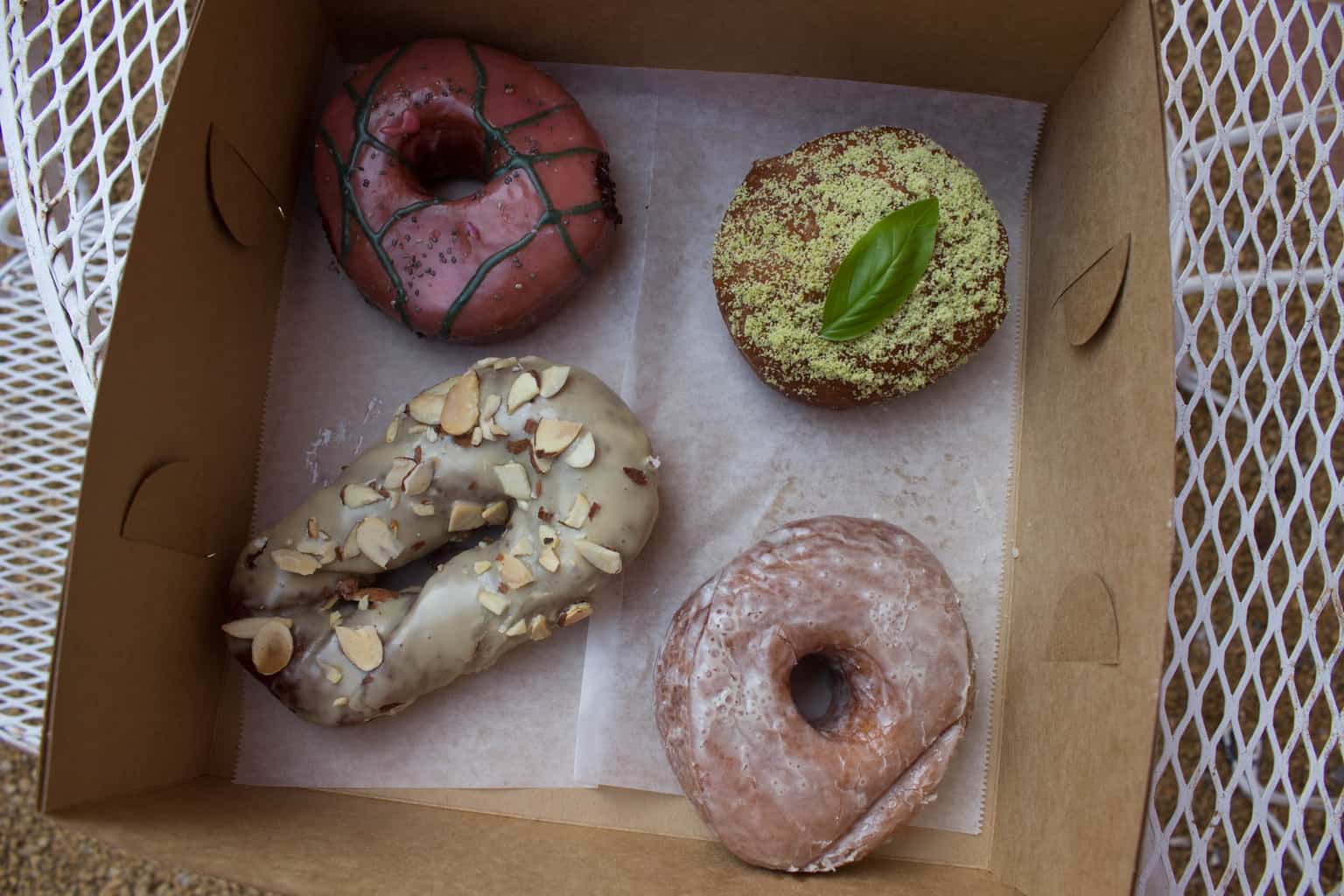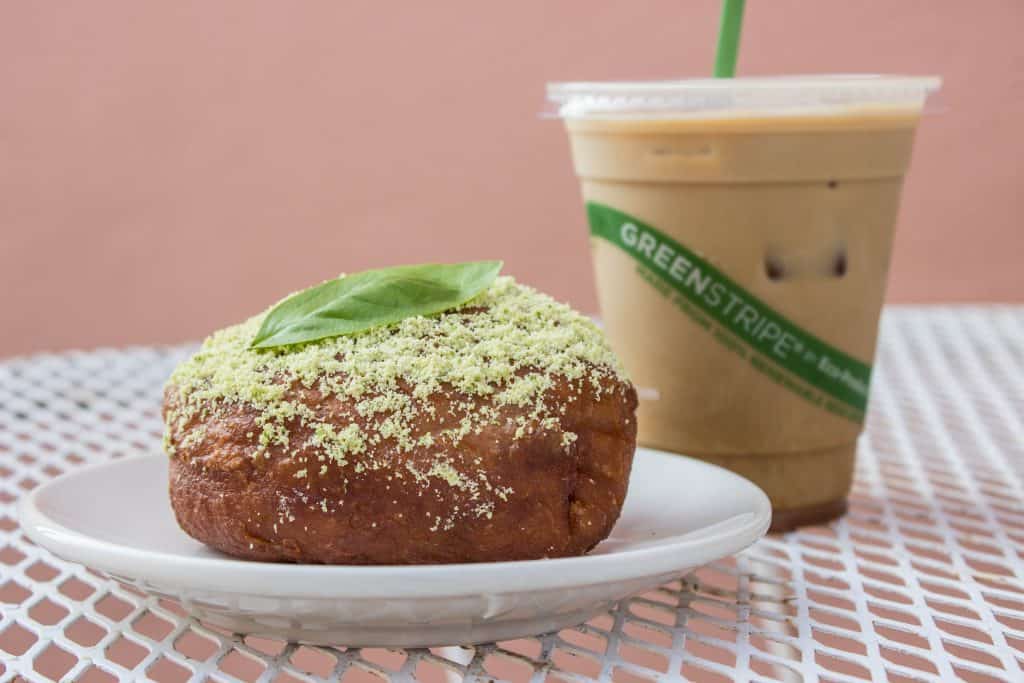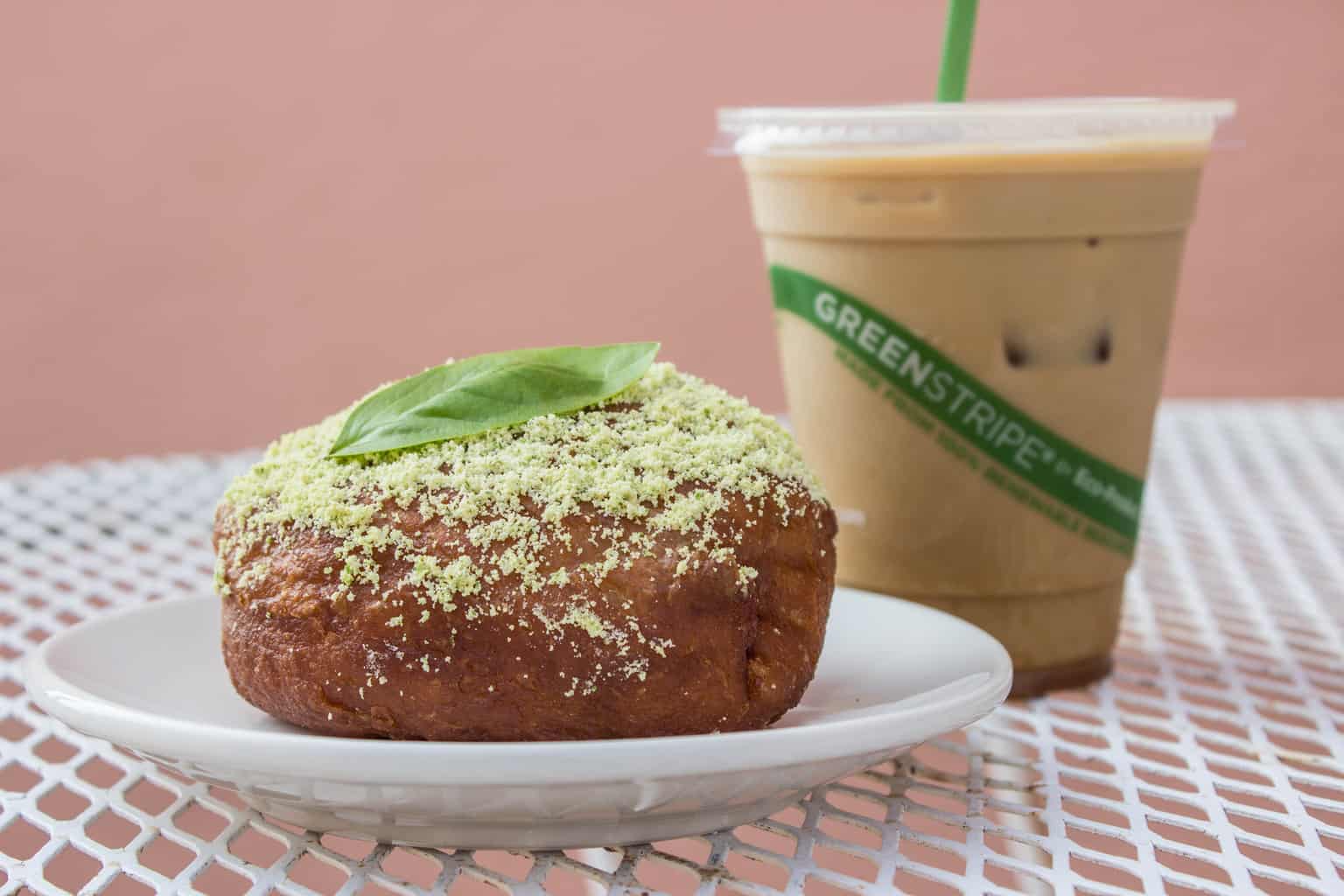 ESSENTIAL INFO
Hours // M-F 7a-2p; S-S 8a-3p
Address // 3010 Paseo Suite 101, Oklahoma City
Website // www.holeyrollersdonuts.com
---
Vegetarian Restaurants in OKC
The Red Cup
Another place that I'm really bummed that I missed was The Red Cup. It is the only all vegetarian restaurant in Oklahoma City. I actually ended up driving by it and it looked absolutely adorable. It's definitely on the top of my return to Oklahoma City visit.
ESSENTIAL INFO
Hours // M-F 7a-3p; S-S 9a-3p
Address // 3112 N Classen Blvd, Oklahoma City
Website // www.theredcupokc.com
---
Vegan-Friendly Restaurants in OKC
The Mule
I was excited to find this spot as it wasn't on any of my radars. In fact, I better add it to Happy Cow so others can know about it. The Mule is located in the Plaza District which is one of the best neighborhoods to go to in OKC for street art. They really only have one option but its really delicious one! The sandwich is called the herbivore and just tell them you want it vegan – they cook it in oil instead of butter. Otherwise, its vegan as is!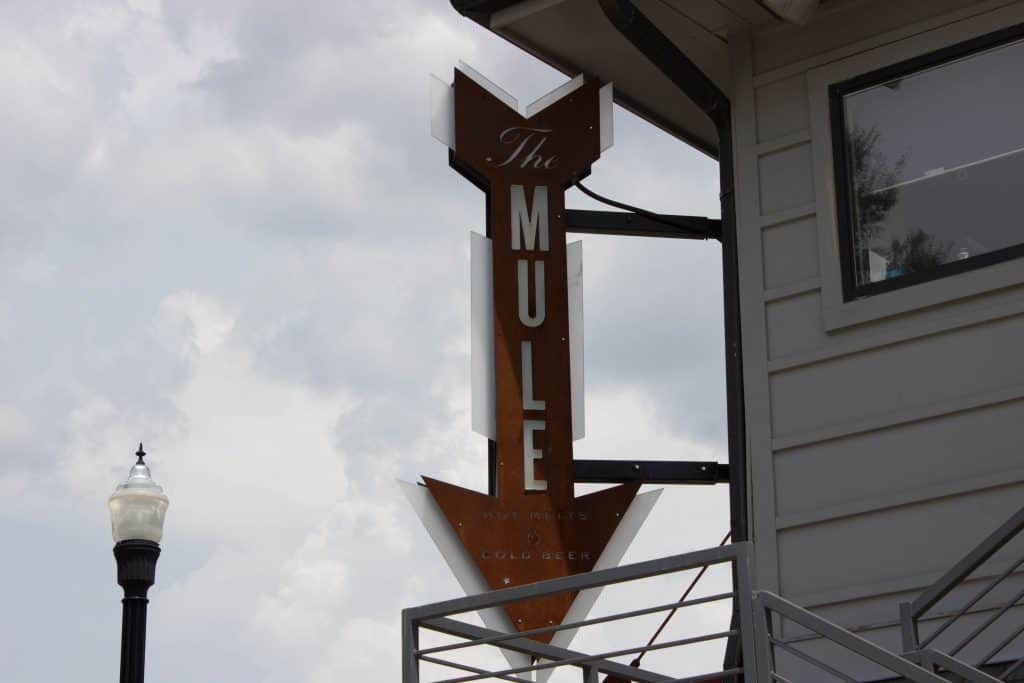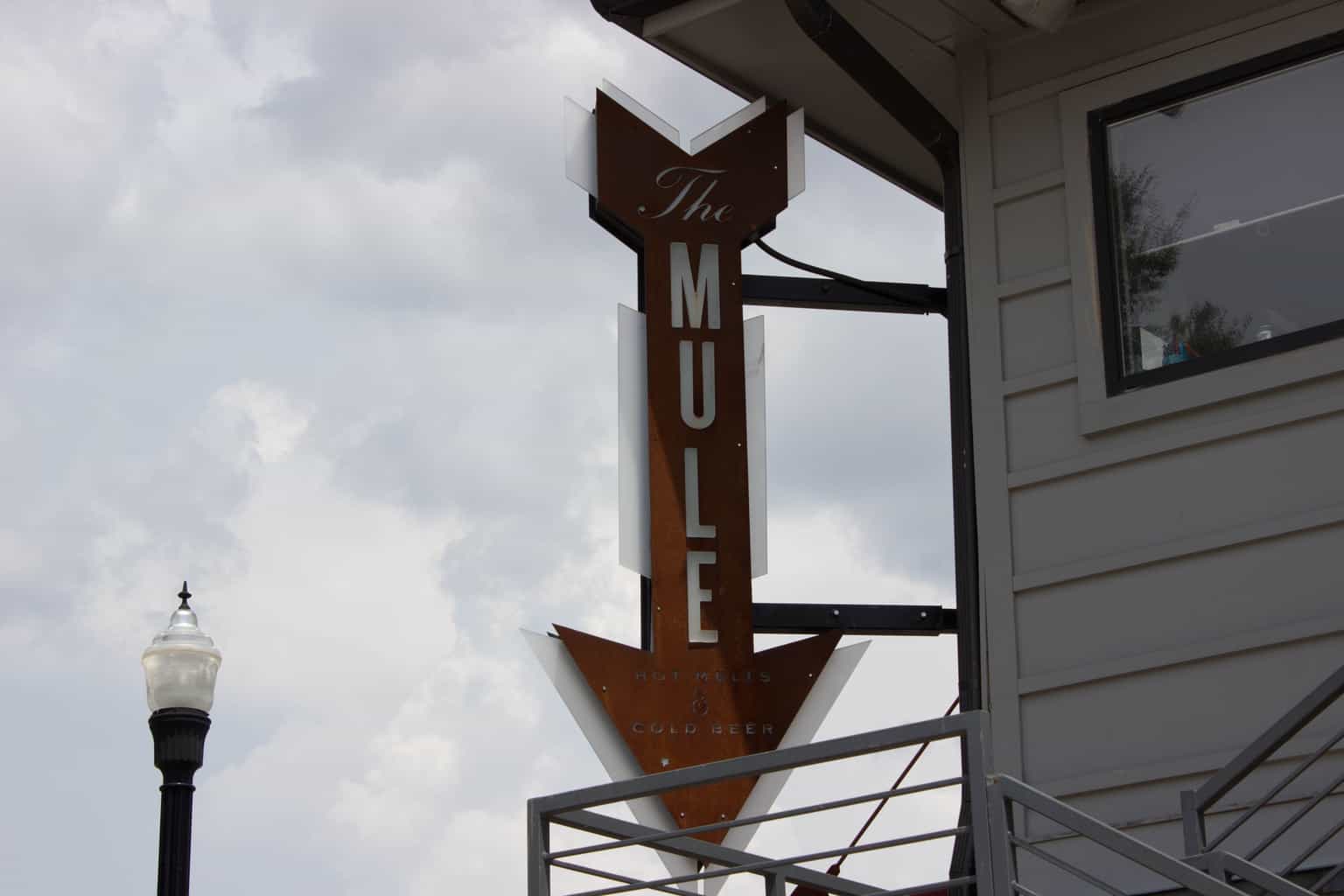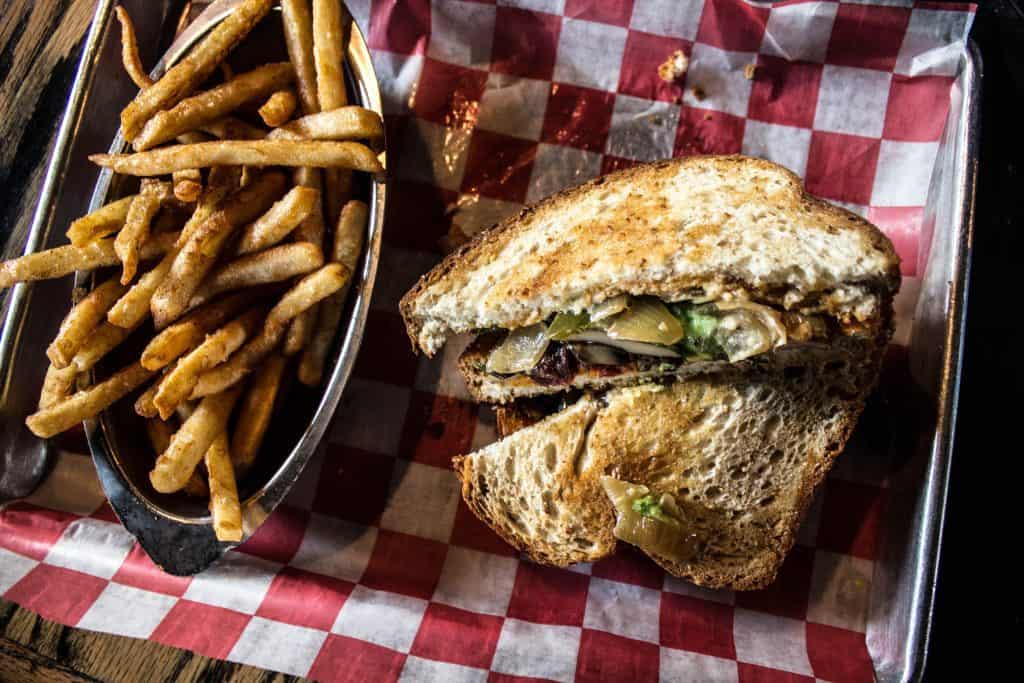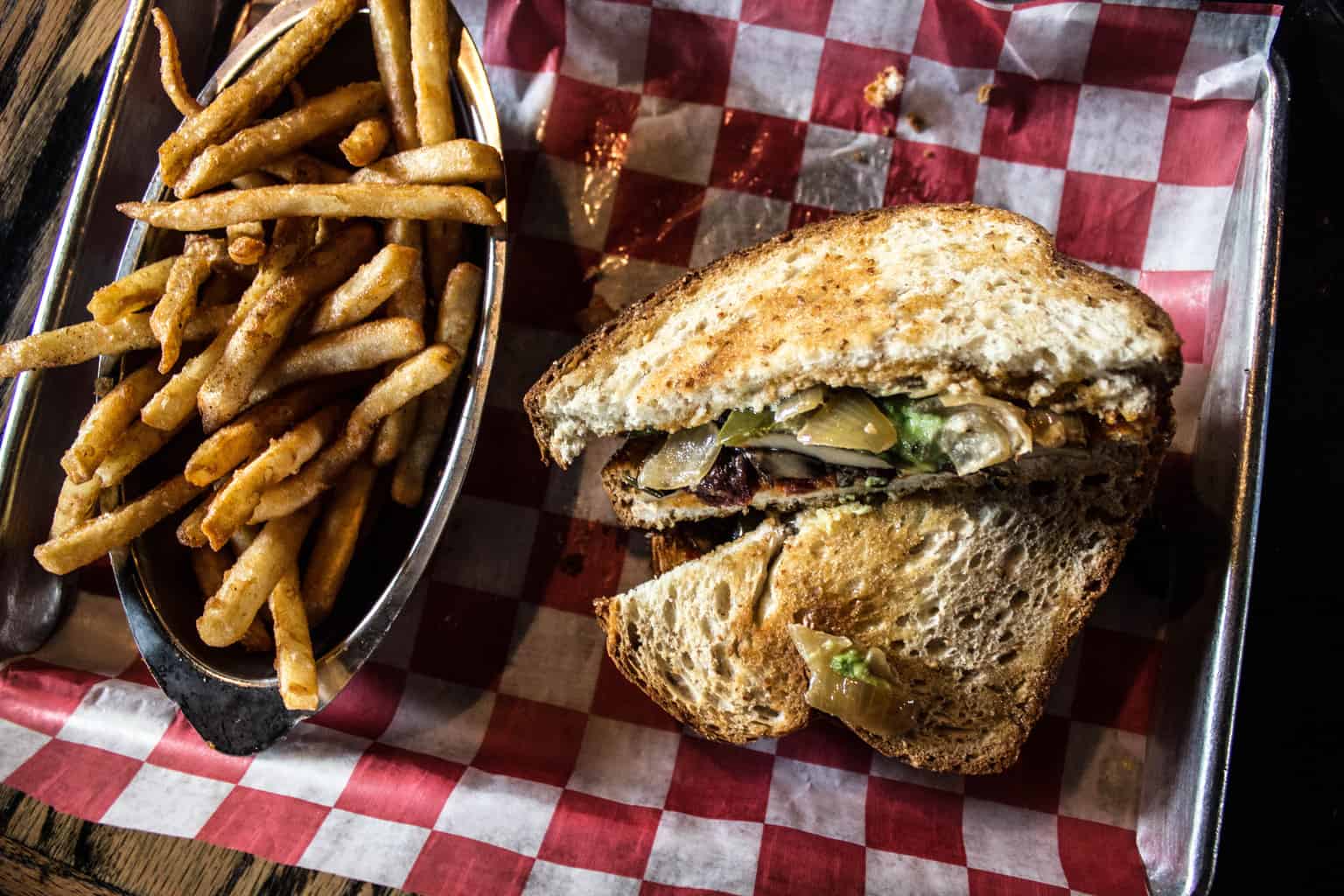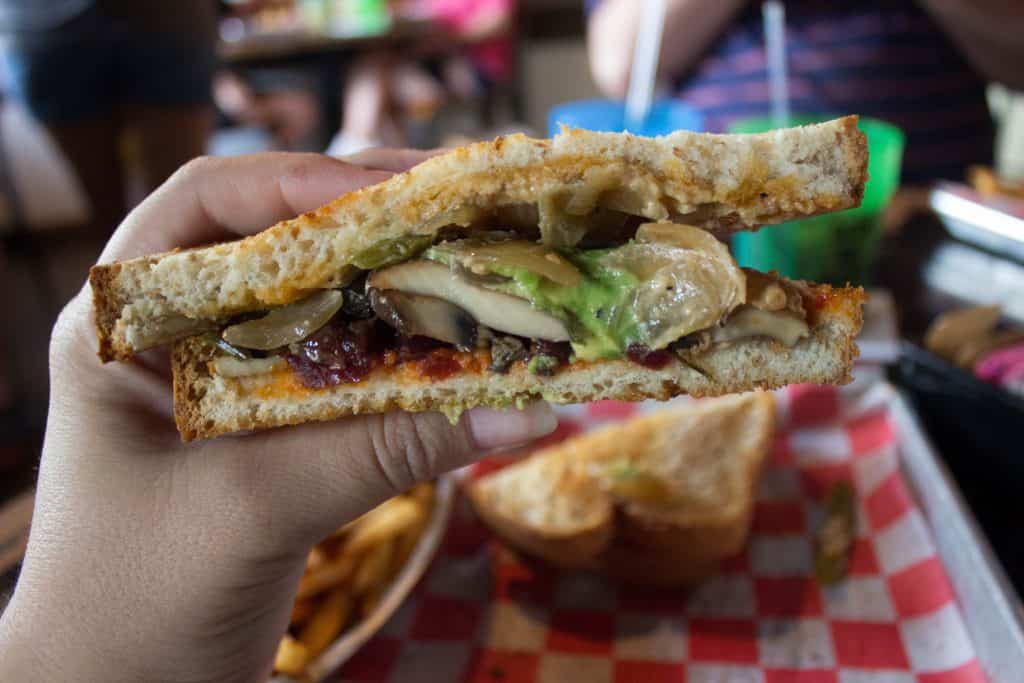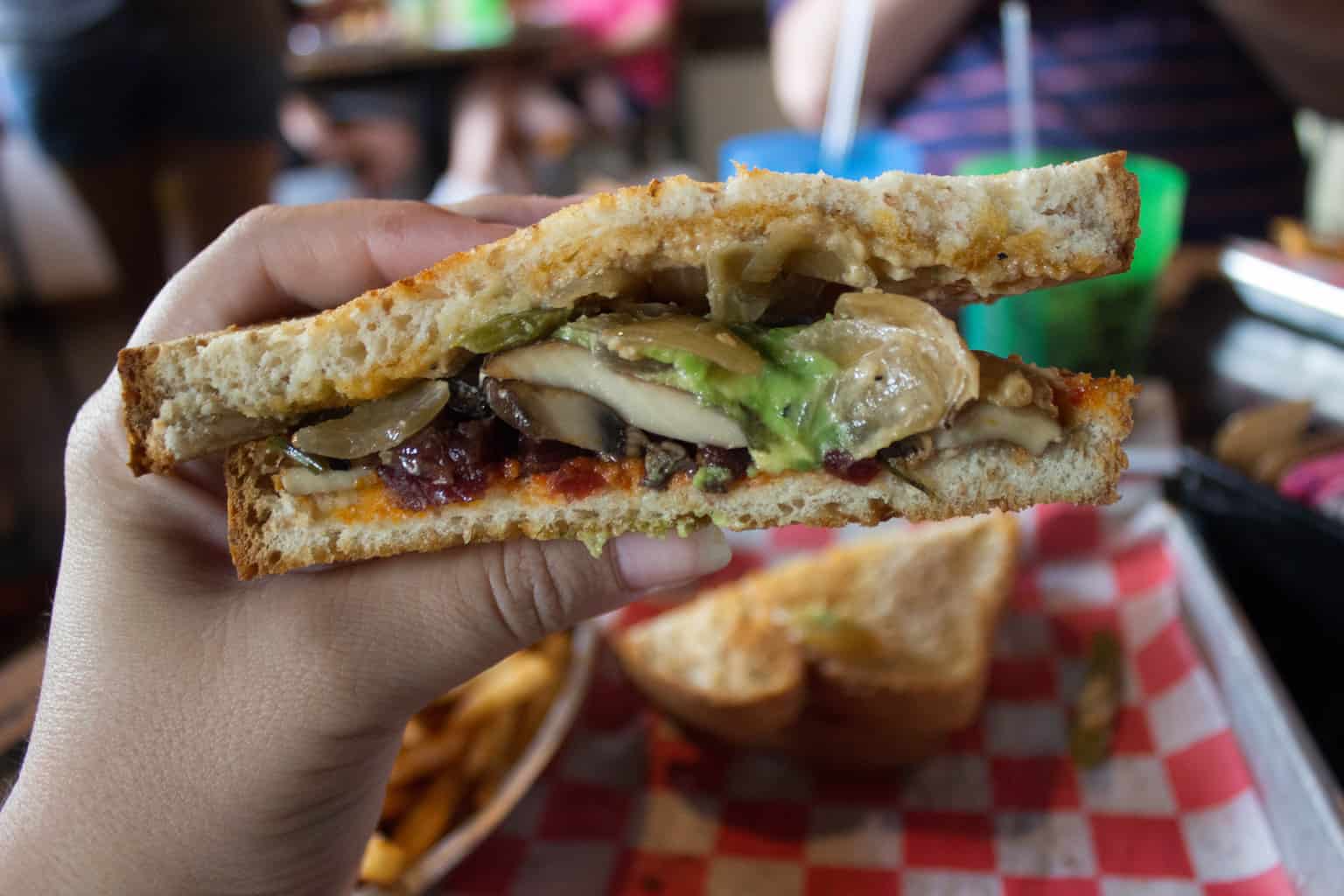 ESSENTIAL INFO
Hours // M-Th 11a-11p; F-S 11a-12a; Sun 10a-9p
Address // 1630 N Blackwelder, Oklahoma City
Website // www.themuleokc.com
---
Mary Eddy's at 21C
If you're looking for the best brunch in OKC, Mary Eddy's is a great start! This is where we had brunch before heading back home on Sunday and it was absolutely delicious. They have a couple already vegan options on the menu and have a full scratch kitchen so are willing to make you something. This is the second 21C restaurant I've eaten at (the first was in Bentonville, Arkansas) and I'm continuing to be highly impressed. I had the hashbrowns and tofu lettuce wraps – the aioli is vegan!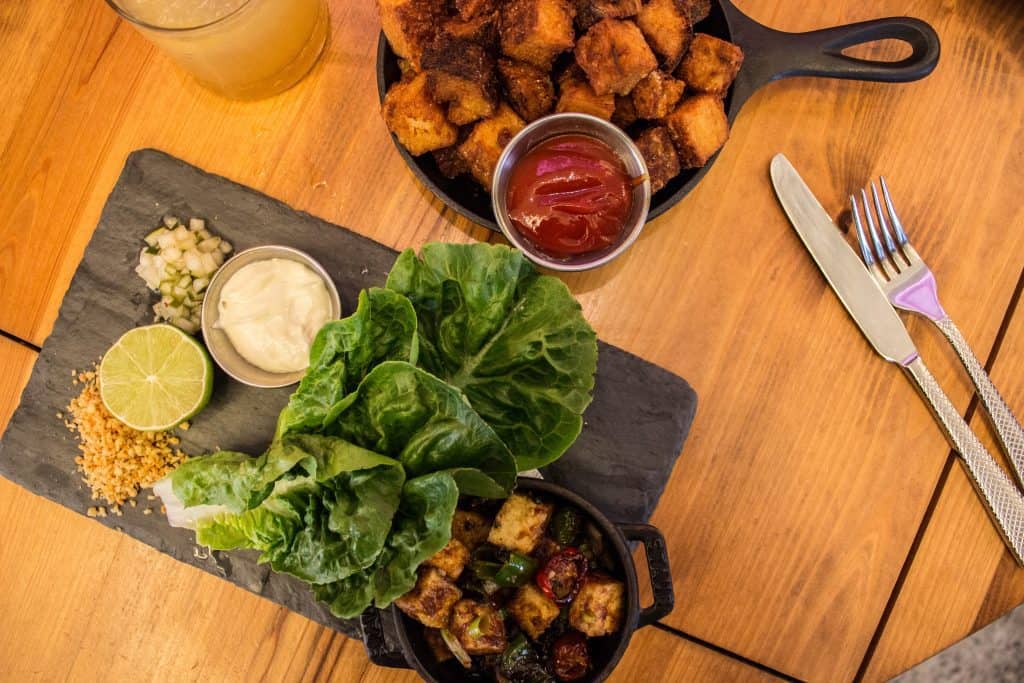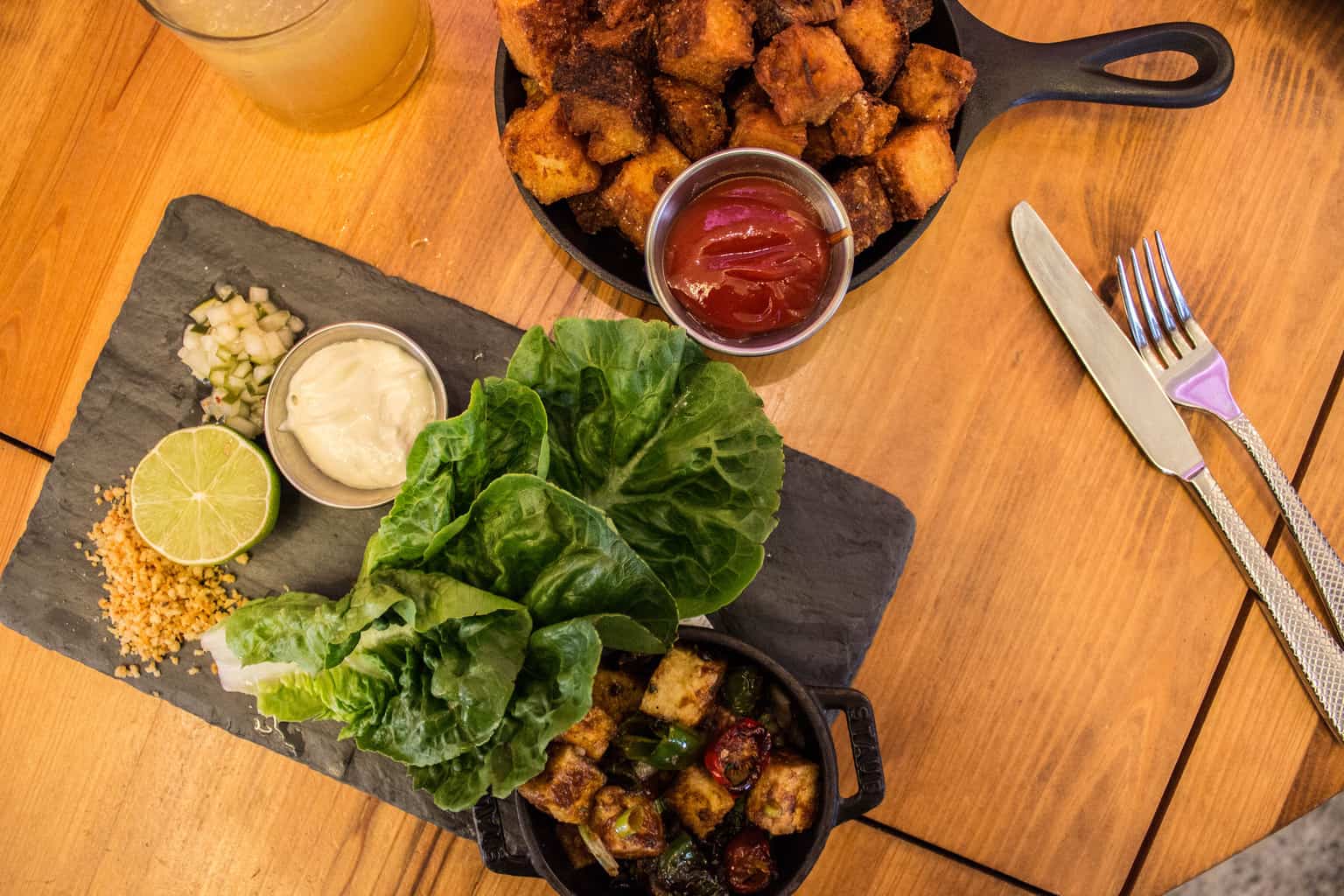 ESSENTIAL INFO
Hours // see hours here
Address // 900 W Main Street, Oklahoma City
Website // www.maryeddysokc.com
---
The Jones Assembly
The Jones Assembly is a unique spot located directly behind the 21C hotel making it a great spot if you're staying there! It's a restaurant, bar and event space! They have concerts and show movies in the main room which is pretty awesome! While it is mostly non-vegan food, they are well-versed in what is vegan and have a few options including vegan cheese for pizza! While I don't eat the Impossible burger, they also have it here with cashew cheese and a vegan bun!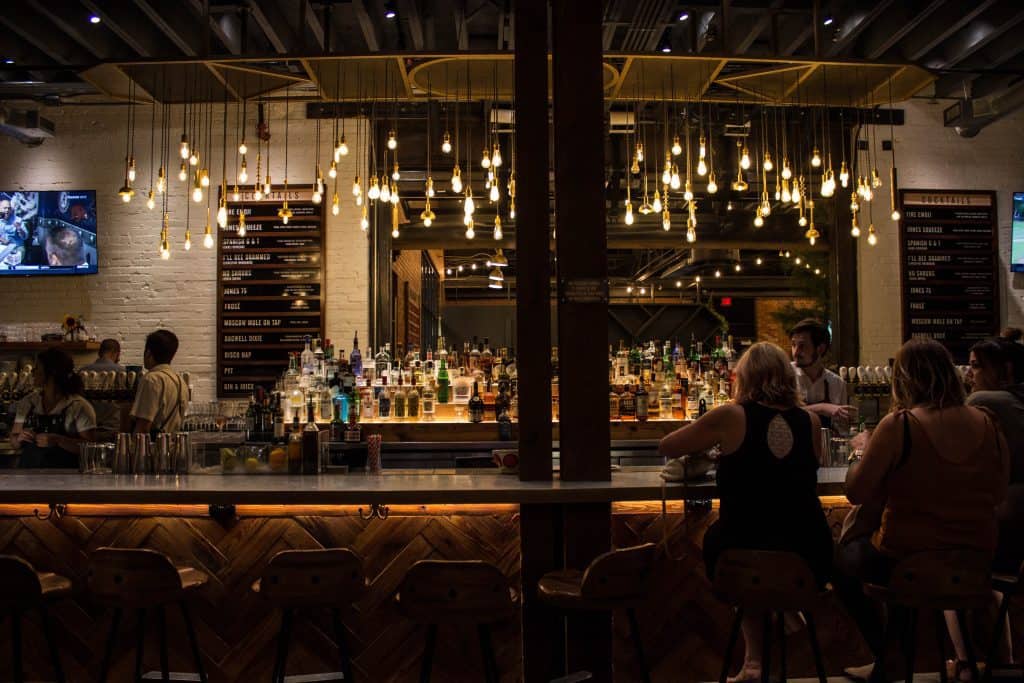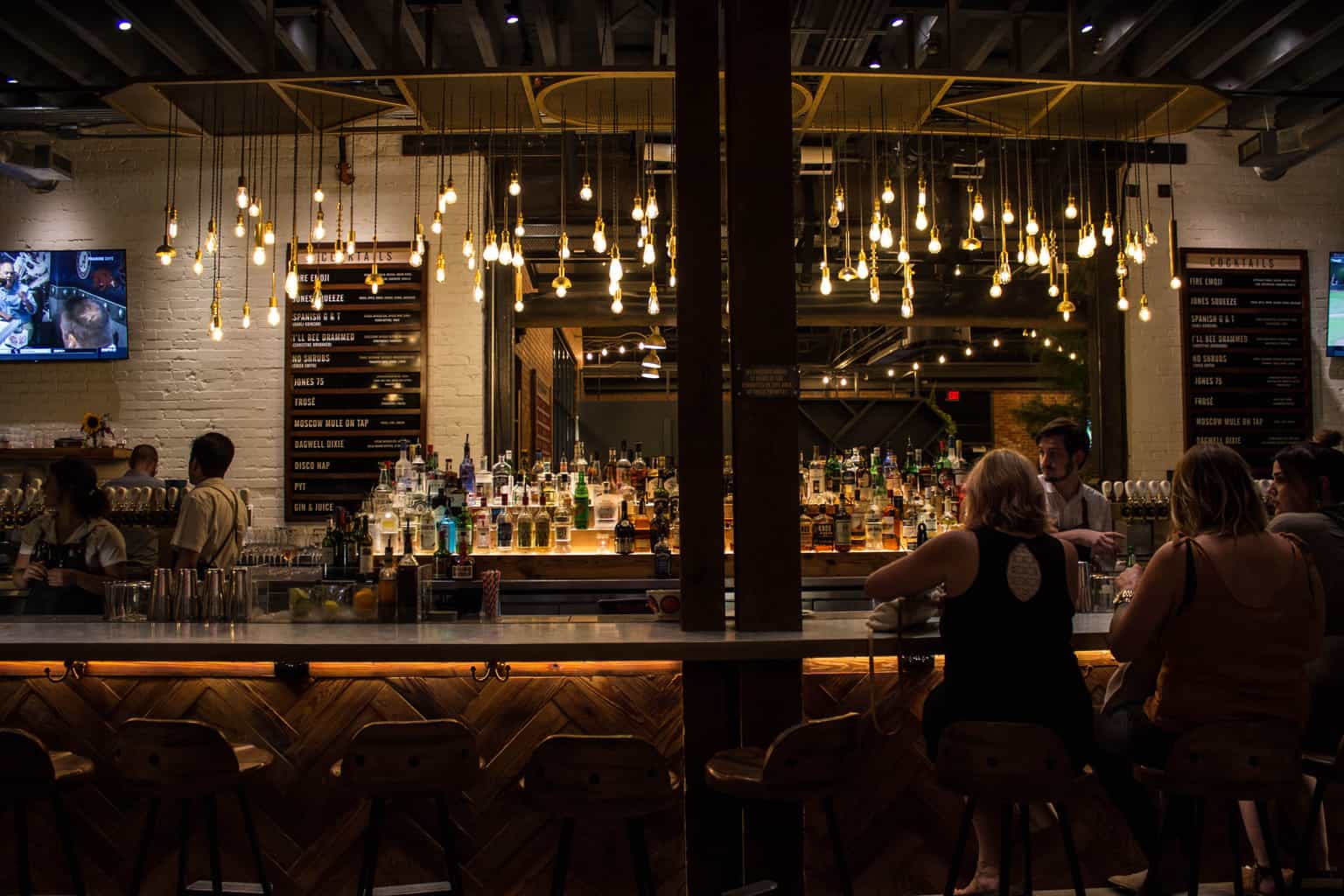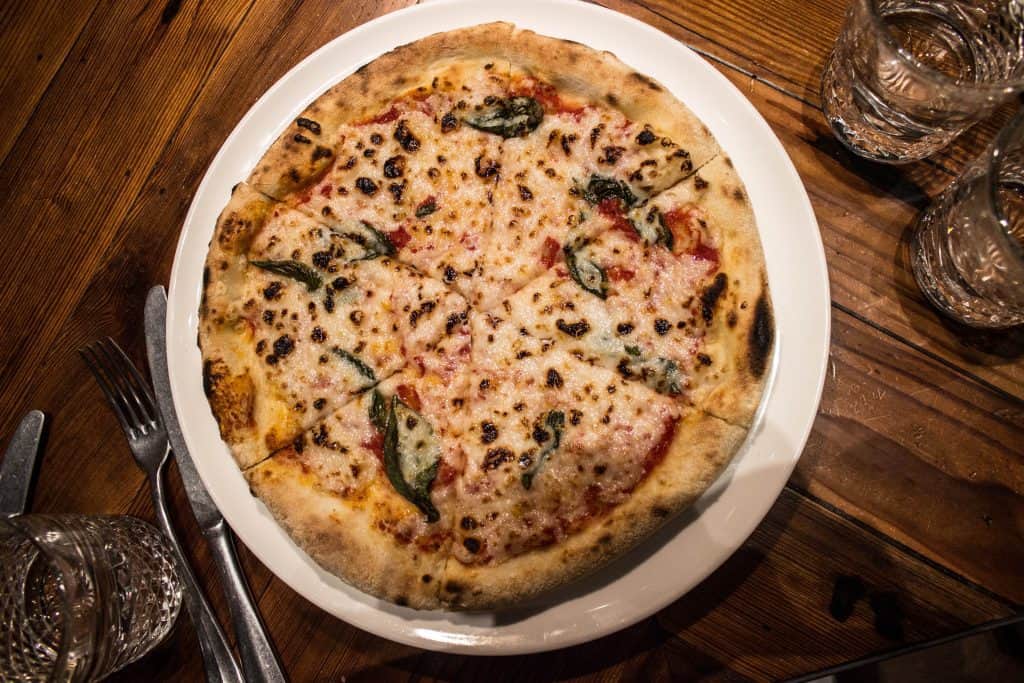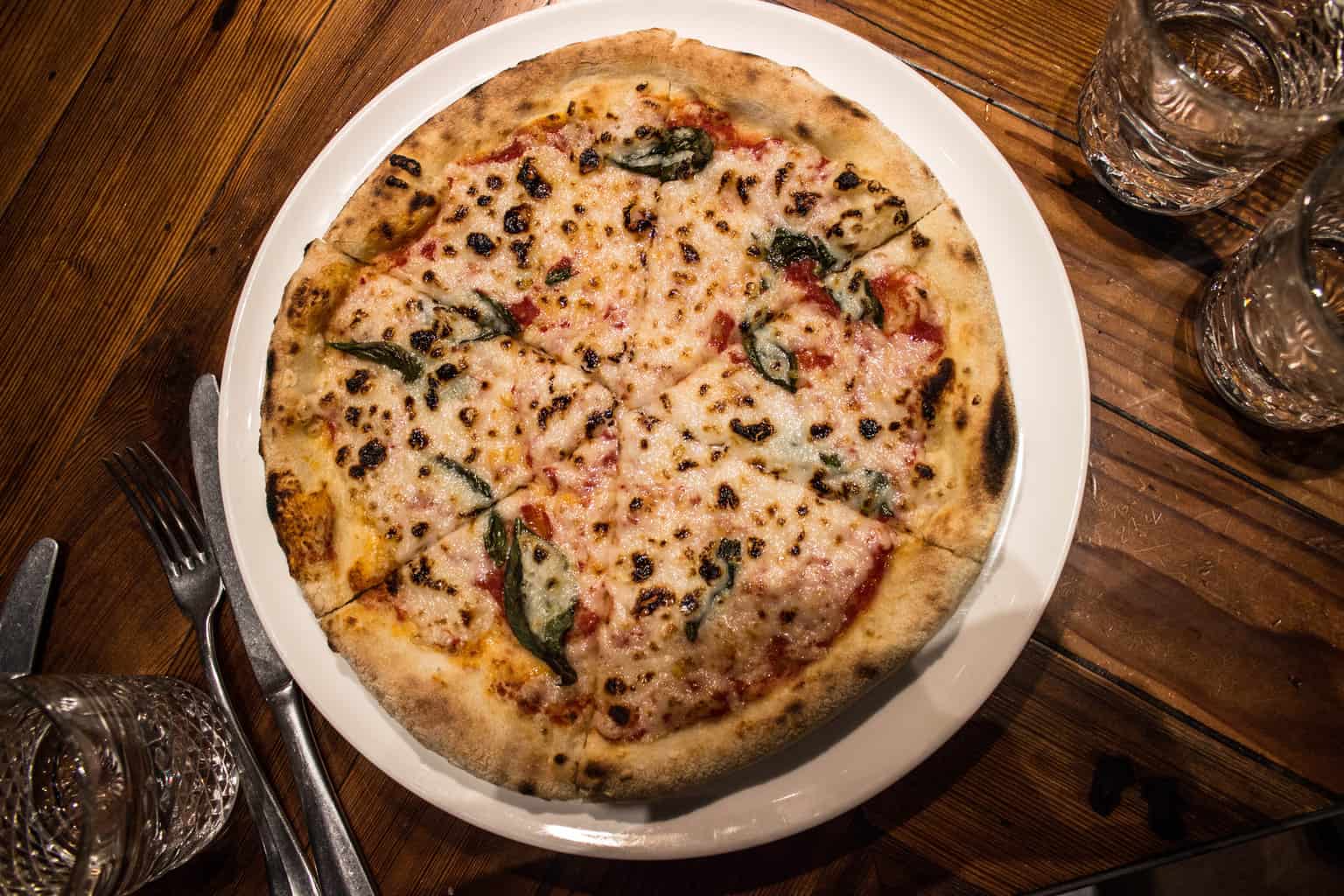 ESSENTIAL INFO
Hours // Tue-Sat 11a-?; Sun 10a-?
Address // 901 W Sheridan, Oklahoma City
Website // www.thejonesassembly.com
---
Fassler Hall
Germany may be the vegan capital of the world but that doesn't mean that traditional German food is very vegan-friendly so I was pretty hesitant to go here but they do have a few options! Their kitchen is connected to the Dust Bowl downstairs (bowling alley/restaurant) and so you can get food from either menu. This is a great place to catch some live music and hang out in a traditional German hall setting. It also has a great view of the skyline so head here for sunset!
pretzels
haus salad
beet hummus
veggie gyro (no feta, no tzatziki)
black bean burger (no bun)
sprouts (no parmesan)
sauerkraut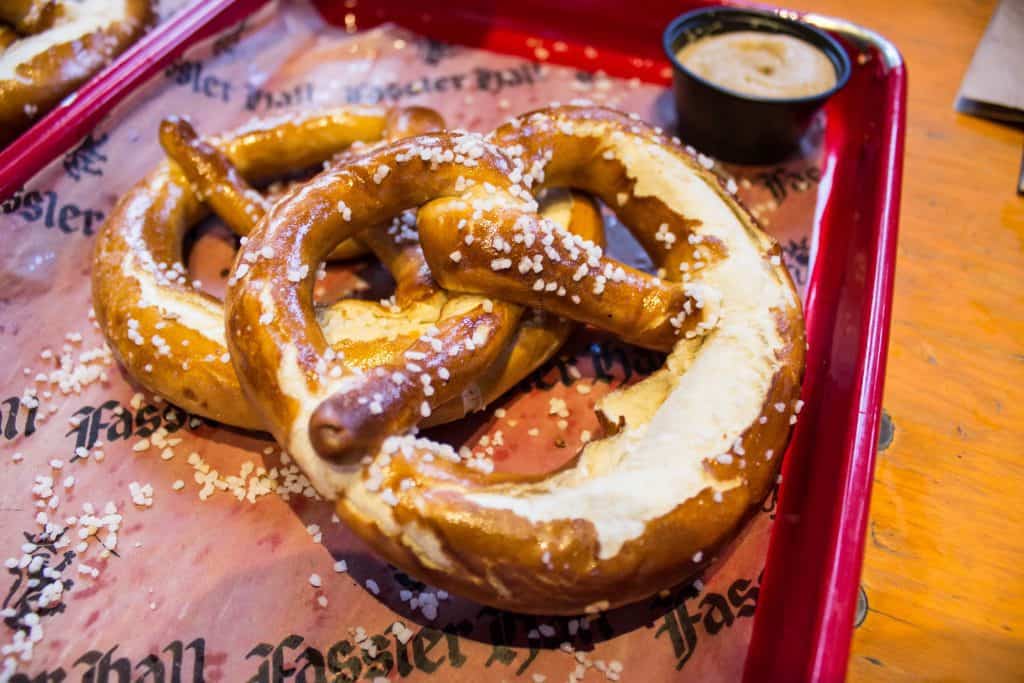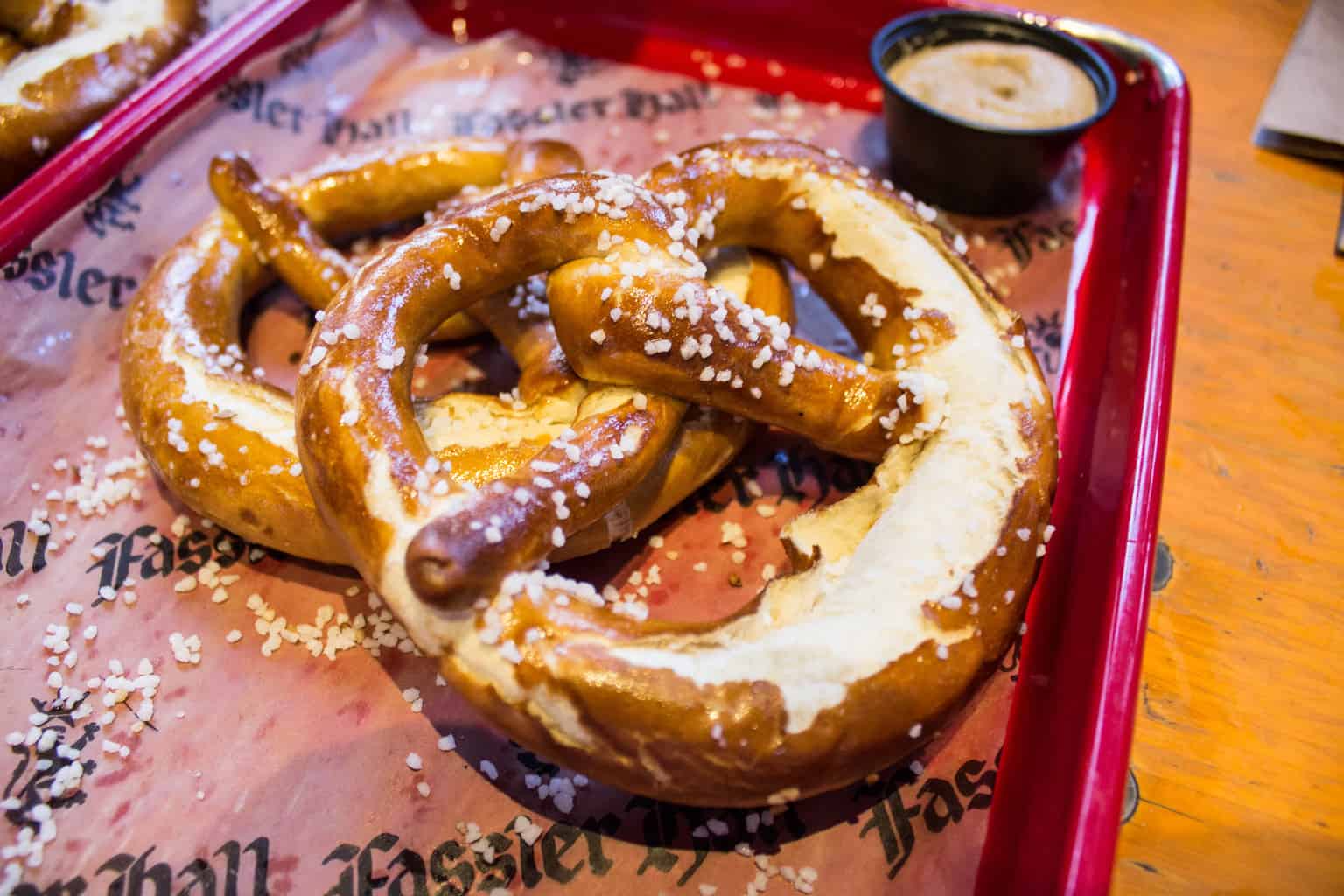 ESSENTIAL INFO
Hours // 11a-2a daily
Address // 421 NW 10th St, Oklahoma City
Website // www.fasslerhall.com
---
Stone Sisters Pizza Bar
I kind of wish I had tried one of the pizza places in OKC because two of them have a vegan menu!  Stone Sisters has three completely vegan pizzas on their menu and they sound so good. Can't wait to try next time!
ESSENTIAL INFO
Hours // Tue-Sat 11a-10p
Address // 2124 N Broadway, Oklahoma City
Website // www.stonesisterspizza.com
---
The Wedge
The Wedge has a full vegan menu – you just may have to ask for it! It has four appetizers, three salads, and SIX pizzas!  Definitely check it out! There are also two locations – Western Avenue and Bricktown.
ESSENTIAL INFO
Hours // see website for hours
Address // 4709 N Western Ave, Oklahoma City + 230 NE 1st Street, Oklahoma City
Website // www.thewedgepizzeria.com
---
Green Goodies
Green Goodies is a bakery with a wide selection of gluten-free and vegan options. They mainly focus on cupcakes and I can't believe I missed a chance at vegan cupcakes. I think I've made it clear by now that there are enough vegan options in OKC that you can't even get to them all in one weekend. Completely unexpected!
ESSENTIAL INFO
Hours // Mon-Sat 11a-7p
Address // 5840 N Classen Curve Ste 5, Oklahoma City
Website // www.greengoodiesokc.com
---
Wheeze the Juice
Wheeze the Juice is located in Bricktown in the OKSEA shipping containers – a small section of shipping containers turned into businesses – how sustainable of them! Perfect place to go if you're headed down here to take a ride on the water taxi or going rock climbing at Climb Up.
ESSENTIAL INFO
Hours // Daily 7a-7p
Address // 30 NE 2nd Street Ste 1B, Oklahoma City
Website // www.restaurantji.com/ok/oklahoma-city/wheeze-the-juice-/
---
Anchor Down
Who doesn't love corn dogs? I do but its hard to find a vegan one because of the batter! Well, fear not. Anchor Down (also in Bricktown) has a field roast hot dog battered and fried.  They also have fried oreos that are marked vegan so go and bask in the deep friedness and then maybe get a healthy juice from Wheeze the Juice to make yourself feel better.
ESSENTIAL INFO
Hours // S-Th 4p-12a; F-S 11a-2a
Address // 30 NE 2nd Street, Oklahoma City
Website // www.anchordownokc.com
---
Cool Greens
Cool Greens is a local spot with several locations (including one in the airport!) with a mission to provide healthy and natural foods. They have a very wide range of vegan options and probably one of the best vegan options I've seen in an aiport before!
ESSENTIAL INFO
Hours & Locations // see website for hours and locations
Website // www.coolgreens.com
---
Vegan-Friendly Coffee Shops
All of the below coffee shops were visited by me (yes, I consumed way too much caffeine) and have plant milk! Some even have vegan food options.
Elemental Coffee
Want to try the best chocolate chip cookie in Oklahoma, according to Cosmopolitan, that just happens to be vegan?! Head to Elemental Coffee in OKC where you'll find a bunch of other vegan options as well!
By the way, it was a damn good chocolate chip cookie.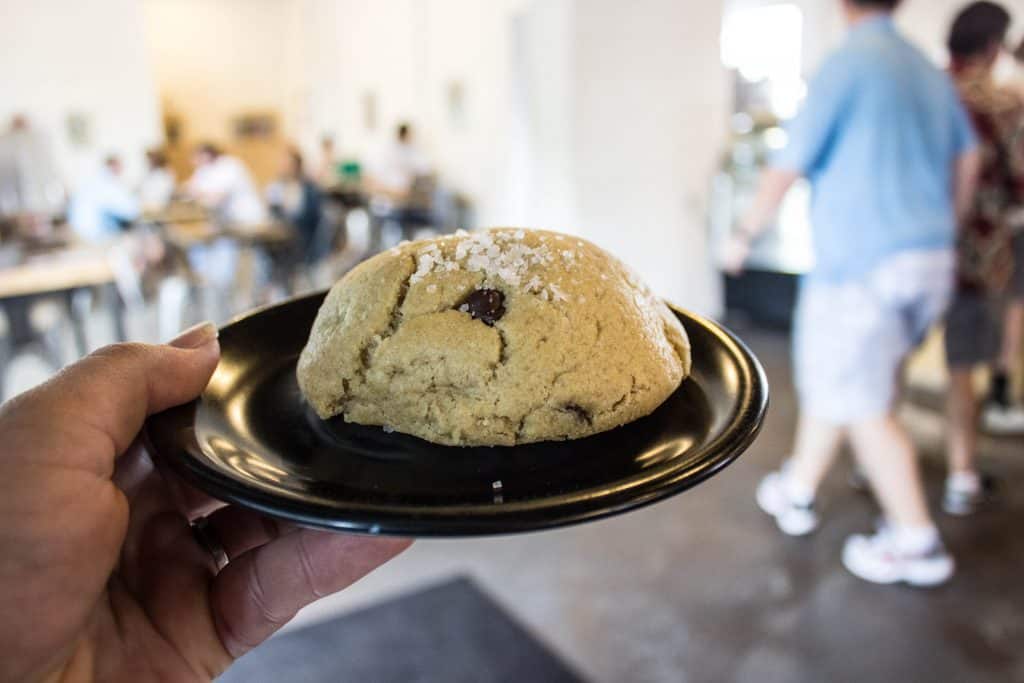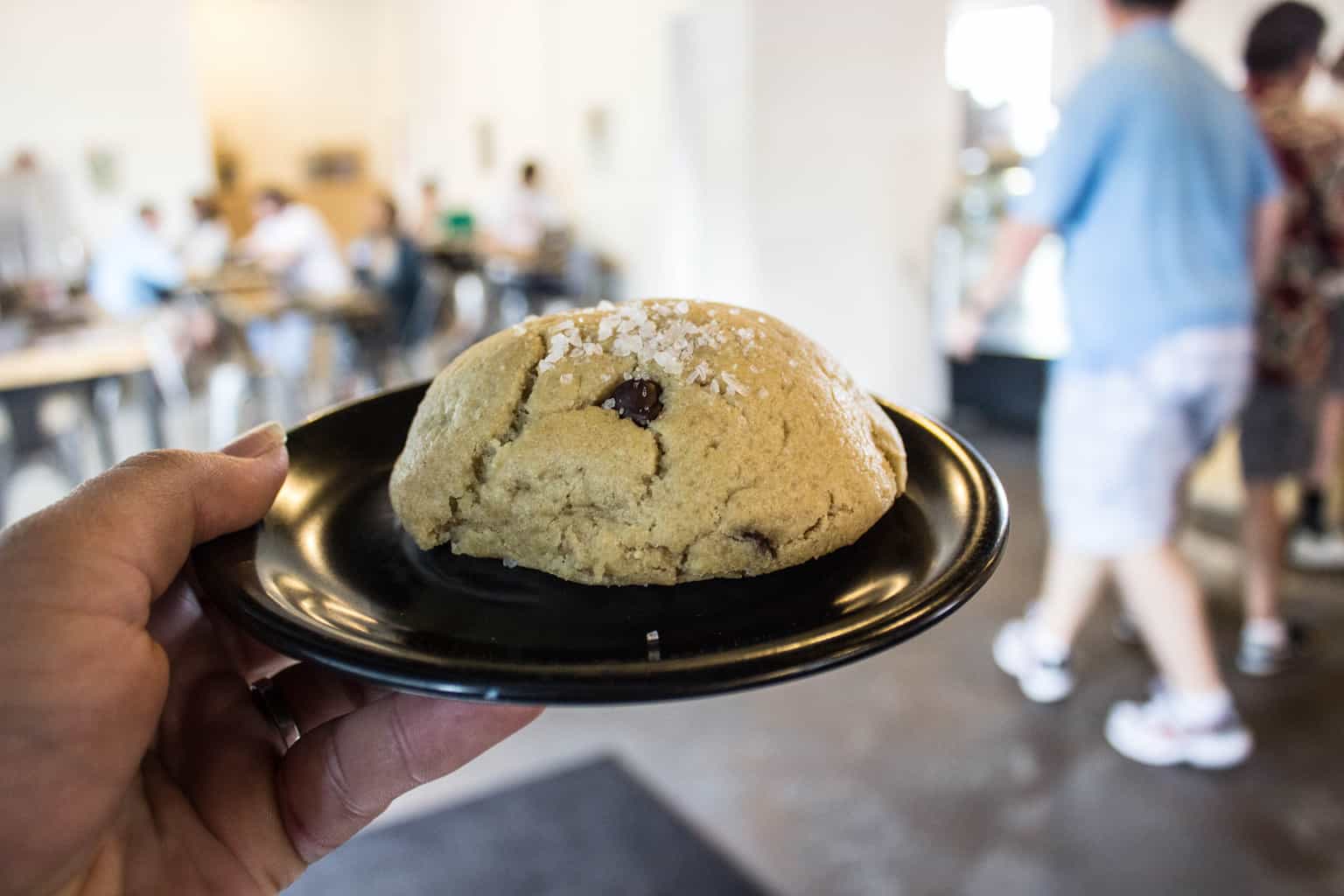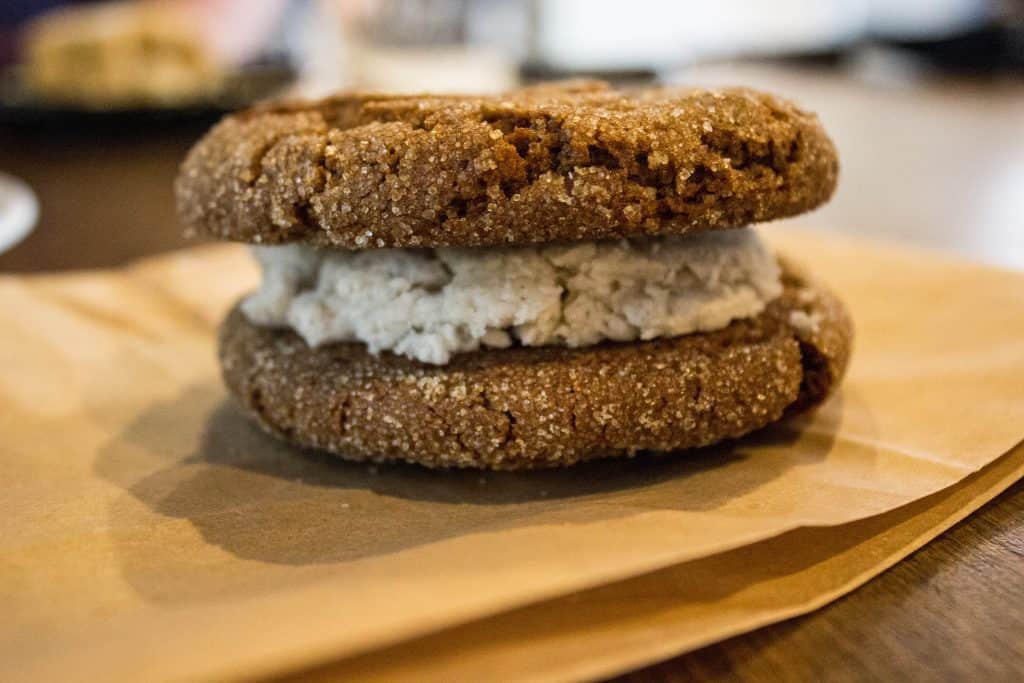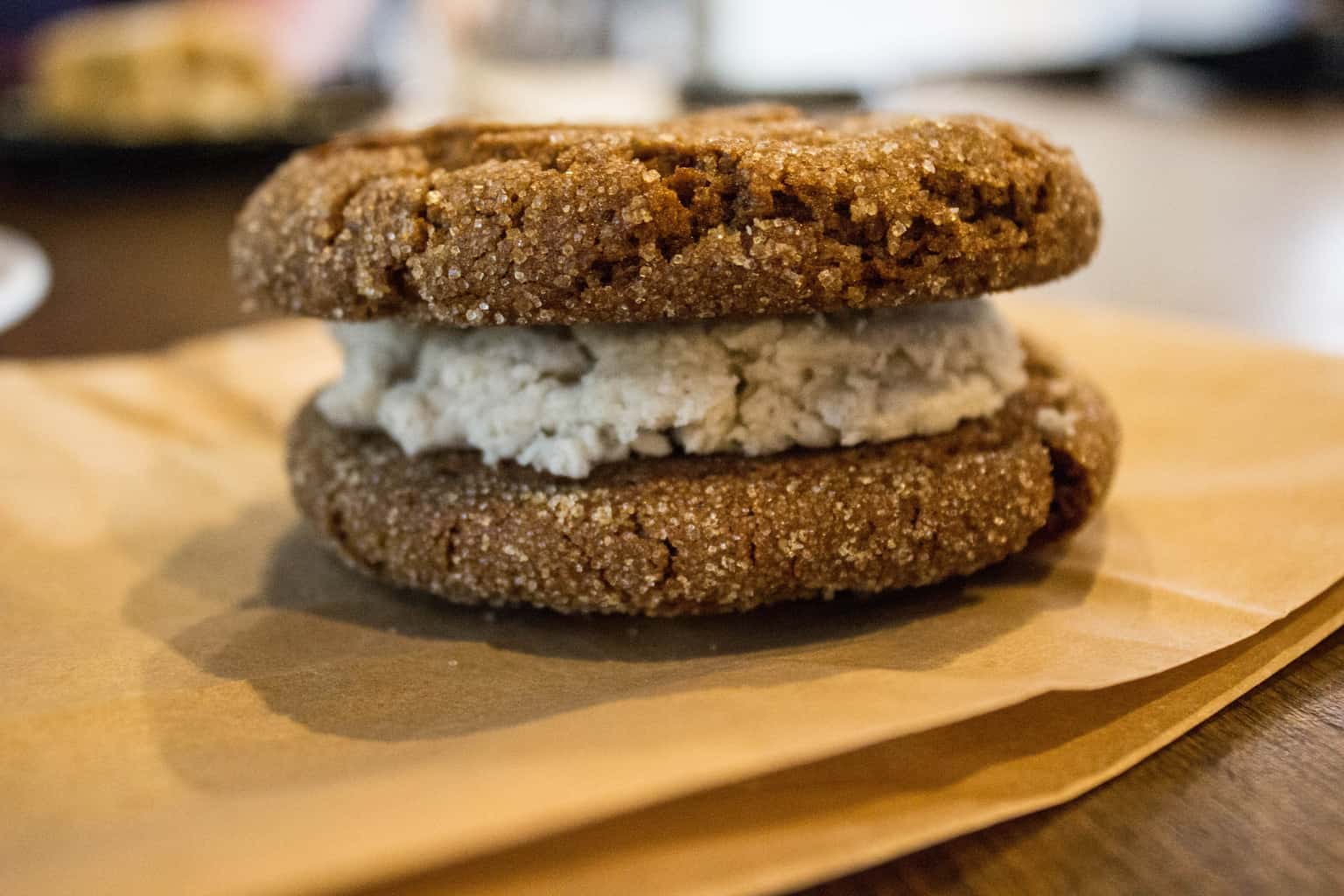 ESSENTIAL INFO
Hours // M-F 7a-6p; Sat 8a-6p; Sun 9a-6p
Address // 815 N Hudson Ave, Oklahoma City
Website // www.elementalcoffee.com
---
Coffee Slingers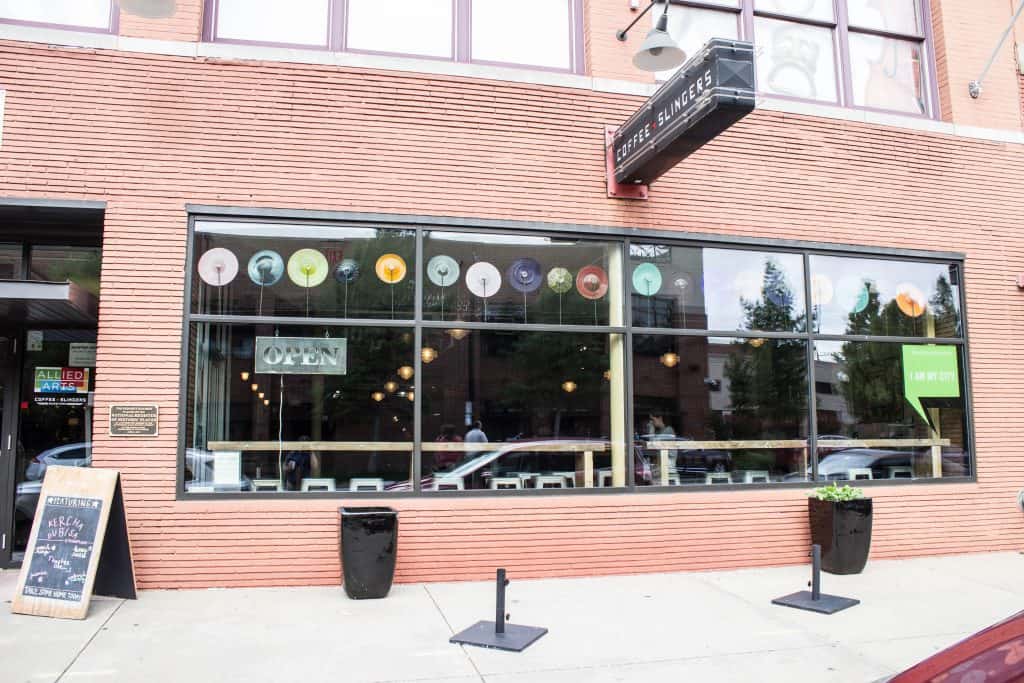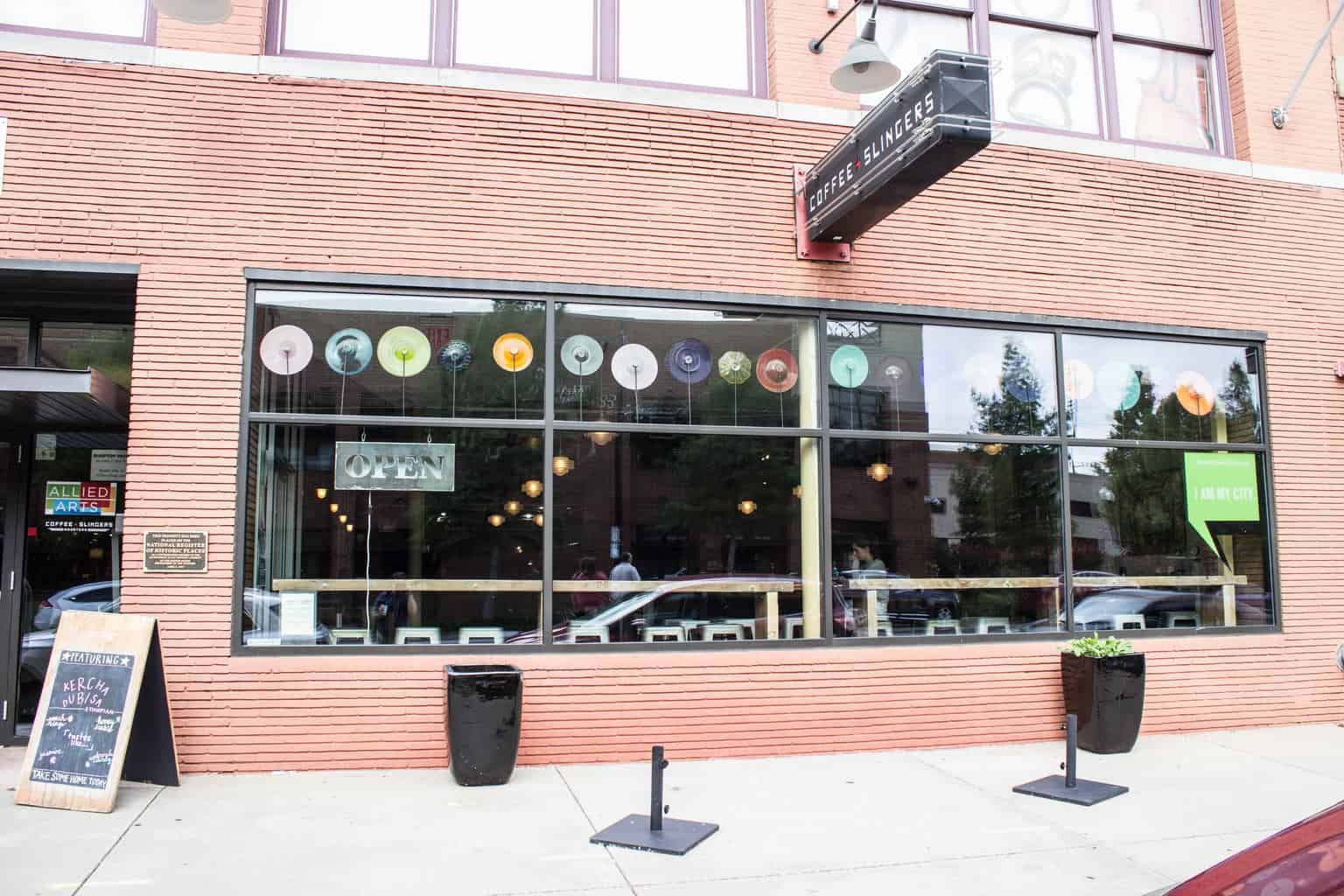 ESSENTIAL INFO
Hours // M-F 6:30a-7p; S-S 7a-7p
Address // 1015 N Broadway, Oklahoma City
Website // www.coffeeslingers.com
---
Stella Nova
Stella Nova also had a vegan muffin on their menu!
ESSENTIAL INFO
Hours & Locations // see website
Website // www.stellanova.com
---
Leaf + Bean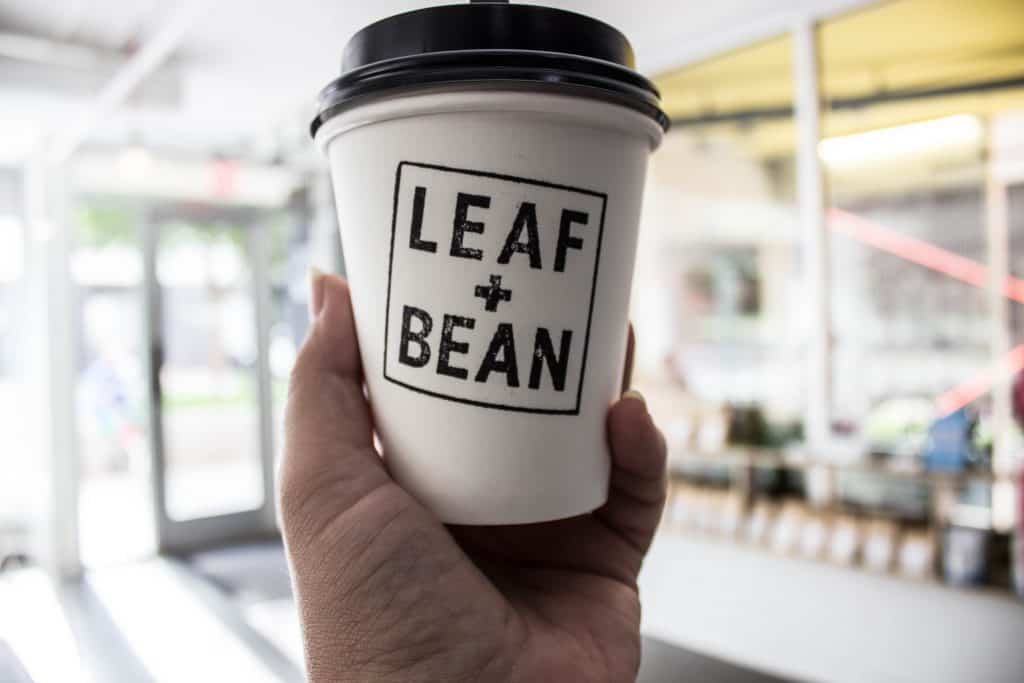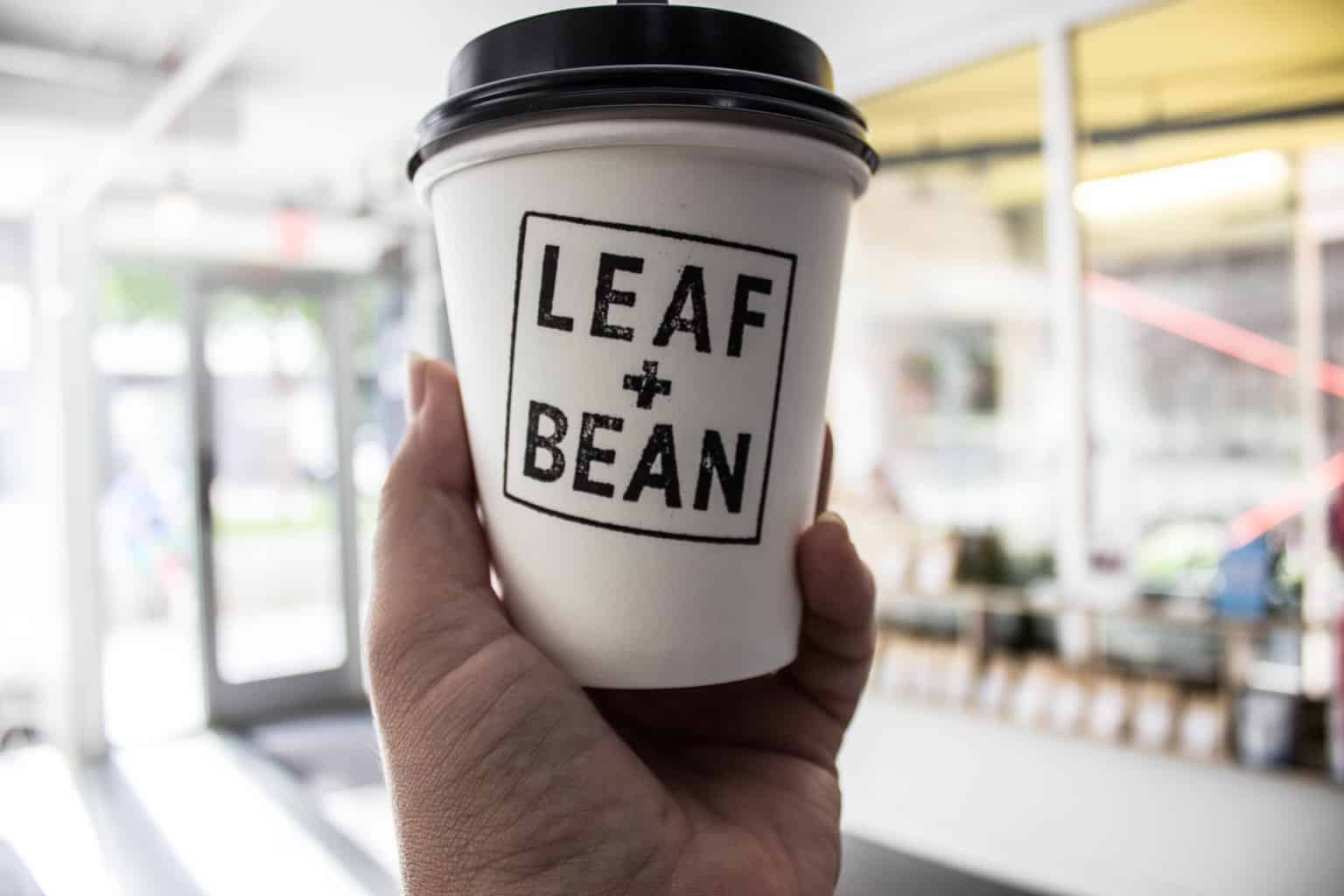 ESSENTIAL INFO
Hours // Daily 7a-7p
Address // 321 N Oklahoma Ave, Oklahoma City
Website // www.leafandbeanokc.com
---
Grocery Stores, Health Stores & Markets
---
Vegan Festivals
Oklahoma City is getting the first ever vegfest and its happening in just a couple weeks!
---
OKC Animal Activism
I wasn't able to find a local Anonymous for the Voiceless or Save chapter but will update this section if I do find one!
---
Local Vegan Resources
There is a local group that takes part in events, activism and meetups – check it out here!
---
A lot of eating happened in 48 hours but there's so much more to do than eat. Check out A Brit and A Southerner's post on how to spend 48 hours in Oklahoma City.
---
What to Pack for Oklahoma City
Pacsafe Cross Body Purse (I love my Pacsafe products and would highly recommend using them when traveling)
Comfortable Shoes (my feet tend to hurt pretty easily and these are the best shoes I've had in a while for walking a lot)
Have you ever been to OKC?? Tell me about it in the comments below ↓↓↓
Looking for accommodation in OKC? Check out reviews here and book here.
Want to know where I stayed? 21C OKC
What else have I written? You can find more Oklahoma posts here.
Like this post? Have Questions? Hit me up on Facebook | Twitter | Instagram | Pinterest | Email
↓↓↓ PIN IT ↓↓↓