This post may contain affiliate links, meaning if you book or buy something through one of these links, I may earn a small commission (at no extra cost to you!). Please see my disclosure.
Looking to visit Thailand off the beaten track? Here are more than 15 spots that are under the radar that you should definitely visit!
Almost any tourist who comes to Thailand dreams of isolated white beaches lined with palm trees complemented with the abundant availability of exotic cuisines. If you are visiting Thailand on a couples holiday then you'll probably be looking for a romantic and peaceful break.
However, with Thailand being one of the most advanced hospitality industries in the region, isolation for your holiday in Thailand is hard to find. But away from the eye of the crowds are raw and unexplored destinations. If you're planning to visit a peaceful place to spend quality time with your loved one, here are 15 of the best places to explore Thailand off the beaten track.
Tip: Learn Thai (at least some phrases) before you visit Thailand. The locals will appreciate it!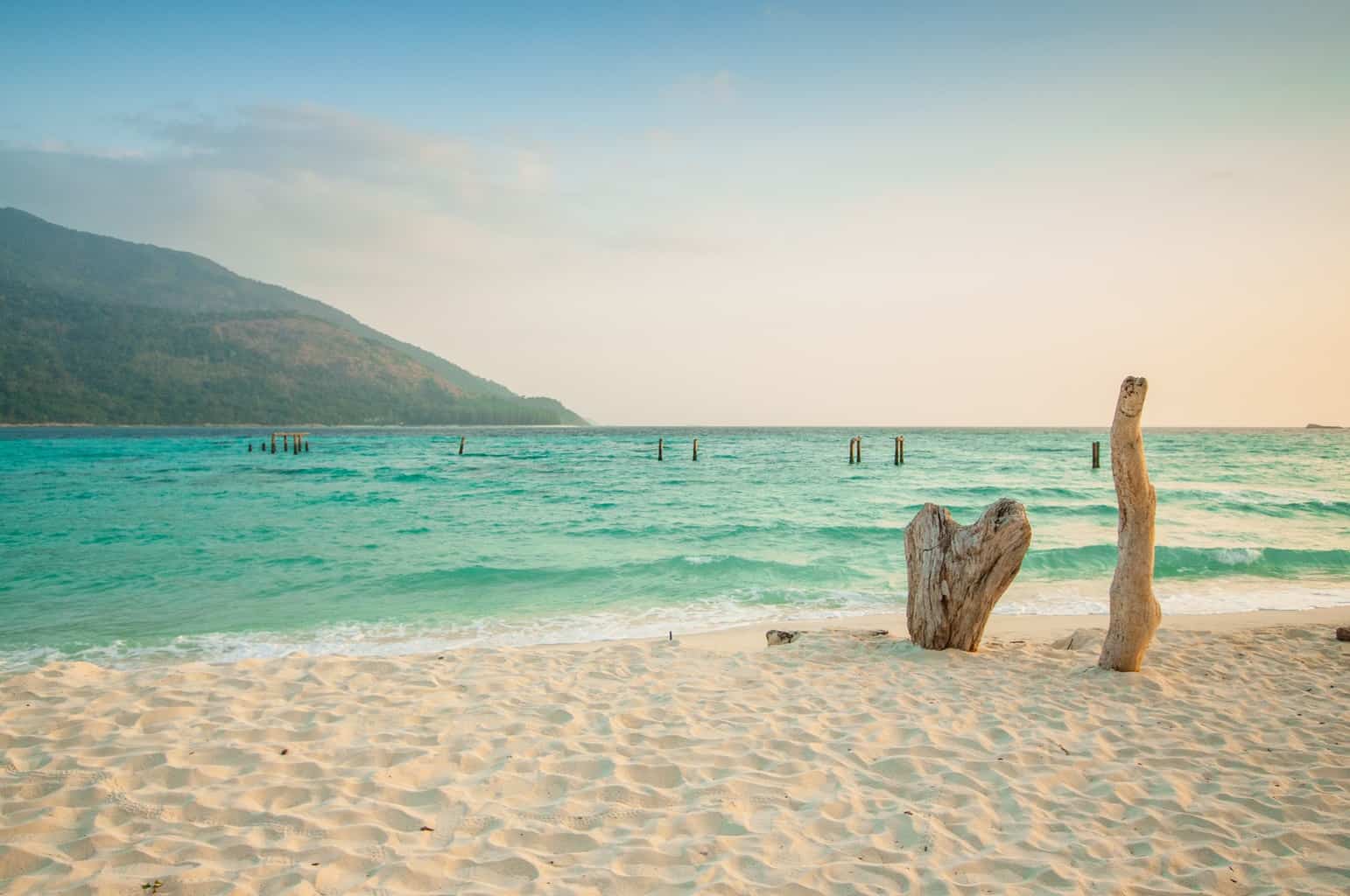 Thailand Off the Beaten Track Destinations
Koh Phra Thong
Not many places in Thailand are more beautiful than this small stretch of land close to the Myanmar border.
A preferred nesting place of the sea turtle, the island boasts the heaviest sea turtle in the world. Sit close to these creatures and listen to them cackle, a sound which quite often will be complemented with the calls of oriental hornbills and the shouts of the demur sambar deer.
Protected and unpopulated, Koh Ra Thong is a haven for wildlife enthusiasts. If you want to volunteer in Thailand then you can get involved with turtle conservation, or volunteer with elephants, but just make sure you use a reputable company.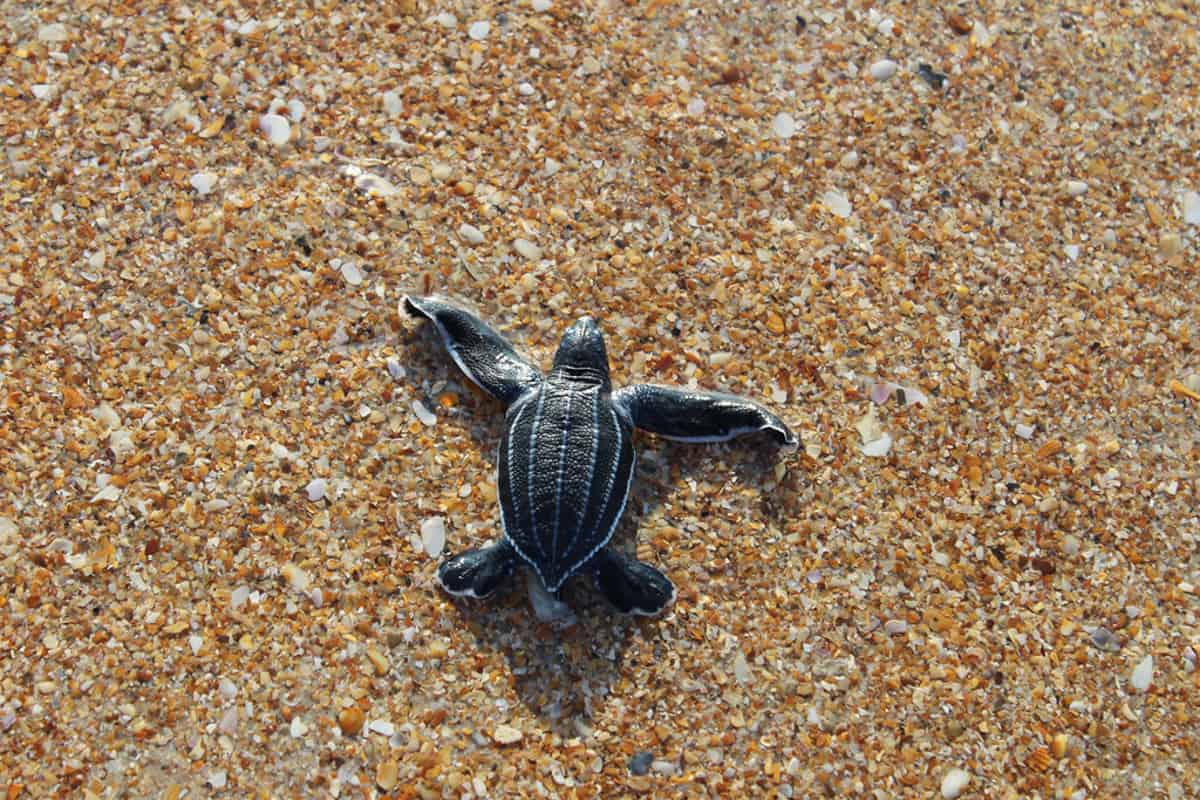 Chanthaburi
Jenny of TraveLynn Family
Chanthaburi is a relatively unknown gem, which nicely breaks up the journey between the bright lights of Bangkok and the chilled-out island vibes of Koh Chang (3.5 hours from Bangkok and 2.5 hours from Koh Chang).
This is a fantastic option if you are short on time and want to avoid an internal flight or overnight train with your Thailand itinerary.
Although, this sleepy old gem town nestled on the banks of the River Chanthaburi, and oozing in history, is worthy of a couple of nights stay in its own right. It's the perfect location to take a break from your busy lifestyle and the city's noisy streets. Although the place is lively, it's more laidback than other Thailand destinations.
Spend day one wandering around the narrow streets, gem markets (open weekends), the temples and cathedral (the biggest in South East Asia).
On day two, arrange a songthaew to take you to Namtok Phlio National Park for a jungle adventure! Ensure you are all lathered in mossie repellant and pack drinking water. It's a 20-minute drive to the gates and then a 1km loop walk around the river visiting various pools full of large nibbling fish, fed by cascading waterfalls. If you're brave enough, pop in for a dip with the locals!
On your return, there are lots of little eating stalls to fry you up some fresh noodles. If you're worried about planning an itinerary, you can look for day tours in the city instead. This way, you'll have a tour guide to help you go around the city and let you know some great local spots. Joining a tour may also be an opportunity to meet other tourists like you.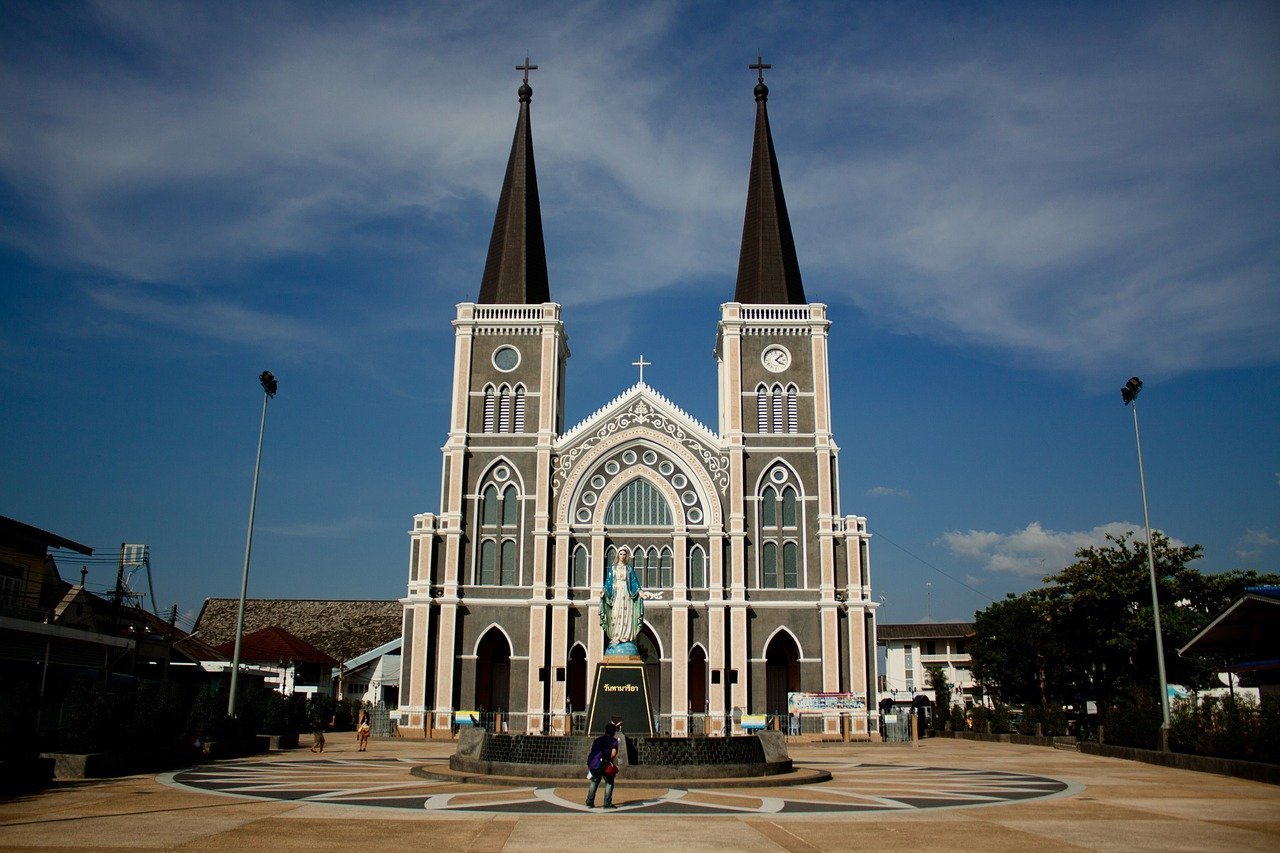 Chiang Rai
Rose of Where Goes Rose?
Chiang Rai may be the lesser-visited sister of Chiang Mai but that's no reason to miss it from your Thailand itinerary. If anything, there's even more reason to visit when you consider there are fewer crowds and more hidden gems.
Chiang Rai city itself isn't so much to speak of: a dusty town hidden amongst the forests and mountains of Northern Thailand.
However, the attractions that surround Chiang Rai and well worth a visit. You can spend a day going around the city to see what the city has to offer.
What makes them unique? Their contemporary nature. While the temples don't date back six centuries like those of Chiang Mai, they're just as intriguing.
Take the White Temple for example. This Thai artist's modern take on a contemporary temple includes images of the Minions and Michael Jackson inside the temple, questioning ideas of worship and gods in the modern-day.
Another place not to miss is the Blue Temple, a decadent religious site only completed in 2016. Translating as 'dancing tiger temple', it's history dates back to days when apparently tigers roamed these parts.
To get to Chiang Rai, you can fly into Chiang Rai International Airport, or alternatively take a bus from Chiang Mai which takes 3 hours and costs between 200-300 baht.
For tasty vegan-friendly food, do a good deed and eat lunch at Cabbages and Condoms. This oddly named restaurant supports healthcare and contraception in rural areas of Thailand where teen pregnancies and infant mortality affect the community.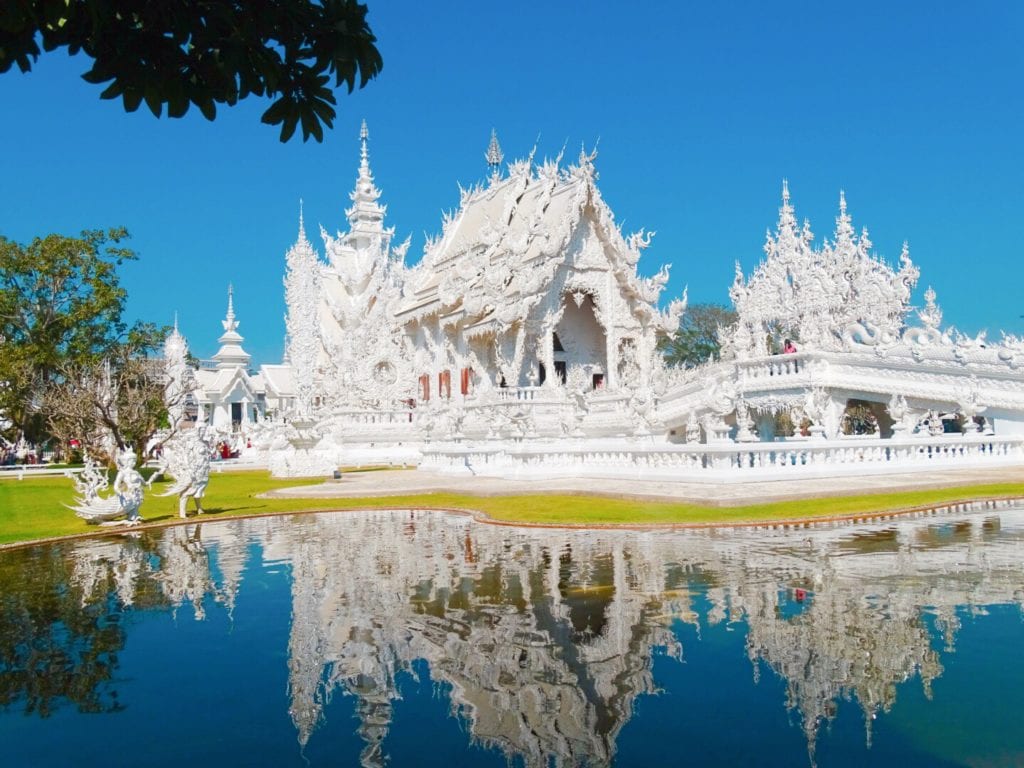 Mae Hong Son
Jessica of 
Mae Hong Son is a small town located in the north-west of Thailand. The town is located very close to the Myanmar border.
Because of being off normal Thailand off the beaten track that most tourists usually explore in Thailand, it is a very special town where you can enjoy what a Thai town is like without many tourists.
There isn't a ton to do in the actual town of Mae Hong Son but the Mae Hong Son province is a semi-known area of Thailand to do an un-guided (or guided if you so choose) motorbike tour.
The area is a lush jungle where you can find gorgeous cascading waterfalls, beautiful landscapes and authentic Thai villages along the way. It's a great location to visit if you want to see nature and Thai architecture.
Just outside the actual town of Mae Hong Son you can find a Buddhist wat located in the middle of a large rice paddy. The only way to get to the wat is by walking the handmade bamboo bridge built over the rice paddy.
Mae Hong Son town also has a gorgeous wat built on the lake in the middle of the town. You can have a nice relaxing evening eating at one of the restaurants built on the lake looking out over the water at the reflection of the wat on the other side.
To get to Mae Hong Son you first have to get yourself to Chiang Mai. From Chiang Mai, you can easily find a van company that will take you to Mae Hong Son. To make your trip more convenient, try to book your ride prior to your arrival in Thailand. This way, you won't need to worry about traveling from one city to another. If you are looking for a Thailand off the beaten track adventure, checking out the sleepy town of Mae Hong Son is definitely a must for your itinerary.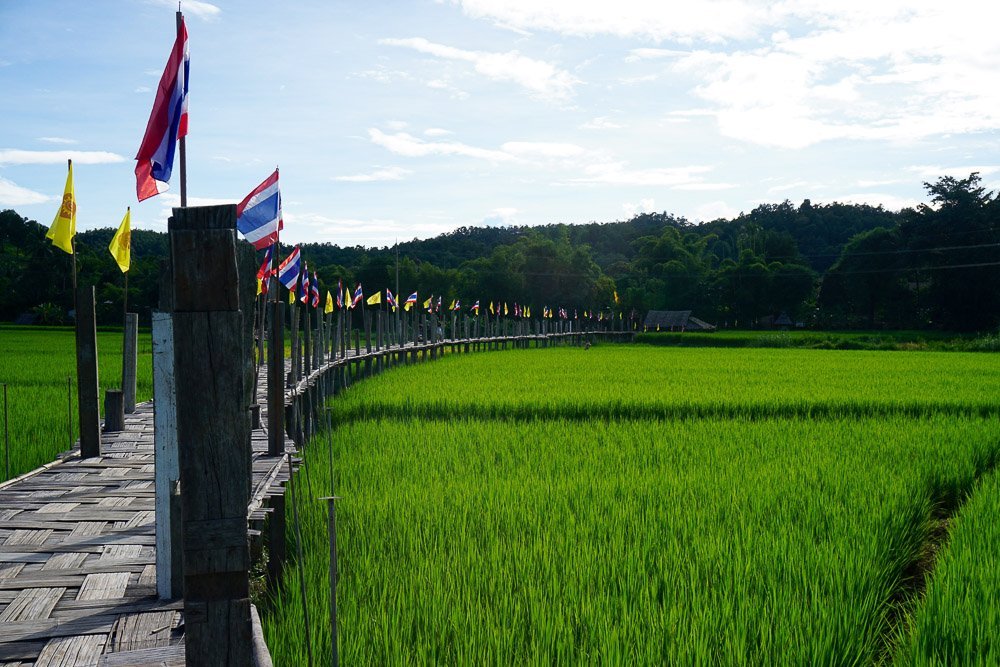 Chiang Dao
Shelley of Finding Beyond
Despite being a beautiful little town only 90 minutes from popular Chiang Mai, Chiang Dao remains a quaint northern Thailand off the beaten track destination.
The town centre itself consists of not much more than a few eateries and shops along a single strip of road, so the better option is to head east for a few more minutes to the area surrounding the bottom of Chiang Dao Mountain and Cave.
Here you'll find winding roads scattered with a handful of cute bungalow resorts, coffee shops and restaurants.
The best things to do in Chiang Dao include hiking the mountain, nature trails, bamboo rafting, temple hopping, Chiang Dao Cave, Pong Arng Hot Springs, Sri Sungwan Waterfalls and eating at one of The Nest's two award-winning restaurants!  If you decide to go hiking, be sure to wear the proper attire and footwear so that you can leisurely walk and enjoy the sight. Also, find guided tours to ensure you'll take a safe path and won't get lost along the way.
One of which specializes in Thai cuisine while the other is more western focused. The Nest is also a wonderful place to stay in one of their garden wooden bungalows.
Hiring a moped is the quickest way to get to Chiang Dao from Chiang Mai but if that's not your thing then there are buses from Chang Phueak bus station which leave every 30 minutes for just 40 baht per person. Chang Phueak bus station can be found just North of Chiang Mai's North Gate off Thanon Changpuak Road.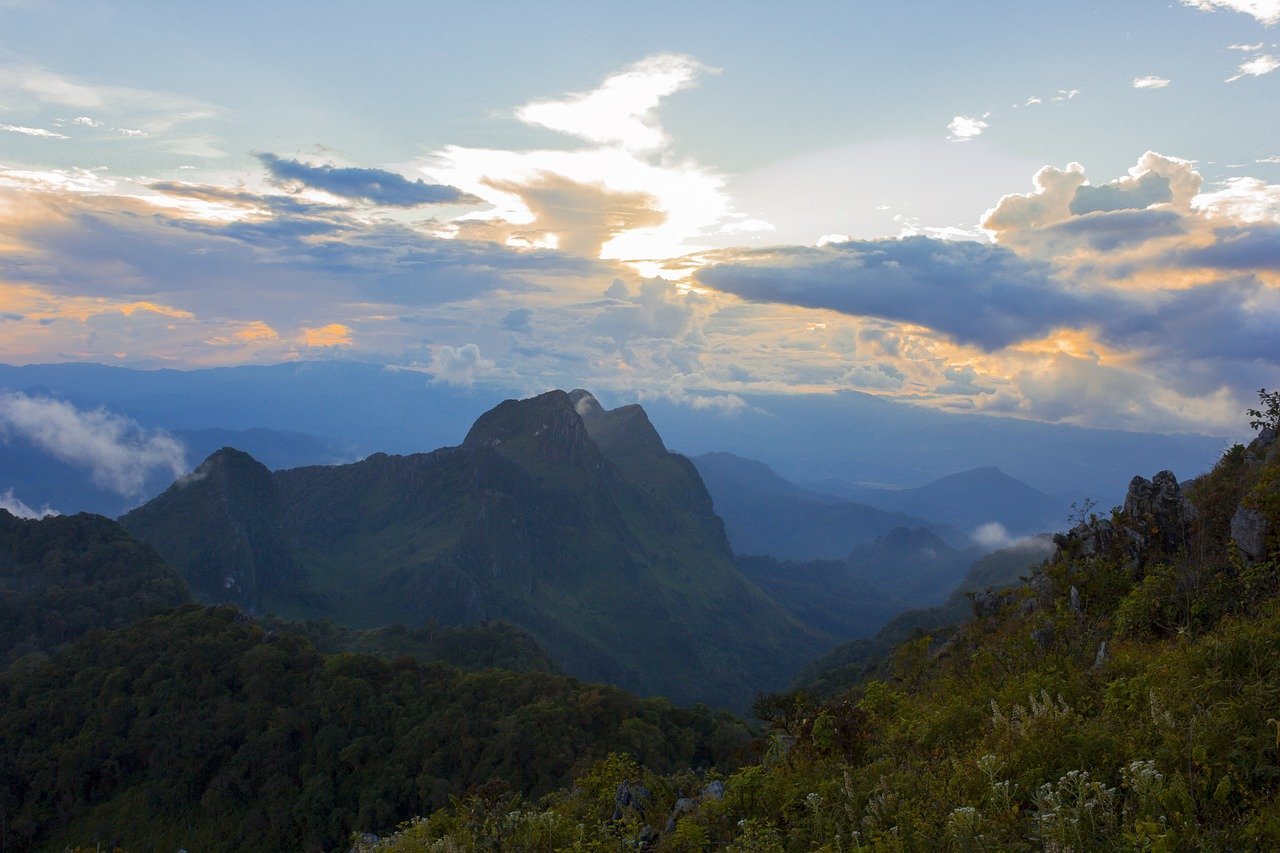 Koh Phangan
Veronika of Travel Geekery
Koh Phangan may be known as the ultimate party capital in Southeast Asia thanks to its tradition of Full Moon parties, but that's barely touching the surface of this wonderful little island with so much to do and explore.
Ko Phangan features a long coastline and lush greenery. Most of the island is listed as a Forest Reserve and stays protected.
A unique spiritual vibe is flourishing, with yoga, meditation and healing centers springing up, especially in the village of Sri Tanu. You can visit this destination if you wish to relieve stress or clear your mind.
When coming to Koh Phangan, you shouldn't miss the breathtaking sunsets that can be observed nearly daily along the whole western coast. Rooftop bars abound too and some offer magical views, such as the Secret Mountain Bar.
Ride around the island, see some waterfalls, go trek in a jungle… Engage in yoga, an ecstatic dance, a herbal steam sauna at a temple… the choices are nearly endless.
The closest airport to Koh Phangan is in Koh Samui, from where you'll need to take a ferry. For an even cheaper option, fly into Surat Thani and take a ferry from there.
Koh Phangan is a vegan paradise. Most vegan restaurants are concentrated in and around Sri Thanu, but unlike in other places of Thailand, here you can easily eat vegan food even in pretty much any Thai restaurant.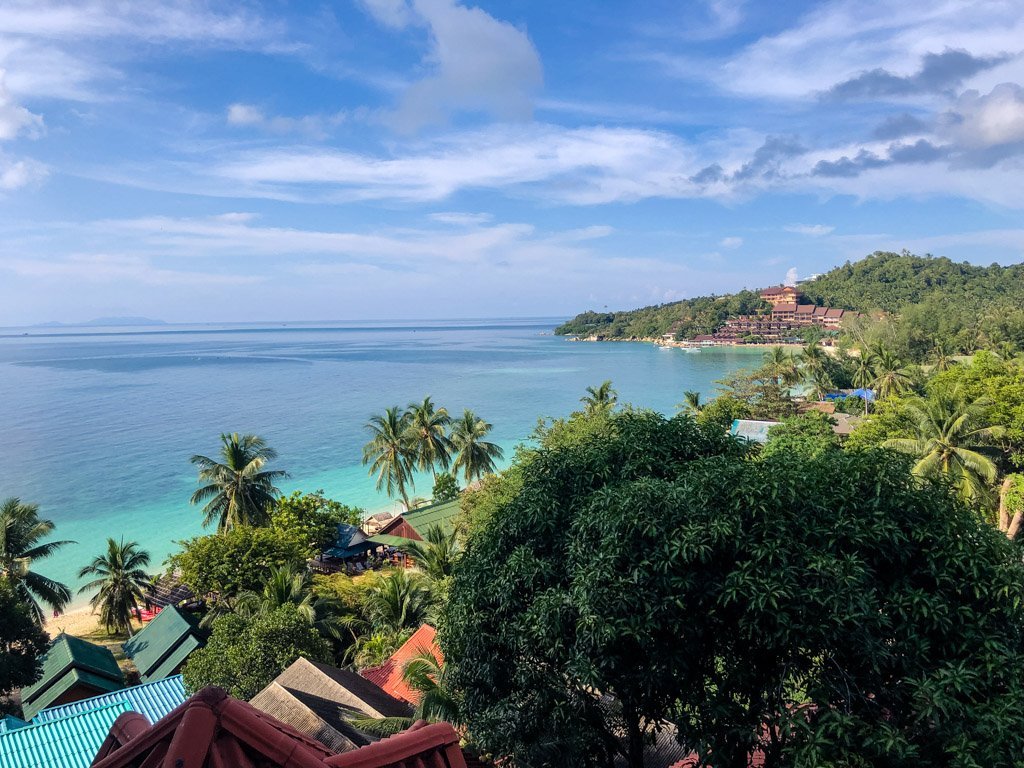 Koh Lanta
Stephanie of Let's Venture Out
Though Koh Lanta might not be everyone's first choice due to the lack of impressive limestone cliffs that the Krabi beaches are famous for, you'll definitely avoid the crowds there!
From empty beaches to untouched landscapes and the friendliest locals, Koh Lanta is the perfect definition of the remote Thai island that you've been dreaming of!
One thing you should absolutely not miss in Koh Lanta is visiting the Mu Koh Lanta National Park which costs only 200 baht to enter and 20 baht for motorbike parking.
Walk around the beach and hike up to the lighthouse for gorgeous views of the bay or trek around the 1.7 km trail curving through the jungle to witness the fauna and flora. You'll most probably encounter some cheeky monkeys, so hold on to your personal belongings!
Other things to do in Koh Lanta include beach hopping, snorkeling, kayaking to the empty beaches of Koh Talabeng, practicing yoga and much more. It's an excellent destination for tourists who like to do water activities.
It's very easy to get to Koh Lanta if you're on a budget. From the Krabi Airport, you just need to take a shared mini-van for about US$ 13. You can book your transportation directly at the airport or on the 12Go Asia website. Taxis are also available, though more expensive.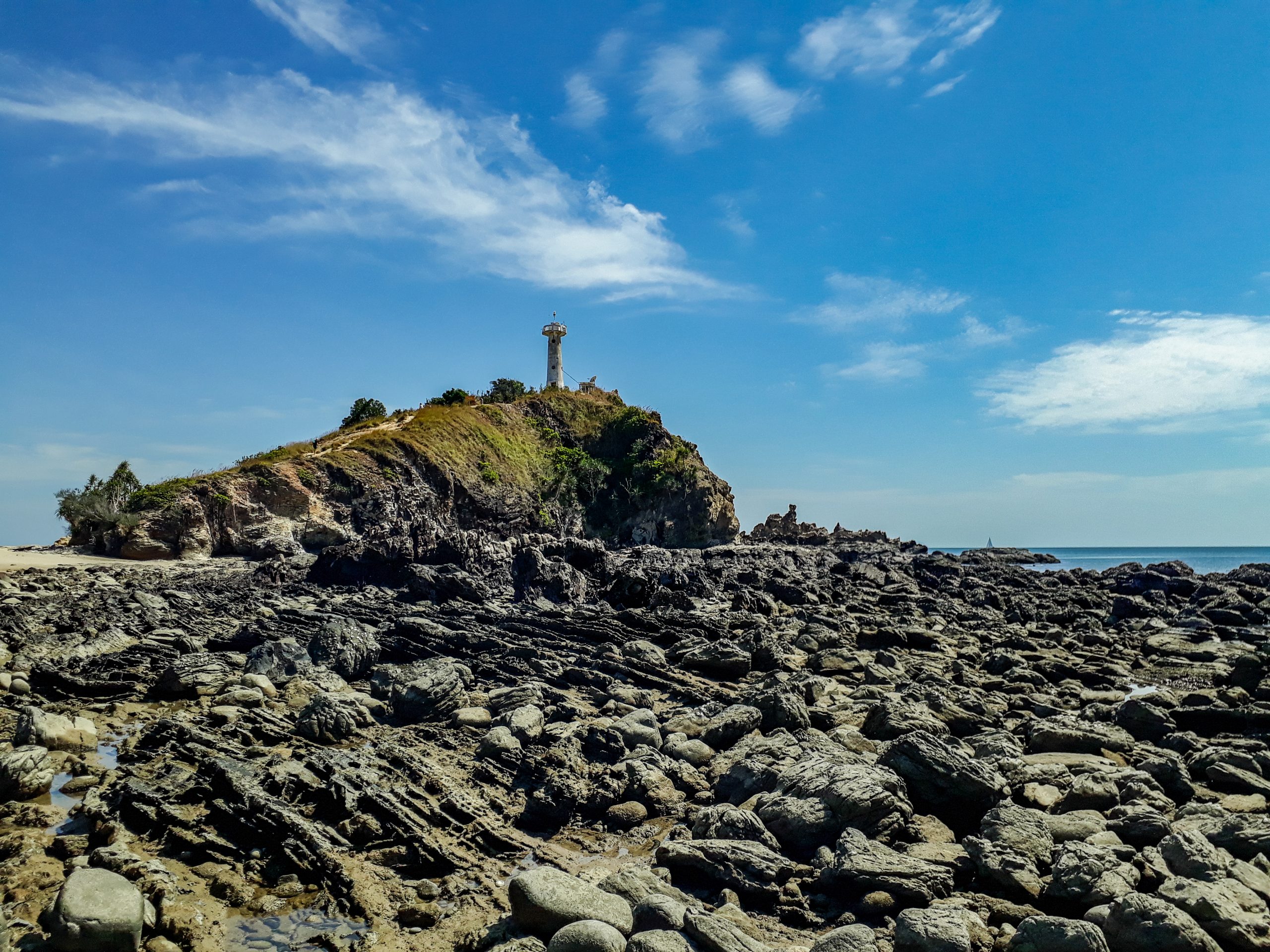 Kanchanaburi
Alexei of Travel Lexx 
While you'd be hard-pressed to call Kanchanaburi a secret, it continues to remain off most travelers' radars. Which makes exploring this town and province of the same name all the more satisfying.
As well as providing an escape from the hustle and bustle of Bangkok, a visit to Kanchanaburi is a history lesson like no other.
The best way to arrive is by train – a two-and-a-half-hour scenic journey through the Thai countryside.
Instead of getting off, stay on as the train makes its way across the infamous Bridge over the River Khwae, immortalized in a 1957 film. The Death Railway, built by Allied POWs during WW2 used to run through here all the way to Burma (now Myanmar). You can learn more at the JEATH War Museum as well as visit the Allied War Cemetery.
Further afield, a visit to the Hellfire Pass and its fascinating museum – commemorating those that lost their lives building the railway – is an essential and sobering experience. The journey here – as the train rattles along the stunning Wampo Viaduct – is another highlight.
If history isn't your thing, don't fret! Nearby Erawan National Park is home to caves, waterfalls, and elephants while Wat Tham Khao Noi and Wat Tham Sua will satisfy culture vultures.
Foodies won't be disappointed either. Kanchanaburi's Night Market opens its doors daily and is home to dozens of street food stalls. There are plenty of Thai staples and vegans are catered for too – between all the dumplings, smoothies and mango sticky rice, you won't go hungry! There are a few trendy coffee shops around town too for when you need a pick-me-up.
Kanchanaburi can be visited as an easy day trip from Bangkok. Yet, between its rich and fascinating history and laid-back vibe, there are plenty of reasons to linger.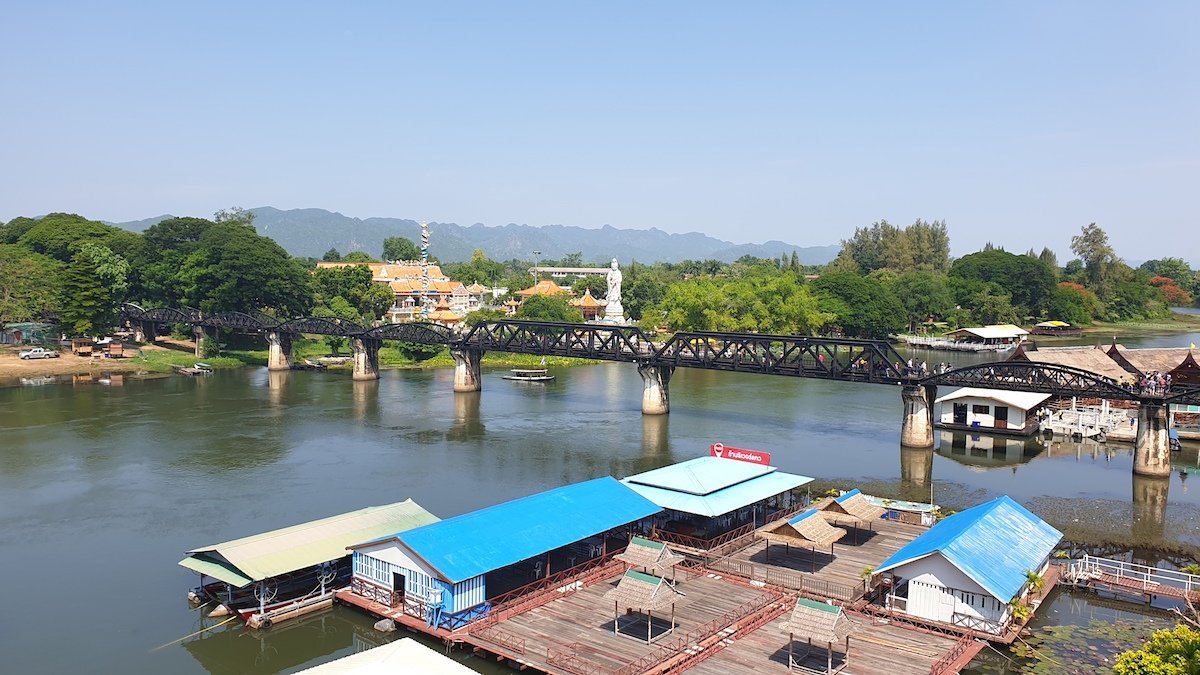 Sukhothai
Elizabeth of Peanuts or Pretzels
When traveling in Thailand, many tourists stick to major destinations and routes that are covered by trains or bigger airports. Some of them often go to well-known spots, unaware of less-traveled locations all around the country.
That's unfortunate because places such as Sukhothai, Thailand which are just out of the way of the major tourist trails and transportation get skipped.
But Sukhothai is one of the most beautiful, historical and relaxing places in all of Thailand to visit.
Located south of Chiang Mai by a few hours on land, Sukhothai was the capital of an ancient Kingdom that is even older than the famous Angkor Wat.
And while many tourists instead visit Ayutthaya because it's conveniently located just north of Bangkok by train, Sukhothai Historical Park is far better!
Sukhothai is home to 20+ Wats (temples) that are scattered among ruins that stretch for miles and the crazy thing is…there are hardly any tourists there compared to other sites in Thailand.  You may even have some of these temples all to yourself!
The area is so spread out that it's recommended you rent a bicycle or motorbike. A motorbike is the most convenient (especially if it's hot).
Another fun adventure with visiting Sukhothai is that there are Geocaches hidden at every wat, which makes for a bit of fun and gives purpose to visiting all the different wats.
When you book hotel reservations, make sure to stay near the historical park, which is outside the newer Sukhothai town. There's isn't much in the new town to see and you will enjoy being close to the park.
Getting to Sukhothai takes a bit of effort. There is bus service to and from major towns, or you can take the train to nearby Phitsanulok and then take a bus to Sukhothai. If you visit Sukhothai, definitely be sure to spend a few days to relax and enjoy it!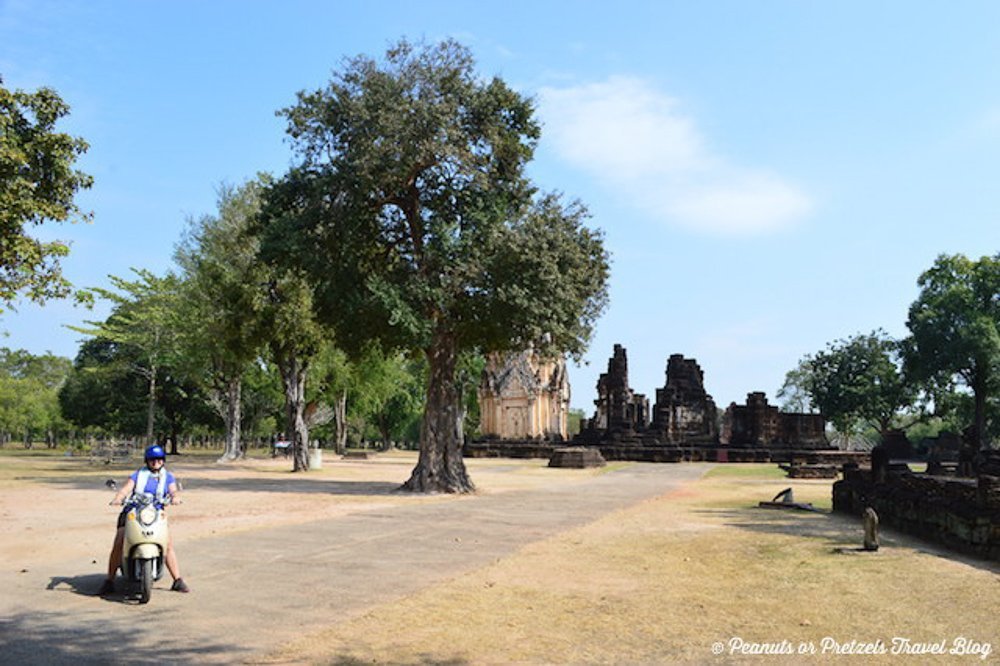 Kaeng Krachan National Park
Kaeng Krachan National Park is a large nature reserve situated on the Thai/Burmese border.
It is a paradise for nature lovers and a protected environment that is home to a vast array of wildlife. On a trip to Kaeng Krachan you are sure to see the beautiful hornbills with their large yellow beaks, thousands of electrifying butterflies, screeching monkeys, black squirrels, porcupines and more.
The park is also home to larger animals including elephants, leopards and even tigers (although sightings of these last two are incredibly rare).
You should be aware that the park is a true wilderness area and as such take your surroundings into consideration.
The campsite at Ban Krang has basic facilities with tents for hire and a small restaurant serving Thai cuisine (vegan options available).
There is a small building displaying photographs taken by the warden and a rooftop which is a great place to observe the monkeys jumping from tree to tree and the hornbills flying overhead.
Kaeng Krachan is difficult to get to without your own transport but not impossible. This helps keep the park free of the crowds and ensures a tranquil stay in nature.
From Bangkok, you can take the airport bus to Hua Hin airport (exit 8, 269THB, 4 hours) and then take a taxi or minibus the remainder of the journey.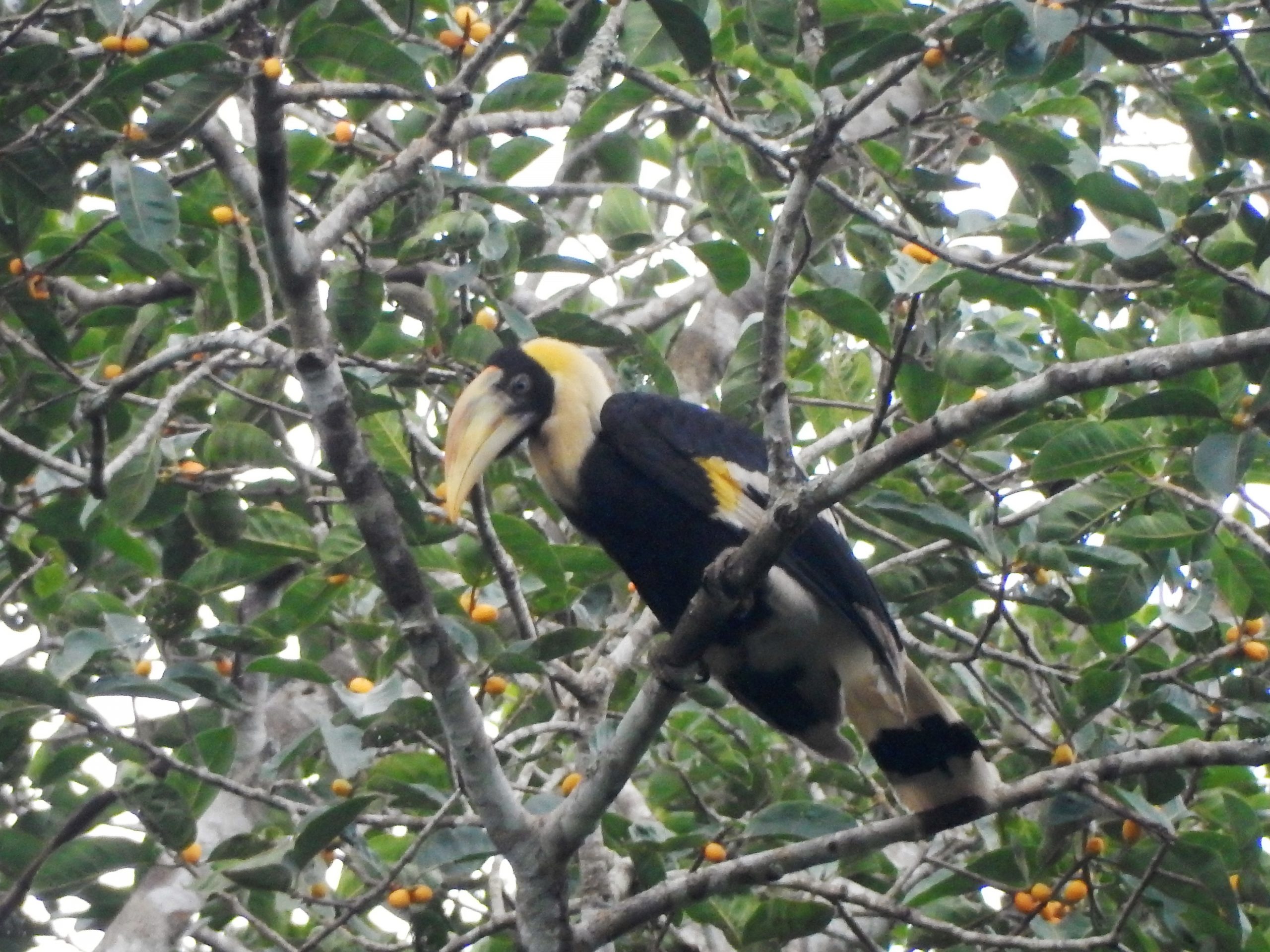 Koh Mak
Koh Mak is one of the most beautiful and is said to be one of the best-kept secrets of Thailand. Located in the eastern part of Thailand, Koh Mak is not particularly a big island. B
ut the best part is that the inhabitants of this small island have made a special effort to make Koh Mak a low-carbon zone and a self-sufficient economy.
When I visited Koh Mak, I was pleasantly surprised to see its laid back nature and the initiative of the local people to conserve the ecology. In fact they had even made "8 rules of Koh Mak" that they religiously follow towards making the island a low carbon destination. And they do not change any of these rules even for the tourists!
Koh Mak is a small island predominantly covered by coconut groves and rubber plantations. In the northwestern part of the island lies the Suan Yai Beach, one of the most beautiful stretches of white sand in Thailand. You can enjoy a great panoramic view along this beach.
The second beach is the Ao Kao beach on the southwestern part of the island. This is the busiest part of the island.
Apart from the island, there is a Buddhist Temple Wat Samakeetham that overlooks the bay. There is also a museum on the Southern part of the island that tells the story of the past and the present of the island.
You can reach Koh Mak from the mainland by taking a speedboat from the Krom Luang pier in Laem Ngop, Trat. However, during the monsoon season, all the ferry services do not run. So please take notice of this.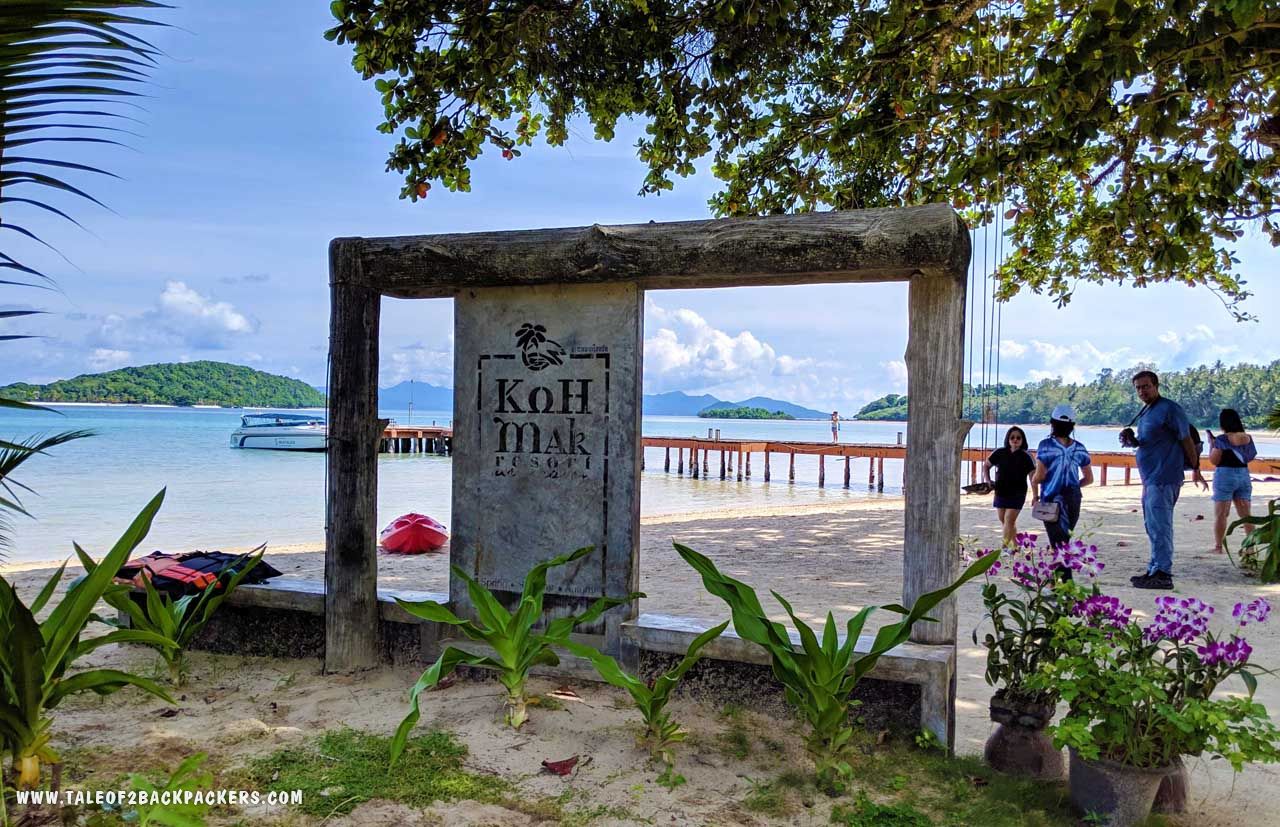 Pak Khlong Talat
Vicky of Buddy the Traveling Monkey
Located in the busy capital city of Bangkok is Pak Khlong Talat, the city's largest flower market. A stark contrast to the often chaotic streets outside, inside the market is peaceful. There are women gathering flowers and weaving them together into beautiful garlands, wreaths, and arrangements.
Visitors will find roses, orchids, lilies, forget me nots, and more. But what you'll see the most are bright orange marigolds. Marigolds are an important part of Thai culture and they can be seen all over, from temples to restaurants.
At Pak Khlong Talat there are booths that line the street, as well as stores and corridors in warehouses. You can buy single arrangements, but much of what is purchased is bought in bulk. It's fun to walk up and down and see all of the ways the flowers are weaved together.
Flowers are delivered to the market before dawn, and that's when the market can get a little crazy and loud; it's been compared to the fish markets in New York City. But any other time it's tranquil, so it's a nice place to take a breather if you're feeling overwhelmed by the rest of Bangkok.
Pak Khlong Talat can be found on Chak Phet Road near the Memorial Bridge and it is open 24 hours.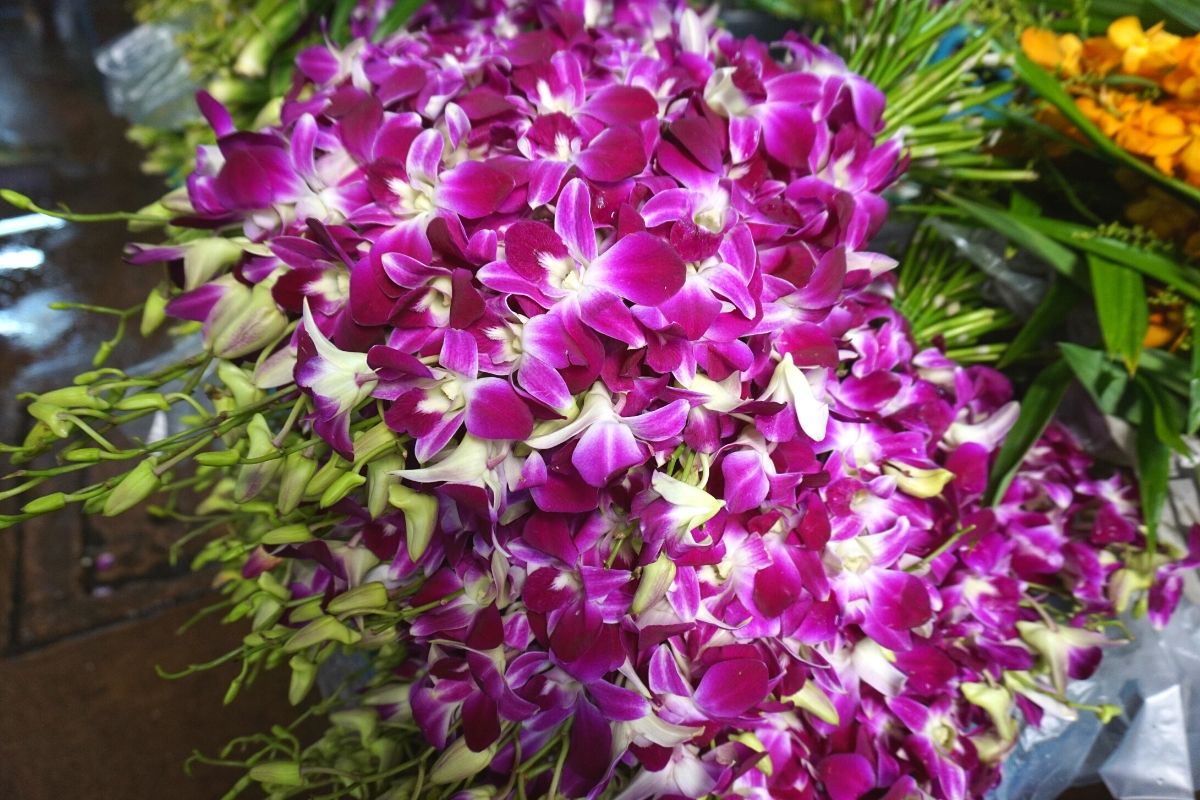 The Twin Islands
Koh Yao Yoi and Koh Yao Noi are twin islands off the coast Phuket, Thailand. They have safeguarded the iconic identity of tropical islands of South-east Asia for long. Only a handful of tourists ever make it to these islands and venture into the wild interiors, dotted with small Thai hamlets, where the only language to communicate with outsiders is good old body language of olden days.
You can choose to stay at either of these islands and explore the other by long-tail boat.
The local population is mostly Muslim. A few community tourist practices are trying to bridge the gap between locals and guests. I found the young generation to be extremely warm-hearted and ready to be friends. You can take up Batik printing class, honey collection, mangrove tours.
You can choose to stay in a few of the home-stays of the island as well.
By the virtue of being pristine, the beaches here are unspoiled and often reserved for only a single guest. There are plenty of spots for diving and snorkeling.
Every day, long-tail boat ply towards Koh Yai Noi from the ferry terminal at Phuket and Natai beach.
Dotted with coconut groves, it is a heaven for tender coconut lovers. Be like a local and drink coconut water directly from the shell. Ditch that straw! Also, look out for the hornbill birds. They look magnificent with protruding yellow beaks.
These islands do not have any facility for elephant riding. In fact, they do not have any elephants living close-by.
If you are in a mood to splurge, you can book a stay at Santhia Resort. Set up at the backdrop of a small hillock, Santhia Resort is one of the most stunning properties of the country! In fact, Santhia Resort has a private ferry transfer from Phuket for its guests, making it a very sweet deal.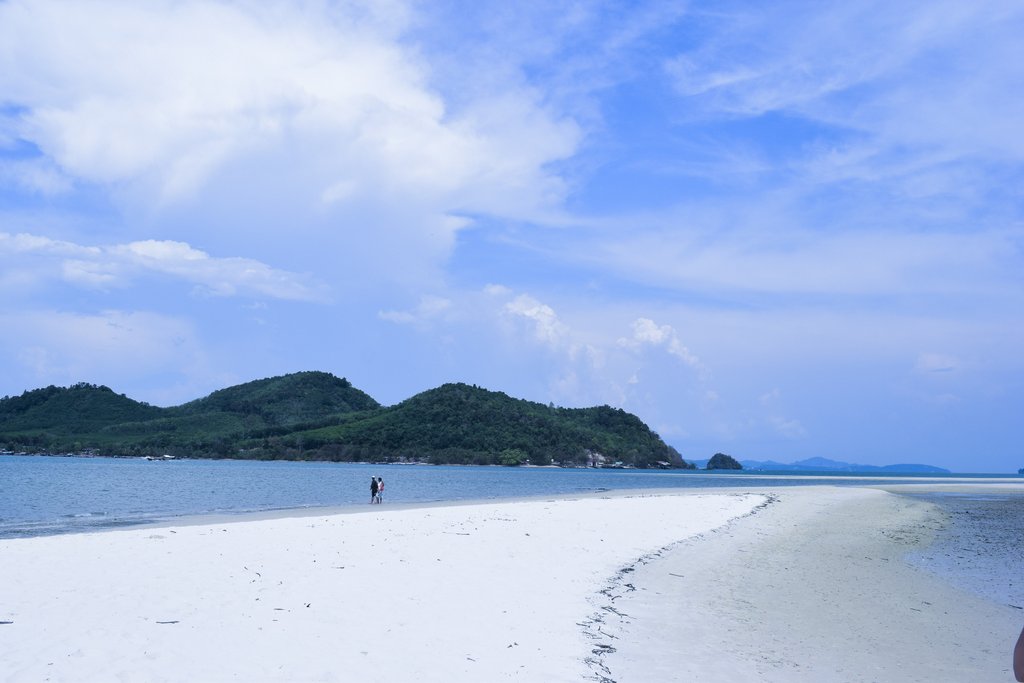 Koh Kut
The Northern Islands in Thailand can often be overlooked for the more well-known islands in the south, but there are some beautiful places to see that are Thailand off the beaten track. From Bangkok, you can fly to Trat and take a ferry over to Koh Chang and eventually, the island of Koh Kut. Immediately upon arrival, you'll see why Koh Kut is a destination worth visiting. The long dock is surrounded with beautiful, turquoise water and the beach beyond is typically empty. Koh Kut is a medium-sized island, large enough that you need a scooter, but small enough that it's not overrun with 7Elevens. Plus, there isn't a vehicle ferry to the island so it's a fairly quiet island and still mostly under the radar. You won't find tourist stalls or big chains, you'll find dirt roads leading up to your accommodation and locals selling smoothies outside of their homes. There are beautiful beaches to explore, waterfalls to find and the jungle to walk through. The charming part of Koh Kut is that you feel like you are seeing an untouched part of Thailand.If you want to explore Thailand off the beaten track, then Koh Kut is a great option. It's scenic, quiet and relaxing.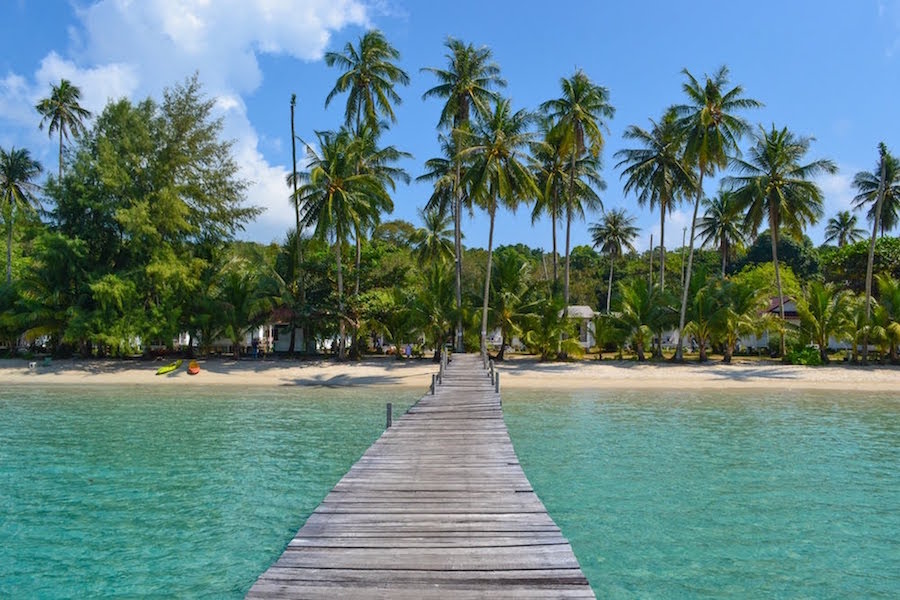 Koh Mook
The Had Farang Beach on the island of Koh Mook may be small in size but it is beautiful in every way. The small piece of land lights up during the stunning sunsets with visitors being blessed with extraordinary views of the superb rocky cliffs in the sea.
The clean sands and the crystal clear water make Koh Mook ideal for swimming sessions as well. The best part about this place is that there are only a few locals who live there allowing tourists to make this paradise their very own for the time they spend there.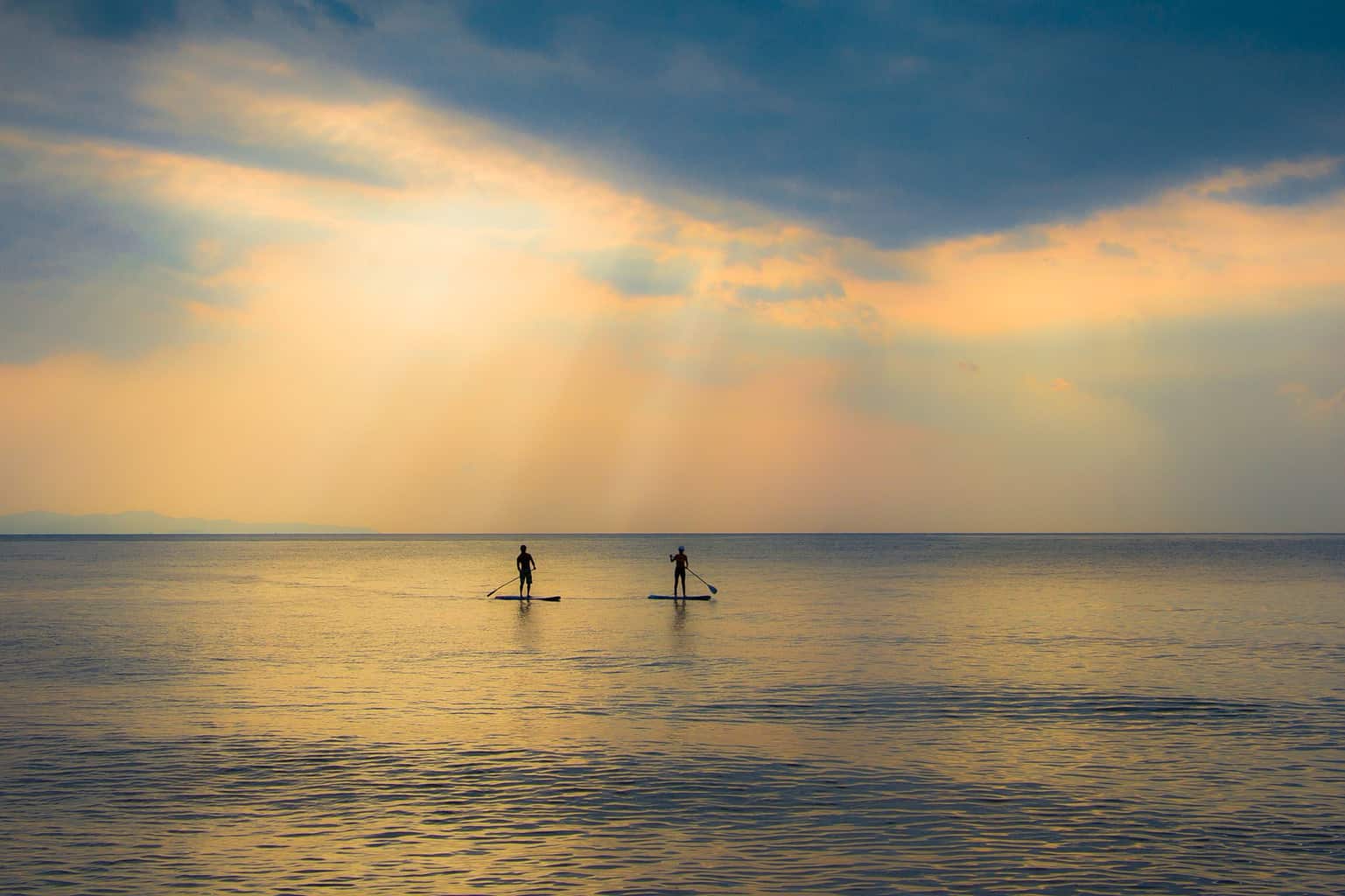 Buriram
Allan of Live Less Ordinary
While located in Thailand, Phanomrung Historical Park forms part of a wider Ancient Khmer Highway that leads from the more revered Khmer temples in Cambodia such as the renowned Angkor Wat. Otherwise, Phanomrung is found in Thailand next to and overlooking the Thai-Cambodia borders in the Isaan (northeastern) province of Buriram. The temple itself is situated on a now-extinct volcano and it celebrates Lord Shiva and the ancient cultures of Hinduism which makes it somewhat unique in one of the staunchest Buddhist regions of the Kingdom. There is also a bi-annual festival (Phanomrung Festival) celebrated each year to mark the phenomenon when the sunset aligns with the doors of the upper sanctuary of the temple. This would, therefore, be the perfect time to visit as the event showcases the old traditions using workshops and parades as well as chronicles the historic and somewhat mythical stories that surround the ancient past of the temple. The night performance would be the most spectacular as it takes place in and around the upper sanctuary which makes the most enchanting backdrop for any occasion. To get to Phanomrung Historical Park, the most convenient town for travel would be Nang Rong where hotels offer travel and day trips in the region.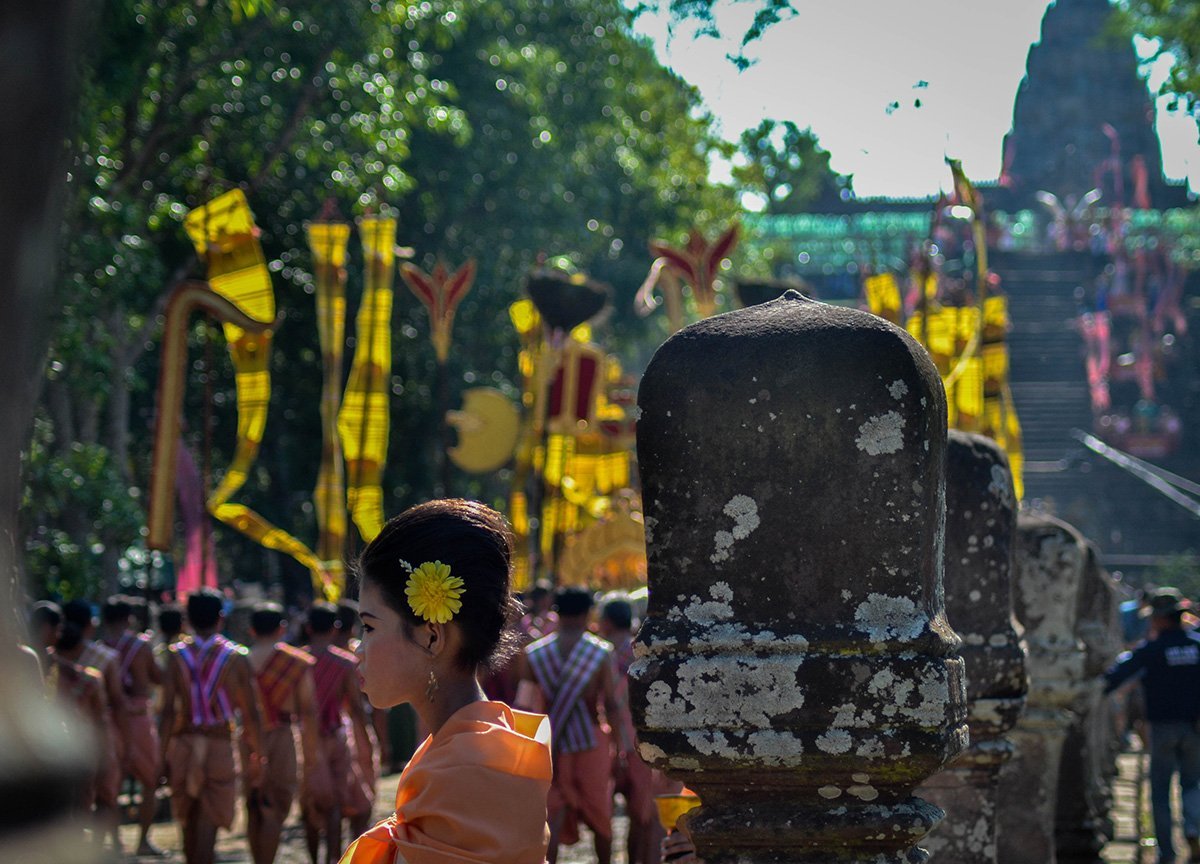 Thailand Off the Beaten Track
Often without a single person in sight or a hint of urbanization, these Thailand off the beaten track destinations are the best to visit.
---
Where is your favorite spot in Thailand? If you've never been, where do you most want to visit to get away from the crowds? Tell me in the comments
PLANNING A TRIP?
Find accommodation, read accommodation reviews, and check flight prices.
Book attractions, tickets, or guides in advance.
Research using these guides or read my other Thailand posts.
See my packing list.
↓↓↓ PIN FOR LATER ↓↓↓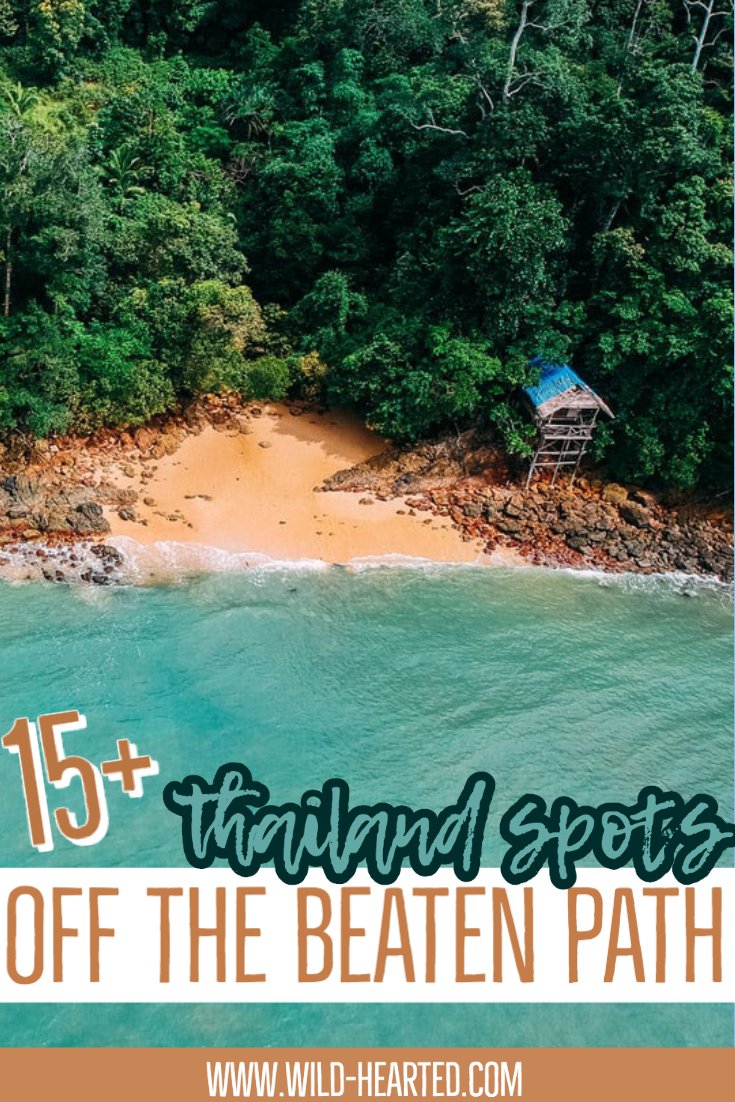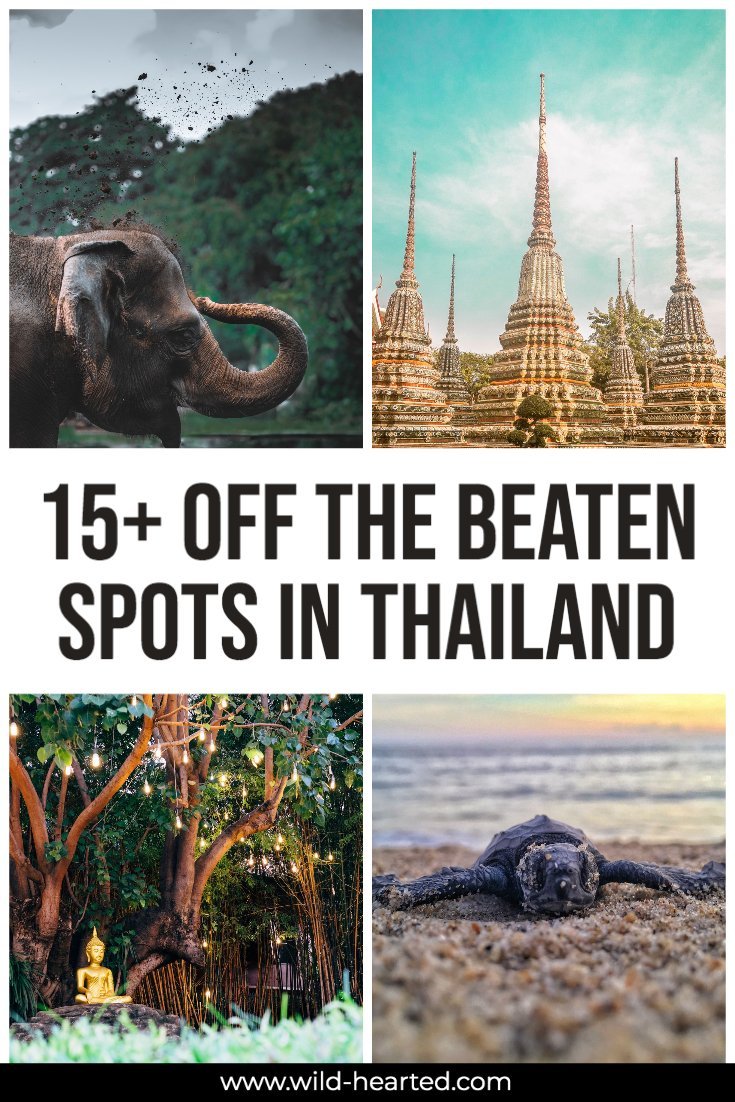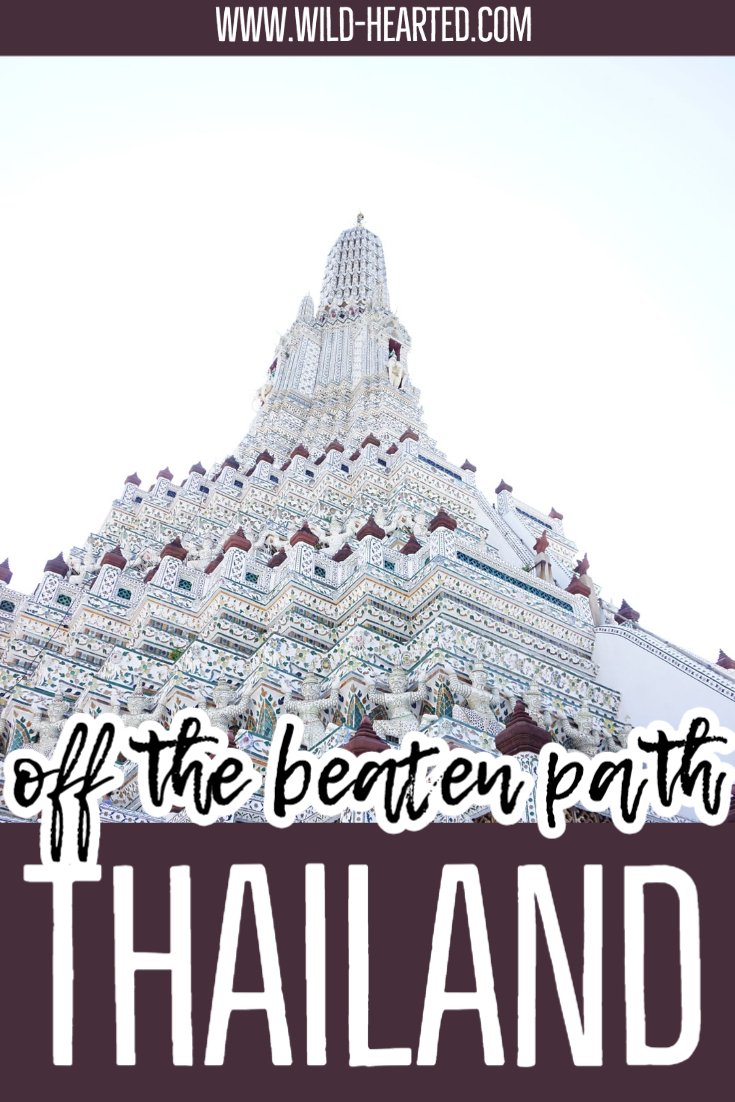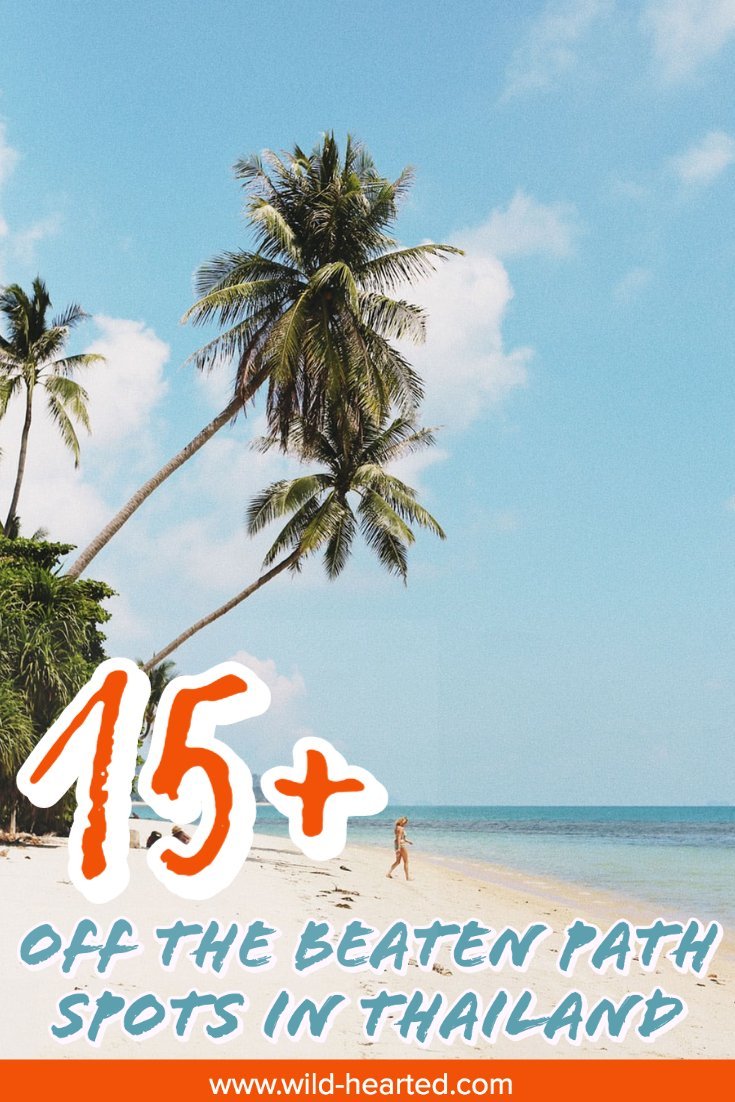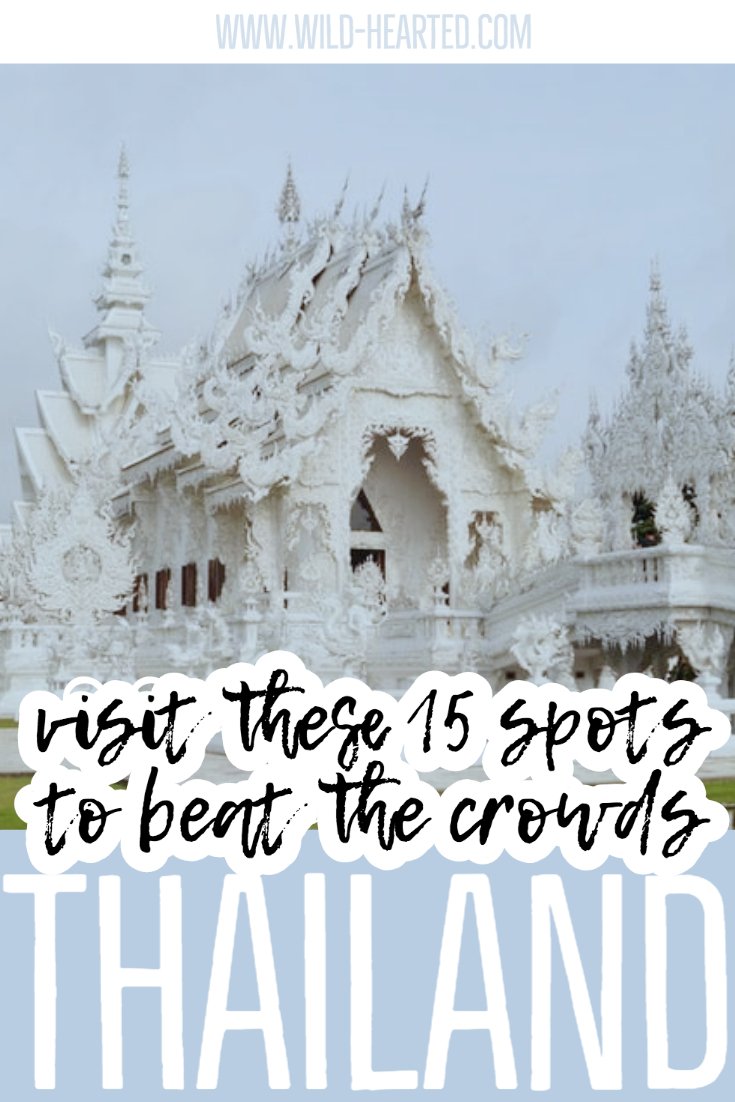 Latest posts by Ashley Hubbard
(see all)