This post may contain affiliate links, meaning if you book or buy something through one of these links, I may earn a small commission (at no extra cost to you!). Please see my disclosure.
Is Nepal a destination you want to visit but you're not sure where to start? Does it seem a bit out of reach or maybe even a little scary? I can understand but it doesn't have to be with these Nepal travel tips. There are a few things to know about Nepal before you go that will make your trip run smoother – whether you're trekking, staying in the city of Kathmandu, visiting the jungle in Chitwan National Park, or chilling out in Pokhara.
You wouldn't have to convince me to get me to admit that Nepal is easily one of my favorite countries now – right up there with Ireland. I went into Nepal with very little planning but there are many things I would have liked to have known ahead of time to ease my own anxiety.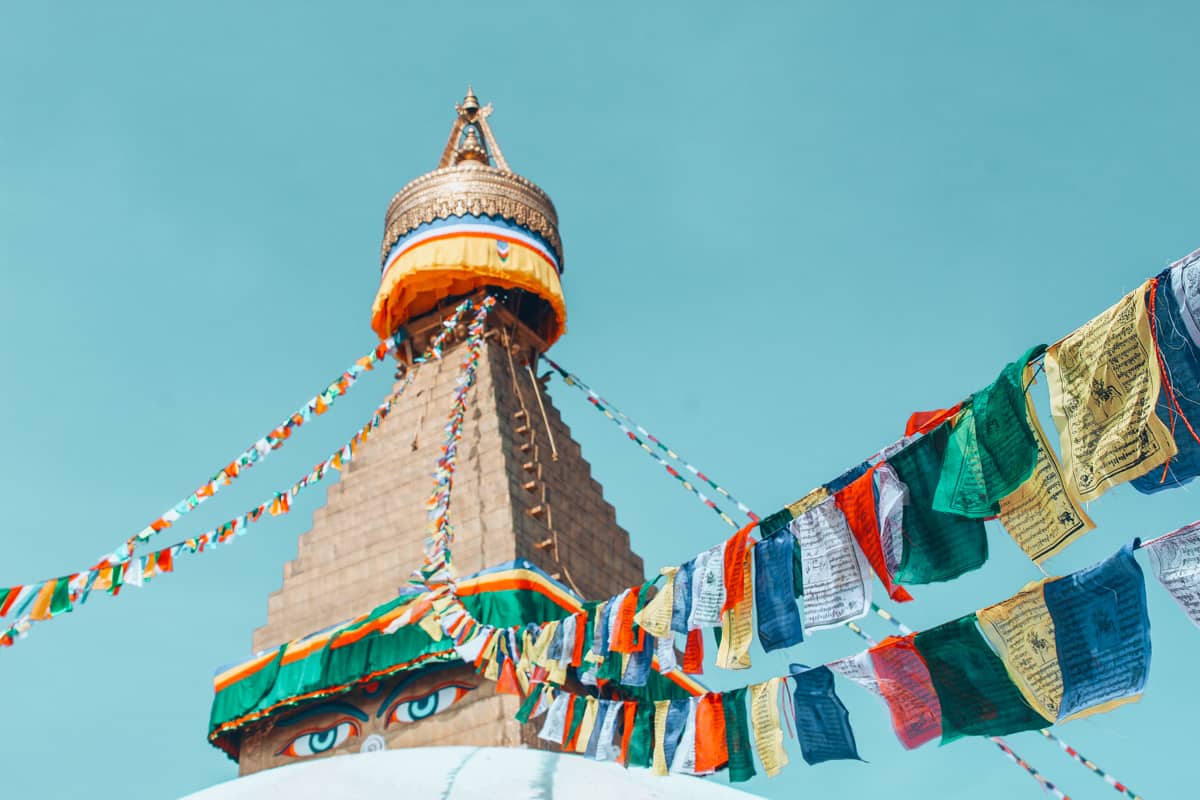 Nepal Visa for US Citizens – Do You Need One?
Not every country requires a tourist visa but a Nepal visa for US citizens is required. In fact, every tourist needs to have a visa to be able to enter Nepal. The good thing is that they're really not that difficult to get. Visas can be done on arrival and while things may not go quickly and it can be a little confusing at first, they should go smoothly if you prepare.
Visas are available upon arrival at Kathmandu's Tribhuvan International airport and at land border crossings.
Visas are available in the following:
15-day multiple-entry tourist visa for $25
30-day multiple-entry tourist visa for $40
90-day multiple-entry tourist visa for $100
What you'll need in order to obtain a visa on arrival:
Six months left on passport before the expiration
The visa fee in USD CASH – crisp, new bills – no tears or rips. It is my understanding that you can also pay in other currencies but that the rate is not as good.
A passport sized photo
While the visa process is fairly easy, it does take time or could seem overwhelming to some. You can also apply for a visa online up to 15 days before your arrival if you'd rather skip straight to the immigration officer.
*It's possible you won't need your passport photo. There are machines on site that take your photo (as well as ask some questions), but these are often not working I've been told. Best practice – just have the passport photos with you. You can always use them for something else.*
---

Let's Talk Money in Nepal
Money makes the world go round so I can understand why it's an important thing to understand before visiting…anywhere really. There are definitely a few things to keep in mind when it comes to currency in Nepal.
What is the Currency in Nepal?
Nepal's currency is the Nepalese Rupee (NPR).
As of today (July 3 2019) 1 USD = 110.611 NPR.
Sometimes, it can be a little difficult to think of conversions on the fly. I typically just rounded things up.
For example, something that is 100 rupees is $1 USD or something that is 10000 rupees is roughly $100 USD.
This is not 100% accurate but it's a quick estimate to understand how much something is costing you.
Are there ATMs?
I was pleasantly surprised that there were ATMs widely available in the cities – Kathmandu and Pokhara specifically. I seriously think I saw way more ATMs here than I did in Costa Rica the month prior.
However, do not expect them in the rural areas of Nepal. If you're going trekking or any other activities outside of the cities, I would suggest to pull out all the cash you think you'll need.
Tip: Do not exchange money at the airport. Wait until you can take money out of an ATM. I've found the exchange rates to be better. This tip goes for anywhere, not just Nepal.
The ATMs will dispense money in Nepalese dollars (NPR).
All major debit or credit cards should be accepted. Do not forget to set up a travel alert. The last thing you want is to have a card denied in the middle of Nepal when you don't have phone service to call your bank.
To avoid ATM fees, choose a bank that either doesn't charge or reimburses them. Charles Schwab is the best travel bank account I've found.
Is tipping in Nepal appropriate?
Yes, it is appropriate and welcomed. There are a few things to keep in mind.
All food-related things automatically have a 13% tax and a 10% service charge. This may or may not be on your bill meaning when you go to actually pay, the bill may end up being more. It is my understanding that the 10% service charge is similar to a built-in tip. If you feel inclined to tip more, go ahead and tip more.
When trekking, tipping is customary for guides and porters. Here is more information about trekking the Annapurna Base Camp.
My friend Jean put together a fabulous in-depth guide on tipping in Nepal.
Is Nepal affordable?
Yes! Nepal is very affordable and you can scale that as you see fit. Traveling Nepal on a budget is completely possible. There are, of course, certain things that would cost more such as organized group treks or luxury hotels. There are plenty of eco-friendly businesses in Nepal to support as well!
---
Thank You in Nepali and Other Helpful Phrases to Know
Fun fact – there are 123 languages spoken in Nepal! That is a lot especially given the small geographical size of the country.
Luckily, there is one commonly spoken language – Nepali. This is the mother tongue to many Nepalese but those who have a different first language often learn Nepali as well. I'm honestly amazed seeing as I'm horrible at learning a second language.
Learning a few key phrases is helpful for you and it shows respect to locals. They do notice, I promise!
Thank You: Dhanyabaad
Hello: Namaste
Good Morning: subha prabhat
Where's the toilet?: sauchalaya kata chha
Goodbye: Namaste
Namaste doesn't actually translate to Hello or Goodbye. It's simply a general customary greeting for all. Typically you would place your hands together close to your chest and slightly bow while saying 'Namaste.'
In addition, download Google Translate before your trip.
---
What to Wear in Nepal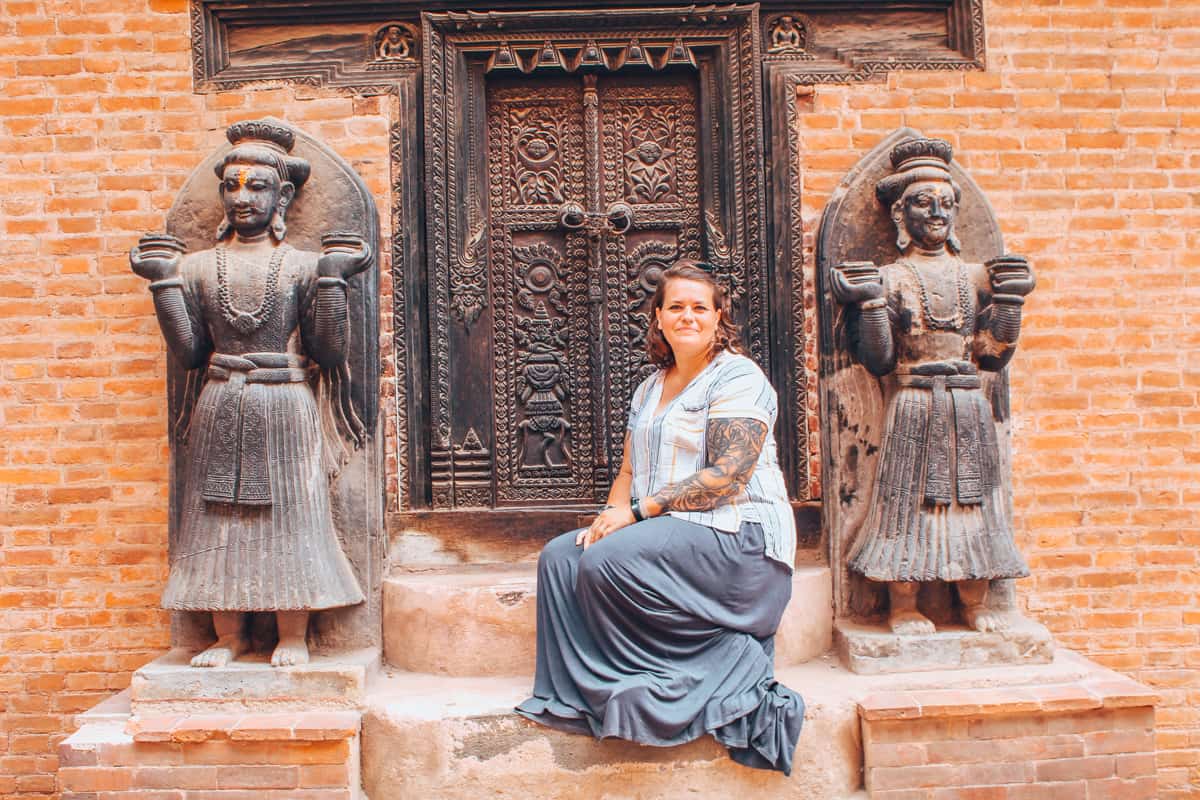 This is strictly based on a non-trekking Nepal trip. If you're looking for a Nepal trekking packing list, check out my friend Sarah's post.
In general – I dressed pretty conservatively in Nepal and I would highly suggest the same for anyone else.
While I did see plenty of women in Kathmandu wearing shorts and tank tops, it is respectful to cover your shoulders and knees. Even if you plan to not do that, please plan to for religious sites.
My go-to clothing for Nepal was maxi dresses or long skirts with a lightweight t-shirt. In some spots, I probably would have felt comfortable wearing a tank top (probably not a spaghetti strap or low cut one though) and have a cardigan or scarf on hand to cover up.
I also regularly wore leggings or stretchy jeans with t-shirts.
Make sure to bring a rain jacket, comfortable walking shoes – I like Chacos, and a scarf.
---
Abide by the Customs when Visiting Temples in Nepal
I think you'll quickly realize that Nepal is a deeply spiritual country. Even if you're not religious, you won't be able to help feeling that energy Nepal gives off. Whether you plan on it or not, you'll most likely visit holy sites and temples while in Nepal and it is important to take note of customs to respect. This really goes for any place.
Always navigate clockwise around temples.
Always remove your shoes when entering temples. You'll notice everyone else's shoes and you just leave them there.
Some temples, or certain areas of a temple, are only accessible to Hindus or Buddhists. You'll likely be told but there should also be signs.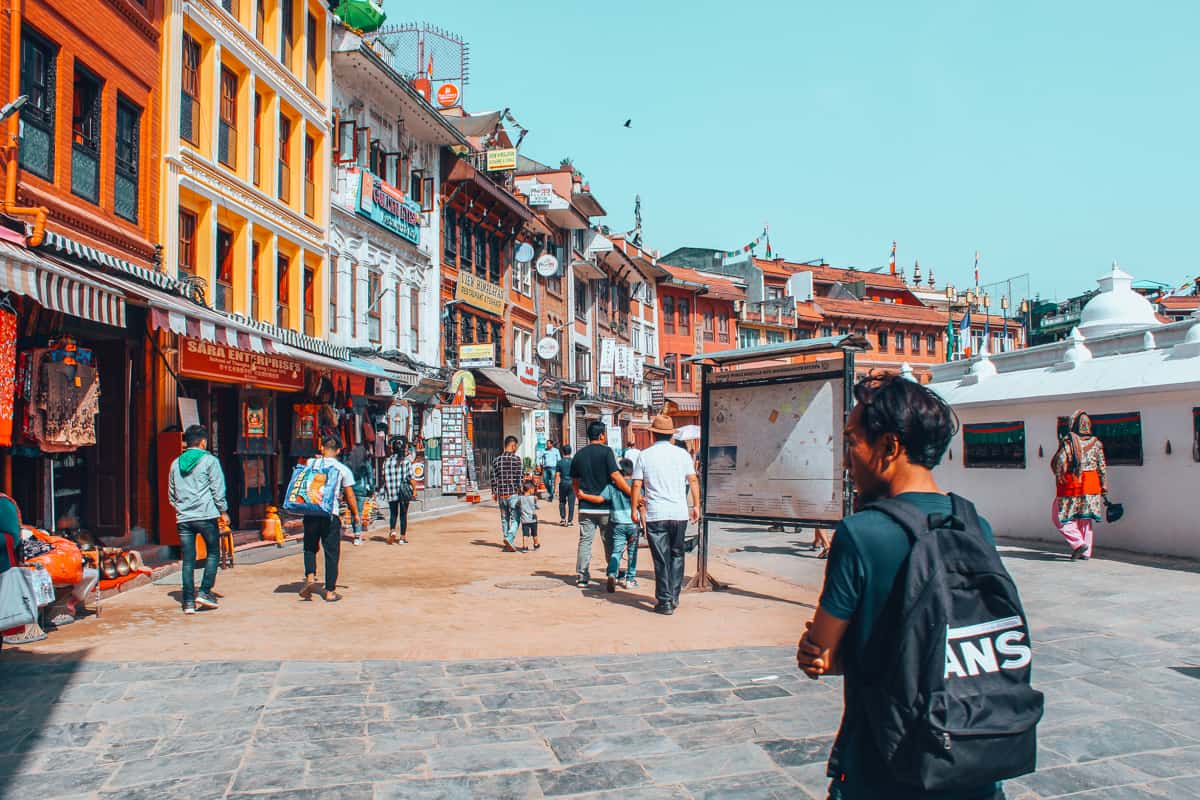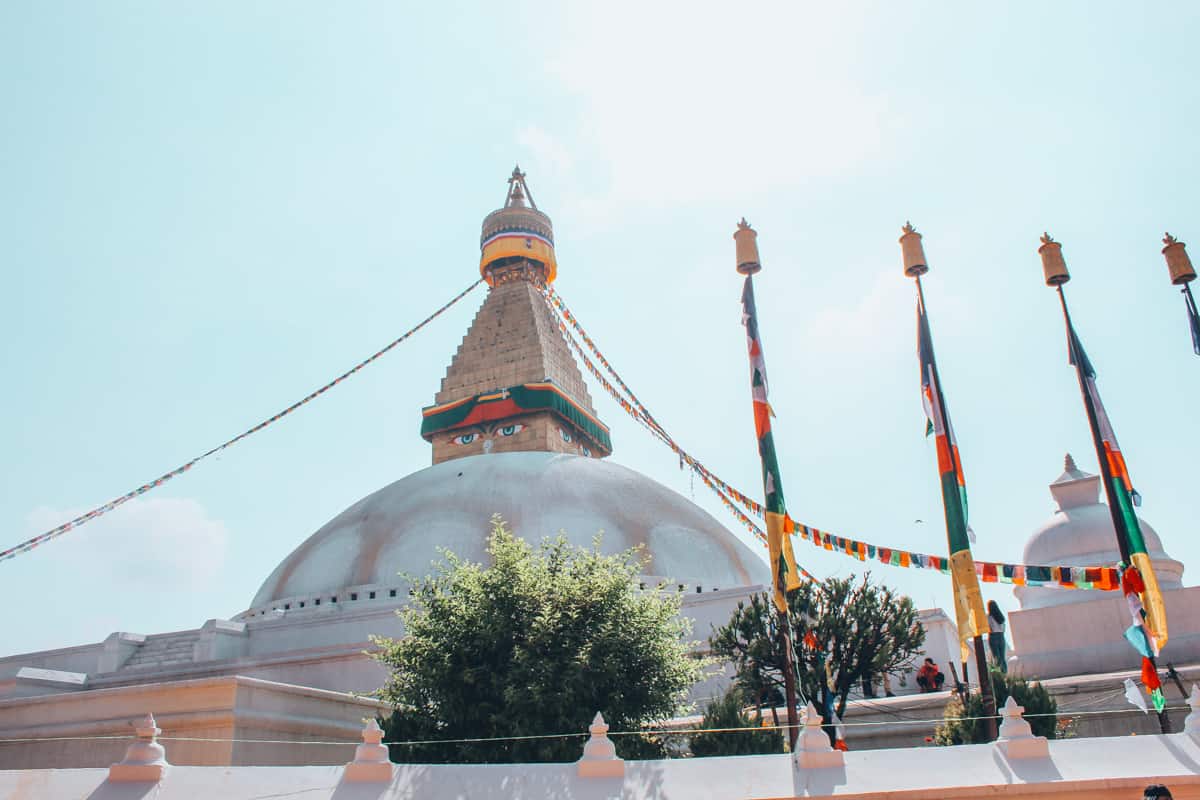 ---
Use a Water Filter in Nepal
I would suggest not drinking the water in Nepal as a good rule of thumb. The overall water quality isn't that great. If you're not prepared ahead of time, it's going to be really easy to contribute to the problem of single-use plastic by buying plastic water bottles.
Health and safety come first and so buy them if needed but it can be avoided by packing a reusable water bottle and portable water filter or you now buy a 2-in-1 water and filter combination. Additionally, water purification tablets work too!
---
What You Need to Know About the Bathrooms
Traveling in Asia will change your whole bathroom experience in life. Better just get over it now. It's not that bad – it's just different. Squat toilets are absolutely common in Nepal. There is a reason why squatting is common – it's much more natural for us humans. Why do you think they sell a thing on Amazon now called a Squatty Potty. Yes, I'm serious.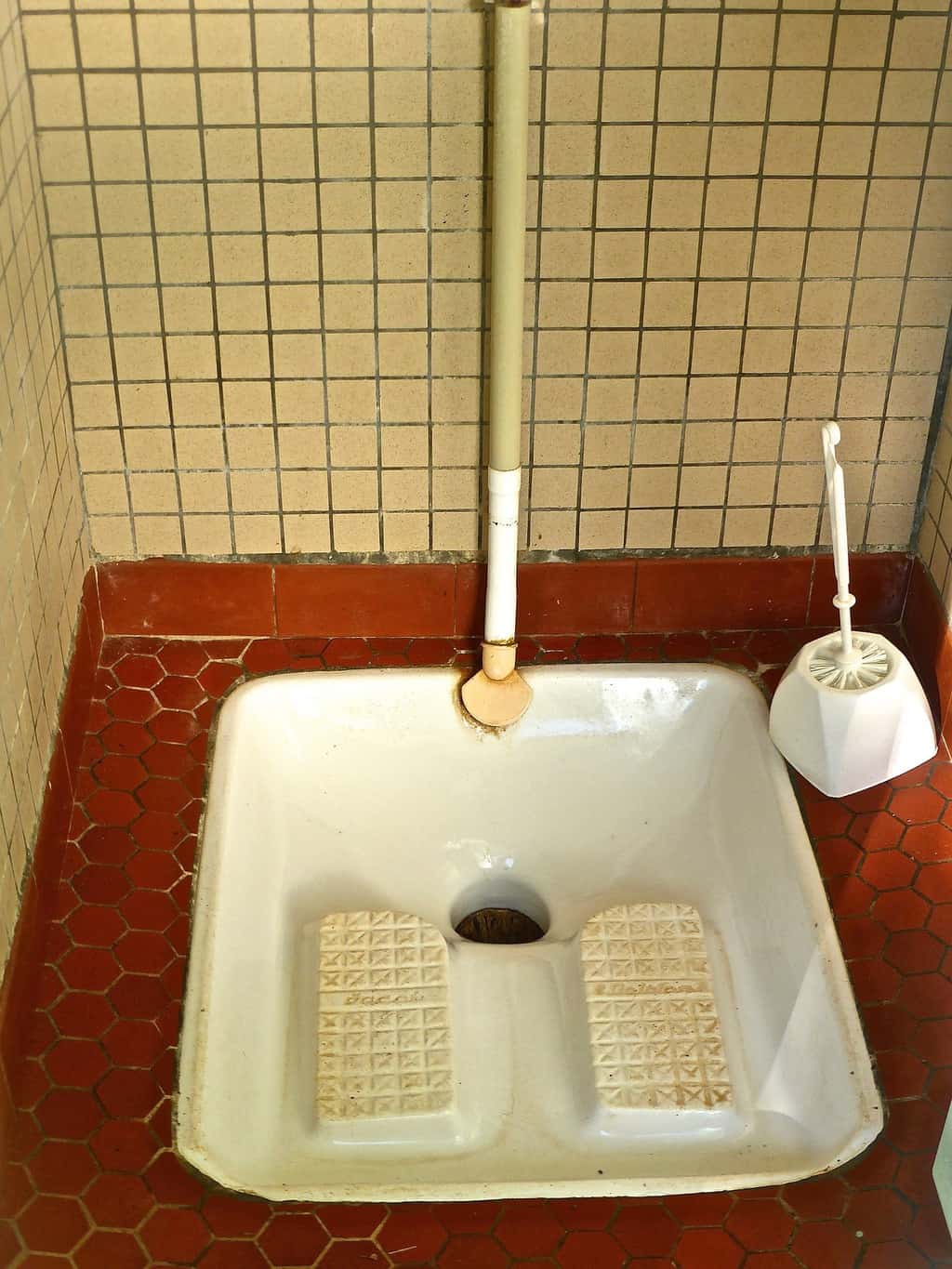 And, yes, you're literally just squatting over a hole in the ground. Here are some tips:
Squat as deep as possible – less chance of sprayage (is that a word?).
Wear a maxi skirt or dress. Not only are they comfortable, modest, and breathe better in the heat, but they make this whole situation much easier.
Have toilet paper in your backpack. Many spots won't have any or you'll have to buy some.
Pack hand sanitizer. I'm not really a fan of it as I think it does more harm than good but in cases where you may not be able to wash your hands at all, I'd suggest it.
All this being said – there were many places that had western style toilets complete with toilet paper and all.
Still, preparedness is best.
---
Travel Insurance in Nepal – Do You Really Need It?
So, real talk? I've always suggested travel insurance but didn't have it myself. I finally got my first policy earlier this year and the peace of mind really is wonderful.
It honestly is not expensive guys – and that's coming from someone who is really cheap. Travel insurance in Nepal is a no brainer especially if you're trekking, really doing anything outdoors, or traveling outside the major city of Kathmandu. If you're headed to trek to the Everest Base Camp, travel insurance is a must.
So, yes, please get travel insurance in Nepal. You can check out rates quickly and commitment-free here.
Make sure to secure your policy before leaving for Nepal. Many policies require you purchase in your home country.
---
Staying Connected in Nepal
My biggest struggle in Nepal wasn't trying to find vegan food in Nepal or trying to find rhinos in Chitwan National Park. No – my biggest struggle in Nepal was trying to stay connected. How 2019 of me.
Don't Forget Your Plug Adapter for Nepal
I have a universal plug adapter but I am so happy I thought to look up what Nepal's plugs are before leaving because I would have been a very unhappy and disconnected camper.
A universal plug adapter likely will not work. You need a Type D adapter (which also works in India and Pakistan). This 3-pack is only $10.
There were a few occasions where the universal one would have worked but overall, the Type D is necessary.
Make Sure Your Phone is Unlocked and Get a SIM Card in Nepal
Through my own carrier, I found out that there is some sort of law or rule that you can't have outside service. Therefore, I was only able to get the text (at like 50 cents a piece) and the low-low data which was basically nothing.
In order to get service (without using WiFi), you must be able to use a Nepalese sim card. In the US, this can only be done if your phone is unlocked (usually this means you don't owe anything on it and therefore your service provider is willing to unlock it for you). There are ways around this but I've not used them and can't speak to it.
Once your phone is unlocked, you're free to grab a sim card from NCell in Nepal. This is really valuable when the WiFi doesn't work (often) or there is no WiFi (also often).
My phone is not unlocked and therefore I did not have access to a local SIM card. While I obviously survived and it really wasn't the end of the world, life could have been slightly easier with one.
WiFi in Nepal
Speaking of WiFi. It's kind of hard to describe as I don't feel like there is a general rule of thumb here. Most hotels and resorts should have WiFi but it's not always working, not very fast and so on. I found I could hardly get any work done on this trip.
For example, the resort I stayed at in Chitwan National Park only had WiFi at the main building and it hardly worked.
The WiFi at the airport, however, was probably the best of my entire trip. That came in handy during my three-hour delay.
---
I hope that these Nepal travel tips helped ease your mind rather than make you worry more. Nepal quickly – very quickly – jumped to one of my favorite places I've ever been and I'm already itching to return.
↓↓↓ PIN FOR LATER ↓↓↓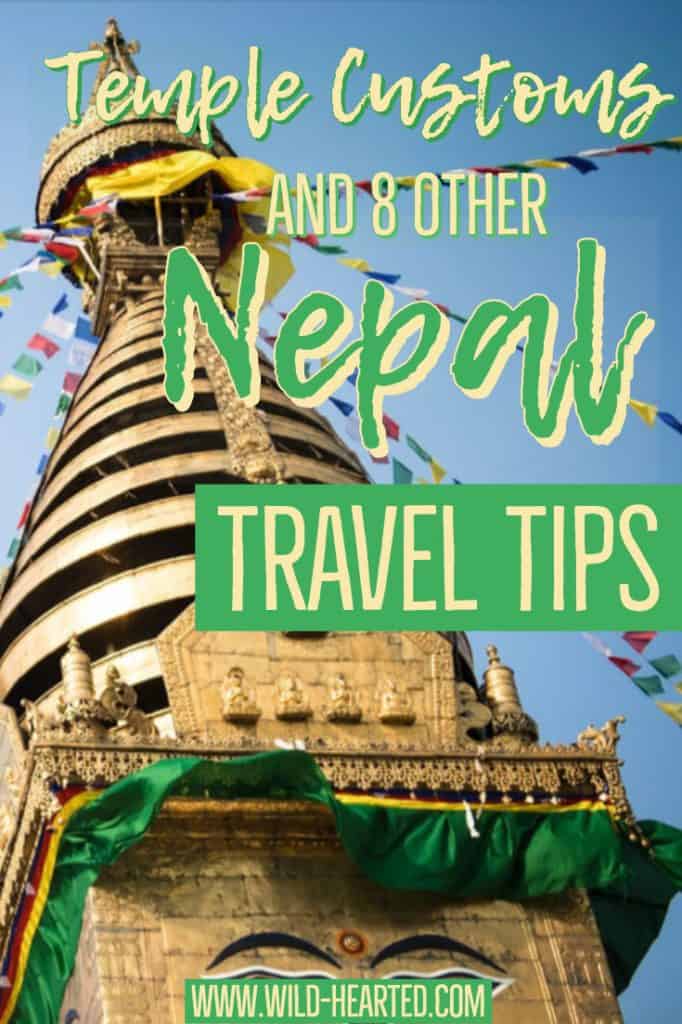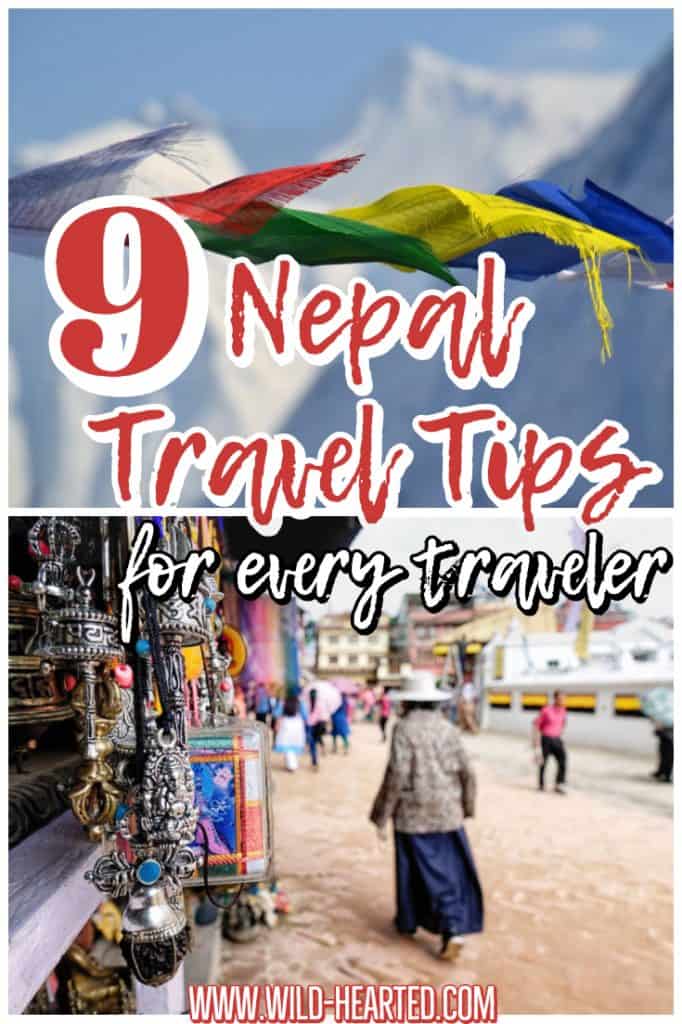 ***This trip was possible in collaboration with the Himalayan Travel Mart, Impact Travel Alliance, and the Nepal Tourism Board. All of my flights, accommodation, activities, and food were covered by HTM and Nepal Tourism Board. Despite who may have footed the bill, all the opinions here are my own and I would never recommend something I didn't fully believe in and try myself.***
Latest posts by Ashley Hubbard
(see all)