This post may contain affiliate links, meaning if you book or buy something through one of these links, I may earn a small commission (at no extra cost to you!). Please see my disclosure.
Beyond its stunning beaches and sunny skies, San Diego has another compelling claim to fame: its burgeoning vegan food scene. With this list of vegan restaurants in San Diego, we invite you to embrace the endless possibilities of vegan dining.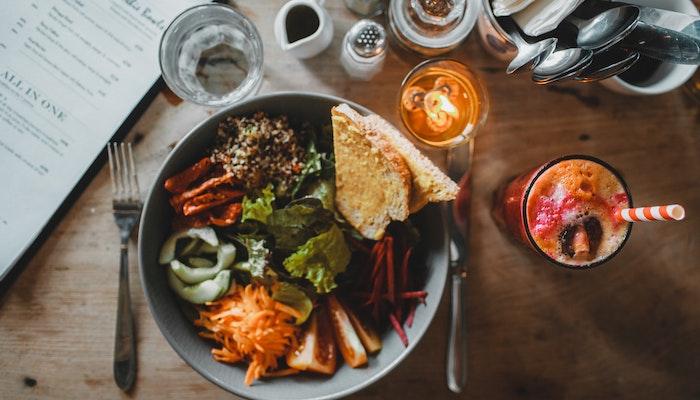 This vibrant city is a smorgasbord of plant-based culinary delights that could effortlessly give traditional fare serious competition.
16 Vegan Restaurants In San Diego
San Diego, a gem for vegan cuisine, offers a collection of eateries that spotlight vegan dining. Each restaurant on our list is a testament to the endless creativity, flavor, and innovation that plant-based cuisine can offer.
1. Peace Pies: Your Raw Food Retreat
Peace Pies is a gem for raw food and vegan cuisine. They specialize in creating dishes that are gluten-free, dairy-free, and processed sugar-free.
Their Mystic Mushroom Quesadilla is a hit among patrons, made with dehydrated mushrooms, walnuts, and pumpkin seed cheese. Their Volcano Salad, bursting with flavor from the sweet ginger lime dressing, is a refreshing palate cleanser.
2. Donna Jean: Vegan Comfort Food Redefined
Donna Jean is renowned for its home-style vegan cuisine. Their Mac and Cheese is legendary among vegans and non-vegans alike. Prepared with cashew cream and a blend of seasonings, it's a bowl of creamy, cheesy goodness without any dairy products.
Remember to try their house-made sourdough pizza, topped with a variety of fresh, organic toppings.
3. Kindred: The Symmetry of Metal and Veganism
Kindred stands out with its unique blend of heavy metal aesthetics and vegan food. Their Seitan Skewers are marinated to perfection and charred for a smoky flavor. The Deathgrip cocktail, a mix of gin, absinthe, and lemon, is a fitting companion to their bold dishes.
Their menu also includes gluten-free options, catering to a wider range of dietary preferences.
4. Plumeria: Authentic Thai, Vegan Style
At Plumeria, you get a taste of Thai cuisine with a vegan twist. Their vegan Pad Thai is a delightful concoction of rice noodles, tofu, bean sprouts, and crushed peanuts.
The Pumpkin Curry, made with bell peppers, basil, and coconut milk, is a heartwarming dish that beautifully captures the essence of Thai flavors.
5. Anthem Vegan: Fast Food, the Healthy Way
Anthem Vegan proves that fast food can be healthy, flavorful, and plant-based. Their loaded nachos, topped with vegan cheese, black beans, salsa, and guacamole, are a feast for the senses.
Their Philly Cheeze Steak, a vegan version of the classic sandwich, features marinated seitan, grilled peppers, and onions on a fresh roll, exemplifying the restaurant's commitment to delivering healthier alternatives to traditional fast food.
6. Mothership: A Brunch Affair to Remember
Mothership offers a delightful brunch menu, all vegan and all delicious. Their Vegan Chicken and Waffles, made with soy chicken and served with vegan butter and maple syrup, are a favorite among patrons.
The Tofu Scramble served with toast and breakfast potatoes, is a protein-packed start to your day.
7. The Plot: Crafting a Sustainable Vegan Tale
The Plot offers an immersive experience in sustainable vegan dining. Their Biscuits & Gravy is a popular choice. The biscuits are perfectly flaky, and the mushroom gravy brings a deep, umami flavor.
Also, their UnLox Your Dreams bagel, topped with vegan cream cheese, capers, and dill, is a fresh take on a breakfast classic.
8. Maya's Cookies: A Plant-Based Cookie Haven
At Maya's Cookies, each cookie is crafted with love and quality plant-based ingredients. Their Chocolate Chip cookie is the perfect balance of crunchy and chewy, packed with decadent chocolate chips.
Take advantage of the Marble Fudge, a rich blend of vanilla and chocolate dough and a customer favorite.
9. Grains: Wok-Fired Vegan Delights
Grains has mastered the art of crafting flavorful vegan stir-fry dishes. Their Vegan Pho, prepared with fresh vegetables and herbs, is a comforting bowl of warmth.
The Sweet and Sour Soy Chicken served with bell peppers, pineapples, and onions, is a delightful blend of sweet and tangy flavors.
10. The Yasai: Sushi Reimagined
The Yasai pushes the boundaries of vegan cuisine with their plant-based sushi. The Green Machine Roll, filled with avocado, cucumber, and asparagus, and topped with tempura-battered green onions, is a refreshing delight.
The Spicy "Tuna" Roll, made with spicy jackfruit instead of tuna, is a testament to their culinary innovation.
11. Split Bakehouse: All Things Baked, All Vegan
Split Bakehouse offers a variety of vegan baked goods. Their Chocolate Croissants are made with rich, vegan dark chocolate enveloped in a flaky, butter-free pastry.
Their Bagel Sandwiches served with a choice of tofu spread or vegan cream cheese, are a satisfying on-the-go meal.
12. Cafe Gratitude: Nourishment for Body and Spirit
At Cafe Gratitude, the dishes not only nourish your body but also uplift your spirit. Each dish comes with a positive affirmation.
The "I Am Whole" macrobiotic bowl, filled with braised garnet yams, adzuki beans, sea vegetables, and sauerkraut, makes you feel truly fulfilled, both physically and spiritually.
13. Veganic Thai Cafe: Compassionate Thai Cuisine
Veganic Thai Cafe offers a range of vegan Thai dishes. Their Tofu Satay, grilled to perfection and served with peanut sauce, is a delicious starter.
The Panang Curry, a blend of coconut milk, bell peppers, and basil, is a heartwarming treat that's best enjoyed with a serving of jasmine rice.
14. Trilogy Sanctuary: The Perfect Balance of Yoga and Vegan Fare
Trilogy Sanctuary offers a unique experience with its combination of yoga and vegan food. After a refreshing yoga session, indulge in their Tacos Trilogy, made with walnut meat, cashew cheese, and fresh salsa, all wrapped in a soft corn tortilla.
Their Acai Bowls, loaded with fresh fruits and superfoods, provide the perfect post-workout nourishment.
15. Evolution: Vegan Fast Food That Doesn't Compromise on Flavor
Evolution Fast Food revolutionizes the fast-food industry by offering vegan meals that are healthy and incredibly flavorful.
Try their Buffalo Cauliflower Tacos, where crispy battered cauliflower is slathered in tangy buffalo sauce, or their Mushroom Swiss Burger, where the mushroom patty is topped with vegan Swiss cheese, a true treat for the taste buds.
16. Tacotarian: The Vegan Taco Fiesta
Tacotarian promises a fiesta of flavors with its all-vegan taco menu. With its sweet and smoky filling, the BBQ Jackfruit Taco is a crowd favorite.
The "Fish" Taco, made with battered avocado and topped with slaw and chipotle cream, is a delicious recreation of the traditional fish taco.
Vegan Restaurants In San Diego FAQs
1. Are all these restaurants 100% vegan?
Yes, every restaurant listed here is entirely plant-based, making them a part of the vegan heaven in San Diego.
2. Do these restaurants offer diverse vegan cuisines?
Absolutely! You'll find a range of cuisines—from raw food to Thai, fast food to fine dining—all veganized!
3. Are these places budget-friendly?
While some of these spots may lean towards the higher end, there's something for every budget in San Diego's vegan dining scene.
4. Do they offer gluten-free dishes?
Many of these restaurants cater to gluten-free diets but always confirm with the individual restaurants for specifics.
5. Should I make reservations at these restaurants?
It's recommended to make reservations, especially for larger parties or during peak hours. However, always check with the specific restaurant for their reservation policy.
6. Are these restaurants disability-friendly?
Most restaurants are committed to providing an accessible dining experience. However, it's advisable to check with them directly for specific accessibility details.
Conclusion
San Diego's vegan haven is ready to welcome you. This vibrant vegan scene invites you to discover the endless creativity, diversity, and flavors that plant-based cuisine offers.
Are you planning a permanent move to San Diego to explore this vegan paradise? If so, let a professional San Diego movers make your transition effortless. Just as these restaurants are dedicated to exceptional vegan cuisine, these professionals are committed to providing you with a seamless moving experience.
Latest posts by Ashley Hubbard
(see all)