This post may contain affiliate links, meaning if you book or buy something through one of these links, I may earn a small commission (at no extra cost to you!). Please see my disclosure.
Looking for a great place to stay in Sarasota, Florida? I've found just the place.
Great location? ✔
Vegan options on site and nearby? ✔
Eco-friendly? ✔
Adorable and luxury charm? ✔
My family and I stayed at Hotel Indigo Sarasota a couple weeks ago for three nights. Three nights was definitely not enough and we loved every minute of it. Find out why I personally think Hotel Indigo is an excellent choice for any type of trip to Sarasota.
---
The Hotel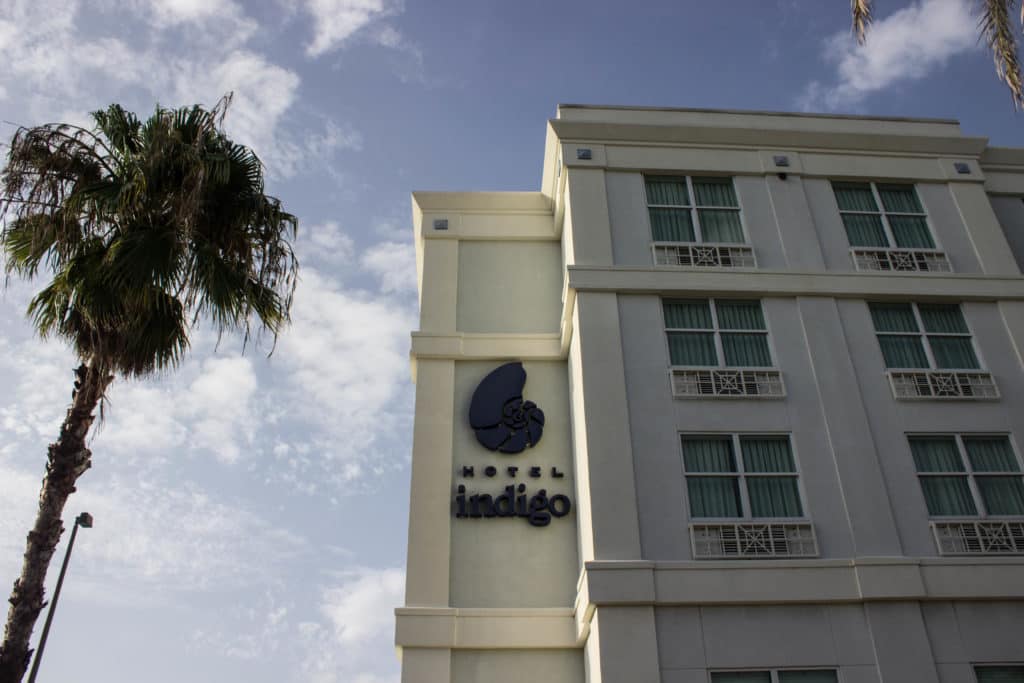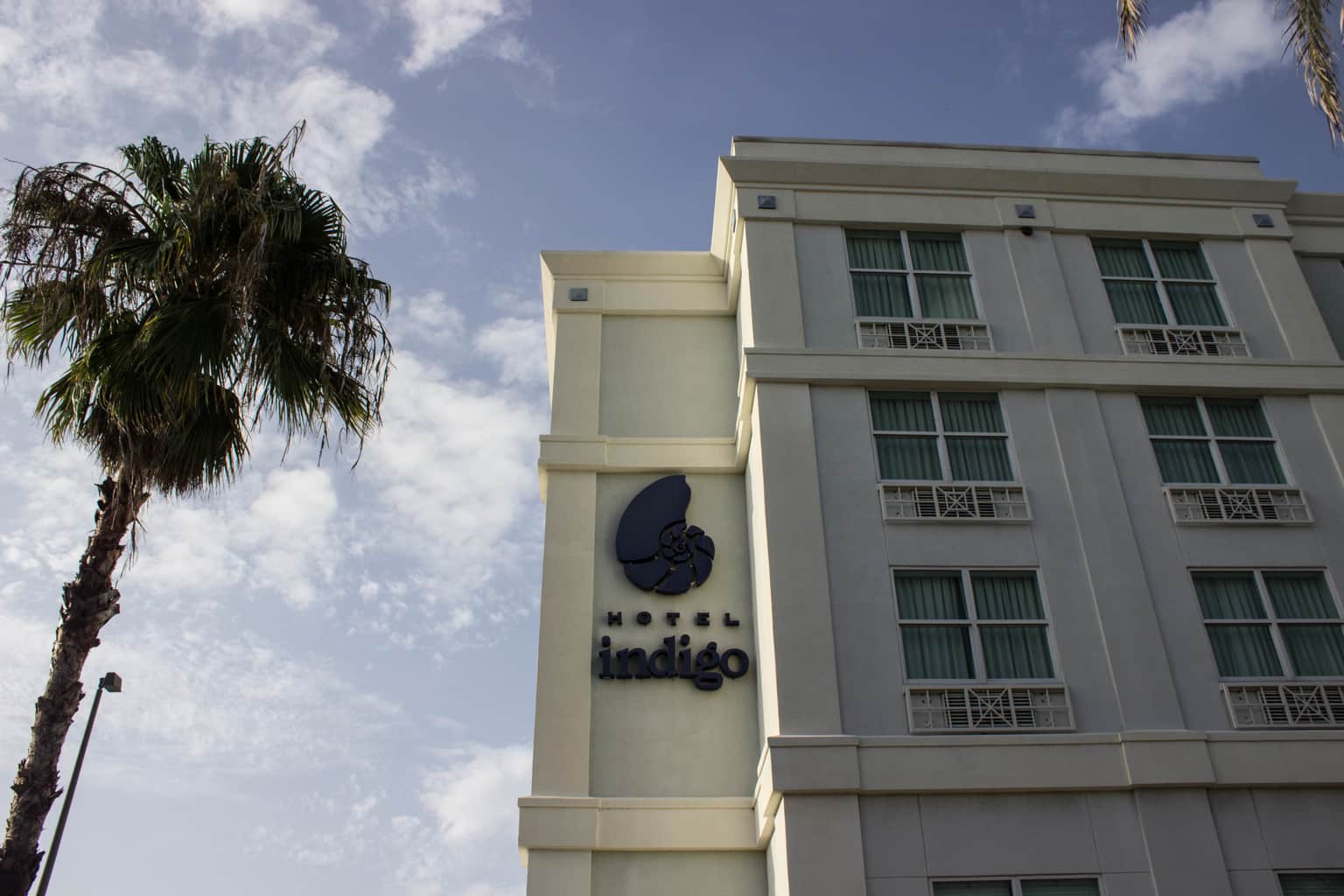 Welcome to Hotel Indigo in beautiful Sarasota, Florida! This trip to Sarasota was very last minute and very quick. As soon as I knew it was happening, I went into my super-duper planning mode and started looking for just the right hotel first. Okay, maybe I started looking for food first. Don't judge. (Which, by the way, I did find plenty of food). Next, came the hotel though, I swear. I feel confident that I couldn't have been happier with any other choice than Hotel Indigo. Not only did it have the necessities – a comfortable bed, wi-fi, great location, and friendly staff but it also had some great surprises that I wasn't expecting.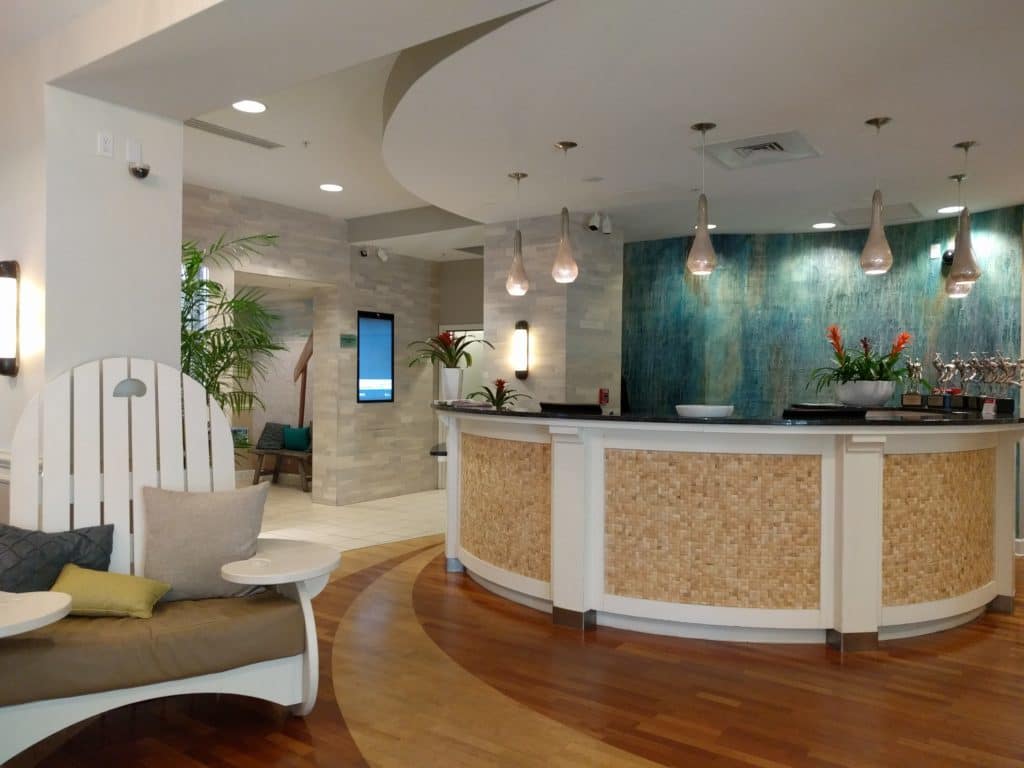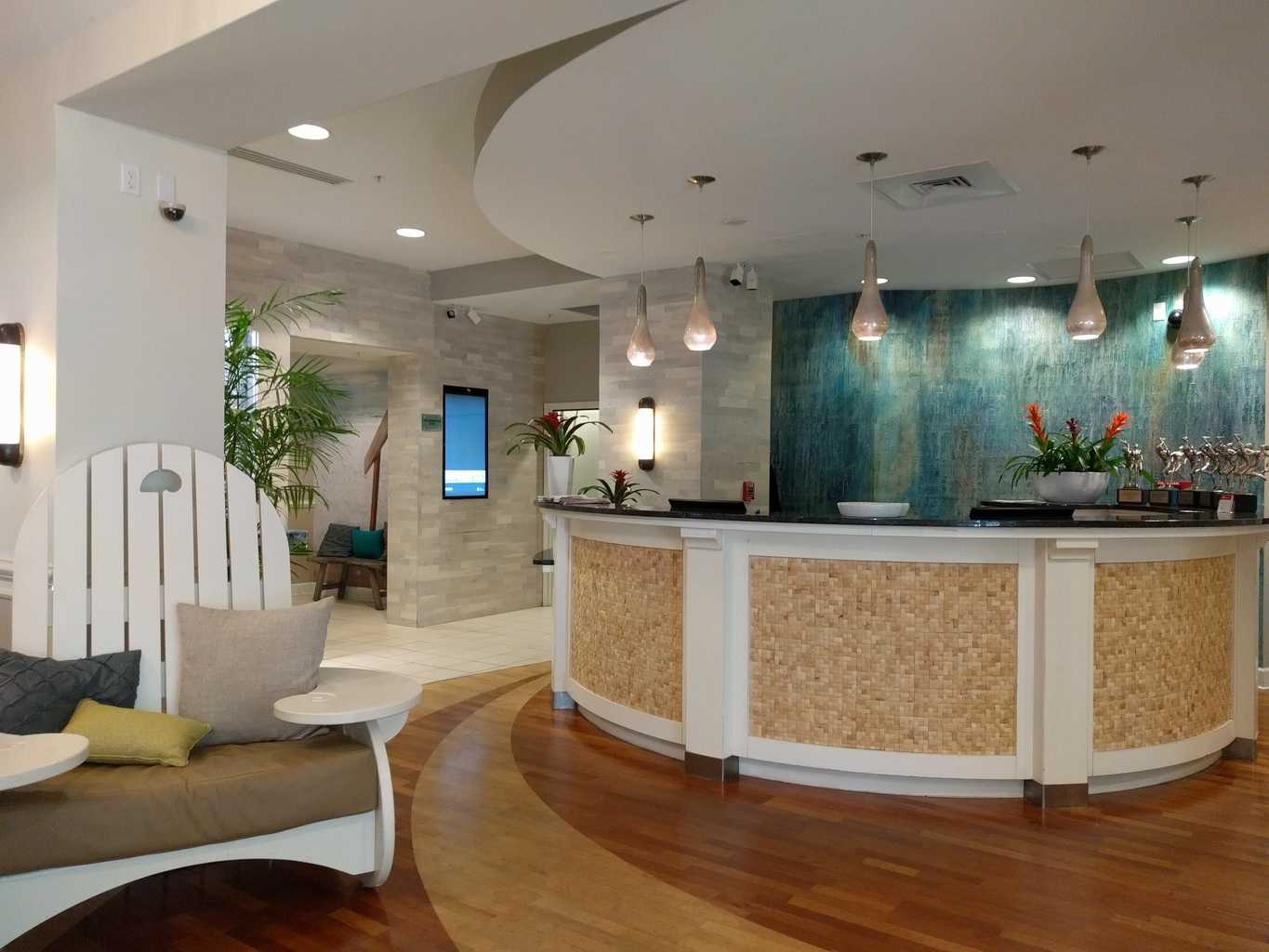 When we first got there, I headed to the front desk and was greeted by very friendly and helpful staff. The check-in process was beyond smooth and efficient – there's nothing I hate more (okay, maybe that's a bit extreme) than a check-in that takes twenty minutes.
From the front desk, you can see the dining area and bar – a lovely mixture of modern and ocean themed decor awaits you. They serve breakfast, lunch, and dinner at the H2o restaurant and bar and even have musicians playing live music some evenings.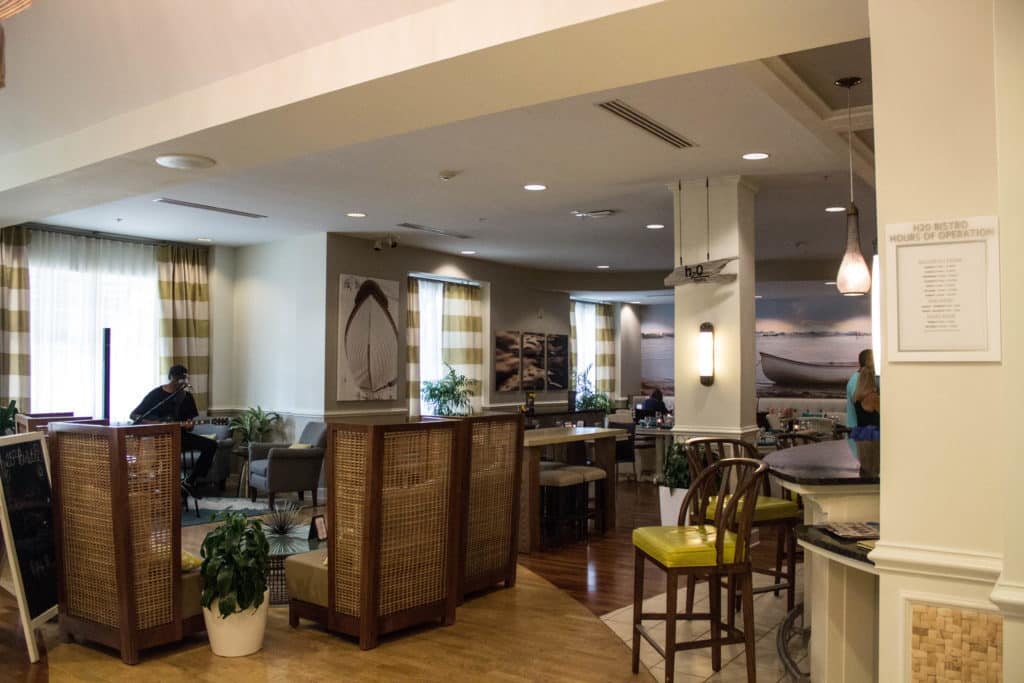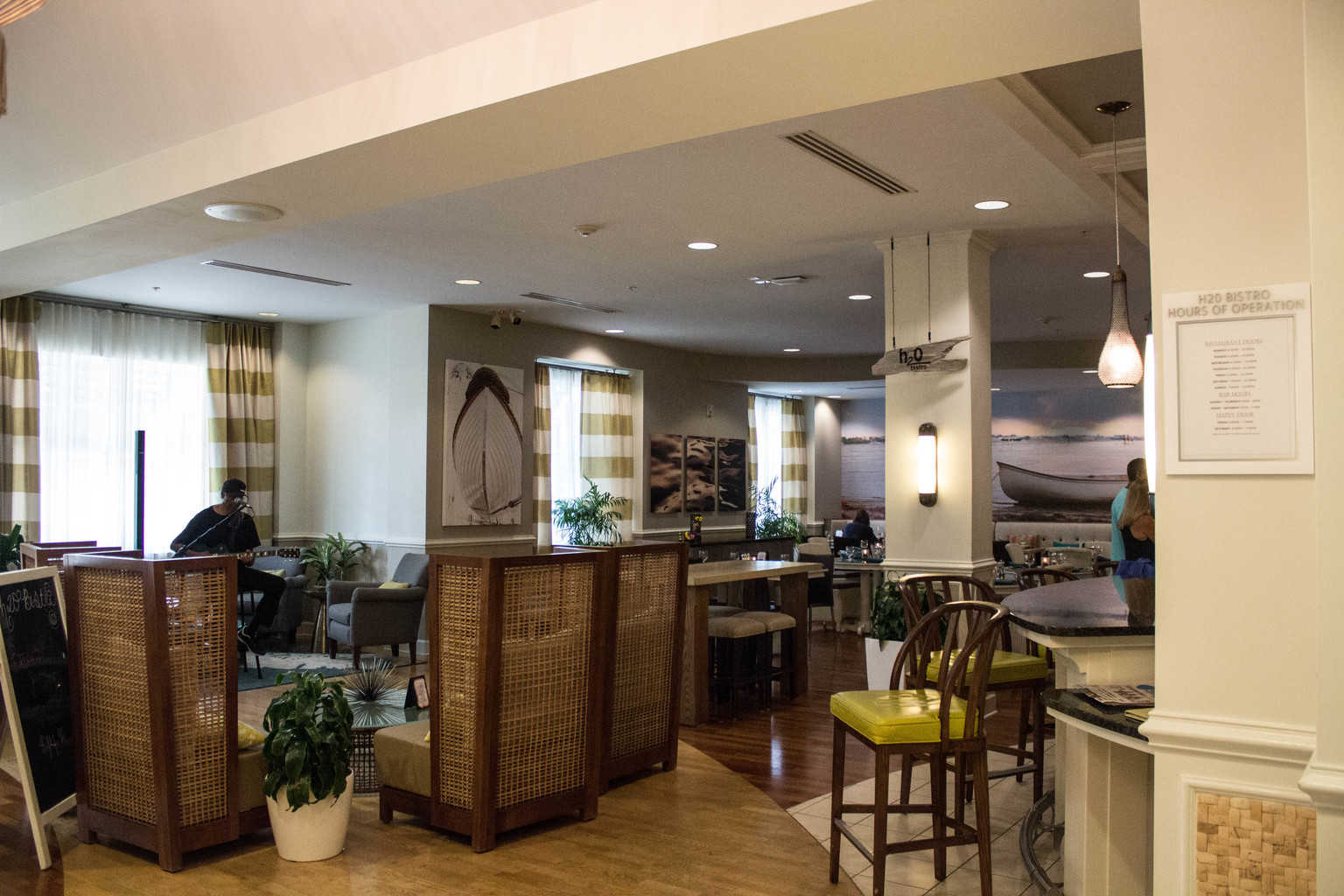 After that, we parked the car in the garage and headed to the 4th floor which also happened to be the top floor.
The Room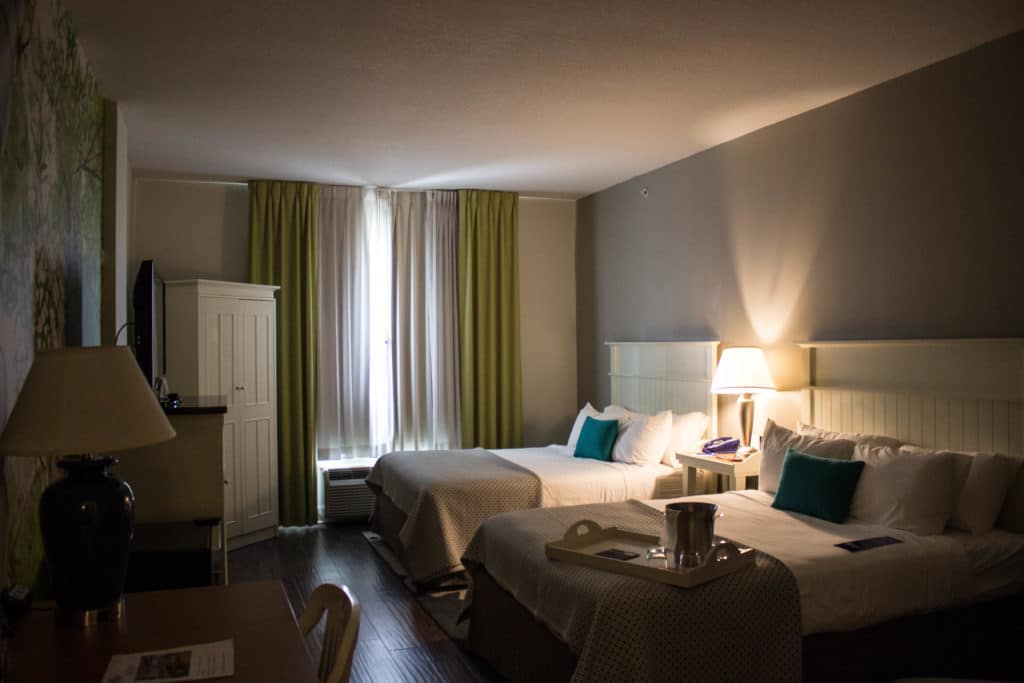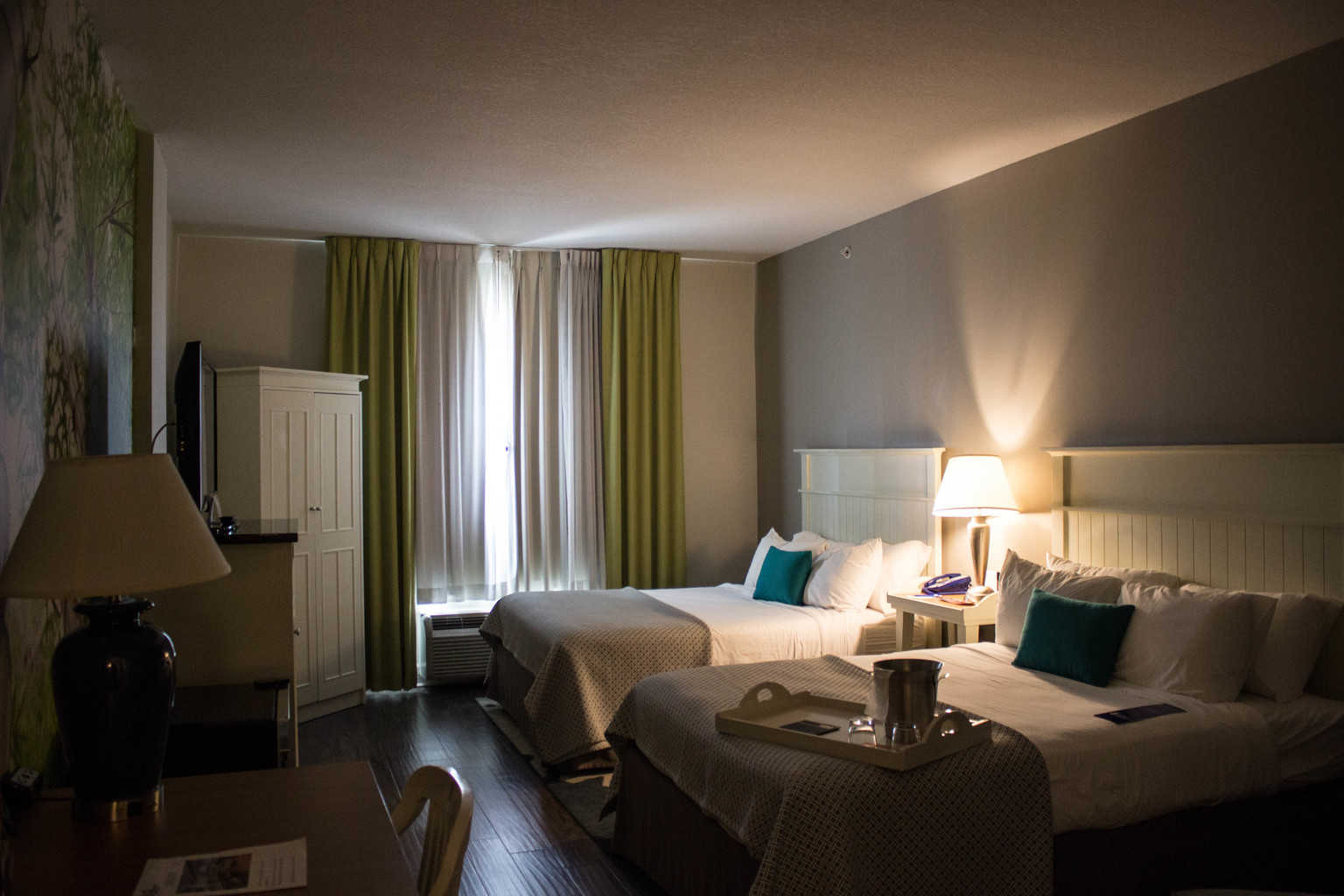 All of the rooms had beautiful turquoise colored doors – one of my favorite colors! When I first walked in the room, I realized just how charming this place was – a table with a refillable water pitcher, local coffee, two extremely comfortable beds, mini-fridge, a place to hang dry your bathing suits, a wardrobe with robes and slippers and a HUGE walk-in shower.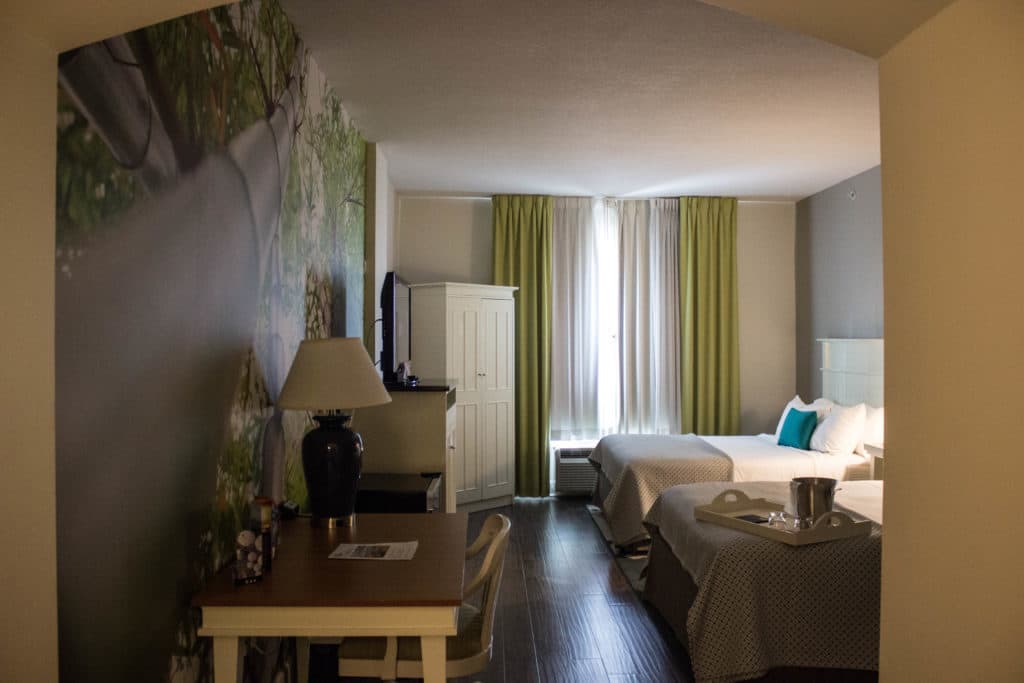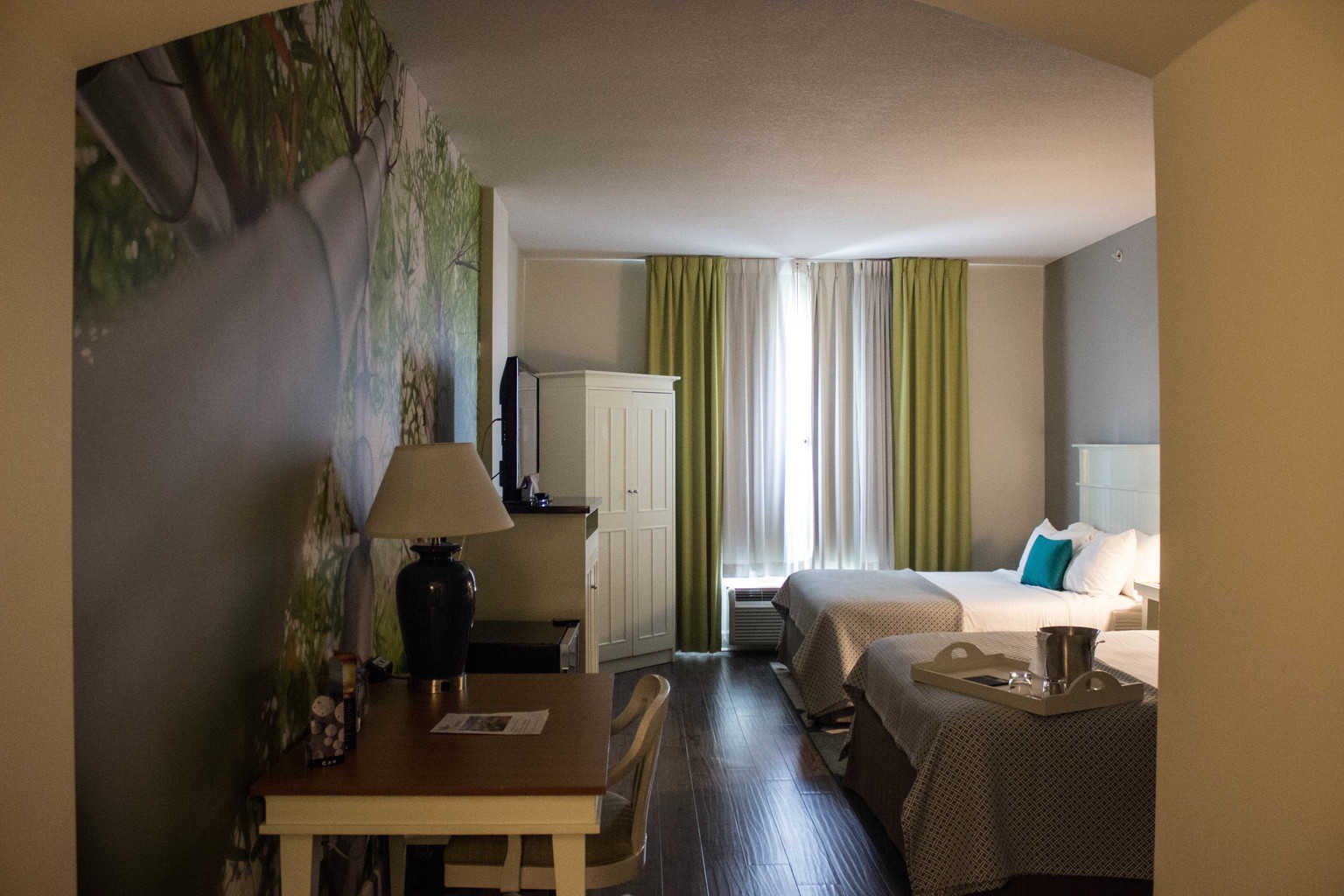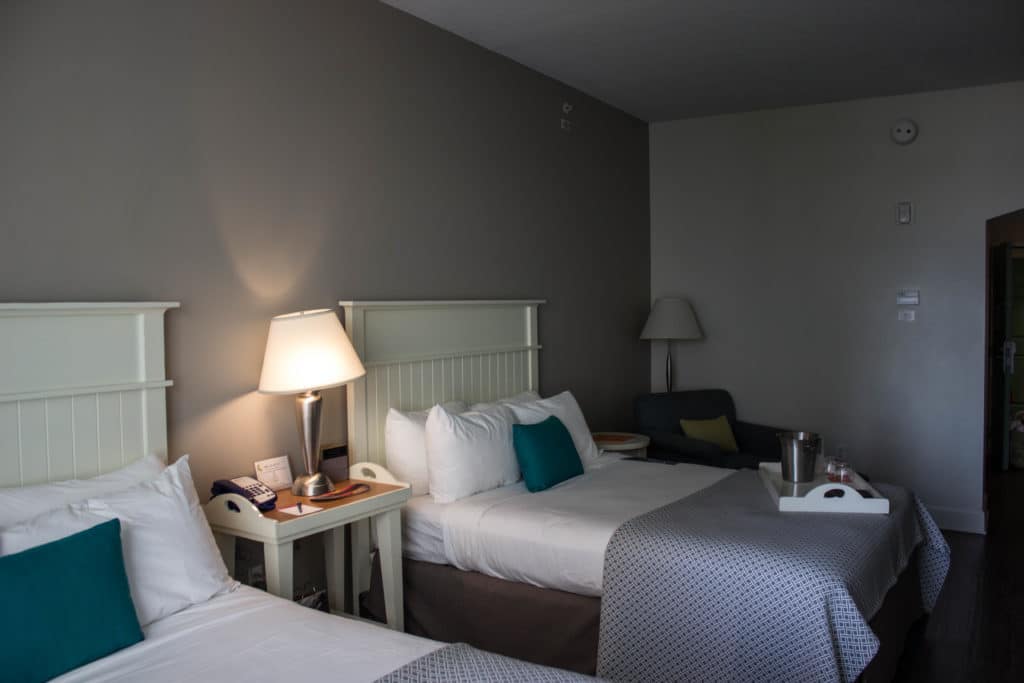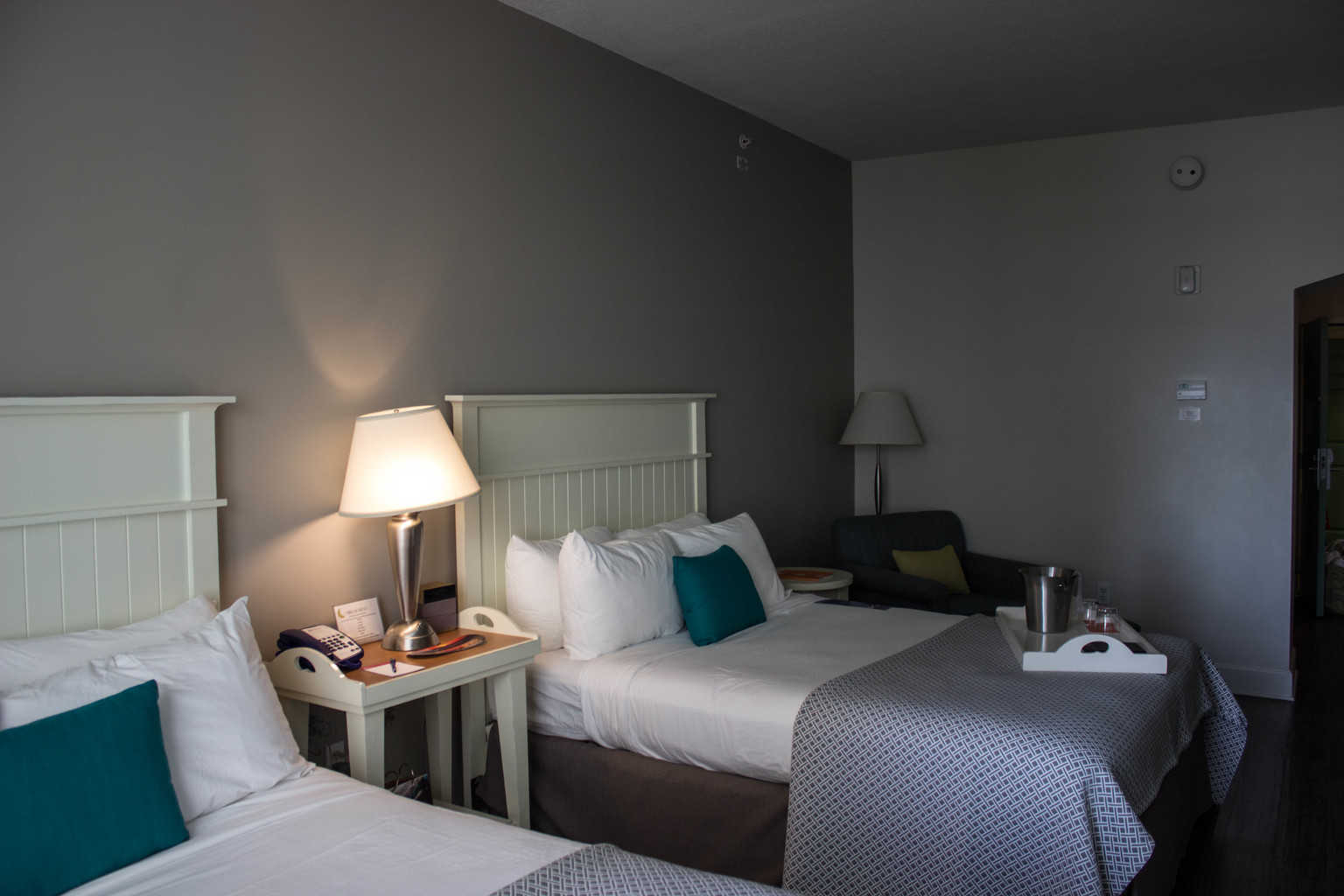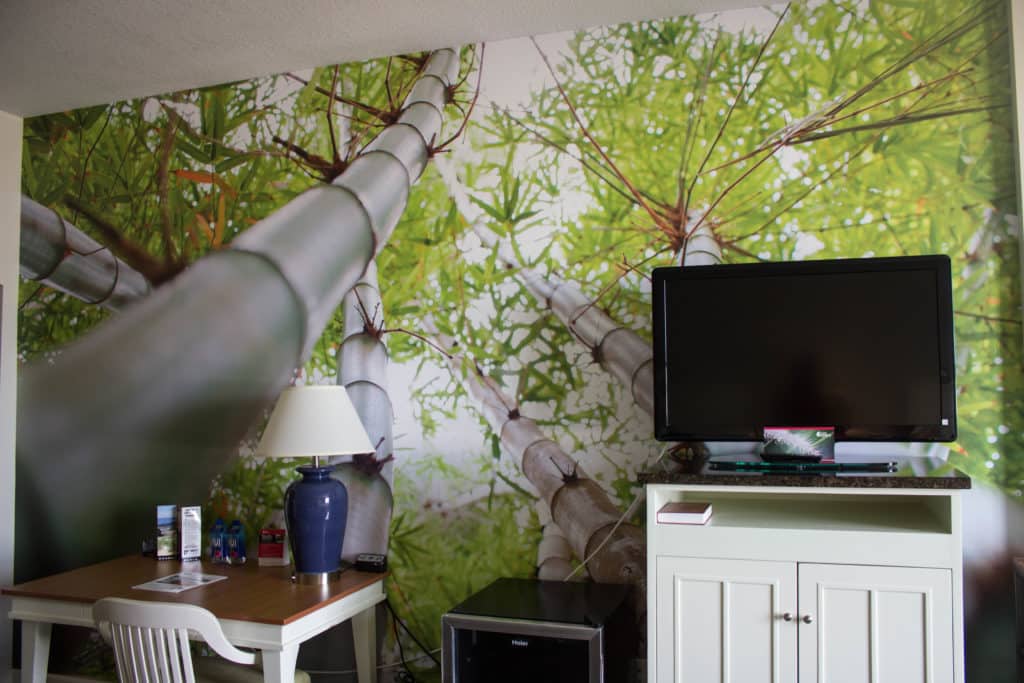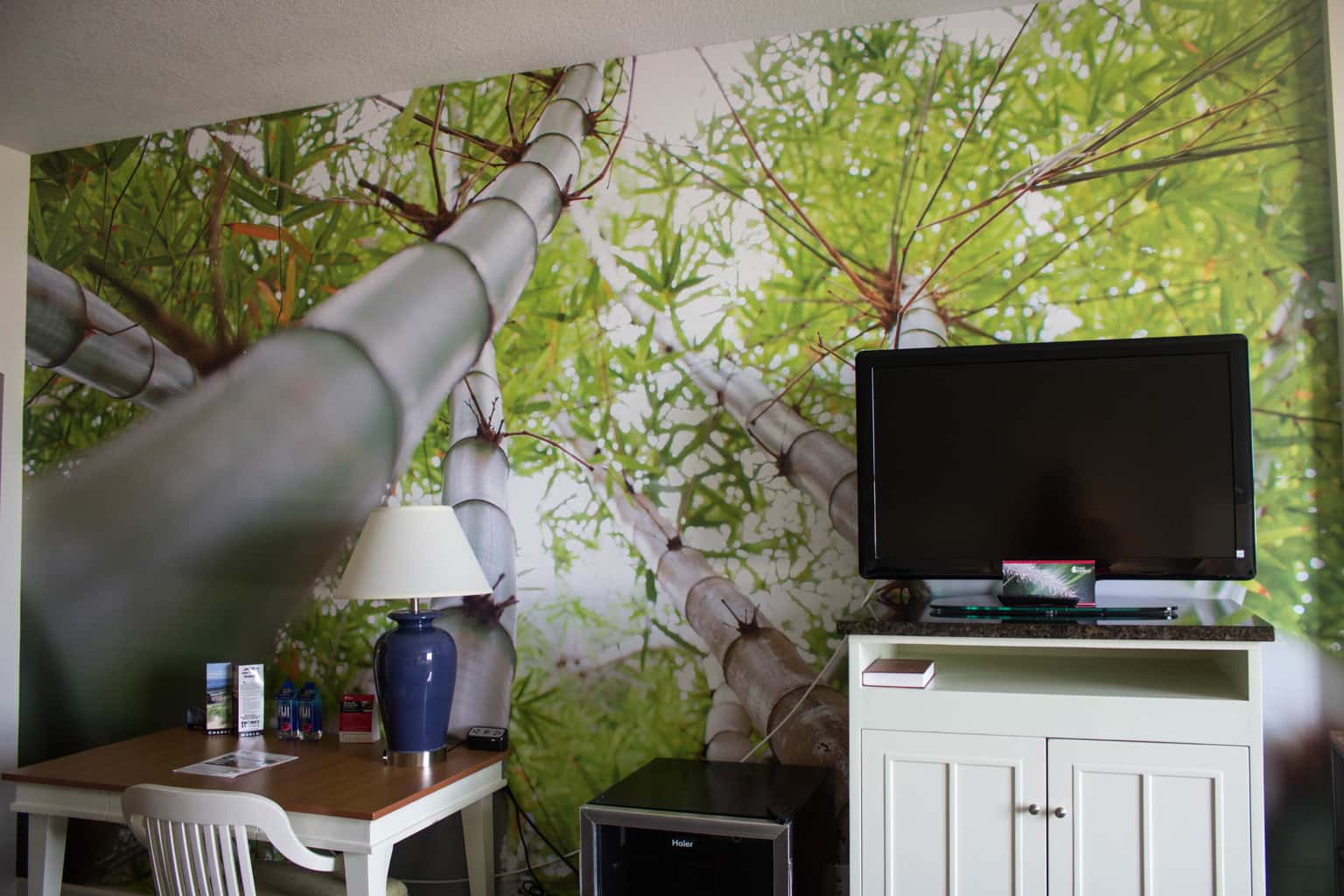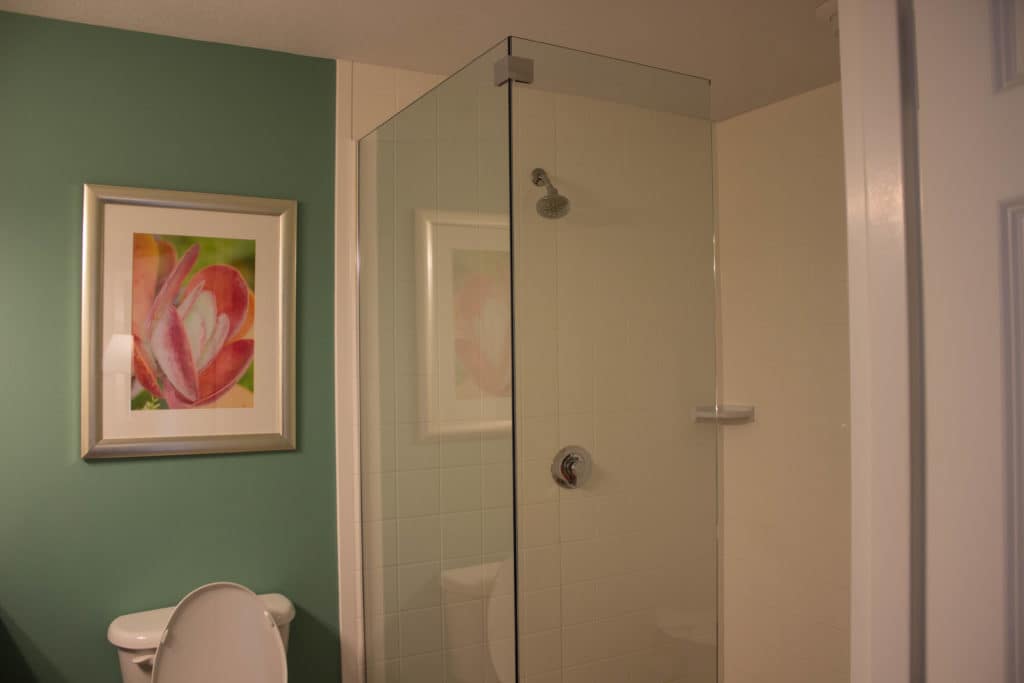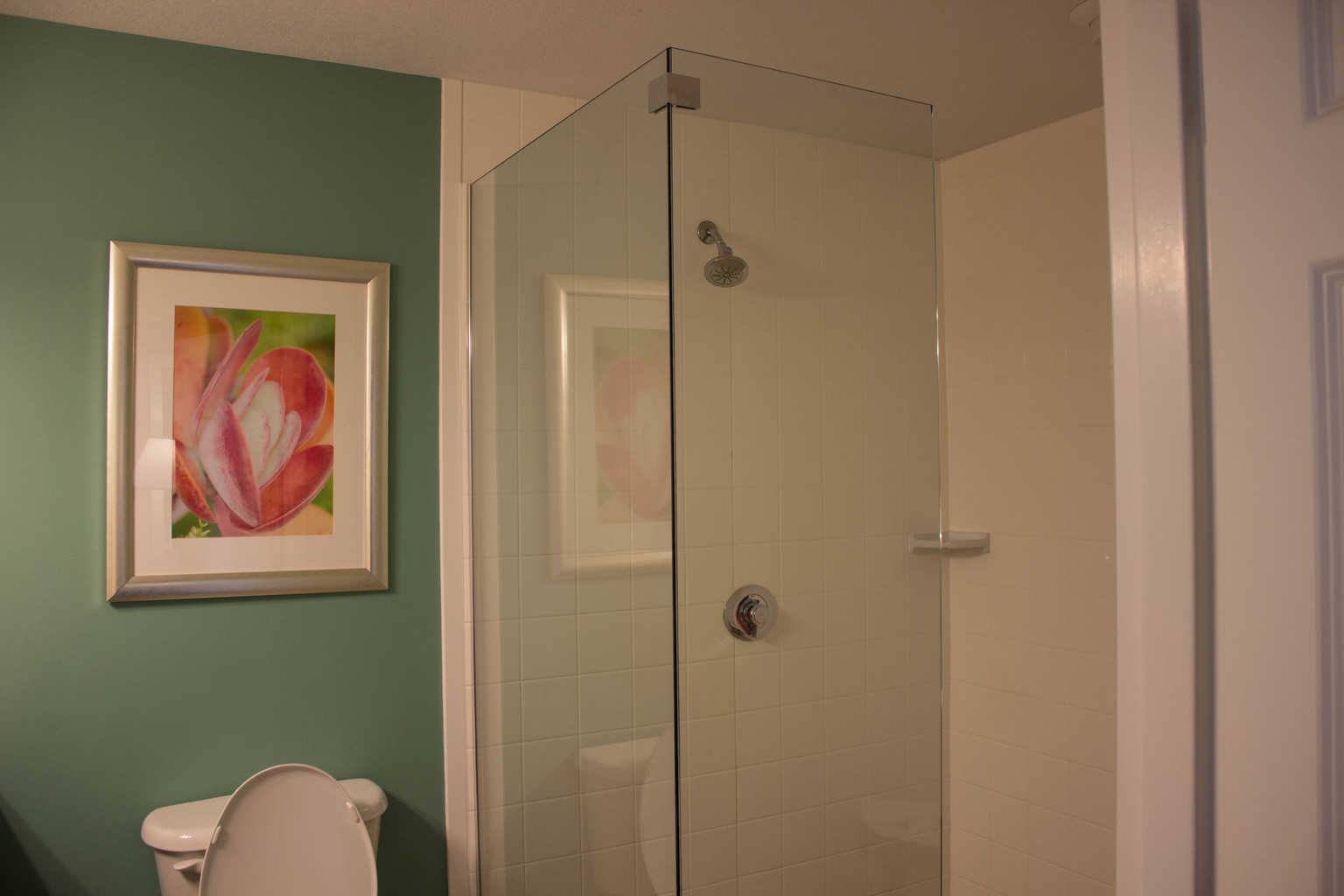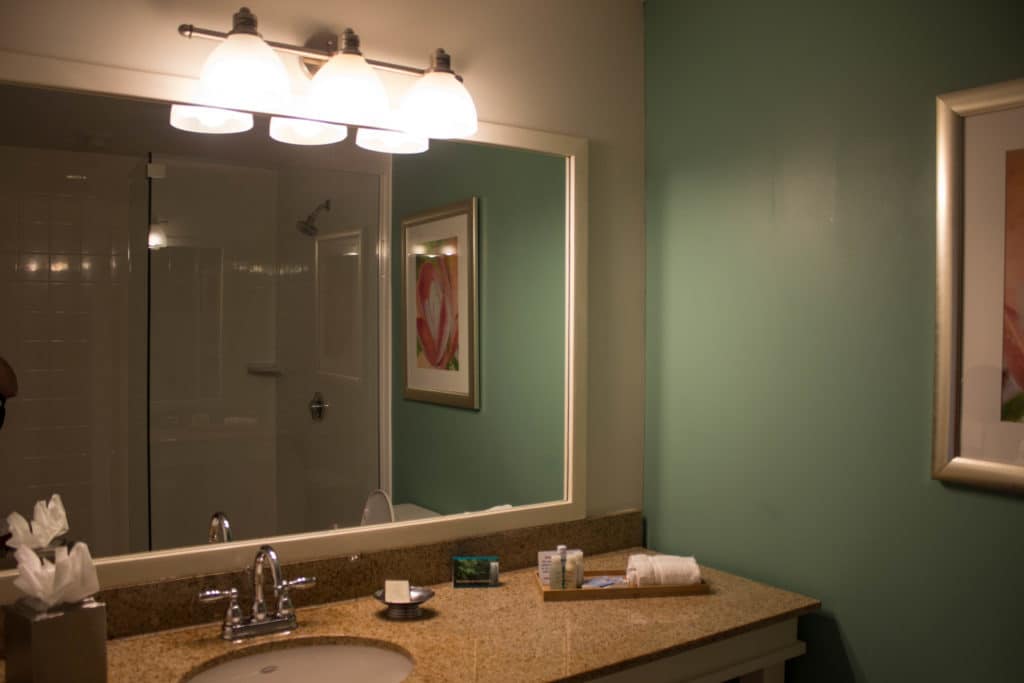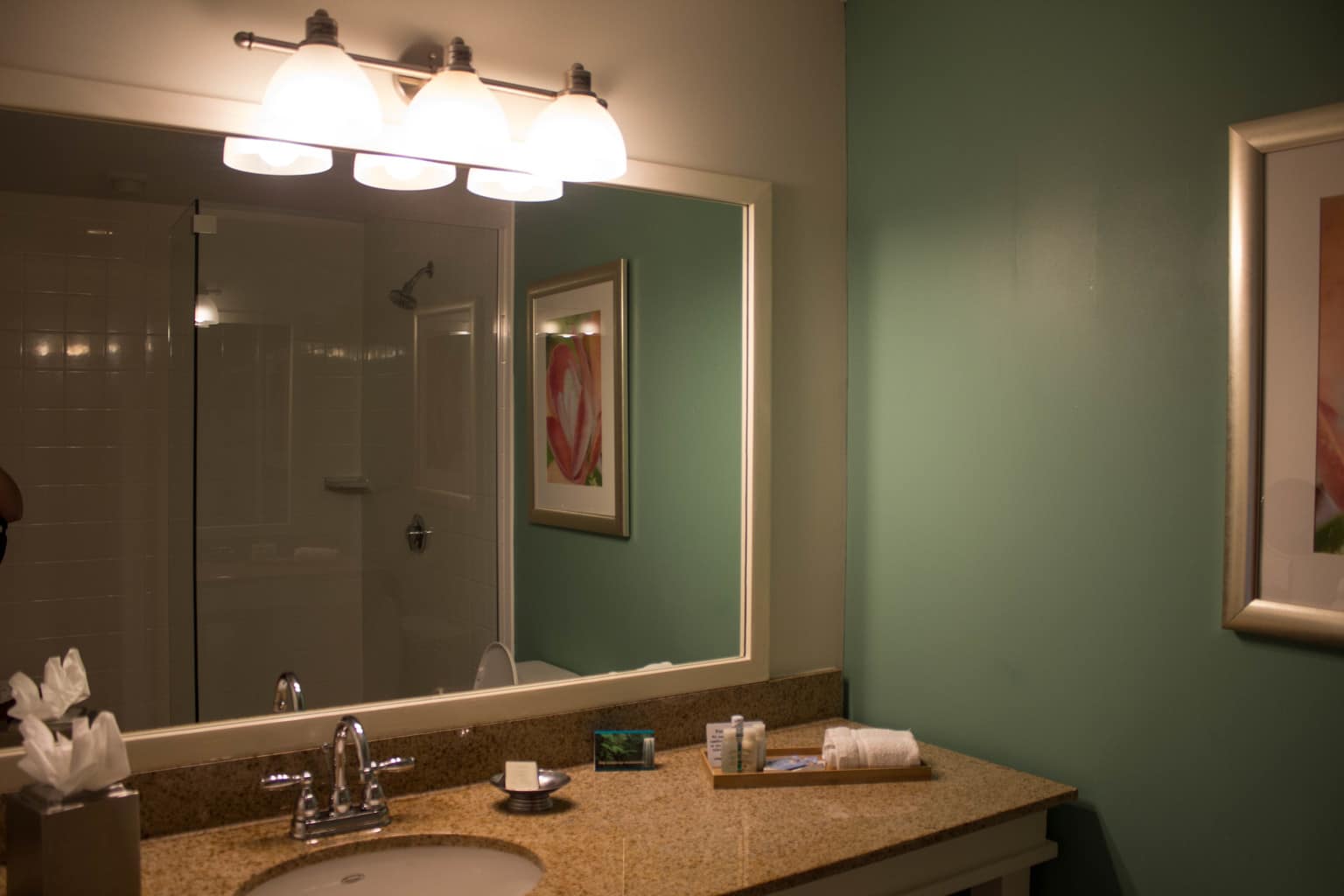 Now, for the charming part – HAIKUS! I love haikus and they are everywhere.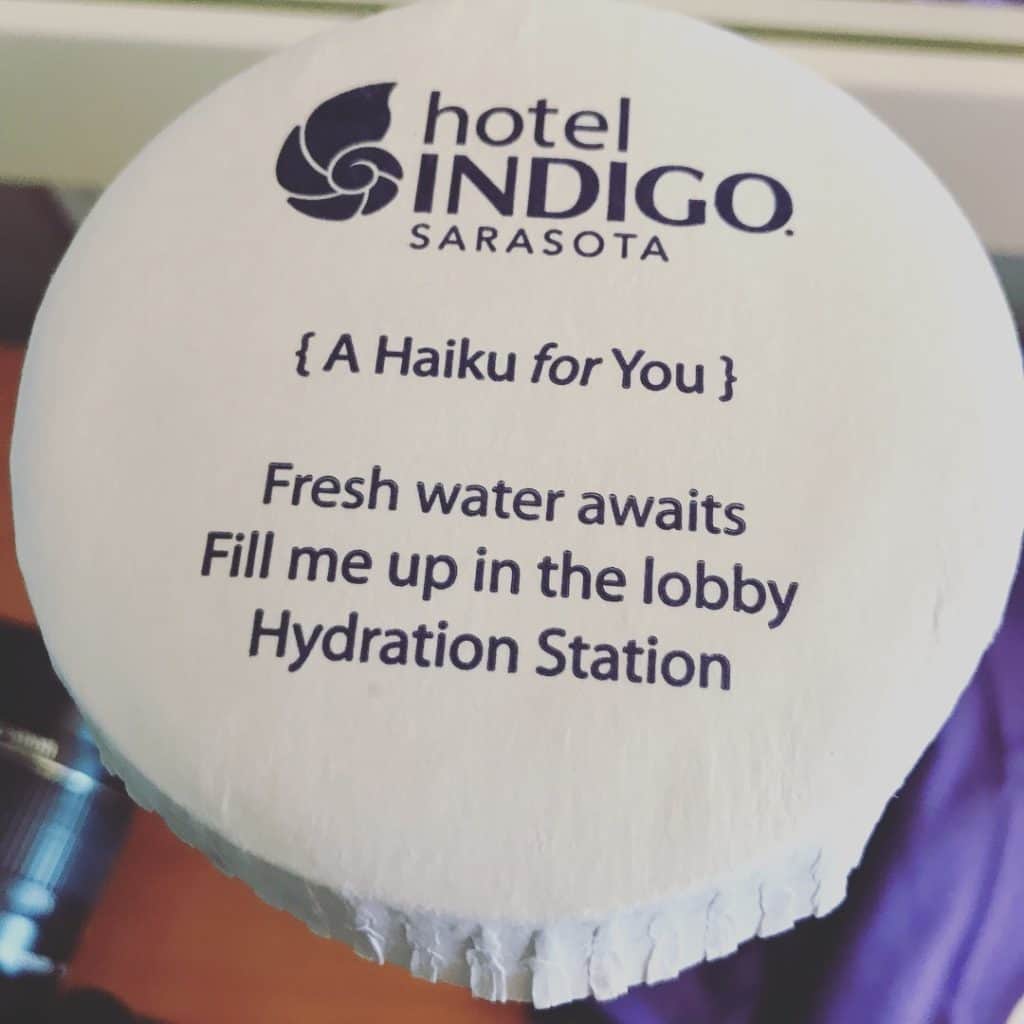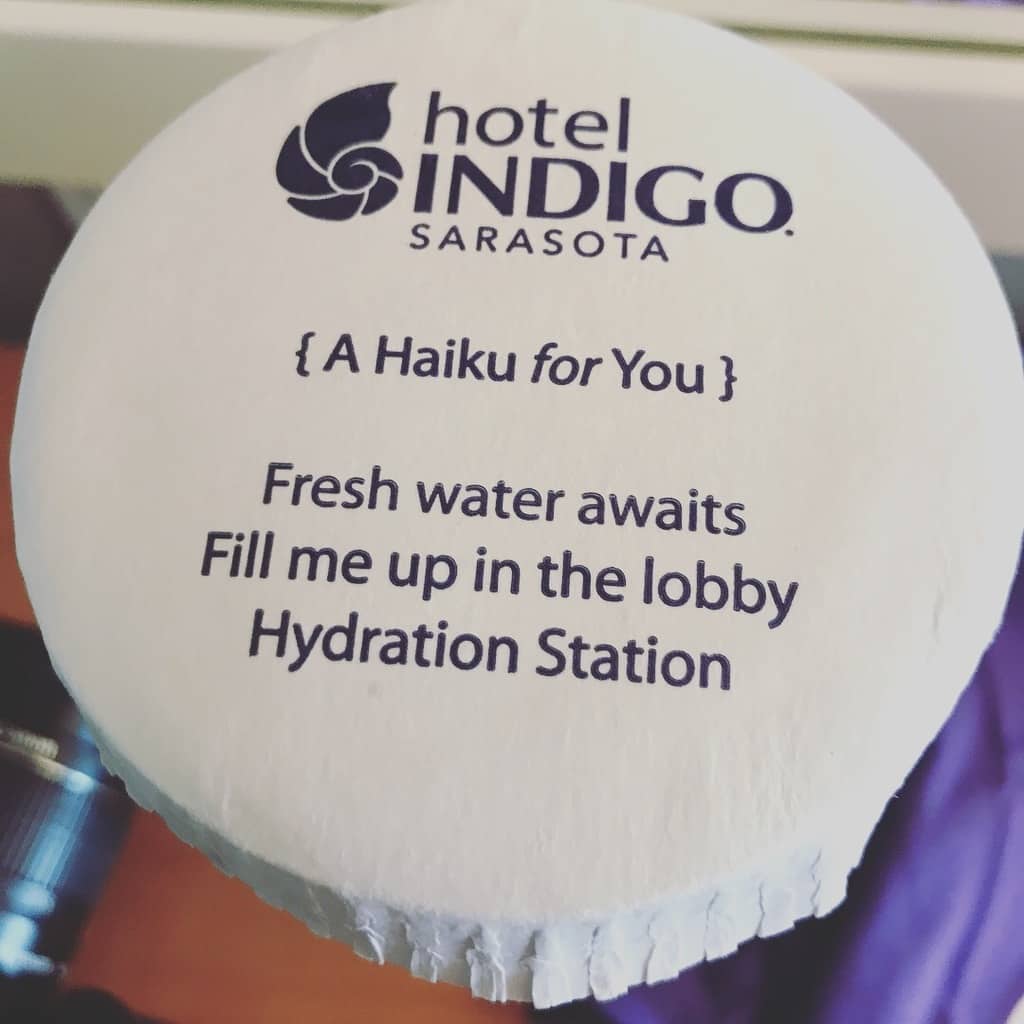 Environmentally friendly haikus. I'm in love.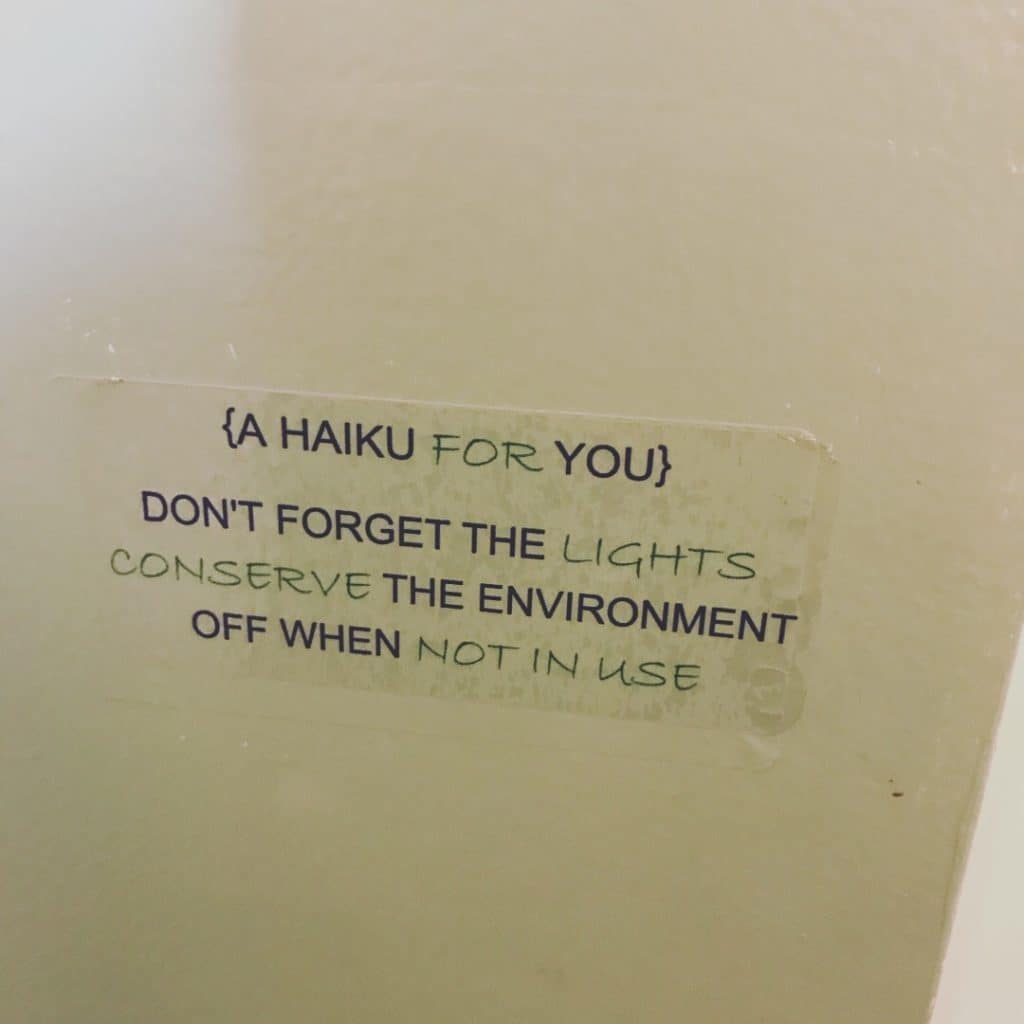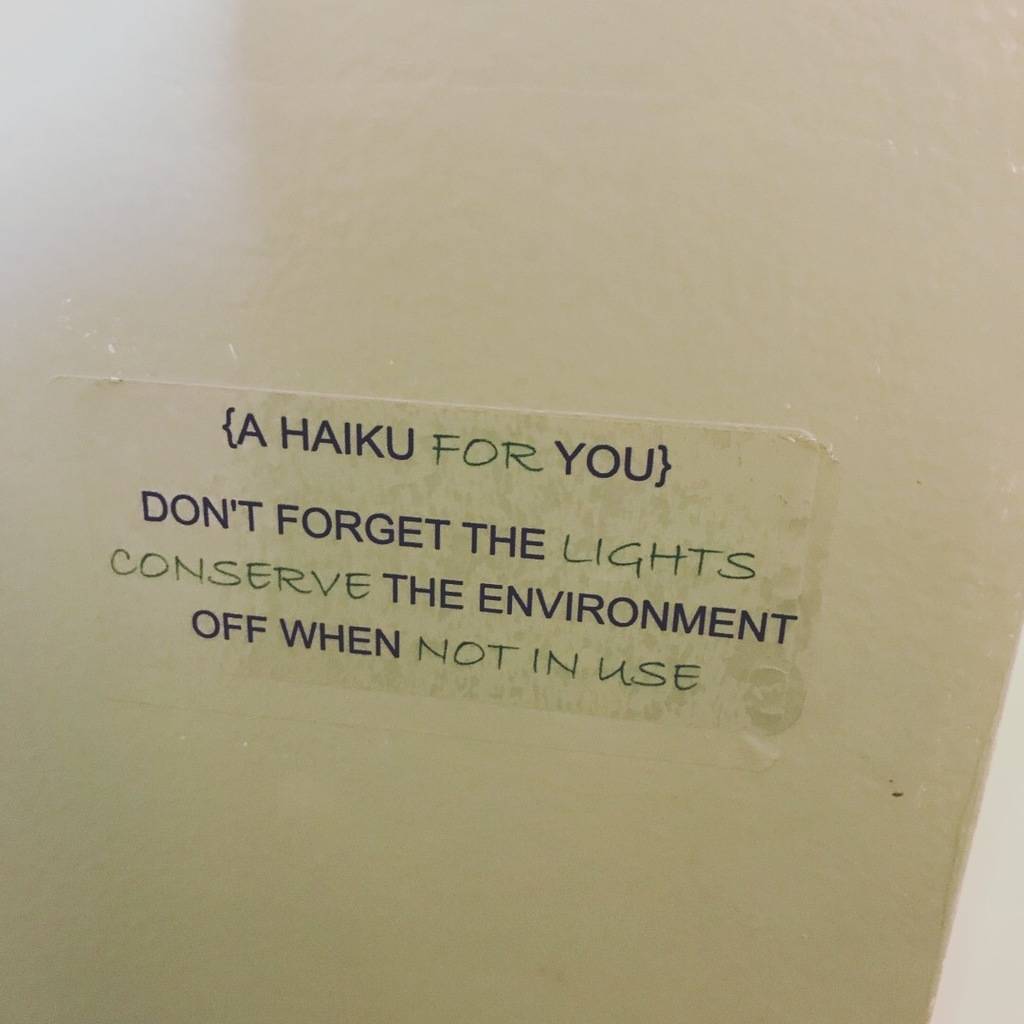 ---
Amenities
The pool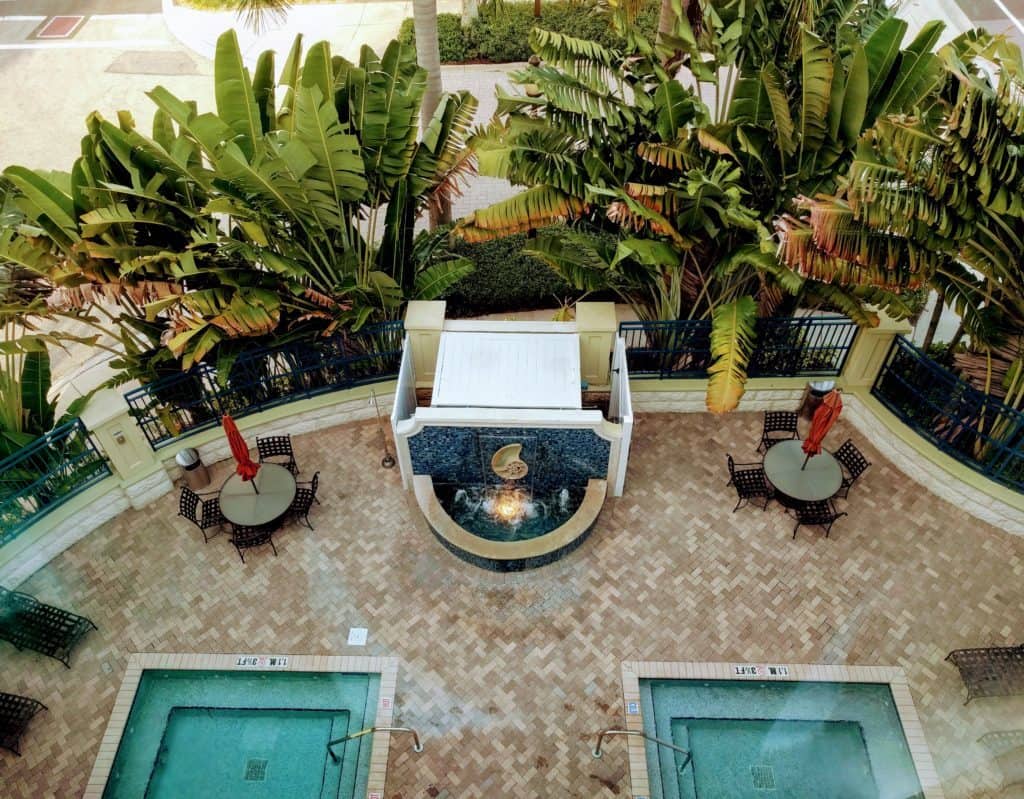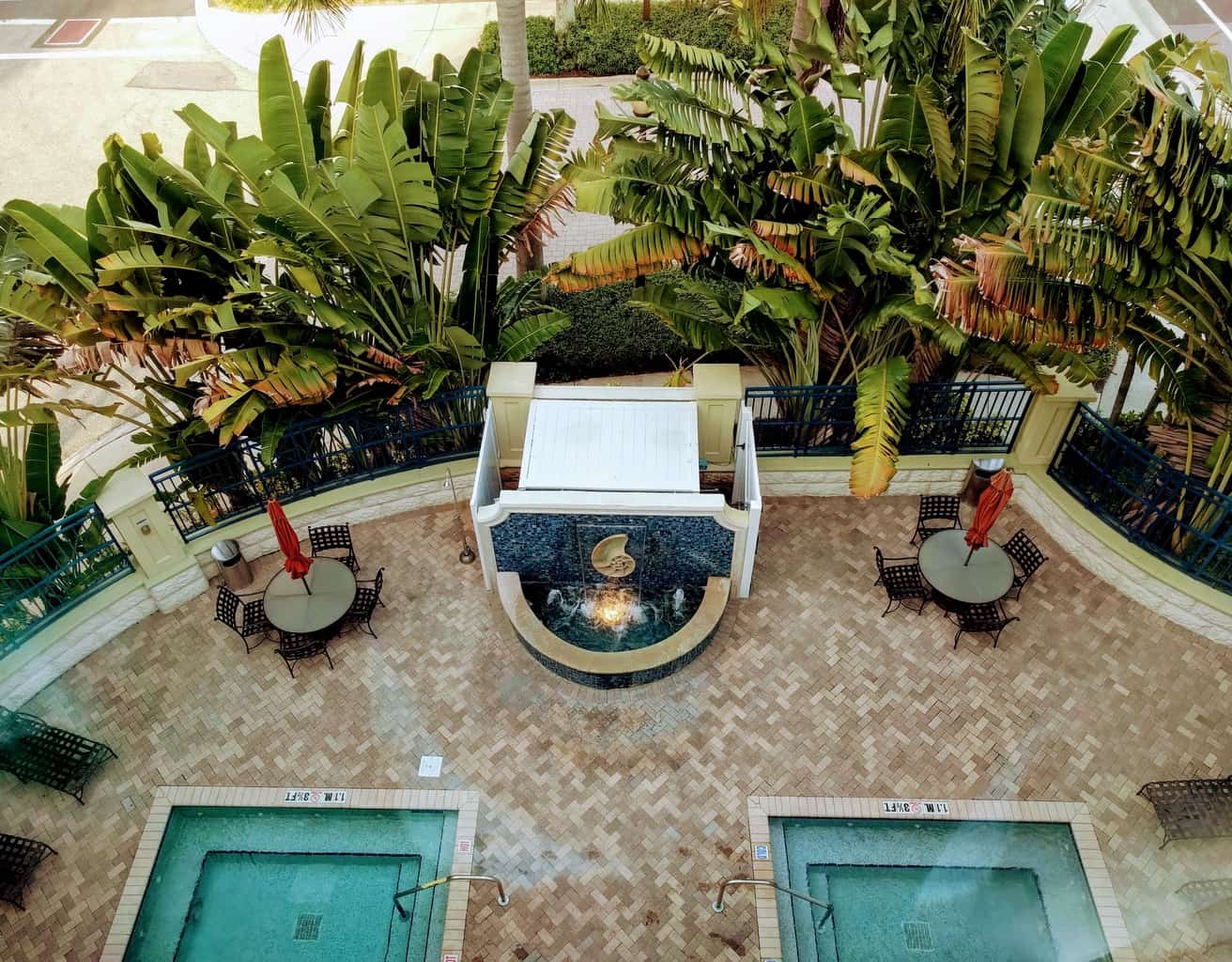 I absolutely adored the pool area at Hotel Indigo. It involves a small, intimate space with a gorgeous mosaic fountain and the most adorable matching hot AND cold pools. I wish we had stayed longer so I could truly enjoy it.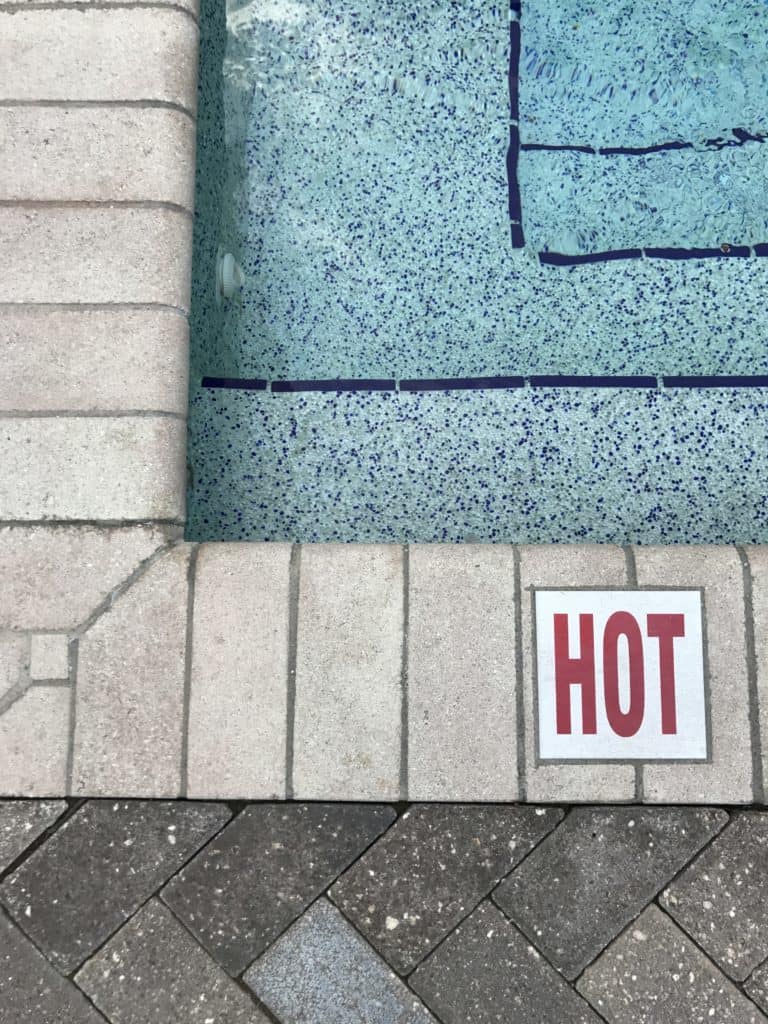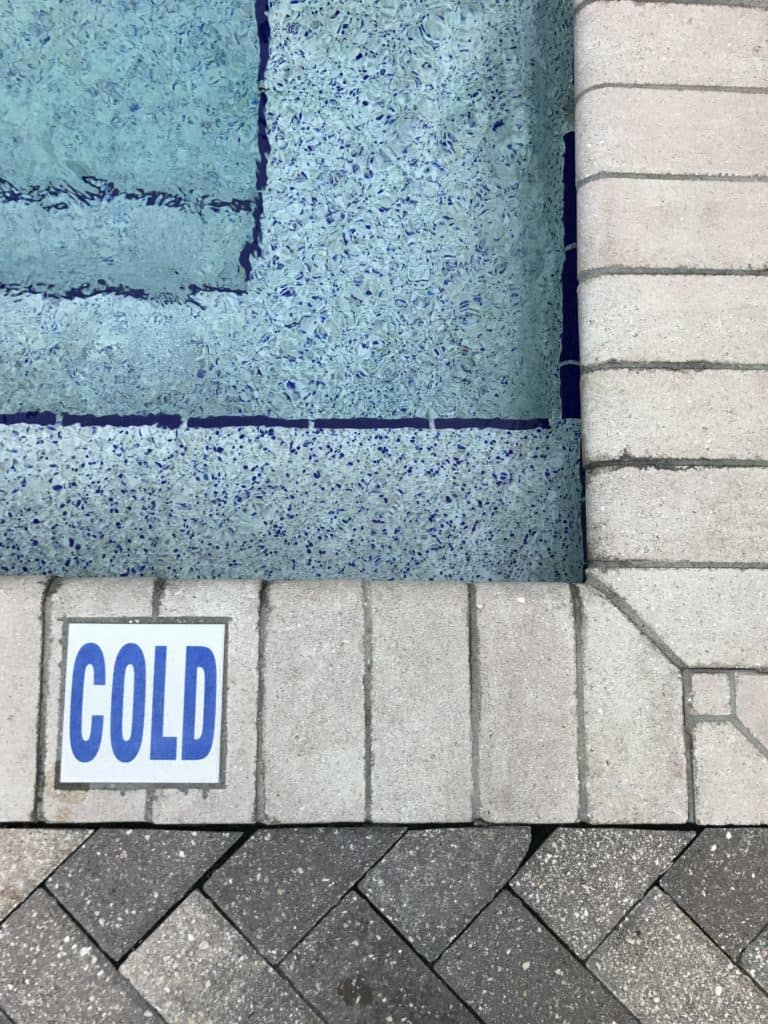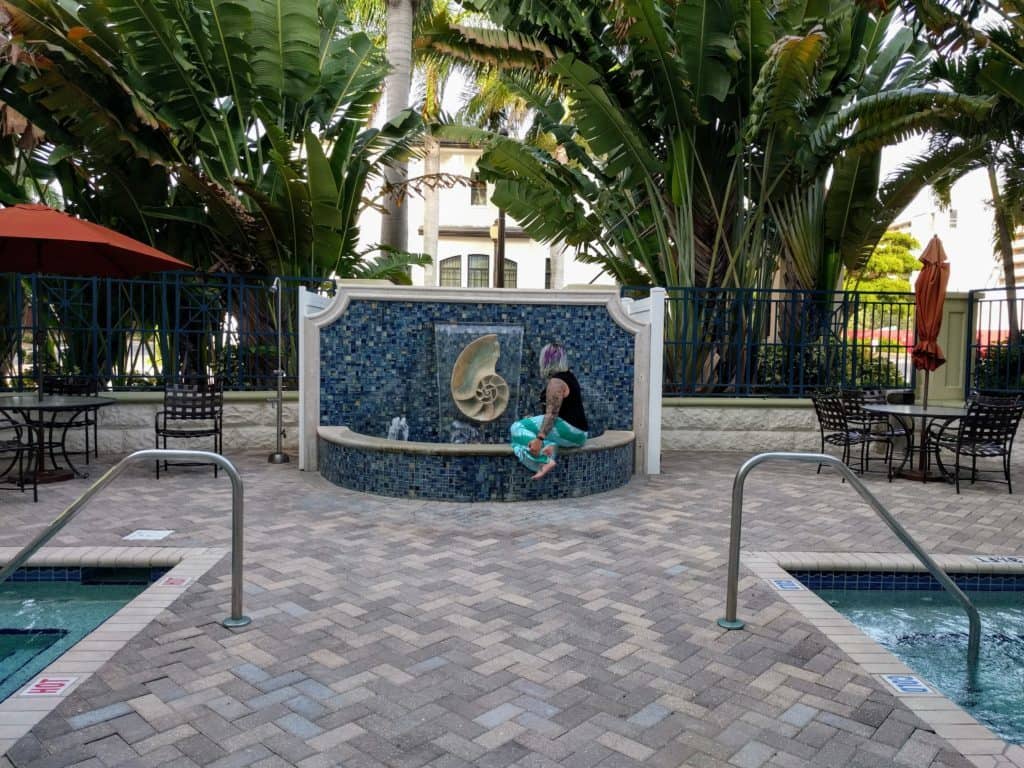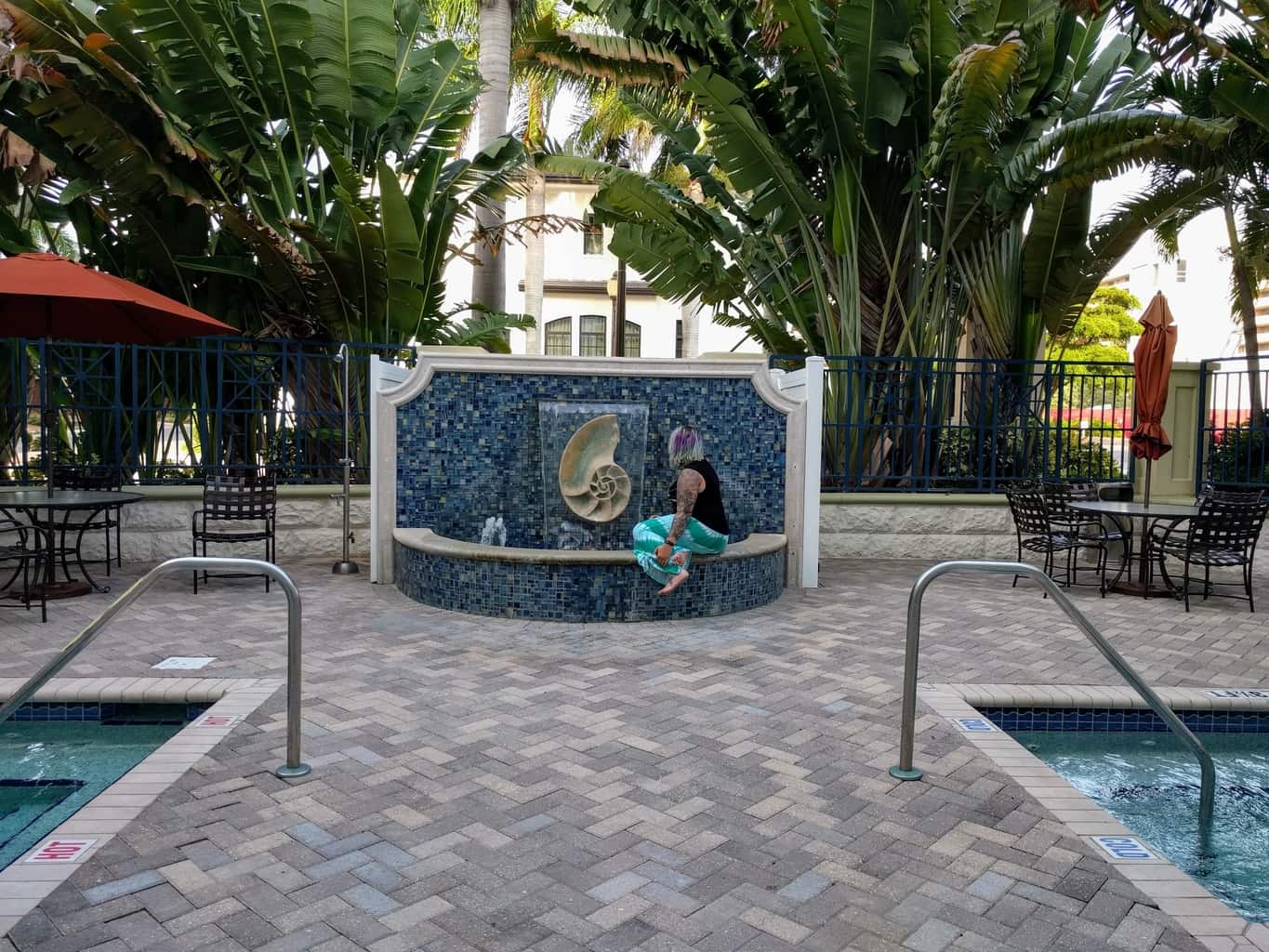 The gym
I, admittedly, didn't do any exercise on this trip (except of the eating variety) but I did go check out the workout room and I was shocked. This was probably the best hotel exercise room I've ever seen. Not only did it actually have most everything you would need for working out (most hotels don't!), they also had refrigerated towels (REFRIGERATED TOWELS, Y'ALL), clean towels already placed in each machine and much more.
Basically, it made me want to work out and that's not always so easy.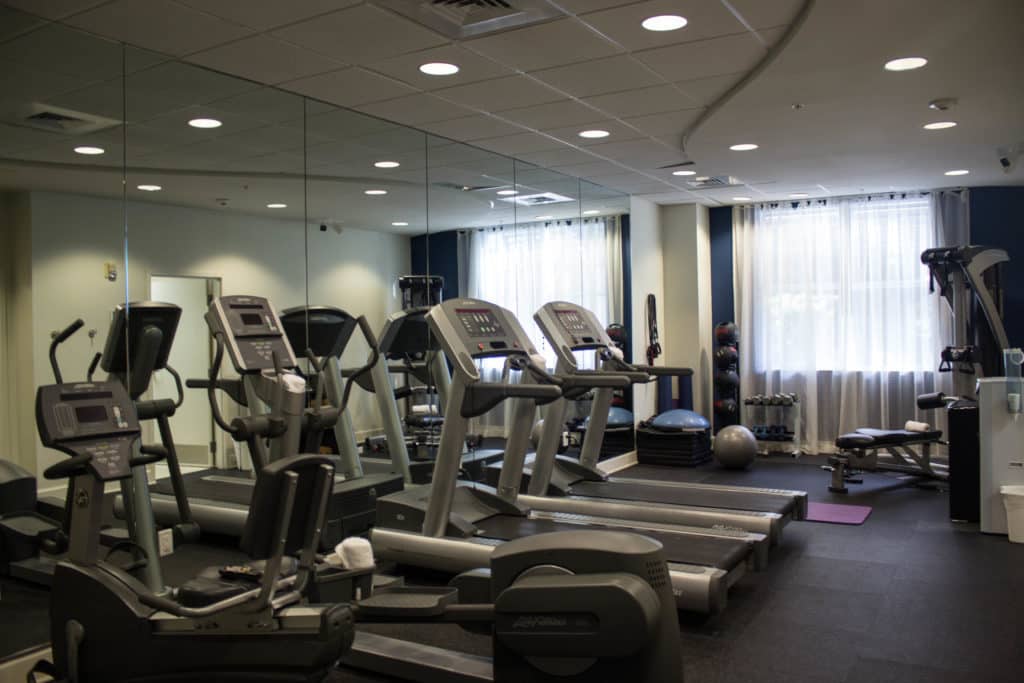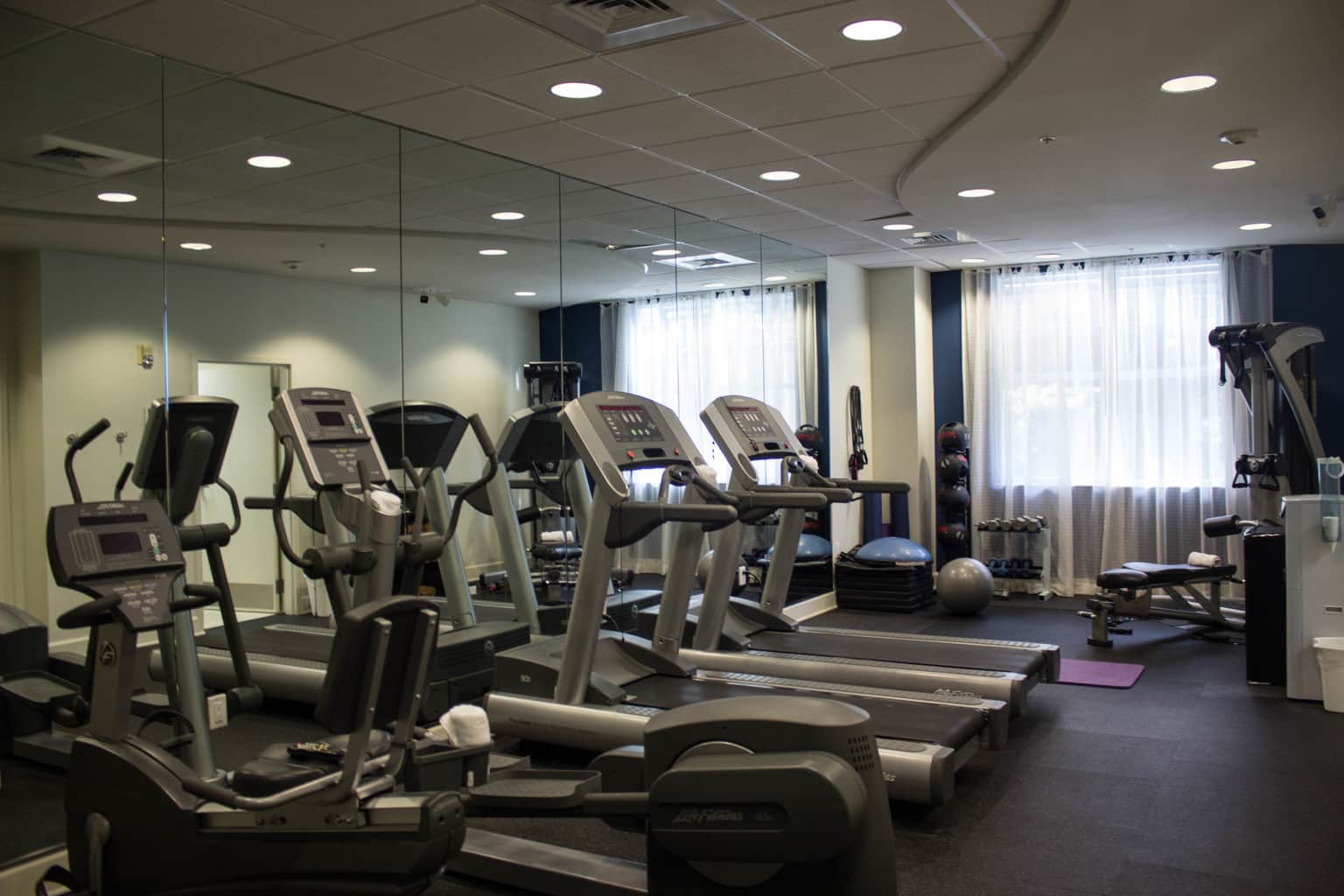 Pets
Hotel Indigo is a dog friendly hotel – $100 deposit per stay – two dog limit – 35lb limit.
---
Sustainability
Hotel Indigo had a few eco practices in place that I really loved.
Skip Housecleaning // they made several points to skip house cleaning to conserve and be more eco-friendly. They even take $5 off your NIGHTLY bill for skipping housecleaning.
Hydration Station // use those refillable water bottles at the hydration station conveniently located in the lobby. You can also use the refillable glass pitcher in your room.
---
Vegan Options
I wouldn't say Hotel Indigo specifically gears anything towards vegans. However, if you're like me and you check things out, you'll be surprised to find a number of vegan options that will work in a pinch.
The H2O restaurant has a boca burger on their menu. There are also a number of things available to purchase by the bar such as fruit and other snacks and drinks. Additionally, on the 3rd floor – they have a HEALTHY vending machine! You don't see those too often. It's stocked with things like Justin's peanut butter cups, veggie straws, etc. Not everything is vegan but there were many items in there that I know to be vegan.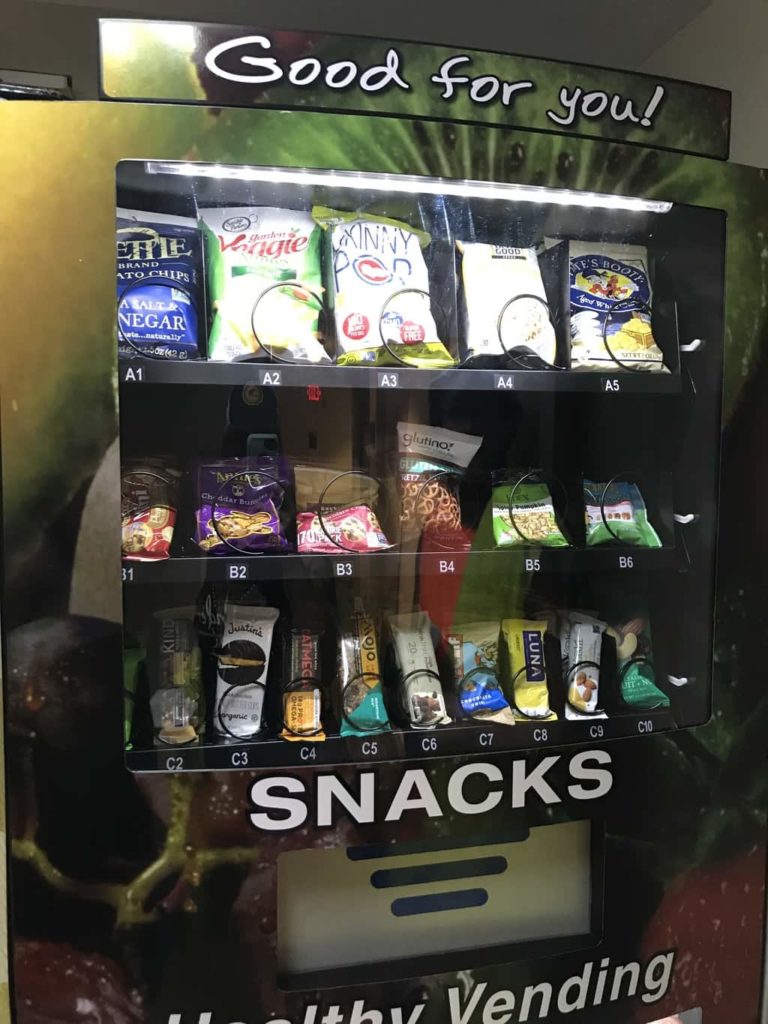 Also, Hotel Indigo is within walking distance of several vegan options and in great driving distance of the rest. Less than a couple miles away you'll find Lila, Ionie, Beauty of Sprouts, Whole Foods, Crop Juice and more. Check out my vegan guide for all the details.
---
Location
Have I mentioned the location is great? Almost all the restaurants I wanted to visit were within a couple miles. It was only minutes from the beach. Siesta Key Beach (#1 beach in the US according to TripAdvisor) is the closest and about 15 minutes away. I personally really enjoyed going a little further south to Turtle Beach (sand isn't as soft or cool but it's not crowded) or even futher south to Venice to hunt for sharks' teeth on the beach (post coming soon!)
Additionally, if you don't mind a little bit of a drive, you can go North to the Tampa Bay area – Clearwater, Indian Rocks, Caladesi Island, Honeymoon Island and many more beaches.
---
Price
Hotel Indigo is definitely reasonably priced. This room, with two queen beds, runs about $150-$160 but you can get some great deals through Booking.com as well. Regardless, for a room that sleeps four people – I'd say that's a heck of deal!
---
Want to stay at Hotel Indigo? Find a great deal here or read reviews here.
Need recommendations on what to eat in Sarasota?Check out my guide.
What else have I written about Florida?Check out these posts.
Like this post? Have questions? Hit me up on Facebook | Twitter | Instagram | Pinterest
---
What would you most look forward to at Hotel Indigo Sarasota? What is your #1 priority when booking a hotel? Tell me in the comments ↓↓↓
---
↓↓↓ PIN IT FOR LATER ↓↓↓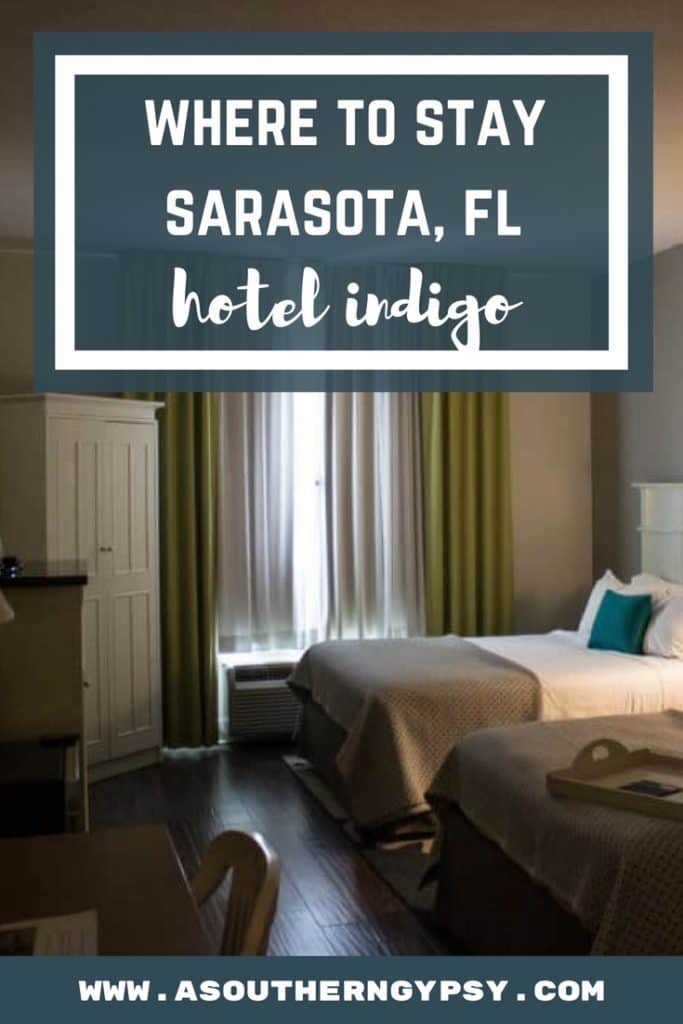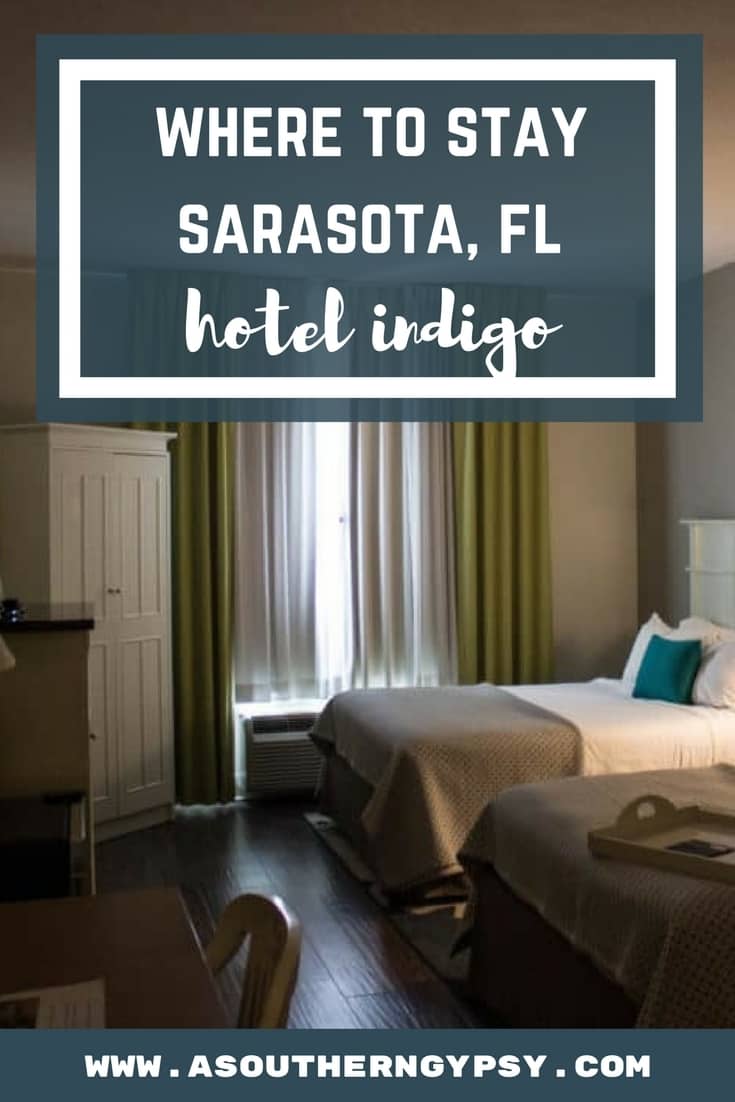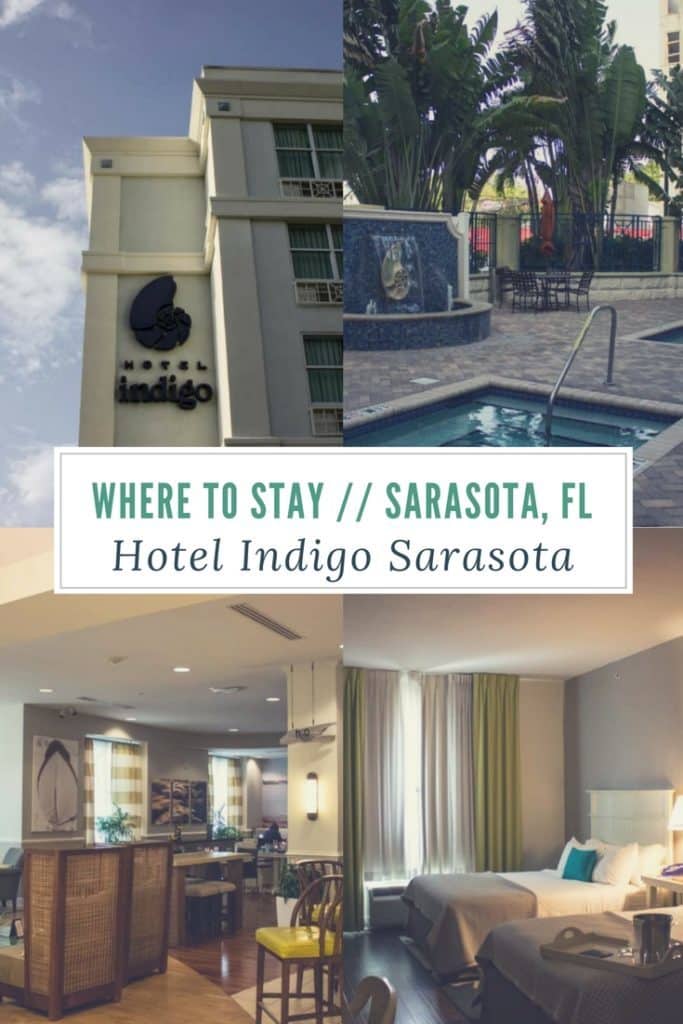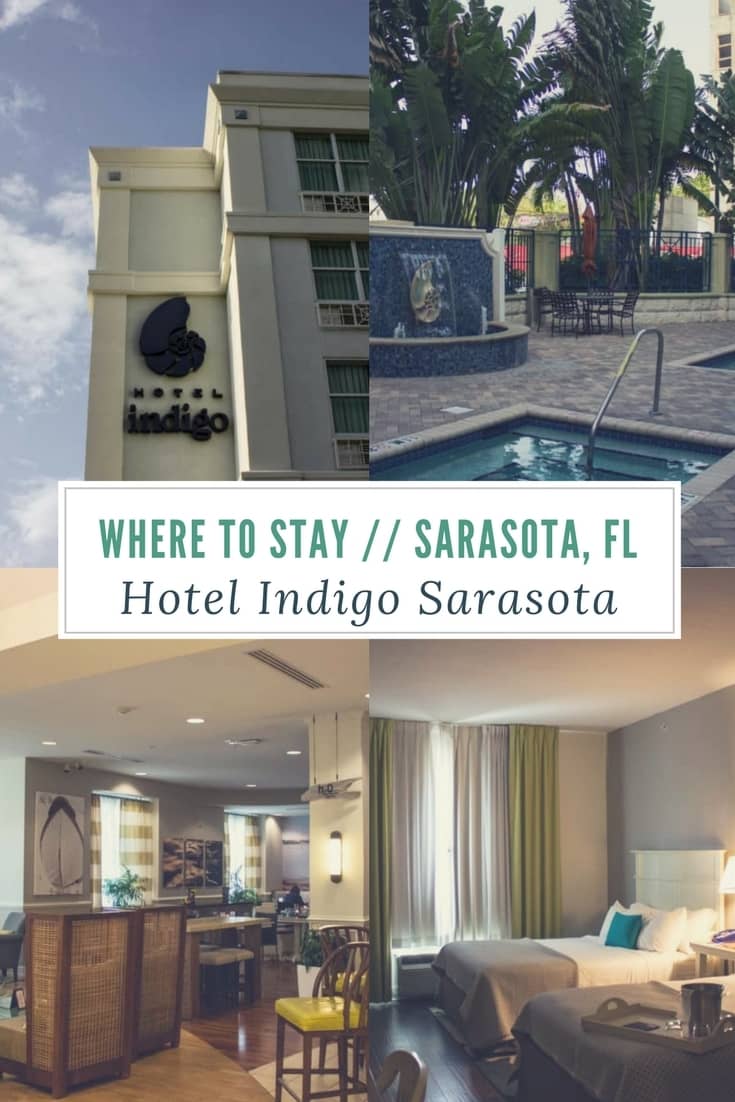 ---
A huge thank you to Hotel Indigo Sarasota for sponsoring this post and for providing a wonderful, albeit, short stay in Sarasota. As always, all opinions are my own and I will never promote something I don't personally use and believe in, regardless of who foots the bill.
Also, some of the above are affiliate links and I will earn a very small percentage of the sale if you purchase through them at no extra cost to you. Thanks for supporting A Southern Gypsy!
Latest posts by Ashley Hubbard
(see all)