This post may contain affiliate links, meaning if you book or buy something through one of these links, I may earn a small commission (at no extra cost to you!). Please see my disclosure.
Did you know that on the Gulf Coast side of Florida, there's a city called Venice and it's known as the 'Shark Tooth Capital of the World?' The beaches that line Venice are where you can find fossilized shark teeth and plenty of them!
Why is Venice swimming in shark teeth?
When Florida was once under water, approximately ten million years ago, the area was full of sharks. Eventually, the water gave to what we now know as Florida and the pre historic sharks died. Everything eventually disintegrated except the teeth – which fossilized. Underneath the Venice coast sits a fossil layer of about 18-35 feet deep and over time, the storms and waves slowly push the fossils to shallow waters and the beach.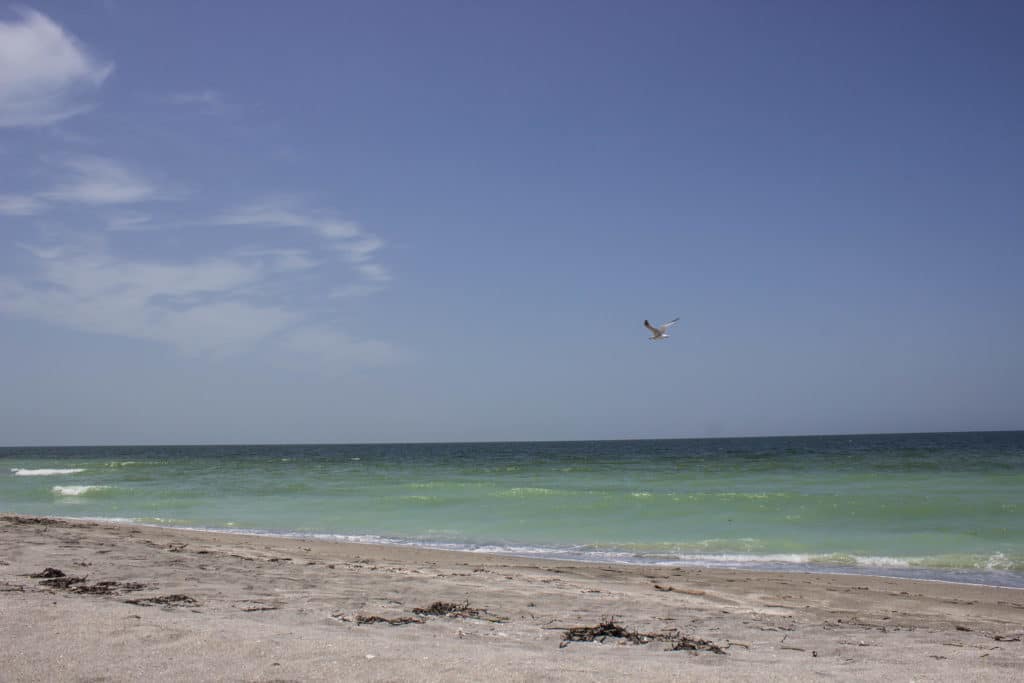 ---
Why Hunting for Shark Teeth is More Fun & Ethical than Buying
Sharks have been around for millions of years and while the rest of them disintegrates, their teeth fossilize. However, the teeth take quite some time to fossilize – think thousands of years. Therefore – always, always get fossilized teeth and not modern teeth. This article has some great information on buying fossilized vs modern shark teeth and how to tell the difference. Buying modern shark teeth only feeds the demand for sharks to be needlessly hunted and murdered for the horrific shark trade.
Also, hunting for shark teeth and knowing you found them and that the teeth are from sharks that have been dead for who knows how long is so much cooler than supporting a horrible industry.
---
How to Find Shark Teeth in Venice, Florida
There are a few different ways to find shark teeth in Venice which will depend on how much searching you want to do, what time of day you go, the tide and so on.
The Best Time To Go
The absolute best time to find shark teeth in Venice is at low tide and early in the morning. I would suggest going between 6-9 in the morning for two reasons. You'll be there during low tide (check the exact times here) and all the other beach-goers won't be there yet who are also looking for shark teeth. We met one couple who came at 9AM and found almost 200 shark teeth just on the beach and came back in the afternoon and found maybe 30 or so by digging in the actual water so the time of day makes a big difference.
If You Can't Go in the Morning
If it's just not possible to go in the morning, don't be discouraged! You can still find shark teeth but you'll have to do a little more digging – literally. If you go out to the water about waist high and bend down and get a scoop – that's the best spot I seemed to find a shark tooth in almost every scoop.
Tools to Make it Easier
You can pick up one of these handy-dandy sand sifter things (I obviously don't know a technical term for this). You could also take something smaller like this but you'll have to dive under the water each time to get a scoop. Since you'll be in the water about chest high trying to sift through your scoop of sand, you'll need something to make it easier. The couple we met who really seemed to know what they were doing had a mesh float. The fabric had tiny holes so the water would go through. It made for the perfect makeshift sifting area – all the sand and water went through the holes but the bigger items stayed on top. The last item I would suggest is something to hang around your neck to put the teeth you find in so you don't have to get out of the water every single time you find one. I used something like this and it worked perfectly.
Size of Shark Teeth
Most of the shark teeth that you'll find on the beach or in the water near the beach are fairly small – anywhere from 1/8″ to 3/4″ or even a bit larger. To find the really large teeth, even up to the megalodon size, you'll have to go out farther. While I did not do this, the couple I spoke to said they went out to the sandbar and found the really big ones.
You can see part of my finds below! Aren't they adorable?!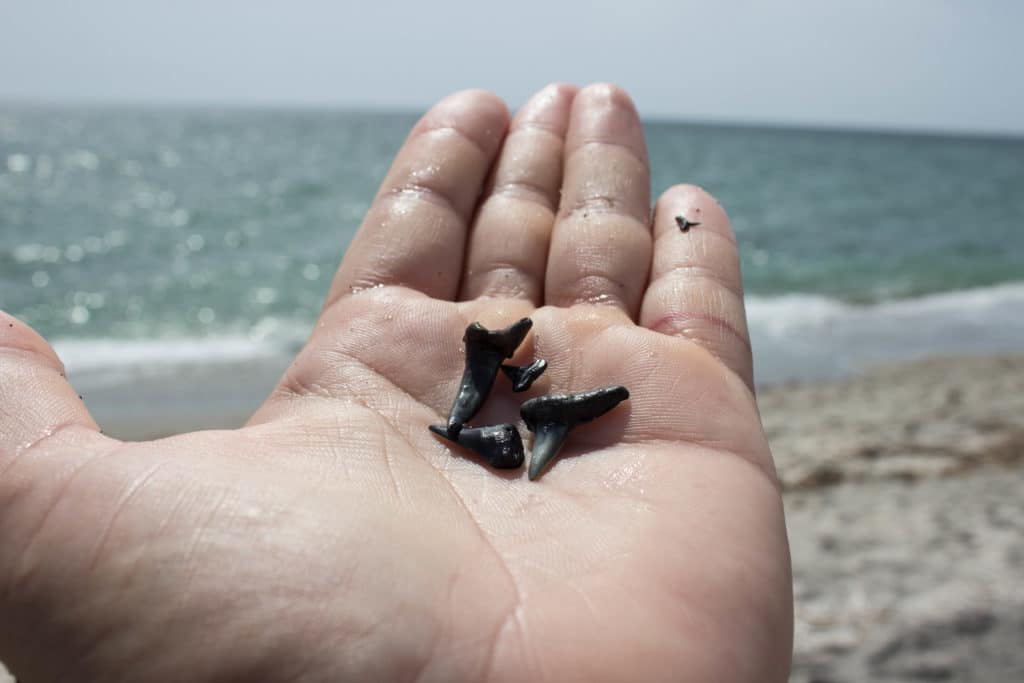 ---
Other Essentials
Don't forget the sunscreen, here or here (ocean friendly, vegan and cruelty-free), aloe vera, and my other beach bag essentials. That sun is brutal and despite putting on lotion, I still got burnt.
HAVE YOU EVER BEEN TO VENICE OR FOUND SHARK TEETH? TELL ME IN THE COMMENTS ↓↓↓
Heading to Sarasota? Find great places to stay here.
Looking for my favorite spot specifically? Check out Hotel Indigo Sarasota.
Looking for vegan food in the area? Check out my Sarasota vegan guide.
What else have I written on Florida? You can find more Florida posts here.
Like this post? Have Questions? Hit me up on Facebook | Twitter | Instagram | Pinterest | Email
↓↓↓ PIN IT ↓↓↓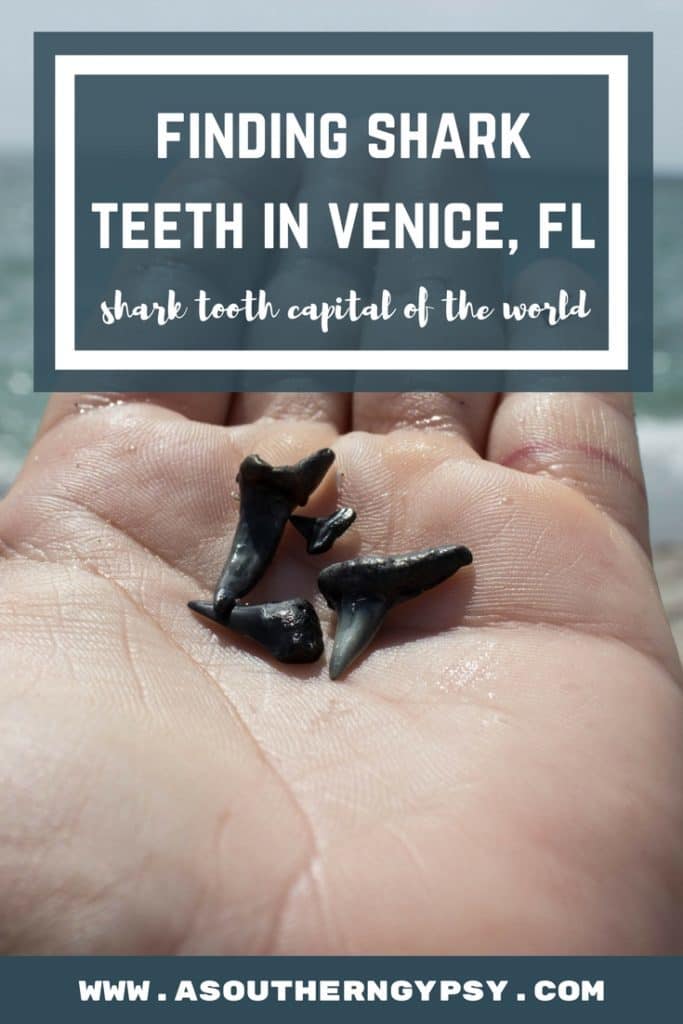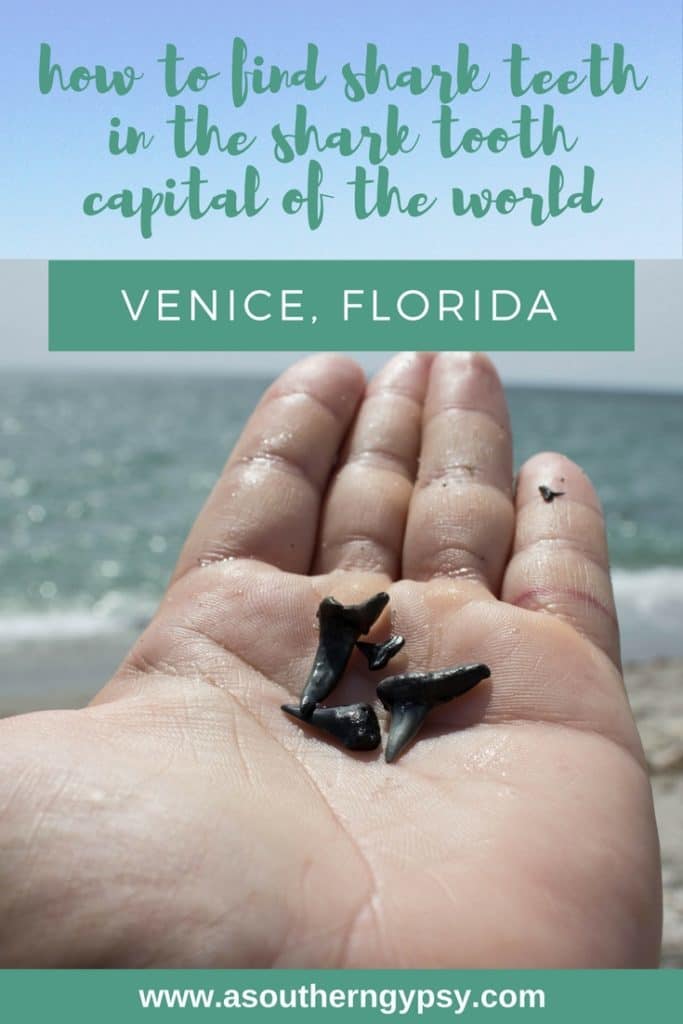 Latest posts by Ashley Hubbard
(see all)