This post may contain affiliate links, meaning if you book or buy something through one of these links, I may earn a small commission (at no extra cost to you!). Please see my disclosure.
Vegan restaurants in Nashville, Tennessee are easy to come by. Even though Music City is known as the land of hot chicken and BBQ. But, luckily for people avoiding meat and dairy, there are plenty of great plant-based restaurants to be found.
From well-known restaurants like The Wild Cow and The Southern V to lesser-known spots like Succulent Vegan Tacos and Radical Rabbit, Nashville has many vegan restaurants. Whether you're craving soul food, sushi, or baked goods, you'll find something you'll love.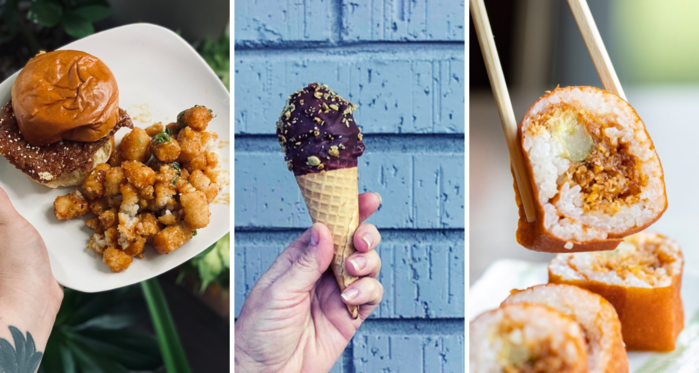 The Best Vegan Restaurants in Nashville
1. The BE-Hive
The BE-Hive has had one of the coolest evolutions in Nashville's vegan scenes. They started off as a pop-up restaurant and are now open every day of the week. On top of that, their plant-based products are found in stores across the United States.
You can go to BE-Hive for vegan cheese and meat products to take home from their deli, to grab some specialty products from their small store, and to try their made-to-order menu items.
Some of the more popular menu items include their Fried Seitan Chxn, Nacho Tots, and the Crunchwrap.
Neighborhood: East Nashville
Cost: $$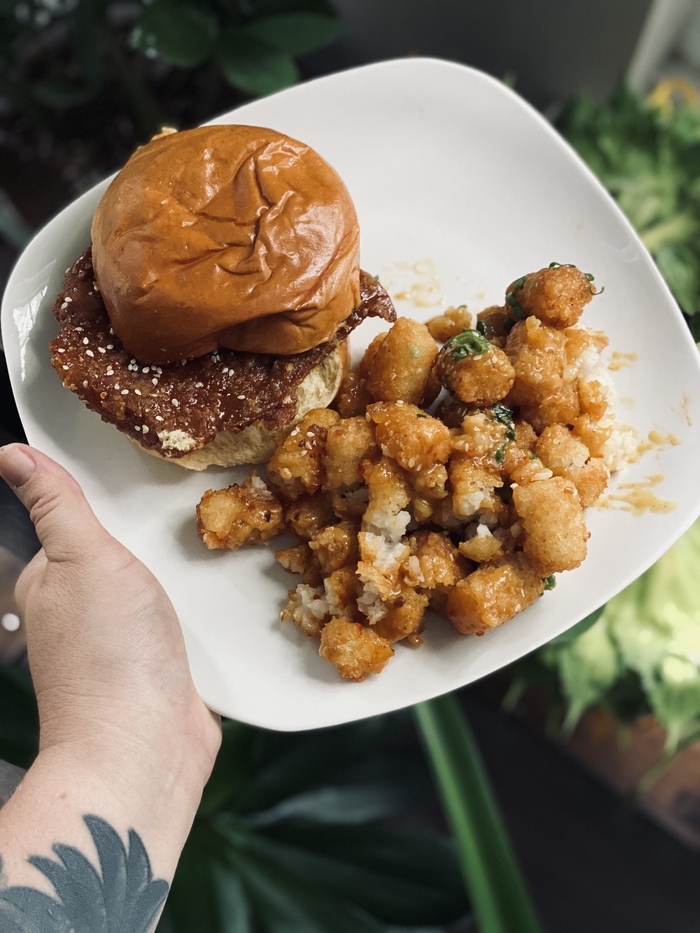 2. The Wild Cow
The Wild Cow is one of the first vegan restaurants in Nashville and it's easily one of the most popular. They originally offered dairy cheese but they are now completely vegan and dairy free.
Popular menu items include The OG Beans and Greens bowl and Nachos. They also donate 2.5% of their sales every Thursday to a charity – the charity changes every month.
Neighborhood: East Nashville
Cost: $$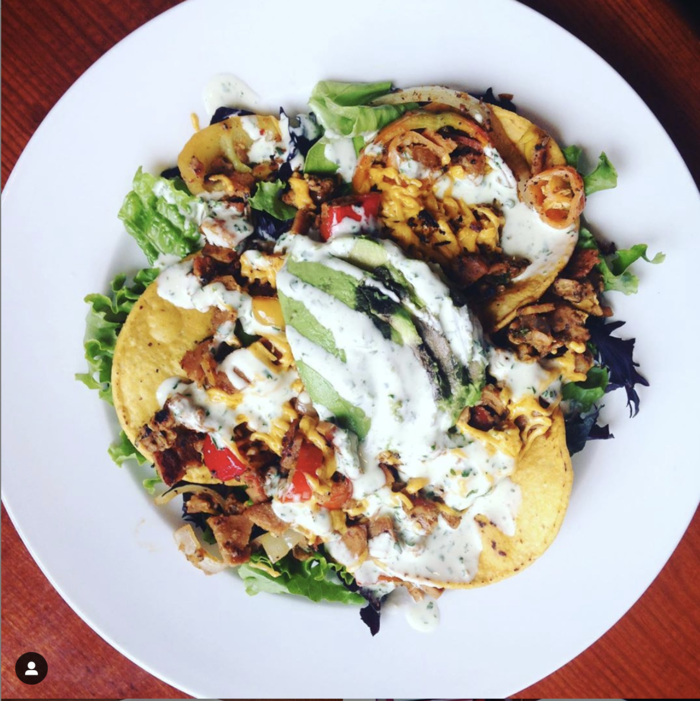 3. Graze
Graze has a daily brunch and dinner menu which includes a wide variety of dishes including breakfast bowls and burritos, a Hot Tempeh Sandwich, a Buffalo Quesadilla, and daily specials.
They also have great bar options and dessert options.
Neighborhood: East Nashville
Cost: $$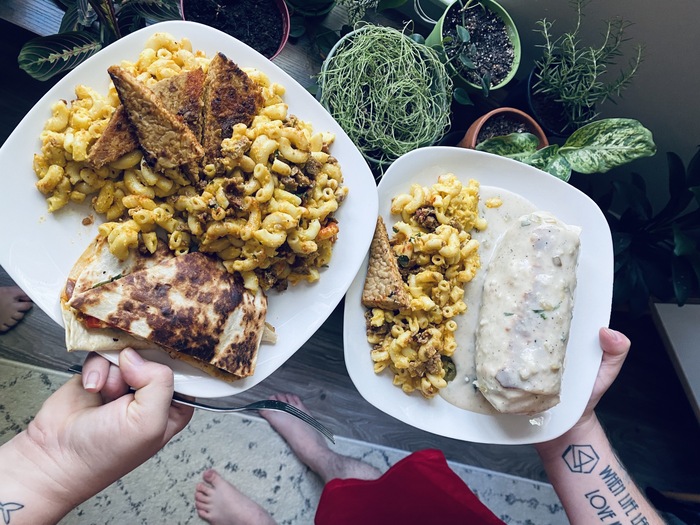 Vege-Licious is another Black-owned vegan restaurant in Nashville. Their menu is fairly extensive and includes Lasagna, a large offering of veggie burgers and po boys, a Vegan Soul Food Plate, a Philly Cheesesteak, and much more.
Neighborhood: Midtown + Antioch
Cost: $$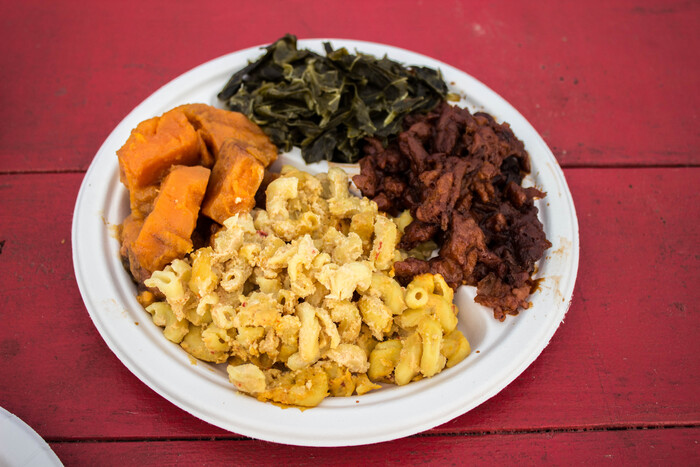 5. Grins Vegetarian Cafe
Grins is my favorite "under the radar" vegan restaurant in Nashville. They are located off West End on Vanderbilt's campus. This also means if the school is closed, they are generally also closed so make sure to check before going.
Best items to try include the Hot Tofu and Mac n Cheese.
All of their food is also Kosher.
Neighborhood: West End
Cost: $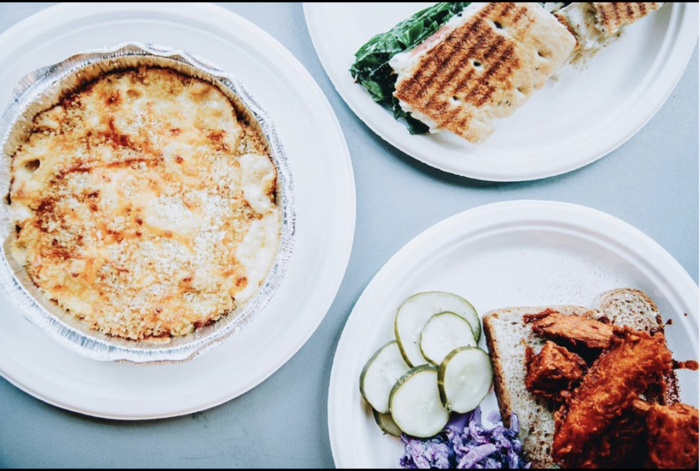 6. Deep Sea Vegan
Deep Sea Vegan is a unique spot is a Black-owned pop-up (check their Instagram for scheduling updates!) started by a scuba diver so naturally diving and seafood is a main theme.
Neighborhood: East Nashville
Cost: $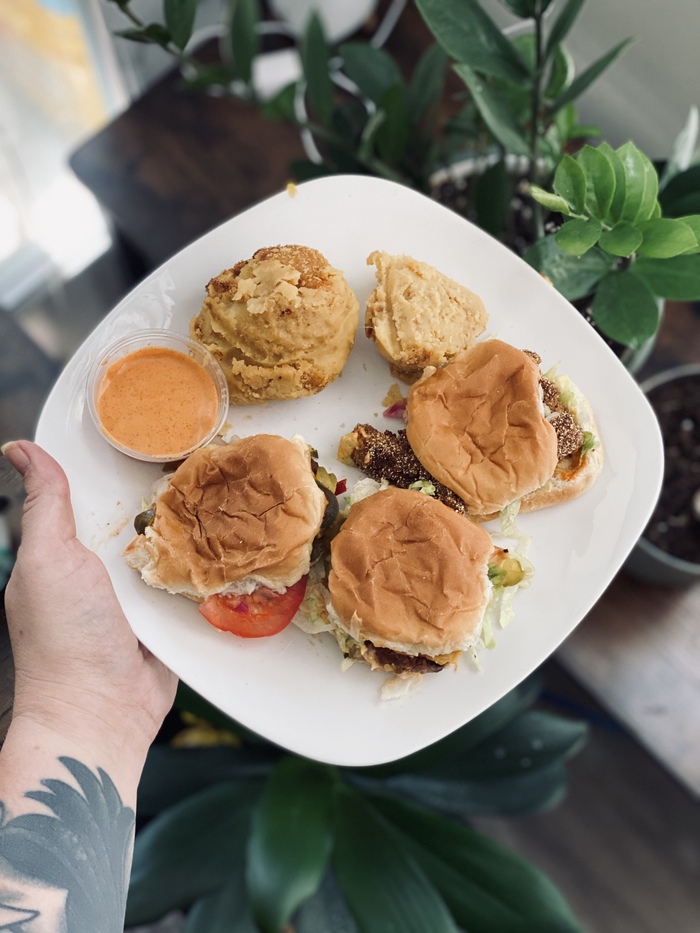 7. The Southern V
The Southern V was a game-changer in Music City's vegan scene. This Black-owned restaurant serves vegan soul food including Hot Chik'n, Patty Melts, BBQ Jackfruit Nachos, Chik'n and Waffles and so much more.
Order one of everything. Your brain will tell you that you can't eat it all but you can, I promise. Pack those stretchy pants!
Neighborhood: North Nashville
Cost: $$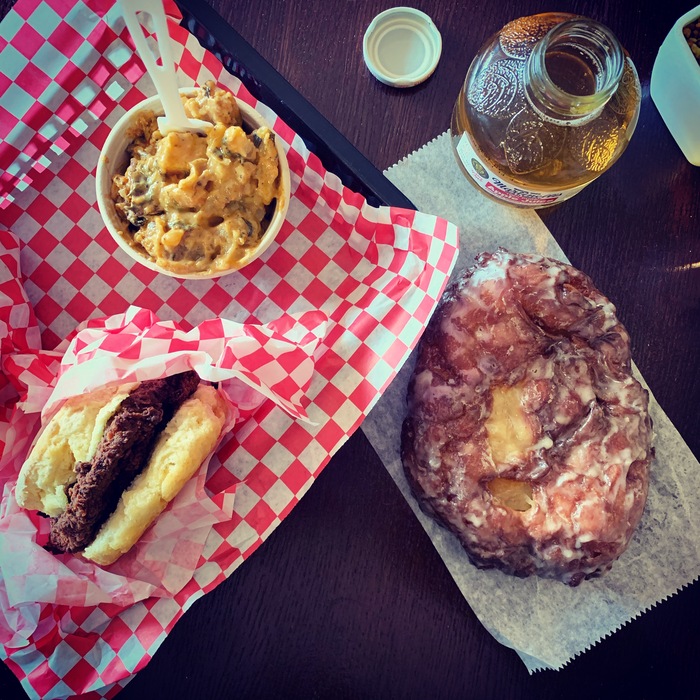 8. Sunflower Cafe
Sunflower Cafe is completely vegan except for one of their breads and they do offer dairy cheese. They are known for their gourmet veggie burgers and barbeque but I can't get enough of their portobello wrap and buffalo wrap.
They have endless side items that are bought a la carte. I also highly suggest their cookie dough parfait.
They also have a great covered patio area that works great for larger groups of people (self-seated).
Neighborhood: Berry Hill
Cost: $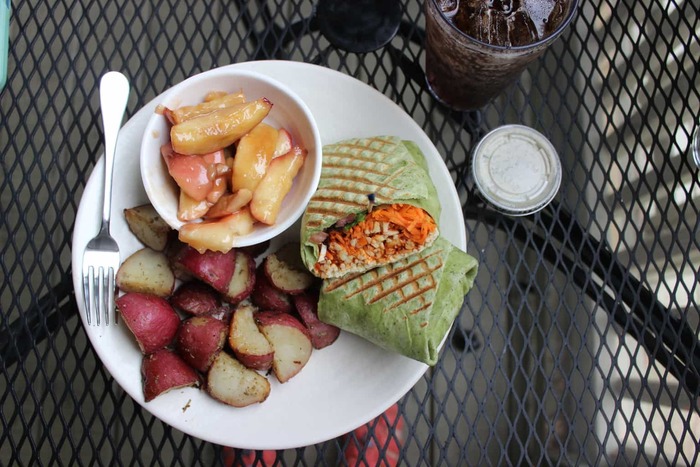 9. Sunflower Bakehouse
Sunflower Bakehouse is the second (but completely different) location of Sunflower Cafe. This location is one of the best options for vegan and gluten-free food.
They have delicious baked goods (go for the cupcakes!), and great breakfast, lunch, and dinner options.
Neighborhood: Donelson
Cost: $$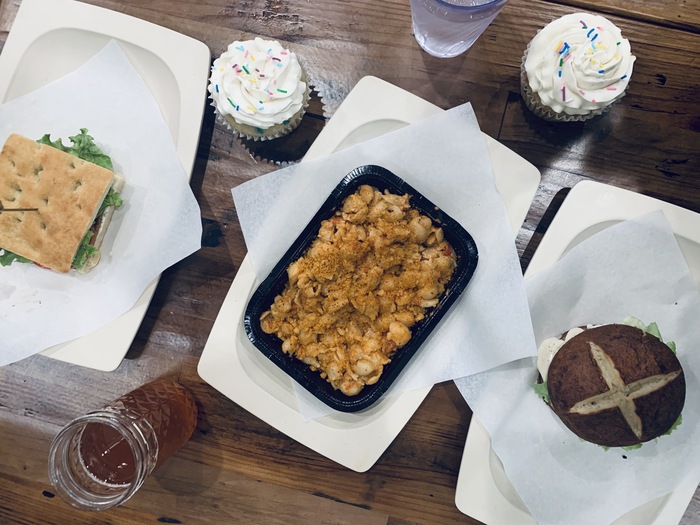 10. Avo
Avo began as a raw-only restaurant but has transformed into cooked food as well. Their menu includes fantastic options such as a cheese board appetizer, a Lentil-Walnut Burger, and Cauliflower Steak.
Avo also has housemade draft kombucha as well as a large selection of organic, biodynamic, gluten-free, and/or additive-free bar offerings. But don't forget to try their signature Avocado Margarita.
Neighborhood: Midtown
Cost: $$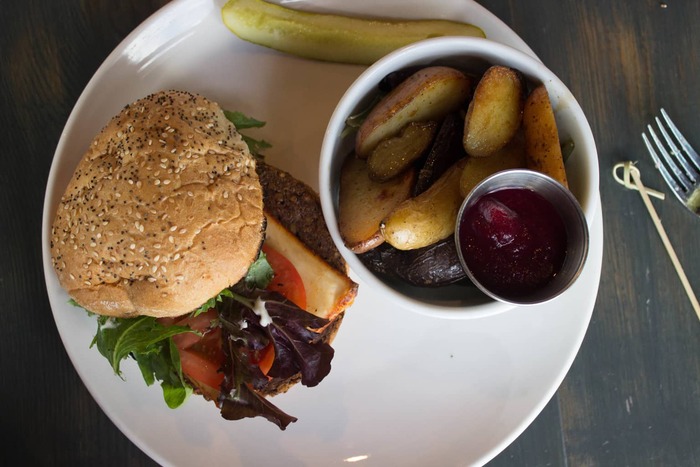 11. Radical Rabbit
Radical Rabbit is another great Black-owned option for soul food like fried jackfruit, mac n cheese, and specialty items like their Cheezeburger "Egg" Rolls.
They do a lot of pop-ups, especially at different markets, and are often at the Nashville Farmers' Market as well.
Neighborhood: Midtown
Cost: $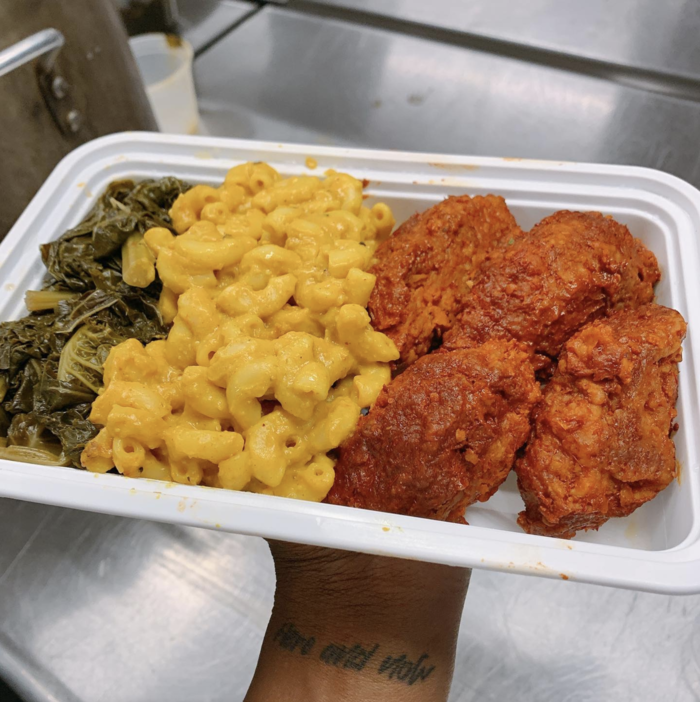 12. Blue Sushi Sake Grill
Blue Sushi Sake Grill is a popular sushi spot but is brand new to Nashville and they have an extensive vegan menu.
Popular rolls include the Cowgirl, Vegan Hot Night, Vegan Black Dragon, and Shiitake To Me.
Neighborhood: Downtown
Cost: $$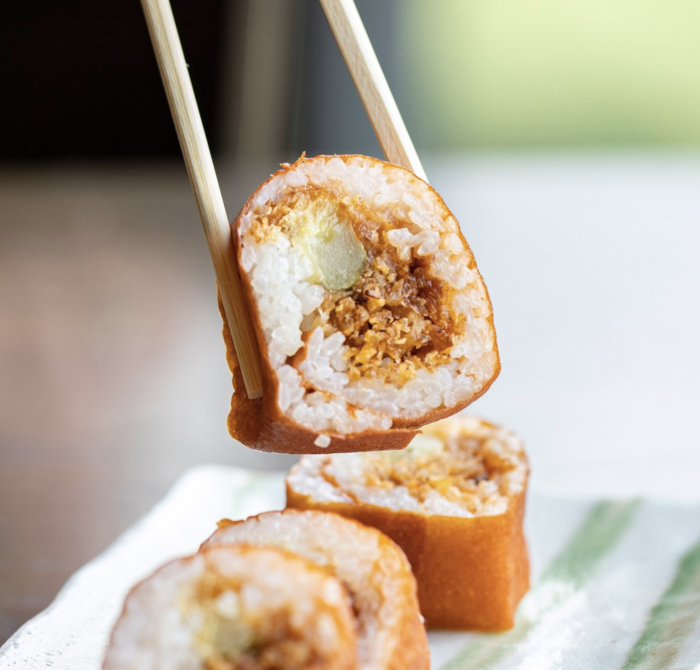 13. Succulent Vegan Tacos
Owned and operated by Adriana from Mexico City and Ronald from Costa Rica, Succulent Vegan Tacos serves authentic Mexican food and has a permanent location in the Nashville Farmers' Market.
Menu items include tacos, tamales, dobladitas, enchiladas, and more. They also fuse local flavors too including their Nashville Hot Chikn Tacos.
Neighborhood: Nashville Farmers Market
Cost: $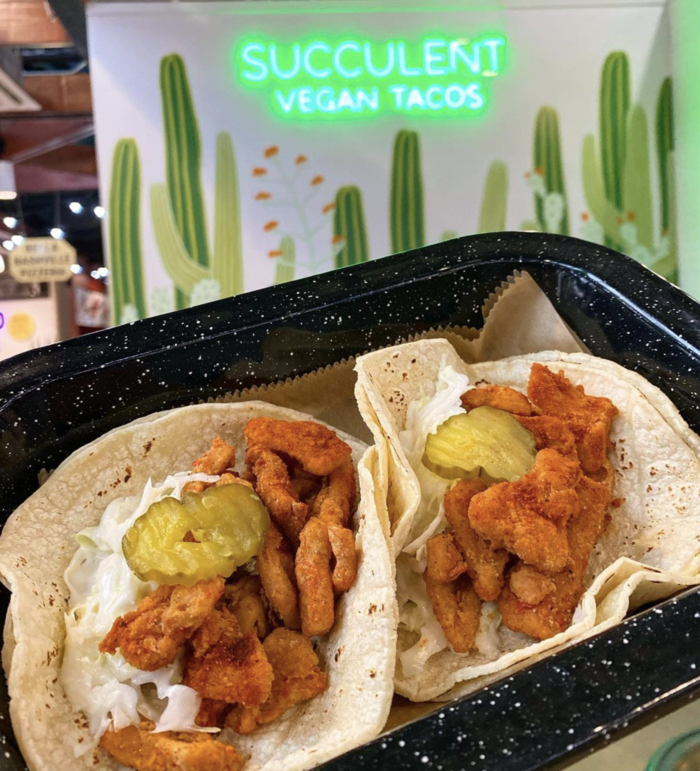 14. Woodlands Indian Vegetarian Restaurant
Woodlands's lunch buffet is where it's at – it's 95% vegan (clearly marked) and roughly $10. They also serve a la carte for dinner.
Some of the best items include pakora and haika noodles.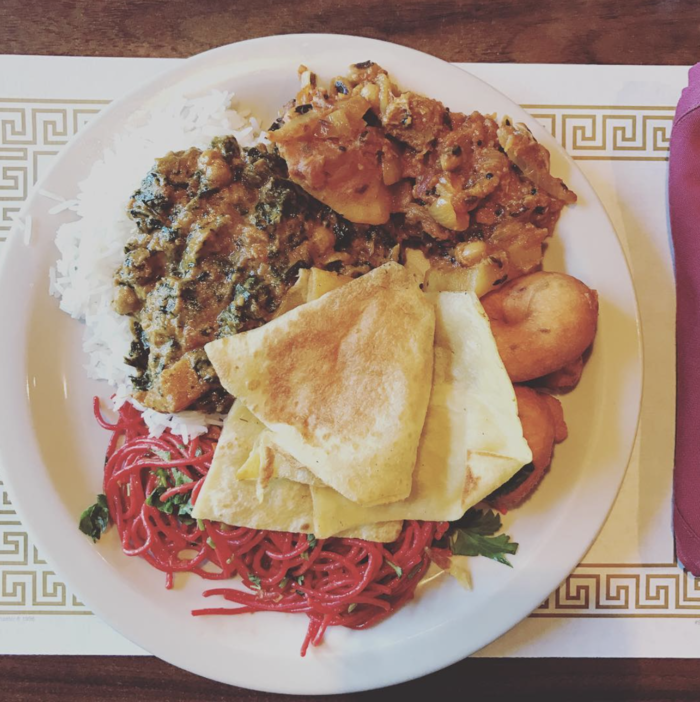 15. Koko's Ice Cream
Vegan ice cream is delicious and Koko's does it just right.
Their ice cream is coconut-based (so nut-free for allergies!) but doesn't have that coconut taste that some ice creams do which is great in my opinion.
Popular flavors include Moon Dust, Golden Milk, Cookies n Creme, and Elderflower.
They're also located right next door to Avo. They also have a secondary location in Columbia (30 miles south of Nashville).
Neighborhood: Midtown
Cost: $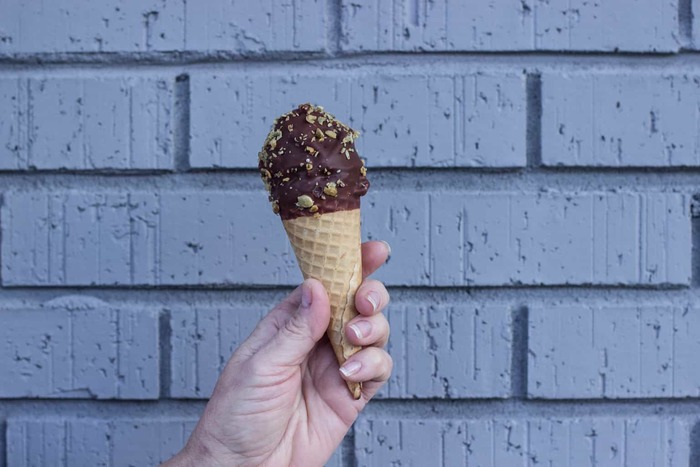 Latest posts by Ashley Hubbard
(see all)