This post may contain affiliate links, meaning if you book or buy something through one of these links, I may earn a small commission (at no extra cost to you!). Please see my disclosure.
Editor's Note: I fully encourage everyone to limit travel as much as possible during the COVID-19 pandemic. However, if you do choose to travel, I hope that you'll do so safely. Please consider visiting outdoor or less-populated destinations, traveling by car, traveling in small numbers, and respecting everyone around you.
Yosemite in the fall could be the getaway you're looking for. Giant monoliths, deep valleys and ancient sequoias encompass you in a wooded oasis with adventure around every corner. Whether you're looking to hike every day or drive up to gorgeous views, there are serious pros to experiencing fall in Yosemite National Park.
This post was written in collaboration with Hotels.com.
All opinions are, of course, my own.
Where to stay in Yosemite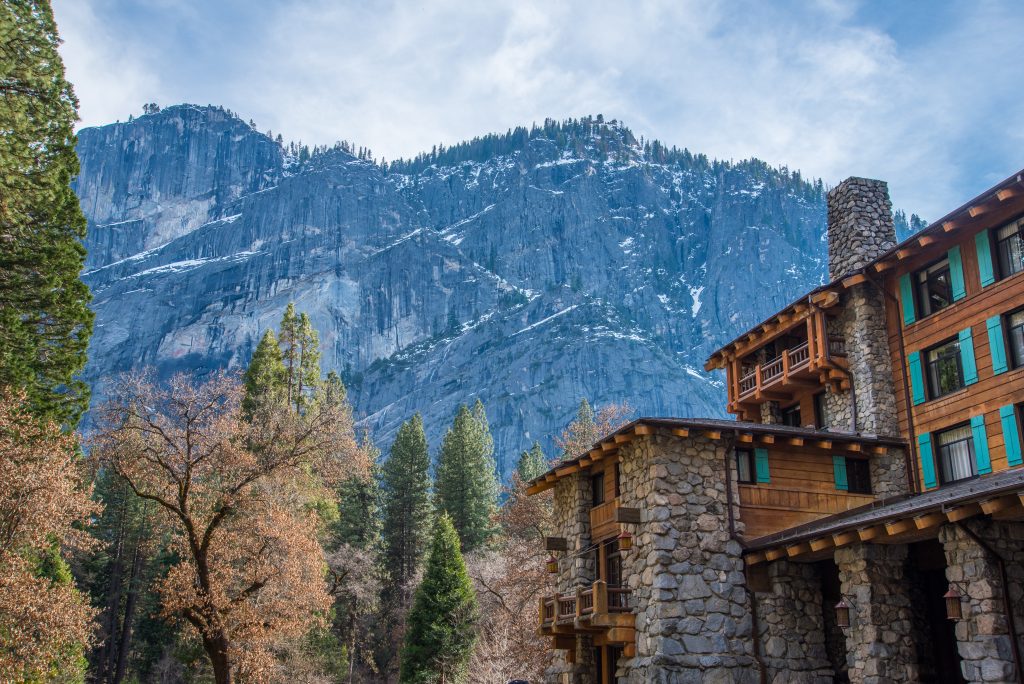 There are plenty of great options for accommodation in and around Yosemite. While there is plenty of lodging surrounding Yosemite, there are three that stand out to me in the experience they provide. There's something for everyone – from cabins to luxury suites.
Rush Creek Lodge boasts 143 rooms, suites and hillside villas, along with dining options and plenty of opportunities for relaxation including a spa, large saltwater pool and two hot tubs. Designed as a destination within a destination, staying at Rush Creek Lodge gives you a relaxing spot to rest at Yosemite's doorstep.
Yosemite View Lodge in El Portal, California boasts 335 rooms and suites, and most rooms are set along the Merced River. See dramatic views from balconies and relax in the great outdoors with one of the outdoor spas. Just steps away from the national park, you can also access the dining and shopping of El Portal.
Evergreen Lodge is a newly-expanded historic lodging option in the woods bordering the park. 88 cabins fill the area, and each has a balcony to enjoy the sights and sounds of the national park. A restaurant, tavern and season pool bar offer dining options, and Yosemite guides can give you more information about the park you are visiting.
Pros to visiting Yosemite in the fall
The biggest draw to a fall visit to Yosemite is the crowd level. Compared to the busy months of summer, you can expect to have some hikes to yourself, especially the further in fall you visit. In addition, you won't have to fight as hard for parking at your trailhead or grand vista views, and the peaceful sounds and Yosemite fall colors will overwhelm you in the most underwhelming sense.
The park remains accessible for most of the season and cooler temperatures make for a more comfortable hiking experience. Summer often produces hot daytime temperatures and storms and each hike is exposed to the elements, making it difficult to escape a shower or the sun.
If you're wanting to experience Half Dome, it's easier to receive a permit to hike for the fall than any other season due to lower crowds. Although you still have to enter the lottery, there is a much better chance that you will win a permit through the lottery. More on Half Dome later.
Outside of your time exploring the national park, lodging outside of the park is the cheapest you may see and you don't have to book as far out as you would in the spring and summer. A word of caution that the lodging options within the park will likely not be cheaper, but may be more available for booking.
Cons for visiting Yosemite in the fall
While lodging is cheaper and the park less crowded, you may not find the full Yosemite experience if you visit in the fall. Many of the waterfalls run dry, and if you've done your research, the park is well known for those waterfalls. One trail that highlights a waterfall is Mist Trail, and you more than likely won't see much mist in the fall.
Another famous spot in Yosemite is Mirror Lake. It's reflection of Half Dome is every photographer and nature lover's dream. The lake practically disappears the closer to November you get, and if you do see water at the spot, it will be a small puddle compared to the voluminous lake of summer.
The further into fall, the less there is to do in the park. Roads begin to close at the end of October and early November due to snow. Glacier Point Road, which gives you an overlook of the Yosemite Valley, Half Dome, Yosemite Falls and Yosemite's high country. The road is typically open late May through October or November, but in 2021 the road will be closed to all traffic to rehabilitate and improve the road. Tioga Pass Road is another road that closes each fall. Clearing the road begins in April and can take anywhere from one to two months.
Temperatures at night can drop any time of year in Yosemite, but expect frigid nights if camping in the park in the fall.
Weather at Yosemite in the fall
Speaking of weather… your forecast for a fall trip to Yosemite National Park can vary from month to month. Weather patterns can range from dry to rainy and snowy to hot and cold. With a difference in elevation from 2,000 feet to 13,000 feet, it's hard to predict what you'll experience from place to place. 95% of the precipitation in the national park occurs between October and May, and 75% of that is between November and March.
Yosemite in September
Warm and sunny weather typically greets you in September, with an average of two rain days during the month. In Yosemite Valley, you can expect an average high of 82 and a low of 51; in Tuolumne Meadows, you can expect an average high of 65 and a low of 31.
Yosemite in October
The weather can be a little unpredictable in October, ranging from nice and sunny to cold and dreary. Yosemite often averages three rain days for the month, and colder weather comes in the closer you get to November. In Yosemite Valley, you can expect an average high of 71 and a low of 42; in Tuolumne Meadows, you can expect an average high of 56 and a low of 25.
Yosemite in November
Yosemite in November can bring the chilliest weather of fall and the greatest chance for snow. There is an average of five or more wet days in November, whether that's rain or snow. In Yosemite Valley, you can expect an average high of 56 and a low of 33; in Tuolumne Meadows, you can expect an average high of 56 and a low of 17.
What to pack for Yosemite in the fall
Packing for a fall visit to Yosemite National Park can be summed up in one word: layers. Nine times out of ten you'll want to have layers that you can stay warm in in the morning, strip in the afternoon warm-up and put back on once the sun starts to set. Here's my essential items to pack for your trip.
Good hiking boots: This is an absolute must. So much of Yosemite is explored on foot because it's one of the best hiking destinations in the U.S., and your trip won't last long if you can't make it from place to place comfortably. Check out my list of vegan hiking boots here.
Layers: Layers are what make or break your day at Yosemite. You don't want to dress too heavy and be stuck sweating in your fleece pants and top, but you don't want to dress too light and be shivering all day. The solution? Layers! Wear a short sleeve top and light pants (or shorts if you tend to get hot easily) under a long sleeve shirt or sweatshirt and an additional pair of pants. Strip layers when you get hot and easily put them back on when you're cold.
Jacket: Just as I mentioned before, you'll want a jacket that can easily be packed in your bag as you take it off and put it back on through the day. This is especially helpful if you're doing a hike that is a big gain in elevation. You may not want the jacket down below, but you will once you reach the top.
Scarf, hat & gloves: This can be especially important if you are visiting in the later half of fall, or if you're looking to spend time in the park past dark. Once the sun goes down, you can expect the temperatures to drop quickly and a scarf, hat, and gloves can help shield you from the elements.
Water & snacks: There's a lot of movement on a Yosemite trip, especially if you're an avid hiker. Make sure to bring enough H20 to keep you hydrated throughout the day and snacks that are going to keep your energy up like peanut butter, bananas, dried fruit and granola.
Day pack: This may seem obvious, but bring a comfortable day pack with you that you won't mind carrying all day. It should be able to hold your snacks, water, layers, and other items.
Trekking poles: Even if you are an avid hiker, trekking poles are extremely helpful as you trek through the rocky terrain of Yosemite. If you don't think you'll want to use them all day every day of your trip, purchase poles that can be folded up and stashed in your day pack.
Flashlight or headlamp: This is extremely important if you'll be in Yosemite at night. Bring a flashlight to see around your campsite, and if you plan to get out and about during the nighttime hours, wear a headlamp for hands-free lighting.
Battery pack: You can spend a full day in Yosemite National Park and not run out of things to do. Make sure to bring a battery pack to keep your phone charged, especially if you're camping in the park.
First aid kit: Don't forget essentials like bandaids, ointment, bandage wrap for small sprains and pulls, pain relief medicine, and toiletries like lotion.
Other things to know about Yosemite in fall
While planning your trip to Yosemite National Park, there are a few things to know before you even arrive.
If you're driving, the park can be accessed in about three hours from the San Francisco Bay area. If flying in, there are three airports near Yosemite National Park: Merced Regional Airport, Fresno Yosemite International Airport and Mammoth Yosemite Airport.
There are entrance fees for Yosemite National Park, something that you may not be used to if you frequent the national parks of the East Coast. Fees are $35/car for a seven-day pass. You can either pay in advance through recreation.gov (preferred) or purchase day-of upon arrival. Entrance fees vary for larger vehicles.
As for more on Half Dome permits… you'll need one of these if you want to climb Half Dome any day of the week. The cables are up the Friday before Memorial Day and stay up until the day after Columbus Day, weather permitting of course. The lottery for permits opens in March and winners are usually notified in April. There is a limited supply of permits available each day, but don't expect those to last long if there are any. Backpackers receive lodging accommodations for overnight, but day hikers are expected to return to the base. A $10 application fee is required to enter the lottery, and an additional $10 permit fee is required if you receive a permit.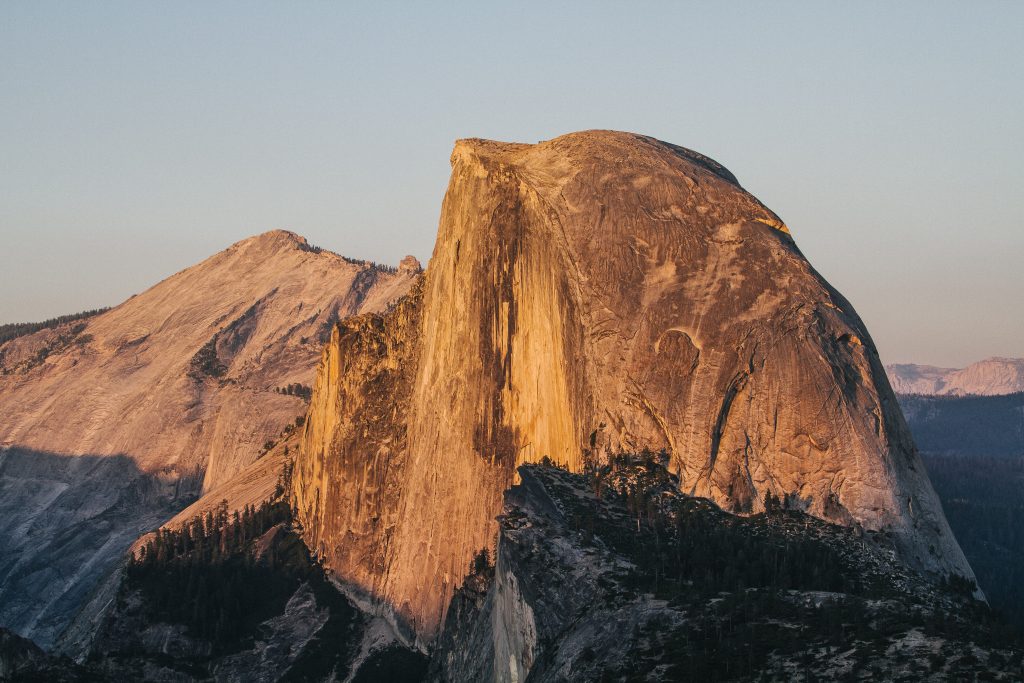 Latest posts by Kylie Hubbard
(see all)