TRAVEL
Top Hiking Destinations in the US
By |
This post may contain affiliate links, meaning if you book or buy something through one of these links, I may earn a small commission (at no extra cost to you!). Please see my disclosure.
Top Hiking Destinations in the US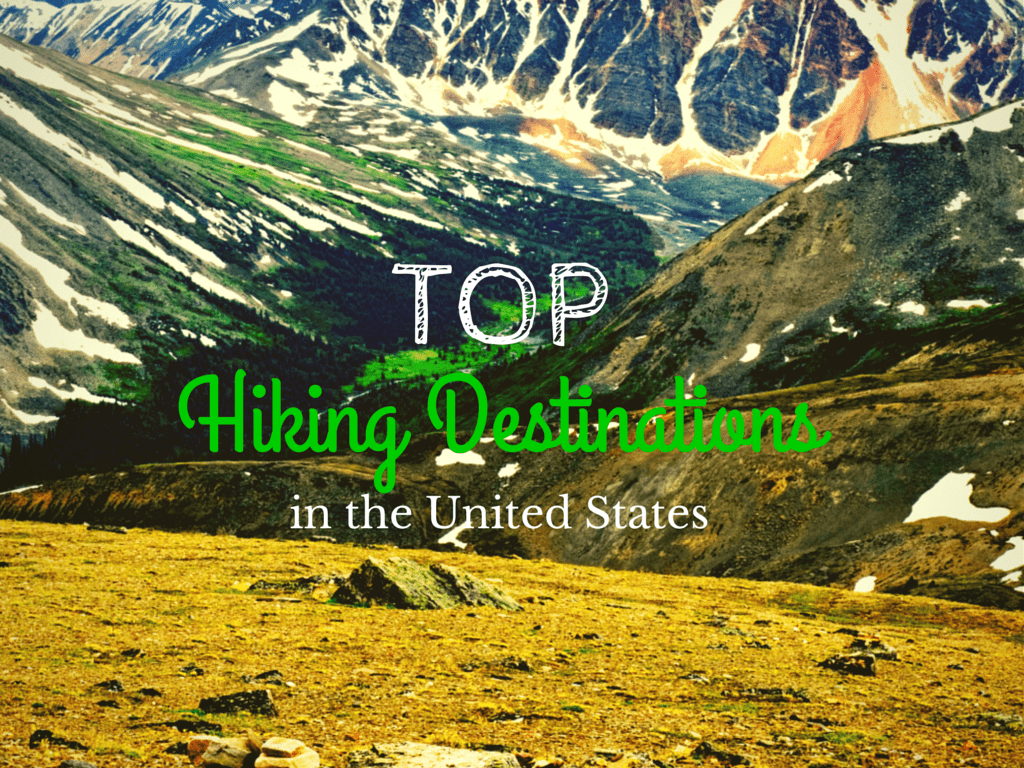 If the thought of strapping on a pair of hiking boots and donning a backpack on your vacation makes you rejoice, then you need to visit these top hiking destinations in the US. From the beginner hiker to the intermediate trail explorer, the United States has many options for you to take advantage of.
Pacific Coast Trail
The Pacific Coast Trail is an 8,650 mile hike that spans three states, 24 national forests, and 7 national parks. Along the way you will traverse mountainous terrain and take in spectacular views of more than 1000 lakes and 19 major canyons.
Known also as the PCT, this trail runs from New Mexico all the way to Canada. You will hike your way across landscapes ranging from low deserts to arctic mountains. If you don't want to travel the entire length of the trail you can access portions of it from places such as San Diego, San Francisco, Seattle, and Portland. Many people opt to make a weekend trip of hiking these shorter portions.
It is a popular hiking and camping destination for any avid nature enthusiast.
Appalachian Trail
Starting in Georgia and winding up to Maine, the Appalachian Trail is a hikers paradise. It is a 2,178 mile trail that is broken up into a series of smaller trails.  The Appalachian Trail makes its way through 12 states.
You will hike through 6 national parks along the way and 8 national forests. Be sure to carry a map and come prepared as the trails on this journey range from hiking trails that meander up mountains, to extreme trails that will have you climbing up steep faces.  You will have unprecedented views from atop the Appalachian Mountains such as beautiful waterfalls that snake through canyons and down the faces of cliffs. It is a hike that will not only leave you breathless from exercise, but also, from the spectacular surroundings.
Denali National Park
This is a hiking experience unlike any other in the rugged and wild country of Alaska. Here the trails are not as well marked as other national parks so you feel much closer to nature. Some, if not most of the hiking, cuts straight through the woods and is not on trails at all.  You will be backpacking in its purest form, and will have many challenges to contend with.
This hike may leave you feeling more like a first-time explorer then a traditional hiker. Though the hike is rugged and harsh along the way, the views will make up for any inconveniences.  However, this is not recommended if you are a weekend hiker or a novice. You will want to take someone who is experienced along with you and learn to practice some survivalist type skills. If you can do this then you will thoroughly enjoy your hiking experience.
Yosemite National Park
Although America is painted with beautiful scenery throughout all of its national parks, Yosemite National Park in California, boasts some of the most spectacular vistas and views. The park itself is roughly the size of Rhode Island and you can take advantage of over 800 miles of hiking trails that range from novice to expert.
You will be pleasantly surprised to find out that there are dozens of trails to traverse that will make your hiking experience a fulfilling one. From the beautiful glacial mountains that surround it, and the lush forests that you hike through, you are sure to see an abundance of wildlife teaming amidst the giant Sequoia trees.  For real adventure seekers, make sure you hike the trail that leads to the peak of El Capitan, one of the largest mountains in the park. Be sure to take your camera to snap pics of the beautiful scenery which will not disappoint. Hiking in this area will be an experience unlike any other.
Glacier National Park
Proving over and over again to be a true hikers dream, Glacier National Park is one of the most majestic places in the United States to hike. You will have access to more than 700 miles of marked trails inside the park itself.  Traveling through this vast area you will likely be able to traverse these trails and never meet up with another hiker.
From its stunning and impressive peaks to its crystalline green-blue lakes, the park is akin to walking through a living postcard. Along the way you will no doubt see an abundance of wildlife from beavers and local rodents such as marmots and groundhogs, to even bears and possibly a lone wolf or two. It is also common to see elk and moose in the rivers and along the paths in the woods.  If breathtaking scenery is what you seek, then Glacier National Park is definitely a hiking experience that you should take advantage of.
These trails are visited and hiked by many people each year in this country. All of them should be explored by anyone who is a hiking enthusiast whether it is their first trip or their 100th trip.  These trails are beautiful and amazing.  The adventure to be had at these locations is the stuff of legends.  Get your packs ready, the trails are calling…
Which hiking destinations would you add to this list???