This post may contain affiliate links, meaning if you book or buy something through one of these links, I may earn a small commission (at no extra cost to you!). Please see my disclosure.
Just because you love hiking doesn't mean your shoes have to be leather and your socks have to be wool! There are plenty of vegan alternatives to everything you can possibly need to be an avid outdoors person. But, where do you find vegan hiking boots and how do you know which ones to get? I too had the same questions and there are actually quite a few great options and it all depends on what your priorities are – hiking, backpacking, climbing, and so on – your budget, and your personal style preference. So, I decided to put together this comprehensive guide for vegan hiking boots together as a one-stop resource.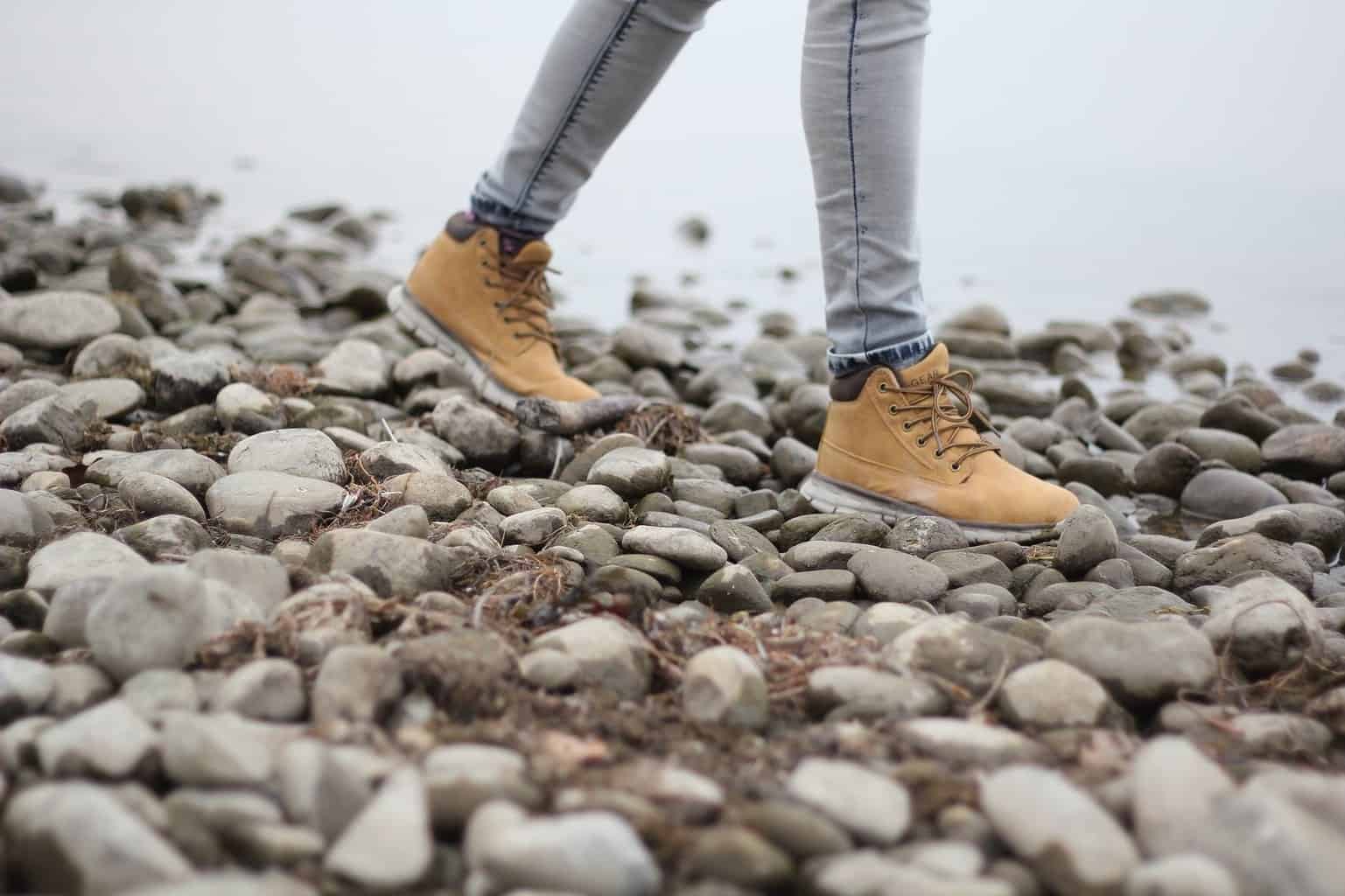 Vegan Hiking Boots
So, what exactly makes boots not vegan and what's make vegan hiking boots vegan?
The main thing to look for is what the materials are made of; this is the easiest step. You may be surprised how much synthetic and man-made material is used as opposed to leather. A lot of people, even non-vegans, choose synthetic books without even knowing they're choosing vegan hiking boots. If you're trying to figure out where to buy hiking boots and other outdoor gear, check out one of my favorites – Backcountry.
The glue that is used is the second thing to look for – and not quite as simple. While boots or shoes may be made of synthetic and non-leather materials does not mean they're vegan. Don't get me wrong – this is a great first step. However, not completely there. A lot of shoes aren't labeled as vegan because brands or manufacturers simply don't know the source of the glue. A lot of glue contains animal products. Which is, quite frankly, yuck.
Where it becomes simple is that some brands – a lot more than ever – are becoming better and better at stating if their products are vegan. If you found some synthetic boots that you really, really love though and they aren't already marked as vegan, reach out to the brand. Ask them about the source of the glue. In some cases, they'll simply say they can't answer for certain (doesn't mean it's animal-based, but it means it's probable). On the other hand, they may be able to tell you it's not animal-based and yay – you got yourself some brand new vegan hiking boots.
[table id=1 /]
11 of the Best Vegan Hiking Boots
The La Sportiva Trango TRK GTX vegan hiking boots have a lot of pros starting with the waterproof Gore-Tex lining and #D Flex inserts for amazing ankle mobility (I have the weakest ankles so this is uber important!). These guys are very durable and lightweight, sit above the ankle, and lace-up in the front.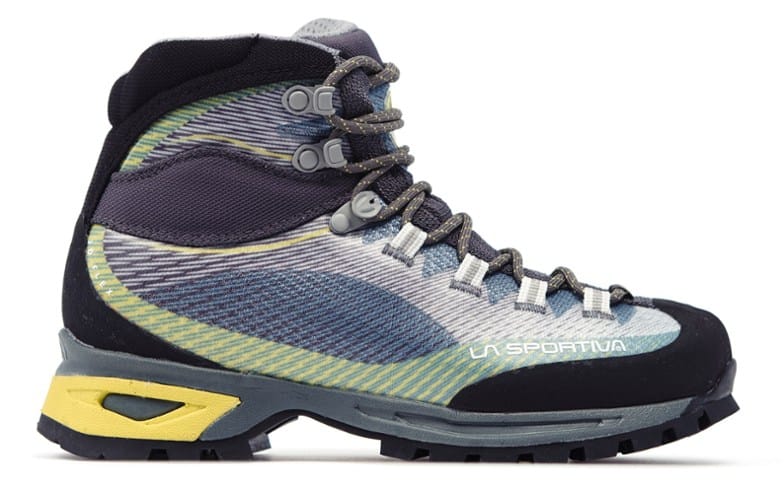 ---
Looking for vegan hiking boots that are waterproof and have maximum breathability? The La Sportiva Stream GTX may be just what you're looking for then! These hiking boots are great for hiking and offer breathable, waterproof GORETEX technology and Vibram XS Trek soles.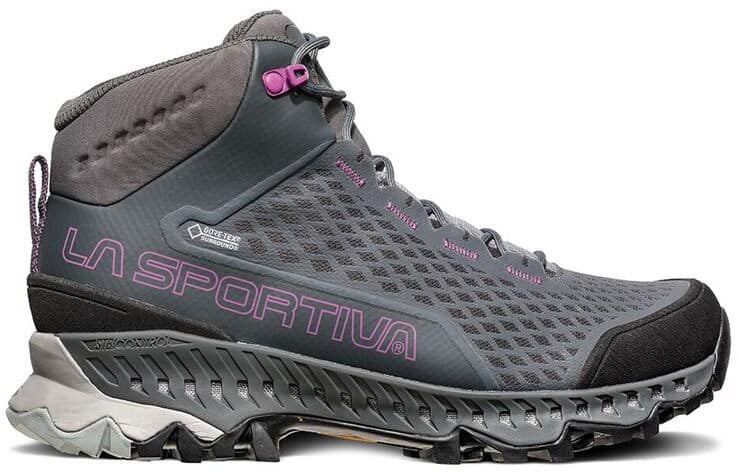 ---
These lightweight, low-profile shoes are great for hiking. They come with Vibram Megagrip Traverse rubber outsoles, have enhanced stability, and great grip and traction. If you're not a fan of the clunky-looking, above the ankle typical hiking boots, you'll like these low-profile vegan hiking boots.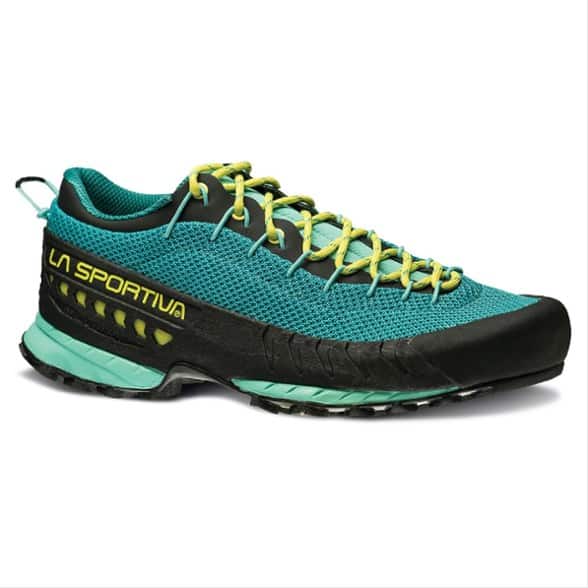 ---
The La Sportiva Spire seems to be like a low-profile version of the Stream. With durability and breathability, these hiking boots are waterproof and have great gripping technology.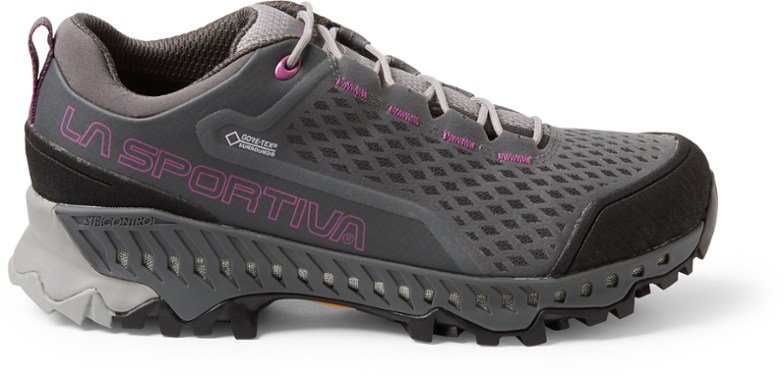 ---
Merrell is one to actually use vegan in their product description which is pretty cool. These vegan hiking boots have Vibram TC5+ outsoles which offer a very secure grip no matter the terrain, the material allows for breathing, and the Bellows tongue keeps trail debris out of the shoes. These are also more low-profile compared to most.
Pros: Cost, Low Profile
Cons: not as lightweight as other low-profile
See the latest price: Women's | Men's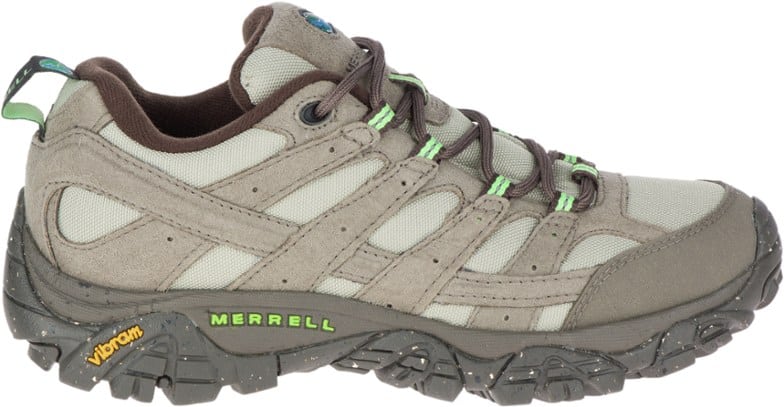 ---
These sleek vegan hiking boots offer GORE-TEX waterproof, breathable material and rubber outsoles that provide traction and durability for all terrains. They also offer increased underfoot protection and technology that accommodates changing foot shape and natural movements. These are great for hiking and trail running, sit above the ankle and lace-up from the front.
Tecnica Plasma S Hiking Shoes
These Tecnica Plasma S hiking shoes offer custom adaptive shaping by heat-molding in selected REI stores. This customization shapes the footbeds and heel pockets to your unique anatomy which is great for hikers who are prone to blisters. This isn't necessary though and the overlapping wrapped tongue design provides great fit out of the box. They offer great breathability and gripping technology.
Pros: sustainable, breathability, custom fit
Cons: not waterproof, custom fit must be done in store
See the latest price: Women's | Men's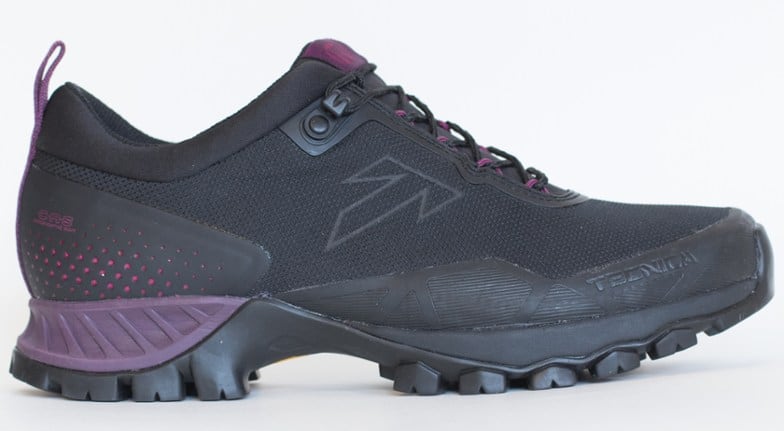 ---
Tecnica Plasma S GTX
The major difference between these and the above is the GORE-TEX so if waterproof is important to you, that may be the deciding factor between the two.
Pros: Waterproof, Custom Fit, Sustainable
Cons: Cost, custom fit must be done in store
See the latest price: Women's | Men's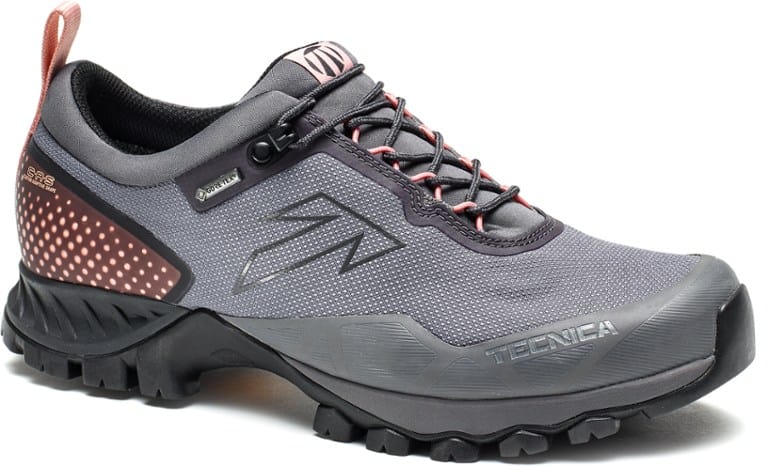 ---
The Arc'teryx Bora Mid GTX hiking boots are outfitted with a Vibram outsole offering excellent grip and stability. The GORE-TEX lining offers waterproof abilities, they're breathable and super lightweight. They also do not have a tongue which contributes to the lightweightness and comfortable fit.
Pros: waterproof, lightweight, durability
Cons: Cost
See the latest price: Women's | Men's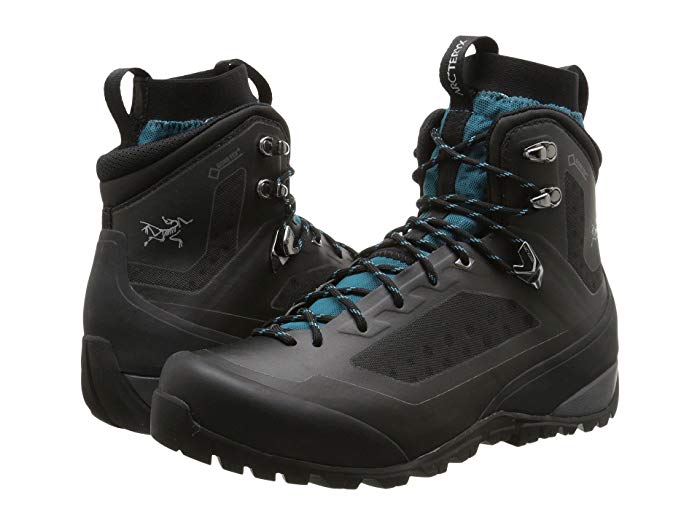 ---
The Innox GTX Mid by LOWA is an innovative, lightweight and multifunctional mid-cut boot that is suitable for a variety of outdoor activities, even in winter conditions. The upper material is made from a high-quality synthetic material, which helps to keep the weight of the boot relatively low. The GORE-TEX lining makes the boot waterproof and ensures that feet stay dry and warm, even in snowy or slushy conditions. The Innox GTX Mid is exceptionally comfortable, yet is engineered to be robust.
Pros: lightweight, durability, waterproof
Cons: Cost
See the latest price: Women's | Men's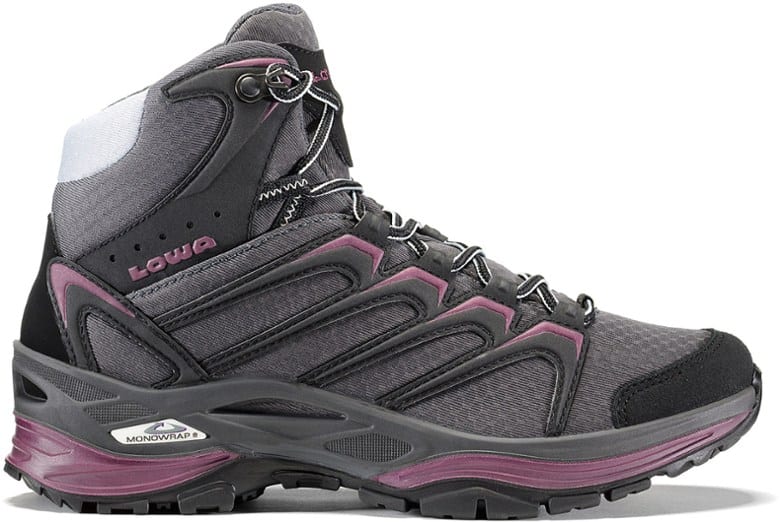 ---
The Astral TR1 Junction is great for vegans and minimalists. They come with high-performance gripping capabilities, a breathable and quick-drying material, and a wider toe area lets your feet and toes spread for stability and comfort.  All of their shoes are vegan and use recycled polyester and recycled materials to encourage sustainability.
Pros: sustainable, low-profile
Cons: not waterproof
See the latest price: Women's | Men's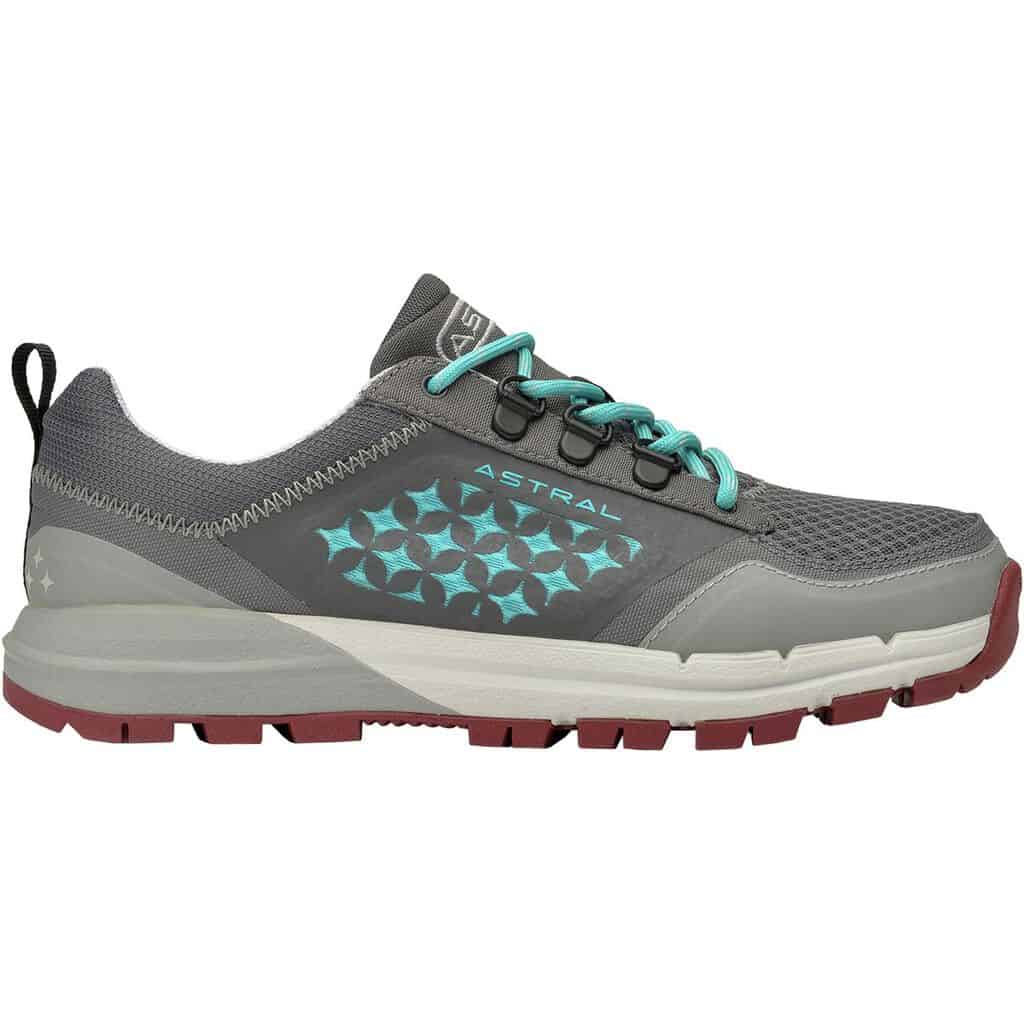 ---
↓↓↓ PIN FOR LATER ↓↓↓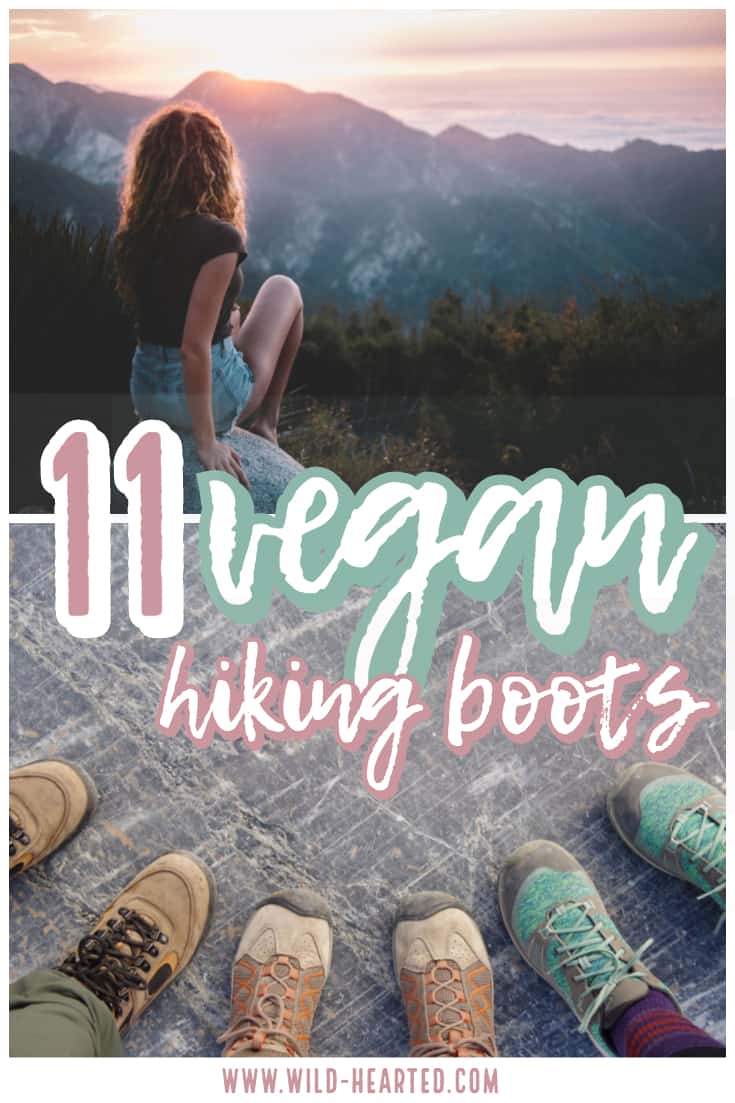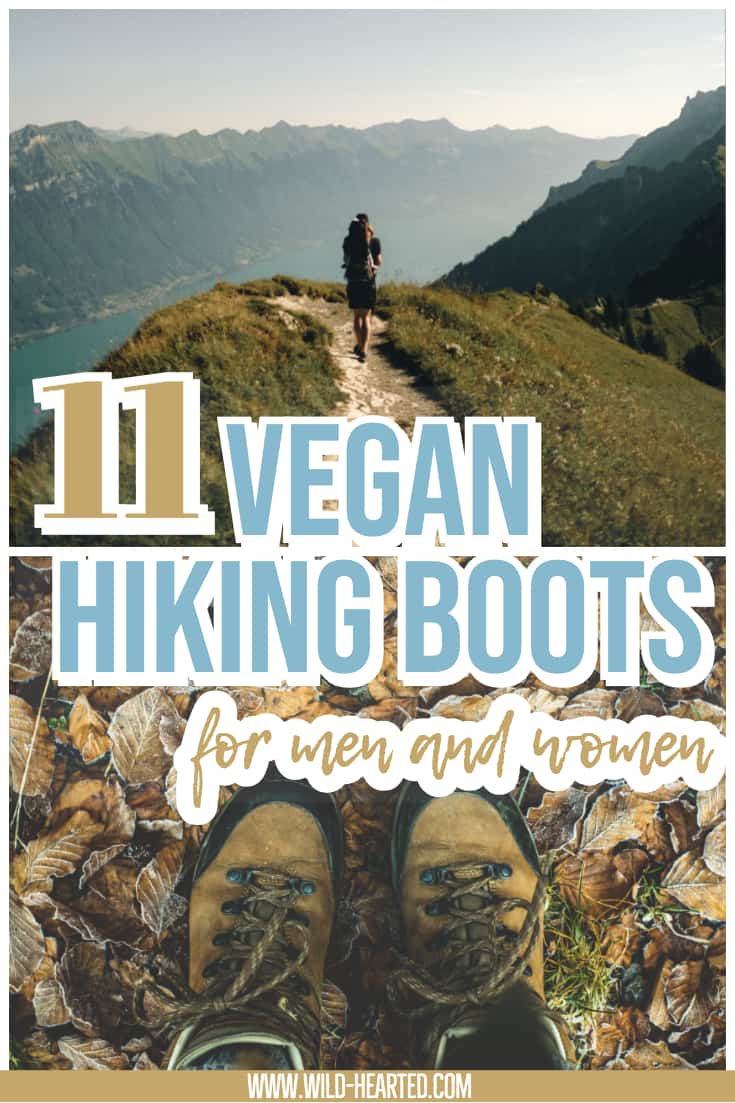 Latest posts by Ashley Hubbard
(see all)