This post may contain affiliate links, meaning if you book or buy something through one of these links, I may earn a small commission (at no extra cost to you!). Please see my disclosure.
If you haven't realized it yet, we're big fans of sharks over here. We love telling people how amazing they are and how absolutely vital they are to the future of our planet. If you or someone you know also loves sharks, then you can't go wrong getting them shark gifts for Christmas, a birthday, or just because.
Whether it's a shark stuffed animal, shark string lights, or a fanny pack, there are gifts for shark lovers, no matter their style.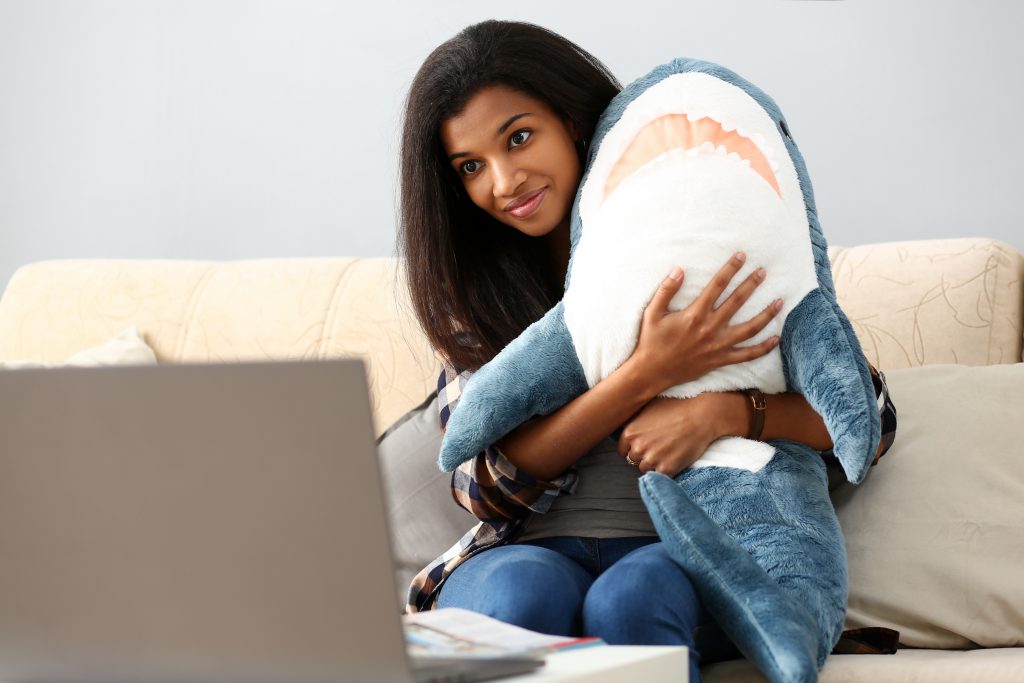 Shark Gifts for the Elasmobranchii Lovers in Your Life
Here's a list of shark-themed gifts from home goods and books to adventure gear— you may even find a few to put on your own list.
Home goods and decor for shark lovers
These adorable shark string lights are the perfect addition to any shark lover's room. The lights are eco-friendly and just need two AA batteries to light up the 10 warm white LED lights.
For even more fun, gift more than one set to fill an entire room.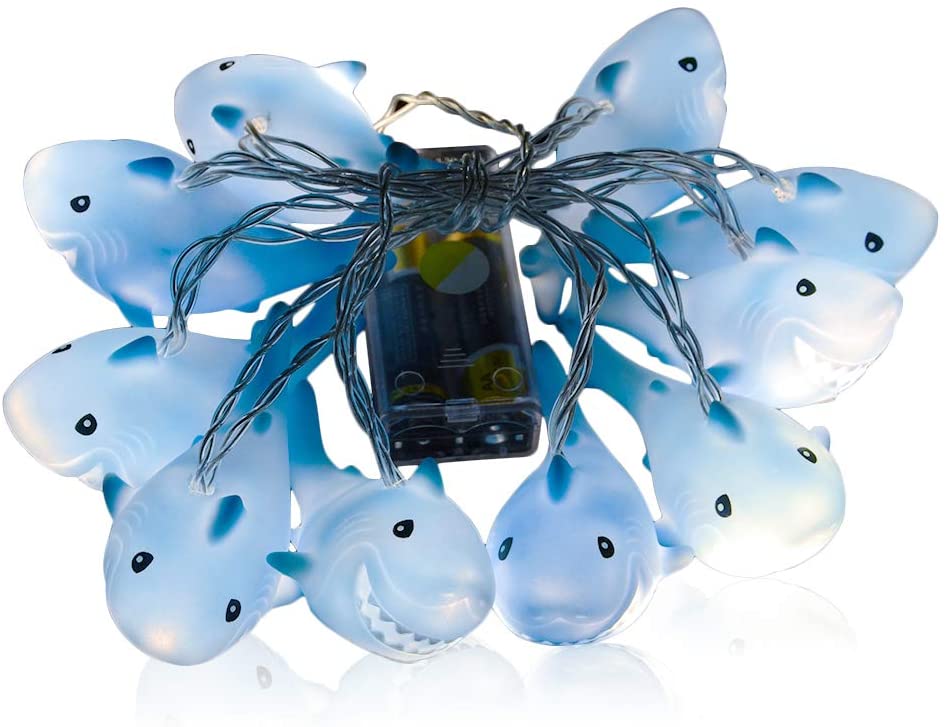 That's right— even sharks do laundry. This handmade felt laundry basket is perfect for the bedroom, bathroom, or laundry room, and, thanks to its material, can be squeezed into practically any small space.
Personalize its teeth color as white, silver or gold and choose between grey or anthracite felt.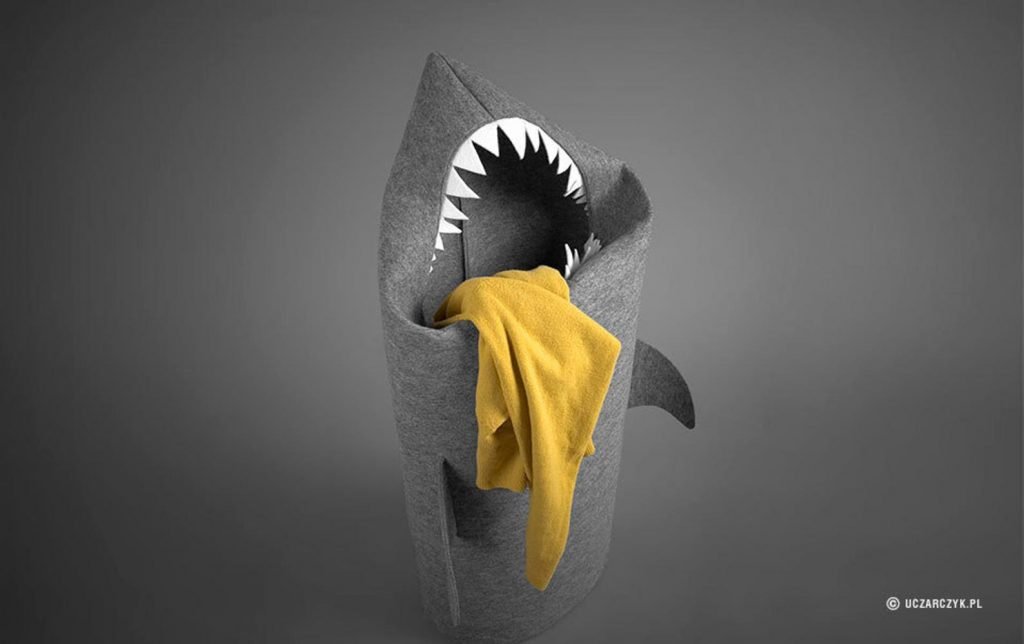 It's marketed as a kids' room piece, but let's face it -– this is perfect for any shark lover's room. The table lamp features a shark-shaped base made from ceramic in a white glossy finish.
Whether on your desk, side table, or dresser, this lamp is a perfect way to light up the room and subtly share your love of sharks.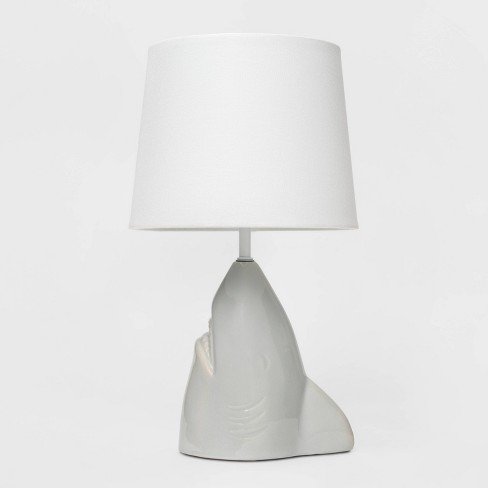 How awesome is this geometric art print? This simple, original, unique print is a great way to add shark love to any room.
Designed, printed, and made in Australia, the print can be shipped worldwide, and if you're feeling extra generous, you can seal it in a beautiful frame.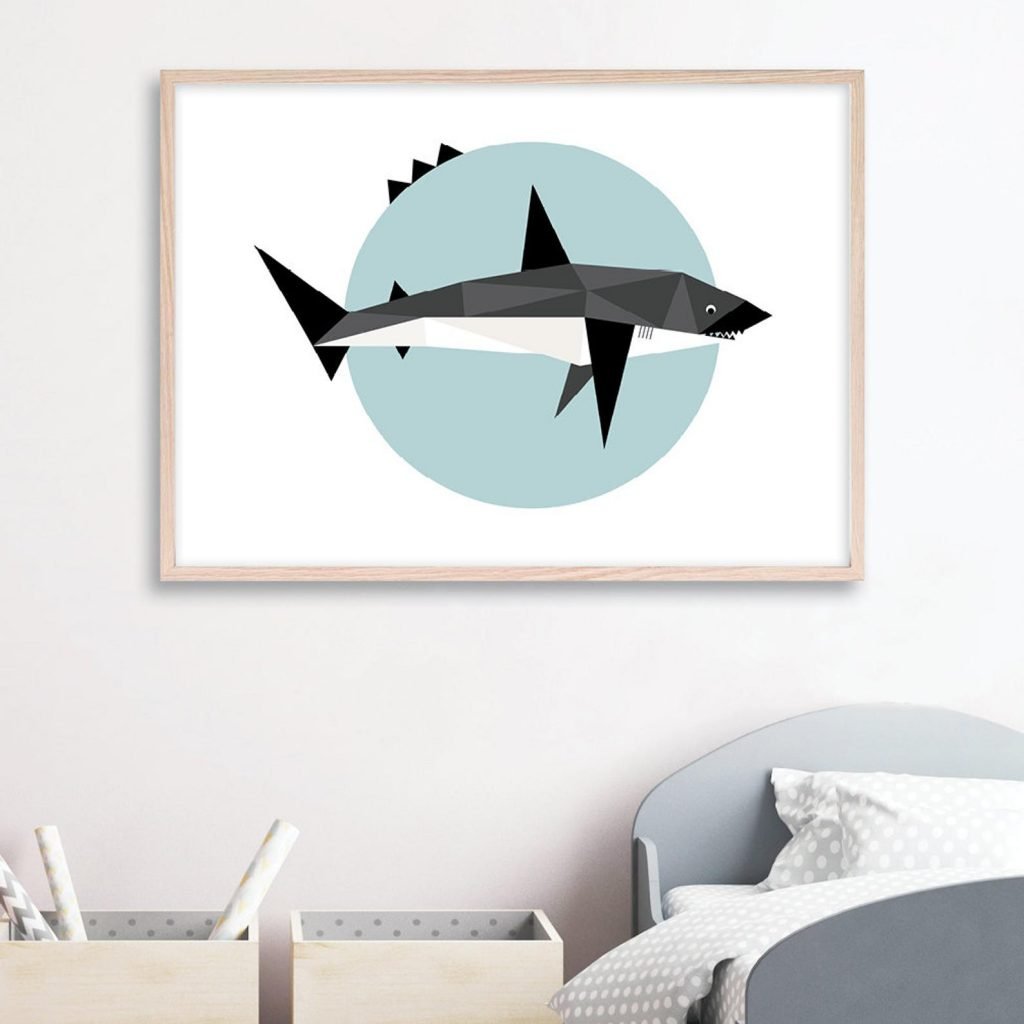 A shark is hungry for a nap in the depths of your house. Send your favorite little minnows off to bed in this duvet cover and pillowcase that makes it look like you've been a shark's daily snack.
Created by Peggy van Neer and Erik van Loo in the Netherlands, this bed set comes in twin size (for the littles) and full/queen (for the adults).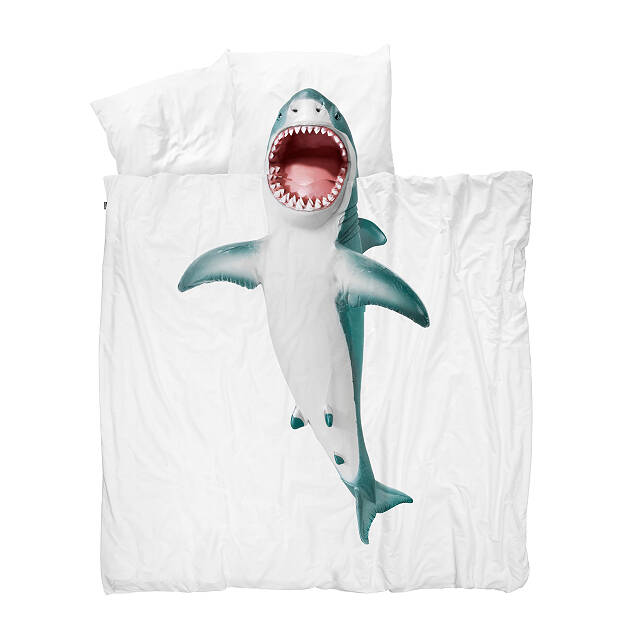 Do people even still use pencils that need to be sharpened? I don't know, but I do know you'll want to once you see this pencil sharpener.
Your little shark friend will use his sharp teeth to give you the sharpest pencil you've ever used, all from the comfort of your desk.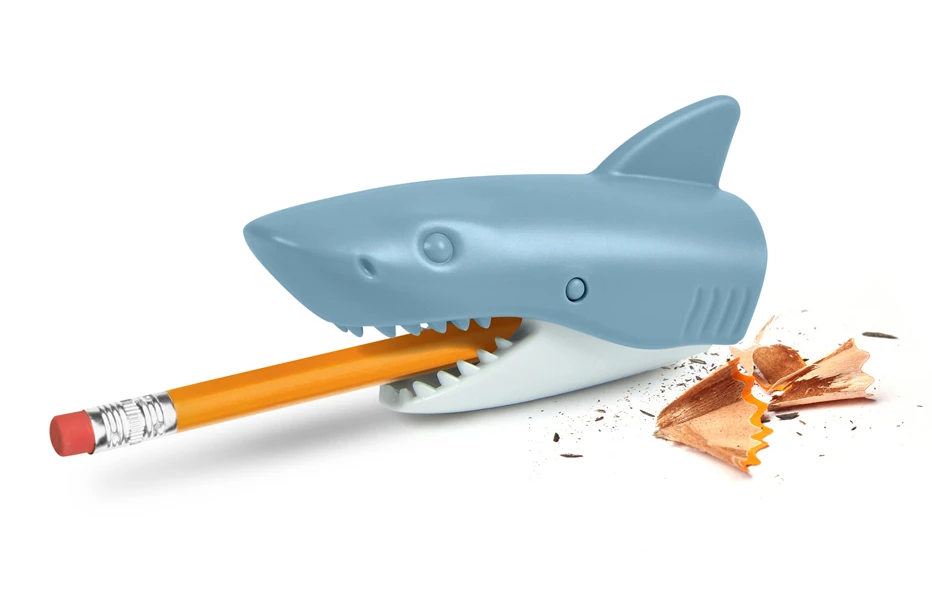 What could make tea time better? A shark tea infuser, duh.
This guy is perfect for afternoon tea, and all you have to do is load the base with loose tea leaves, perch him in a cup, and watch him relax as he makes your tea.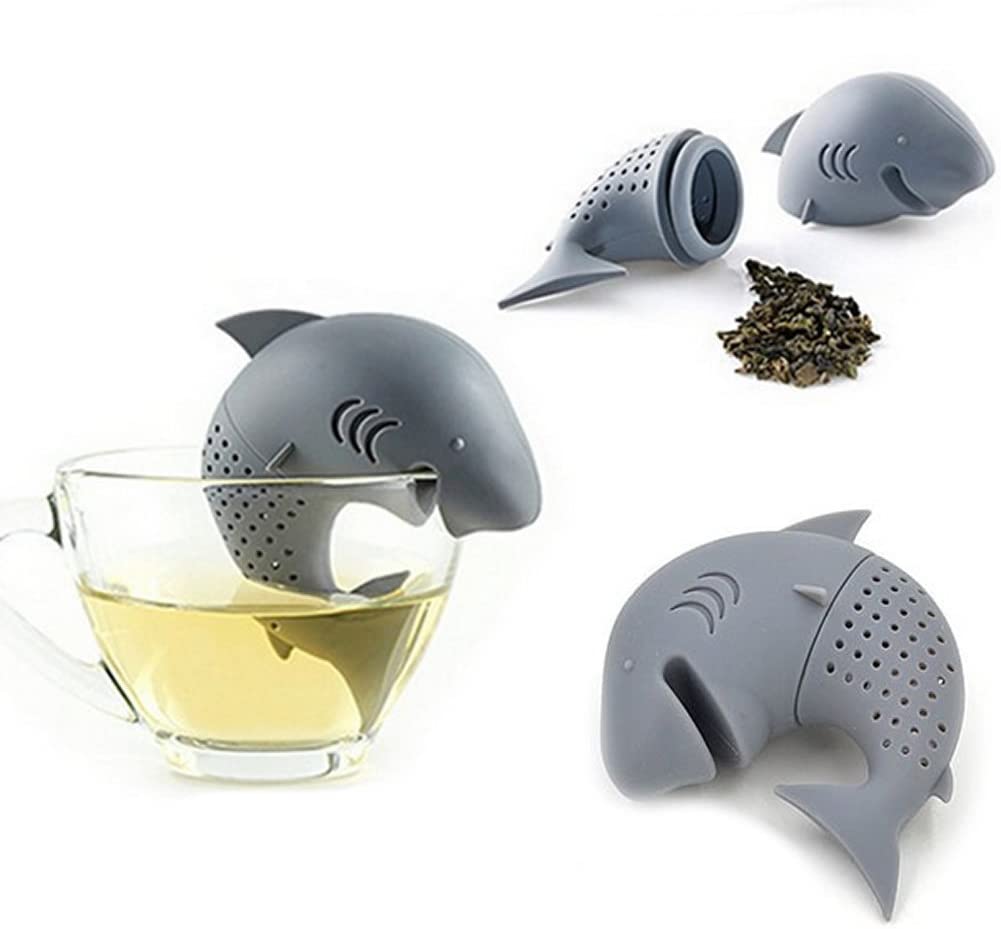 This cute strainer turns any sink into an ocean infested with sharks. While you may dread doing the dishes on any other day, this little guy will help make that daily (or let's be honest- weekly) chore so much more fun.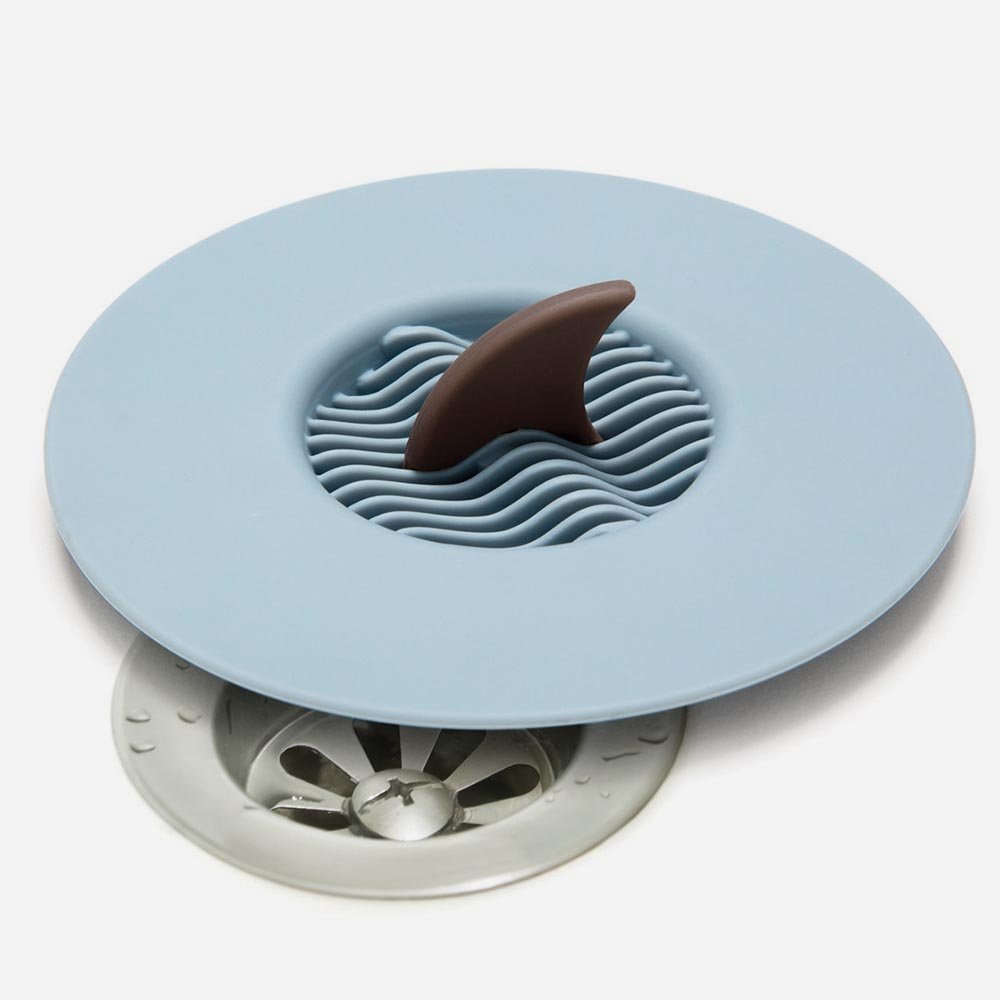 This shark tail-shaped ice tray adds the perfect shark touch to any drink. And no one said it just has to be for ice, either. Make chocolates or other treats in them, too.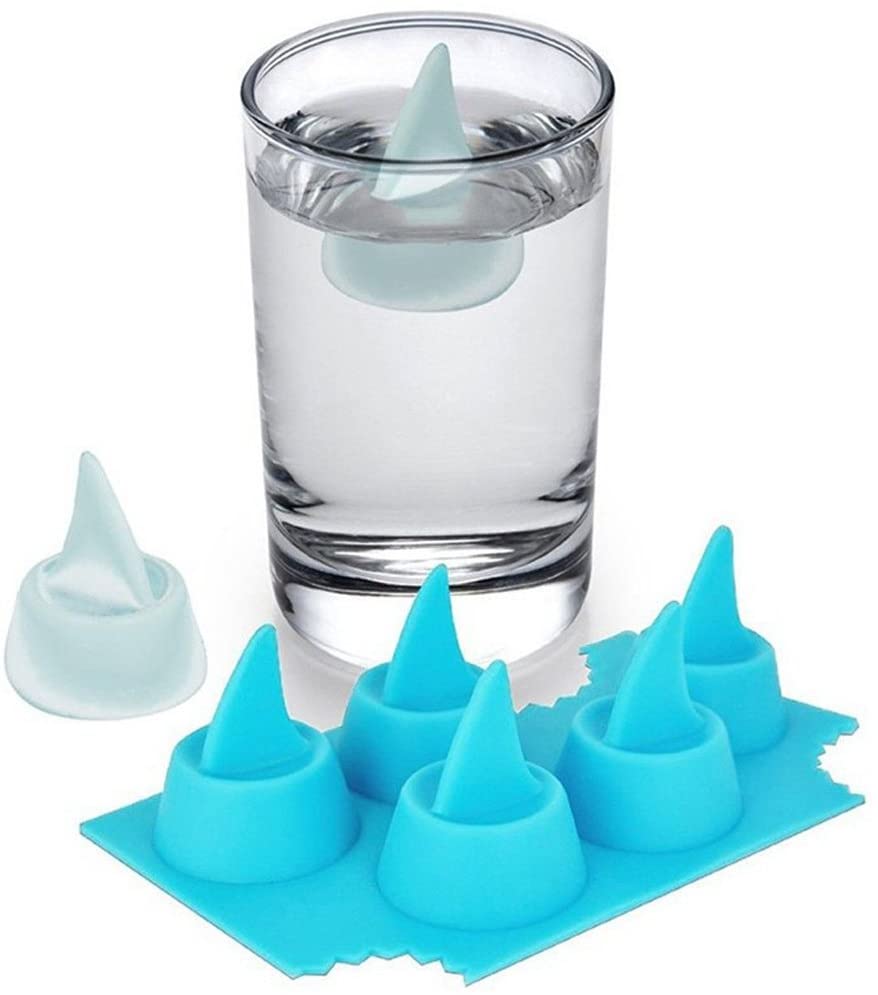 Shark clothing and accessories
Help them showcase their love for sharks in the most fashionable way. Yes, fanny packs are back. This fanny pack opens at the shark's mouth. Feed it your items, strap it on, and you're on your way.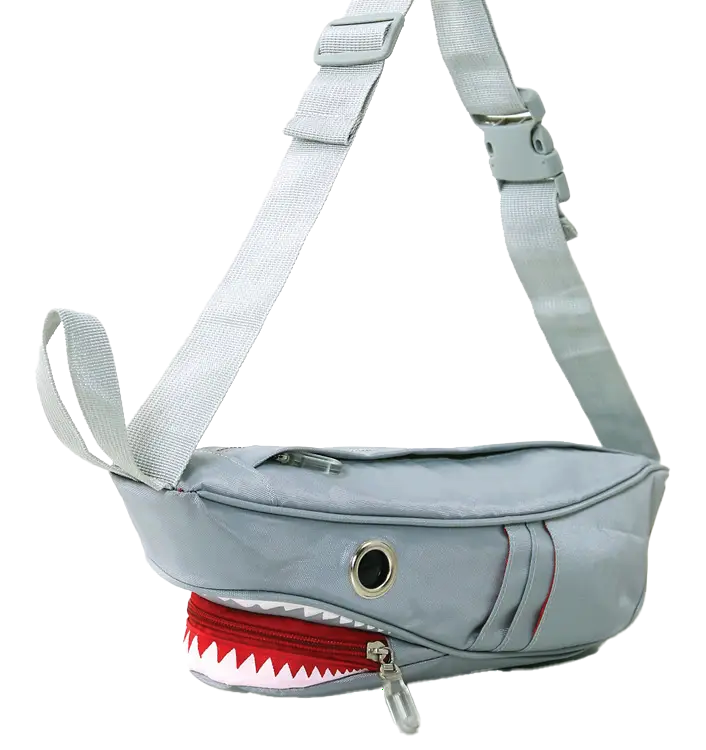 Shark T-shirts
Do you have a favorite shark? You can design your own favorite shark patterns and put them on t-shirts to make them unique. Custom t-shirts can also be customized into any of your favorite patterns.
Enamel pins like this cute one help the shark lover in your life showcase their love in their everyday life.
Whether it's on their bag, jacket, or bulletin board at home, these pins are a small way to help them share sharks— and a great stocking stuffer!
Something shark lovers know well – sharks are the locals in coastal cities and beaches. Gift them this patch to add to their bag or jacket so that they can remind others to respect the locals and ethically support sharks.
Shark leggings like these are the perfect fashion piece and conservation donation. 10% of profits from the Tiger Shark Research collection with Waterlust are donated to the shark research and conservation program at the University of Miami.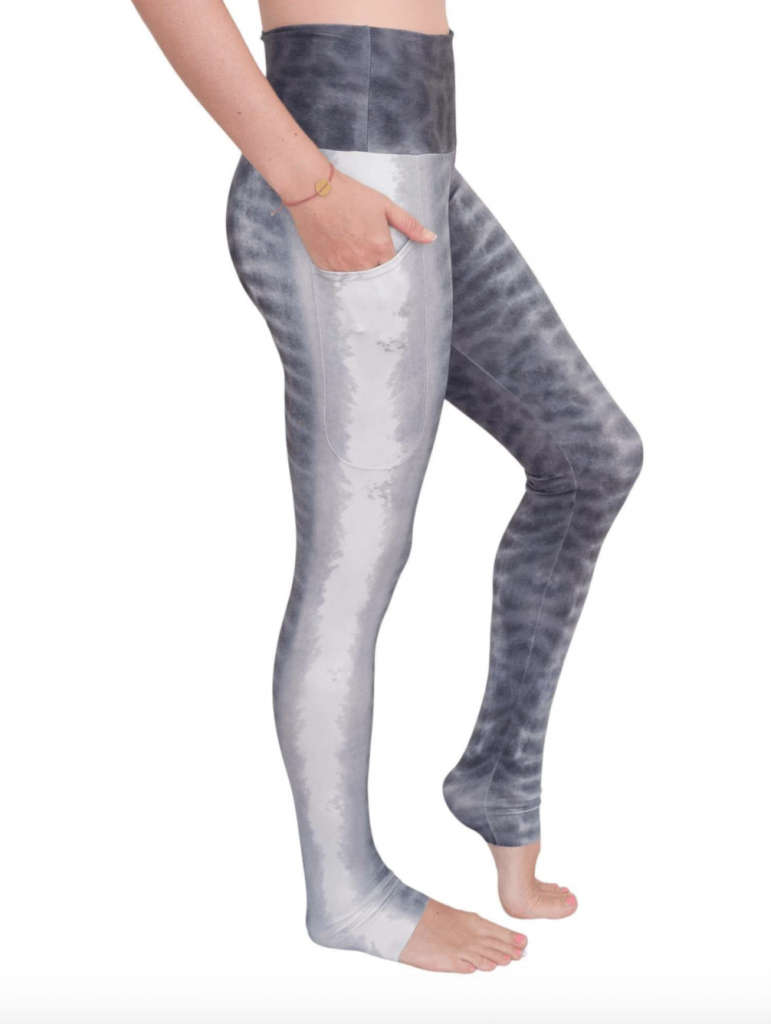 Will you look slightly silly in these slippers? Probably. But embrace it because these shark slippers are the perfect way to stay warm and share your love for sharks.
From sharp teeth and fins to wide-set eyes, the detail of these slippers makes them one of the most perfect shark gifts for adults.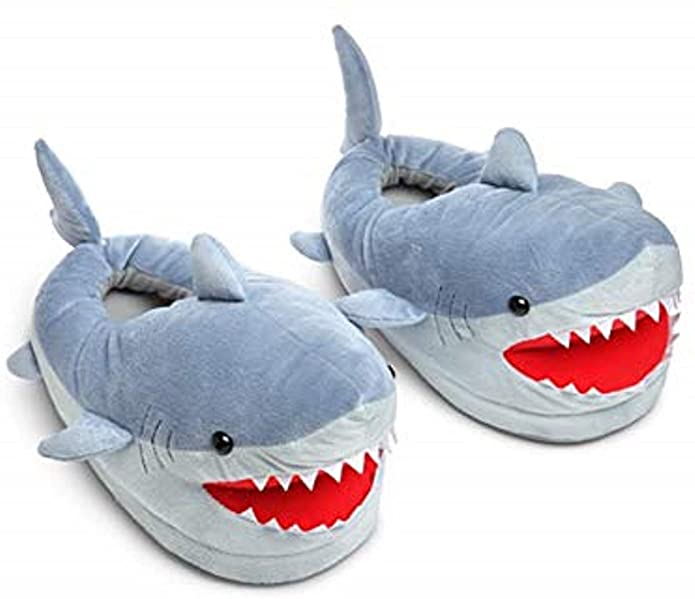 Shark Socks
Printing your favorite shark pattern on socks is also great, making your socks warm and cute. Custom socks will be a great creative gift for your friend.
Casual sweatshirts like this one from Losswe are perfect for your shark-obsessed loved one to sport every day. Not only can you find cute designs, but they're perfect for the cooler weather.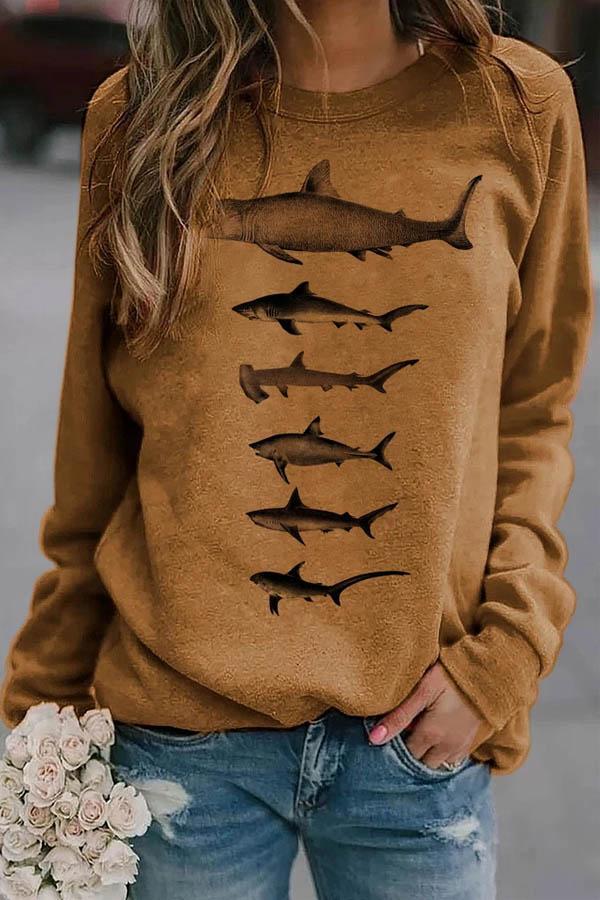 A shark wallet like this one from Modcloth reminds your recipient why they're spending all their money on shark stuff… because they're so cute!
This large, foldable wallet showcases swarming sharks and scenes from beneath the waves and is super versatile.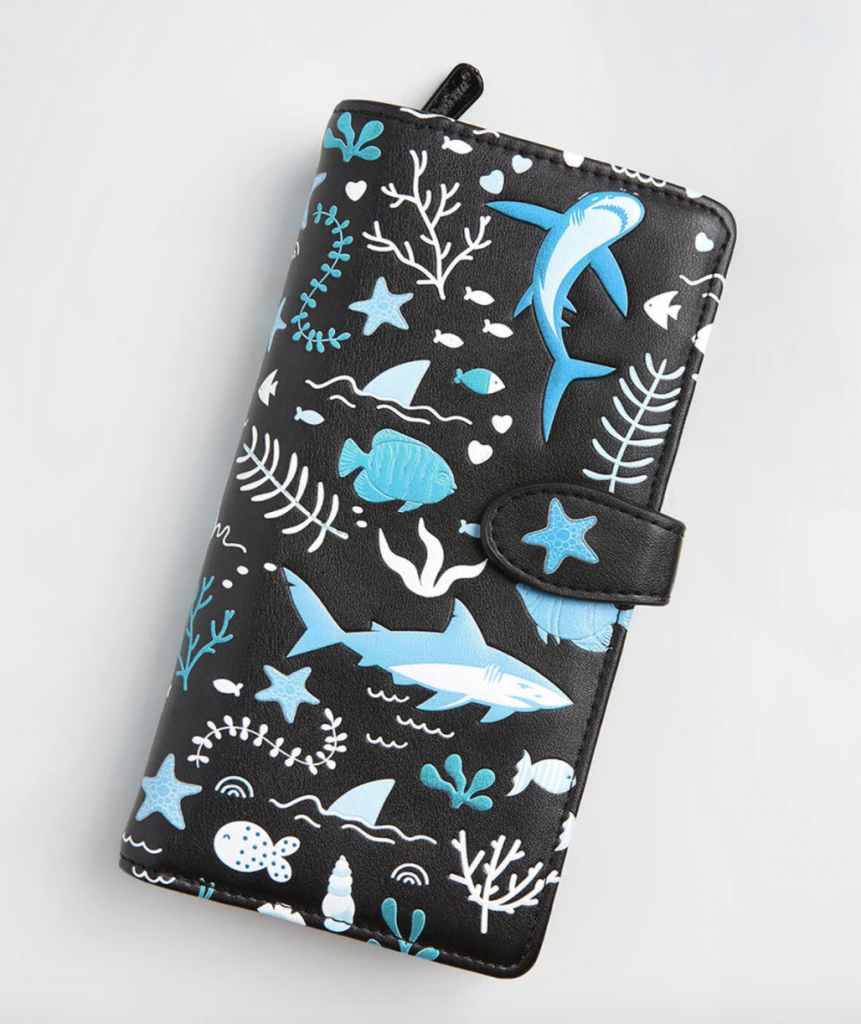 It's the most wonderful time of year, and they need the most wonderful gift of the year with these shark Christmas earrings from Modcloth.
These stud earrings feature three swimming Santas: Great White, Hammerhead, and Tiger sharks, all in a bright red Santa hat.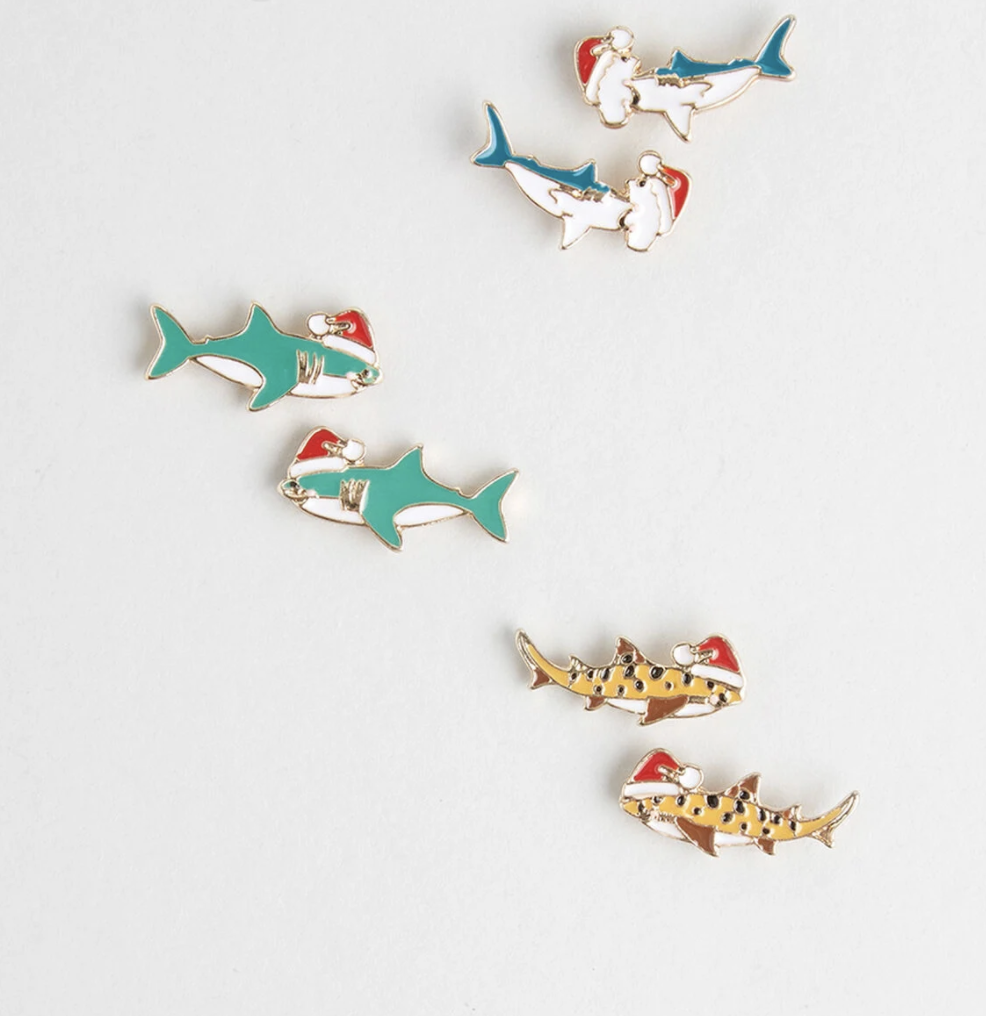 Shark Gifts Just For Fun
I'd never suggest you snuggle up to a shark, but get as close as possible with this plush shark! Not only is it as cuttttteeee as possible, but it can be your snuggle bud for the days that you wish you weren't at work but instead at the ocean.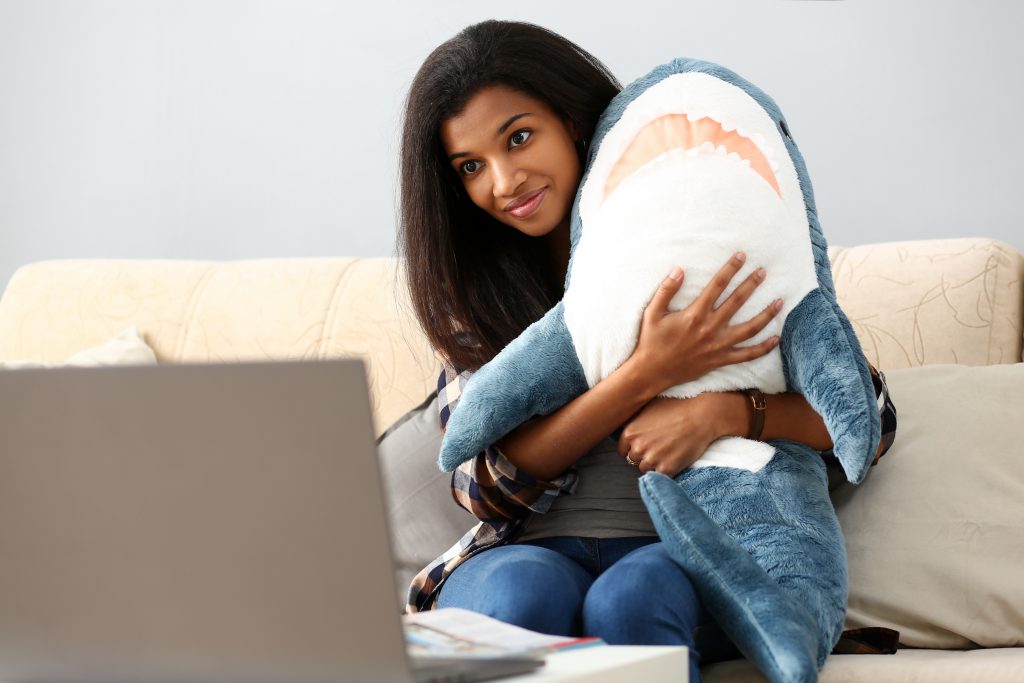 Don't forget a card! Cards like this one from Etsy creator Nautilus Design Co. are perfect to attach to your gift.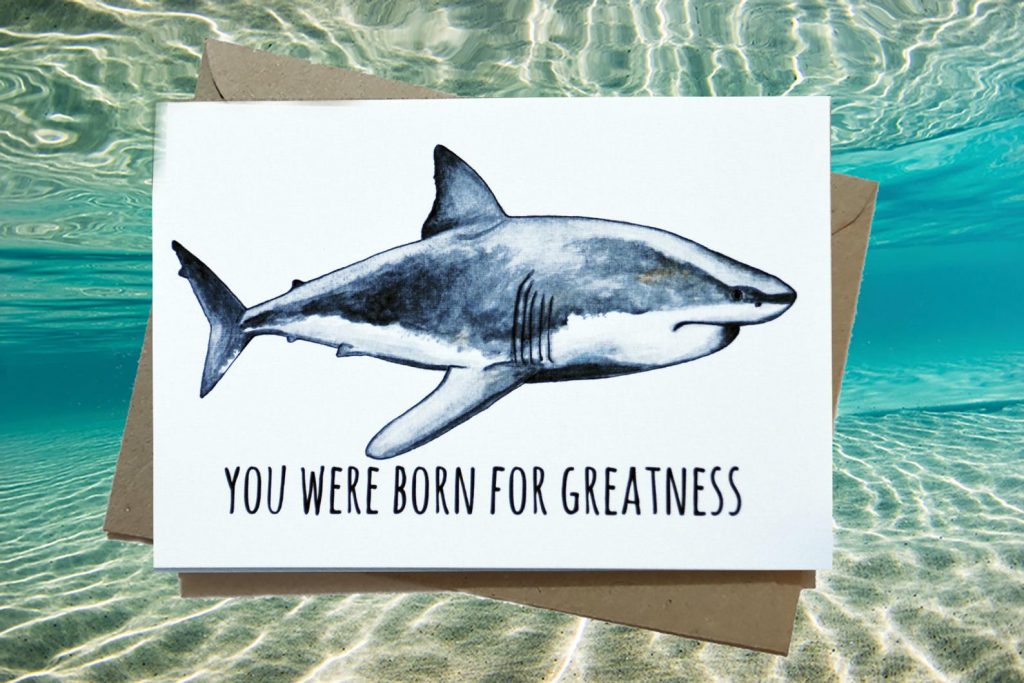 Shark Gifts For Travel And Adventure
Gift them a towel they will want to use all the time, not just at the beach. I love this one— no one said sharks weren't sassy.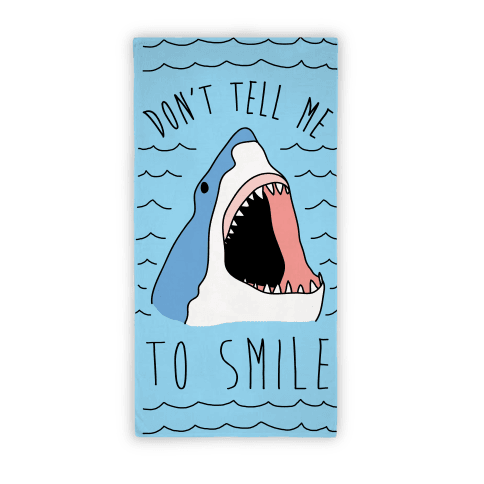 Give them a gift that keeps on giving with a course designed to help you learn how to explain the conservation status of sharks, how to manage threats to sharks, and actions you can take to protect sharks. The course includes a classroom session and two open water dives.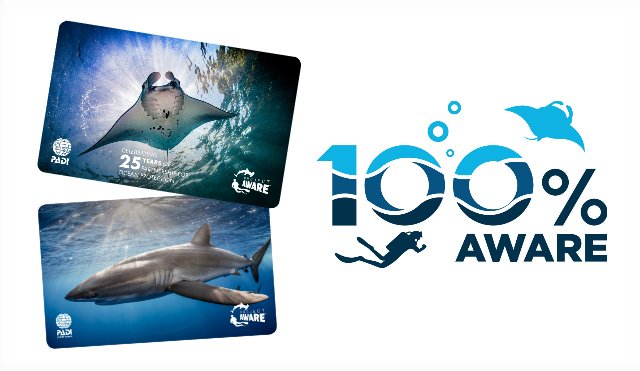 Shark Gifts For Readers
It's possible they know everything about sharks… or so they think! This book helps even the most obsessed shark lover learn more about their favorite animal. They'll be sharing fun facts with you until the next time you need to get them a gift.
The Devil's Teeth follows journalist Susan Casey as she joins a strange band of surfer-scientists on a remote island off the California coast for close encounters with sharks. The shark lover on your list will love to learn more from her journey of exploration of America's Great White Sharks.
William McKeever looks at your shark lover's favorite creatures and how mysterious, misunderstood, and important they are. Anyone passionate about the ocean and its creatures will appreciate this book.
This super cool handmade, die-cut letterpress bookmark is perfect to mark your spot in any book. The bookmark features a shark reading its own book while its safe the spot in yours.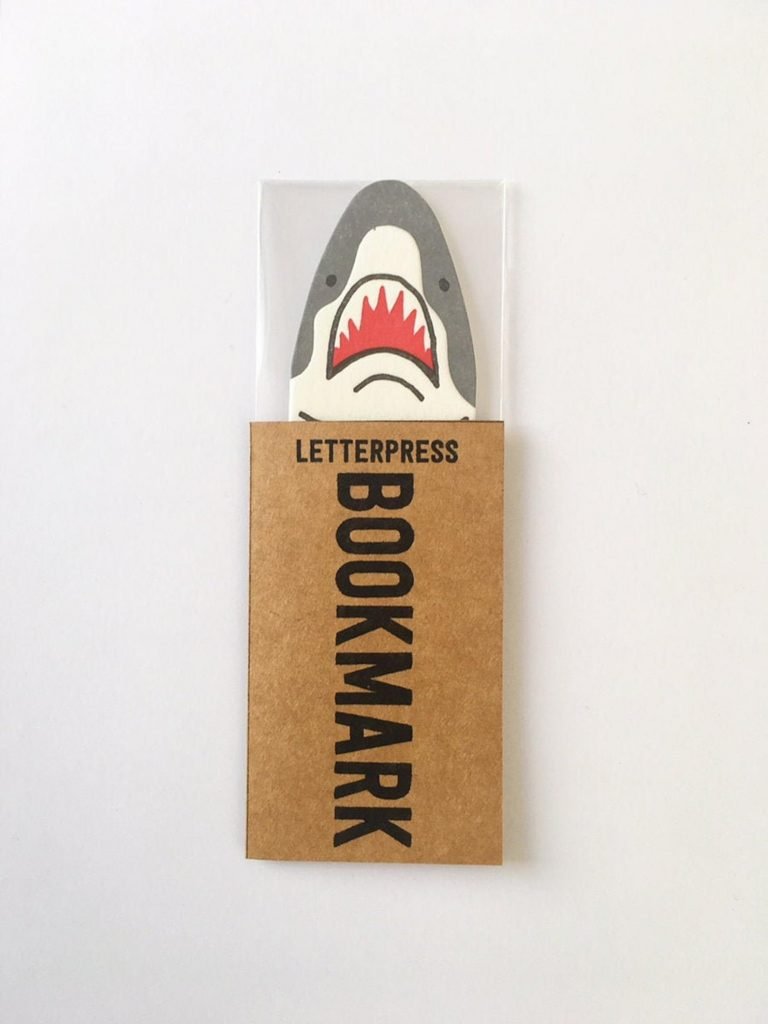 Shark gifts for a good cause
Some shark populations have declined by as much as 80% due to threats like plastic pollution, overfishing, and habitat loss in the last few decades.
Not only is the Shark Beaded Bracelet a beautiful gift, but when you purchase it, you'll pull one pound of trash from the ocean, rivers, and coastlines while raising awareness about the importance of saving these often misunderstood animals.
This bracelet from Project Hiu is the perfect gift for the simple shark lover in your life. The stainless steel shark fin charm adorns an adjustable rope bracelet.
Proceeds from the bracelet raise awareness and financial aid for Project Hiu's mission of improving the health of oceans.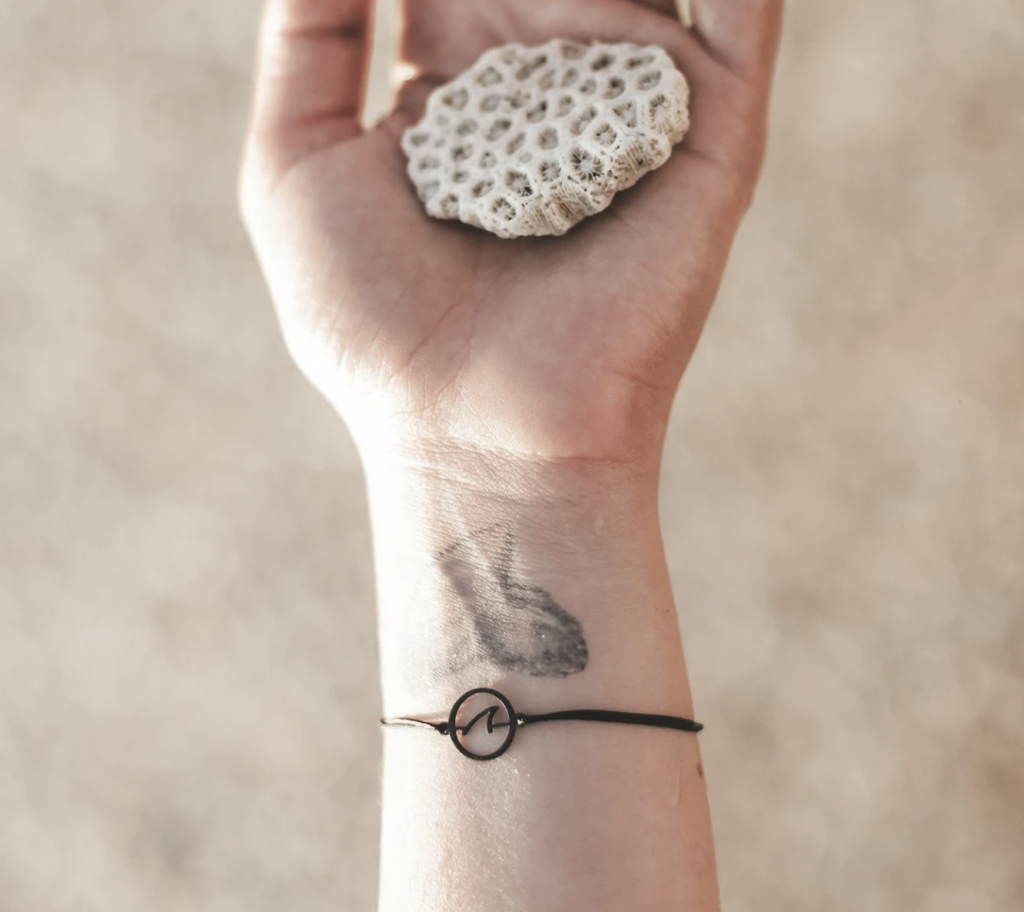 Sea Shepherd's many campaigns fight the extinction of sharks, and this tee is designed to educate the world that sharks are to be loved and protected as part of our vital ocean ecosystem.
Proceeds from their merchandise go directly into funding the ships on campaign documenting and intervening in illegal activities on the oceans.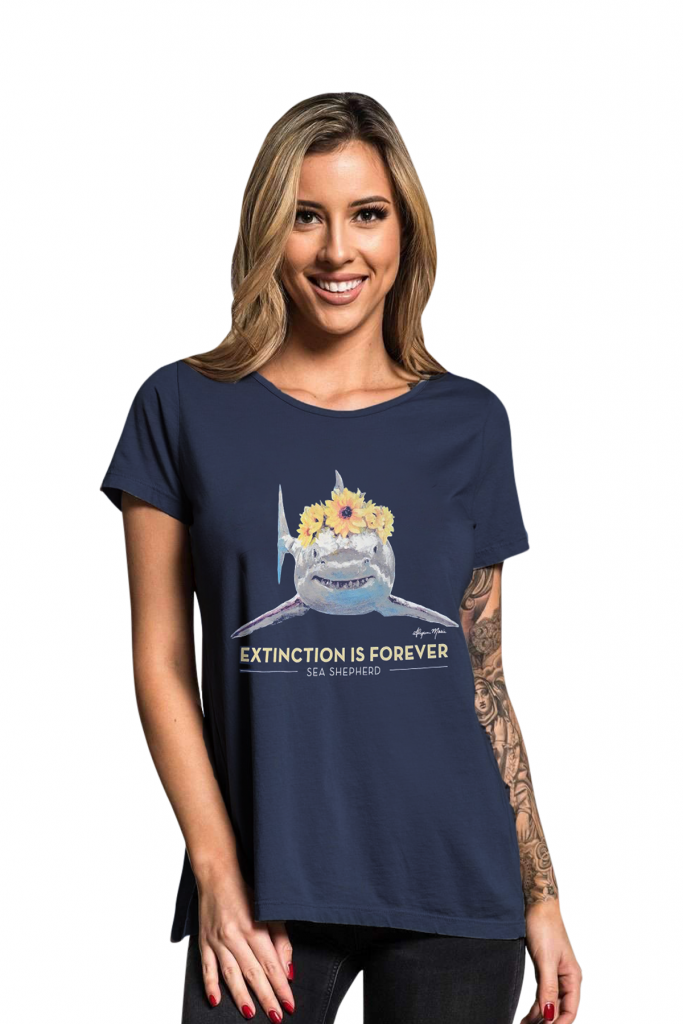 Adopt a shark on someone's behalf, and they'll receive an adoption pack complete with a personalized certificate, factsheets, A4 poster, bookmark and set of shark postcards.
All purchases help fund vital shark research. What better way to purchase gifts for shark lovers.
Latest posts by Kylie Hubbard
(see all)