This post may contain affiliate links, meaning if you book or buy something through one of these links, I may earn a small commission (at no extra cost to you!). Please see my disclosure.
If you're anything like us, you've been dreaming of creating your very own vegan charcuterie board. A vegan snack board is fun and easy whether you're throwing a party or just having a lazy night in.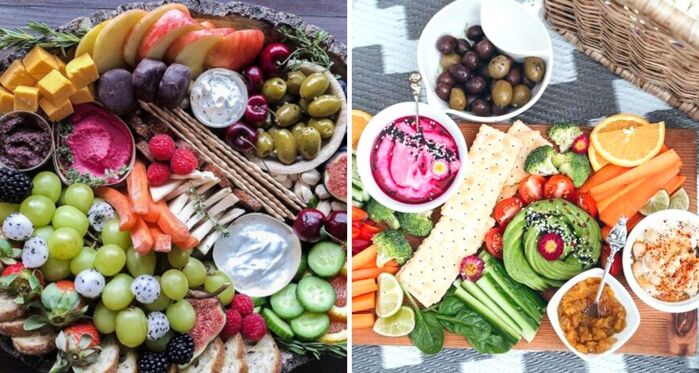 So grab a cutting board and get ready to make your own epic vegan charcuterie board. Whether it's a classic board with vegan meat and cheese, a colorful board full of fresh fruit and vegetables, or a board dedicated to curing your sweet tooth.
It's also easy to make your board gluten free and oil free.
What Is a Charcuterie Board?
Charcuterie is a French word that refers to a method of preserving meats. But, clearly, we can veganize anything!
Over the years, the term has come to include many different charcuterie boards resembling more of a smorgasbord.
How to Make a Vegan Charcuterie Board
Pick a board. It doesn't have to be a certain brand, size, or style, just make sure it's sturdy and lays flat!
Grab your food. Go with a color theme or just grab what sounds tasty. You can make a board out of anything! Just grab what you want to make your charcuterie board vegan.
Start a skeleton. Start placing bigger items like dips or large veggies or fruits on your board and move them around as much as you need.
Fill in the gaps on your vegan charcuterie plate. Using smaller items, fill in spaces until you can't see your board base.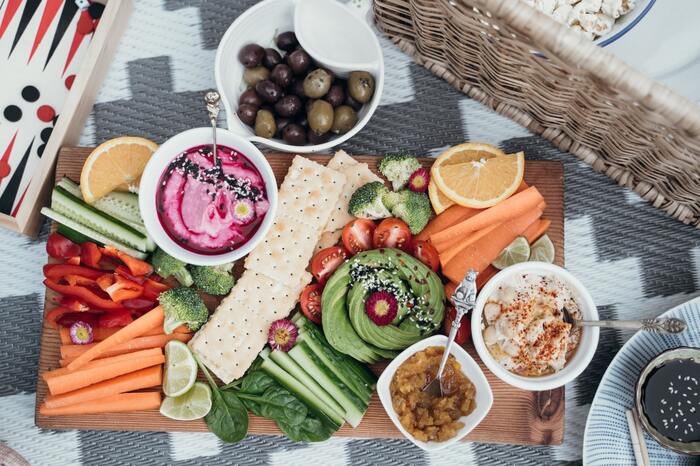 What to Put on Your Vegan Charcuterie Board
Classic board
Vegan meats
Vegan cheeses
Fruits and veggies
Dips for dunking your fruits, veggies, and crackers
Crackers and other dippers
Nuts and dried fruit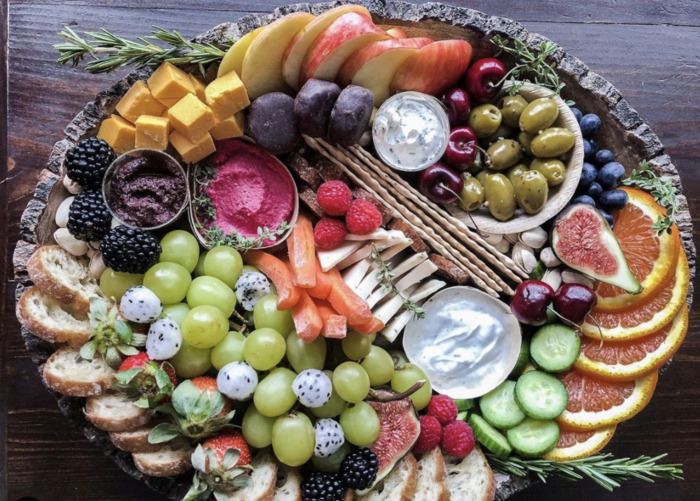 Something sweet
Vegan cookies and brownies
Chocolate hazelnut spread
Vegan donuts 
Chocolate covered strawberries 
Chocolate covered pretzels
Yogurt covered pretzels
Sweet fruits
Melted chocolate to dip other snacks in or drizzle on your cookies and brownies
Graham crackers to dip in your chocolate spread and melted chocolate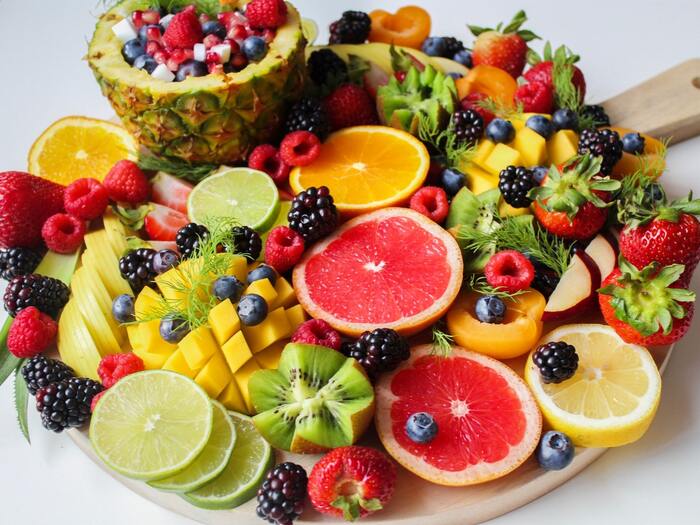 Veggie Variety
Bite-size veggies like cherry tomatoes
Larger veggies like a bell pepper, sliced
Crackers, pretzels, and other dippers
Dips
Soft vegan cheese
Breakfast Board
Mini pancakes
Fruits
Tempeh Bacon
Mini muffins
Jams and jellies
Vegan Charcuterie Board Inspiration
Add an extra flavor to your fruits with a variety of dips and jams. Great fruit options include apple slices, berries, figs, and more.
Add pecans and other nuts for both salty and sweet flavors.
This board will give you serious heart eyes. Leave your veggies and fruits in their full form and decorate with large flowers made of vegan meat.
While this board has some bread and crackers, the fruits add a pop of color from each end of the rainbow.
Bigger is always better, especially when it comes to charcuterie boards. So many fruits make up this rainbow of a board.
This board checks off every health point that matters. Who said a charcuterie board couldn't be healthy?
Whether you love Love Day or spend each year with your Gals, this Valentine's Day board will have you celebrating love each and every day.
This isn't to say all good charcuterie boards have a blood orange front and center, but a juicy fruit sliced right down the middle sure does look good.
It's common to see a charcuterie board shared by a group of people, but it's not taboo to make one just for yourself full of self care sweets.
You might think that your vegan charcuterie board can't have meat, but you're wrong! Vegan meat substitutions aren't only delicious but are perfect for your next board.
Every good meal has a little bit of both sweet and salty. Pair fruits and sweet spreads with crackers and pretzels for the perfect combination.
This board has a little bit of every vegetable and fruit we love including carrots, strawberries, peppers, and cucumbers.
Pay extra attention to your base with a board like this one. It'll add to your display, and add pops of fruits and veggies to make this board over the top.
Your veggies don't have to stay in their store-bought state. Add flavorings and toppings like lavender to give your board a little extra flavor.
Combine sweet and salty, with lots of colors and dips to create a harvest board that will rival any other.
Cheese, please!! Start with cheese as the main attraction and then pair with crackers and small fruits and veggies.
Grab your crackers and dippable fruits and veggies to give an extra oomph to your vegan charcuterie boards.
Pretzels and marshmallows (here are some vegan ones!) and strawberries and bananas and so much more, all dipped in a sweet chocolate coating. Mouth-watering.
While all charcuterie boards are known for being bite-sized, go even smaller with cranberries, blueberries, and blackberries paired with pecans, cashews, and other nuts.
Can't decide what to put on your vegan charcuterie boards? It's pretty simple- just add everything! Dips, meats, fruits, veggies, cheeses, crackers… you can't go wrong!
Latest posts by Kylie Hubbard
(see all)