This post may contain affiliate links, meaning if you book or buy something through one of these links, I may earn a small commission (at no extra cost to you!). Please see my disclosure.
In case you don't already know, Trader Joe's is a grocery chain with a completely deserved cult-like following. Even better, the quantity and quality of Trader Joe's vegan items available is something you need to be aware of.
Here is a list of all our favorite vegan items at this trendy and well-loved store. Your stomach will thank you!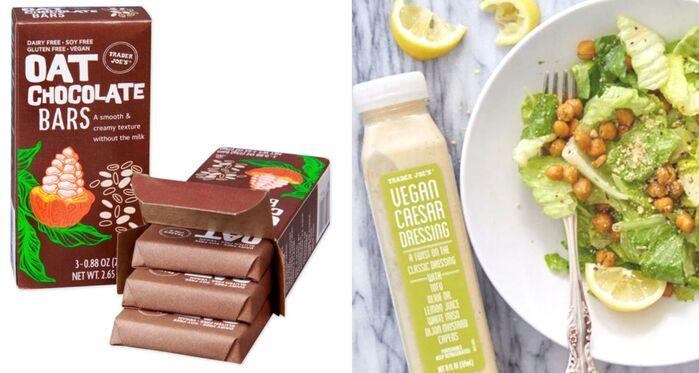 43 of the Best Trader Joe's Vegan Purchases You Can Make
1. Vegan Kale, Cashew & Basil Pesto
This dairy-free pesto is great for pasta dishes or as a spread for bread.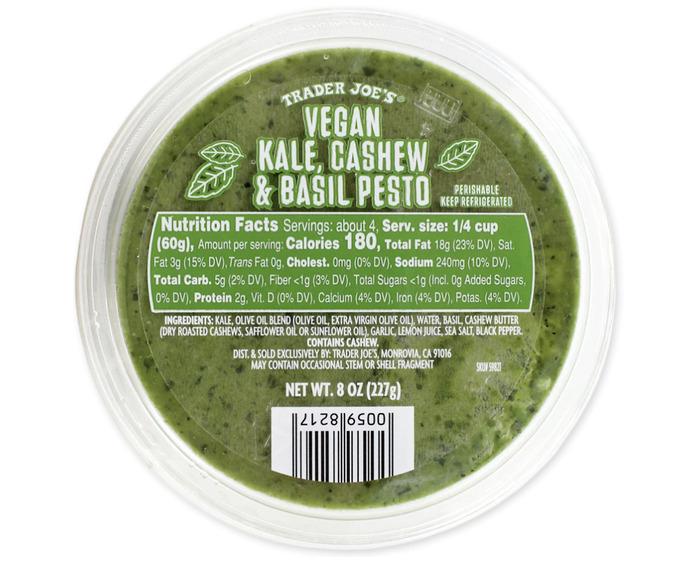 2. Organic Vegan Nacho Dip
This vegan nacho dip is soft, spreadable, and tastes just like classic nacho cheese dip.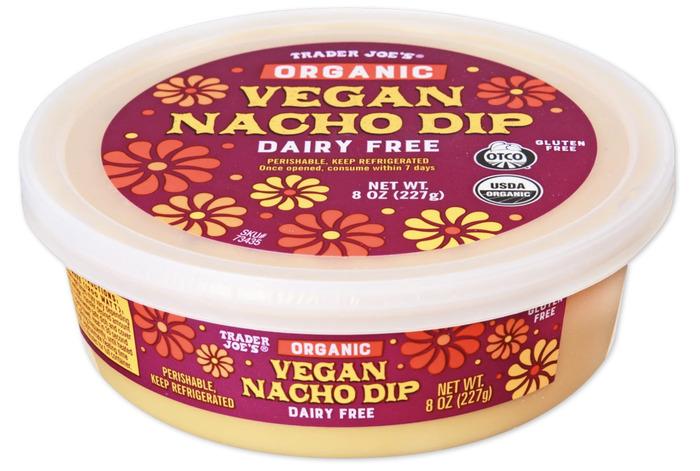 3. Vegan Buffalo Style Dip
This vegan buffalo dip is great for chips or even as a spread on sandwiches. Bring on the heat!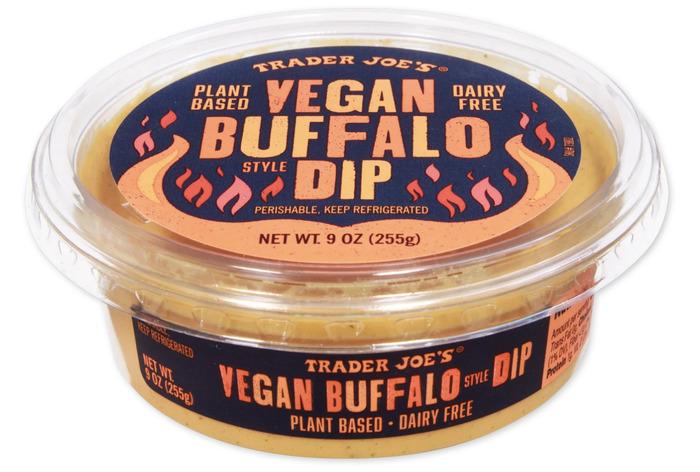 4. Vegan Buttery Spread
This buttery spread melts perfectly, spreads beautifully over bread, and works great in baked goods.
5. Vegan Creamy Dill Dressing
This dressing is perfect to use as a dip or as a sauce. It can also, naturally, work great as a dressing for salad.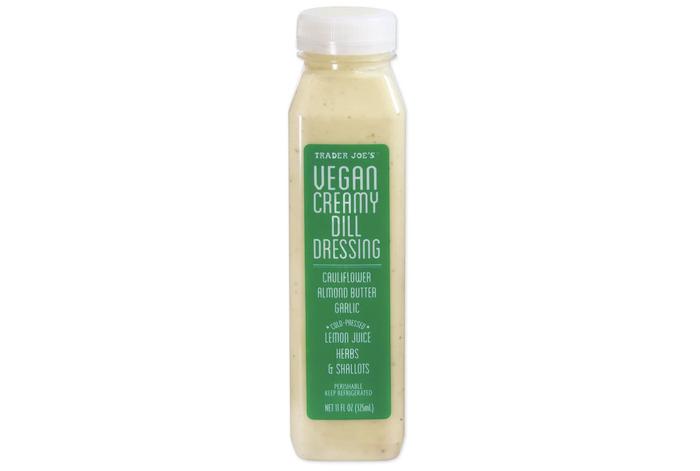 6. Vegan Brioche Loaf
This pre-sliced brioche loaf is rich, fluffy, and full of (vegan) buttery sweetness!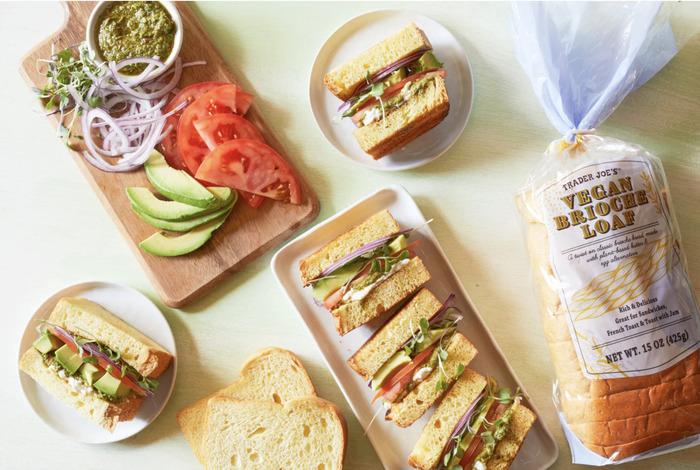 7. Vegan Feta Cheese
This vegan feta cheese is great for a plethora of options. Try crumbling it over a salad, or as part of a vegan charcuterie board, or bake it into a vegan pasta dish.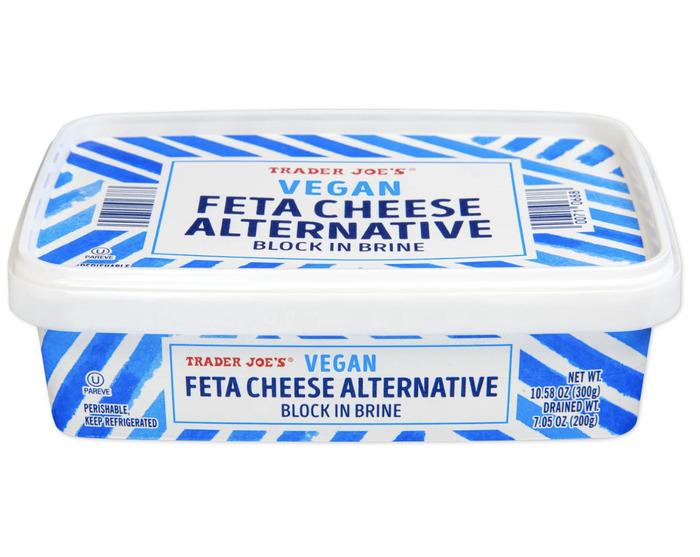 8. Vegan Cream Cheese
This cream cheese spreads smoothly and has a silky texture. It works great as a simple bagel spread but can also be used in baked goods or vegan pasta dishes.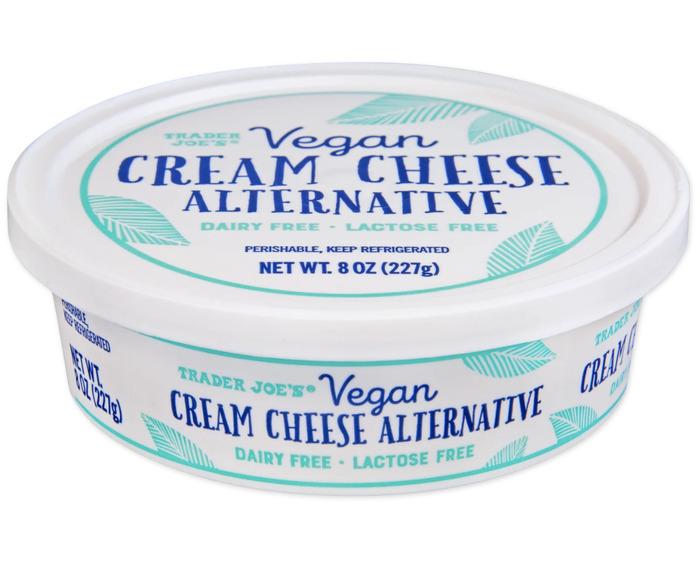 9. Chili and Lime Rolled Tortilla Chips
These are perfect for Takis fans.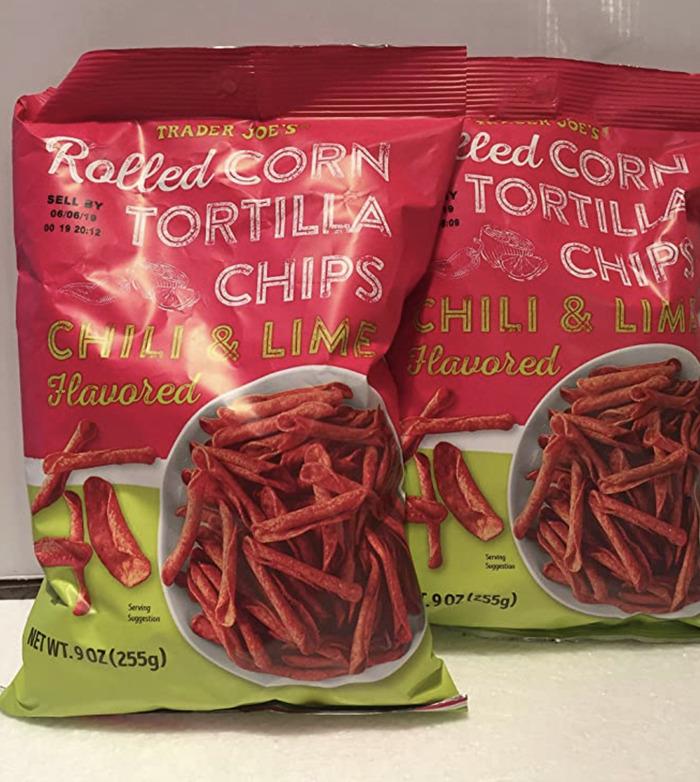 10. Vegan Enchilada Casserole
This vegan spin on the traditional dish is loved by vegans and non-vegans alike.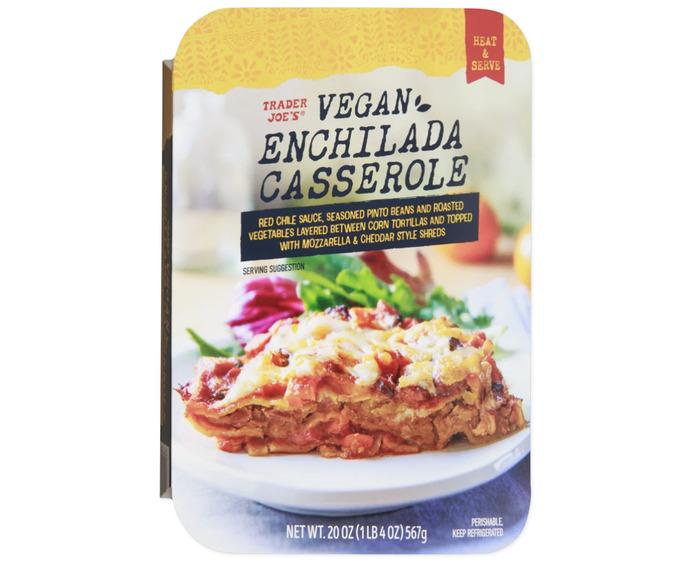 11. Miyoko's Kitchen Un-Lox Your Dreams Cream Cheese
Get the classic smoky lox flavor without the fish.
Available at Trader Joe's.
12. Soy Chorizo
This soy chorizo is great as an addition to breakfast burritos, tofu scrambles, or a queso dip.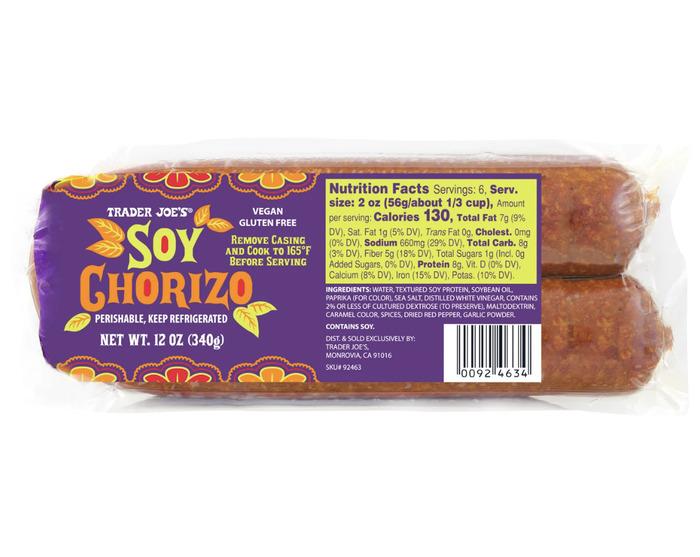 13. Trader Joe's Jumbo Cinnamon Rolls
These jumbo cinnamon rolls are accidentally vegan! The seasonal pumpkin version is also vegan!
Available at Trader Joe's.
14. Vegan Caramelized Onion Dip
This dip is made with a vegan cream cheese base and onions, slowly caramelized in balsamic vinegar and brown sugar.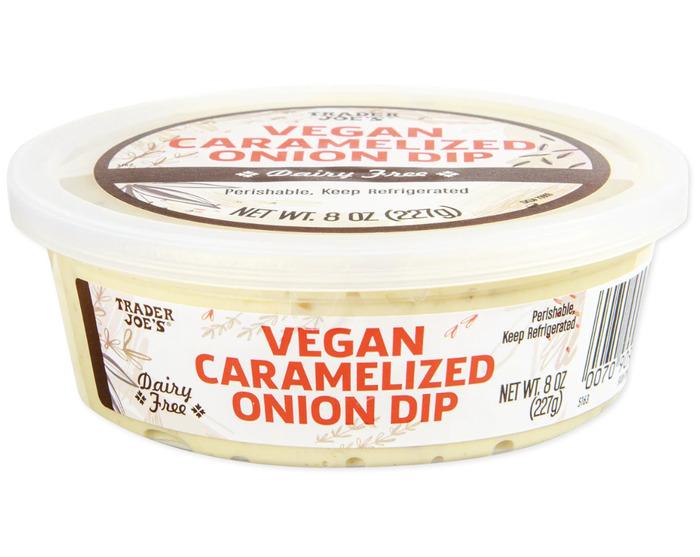 15. Vegan Parmesan Cheese
There's never a time that parmesan cheese isn't appropriate.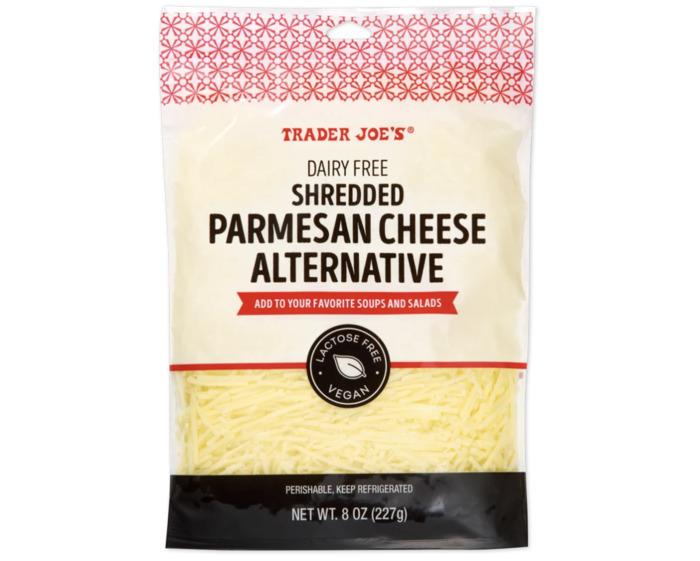 16. Vegan Meatless Meat Eater's Pizza
This "meat lovers" pizza is delicious with pepperoni, sausage, chorizo, and mozzarella! We like it even better than other store-bought brands.
Available at Trader Joe's.
17. Tofu Scramble with Soy Chorizo
This meal includes vegan scramble, soy chorizo, vegan cheddar shreds, and veggies for a delicious breakfast.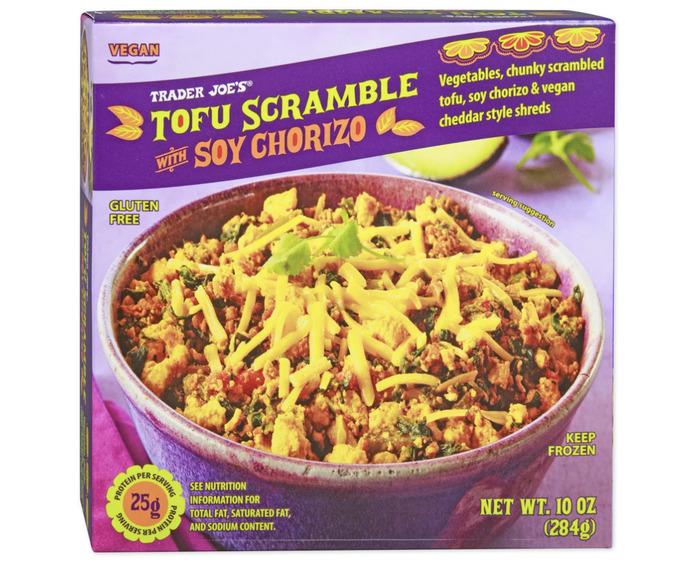 18. Brownie Crisps
Do you like brownies and cookies? This is for you!
Available at Trader Joe's.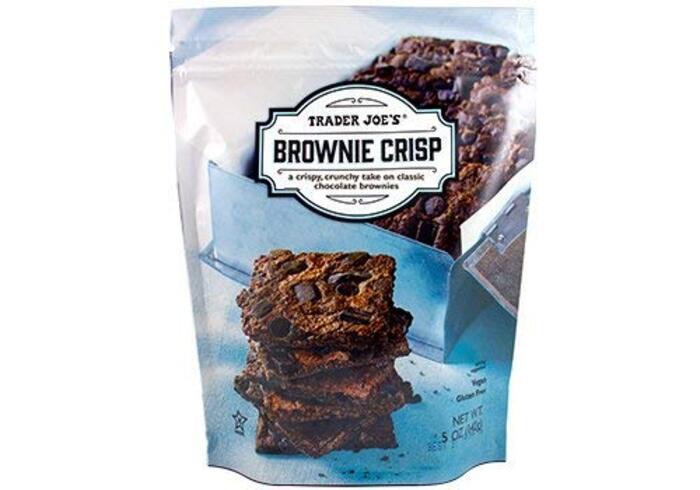 19. Falafel Mix
Trader Joe's makes it easy to make your own vegan falafels with this mix.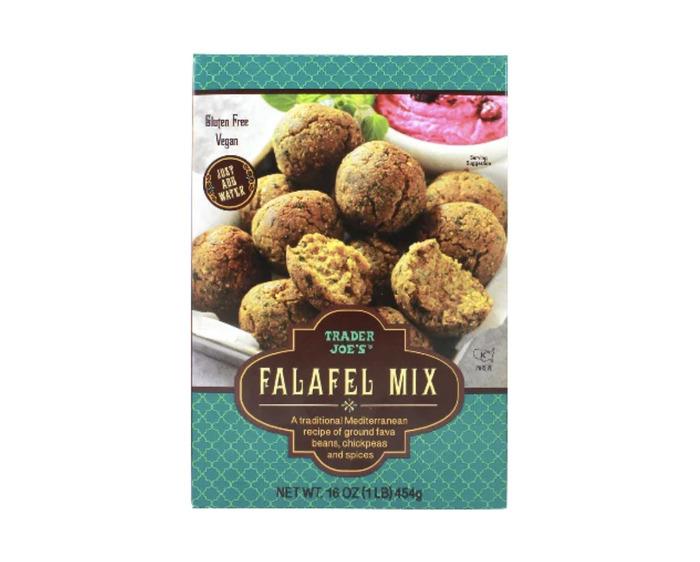 20. Vegan Spinach & Cashew Ravioli
Finding vegan ravioli is the most exciting thing that's happened to us lately, and it's very good!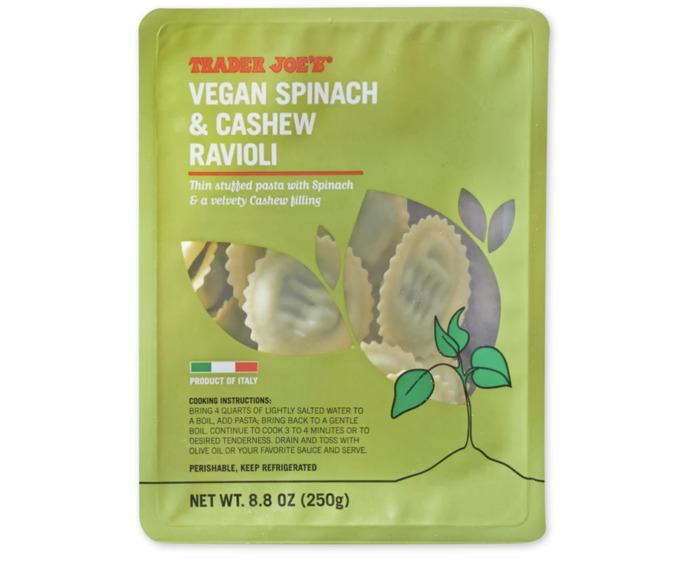 21. Everything But the Bagel Seasoning
We love this on avocado toast especially!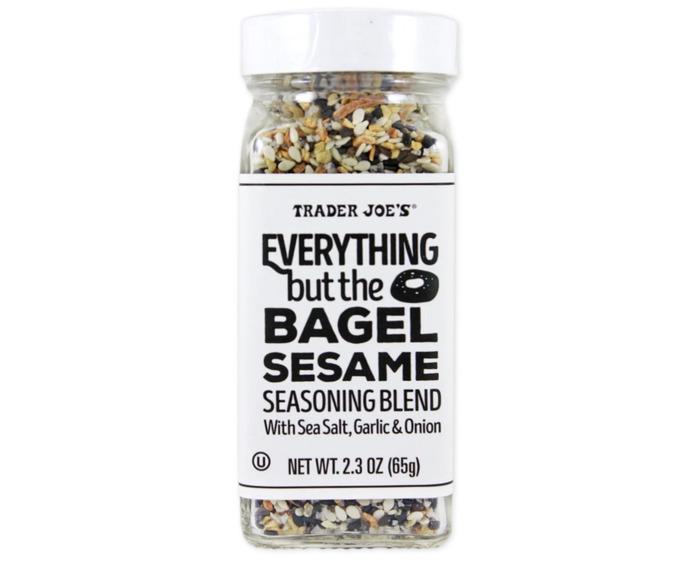 22. Vegan Banana Bread with Walnuts
No more having to hoard all those frozen bananas to make your own banana bread.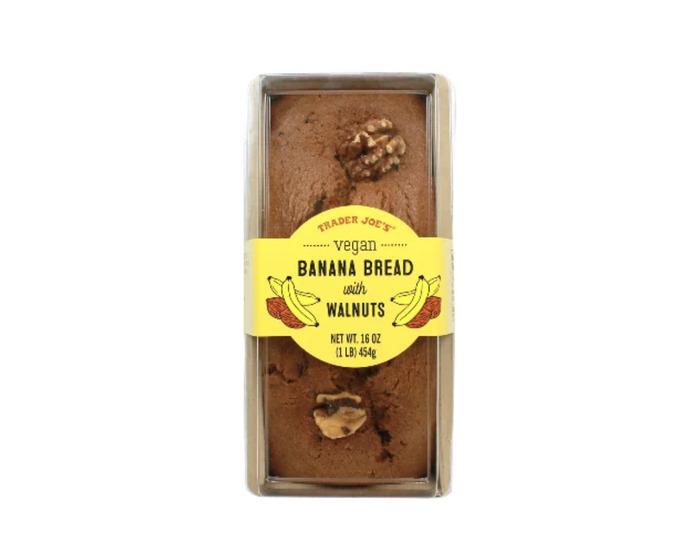 23. Speculoos Crunchy Cookie Butter
This accidentally vegan product is an OG favorite amongst Trader Joe's shoppers.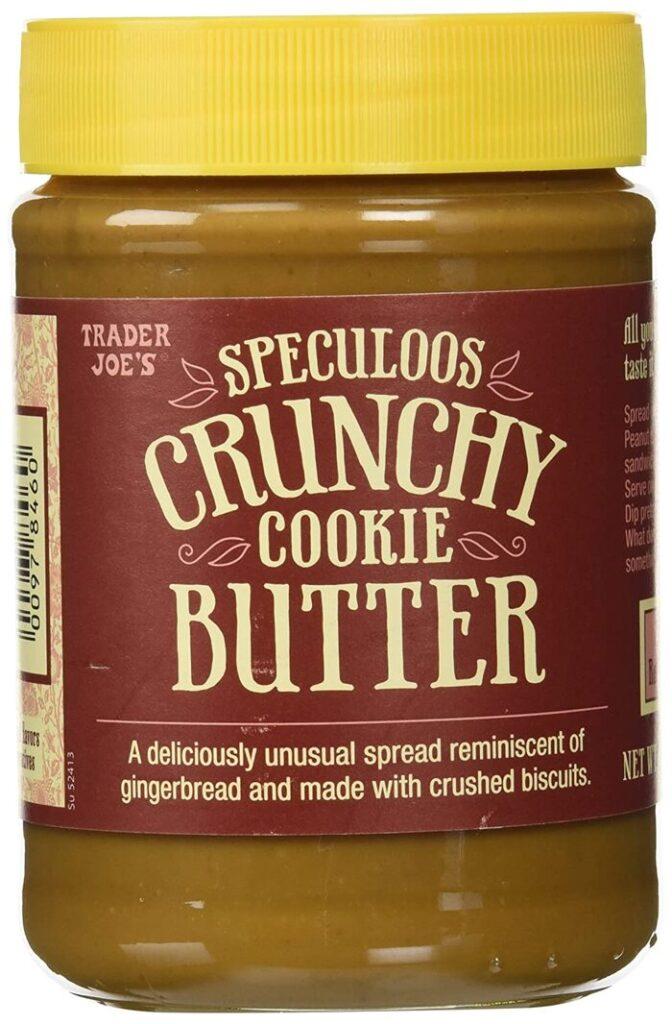 24. Dark Chocolate Sunflower Seed Butter Cups
A "peanut butter" cup that's not only vegan but also nut-free!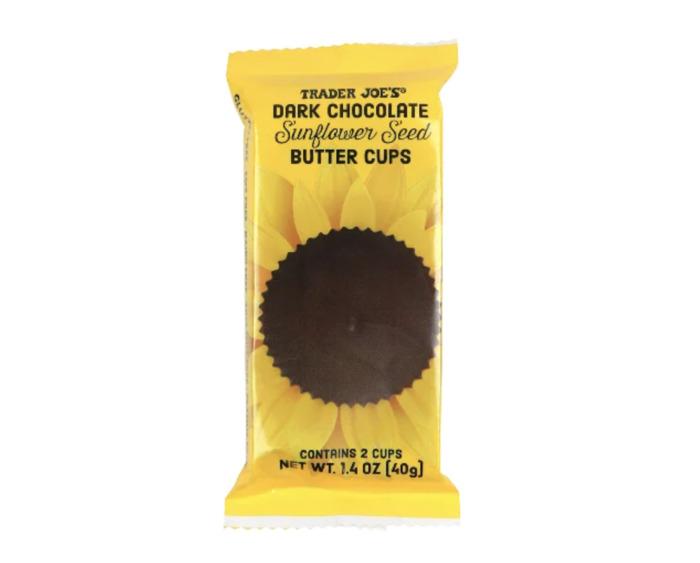 25. Chickpea Masala Salad
Who needs chicken salad or egg salad when you can have chickpea salad? It's like a chunky Indian hummus.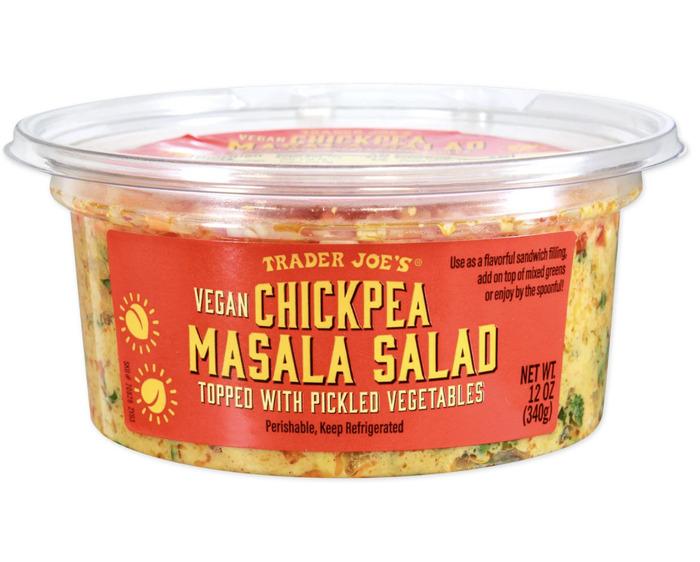 26. Vegetable Pad Thai
Having a vegan pad Thai on hand is always a smart idea.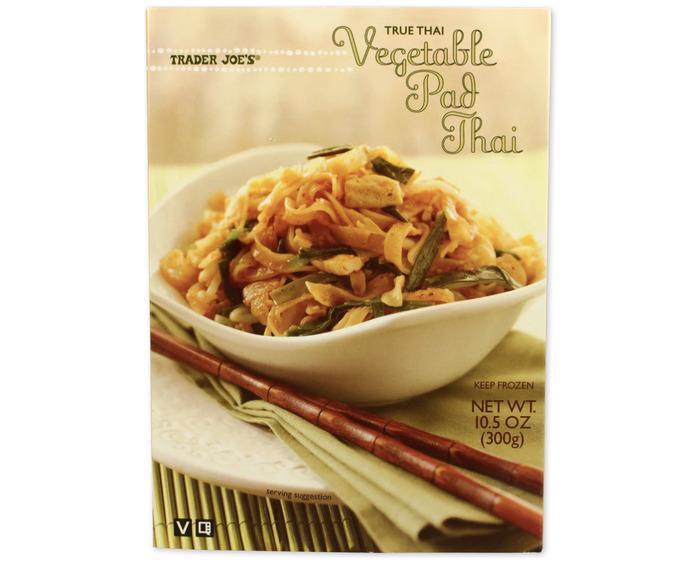 27. Cheese-Less Cheesecakes
Each of these packages includes two mini dairy-free cheesecakes.
Available at Trader Joe's.
28. Thai Vegetable Gyoza
These are easy to cook in a frying pan and dip in your favorite sauce for an easy go-to meal.
Available at Trader Joe's.
29. Chicken-Less Mandarin Orange Morsels
One of our absolute favorite things from Trader Joe's are these tasty orange morsels.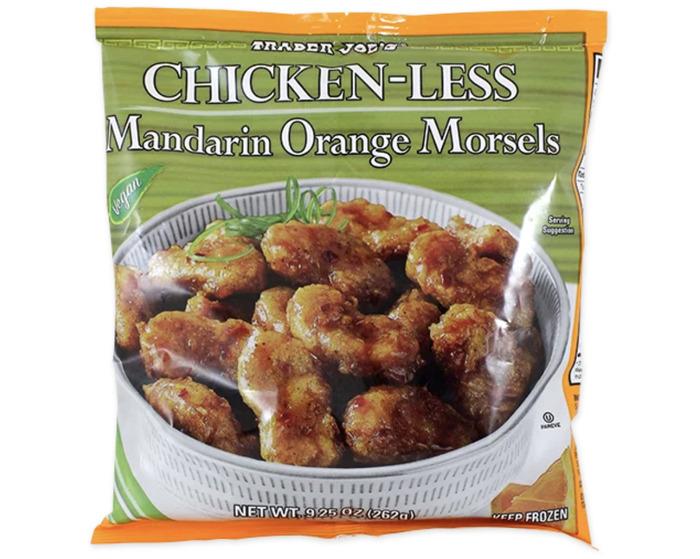 30. Vegetable Spring Rolls
Who doesn't love this classic appetizer?
Available at Trader Joe's.
31. Vegetable Samosa Burrito
This samosa-inspired burrito is full of potatoes, cauliflower, carrots, peas, and savory tomato chutney.
Available at Trader Joe's.
32. Cookies & Creme Vanilla Bean Bon Bons
Does bite size mean you can have the whole box at once?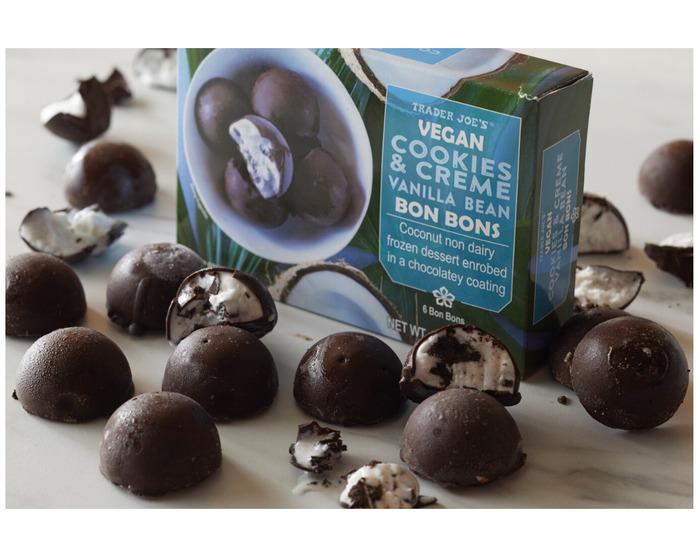 33. Vegan Tikka Masala
This vegan frozen meal is perfect when you're craving Indian food but don't want to do all the cooking
Available at Trader Joe's.
34. Hashbrowns
These crispy hashbrowns are perfect for your at-home brunch. And they're really inexpensive for the whole package!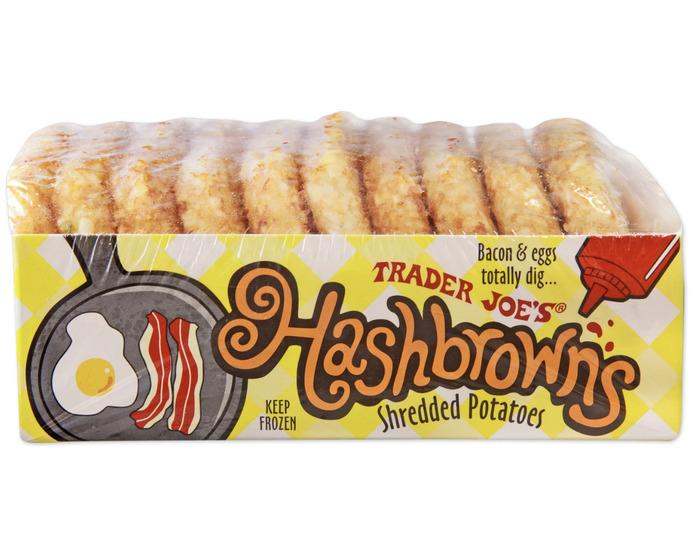 35. Cauliflower Gnocchi
Lovers of these gnocchi say to throw these on a baking sheet or use your air fryer to get them nice and crispy.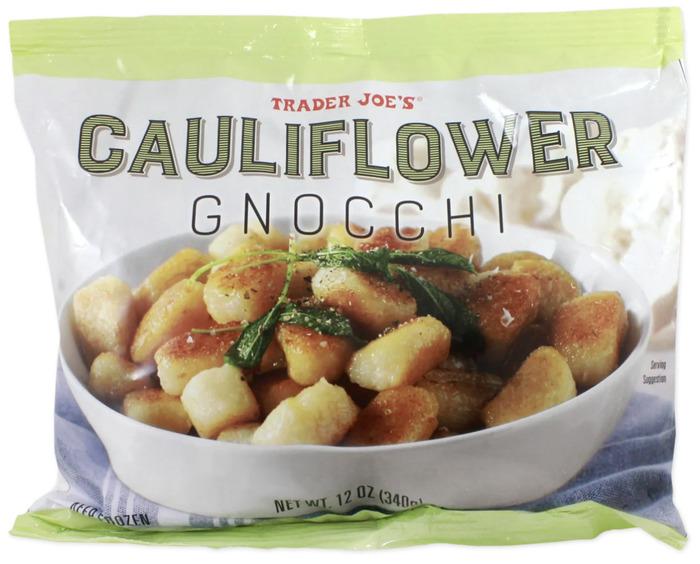 36. Vegan Caesar Dressing
Get all the flavors of a caesar dressing you love without the animal products! It's savory, creamy, and peppery.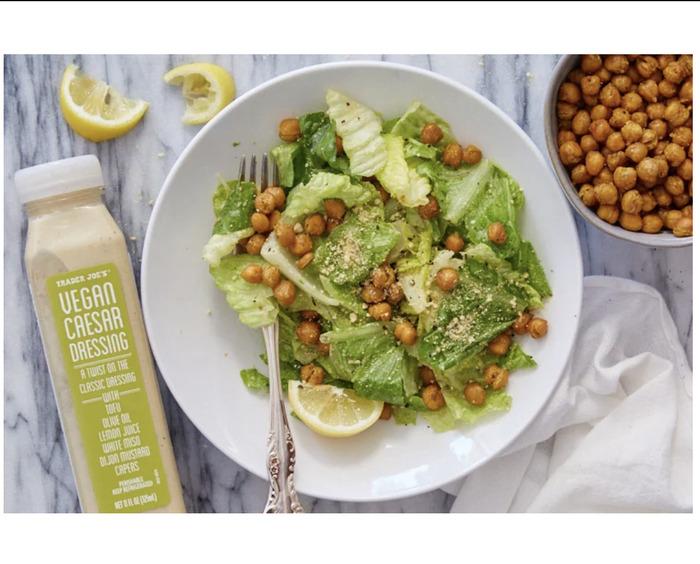 37. Sriracha Baked Tofu
This pre-baked and seasoned tofu is fiery and delicious.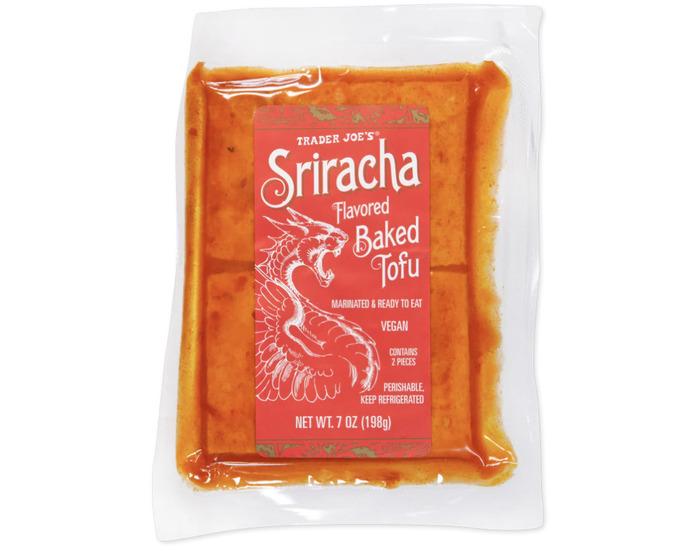 38. Hold the Dairy! Vegan Chocolate Mini Cones
These are some of our favorite little treats to have on hand. They're like mini nutty buddies but without the gross dairy.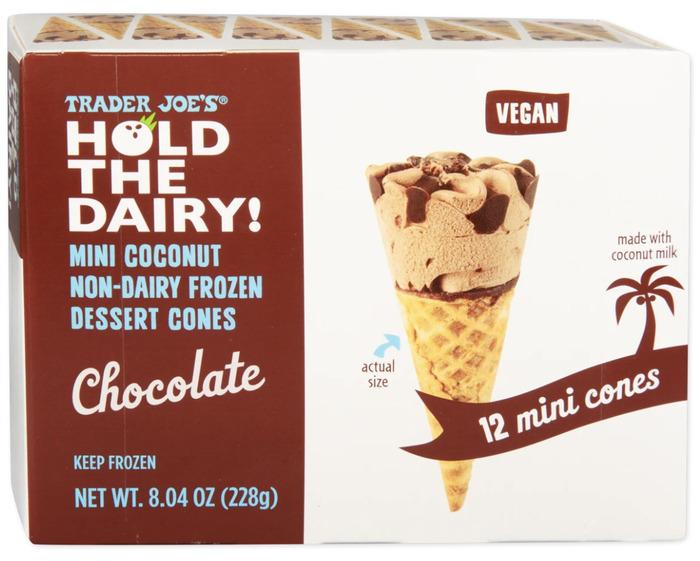 39. Vegan Tzatziki Dip
Another dip with a cream cheese base. Add lemon juice, cucumber, dill, and garlic, and get a great vegan tzatziki dip.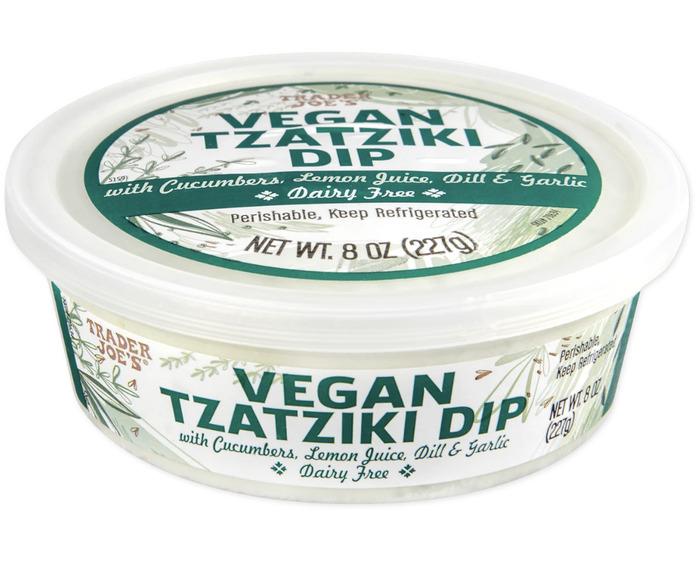 40. Oat Non-Dairy Frozen Dessert Sandwiches
These little ice cream sandwiches are the perfect treat when you just need something sweet.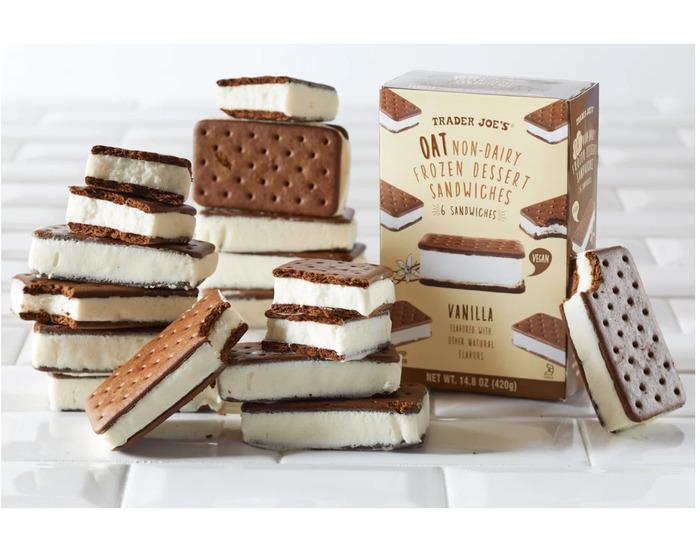 41. Oat Chocolate Bars
These delicious chocolate bars come in packages of three. They're creamy, just like milk chocolate but without the dairy.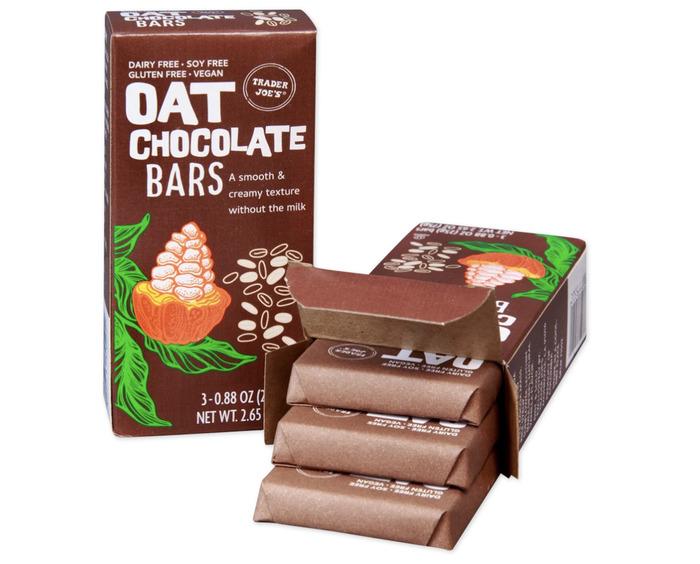 42. Vegetable Fried Rice
This delicious vegetable fried rice is full of carrots, edamame, corn, green peas, leeks, and red bell pepper.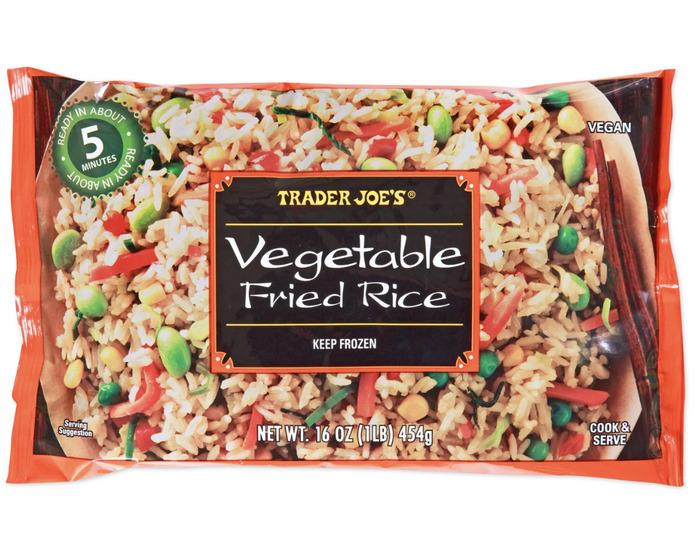 43. Chickenless Crispy Tenders
Made from a mixture of soy and whole grains, these tenders are then breaded and fried to perfection.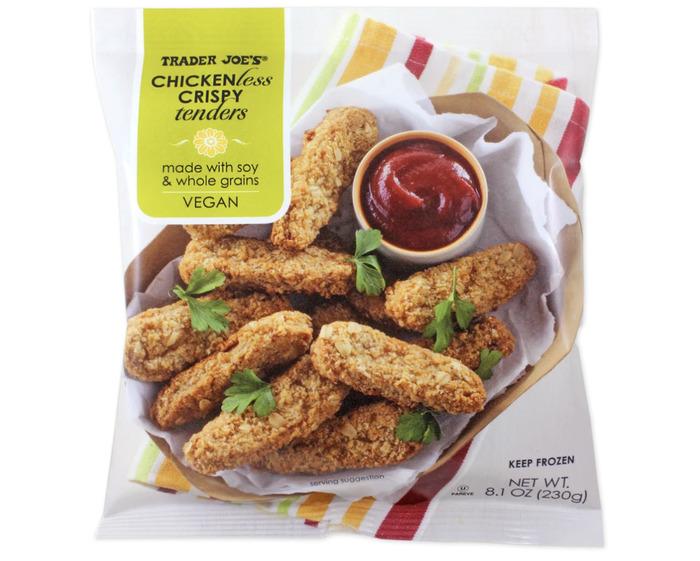 Latest posts by Ashley Hubbard
(see all)