This post may contain affiliate links, meaning if you book or buy something through one of these links, I may earn a small commission (at no extra cost to you!). Please see my disclosure.
Headed to Tennessee for the holidays? No matter what part of the state you're visiting, there are plenty of things to do in Tennessee in December.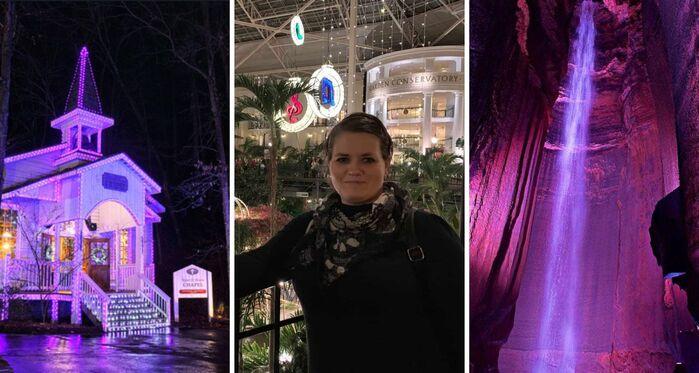 Between the beautiful, snow-capped mountains in the east to the country music capital in Nashville to a visit down to Graceland in the west, Tennessee offers plenty of beautiful views, activities, and, of course, holiday lights to dazzle and entertain.
Things To Do In Tennessee In December
Things To Do In Nashville In December
Christmas in Nashville is a special time! There's plenty to see and do in Nashville in December. Here are some of our favorite winter activities.
1. Opryland Hotel
If you find yourself in Nashville in December, head to Opryland Hotel for the spectacular holiday. It is definitely a feast for the eyes and will turn any Scrooge or Grinch into a carol-singing believer.
This isn't just a light show, this is three million holiday lights and acres of holiday decorations. Additionally, there are ongoing holiday activities and events for almost two full months out of the year.
While it does cost to stay at the hotel, and there are activities that are ticketed, it costs exactly zero dollars to go and stroll around the hotel and get into that festive spirit.
Not only is this one of the best things to do in Tennessee in December, but it's free! Count us in!
Local tip: park in the Opry Mills parking lot and walk over to the hotel to avoid a $20+ parking fee.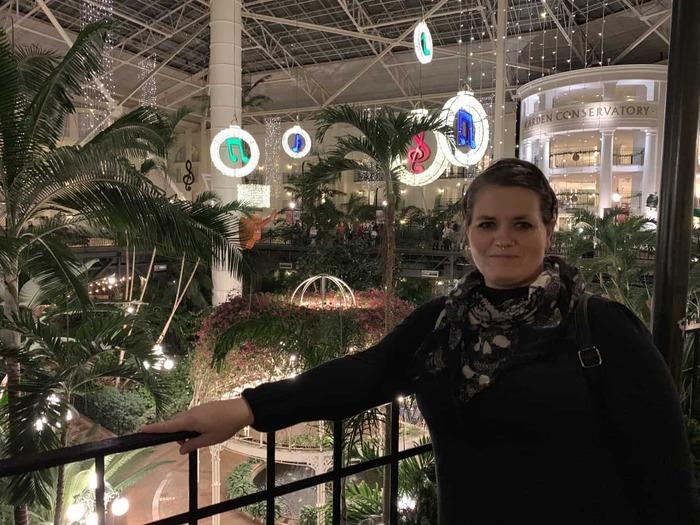 2. Cheekwood Gardens Holiday Lights
Cheekwood Gardens offers up one of the best holiday light experiences in Nashville. Every night, from 5 pm-10 pm, visitors can experience one mile of lights.
In addition to taking in the dazzling lights, visitors can visit with Santa, decorate ceramic ornaments, sing holiday carols, take a gingerbread workshop, and more!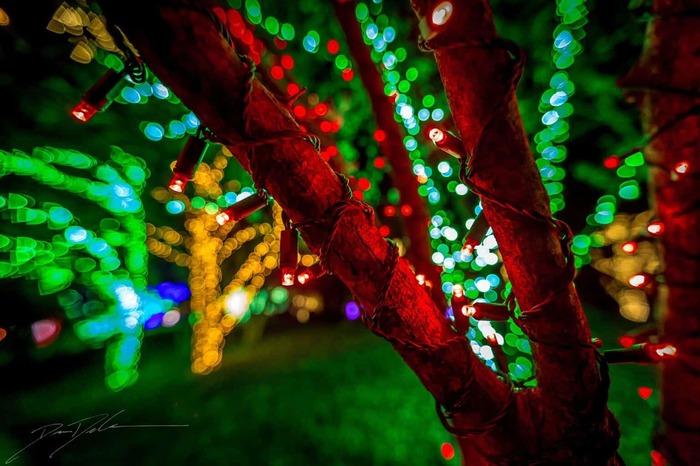 3. Dickens of a Christmas Festival
There is something quite magical about being taken back in time to the Victorian ages and being inspired by all of the infamous characters that made Charles Dickens such a key figure in English literature.
Every year, visitors to Franklin, Tennessee, have the opportunity to admire locals in period costumes as they reenact at the Dickens of a Christmas festival.
And for those looking to experience the best of Tennessee during the winter season, this is definitely one of the highlight attractions every December.
Take a stroll down historic Main Street in Franklin as it is transformed into a scene from Oliver Twist, The Pickwick Papers, or A Christmas Carol.
You never quite know which character you will stumble across next, whether it be Ebenezer Scrooge, Tiny Tim, or even Bob Cratchit. One thing you can be sure of is that you will be inspired to visit again in the future.
Market stalls line the street, offering fresh produce, while local artwork and traditional Christmas décor can be purchased at reasonable prices.
Franklin in the heart of winter may be a chilly experience, but with a cup of hot chocolate or mulled wine, it won't take long for you to be well and truly part of the festive spirit in this idyllic Victorian setting.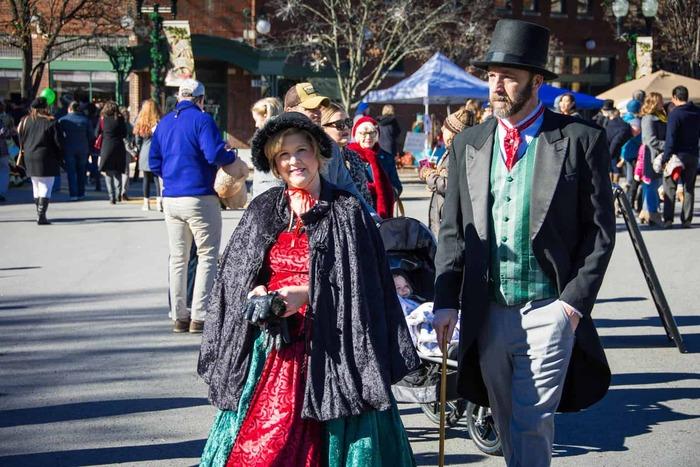 4. The Dancing Lights of Christmas
The Dancing Lights of Christmas is Middle Tennessee's largest synchronized drive-through Christmas light and music show.
It's located in Lebanon, just outside of Nashville, at the Wilson County Fairgrounds.
Things To Do In The Smoky Mountains In Winter
5. Smoky Mountain Christmas at Dollywood
I'm a bit of a theme park junkie, and Dollywood is surprisingly one of the best theme parks I've been to. The rides are great, especially for being a smaller theme park, the shows and attractions are fun, and it is near the best national park!
Christmas at Dollywood is a little extra special, making it one of the best things to do in Tennessee in December.
Apparently, Dollywood's Smoky Mountain Christmas has received the "Best Christmas Event" at any theme park worldwide for the last ten years. It makes perfect sense with four million lights, special holiday performances, and a Christmas-y atmosphere.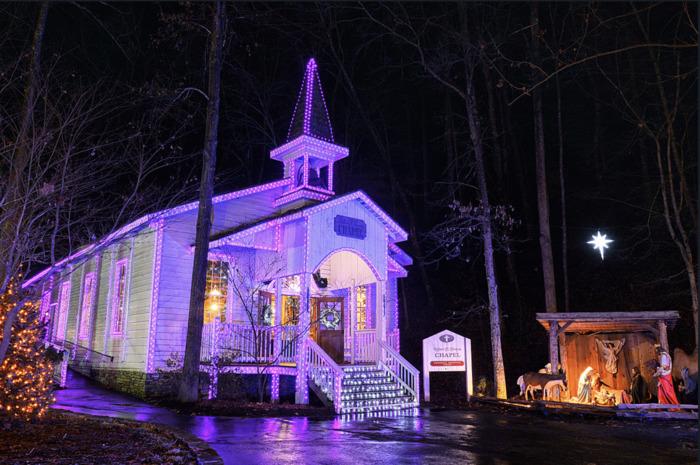 6. Pigeon Forge Winterfest
Pigeon Forge Winterfest truly is for the entire winter season – running from November to February. Pigeon Forge creates a winter wonderland that'll practically force you to be full of holiday spirit.
One of the best ways to experience Winterfest is with this Winterfest Lights driving tour.
Things To Do In Knoxville In December
7. Celebrate Christmas in a Cave
Always wanted to visit a cave full of holiday lights and music? Your dreams are now a reality!
Visit Cherokee Caverns in Knoxville and celebrate Christmas in a cave!
8. Downtown Knoxville
Market Square downtown is a great option if you are in the Knoxville area during winter and need a fun day trip destination. The square is in the city's heart and offers many events, restaurants, shops, and even some amazing murals and street art on Strong Alley/Graffiti Alley.
Market Square transforms into a winter wonderland during the holidays, with massive Christmas trees, an outdoor ice-skating rink, and festive art installations.
The open-air rink, complete with twinkling lights and a mascot, Peppermint Panda, is open almost every day from November 23 to January 6. There is usually a winter theme or event to go with each day of the week, like Christmas Sweater Night or Family Fun Day.
The square also hosts other winter events you don't want to miss, including the Elf on the Shelf Scavenger Hunt and the Peppermint Trail. Both events are fun and interactive ways to promote participating local businesses in the square.
Market Square is a great place to visit any time of year, but it really shines during the winter, and not only because of all those twinkling lights.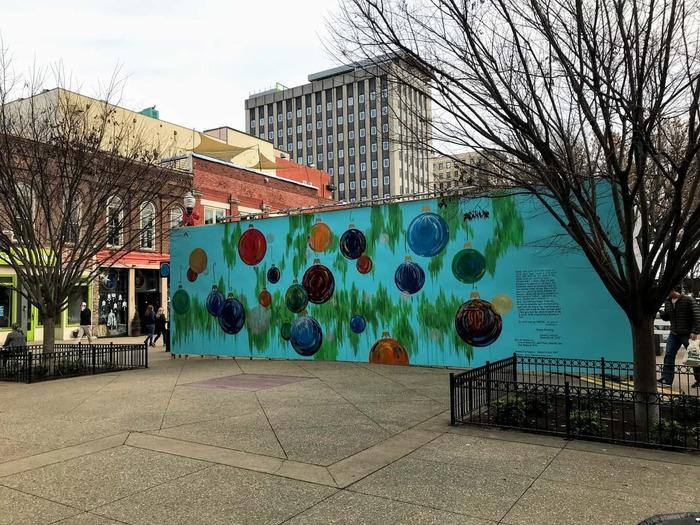 Things To Do In Memphis In December
9. Graceland
Graceland in Memphis, Tennessee, is home to Elvis Presley and is a winter wonderland when the holiday season rolls around. The King of Rock and Roll's house is decorated as he would decorate it yearly during the holiday season.
Seeing the holiday decorations all around the property made the visit very special. Although Graceland is special at any time of the year, the holiday season brings life to Graceland once again.
While I was there, I also saw a few Elvis impersonators paying homage, which was quite a sight!
On November 21st, you can go to the Graceland lighting ceremony or come to see the lights all the way until Elvis's Birthday on January 8th. From January 8th – 11th, the property celebrates Elvis Presley with special events and artists.
Graceland is the 2nd most visited private residence in the USA. Even if you are not a fan of Elvis, this property shows you what life was like during this period of pop culture in the USA.
Pro tip: Bring a sharpie! You can write your name on a National Monument and not get arrested here. Fans and people have always left well wishes and their names on this iconic wall surrounding the property since Elvis was alive.
Today the tradition continues, and while you may get a friendly honk, you will have left your mark!
Things To Do In Chattanooga In December
10. Ruby Falls Cave
Rain, shine, or snow, it's always 60 degrees in Ruby Falls Cave. You might know this famous Chattanooga tourist attraction for the light show on the underground waterfall. (If not, you should check out the history of Ruby Falls, it's fascinating).
However, for Christmas, they roll out all the stops.
You'll find the magical Ruby Fall Christmas Underground 1120′ inside Lookout Mountain. Kids of all ages will enjoy the glittering ice cave, traveling the secret passage to the North Pole, and exploring the Sugar Plum Fairy Village.
Dates and hours for Ruby Falls Christmas Underground are Thursdays – Sundays, December 1 – 8, and Daily, December 12 – 23.
Cave tours run 364 days a year (closed on Christmas) and last about an hour.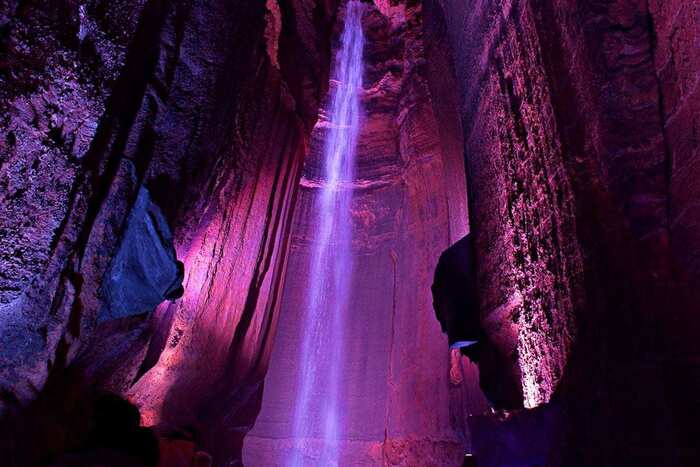 11. North Pole Train Ride
The Tennessee Valley Rail Road puts on a special event during the holiday season. If The Polar Express if your favorite Christmas movie, then this is one of the best things to do in Tennessee in December.
The train takes guests on a journey to the North Pole. You'll enjoy refreshments, storytelling, carols, lighted displays outside, and a special guest visit.
12. Enchanted Garden of Lights
Warm your heart during this nighttime family tradition as you walk through Rock City Gardens' winter wonderland. Located a quick drive from downtown Chattanooga, this magical Christmas experience is one of Chattanooga's memorable winter events.
Take a stroll down the lighted Grand Corridor in Yule Town, experience the twinkle of icy lights in the Arctic Kingdom, and the Magic Forest comes alive to reveal exciting enchantments!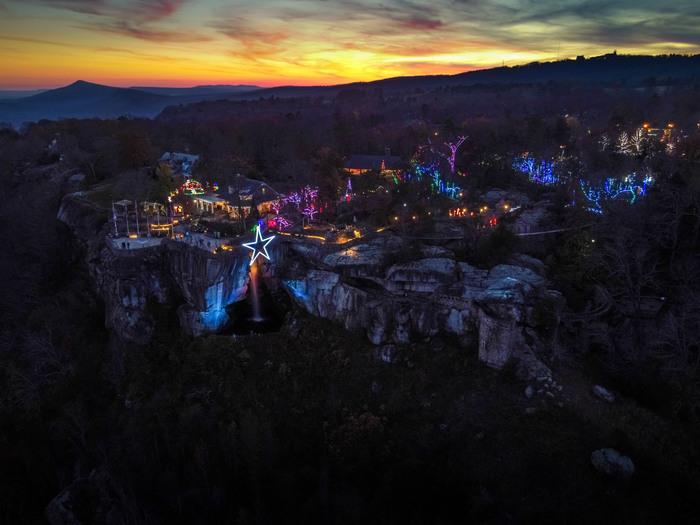 Things to Do in Tennessee in December
Are these holiday festivities making you excited about all things to do in Tennessee in December? I hope so! Let me know in the comments of any other activities that you think I should add!
↓↓↓ PIN FOR LATER ↓↓↓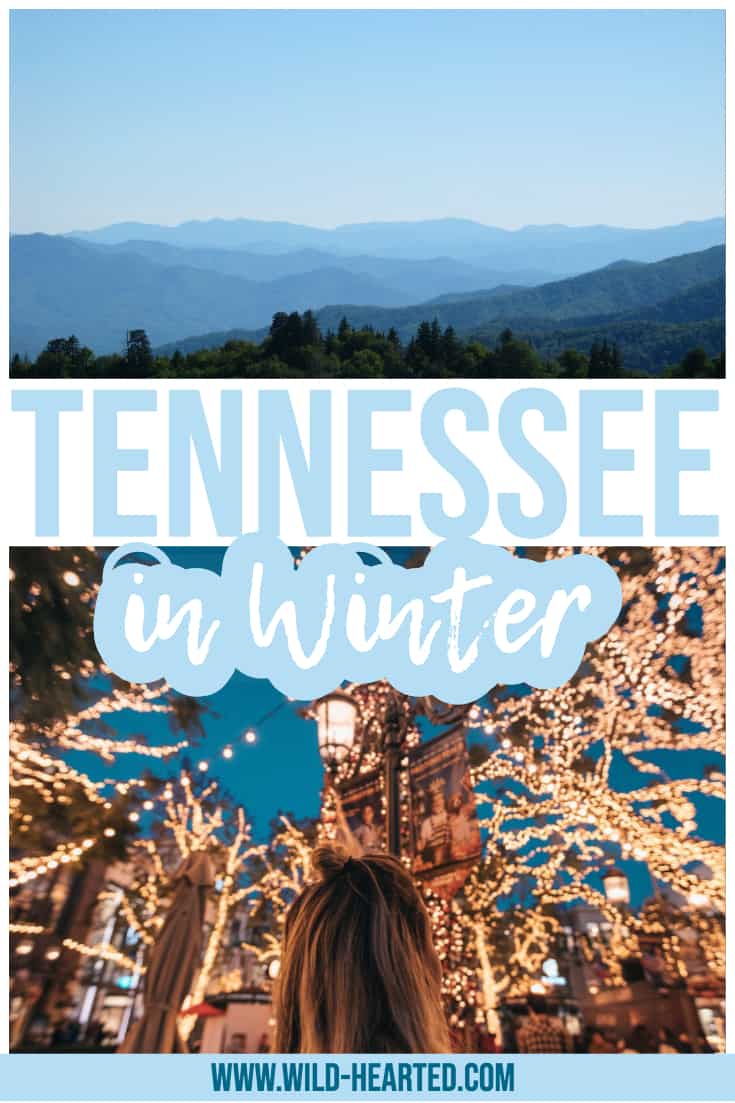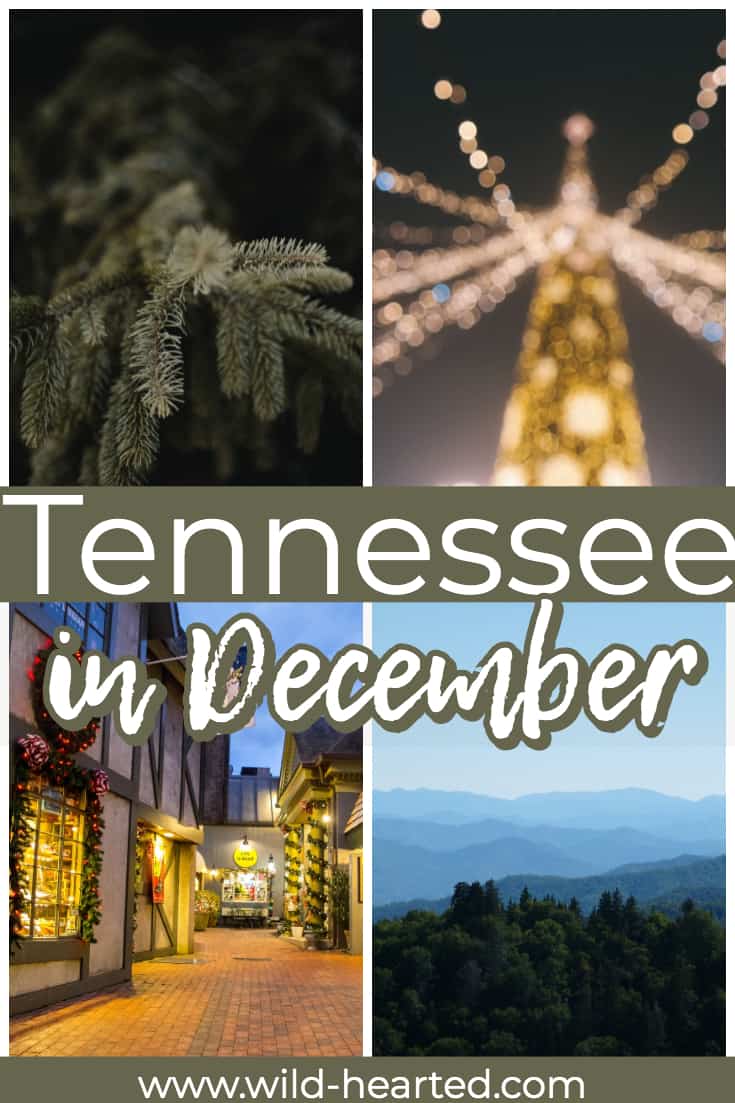 Latest posts by Ashley Hubbard
(see all)