This post may contain affiliate links, meaning if you book or buy something through one of these links, I may earn a small commission (at no extra cost to you!). Please see my disclosure.
I had my eye on Costa Rica for a while due to many reasons. I heard from so many well-traveled individuals that this was their favorite country in the world, I was excited to see Costa Rica ecotourism for myself, and I wanted to understand what 'Pura Vida' meant – not literally, of course. In case you are wondering though – Pura Vida translates to "pure life." Arriving in San Jose and only staying the night there before heading to Guanacaste, I was excited but not overly impressed. Arriving in Playas del Coco to get my scuba diving certification left me feeling a little closer to achieving what I was looking for. But, what really made me feel that Costa Rican energy that I was looking for was staying at Drift Away Eco Lodge in Playa Lagartillo.
I can't wait to start planning a trip to Costa Rica for a second time and Drift Away is definitely going on the short list!
After having quite the eventful and anxiety-filled start to this trip, I was ready to just relax and soak in the fact I was actually in Costa Rica. This trip was pretty focused and I knew I wasn't going to get to explore everywhere I wanted to. I was here to dive and visit the lodge. And, honestly, it turned out to be perfect and a nice change of pace for me. After leaving Playas del Coco, I took the bus to Tamarindo via Liberia arriving just in time to grab a quick meal before checking into my hostel for the night. Tamarindo was very similar to what I had pictured in my head – an apparent surfer's paradise, vegan heaven for me, and I could feel myself loving Costa Rica more and more. The next day, I grabbed lunch at the only all-vegan spot in town before grabbing a taxi to Drift Away Eco Lodge.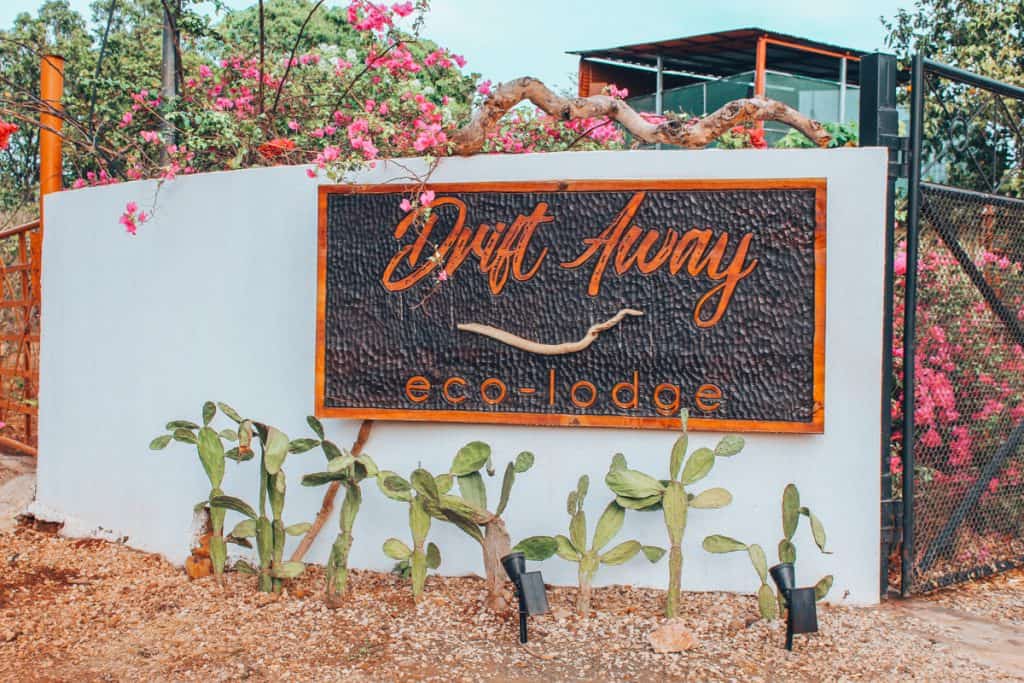 Looking for more information on Costa Rica? Check out a few of our other posts!
I could immediately tell I was going to enjoy where this was leading as we left the comfort of the well-paved roads to the bumpiest ones I had ever been on (that is until I just visited Nepal). That's going to be my new motto in travel – the bumpier the roads, the better the adventure. The taxi ride from Tamarindo to Playa Lagartillo wasn't too long at all – maybe 20-30 minutes.
Note – it looks as though Uber has started in Guanacaste but it is not as popular and so there may not be drivers at the time it is needed. The Uber was only going to be around $10. The taxi was approximately $25. Or, you could rent a car. My friends over at My Tan Feet have a great guide on renting cars in Costa Rica. 
As the taxi driver pulled down the narrow, long gravel road I spotted the entrance for the lodge nestled in between local houses and land. This truly was an out of the way spot perfect for the intrepid traveler that craved a sustainable experience in Costa Rica. I was greeted by a glass of fresh grapefruit juice made from their very own grapefruit trees on the property and a cold washcloth. After checking in and finishing my juice, I was shown all over the gorgeous property including my room where I would spend the next two nights. I was given a map of the area, ideas on things I could do, places to eat (they even researched vegan options ahead of time), and methods of transportation since I didn't have a car.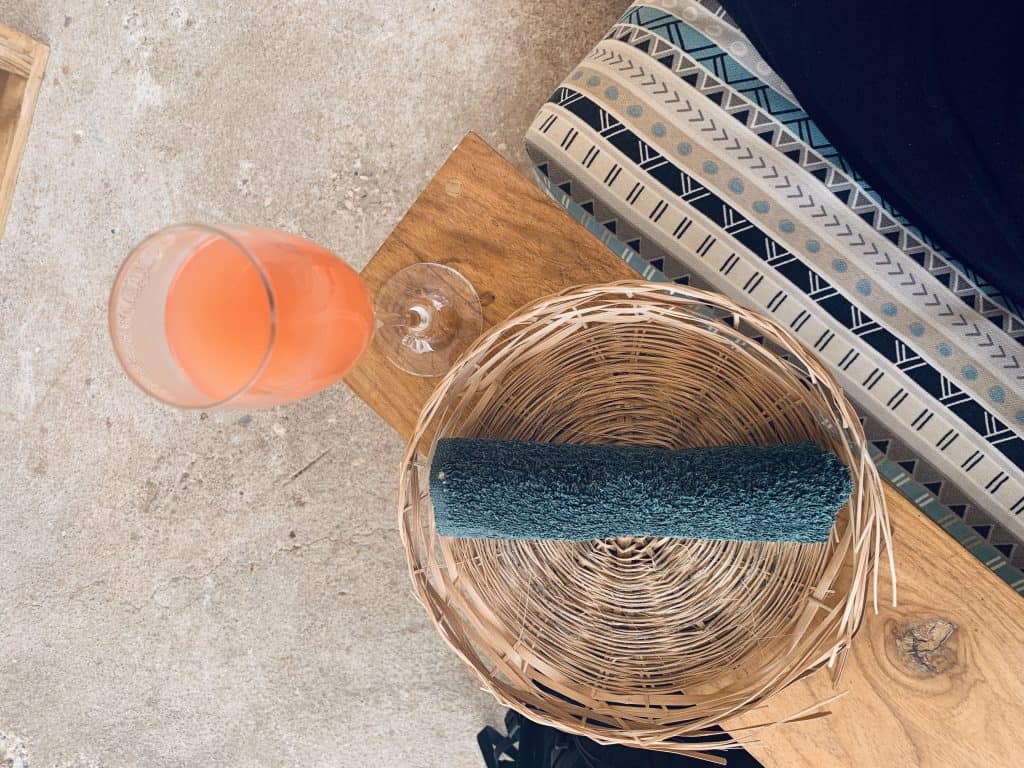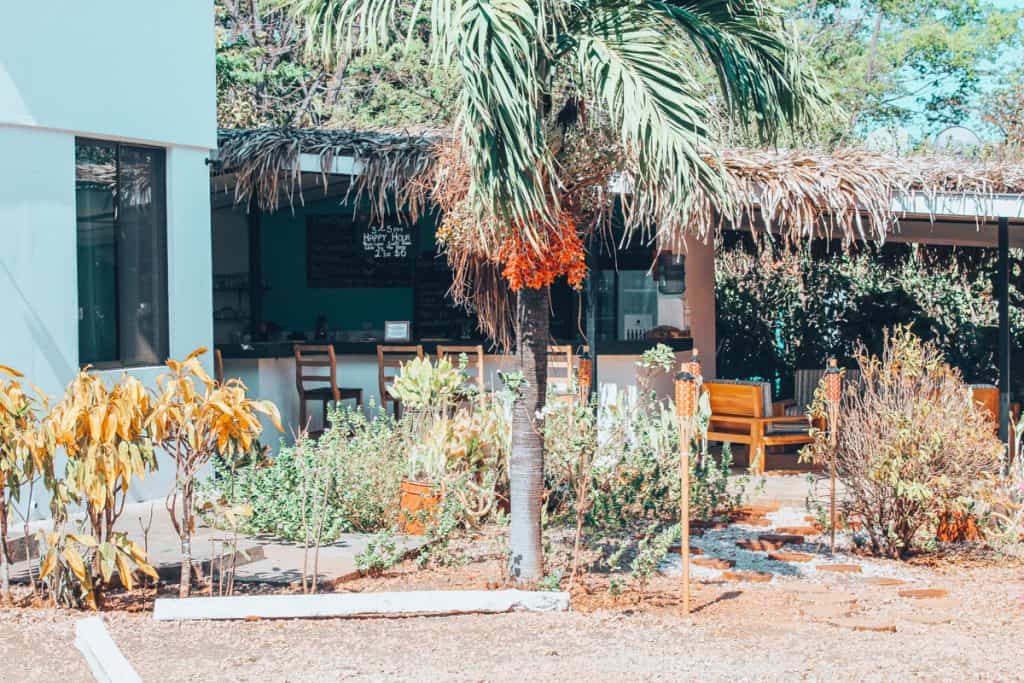 ---
Where is Playa Lagartillo and Drift Away Eco Lodge?
Playa Lagartillo sits in between Tamarindo and Playa Negra. Playa Lagartillo is a public but fairly empty beach. You'll easily be the only one there most of the time and the rest of the time it is usually locals surfing. From here you can easily walk to Playa Avellanas where there are several restaurants and a surfing school. You can also bike to Playa Negra (or walk if you're crazy like me) or Tamarindo. It's the perfect combination of seclusion and accessibility.
---
Things to Do in the Playa Lagartillo Area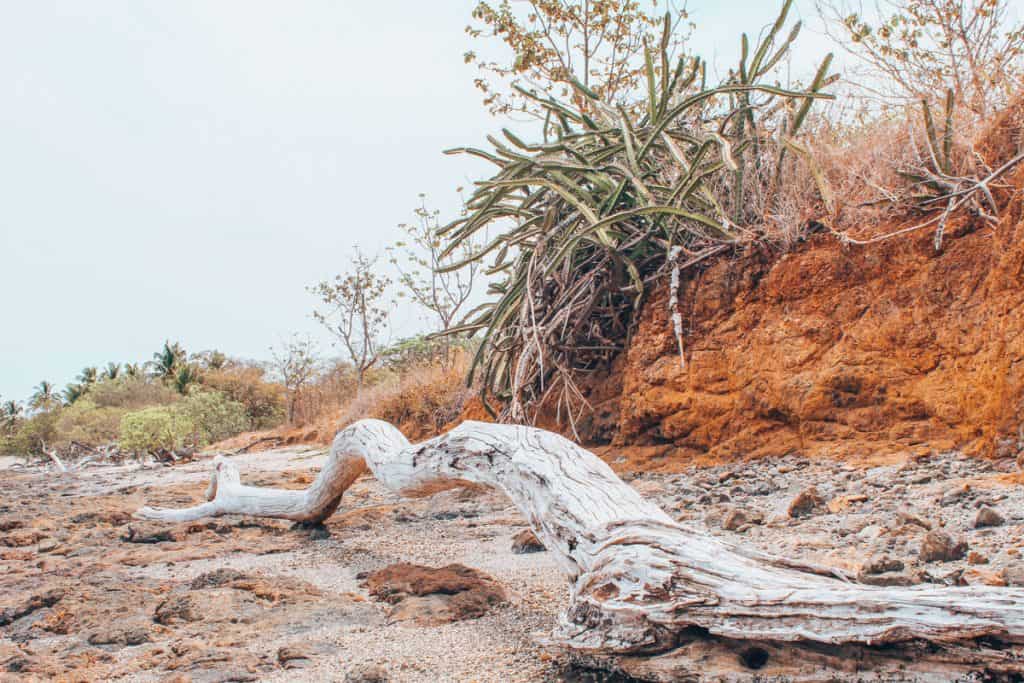 Surfing
My timing just wasn't enough but I would have loved to try, and likely fail, at surfing while I was there. If you're already a surfer or brave enough to try on your own, Drift Away Eco Lodge offers free surfboard rental. If you would like, or need, lessons then Avellanas Surf School is just down the road. I found that their prices seemed very reasonable at $70 for a private lesson.
Biking
Drift Away Eco Lodge also offers free bike rentals which I find is pretty amazing. You can bike on the roads (but this may be kind of dusty) or along a trail next to the beach which is really nice and connects Playa Avellanas and Playa Negra.
Zip-Lining
There are a few nearby zip lining tour operators in the area that can be booked directly through the lodge and it includes transportation.
Yoga
Easily done on your own at the beach or you can take a walk-in class in Playa Negra. Drift Away Eco Lodge also hosts yoga retreats at the property.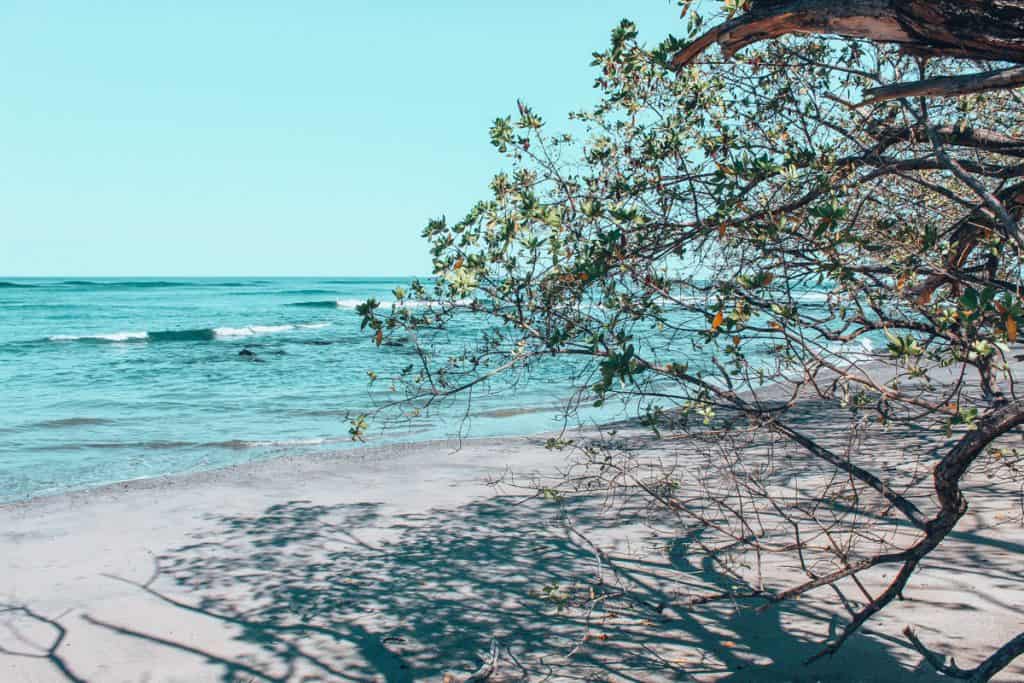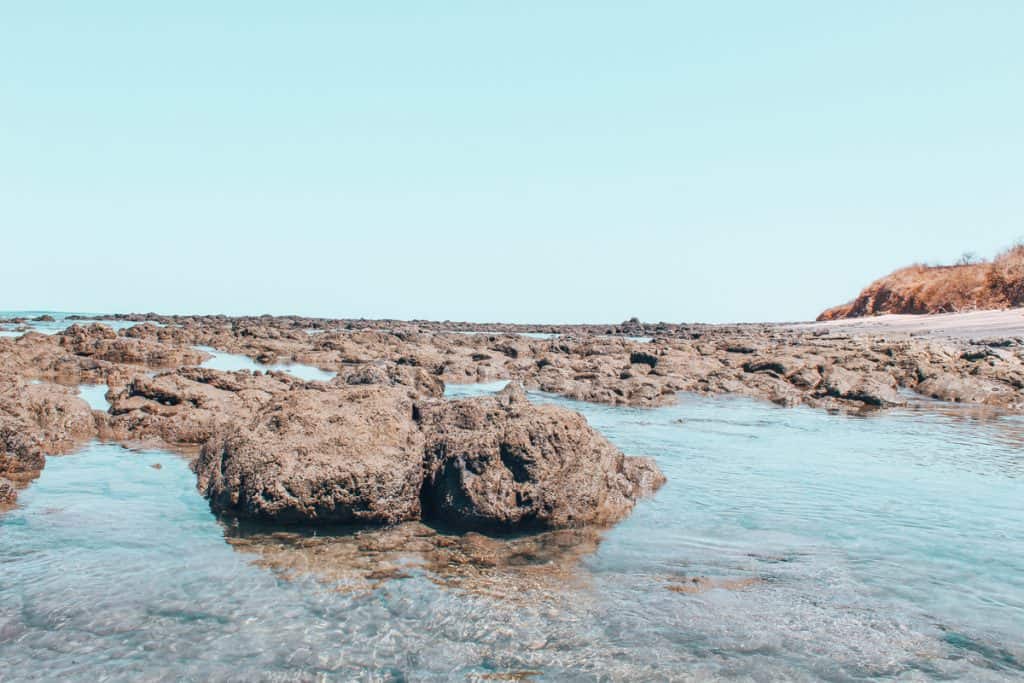 ---
Drift Away Eco Lodge and Why It is a True Sustainable Accommodation
The hospitality industry is really, really good at greenwashing. Greenwashing is when a brand or an organization spin their products or service to be environmentally friendly. Sometimes, it can be hard to spot or if you're like me – you want to believe the best so you don't dig deeper or question things. A good example of this in the hospitality industry is when a hotel claims to be eco-friendly simply because they don't wash the sheets every day. While, sure, this is a place to start, it does not alone make a hotel eco-friendly.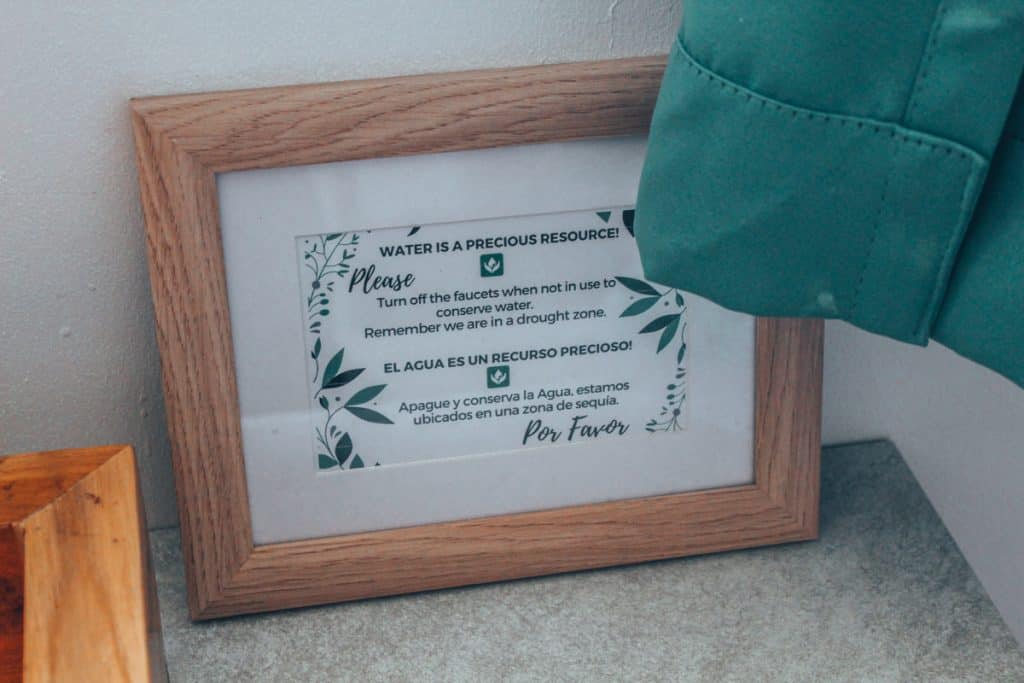 So, how is Drift Away Eco Lodge a good example of Costa Rica ecotourism?
Items were either recycled or reused first and then locally sourced. For instance, they are using old tires as planters. They use biodegradable and all-natural hygiene products that are made locally. These are provided in reusable glass containers – instead of those one-use plastic ones. Of course, they can't make guests use them but they do encourage it. The linens are made of organic cotton sourced from fair-trade companies.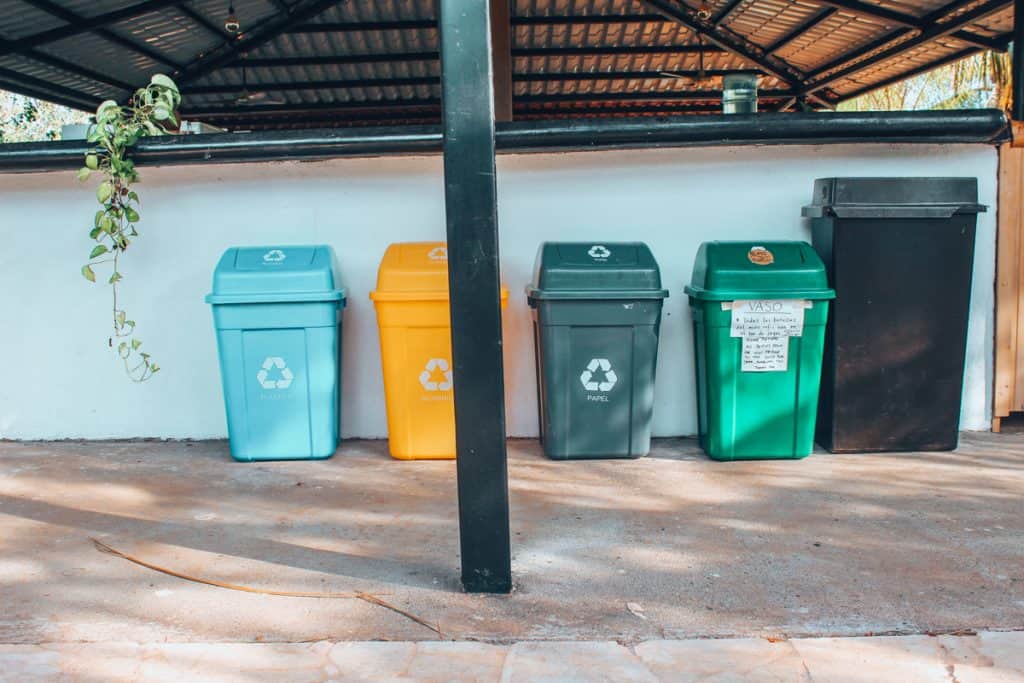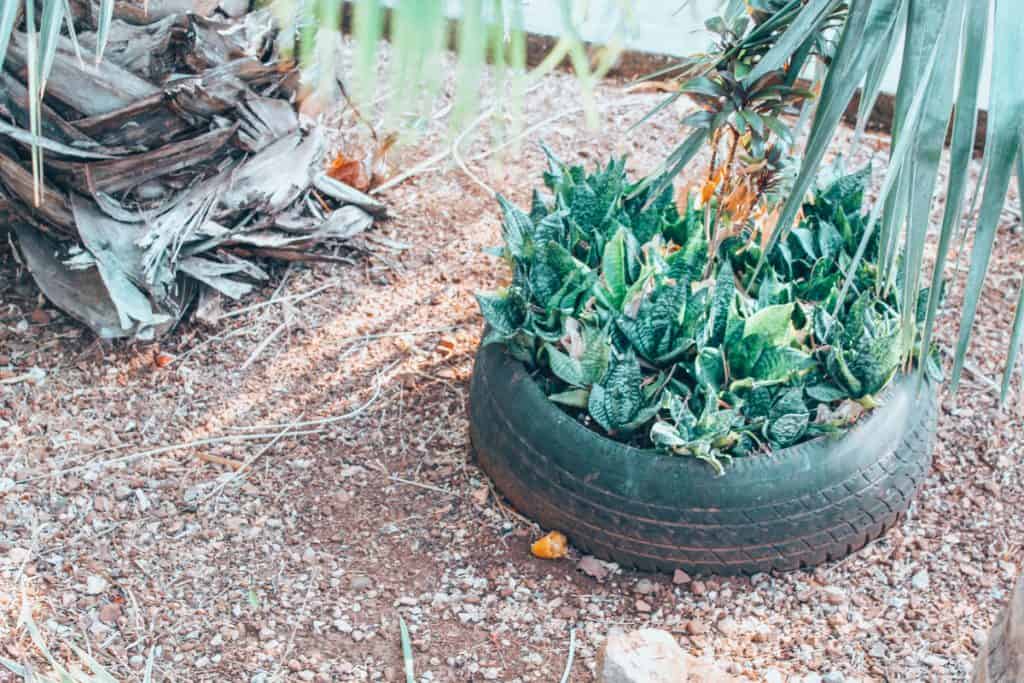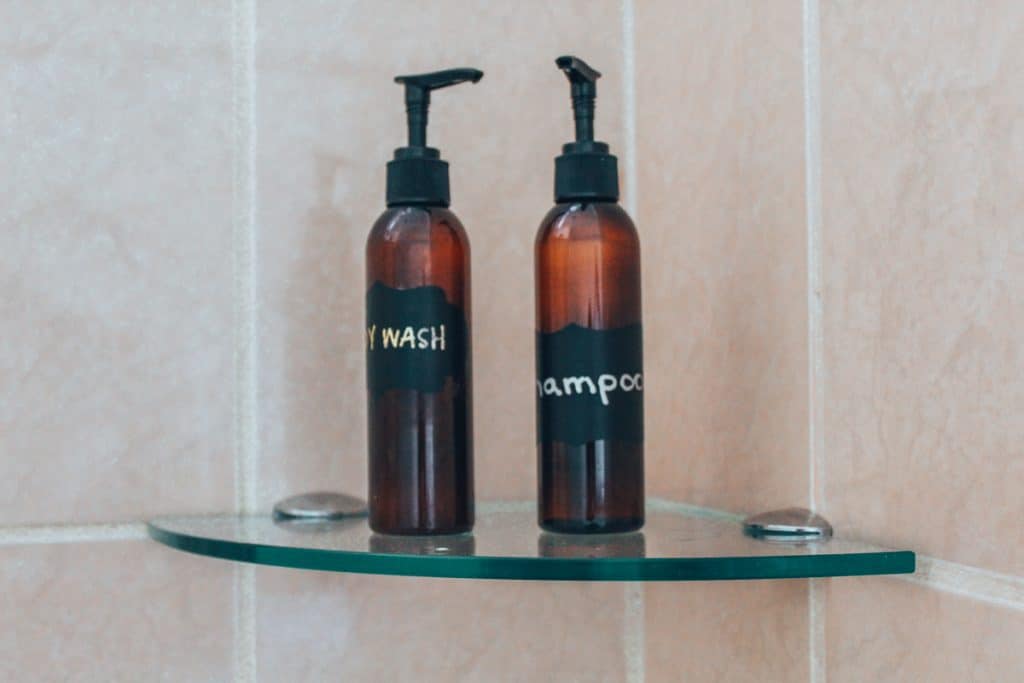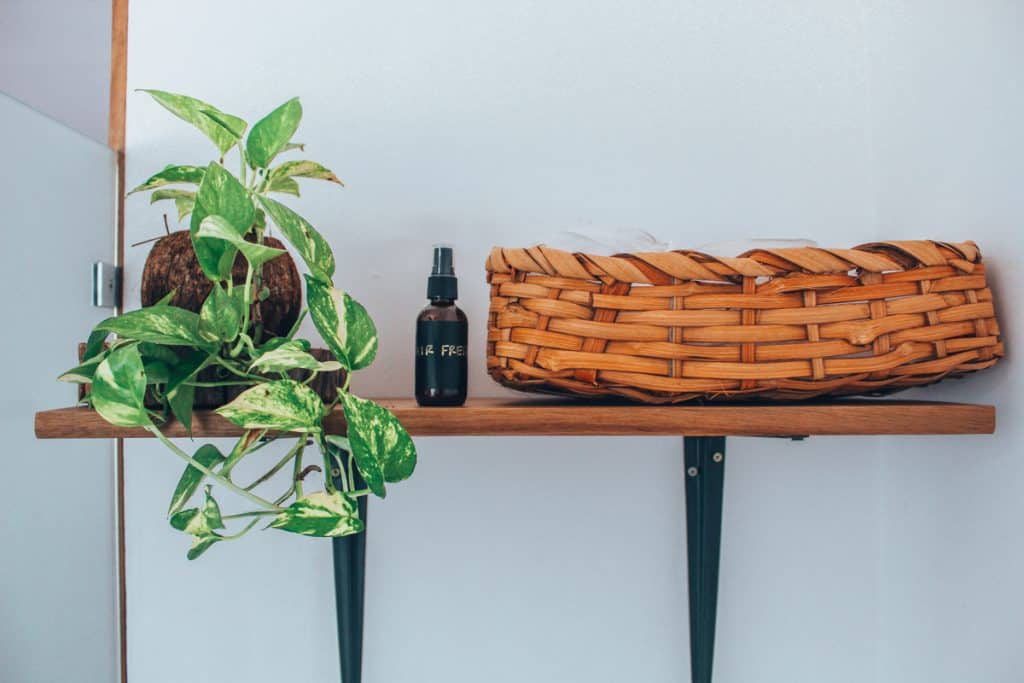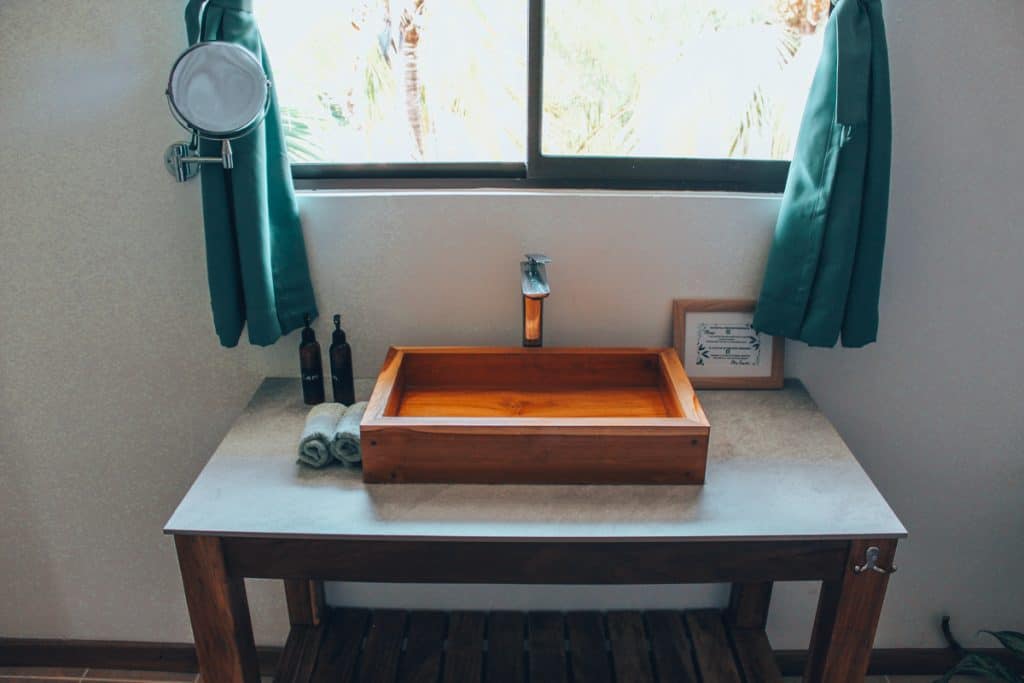 They've decreased the use of chemicals in their pool by using a UV and ionization cleansing process. The property is completely free of single-use plastic. They even provide a refillable water bottle to use while you're there and you can purchase it to take home if you'd like.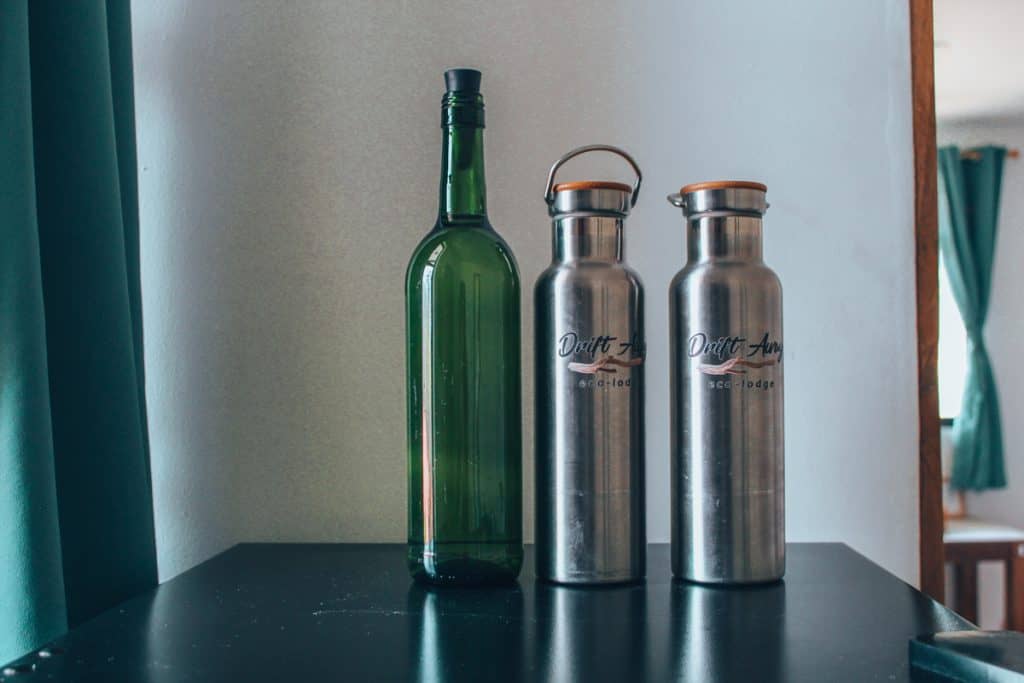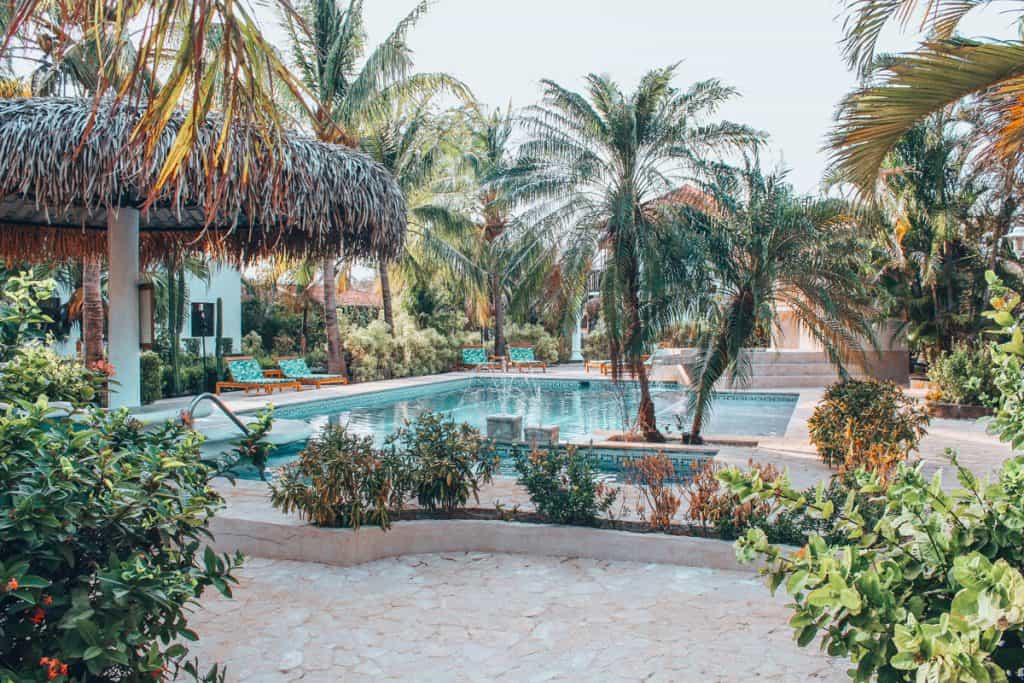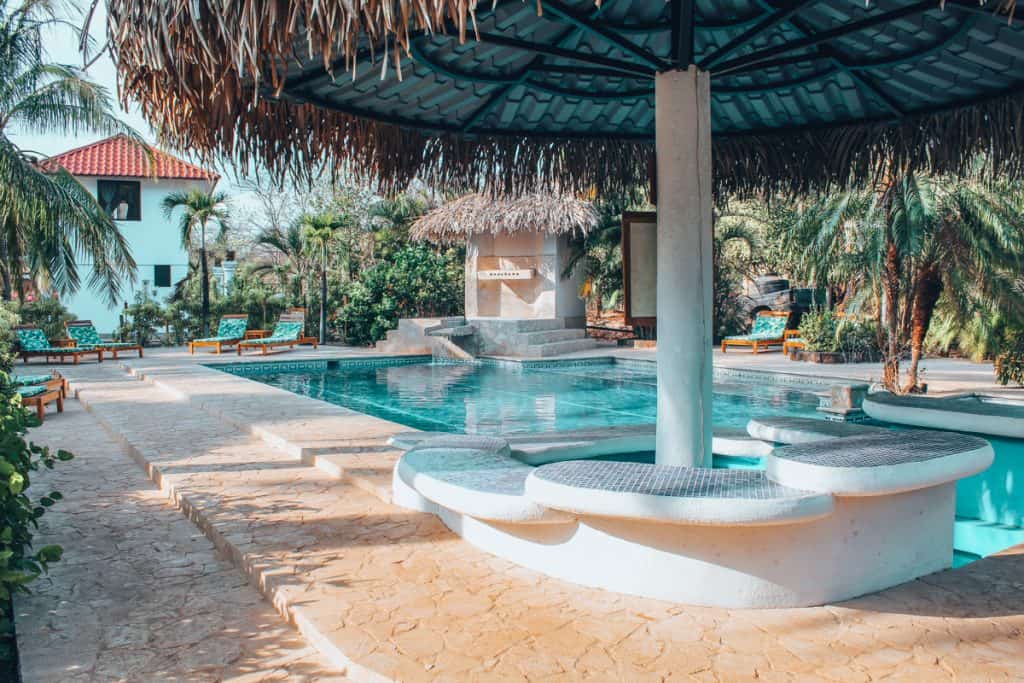 The food is sourced locally. The orange and grapefruit juice is literally sourced straight from the property. The beer, wine, and kombucha are all sourced locally as well as the produce. My favorite part? All of the food offered is completely vegetarian and most is vegan.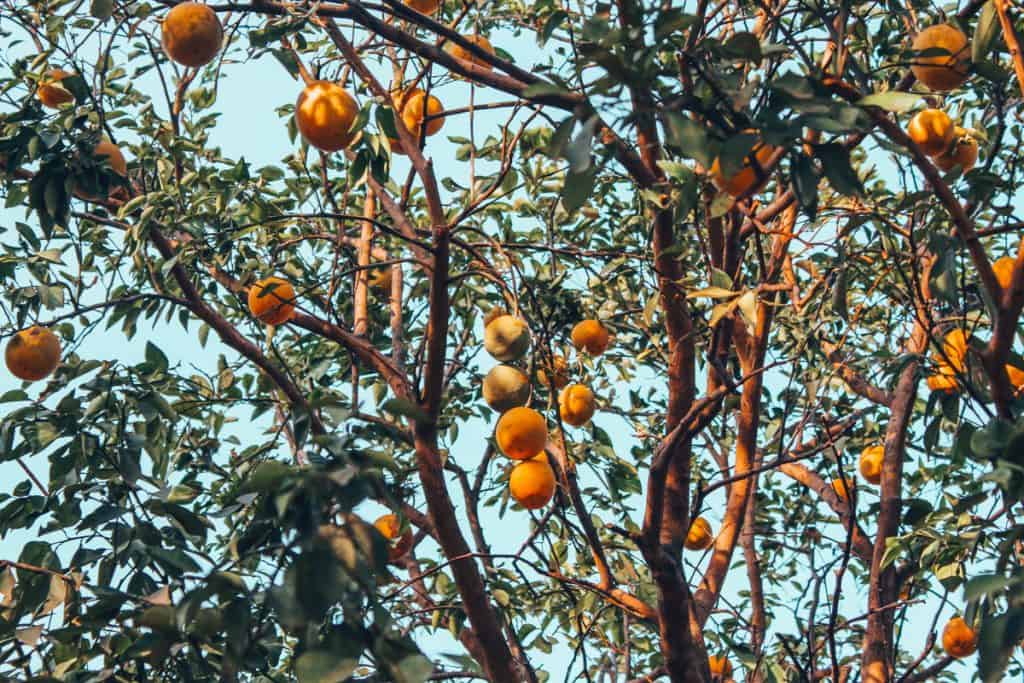 Sustainable tourism, in my opinion, is not just about the environment though. A company can instill great environmental procedures but still not be contributing to the locals. Drift Away Eco Lodge hires locals where possible and I believe aside from the managers is run entirely by locals. Everything in the nearby area whether it be local restaurants, local shops, or artisans will contribute to the local economy.
---
Where to Eat in Playa Lagartillo
As I was only in the area for a couple of nights, I didn't get to explore as much as I would have liked. However, I can offer a few suggestions.
Lola's
My first suggestion would be Lola's which is located in Playa Avellanas. I walked here both days which takes about 20-25 minutes each way. If going by bike, probably 10 minutes. Aside from the fact that it is not a vegan restaurant, Lola's is a fairly sustainable restaurant. Everything is recycled, composted, fed to Lolita (the pig that calls this place home), or converted to biodiesel.
Lola's doesn't stop with the environment either. They contribute to the local communities, police, schools, children's advocacy, beach clean-ups, animal clinics, and far more organizations. Their wastewater is used for reforestation projects and gardens and they are single-use plastic free. Lola's has been carbon neutral since opening in 1998. Additionally, they hire locally.
Literally, the only thing that keeps them from being perfect in my eyes is the fact that they serve animals. However, they do have a few delicious vegan items including a veggie burger, pizza (with no cheese), and a couple of salads.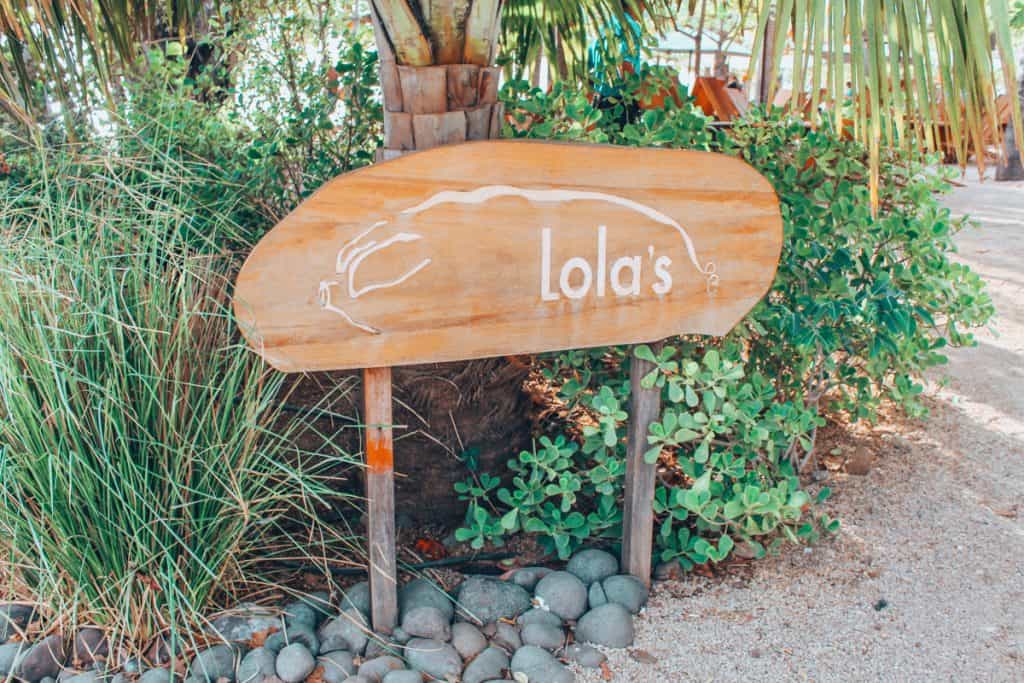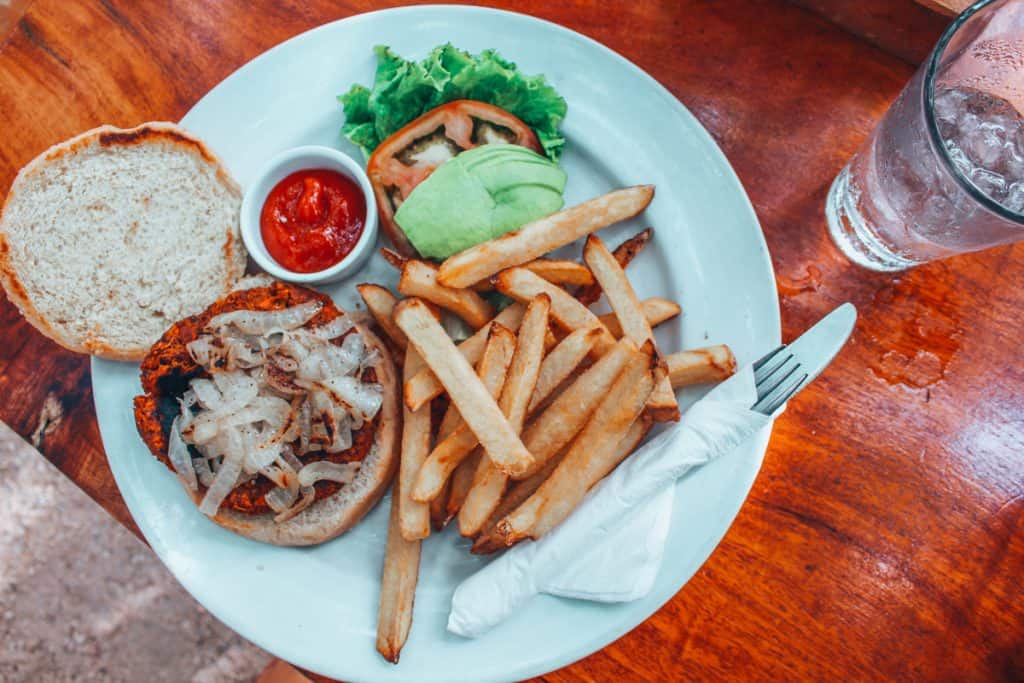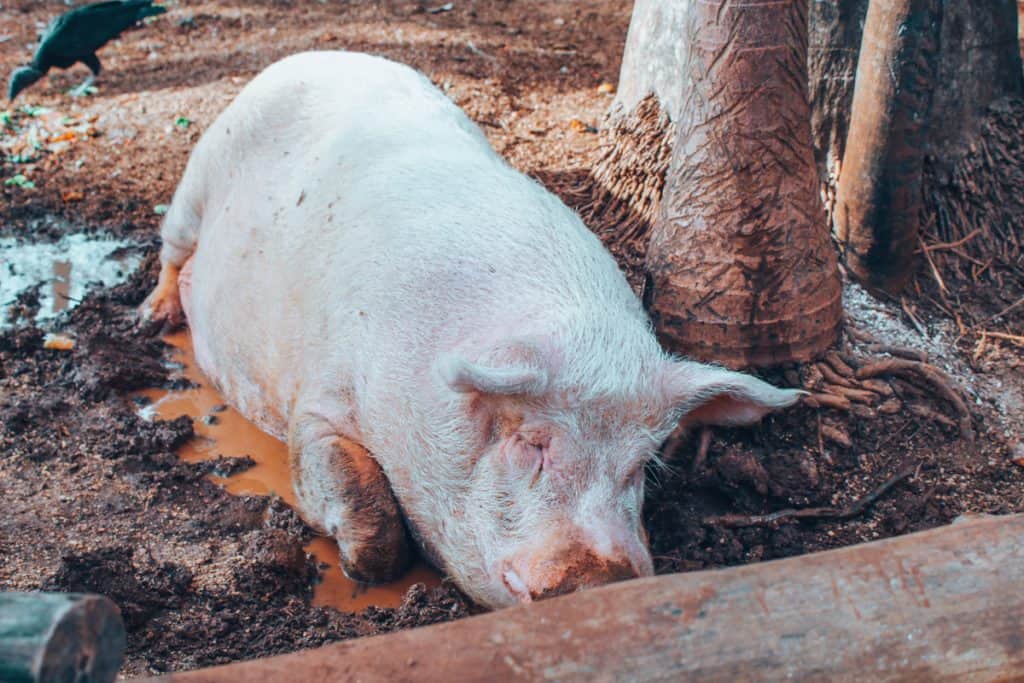 II Rustico
I didn't get to eat here but was told it is wonderful. Vegan options as well including pizza!
Drift Away Eco Lodge
Drift Away doesn't have an extensive menu but I found it to be satisfying for breakfast and lunch! They'll make you a few different options for breakfast including soy pancakes, a traditional Costa Rica breakfast which includes rice and beans, fresh fruit, fresh-squeezed juice and more. For lunch, you can try their delicious smoothies, hummus sandwich, vegan ice cream, and a quinoa and black bean salad.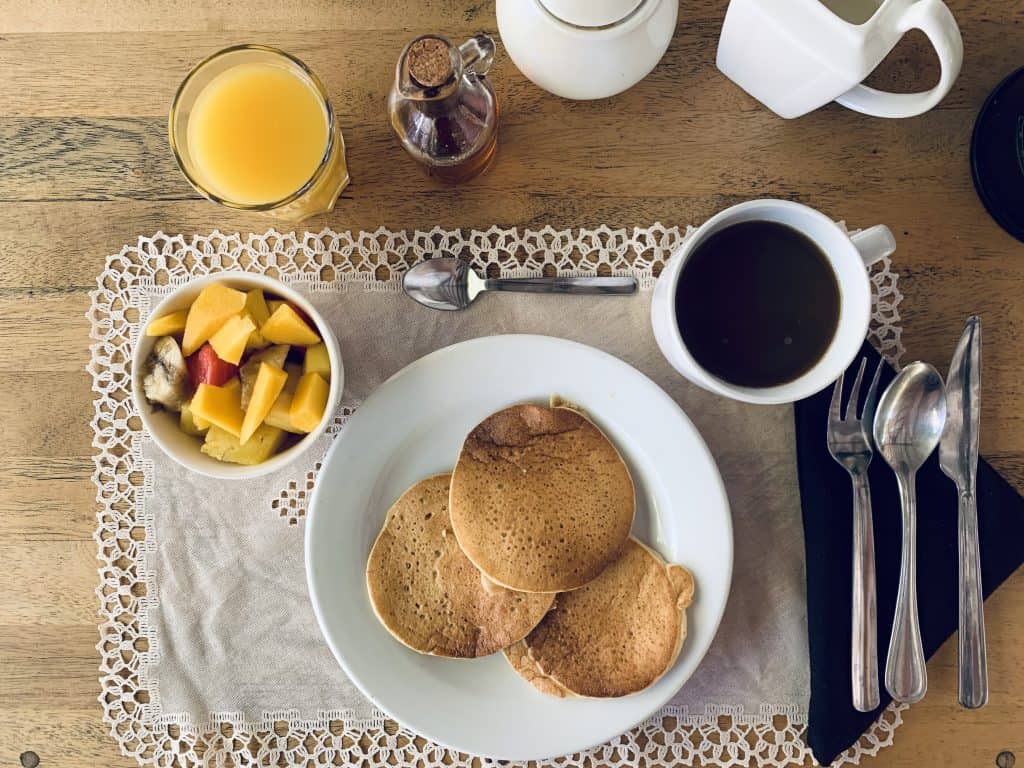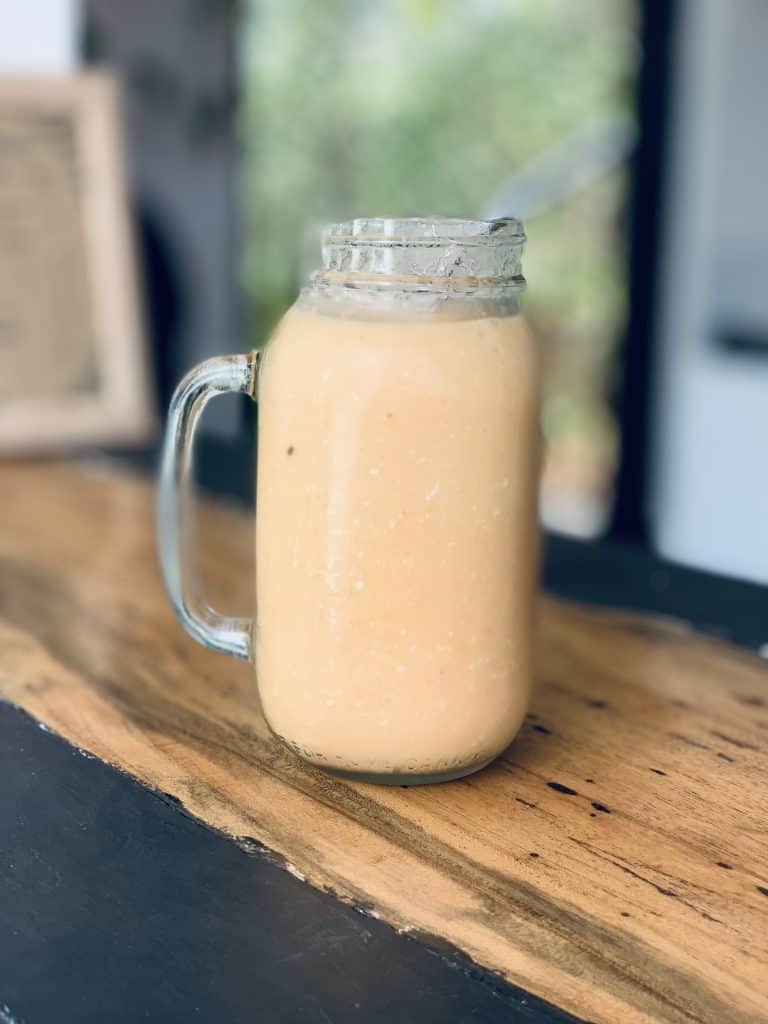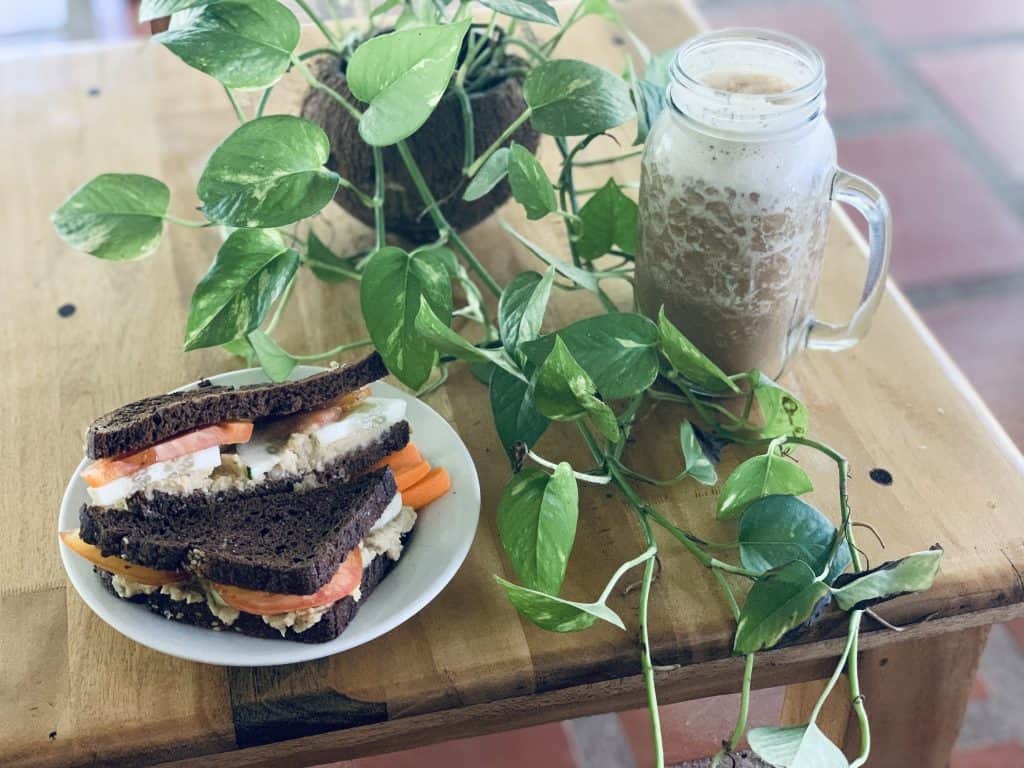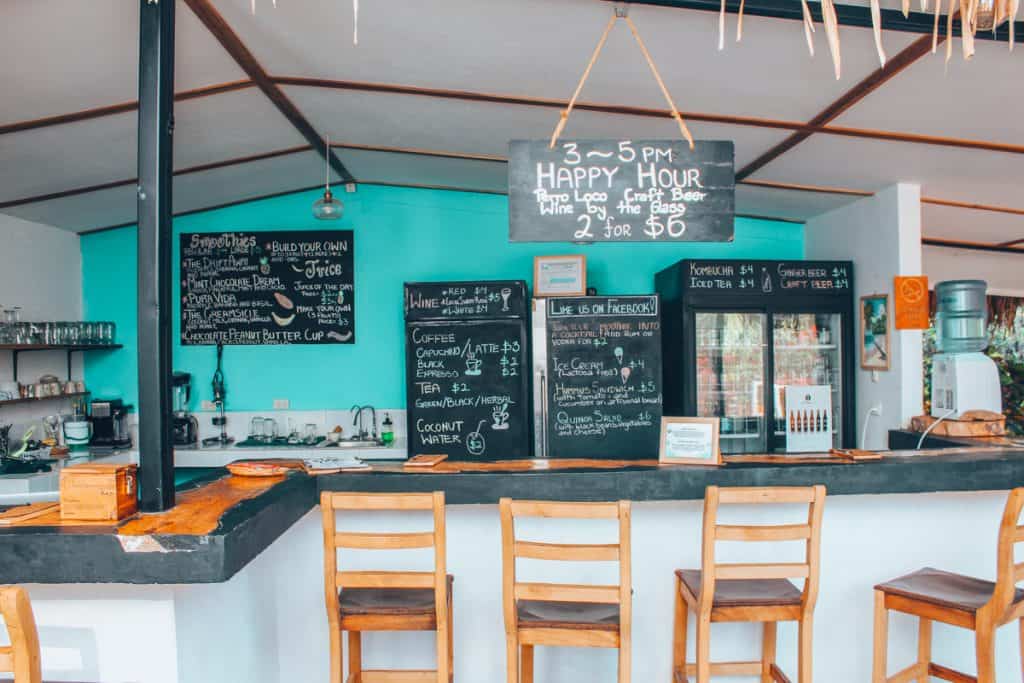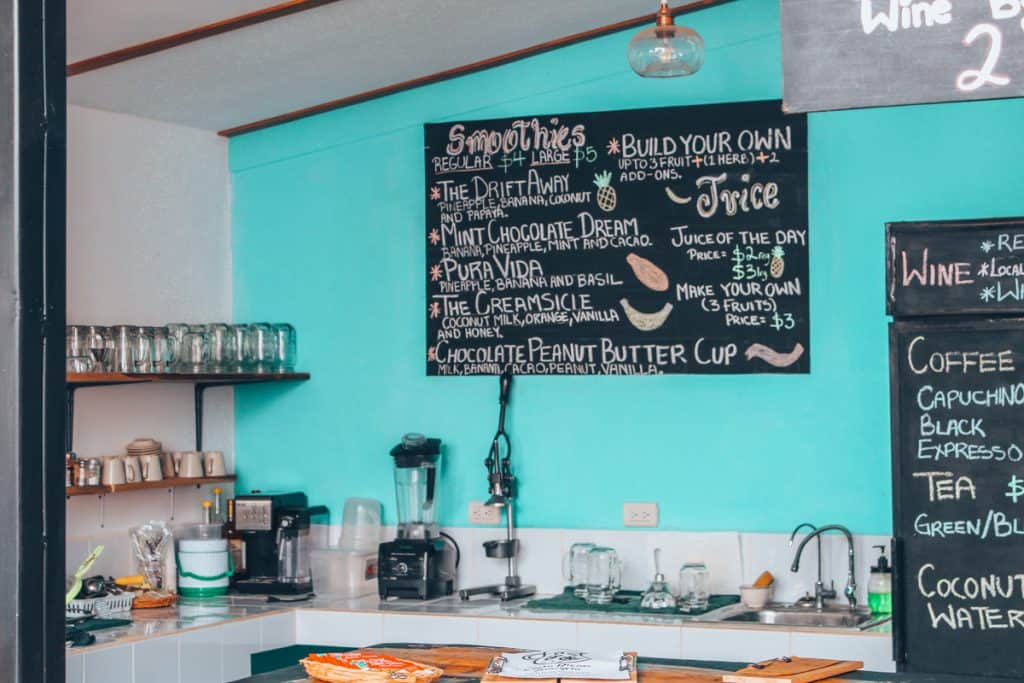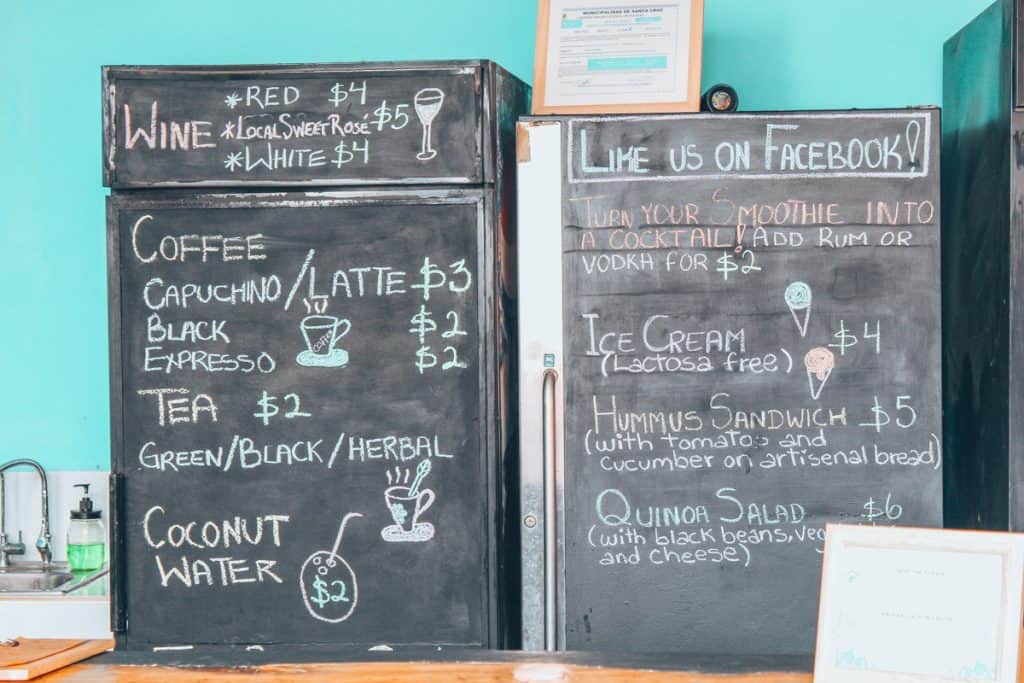 Additionally, you could head into Tamarindo or Playa Negra for more food options.
---
Amenities at Drift Away Eco Lodge
Aside from all the other things I've mentioned, Drift Away offers several other amenities.
Pool tables and ping pong tables
Hammocks
A multi-purpose room that can be used for yoga or just lounging. You'll find a library of books and board games here as well.
A large and beautiful pool with cascading waterfall. Pool towels are provided and encouraged to re-use. You can also take these to the beach.
Free bike and surfboard rentals.
Energy efficient AC units
Duo-flush eco-toilets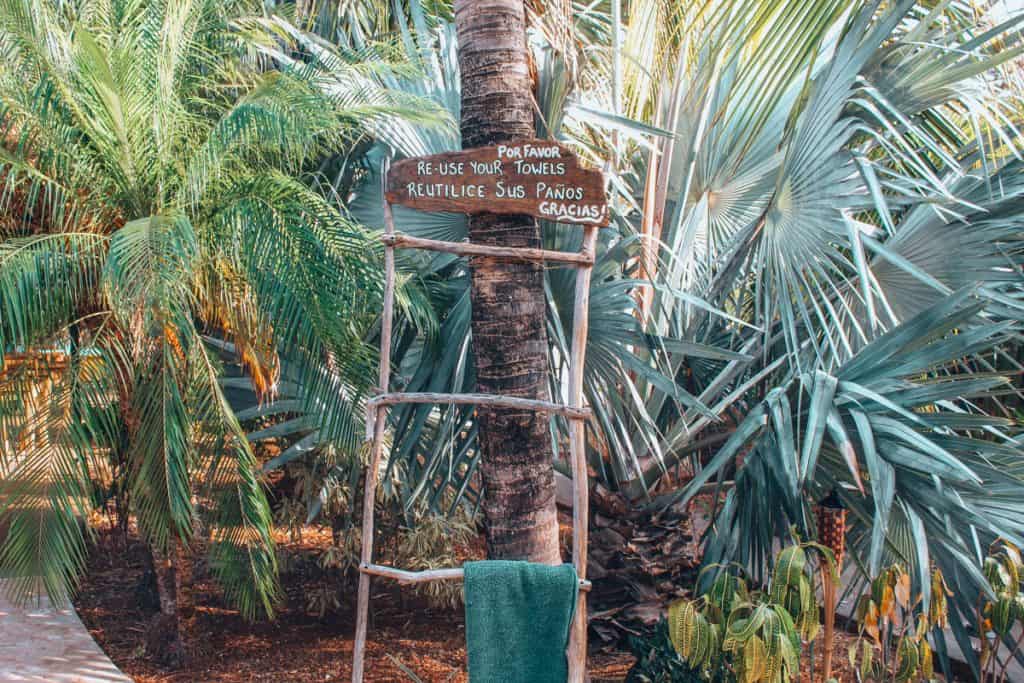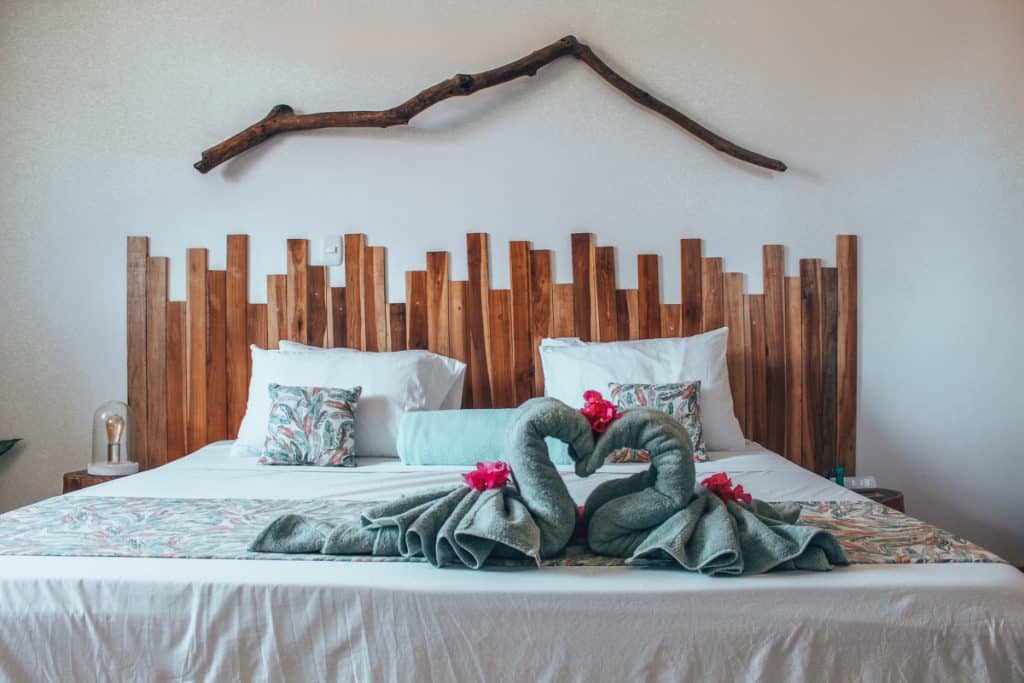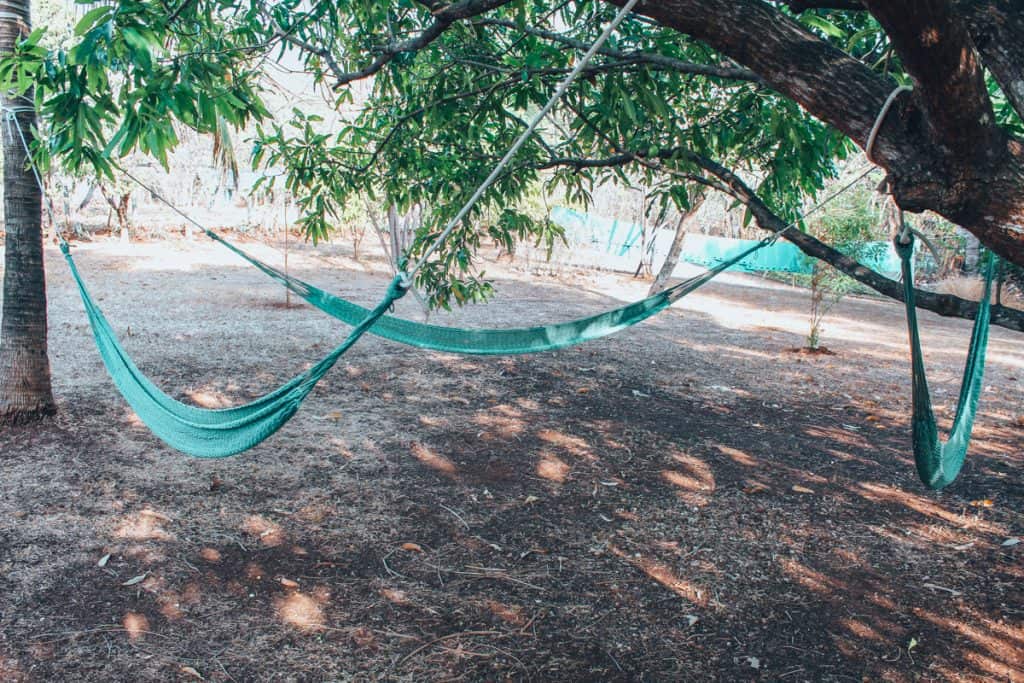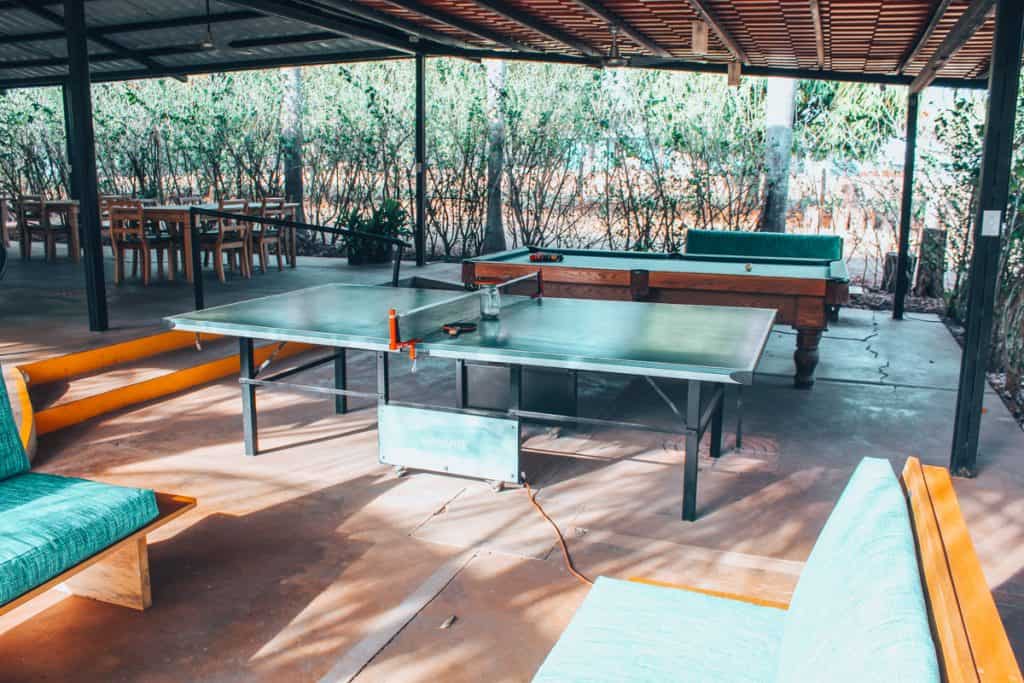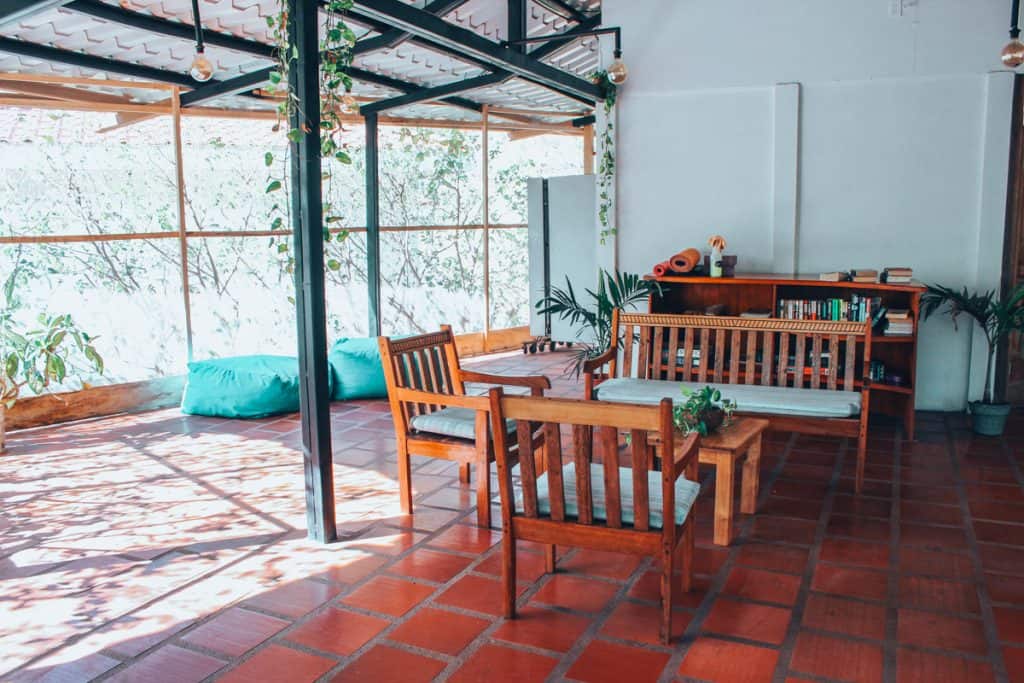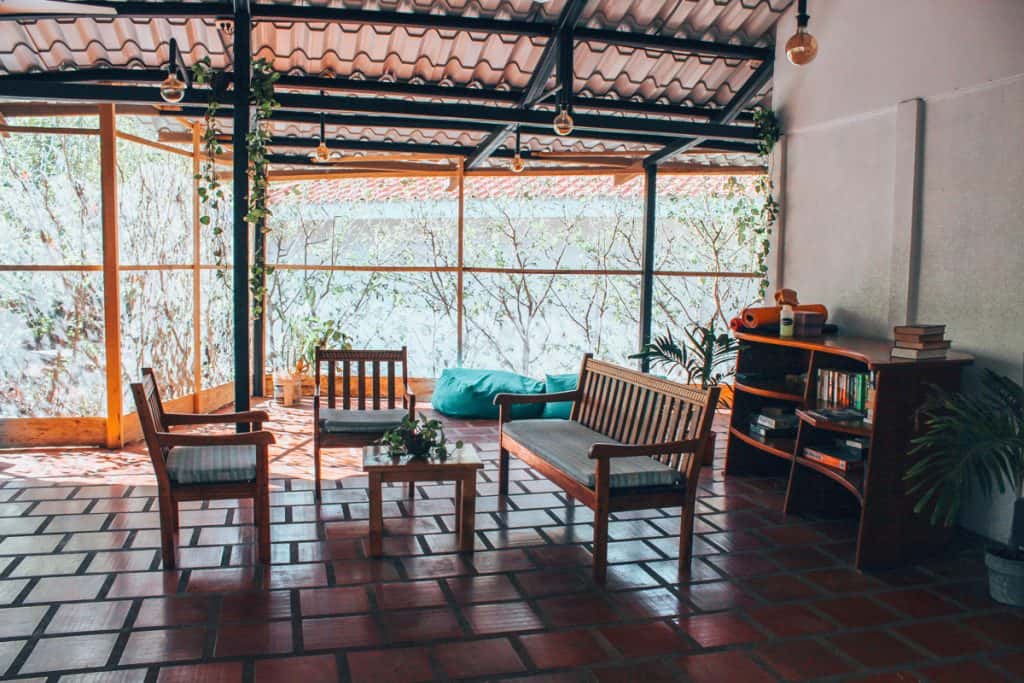 ---
---
Overall Thoughts on Drift Away Eco Lodge and Playa Lagartillo
I thoroughly enjoyed my time in Playas del Coco and getting my scuba certification will always be one of my best memories, but it was here in this tiny, rugged beach of Playa Lagartillo that I truly felt that Pura Vida life. In fact, it was here while I was laying on the secluded beach that a local stopped by on his walk to stop, say hello, strike up a conversation and was the first person to use the phrase 'Pura Vida' when addressing me.
Walking along the path to Playa Avellenas or on the actual beach (make sure it's low tide) with no other people around gave me time to find serenity and calmness in an otherwise chaotic trip. The kindness and compassion of the staff and managers made Drift Away even better than it would have been without that service.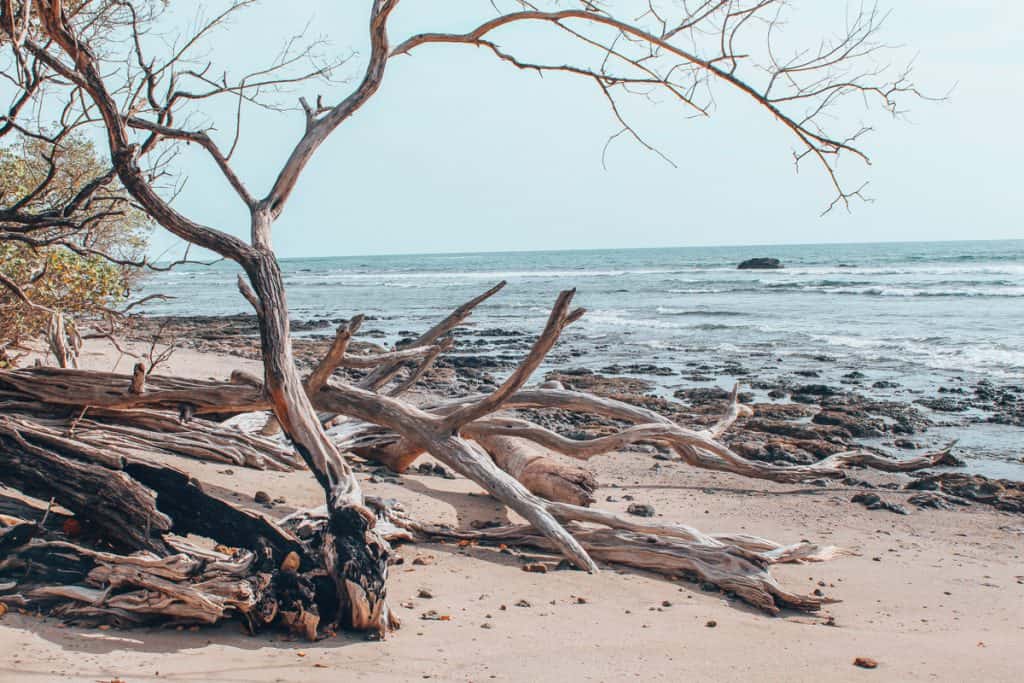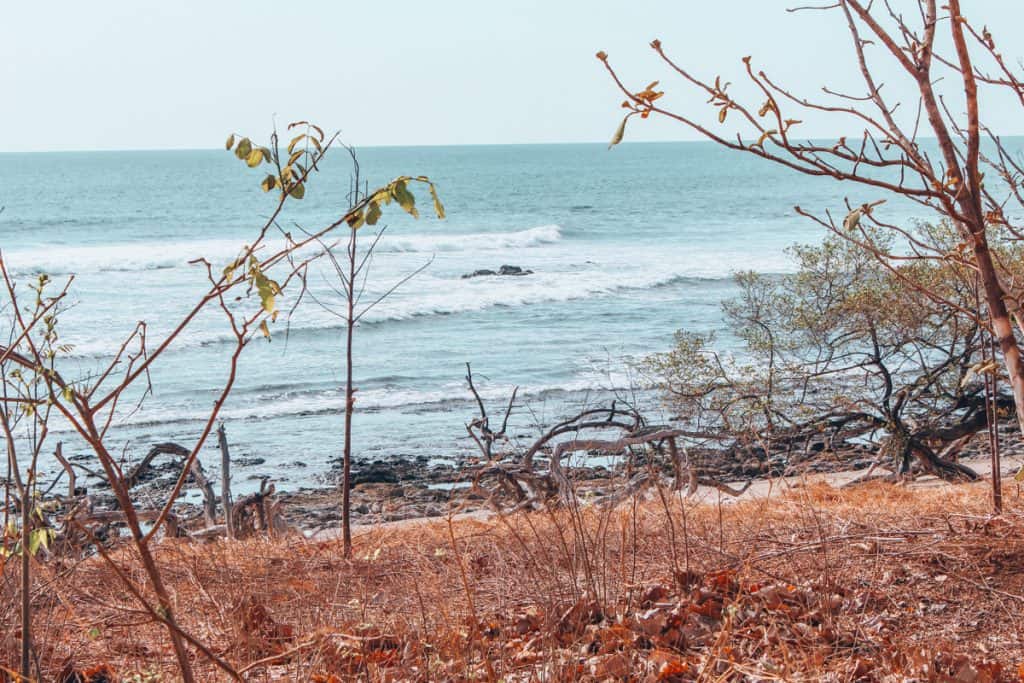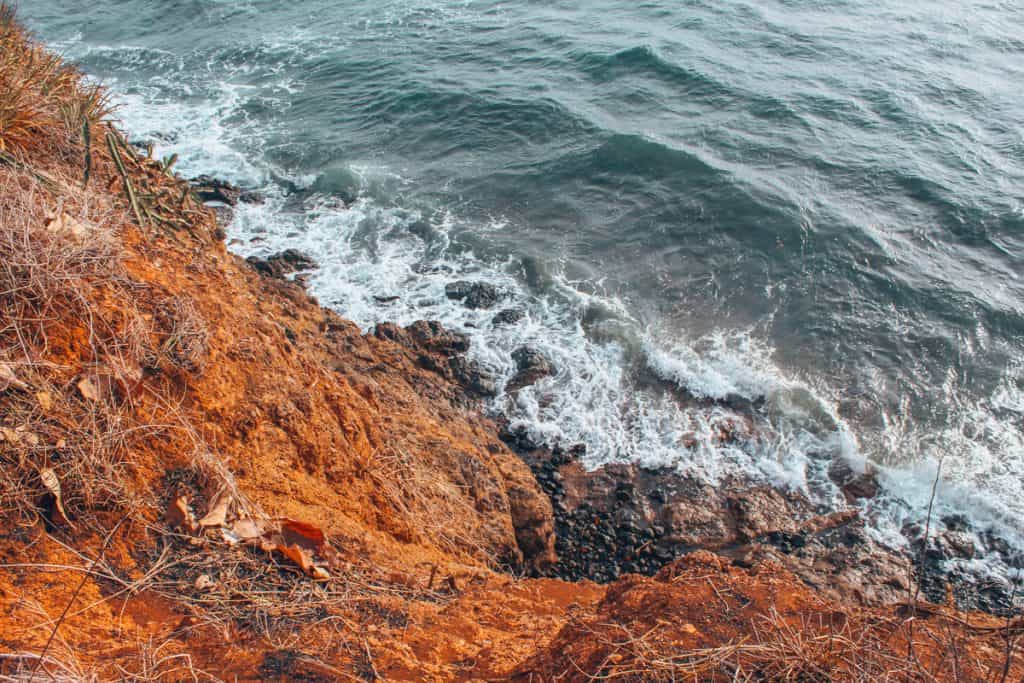 I loved just walking the property's gorgeous grounds covered in gardens that have been landscaped by a local for years and hearing iguanas run along the tin rooftops. Paul and Lisa, the managers, even offered to give me a ride back to Tamarindo since they were going anyway and when we heard howler monkeys, they turned around and stopped so I could experience seeing them for myself.
I left Costa Rica with a deep desire to return and a large portion of that was because of Drift Away Eco Lodge and how wonderful the surrounding area and people were. I would highly encourage anyone thinking of visiting Costa Rica to stay here.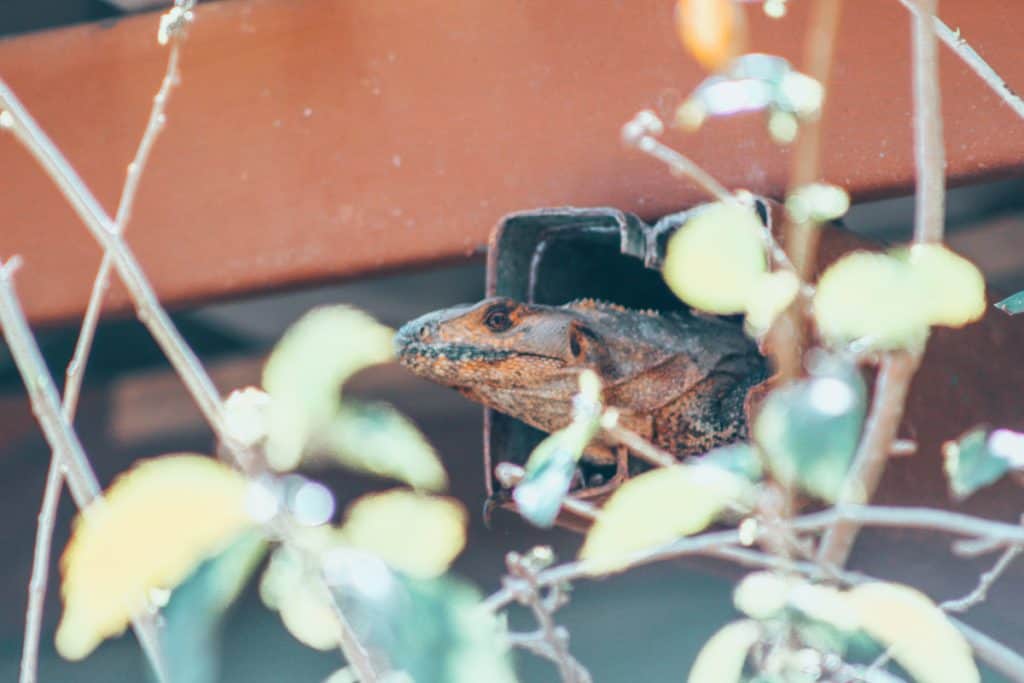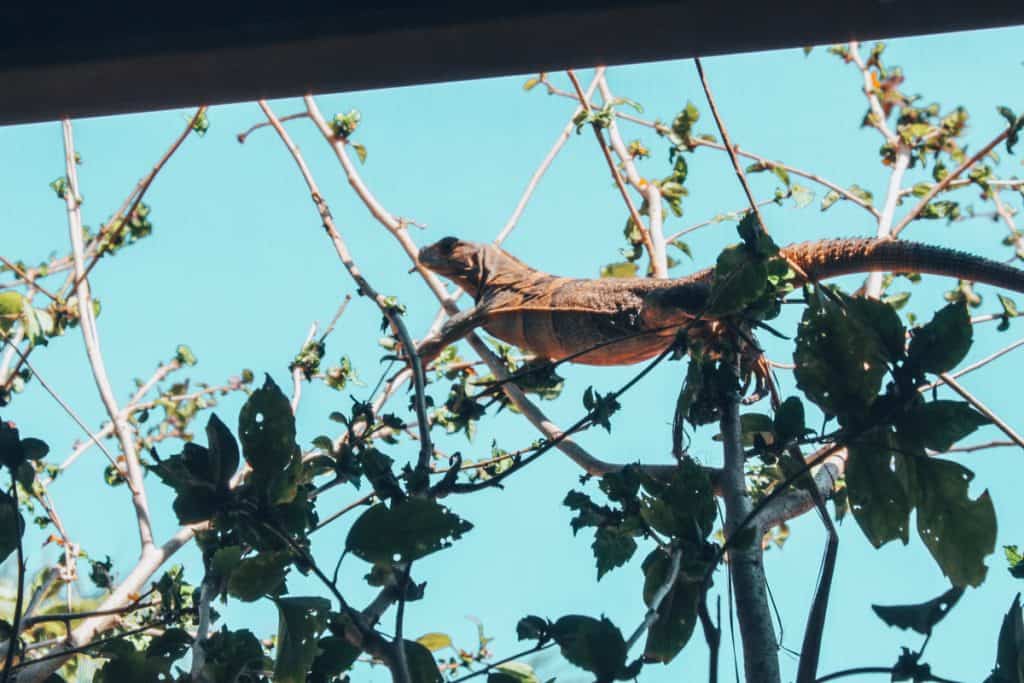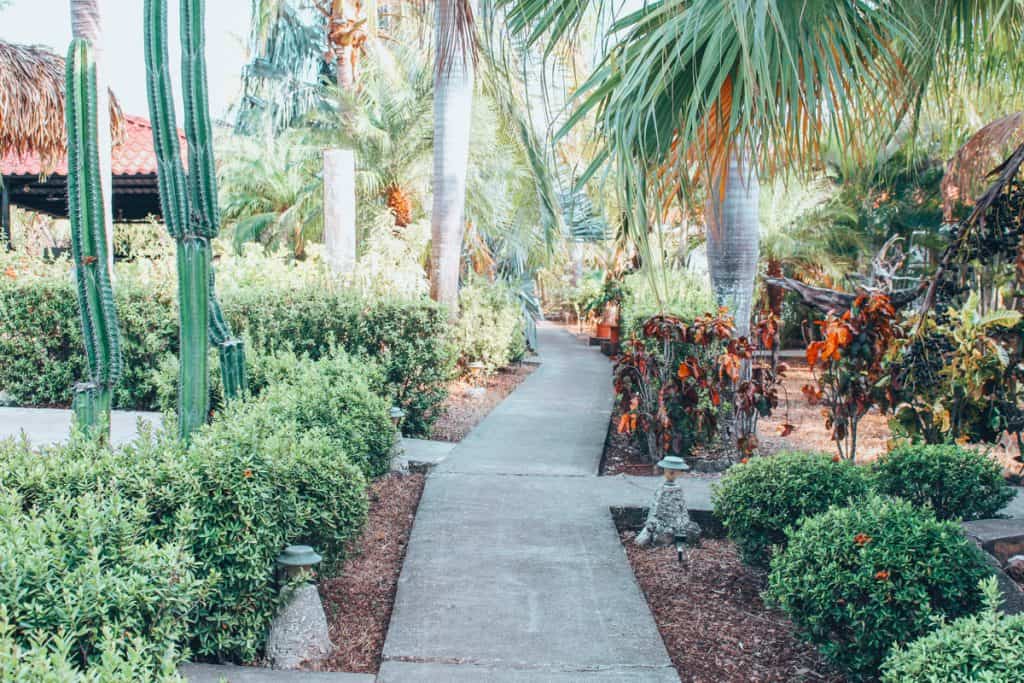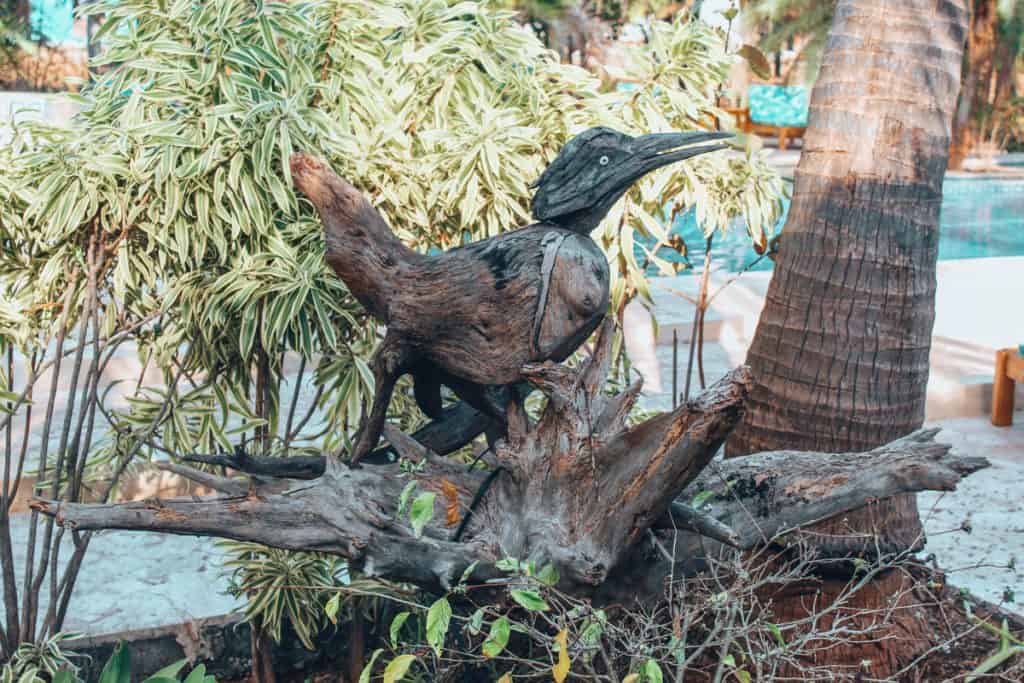 ---
Looking for more posts on sustainability? Check out a few of our other posts!
---
What to Pack for Costa Rica
---
Have you ever been to Costa Rica?? Tell me about it in the comments below ↓↓↓
Looking for accommodation in Costa Rica? Check out reviews here and book here.
Want to know where I stayed? Reviews for Drift Away here or book here
Want to know where to eat in Costa Rica? Vegan guide for Playas del Coco and Tamarindo
What else have I written? You can find more Costa Rica posts here.
Like this post? Have Questions? Hit me up on Facebook | Twitter | Instagram | Pinterest | Email
↓↓↓ PIN FOR LATER ↓↓↓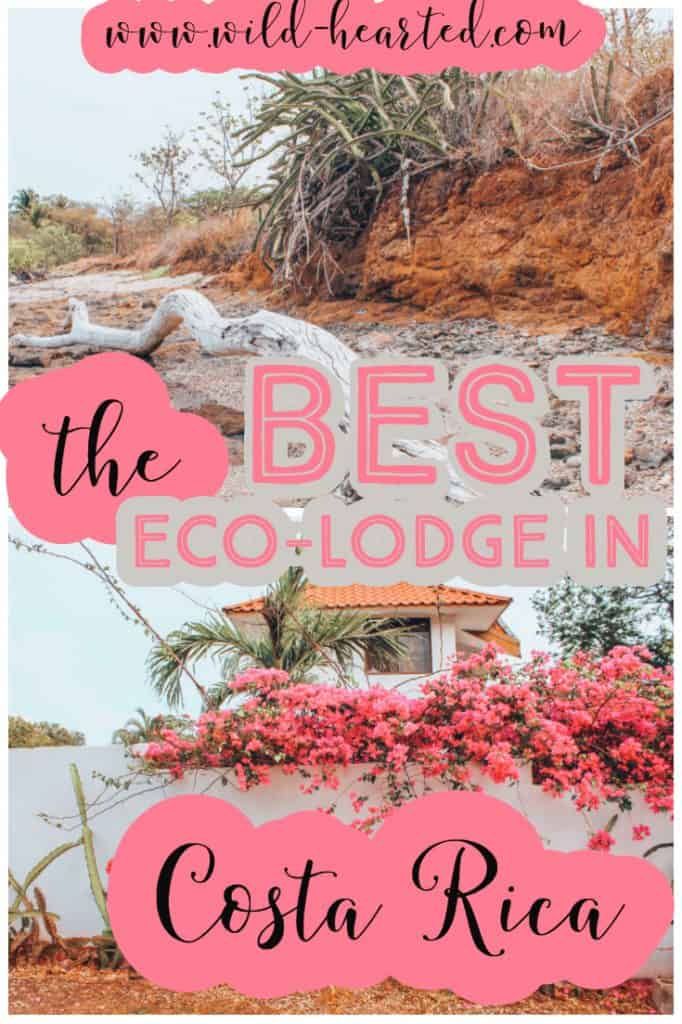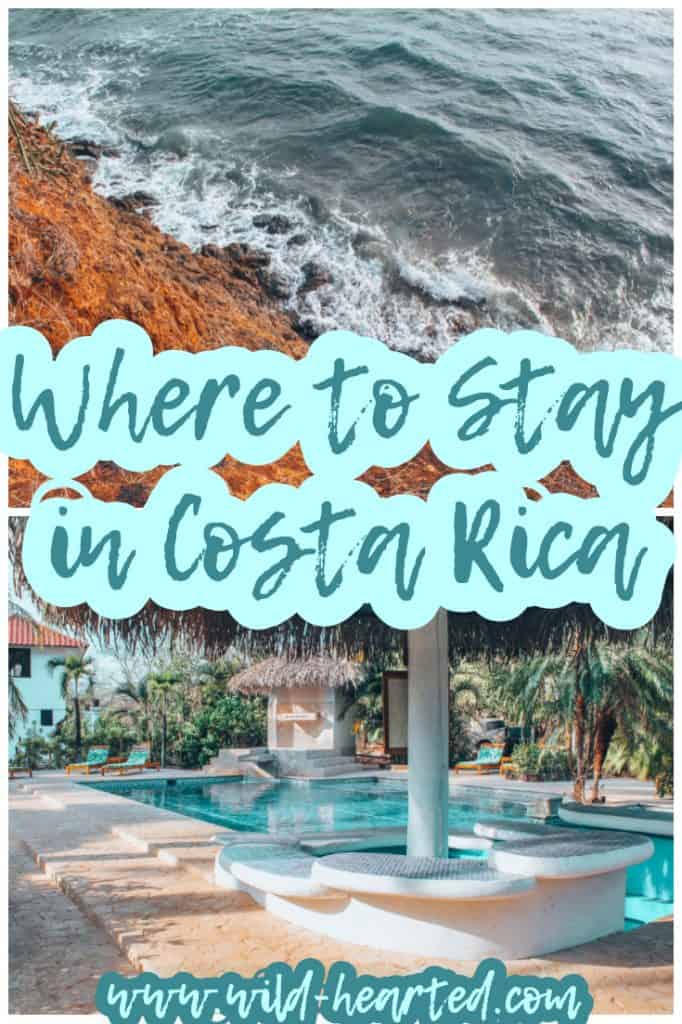 **My stay at Drift Away Eco Lodge was a hosted experience and this is an honest review. I, in no way, felt inclined to give a positive review of the service. The content and opinions expressed here are my own. I only promote products and services via Wild Hearted that I have tested and loved.**
Latest posts by Ashley Hubbard
(see all)