This post may contain affiliate links, meaning if you book or buy something through one of these links, I may earn a small commission (at no extra cost to you!). Please see my disclosure.
As a brand new diver that has always had a fascination with sharks and saw two sharks on my very first ocean dive, my fascination and amazement has tipped over the edge. Not only am I in awe and excited to explore the best places to dive with sharks, but I'm also trying to absorb as much information about these brilliantly magnificent creatures that are being unfairly feared, hunted, and destroyed on an alarming level.
In an effort to share my fascination and hopefully help in the awareness and conservation of a vital animal in our ecosystem, I've asked other scuba divers to share the best places to dive with sharks in the world in their opinion. The options are obviously bountiful and endless and I don't know that there would ever be a fully complete list but I hope these destinations will leave you inspired to explore this beautiful and amazing part of our world and respect and admire one of the oldest and astounding animals.
---
Map of Best Places to Dive with Sharks
Can we take a moment to notice how cute the little fin map markers are?
---
Africa
Cape Town, South Africa
Campbell and Alya of Stingy Nomads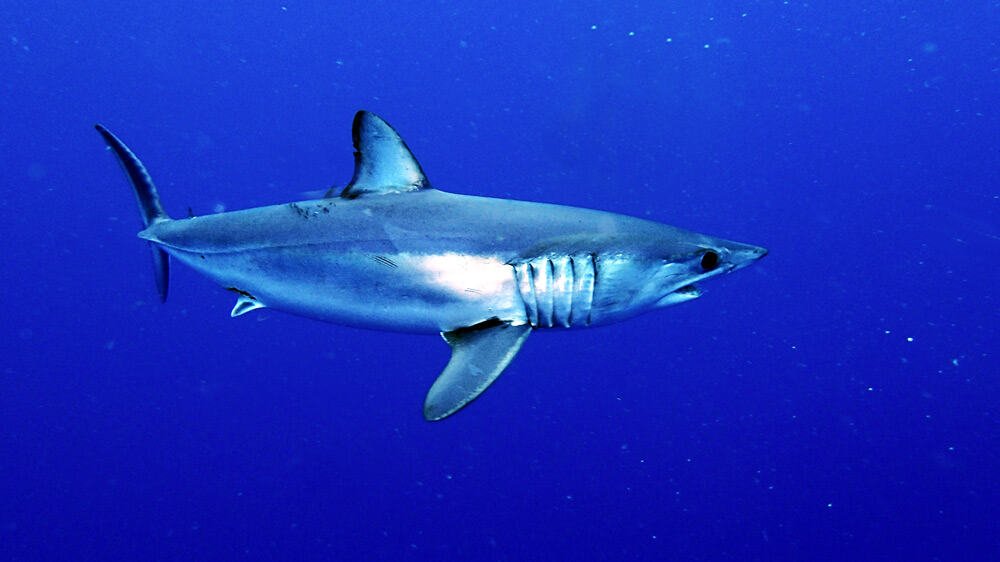 South Africa is an amazing country to explore for shark lovers. Africa's top tourist destination is well known for cage diving with Great White sharks. Scuba diving with other shark species in the Cape has only been discovered by divers in recent years and makes this one of the best places to dive with sharks.
This adventurous pelagic shark dive in Cape Town with Pisces Divers located in Simonstown is something unique for even the most experienced divers. Driving more than 30km into the deep from Cape Point we passed sunfish, whales and many seals.
When the first sharks are spotted, a very excited crew gears up! The sharks encountered on most dives while you float in the clear, warm water of the Agulhas current are Blue sharks and Mako sharks. The Blue shark can grow up to 3.5 meters and is the most common sharks in the ocean. The Mako shark is a stocky shark that can grow up to 3 meters, it has a mouth full of teeth that are very visible and is the fastest shark in the ocean, reaching speeds up to 74km/h (45 mph)! Visibility was an incredible 30m, water temperature 20C, we spent the whole dive between 5 and 10m deep, there was no max dive time and after 75 minutes our whole group surfaced with massive smiles.
---
Asia
I don't think it's any secret that Asia, especially Southeast Asia, is one of the best places to dive with sharks.
Weh Island, Indonesia
Annalisa of Travel Connect Experience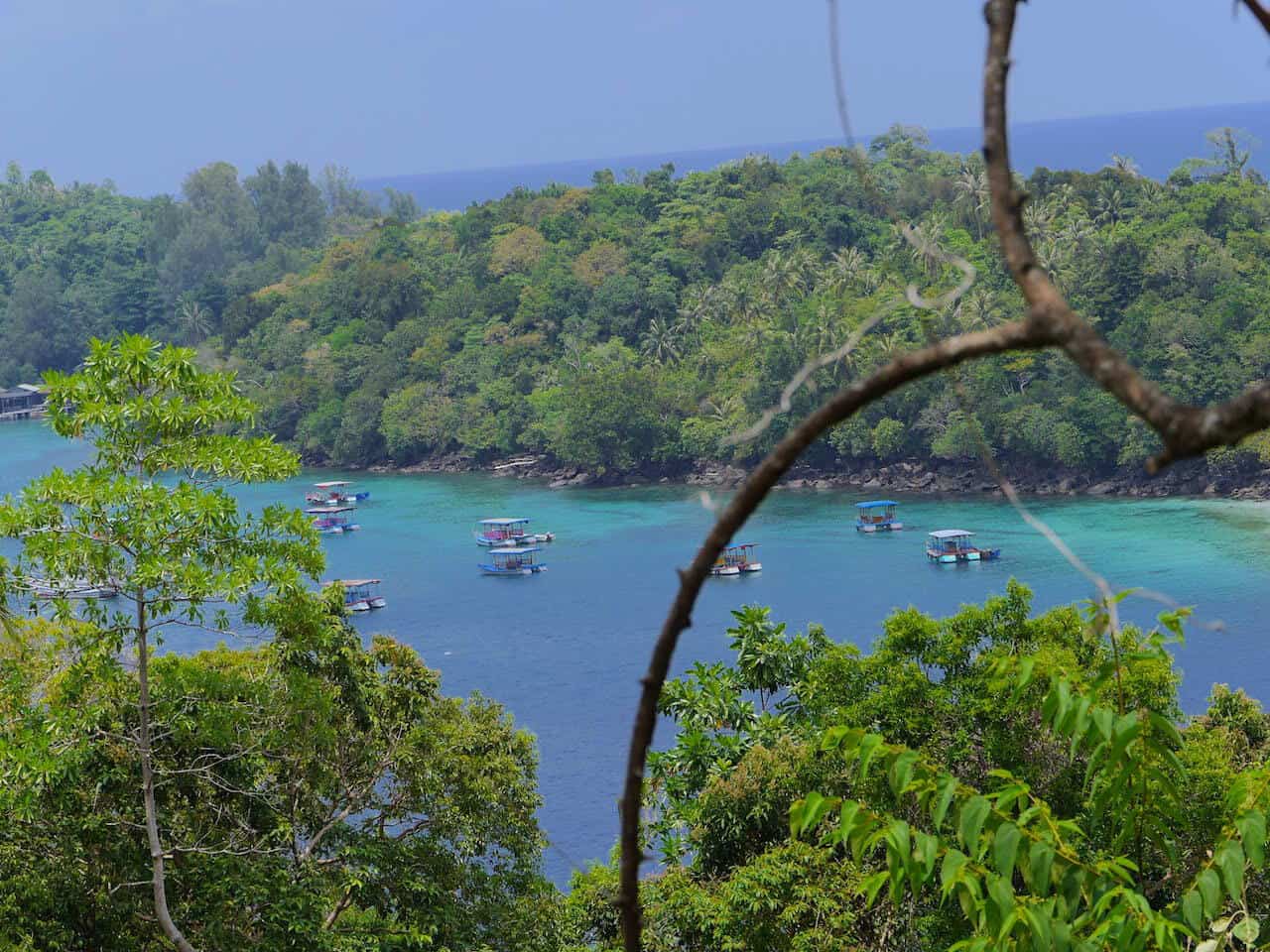 Pulau Weh or "Sabang" for the locals is an island in the Andaman Sea 32 km off the coast of the Northernmost tip of Sumatra, Indonesia. Weh Island is popular for its spectacular landscape, for being off the beaten tourist track in Indonesia, and for offering more than 20 dive sites. The sites to see sharks are Batee Tokong and the adjacent Shark Plateau, which are only a short boat ride from the Steffen Sea Sports Dive Center on Long Beach. Thanks to the strong circular currents in Batee Tokong it's easy to spot white and black tip sharks. The "shark plateau" has strong currents too, and it's the usual dwelling of gray reef, white, black, and silvertip sharks. 
To reach Weh Island, first you need to fly to Banda Aceh, and then you can get on a 30 minutes ferry to Sabang. From Sabang harbor, get a ride to one of the main beaches on the island (Iboih, Gapang, or Long Beach), where you'll be able to find a few dive centers.
---
Similan Islands, Thailand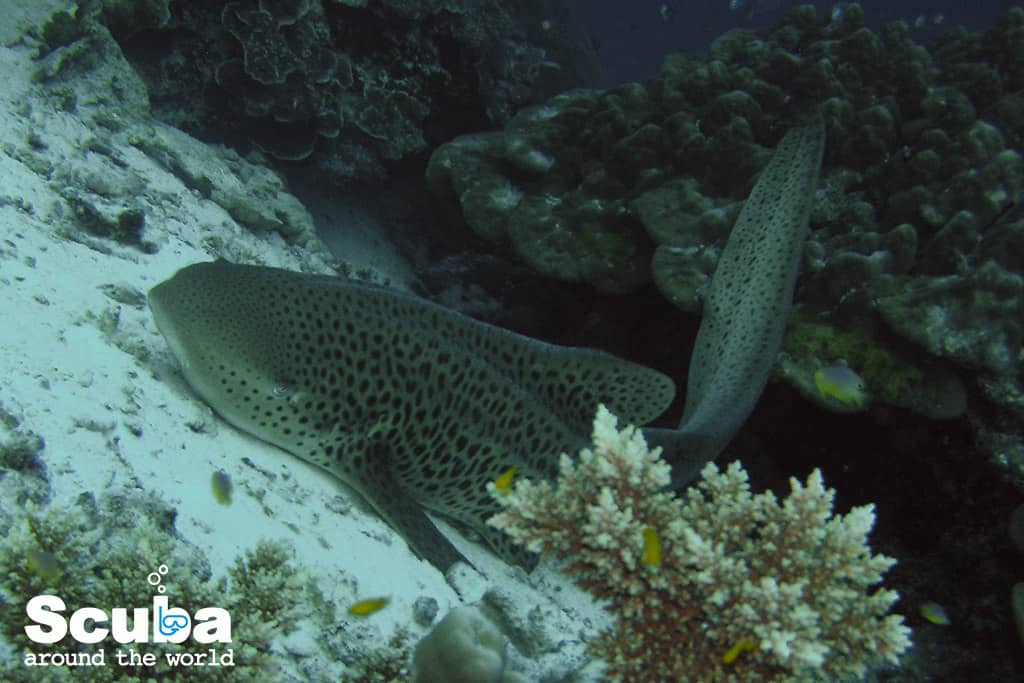 The Similan Islands off Thailand's East coast are in the top 10 of best dive sites worldwide. Consisting of 11 islands in total, the Similan Marine National Park offers plenty of fantastic dive sites to choose from. The easiest and fastest way to reach Similan is from Khao Lak, about 70 minutes by speedboat. We visited the marine park with a 5 days/4 nights liveaboard from Phuket and the diving was amazing. It's like diving in a colorful aquarium!
We saw quite a number of zebra sharks, also called leopard sharks in South East Asia. They aren't aggressive and are harmless to humans, but still pretty impressive as they can get up to 2.5m in length. During the day you can find them resting on the sandy patches between the corals. They have no teeth, but crush snails and other mollusks, crabs, shrimps, and small bony fish with their powerful boney jaws.
If you want to visit the Similan marine park, keep in mind that it's closed for the rainy season from mid-May to Mid-October. Since Similan Islands National Park allows limited visitors, it is advised to book ahead.
Looking to spend more time in Thailand? There's plenty to be explored and here's a Thailand guide to help you out!
---
Malapascua, Philippines
Alejandra of Universo Viajero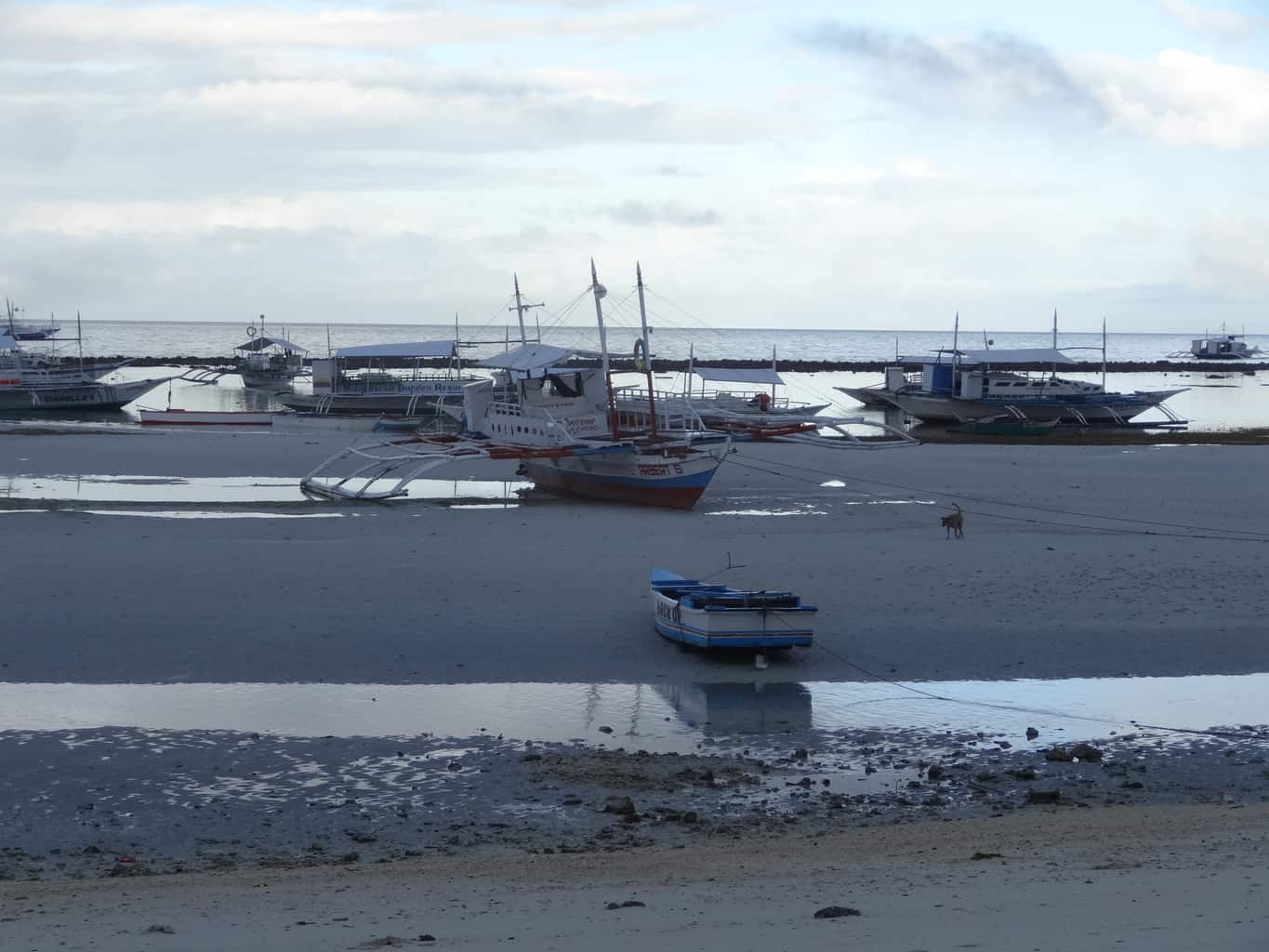 Malapascua is a diving paradise. This island north of Cebu is small, but being quite far from the big islands and cities of the country, it offers some of the most impressive diving spots in the Philippines.
One of the most popular places to dive is Gato Island, where several immersion spots are located. Shark Point is one of them, and the ideal one to see blacktip sharks and white tip sharks. If you're lucky, you can also get to see Cat Sharks and Bamboo Sharks. These are more difficult to find but have been seen in the area. Our experience was incredible, we found more than ten sharks on two dives! Some inside a cave resting from the currents, so beautiful.
To get here it is necessary to take a diving trip (with one of the agencies on the island) of two or three dives to take advantage of the day. You need a trip of about two hours by boat to get to the place. Remember to always practice responsible diving, taking care of the underwater world and preventing doing any kind of damage to the ecosystems and animals.
---
Raja Ampat, Indonesia
Halef and Michael of The Round the World Guys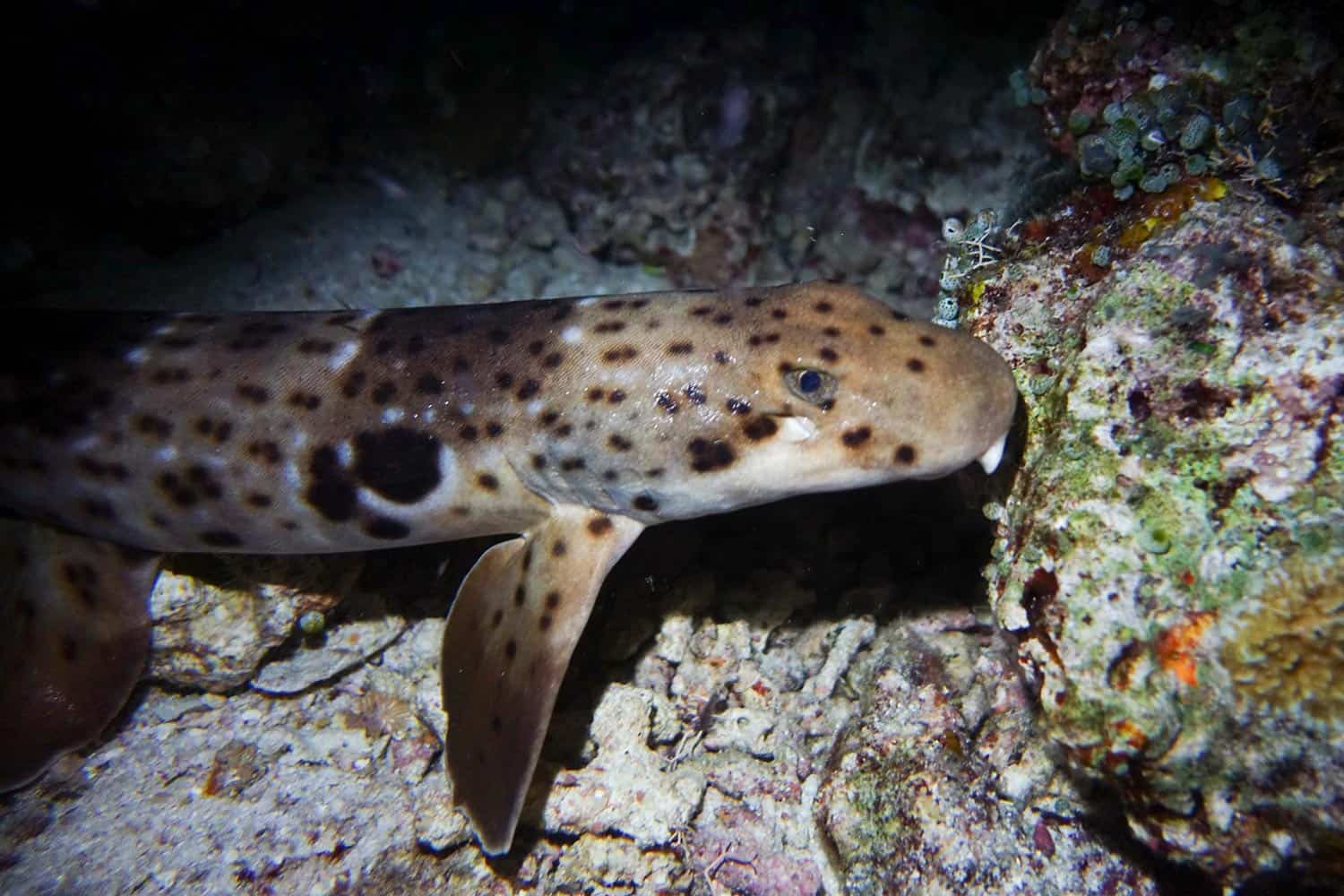 Raja Ampat, Indonesia is one of the most remote diving destinations in the world. It's also part of the coral triangle – a place where you'll see some of the most diverse marine life on Earth. One of the things that makes Raja Ampat unique is the diversity of the shark population. On most dives, you'll see common sharks, like black tip and white tip reef sharks and grey reef sharks. Lucky divers may even spot whale sharks.
There are two species of sharks that you'll only find in this part of the world: the Wobbegong and the Epaulette (walking) shark. As you cruise along the coral reefs, keep a sharp eye out for Wobbegongs resting on flat rocks. They ambush predators and are sometimes hard to miss because they're just waiting to pounce on unsuspecting prey.
Epaulette sharks, or walking sharks, only come out at night and they're quite small. You'll see them using their fins to "walk" over rocks and corals in search of food in the crevices and small caves. Because of its remote location in West Papua, Raja Ampat can be a challenging place to visit. Here's how to get to Raja Ampat from Jakarta or Bali or consider doing a diving liveaboard in Raja Ampat!
---
Maha Raja Eco Lodge, Raja Ampat, Indonesia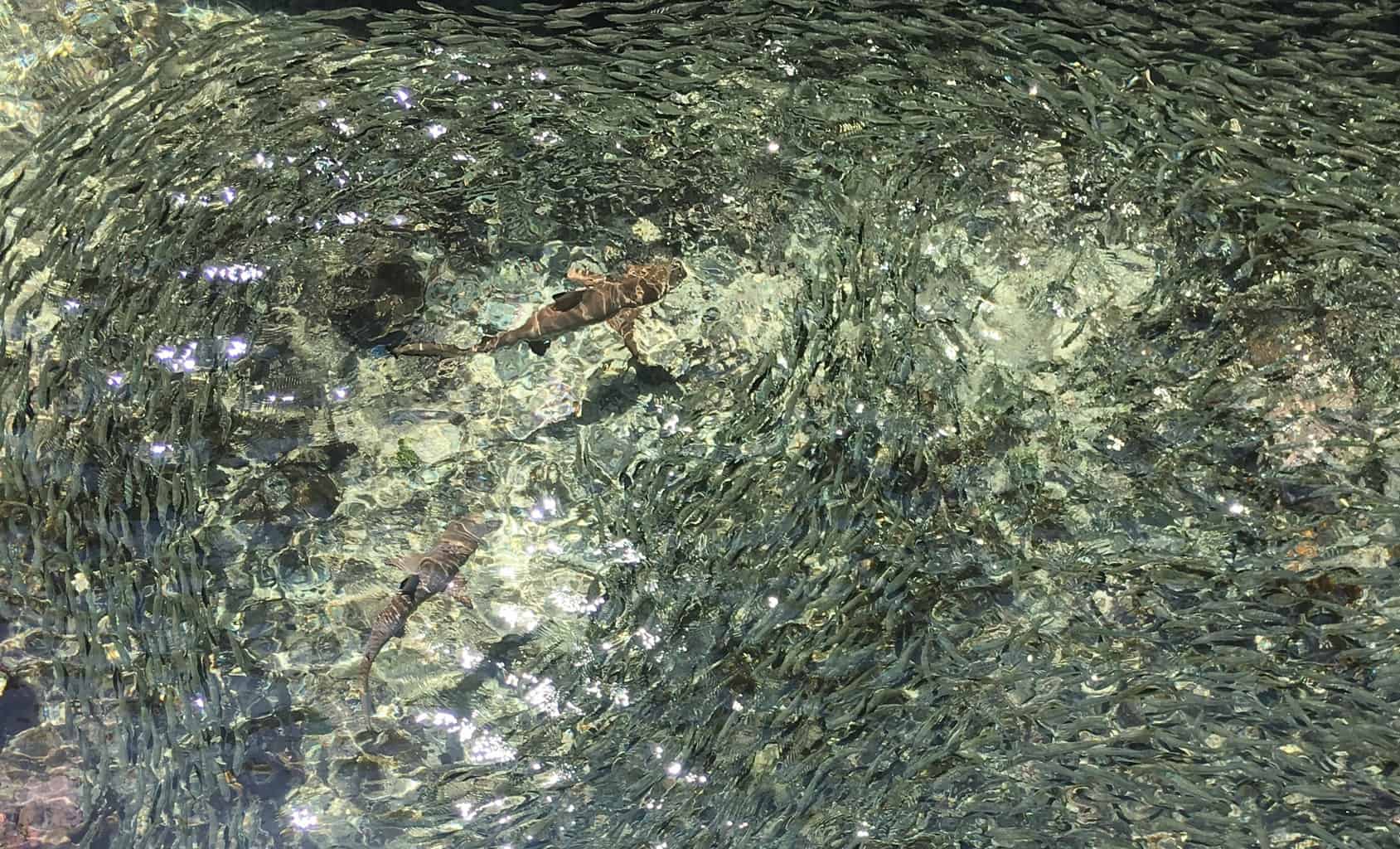 One of the best places on Earth to experience aquatic life in Raja Ampat, Indonesia and the only truly eco-friendly dive resort is Maha Raja Eco Lodge. When the tiny island was transformed into the eco-resort the management banned all fishing on the house reef which is now a hotbed for vibrant coral and the underwater world inhabitants. The sustainable approach to the eco-paradise includes the hands-off treatment of the creatures that live here, including several families black and white tip sharks.
You don't even have to dive to see these incredible animals. In fact, you don't have to even be in the water. I saw several blacktip sharks each morning as I did yoga on the deck of my bungalow. Near the communal area, there would always be baby blacktip sharks chasing gigantic schools of fish. I saw at least 10 sharks daily. To reach Maha Raja you must fly to Sorong, Indonesia—a nearby island. From there the Maha Raja team will pick you up in their traditional wooden boat that's been painted pink.
---
Pigeon Island National Park, Sri Lanka
Josh and Sarah of Veggie Vagabonds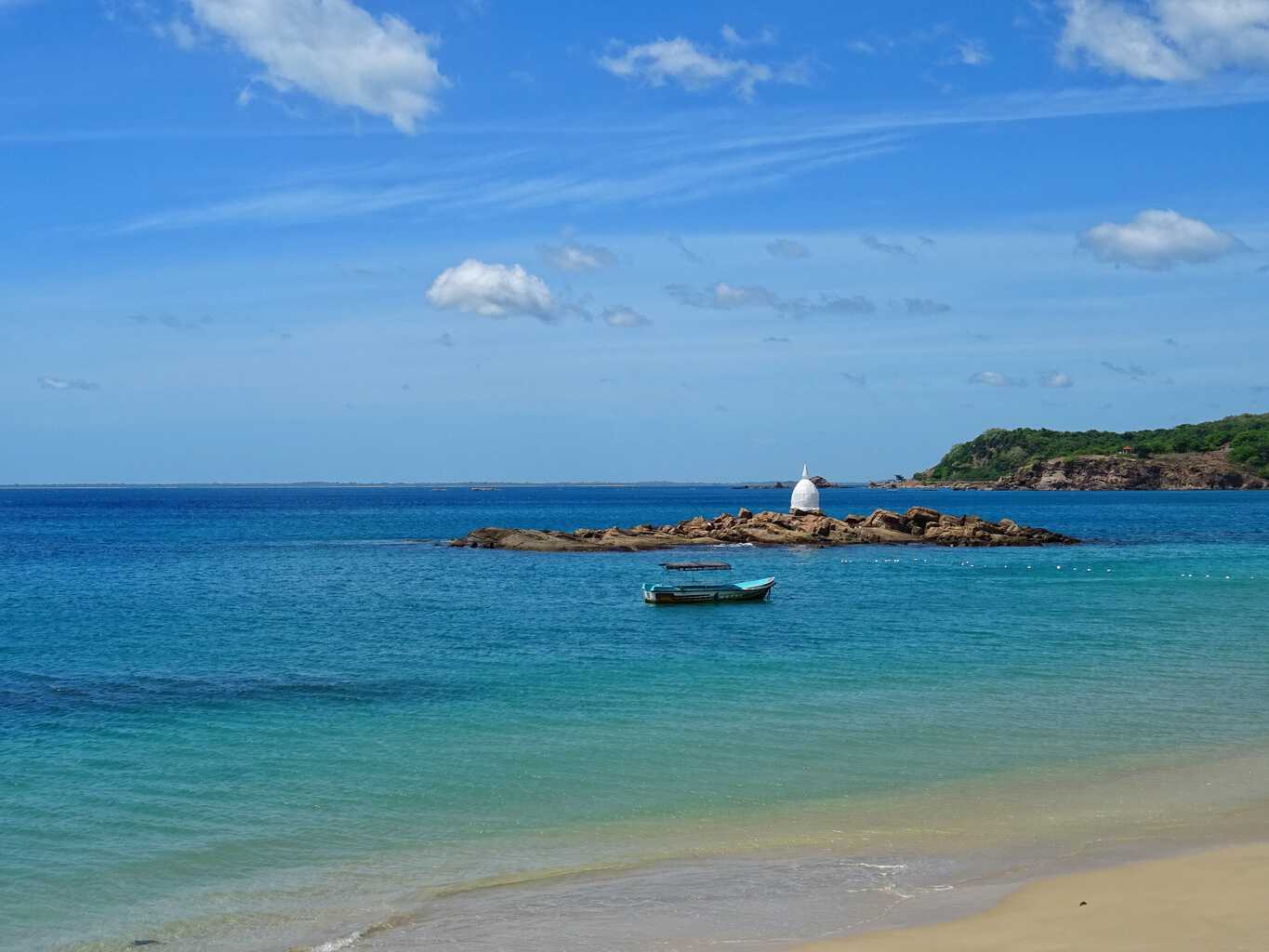 For us, Sri Lanka really ticks all the boxes; a fascinating culture, delicious food, warm people AND stunning wildlife. Though the island may be more famous for migrating whales it's also possible to see great quantities of sharks on the northeast coast.
Pigeon Island National Park is just a short boat journey from the small town of Nilaveli and is an oasis of marine life. Diving trips can be arranged from Nilaveli itself or further south in the larger town of Trincomalee. The dive companies are professional, safe and incredibly cheap by national standards!
Once you're dropped off from the boat you'll be able to see live coral, a rainbow of tropical fish and the star of the show: packs of adult and juvenile blacktip reef sharks. Over the years the sharks have become very accustomed to human encounters and will swim past within touching distance. It's not yet become a recognized dive location so if you go at the beginning of the season you'll likely have the waters just for you and the sharks!"
---
North America
From bull sharks to whale sharks and in between, North America is definitely one of the best places to dive with sharks. There is so much diversity in Mexico, the Caribbean, and the US.
Isla Holbox, Mexico
Hannah and Adam of Getting Stamped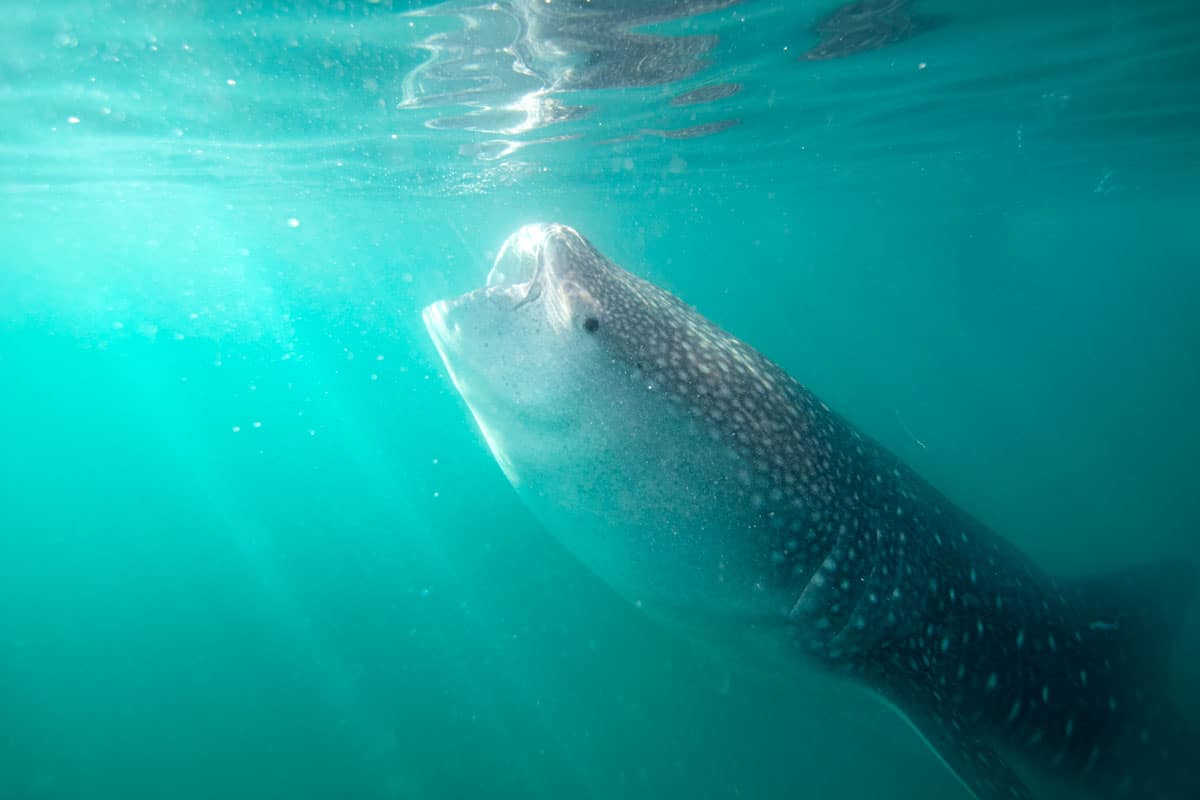 Tucked away 2 hours to the north of bustling tourist hub of Cancun is one of Mexico's best-kept secrets, Isla Holbox. Take a quick Cancun shuttle and you'll be starting at endless white sands, shallow turquoise waters, flamingos, and of course sharks!
In the summer months, just a short boat ride from the beach thousands of Whale Sharks pass by this small island dangling into the Gulf of Mexico above the Yucatan Peninsula. During their annual migration, you can swim alongside these magnificent creatures as they inhale massive amounts of plankton from the sea.
Our trip to swim with the whale sharks off of Isla Holbox started in a small panga style boat from town and within a few minutes ride we were int he water with multiple whale sharks. Swimming beside these 25-40 foot long sharks makes you feel small in the best way possible. Our time with the sharks ended with a one single yet powerful swish of the tail as the last shark faded into the blue. Swimming with Whale sharks in Isla Holbox is a day we will not soon forget and definitely a bucket list item for most.
---
Pompano Beach, Florida, USA
Ed and Jenn of Coleman Concierge
South Florida is home to many fantastic citizen-scientist diver initiatives like fish surveys, environmental restoration, and invasive species removal. Perhaps none are as dramatic or impactful as sharking tagging. Pompano Dive Center askes ordinary divers to come along and join the team from Nova Southeastern University, Guy Harvey Research Institute for a day of hands-on work. You can save the ocean one shark at a time!
The day begins by preparing about a dozen shark tagging rigs placed 25-125 feet on the reefs off Pompano Beach. When a shark enters the apparatus, it's all hands on deck to put the tag and take a tissue sample for scientific research. The shark is released unharmed to gather critical information about their habits and habitat, the crew showed us how to properly tag the sharks and extract tissue samples for data collection purposes. Everybody on board gets a chance to participate in all aspects of the operation. It's a valuable way to offset the boat costs for the research and educate the public about the essential and misunderstood roles sharks play in the ecosystem.
Even if you're not on a shark tagging trip, the dive sites off Pompano Beach, especially the Nursery are a particularly good place for ethical and natural shark encounters.
---
New Providence Island, Bahamas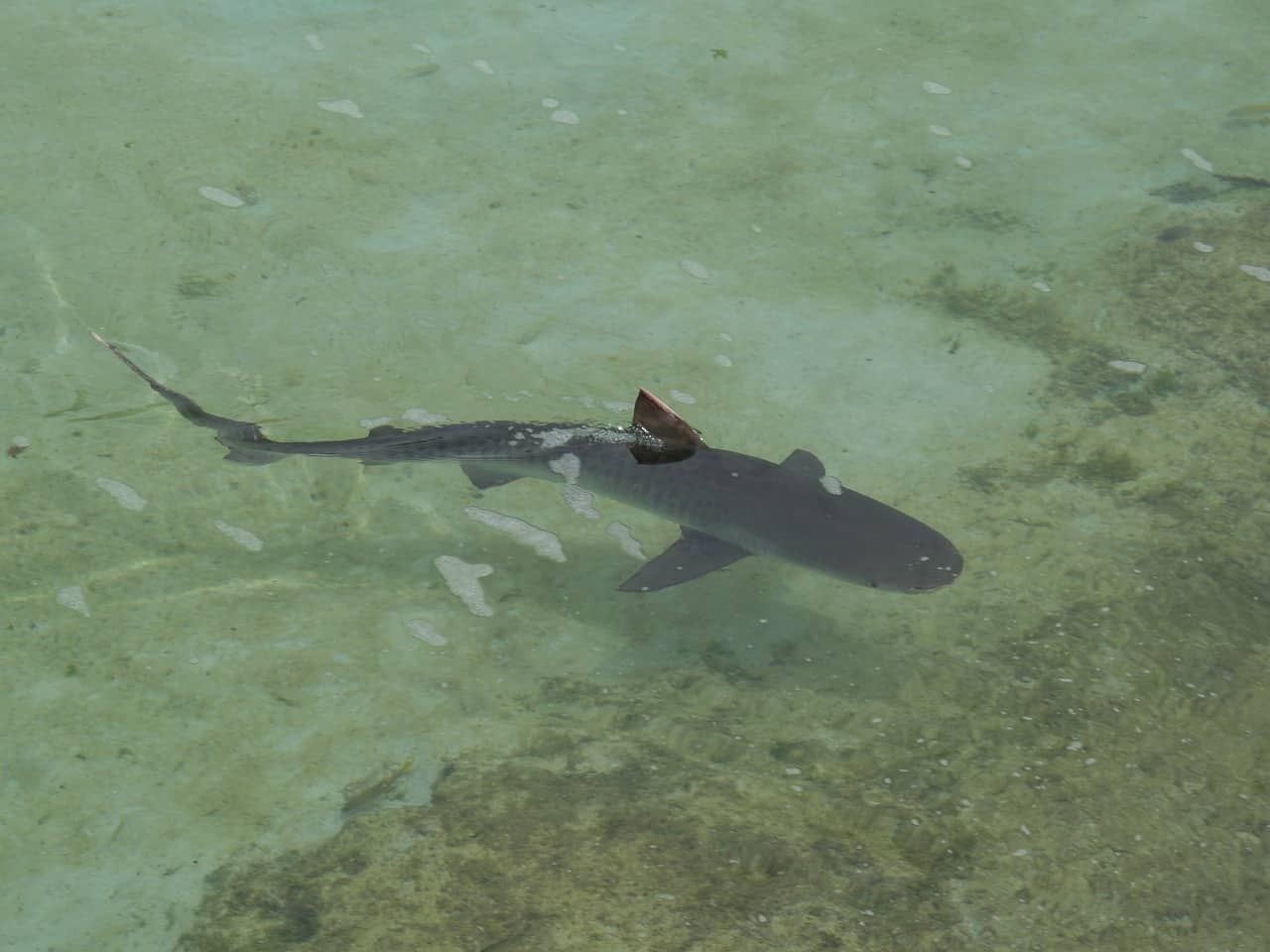 One of the best places to dive with sharks is on the southwest coast of New Providence Island in the Bahamas. You may know this island as Nassau that is home to the famous Atlantis resort, but head to the west coast for an encounter with some of the islands friendly locals.
Stuart Cove Dive Center offers dive trips where you will get the opportunity to dive with plenty of sharks. The most common species you will encounter is the Caribbean Reef Shark. However, it's not uncommon to see silky sharks, tiger sharks, and even the occasional hammerhead.
There are multiple dive sites around the area and the average depth to see sharks is 35 to 45 feet. In this area of the Bahamas, it's uncommon to complete a dive without seeing a shark.
---
Playa Del Carmen, Mexico
Ed and Jenn of Coleman Concierge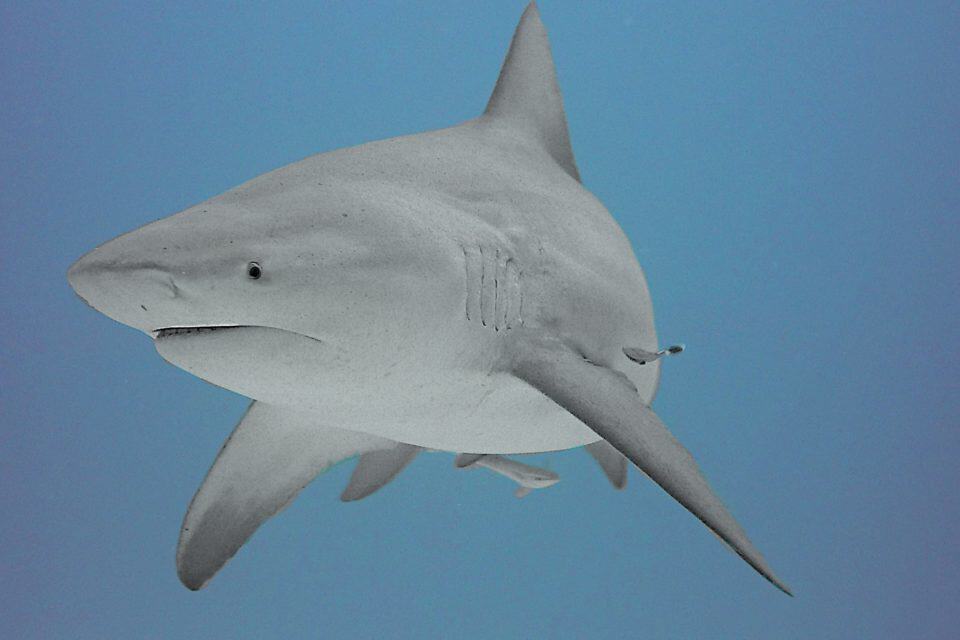 Imagine being 90′ underwater with only bubble separating you from the most notorious fish in the ocean – bull sharks. That's exactly what we did shark diving at Playa del Carmen Mexico. The site is just outside of the harbor, where the fishermen used to clean their catch. Pretty soon, the sharks found the area, and then the divers found the sharks.
We made sure that we went with a dive operator who didn't chum. We didn't want to disturb the sharks' habitat or be diving in the middle of a feeding frenzy.  The dive plan was simple, drop down to 90′ and wait on the bottom for the sharks to swim past. If there was heavy current, we would hold onto the fixed lines. As it was, the current was mild, so we got to swim around looking for these beautiful creatures. This dive required advanced certification and nitrox with about 30 minutes of heart-pounding bottom time.
Cancun Airport services Playa Del Carmen. It's ironically easier and cheaper to reach Playa than Cancun from the airport. Playa is also the gateway to world-class drift diving on Cozumel or cavern diving in the cenotes of Tulum.
---
Central America
I got my certification in Costa Rica and saw two sharks on my very first ocean dive so I'm feeling a bit excited about Central America being one of the best places to dive with sharks.
Belize Barrier Reef, Belize
Bret and Mary of Green Global Travel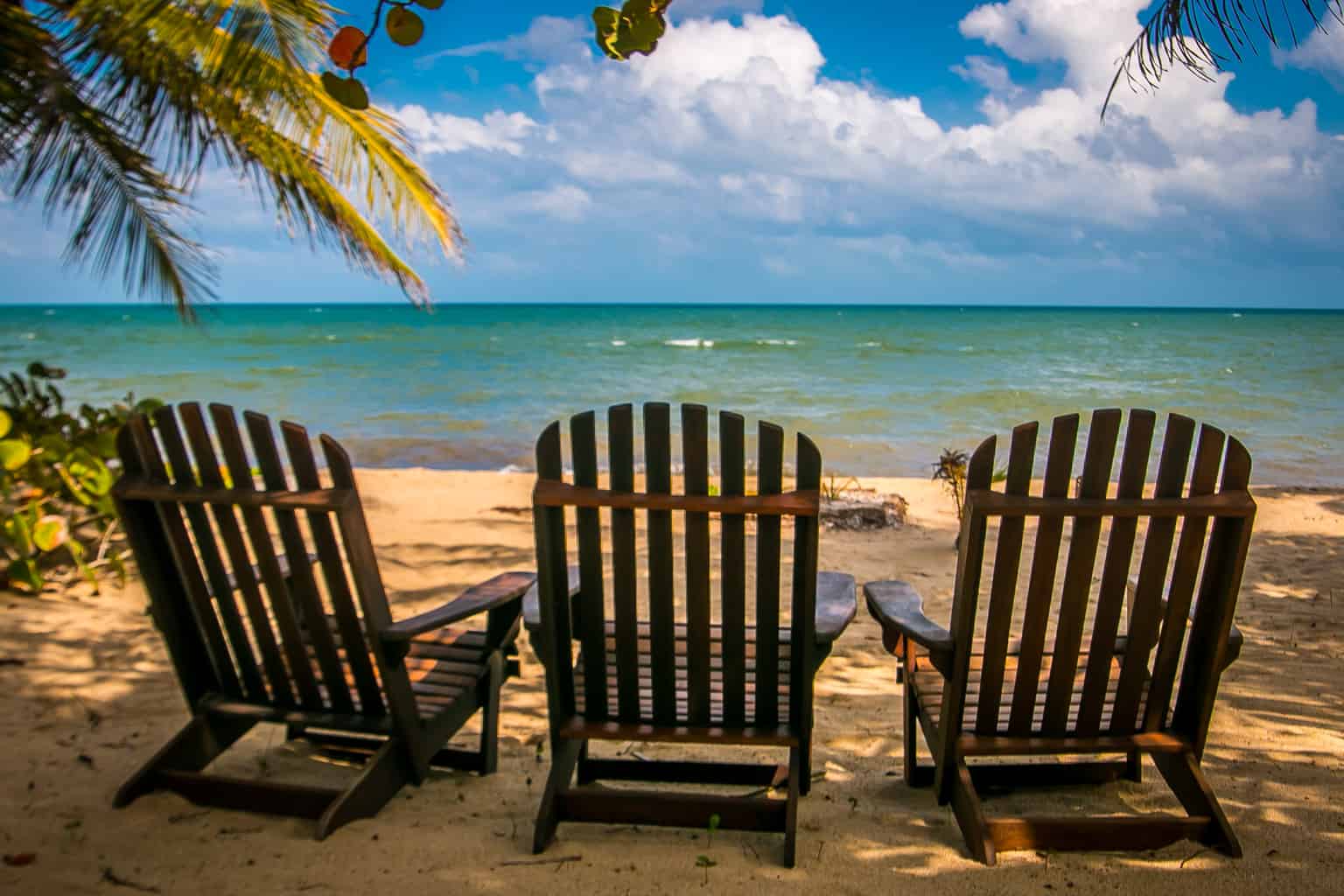 Second in size only to the Great Barrier Reef, the 550-mile-long Mesoamerican Barrier Reef extends through much of Central America. The 190-mile Belize Barrier Reef, which was declared a UNESCO World Heritage Site in 1996, comprises around one-third of it. It's the #1 tourist attraction in Belize, with Scuba diving and snorkeling drawing about half of the country's annual visitors.
The reef is home to 70 hard coral species, 35 soft coral species, 500 species of fish, and hundreds of invertebrates. Among these are numerous species of sharks, including Reef Sharks, Bull Sharks, Lemon Sharks, Nurse Sharks, and the occasional Hammerhead or migratory Whale Shark.
We actually saw a Blacktip Reef Shark within five minutes of descending for our very first dive, which was only the beginning of a memorable day filled with incredible marine life!
---
Playas del Coco, Costa Rica
Ashley of Wild Hearted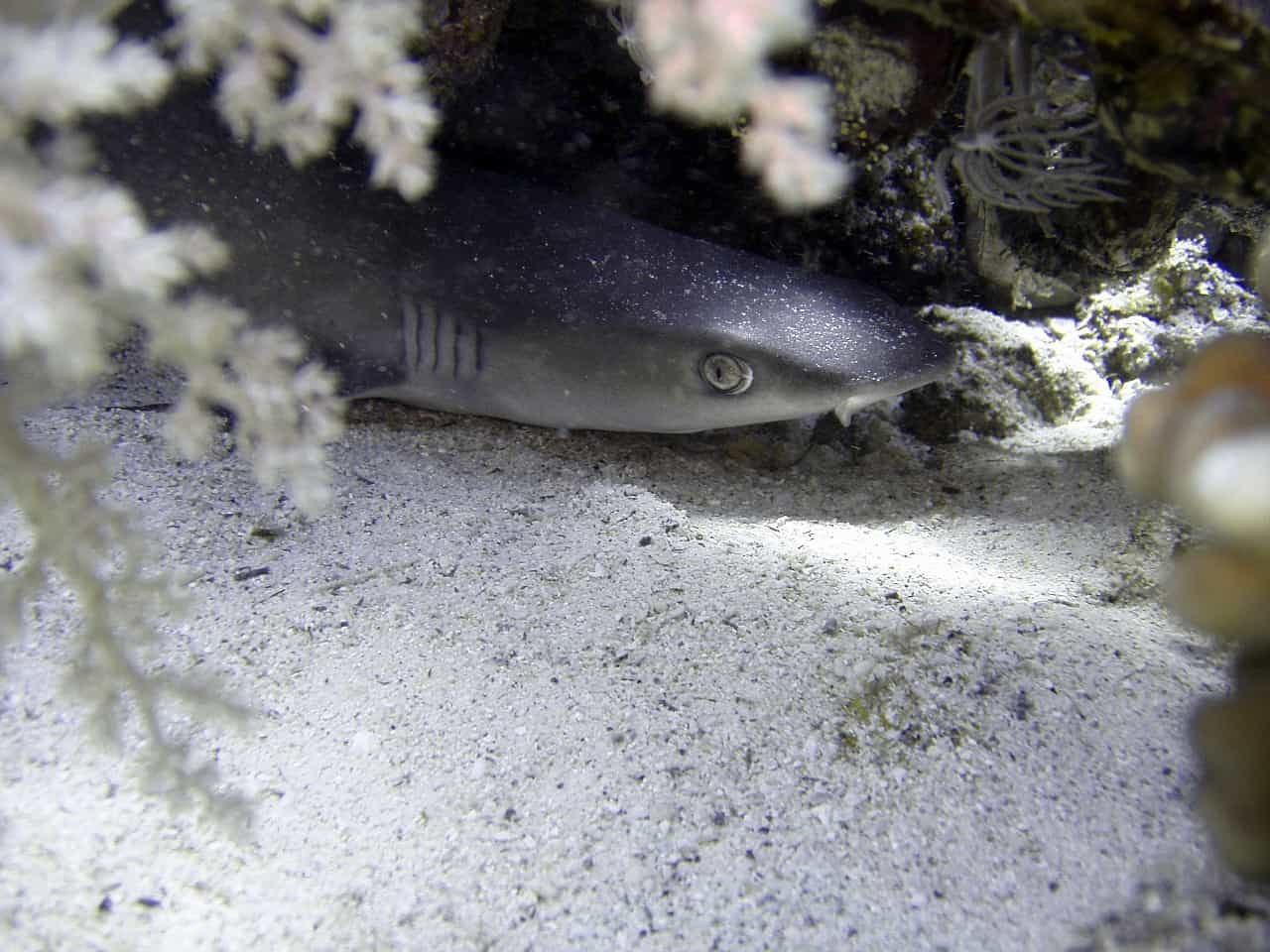 As I mentioned above, I saw two sharks (blacktip reef sharks) on my very first ocean dive. I think those are very good odds. Given that another guy getting his open water certification also saw sharks (on a different day), I'd say even better odds. I did my open water certification with Rich Coast Diving in Playas del Coco (whom I absolutely and emphatically recommend). This is a beautiful area to visit and while my experience is limited, it's a great place to go diving. Between June and November, whale sharks frequent the area.
Aside from my initiation to diving and sharks, making Playas del Coco a base for some great diving is a great idea and Costa Rica is great for backpacking in general! Depending on the time of year (May to November), you can head here to see Bull Sharks at Bat Islands. An advanced (or higher) certification is required.
---
Bat Islands, Costa Rica
Sky of Experience Coco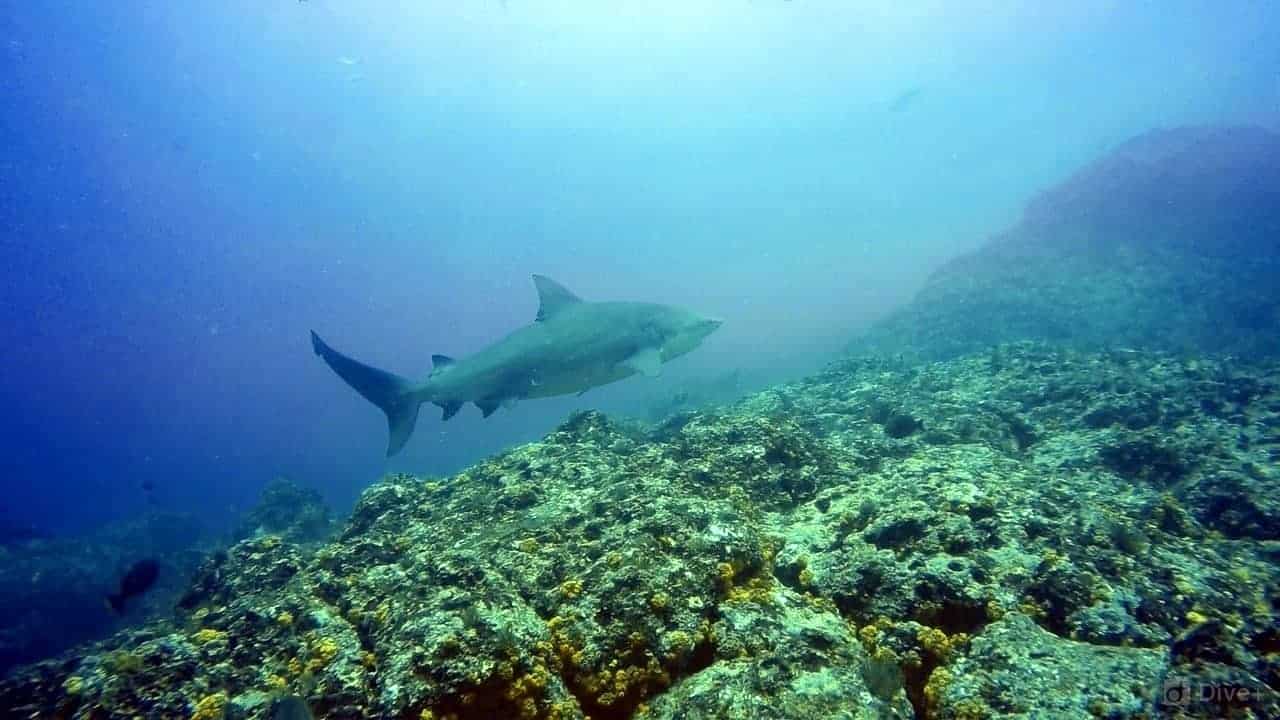 Diving with bull sharks is a bucket list diving experience for many divers, myself included. Unfortunately, many of the opportunities around the world to dive with bull sharks are in an unnatural setting, where the bull sharks are baited. One of the few exceptions to this is to dive with bull sharks at Bat Islands, Costa Rica. Bat Islands is located off the coast of the Santa Rosa National Park and therefore in protected waters where baiting is not allowed.
The easiest way to access Bat Islands is from Playas del Coco, one of the most popular dive spots in Costa Rica. Bat Islands is about an hour from Coco by boat and the best time to go is between May and November. The water can become too rough at other points of the year and it is recommended only for advanced divers.
But the experience is absolutely incredible. In certain times of the year, like July, it's not unusual to see up to ten bull sharks at a time and taking a selfie with one was definitely a bucket-list experience!
---
South America
San Cristobal Island, Galapagos, Ecuador
Philip and Thea of Zen Travellers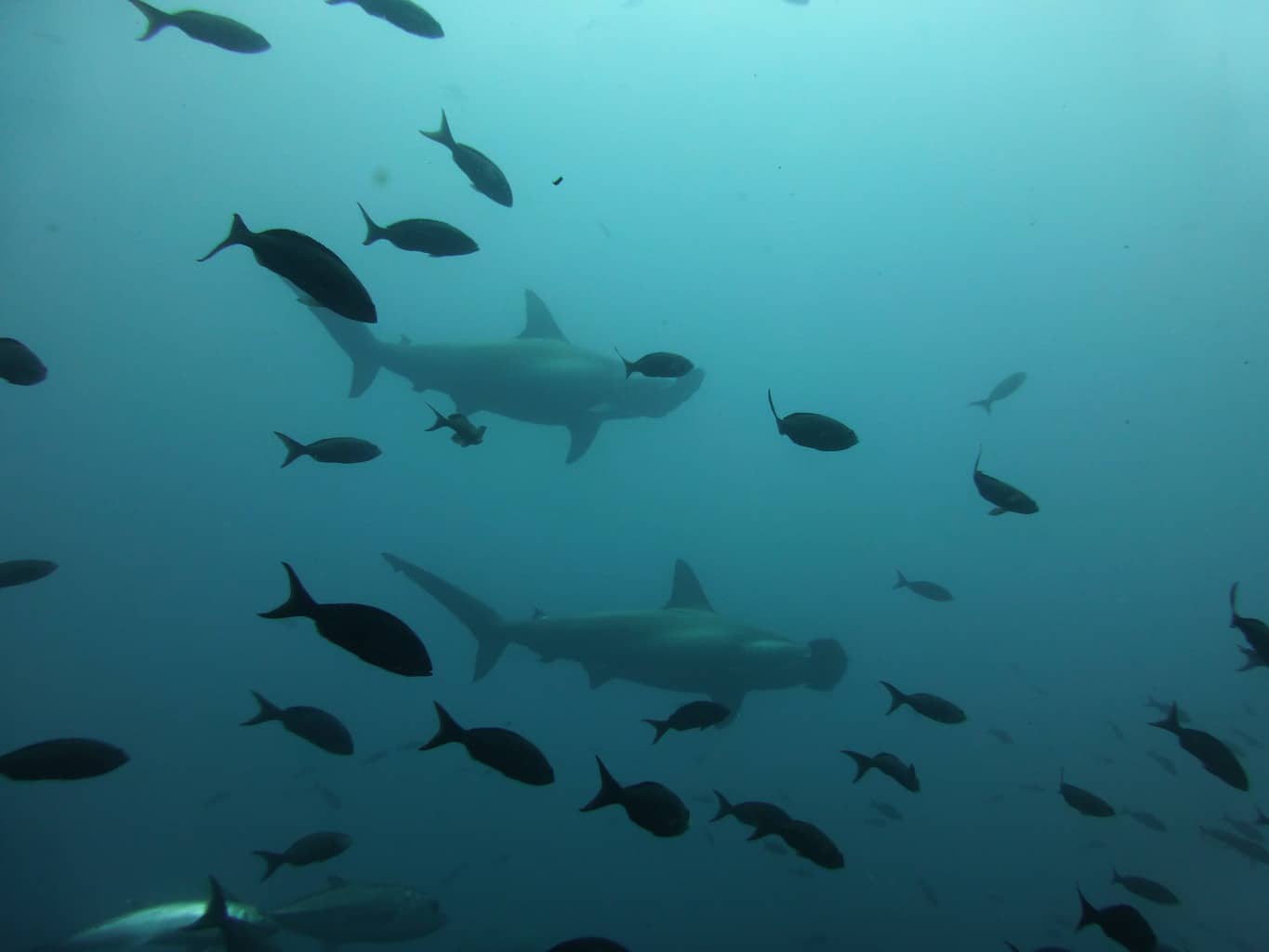 Few destinations inspire as much awe and wanderlust as the Galapagos Islands. This far-flung enchanting archipelago rests over 600km off Ecuador's Pacific Coast and remains a world apart. While there are many interesting animals that draw people to the islands, some of the most exciting residents can be found underwater. Black-tipped, white-tipped, endemic Galapagos, and hammerhead sharks all frequent Galapagos waters.
One of the best diving sites to see these amazing creatures is at Kicker Rock off the coast of San Cristobal Island. There we hung onto rocks to avoid being swept away from the current and waited for the swarms to come to us. Our patience paid off and a group of about 15 hammerheads soon came to feed only five meters away from us! Not only did we see hammerheads during this dive, but we also swam by endemic Galapagos sharks and beautiful black-tipped sharks. While there is so much to see and do in the Galapagos Islands, diving with 3 kinds of sharks at Kicker Rock was by far the highlight.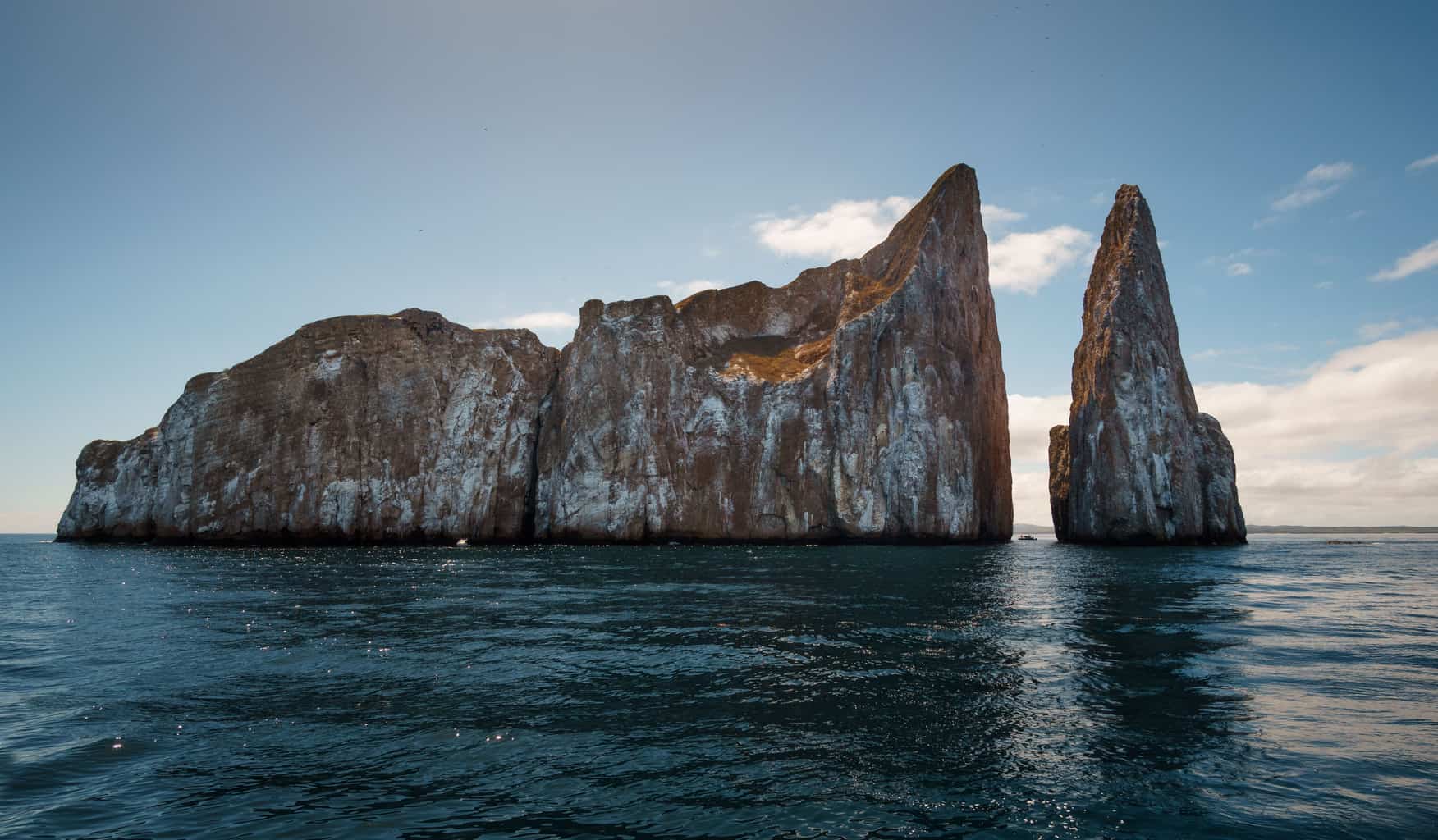 ---
Oceania
Wolf Rock, Australia
Eloise of My Favourite Escapes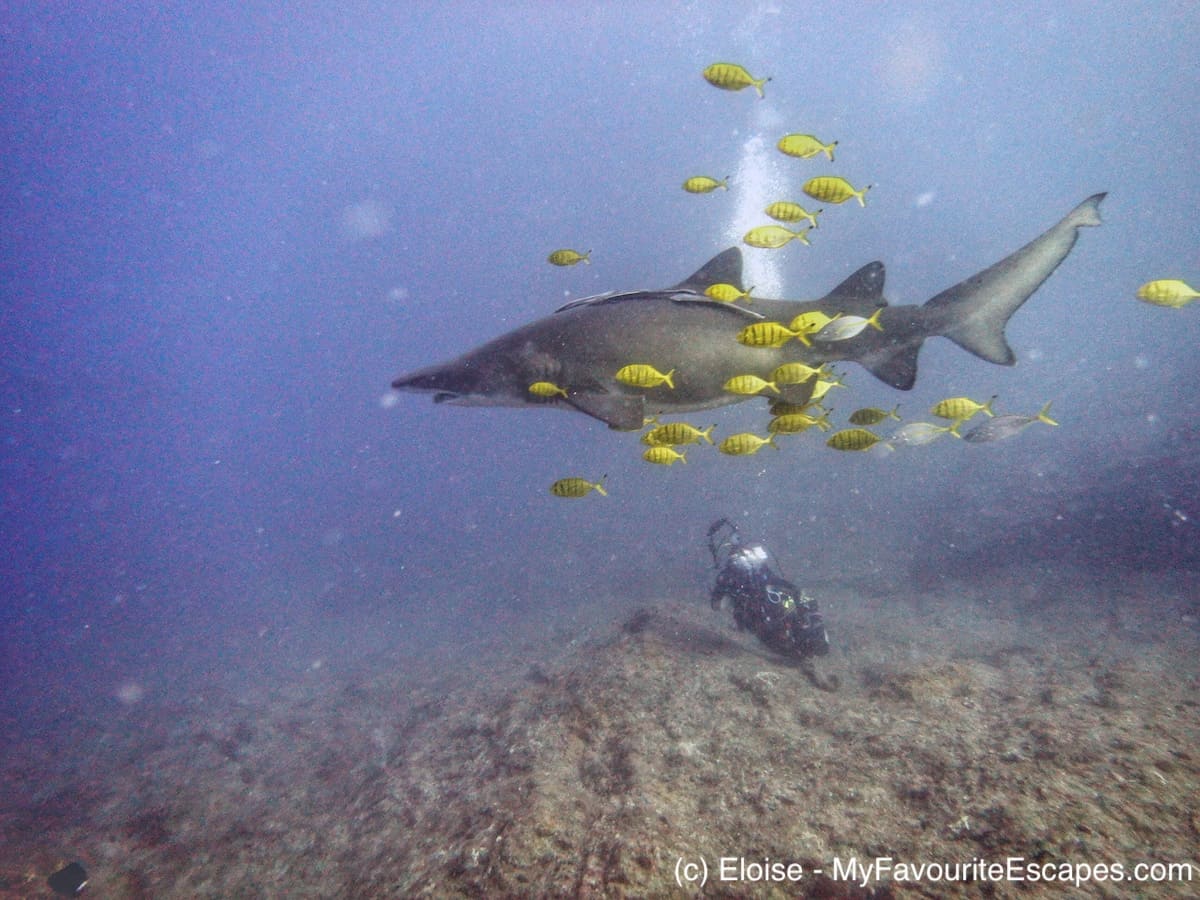 Wolf Rock is one of my favourite dive sites in Australia. And it's not only because it's ideally located near the beautiful Rainbow Beach and Fraser Island. It's a fantastic dive site for shark lovers.
Grey Nurse Sharks can be spotted all year round, and sometimes in high numbers. I once saw more than a dozen at a time! It's one of the main aggregation sites for the endangered species. The 4-meter long creatures are impressive with their long teeth outside their mouth. They sometimes come very close to divers. Shivers guaranteed. Although it's sensational, it's safe: the Grey Nurse Sharks are placid. Long gone the time when they were mistaken and hunted for being human eaters. When the water is warm, the cute Leopard Sharks also hang around.
You'll need a boat and at least an Advanced level to dive Wolf Rock. The easiest is to join the dive club in Rainbow Beach. They organise trips daily.
---
Supermarket Reef, Fiji
Marianne of Mum on the Move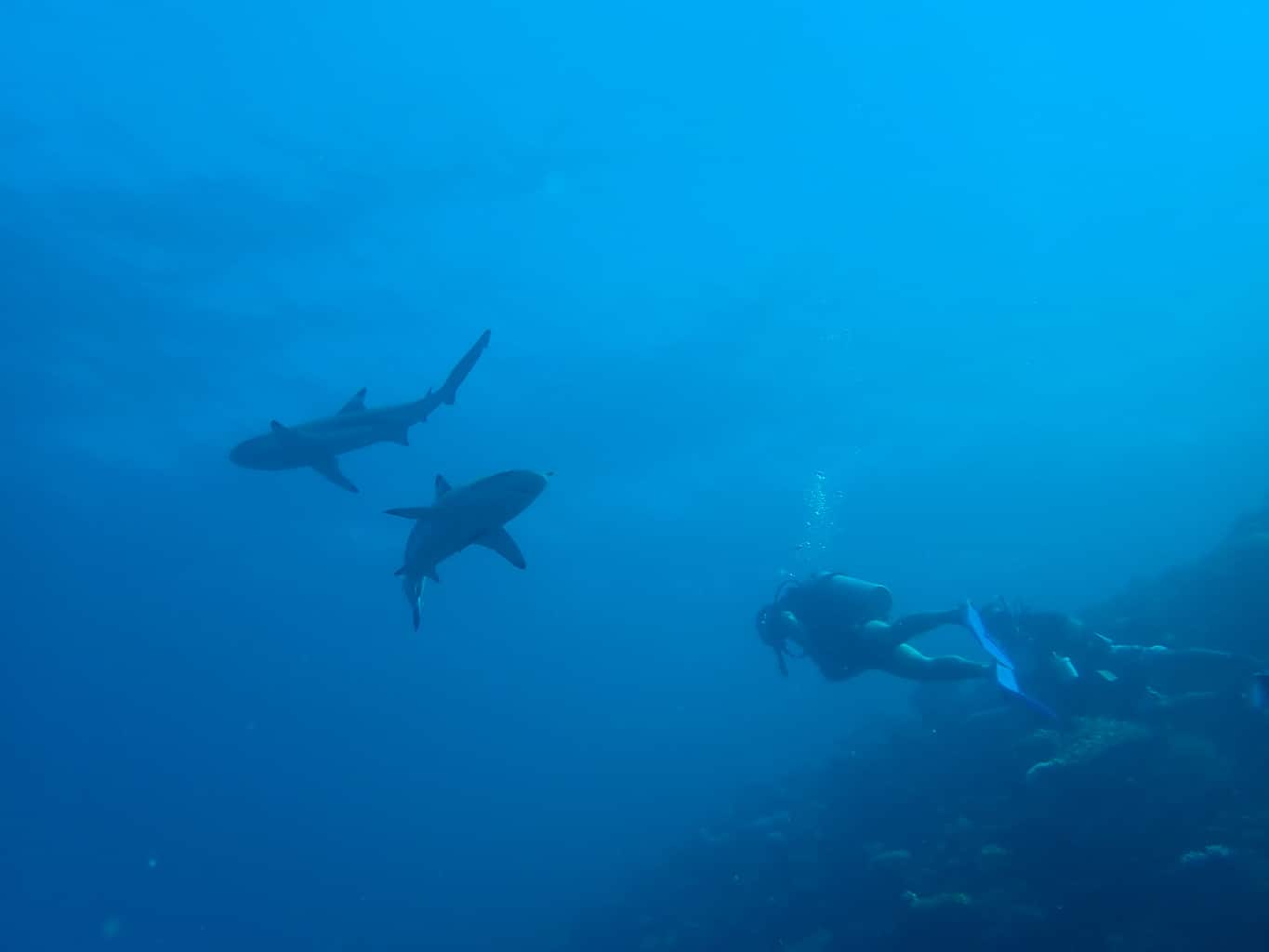 Supermarket Reef is located within the Malolo Barrier Reef in the Mamanuca Islands in Fiji. Supermarket reef is renowned for being one of the most exciting dive spots in Fiji thanks to its huge number of resident sharks.
Not a dive for the faint-hearted. Before we had even left the dive boat we could see the sharks circling! Once we reached the reef we were surrounded by at least twenty grey reef sharks, white tip reef sharks, and blacktip reef sharks. As we swam along exploring the reef, the sharks followed us, and eventually, we became accustomed to their presence and relaxed and enjoyed their company. Definitely a must-do dive for shark lovers.
Supermarket Reef is located around a 20-minute speedboat ride from many of the Fiji island resorts in the Mamanuca Islands, or 1-hour boat ride from the mainland.
---
Rangiroa, French Polynesia
Hayley of A Lovely Planet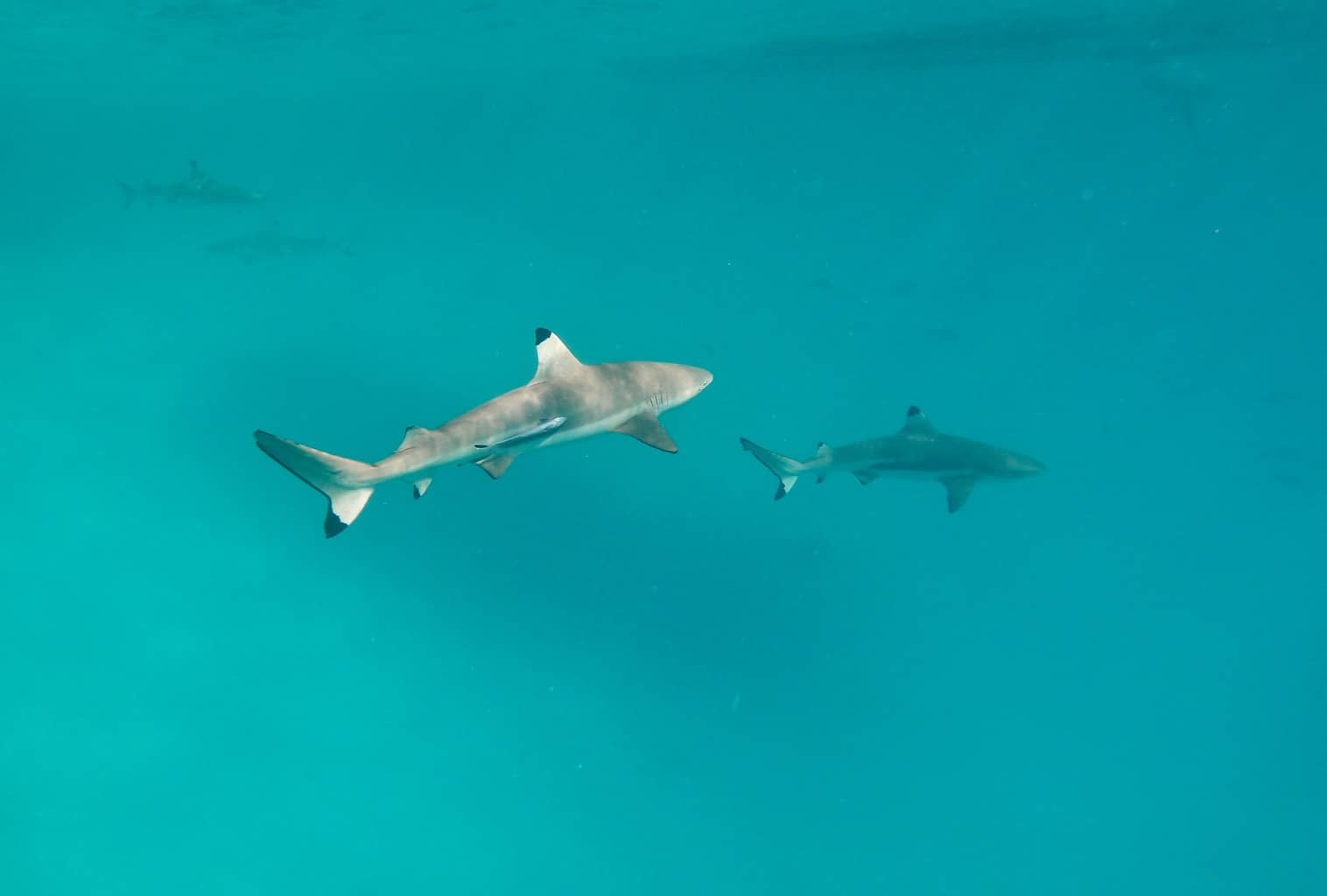 Rangiroa is a huge atoll in the Tuamotu Archipelago in French Polynesia. One of the main reasons people visit this paradise island is for diving, and specifically to dive with pelagics.
Diving in Rangiroa you're likely to see grey reef sharks, white tip reef sharks, black tip reef sharks, lemon sharks, and even great hammerhead sharks, as well as manta rays and leopard rays. Advanced divers can head to depths of 30m or more and potentially see tiger sharks too.
The most popular dive site is the Tiputa Pass, and this is where the majority of dives take place, usually a drift dive either on the incoming or outgoing tide.
While here, definitely take a boat trip to the blue lagoon on the other side of the atoll. One of the most beautiful spots in the world and home to lots of blacktip reef sharks.
To get to Rangiroa, fly to Tahiti and take a connecting flight with Air Tahiti.
---
Best Places to Dive with Sharks Overview
So, what do you think? Ready to get your certification? If I can get over my anxiety and do it, you can too! If you're already a diver, what locations did I leave off the list? I'd love to hear about all the best places to dive with sharks!
---
---
↓↓↓ PIN FOR LATER ↓↓↓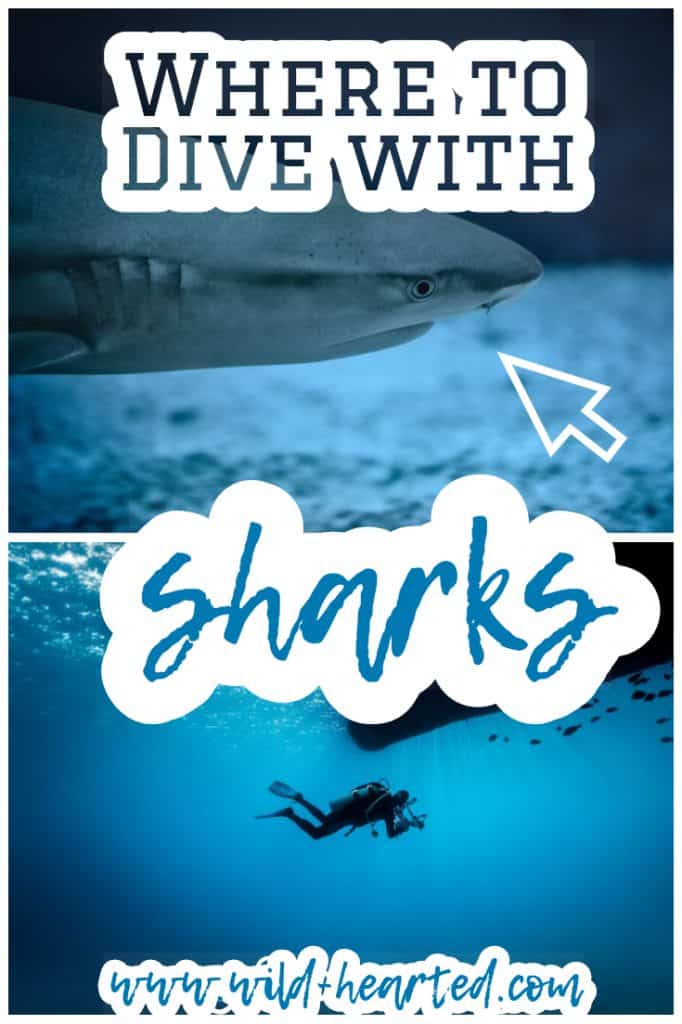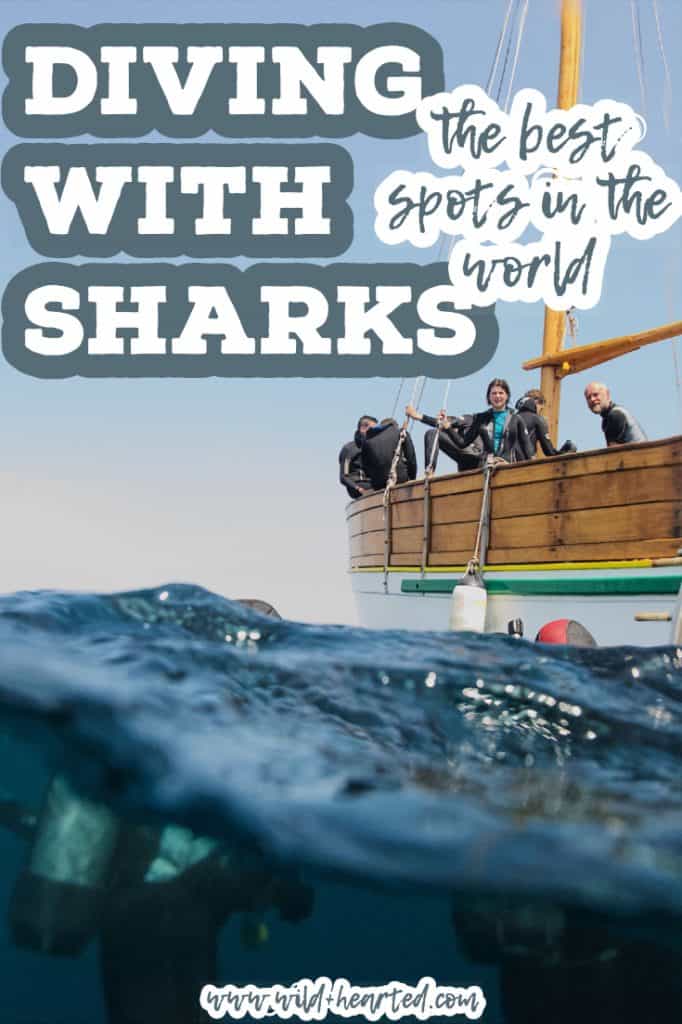 Latest posts by Ashley Hubbard
(see all)