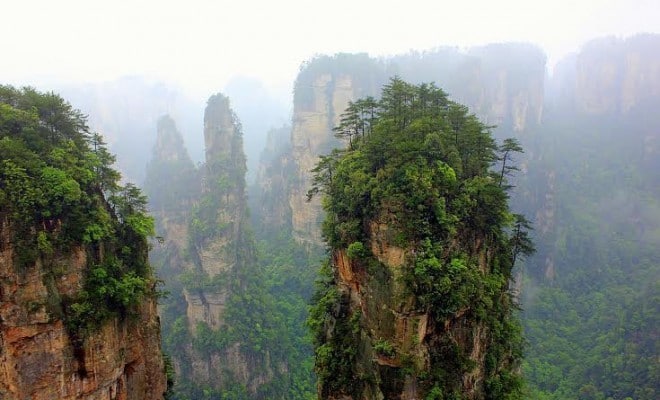 Top Hiking Trails in China
|
*This post may contain affiliate links, meaning if you book or buy something through one of these links, I may earn a small commission (at no extra cost to you!). Please see my disclosure.
Top Hiking Trails in China
If you are looking for a country in Asia that provides exciting, sometimes challenging but extremely stunning hiking trails, make it to China –  the world's most populous country offering the best things for tourists to see and experience.
Without doubt, hiking in the Land of Dragons will be one of the most memorable activities to do here. With such a vast land, the country will surprise you with the historical and cultural heritage, fantastic rivers and beaches and of course breath-taking mountains. 
Therefore, pack your backpack, take your hiking shoes on and off you go to experience the natural beauty of Zhangjiajie, Guilin, Huangshan or Beijing. Here are top hiking trails you simply can't afford to miss when planning your visit in China:
#1 The Hallelujah Floating Mountains, Zhangjiajie, Hunan Province. 
I bet you have never heard of this place before, but you have certainly seen the Avatar movie directed by James Cameron. The reason I'm saying this is to make you realize that the World of Pandora really exists and it can be found in China, more precisely in Zhangjiajie. This town is located in Hunan province of south-central China and believe me, it will amaze you with its timeless natural beauty.
The Zhangjiajie National Park is a perfect place for hiking. Certainly one day is not enough to see it all, so you should book 2 or 3 days there (feel free to bring your tent so you can stay overnight in this beautiful park). 
Beyond the mountains, the area is also home to a beautiful lake (which flows into the dam), an underground cave and glass bridge. 
More info
The entrance ticket costs RMB 248 ($40 ) and you can stay in the park for 3 days.

As for your accommodation, you can book a single room from RMB 150 – 200, stay in dorms for RMB 80-100 or set up your own tent for free in the park.

Your budget food expense should not exceed the amount of RMB 50 a day.
---
#2 The Great Wall of China, Beijing. 
As Mao Zedong said "He who has not climbed the Great Wall is not a true man". Yes, hiking the Great Wall of China is a must when visiting the Land of Dragons. When you finally make it there, the view will take your breath away and standing on top of this greatest engineering triumph will be the highlight of your visit in Beijing. 
More info
The best part of the Great Wall of China to explore is Badaling.
Take the bus no. 919 to get which costs RMB 8 and it takes less than 2 hours to get there.
---
#3 Longsheng Rice Terraces, Guilin, Guangxi Province.
Another hidden gem for hiking lovers would be Guilin, a city located in Guangxi province commonly known for its beautiful Yangshuo River, Reed Flute Cave and Longsheng Rice Terraces. 
Although most of tourists make it to Yangshuo first, you should definitely add Longsheng Rice Terraces to your list. The place is a perfect getaway for solo trekkers, families and couples. The landscape's so beautiful so don't forget to take your camera to capture the moment. Moreover, Guilin is a very affordable place for backpackers, so don't be afraid of spending too much money. 
More info
Entrance fee is $30 and a tour including entrance fee, guide and a 3 hour stop at Longsheng costs around RMB450 ($73). 
As you can see, China has a lot to offer in terms of hiking. The local food is extremely cheap and you should not have a problem with finding affordable accommodation. The Land of Dragons is certainly a perfect travel destination for everyone, no matter how much your budget is.
Make sure to pin this for your trip to China!