This post may contain affiliate links, meaning if you book or buy something through one of these links, I may earn a small commission (at no extra cost to you!). Please see my disclosure.
New York City is one of the most visited places in the entire world. It is one of my favorite places (and I'm more of a nature kind of girl) so I can't blame anyone for loving this city or wanting to visit. There is, of course, a reason why the most popular attractions are in fact touristy – they're usually popular for good reason. The Statue of Liberty is a pretty cool spot to check out, the Empire State Building views are pretty phenomenal and Times Square is something to see at least once – but let's be real, no one actually hangs out here. But, if you're looking for some off the beaten path things to do in NYC or if you want to leave feeling like you got to know the real New York City, it may be time to stray away from those attractions. See them, yes. See the rest of New York though and spread your money around to make more of an impact on the lives of locals.
Off the Beaten Path Things to Do in NYC
This guide isn't meant to be a full guide to NYC. I could live here and never feel like an expert. That's part of the magic of New York City. This is simply meant to be a starting point to getting off the beaten path in nyc and learning how to leave an impact while you travel.
Find Green Spaces
A lot of times, I find that getting off the beaten path or seeking out sustainable ways to enjoy a location means spending less money. Spending time in green spaces is one of those ways to save money while getting to know a city. This can be as simple as finding a small park,  checking out cemeteries (yes, I love visiting cemeteries), or going on a hike. There are several parks in New York City.
Central Park
Central Park is huge, of course, and you likely won't see it all but you should definitely spend some time wandering around, maybe take a picnic or a blanket and a book and just relax. I didn't get there this time around but I have been before and it's pretty amazing and a great way to spend an afternoon in the city.
The High Line
The High Line is the definition of what sustainability looks like. They took an old run down rail line that was set to be demolished and turned it into a beautiful green space that connects several neighborhoods, showcases art and makes you feel like part of the city yet away from the anxiety-inducing parts of the city.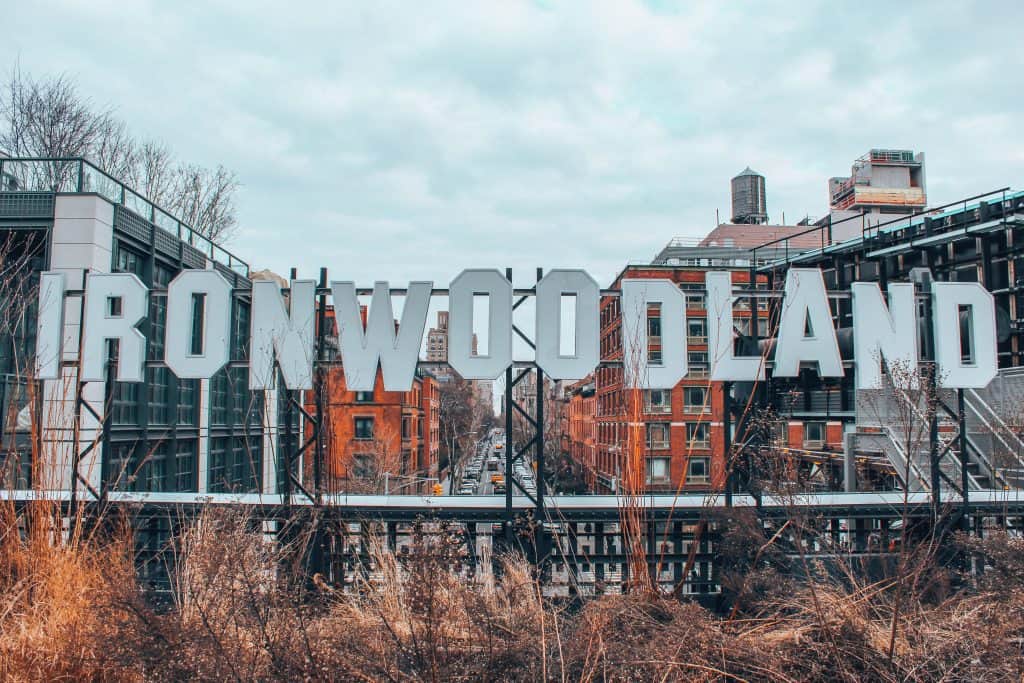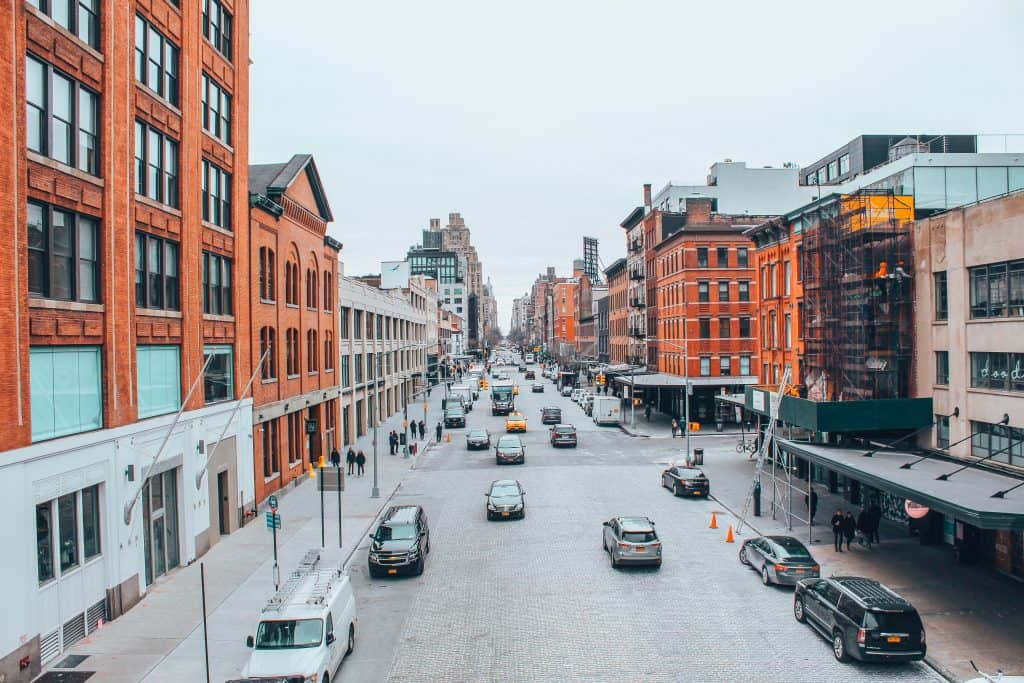 Here is a full list of New York City parks.
---
Visit Markets
Markets are a great way to see a different part of the city. You'll likely find local shops and eateries as opposed to large corporations. These can either be permanent markets, such as Chelsea Market, or weekly pop-up markets.
Chelsea Market
Chelsea Market is a fantastic spot to add to add to your NYC itinerary. The market is located in the Chelsea neighboorhood – an area that is worth strolling around in general – and directly off the Highline. Inside you'll find two floors of local shops, restaurants and more. Most of these spots are either one of a kind or a local chain – like Beyond Sushi which I highly recommend. It's worth checking out the Artists & Fleas section as well which has small, hyper-local booths set up by artists, jewelry makers and more.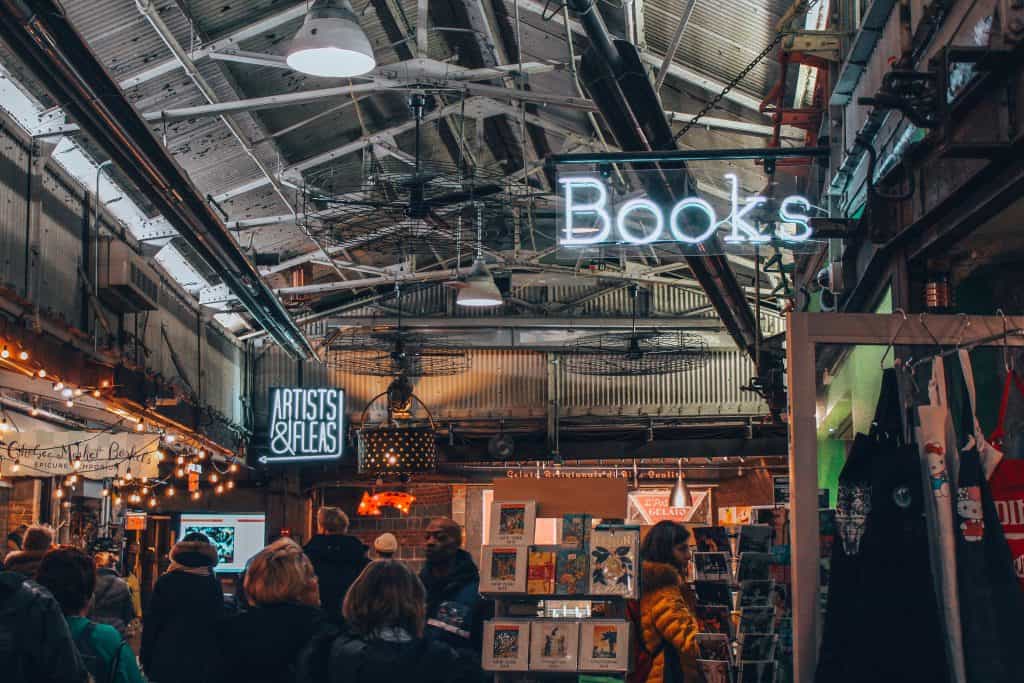 ESSENTIAL INFO
Address // 75 9th Avenue
Hours // 7AM-2AM (Mon-Sat) 8AM-10PM (Sun)
Website // www.chelseamarket.com
Union Square GreenMarket
This isn't just any farmer's market – it's an eco-conscious one. Farmers markets are usually pretty sustainable in general – local food, less packaging, etc. The Union Square GreenMarket is big on recycling, composting and more!
The Union Square Greenmarket is every Monday, Wednesday, Friday, and Saturday from 8am-6pm.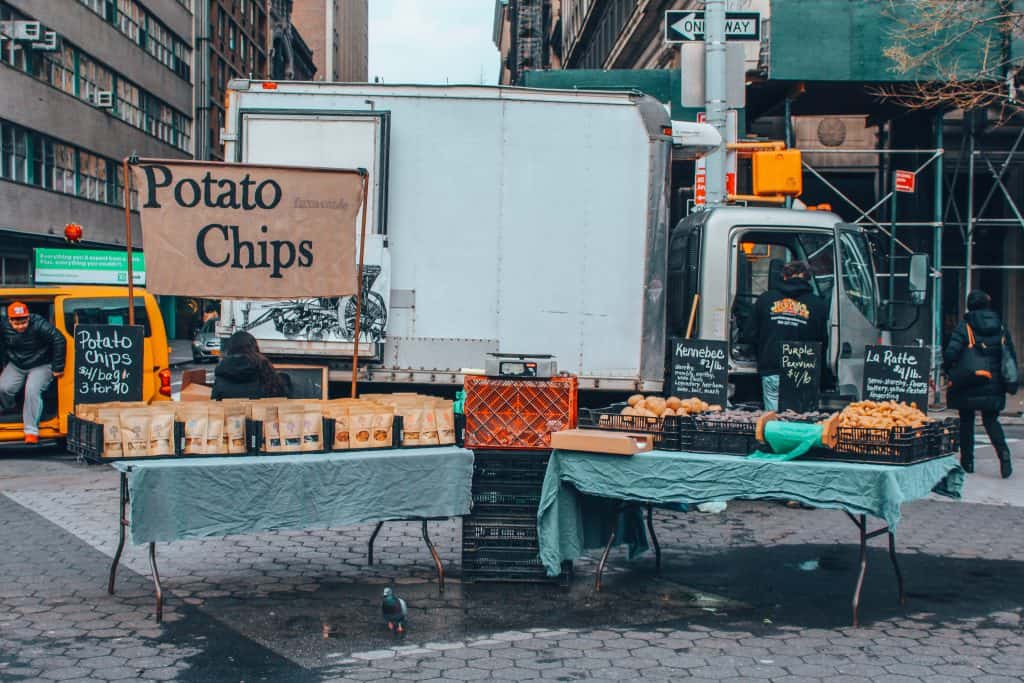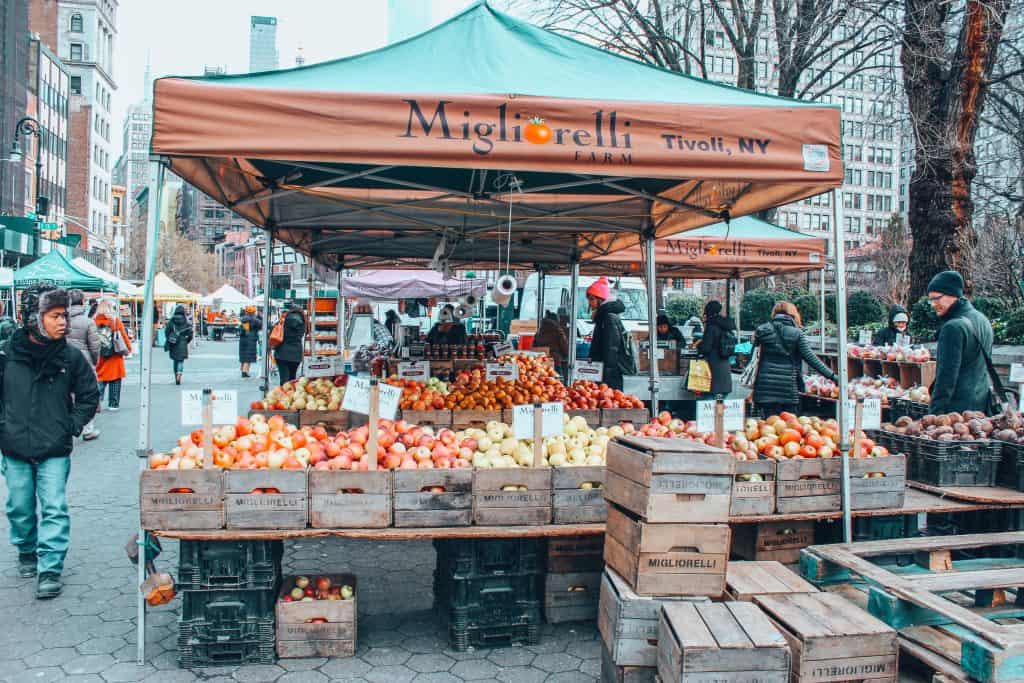 ESSENTIAL INFO
Address // Union Square Park
Hours // 8am-6pm (Mon, Wed, Fri, Sat)
Website // www.grownyc.org
---
Local or Sustainability-Focused Stores
The options are fairly endless here when it comes to local shops. Find small, independently opened stores. Check out places like the Artists & Fleas section of Chelsea Market. Does the store carry the same NYC shot glass you've seen everywhere including the airport? Probably stay away. Is it a huge department store you can shop at when you're at home? Probably stay away. Some exceptions I make with chains are if they're sustainability-focused such as Lush.
Moo Shoes
Moo Shoes is a vegan and cruelty-free shop located right next door to its sister company – Orchard Grocer which is an all-vegan market and cafe.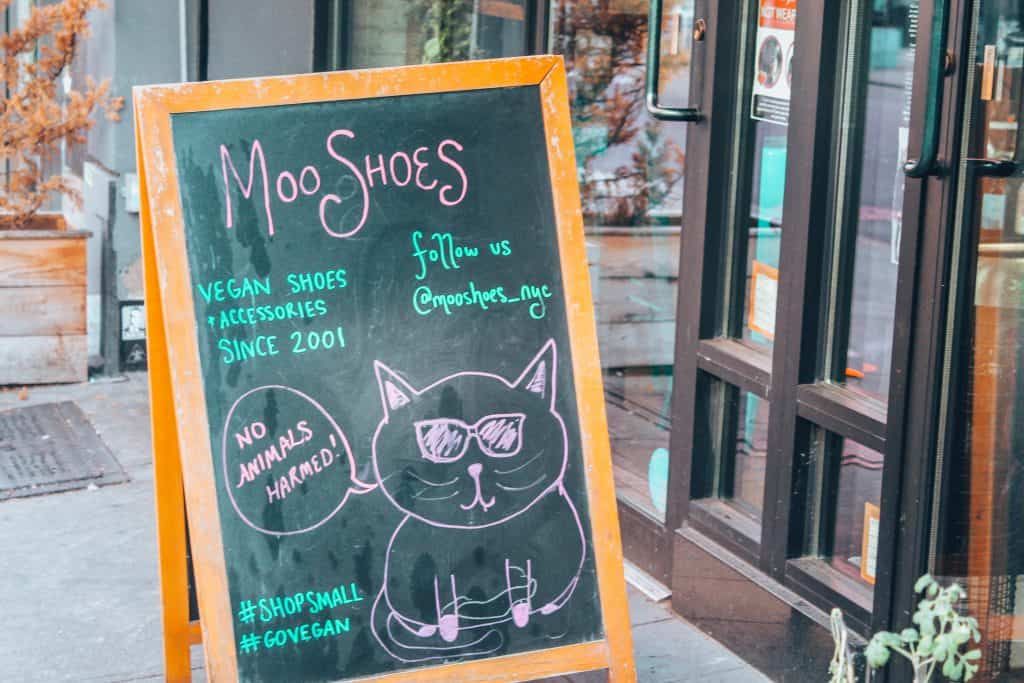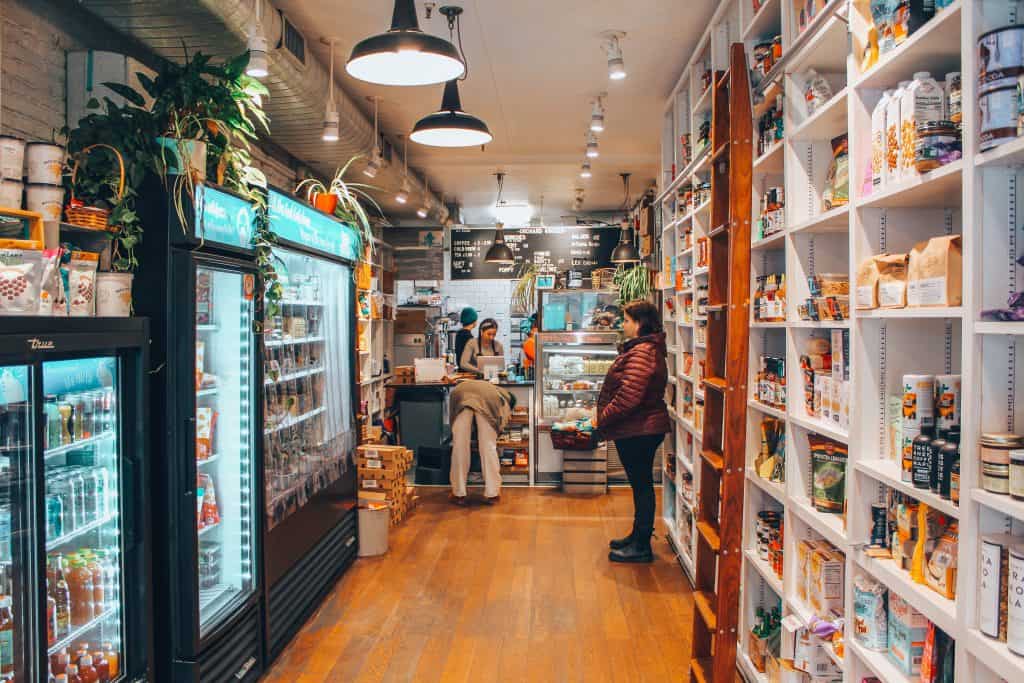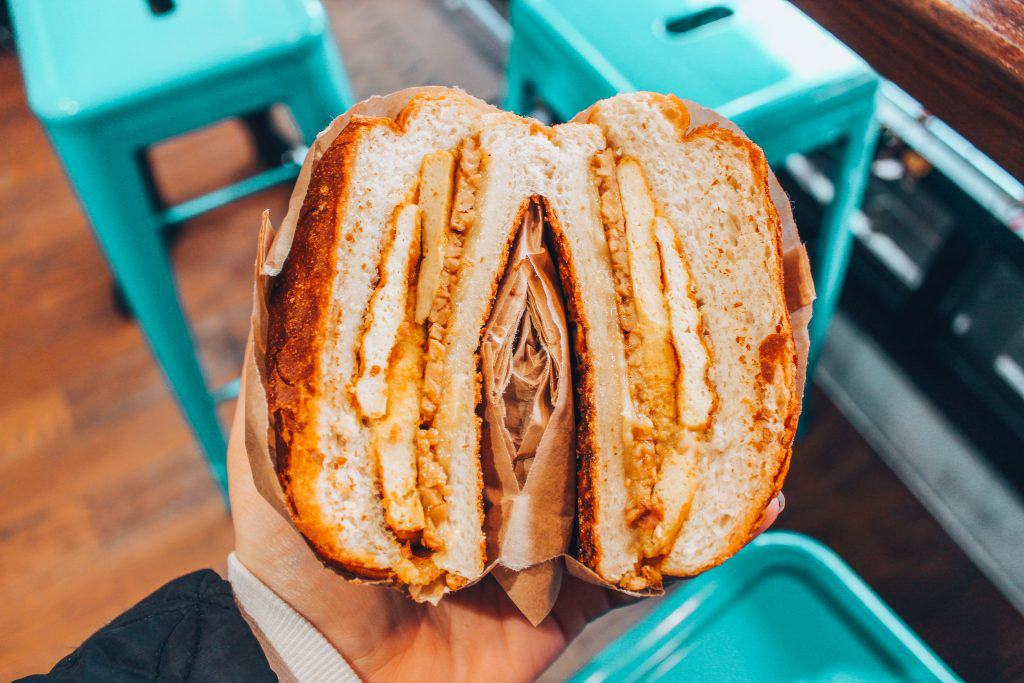 ESSENTIAL INFO
Address // 78 Orchard Street
Hours // 11:30am-8pm (Mon-Sat) 11am-7pm (Sun)
Website // www.mooshoes.myshopify.com
---
Independent Bookstores
Strand Bookstore
This is what heaven looks like for book lovers. Eighteen miles of used, rare, new, and out of print books. Eighteen miles. This bookstore has been a landmark of NYC since 1927 and regularly hosts book signings. It's also family and female-owned!
Located right by Union Square – makes the perfect addition if going to the Greenmarket.
ESSENTIAL INFO
Address // 828 Broadway
Hours // 9:30am-10:30pm everyday
Website // www.strandbooks.com
Bluestockings Bookstore
I stumbled across this place while wandering around the Lower East Side. It seemed they were opening a little late so I was bummed that I couldn't peruse the shelves but their mission is absolutely amazing. They're a collectively owned and volunteer powered bookstore with a fair trade cafe and activist center. My little heart was so happy.
They host workshops, discussions, films and more almost every night. They also have a nice selection of vegan treats in their cafe.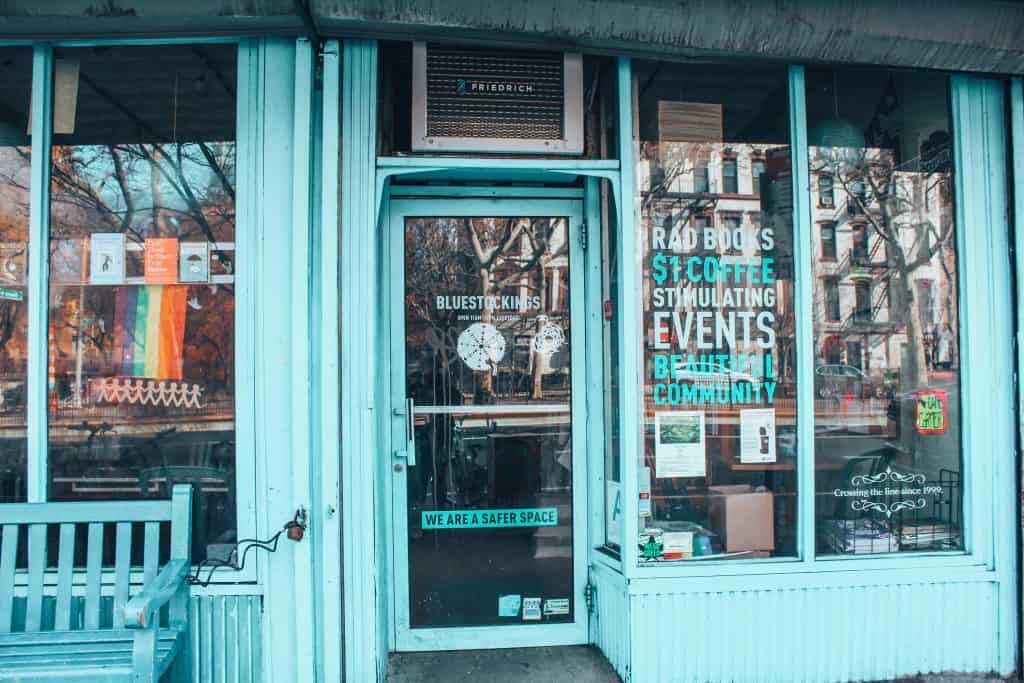 ESSENTIAL INFO
Address // 172 Allen Street
Hours // 11am-11pm everyday
Website // www.bluestockings.com
---
Get Coffee from Local Shops
Am I saying I never get coffee from Starbucks? Of course not. I'm not perfect. No one is. Sometimes I really need/want coffee and a chain is what is available but given the option? I'll choose a local spot every time. New York City has no shortage of small coffee shops – whether they be one of a kind of local chains.
Think Coffee
One of the coffee shops I checked out during my visit that deserves a mention is Think Coffee. The first thing that caught my eye was their sign saying that their coffee empowers young women in Ethiopia. Nearly every purchase supports projects like housing reconstruction in Colombia, feminine hygiene in Ethiopia, or clean water access in Nicaragua. Think Coffee is a local NYC chain with ten locations throughout the different neighborhoods (and they have several locations in Korea). This location is very large and has an amazing vibe making it perfect for setting up shop and getting some work done. They have plenty of food and drink options, including several plant-based milks.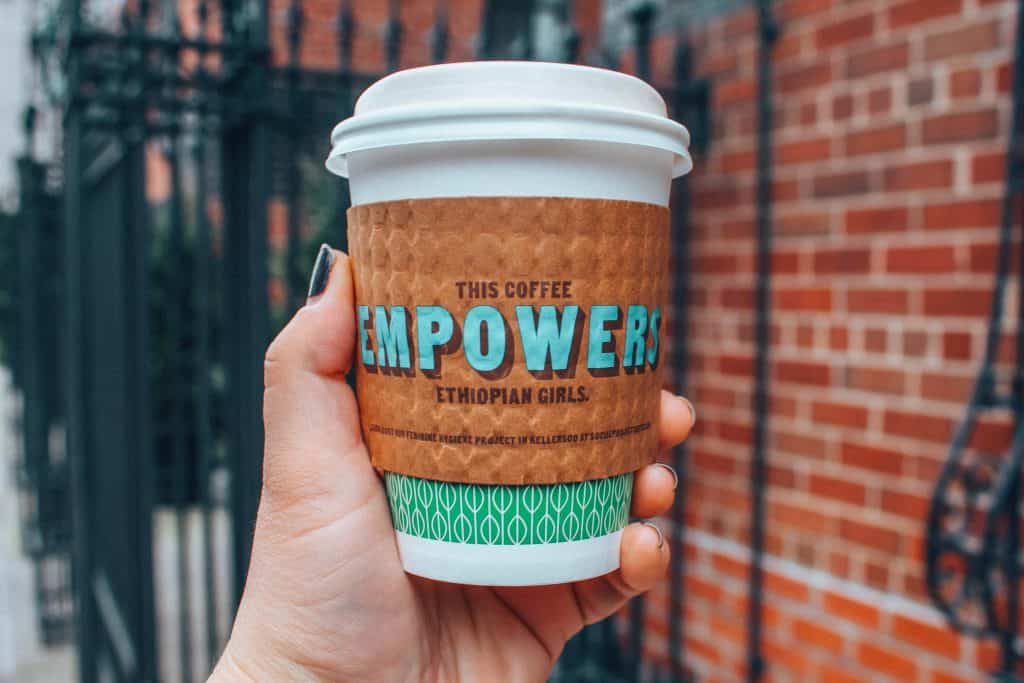 For more local coffee shops, check out my friends' post about the best coffee in NYC.
---
Visit Lesser-Known Neighborhoods
New York City is so much more than just the Lower East Side and Times Square and Brooklyn. Make sure to visit some lesser-known neighborhoods in Manhattan and outside of Manhattan. Some spots that I plan on making a priority on my next visit include:
Harlem
the Bronx
Staten Island
Roosevelt Island
Even just taking a tour of Industry City in Brooklyn showed me a part of Brooklyn I would have never thought to visit. You can stay in Manhattan and Brooklyn but think outside the box!
---
Take a Tour with a Sustainable Company
New York City Urban Adventures
Urban Adventures is a branch of Intrepid Travel who has done wonders for the sustainable tourism industry. They do wonderful walking tours in cities all over the world. While I was in New York City, I joined one of their Brooklyn tours
and I'm so glad I did.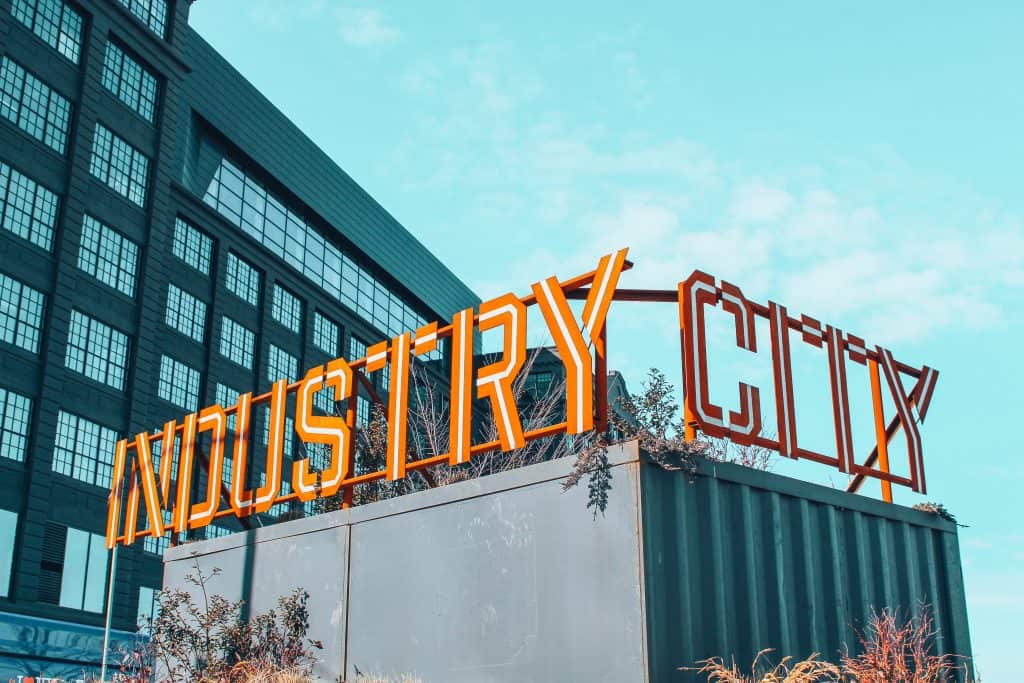 Wild Foods Foraging Tour
I really wish I had known about this tour while I was there last month but it has been added to my must do list next time. Who would have guessed you could take a wild edibles foraging tour in NYC? I actually hadn't even though of it. I took one of these foraging tours in Asheville – a place where I'd be more likely to guess there would be one.
ESSENTIAL INFO 
Website // www.wildmanstevebrill.com
Cost // $20 suggested donation
---
HI USA NYC Hostel – Sustainable Accommodation in NYC
When trying to decide where to stay in NYC, it can be hard to decide on accommodation. There are so many choices, of course. Hostels, in general, tend to be fairly sustainable and more so than their hotel counterparts. Airbnb can be tricky since they are playing a large role in gentrification. Companies are buying up properties and then renting them out to tourists – leaving nowhere for locals to live or jacking up the rent prices. Shared spaces generally mean fewer resources being used, more interacting with others which leads to richer experiences and making friends all over the world. Hostel culture leans towards using public transportation or walking, experiencing a place "like the locals" and packing lighter which are all fantastic ways to contribute towards sustainable tourism.
Nearly all of HI USA hostels are in repurposed buildings.
They are run by local staff.
Electricity is from wind power.
HI USA hostels offer free tours that dive into the history and culture of a city and often lead to off the beaten path things to do in NYC.
I stayed at the Hostelling International (HI USA) during my visit to NYC and it was perfect. It is located on the Upper West Side which I thought was a rather lovely area to stay – not as much hustle and bustle but still felt very New York-ish. HI NYC has a lot going for it especially in the sustainable realm.
HI NYC has the largest private green space in all of Manhattan.
has a rapid in-vessel composting system
is Green Globe certified.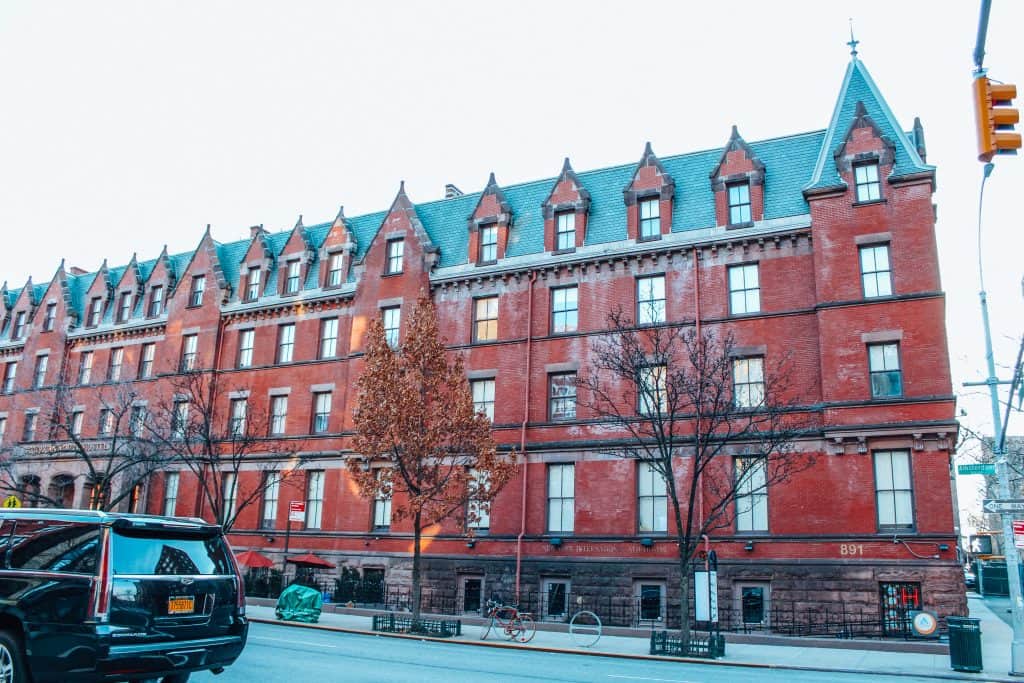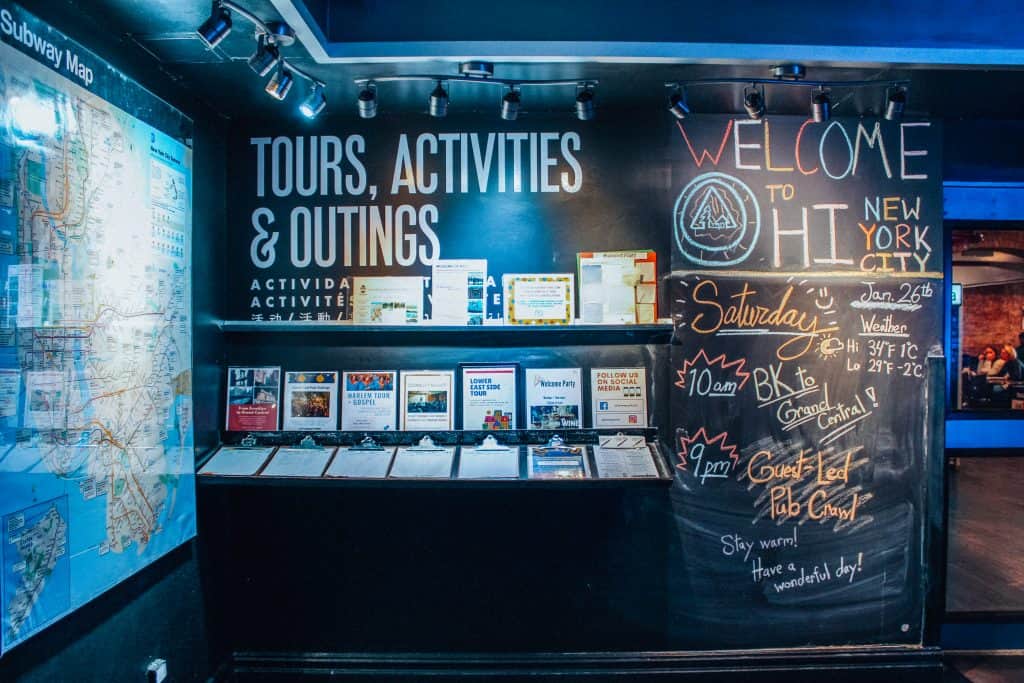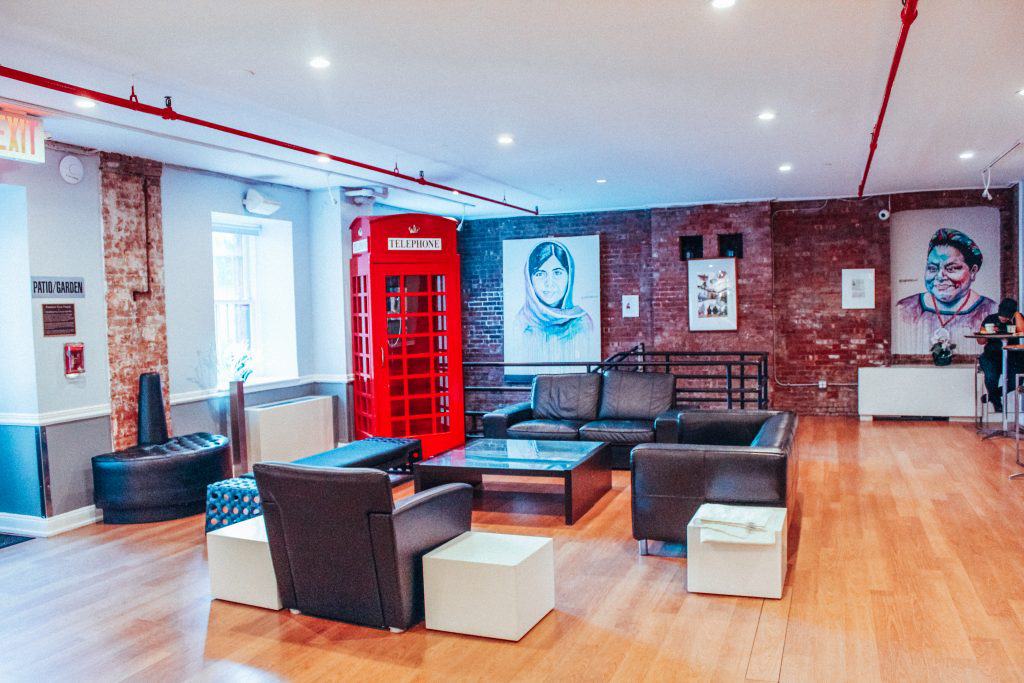 ESSENTIAL INFO
Address // 891 Amsterdam Avenue
Website // www.hiusa.org
Read Reviews | Book Now
---
Other Sustainability Tips for NYC
Transportation
Use Public Transportation – traveling as locals do tends to be cheaper and more sustainable.
Walk – walking is always the best. Make sure to bring very comfortable shoes.
Rent a Bike
Pack Light
Keeping it light makes it easier to use public transportation and takes away the stress of carrying stuff you don't really need.
---
Psst: Looking for more information on New York City? Check out a few of our other posts!
---
What to Pack for New York City
Pacsafe Cross Body Purse (I love my Pacsafe products and would highly recommend using them when traveling)
Comfortable Shoes (my feet tend to hurt pretty easily and these are the best shoes I've had in a while for walking a lot)
Have you ever been to NYC?? Tell me about it in the comments below ↓↓↓
Looking for accommodation in NYC? Check out reviews here and book here.
Want to know where I stayed? HI NYC
Want to know where to eat in NYC? Vegan guide coming soon!
What else have I written? You can find more NYC posts here.
Like this post? Have Questions? Hit me up on Facebook | Twitter | Instagram | Pinterest | Email
↓↓↓ PIN FOR LATER ↓↓↓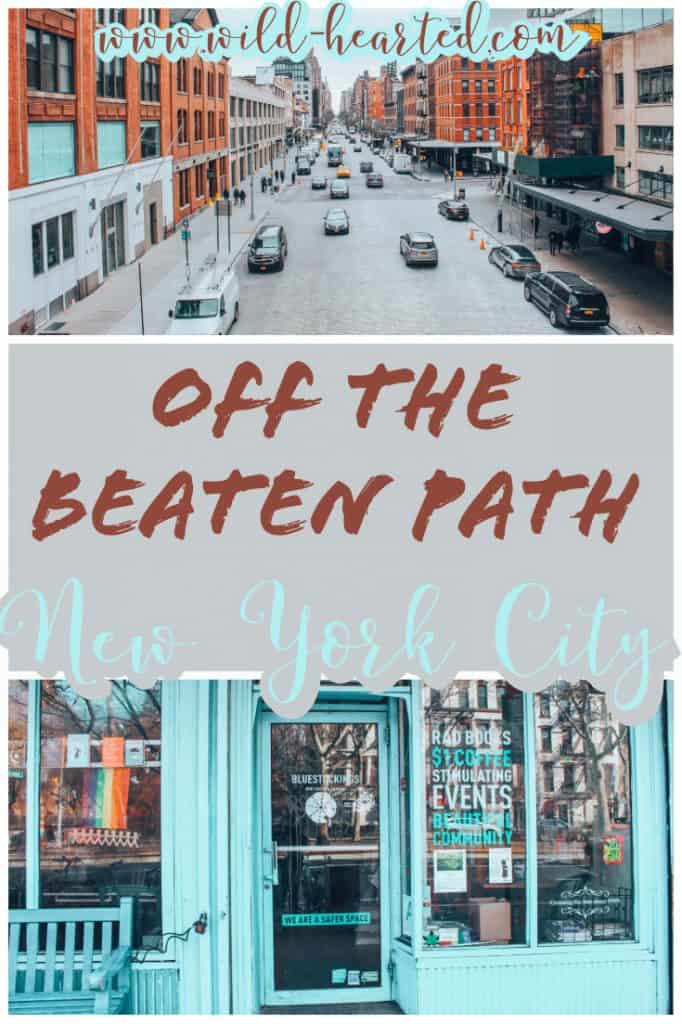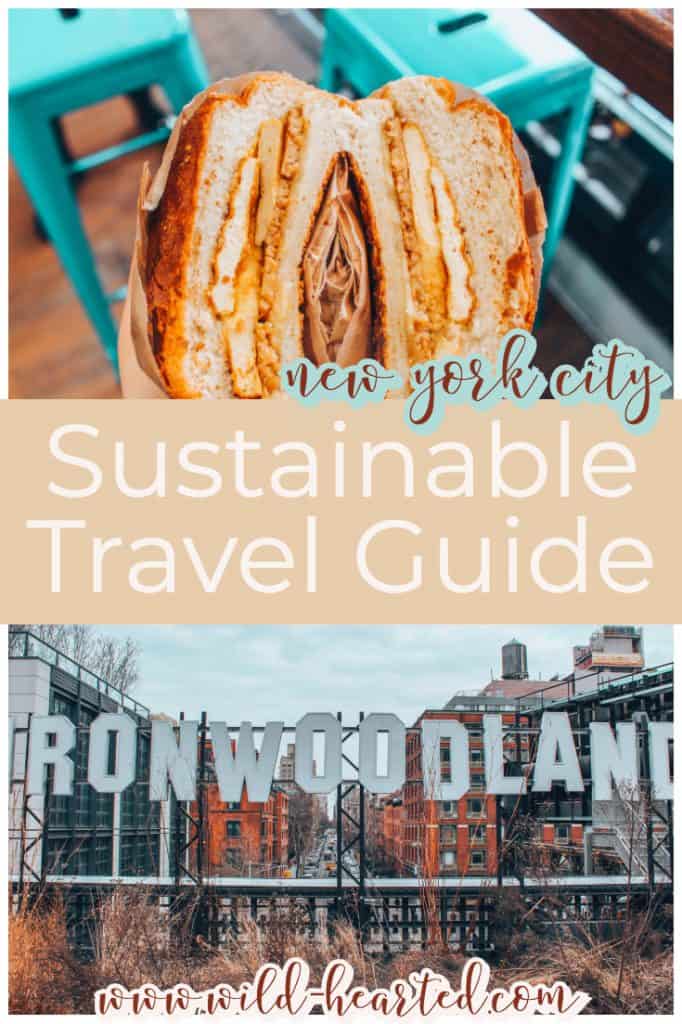 Latest posts by Ashley Hubbard
(see all)