This post may contain affiliate links, meaning if you book or buy something through one of these links, I may earn a small commission (at no extra cost to you!). Please see my disclosure.
Do you have someone in your life that values sustainable and zero waste living or is trying to break into being more sustainable and zero waste? If so, I'm sure you have no idea what kind of zero waste gifts to get them. Many individuals living this lifestyle are probably content with receiving zero gifts because they only buy what they need but perhaps you really want to get something to say thank you or because its tradition or they're new to this so they still need some things to stock their zero waste arsenal so to speak. I've put together a list of some of my favorite plastic-free and zero waste gift ideas.  These make wonderful gifts or stocking stuffers.
---
Zero Waste Gifts – Eating and Drinking
---
Stainless Steel Straw
Plastic straws are one of the best places to start on a zero-waste journey. They are one of the most harmful single-use plastic products. I always have a stainless steel straw with me in my bag and use it in place of a plastic one.  This one comes with four straws and is extremely affordable so, go ahead, buy one for the whole family!
Buy stainless steel straws here.
Stainless Steel Water Bottle
The next thing that is incredibly easy to change that makes a huge impact is switching to a reusable water bottle. I really love my Klean Kanteen – it stays hot or cold for a really long time and is easy to clean.
Buy a Klean Kanteen here.
Lifestraw
If you're headed somewhere where you're worried about the water quality, take a lifestraw with you.  Most people will suggest just buying bottled water in those places but like I've mentioned, plastic water bottles are terrible for the environment so, between a reusable bottle and a lifestraw, you'll be set no matter what the water quality is like!
Buy a Lifestraw here.
Travel Utensil Set
When traveling, it's pretty common to eat out or get food to go.  Don't worry though, you don't need to get plastic silverware every time you eat when you travel with a bamboo set.  I also place my stainless steel straw in the case!
Buy bamboo utensil set here.
Reusable Coffee Cup
I don't know about you but I drink a lot of coffee and even more so when I'm traveling. Sometimes, I'll sit in coffee shops and get work done meaning I'll use actual coffee mugs but other times I'll get coffee on the go or some shops don't even use coffee mugs period. That's where this baby comes into play. Most coffee shops will give you a discount for bringing your own cup too!
Buy the Keep Cup here.
To-Go Container
To-go containers are another thing to think about.  A lot of people who are on a zero waste path will just refrain from getting food to go but that's not always possible when you're traveling or just when you have a crazy hectic life. You can even use these to take your lunch when you're at home.
Buy the to-go container here.
Reusable Produce Bags
Produce bags are often overlooked.  Everyone seems to have at least started thinking about plastic grocery bags but don't forget the produce bags!  Often, I just let my produce go naked and don't use a bag at all because I'm going to wash it no matter what but if that freaks you out a little, these are great.  They can be used for more than just produce too.
Buy reusable produce bags here.
Reusable Grocery Bags
I'm the worst at buying reusable bags but always forgetting them when I go to the store.  The key is to keep them in your car.  If I go but forget them, I just carry out my items.  I love getting fun reusable bags because why not?  Here are a few I like.  Plastic bags are terrible for the environment – for the same reasons highlighted above – and also for wildlife (specifically marine wildlife).  Animals, such as sea turtles, often mistake floating plastic bags for jellyfish (which they eat) and instead of consistently consuming plastic bags.
Many countries don't even offer plastic bags anyway so you have to have your own bag or carry the items.
Buy reusable grocery bags here.
---
Zero Waste Gifts – Hygiene Products
---
Menstrual Cup
One of the best things I've ever done was switch to a menstrual cup. Tampons and pads are horrible for the environment and horrible for your body (the chemicals in tampons are disgusting and your body just absorbs it). The menstrual cup obviously leads to a zero-waste period, is a small investment, isn't horrible for your body, is not tested on animals and it actually has helped my cramps.  I don't even know how but it has and I have absolutely horrible cramps.
Buy a diva cup here.
Bamboo Toothbrush
Toothbrushes are not biodegradable and will never, ever go away. A switch to a bamboo toothbrush is easy, affordable and the best option for the planet!
Buy a 4-pack of bamboo toothbrushes here.
Solid Shampoo
I love using solid shampoo. It cuts down on plastic use, it doesn't run the risk of spilling all over your luggage and it lasts forever. I definitely recommend making the switch. I currently use Lush products.
Buy solid shampoo here.
Safety Razor
Disposable razors are crap. They don't last long, they're expensive and again…so much plastic. Switching to a safety razor is a small $25 investment but as long as you take care of it, that's a pretty good deal!  The razor blades are super cheap and last so much longer than a disposable!
Buy a safety razor here.
Zero Waste Floss
Flossing is one area I have really, really struggled with being zero waste, but I recently found this vegan zero waste floss and I'm so excited.
Buy zero waste floss here.
---
Zero Waste Gifts – Packing
---
Packing Cubes
Packing cubes are another one of my favorite inventions. When I travel, I try to pack as light as possible meaning I have to fit all my stuff in a very small space – usually carry-on only. The best way to maximize your space and keep everything organized is via packing cubes. I have both ebags and Eagle Creek brands and both work beautifully.
Buy packing cubes here.
Microfiber Towel
I love carrying a microfiber towel with me on my travels. Not all hostels provide towels free of charge, it cuts down on water usage as they dry very quick and thus, in my opinion, don't need to be washed as often.
Buy a microfiber towel here.
---
Zero Waste Gifts – Electronics
---
Solar Charger
A great way to always make sure your electronics can be fully charged while also being environmentally conscious is a solar charger. I only recently purchased one of these myself but I can tell it's a great addition to my travel accessories.
Buy a solar charger here.
Battery Pack
My other go-to electronic accessory that I never leave home without is a battery pack. I easily go through two full charges on my phone a day when I'm traveling and having the peace of mind that I won't run out of battery in an unknown location is necessary for me. I highly recommend researching the best power banks and always have an external battery charger with you.
Buy a battery pack here.
Zero Waste Phone Case
Pela makes biodegradable zero waste phone cases!
Buy a Pela phone case here.
---
Zero Waste Gifts – Miscellaneous
Audible Membership
I love reading real books, of course. And, I utilize my library instead of buying new books. However, when you're traveling, it's great to have a Kindle and an Audible membership!
Buy an Audible membership here.
Experiences
Want to know what to get someone who has everything or someone who doesn't want any actual physical gifts? Gift them experiences!
---
Didn't find anything here that strikes your fancy? Here are some more practical gifts for every traveler.
What are your favorite zero waste gifts? Tell me in the comments below ↓↓↓
What else have I written about sustainability? You can find more here.
Looking for a book on zero waste? Here ya go!
Looking for other ways to be more eco-conscious? GO VEGAN!
Like this post? Have Questions? Hit me up on Facebook | Twitter | Instagram | Pinterest | Email
↓↓↓ PIN FOR LATER ↓↓↓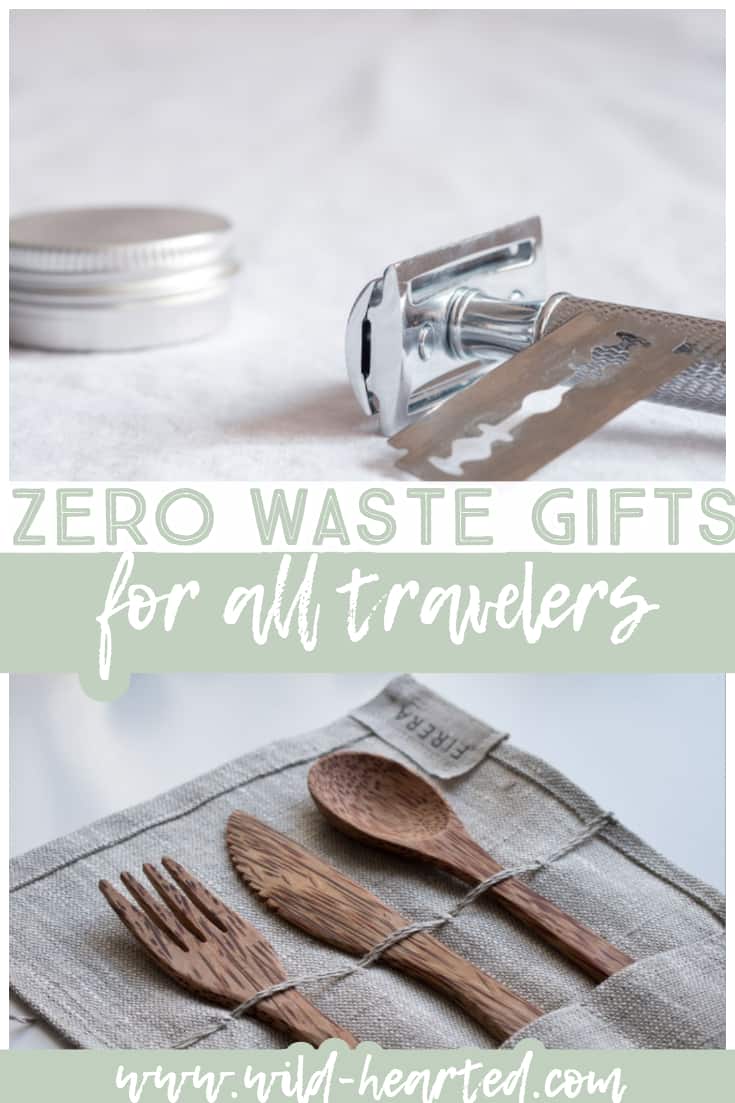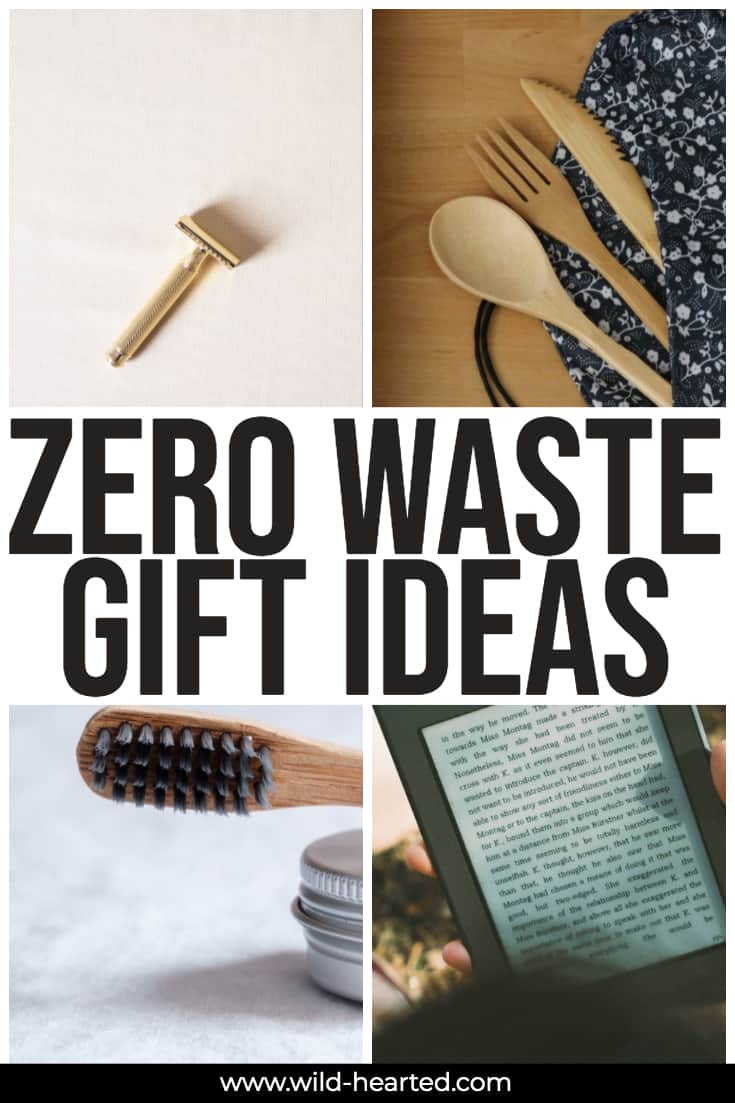 Latest posts by Ashley Hubbard
(see all)