This post may contain affiliate links, meaning if you book or buy something through one of these links, I may earn a small commission (at no extra cost to you!). Please see my disclosure.
Are you a business traveler looking for tips on working remotely while traveling to big cities in the USA? With more people taking their businesses online and many companies becoming increasingly remote-friendly, working on the go has never been easier.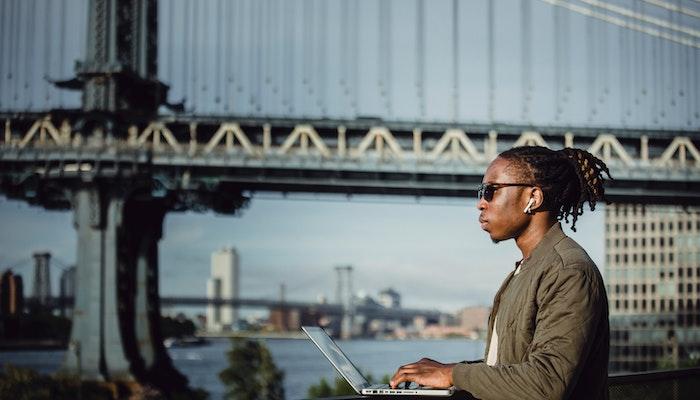 Remote Working Is On The Rise Across The US
The demand for remote working solutions is rising in America as businesses look to increase their workforce's flexibility and productivity. Remote work allows employees to work from anywhere and explore more of the US and its many cities.
Working In Popular US Cities
When working remotely in popular US cities, the key is balancing work and exploration without compromising on either. Here are some tips to help you make the most of your time while traveling and working in the US.
Setting Up Your Workspace
The first step in preparing for your travels is setting up your workspace. Find a place that is comfortable, quiet, and free from distractions.
Try to find a place with natural light since this can help boost your mood and productivity. Wi-Fi is essential for anyone working remotely.
Your hotel or Airbnb should have a strong internet connection so you can stay connected while traveling.
Creating An Itinerary
Creating an itinerary before traveling is also vital in helping to ensure that you get everything done while still enjoying all that each city has to offer.
Try to plan by mapping out your day so that you know exactly what needs to be done and when. This will help keep you organized and on track during your travels.
Additionally, it's essential to factor rest time into your itinerary, so you don't burn out during your trip.
Exploring On Your Breaks
When traveling for work, it's important to remember to take breaks. This will help you prevent burnout and keep your productivity levels up.
After all, exploring new cities is one of the best parts of being a remote worker!
During your downtime, make sure to get out and explore the city. Visit local landmarks, try new restaurants, or check out a museum—all of which will help you get an authentic taste of the town!
Staying Connected To Home
Staying connected to your home base while traveling for work is essential. This means staying in contact with colleagues and family back home.
You can check in with them regularly and send updates from the road. This will help you stay connected to your work and those that matter.
Best US Cities & States To Visit While Remote Working
Naturally, there are many big cities and states that can visit and work remotely from, with many of them each providing the resources required to be as effective as possible.
New York City
One of the most iconic cities in the US is New York City, and it is often one of the first places that come to mind when looking for remote working opportunities. New York is the ideal location for someone seeking work and leisure because it is a hub for international trade, banking, and business.
Moreover, there are many different startups based within NYC and plenty of digital agencies that are always looking for new talent. Several co-working spaces can be used for remote working when visiting the city. You can find a remote teacher job in New York on Jooble, as well.
Regarding leisure, the city offers some of the world's best entertainment and food options, with plenty of attractions to explore. With a vast selection of restaurants and cafes serving a wide variety of cuisines from around the globe, New York City is a melting pot of cultures when it comes to food. There is cuisine for everyone in New York City, from street food to fine restaurants.
The city's nightlife is legendary, with a never-ending selection of bars, clubs, and music venues catering to all interests and inclinations. All these elements combine to make New York City a top travel destination for tourists and locals, providing an unparalleled combination of cultural and entertainment experiences.
Pennsylvania
With various options available, including art galleries, theaters, music venues, and outdoor recreational activities, Pennsylvania has established itself as a pioneer in commerce and entertainment.
Pennsylvania can provide a lot of chances for entertainment and relaxation, even though it might not be regarded as a top entertainment destination in the same manner as some other larger cities.
Philadelphia, PA's largest city, is also notable for its rich history, on display at the liberty bell, Independence Hall (where the declaration of independence and constitution were signed), and other American revolutionary sites.
While this state isn't often considered a major entertainment destination in the same way as Las Vegas or New York, its burgeoning casino industry, in particular, has undoubtedly helped Pennsylvania earn a reputation as a destination for people looking for upscale gaming opportunities. Since the legalization of online casino gaming in 2017, the casino industry has experienced substantial growth. This achievement is attributable to the large number of licensed Pennsylvania casino operators who provide bonuses and a diverse selection of games, causing the sector to grow quickly in the state. With over $500 million in revenue expected in 2021 from online casino gaming, Pennsylvania is already one of the most prosperous and well-liked states. Overall, Pennsylvania is a perfect destination for anyone looking for work and entertainment, especially those interested in casino gaming.
Los Angeles
Los Angeles might be the perfect destination for working remotely in the sunshine. Like New York City, LA is home to many digital agencies and startups, meaning remote workers can find plenty of opportunities within the area.
The city is also one of the most attractive destinations in the world, with plenty of beaches and attractions that can be explored.
If you fancy a trip to San Diego and enjoy a sustainable adventure, then you are only a few hours away from being able to do this, too!
In addition, many great co-working spaces offer flexible options for those looking to work remotely in this location.
Boston
If you're looking to find the best remote working opportunities in Massachusetts, then Boston is the ideal destination. The city is home to many startups and digital agencies, so plenty of job opportunities are available.
In addition to this, the city also has some great co-working spaces, as well as plenty of attractions to explore. One of the great things about Boston is its vibrant nightlife, with a wide range of bars and clubs available. Additionally, there are some great educational institutions in the area, which makes it an ideal place for those looking to develop their knowledge further.
A Variety Of Big Cities Available To Remote Workers
Working remotely is becoming increasingly popular in the US, and many big cities and states can provide the resources needed for a successful remote job.
With so many options available, it's easy to see why these areas have become popular for remote workers. Regardless of where you choose to locate yourself, plenty of opportunities can help you make the most of your remote working experience.
Latest posts by Ashley Hubbard
(see all)