This post may contain affiliate links, meaning if you book or buy something through one of these links, I may earn a small commission (at no extra cost to you!). Please see my disclosure.
Did you know there are luxury treehouses for rent in Ohio? The Mohicans Treehouse Resort provides a place for you to share in the magic of a rural oasis. These treehouses in Ohio aren't just your run of the mill treehouses.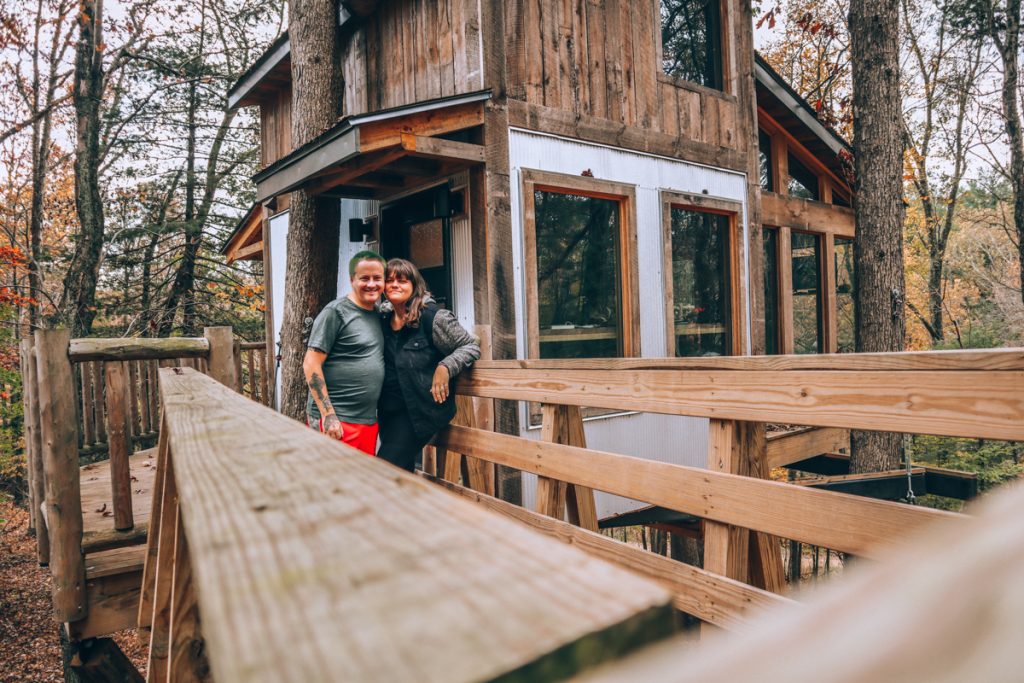 About The Mohicans Treehouses for Rent in Ohio
The Mohicans Treehouse Resort is a family-owned and operated business located on 77 private acres in the heart of Ohio's Mohican Valley. Not only does the property include nine state-of-the-art treehouses, but there are also four luxury cabins to rent and a stunning wedding venue.
So, whether you're a couple looking for a romantic weekend getaway, a family looking to take your kids on an adventure away from electronics, or a couple looking to share your magical day with your family and friends, The Mohicans has an option for you.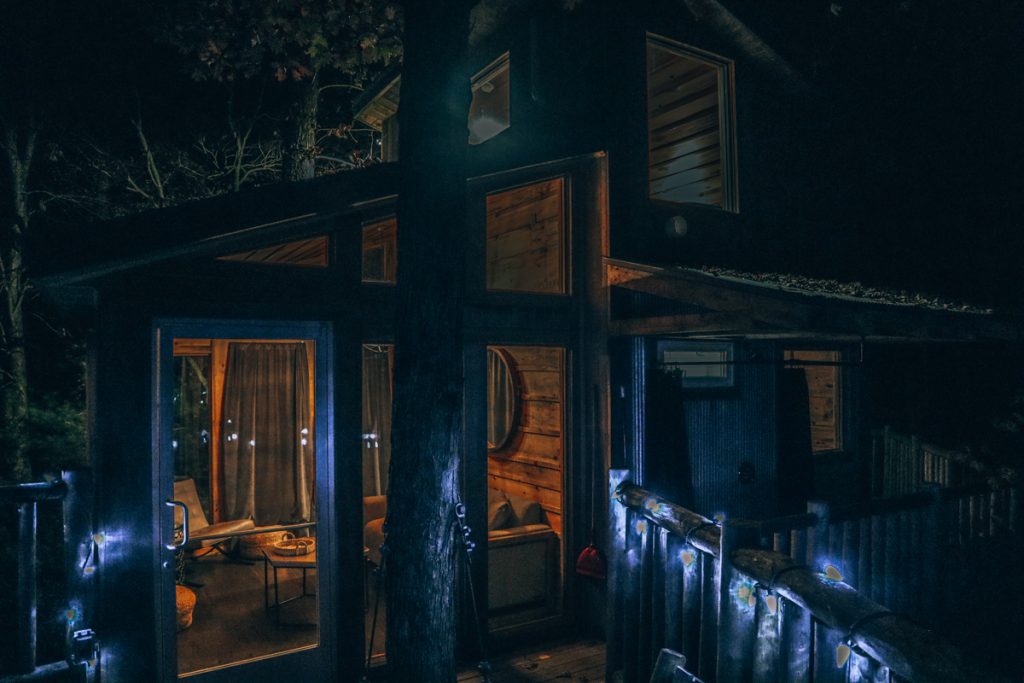 These treehouses for rent in Ohio feature one of a kind, authentic treehouses constructed by the famous treehouse designer, Pete Nelson of the Animal Planet show, Treehouse Masters.
These treehouses are located in the middle of nowhere, but still approximately an hour from Columbus and less than two hours from Cleveland. So, while you can unplug in nature, you can also take day trips to larger cities.
Sustainability Practices
One of the things that is really important to us is sustainability – both environmentally and socially. The Mohicans have very similar values which is one of the reasons we were so eager to stay there.
The Mohicans believe in reducing their ecological footprint by integrating sustainability values into their everyday operations. They do this in as many ways as possible.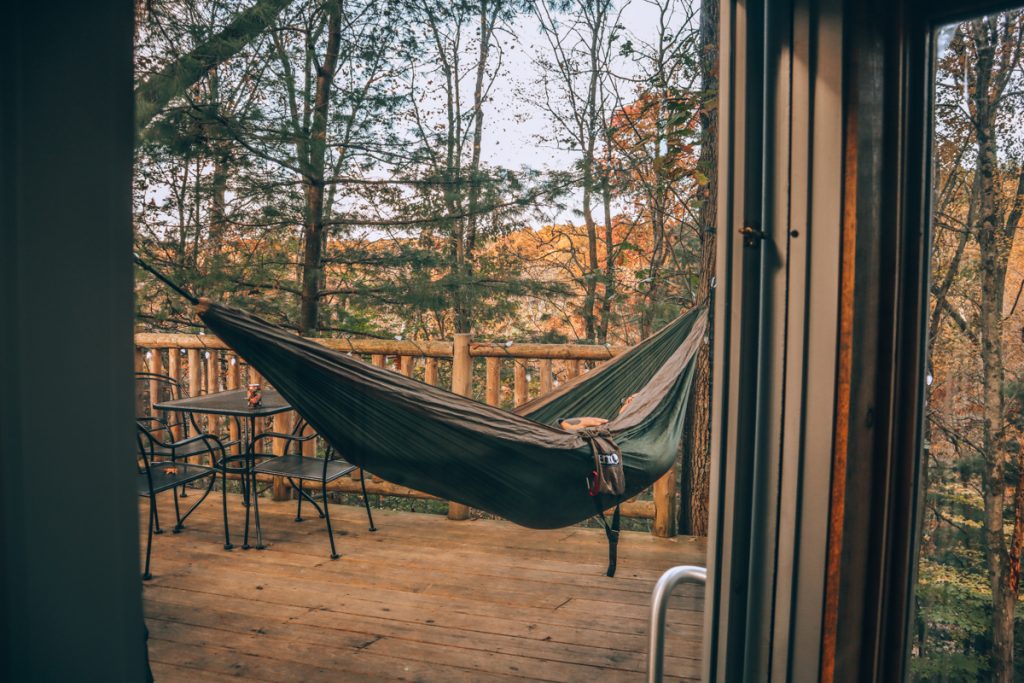 Many of their cabins and treehouses include passive solar, radiant heat, on-demand hot water, and other amenities. They utilize complementary environmentally friendly dish soap, toiletries, and paper products. And when cleaning the units, they do not use any toxic cleaning supplies or harmful detergents.
The View Treehouse
Michael and I stayed at The View Treehouse – The Mohicans' newest addition. This recently crafted treehouse is a modern take on a traditional treehouse that is spacious but very cozy.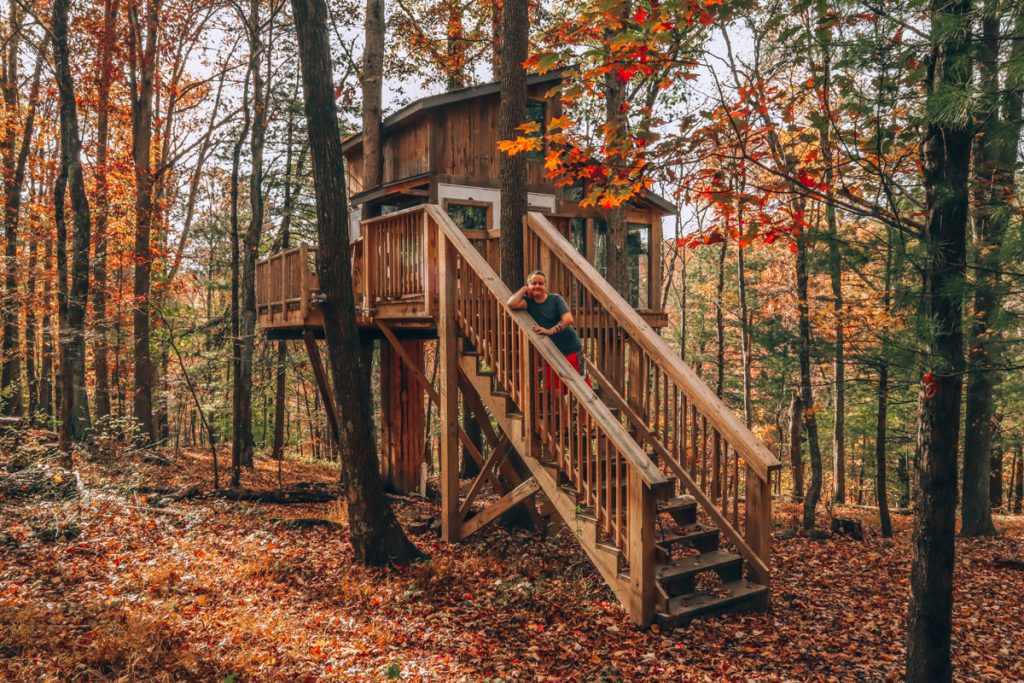 Constructed with local lumber and gray corrugated metal, The View incorporates floor to ceiling windows showing exactly how this unique treehouse got its name. The View is a combination of old meets new. White marble countertops and white subway tiles meet a rustic oak floor.
The View is a two-story treehouse with all the living areas on the main floor and a loft where the two full beds are located.
In order to get to The View, you'll feel like a kid all over again! Walk up a few stairs where you'll get to cross a bridge with a slight bounce. This extra special touch adds on an element that takes the whole experience to the next level.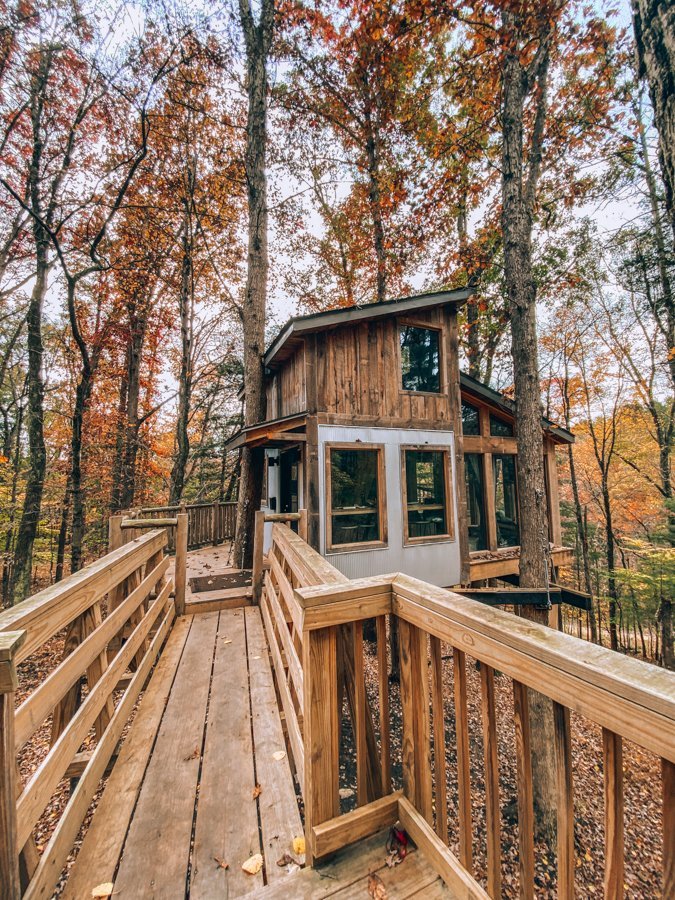 While The Mohicans does not provide WiFi or cable, there is a small flat-screen TV with a DVD player so make sure to bring some movies to watch at night! The kitchen has everything you need to cook a nice meal such as pots and pans, two stove-top burners, a microwave, a mini-fridge, a coffee maker, a toaster, and more.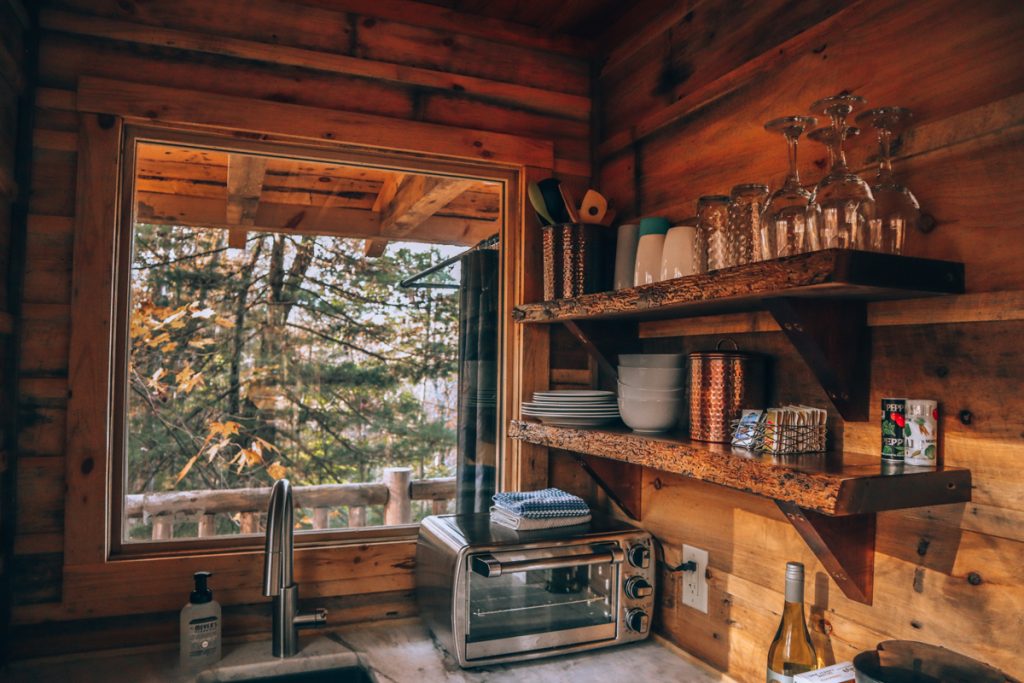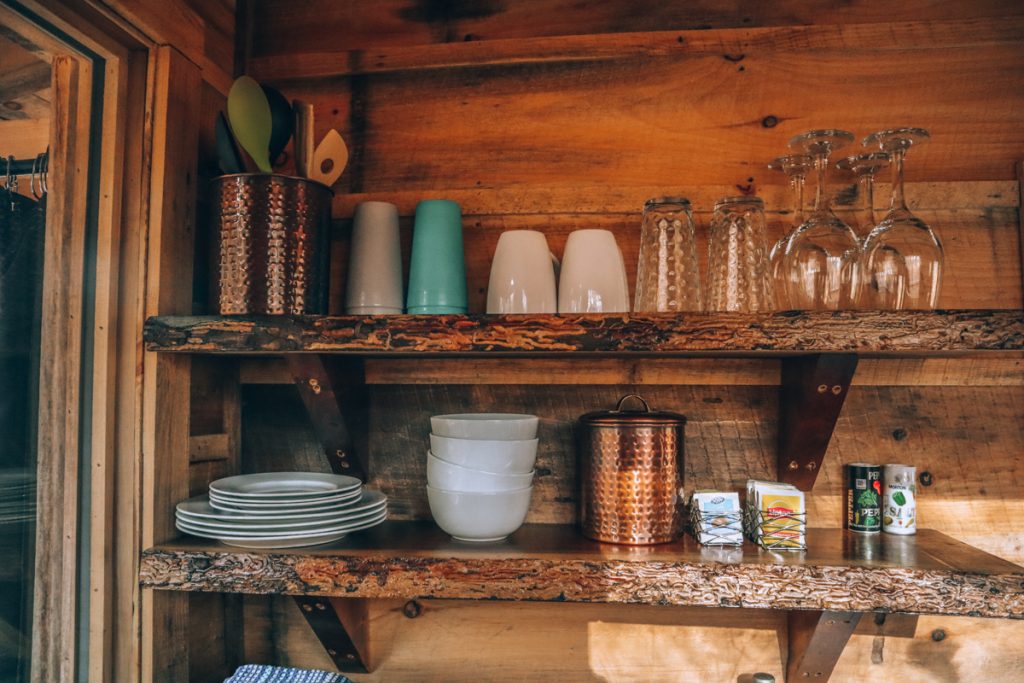 And, if you're not a camping person and you're thinking you won't enjoy this experience, think again! The Mohicans treehouses have indoor plumbing with a toilet, sink and shower. And, if you're visiting in the warmer months, there's an outdoor shower which is really cool!
The Grand Barn Wedding Venue
The Mohicans is also a wedding venue and a gorgeous one at that. The Grand Barn Wedding Venue is an amazing spot for a couple looking for the rustic "barn" vibe while still having pure luxury. The two-story building includes a large outdoor deck and bar, a dance floor, and a special close-by treehouse for the newlyweds!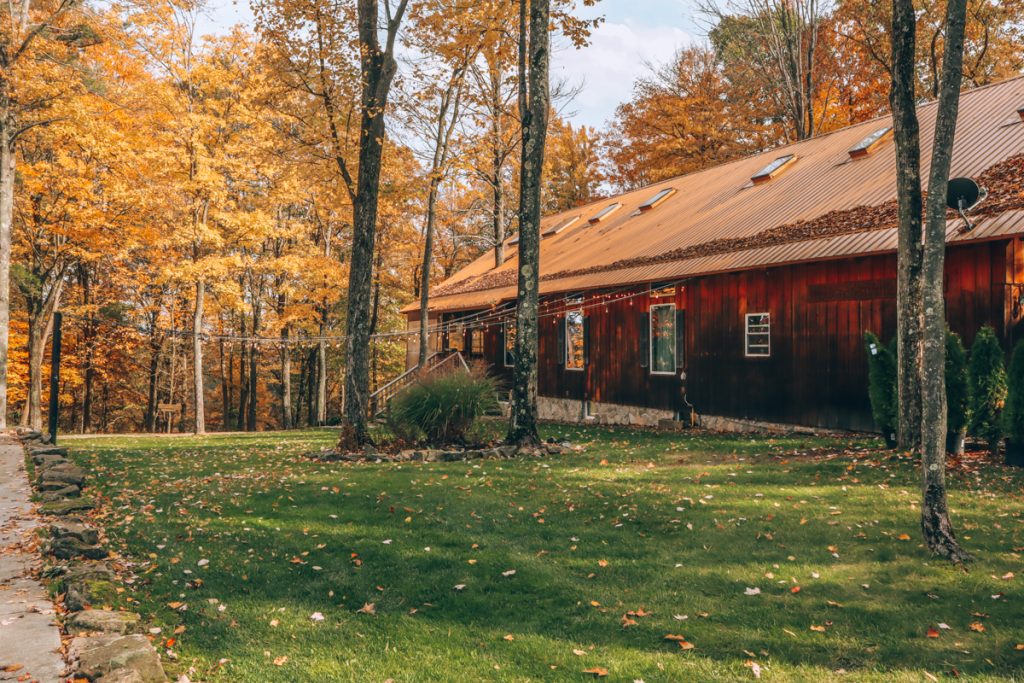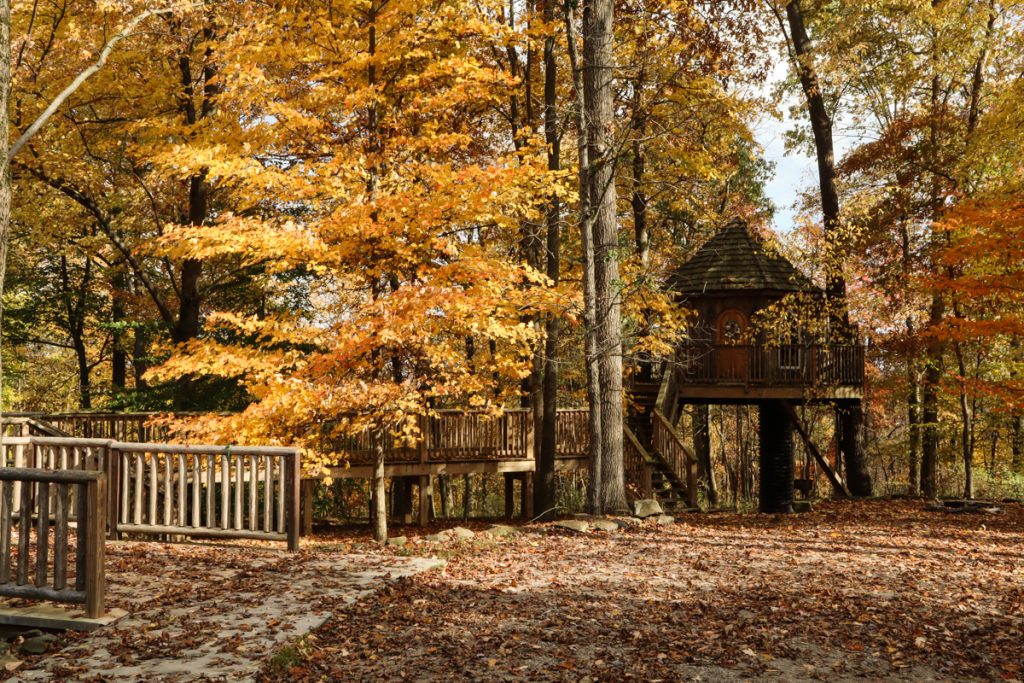 Vegan Food
Michael and I stopped off at the grocery store on the way to get everything we needed for our two-night stay, but we also had the privilege of having a private vegan food tasting by Chef Drew in the Grand Barn.
Chef Drew is incredibly brilliant and nice and creates delicious culinary magic. He is the Head Chef at the Grand Barn, in charge of all the weddings and special events on the property. He creates dishes for any dietary preference or restriction.
The main way to taste some of Chef Drew's magic is by attending a wedding here. However, we were informed that The Mohicans is planning to have catered meals and meal plans for all guests of the treehouses and cabins. It will be similar to an all-inclusive resort. Check out Treehouse Provisions for more info.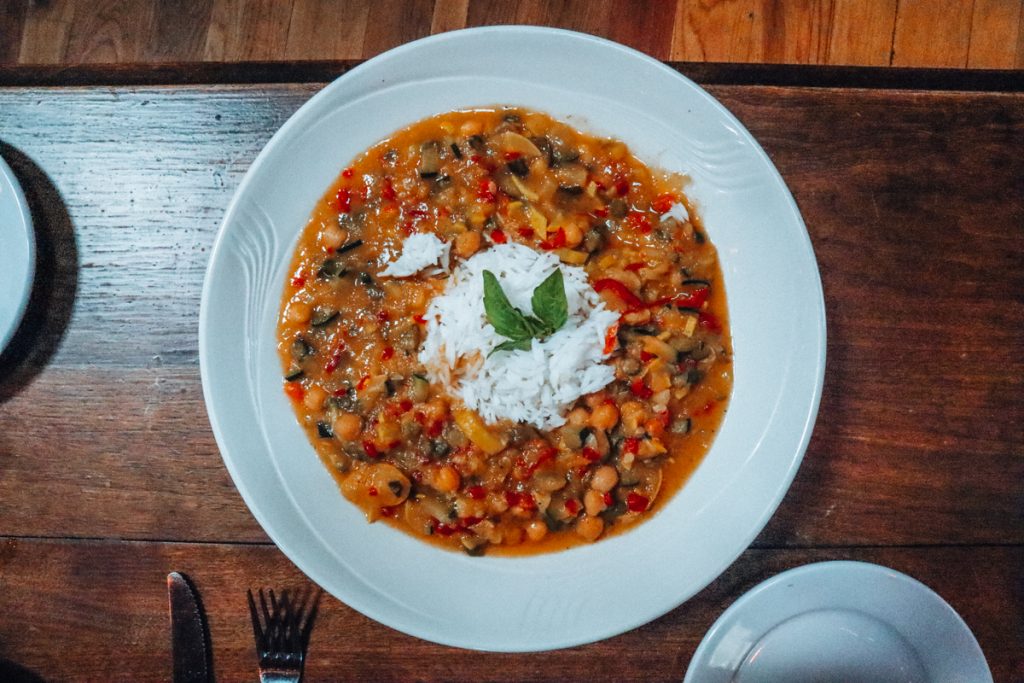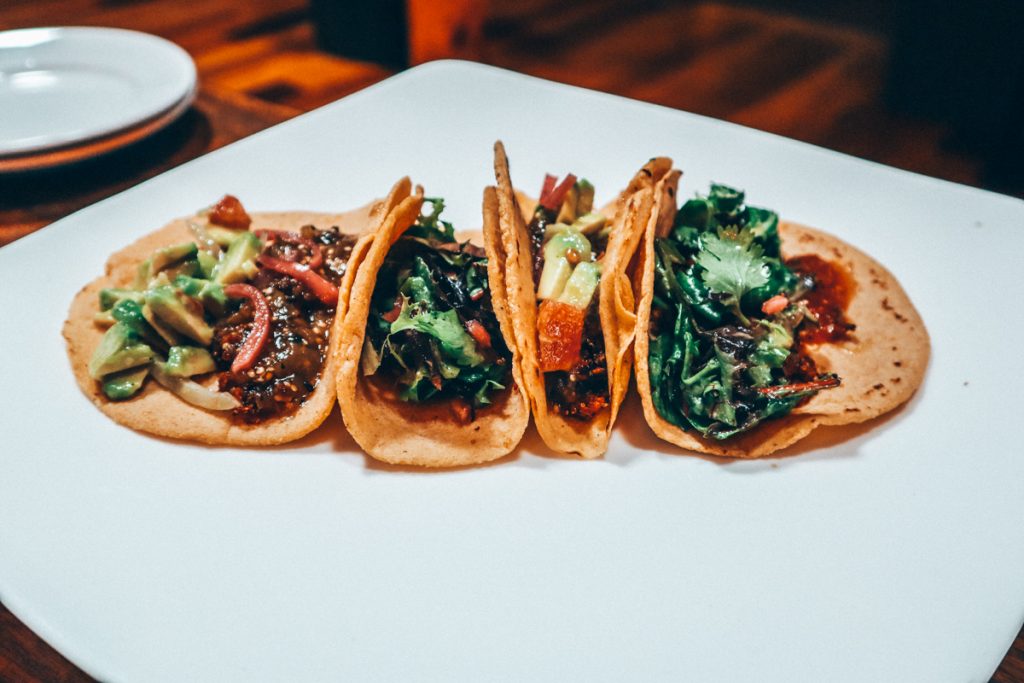 Things to Do During Your Stay
While we opted to simply relax on-site, there are several things to do nearby while staying at these treehouses for rent in Ohio. The Mohican Valley is paradise for outdoor enthusiasts. Close to Mohican State Park and Findley State Park, you can explore nature even more during your stay.
Mohican State Park offers hiking, mountain biking, swimming, and picnicking. The Gorge Overlook, fire tower, and covered bridge are just a few of the "must-see" attractions at the park. Findley State Park is a heavily wooded park with stately pines and various hardwoods that offers hiking, and wildflower and wildlife viewing.
Additional options include the 4.5-mile all-purpose trail – Mohican Valley Trail. Do not miss the breathtaking Bridge of Dreams — the longest covered bridge in Ohio and the third-longest in the country.
Tree Frog Canopy Tours for ziplining and treetop trekking is almost within walking distance from the property and they offer a three-house canopy tour.
On our way home, we did tack on one activity – The Ohio State Reformatory. This unique self-guided tour allows visitors to stroll the halls and visit the cells of some of history's toughest criminals, see the intact set of The Shawshank Redemption (and other films), or hunt for the paranormal in one of the most haunted places in the country.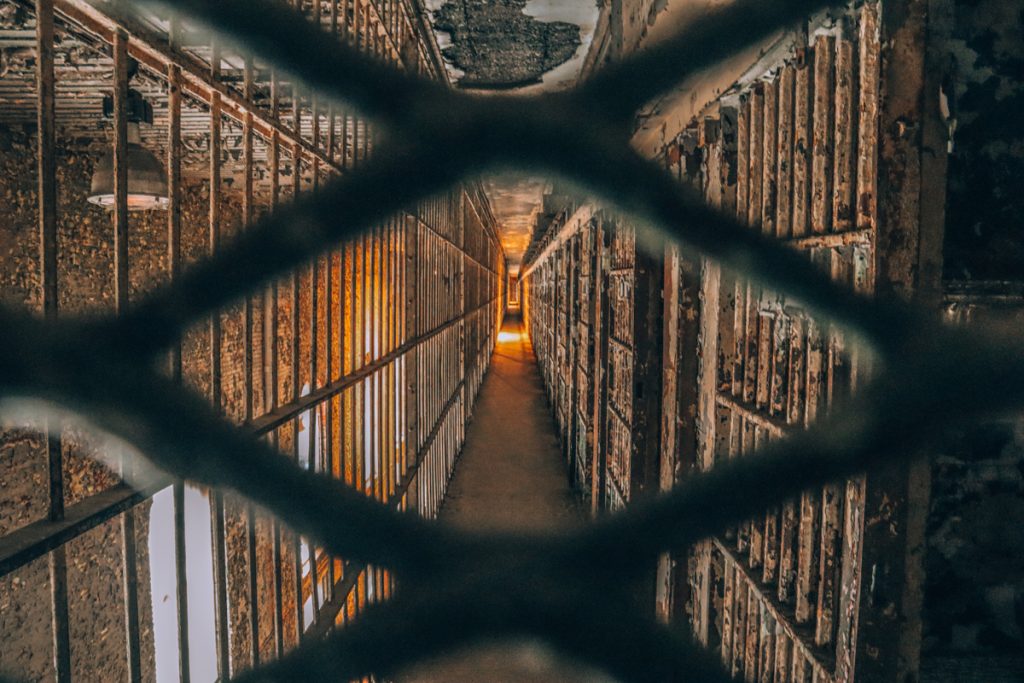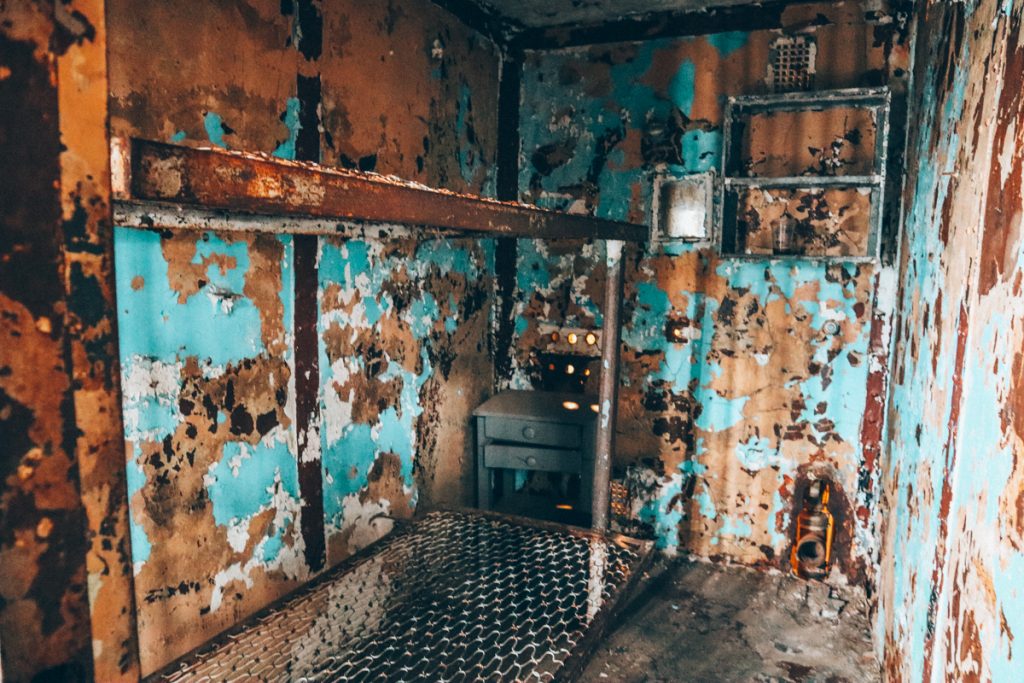 Things to Know Before You Go
There is no cell phone service on the property. While I was able to get a tiny bit to send a couple texts, it was a struggle and shouldn't be counted on. There is also no WiFi.
Make sure to book your stay as soon as you know the dates you want to go. These treehouses in Ohio book up fast as you can imagine.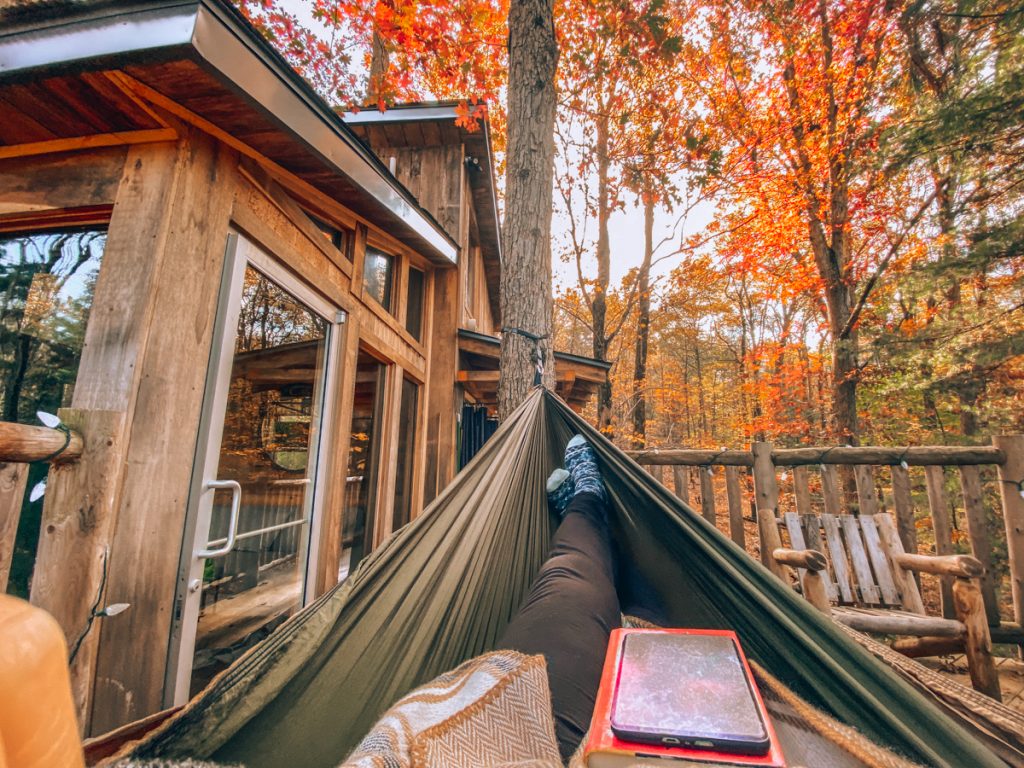 Traveling in or through Ohio? Be sure to take
a look at our other articles about Ohio.
Latest posts by Ashley Hubbard
(see all)