This post may contain affiliate links, meaning if you book or buy something through one of these links, I may earn a small commission (at no extra cost to you!). Please see my disclosure.
It only makes sense that Music City has inspired plenty of songwriting, but are there actually any songs about Nashville?
Of course!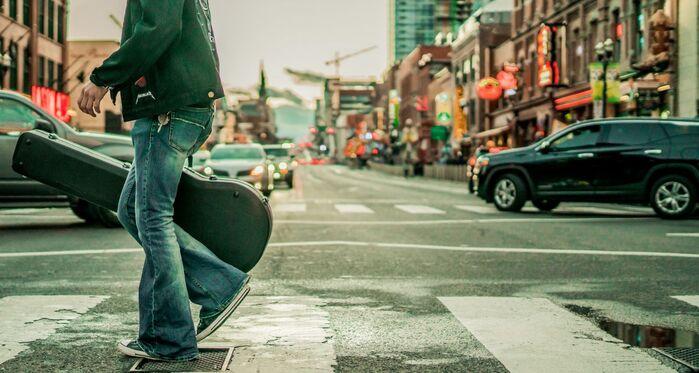 There are a lot of Nashville songs actually and picking the best is no easy task. And as country music goes, they're not all super happy and positive. Sometimes the city can break your heart.
Some of these lyrics make the perfect Nashville captions for those Instagram photos or they'll just make a great addition to your playlist.
Songs About Nashville
1. "Nashville Skyline Rag" By Bob Dylan
Some of the most famous Nashville musicians, like Charlie Daniels, contributed to this song. In the 60s, Bob Dylan came to Nashville to record Blonde on Blonde and returned to record his next three records, including Nashville Skyline.
While an instrumental song, this song is still considered a perfect ode to Music City.
2. "Nashville Without You" By Tim McGraw
This ode to the city and the person he loves is perfect for Nashville lovers. Tim McGraw pays homage to the songs and artists that have made Nashville what it is and for making it the "place where it all began."
Lyric sample: "Hey, "Blue Eyes Cryin' in the Rain" / Hey, fire burnin' round the ring / Hey, "Crazy," you know it's true / That Nashville wouldn't be Nashville without you."
3. "Murder On Music Row" By Alan Jackson and George Strait
Two country music legends join for this take on classic country storytelling. And it's not about an actual murder.
Instead, it's about the death of "real country music."
Lyric sample: "Ol' Hank wouldn't have a chance / On today's radio / Since they committed murder / Down on Music Row."
4. "Wrong Side Of Memphis" by Trisha Yearwood
We love Memphis, but despite the song's title, this one is all about getting away from Memphis.
The song's narrator is giving in to the lure of Nashville.
Lyric sample: "I've been living on the wrong side of Memphis / I'm really breaking away this time / A full tank of gas and a '69 Tempest / Taking me to that Nashville sign."
5. "Down On Music Row" by Dolly Parton
She may be from East Tennessee, but she started her country stardom in Nashville and her main home is still here as well.
In "Down On Music Row," Dolly captures the feelings of musicians traveling to Nashville to see their dreams come to life.
Lyric sample: "I got into Nashville early / Sleepy, hungry, tired and dirty / And on the steps of the RCA / I ate a stale sweet roll / In the fountain at the Hall of Fame / I washed my face and read the names / In the walkway of the stars / Down on Music Row."
6. "West Nashville Grand Ballroom Gown" by Jimmy Buffett
This serious ballad highlights sad stories about people fleeing the inauthenticity of Nashville. It's a little anti-Nashville, but Jimmy Buffett experienced a lot of bad luck living in the city and didn't make it big until he left.
So, don't let that keep you from visiting!
7. "Devil, Devil (Prelude: Princess Of Darkness)" by Eric Church
The first half of "Devil, Devil" is a nearly four-minute spoken tribute to the "temptress" that is Nashville. It name-drops everyone from Johnny Cash to Merle Haggard.
Lyric sample: "She's the reason there's a "Sunday Morning Comin' Down" / "I Saw the Light," "A Boy Named Sue," "He Stopped Loving Her Today" / "The Pill" and "16th Avenue"/ The Ryman, oh, she's a diamond / The brown-eyed Mickey / She was Roy Acuff's castle / And Elvis Presley's broken dream."
8. "Congregation" by Foo Fighters ft. Zac Brown
While in town filming the docu-series Sonic Highways, Dave Grohl of the Foo Fighters performed a surprise, hour-long acoustic set before an unassuming audience at The Bluebird Cafe. He simply introduced himself by saying, "My name is Dave Grohl. I'm a drummer."
Lyric sample: "The voice upon the stage / Is the heart inside a cage / And they're singing like a bluebird in the round."
9. "I Love This Town" by Bon Jovi
He may be a rocker, but he has long loved the electric music culture of Nashville. In "I Love This Town," he sings about all the ways Nashville is special.
He first performed it in Nashville at the Cannery Ballroom.
Lyric sample: "I always knew, that I'd like this place / You don't have to look too far, to find a friendly face / I feel alive when I'm walkin' on this street / I feel the heart of the city poundin' underneath my feet"
10. "Nashville, TN" by Chris Stapleton
You know the name, but did you know he was a songwriter for the big names before that?
This sorrowful track documents his move from Nashville to a rural farm in the much smaller Franklin.
Lyric sample: "You showed me how to write a song / We wrote some right, we wrote some wrong / I was down and out, you let me in / At times, you were my only friend"
11. "Bachelorettes on Broadway" by Willie Jones
Much to us locals' chagrin, Nashville has been voted "Bachelorette Capital of the World" since 2018.
But this playful song, we're ashamed to admit, is infectious.
Lyric sample: "They all hopped off of the bus / Two step to the club, yeehaw, giddyup / 'Look why didn't you go to Vegas?' / ('We love Nashville, that shit's overrated')"
Latest posts by Ashley Hubbard
(see all)