This post may contain affiliate links, meaning if you book or buy something through one of these links, I may earn a small commission (at no extra cost to you!). Please see my disclosure.
Glamping in Thailand – Hintok River Camp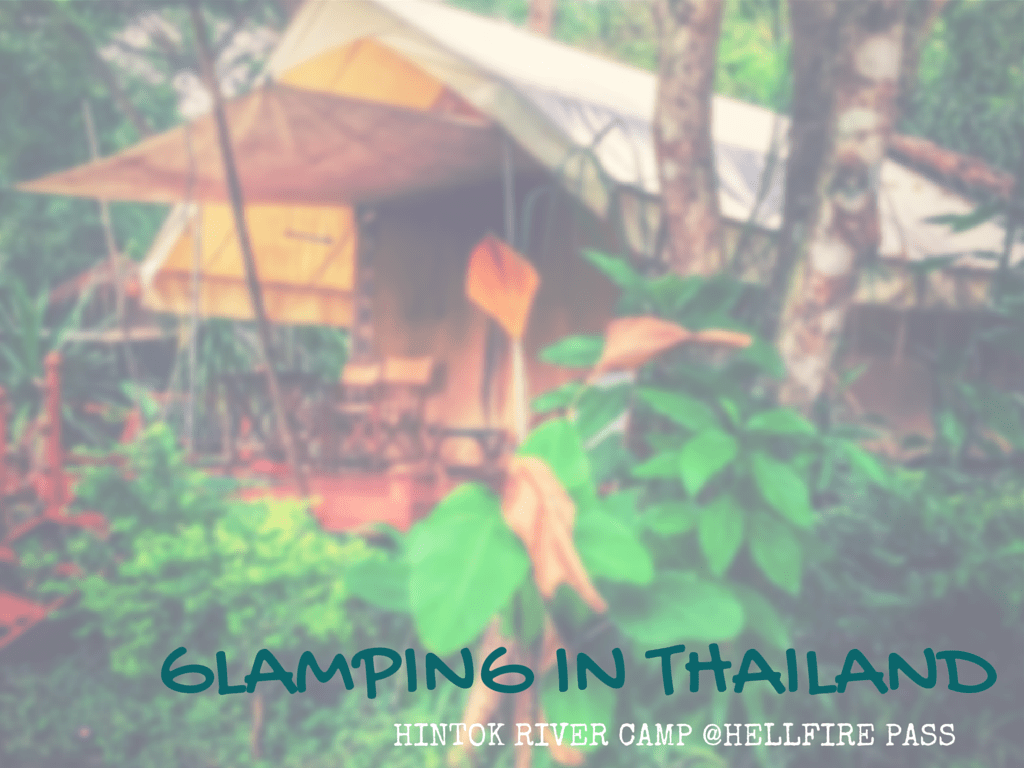 Hintok River Camp @ Hellfire Pass
When I started planning my Thailand trip over a year ago, I ran across the Hintok River Camp @ Hellfire Pass and knew instantly I wanted to stay here. It would be the perfect way to break into glamping (luxury camping) and I was definitely right.
The Room
The room is actually a tent – a very nice, luxurious, well-equipped tent. If it weren't for the fact you have to zip your way in and out, you would forget that you're in a tent. It comes equipped with it's own bathroom – toilet, sink, hot shower, air-conditioning (although I didn't need – I actually got really cold at night), a mini fridge, and plenty of storage and space. Each tent has a padlock to use so the zippers stay in place while you're away. I suppose you could lock it from the inside too, but I didn't feel the need to.
The Service
The service was great – very attentive and friendly. Most of the staff spoke good to perfect English which is obviously helpful if you don't know much Thai. Your stay includes breakfast that is a mixture between Thai and westernized food – noodles and pancakes at the same time! This is served buffet style. You can also add on dinner to your stay – which is served in the middle of the resort, by bonfire and under the stars. The food is mostly Thai, but westernized, style. This is also served buffet style.
Proximity & Environment
This is the tricky part but shouldn't be an issue if you're looking to get away from everything anyway. If you have your own vehicle or have rented one, you're actually fairly close to many things – Death Railway, Erawan Falls and so on. If not, then you'll have to do these things with the guided tours available through the resort. Hellfire Pass is within walking or biking distance (complimentary bikes available). Hintok River Camp is about 1 – 1.5 hours away from the center of Kanchanaburi, or 3 hours from Bangkok.
Favorite Take-Away
The natural spring pool would definitely have to be my favorite take-away. Relaxing in a pool with a gorgeous river view is always enticing!
Have you ever been in glamping? Would you like to visit Hintok River Camp @ Hellfire Pass?
Latest posts by Ashley Hubbard
(see all)