This post may contain affiliate links, meaning if you book or buy something through one of these links, I may earn a small commission (at no extra cost to you!). Please see my disclosure.
Growing up in Tennessee, the Southwest didn't ever really seem accessible to me. We spent our summers traveling down to Florida or up to New York. As I got older, I moved to the Pacific Northwest where I fell in love with the lush green landscapes and dare I say it – the drizzling rain. As many of us do, I dreamt of visiting other countries without realizing all the amazing spots in my own. Put all these things together and the Southwest just kept getting put on the back burner. The more I learned, the more pictures I saw, the more I knew I needed to experience this other-worldly destination that was, in a global sense, in my own backyard.
Psst: Looking for more information on sustainability? Check out a few of our other posts!
When my best friend moved to Arizona this past summer, I thought…okay, now I'll finally get there. Other travel plans came and went though along with normal life and it still hadn't happened. So, when the chance came randomly to travel to Phoenix and Mesa in December, I jumped.
Let me tell you – it was worth the wait. I fell in love with those desert vibes so hard. So much so that I kept saying I was going to move there and who knows – maybe that's still in my future. Only time will tell. Not only is the weather perfect (especially compared to my December weather in Tennessee) and the scenery mind-blowing, but I found so many things to do in Mesa Arizona and so many sustainable businesses and initiatives that not only excite me but allow visitors like myself, and you, to truly experience a destination.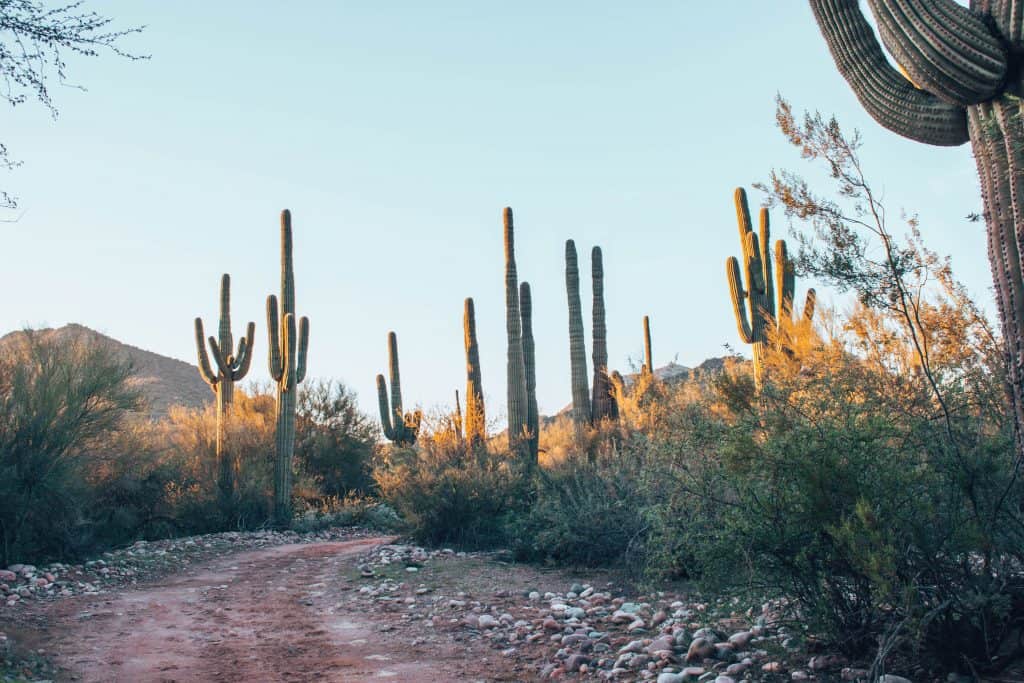 ---
Where is Mesa Arizona?
Mesa is located in Maricopa County, is the 3rd largest city in Arizona and is just 15 miles east of Phoenix. To the northwest, you'll find Scottsdale, southwest you'll find Tempe, south you'll find Tucson and east you'll find the Tonto National Forest. The ease and efficiency of getting around this area of Arizona is actually pretty amazing. To get from Mesa to Phoenix, one only needs to hop on the Valley Metro Light Rail which will take them from Mesa to Phoenix for only $2!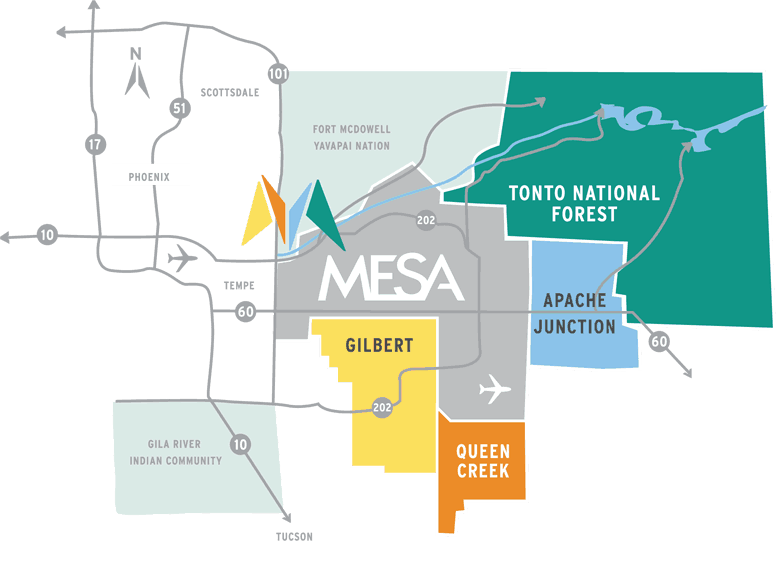 ---
Agritopia
It sounds like something out of a science-fiction novel, doesn't it? This place was so intriguing and I kind of want to live somewhere similar now. Agritopia is a modern village-style community and was described by the New York Times as the leading 'agri-hood' of the country. From a family homestead to a 400+ home community with a large garden (as well as small private garden plots), its own school, citrus groves, restaurants, wine-tasting room, Barnone (a collection of Arizona makers selling their goods or food), a coffee shop, and so much more. All of this is accessible to the residents of Agriptopia, of course, but is also accessible to the public aside from the gardens and school. There's even a plant-based restaurant in Agritopia.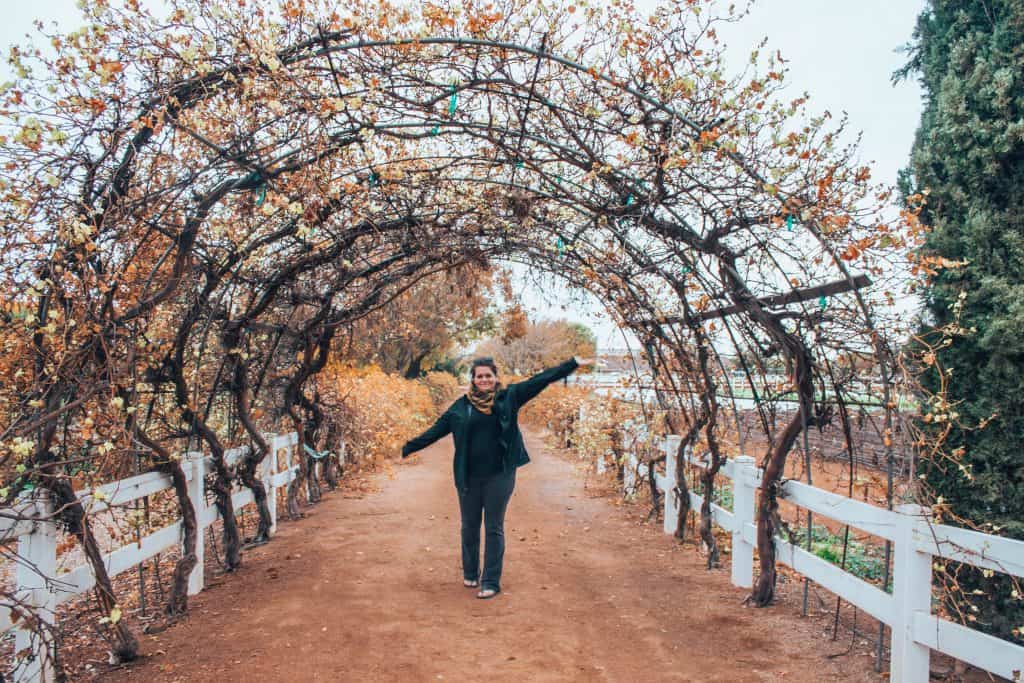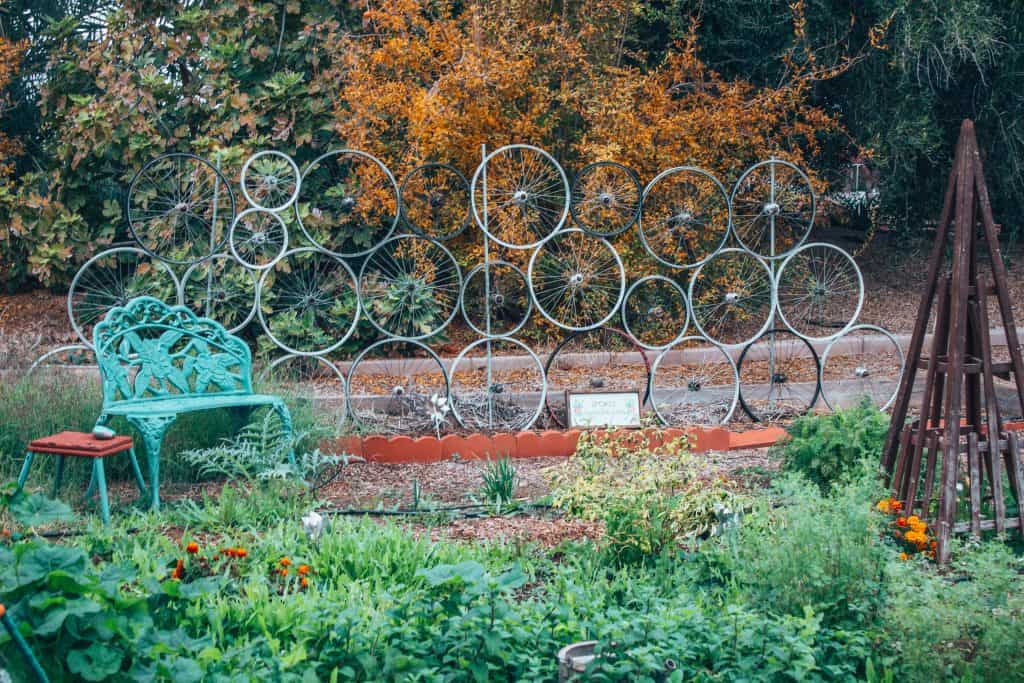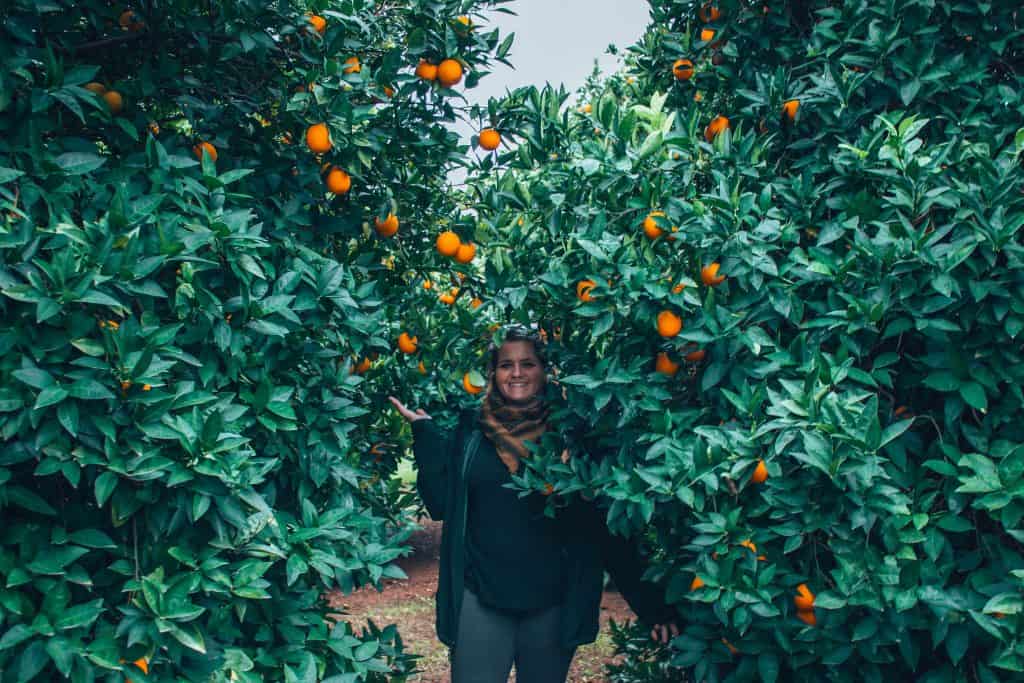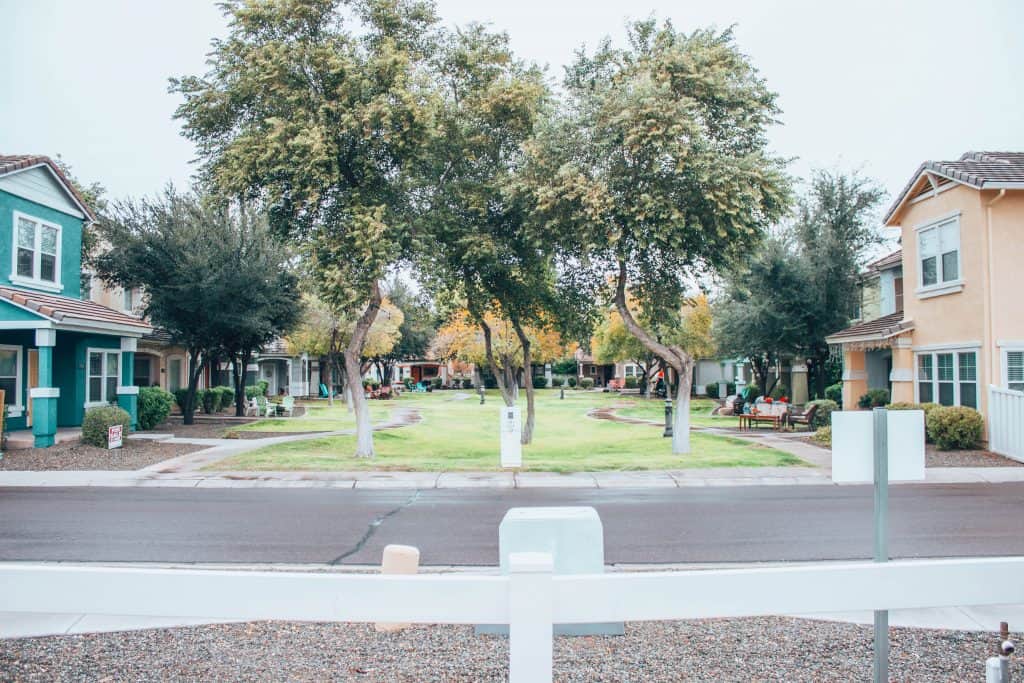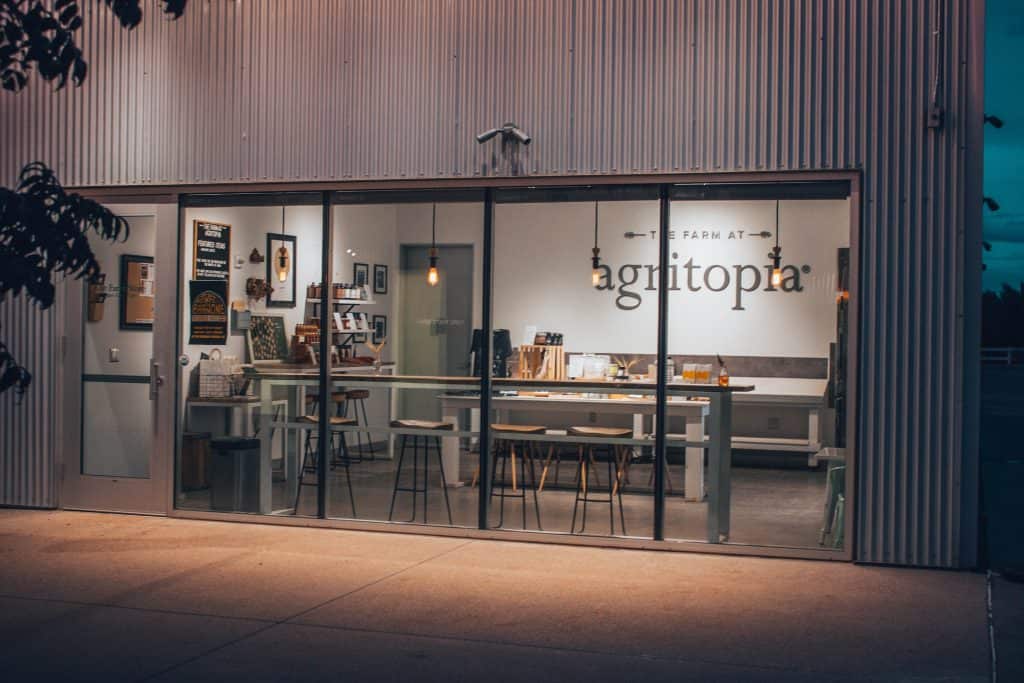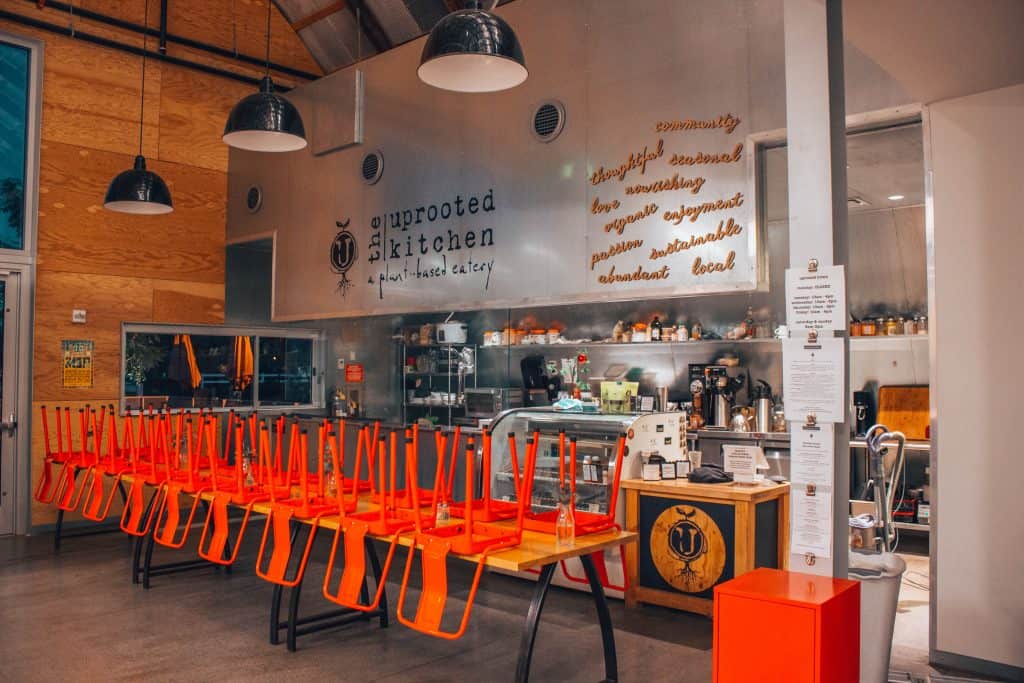 ESSENTIAL INFO
Address // 3000 E. Ray Road, Gilbert, Arizona
Website // www.agritopia.com
---
Keep Nature Wild
One of the best things to do when you're traveling to a destination is to not think "what can I get out of this place" but instead think "what can I do to leave this place better." Enter the idea of a clean-up hike.
I was so excited to join Keep Nature Wild for a desert clean-up hike while I was in town. If you've not heard of Keep Nature Wild – you need to. They're doing amazing things for the planet. They have a goal to remove 1 million pounds of trash by 2023 and they're well on their way. In order to help fund their mission, they sill nature-inspired products and each product sold removes one pound of trash from the wild. While they are Arizona based and that is where most of their hikes take place, they are inspiring clean-up hikes all over and you can even become a Wild Keeper.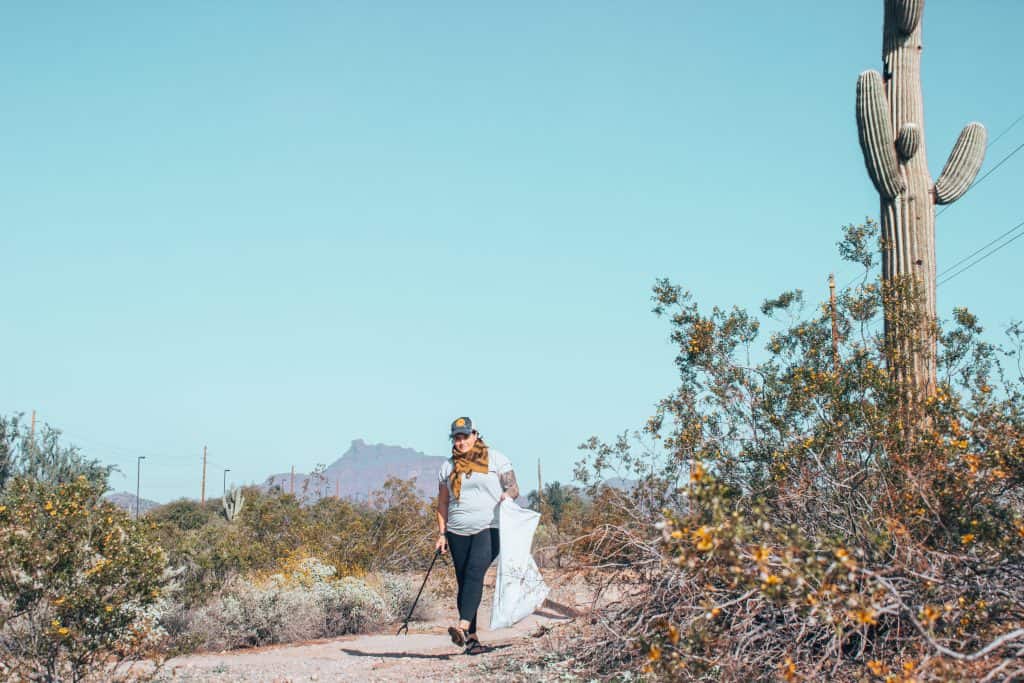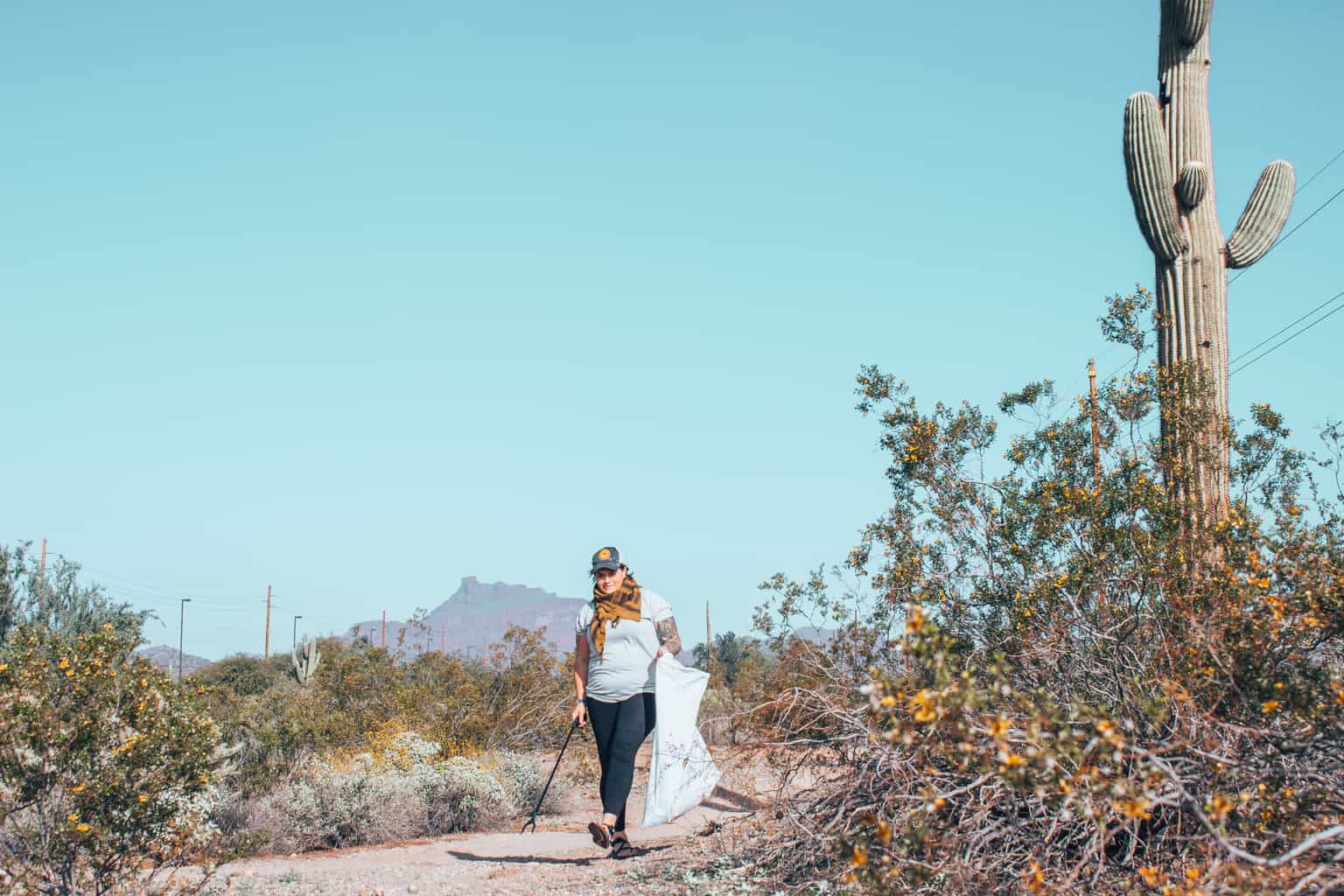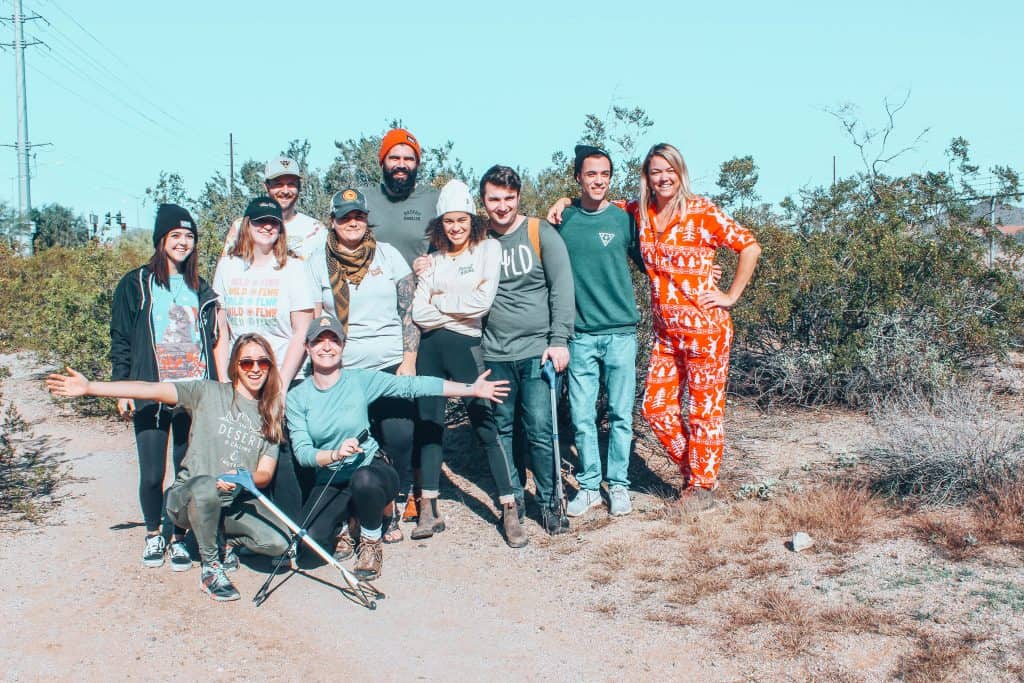 While you're in Downtown Mesa, you can even visit their brick and mortar store – Mezona Market.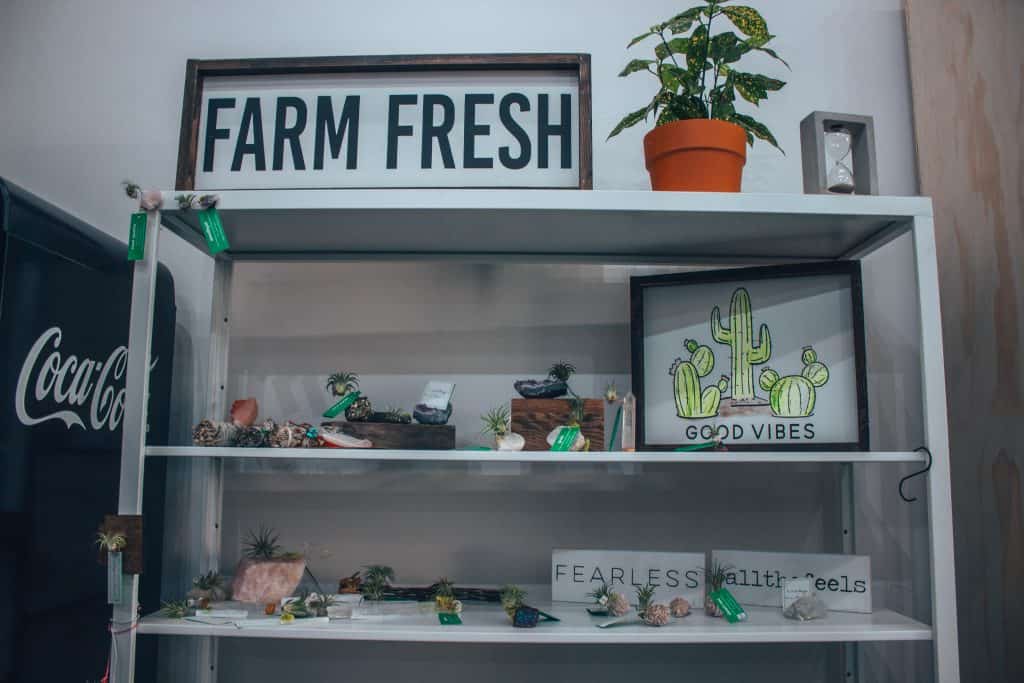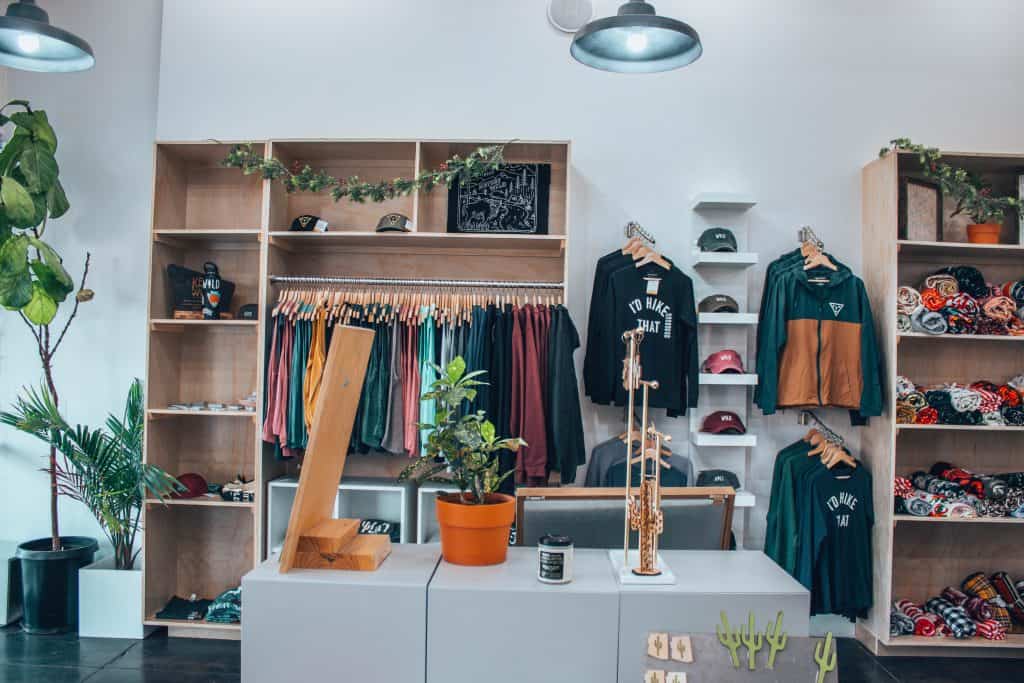 ESSENTIAL INFO
Website // www.keepnaturewild.com
---
Downtown Mesa
Downtown Mesa is walkable and full of local eateries, shops, beautiful murals, and thrift stores. In Mesa, you'll also find sought-after events including the Southwest Makers FesComic-Conic Con amongst others. This is a budding location for eclectic businesses and creative individuals
While downtown, consider eating at Worth Takeaway – a local favorite and one of "Yelp's Top 100 Places to Eat in the US for 2017." They have a vegan-friendly sandwich that is delicious!
I didn't get to explore as much of the vegan scene in Phoenix and Mesa that I would have liked but I can't wait to get back and try more!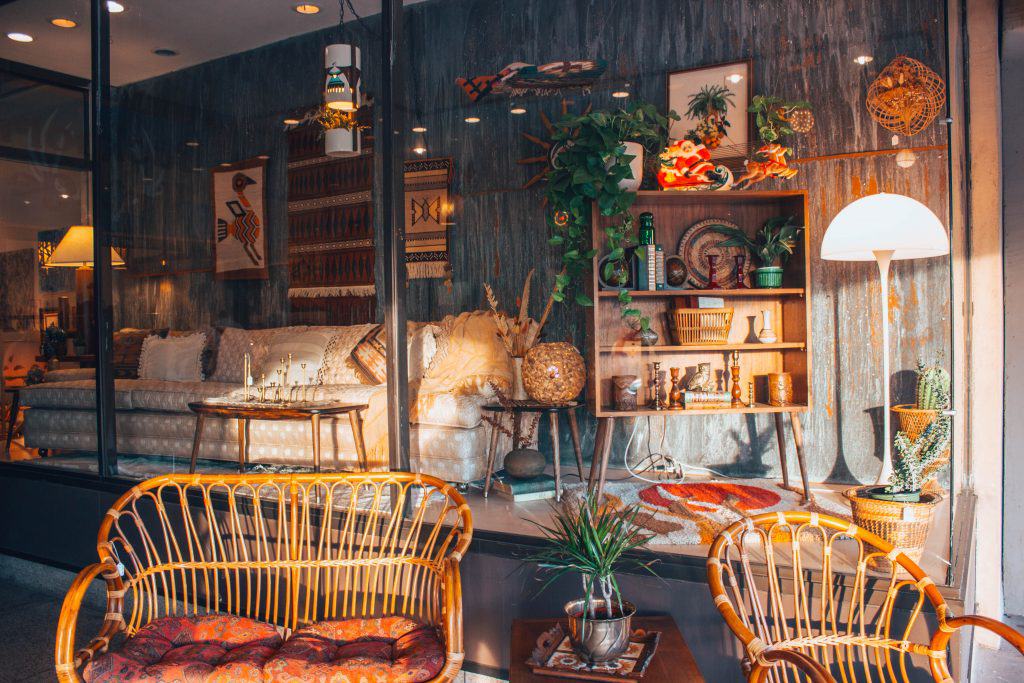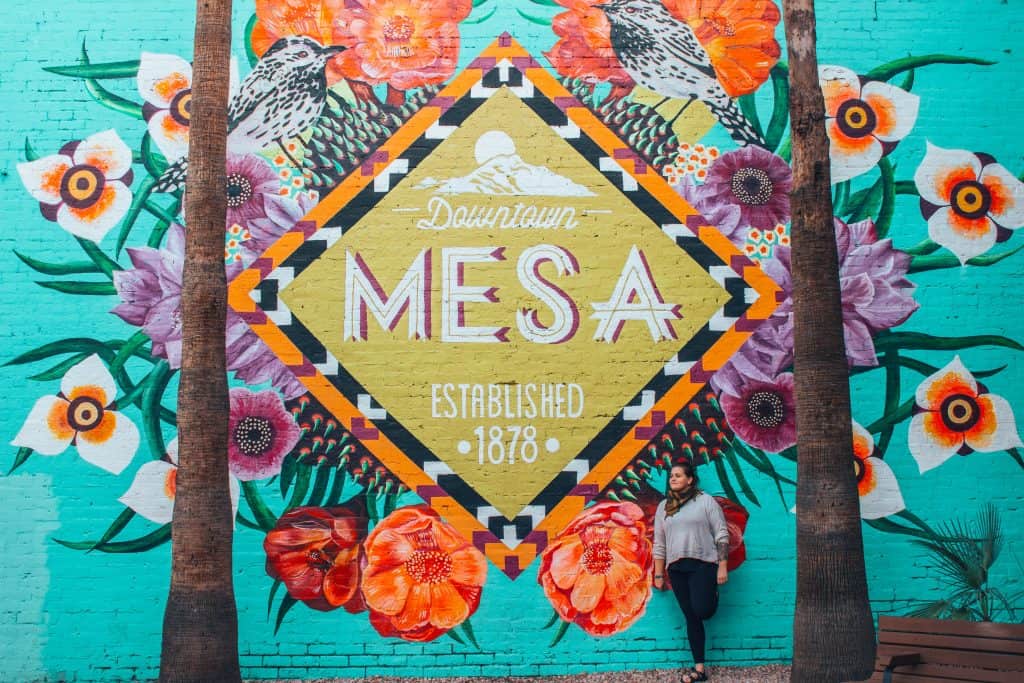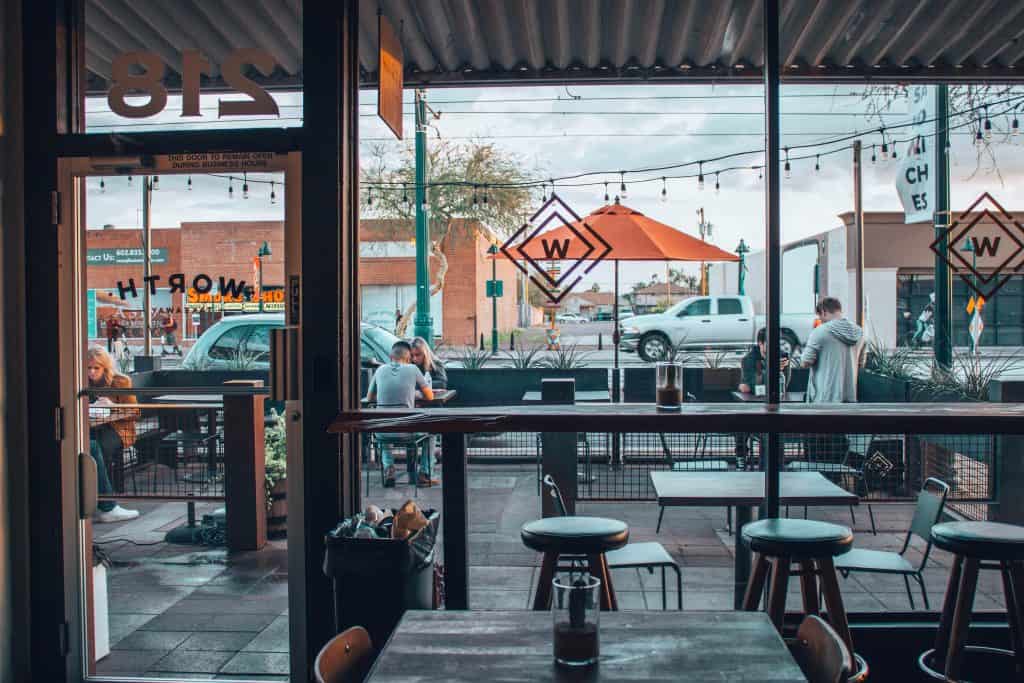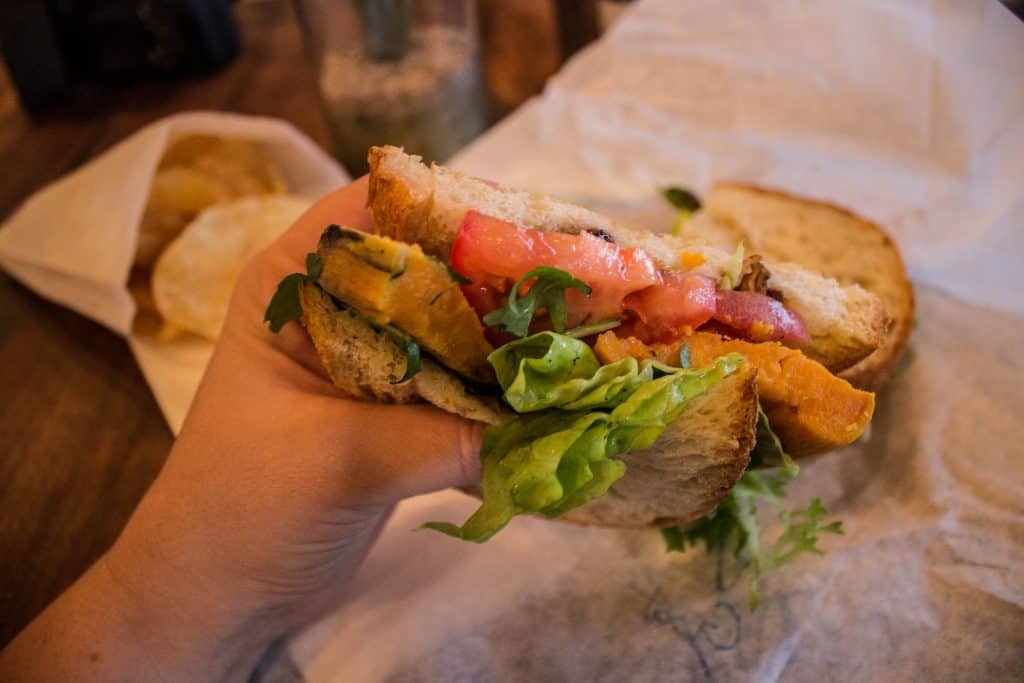 [click_to_tweet tweet="Want to @VisitMesa like a local? Here are some fantastic local businesses to support! #impacttravel #VisitMesa #CityLimitless" quote="Share the sustainability love!"]
---
Schnepf Farms
I think the better place to start when describing Schnepf Farms is what can you not do here? If you mentioned something and they then said "oh no, you can do that here," I honestly wouldn't be surprised at all. Schnepf Farm is a fourth-generation family owned and ran farm that is dedicated to educating the public while preserving the legacy of family farming. A few activities on the farm include: picking your own vegetables and herbs from their u-pick organic garden, picking your own peaches in their notoriously long peach season, pick up some preserves and canned goods in the farm store, go glamping at 'The Cozy Peach' their newly renovated airstreams with full hookups, or attend one of their many, many events throughout the year.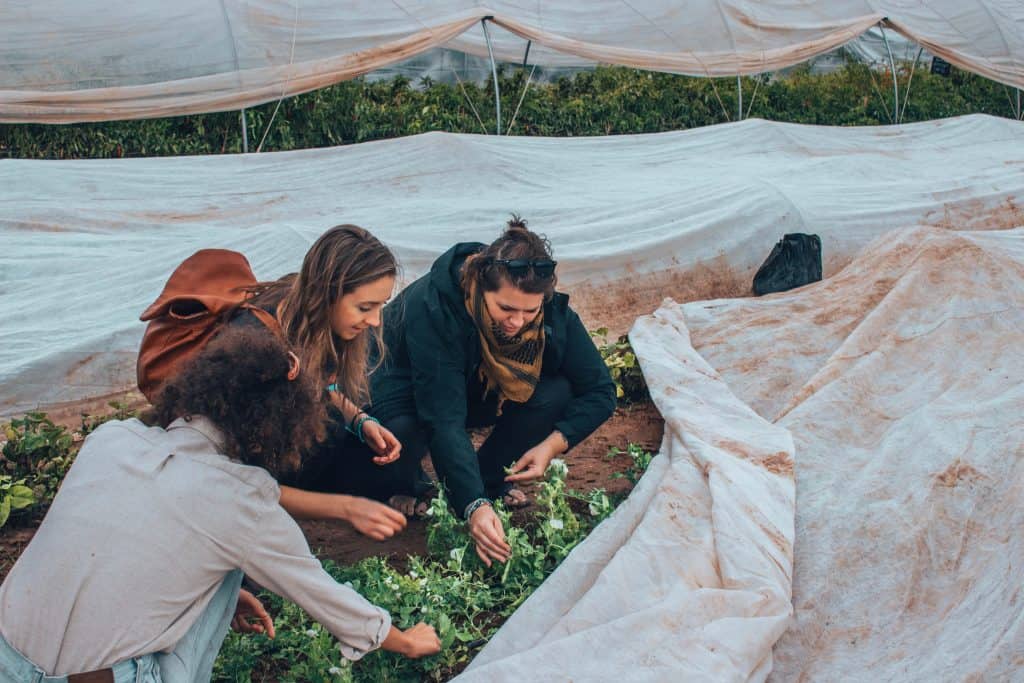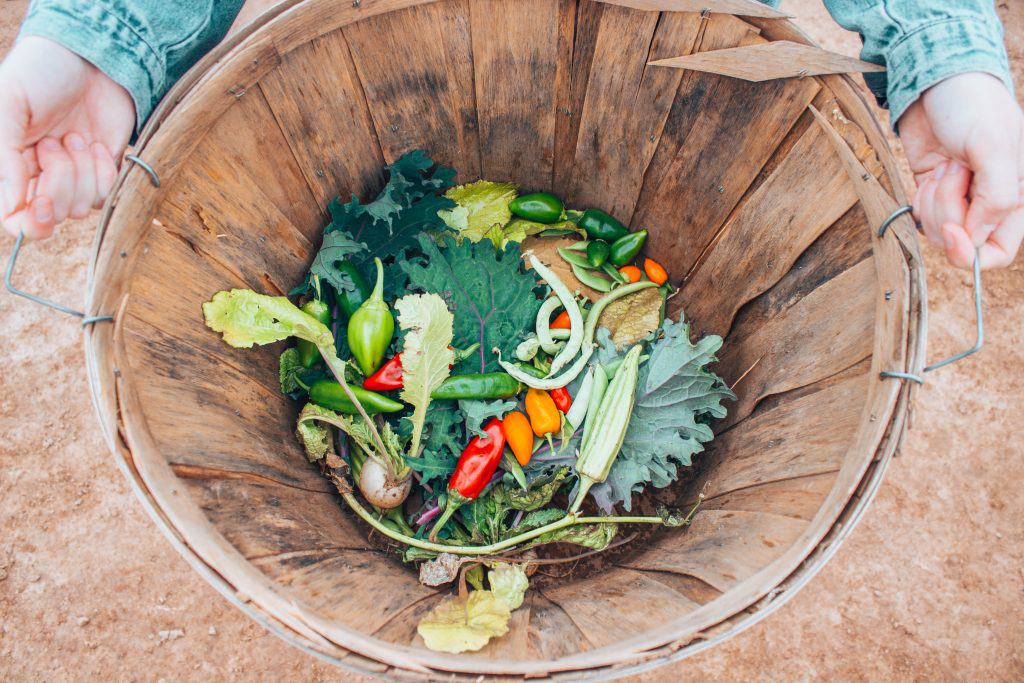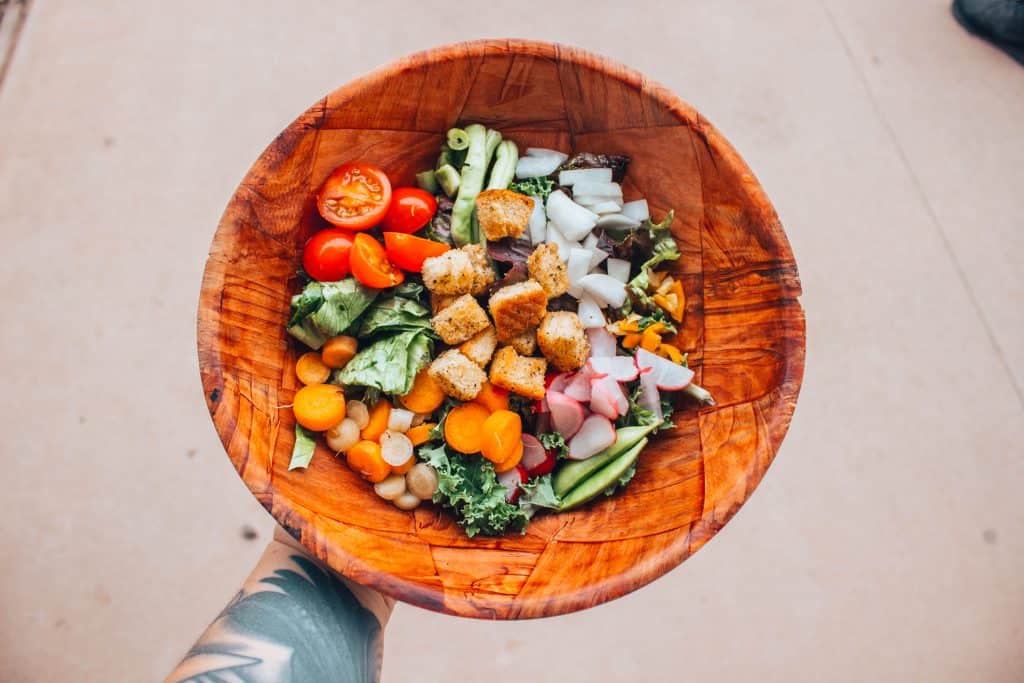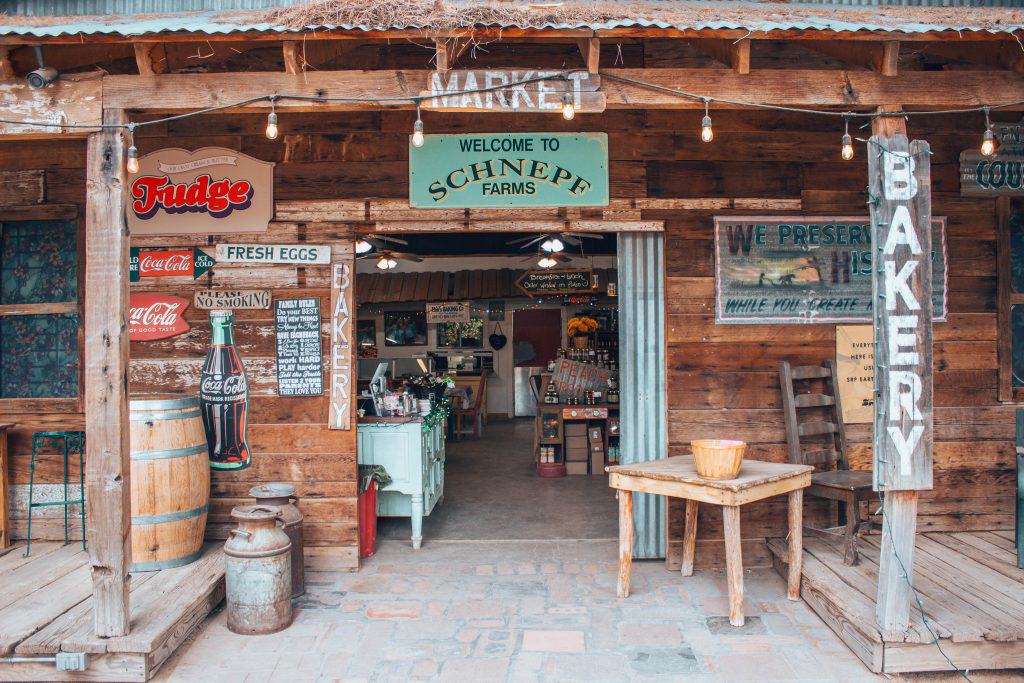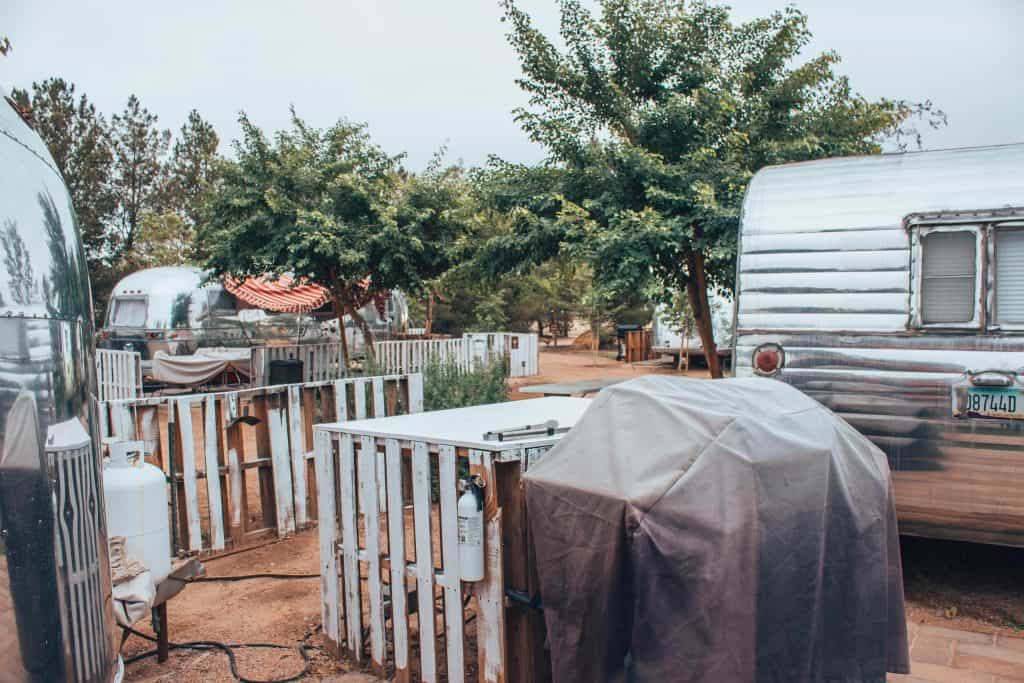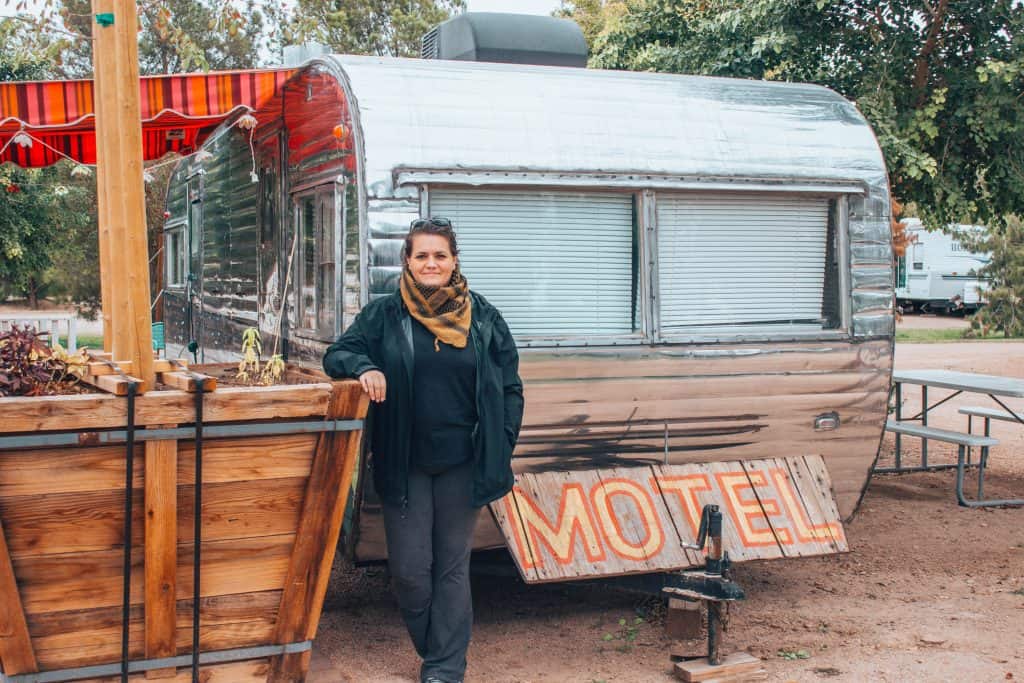 ESSENTIAL INFO
Address // 24610 South Rittenhouse Road, Queen Creek, Arizona
Website // www.schnepffarms.com
---
Queen Creek Olive Mill
Just across the street from Schnepf Farms, you'll find another family-owned and ran farming business but with a completely different vibe. This is Arizona's only working olive mill and farm where the olives are both grown and pressed to produce extra virgin olive oil. This family of seven living in Detroit at the time, visited Arizona and noticed the abundance of olive trees growing in the area. With a crazy notion of moving to Arizona and growing olive trees, they packed up their lives and made the move within the year. Using solar power, they're growing olive trees and producing olive oil organically and beautifully. You can visit the mill, eat at their restaurant, get a coffee, or shop in their store where you'll find every flavor of olive oil imaginable as well as other local goods.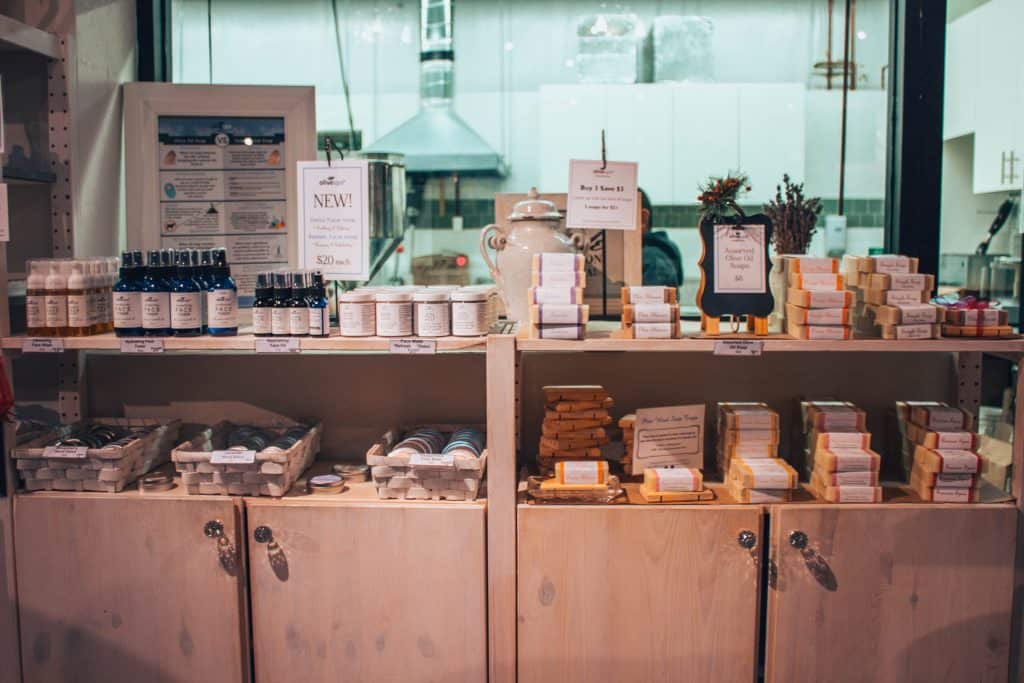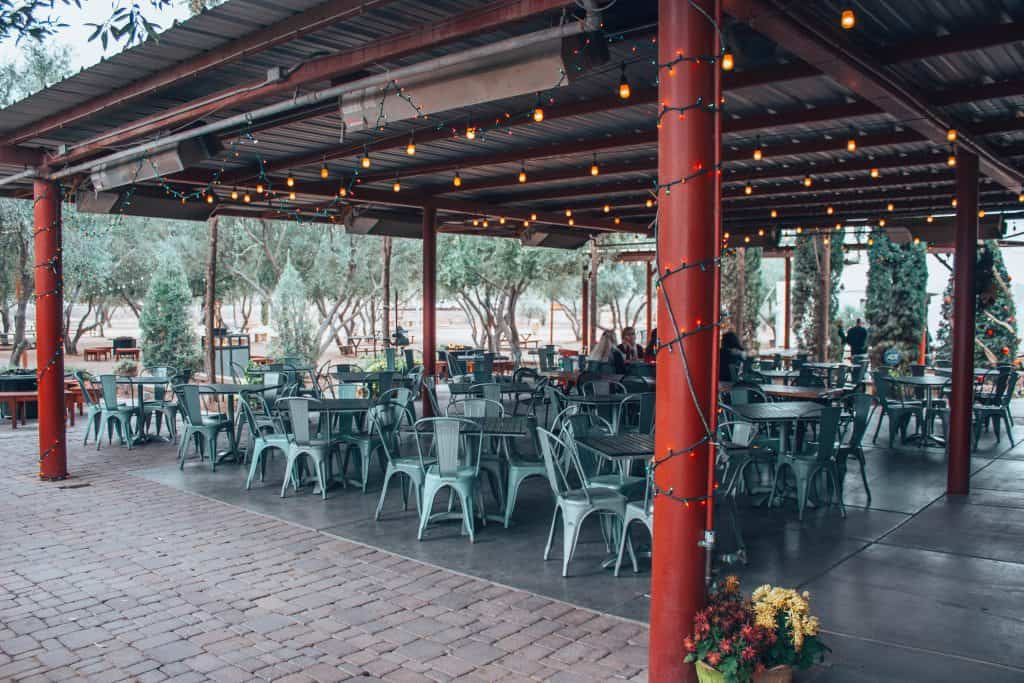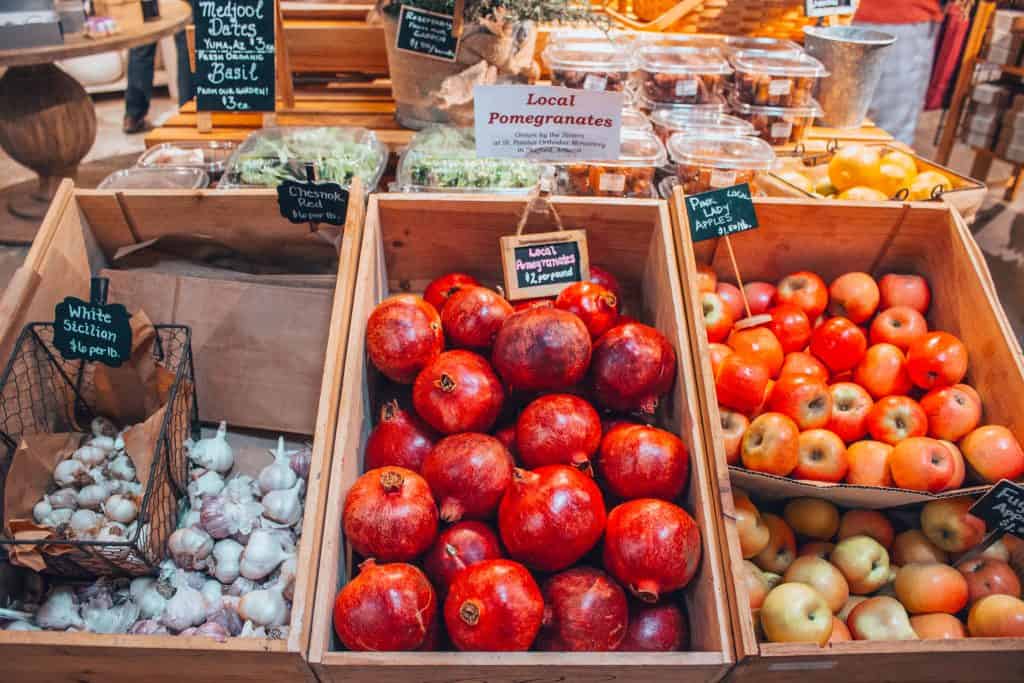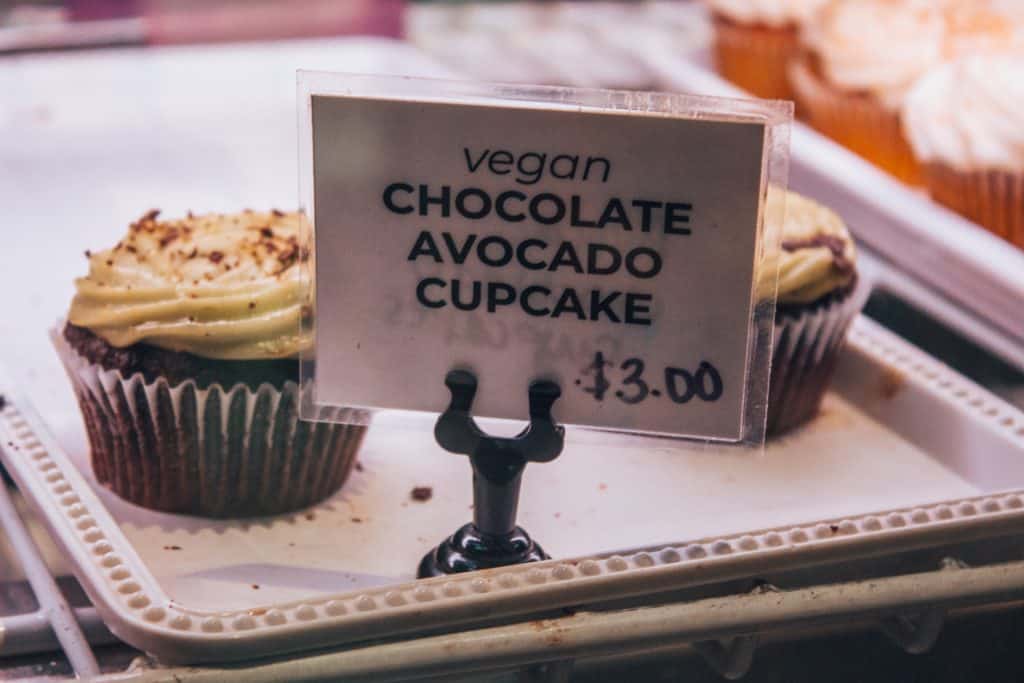 ESSENTIAL INFO
Address // 25062 S Meridian Road, Queen Creek, Arizona
Website // www.queencreekolivemill.com
---
True Garden
True Garden is a vertical aeroponic food farm. The facility is solar powered and the first of its kind created with a vision to reduce the region's agricultural water consumption while still making local produce available year-round. True Garden uses 95% less water, 90% less space and no harmful chemicals, pesticides or herbicides. They sell both commercial and residential towers. They also host events such as tower gardening classes and have a CSA for locals.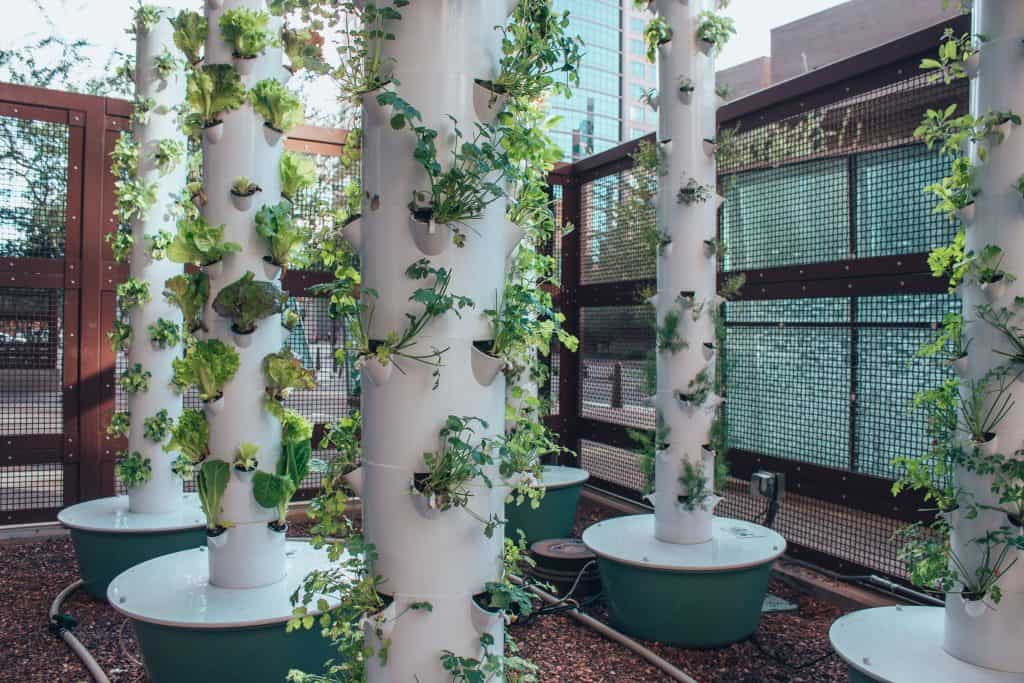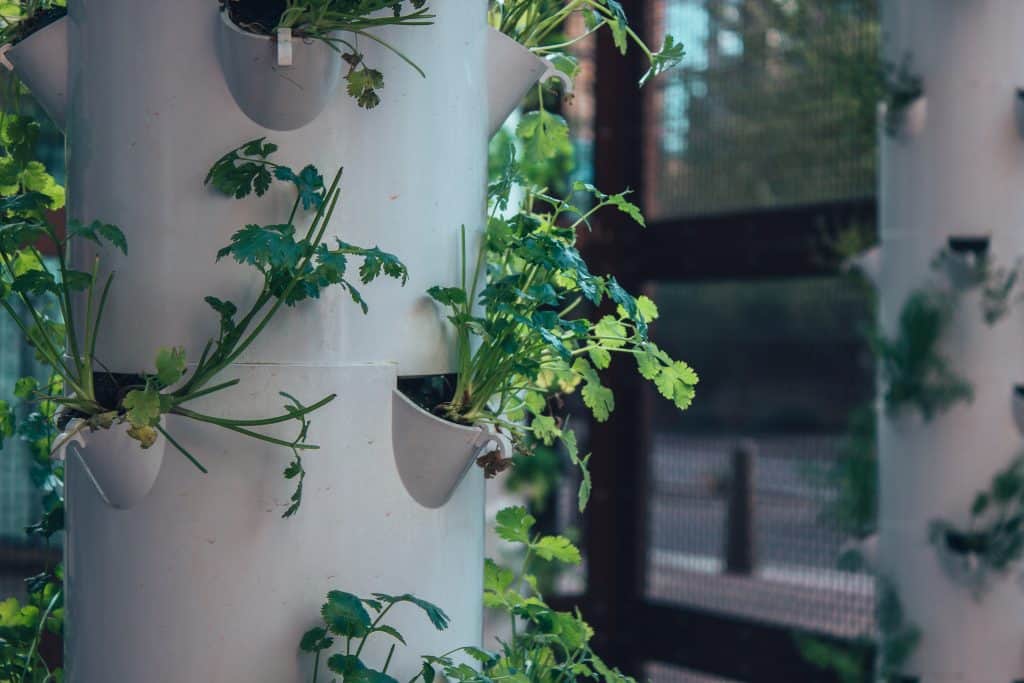 ESSENTIAL INFO
Website // www.truegarden.com
---
Mesa Urban Garden
Mesa Urban Garden is a community organization in the heart of downtown Mesa. They aim to create a community gathering space, inspire sustainable living through gardening opportunities, and to strengthen families and enhance and beautify their community.
ESSENTIAL INFO
Address // 212 East 1st Avenue, Mesa
Website // www.mesaurbangarden.org
---
Saguaro Lake Guest Ranch
Saguaro Lake Guest Ranch sits on the Salt River beside Saguaro Lake, of course, inside the Tonto National Forest. At the ranch, you can escape the rest of the world (while still being in Mesa city limits) and truly experience that southwest atmosphere. The ranch itself sits at the base of the Goldfield Mountains of which you can experience by hiking, kayaking or tubing.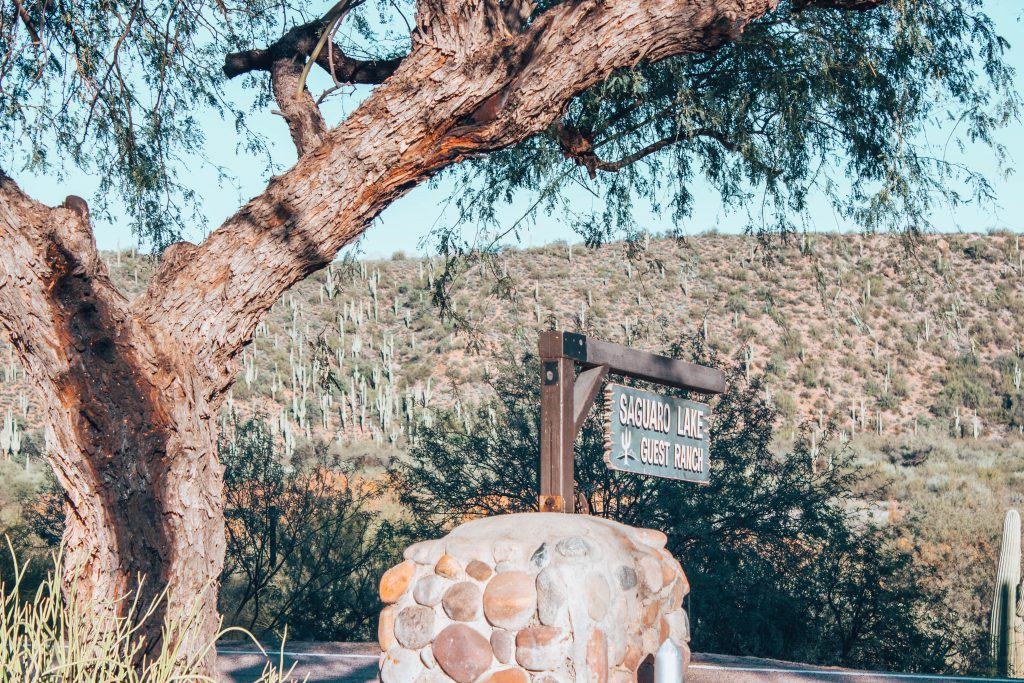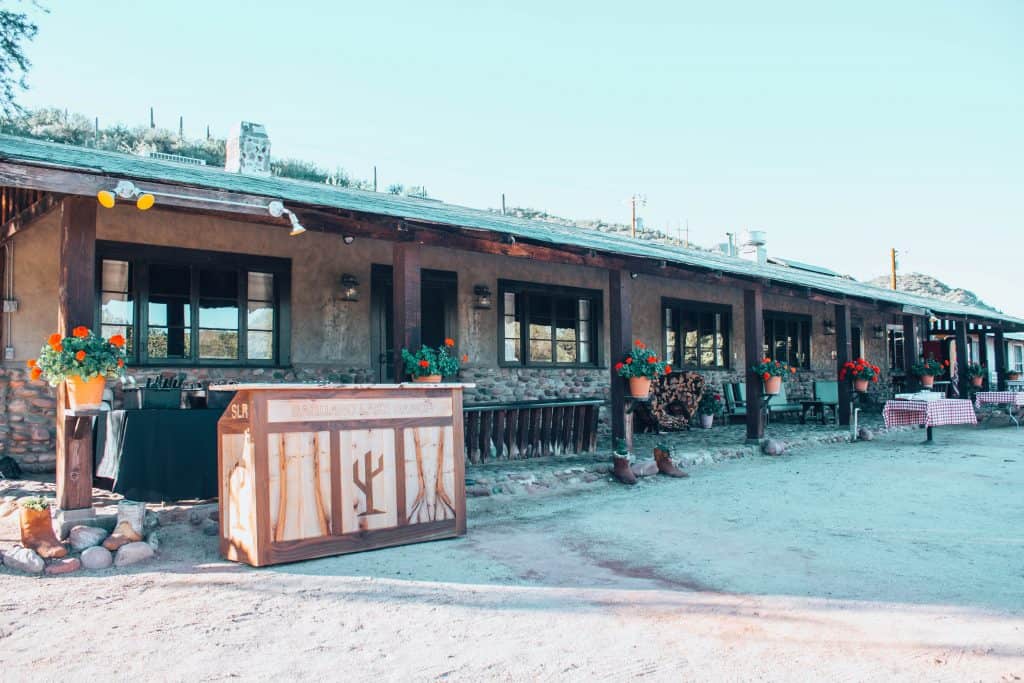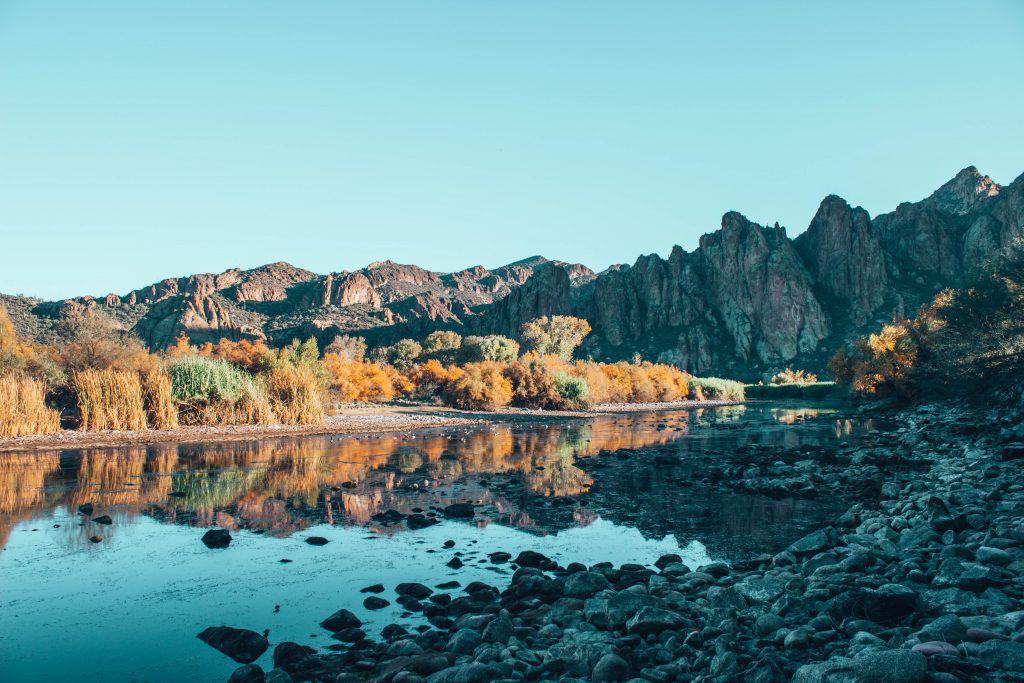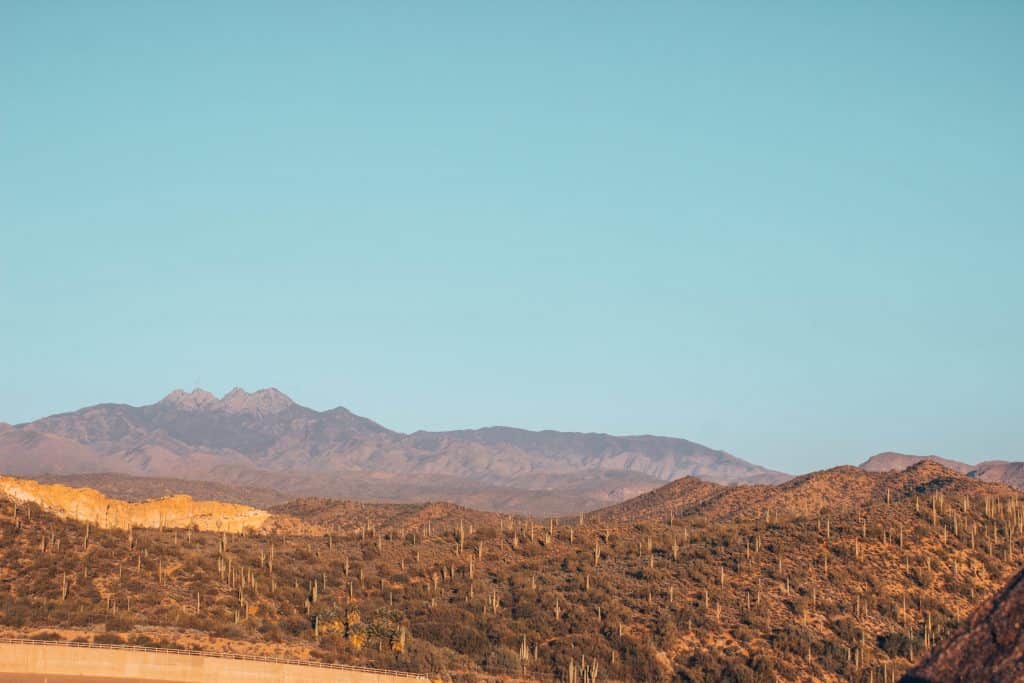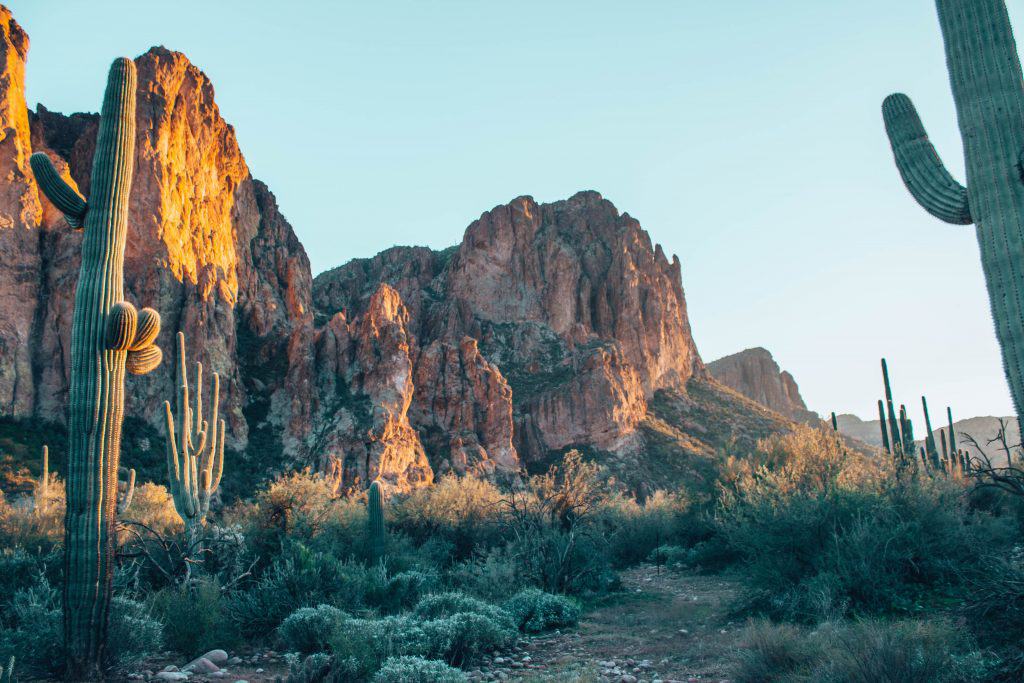 ESSENTIAL INFO
Address // 13020 Bush Highway, Mesa
Website // www.saguarolakeranch.com
---
What to Pack for Arizona
Pacsafe Cross Body Purse (I love my Pacsafe products and would highly recommend using them when traveling)
Comfortable Shoes (my feet tend to hurt pretty easily and these are the best shoes I've had in a while for walking a lot)
Have you ever been to Mesa?? Tell me about it in the comments below ↓↓↓
Looking for accommodation in Mesa? Check out reviews here and book here.
Want my suggestion? The Cozy Peach
What else have I written? You can find more Arizona posts here.
Like this post? Have Questions?Hit me up on Facebook | Twitter | Instagram | Pinterest | Email
↓↓↓ PIN FOR LATER ↓↓↓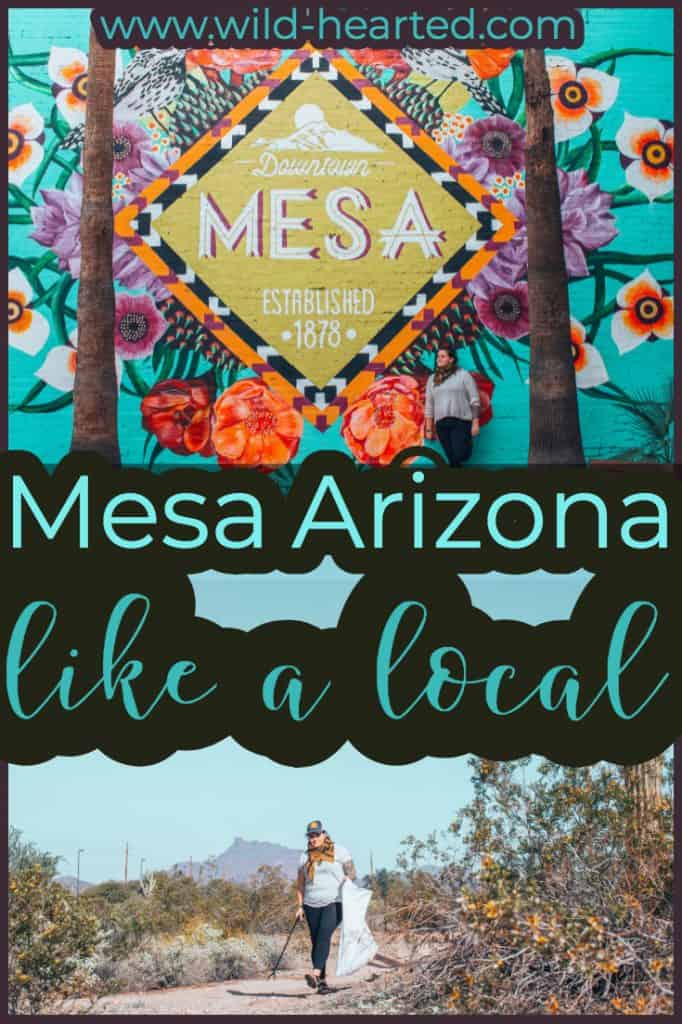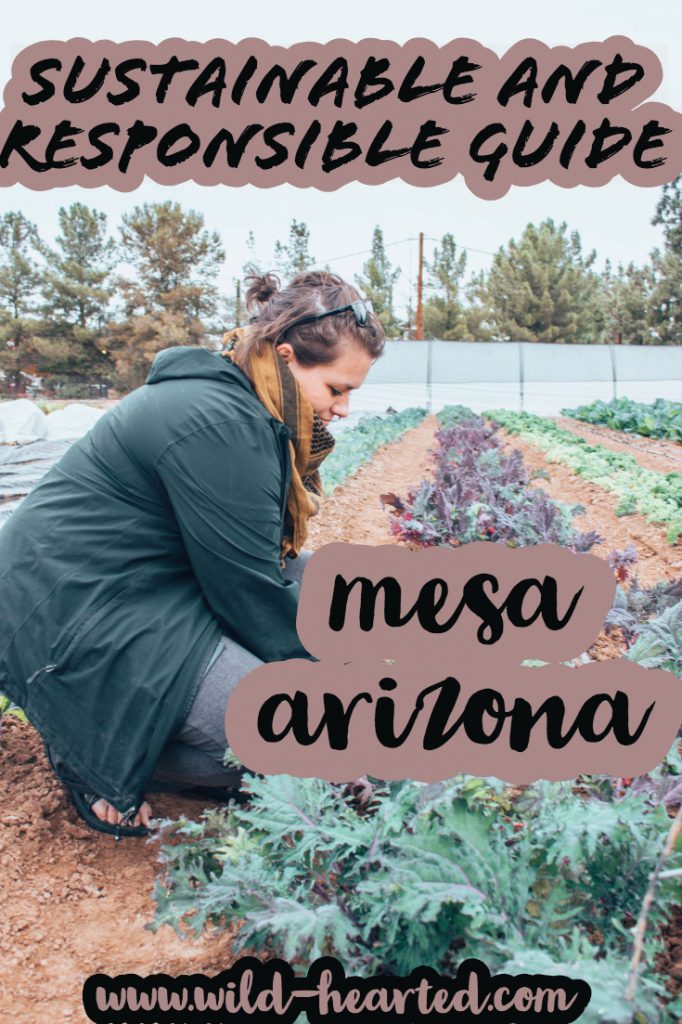 Latest posts by Ashley Hubbard
(see all)