This post may contain affiliate links, meaning if you book or buy something through one of these links, I may earn a small commission (at no extra cost to you!). Please see my disclosure.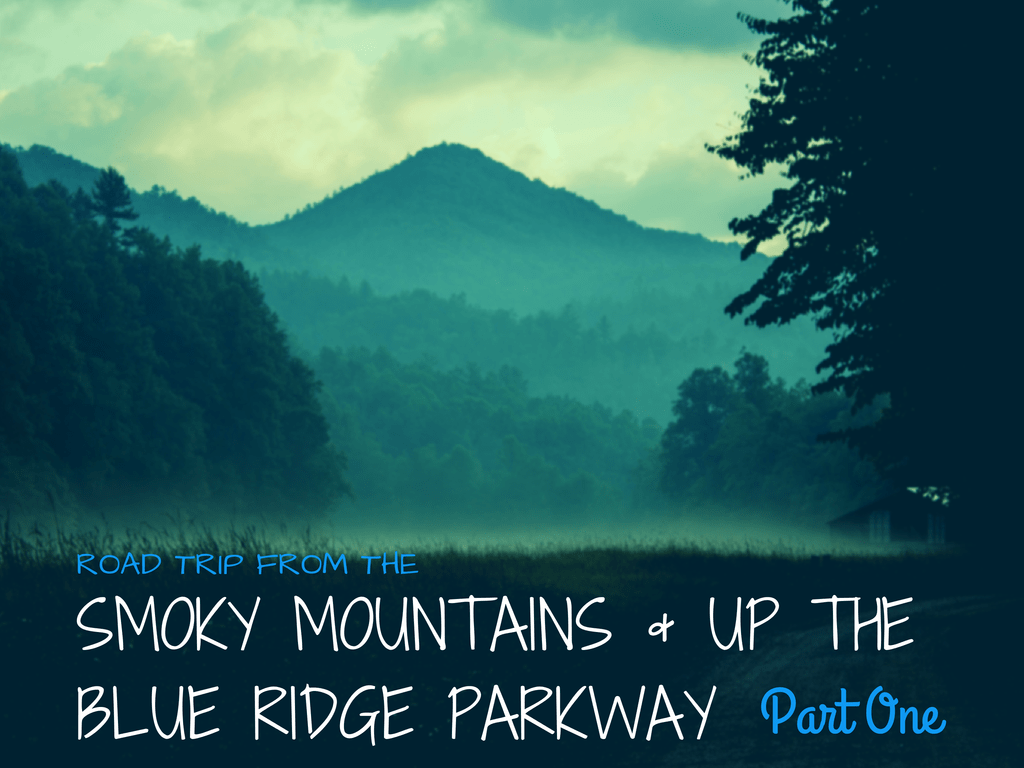 Being from Nashville, I've been over to the Smoky Mountains several times in my life and have been to the Biltmore Estate in Asheville a couple of times, but Kaleb and I decided several weeks ago that we wanted to set out a road trip starting in the Smoky Mountains and making our way up the Blue Ridge Parkway. This road trip would deliver the most epic 6-day itinerary for your Eastern Tennessee and Western North Carolina adventures.
---
Day One in Gatlinburg
Gatlinburg is located within the Great Smoky Mountains National Park, one of the most visited vacation spots and the most visited national park in America, respectively. Families easily spend a week or more in Gatlinburg enjoying the restaurants, attractions, outdoors and much more, but we only had about 48 hours and we did just about as much as we could in those two days. On the first day, we woke up at about 230AM and made the four-hour journey east.
Roaring Fork Motor Trail
When we first got into Gatlinburg around 830-9am, it was like a ghost town. Maybe not that quiet, but I've never seen the streets so calm. We had decided beforehand, that we wanted to check out the Roaring Fork Motor Trail which is a 6 mile one-way loop in the Smoky Mountains literally right off the main strip in the town. While you can choose to drive through the motor section, there are several places to park and do some hiking.
We decided on stopping and doing the hike to Rainbow Falls with very little preparation I might add. You would think 2.6 (5.4 roundtrip) miles doesn't sound like a whole lot. Try doing it uphill, in high humidity and with bad knees.
This hike will take approximately 4 hours roundtrip depending on breaks and how long you stop to enjoy the views.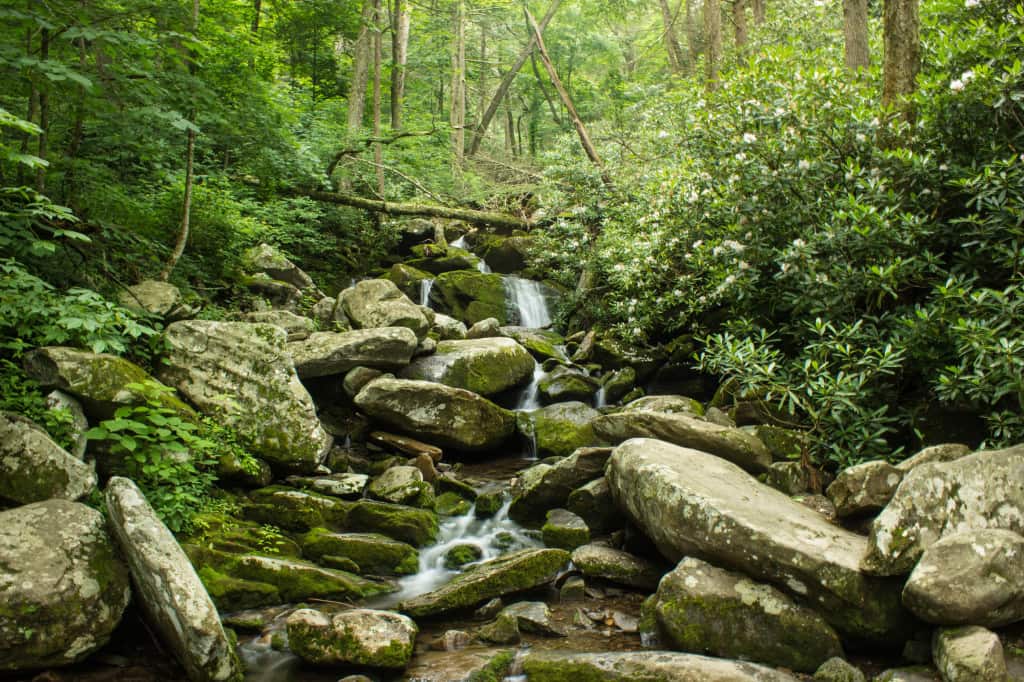 Crawdaddy's
After doing our unplanned extensive hike, we were absolutely famished so we decided to try out Crawdaddy's in the heart of Gatlinburg. Now, I've lived in Seattle and also fairly close to the coast off of South Carolina so I've had amazing seafood. Obviously, the closer you get to the source, the better it is so being landlocked, I'm used to having decent but not spectacular seafood.
Crawdaddy's surprised me. It wasn't the best seafood I've ever had, but it was really good. We got the Lobster & Shrimp Dip as an appetizer – anything with lobster and cheese, I'm sold. Then we got the Low Country Boil to split – crawfish, snow crab, shrimp, corn on the cob, mussels, new potatoes and sausage. So good. It works out well splitting it because I don't care for sausage too much and he is the same way with crab. Then I, of course, also got a side of the lobster mac n cheese. Cause, ya know…lobster and cheese.
Ripley's Aquarium
After checking into our hotel after lunch, we walked down the strip to the aquarium. Gatlinburg prides itself on being a walking town and it definitely is easy to get around everywhere by foot. If that isn't your thing, there is a great trolley system though.
Ripley's Aquarium of the Smokies has been rated #1 aquarium by TripAdvisor and is definitely worth checking out on your next trip to Gatlinburg. There are tons of exploring to be done here including a Penguin Playhouse, the Touch a Ray Bay and the Shark Lagoon.
CHECK OUT THE OTHER RIPLEY'S ATTRACTIONS HERE
The aquarium is at the north end of the strip and out hotel is at the south end, so on our walk back we decided to hit up all of the moonshine distilleries and wineries along the way for some tastings.
Warning: don't do this if you're a lightweight. Just the tastings at all of these places will do you in.
Our favorite distillery by far is Sugarland and we definitely left with not just one jar, but three. Sweat Tea, Lemonade and the Jim Tom's Signature one from Sugarland and the Charred from Ole Smoky Moonshine. The Charred is a whopping 105 proof – trust me, you don't need much of it.
Tip: Mix the Sweet Tea and the Lemonade together and it's the best version of an Arnold Palmer you'll ever have.
MAKE SURE TO CHECK OUT ALL THE BREWERIES, DISTILLERIES, and WINERIES
Smoky Mountain Brewery
After drinking our way through the town, we wanted to grab some food and stopped off at the Smoky Mountain Brewery across from our hotel. We didn't really know what to expect since we chose it for the proximity factor and we were pleasantly surprised. Kaleb said the Thunder Road Burger was one of the best burgers he has ever had.
---
Day Two in Gatlinburg
Cades Cove
If part of the reason you want to visit the Smoky Mountains is the wildlife (and, let's hope it is) make sure to head to Cades Cove which is only about 20-25 minutes away from the heart of Gatlinburg. You're going to have to get up before the sun to get to the gates before sunrise, but I promise that the Cades Cove wildlife is worth it.
Cades Cove is an 11 mile one-way loop with places to pull off to the side or park to walk the trails. We saw loads of deer, turkeys that we practically walked right up to and were the biggest ones I've ever seen and a total of 5 black bears – one lonesome older cub and 3 smaller cubs with mama bear. It was amazing to see them in the wild, just be careful.
Aside from the wildlife, there are also some fantastic historic buildings in Cades Cove.
Ober Gatlinburg
After spending the first half of the day in Cades Cove, head back into town and make sure to check out Ober Gatlinburg. What is awesome about Ober Gatlinburg is the Aerial Tram ride you take in order to get up there. It takes around ten minutes and offers amazing views of the city and the mountains.
Ober Gatlinburg has it all. Make sure to take a ride on the Sky Lift, weave back down the mountain on the Apline Slide, ice skate on the indoor rink, get lost in the Amaze'n Maze, and much more.
My favorite part though is the Wildlife Encounter. If you didn't run across any wildlife in Cades Cove, here is the place to see black bears (they have a total of five).
Where to Stay in Gatlinburg
After a long day of hiking, walking around town, hitting up all the attractions or drinking a bunch of moonshine, nothing is more inviting than a jetted tub, a private balcony overlooking the river, a fireplace and a nice big comfy bed. You can easily park your car here the whole time and just walk everywhere or use the trolley and make sure to enjoy the continental breakfast. Definitely, the perfect place to stay to make you feel like you're in the mountains while still being in reach of practically everything.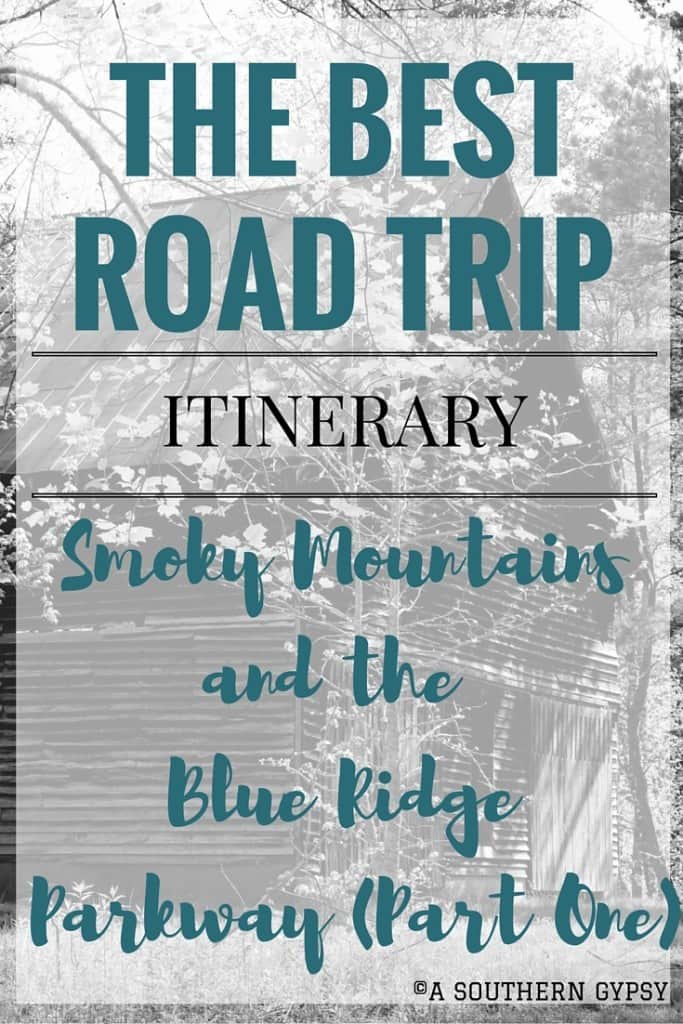 Thank you to www.gatlinburg.com and Bearskin Lodge on the River for partnering with A Southern Gypsy to make this destination story possible.
Latest posts by Ashley Hubbard
(see all)