This post may contain affiliate links, meaning if you book or buy something through one of these links, I may earn a small commission (at no extra cost to you!). Please see my disclosure.
Road Trip from the Smoky Mountains up the Blue Ridge Parkway | Part Three
Being from Nashville, I've been over to the Smoky Mountains several times in my life and have been to the Biltmore Estate in Asheville a couple of times, but Kaleb and I decided several weeks ago that we wanted to set out a road trip starting in the Smoky Mountains and making our way up the Blue Ridge Parkway. This road trip would deliver the most epic 6-day itinerary for your Eastern Tennessee and Western North Carolina adventures.
Part One will find you in Gatlinburg, Part Two in Asheville, North Carolina and Part Three is moving on to Linville Falls, NC.
---
DAY ONE IN LINVILLE FALLS
When you get on the Blue Ridge Parkway in Asheville you'll be at mile marker 384. Along the way make sure to hit up a few places. Unfortunately, the fog was extremely thick and we couldn't see 10 feet in front of us this day.
What this post really should have been called is "What we wish we would have seen for two days in Linville Falls." Regardless, you have to make due with the time you have – Mother Nature isn't always on your side.
Mount Mitchell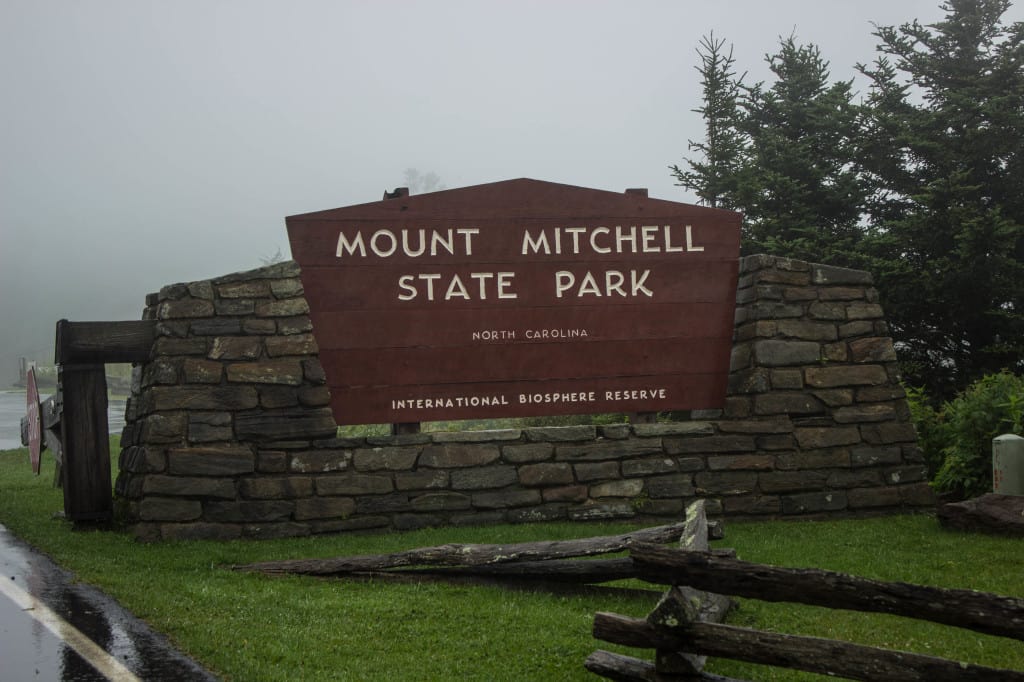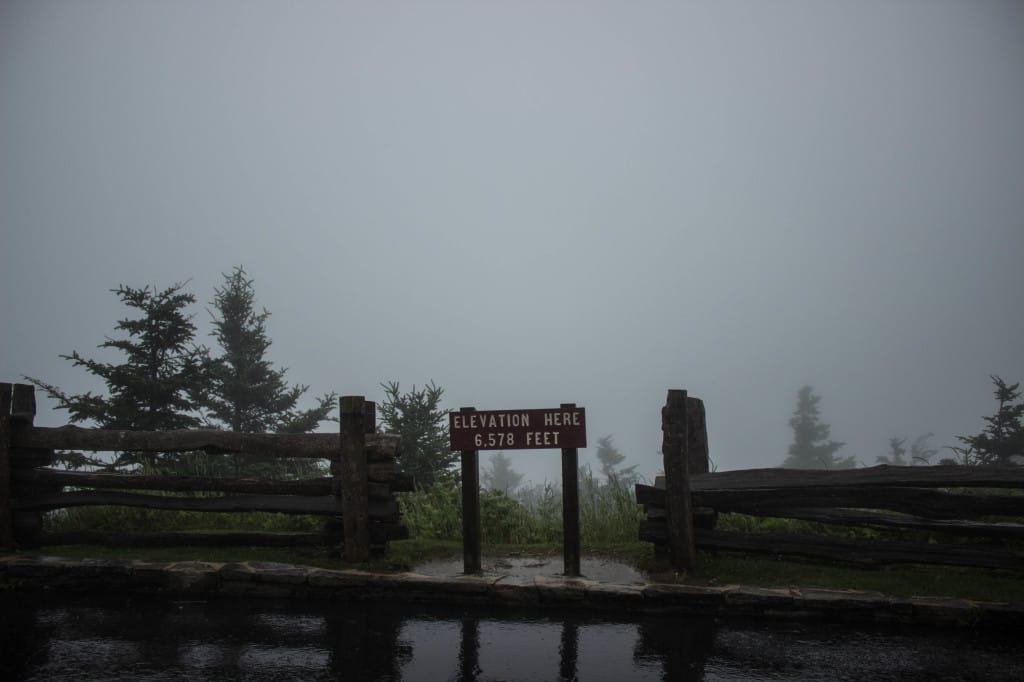 Here's what we should have seen…
Crabtree Falls
Little Switzerland
Make sure to get off at milepost 334. We did randomly because we were sick of the fog and we ran straight into this tiny town called Little Switzerland. I found one of my new favorite bookstores ever here and it was one of the cutest, tiniest Bavarian style towns.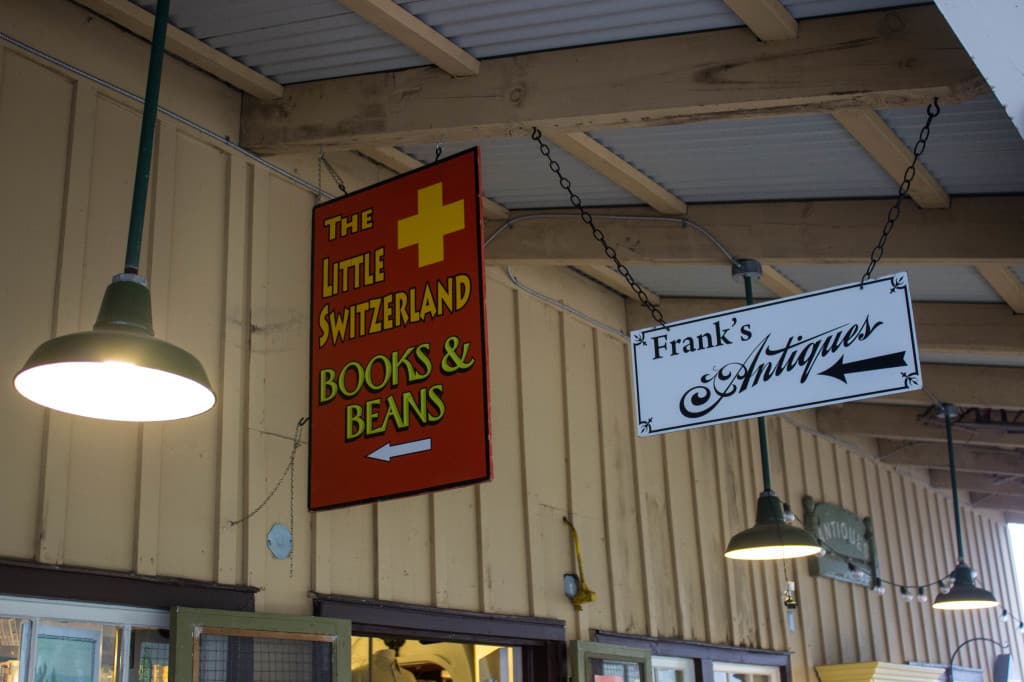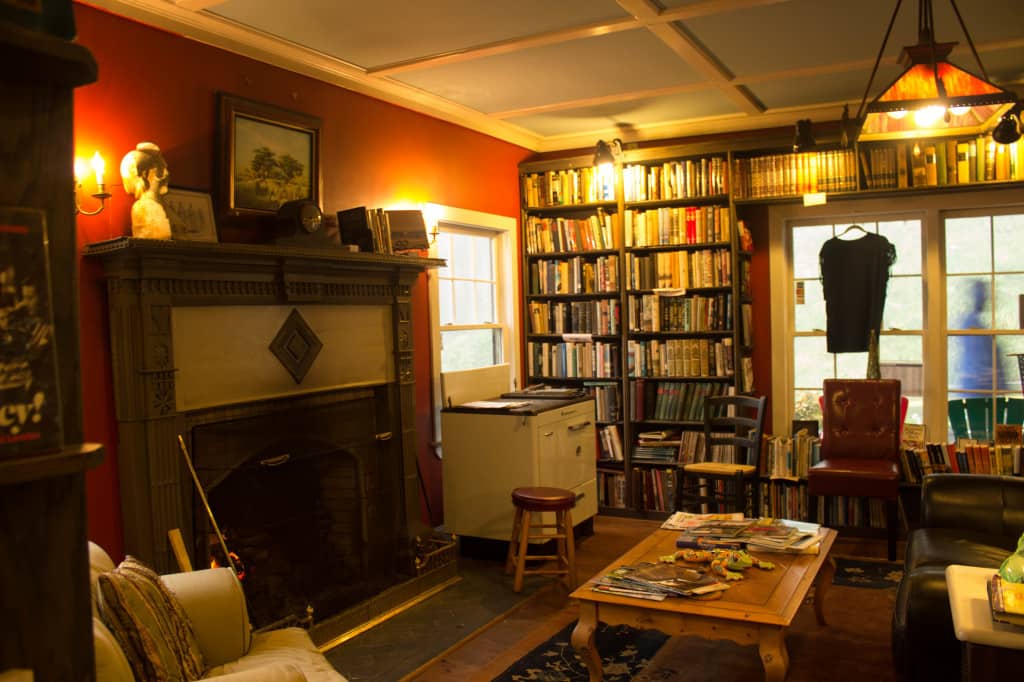 Arriving in Linville Falls
The Linville Falls milepost is 316.3. You can go ahead and check into the campground here before you continue exploring. Make sure to check out these places during the rest of the day.
Linville Caverns
Linville Falls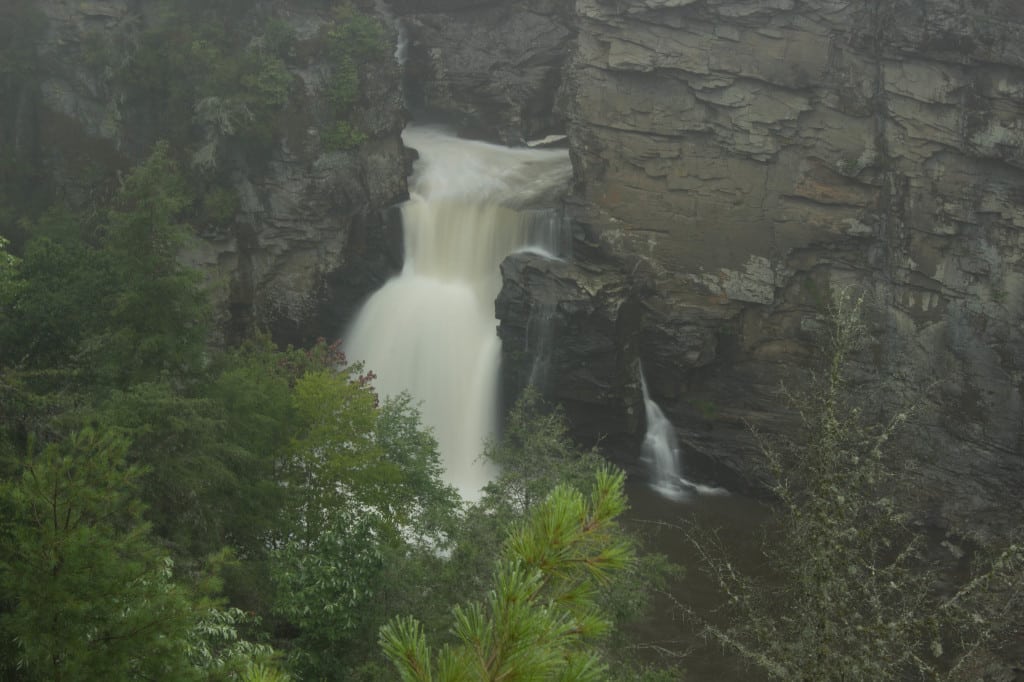 Linville Gorge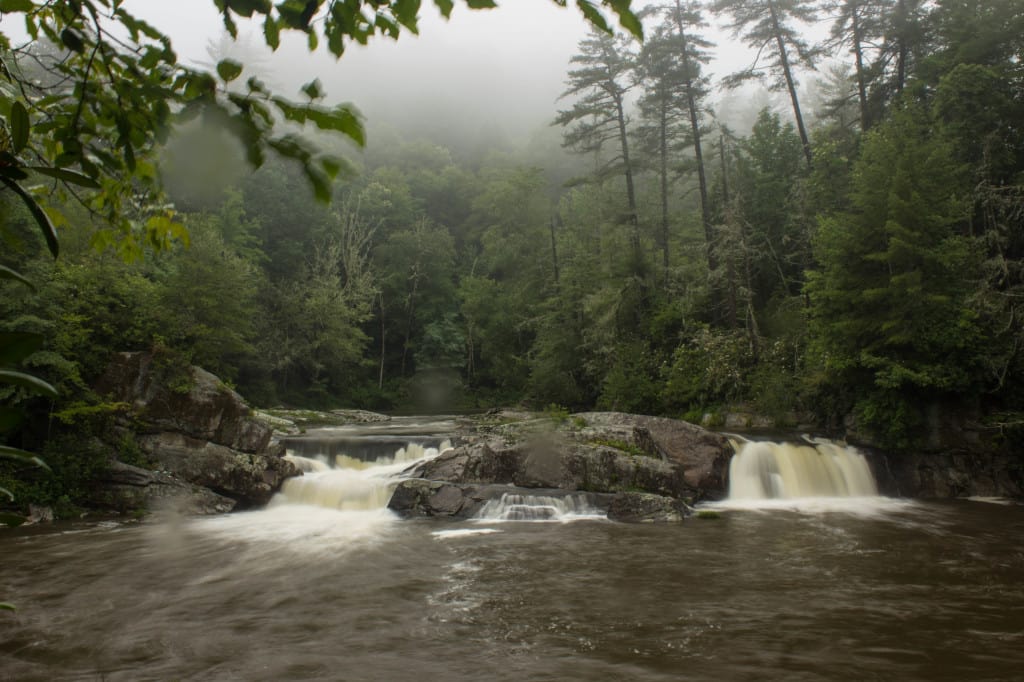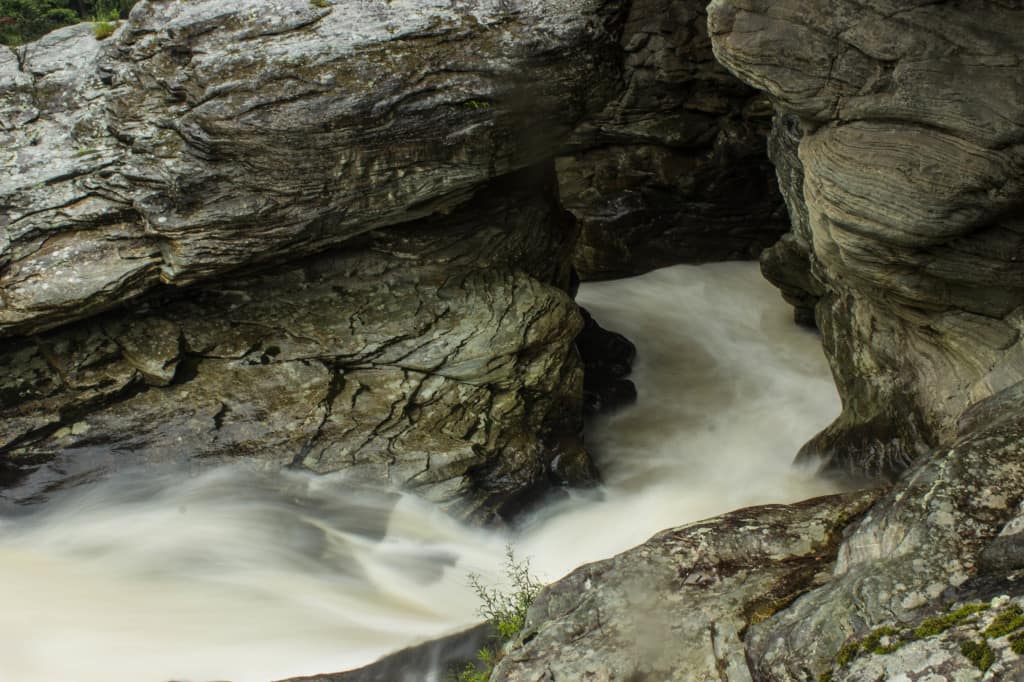 DAY TWO IN LINVILLE FALLS
Grandfather Mountain
Grandfather Mountain has an entrance fee and since this is all we could see in front of us, we decided it wasn't worth paying for. However, if the weather is nice, I would highly suggest it because it has amazing views, an awesome bridge, hiking and wildlife encounters.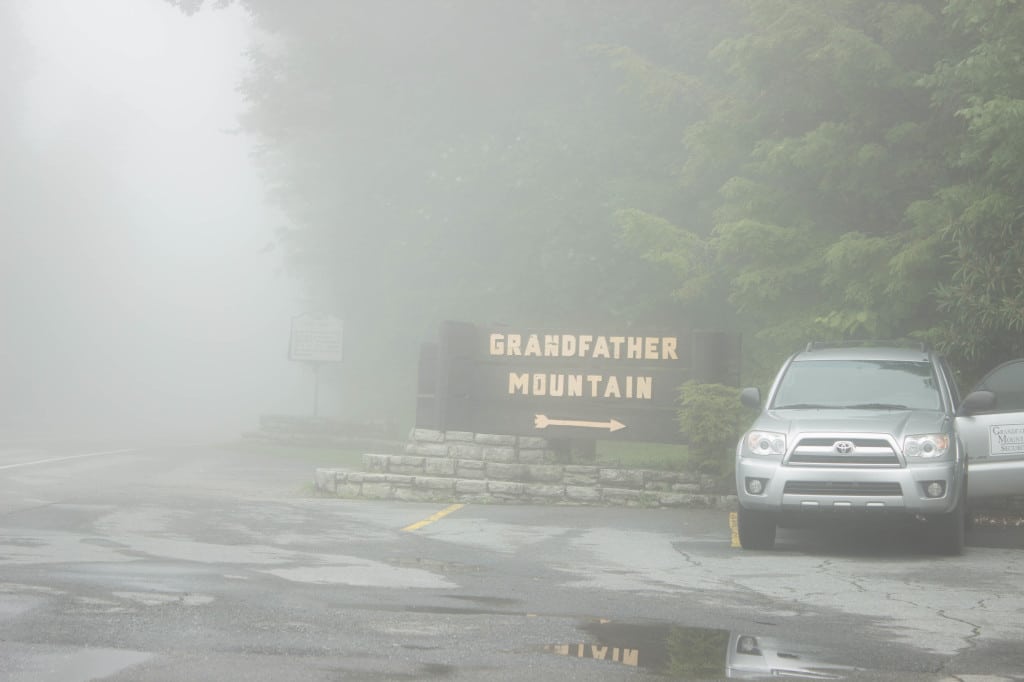 Again, what we could have seen…
Blowing Rock
One of the towns outside of Linville is Blowing Rock and we really enjoyed it. It's a pretty small town but has a lot of character. There are lots of art stores that showcase local artists, great restaurants and a very nice park in the center of town.
Our favorite find though was the Glen Burney Grocery Store. It's an awesome, small store that plays host to the best Southern foods that the owners can find. They plan their travels around food and finding new things to stock in their store. The other thing that sets them apart is that they focus it around letting customers sample anything and everything. Want to know what something tastes like? They will literally open it up right there and let you try it before you buy your own.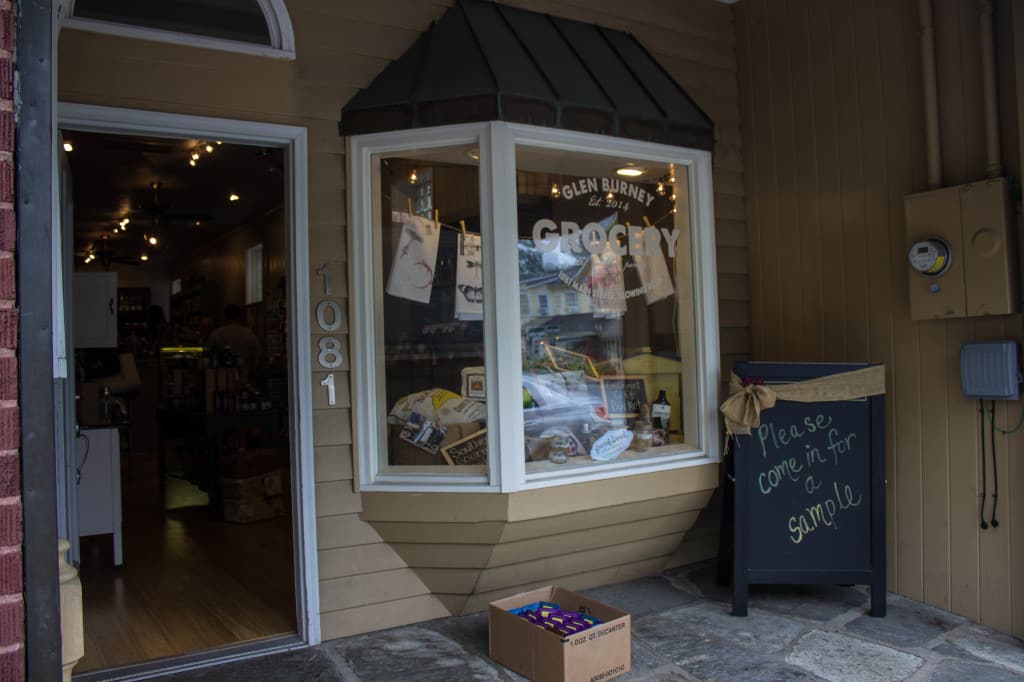 Drive around and Take Photos
Face it, this third and final part of the itinerary is more backwoods than any of the others. A lot of the fun, is just driving around and seeing all the farmland and so on. So, take it all in…
Dinner at Knife & Fork
***closed***
Located outside of Linville is another town called Spruce Pine where Knife & Fork is located. We desperately wanted to try this restaurant as it came recommended to us by the owners of the Glen Burney Grocery and has won several awards. Unfortunately, we were there on a Sunday and they only served brunch that day. Go for me and let me know how it is!
Where to stay in Linville Falls
Make sure to check out the Linville Falls Trailer Lodge & Campground. It's probably the best campground I've ever stayed at. If you aren't into camping or want a change of pace, check out their Locust Loft – it's one of the most charming and unique places I've ever stayed. I highly recommend it!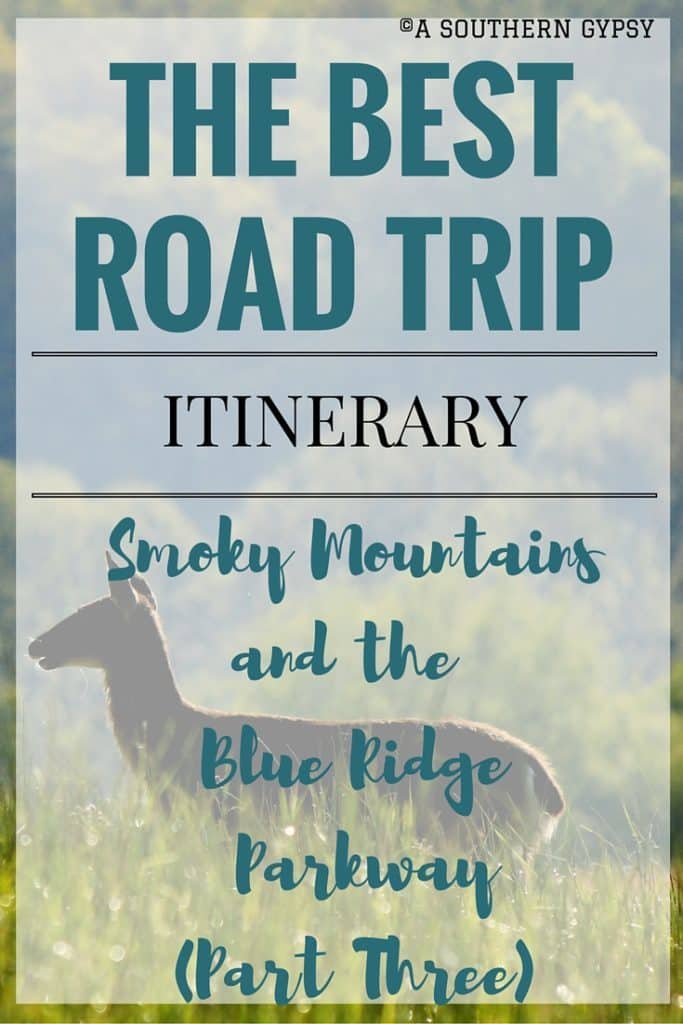 Latest posts by Ashley Hubbard
(see all)