This post may contain affiliate links, meaning if you book or buy something through one of these links, I may earn a small commission (at no extra cost to you!). Please see my disclosure.
There are many reasons why I love New York City. I'm normally a nature girl. I'd pick a forest over a city any day but there's something about New York City. It's kind of similar in the way that I love the feeling of being on a college campus or roaming the stacks of a library – it just leaves me feeling inspired or this is where dreams come true. One of the reasons I love this city is that I could visit there every month for the rest of my life and still find something new. The next part that I'm ashamed to admit is that I've never been to Brooklyn but that changed this last time. When thinking about taking a tour, I checked out the Brooklyn tours and chose to take one of Industry City. Now that I've visited, I'm certain that this is the up and coming neighborhood of Brooklyn.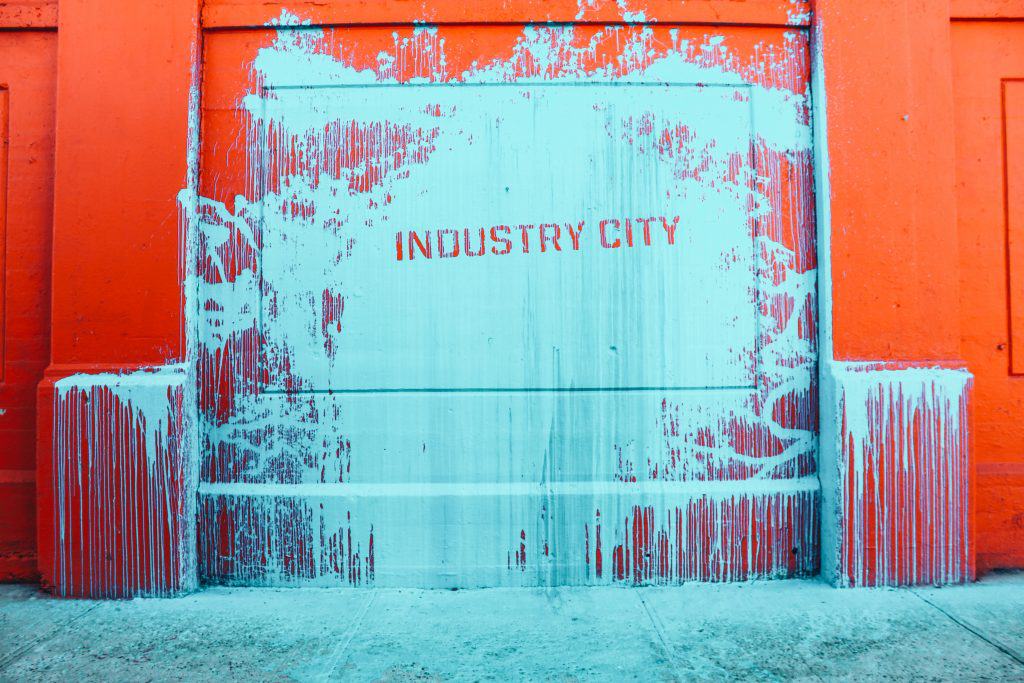 Where is Industry City?
I'm also ashamed to say, I honestly had no idea just how large Brooklyn is – it's huge! I think I'll be setting aside a trip to New York City purely to stay in and explore Brooklyn. While most visitors hop on over the Hudson River to check out the DUMBO and Williamsburg neighborhoods, you'll have to head a little further south to see Industry City.
Psst: Looking for more information on New York City? Check out a few of our other posts!
Sustainable Travel Guide to NYC
NYC Tips for a First Timer
Vegan in Manhattan
Industry City is located in the Sunset Park neighborhood of Brooklyn which is about halfway down the Western edge of Brooklyn. Industry City sits on the bay side of the neighborhood.
Address: 220 36th Street #2-A, Brooklyn
How to Get There
In order to get to Industry City, you'll need to take the D-N-R lines to the 36th Street stop. Once you exit the subway, you'll head west towards the water. You'll practically run straight into it.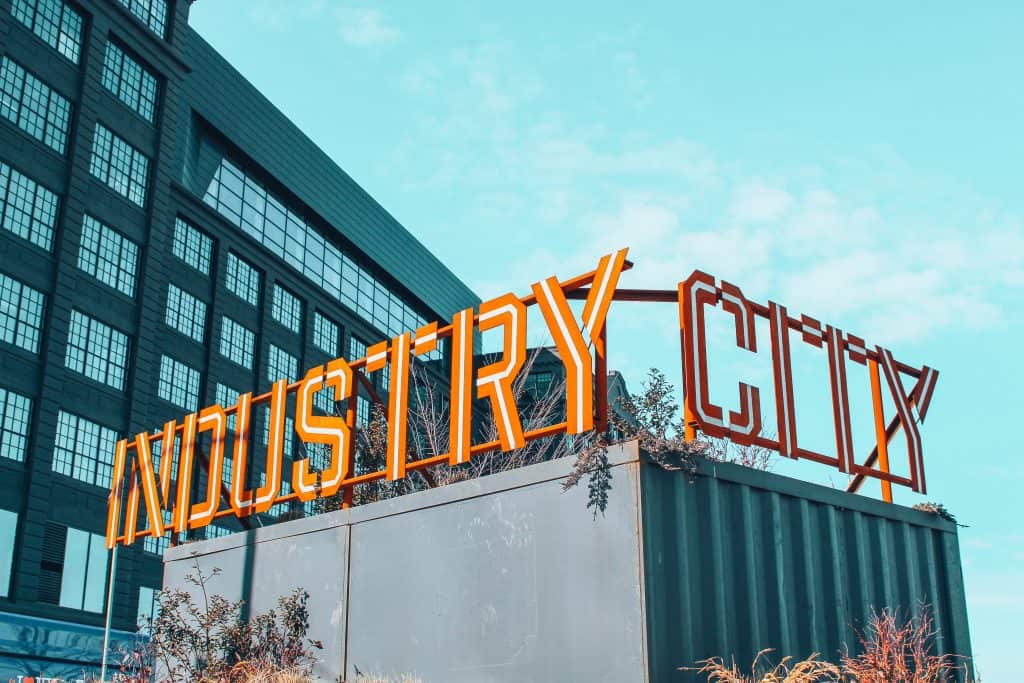 ---
What is Industry City?
Industry City is a set of nine identical buildings located on the waterfront in Sunset Park. I really have a thing for symmetry so the layout made me a little giddy. What used to be the home of manufacturing, warehouse and shipping is now home to hundreds of companies ranging from film to fashion to food.
Industry City's mission: We engage, we educate, and we encourage. We've sparked an innovation ecosystem, where the collaboration of ideas and services, combined with Industry City's resources, paves the way for successful careers for both our tenants and for our wider community.
Bush Terminal Park – History of Industry City
I'm not always a tour person but one thing I do love about taking tours is you learn so much valuable information you would only learn if you took the time to do a ton of research before or after your trip. Industry City has quite an interesting history dating back to the late 1800s.
A center for manufacturing, warehouse, and shipping was started then by Irving T. Bush. This was known as Bush Terminal and it absolutely flourished due to its prime location, large capacity, and setup. Brooklyn was a major seaport internationally.
This success did hold up though as manufacturing started to shit. Many of the major manufacturers that called Bush Terminal home either closed or moved. The second half of the 20th century left Bush Terminal in abandonment and decay.
Current Times
This all changed again though when Bush Terminal became Industry City and was revamped in 2013. Taking this huge warehouse space and repurposing it while still keeping the charm of exposed piping, large freight elevators, huge and heavy doors, and large windows has done wonders for this new neighborhood.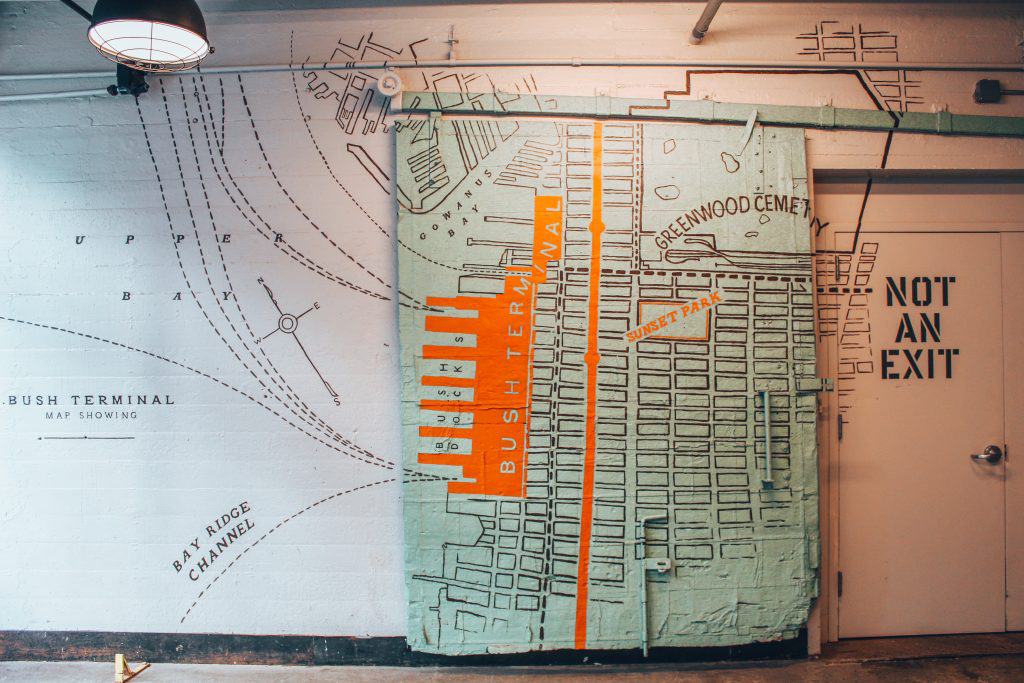 ---
Where to Get Coffee
There will be absolutely zero problems staying caffeinated while in Industry City as the number of coffee vendors has reached double digits. During my tour, we were able to test out two of them.
Colson Patisserie
Colson Patisserie is a bakery and coffee shop – with vegan options – located in building three. This adorable spot makes for a great spot to catch up with friends or grab a beverage to begin your day.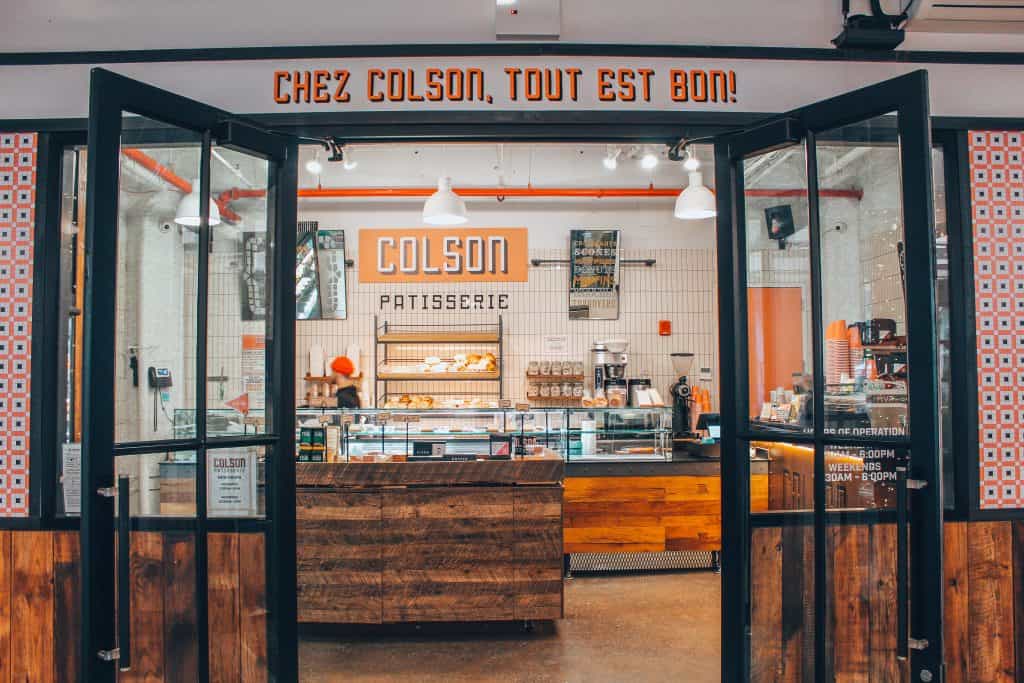 Gumption Coffee
Another coffee shop that is actually separate from the nine identical buildings is Gumption Coffee. Gumption is a female-owned coffee shop that started in Australia. The two owners came over to Brooklyn to start their first Gumption Coffee here. The huge space is home to a large coffee shop but also a full roastery.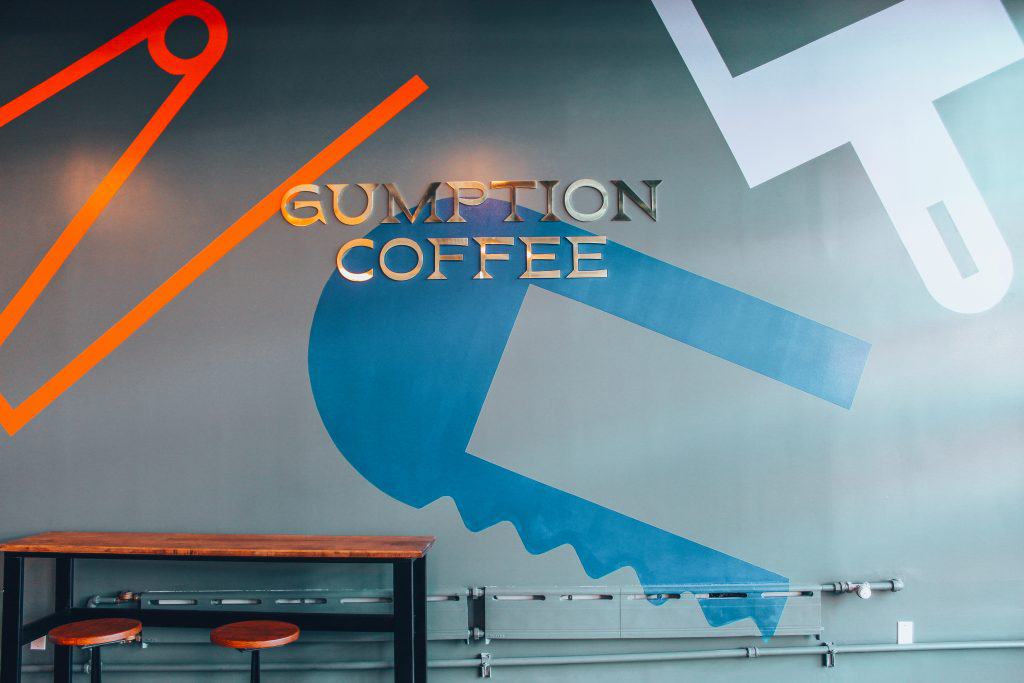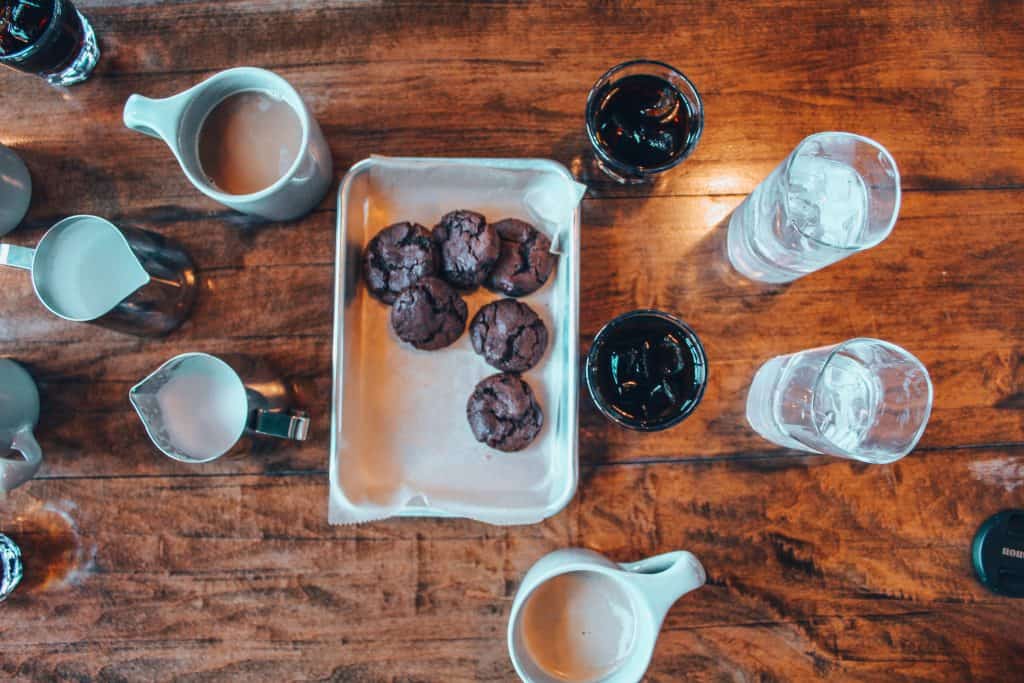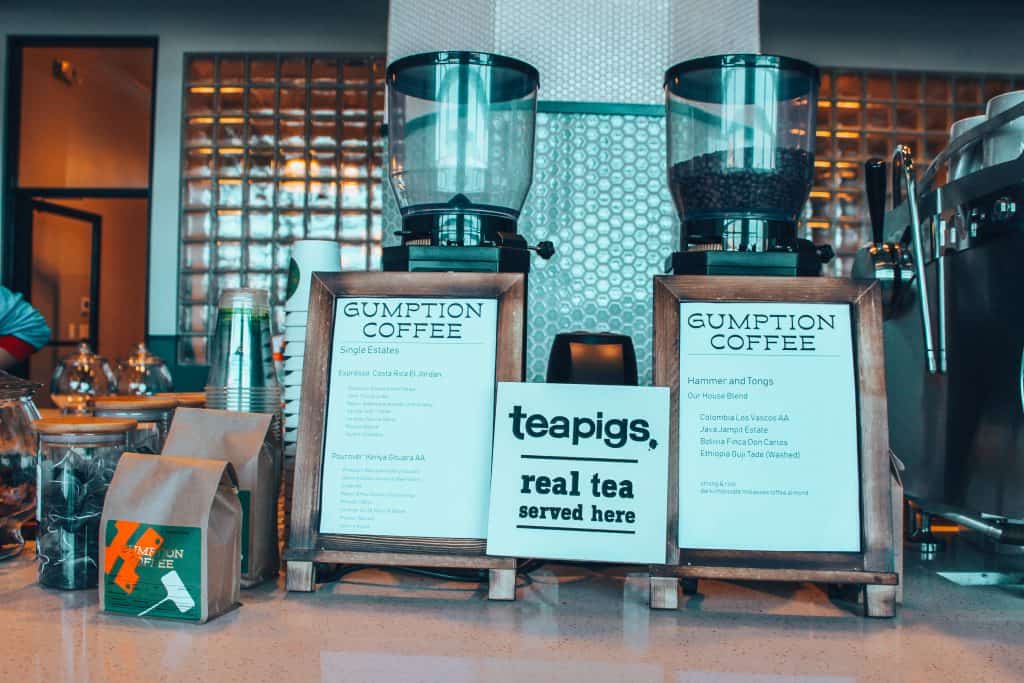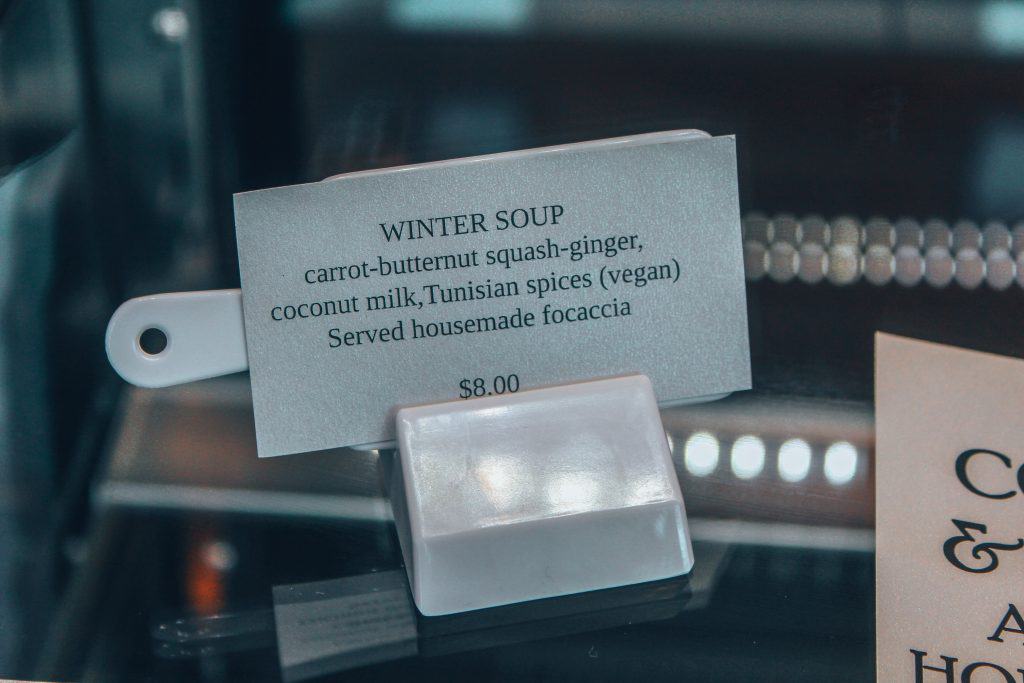 ---
Where to Get a Drink
Industry City Distillery
I didn't get to go here but I think it's worth mentioning since this is the only vodka distillery in New York City. It's also done using a beet sugar base.
Brooklyn Kura
I've had sake before. I'm pretty it was nothing special though as the sake at Brooklyn Kura was so much better. Brooklyn Kura is the only sake distillery in New York City – possibly all of New York.
While talking with them, I actually found out that we have a sake distillery in Nashville which blew my mind. I had to go all the way to Brooklyn to learn something about Nashville.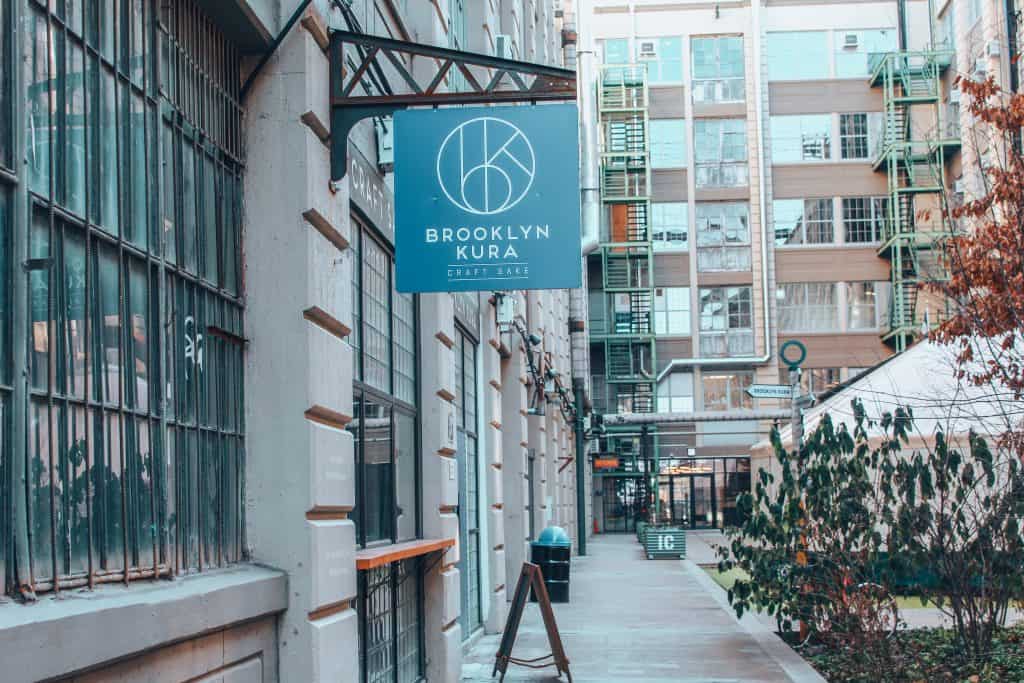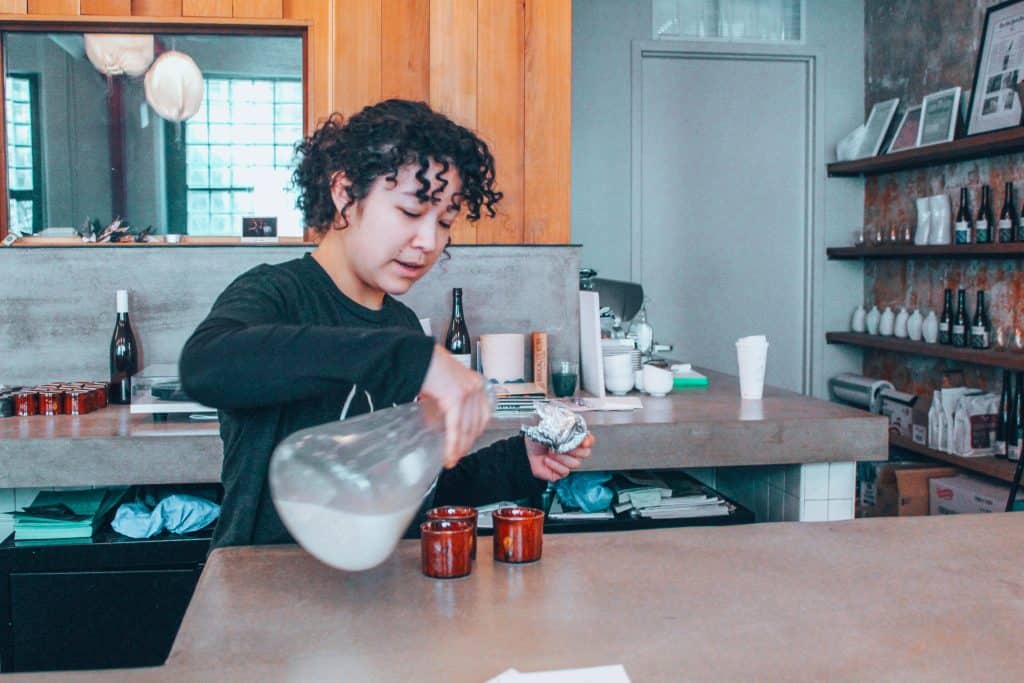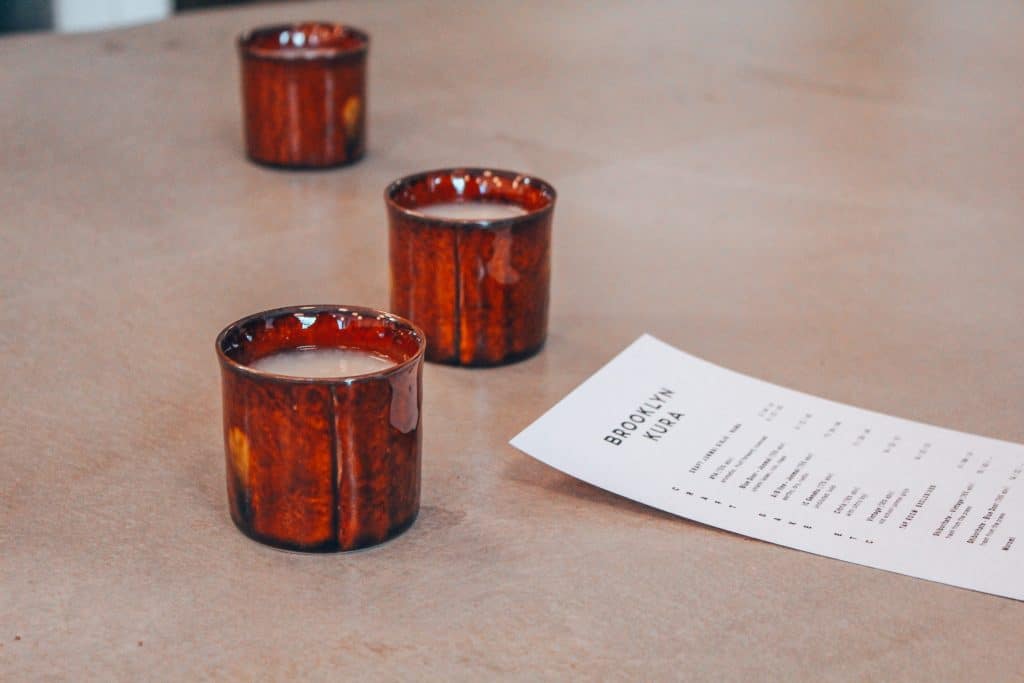 Moore Brothers Wine Company
This spot wasn't open when we were there but our tour guide told us all about them and I felt like they deserve a mention given their sustainable practices.
"All of our producers are committed to sustainable agriculture and a good number practice "biodynamic" farming. Most produce fewer than 6,000 cases in any given year, and their wines perfectly reflect the culture and terroir of their region and vineyards."
---
Industry City Food Hall – Where to Eat
Set up like a typical food hall with communal seating everyone in your party can eat together despite what they're craving. You'll find plenty of options including Korean, Thai, ice cream, avocado-inspired items and more. Many of the locations had vegan options as well.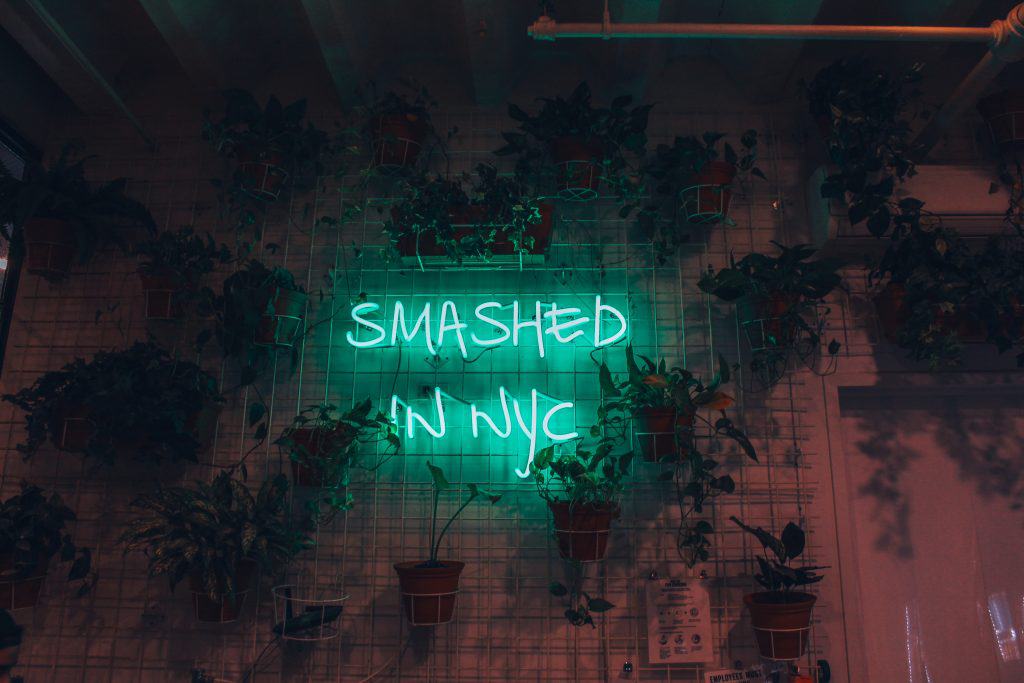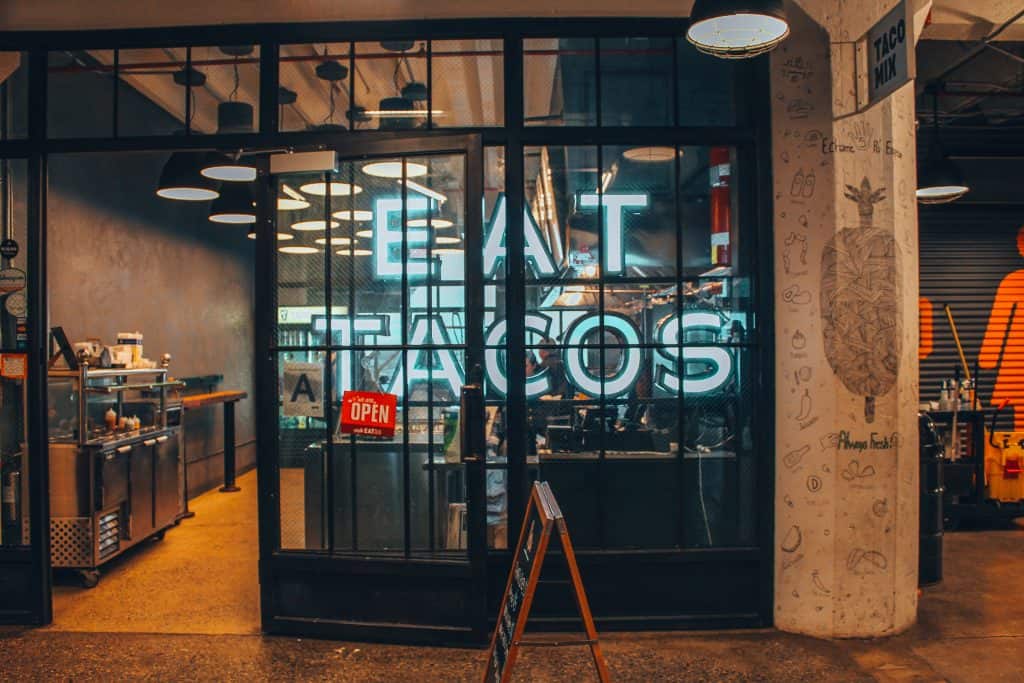 ---
Art in Industry City
There is art located all over Industry City. You can find murals and sculptures on the outside of the buildings as well as installations on the inside. The freight elevators by the food hall house rotating interactive art exhibits inside them.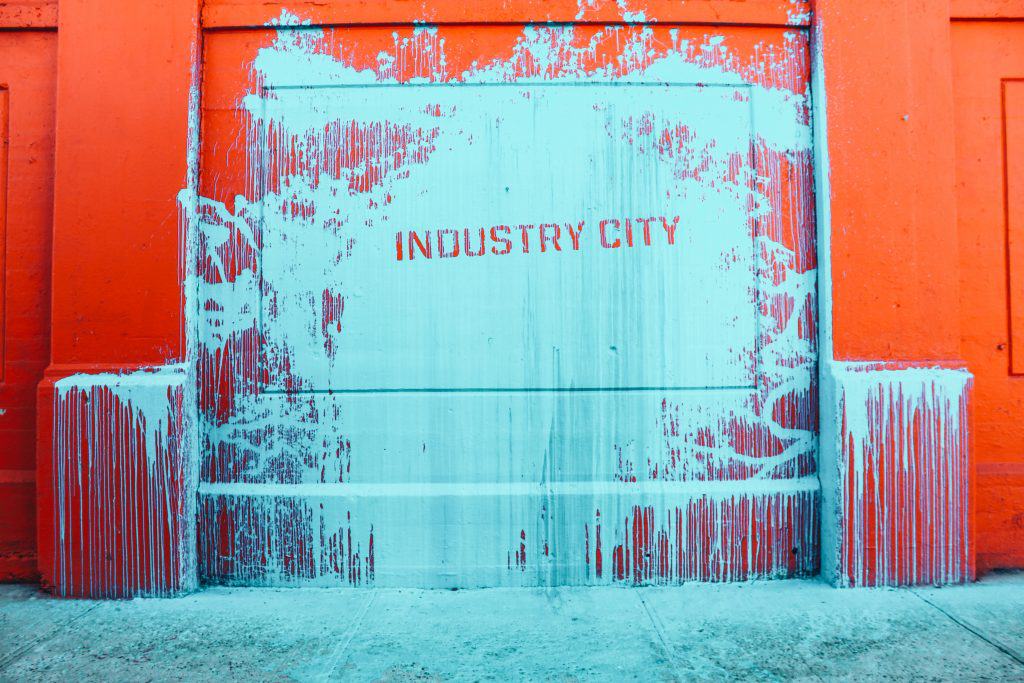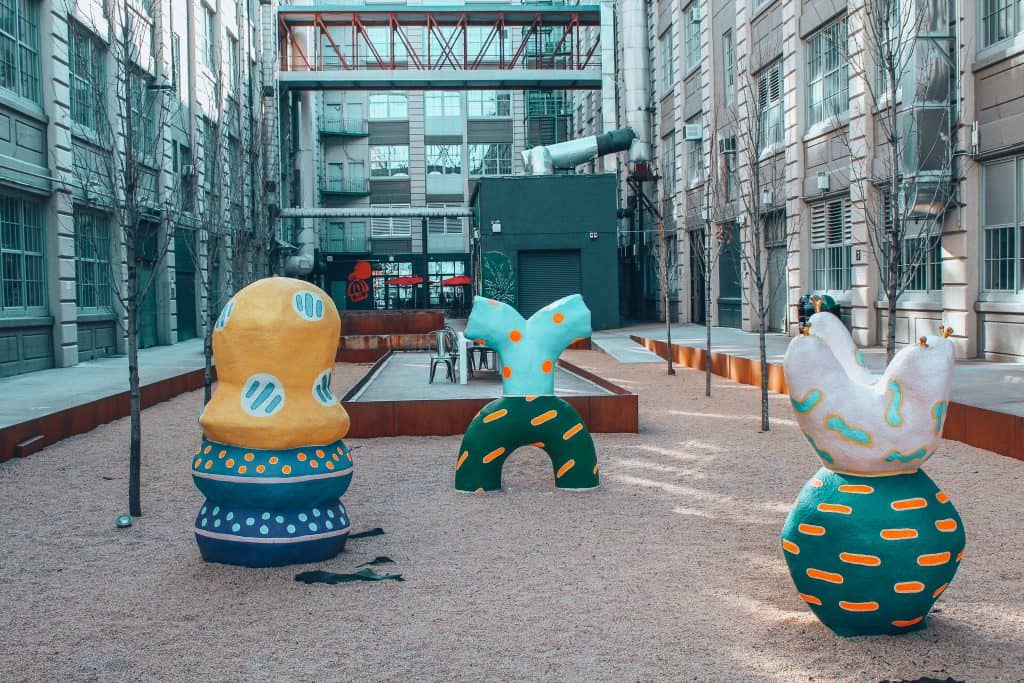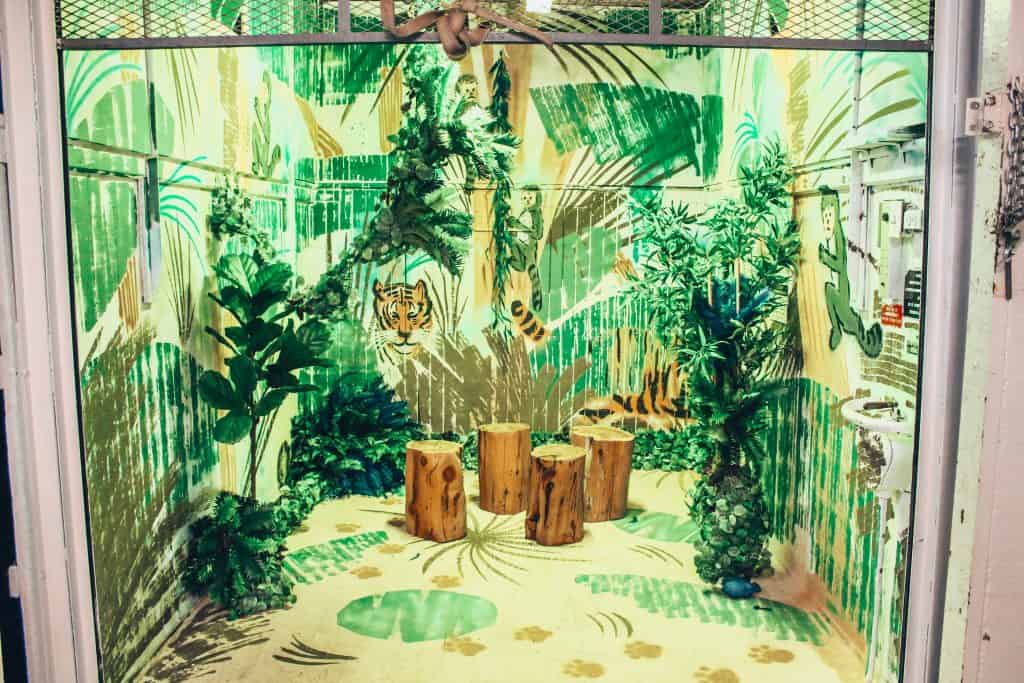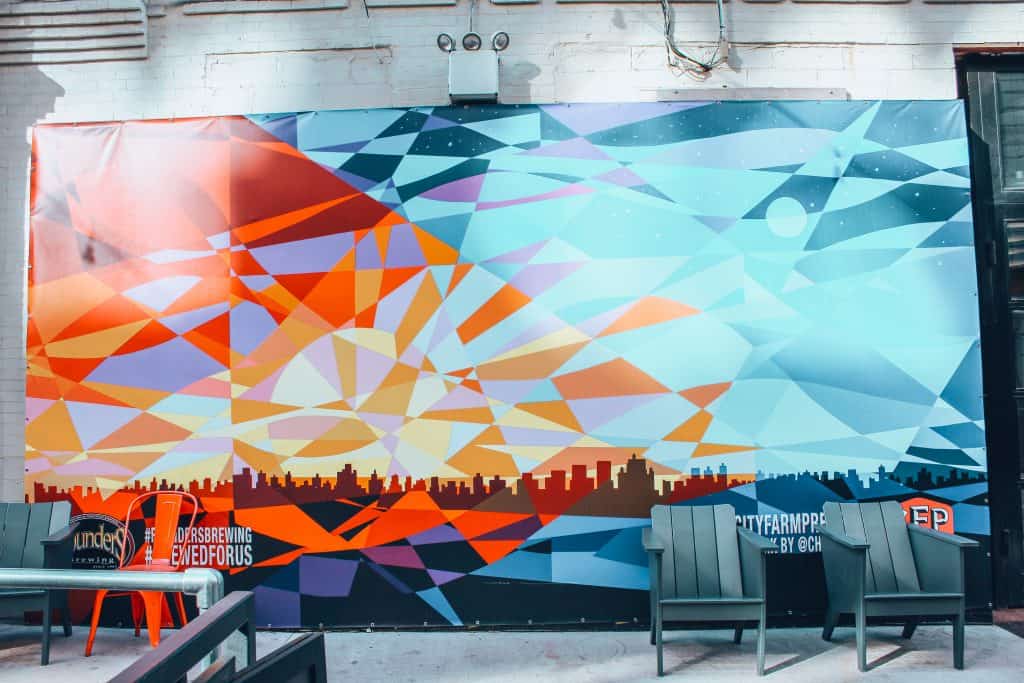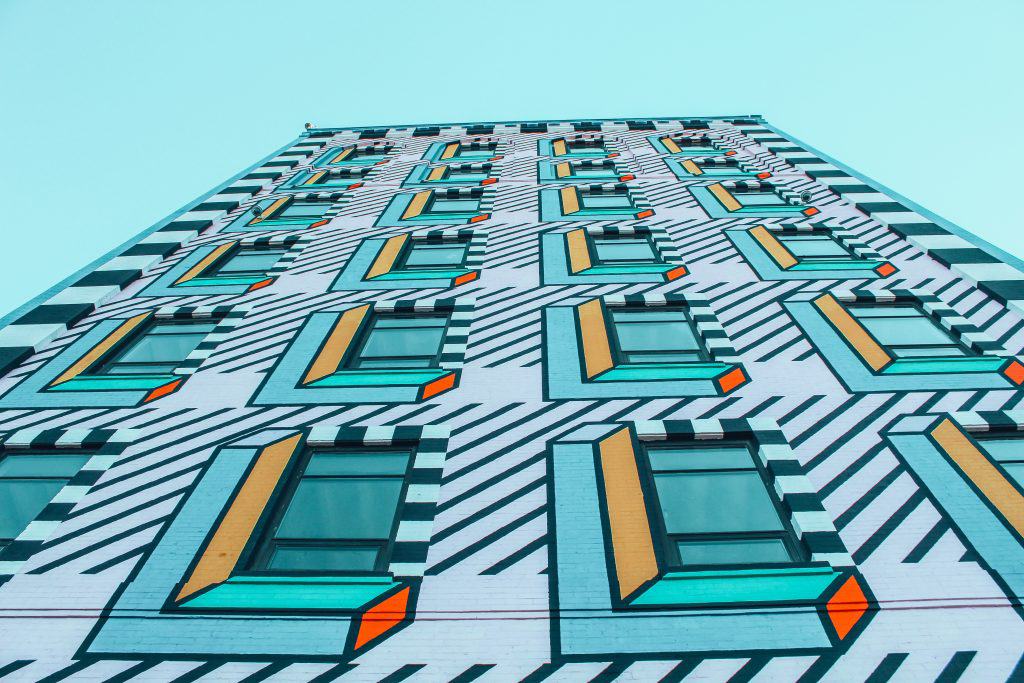 Industry City is Unique as Hell
Where else can you find a vintage skating rink, a game room, traditional wood crafters, hat makers, an avocado-themed restaurant and a Hygge house? That's right. Nowhere.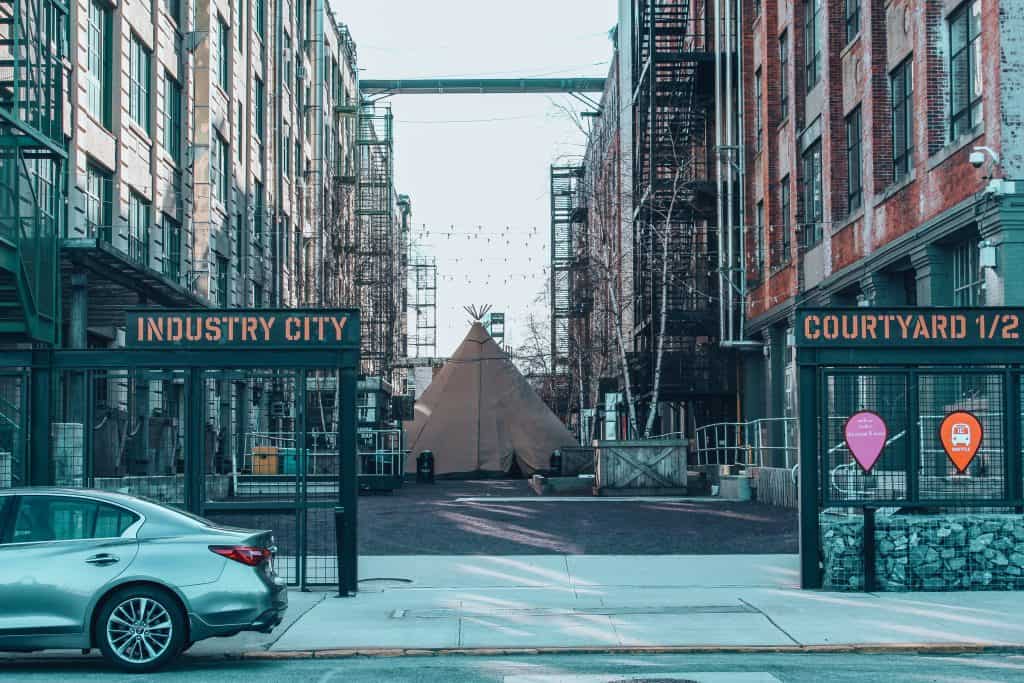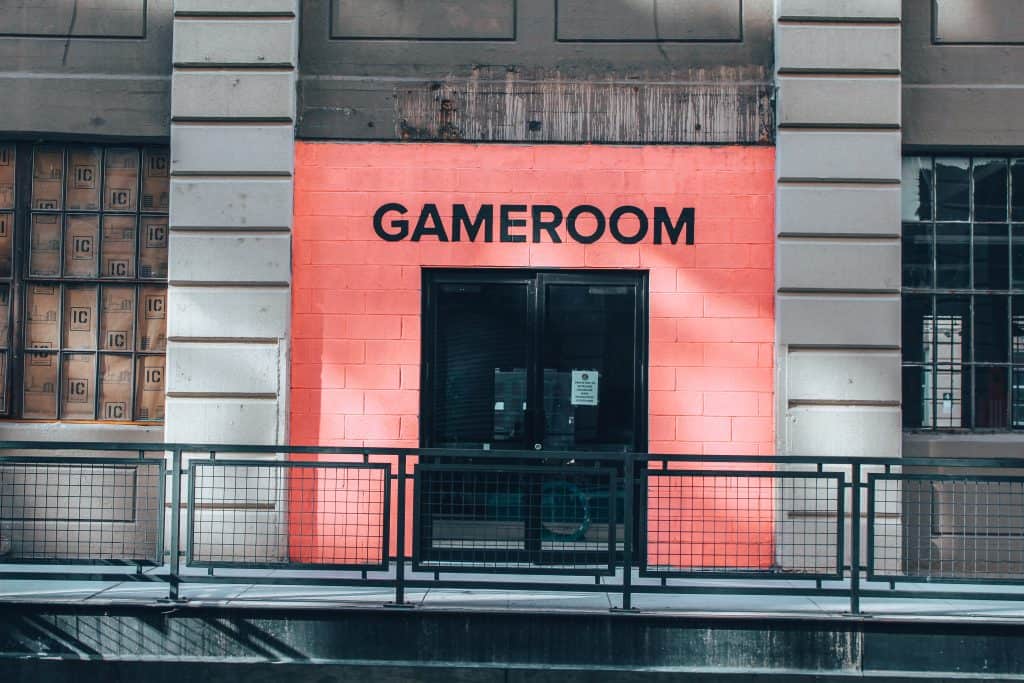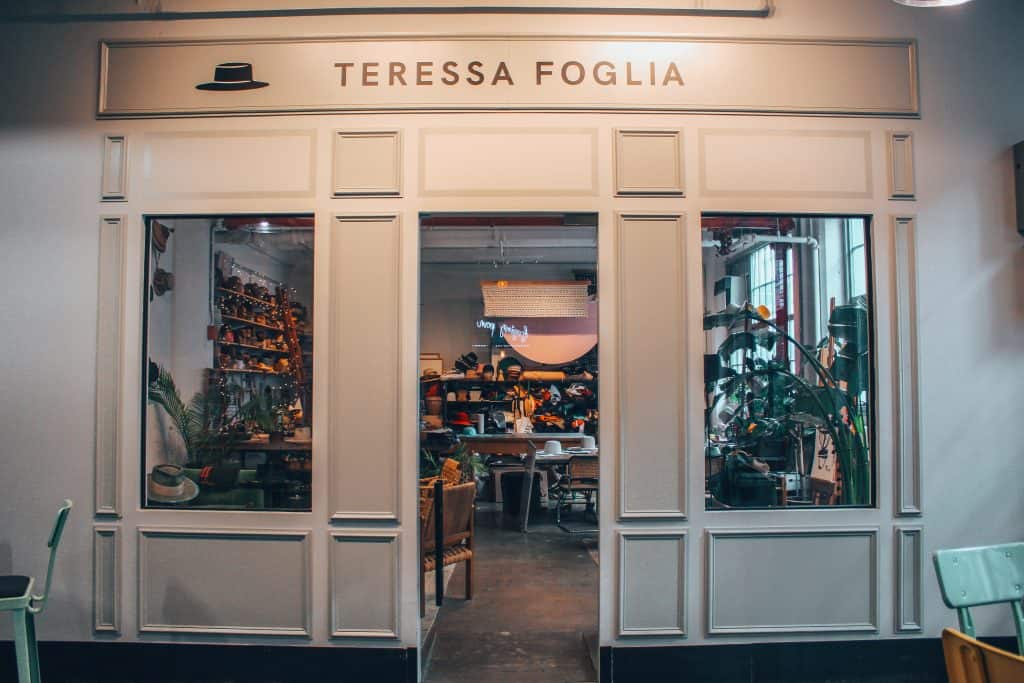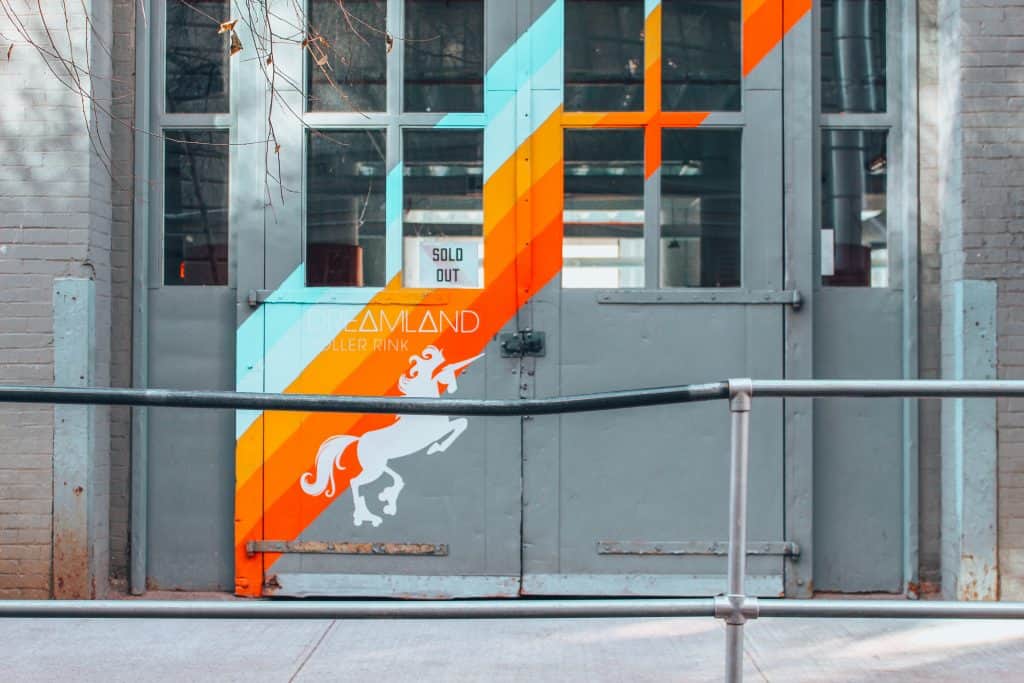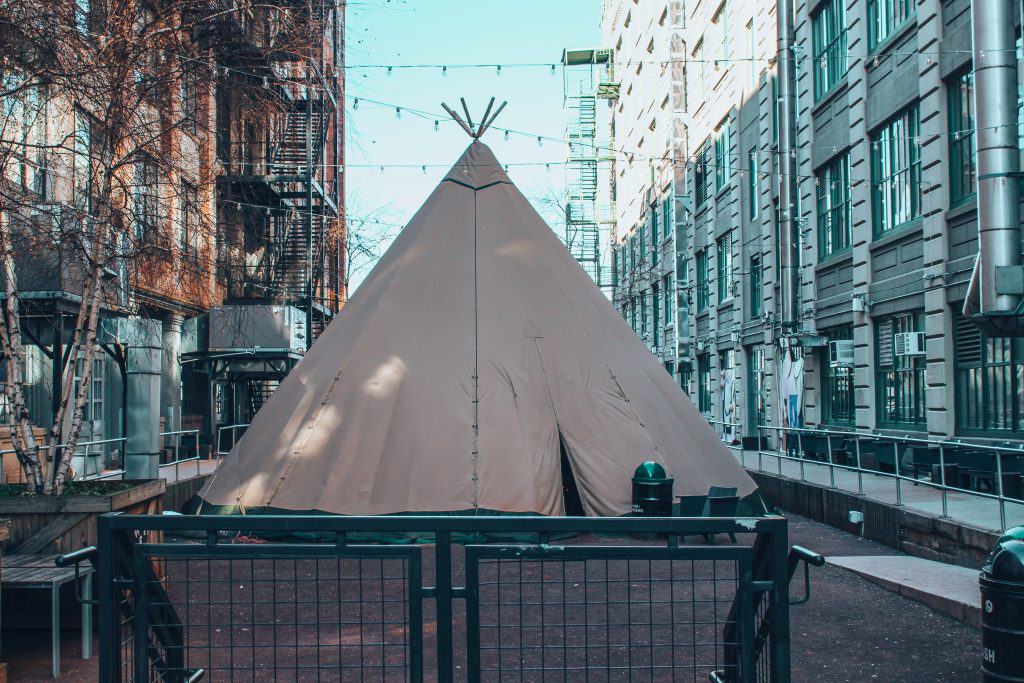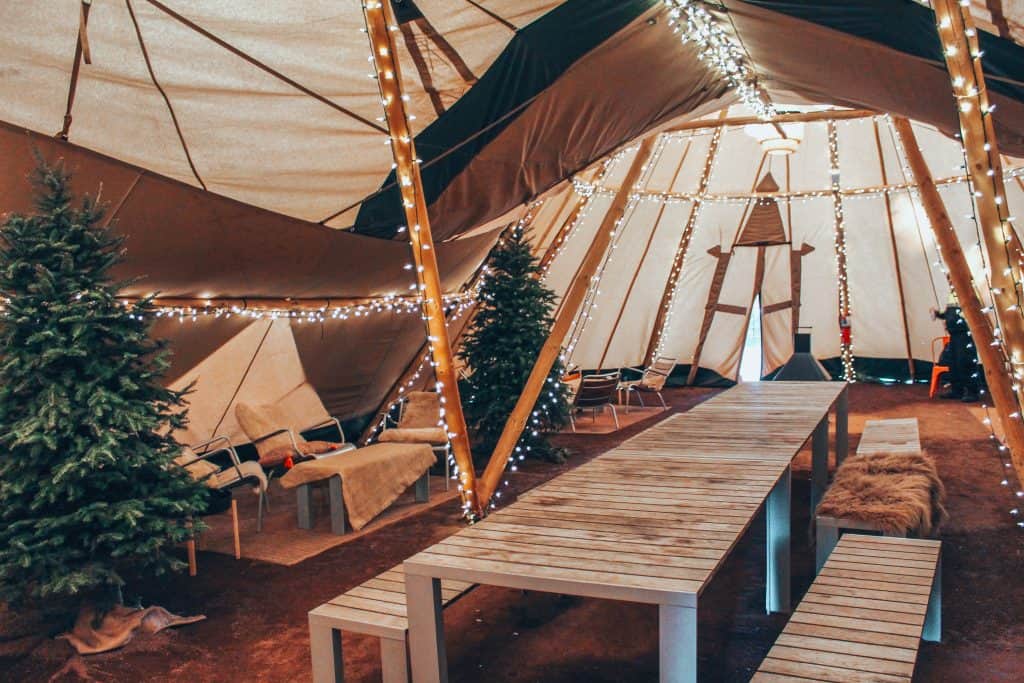 ---
Brooklyn Tours | Urban Adventures
If I hadn't taken this tour with New York City Urban Adventures, I likely would have never explored what I assume is one of the best neighborhoods of Brooklyn. Urban Adventures is a branch of Intrepid Travel – a company I really love for their devotion to sustainable and responsible travel. Urban Adventures focuses on keeping tours small and hyper-local – giving you those off the beaten path experiences and really getting to the heart of a place. Tour guides are locals as well and are just a bottomless pit of information.
New York City Urban Adventures is just one branch – there are Urban Adventures all over the world! I'd highly recommend taking this Made in NY: Industry City Brooklyn tour if you're looking for something new, fun and unique!
Psst: Looking for more tour experiences? Check out a few of our other posts!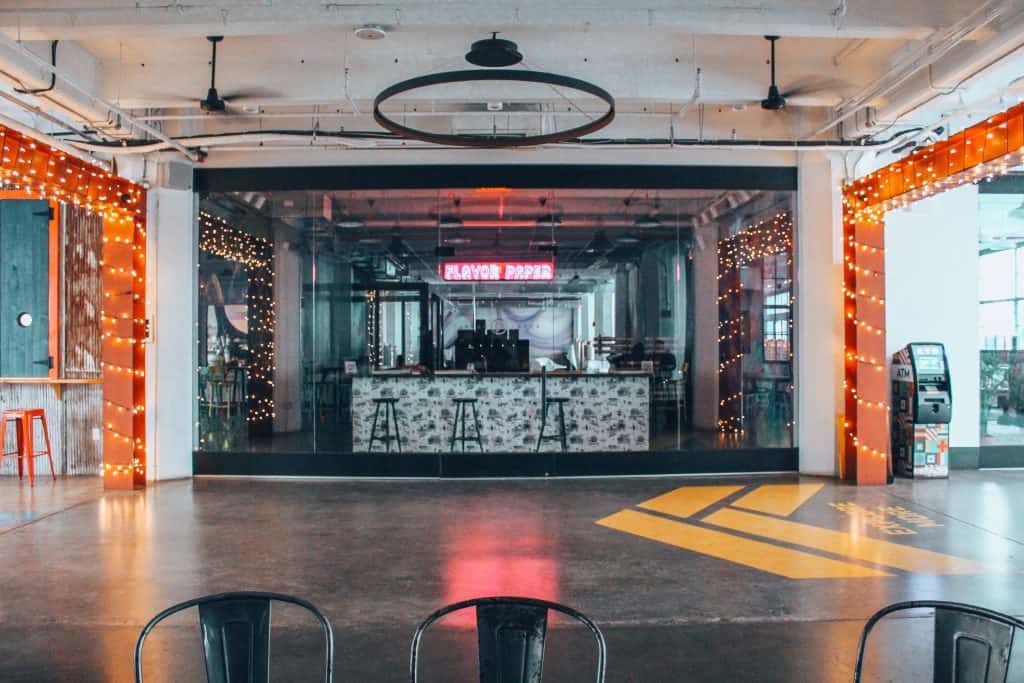 ---
What to Pack for New York City
Pacsafe Cross Body Purse (I love my Pacsafe products and would highly recommend using them when traveling)
Comfortable Shoes (my feet tend to hurt pretty easily and these are the best shoes I've had in a while for walking a lot)
Have you ever been on an Urban Adventures tour?? Tell me about it in the comments below ↓↓↓
Looking for accommodation in NYC? Check out reviews here and book here.
Want to know where I stayed? HI NYC
Want to know where to eat in NYC? Vegan guide coming soon!
What else have I written? You can find more NYC posts here.
Like this post? Have Questions? Hit me up on Facebook | Twitter | Instagram | Pinterest | Email
↓↓↓ PIN FOR LATER ↓↓↓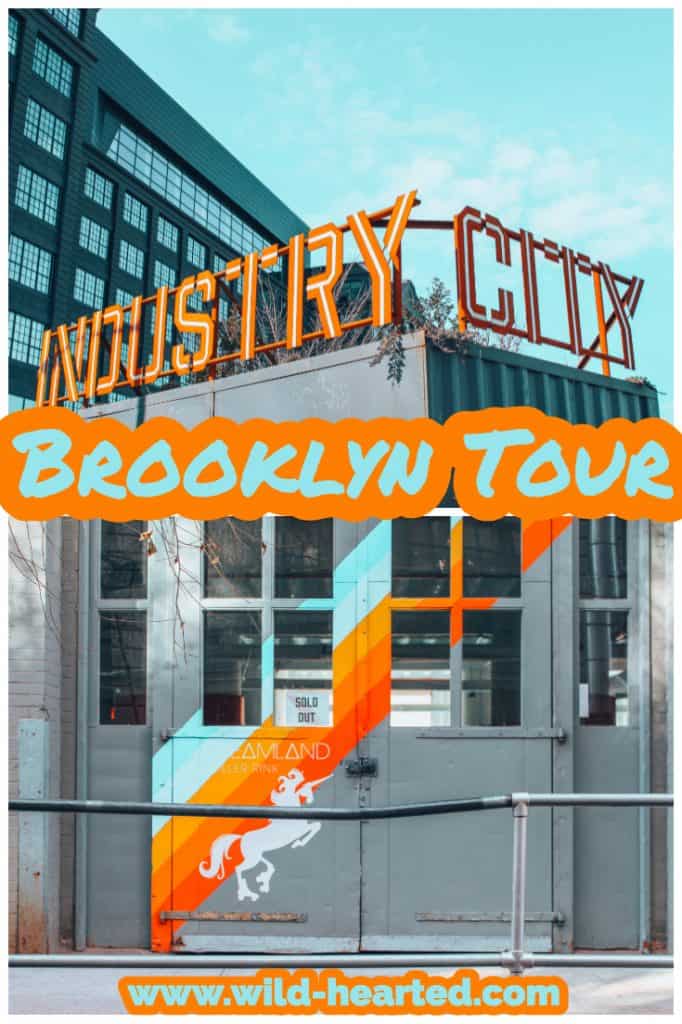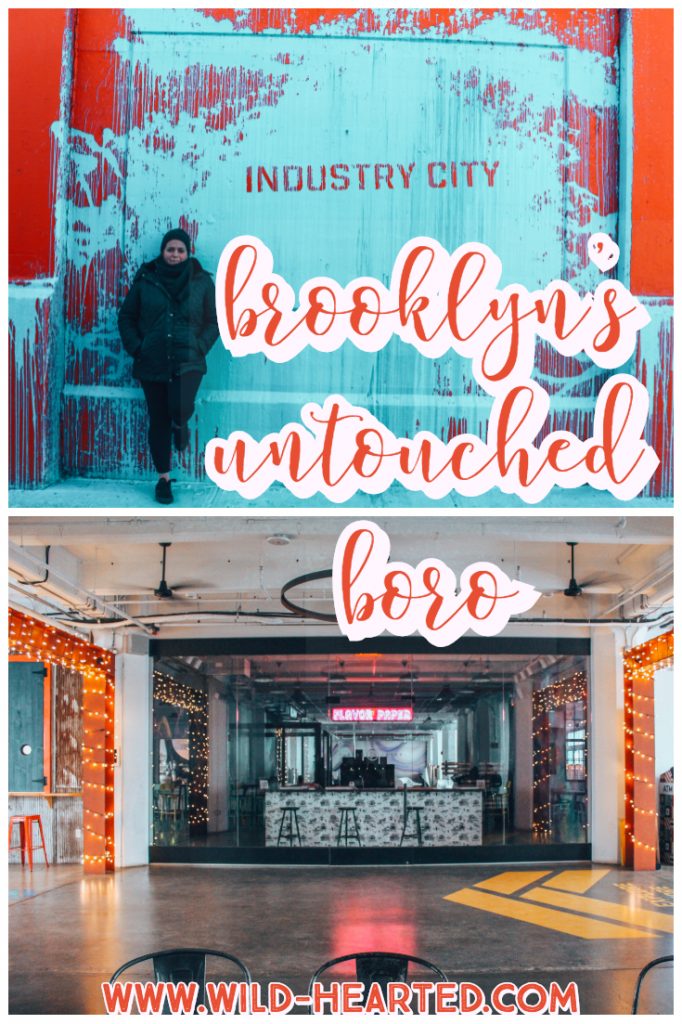 Thank you to New York City Urban Adventures for hosting me on my stay. As always, all opinions are my own and I will never promote something I don't personally use and believe in, regardless of who foots the bill.
Latest posts by Ashley Hubbard
(see all)