This post may contain affiliate links, meaning if you book or buy something through one of these links, I may earn a small commission (at no extra cost to you!). Please see my disclosure.
Shades of Blue and Green at Shakespear Regional Park, New Zealand
One of the best things of living in New Zealand is the fact that even big cities are surrounded by natural green spaces and blue all around! We have been living in Auckland – City of Sails – for the past six months and have been lucky to visit several local regional parks and stunning beaches within 20-45 minutes drive from central Auckland. There are 35 regional parks managed by the Auckland council and so far we have been to 6 of them, each one unique in its own way, great for trampling (local word for hiking), birdwatching, swimming and having a great day out in nature. A few weeks ago we went to Shakespear Regional Park, an open sanctuary and nature park located at the tip of the Whangaparaoa Peninsula, and one of the most visited parks due to its unique management integrating conservation, recreation and farming. There are buses that go here daily from Auckland.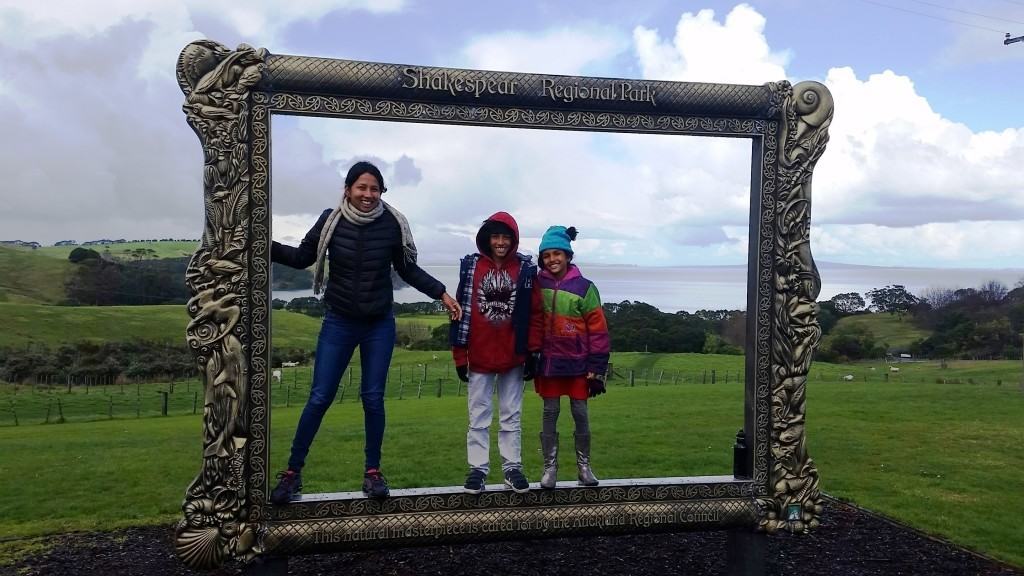 Weather was very temperamental, raining one second, bright sunshine the next. But we are used to that from living in England past 10 years! What was really interesting about this park was that they have made this area a pest free habitat and have kept it that way by installing a 1.75 pest-proof fence which keeps out rats, cats, rabbits, hedgehogs, possums, stoats and weasels. Pretty much everything we would consider part of wildlife in most of the countries we have travelled to, is considered a pest here! So when you drive in, you have to enter through these controlled gates and the steel fence and tall gate makes it seem like you are entering a tight security government building.
There are three trails one can hike here – heritage trail, lookout track and Tiri Tiri track. Along the coastline you see sandstone cliffs which shelter the Te Haruhi Bay. The views were just stunning, blue shimmering water and green pastures dotted with sheep. We saw several bird species – fantails, variant oyster catchers, pukeko, the really colourful parrot Eastern rosella – to name a few!
We did the Lookout Track (2.5km) and part of the Tiri Tiri Track (3.8 km), the kids followed the red and blue markers and dashed way ahead of us. You get lovely panoramic views of the Auckland city skyline to the islands of the gulf. The Heritage trail goes through Maori heritage sites, native forest, farmland and wetland and is supposed to have gorgeous views as well.
I am still not used to the opposite patterns of season here in the southern hemisphere. I can work with winter being summer, looking forward to that this December! But it didn't occur to me that autumn would be spring so we were in for a surprise when we saw all the cute lambs. It is lambing season here in Auckland and they were ever so adorable to watch! There were also several young bulls which were a bit scary to walk past.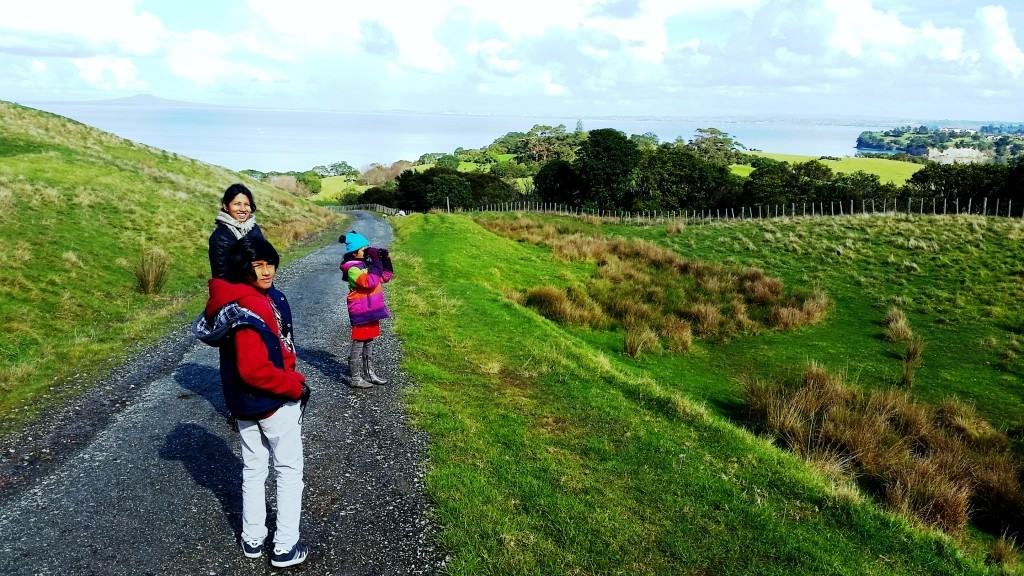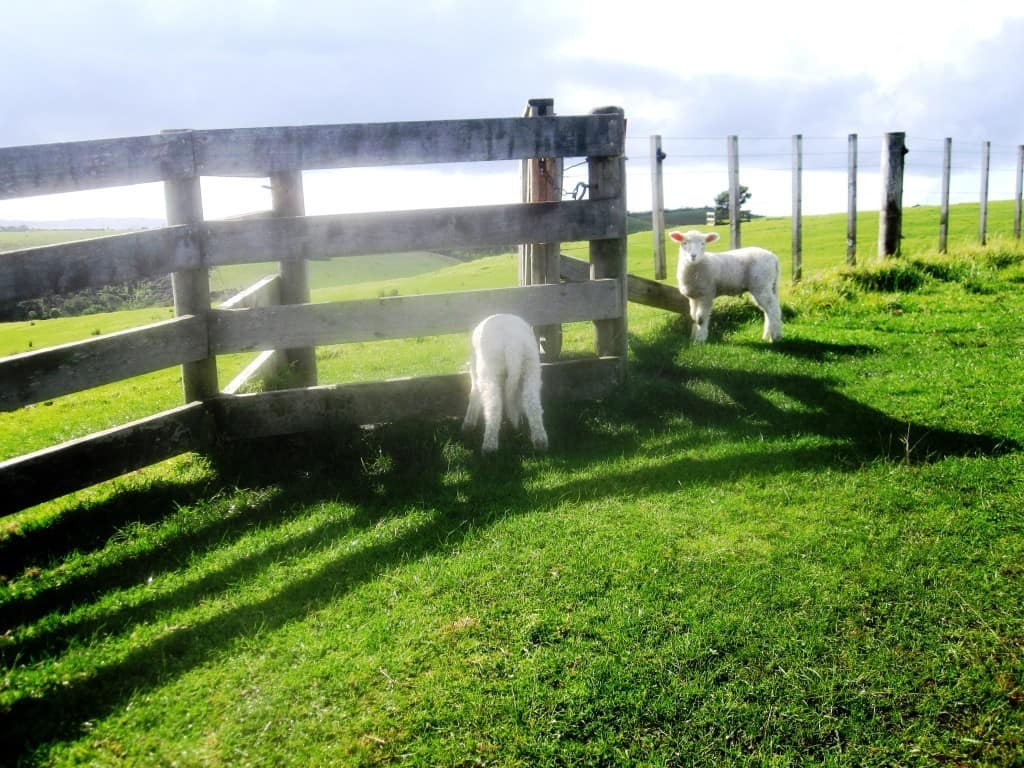 There are three beaches at Shakespear. We went to Te Haruhi Bay which is located inside the Open Sanctuary pest proof fence, at the south western end of the Open Sanctuary area. The kids had great fun climbing the gnarled trees lining the beach. People go swimming here as well but it was too cold to swim when we were there. The other beach at the Army Bay is good for boating and the third one at Okoromai Bay is a tidal beach where people go to gather cockles. People come here for picnics and can also book sites for large groups of people (up to 500) at Okoromai Bay. Few things we found quite unique in parks here in New Zealand – there are open electric BBQ pits that anyone can use for BBQs whether they book the sites or not. We saw a few people doing this at another park. The other thing that we loved about several of the parks here is the fact that you can camp right on the beach. There are designated campgrounds for self-contained caravans and other areas for camping. We did this once on our first campervan trip down to Rotorua and will be doing it a lot on our 10 day campervan trip around south island in 2 weeks time.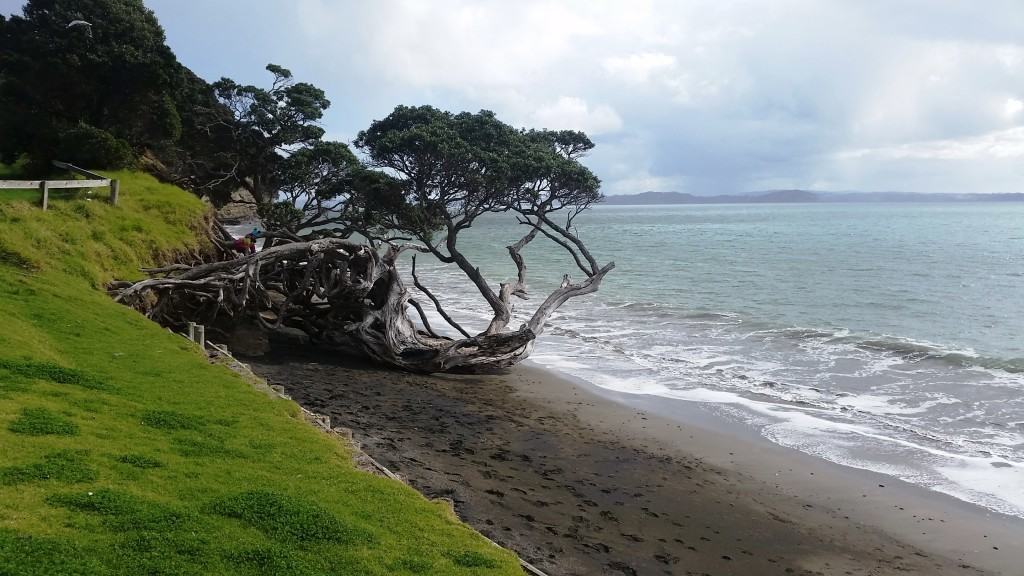 What we enjoy the most about visiting regional parks here is the vast diversity in the landscape and the unique plant life very distinct to New Zealand. We have done a lot of hiking all across Europe and have enjoyed the alpine temperate forests there and we absolutely love hiking in redwood forests in California. Here we are seeing majestic Kauri trees and the coastal evergreen trees Pohutukawa which are all new and exciting for us. We are definitely making the most of our one year travels and enjoying the natural beauty of New Zealand. For outdoor and nature enthusiasts like us, it doesn't get much better than this.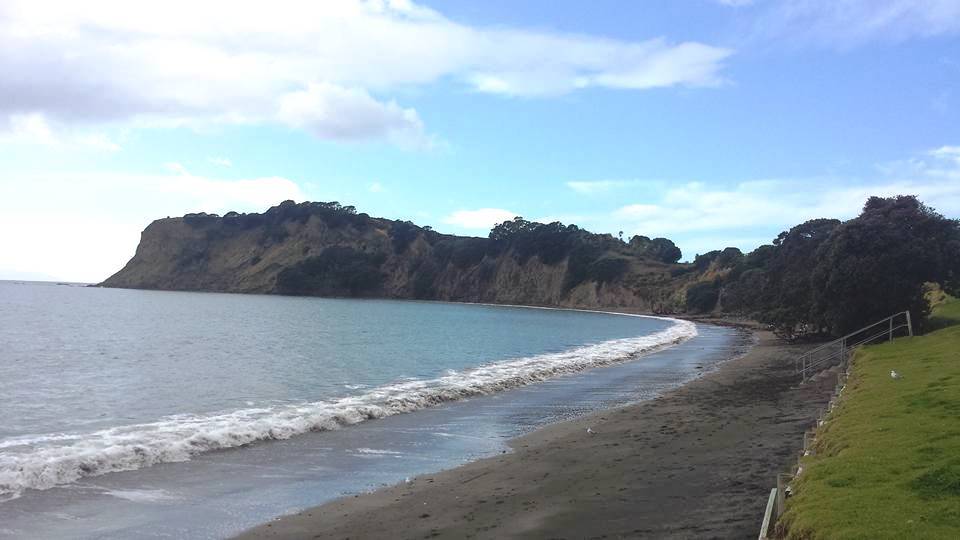 *This is a guest post by fellow blogger, Samiya over at www.selimsraasta.com – see author box below for more info and SM links to follow their journeys!
Have you ever been to New Zealand? Have you visited Shakespear Regional Park?
Latest posts by Samiya Selim
(see all)