Are you trying to buy a present for someone on your list that is a scuba diver? Perhaps you're not a diver yourself so you have no idea where to start or they already have all the essentials so you're just looking for scuba diving presents that are little more on the fun side. I've put together a list of gifts for divers that I personally want along with the suggestions from other scuba divers.
No matter who you're trying to buy for – family, friends, beginner or advanced, male or female – there are some great gift ideas for scuba divers here. In order to make it easier for you, I've divided the list by category and included links where you can check the prices and purchase if you think it's a good fit for the scuba diver in your life!
Note: A lot of scuba diving gear is a personal choice and fit. Consider obtaining a wishlist or sizes from someone before gifting them items such as a wetsuit, fins, BCD, regulator, and so on. For things such as BCDS, I'd make sure you or they read plenty of reviews to find the best BCD for them. When in doubt, buy a gift certificate, take them on a shopping trip, or have a gift receipt so they can exchange the item. 
General Gifts for Divers
Scuba Fin Bungee Straps
Cost: $25-$40 | See on Amazon
Scuba fins can be pretty frustrating to take on and off as I've quickly learned – especially for shore diving. Additionally, it can be annoying to constantly have to adjust or tighten the fins. These scuba fin bungee straps come in handy for all of these scenarios!
---
Fin Socks
Cost: $13 | See on Amazon
Fin socks are form-fitting to minimize water entry while in the water doing scuba diving and keep your feet warm in cold water. They are worn mostly with swim fins or full foot fins. The socks alleviate the rubbing against your feet and protect you from blisters.
Just wearing fins isn't enough. Although it helps you to propel yourself through water still they can be a little uncomfortable to the feet. Hence wearing these socks, help minimize chaffing while scuba diving for longer periods of time.
Apart from scuba diving, you can also use these socks for snorkeling, kayaking, and paddleboarding. Some fin socks like of Phantom Aquatics, also serve as a liner to be tucked into skis or snowboarding boots. They can also be used while strolling on hot sands or while playing beach volleyball game.
They have reinforced insoles that are sturdy and last longer and dry very quickly. There are various designs available depending on your preference. Some brands of fin socks are Seavenger Zephyr, Nordic Essentials Booties, Tilos Neoprene, National geographic fitted, and H2Odyssey Mini.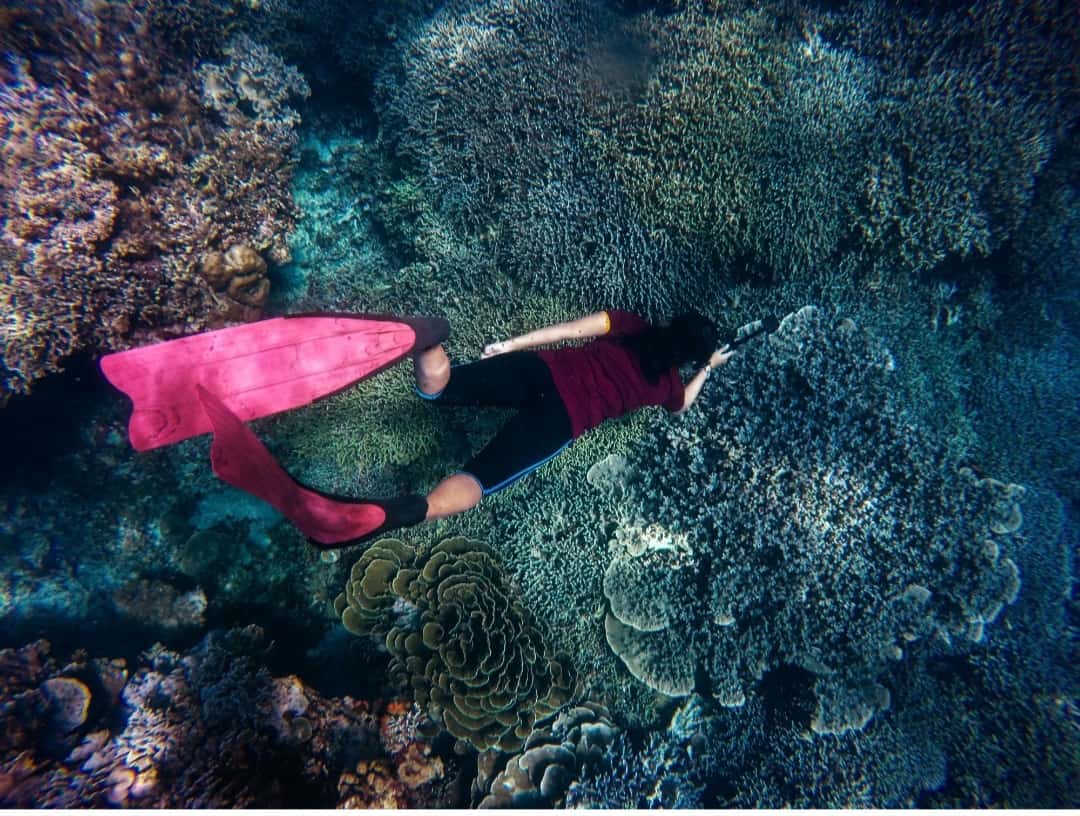 ---
Mask Strap Cover
Cost: $10 | See on Amazon
While I've mostly only seen women with these, they could be beneficial for anyone who doesn't want their hair ripped out. Getting your hair stuck in your mask strap is not fun and not something you want to deal with underwater. This mask strap cover is one of the most affordable gifts for divers too!
I personally got this sharknado one – because why wouldn't I – but there are several different designs and colors. Actually, my boyfriend bought this for me after I let it sit in our Amazon cart for too long. So, if you have access to your significant other's Amazon cart, check there for ideas!
---
Personalized Waterproof Labels for Gear Bags
Cost: $30 for 140 labels | See on Amazon
Did you ever mark your luggage in some crazy way so you didn't have to try to decipher your back bag from everyone else's on the luggage carousel (yet another reason to travel carry-on only)? Well, dive bags can look pretty similar as well – in fact, a lot of dive gear, in general, can look pretty similar. Save the hassle and put some of these personalized, waterproof labels on your stuff to keep track on dive boats.
---
Waterproof Pouch
Cost: $13 | See on Amazon
No wants their fun day out ruined by getting something wet. Gone are the days when we could push people in the pool as a joke because their entire life is probably in their pockets. This waterproof pouch is a great and inexpensive gift for scuba divers, kayakers, SUP-ers, or even just beach-goers.
It's also snowproof, dirtproof, sandproof, and…foolproof?
---
Dive Bag
Cost: $45 | See on Amazon
For a diver who has their own gear or at least several items of their own, a mesh dive bag is a perfect gift for divers! They need something to lug it all around in and mesh is the preferred type of bag amongst divers so that water does stay in the bag and the bag itself is easy to clean and dry.
Some divers have a smaller mesh bag for their mask and snorkel, but I think this is more of a personal preference thing.
---
Dry Bag
Cost: $18 | See on Amazon
I love the water but I hate when things get wet that aren't supposed to. Dry bags are perfect for keeping everything nice and dry such as a change of clothes, electronics, wallets, and so on. These are great gifts for divers but also anyone who spends time on the water.
Dry bags come in all sizes and colors and are probably one of the best inventions, ever.
xxxxxxxxxxxxxxxxx
xxxxxxxxxxxxxxxxx
---
Dive Computer
Katie & Ben of Two Wandering Soles
See on Amazon
Aside from a quality pair of goggles, one of the most important and coveted pieces of gear amongst the scuba-obsessed is a dive computer watch. In the simplest of terms, it is a compact gadget that keeps you safe underwater.
While it looks more like a watch than a computer, it does so much more than tell you the time. A dive computer will let you know your current depth and how many minutes you can stay at that level. Plus, it recalculates as soon as you reach a new depth. Staying below the surface too long can be extremely dangerous, and making the calculations manually is not fun. A dive computer, on the other hand, does all the hard work for you!
After your dive, you can use your computer to track all the important stats, like how many meters you reached and your time spent underwater. It will also let you know how much decompression time you need (aka time spent above water between dives).
Dive computers are not cheap, but anyone who is serious about scuba diving likely already has this item on their wishlist. They'll love receiving a dive computer as a gift, and you can help keep your favorite diver safe.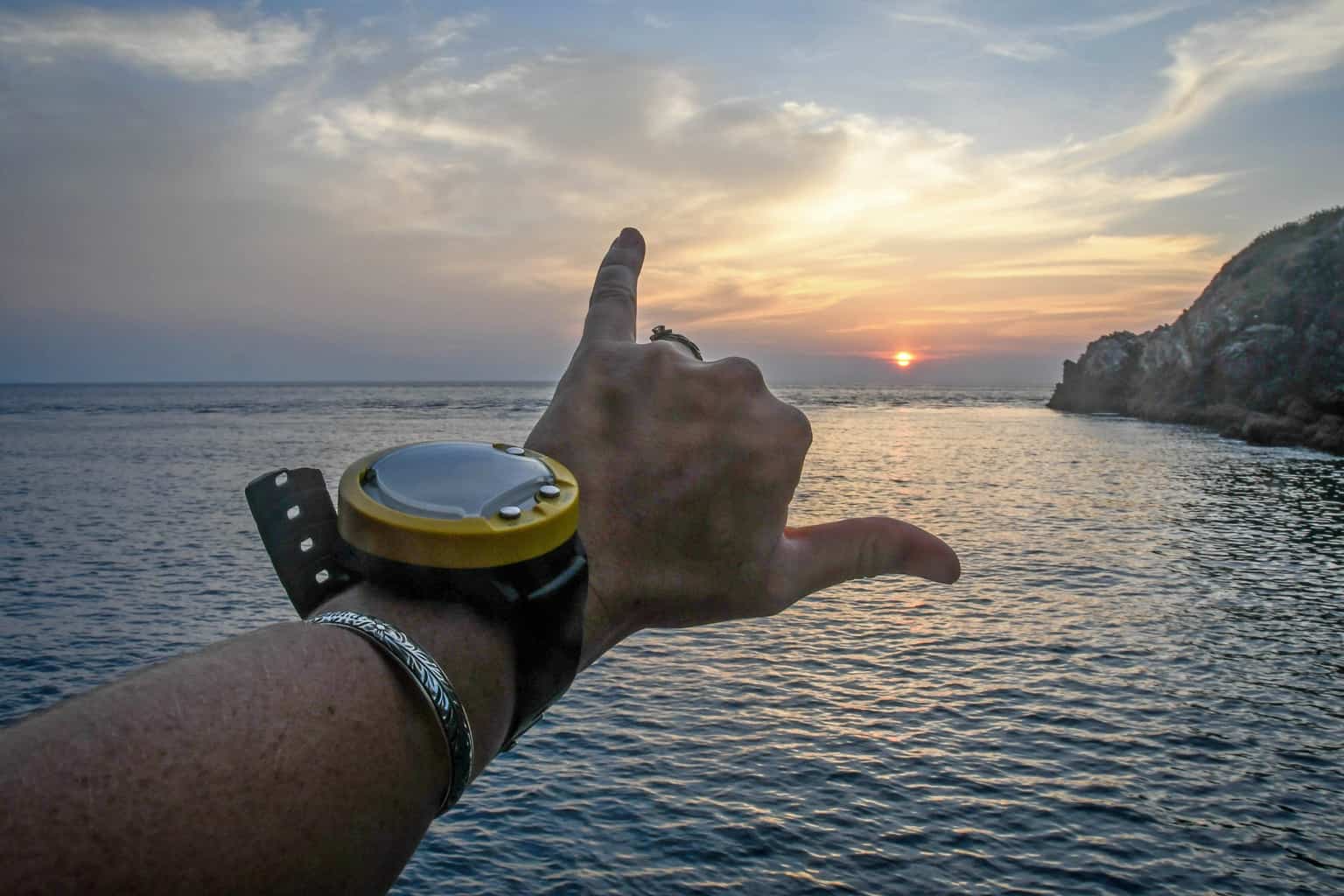 ---
Dive Light
James of Travel Collecting
Cost: $120 | See on Amazon
One of the best gifts for divers is a dive flashlight. They are most commonly used in night dives when the ocean can be pitch black, but they are also great for wreck dives and caves dives. Night dives, wreck dives, and cave dives require an Advanced Diving License, so check on the level of experience and license your diver has. However, even for less experienced divers with a standard diving license, having a flashlight can add to the dive experience because it allows you to peer into cracks in the rock to see what is hiding from you.
I actually take my dive flashlight with me when I travel even if I'm not diving because it is a powerful waterproof flashlight. I have used it for river trekking, caving and camping in addition to diving.
When using a flashlight, it is essential not to lose it, which is easy to do if you get distracted and drop it underwater. I have had more than one flashlight sink to the bottom of the sea just as I am on my ascent, so it has been impossible to retrieve. Therefore, always make sure it has a strap – or buy a strap along with it. Together, they make the perfect diver gift.
---
Scuba Diving Mask
Alejandra of Universo Viajero
See on Amazon
When you are a diver, the whole equipment is important… but, can you imagine going down several meters underwater and that because of a problem with your mask you can't see anything? For many, the mask is by far the most important item of the equipment. Also, it is easy to carry in your suitcase so you can buy a good one and take it everywhere with you, and you can use it for snorkeling when you do not have the opportunity to dive or are just relaxing on the beach and want to take a look underwater.
A good mask is one that fits perfectly with the shape of the face, so a good test is to breathe in strongly and release it (without tying it to the head). The mask should not fall and air should not be able to go inside. It is also important to buy a good brand and not just one on the street or a cheap souvenir store. This way you can make sure that the straps are not going to quickly break and the mica will not be easily scratched.
You can complement this gift with an antifog liquid and will bring surely smile to any diver. There is nothing worse than a mask that constantly fogs up when you are already underwater and makes you probably miss more than one animal, coral or fish for being cleaning it or not being able to see clearly. Also, with a clear mask, you can be aware of everything around you and dive responsibly without hitting or breaking anything underwater.
Since masks are such a personal item and some divers even need a prescription dive mask, it's best to either accompany your friend or family member or gift them a gift card to pick out their own mask.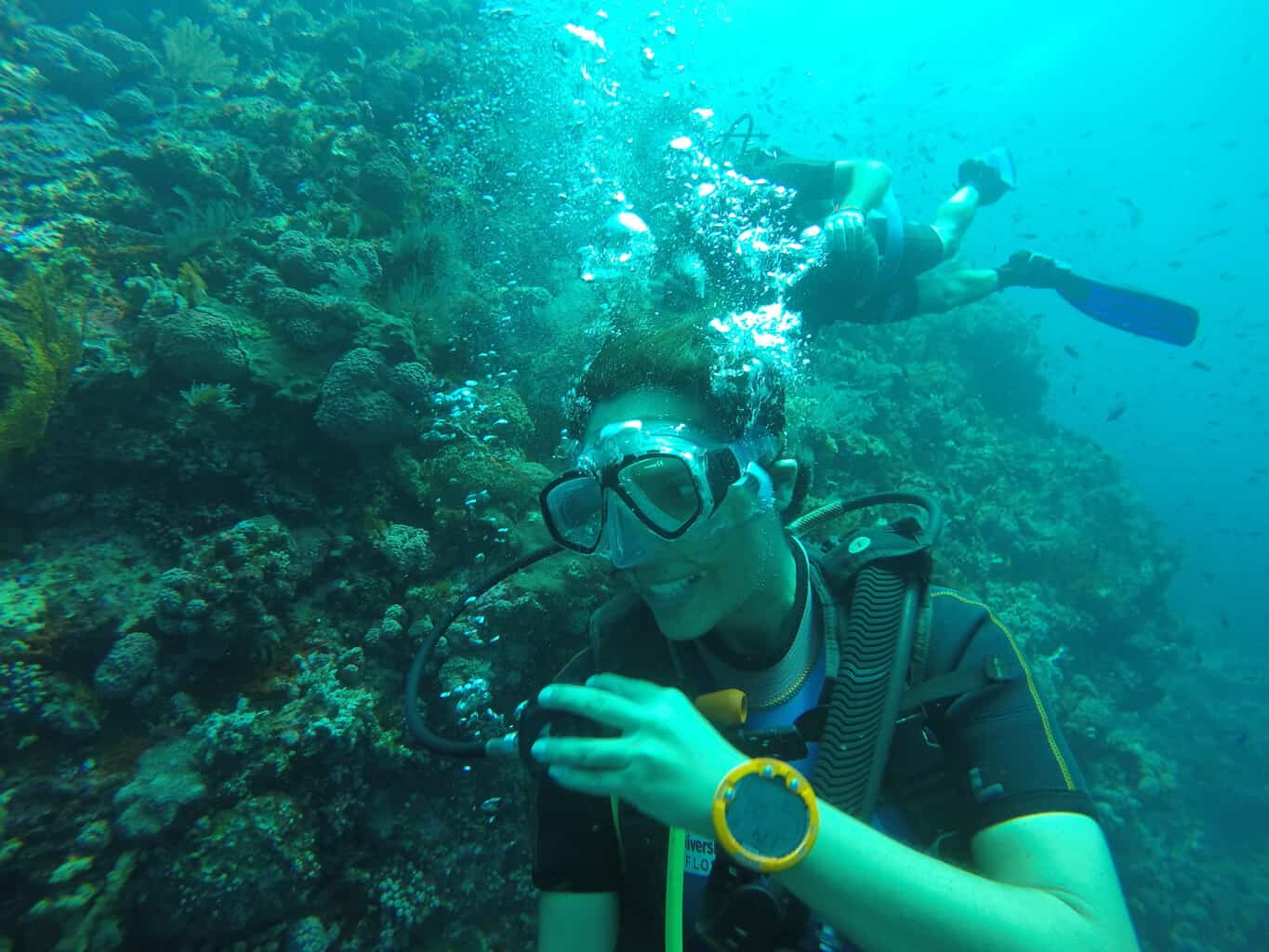 ---
Anti-Fog Gel
Cost: $9 | See on Amazon
The first gear purchase I made was my own mask because I was sick of the rentals constantly fogging up on me and leaking water. Considering clearing my mask was the most terrifying part of my diving certification, I wasn't in a rush to do it every two seconds. During my certification, I was taught to just use the best anti-fog you can – your own saliva. If that's not you or who you're buying a gift for, then anti-fog gel is the only other option. But, you'll want to make sure it's reef-safe as well.
---
Waterproof Phone Case
Cost: $8 | See on Amazon
Are you clumsy like me? Perhaps you're a little nervous about taking your phone on a boat. Or, maybe you want to take your phone in the water while swimming during dives or snorkeling. A waterproof phone case is perfect for that and for storing while you're on your dive just in case.
xxxxxxxxxxxxxxxxx
xxxxxxxxxxxxxxxxx
---
Dive Knife
Cost: $30 | See on Amazon
A dive knife is used for many reasons (and comes at all price points!), but the reason I most want one is in case I was to come upon an animal who was tangled in something and needed my help. All of these amazing videos we see of divers, kayakers, and so on cutting lines or plastic wouldn't be helpful if they didn't have a knife. Dive knives are also handy for getting out of tight places.
---
Reef Safe TSA-friendly travel bag
Cost: $25 | See on Amazon
This is a fun stocking stuffer! This bag includes carry-on friendly versions of the necessities including defog gel, lip balm, wetsuit cleaner, and sunscreen. This is great for quick trips especially if they're traveling carry-on only and don't want to drag the full-size versions of everything.
xxxxxxxxxxxxxxxxx
xxxxxxxxxxxxxxxxx
---
Waterproof Bluetooth Speaker
Cost: $28 | See on Amazon
Spending time on a liveaboard dive trip or doing a few shore dives and have downtime in between dives? A waterproof, sandproof Bluetooth speaker is perfect for scuba divers or anyone who spends time outdoors!
xxxxxxxxxxxxxxxxx
xxxxxxxxxxxxxxxxx
xxxxxxxxxxxxxxxxx
---
PADI Continuing Education Course
Dive Poncho
Demi of Around the World with Her
Cost: $60 | See on Amazon
As a PADI Instructor, I spend an awful lot of my time in the water, usually two to four dives a day! When I first started out I was in Costa Rica so the water was warm, and so was the air temperature. I rarely had to worry about getting cold! However, when I moved to Malta, the water was chilly early in the season and no amount of wetsuit was enough to stop me shivering!
I invested in a pink poncho, made of quick-dry toweling material, which slips over the head and comes with a hood too! Perfect for shielding you from the winds and great for warming you up post-dive!
I quickly realized this poncho had many uses – sun beating down? I put it on to avoid sunburn during the surface interval! And on those days in Malta where the dive site is packed and the queue for the toilets is long, I could skip that and get dully changed under my poncho!
Now I don't teach so often, but when I go on dive trips, my poncho is firmly on my dive packing list! I bought my poncho off Amazon, however, I have seen in some outdoor shops much thicker ponchos, with a thick fleece lining. Any diver would appreciate a poncho as a gift!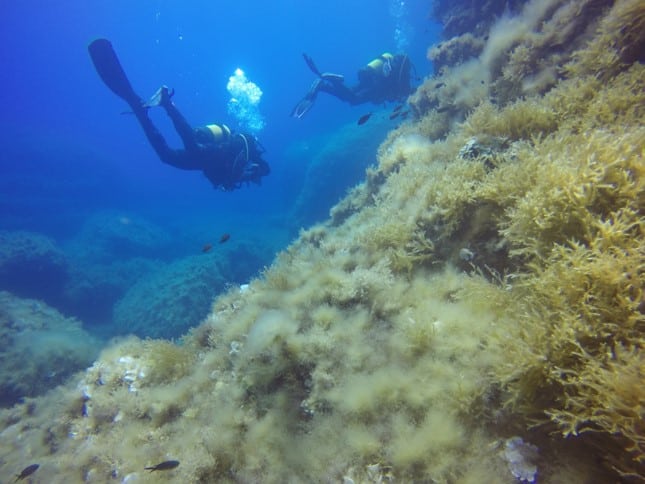 ---
Gifts for Divers to Keep Them Safe
Compass
Ed & Jenn of Coleman Concierge
See on Amazon
What makes a good gift? For me, it's something that everybody needs, but maybe they don't know it yet. For divers, that's a compass. Sure, it's part of the required gear for advanced certification, but even before that, you will need one. That is, of course, if you know how to use it. And the best way to learn is to have one strapped to your wrist so yeah, you need one.
We really learned the value of a good compass when diving at the Blue Heron Bridge. It's an easy dive in 20′ of water, but you need to navigate along the shore and hang a right turn to the bridge. Sounds easy, until you try. Having a compass and practicing underwater navigation not only is fun, but it boosts your confidence and gets you prepared for advanced open water and beyond. Who knows, if you have a knack for nav, you might be the one leading your dive group down the shore and around the bend. Even on boat dives, having a compass on your wrist will help you find all the good stuff the DMs go over in the pre-dive briefing. You want to look for a compass that's easy to read and continues tracking even at high angles. It's hard enough to navigate underwater without the extra concern of keeping that darn compass perfectly level.
---
Pacsafe Bag
Sarah of A Social Nomad
Cost: $75 | See on Amazon
We use and recommend a portable safe as a great gift for divers and snorkelers alike.  And before you start imagining heaving around a large metal box, our portable safe rolls up and fits into our backpacks when we're not using it.  Our PacSafe is a wire mesh enforced black bag, with a rolled steel closing mechanism.  It's big enough to get two laptops, a camera, wallets, passports and more inside.   Portable safes come in different sizes though, from 5-liter capacity up to 15 liters.  Connect up the cable, and then loop the cable around an immovable object and padlock it and all your valuables are safe and secure while you dive or snorkel.   We tend to use trees as our immovable objects when we're in the water. We used it most recently in Cuba, diving and snorkeling the historic Bay of Pigs – no need for one of us to sit and bag sit while the others had fun!    And while we tend not to take our laptops to the dive spot, we usually have keys, wallets, and cameras.  Most thefts from divers and snorkelers tend to be opportunistic.  The PacSafe stops opportunistic theft and means that your gear is safe.  Of course, we use it mostly when we're traveling and leaving gear in our room, attached to a wooden or metal bed frame or solid plumbing fixtures.   It rolls down or stays flat at the bottom of our backpacks when not in use.
---
Delayed Surface Marker Buoy
Campbell and Alya of Stingy Nomads
See on Amazon
One of the handiest gifts for scuba divers is a DSMB (delayed surface marker buoy) also known by divers as a safety sausage. Many divers do not own one yet, it is small enough to pack on dive trips and it falls in a good price category. A Surface Marker Buoy is used by scuba divers, with a line, to indicate the diver's position to boats while the diver is underwater. A DSMB is deployed by the diver towards the end of the dive as a signal to the surface that the divers are ending their dive and have started to ascend. The safety sausage is a tubular buoy that is inflated by the diver at or near the surface and slowly released by unwinding a reel with line. The boat can see the brightly colored tube bobbing above the water while divers are ascending and remain below the surface while doing safety or decompression stops. Doing drift dives it is important that each diver has his own DSMB, that buddy pairs can ascend independent and the whole group does not have to end their dive if one diver has reached his air limit.
---
Reef-Safe and Ocean-Friendly Sunscreen
Carly of Fearless Female Travels
See on Amazon
Scuba diving is one of my favorite activities during travel and I always appreciate when my friends and family give me scuba-themed gifts.  One of the best gifts I've received recently, and repeatedly, was reef-safe sunscreen. I first learned about the importance of reef-safe sunscreen from the Roatan Marine Park staff in West End, Roatan, Honduras (one of the best diving sites in the Caribbean!). They explained that standard sunscreens contain chemicals (notably oxybenzone and octinoxate) that can harm fish and coral.  Reef-safe sunscreens protect your skin with fish-friendly alternatives like zinc oxide and other biodegradable ingredients. As a scuba diver, it's important to me that I don't harm the natural ecosystem that brings me so much joy.  Now, I always ask for a bottle of reef-safe sunscreen in my stocking, so that I'll have it on hand when I take my annual spring break scuba trip.
There are many brands of reef-safe sunscreen out there, so it can't hurt to ask your giftee a few questions about their preferences.  Do they need sunscreen for their face or body? Do they prefer lotion, spray or stick? And how do they feel about fragrance? Once you've got some information it should be easy to find a good match at your local natural health store or online.
---
Scuba Divers Insurance
DAN (Diver's Alert Network) provides insurance and emergency medical assistance to scuba divers and is highly suggested for all divers and diving insurance is required by some companies.
Renewing their policy and purchasing a policy for a new diver is a great gift idea.
---
Scuba Diving Gifts for Her
Leggings
Cost: $65 | See on Waterlust
Depending on when and where you're diving, wetsuits aren't always needed. These high-performance leggings with unique prints are adapted from photographs and inspired by nature. They are also made from 10 recycled, post-consumer plastic bottles, UPF sun protection rating of 50+, 4-way stretch, quick-drying and anti-microbial. Wide, comfortable waistband and fabric that supports you while you move. Designed for exploring, sailing, kiting, surfing, swimming, diving, running, yoga, traveling, lounging, workout classes and any other ways you can think of.
View this post on Instagram
---
Narwhal Slippers
Cost: $40 | See on Amazon
Whether you're exploring the Arctic Circle or the Deep Dark Depths, you'll find a narwhal friend to keep you company. Choose from two heated slippers, one wireless and one USB powered to show off your unique personality. These warming slippers are powered by either an internal, rechargeable battery pack or with extra long USB plugs. Be sure to choose the right pair for your next adventure!
---
Mermaid Tail Blanket
Cost: $20 | See on Amazon
Have you ever dreamed of being a mermaid like Ariel when you were a kid? Seriously, who wouldn't want to be able to be adorable and comfortable at the same time  Imagine yourself in this mermaid tail blanket, you'll feel cozy and warm, and you'll look a goddess from the sea!
xxxxxxxxxxxxx
xxxxxxxxxxxxx
---
Scuba Diving Gifts for Him
---
Shark Slippers
Cost: $24 | See on Amazon
Don't think for one second that the guy in your life wouldn't wear these slippers if you bought them for him. In reality, this is a great option when looking for gifts for divers – despite who they are!
xxxxxxxxxxxxxxxxx
xxxxxxxxxxxxxxxxx
---
Scuba Diving Evolution T-Shirt
Cost: $20 | See on Amazon
The perfect t-shirt to show off his love of diving!
xxxxxxxxxxxxxxxxx
xxxxxxxxxxxxxxxxx
xxxxxxxxxxxxxxxxx
xxxxxxxxxxxxxxxxx
---
Gifts for Divers Who Love Photography
As a new scuba diver, I'm already realizing I want to invest in a camera to get all those amazing underwater shots I see. There are a lot of great dive cameras out there – use this guide to find the best dive cameras.
---
Extended Pole for GoPro
Bret & Mary of Green Global Travel
Cost: $55 | See on Amazon
When we first started shooting underwater videos, the state-of-the-art technology for non-professionals was the Flip Video Camera. Originally released in 2006, these tapeless digital video camcorders were big and bulky by today's standards, and early models offered a not-so-hi-definition 640 x 480 resolution. By the time GoPro released its HD HERO2 in 2011, Flip cams had gone the way of the dodo, and rightly so. The HERO2 boasted 1280 × 720-pixel resolution, fit into your pocket easily, and had an underwater housing rated up to 30 meters. The only problem was the camera's shallow depth of field made the GoPro difficult for underwater filming.
GoPro Mask Mount
Cost: $15 | See on Amazon
Red Filter
Macro Lens for GoPro
Cost: $30 | See on Amazon
A macro lens is a must-have for divers who dive with a GoPro. While with SLRs it can be natural to not have issues with close up focusing, the GoPro traditionally works best when shooting objects further away, and has trouble focusing when subjects are close to the camera.
Not everyone can afford to splurge on underwater housing for their main camera, which is why the GoPro is so popular among divers. There have been quite a few companies that have sprung up and started making a macro lens specifically for GoPros, often of the clip-on variety. Polar Pro even offers a 2in1 product called the Switchblade which combines a macro lens with a red filter which you can attach to your GoPro's underwater housing.
A macro lens solves the problem of close up focusing, which all models of the GoPro struggle to do. The macro attachment lens makes it possible to get sharp, close up images of fish, nudibranchs and other small aquatic life. It also does you some favors in making the subject appear zoomed in for your shot. This is perfect as often with small creatures you need to get quite close to them to get a clear picture, but don't want to get too close that it bothers them.
The lens itself is relatively compact, but because the macro lens is made of glass, it can be a little heavier than you expect. It's still much lighter than an actual lens and SLR combo though. While clip-on macro lenses seem pretty sturdy, it may be best to avoid diving in rough water with the attachment.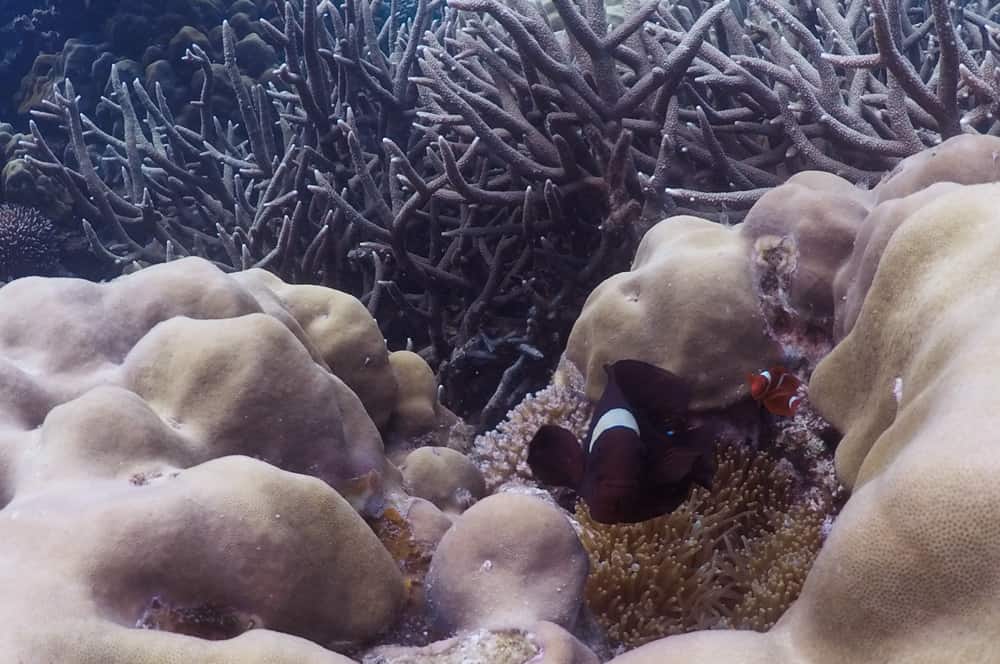 ---
GoPro Dive Housing
Cost: $34 | See on Amazon
GoPro seems to be one of the most popular camera choices for many adventurers due to its versatility. A few accessories are needed to get a GoPro ready for underwater adventurers including a GoPro dive housing.
xxxxxxxxxxxxxxxxx
xxxxxxxxxxxxxxxxx
---
GoPro Floaty
Cost: $10 | See on Amazon
This simple and inexpensive gift for divers is perfect for someone who already has a GoPro or as a gift alongside a GoPro. Should the diver in your life accidentally drop their camera, this will keep it from sinking to the deep depths. Even if their dive isn't deep, it's still helpful so they don't have to chase it down.
xxxxxxxxxxxxxxxxx
xxxxxxxxxxxxxxxxx
---
Olympus TG-6 Underwater Camera
Cost: $472 | See on Amazon
This camera is currently on my wishlist as my first underwater camera. After watching threads, seeing images, and, of course, having a moderate budget, I've settled on this camera.
Waterproof (50 ft. / 15 m), dustproof, shockproof (7 ft. / 2. 1 m), crushproof (100kgf), freezeproof (14°F/ -10°c), anti-fog
High-resolution F2. 0 lens, maximum 8x zoom, true pic VIII, back-illuminated CMOS Image Sensor
Variable macro system comprised of 4 macro shooting modes, magnified shooting up to 1cm from the end of the lens
5 underwater shooting modes including underwater microscope, 3 underwater white balance modes
4K movie and full HD 120 fps high-speed movies can be recorded
---
PT-59 Underwater Housing Bundle
Cost: $300 | See on Amazon
This underwater housing is designed specifically for the Olympus tough tg-6, withstand pressure to a depth of 45 m (147 feet).
xxxxxxxxxxxxxxxxx
xxxxxxxxxxxxxxxxx
---
Gifts for Divers Who Have a Thirst for Knowledge
Shadow Divers
Cost: $15 | See on Amazon
In the tradition of Jon Krakauer's Into Thin Air and Sebastian Junger's The Perfect Storm comes a true tale of riveting adventure in which two weekend scuba divers risk everything to solve a great historical mystery–and make history themselves.
Author Robert Kurson's account of this quest is at once thrilling and emotionally complex, and it is written with a vivid sense of what divers actually experience when they meet the dangers of the ocean's underworld. The story of Shadow Divers often seems too amazing to be true, but it all happened, two hundred thirty feet down, in the deep blue sea.
---
Deep
Cost: $13 | See on Amazon
Deep is a voyage from the ocean's surface to its darkest trenches, the most mysterious places on Earth. Fascinated by the sport of freediving—in which competitors descend great depths on a single breath—James Nestor embeds with a gang of oceangoing extreme athletes and renegade researchers. He finds whales that communicate with other whales hundreds of miles away, sharks that swim in unerringly straight lines through pitch-black waters, and other strange phenomena. Most illuminating of all, he learns that these abilities are reflected in our own remarkable, and often hidden, potential—including echolocation, directional sense, and the profound bodily changes humans undergo when underwater. Along the way, Nestor unlocks his own freediving skills as he communes with the pioneers who are expanding our definition of what is possible in the natural world, and in ourselves.
---
Reef Coral Identification
Cost: $30 | See on Amazon
I've never been as interested in learning about fish as I am now that I've entered their own territory and seen them for real and not just an aquarium or fish tank. I've also started following divers who share scientific names of marine species and little tidbits about them – one of them is on my list of badass female scuba divers to follow. So, it's only natural that I wanted to pick this book up and if the diver in your life is interested in knowing more about what they're seeing, this is the perfect stocking stuffer! Make sure to get the ones that cover the area they dive in regularly!
---
Neutral Buoyancy
Cost: $16 | See on Amazon
In Neutral Buoyancy, journalist and diver Tim Ecott takes you on a guided tour of the history of undersea exploration and the emergence of diving culture. He tells the extraordinary story of man's attempts to breathe underwater, from the sponge divers described by Aristotle, to the development of sixteenth-century diving bells, to the invention of modern scuba equipment. Along the way, Ecott intersperses the story with his own thrilling adventures, from the waters of the South Pacific to the remote islands of the Seychelles, from explorations in the clear, flowing tides of Sardinia to a near-death experience in the cold gray depths of the English Channel. Filled with engaging stories of humanity's conquest of the undersea world — and heart-pounding action that will leave you breathless — Neutral Buoyancy is a compelling blend of history and adventure, an exciting overview of the world of undersea diving.
---
Diver Magazine Subscription
Cost: $29 | See on Amazon
Diver is a Canadian magazine with articles and features on travel adventures, great diving locations across Canada, photography, equipment reviews, dive boat reviews, wreck diving, marine life, and diving medicine.
xxxxxxxxxxxxxxxxx
xxxxxxxxxxxxxxxxx
---
Scuba Diving Magazine Subscription
Cost: $15 | See on Amazon
Scuba Diving is your one-stop resource for information on how to scuba dive, scuba gear, dive travel, dive photos, videos, training, and more.
xxxxxxxxxxxxxxxxx
xxxxxxxxxxxxxxxxx
xxxxxxxxxxxxx
xxxxxxxxxxxxx
---
Scuba Themed Gifts for Divers
Deep Tea Diver
Cost: $8 | See on Amazon
I'm pretty much obsessed with this tea diffuser – he even has a name! Fred, the deep tea diffuser is perfect for tea lovers and divers. As someone with anxiety and has to take extra steps to contain my anxiety before dives, non-caffeinated tea is a perfect alternative to coffee before a dive. Fred should help ease some of that anxiety as well.
xxxxxxxxxxxxxxxxx
xxxxxxxxxxxxxxxxx
---
Scuba Tank Water Bottle
Cost: $29 | See on Amazon
Talk about a great conversation-starter, this scuba diving tank-inspired water bottle is an excellent gift for scuba divers. It's not hyperbole to say that divers need air to survive. Now with this thoughtful water tank bottle, they can get a sip of water from their tank!
Surprisingly enough, there are not many water bottles created with the scuba diver in mind. And just because a scuba diver spends their diving time underwater does not mean they don't have a taste for water. Get him/her excited to stay hydrated with a water bottle inspired by their passion.
What I especially love about this water tank bottle is its durability, stainless steel shell, and BPA-free guarantee and supersized capacity kind of like an air tank (but for water). A water bottle that holds its form despite external forces and pressure (like divers experience) is a gift that'll stand the test of time. And the stainless steel material ensures that you're drinking water. Nothing more, nothing less aka no scary chemicals leaching into your water. And no aftertaste and buildup from extended use.
And as you would expect, this water bottle keeps liquids cold for up to 24 hours, making it a great companion for travelers and those with a passion for the great outdoors.
Thoughtful, creative, and multifunctional, a fun reminder of two life essentials – water and air/oxygen.
---
Diver Flag Sticker
Cost: $10 | See on Amazon
Let the diver in your life show off their favorite activity by placing a dive sticker on their computer, tank, car, or wherever else! These come in different options – sharks, turtles, diver, a dive flag and more.
xxxxxxxxxxxxxxxxx
xxxxxxxxxxxxxxxxx
xxxxxxxxxxxxxxxxx
xxxxxxxxxxxxxxxxx
---
Shark Week Cookie Dunk Mug
Cost: $18 | See on Amazon
Know someone with a sweet tooth and also loves sharks? This is a handmade mug with all lead-free, eco-friendly, non-toxic materials. Safe to place in the dishwasher and microwave. The front of the mug has a special compartment for cookies or biscuits. Inside is a scuba diver, and the back reads LIVE EVERY WEEK LIKE IT'S SHARK WEEK.
xxxxxxxxxxxxxxxxx
xxxxxxxxxxxxxxxxx
---
Shark Fin Ice Cube Tray or Mold
Cost: $9 | See on Amazon
Who wouldn't want shark-fin shaped ice or chocolates or really miniature muffins? Perfect for a Shark Week marathon or just a regular Tuesday.
xxxxxxxxxx
xxxxxxxxxx
xxxxxxxxxxxxxxxxx
xxxxxxxxxxxxxxxxx
---
Nudibranch Mug
Cost: $24 | See on Etsy
I'm just obsessed with nudibranch and this mug! Show your love for the ocean with this unique and colorful nudibranch coffee mug, a perfect gift for your favorite scuba diver. Nudibranchs are brilliantly colorful jewels of the sea: tiny sea slugs with fantastic color patterns, a joy for any ocean explorer to find.
xxxxxxxxxxxxxxxxx
xxxxxxxxxxxxxxxxx
---
Gifts for Divers For a Good Cause
4Ocean Bracelet
Cost: $20 | See on Amazon
I love my 4Ocean bracelets! 4Ocean is one of my favorite companies and is a great way to help save the sharks along with many other marine animals. With the purchase of each bracelet, 4Ocean removes one pound of trash from the ocean. The bracelet is made of 100% recycled materials – the beads made from glass and the cord from plastic – all found in the ocean.
They come in all different colors and each month they focus on a different marine animal or other aspects of ocean conservation.
---
Project Hiu Bracelet
Cost: $25 | See on Project Hiu
100% of the profits raised from our shark bracelets are re-invested into our ecotourism project. This, in turn, helps aid: waste management, education, and tourism initiatives. One bracelet saves one shark! There is technically a "male" and "female" version of the bracelet, but of course, they're unisex. The bracelets are made in batches so if it says sold out, keep checking back.
---
Make a Donation in Their Name
Making a donation in their name is a great idea for gifts for divers. I personally don't like a lot of stuff and conservation is incredibly important to me so this would be a welcomed gift for sure.
---
Gifts for Divers who are Eco-Conscious
If there's one thing I've picked up on, it's that dive shops and divers tend to be very well aware of the fact that one of the major problems for our oceans and our planet is plastic. Therefore, the diver in your life would most likely be very appreciative of any gift that cuts down on plastic pollution. I've put together a guide on easy ways to practice plastic-free travel and my favorite cruelty-free, ocean-friendly, and vegan beach essentials and all of these would be great gifts for divers.
---
Gifts for Divers For the Car
Waterproof Seat Cover
Cost: $30 | See on Amazon
After shore diving at the Deerfield Beach pier recently and riding in my friends' car, I realized how one of these would come in hand if I was to live closer to the ocean and do more shore diving or just getting in the water at all. Now, if only there was a way to keep all the sand out too.
xxxxxxxxxxxxxxxxx
xxxxxxxxxxxxxxxxx
---
Magnetic Key Holder
$7 | See on Amazon
Does the diver in your life love shore diving? A magnetic key holder is the perfect practical gift or stocking stuffer for them. Shore diving means you either have to leave stuff on the beach and trust people or you have to leave it all in the car. Either way, what are you going to do with your car key?
That's where the magnetic key holder comes in hand.
---
Buying Guide for the Best Gifts for Divers
If you're anything like me, you want to get the perfect gift for someone so bad that you spend way too much time over-analyzing it that you end up waiting too long and have to settle for a less than subpar gift and then you're like "I swear I'm a better gift giver then this…"
No? Just me then?
Buying gifts for anyone can be difficult, but if you're not a diver yourself, it may be even more difficult to find the perfect gifts for divers in your life.
I'm not an experienced diver myself. I've just started my journey earlier this year but I'm already obsessed. I've read a lot since though, I've talked with diving friends, been active in diving groups, and I asked several other travel bloggers and divers to contribute their gift ideas for scuba divers in this post. I hope that it has helped ease the buying experience a bit.
For Beginners
If your gift is for someone that loves the idea of scuba diving but they haven't taken the plunge, perhaps gifting them a dive experience would be a perfect option. Ask a local dive shop (they have them even in land-locked areas, friends!) about a dive experience or private classes that they offer. If they know they want to go for their open water certification, go ahead and take the PADI eLearning cost of their plate and they can start learning to scuba dive from the comfort of their home.
If your diving friend or loved one already has their open water certification, but they're still new to diving, it's likely they haven't purchased any of their own gear and this would be a good place to start. As I mentioned before, this can be a very personal decision though and so it's best to get a set wishlist, take them shopping, or make sure the gifts are able to be exchanged or returned.
Some of the non-personal choices on this list would be perfect for stocking stuffers, to increase their inspiration, and continue their newfound fascination.
For Experienced
Scuba diving is a constant learning experience. Even the most experienced divers are constantly learning, in my opinion. There are still plenty of gifts for divers who are experienced though. Gear they don't yet have or want upgraded. Continued education through advanced certifications and specialty certifications.
Open-Ended Budget?
If you're looking to really treat the scuba diver in your life to something special? Send them on the dive trip of their dreams! I would suggest making sure it is somewhere they actually want to go and that whatever certification they have is sufficient for the trip. For instance, some locations require advanced certification.
---
↓↓↓ PIN FOR LATER ↓↓↓