This post may contain affiliate links, meaning if you book or buy something through one of these links, I may earn a small commission (at no extra cost to you!). Please see my disclosure.
It wasn't that long ago that I was panicking in a pool in Costa Rica telling my scuba diving instructor that I was d-o-n-e. Somehow, I pulled through that life-changing experience of getting my open water certification. I knew I would want to keep my skills fresh and my anxiety at bay by trying to get a dive in at least once a quarter. Enter the horrible reality – I'm landlocked in Nashville. How was I possibly going to do this? I had found a pretty cool looking quarry nearby but I was still way too anxious to dive with strangers so I messaged my friends Jenn and Ed and told them – I'm coming down to go diving with you – and through a series of conversations, we decided we would go shore dive at the Deerfield Beach pier.
I didn't really have a fear of boat dives, but I was anxious and I didn't want to feel pressured, rushed, or like I was being a nuisance to anyone – or, at least, not anyone that didn't know my situation. So, we settled on shore dives and went about finding the best dive shop in Deerfield Beach to rent our gear from – Dixie Divers.
There's plenty of great scuba diving in Florida and while I'm a long way away from finding the best diving in Florida, the Deerfield Beach pier was supposed to be pretty great. What it ended up being for me? A great way to practice skills and neutralize a bunch of diving anxiety. In the end, I'd say it was very successful in that perspective.
While I haven't invested in a dive camera yet, I did take my GoPro for the first time on this dive and was finally able to capture my first photo of me scuba diving – achievement for me! Definitely looking to invest in a dive camera this year though and have started doing my research of the best dive cameras.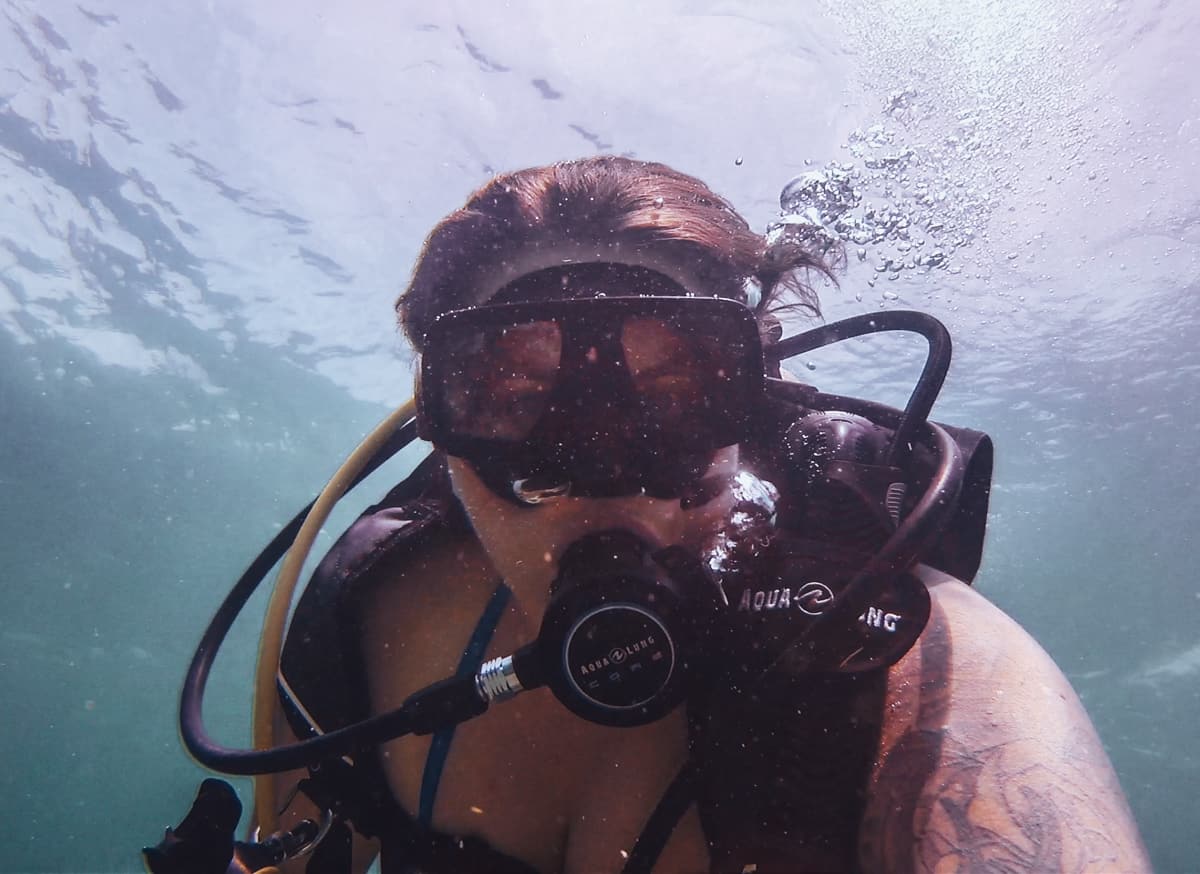 Scuba Rental in Deerfield Beach
Want to shore dive in Deerfield Beach too? I'd definitely suggest heading to Dixie Divers. The reason we chose Dixie Divers as the dive shop to use was through our knowledge of their record-breaking diver cleanup at the Deerfield Beach pier.
In June 2019, 633 divers dove around the Deerfield Beach pier to clean up the waters near the pier. Being a big advocate for the environment and trying to practice plastic-free travel as much as possible, this story really tugged at my heartstrings when it was publicized. It was pretty amazing to then be able to visit the shop that made it all possible and then dive where the clean-up occurred.
The shop was huge and full with everything a diver could possibly want – at least as far as I could tell. It was a Saturday morning and the place was brimming with other clients and excited divers being helped by the friendly staff.
Hanging in the shop you'll find plenty of proud moments about the record-setting cleanup dive including the Guinness Book of World Records certificate and photographs. It was quite an effort to organize such a huge event. Not only were there 633 divers, but there were people on land to help collect the trash and then plenty of people over-seeing and offering support.
---
Deerfield beach underwater cam
Another great initiative that Pavan (the owner) and Dixie Divers has done for the diving community is the Deerfield Beach underwater cam so that divers, snorkelers, and the general public can see the water conditions near the pier.
---
Want to Dive Deerfield Beach Pier?
If you're interested in shore diving at Deerfield Beach pier, you're going to want to know all the details to save you all the struggles we had. It's not as simple as just strolling up to the beach, getting in the water, and go diving. Wouldn't life be wonderful if it was that simple?
There are quite a few logistical things to have straightened out before you go. There are reef sections both north and south of the pier and for the sake of transparency, I only dove the north end of the pier.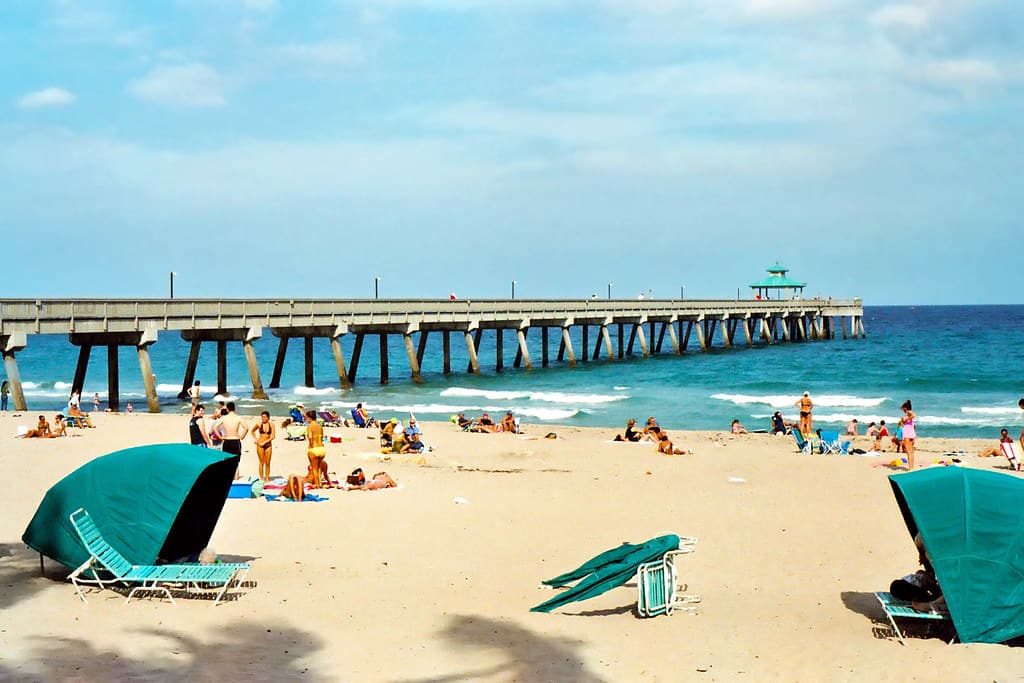 "Deerfield Beach Pier, Florida" by StevenM_61 is licensed under CC BY-NC-ND 2.0
---

Where to Drop Off Your Gear
Where we did this and where you should are two different things so take note! We dropped off our gear at the pavilion right beside the pier which was helpful for getting our gear ready, using the restroom, but not so helpful when it came time to actually dive.
We quickly found out that the instructions we were going by (from somewhere in the internet universe) weren't very explicit and the lifeguard was quick to tell us we couldn't get in the water anywhere near where we were. She told us how far down the beach we needed to go and I quickly learned what shore diving is all about. It'll kick your ass, for sure.
To make things easier, make sure to drop off your gear. There is a beach access walkway immediately to the right of 2500 S Ocean Blvd and immediately to the left of the A1A & Osceola Dr bus stop. I've marked this on the map for you.
Where to Park Your Car
Leave one person with all the gear while the other heads to park the car and trek back several blocks. There are significantly fewer people this far from the pier and I would have felt comfortable leaving a few things on the beach (such as a second tank or a cooler with snacks) while in the water, but I also tend to trust people a bit too much so that's up to you. If you plan on diving two tanks and you don't feel comfortable, you'll just have to go back to the car to switch them out. You can also grab a Pacsafe wire mesh bag protector. I've used this backpacking and it's great! You will just need something permanent to attach it to which could be an issue to find.
I've marked several parking locations and you'll notice that there is a spot in either direction that is closer than the rest.
Where to Get in the Water
You don't actually shore dive at Deerfield Beach pier – just near the pier. The lifeguards will be kind enough to tell you where to go get in the water or you can just follow these instructions for less stress and less walking down the beach with all your gear on.
If you follow the access I mentioned above, just walk straight from the sidewalk and into the water and swim straight out. Make sure to swim just past the buoy (about 600 feet) and descend right around there. This should put you right on top of Turtle Reef.
If you do decide to walk from the pier, look for the three identical white high-rises which sit right next to one another. Enter the water in front of the north (farthest from the pier) edge of the middle building.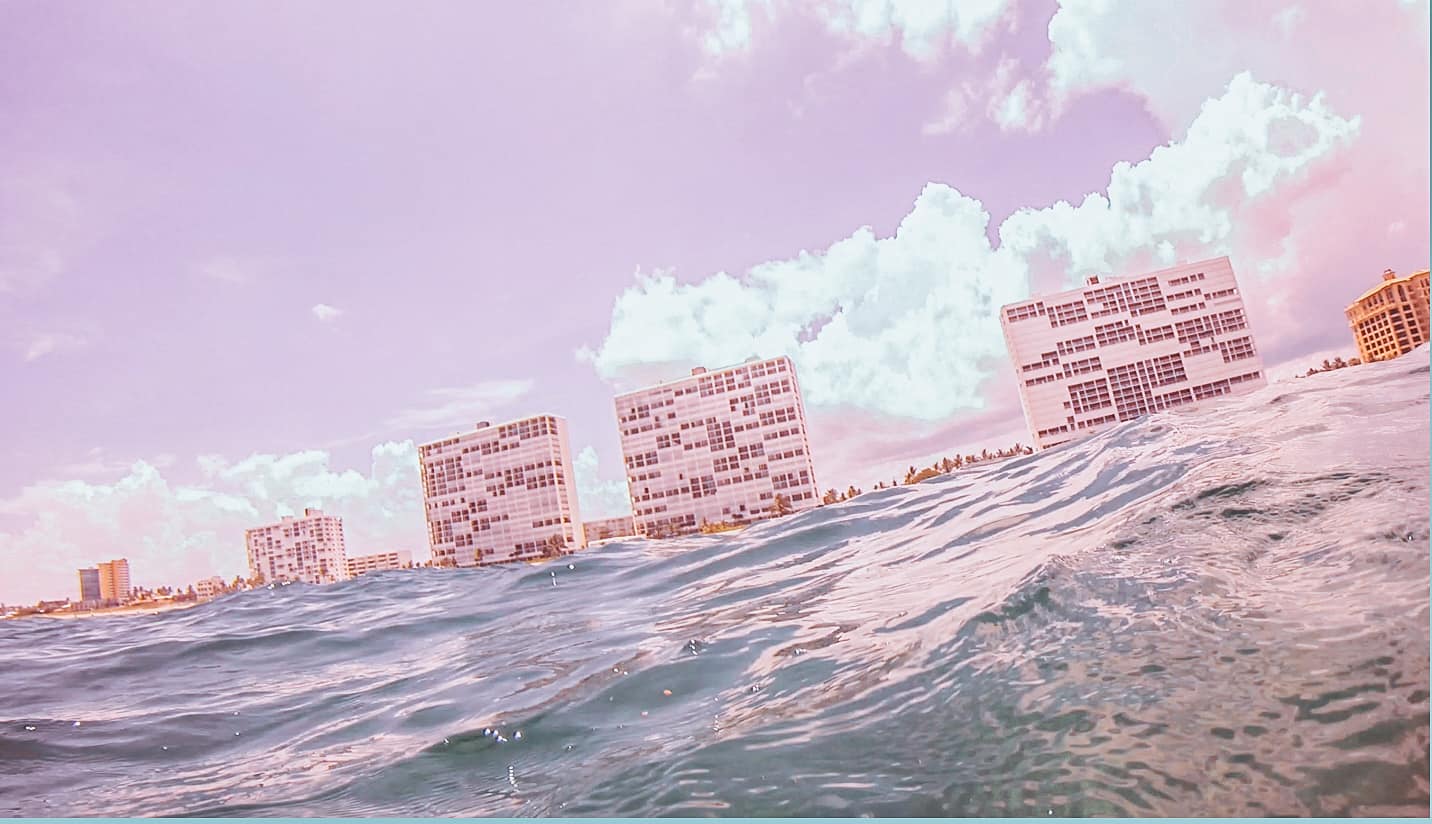 Logistics for Turtle Reef / County Line Reef
Dive Site Name: Turtle Reef or County Line Reef
City: Boca Raton / Deerfield Beach, Florida (where it gets the county line name)
Depth: 13-18 feet
Best Time: April to August for turtles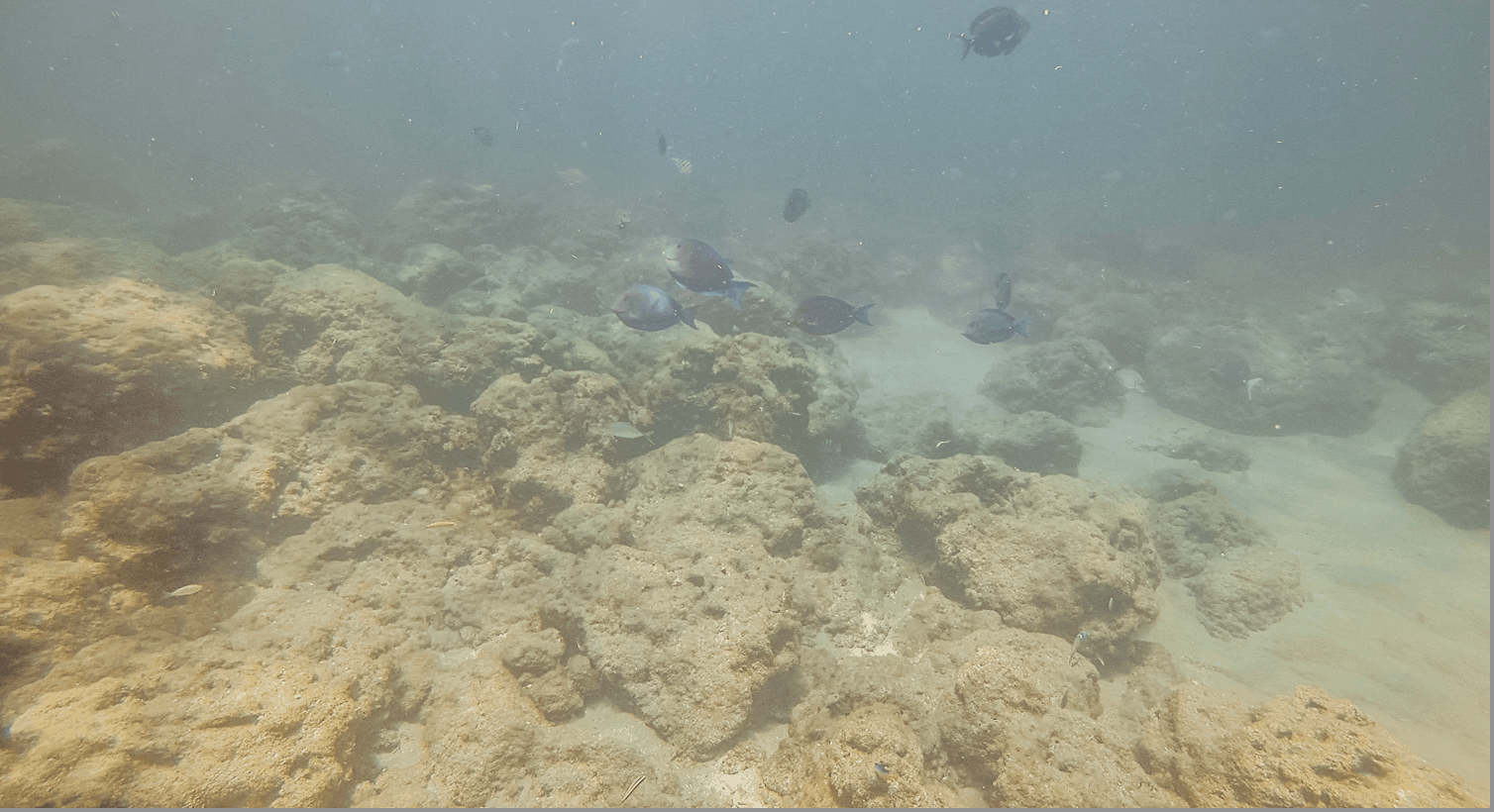 ---
Why Dive the Turtle Reef at Deerfield Beach Pier
Turtle Reef is an artificial reef constructed of giant boulders where you are sure to see plenty of colorful fish, stonefish, and pufferfish. The dive gets its name for the turtles that frequent the area between April and August – several snorkelers and SUP-ers mentioned they saw turtles but we weren't so lucky. It's possible that you'll also see stingrays, eels, nurse sharks, octopus, and more.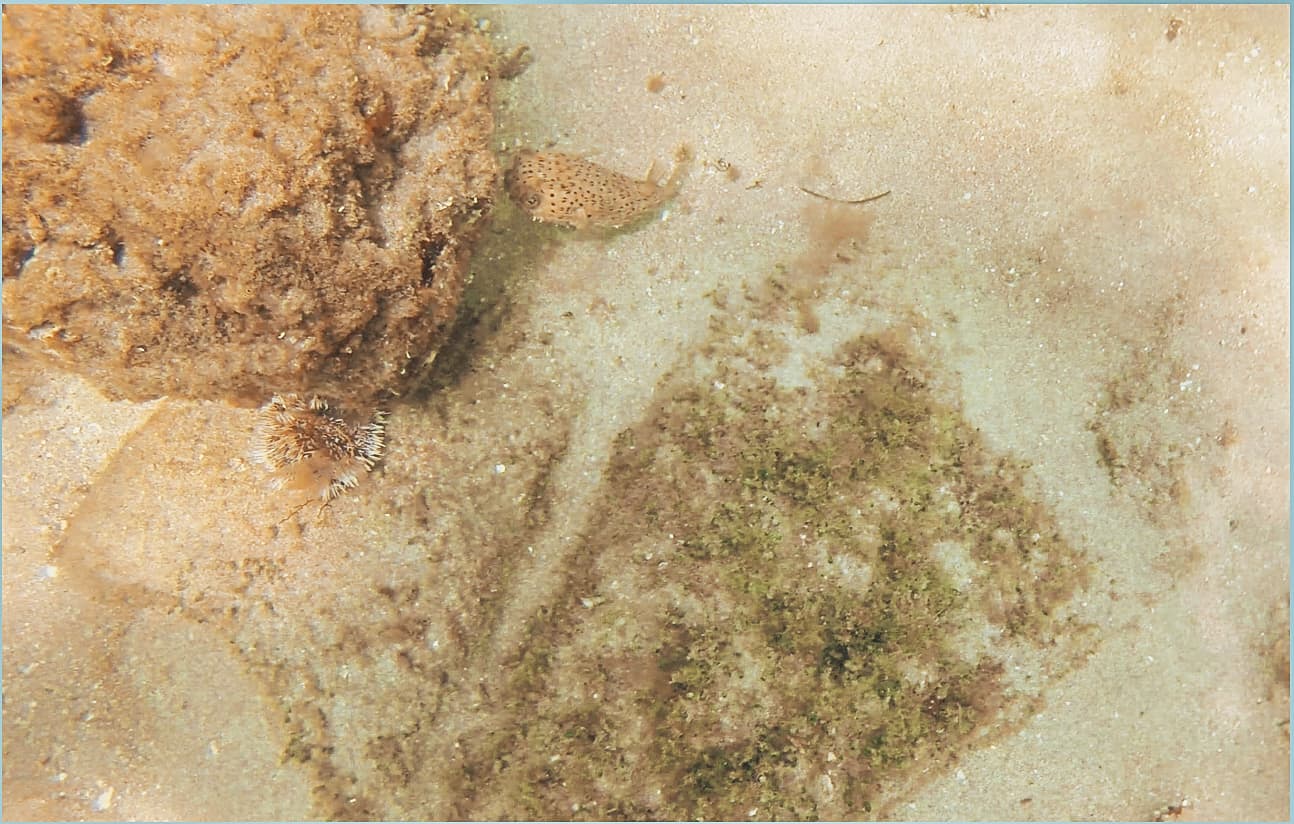 ---
Safety at Deerfield Beach Pier as a Scuba Diver
There is heavy boat activity and a surface marker buoy (SMB) is an absolute requirement for divers and snorkelers.
Currently, Florida law requires divers to display a red divers-down flag with a white horizontal stripe. The new law gives divers the additional option of using a buoy in place of a flag when the diver is diving independent of a vessel. A Flag remains the only option as a diver down warning displayed from a vessel. A divers-down buoy is defined as, "A buoyant device, other than a vessel, which displays a divers-down symbol of at least 12 inches by 12 inches on three or four flat sides, which is prominently visible on the water's surface when in use."

Diving under any pier in this area is forbidden unless the pier is closed such as when the annual Project AWARE beach and pier cleanups. If you're interested in diving the Deerfield Beach pier, Dixie Divers gives you that opportunity once a year.
"This is a once a year dive opportunity to dive under the Pier. Dixie Divers with help of City of Deerfield Beach has arranged to have Deerfield Beach Pier closed from 9:00am until 12:00pm so that divers can maneuver among the pilings with safety."
---
Want to Dive the South End of Deerfield Beach Pier?
While we only dove the north end, there's another shore dive on the opposite side. If you'd like clear instructions, check out this page on Dixie Divers website where they give instructions for this dive as well as several other beach dives in the area. It's a great resource.
"This is one the best sites for training dives or just exploration dives." – Dixie Divers
---
Want to Go Boat Diving Near Deerfield Beach?
Dixie Divers offers three daily boat dives at 8:30 am, 1:30 pm, and 7:00 pm (night dive) and have their full schedule listed on their website. I definitely am interested in going on a boat dive with them now that I've visited the shop and got a feel for them and the area. They go to several reef and wreck dives so I can't wait to check those out in the future.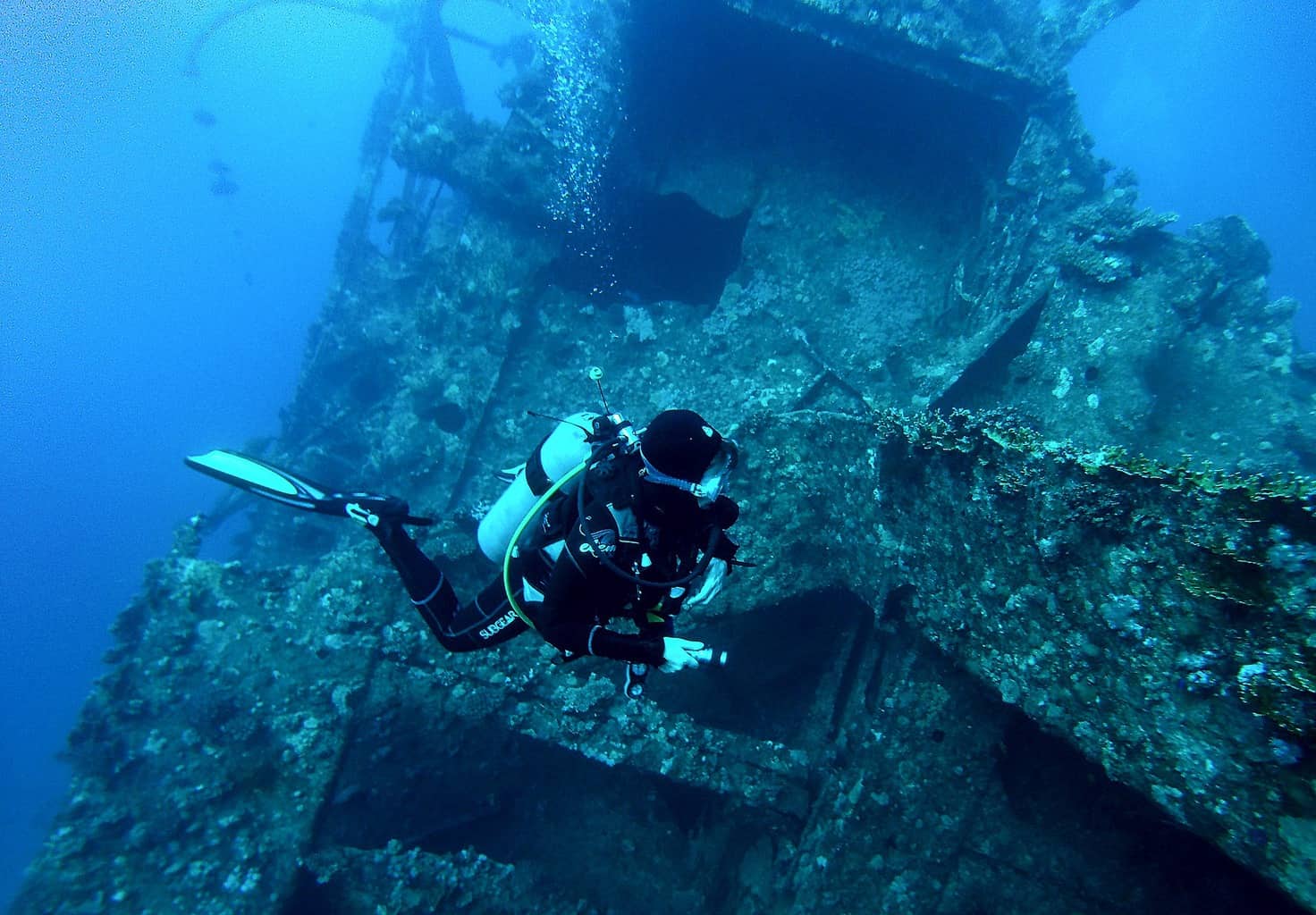 ---
Things to do in Deerfield Beach
According to Visit Florida, Deerfield Beach is a great spot if you're looking for those South Florida beaches but without the crowds.
The city's award-winning "Blue Wave" beach earned that designation from the Clean Beach Council, based on Deerfield Beach's excellent water quality, beach conditions, safety services, public information and habitat conservation policies. In addition, Deerfield Beach is home to Quiet Waters Park, which features campgrounds, fishing, a skate park and – are you ready? – the longest "cable ski" courses in the nation.
---
Deerfield Beach hotels
Looking for somewhere to stay in Deerfield Beach? There are tons of diving spots – both beach and boat dives so why not make an entire trip out of it?
Airbnb (use my link to get $40 off your first booking!)
Hipcamp (use my link to get $10 off your first booking!)
The Natural Place (a unique accommodation option for people with allergies or people environmentally conscious)
---
↓↓↓ PIN FOR LATER ↓↓↓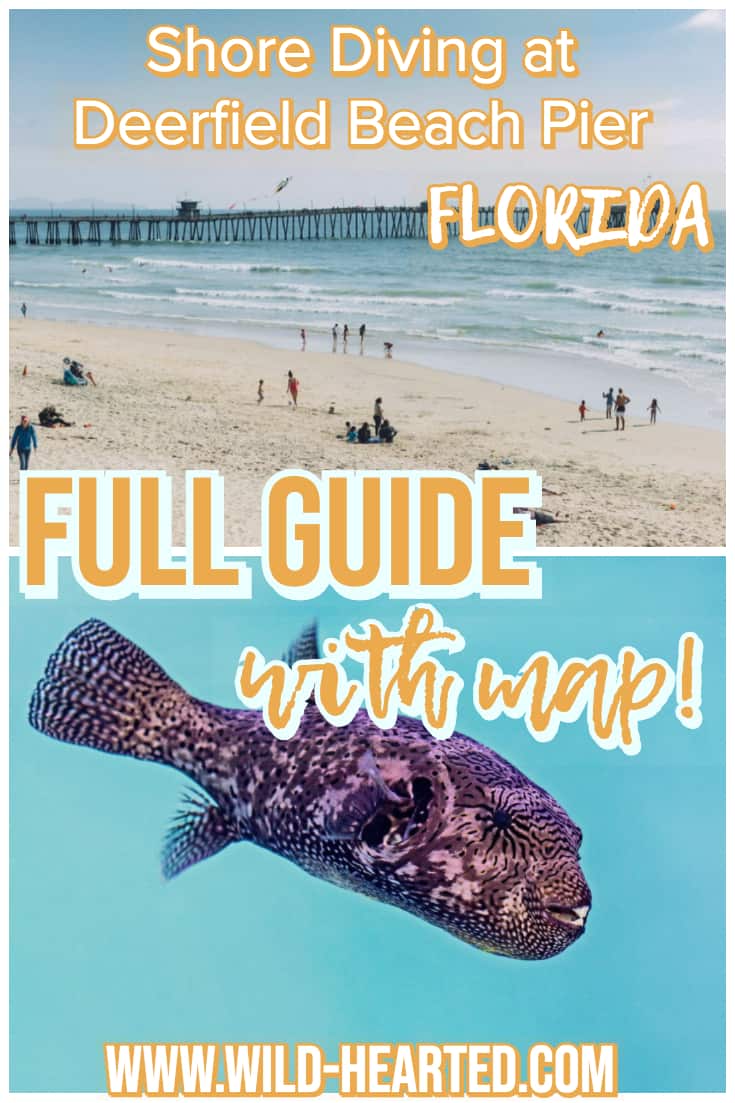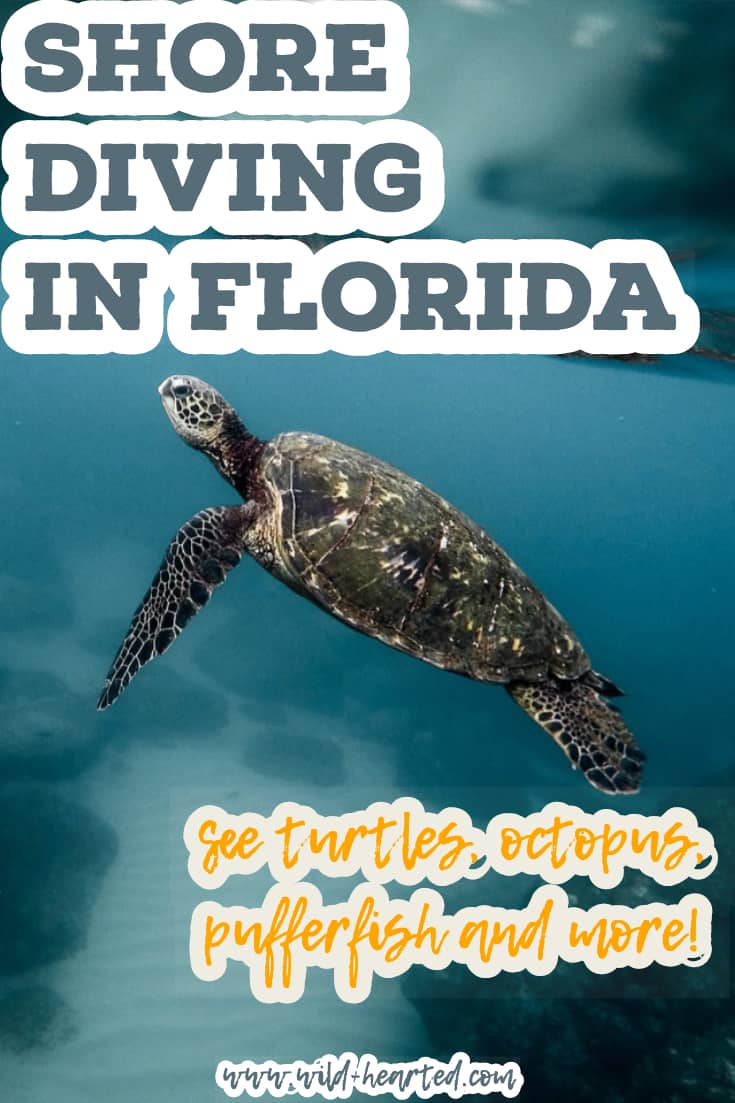 ***This trip was possible in collaboration with Dixie Divers. All of the scuba gear was covered by Dixie Divers. Despite who may have footed the bill, all the opinions here are my own and I would never recommend something I didn't fully believe in and try myself.***
Latest posts by Ashley Hubbard
(see all)