This post may contain affiliate links, meaning if you book or buy something through one of these links, I may earn a small commission (at no extra cost to you!). Please see my disclosure.
Can you take scuba lessons from the comfort of your home? In theory, yes! Getting certified to scuba dive is a somewhat nerve-wracking but highly rewarding experience and there's no reason why time, nerves, or money should stop you from following your mermaid dreams. The PADI eLearning cost is very reasonable as well and offers a way to break up the total cost of getting certified.
After my own personal experience with completing the eLearning for my open water certification and then actually doing the confined and open water dives, you won't fully understand how everything works until you get in the water and actually do it but you can, at least, start understanding the whys and hows behind everything you'll be doing soon in the water. I am more of a hands-on learner so some things I wasn't able to quite grasp HOW they would work but if you are a strictly visual learner, you'll likely benefit from doing the eLearning course greatly. In fact, some things I finally grasped in the pool but still didn't fully understand how it would work until we were in open water.
I seriously couldn't understand how in the hell I was going to be able to descend 60 feet…my brain could not wrap itself around that idea. It wasn't until after the academic portion, the confined water dives AND the open water dives that I was like….oh, alright. I see what's happening here.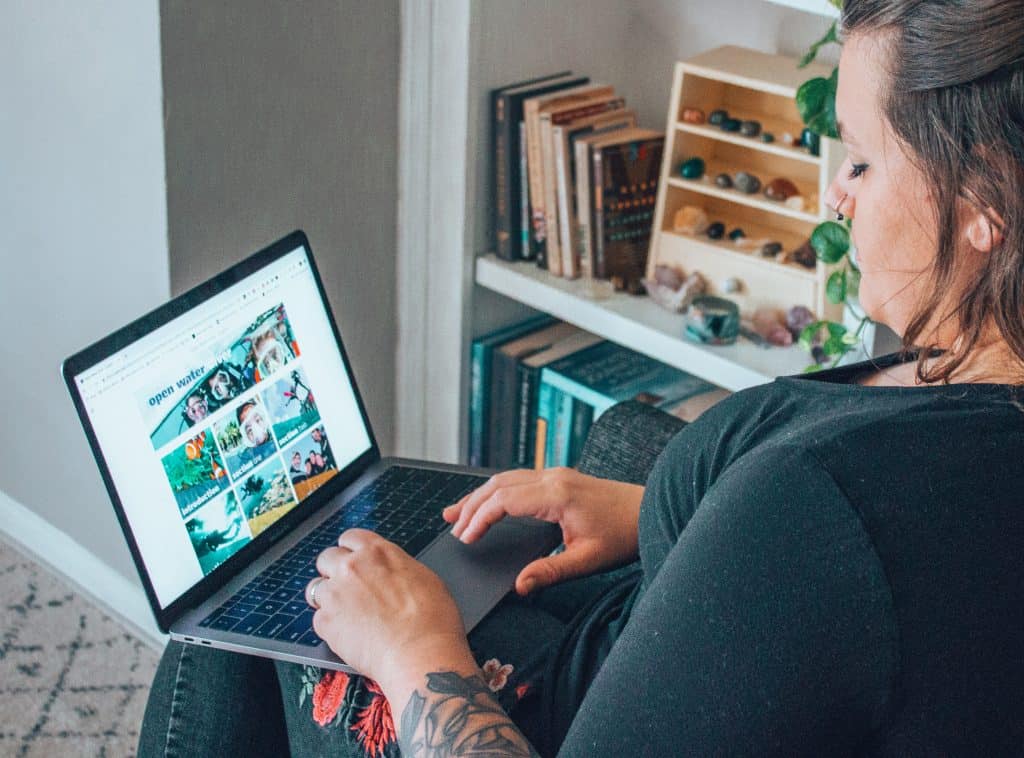 ---
Why use the PADI eLearning Course?
PADI eLearning allows those interested in scuba diving to begin their education completely at their convenience. You can use a desktop computer, laptop, phone or tablet to start learning all the necessary information before even getting in the water. Just like everyone else, you must complete an academic portion before putting on the gear and actually putting the theory to use.
I received my eLearning code a couple of months before I was scheduled to head to Costa Rica. It was my intention to get my eLearning done far in advance. Being the procrastinator I am, that definitely didn't happen. In fact, I did my eLearning during my 16-hour layover in the Ft Lauderdale airport.
The eLearning course is perfect for those that want to learn the theory at their own pace, don't have a whole day or days to commit to a classroom setting, those that don't want to waste vacation time in a classroom (if you're doing your certification away from home), and those that perhaps want to go over things several times to fully understand the concepts.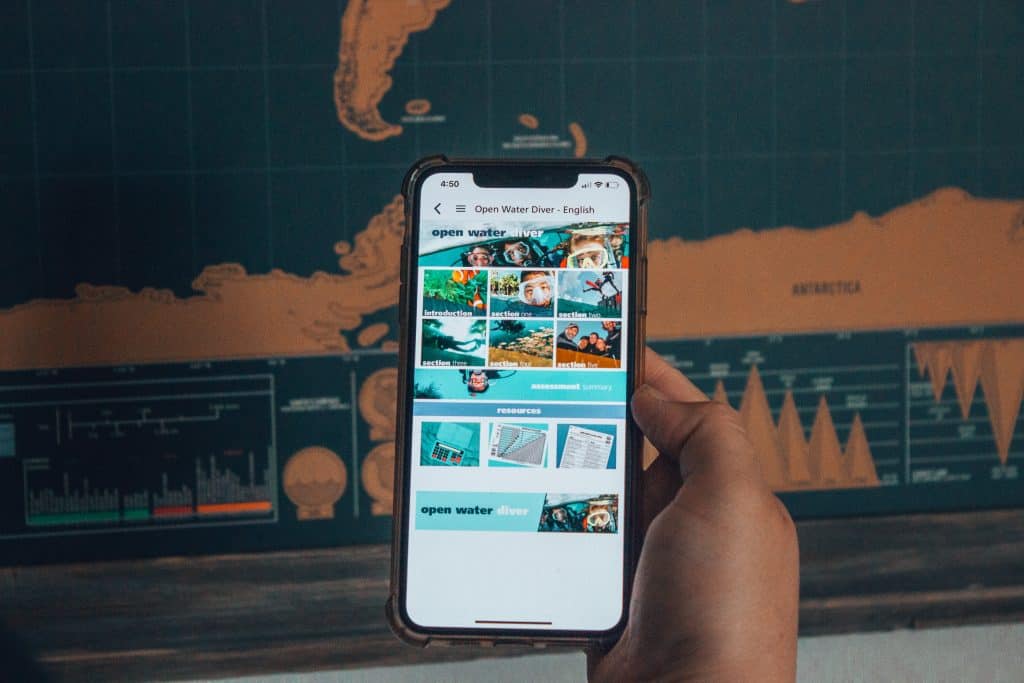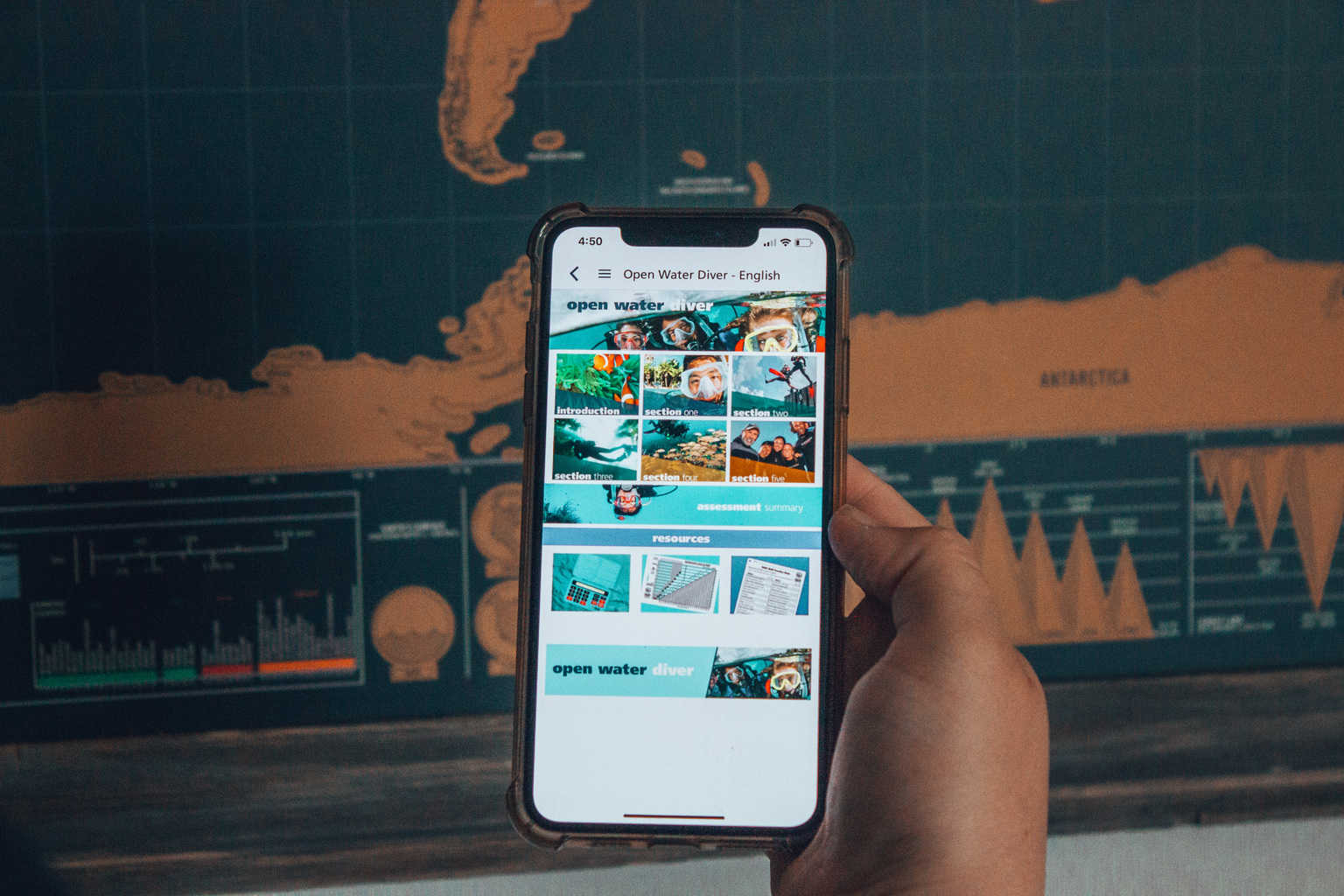 ---
What PADI courses are available through eLearning?
Open Water Diver – for beginners – first dive certification.
Advanced Open Water Diver – many divers seem to at least go on to get their advanced certification. It's perfect for those looking to improve their skills, learn new ones and more.
Rescue Diver
Divemaster
Enriched Air Diver – most popular specialty course focuses on the benefits, safety considerations, and procedures of diving with enriched air nitrox.
Digital Underwater Photographer – teaches how to easily capture moments underwater.
ReActivate – refresh knowledge and practices.
Dive Theory
Instructor Development
---
PADI eLearning Cost
The below prices are only for the PADI eLearning cost. The on-site portion will, of course, be extra and dependant on the dive shop.
Open Water is $190.
Advanced Open Water is $178.
Enriched Air is $180.
IDC is $402.
Dive Theory is $140.
Digital Underwater Photographer is $183.
Scuba Tune-up is $65.
Rescue Diver is $184.
Divemaster is $251.
---
How long does the eLearning course take?
I attempted to keep track of how long the course took me to complete. I tend to get distracted a lot so while it took me longer, I estimated how much time I spent doing who knows what and subtracted that. Sections 1 through 3 were more complex and therefore took longer. Sections 4 through 5 were simpler and less information overall so they didn't take as long.
Section 1 – 1.5 hours
Section 2 – 1.5 hours
Section 3 – 1.5 hours
Section 4 – 1 hour
Section 5 – 1 hour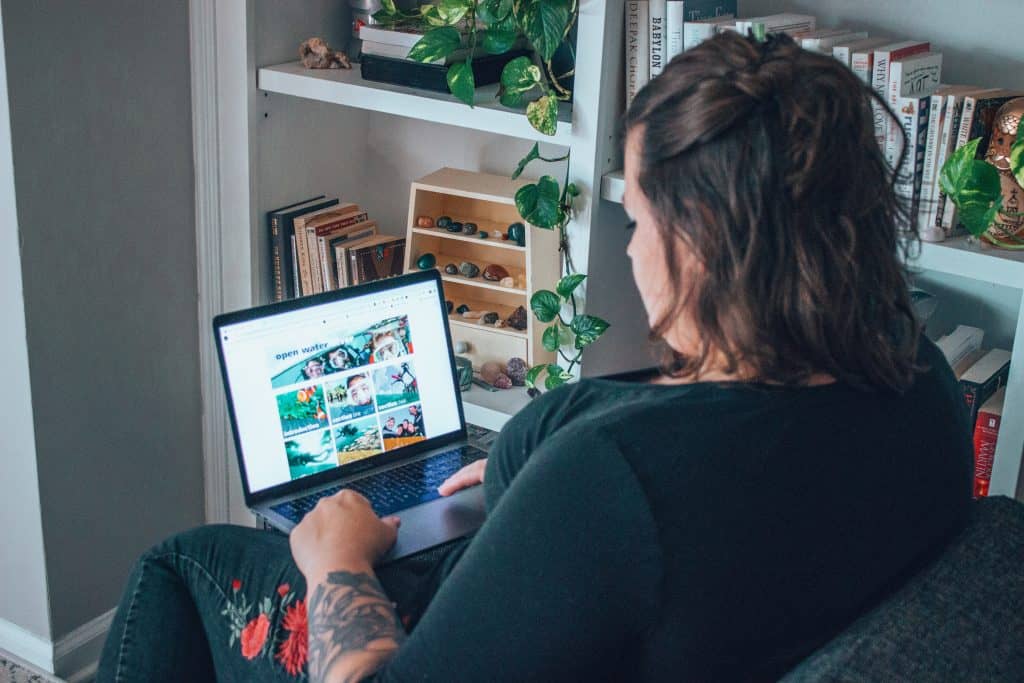 Total time spent on eLearning was approximately 6.5 hours. I tend to read pretty fast but I did re-read several things that I wasn't sure about. This time includes reading all material AND watching all the accompanying videos.
PADI's website says it takes 12-15 hours to finish the eLearning portion of the open water certification. So, clearly, it is entirely up to the individual.
---
How does it work?
Once you pay for your online scuba lessons, or PADI eLearning, you'll receive an email confirmation with a code that you then use to redeem your course online. You will have to choose a dive shop at this time. If you know where you plan on finishing your certification, you can choose that shop. If you don't know yet, it is my understanding you can still finish your certification at any PADI dive shop but you do have to pick one when you enroll in the eLearning.
Once you do this, you can now access your course on a desktop or through the app offline.
You can then work your way through all five sections. Each section is set up basically the same and has several mini-sections inside of it. They start off with the learning objectives for that section – telling you what you should have learned by the end of it. At the end of each mini-section, there is a practice test consisting of several questions. These aren't required to be answered but I would suggest it. At the end of each of the five sections, there is an actual quiz that is mandatory. If you don't pass, you can re-take it until you do.
At the very end, you'll have an e-record of your scores that you will give to your dive school to complete your certification.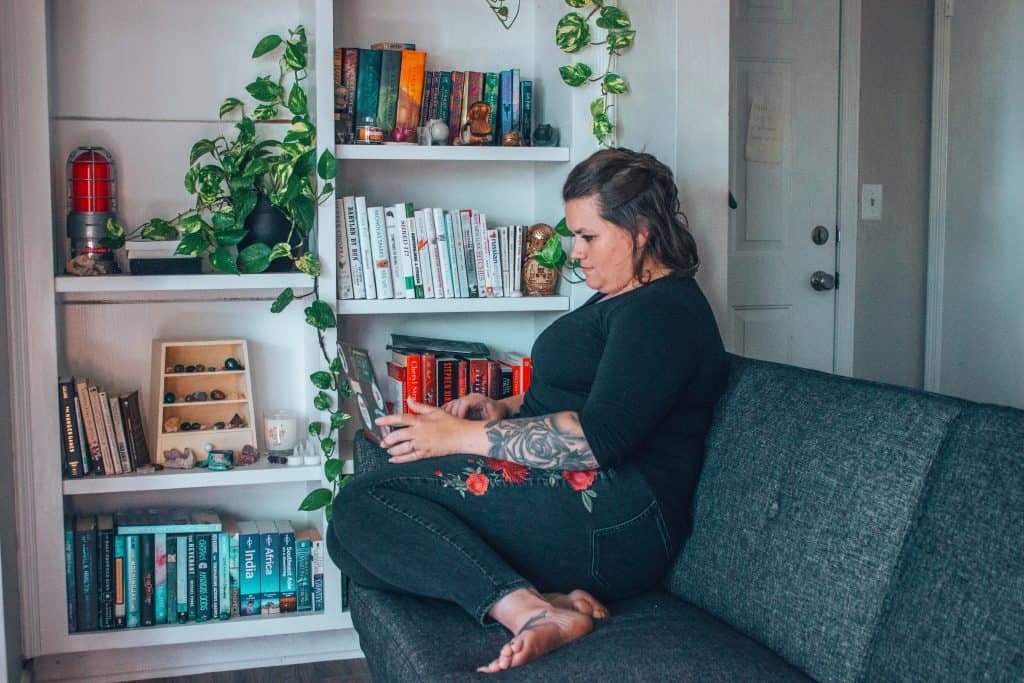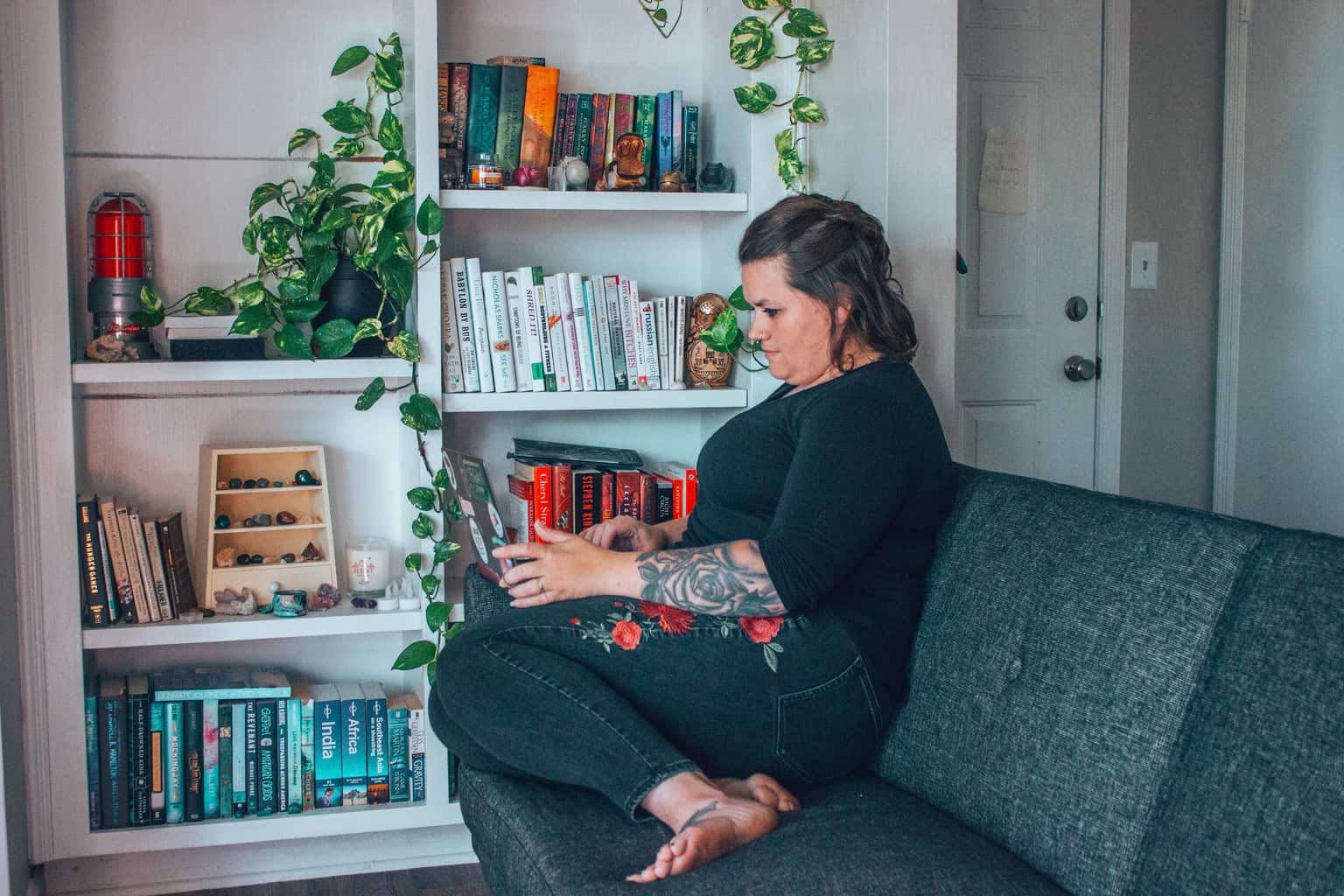 ---
Was it worth it?
In short? Yes! I do think there are many beneficial aspects to learning in a classroom setting. However, I liked being able to learn the information beforehand so I knew what to expect. I didn't come out of the eLearning feeling like an expert or that I had it all memorized but I didn't really expect to either. I don't think diving can really be understand until you actually do it. I found that I was extremely anxious and nervous diving but learning all the theory ahead of time and having time to let it soak in definitely helped calm my nerves somewhat.
I would much rather do it this way at my own pace and convenience than to spend 1-2 more days stuck in a classroom especially if I was getting my certification while on vacation.
---
Are you a scuba diver or are you interested in getting scuba lessons?? Tell me about it in the comments below ↓↓↓
Are you ready to take the next step and get certified? Grab your eLearning code here.
What else have I written? You can find more diving posts here.
Like this post? Have Questions? Hit me up on Facebook | Twitter | Instagram | Pinterest | Email
↓↓↓ PIN FOR LATER ↓↓↓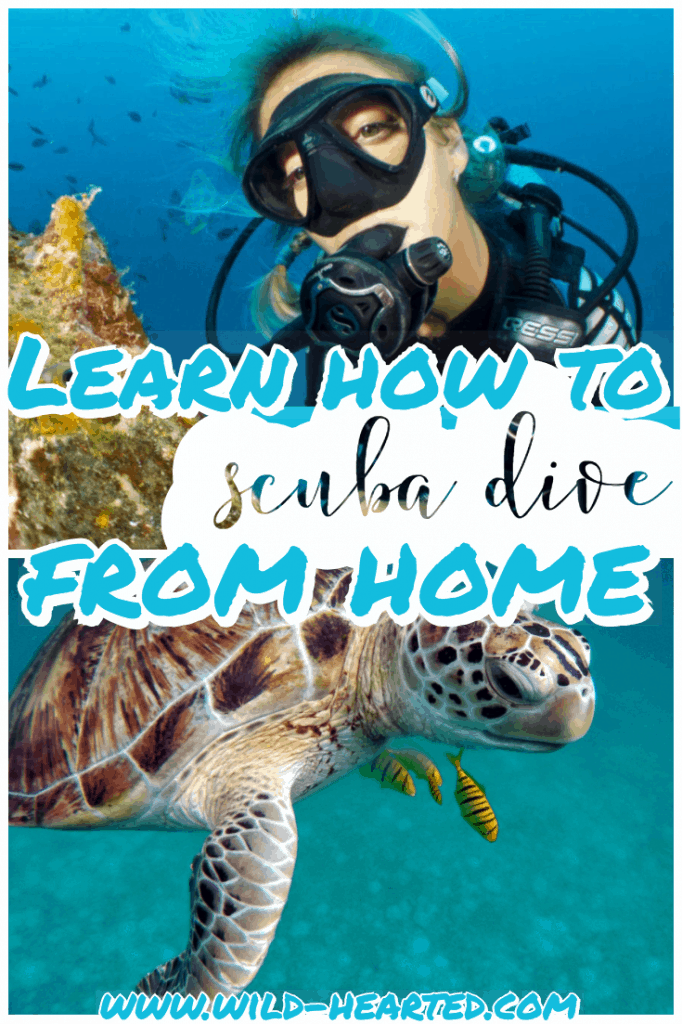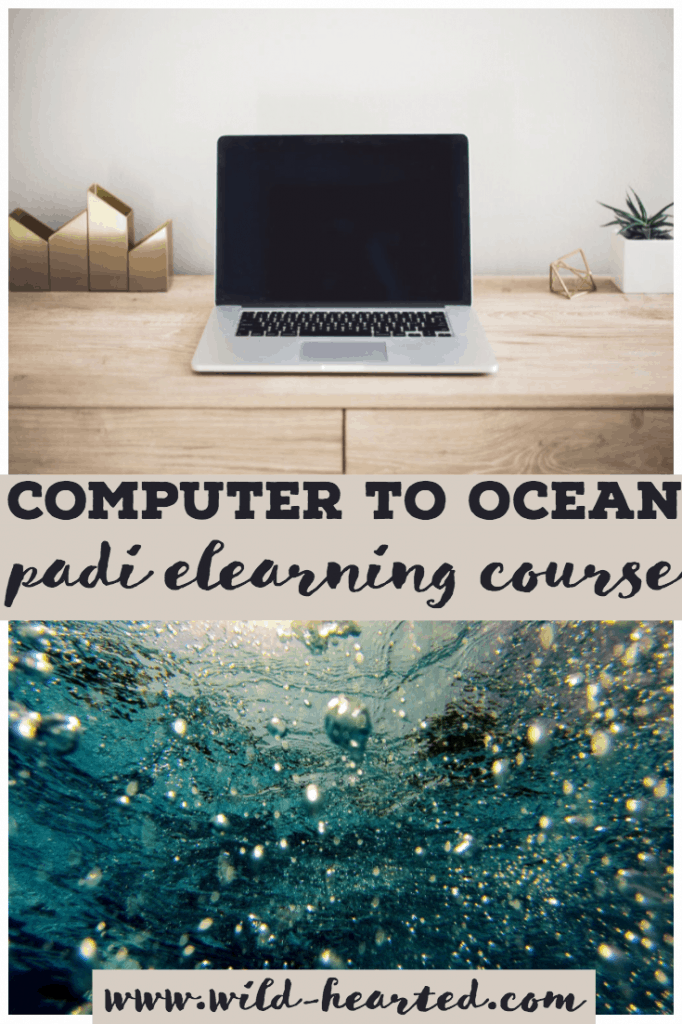 **I received the PADI Open Water eLearning course in exchange for my honest review. I, in no way, felt inclined to give a positive review of the product. The content and opinions expressed here are my own. I only promote products via Wild Hearted that I have tested and loved.**
Latest posts by Ashley Hubbard
(see all)