This post may contain affiliate links, meaning if you book or buy something through one of these links, I may earn a small commission (at no extra cost to you!). Please see my disclosure.
Palau created the world's first shark sanctuary and has been recognized as a global leader in eco-tourism and protecting marine ecosystems. As such, Palau, with its crystal-clear water and abundant underwater sealife, is rated by scuba-dive enthusiasts as one of the most spectacular scuba diving destinations in the world.
Here's the ultimate guide to scuba diving in Palau, starting with some practical advice.
When to dive in Palau
Diving is good all year round in Palau. However, the best time is between October to May in the dry season. The water is warm, reaching 81-86°F/27-30°C. A light wetsuit will suffice all year round. Visibility can reach 50m/165ft. Most dive sites are between 45-60 minutes from Koror.
Beginners can obtain their PADI (Professional Association of Diving Instructors) certification, while experienced divers can test their skills on more challenging dive excursions.
Dive sites in Palau
A perfect dive holiday should include drop-offs, spectacular walls, resplendent reefs, drift diving, and WW2 wrecks. Palau offers all of these. Listed below are the main dive sites:
Blue Corner
The Blue Corner is the most popular dive site in Palau. A coral plateau extends into the ocean. Divers can hook onto a rock and drop off the edge as easily as sinking into a warm bath.
With the incoming tide, a diver is treated to a spectacular underwater vista as numerous schools of fish, interspersed with any – or all – of Palau's four protected shark species.
Siaes Corner
Off the beaten track and less crowded, Siaes corner offers plenty for both novices and intermediate divers to explore. This location allows divers to get up close with large schools of Jacks, Barracudas, and Grey Reef sharks.
The coral plateau at Siaes Corner is a perfect place for divers to try out their reef hooks. A spectacular shallow coral garden acts as home to the giant Green and Hawksbill Turtles and marks the end of this unique dive experience.
Must-See Diving Attractions
Caves Galore
Blue Hole, in Blue Corner, is a spacious cavern that is a photographer's dream. Four entry holes lead to this deep cavern, allowing the ambient light to create atmospheric underwater silhouettes. The peaceful underwater space offers a unique vantage point for quietly observing the fish and corals.
Siaes Tunnel's entrance is at 30m/98ft and exit at 25m/82ft. It is best suited to more experienced divers. The site is unique and allows free dives that scuba fans should not miss. Offering calm conditions will enable the diver plenty of time to explore and study various species living in the cave walls.
Chandelier Cave is made up of 5 limestone caves at a depth of 11m/36ft. With the help of a torch, the diver is treated to sparkling stalactites and stalagmites, hence the name Chandelier.
Drop-offs
Jacques Cousteau, the famous French underwater conservationist and co-founder of the aqua-lung, considered Ngemelis Wall, also known as the Big Drop-Off, to be the best drop-off worldwide.
Ngemelis drops to 285m/900ft and offers divers a vast array of colorful corals and reef creatures. Hawksbill turtles, Grey Reef, and White-Tip sharks add to the unforgettable experience.
WW2 Wrecks
Wreck-diving enthusiasts are spoilt for choice, with Palau boasting at least 10 WW2 wrecks. These range from sea-planes to cargo, navy, and transport ships. They are easily accessible, in good condition, and are exciting dive sites. Three of the most popular are:
Iro-Maru, a Japanese oil-supply ship at 20m/65ft situated in clear blue water in Karo Harbour;
Chiyo Maru, a Japanese coastal freighter at 30m/90ft. Her bridge is easily accessible with her brass compass, ship's telegraph, and guns visible. The inhabitants of the shipwreck include various species of tropical fish;
Jakes Sea-Plane, a three-seater Japanese aircraft, is at 15m/45ft and has been reclaimed by the ocean. It is covered in coral and home to Batfish, Crocodile fish, Lionfish Angelfish, and many more colorful fish species.
Jellyfish Lake
The 12,000-year-old lake is not a dive site but offers incredible snorkeling and swimming experience. It is set in beautiful surroundings. Swimming amongst the thousands of non-stinging, golden jellyfish, one can be lulled into a meditative state. Perfect for an unforgettable and unique underwater experience.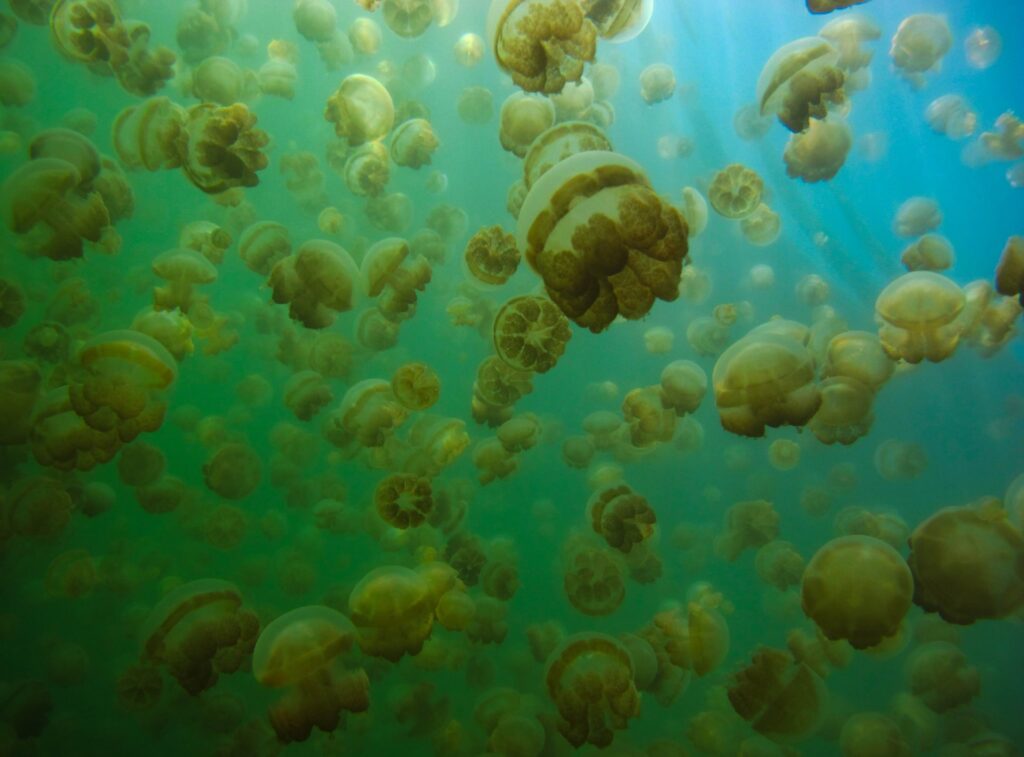 All the scuba diving is lovely, but you'll need a bed for the night.
Accommodation in Palau
Koror is Palau's economic hub and where the majority of its residents live. It's also where the main airport is situated.
Diving holiday operators offer accommodation in either one of the many resorts on the island or on board a chartered boat, known as "liveaboard". The latter's advantage is that the diver can do as many as five dives a day, while a land-based diver will get a maximum of 3 dives per day.
It may be perceived as less costly to stay on land. However, it is not much more expensive to stay onboard an all-inclusive boat after factoring in accommodation and restaurant costs.
Palau offers something for everyone, no matter your diving experience. The beautiful location is bountiful in wrecks and sea life that will have any visitor hooked from the moment they dive beneath the surface of its crystal clear waters. Just tell Nemo we sent you!
Latest posts by Ashley Hubbard
(see all)