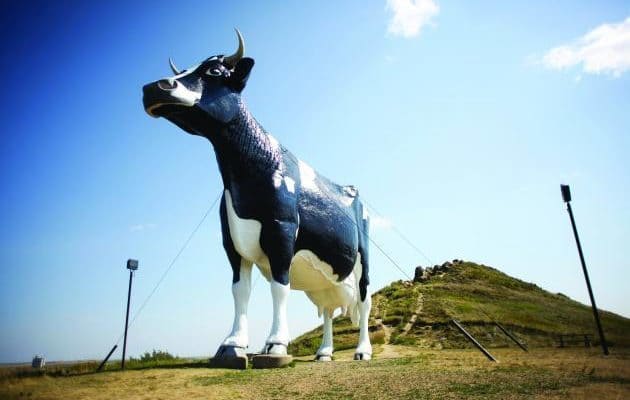 TRAVEL
Get Off the Beaten Path and Find the Hidden Gems of North Dakota
By |
This post may contain affiliate links, meaning if you book or buy something through one of these links, I may earn a small commission (at no extra cost to you!). Please see my disclosure.
Get Off the Beaten Path and Find the Hidden Gems of North Dakota
One of my favorite ways to experience a new place is by visiting the unusual and hard-to-find hidden gems.  I like to know about the things that only locals know about or visit the extremely quirky and weird roadside attractions.  I've gone off the beaten path and found hidden gems in my own backyard and in brand new places.
Some may consider North Dakota off the beaten path in general and they may have good reason to think so – it is one of the most underrated states in the United States but I've found there is plenty of outdoor adventures and city life to be found in North Dakota.  So, while North Dakota may be a bit off the beaten path for some, I found some ways to get even more off the beaten path in the Sioux State.
Scandinavian Heritage Park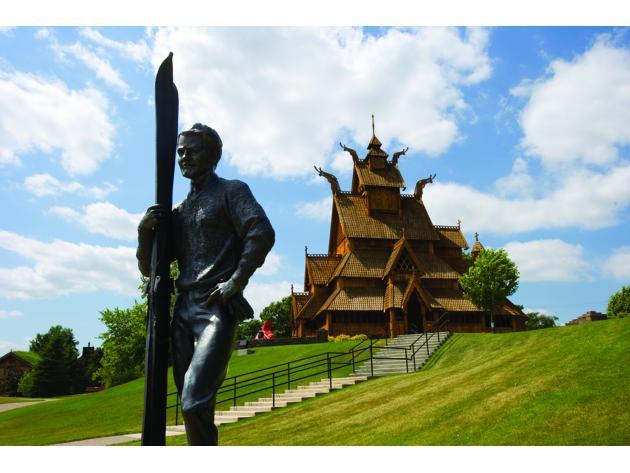 The Scandinavia Heritage Park is located in Minot, North Dakota and pays homage to Scandinavians.  The park features something from each Scandinavian country – a Swedish Dala Horse, a Finnish Sauna, a Gol stave church and much more!
We love everything about Scandinavia so this is a definite hidden gem for us!
The Village of Murals
Jud, North Dakota is about 35 miles south of Jamestown and has only about 75 residents.  Normally, you would drive right through this town or blink and miss it.  But, there is one reason to visit Jud, North Dakota.  It's known as the 'Village of Murals.'  I love street art and murals and it's even more unique that such a small town is known for something like this.
The Geographical Center of North America
The very center of North America, geographically speaking, sits right in Rugby, North Dakota.  The location is marked by a 15′ tall rock obelisk, a US and a Canadian flag.
Salem Sue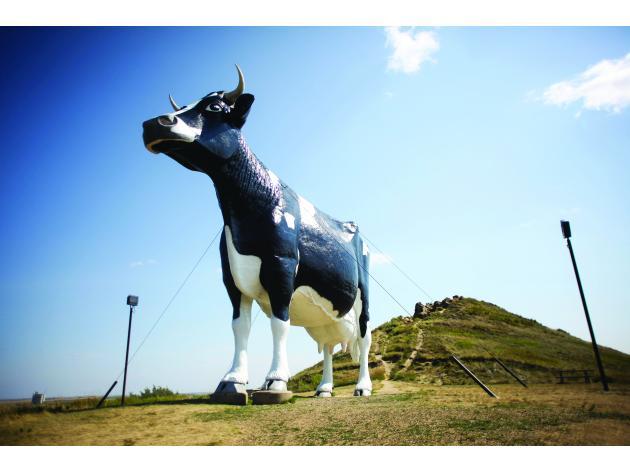 My favorite thing – cows!  Salem Sue stands at almost 40 feet and can be found near New Salem, North Dakota.  Sue was built in 1974 and has the honor of being the World's Largest Cow.
That's reason enough for me to visit!
World's Largest Buffalo
North Dakota may have the World's Largest Cow but that's no reason to stop.  They also claim the World's Largest Buffalo.  Known as 'Dakota Thunder' the buffalo was built in 1959 and is 26 feet tall.  North Dakota really likes their large animal statues and that oddly makes me very happy.
Hilltop Viking Statue
In 1972, a Viking statue was built to honor that fact that many people in North Dakota believe to be descended from Vikings.  North Dakota is really starting to sound more and more like our kind of place.  We love, love, love Scandinavian and Viking history.
North Dakota has loads of hidden gems if you just know where to look – everything from large animal statues, outdoor gems, Scandinavian and Viking history galore, a tiny town full of murals and so much more wait for those read to get off the beaten path in North Dakota!
Do you know of any off the beaten path destinations or hidden gems in North Dakota??
**Photo used for text (text by me by
Ethan Kan
**