This post may contain affiliate links, meaning if you book or buy something through one of these links, I may earn a small commission (at no extra cost to you!). Please see my disclosure.
Recently I shared my guide on visiting Chitwan National Park in Nepal and I came clean on just how much I didn't know about Nepal before visiting. This small Asian country was somewhere I wanted to visit one day because quite frankly I want to visit everywhere, but it wasn't anywhere near the top of the list. In fact, I assumed it would just be a country I'd tack on to another trip at some point. Big mistake. I fell in love while I was there but the longer I'm home from Nepal and the more I reflect, the more I'm realizing – Nepal is one of my favorite places I've ever visited.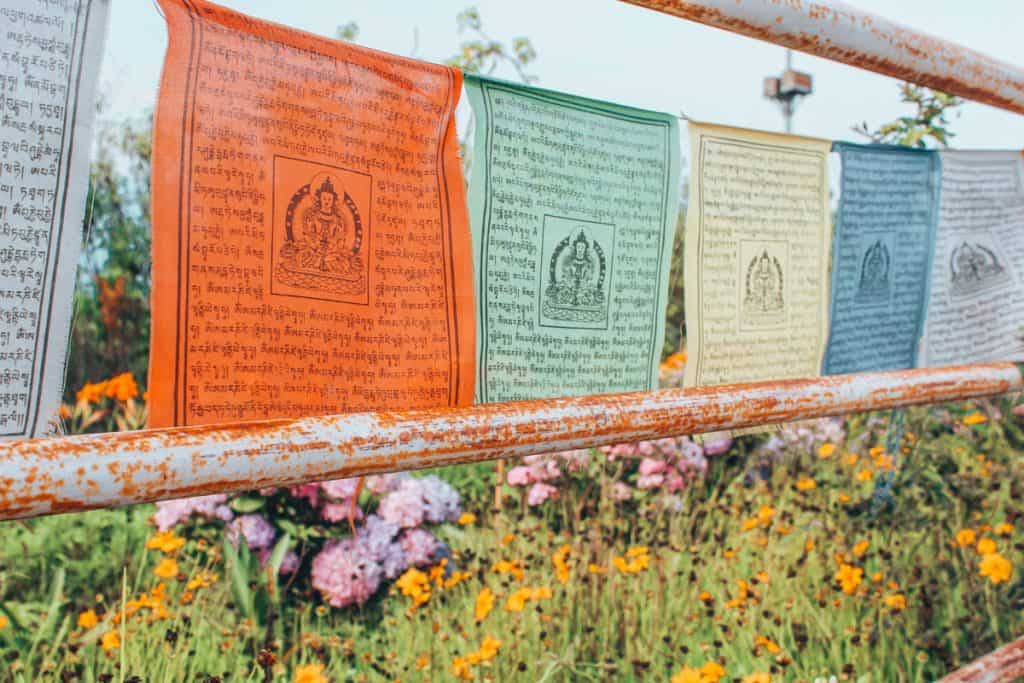 But, is it possible to be vegan in Nepal?
This is a legitimate question. There are loads of things to think about – language barriers, hidden ingredients, not being able to read labels on food, not having great service to Google things, and so on. With less than a week's notice of even going on this trip, I really didn't have time to do much research. Not nearly the normal amount of research I do before a trip.
What I knew beforehand was that 1) it wouldn't be difficult to find vegetarian food and 2) packaged vegan food would be hard to find so bring snacks. So, I brought snacks and was prepared to wing the rest.
Due to this being a hosted trip by Himalayan Travel Mart, Nepal Tourism Board, and Impact Travel Alliance, I was lucky enough to have access to several Nepalese people who could ask questions I wouldn't normally get to ask at least not without a ridiculously embarrassing amount of weird hand gestures and horrible pronunciation.
The verdict about being vegan in Nepal? It's totally possible but I'm going to try to make it a little easier for you with this guide.
---
Please use the above map to find all the locations listed in this article.
---
Traditional Food in Nepal
Let's start with the easiest thing first. Traditional food in Nepal that is already vegan is going to be the easiest and most authentic food to eat. It won't require trying to risk the weird hand gestures, mastering vocabulary and pronunciation, and you can experience authentic Nepalese food like everyone else.
Dal Bhat
Dal Bhat is considered to be the national dish of Nepal. It consists of steamed rice (bhat) and a lentil soup (dal). It is also commonly served with pickled vegetables and cooked vegetables.
It is common for trekkers to eat this every day on a trek and it is known for giving you the stamina and fuel to continue the trek. There's even a common phrase – "Dal Bhat Power, 24 Hour" – as it is thought that it gives you energy 24 hours a day.
It can occasionally be served with yogurt – just make sure you say no dahi.
Dal Bhat is also gluten-free. Are you gluten free as well? Check out Sarah's amazing gluten-free guide to Nepal.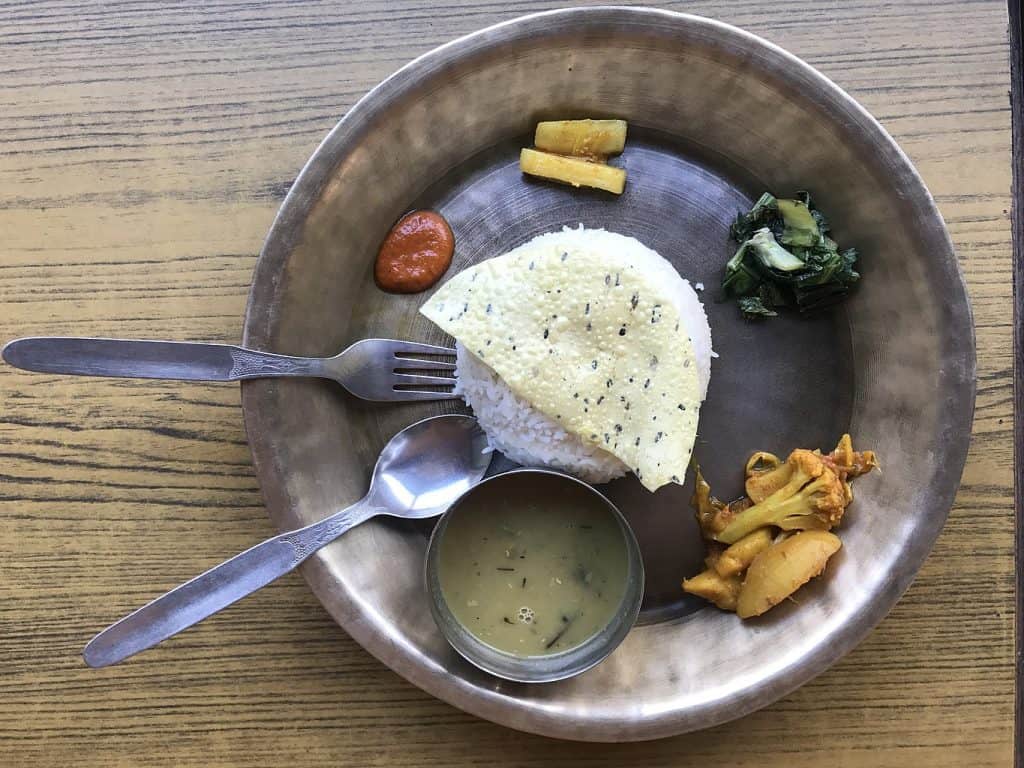 Momos
Momos were seriously my best friend in Nepal. I fell in love with these little dumplings and even took a cooking class in Kathmandu to learn how to make them at home.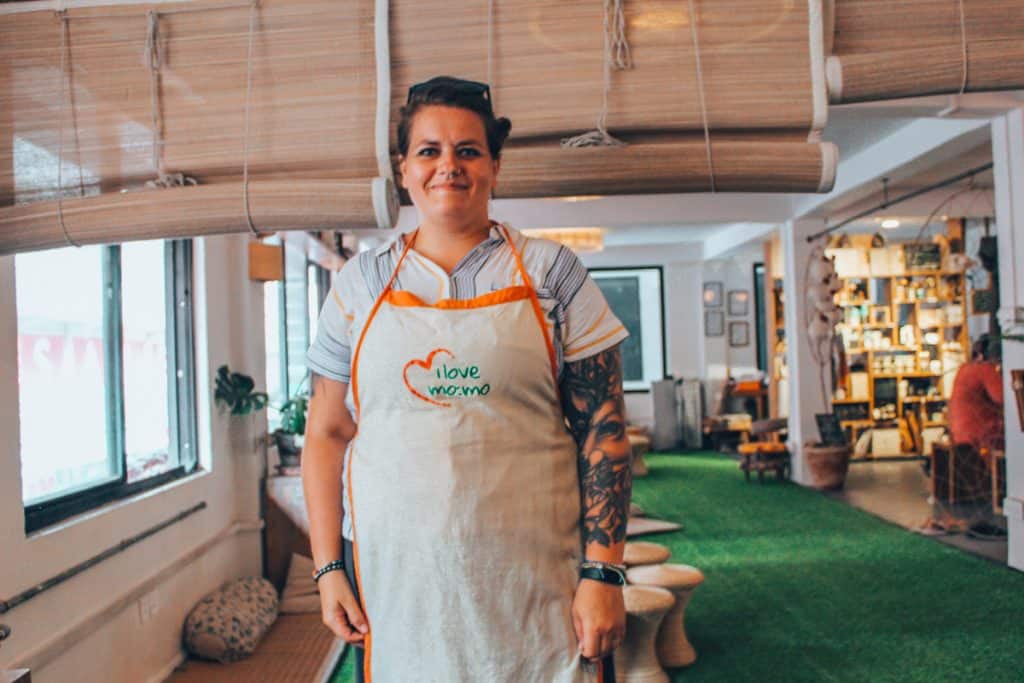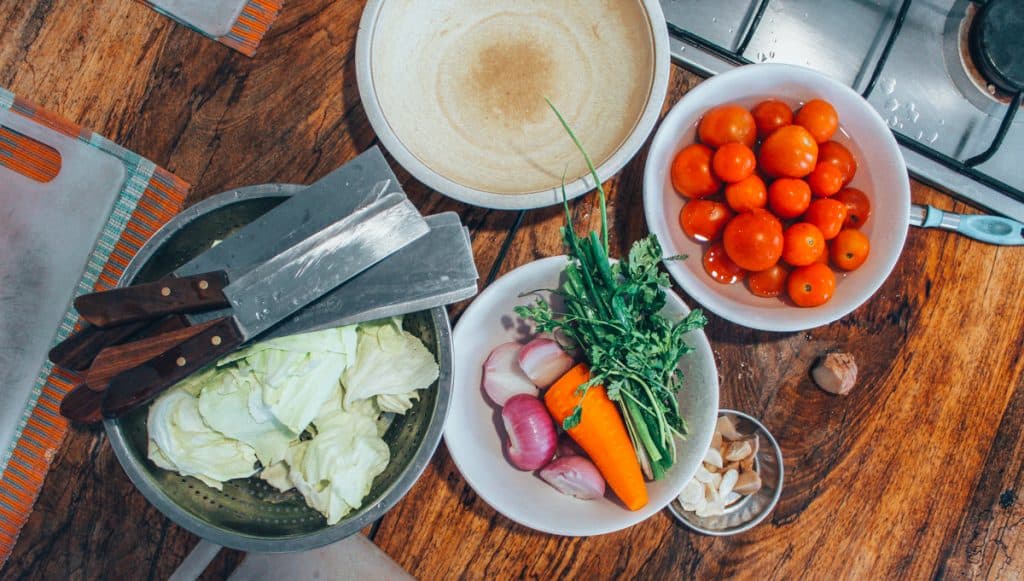 Almost everywhere you go will have momos – both veg and non-veg. I didn't go a single place that didn't have the veggie counterpart.
From all of my research, veg momos are naturally vegan as long as they aren't the spinach and cheese ones. To ensure you aren't receiving the ones with cheese, the word for cheese is 'paneer.'
The dough itself is flour and water. The rest is just mixed veggies and spices. They are served with either one of two sauces, if not both. One is a peanut base and one is a tomato base and both are vegan.
Momos are commonly found in four different styles.
Steamed – steamed like a traditional dumpling
Fried – fully deep fried
Kothey – half steamed, half fried and my personal favorite
Chilly – steamed momos in a spicy sauce
While not every place will serve all four kinds of momos, steamed is the most common and fried follows it.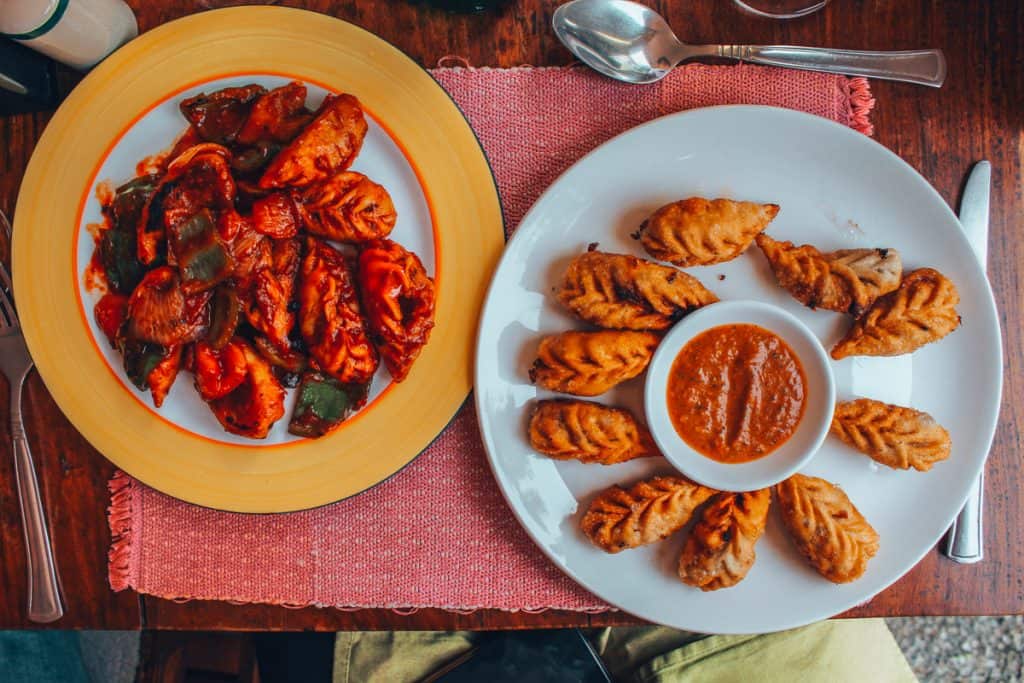 Thukpa
If you're looking for some feel-good noodle soup in Nepal then vegetable thukpa is it. It is simply a spicy broth, mixed vegetables, and noodles.
Sel Roti
I tried sel roti on a backstreet tour of Kathmandu. This wasn't a vegan tour but all but one of the stops were naturally vegan which shows it is very possible to eat vegan in Nepal. I really enjoyed this donut-like treat called sel roti. It is primarily made of rice flour with salt and sugar as well and then fried in oil. They're commonly found in street stalls but not in restaurants.
Interested in taking this tour or one in a different country? Check out everything Backstreet Academy offers.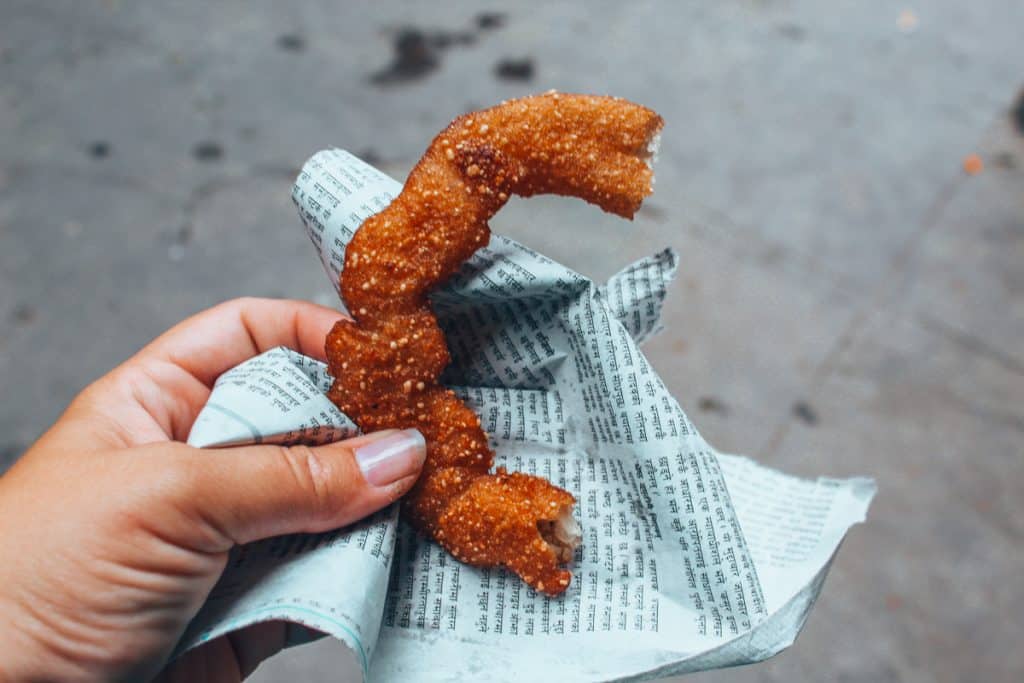 Nepalese Tea
Nepalese tea is common and it is served with dairy automatically so be sure to ask for it black.
Tibetan Bread
I didn't get to try this mouthwatering looking bread but it is vegan-friendly! It is simply flour, baking powder, salt, and water. It is then pan-fried in a little oil.
---
What Oils or Fats are Used to Cook?
Mustard oil is the most commonly used oil to cook. However, it is not unusual for a bit of ghee or butter to be used while cooking. Make sure to ask if there is ghee or butter in a dish before ordering.
---
How to Say Vegan in Nepali
Here are some helpful words and phrases to know when traveling in Nepal. While many items are naturally vegan, just saying you're vegan may not be super helpful. I would specify you do not eat meat, milk, dairy, butter and so on. Make sure to print off one of these free v-cards to carry around with you.
USEFUL WORDS AND PHRASES IN NEPALI
Vegan: शाकाहारी (pronounced Śākāhārī)
I am vegan: म शाकाहारी हुँ (Ma śākāhārī hum̐)
I do not eat: म खान छैन (Ma khāna chaina)
Meat: मासु (Māsu)
Fish: माछा (Māchā)
Milk: दूध (Dūdha)
Butter: मक्खन (Makkhana)
Yogurt: दही (Dahī)
Eggs: अन्डा (Anḍā)
---
Markets to Visit in Kathmandu
If you're staying in Nepal longer or have a kitchen where you're staying, don't hesitate to shop at the local markets. You'll find tons of vegetables, fruits, spices, lentils, rice and more.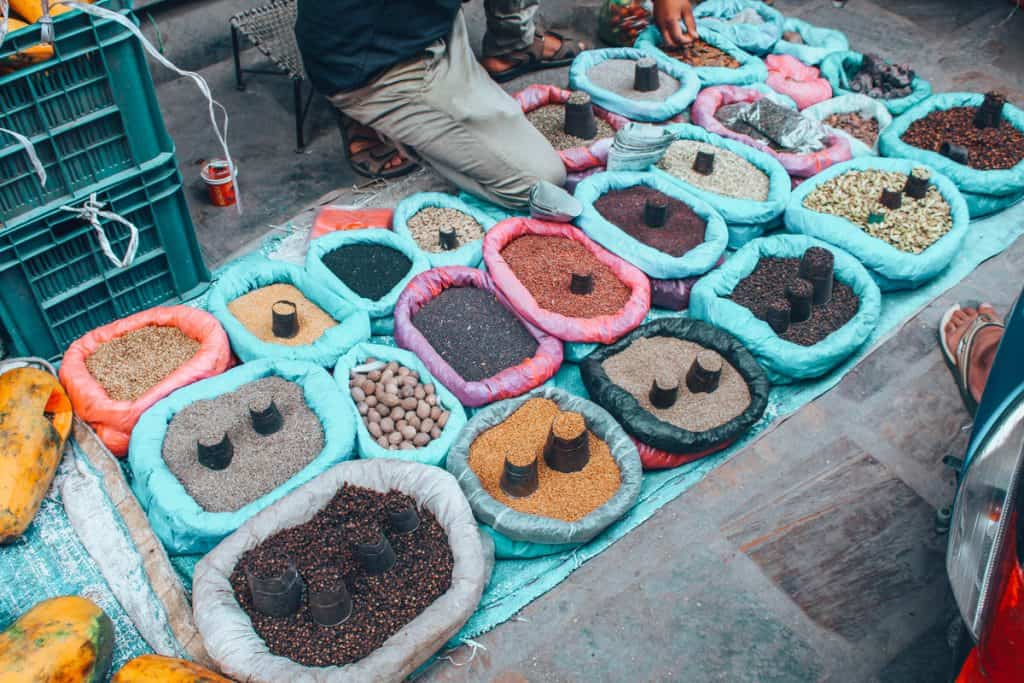 Asan Market
Asan Market, or Ason Bazar, is located in Kathmandu. It's open all day, every day but it changes throughout the day. In the early morning hours (5-9am), you'll find vendors set up literally all over the street. During the day, you'll find the actual shops open.
Asan is more than just a market though. It's a bustling neighborhood with stupas, temples, ancient buildings, and a distinct character you can't miss.
The center point of the market meets at a square where six streets intersect but the market expands down these streets pretty far.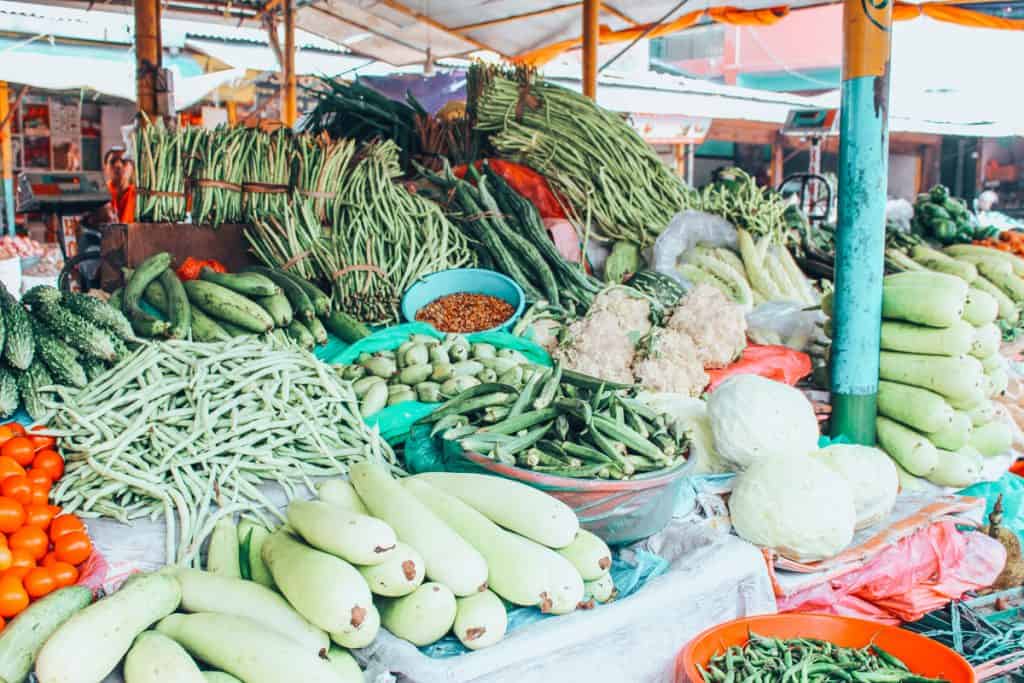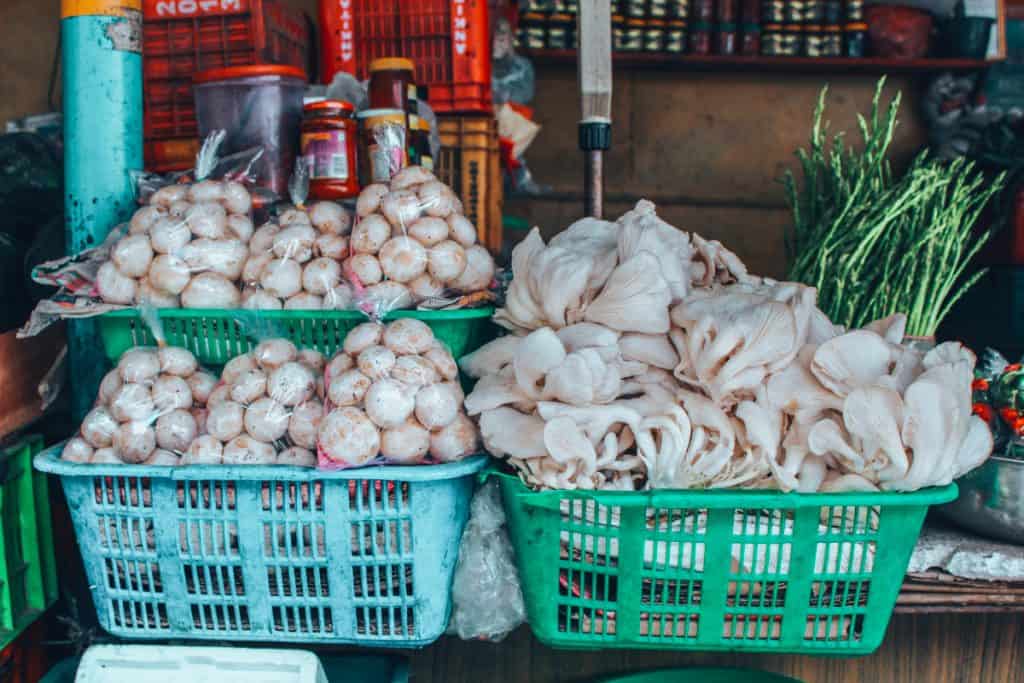 Kalimati Market
Kalimati Market is focused on fresh produce – fruits, vegetables, and beautiful strands of marigolds.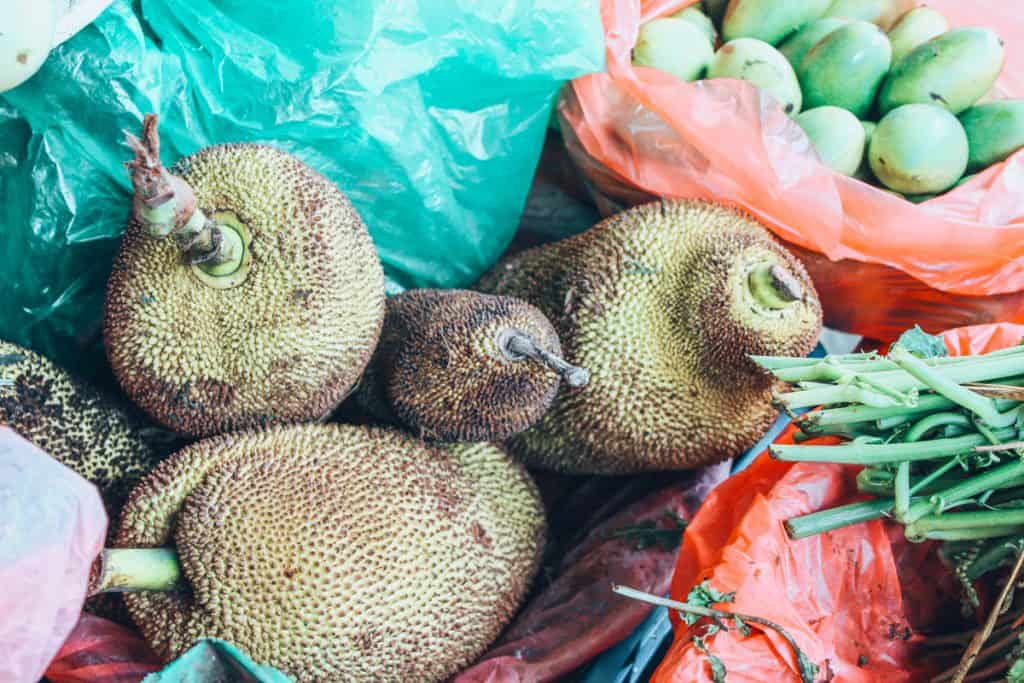 1905 Farmers' Market
1905 is a boutique hotel and restaurant but every Saturday morning, you'll find an organic farmers' market.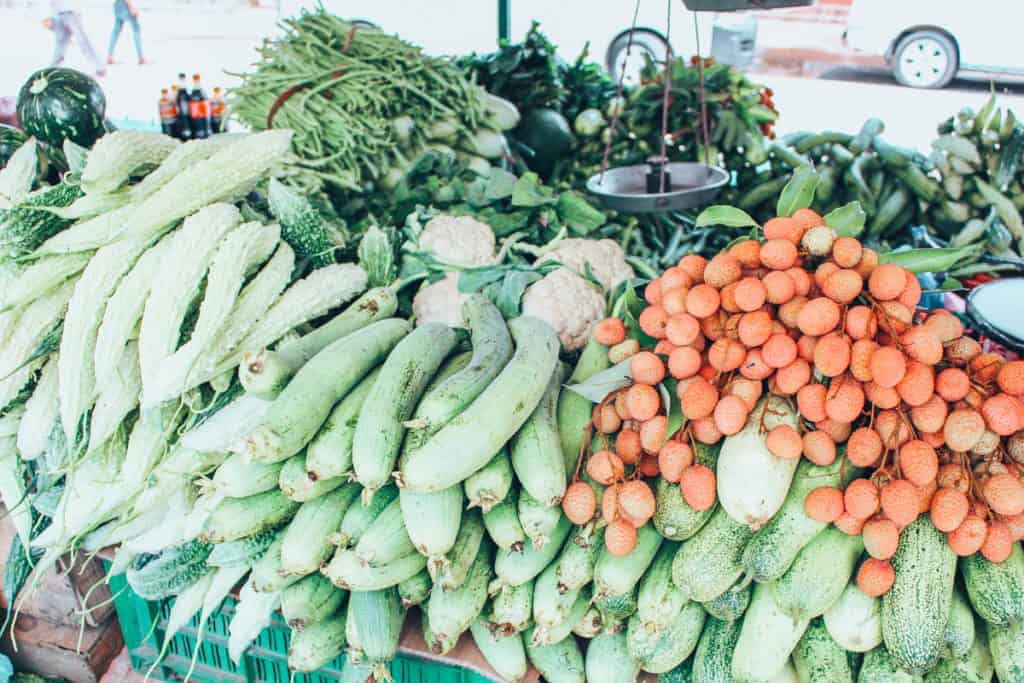 ---
Vegan Trekking in Nepal
Many of the same tips about traditional food will extend to this section.
Bring your own snacks for trekking during the day.
Dal Bhat is your friend – don't forget to say no yogurt.
Bring your own toiletries from home as finding cruelty-free/vegan ones will be difficult.
Consider joining a vegan trekking tour.
---
Vegan in Kathmandu
There are plenty of vegan options in Kathmandu. Here are the best restaurants in Kathmandu to visit as a vegan. In addition to these spots, there are countless all-vegetarian restaurants and restaurants with vegan-friendly options.
Vegan Dairy Nepal
Vegan Dairy Nepal is a company offering vegan products in Kathmandu. You can find their products at several spots all over town or you can order directly from them. I messaged them on Instagram and arranged to have them deliver a few things to my hotel. A small fee later and they were happy to do that!
La Pizza Point
La Pizza Point has two vegan pizza options that are made using Vegan Dairy Nepal's cashew cheese.
Loving Heart
Loving Heart is Kathmandu's fully vegan restaurant located in the heart of Thamel. You'll find a pretty large menu including traditional Nepali foods as well as some Westernized dishes. I had the seitan chow mein which was delicious.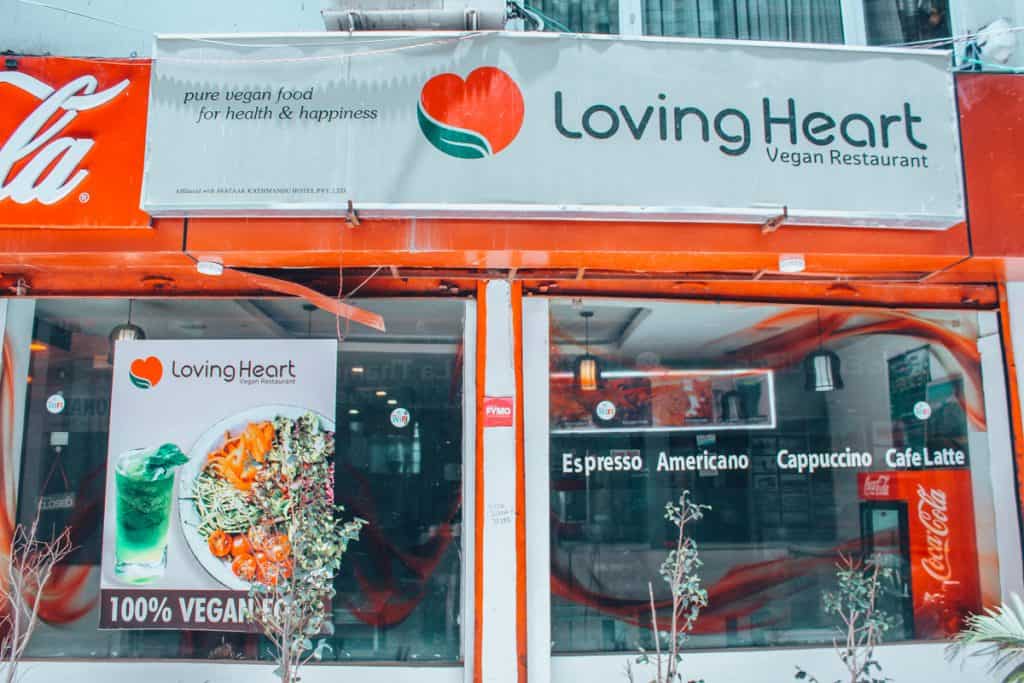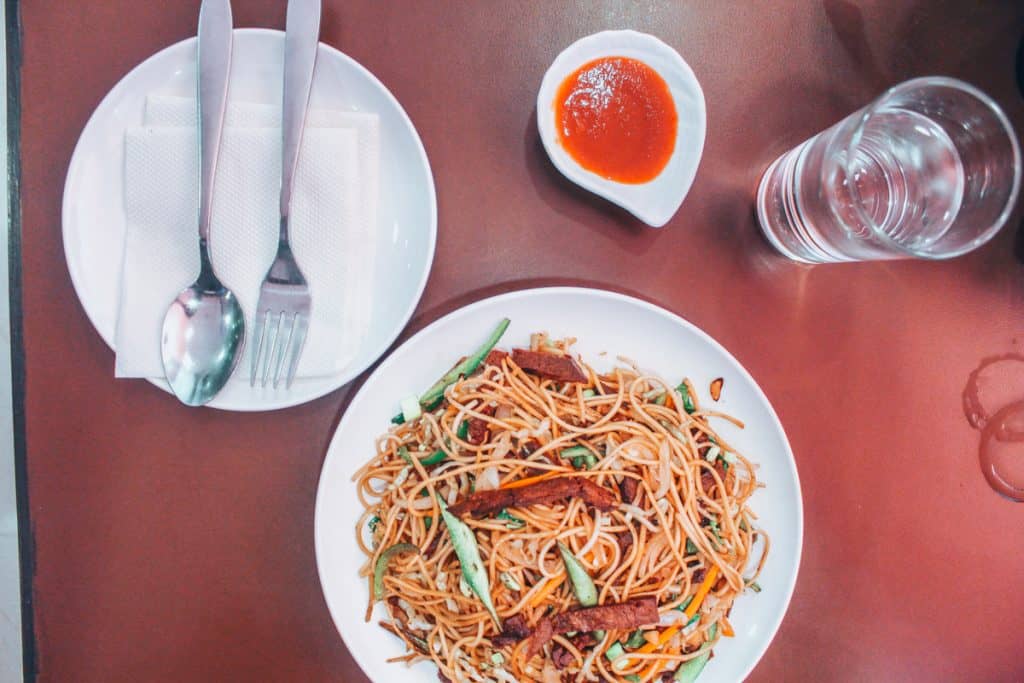 OR2K
OR2K is a fully vegetarian Mediterranean restaurant. I stopped in for coffee and dessert. I got a chocolate pumpkin tart and it was so good that I finished it despite having just eaten a lot.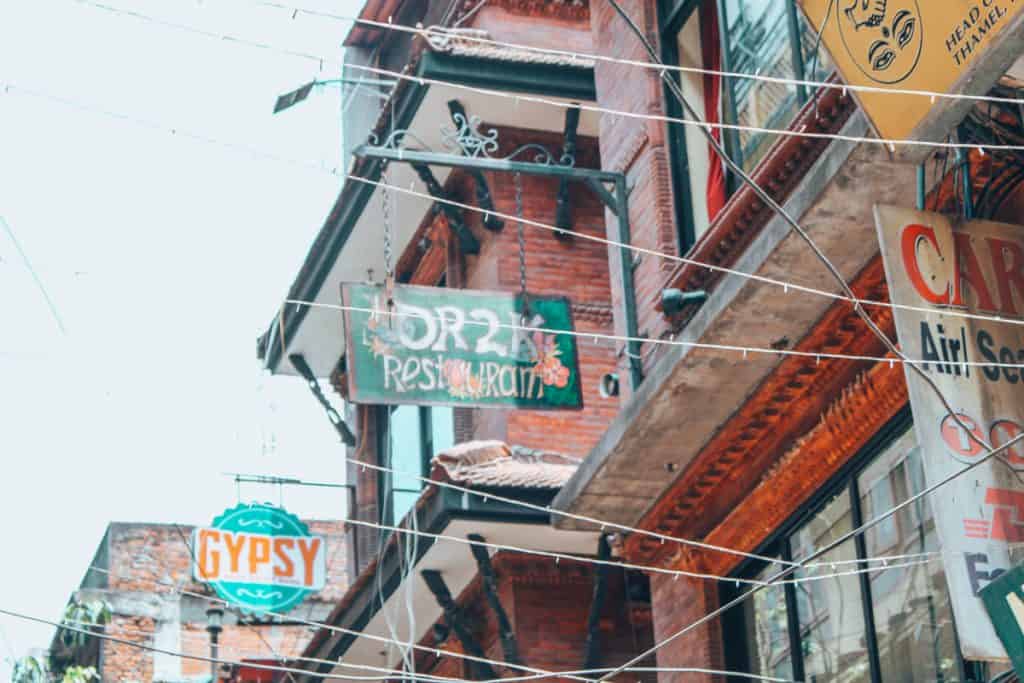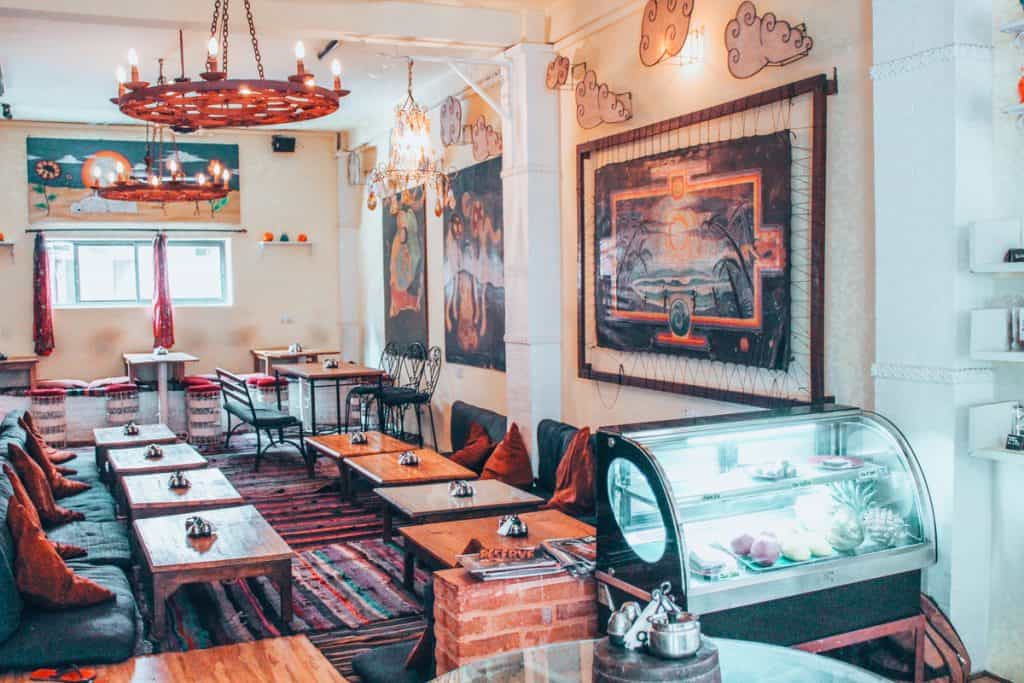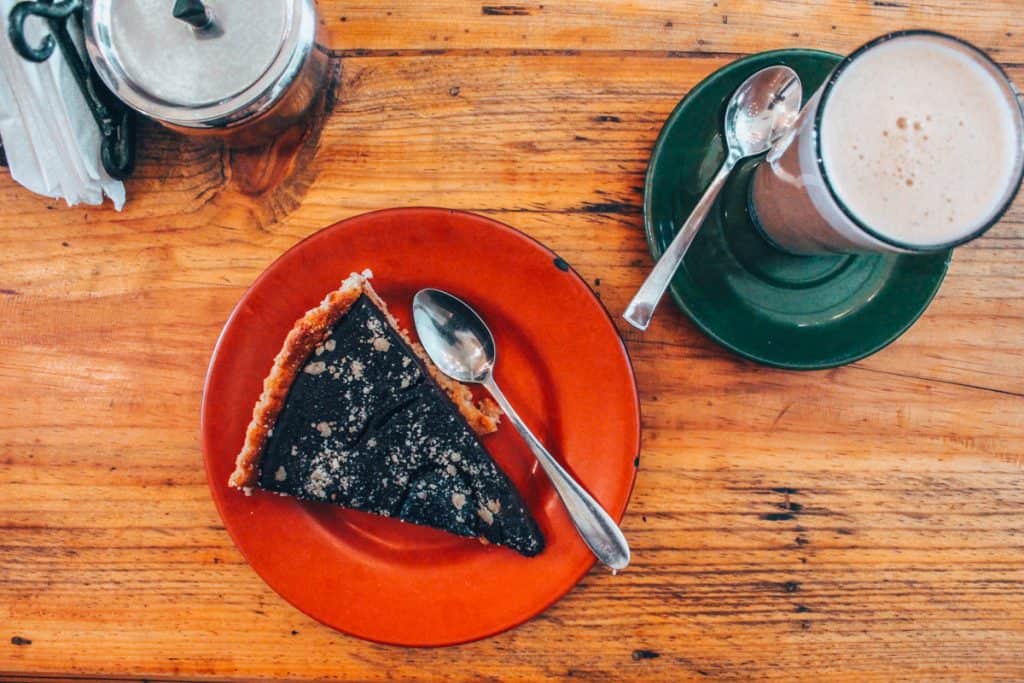 Organic Smoothie Bowl Cafe
Looking for something super healthy? Get smoothie bowls, juices and smoothies at this spot in Kathmandu.
Pudasaini
This is a fully vegan spot serving momos and kebabs! It's a little bit outside of the city center but has great reviews! See their Facebook page for more info.
Sapporo Japenese Restaurant
Sapporo has clearly marked vegan items on their menu. They also sell some of Vegan Dairy Nepal's items in their restaurant. See the full menu here.
Sprout
Sprout is 100% vegan and completely health serving smoothie bowls, juices, chia pudding, salads, and more.
There are so many more places in Kathmandu with vegan options. Here is the full list on HappyCow.
---
Vegan in Pokhara
Pokhara is a quaint, much calmer city in Nepal. Located at the base of the Annapurna Range of the Himalayas and sitting beside a lake, Pokhara is exactly what you need as a break from the hectic city life of Kathmandu. Here you'll also find plenty of vegan options. I've listed a couple below that I know personally but here is the full list on HappyCow.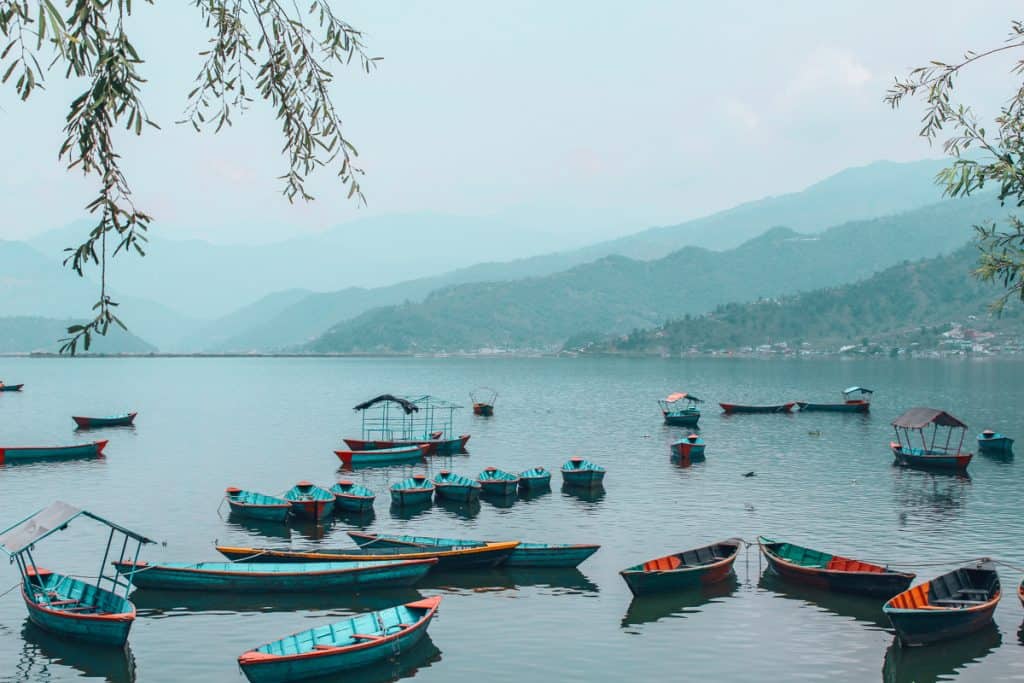 Little Windows Cafe
Little Windows Cafe is located on the main strip in Pokhara and has vegan and gluten-free options. I wasn't very hungry but got a smoothie which was delicious.
OR2K
This vegetarian favorite in Kathmandu has a second location in Pokhara. You'll find the same delicious Mediterranean food.
Himalayan Java Coffee
Himalayan Java Coffee is a Nepali chain of cafes. It's a great place to just take a break, grab a drink, or get some work done. There are two locations in Pokhara.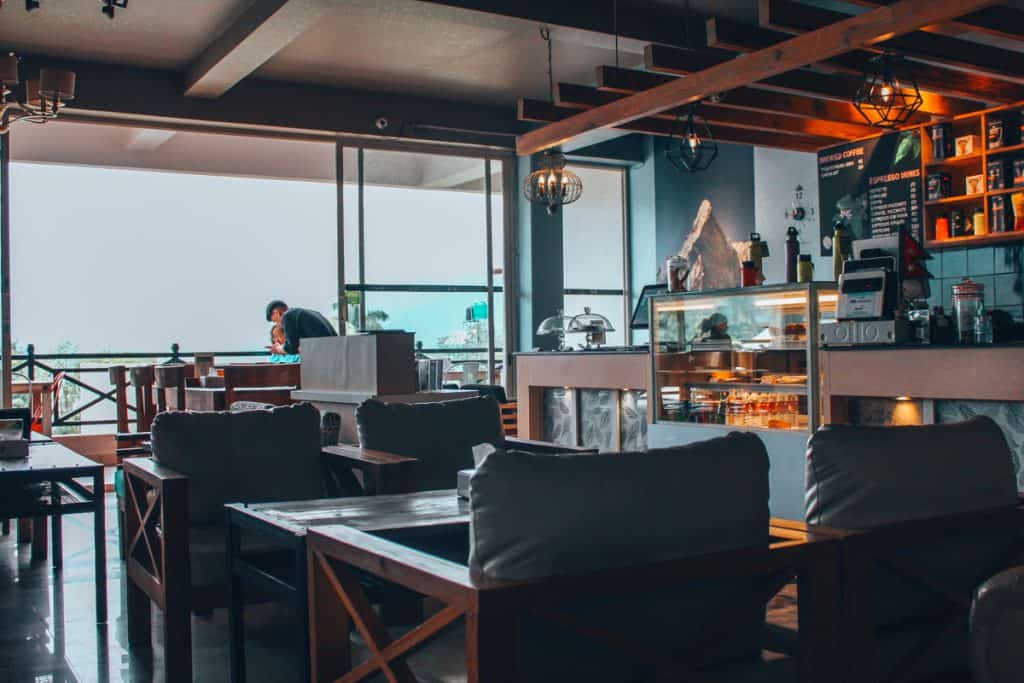 ---
Vegan in Chitwan National Park
I stayed at a lodge and they accommodated my vegan needs very well. Many things were naturally vegan but they made me special vegan versions if need be. I believe many of the resorts and lodges catering to visitors of Chitwan National Park will cater to your dietary restrictions if notified when booking.
That being said there are a few places worth noting in the area. Chitwan National Park is not going to have vegan options itself but the small town right outside the park – Sauraha – does.
Evergreen Ecolodge
Evergreen Ecolodge is a vegetarian homestay that looks like a great place to stay and eat near Chitwan National Park. They have a full restaurant with many vegan options.
---
Vegan in Lalitpur
C-ya Vegan Food and Coffee
This place is brand new (June 2019) and while I didn't get to go here, it looks pretty awesome from what they've posted on their Facebook page.
---
Vegan-Friendly Hotels in Nepal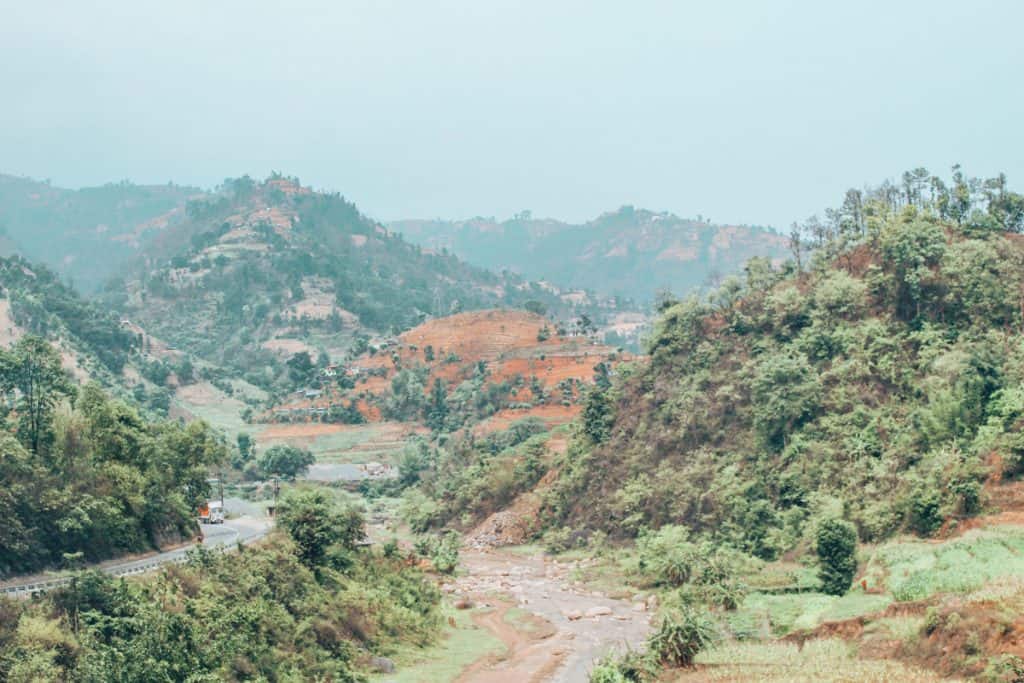 Hotel Mount Paradise
Hotel Mount Paradise (pure vegetarian) is a charming property in the middle of nature with clean rooms, hot shower and free WIFI in Nagarkot, Nepal.
Interested in staying here? See reviews on Tripadvisor or book online (free cancellation!)
Evergreen Ecolodge
Evergreen Ecolodge is a fully vegetarian eco-lodge located in Sauraha which is right outside of Chitwan National Park.
Interested in staying here? See reviews on Tripadvisor or book online (free cancellation!)
Chandra Ban Retreat
Chandra Ban is the perfect quiet sanctuary in the Kathmandu Valley. Meals are prepared on a fixed menu basis and they specialize in vegetarian dishes, both Nepali and International. They use vegetables from their organic garden and local produce. They provide vegan and gluten-free options.
Interested in staying here? See reviews on Tripadvisor.
Namo Buddha Resort
Namo Buddha Resort is an organic farm resort with a fully vegetarian kitchen located in the Kathmandu Valley.
Interested in staying here? See reviews on Tripadvisor or book online (free cancellation!)
---
Packaged Foods and Snacks
I heard ahead of time, and I would likely concur, that it is hard to find packaged vegan items. It's going to be hard to find well-known items anyway but also it's going to be even harder to decipher labels. I would suggest bringing along snacks with you, especially if you're trekking.
Here is a list of my favorite snacks to take along with me.
---
Water in Nepal
Please don't drink the water in Nepal. It is not suitable for drinking. While many hotels have filtered water that you can fill up your bottle with, many do not. For that reason, I suggest carrying a reusable water bottle and a water filter, or a combination of both.
---
Animal Welfare in Nepal
I won't lie and sugarcoat this. I saw many things in Nepal that broke my heart. But, I see many things at home, on a regular basis, that break my heart too.
You will definitely see many small butcher shops (with goat heads, full chickens, entire animals that haven't been processed yet, etc). You will see street dogs upon street dogs – although most seemed fairly healthy and happy despite being very dirty. You will see cows randomly in the streets. You will occasionally see animals being sacrificed. You will see elephant riding in Chitwan National Park and I share a bit more of that in my Chitwan guide.
This is not meant to deter you and it's not meant to say anything bad about Nepal or Nepali people. I just simply want to prepare people that this is a normal thing to see here that you may not be used to.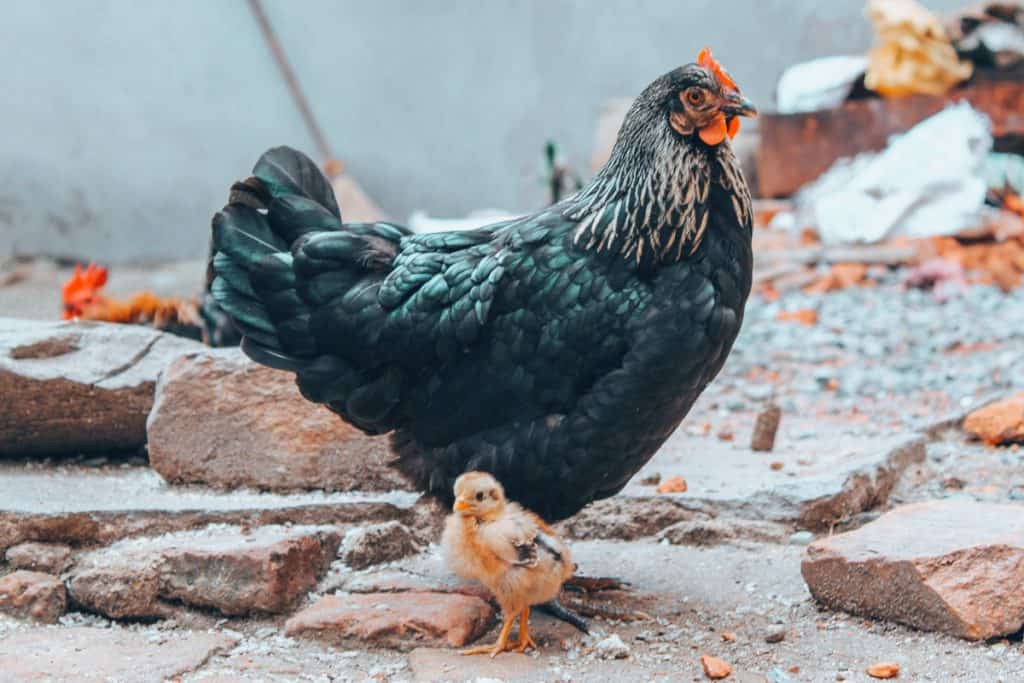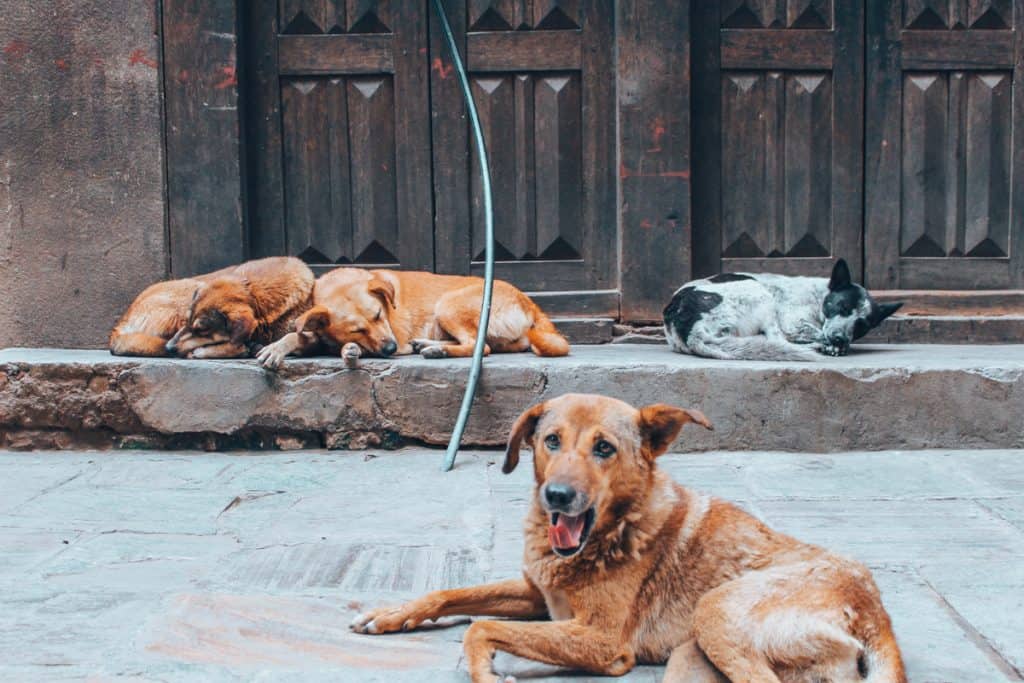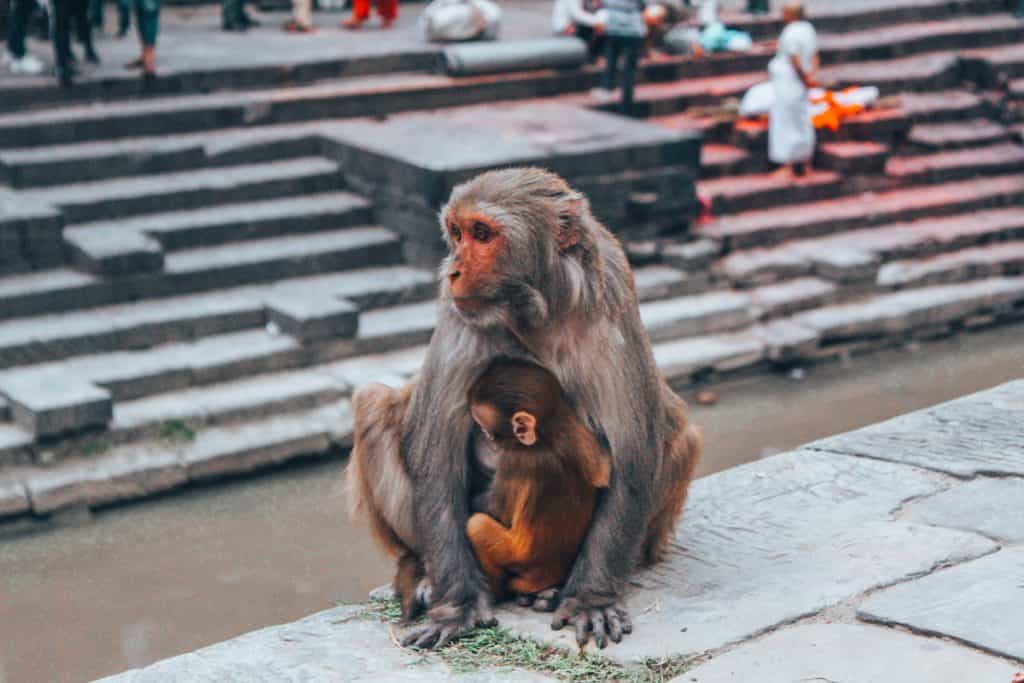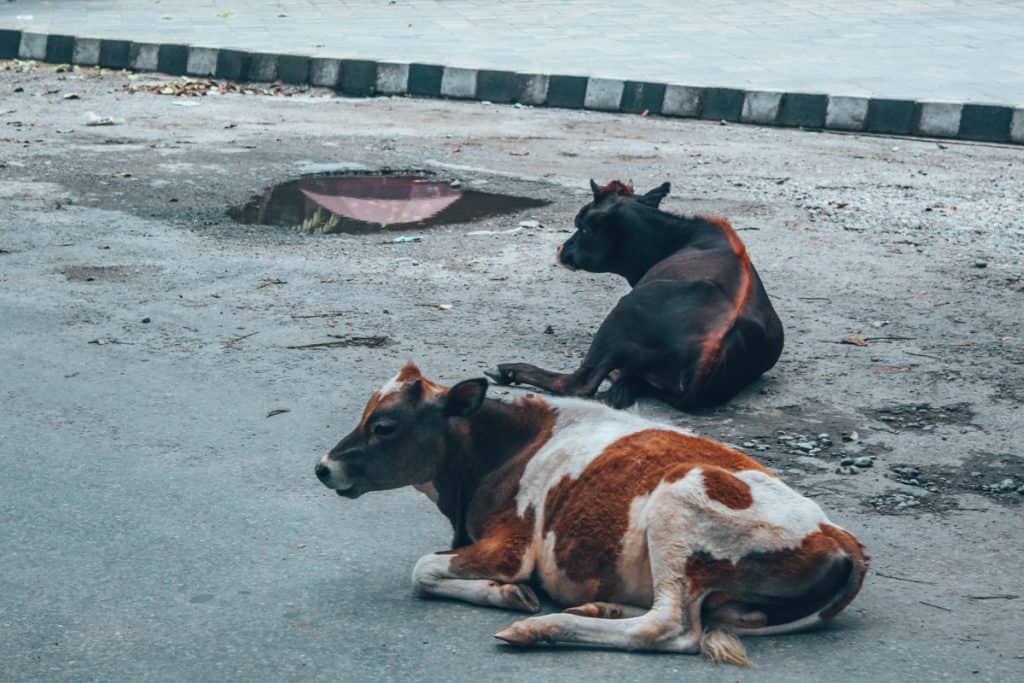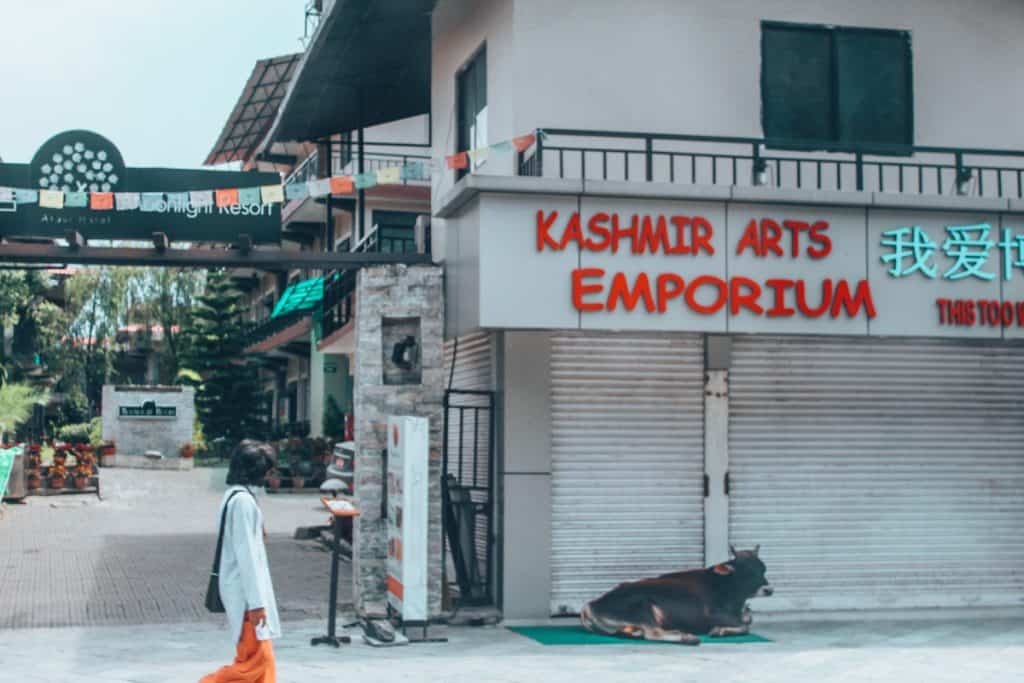 ---
Animal Sanctuaries in Nepal
Kopan Monastery
At the Kopan Monastery, you can find a fully vegan animal liberation sanctuary devoted to rescuing animals traditionally used for slaughter or sacrifices and they are exposed to the Buddha Dharm.
---
Nepal Animal Activism
Interested in taking part in animal activism while you're in Costa Rica? Here are a few great options!
---
Local Vegan Resources
My favorite way to get vegan options in a new place is by joining the local Facebook group here, here, and here. The locals will you give the best advice on where to eat, what not to miss and the hidden gems of their city!
---
Overall Thoughts About Nepal for Vegans
I brought snacks because I was worried I would go hungry but I really didn't need them that much. I do think this would have been completely different if I was trekking or really in the middle of nowhere. Overall, I think Nepal was extremely vegan-friendly mostly due to many of their traditional and easy to find foods being naturally vegan. It also doesn't hurt that I could live off of momos for the rest of my life.
Final verdict? Go to Nepal right now.
↓↓↓ Tell me – Did I miss something or get something wrong? Let me know in the comments below ↓↓↓
---
↓↓↓ PIN FOR LATER ↓↓↓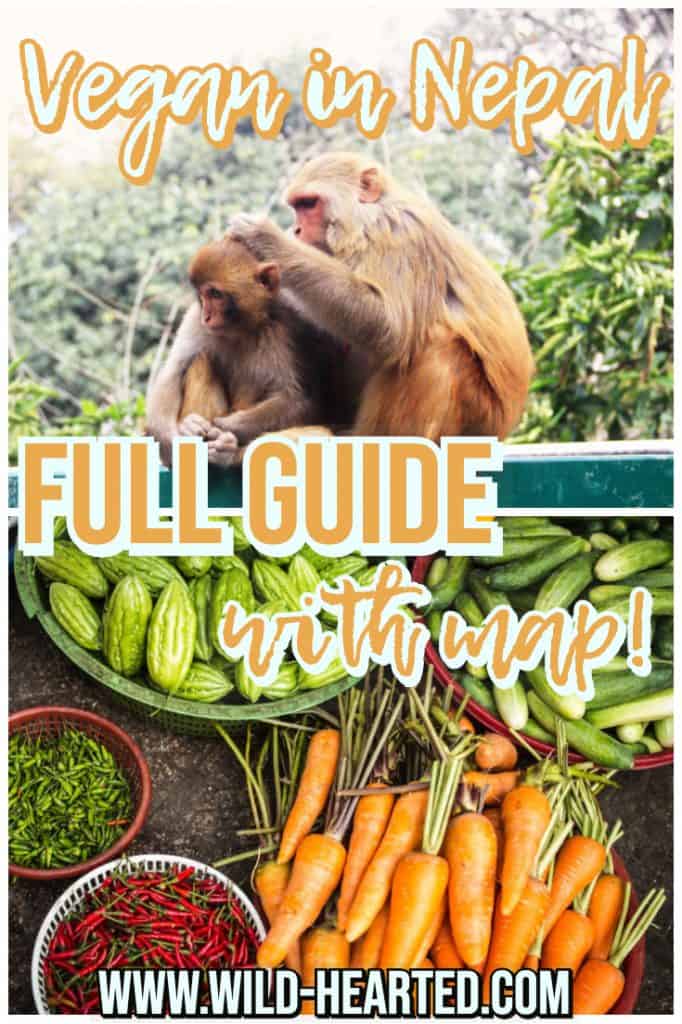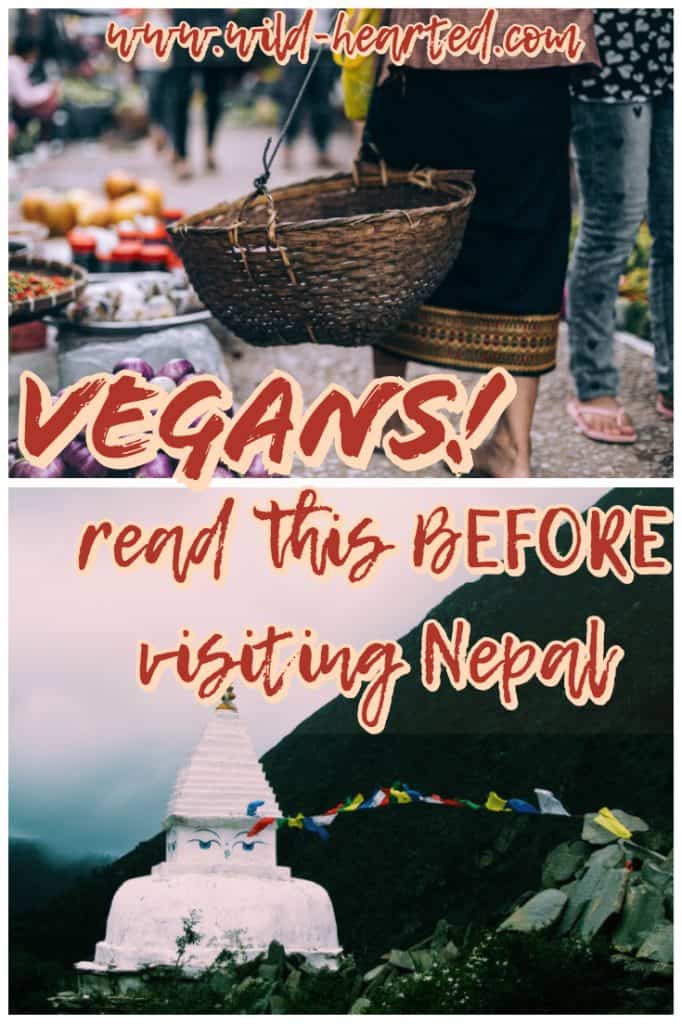 ***This trip was possible in collaboration with the Himalayan Travel Mart, Impact Travel Alliance, and the Nepal Tourism Board. All of my flights, accommodation, activities, and food were covered by HTM and Nepal Tourism Board. Despite who may have footed the bill, all the opinions here are my own and I would never recommend something I didn't fully believe in and try myself.***
Latest posts by Ashley Hubbard
(see all)