If you're considering a Bahamas liveaboard, then I'm here to tell you to stop considering and do it! I'm also here to share with you my recent experience with All Star Liveaboards and specifically their Aqua Cat vessel in the Bahamas.
Who is All Star Liveaboards?
This scuba diving liveaboard company holds the 'Best Liveaboard in the Caribbean/Atlantic' title from Scuba Diving magazine's 2020 Readers Choice Awards, only one of the nine awards they received.
While my experience was in the Bahamas, All Star also operates in Cuba, the British Virgin Islands (BVI), the Philippines, and Indonesia.
All Star Liveaboards has three different vessels in the Bahamas –– Blackbeard's (budget-friendly), Cat Ppalu (charter yacht), and, of course, the luxury Aqua Cat.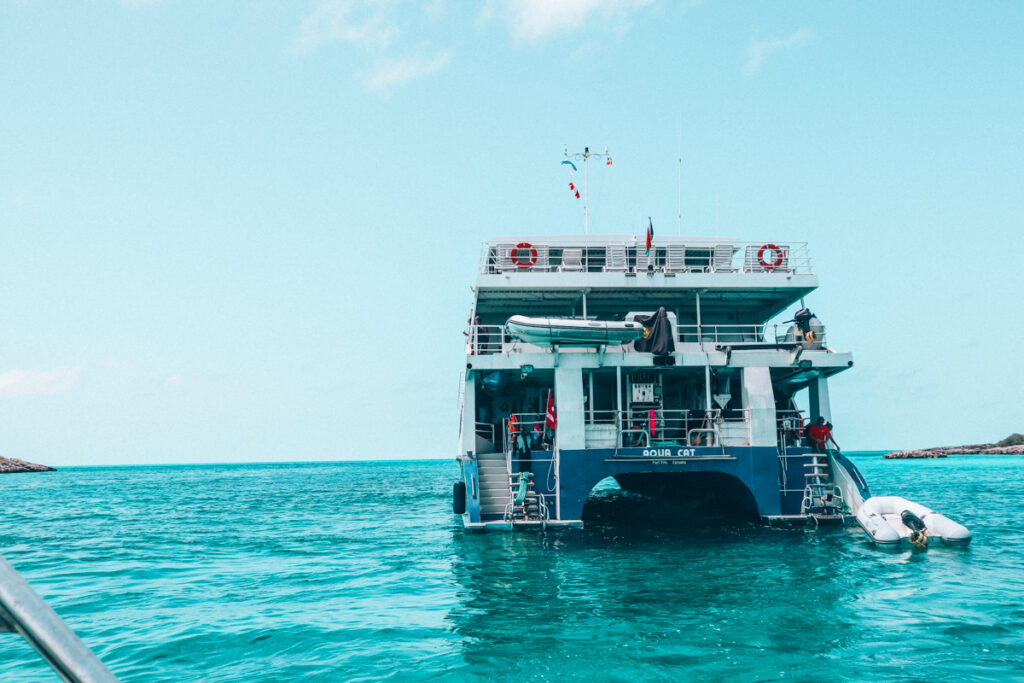 Why a Bahamas Liveaboard?
There are a ton of great scuba diving locations around the world, but the Bahamas is definitely one of the greatest, and a Bahamas liveaboard is the best way to see all the diverse diving sites.
During a one-week diving trip, you can find yourself logging wall dives, drift dives, wreck dives, endless coral reef dives, and specialty dive sites like the Lost Blue Hole. Due to the Bahamas being very spread out, a liveaboard is the best way to access many of the best dive sites.
The Bahamas is often voted the #1 destination for big animal diving due to the abundance and encounters with sharks (including Caribbean reef sharks, hammerheads, tiger sharks, nurse sharks), sea turtles, stingrays, and more.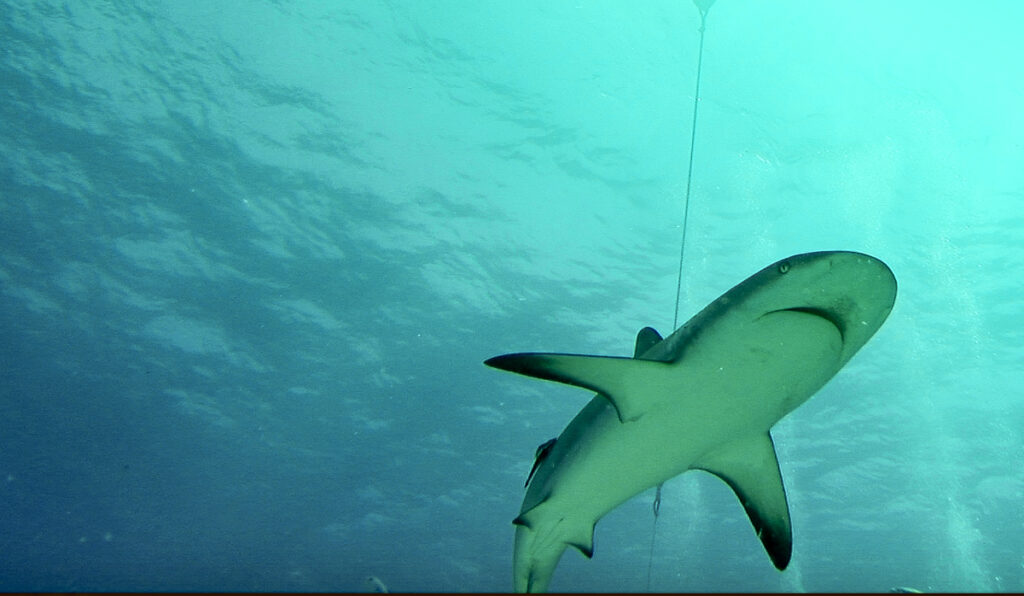 Aside from the quality of diving, the Bahamas are generally easy to get to with affordable flights from the US, Canada, and the UK. All of these reasons, make a Bahamas liveaboard a great idea!
The Aqua Cat
The Aqua Cat is a 102-foot-long catamaran best for those looking for a luxury scuba diving adventure. The tri-level boat includes 11 passenger cabins, a very spacious dive deck, the main salon for meals and relaxing, a large sundeck for enjoying the sun and all the exceptional views, and an alfresco bar.
On the first level, you'll find the dive deck and guest cabins. I'm kind of obsessed and mesmerized by the dive deck. It was so spacious and I'm never going to want to be on a cramped boat again.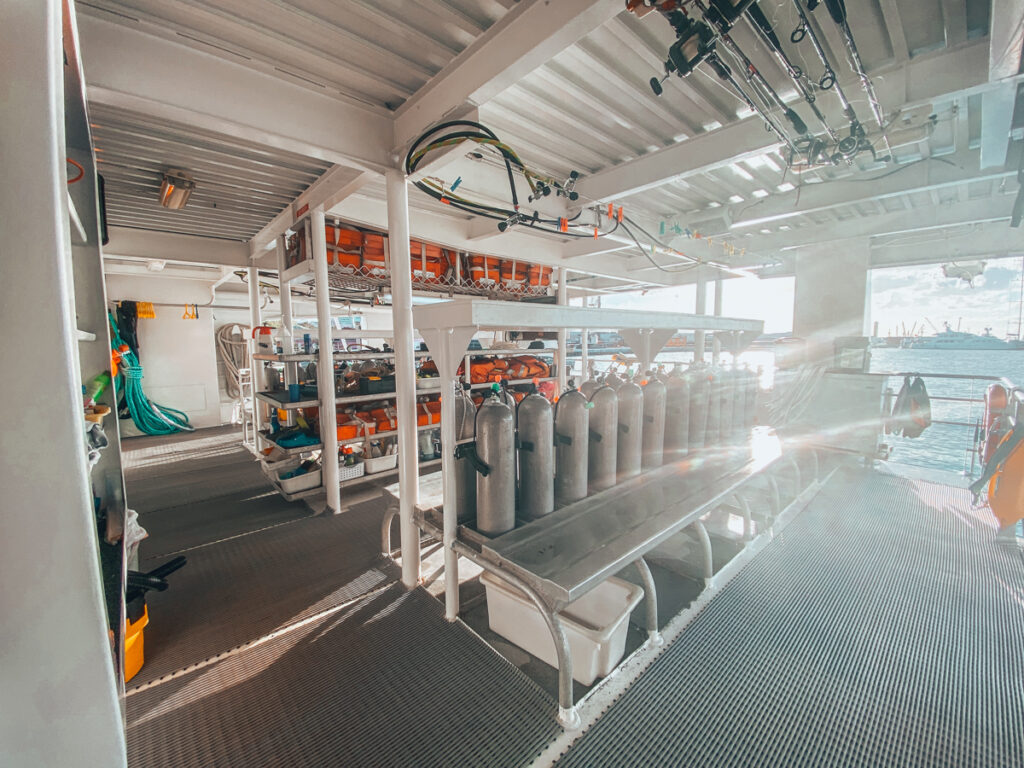 Next are the main salon and the alfresco deck where our dive briefings were held. I also ate most of my meals there because it's so much better eating outside, isn't it? And, I'd often be there laying in the hammock when I wasn't diving.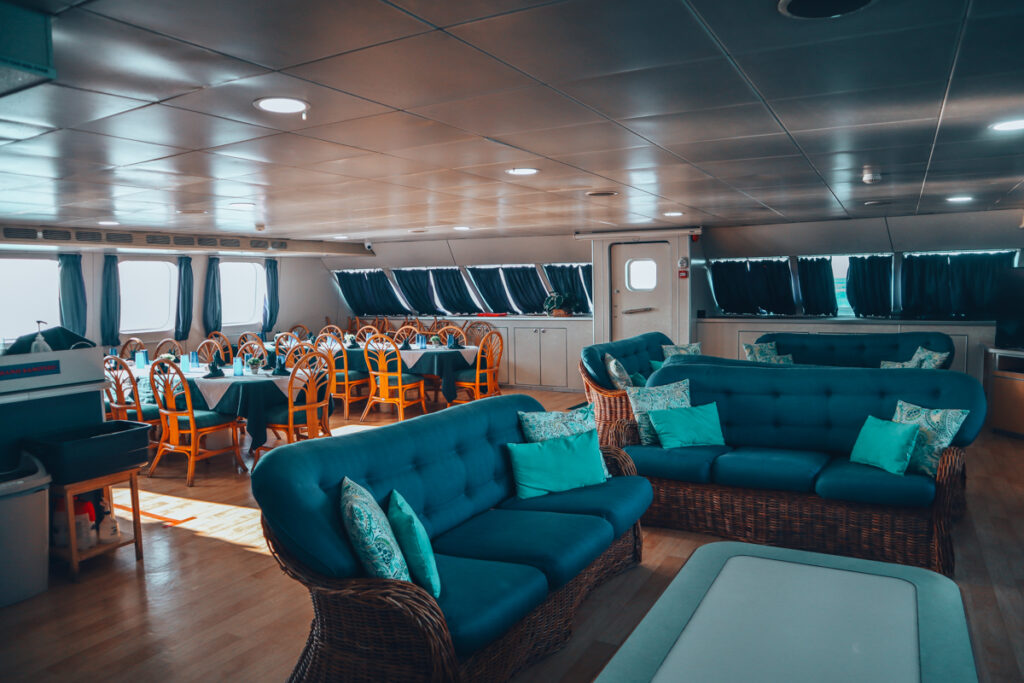 And, finally, on the third level is the sundeck and bar. The bridge is also here but that's not for guests, of course.
The vessel also cruises at 14-knots which allows for quick travel time between dive sites. The Aqua Cat is perfect for all scuba divers whether you're traveling alone, in a group, or as a couple.
What's covered?
Scuba diving, tanks, all meals, an open bar, eco-adventures, and non-diving excursions. Dive equipment rental is available, but not included in the price.
Life on the Aqua Cat
The bathroom
I've been on big cruises (never again!) but I had never been on any overnight boat trips aside from that. Let me tell you, the cabins on here are probably more spacious than a large cruise ship, especially the bathrooms.
It is still a boat after all so don't be expecting like 10×10 bathroom with heated floors, but you can take a shower without hovering over the toilet so that's worth celebrating.
The storage
The other majorly impressive bit was the storage space. I didn't pack much at all and my dive gear took up way more of my baggage than anything else, but it was still nice to be able to see and find everything easily.
The bed
I have sleeping problems, period. So, I never expect anything if I can't even sleep well at home. However, whether through just pure exhaustion from the diving and sun or just the boat's gentle rocking, I slept pretty well the entire trip.
Catamarans have great stability. There were only a few times that I even really felt I was on a boat and it was usually when we were crossing larger bodies of water. I don't suffer from seasickness, but catamarans, in general, lessen the chance of it.
The food
Obviously, it was going to be a deal-breaker for me if they couldn't accommodate a plant-based diet. Or, I could have loaded my bag up with lots of snacks and it wouldn't have been the first time I did that.
Luckily, I didn't have to. The chefs will actually cater to most dietary needs such as gluten-free, vegan, and other allergies and/or preferences. You'll just need to let them know on the pre-trip form they have you fill out.
Chef Yari was great about speaking with me about what I like and don't like. By the end of the week, she definitely knew I don't really eat salad and she kept nasty cantaloupe out of my fruit.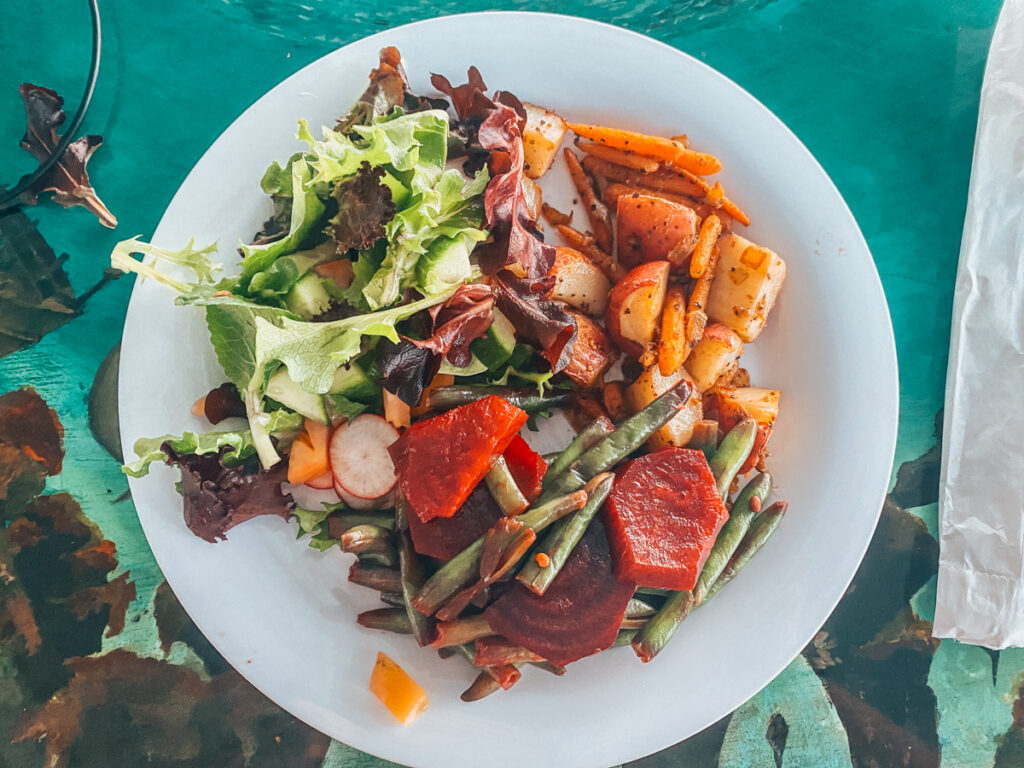 Typically, the food is served buffet-style, but with COVID, the staff dishes everything out for you. The end result is the same. All meals are included except for the Friday evening when you return back to the dock. There was a large variety of dishes for every breakfast, lunch, and dinner.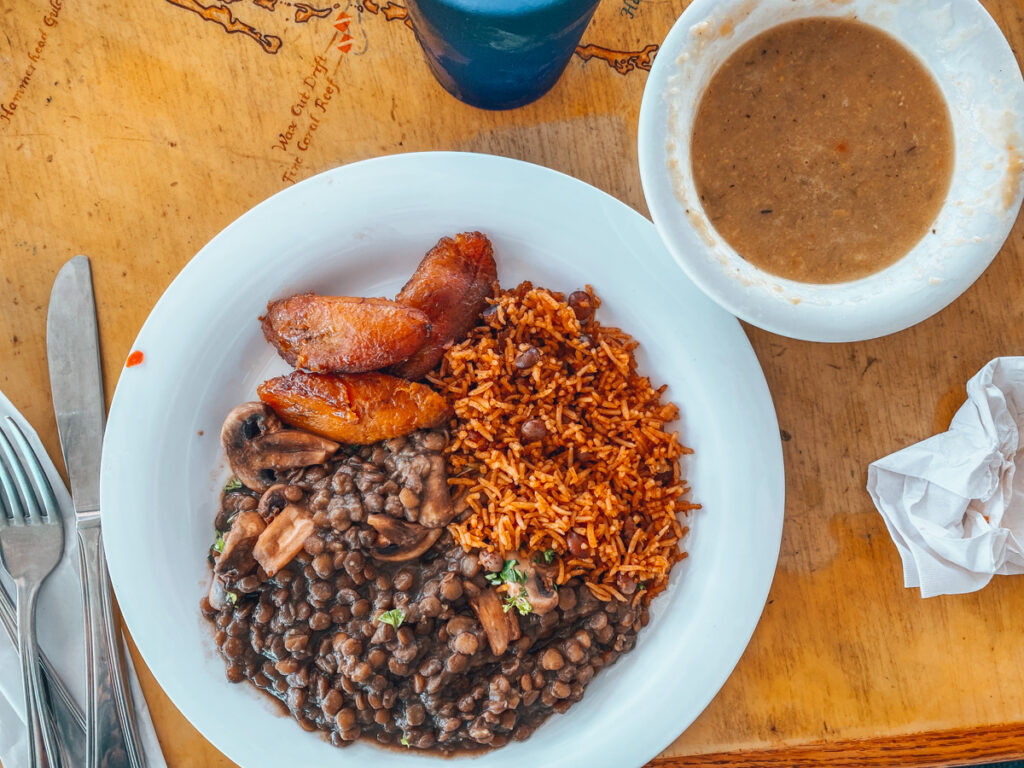 While it didn't really matter so much to me since I rarely drink, the boat was completely open bar which I was quite shocked by. This would be an obviously easy up-seller for them, so I was impressed by this. I didn't take part until the second to last night in which I finally struck up the courage to tell one of the guests he was Stephen King's doppelganger.
Non-diving entertainment
Whether you're a non-diver, just need a break from diving, or just don't ever sleep, there's plenty to do including snorkeling, kayaking, paddleboarding, and more.
The Aqua Cat offers almost daily excursions where you'll find yourself heading off on the Sea Dog, a 28-foot skiff. These excursions will be in addition to or in replacement of a dive. For popular excursions like the swimming pigs, it didn't replace a dive.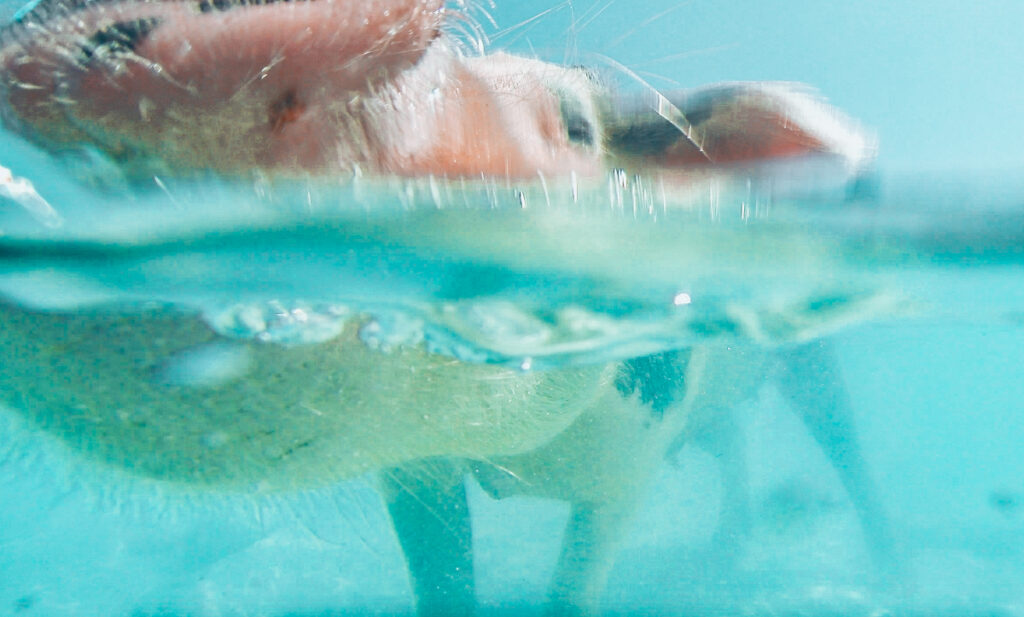 Popular shore excursions include Thunderball Grotto, Iguana Island, hiking up Boo Boo Hill, and lounging on beautiful beaches on secluded islands.
I did almost all of the excursions and they were all wonderful. Additionally, there was a family on board where three of the five didn't dive including two kids. The crew was so great about always having something fun to do.
On-board for extra entertainment, there's a TV in the main salon with a very large selection of movies and a pretty decent library of books.
Diving on the Aqua Cat's Bahamas Liveaboard
I'm going to get into diving in the Bahamas on a later post because, frankly, we'd be here all day. So I'm going to try to keep this mostly to just how it was diving on the Aqua Cat and with All Star Liveaboards.
I will say that we had beautiful weather and the Captain went above and beyond to get us to a wide variety of locations and diving.
On a standard week-long trip, you'll get to experience 26 dives. This is, of course, dependent on the conditions. Also, for example, one day we did only four dives because everyone was interested in seeing the swimming pigs.
If you've followed any of my dive content before, you probably know that 1) I absolutely love it and 2) I also have legit panic attacks. I mean my open water certification experience in Costa Rica was life-changing but also probably a questionable career choice moment for my instructor.
And, since then, I've had great dives and I've had dives that I spent a fair amount of money to go on and I never ended up diving. I've cried on many boats.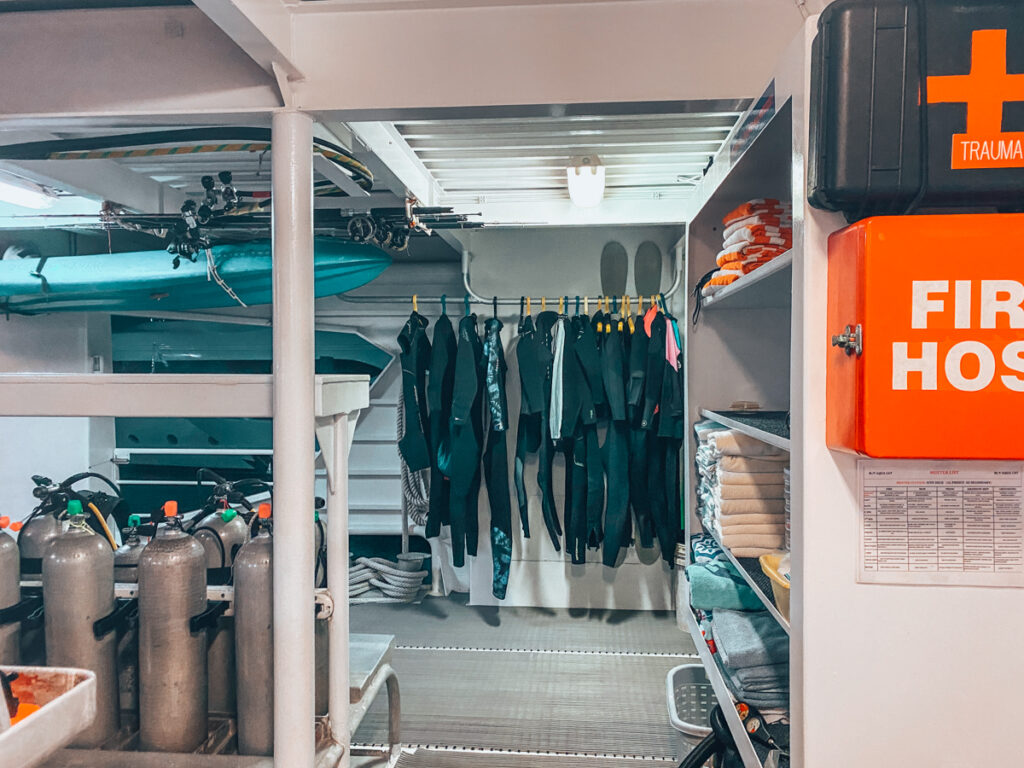 I had anxiety leading up to this trip. I was nervous about going and coming back with an empty log book. I was nervous about looking like an idiot. I was nervous about being the only newbie on board.
But, from the minute I stepped on board, I felt something shift. I wouldn't truly believe it until a few dives in, but I felt immediately accepted and comfortable thanks to the crew's friendliness.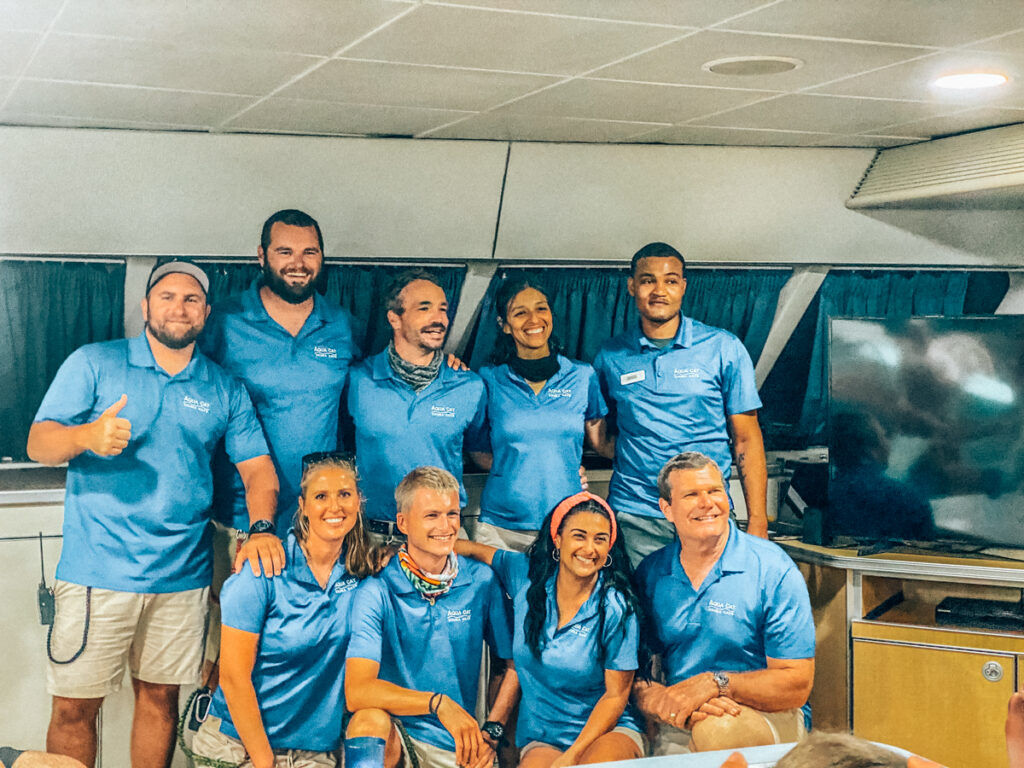 A lot of things went into this. Mother Nature's decision to be nice, Captain Ron's expertise in picking quality dive sites, the crew for giving detailed and very helpful dive briefings before every dive, and the level of safety that went into every dive. It was exactly what I needed.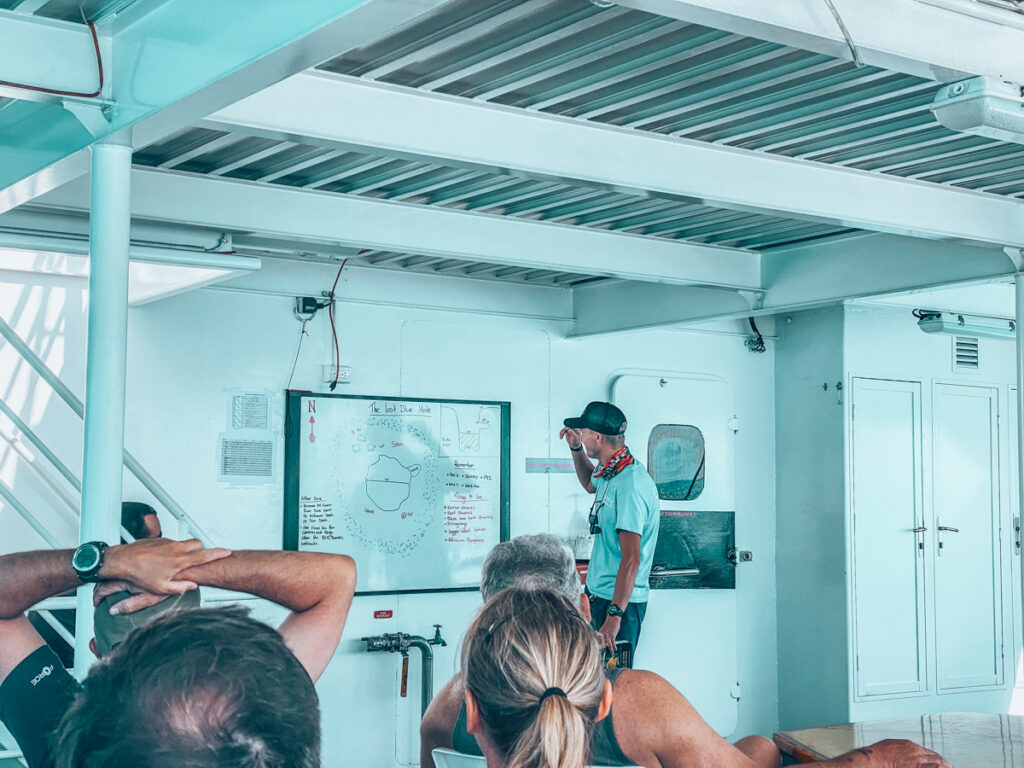 There was always a Divemaster (DM) in the water on each dive and you were more than welcome to follow them. This is great for solo travelers, anxious divers (hi, hello!), or divers that just aren't great at navigation yet.
There were several fail-safe ways to keep track of everyone. There was a board where you would move your nametag over when you were in the water and then they would also count the tanks to ensure the same number of tanks were always present.
Didn't bring your own gear or something broke? The Aqua Cat has a well-equipped dive shop onboard with everything from dive computer batteries to full gear rental.
Need certain accommodations? Whether you need to put your gear on in the water, you need a smaller or larger tank than typical, or something else, they will help make you as comfortable as possible.
What about COVID?
Partly due to All Star and partly due to the Bahamas government, I felt very safe on this trip. Honestly I would have never considered an international trip right now, but the level of safety was impressive.
Every passenger was required to have a negative COVID test (PCR too) within 5 days of travel. Additionally, you are required to get a Bahamas Health Visa ($60) but the value, oh my god. If you get sick, it covers medical expenses, accommodation, etc. Best $60 I've ever spent and I didn't even use it.
When you're visiting the Bahamas, you are also required to get a negative COVID test every five days you are there. Since we were on a private vessel, we didn't have to do so until we arrived back at the dock. This doubled as our required negative COVID test to leave the Bahamas and return to the US.
The company has it all set up where a nurse comes to the boat on Friday and administers everyone's test right there on the boat.
As for the crew, they wear masks any time they're around guests. Additionally, the three spacious levels give ample room for guests to keep their distance if they choose.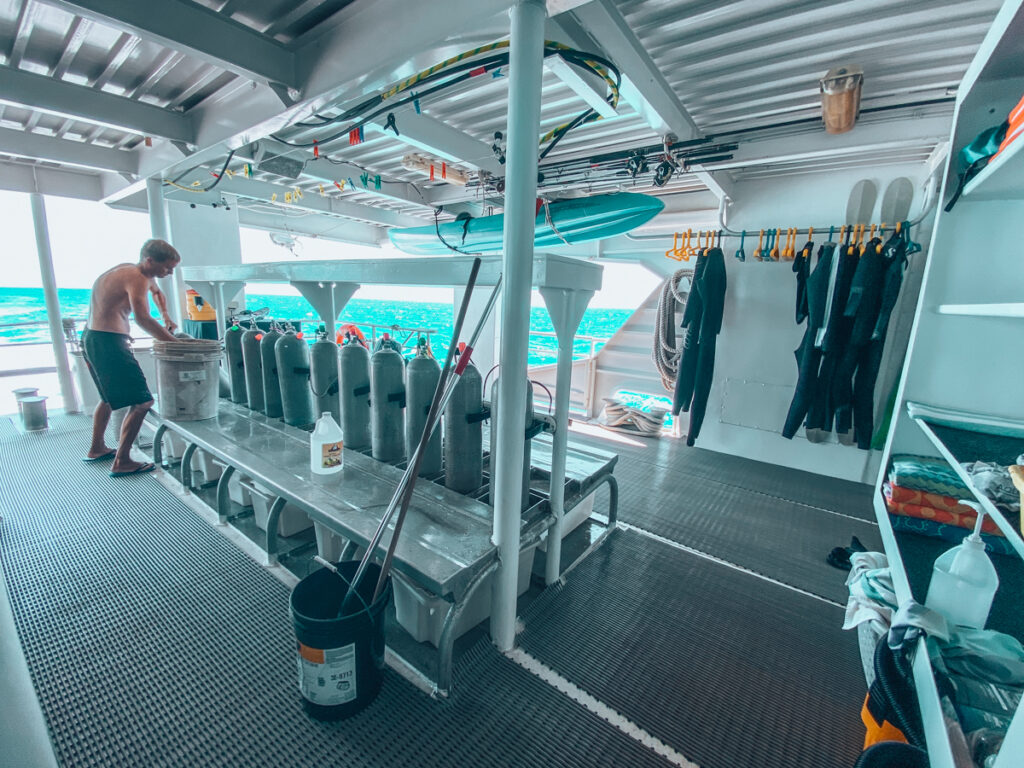 There are gallon-sized hand sanitizers just about every ten feet on the boat along with signs reminding you to wash your hands and sanitize.
Between trips, the crew thoroughly disinfects the boat and having witnessed it, it was very, very clean.
I don't think anything can be fully guaranteed but I felt incredibly safe and that's saying quite a lot if you'd have seen how cautious I've been the past year.
Is the Aqua Cat worth it as a Bahamas Liveaboard?
On purely diving alone, absolutely. The value just for that is worth it. When you add on the exceptional crew, the spacious and comfortable Aqua Cat, the secluded and beautiful excursions possible, I believe it's a no-brainer.
If you're ready to book your Bahamas liveaboard, you don't need to look any further than one with All Star Liveaboards.
A huge thank you to All Star Liveaboards for hosting me on this trip. Flights, port fees, and gratuities were covered by myself.