This post may contain affiliate links, meaning if you book or buy something through one of these links, I may earn a small commission (at no extra cost to you!). Please see my disclosure.
I definitely didn't know much about Limerick before heading there and I still probably don't know much as my time was way too short. What I do know is that, like most of Ireland, the people are absolutely amazing. It's been said that Ireland has some of the most friendly souls and I can honestly agree to that. Our Airbnb hosts must be included in that group of people. Accommodation in Limerick was one of the last we decided on but I'm so happy that we went with this adorable home.
Accommodation in Limerick
After driving all day from Galway to Limerick, we arrived in Limerick around 3:00PM. Our hosts, John and Rebecca, were waiting for us with a pint in hand – now, that's true Irish hospitality! Directly next door to the house, is Katie Daly's – a brand new pub. It literally opened the night before making it an excellent way to begin or end your evening. We sat at the picnic tables outside the pub, chatting with John and Rebecca, swapping stories and feeling right at home. They gave us a few suggestions for our quick stop in Limerick, showed us around the house and went on their way.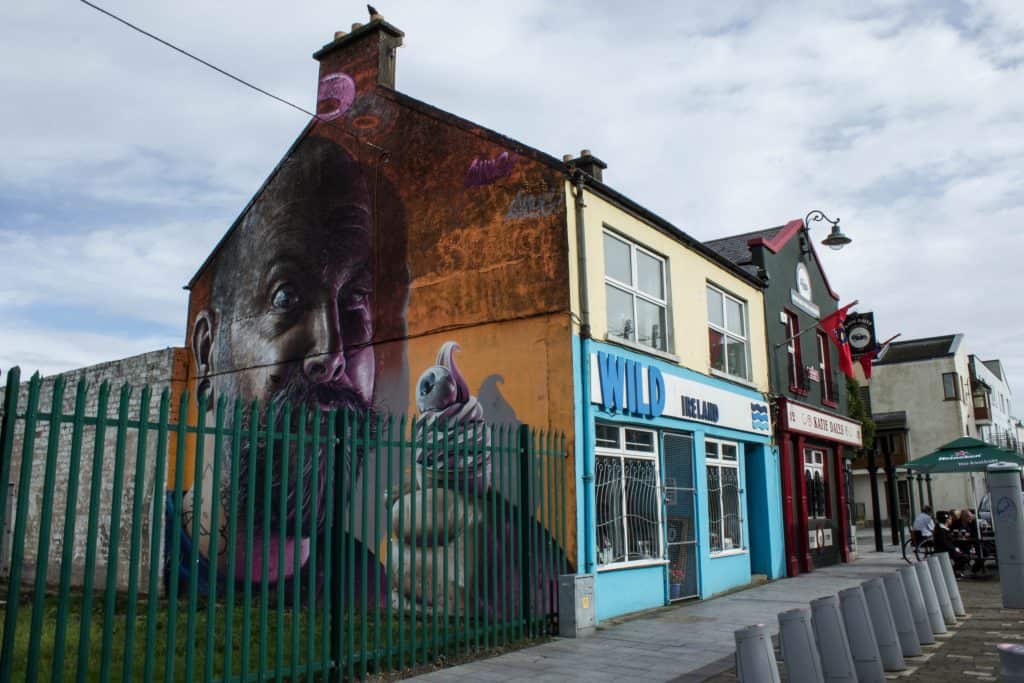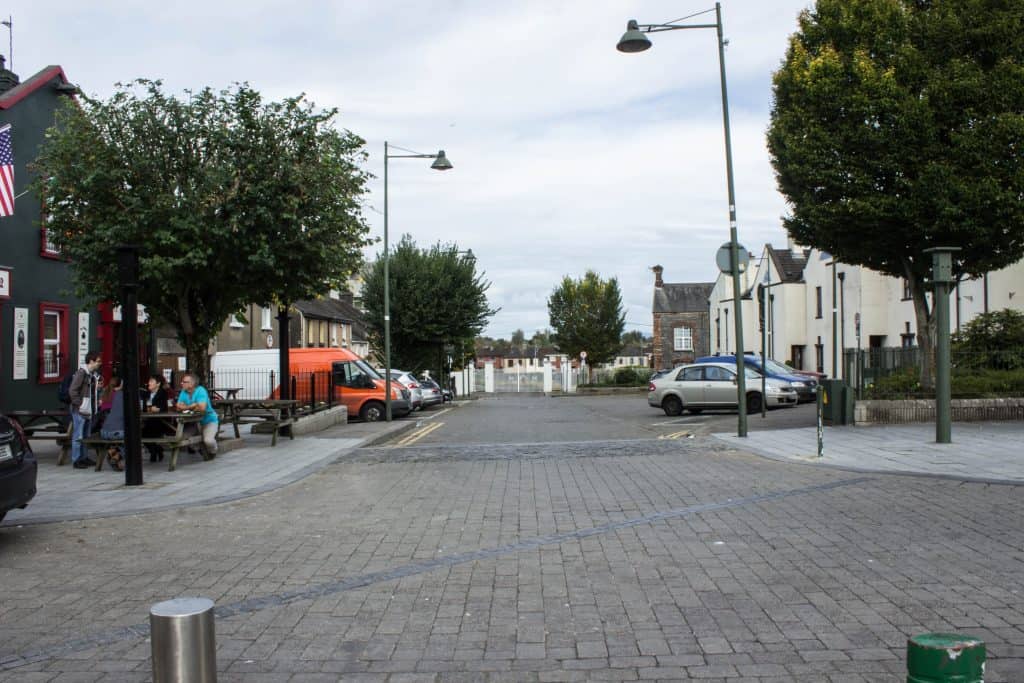 ---
Location
Since we were then on the weekend, we were able to park right in this lot for free. During the week, you may need to park on the side streets.
The home is located right in the city and is walking distance to many spots but the amazing part is it is literally right across from King John's Castle. As soon as we settled in, we headed over to take a tour of the castle barely making it before they closed.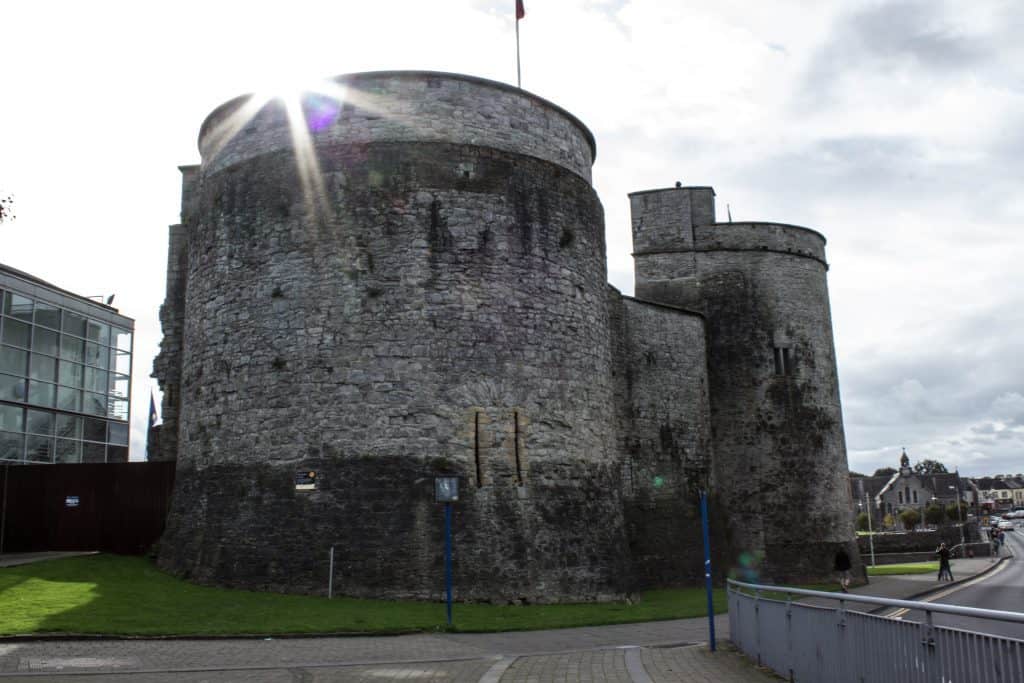 On the other side of the home is Wild Ireland – a shop geared towards outdoor lovers and adventurers – also owned by John. On the wall of the building, you can also find one of my favorite street art murals I've ever seen! John said the city actually asked him if they could paint over it but he said nope! and I'm so glad he did because it's amazing.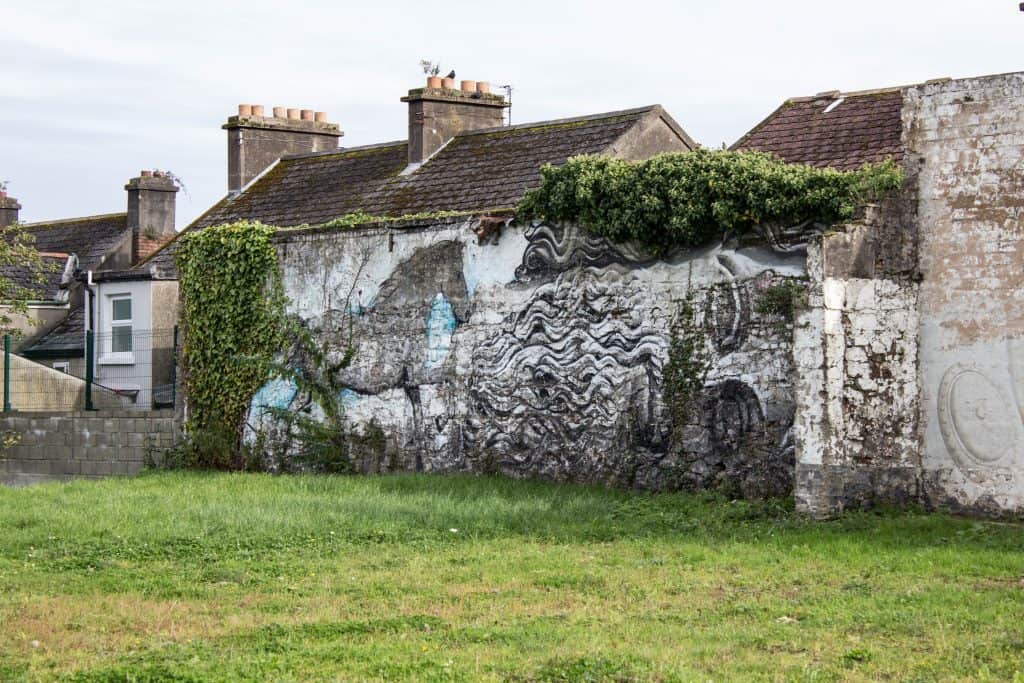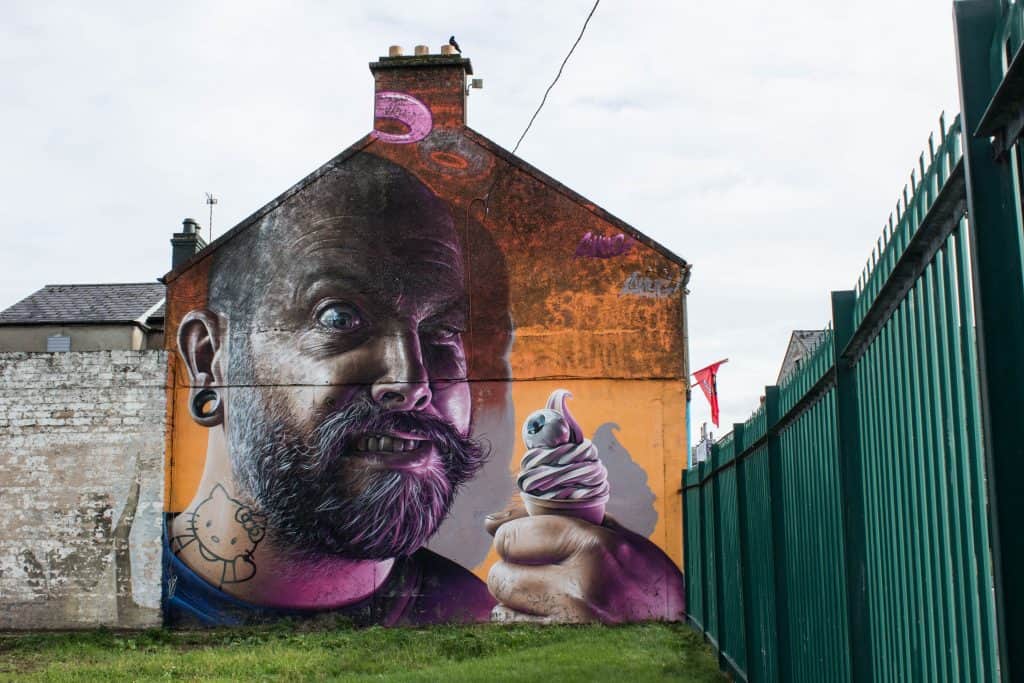 ---
Common Areas
Our first look at the Airbnb was the key – which was one of those old-fashioned keys – I love those things! When we first stepped into the house, I immediately was charmed. John had already started a fire for us in the fireplace and I love wood-burning fireplaces. You'll enter the main floor with the comfy living room and a full-service kitchen. On the second level, you'll find three bedrooms and a shared bathroom.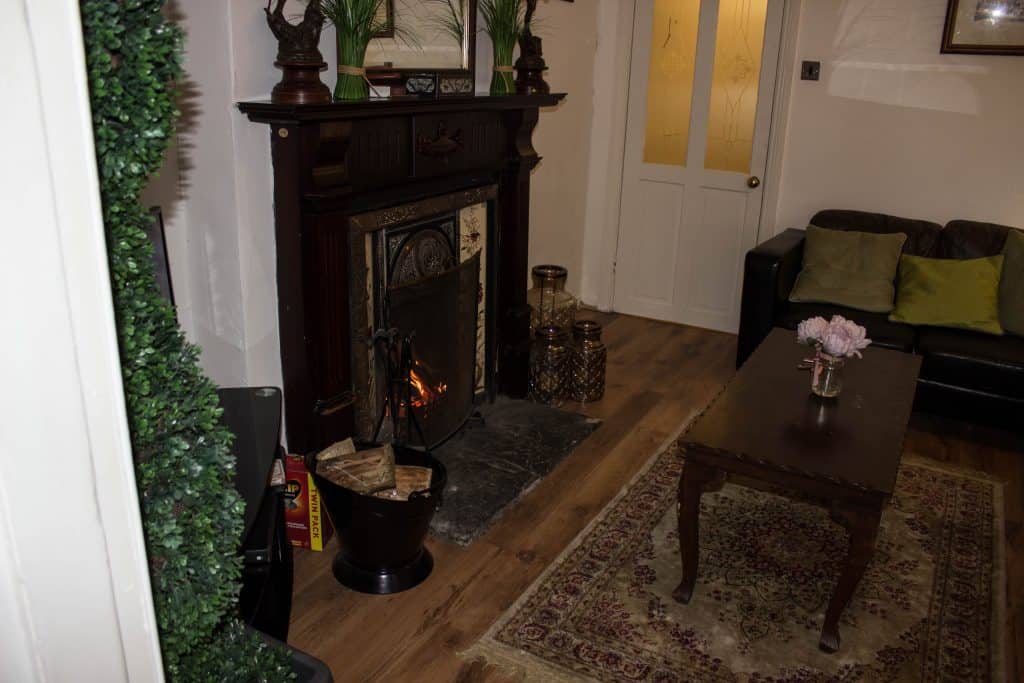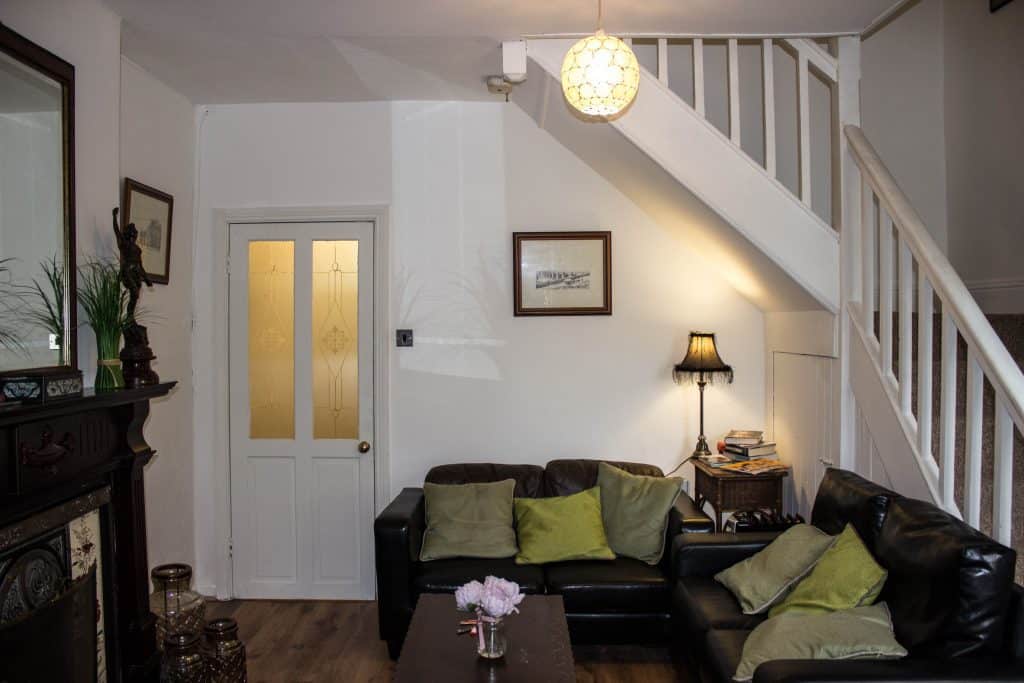 John even left us some vegan snacks and treats in the fridge and counter which I thought was incredibly thoughtful and such a nice touch.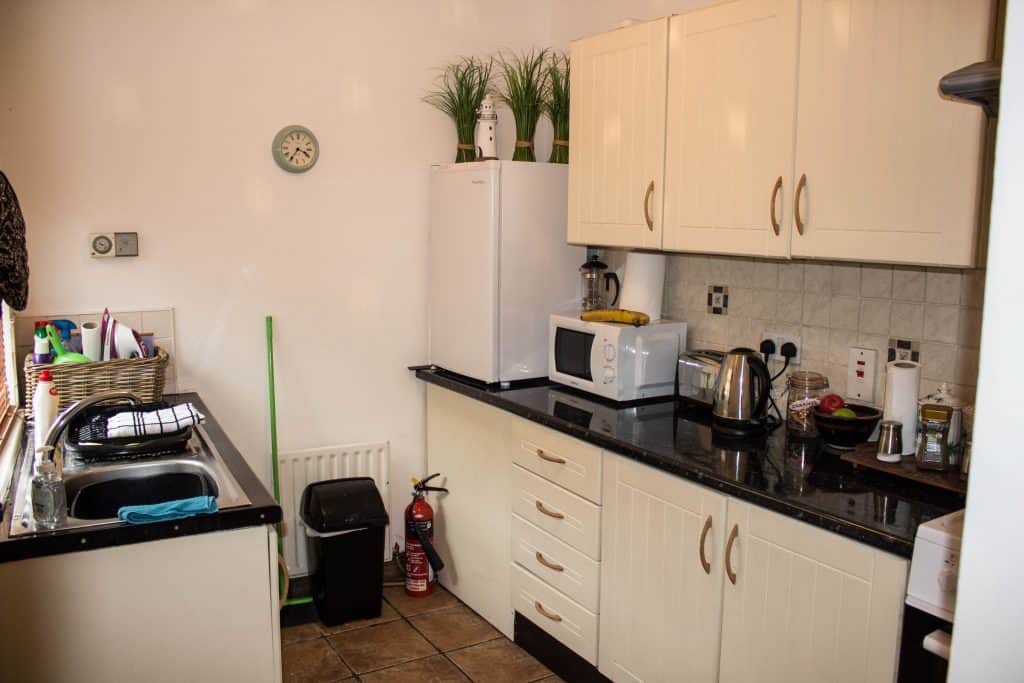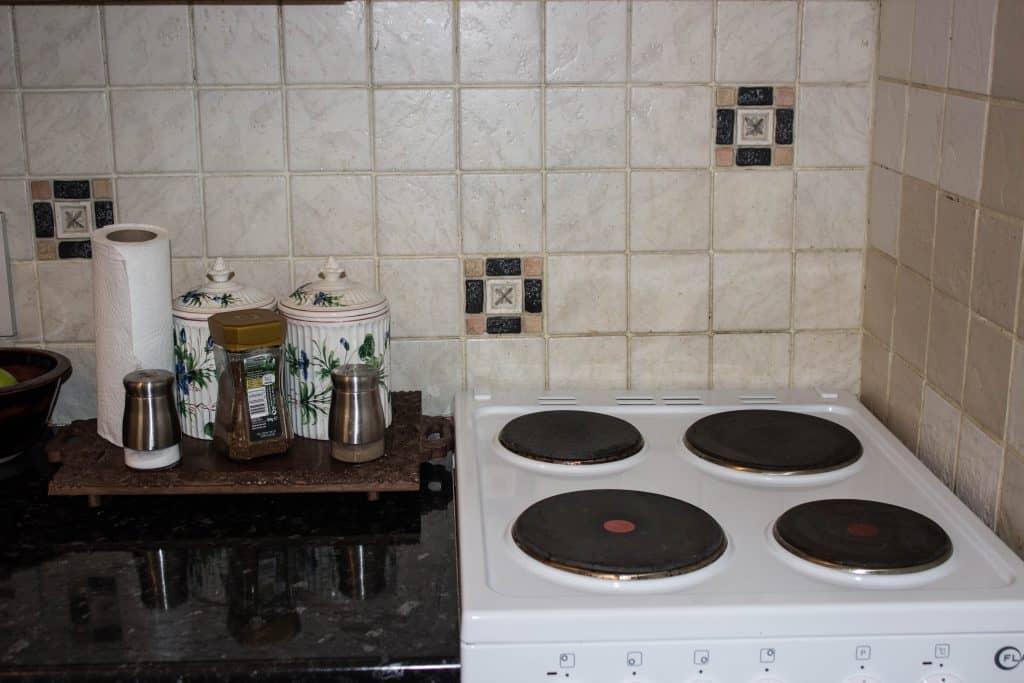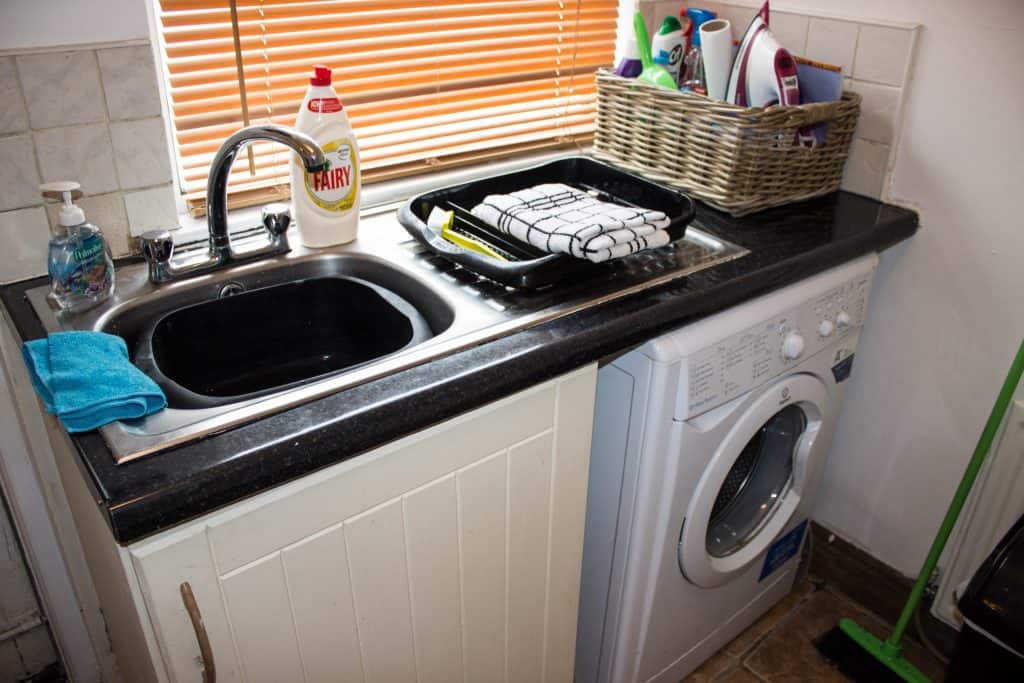 ---
The Bedrooms
Three bedrooms was so nice as Lauren and I could each have our own room. Two of the rooms look out over the castle which is really awesome. Each room has more than one bed and the home sleeps up to 8 people meaning a large family or group of friends or a few couples traveling together could very comfortable stay here. Traveling with several people would also make this stay extremely budget friendly.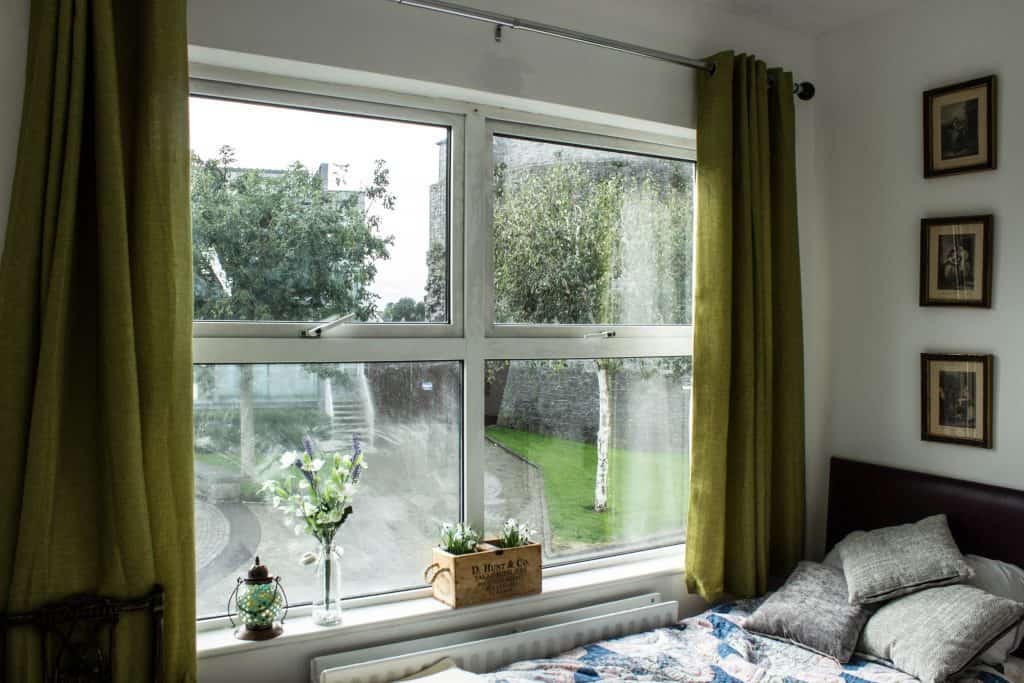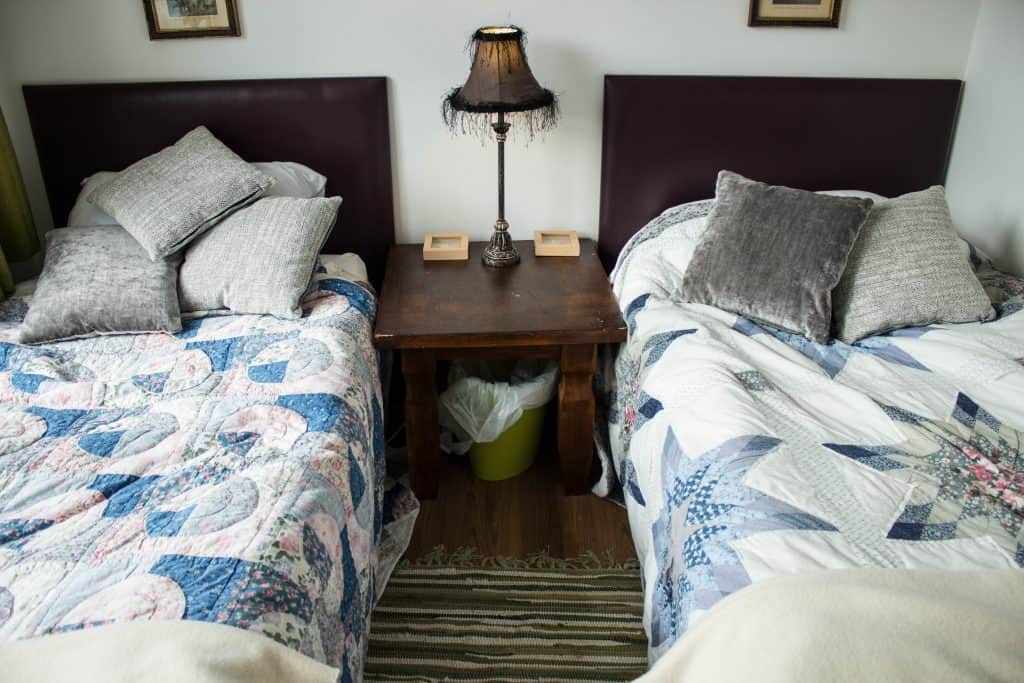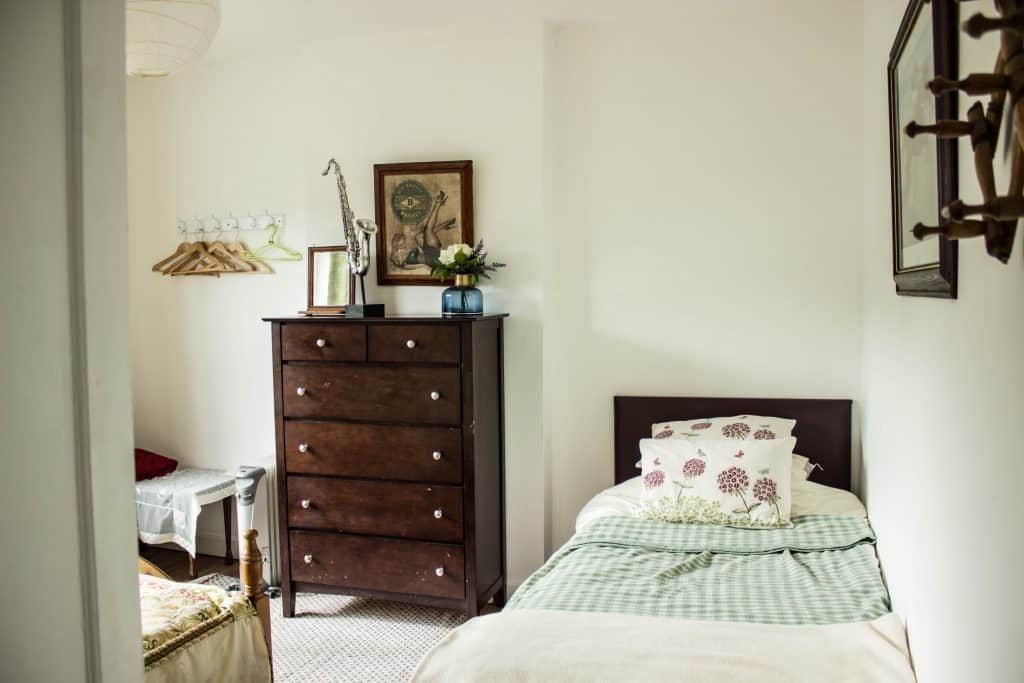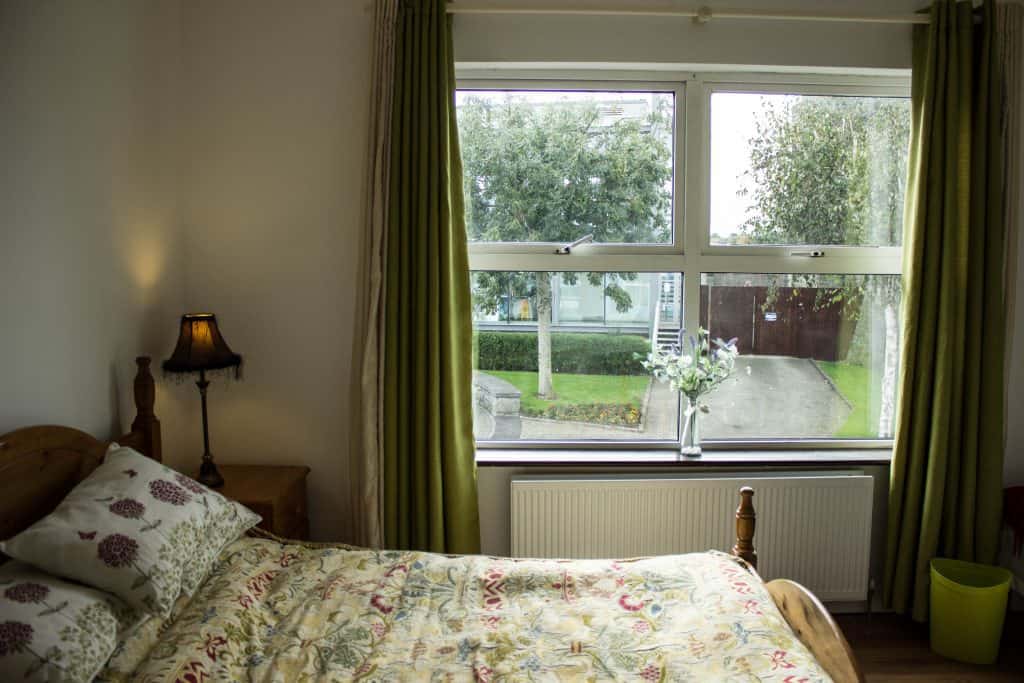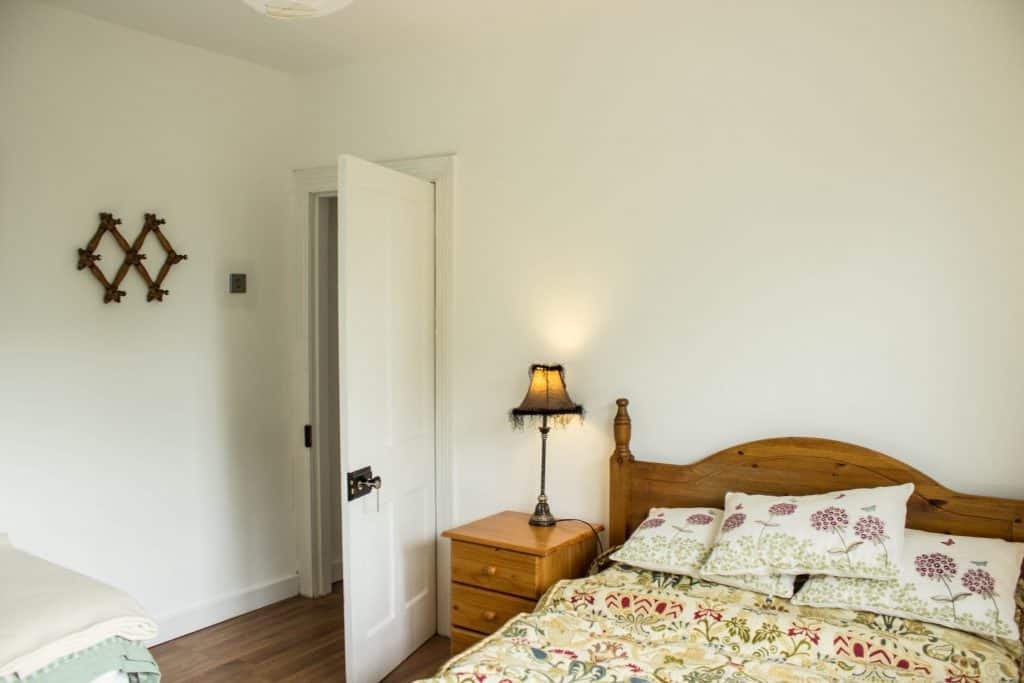 ---
The Bathroom
The bathroom was very spacious – not always the case and always appreciated – and fully stocked with extra toiletries and toilet paper.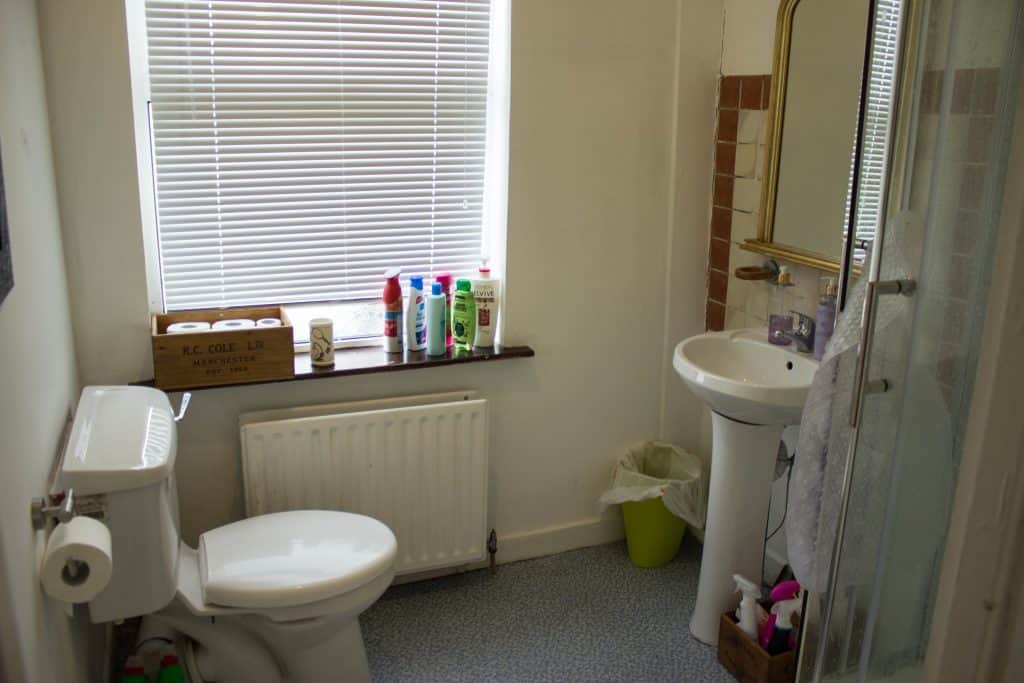 ---
My Favorite Part // The Secret Garden
My favorite part – aside from the fireplace – was the secret garden! Not a garden by traditional standards but still amazing! Connected to the Wild Ireland store is this awesome outdoor lounge area but once the store closes for the day, it's completely and privately for whoever is staying at the house. It's a pretty cool little place to sit and chill, play music, swap stories and even write your own stories on the wall.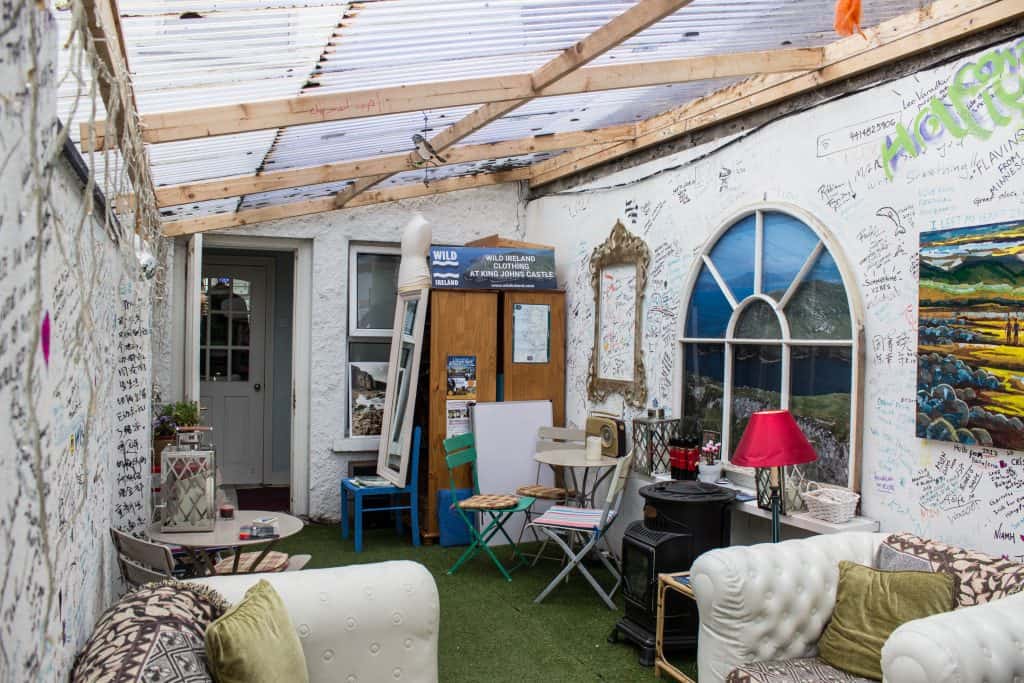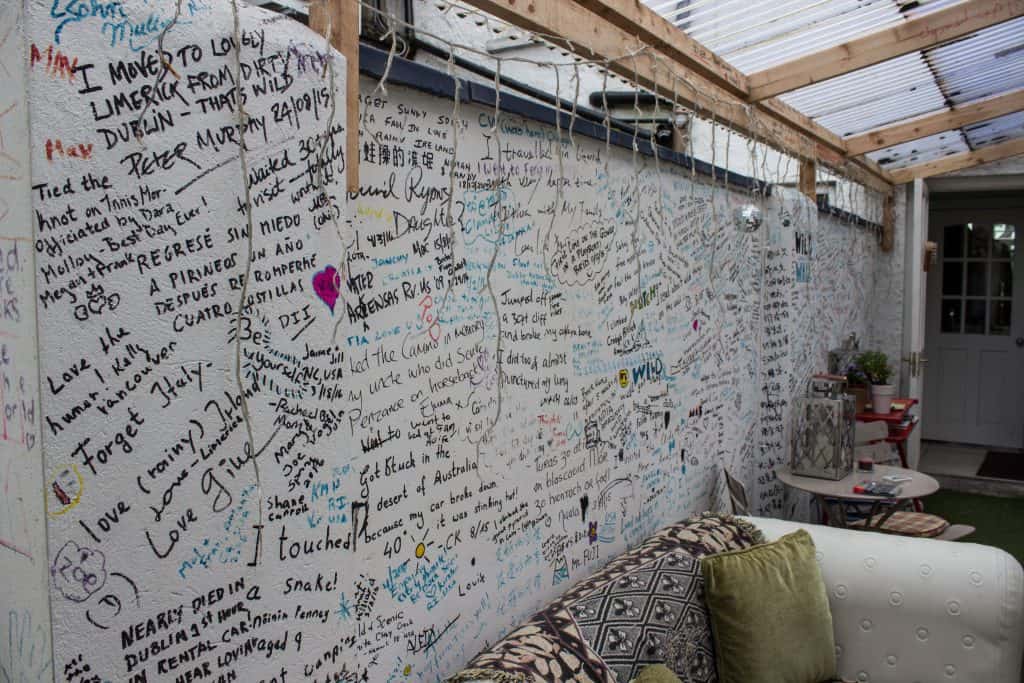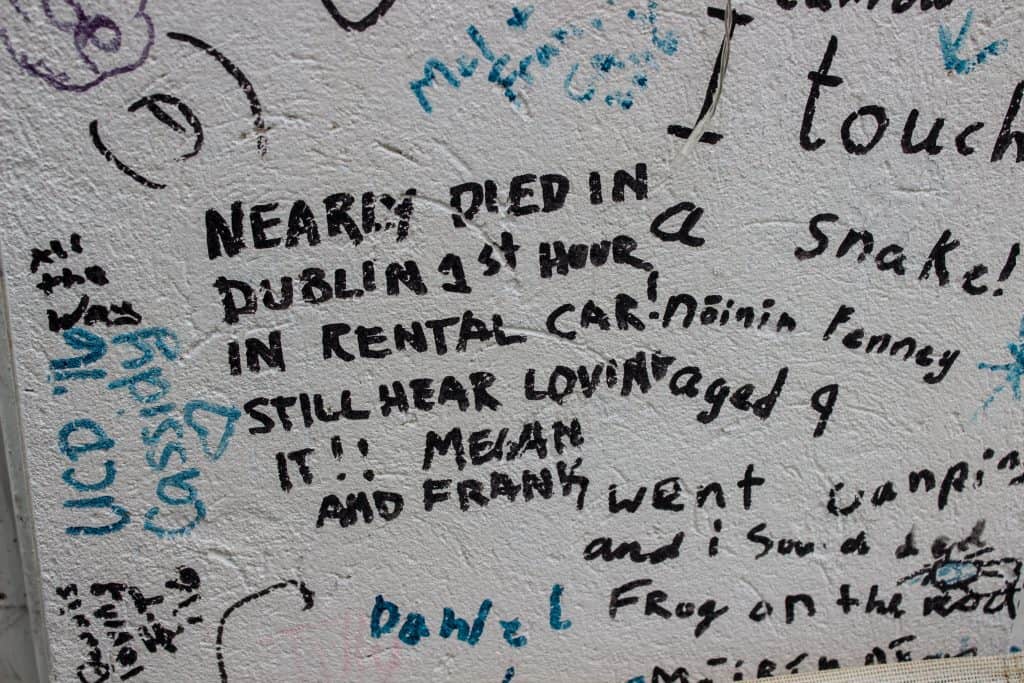 I saw some pretty amazing and crazy stories written on the wall here and really resonated with this one.
---
Wi-Fi
I'm specifically mentioning this so you can check it before you book should wi-fi be necessary for you. At the time we stayed here, John was still in the works of having internet hooked up and therefore, there was none. I took it as a sign that I needed to catch up on my reading and did so.
---
Overview
This became one of my favorite spots we stayed at in Ireland. The hospitality, spaciousness, affordability, location and more made it easily the perfect choice.
If you're traveling through Limerick or staying in the city for a while, I would definitely consider staying at this home on Airbnb. If you have any questions, definitely reach out to John as he is very accommodating and responsive.
If you're new to Airbnb, use this link to sign up and get $40 travel credit!
---
What to Pack for Limerick
Raincoat (yep, it's not just something people say – it can rain at any moment!)
Travel Umbrella (while I didn't bring an umbrella and was too stubborn to buy one, I'd recommend it)
Pacsafe Cross Body Purse (I love my Pacsafe products and would highly recommend using them when traveling)
Comfortable Shoes (my feet tend to hurt pretty easily and these are the best shoes I've had in a while for walking a lot)
Have you ever been to Limerick?? Tell me in the comments below ↓↓↓
Ready to book this Airbnb? Use this link for $40 off and book this listing here.
Looking for a guidebook on Ireland? Here ya go!
What else have I written? You can find more Ireland posts here.
Like this post? Have Questions? Hit me up on Facebook | Twitter | Instagram | Pinterest | Email
↓↓↓ PIN IT ↓↓↓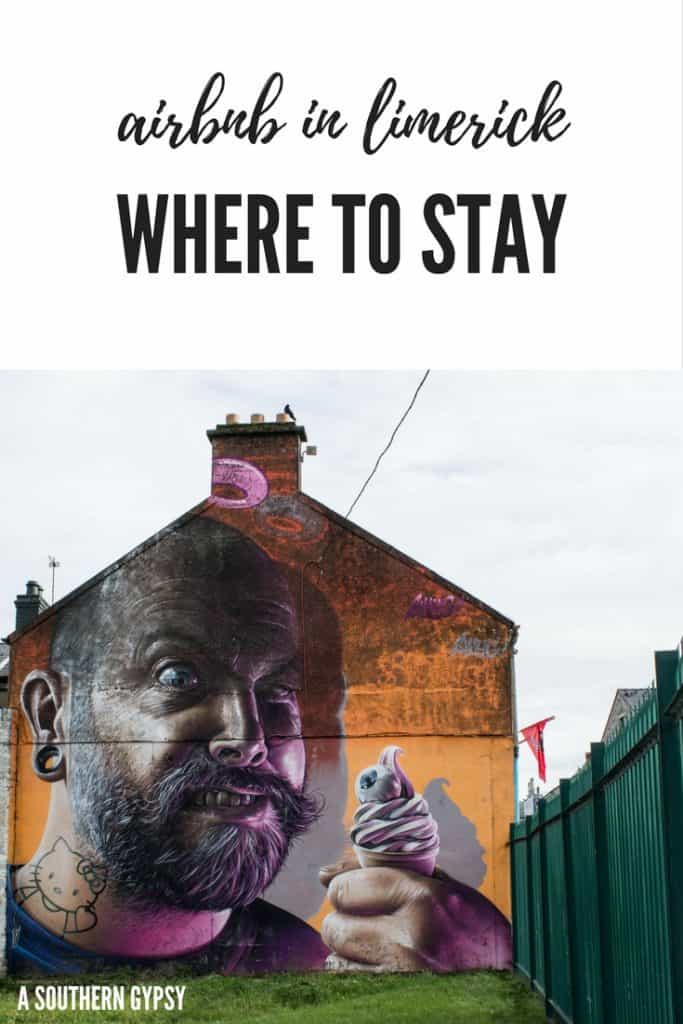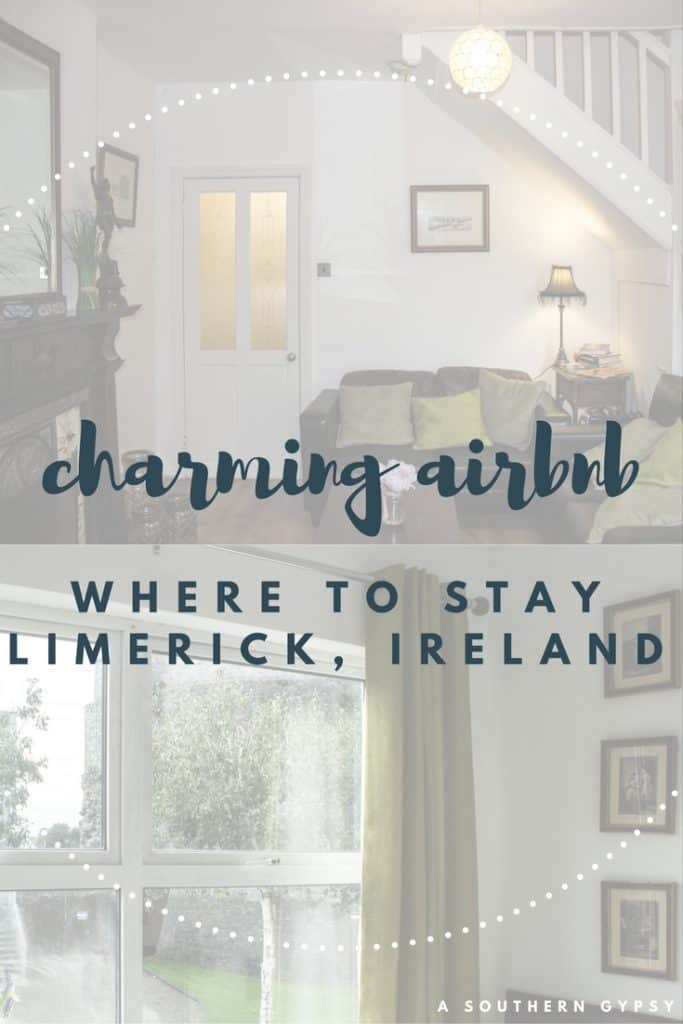 Thank you to John for hosting my stay in Limerick. As always, all opinions are my own and I will never promote something I don't personally use and believe in, regardless of who foots the bill.
Also, some of the above are affiliate links and I will earn a very small percentage of the sale if you purchase through them at no extra cost to you. Thanks for supporting A Southern Gypsy!
Latest posts by Ashley Hubbard
(see all)