This post may contain affiliate links, meaning if you book or buy something through one of these links, I may earn a small commission (at no extra cost to you!). Please see my disclosure.
Last week, I spent six days exploring a new state and a new city. Well, I won't say a new state. I've been to Indiana tons of times as a kid because my dad is from there but we didn't really explore. We just visited family so I don't think it counts. So, when I found out I'd be attending BlogHouse this year – an intensive, intimate travel blogging workshop – and that it was being held in Indianapolis, I was pretty excited about visiting and finding the best vegan restaurants in Indianapolis.
I did the first thing I always do when I'm traveling somewhere new. I started researching food. Because, you know, food. At first, I didn't think Indy was going to be too vegan-friendly and that I was going to have to do some serious searching. There wasn't a ton of information to be found online it seemed. However, once I got there and got to know the area a little bit better, I was more than surprised. Just like with the South, you don't think vegan when you think Midwest but St Louis surprised me and Indy followed suit. Maybe the Midwest is for vegans after all.
For a large part of my trip there, I ate with my fellow bloghouse-ers but I had a little downtime to search out the best vegan options in the city and while I didn't get to them all, I think I did a pretty good job for my first time there.
Map of Vegan Restaurants in Indianapolis
---
Vegan Restaurants in Indianapolis
Three Carrots | 222 E Market Street + 920 Virginia Ave
Three Carrots is located in City Market in Downtown and opened a second location in the Fountain Square neighborhood. While it says vegetarian cuisine, everything is actually all vegan. Everyone will tell you THE Indiana dish to eat is a pork tenderloin sandwich. Obviously, I don't eat pork and if you're vegan, you don't either. Well, here is where to get a vegan (seitan) pork tenderloin sandwich. It was so good! My boyfriend said it was the best vegan meat alternative dish he has ever had. That's saying a lot.
I also got the seitan and dumplings soup and yuuuuum. Go here!
Also, City Market was a vegan haven that is super accessible from all of downtown.
10th Street Diner is a brand new [May 2019] family-owned 100% vegan restaurant. Excited to get back and try this spot as there aren't too many all vegan restaurants in Indianapolis.
Organic juice and smoothie bars offering a variety of bowls (chia, oatmeal, granola, acai, salad, quinoa) plus soups, juice shots, and cold brew coffee. Uses nut milk in smoothies.
---
Vegetarian Restaurants in Indianapolis
Twenty-Two offers lots of juices, smoothies and acai bowls – twenty-two to be exact. Also located in City Market, you can grab a juice or smoothie while you walk around deciding where to eat lunch or grab it and go sit outside in the sun!
A bee-gan cafe is also gluten and dairy free. The menu is vegan except for honey in some dishes but could request vegan and includes Juices, smoothies, tonics, desserts, salads, rotating entrees, and soups.
---
Vegan-Friendly Restaurants in Indianapolis
Public Greens is a farm-market inspired cafeteria-style restaurant. The food is amazing with an emphasis on fresh and wholesome non-processed foods. It is the only restaurant in the region devoting all of the profits and crops to The Patachou Foundation. The Patachou Foundation's mission is :
To feed wholesome meals to food-insecure school children in our community and teach them to create healthy habits.
Public Greens was probably my favorite find for overall food, mission, and sustainability. I wrote a more in-depth post on Public Greens because I loved them so much.
As for the vegan options, they have fantastic and delicious ones. I got the vegan chili, fried taters (seriously some of the best potatoes I've ever had) and a chocolate muffin. They had several other options including salads, pasta dishes and more.
---
The Sinking Ship was such a fun and refreshing find. The bar is open until 3 am where you'll find craft beers, amazing vegan "bar food", hilarious decor and televisions showing only hockey, wrestling, and weird movies. A serious must for your Indy trip!
I got the stoner fries [with seitan bacon and vegan cheese], the seitan wings [with asshole sauce], vegan mac n cheese and a sack of balls. Yes, those are the real names although I can understand why you think I'd make them up seeing how immature I am.
Mesh on Mass | 725 Massachusetts Avenue
For one of our events, we ate at Mesh on Mass Ave where they have a vegetarian cauliflower dish. You can have it made without the buttermilk and it is vegan!
High Velocity is located within the JW Marriott – the hotel I stayed at – and one night, I got super hungry. I decided to head down to see if there was anything at all I could eat – even if it was just fries. I was delighted to see the word veggie burger on the menu but I knew veggie burgers usually have eggs in them so I asked the hostess to talk to the chef. They informed me the patty was in fact vegan! So, I just asked for the cheese and mayo to not be on the burger and to not butter the bun and voila!
I can actually say this veggie burger was one of the best ones I've had anywhere and I'm pretty picky! Would definitely suggest if staying or visiting the JW!
Pure Eatery | 1043 Virginia Avenue
I headed over to the Fountain Square neighborhood purely to eat at Pure Eatery and I'm glad I did because it might be my favorite area of Indy! Very eclectic and unique neighborhood with swing dancing, record shops and more.
I'm not going to lie, I wasn't totally sure about the options when I looked at the menu. Looking at the vegan tacos, it wouldn't be stuff I would normally put in a taco but I went for it anyway and I'm so glad I did. They were incredibly amazing and I can see why they are a big hit – even for omnivores.
---
Vegan Pizza Indianapolis
Looking for vegan pizza in Indianapolis? There are a few great options!
Napolese | several locations
Looking for vegan pizza in Indianapolis? Napolese is a lovely artisanal pizzeria that is also part of the Patachou Foundation. Their crust and sauce are vegan and you can have no cheese with lots of veggies. They also have focaccia bread and salads that can be made vegan.
WB Pizza | 6165 Allisonville Rd
This spot offers many vegan pizza options that are clearly marked on the menu. You can get pizza with soy-free vegan cheese and vegan meats as well as vegan cakes. Everything is made in house.
WB Pizza also offers a gluten-free vegan pizza crust.
Imbibe Bar is located in Fountain Square attached to the theater. You'll find a menu consisting of vegan pizza including vegan cheese and vegan meat toppings.
---
Vegan Desserts in Indianapolis
BRICS | 901 E 64th Street
I definitely just realized that BRICS is an acronym for Broad Ripple Ice Cream Station. We had already eaten Public Greens and drunk a flight of beers at Broad Ripple Brew Pub, but that wasn't stopping me! Next, we popped into BRICS and I was so delighted to see the words 'vegan gelato.' They had four vegan flavors and they were all delicious.
Oh, AND it's located in the old train station. And, I like trains so win-win.
---
Vegan cupcakes in Indianapolis! Who doesn't love a good cupcake? Why do cupcakes taste better than cake when they are cake? We'll never know. The Flying Cupcake is an adorable local brand with several locations in Indiana. They usually have a few vegan options on hand.
---
I got wind that there were vegan chocolates somewhere and I was there. Head down Mass Ave and you'll find the 'Best Chocolate in Town' where they have a few vegan options – a couple of vegan truffles, dark chocolate covered pretzels, and a few other options. Be careful though because there are a few items that have honey so make sure you ask – for instance, the dark chocolate covered graham crackers have honey.
I found an adorable little coffee and donut shop on my first morning in Indianapolis. They always have vegan options, have plant-based milk for coffee and they were served on a cat plate so it's pretty much the best.
They're located kind of in between Downtown and Fountain Square!
---
Cat Cafes & Animal Sanctuaries in Indianapolis
---
By heading to Fountain Square, I stumbled upon a cat cafe! It was ahhhh-mazing. I've never been to one and had really been wanting to so I was more than excited. They have coffee + tea with plenty of vegan syrups and they just signed on a vegan bakery from Muncie, Indiana to do all their baked goods.
Here's an in-depth post on my visit to Nine Lives Cat Cafe.
Uplands PEAK Sanctuary is Indiana's first farmed animal sanctuary. They have sanctuary tours and are a little over an hour away from Indianapolis.
---
OTHER VEGAN-FRIENDLY RESTAURANTS
I did not have time to visit these places but did note they had vegan-friendly items with clearly marked menus.
Circle City Soups
Soupremacy
Spice Box
Duos Kitchen
Cafe Patachou
SoBro Cafe
3 Sisters Cafe
Yats
Spice Nation
---
Indianapolis Animal Activism
Interested in taking part in animal activism while you're in Indianapolis? Here are a few great options!
Local Vegan Resources
My favorite way to get vegan options in a new place is by joining the local Facebook group. The locals will you give the best advice on where to eat, what not to miss and the hidden gems of their city!
---
↓↓↓ PIN FOR LATER ↓↓↓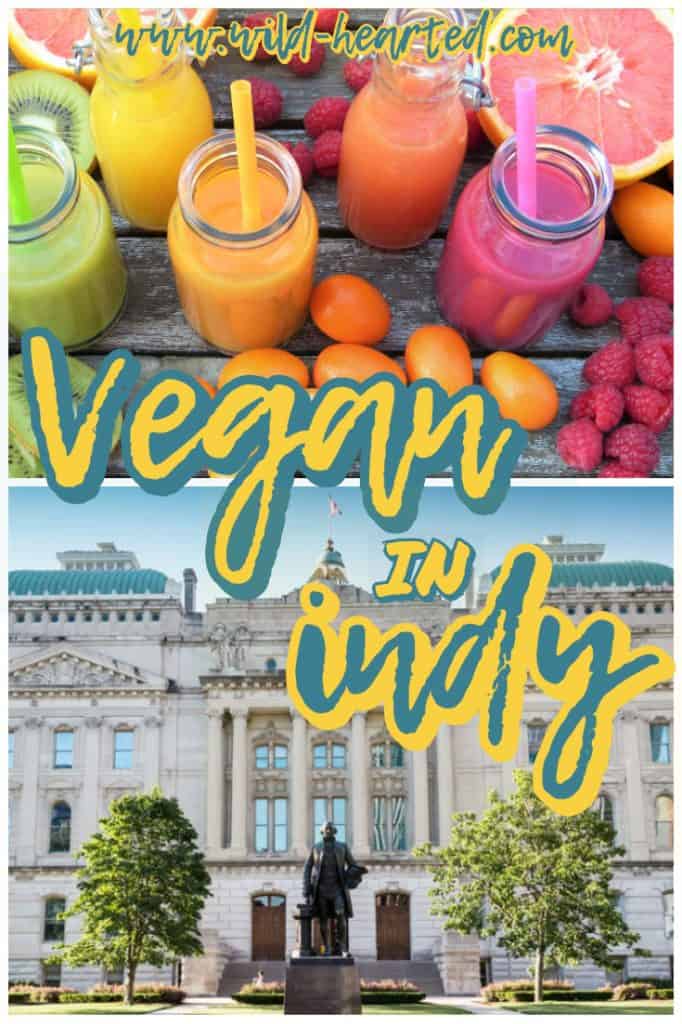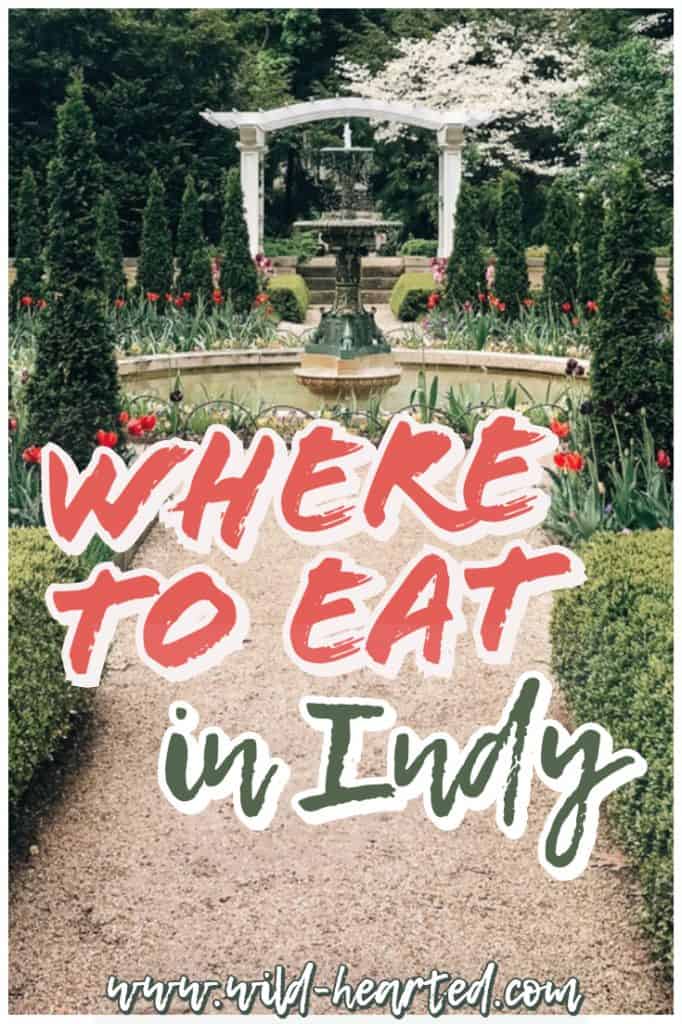 Still craving more Indianapolis? Check out posts from fellow Bloghousers ↓
What are your favorite vegan restaurants in Indy? Where should I head on my next visit?
A big, big thank you to Visit Indy, Visit Indiana, and JW Marriott for hosting our stay and making our time in Indianapolis amazing. All opinions are, as always, my own.
Latest posts by Ashley Hubbard
(see all)