This post may contain affiliate links, meaning if you book or buy something through one of these links, I may earn a small commission (at no extra cost to you!). Please see my disclosure.
Headed to St Andrews NB? Here are amazing suggestions of things to do in St Andrews by the Sea from whale watching to the famous Algonquin Resort!
St Andrews By-the-Sea is a quintessential and idyllic maritime town in New Brunswick in between the US border and Saint John. On my Maine and New Brunswick coastal road trip, I truly fell in love with sleepy coastal towns. I have a newfound love for lighthouses, adorable little one-street towns with ocean winds and the smell of saltwater in the air and St Andrews NB was the perfect way to say goodbye to my inaugural trip to New Brunswick.
Commonly known for the Algonquin Resort which is a massive and beautiful resort that makes quite the statement. A bit like stepping back in time paired with modern luxury, the Algonquin Resort is a hot spot for people vacationing in St Andrews NB.
Even more fun fact – this along with the Stanley Hotel in Colorado inspired Stephen King's novel The Shining. You can see why just by looking at the photos. It has a similar feel to it as The Stanley Hotel while perhaps not as large.
St Andrews by-the-Sea is Canada's first seaside resort town.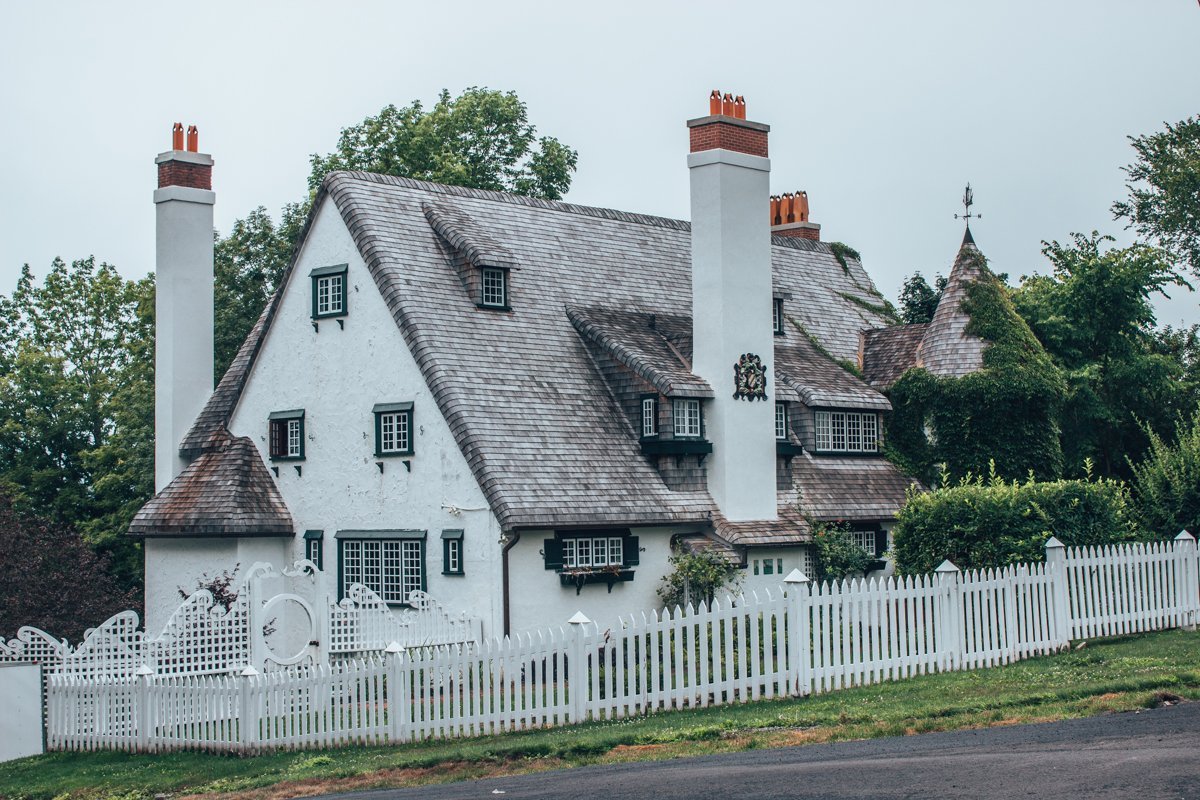 Things to Do in St Andrews NB
It feels a bit like you step back in time when you step food in St Andrews NB or St Andrews by the sea. While the area may not be huge, there is plenty of things to do in St Andrews NB. Everything from whale watching to exploring the art scene and scuba diving to strolling through gardens.
Family-friendly, romantic, adventure-filled – no matter why you're finding yourself in the area, St Andrews NB will definitely have something for you.
Visit the Algonquin Resort
As I mentioned before, a visit to The Algonquin Resort is worth it even if you just drive by to see her impressiveness from the outside.
The Algonquin Resort has been hosting guests for over a century in St Andrews NB. It was built in 1889 by the St Andrews Land Company. The hotel was creating a tourism scene and the residents of St Andrews and businessman helped to develop it. In 1914, the resort was destroyed by a fire and was replaced by the present resort.
Prince Charles and Princess Diana once stayed at the Algonquin.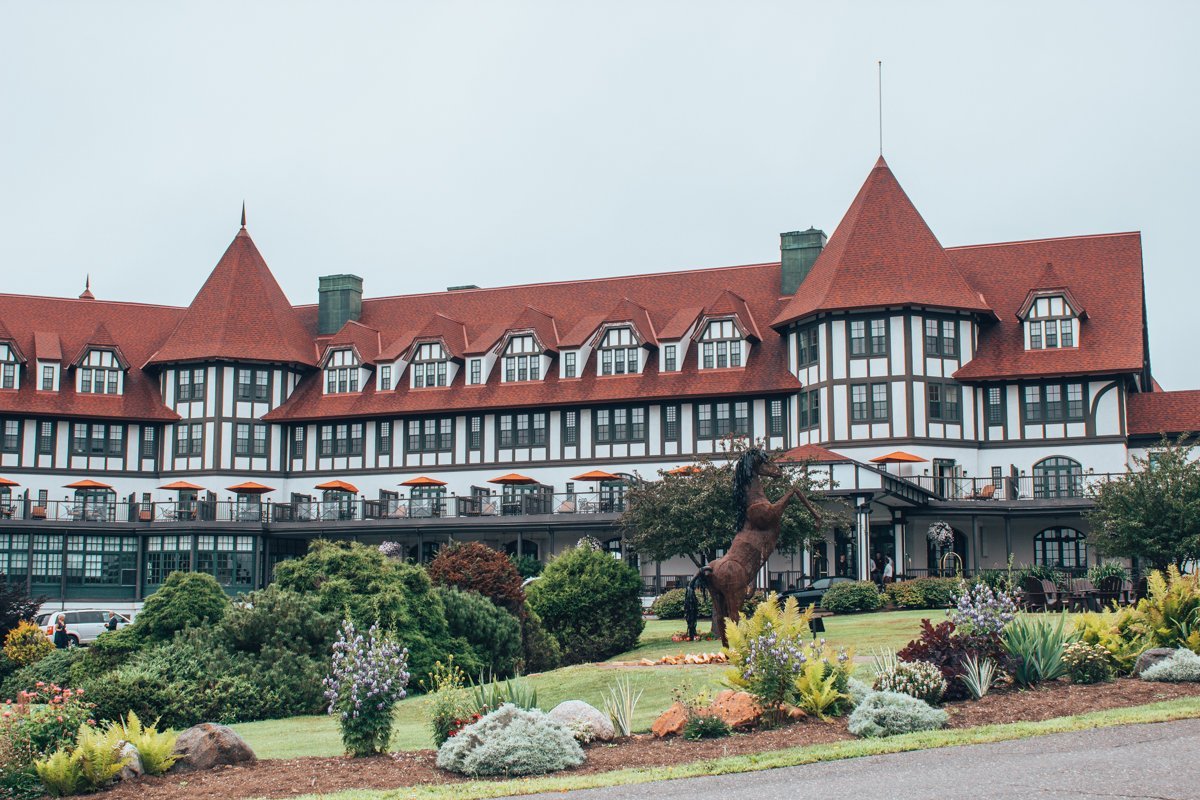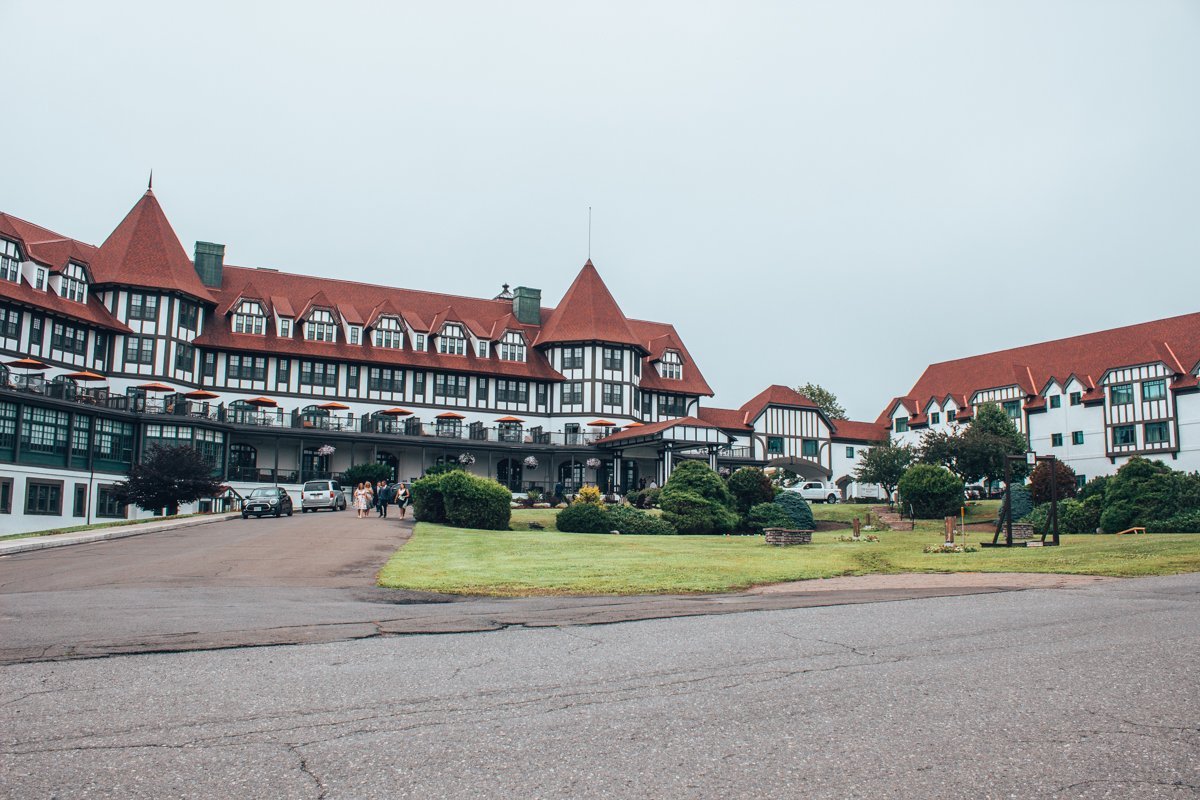 ---
Kingsbrae Garden
A trip to Kingsbrae Garden is something that should be on your list of things to do in St Andrews. Kingsbrae Garden is a multi-award winning beautiful horticultural paradise nestled on 27 acres in St Andrews by-the-Sea.
Kingsbrae Garden is home to many incredible sculptures, interactive art classes, fine cuisine including vegan options, 50,000 perennials, and an art studio.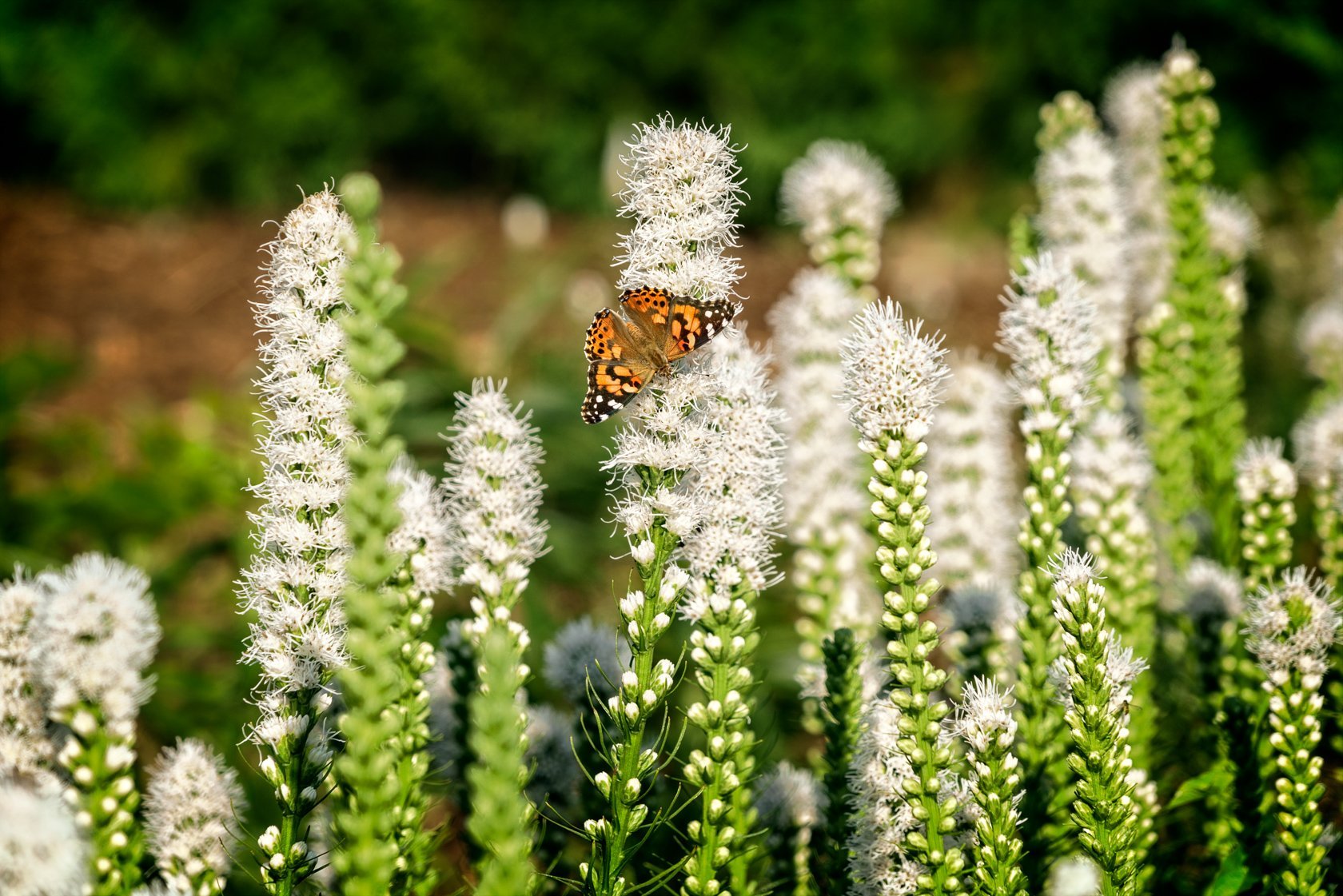 ---
Shop in Historic Downtown
If local one-of-a-kind shops are your kind of thing, then the main street of St Andrews historic downtown is perfect. There are many different options, but these were a few of my favorites.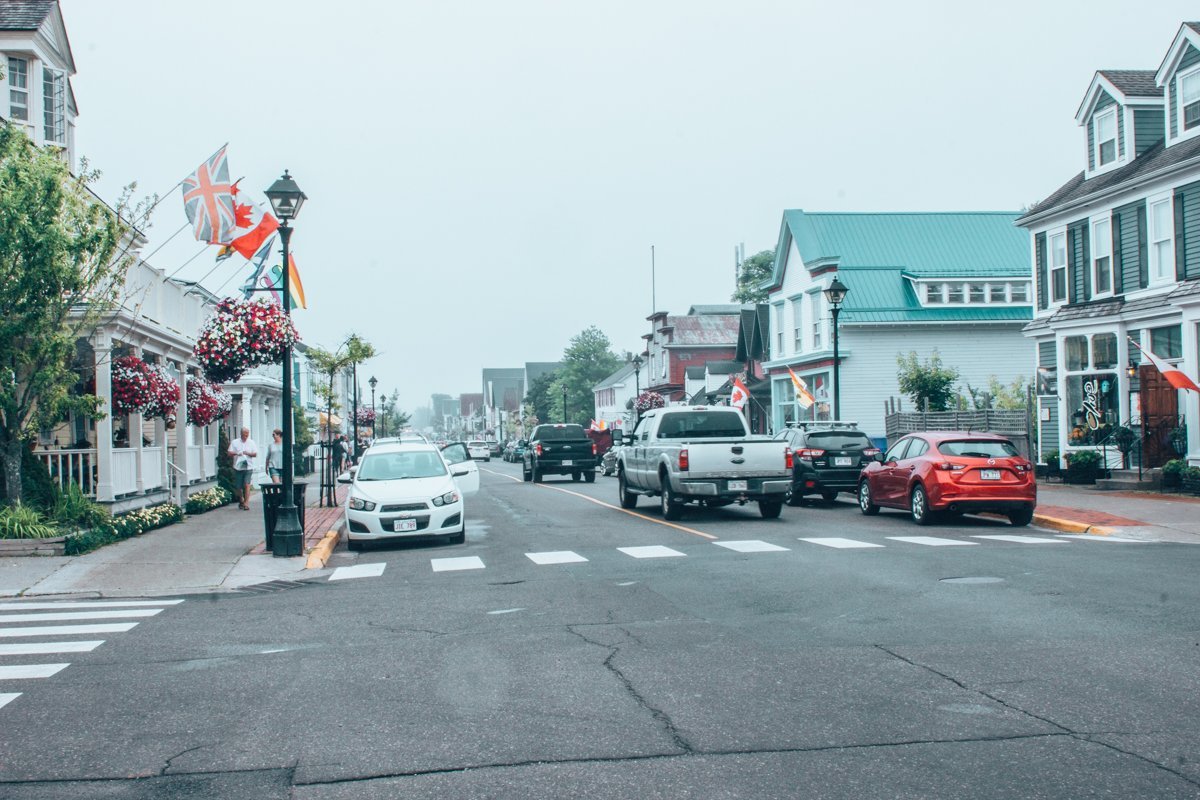 Cottage Chic
Cottage Chic offers a curated collection of home décor, giftware, and apparel in the traditional, relaxed cottage style with a modern twist focusing on Canadian made products with an emphasis on New Brunswick and Atlantic Canada.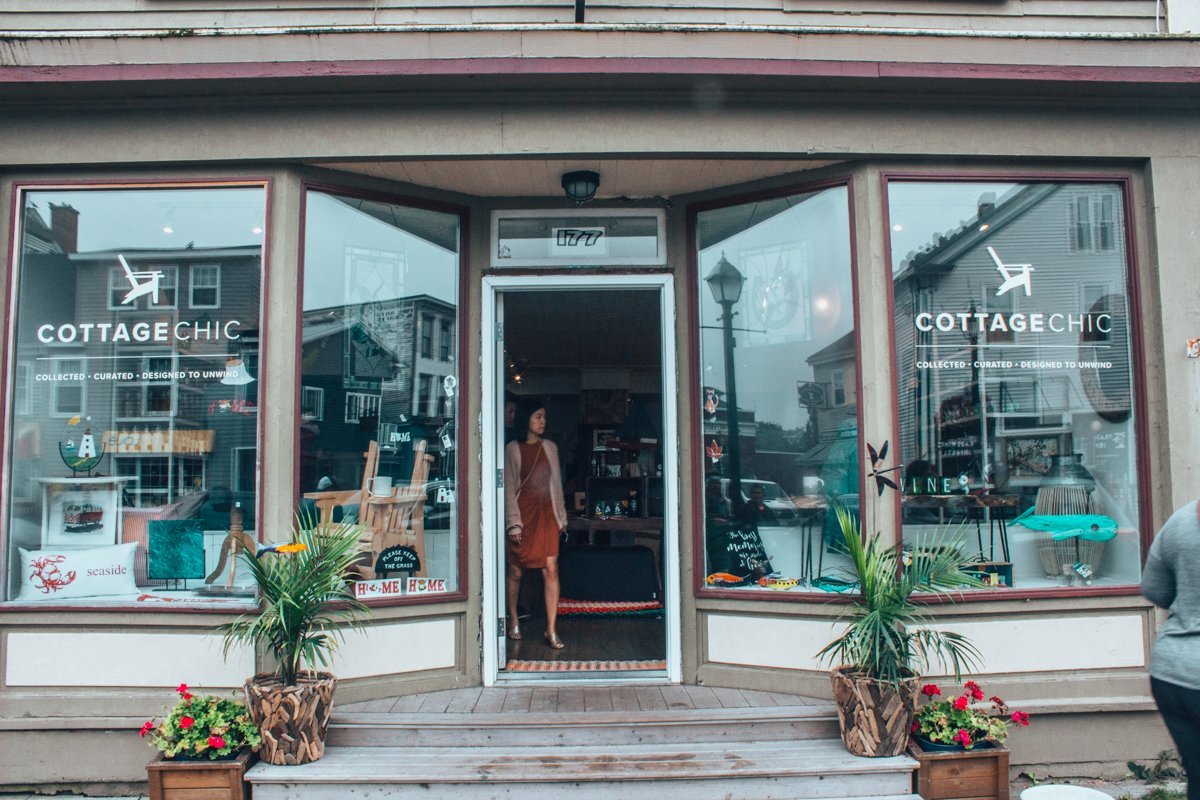 Garden by the Sea
Garden by the Sea creates and sells handcrafted, small-batched skincare products. Everything is 100% natural with no parabens, dyes, perfumes, or other toxic ingredients.
They also have lots of loose leaf tea along with their skincare products.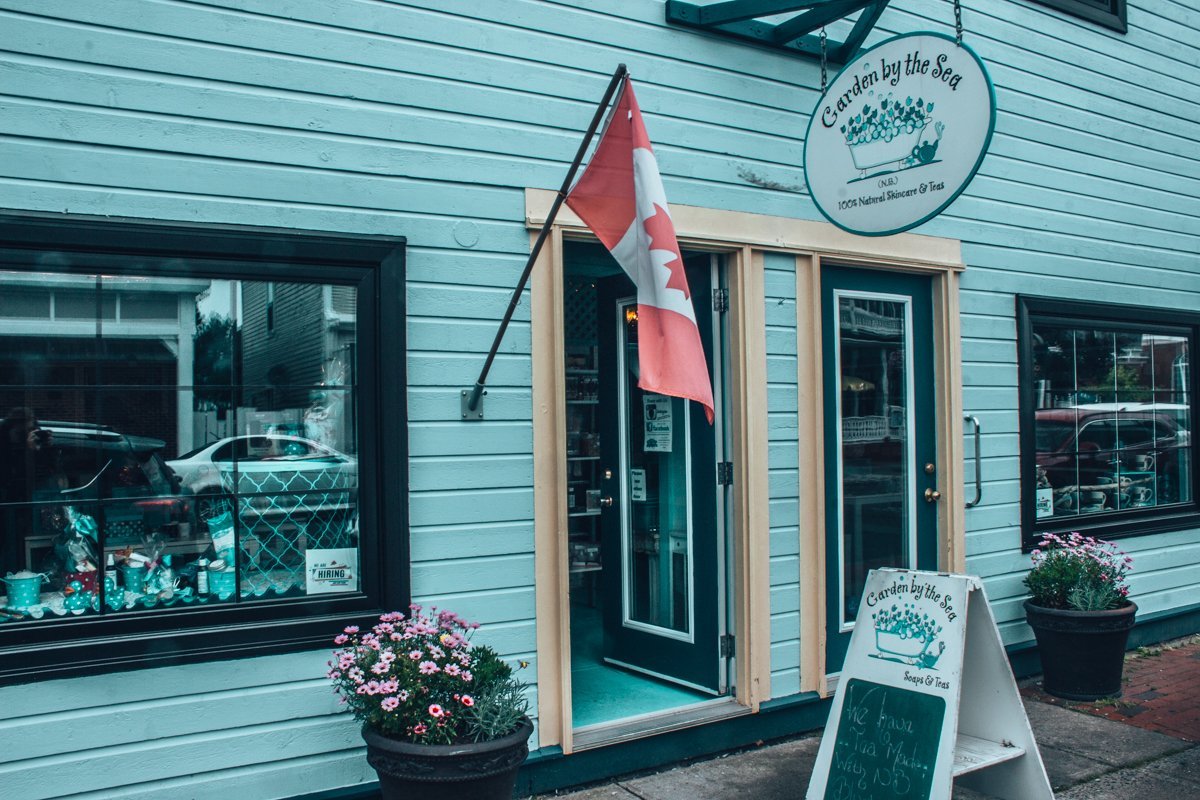 Mermaid Tales
Mermaid Tales was definitely my favorite story as it has social sustainability in mind. You'll find a wide range of ethically sourced and environmentally aware products. This could include clothing and accessories, home decor, and handcrafted souvenirs.
On top of what they sell, they also try to use environmental practices in their business by requesting suppliers to use cardboard for packing, they re-use styrofoam peanuts for shipping and discourage single-use plastic.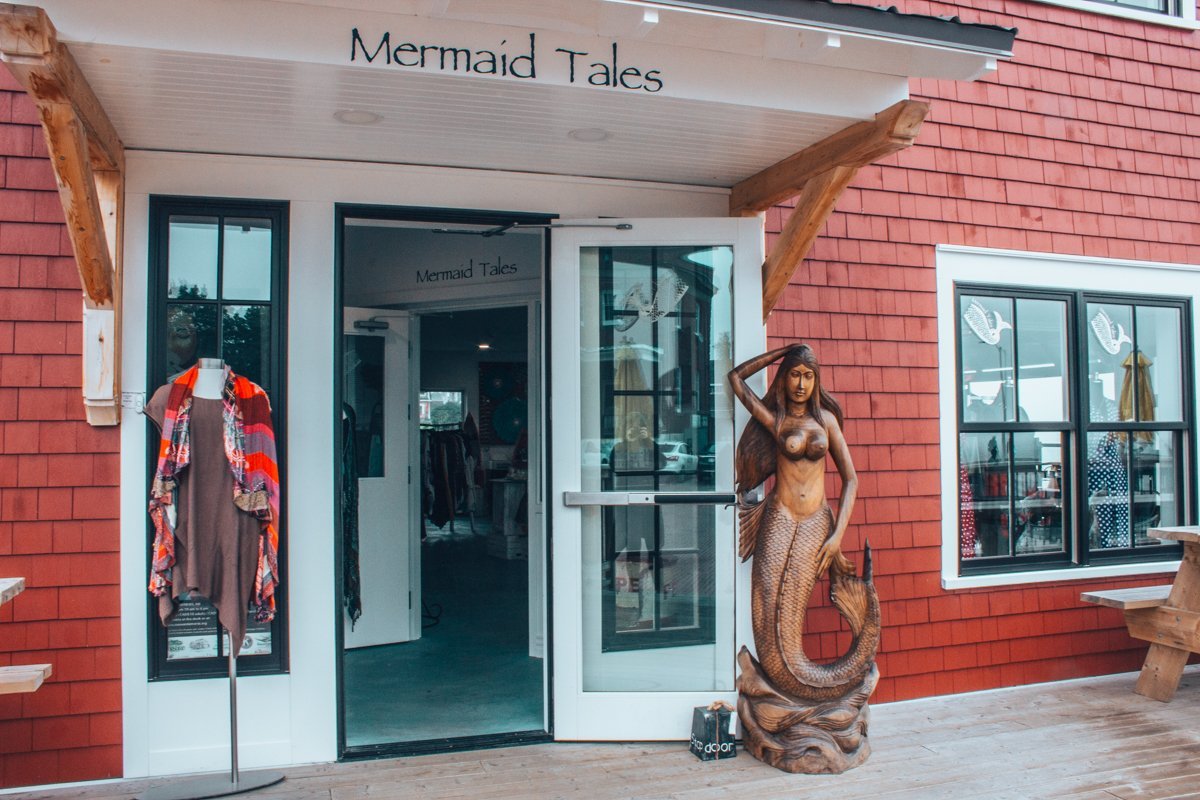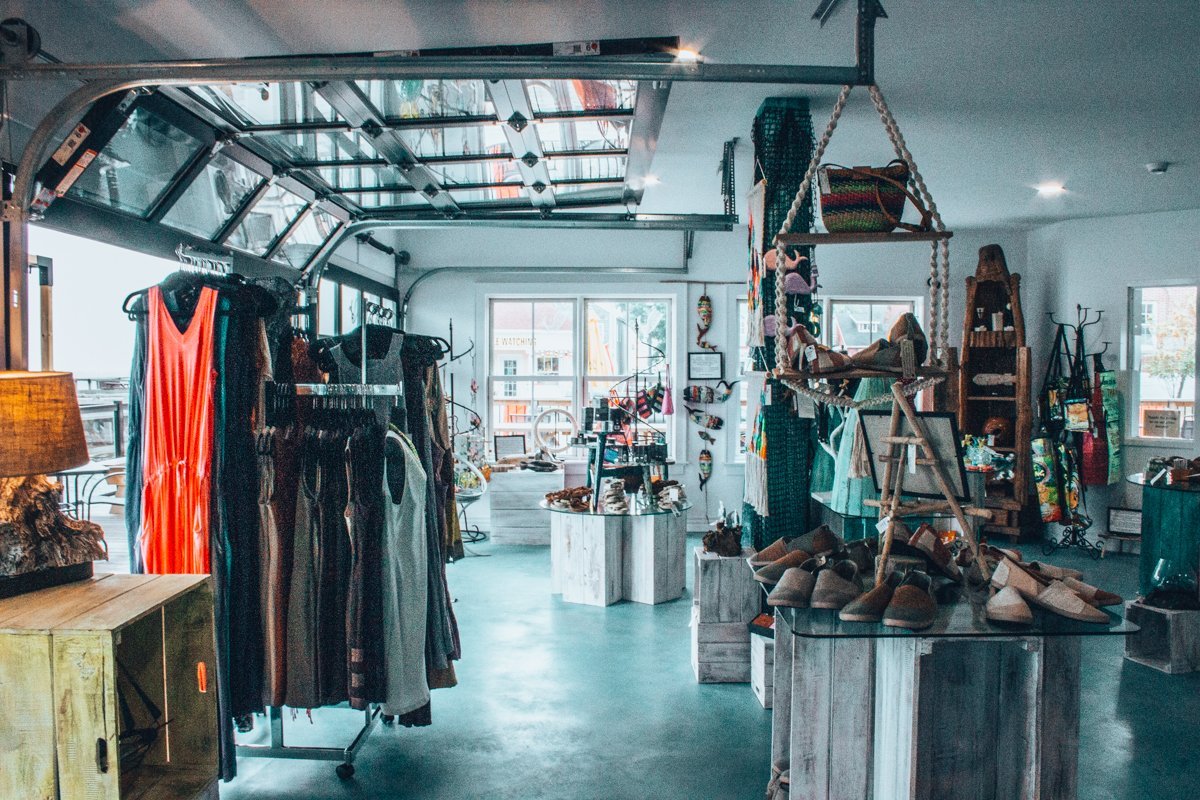 ---
Visit Ministers Island
At low tide, people can drive or walk to Ministers Island across the seafloor.
Ministers Island's history is fascinating as well. First settled by the Passamaquoddy Tribe centuries ago, it was named Consquamcook Island. European settlers started arriving in 1777 and was sold to Reverend Samuel Andrews, the first Rector of St Andrews and thus earned the name Ministers Island.
A century later, Sir William Van Horne (the President of the Canadian Pacific Railway) started acquiring pieces of the island until he owned the whole thing. Almost another century later, the island was officially declared a protected site. The Van Horne estate is still intact as well as Reverend Andrews's house.
There are several hiking trails to enjoy as well.
**Make sure to know the exact times for low and high tide or you will absolutely be stuck there until the next day.**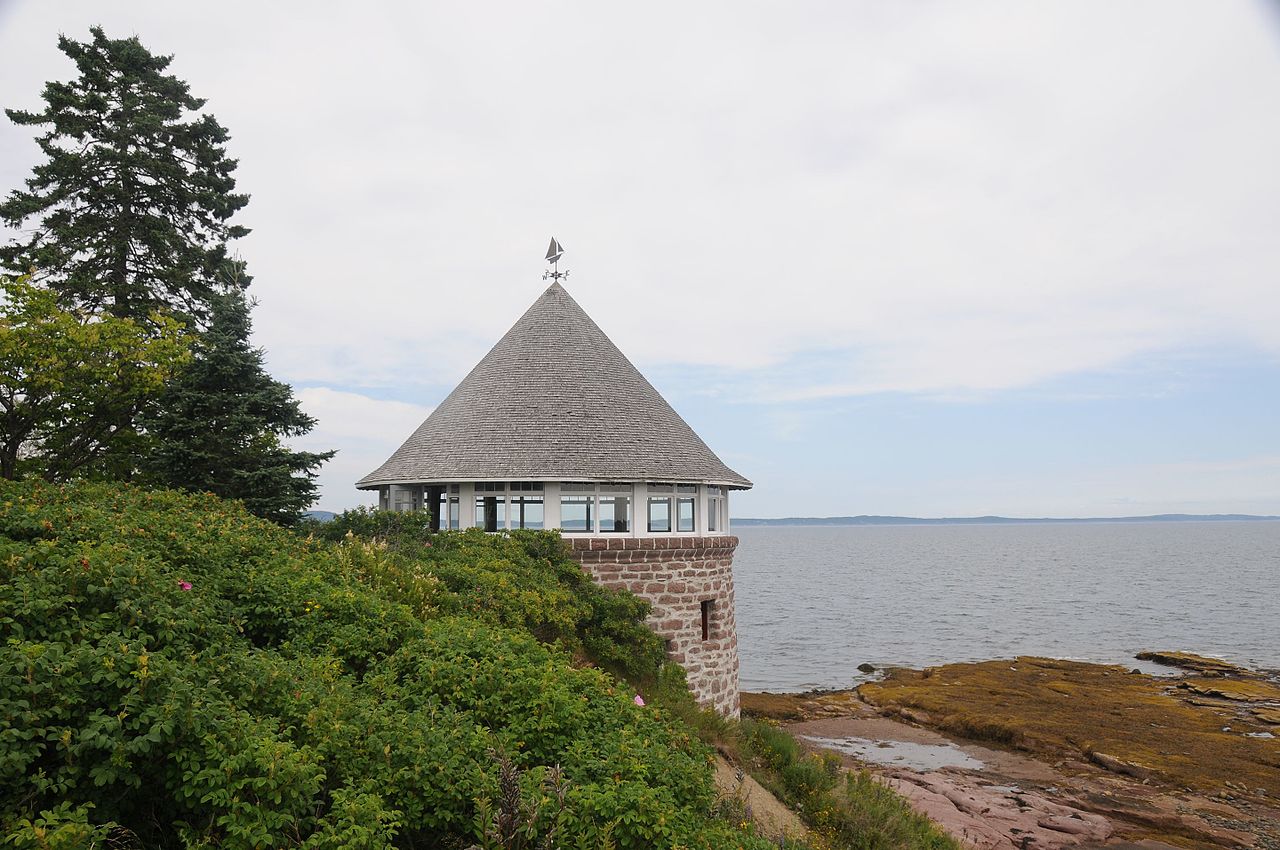 ---
St Andrews Whale Watching
There are plenty of whale watching tours available. While I had just gone on a whale watching tour in Bar Harbor, Maine, I didn't spend the money to do it again. It was slightly less expensive in St Andrews and also not nearly as crowded so if you're visiting both, maybe wait and take the St Andrews whale watching excursions.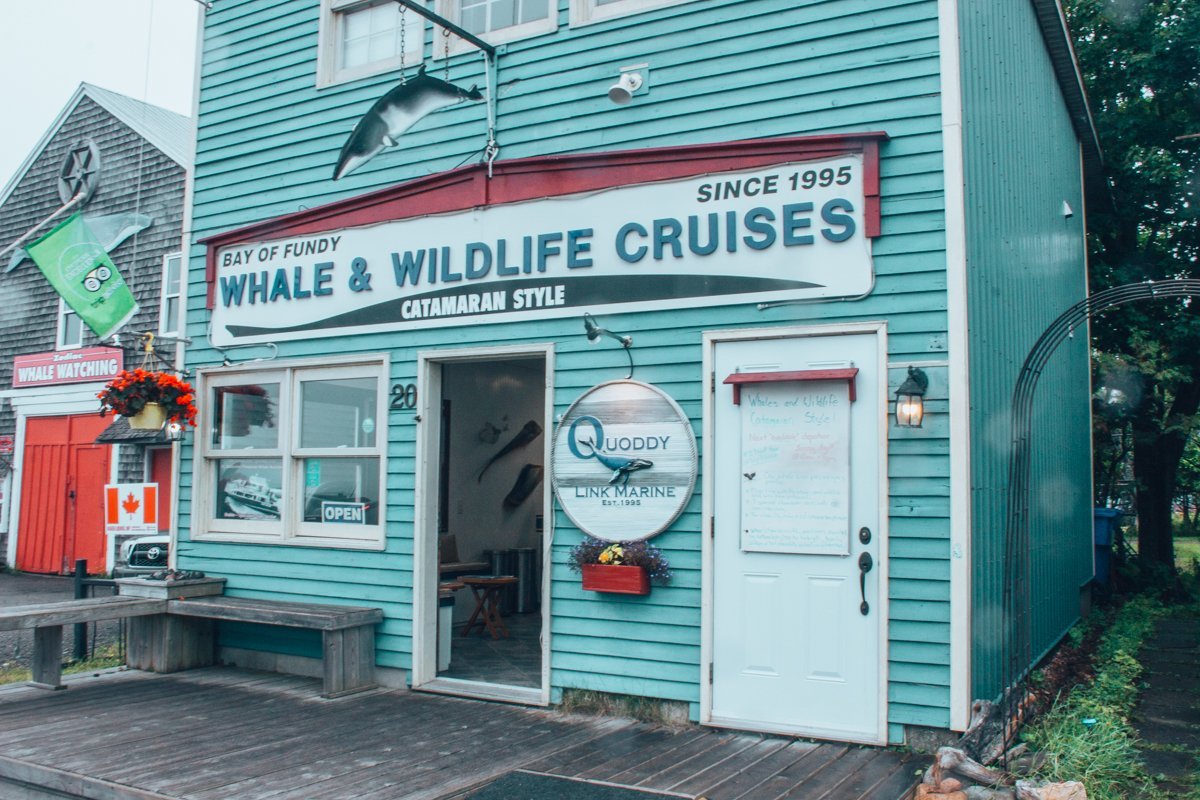 Go Scuba Diving
The scuba diving shop in this photo (Navy Island) is apparently not doing courses or excursions anymore. However, another dive shop – COJO Diving – is definitely open for business.
They offer introductory courses as well as other training, organized dive events, and dive tours in the Bay of Fundy and Bay of Chaleur regions. The marine life is spectacular. Guided dives provide opportunities for divers of all skill levels and can be combined with educational dives to provide skills, refreshment, or specialty certifications. Equipment rentals are available.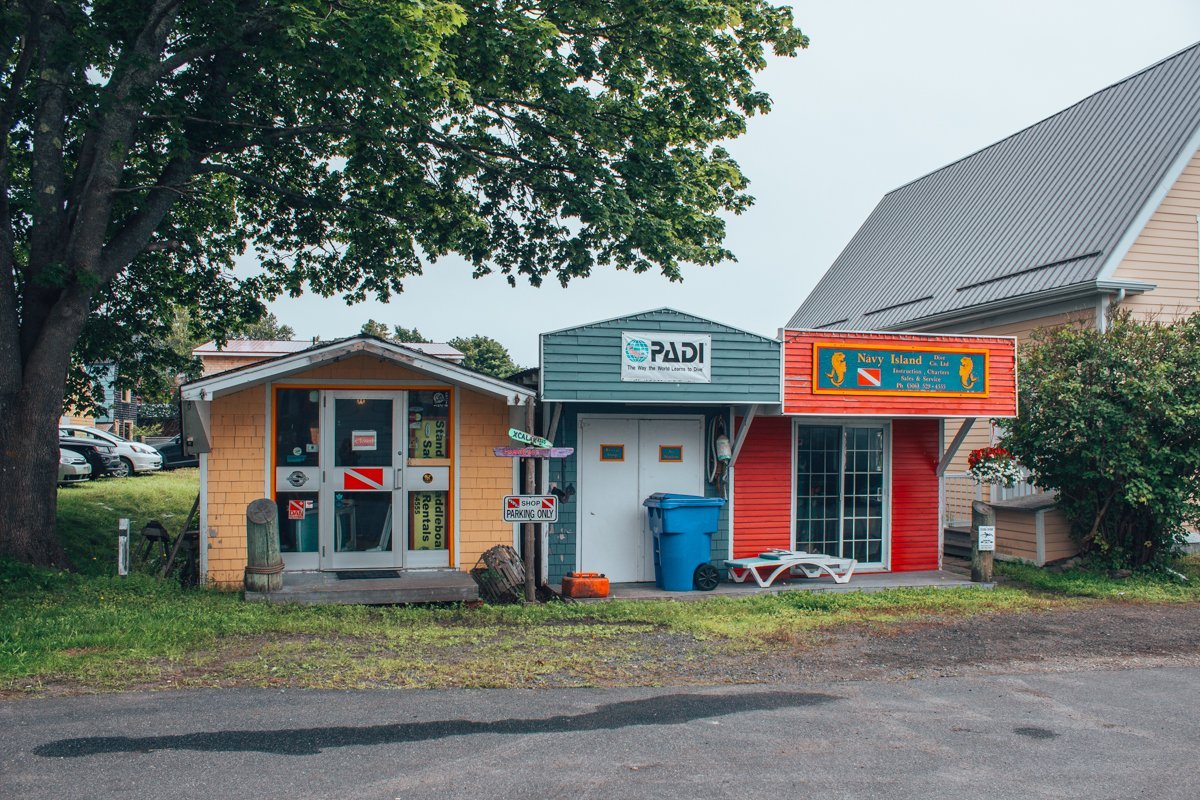 ---
Explore the Artistic Side
Don't let the size of the town fool you. There are plenty of art studios, murals, and more to be explored while you're in St Andrews NB.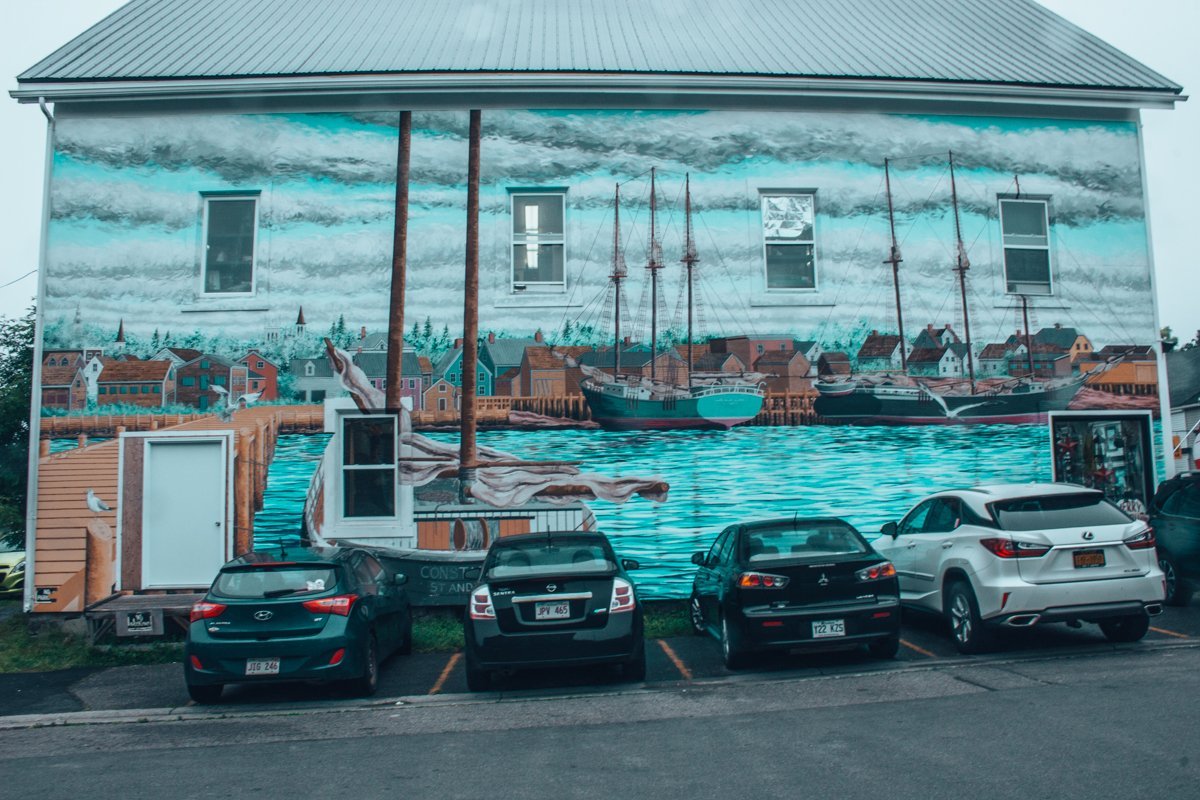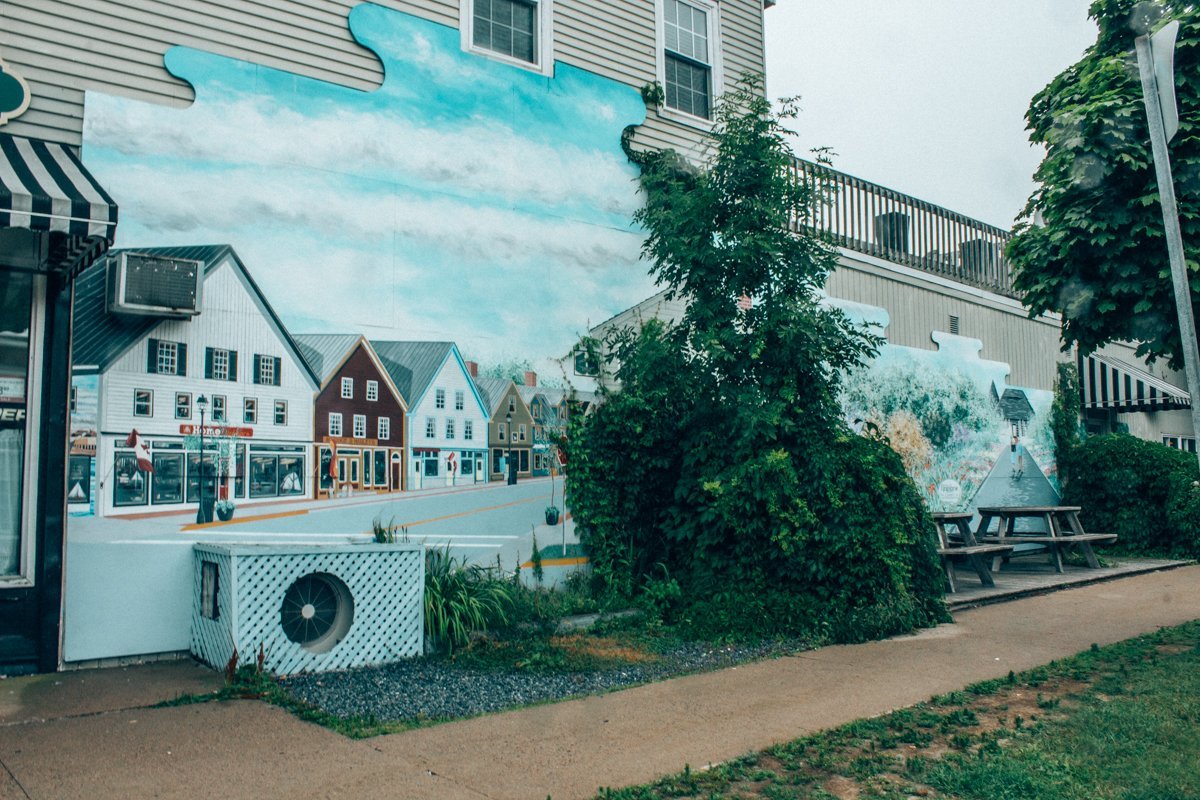 St Andrews NB Restaurants
Looking for places to eat while you're in St Andrews By-the-Sea? There are several delicious options and I was pleasantly surprised to find many vegan options especially for such a small, seaside town. This can usually be quite difficult.
Tall Tom's Lemonade and Homemade Ice Cream
I saw this spot and thought why not see if they magically have vegan ice cream. I don't usually have much hope for small towns and seaside towns and this was both. However, they did have vegan ice cream and they have several rotating flavors!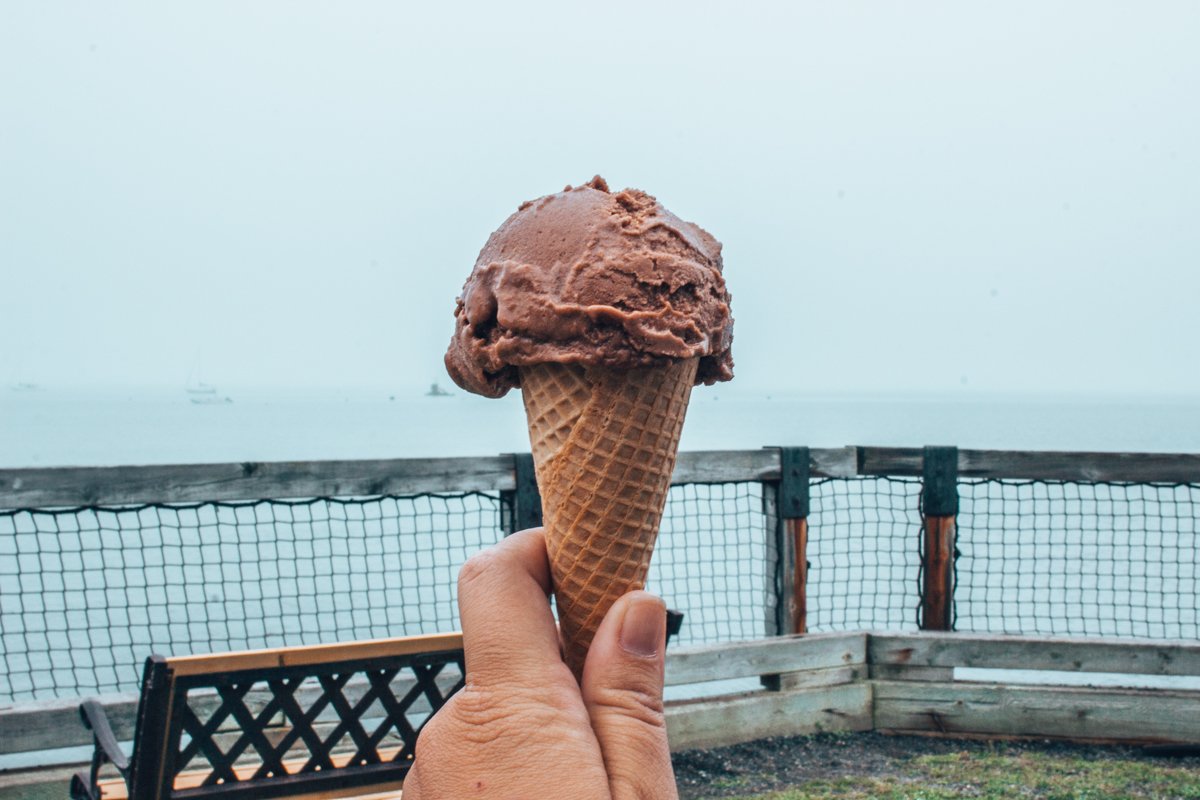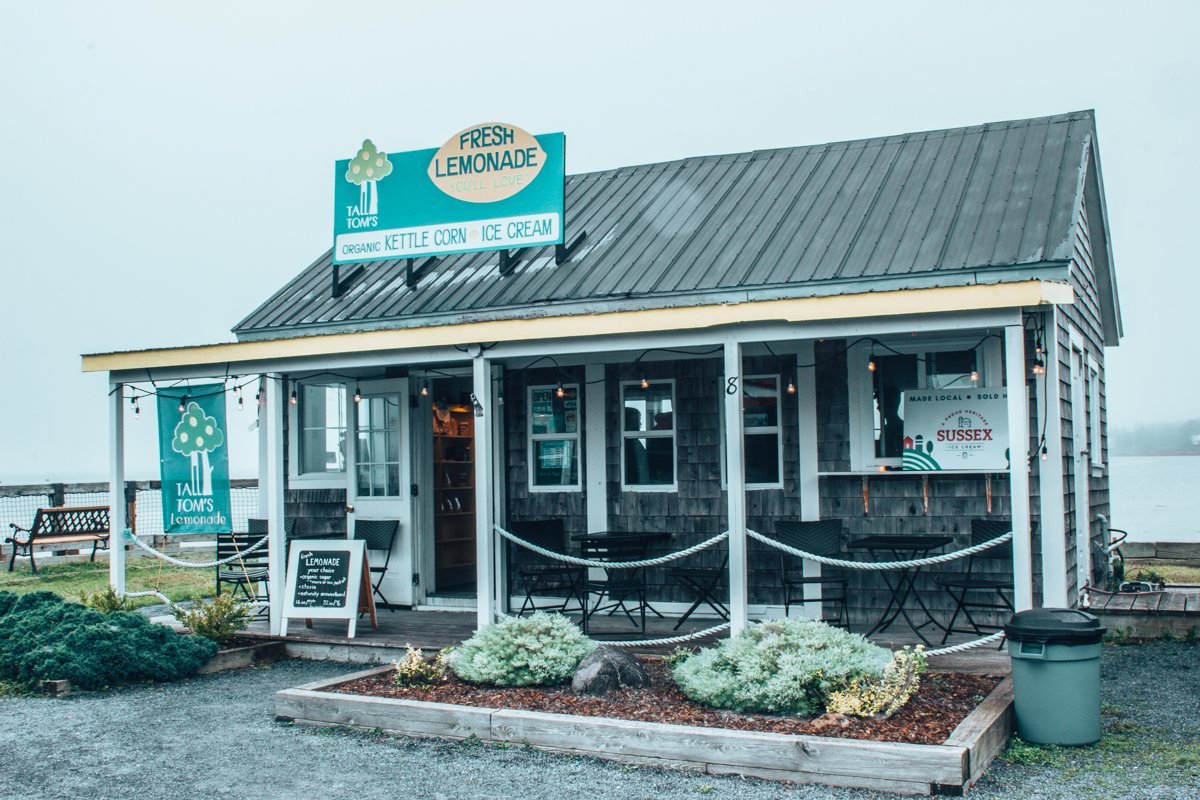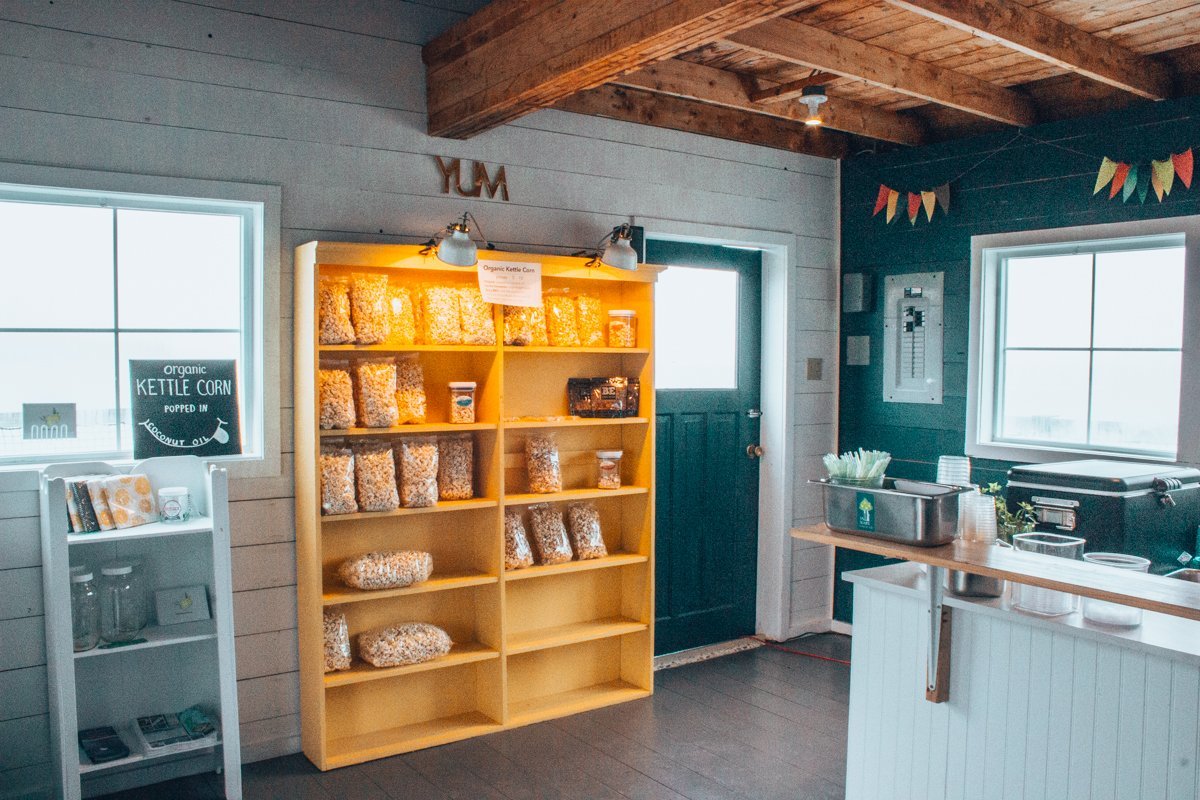 Red Herring Pub
The Red Herring Pub carries the beyond burgers so you can substitute that and have a delicious vegan burger!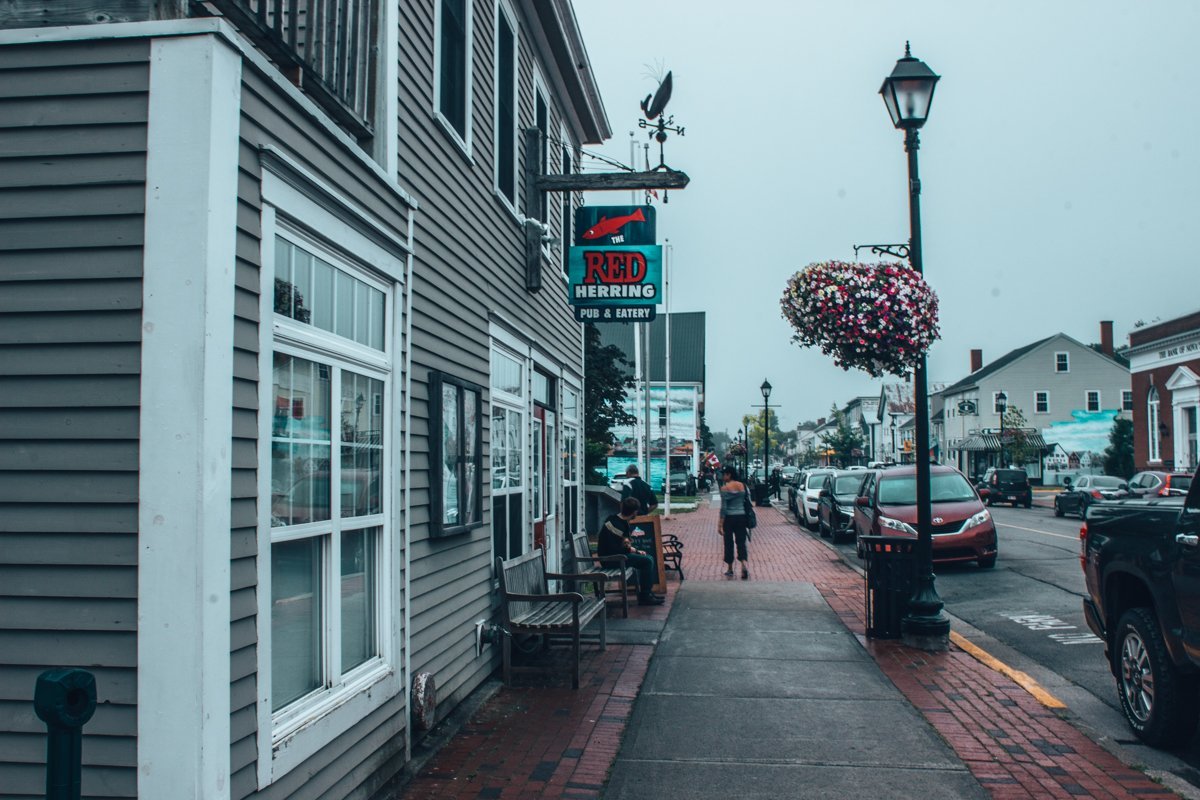 Kingsbrae Garden
Kingsbrae Garden has delicious fine dining including vegan options. The Garden Cafe has vegan tacos.
They also have an award-winning fine-dining restaurant that was named one of Canad's best new restaurants. The experience is intimate and sustainable. While I can't find their menu, I have found that pretty much any fine-dining establishment is happy to cater to dietary needs if you call ahead.
Honeybeans Coffee Tea & Treats
Honeybeans is a cozy cafe in St.Andrews by the Sea serving hot and cold beverages of all kinds with freshly baked snacks too. They also have gluten free and vegan options.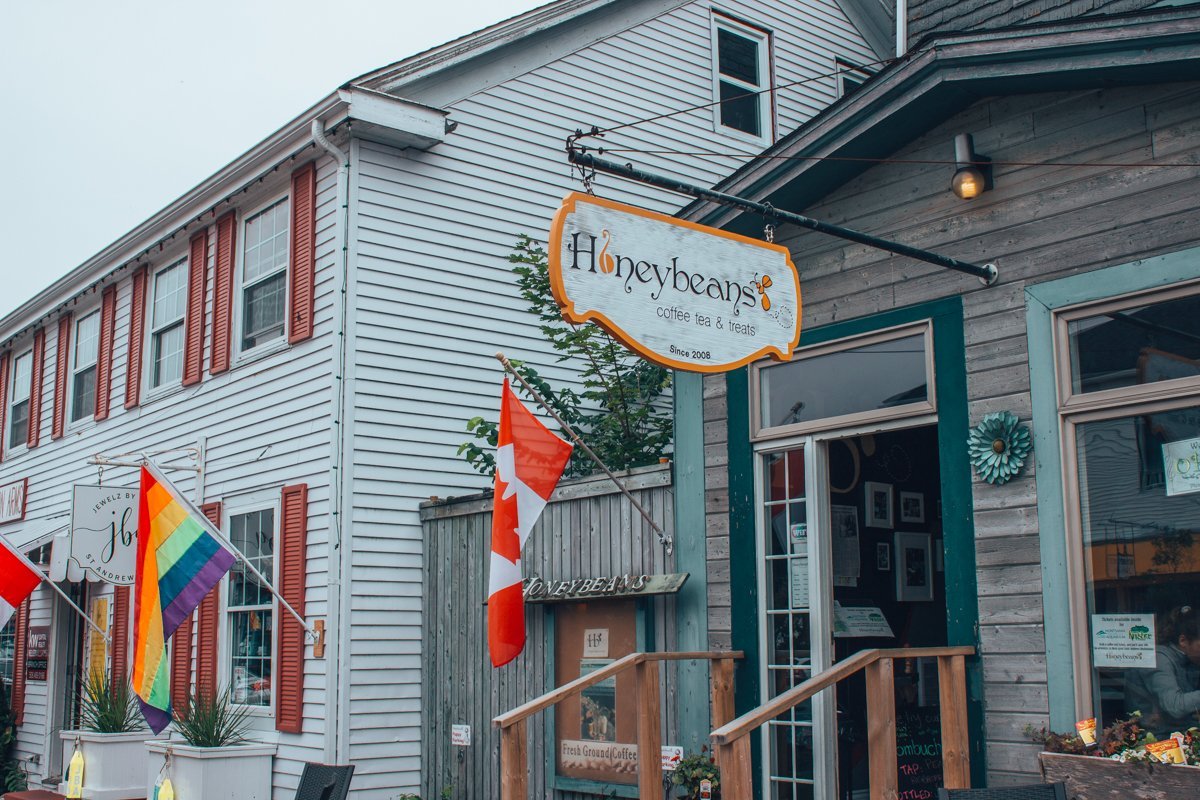 Braxton's Restaurant & Bar
Braxton's, located in the Algonquin Resort, has a few vegan options including hummus and pita and curried quinoa. They also have a falafel that I would imagine would be vegan without the tzatziki sauce, but make sure to ask!
The Spice Box
The Spice Box is a little market store with lots of health food options including specialty vegan options, fresh produce, and more.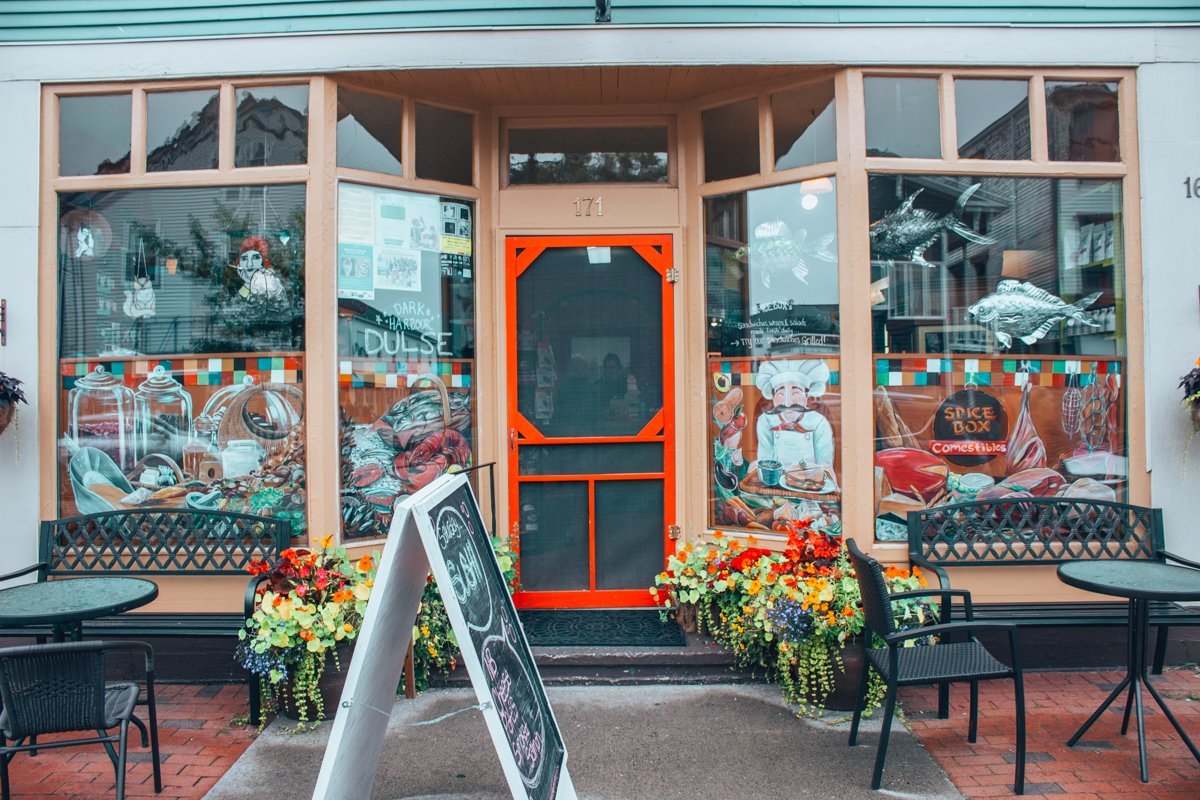 St Andrews NB Hotels
When looking for places to stay in St Andrews NB, you'll be pleasantly surprised that chain hotels are not really a thing. No matter where you've decided to put your head at night, you'll likely be getting a wonderful and personable experience.
Moderate to Luxury
The Algonquin Resort
See Reviews Here | Book Here (free cancellation!)
Budget
The Kennedy Inn
The Kennedy Inn is located right in the heart of beautiful St.Andrews-by-the-Sea. The rooms are spacious and wonderfully decorated with old-world charm.
See Reviews Here | Book Here (free cancellation!)
You can see plenty of other options here.
---
Weather St Andrews NB
So, what's the weather like in St Andrews NB?
May to October is going to be the most comfortable time of year to visit with an average high of 65 Fahrenheit. It, of course, gets very cold in the winter months and many things are closed for the off-season so always check beforehand.
I would always travel here with a light jacket and a rain jacket to be covered for all types of weather.
PLANNING A TRIP?
Find accommodation, read accommodation reviews, and check flight prices.
Book attractions, tickets, or guides in advance.
Research using these guides or read my other Canada posts.
See my packing list.
↓↓↓ PIN FOR LATER ↓↓↓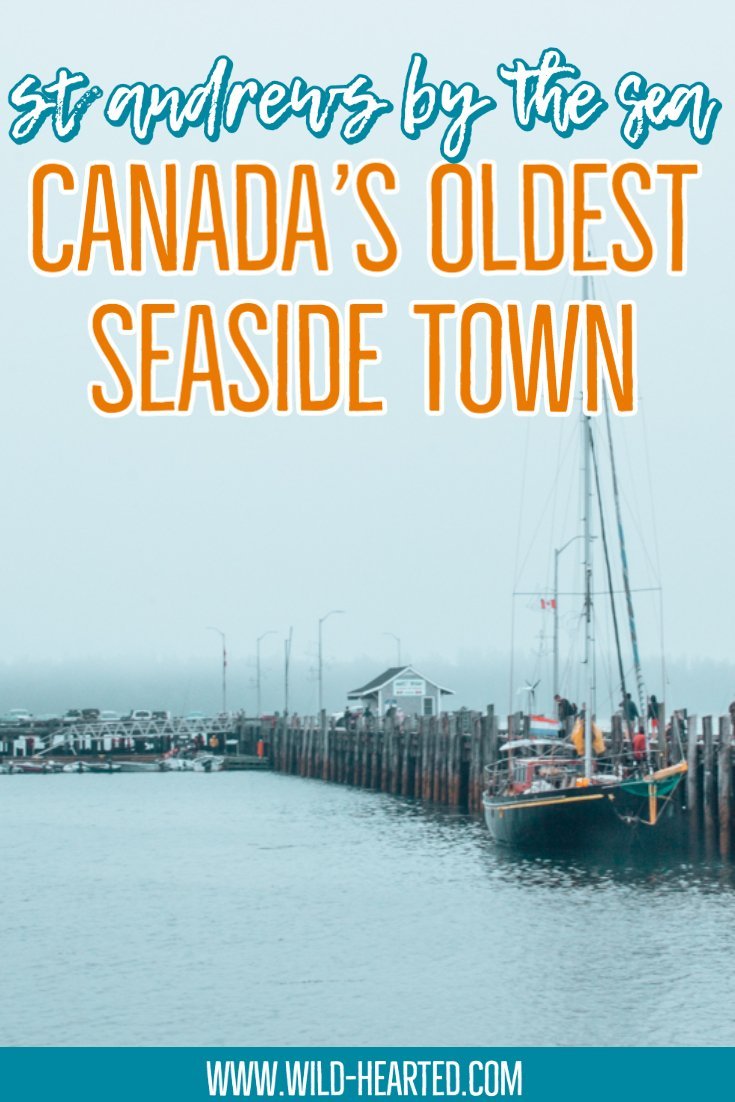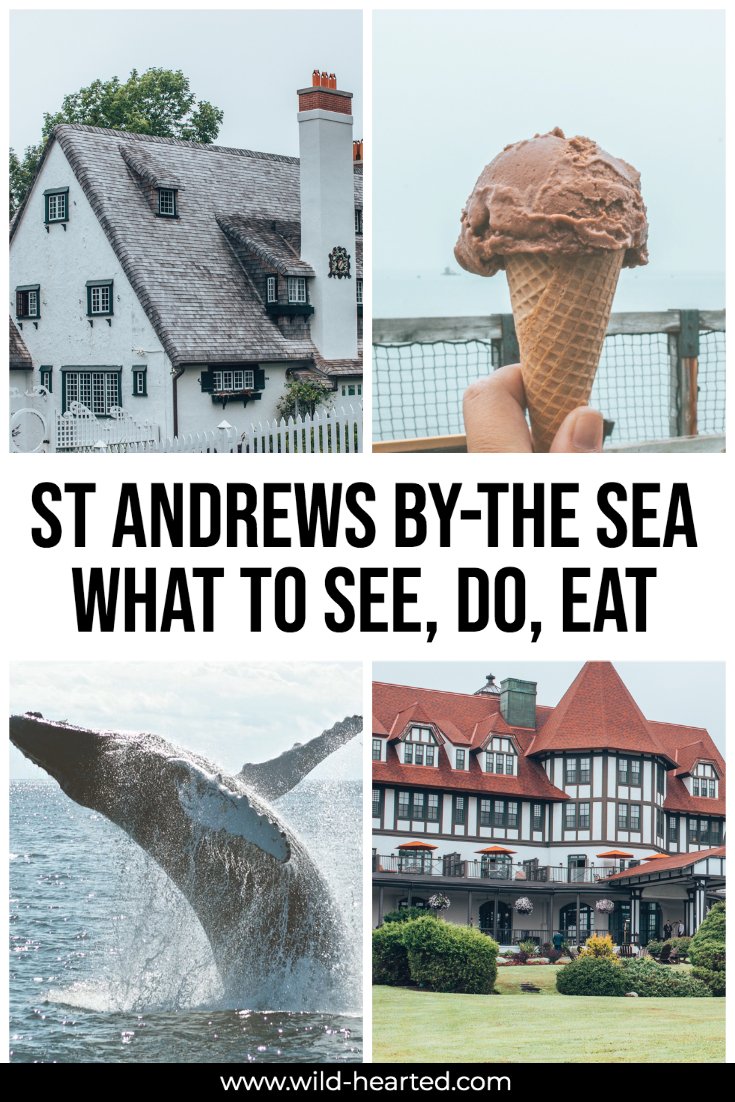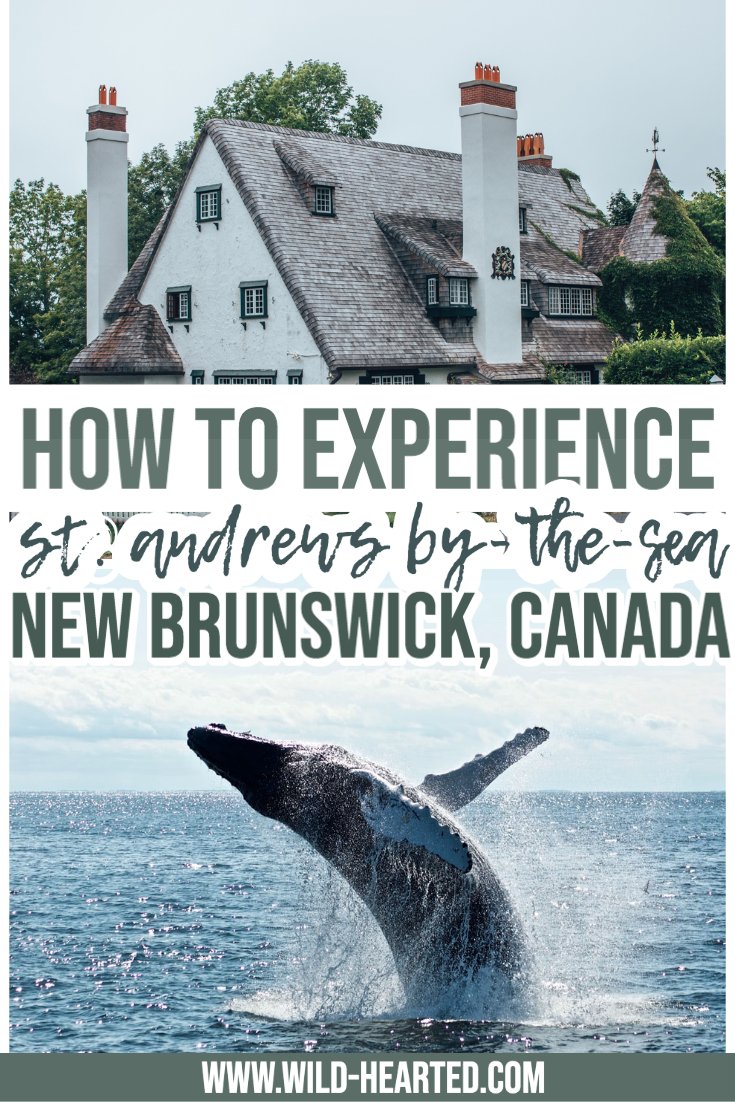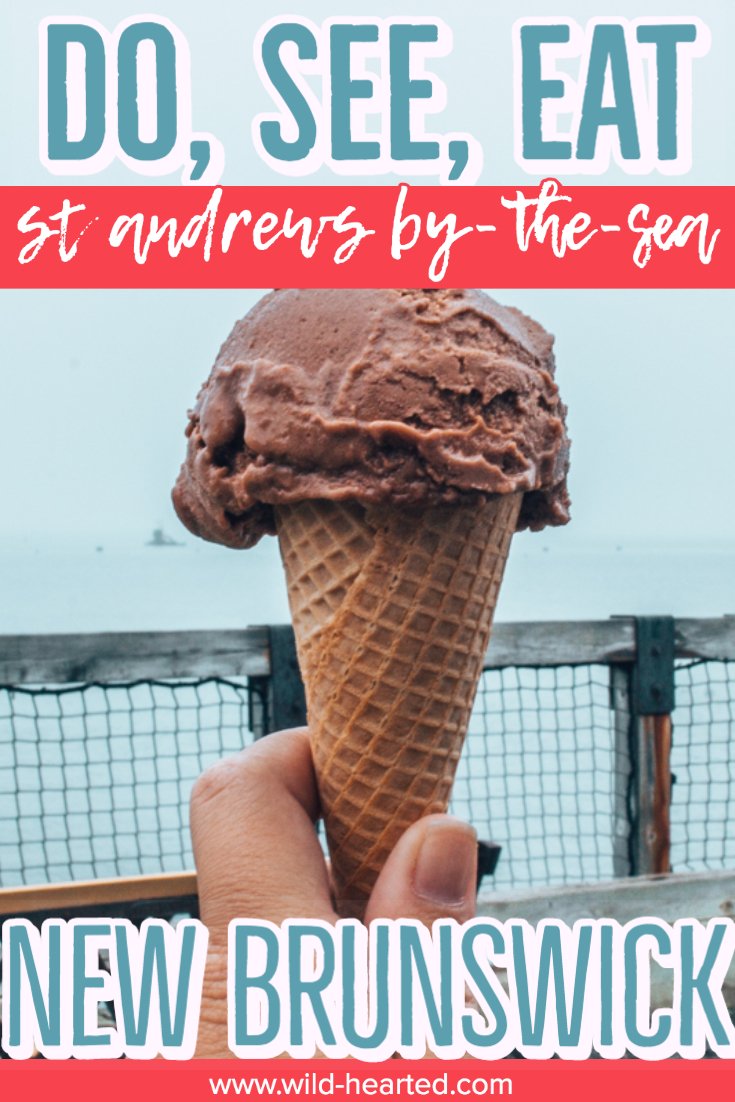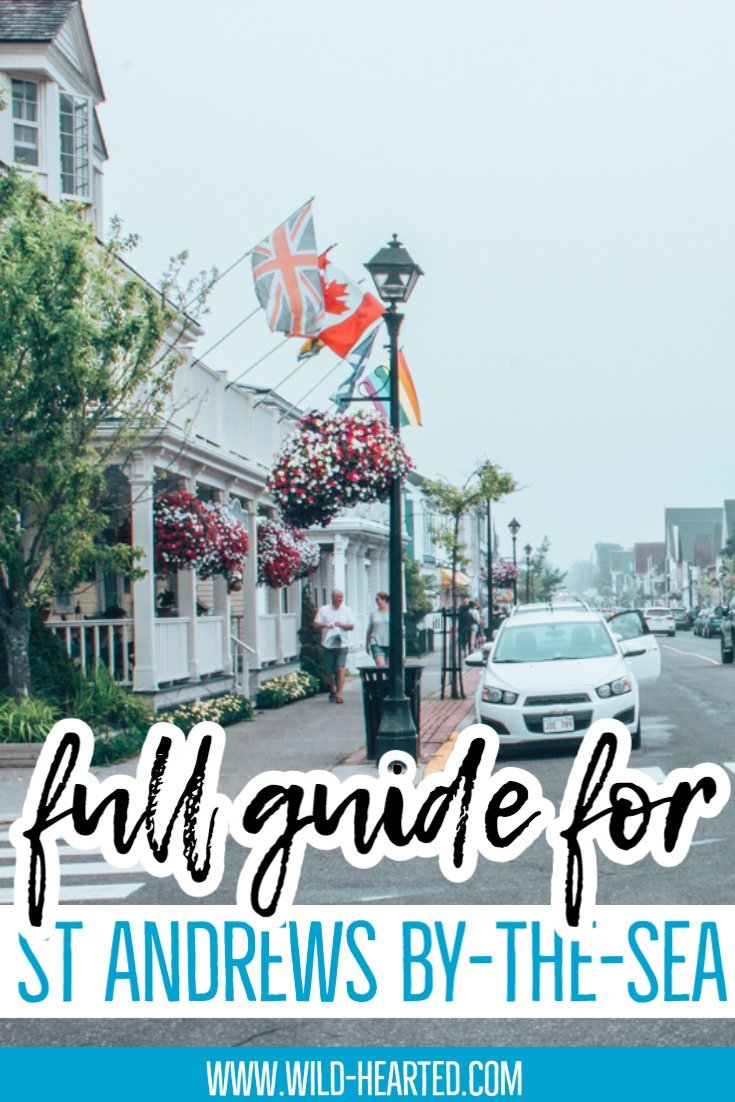 Latest posts by Ashley Hubbard
(see all)