This post may contain affiliate links, meaning if you book or buy something through one of these links, I may earn a small commission (at no extra cost to you!). Please see my disclosure.
For as long as I can remember, I've always had skydiving at the near top of my bucket list though. And now I can cross it off my list thanks to my experience with Skydive Tennessee.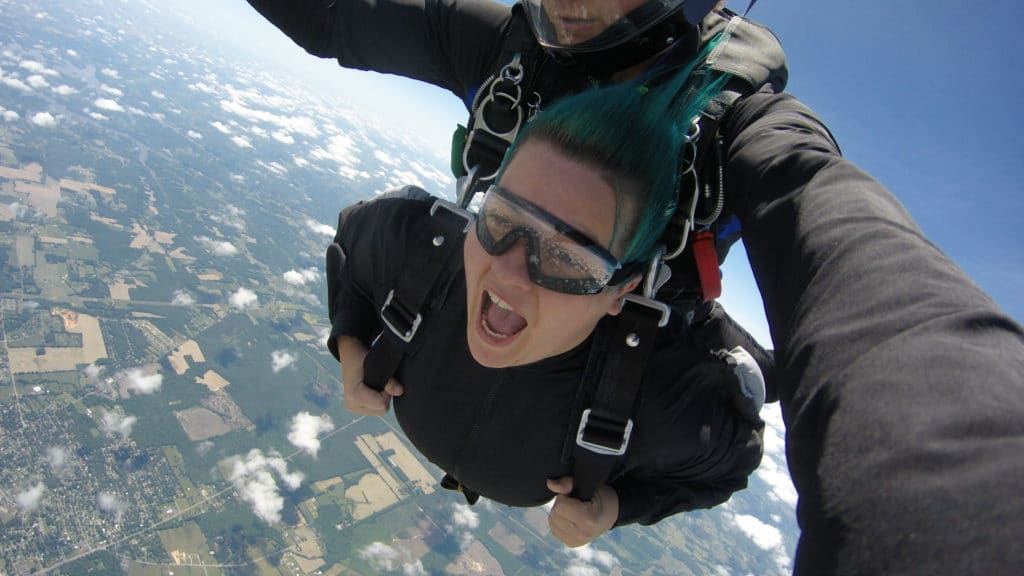 I've always been one to love adventure and adrenaline-inducing activities. I live for anything extreme or anything that gets me thinking, What the hell am I doing?!
Anytime you're going to be doing a What the hell am I doing? activity or even just traveling outside of your country, I would highly suggest comparing global medical insurance plans and finding the right fit for yourself.
It's well worth being prepared when you're doing these activities to have that extra feeling of being covered if something happens.
Skydive Tennessee – My Experience Skydiving For The First Time
There is something about these types of activities that make you really feel alive. I knew I would love skydiving, or I, at least, hoped I would love it.
I had booked my date several months in advance with Skydive Tennessee. May 4th was to be the day I would possibly do the dumbest thing in my life.
Then my grandpa passed away that Tuesday (the 3rd), so I rescheduled for two weeks later.
The morning of my jump, the weather was horrible, so I rescheduled for the next day. I was never nervous until it kept getting closer, and I had to change my date.  I think the extra time thinking about it definitely got my nerves higher.
The morning of, I was nervous, but it also felt a bit surreal. Telling people I was going to jump out of an airplane today wasn't in my normal vocabulary, so I don't think it had hit me yet that I was about to do this.
Skydive Tennessee is located in Tullahoma, about 1.5 hours away from Nashville.
By the time I had arrived, I was wondering why I had decided to do this in the first place and was super close to rescheduling again, but I didn't.
In fact, I completely convinced my mother (who had come with me for moral support) to jump with me!
It was not planned at all, and I'm pretty excited and proud of her for doing it. She has never really been scared of thrill rides or similar things either.
However, she also has anxiety and doesn't do well in situations where she has no control. I say all this to make a point at how wonderful a job the instructors at Skydive Tennessee did in assuring us of everything.
If it weren't for how comfortable they made us, I'm sure she wouldn't have been so inclined to spontaneously jump out of an airplane that day.
Skydive Tennessee – Arrival
We arrived at the location at 10:00 AM (our planned time). Due to the clouds, we had to wait almost 2.5 hours.
They said we could wait or reschedule with no extra fee, but we decided to wait. Weather is just one of those things no one can control!
We had the place to ourselves for about the first two hours, but by noon, about 20-30 more people at showed up, and the place was packed.
So many emotions in one room – excitement, anxiousness, fear, and much more.
Skydive Tennessee – The Experience
Around 12:30, we got to put on our jumpsuits and harnesses. Mom and I were up first. There were only two instructors this day, so only two jumpers went on the plane at a time.
However, we had two solo jumpers with us (you can pay just for a lift ticket if you're an experienced jumper). They were THE CUTEST couple I've ever met.
They have been jumping out of airplanes together for like 40 years. At one point, they would jump upwards several times a week. They had on the brightest jumpsuits, and they were just adorable.
We talked to them quite a bit, and the husband was talking to me on the plane about several things. I wish I had gotten a picture with them, but you can see them a tiny bit in the video.
The plane ride up to 14,000 feet takes about 15-20 minutes, the free fall is about 1 minute, and then the parachute down is about 7-9 minutes. So, it's about 30 minutes overall once you're on the actual plane.
Once I was on the plane, my nerves actually eased up more. This was surprising and quite the opposite of what I would expect.
The instructors do a wonderful job of never really letting you think about what you're doing. You literally sit at the edge of the plane, ready to jump out. There's no time to think about changing your mind.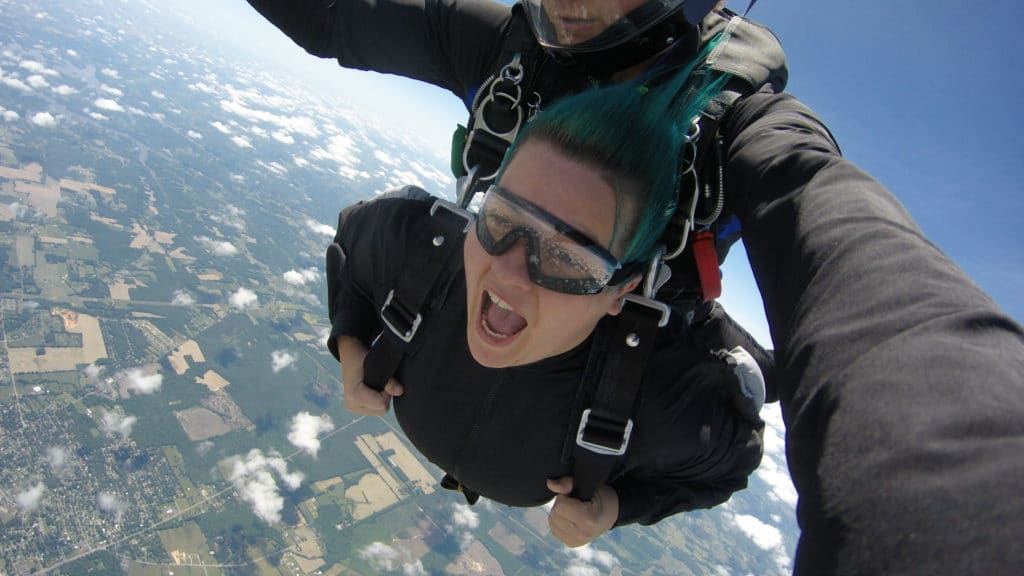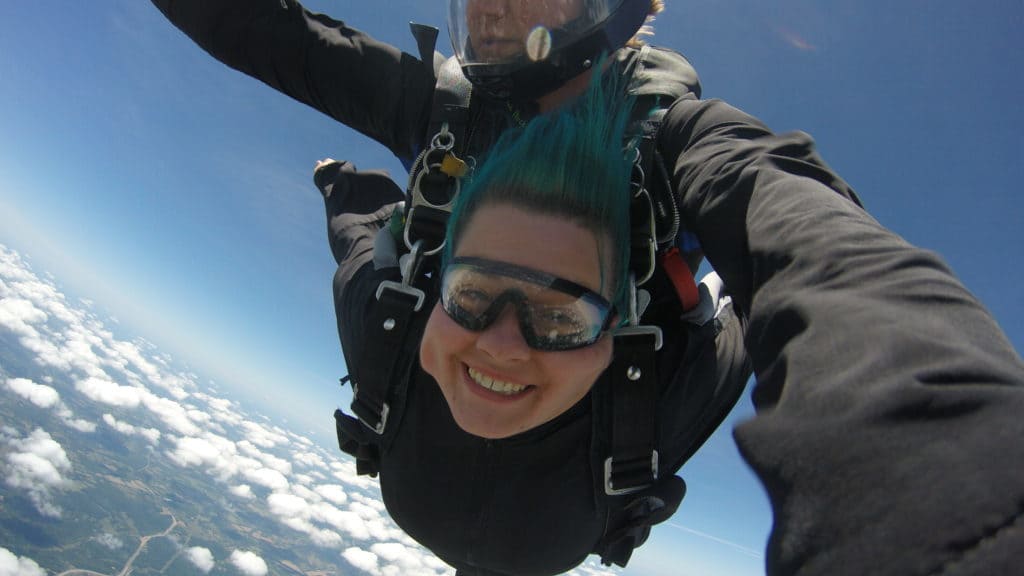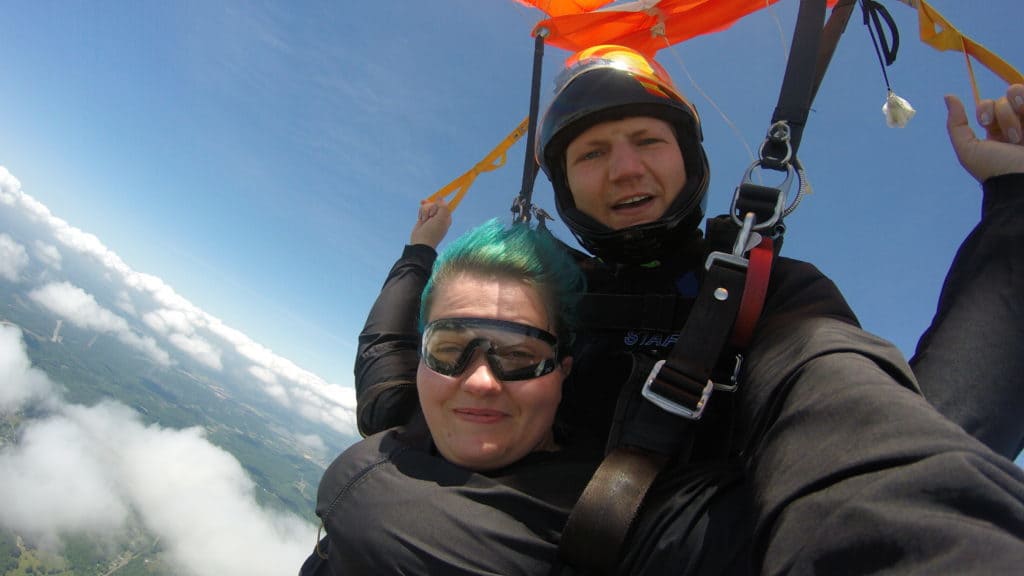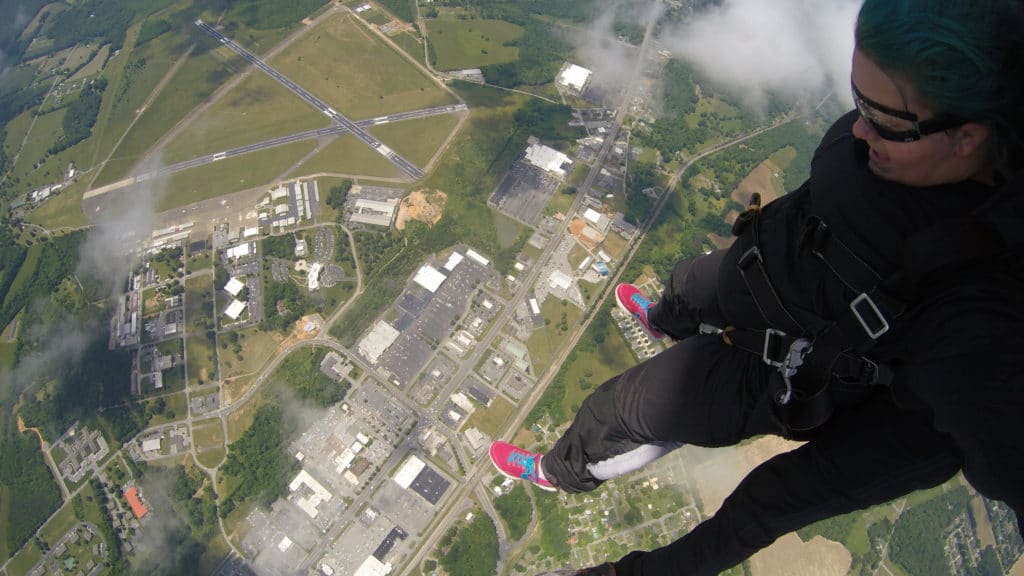 I'll leave the video to explain the rest because. As I actually say at one point in the video, it is a pretty indescribable experience.
I honestly will be trying to talk people into doing this at least once, probably forever now!
Skydiving Video
Excuse my lack of interview skills. I really was at a loss for words during the whole experience. More out of nervousness at the beginning and more out of shock in the end.
Regardless, I think it's pretty obvious how wonderful of a time I had!
I was in no way compensated for my review from Skydive Tennessee. I even paid full price for my jump, so I'm in no way inclined to write positive things.
But I want to give a HUGE thumbs up to everyone at Skydive Tennessee but most importantly, my instructor, Ned. He did a wonderful job in every aspect!
Latest posts by Ashley Hubbard
(see all)