This post may contain affiliate links, meaning if you book or buy something through one of these links, I may earn a small commission (at no extra cost to you!). Please see my disclosure.
If you're looking to increase your scuba skills then the PADI Advanced Open Water eLearning is the next step! Here's why eLearning is a great choice!
It wasn't that long ago that I was completing my open water scuba certification online while literally on my way to Costa Rica to finish the diving portion. It's crazy a year can change everything you know. Getting my certification was one of the hardest things I've ever done, but it was also the most humbling thing I've ever done. Right as everything happened this year, I was just about to head down to Gulf Shores to get another few dives in so I was really bummed when that trip was canceled. However, I quickly decided this was the perfect time to increase my knowledge so I decided to start my PADI advanced open water eLearning course.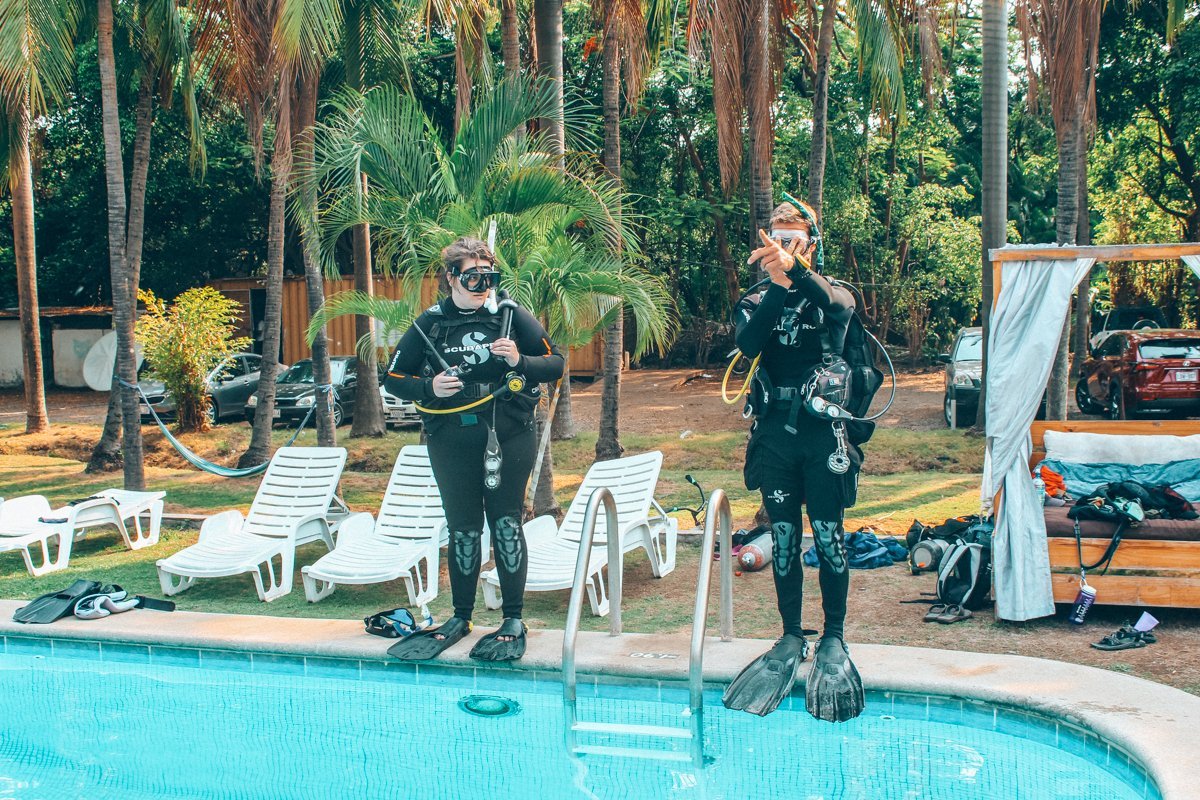 I received the PADI Advanced Open Water eLearning course in exchange for my honest review. I, in no way, felt inclined to give a positive review of the product. The content and opinions expressed here are my own. I only promote products via Wild Hearted that I have tested and loved.
Why Use PADI Advanced Open Water eLearning?
PADI eLearning is fantastic due to its convenience. Before eLearning, you'd have to go and do this portion in class (this is still an option), meaning perhaps it kept getting put off and put off.
As with most things, technology has allowed you to have instant access. Using a desktop computer, laptop, phone, or tablet, you can learn all the necessary information for whichever course you're taking – whether that be open water (beginner), advanced like I am now, or more advanced and specialty courses.
The eLearning course is perfect for those that want to learn the theory at their own pace, don't have the time to commit to a classroom setting (or don't have a PADI center) nearby or even those that want to be able to go over the course information multiple times to fully understand the concepts.
There are a number of reasons why the PADI advanced open water eLearning is a great way to begin what is arguably the second most popular PADI course. Many people go on to get their Advanced certification, even if they don't go any further.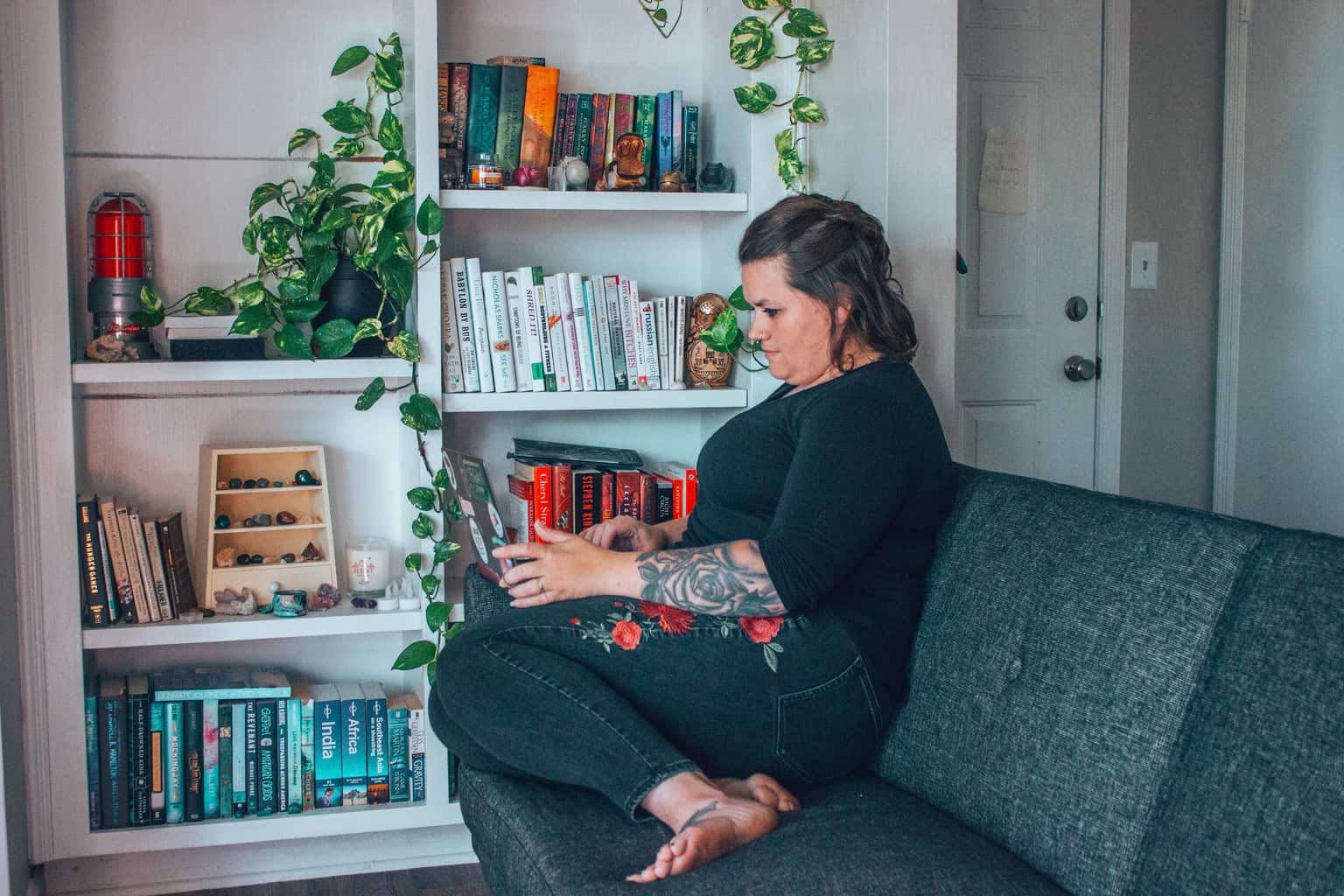 What is the Difference Between PADI Open Water and Advanced Open Water?
Advanced certification is required to participate in deeper dives (open water allows up to 60ft while Advanced allows up to 100ft).
It is also required to go on certain dive sites such as certain wreck dives or more technically challenging sites.
You can see more details about my open water eLearning experience and my open water dives with Rich Coast Diving in Costa Rica.
When Should I Take the PADI Advanced Open Water Certification?
So, I may be in the minority here and it probably does depend on who you are, but I think getting in several dives between your open water and your advanced is a good idea.
Many people will literally do the two courses back to back. Perhaps for logistical reasons, this makes more sense and that's fine!
However, be careful about being dependent on instructors. This is what I worried about. I wanted to learn for myself knowing that an instructor won't always be with me. I decided to wait and get a few dives in first. Honestly, had it not been for the current pandemic and this being the perfect timing to get my eLearning done, I may have waited even longer.
The Open Water certification is all about…to be frank, surviving. About breathing underwater, being a safe diver, and basically learning to be a "fish out of water."
The PADI Advanced Open Water certification is more about the different types of diving and a lot more fun!
Despite the name, you don't have to be an advanced diver to take the course. The course itself is to advance your skills and so, as I mentioned, you can start it the day after you finish your open water.
The course helps build confidence and expand your scuba skills through different Adventure Dives.
Get credit! Each Adventure Dive may credit toward the first dive of the corresponding PADI Specialty Diver Course.
Also, if you've already completed specialty courses (i.e. you're already an "Adventure Diver")you only need to complete two more Adventure Dives to earn the Advanced certification.
What PADI Courses are Available via eLearning?
If you really enjoy this learning method, there are many more courses you can go on to complete (or start) via eLearning!
Advanced Open Water Diver
Rescue Diver
Divemaster
Enriched Air Diver
Digital Underwater Imaging
ReActivate (refresher course)
Dive Theory
Instructor Development
PADI Advanced Open Water eLearning Cost
The on-site portion will, of course, be extra and dependent on the dive shop.
Advanced Open Water is $178.
How Long Does the PADI Advanced Open Water eLearning Take?
The PADI Advanced Open Water eLearning course will take approximately 8 hours to complete.
Of course, this depends on a number of factors. I'm a fast reader but I get distracted a lot. I also often have to re-read things as I'm terrible about skimming without realizing it.
So, don't be discouraged if it takes you more than 8 hours and if it takes you slightly less, that's okay too.
HOW DOES THE PADI ADVANCED OPEN WATER ELEARNING WORK?
Once you pay for your online scuba lessons, or PADI eLearning, you'll receive an email confirmation with a code that you then use to redeem your course online.
Once you do this, you can now access your course on a desktop or through the app offline.
You can work your way through the six sections completely at your own pace. There's no set timing. You can complete one section and come back a month later to do another section or you can complete all of it in one day!
Each module presents the information in both written and video format so you can choose your preferred learning method or read and watch both (this is what I do because I find some things make more sense when written and vice versa).
Another thing about the eLearning, you could technically read and learn about all of the elective options. While the certification only includes 5 total adventure dives (3 electives), that doesn't keep you from learning the extra material if you so wish.
Section 2 – Underwater Navigation (6 modules and review)
Section 3 – Deep Diving (9 modules and review)
Section 4 – Elective Choice #1
Section 5 – Elective Choice #2
Section 6 – Elective Choice #3
Assessment Survey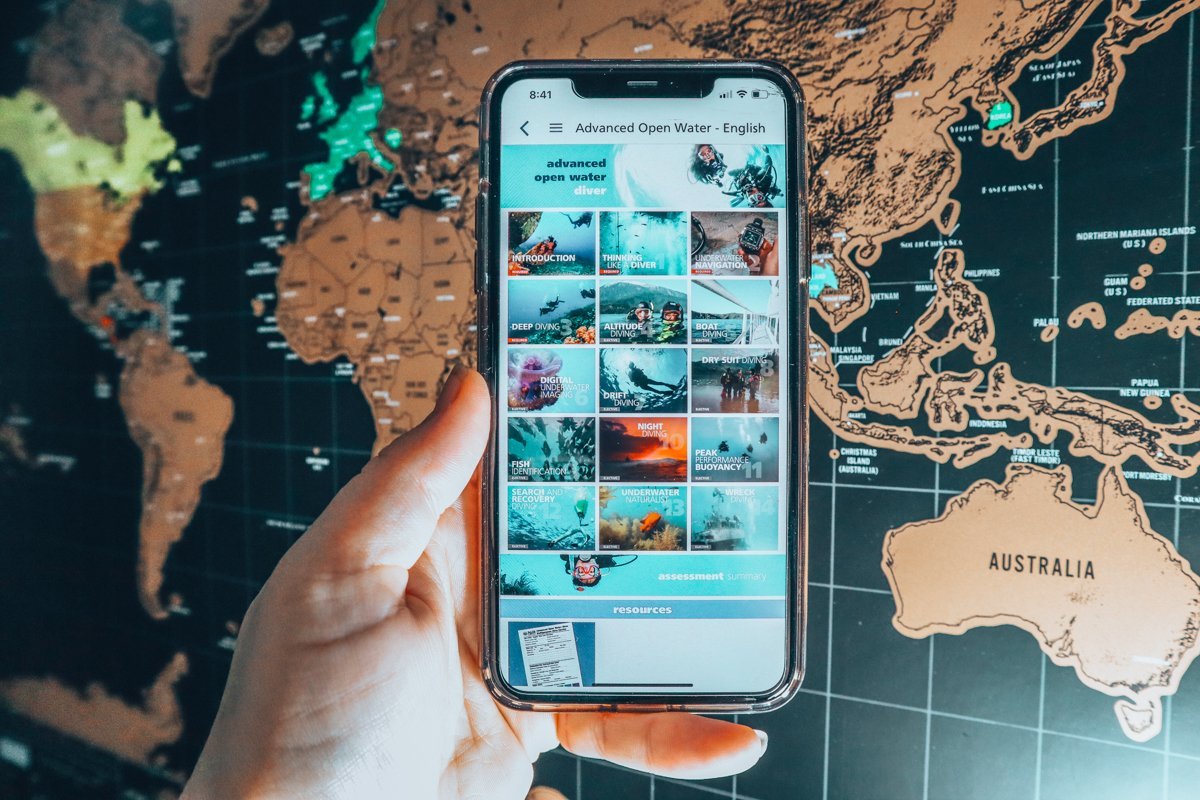 What Does the PADI Advanced Open Water Certification Consist Of?
While I haven't completed the actual diving portion of this yet, I've been told it's so much more fun than the open water as it's really just about diving and not as much about having to perform skills.
The Advanced Open Water Certification consists of five training dives. Two of which must be Deep Dive and Underwater Navigation Dive. The other three can be chosen by you and that's where the fun comes in!
Not all options are available at every dive center, but when you do the eLearning, you can choose whichever specialties you want. Just know you may need to choose your dive shop dependent on that when you go to complete the course.
Popular choices include:
Peak Performance Buoyancy
Digital Underwater Imaging
Dry Suit Diving
Fish ID
Wreck Diving
A full list of elective dives include:
Boat Diving
Digital Underwater Imaging
Drift Diving
Dry Suit Diving
Fish ID
Night Diving
Peak Performance Buoyancy
Search and Discovery Diving
Wreck Diving

How to Choose the Optional Dives
Trust me when I say, I get being drawn to just the fun-sounding ones like the photography and fish ID. However, it may be good to be a bit logical about your decision.
Where do you live and where will you be diving a majority of the time?
If it's in cold water, dry suit diving is almost a given as an optional. Even if you aren't going to be diving in cold water a majority of the time, having this certification will open up so many dive sites to you around the world. Not everything cool is in tropical, warm waters!
Which Selectives Did I Choose?
I decided to read through each one and since I don't actually have to choose until I do them, I'm always liable to change my mind. However, I'm choosing:
Peak Performance Buoyancy – I want to control my body perfectly underwater. For a very, very new and very, very anxious diver, I think I do pretty good, but I want to be as perfect as possible.
Night Diving – The sea is a different animal at night and I want to experience it!
Wreck or Dry Suit Diving – I can't decide here, because I definitely want both. There are a lot of cold water dives I want to do so I'll end up getting this anyway, but wrecks are found in warm and cold water so that's more widely used.
That being said, I still plan on eventually doing the Fish ID, Underwater Imaging, Underwater Naturalist, and Drift Diving as well eventually. And, that's just the ones that are available via the PADI Advanced Open Water eLearning.
What is an Adventure Diver and How Do I Become One?
For the PADI Advanced Open Water certification, you must complete five adventure dives: deep water, navigation, and three electives.
You can go ahead and get two certifications in one, by completing an additional three adventure dives, and then you'll also be an 'Adventure Diver.'
Is the PADI Advanced Open Water eLearning Worth It?
In short? Yes!
I do think there are many beneficial aspects to learning in a classroom setting. However, I like being able to learn on my own pace. I didn't come out of the eLearning feeling like an expert or that I had it all memorized but I didn't really expect to either.
I would much rather do it this way at my own pace and convenience than to spend 1-2 more days stuck in a classroom especially if I was getting my certification while on vacation.
As far as the course itself, the PADI advanced open water course is definitely worth it as you are enhancing your skills, and learning how to think and act like a diver even more so. It's the opportunity to gain more experience, continue your diving education, and sample different scuba specialties under the supervision of an instructor.
There is a lot of marine life to see at 60ft but way more to see at 100ft! For instance, there are shark dives that require advanced certification.
Wrecks are often deeper than 60ft or the top of the wreck sits at 60ft so the most you would be able to see is the top.
RESOURCES
Planning a trip for the future? Here are my resources.
Interested in starting a blog? Use these resources.
Read my other scuba diving posts.
↓↓↓ PIN FOR LATER ↓↓↓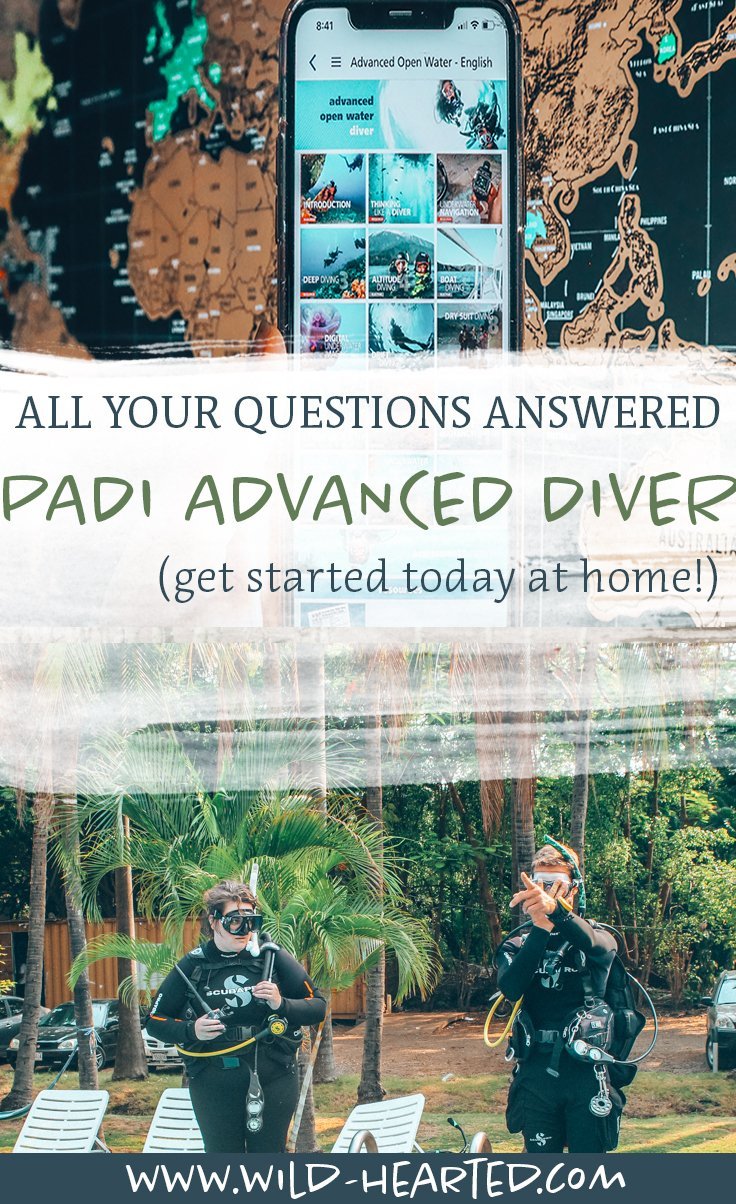 Latest posts by Ashley Hubbard
(see all)