This post may contain affiliate links, meaning if you book or buy something through one of these links, I may earn a small commission (at no extra cost to you!). Please see my disclosure.
When planning this trip, I was met with a pretty resounding "You'll starve in Ireland as a vegan." As I started researching though, I found a decent amount of options throughout Ireland and Northern Ireland, especially in the bigger cities. Dublin ended up being super vegan-friendly and even has a vegan food tour and Belfast was surprisingly vegan-friendly as well and this was only the beginning of the trip. One of the things I wasn't too sure about though was places to eat in Derry, especially as a vegan.
On the surface it did, in fact, look like I might starve but then I ended up having more food to try than stomachs to eat them.
So, let the record show…Derry is vegan-friendly.
If you're not vegan, still don't hesitate to try these spots. The food and service were fantastic and all of them offer non-vegan options as well.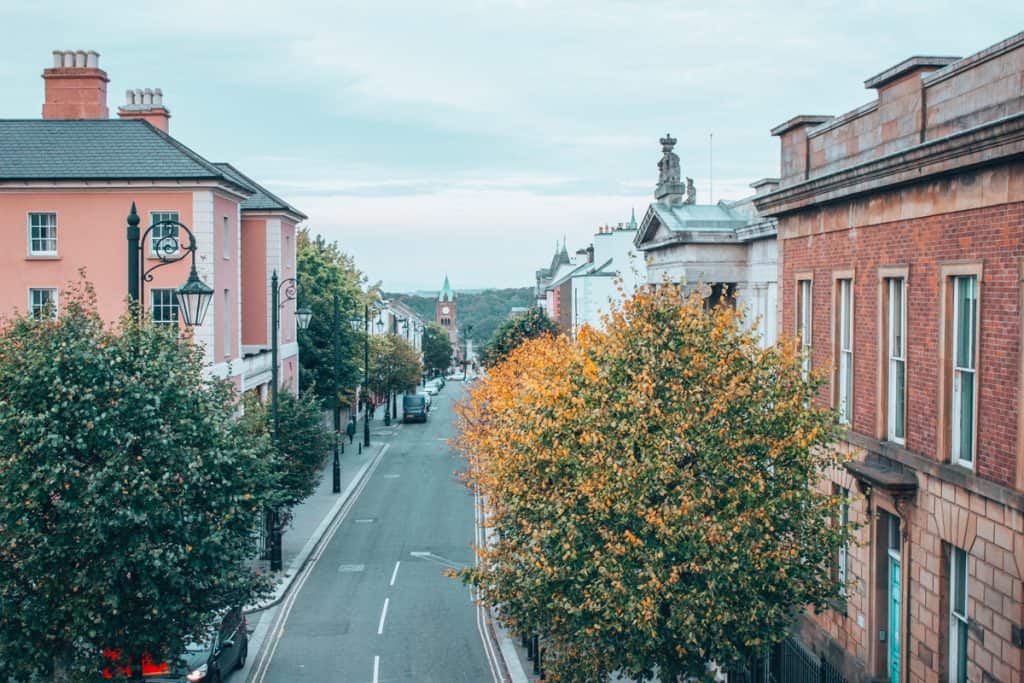 In my humble opinion, I would suggest staying here for a few days. I didn't really know a lot about the area and it wasn't one of the stops I was looking forward to the most on my three-week Ireland road trip but now it is one of the spots I look forward to going back to and visiting more.
I recently binge watched the new Derry Girls tv show on Netflix and I highly recommend it. It only intensified my desire to get back to the Walled City. The troubled history of Derry – Londonderry [literally known as 'The Troubles'] is something to consider researching before you visit so you can fully appreciate what you're experiencing while there.
After my twenty-fours or so that I was there, I can say this little spot in Northern Ireland captured my interest and intrigue and I hope it will for you too.
---
Places to Eat in Derry
There are, of course, a lot of great places to eat in Derry and I'm definitely not an expert after such a short time but I've put together the best restaurants in Derry, in my opinion, along with some other highly referred spots for when you're eating out in Derry.
Hidden City Cafe Derry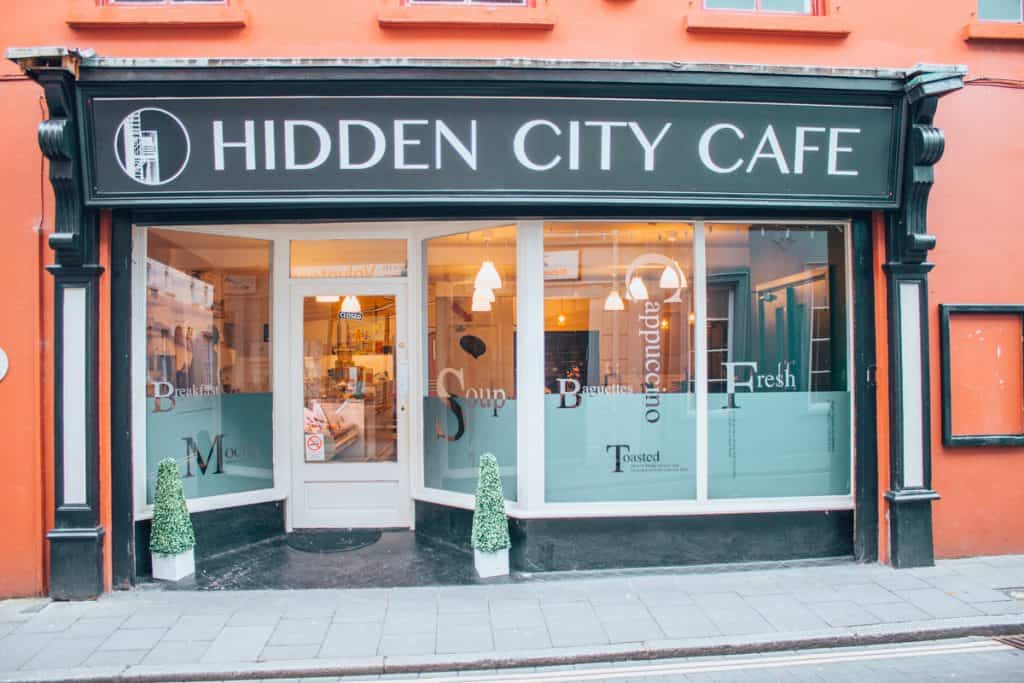 Hidden City Cafe had opened literally days before we arrived in Derry which may have been why I never saw anything about them when I was searching for food options. They weren't well known in the local vegan community yet and they weren't on HappyCow. They were truly…a hidden cafe. I'm so glad I found them though because they are definitely a hidden gem.
Hidden City Cafe is about 95% vegan and specializes in healthy, clean food that supports fair trade, organic and local growers and producers. They're located in the heart of town and the cafe is very cozy and would make the perfect spot to hang out and get some work done.
We had just eaten breakfast at our lovely B&B but we really wanted to check this place out so we got a few sandwiches and cupcakes to go. Later on, when we stopped along the way to Donegal, we had a little picnic and it was so amazing.
They also have a few specialty items for sale in the shop – most of them being specialty vegan items.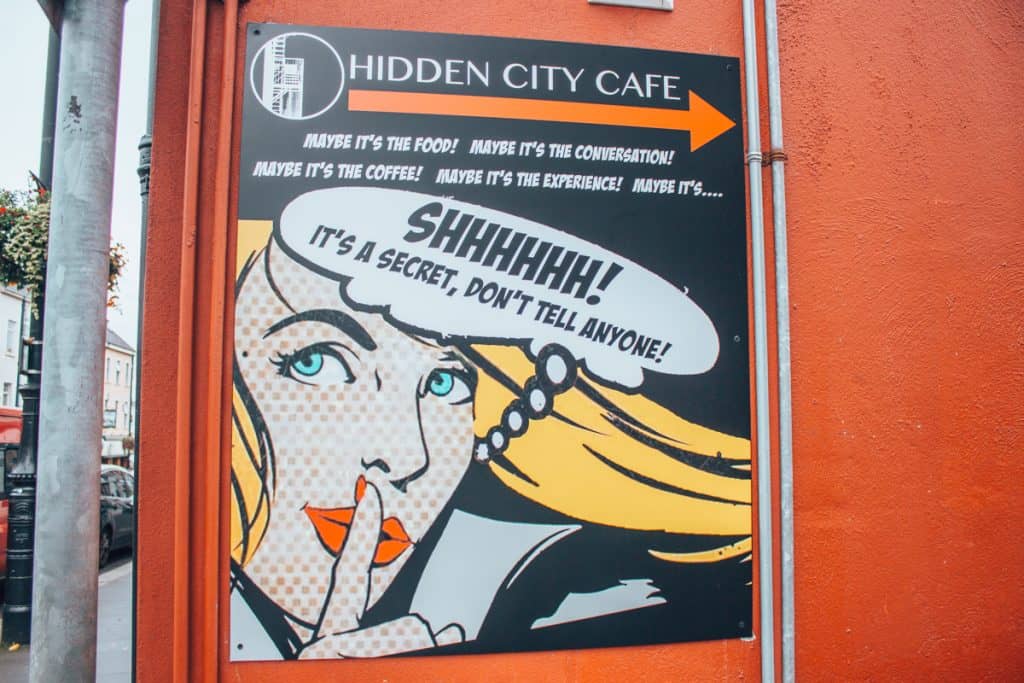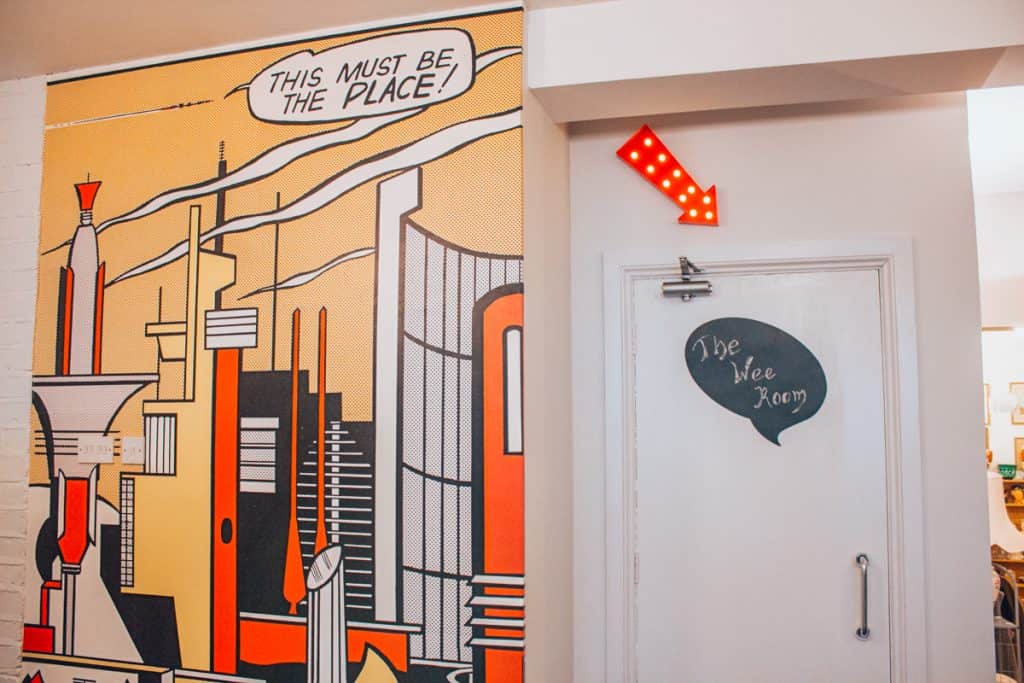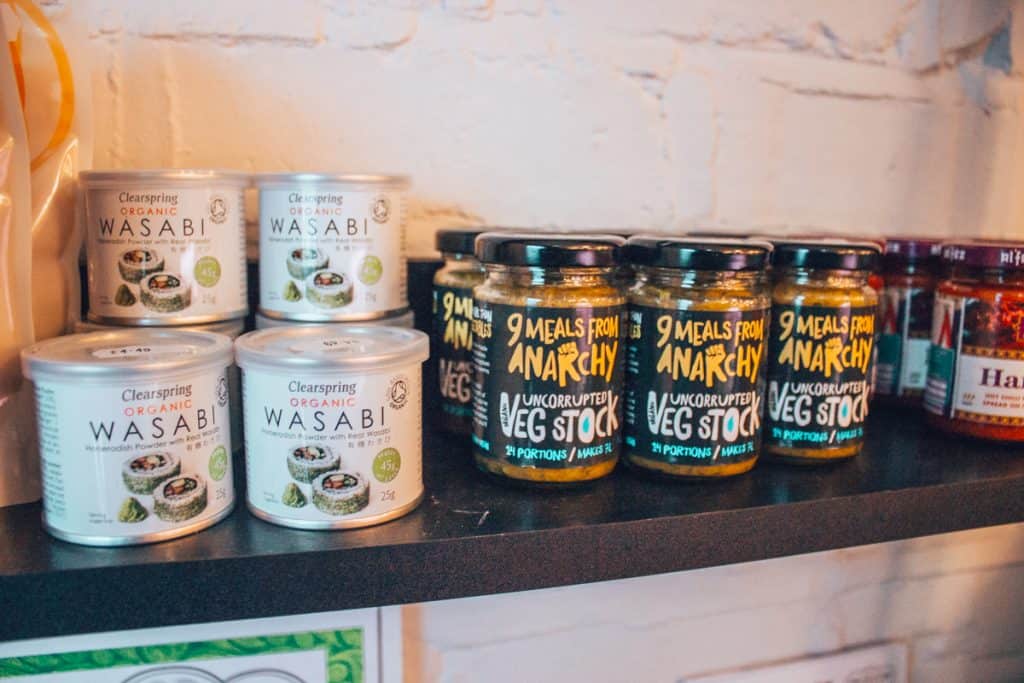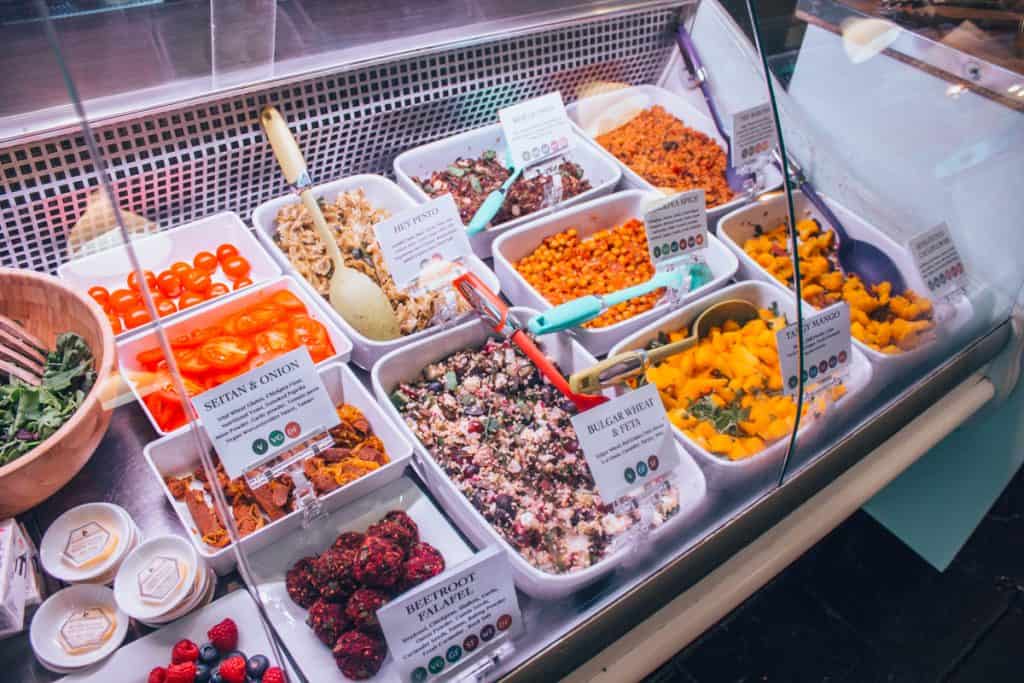 ESSENTIAL INFO
Hours // M-S 8-5:30 (closed Sundays)
Address //3-5 London Street, Derry, Northern Ireland BT486RQ
Website // Facebook
---
St Jude Eatery (located within The Yellow Yard)
[UPDATE JUNE 2019 – St Jude Eatery is permanently closed]
We, sadly, couldn't make it into St Jude Eatery because their hours just didn't line up with our schedule. However, our B&B did have a few of their baked goods waiting for us when we arrived. So, I can say I've had some of their food and it was very good. St Jude Eatery is the only 100% vegan/vegetarian spot in Derry and is located within The Yellow Yard which is a bit of an eclectic shop as you can see from their sign here.
St Jude Eatery is also the only pay it forward/pending coffee and food service in Derry which allows vegan and vegetarians who may be short of money to eat and drink for free in a safe and welcoming environment.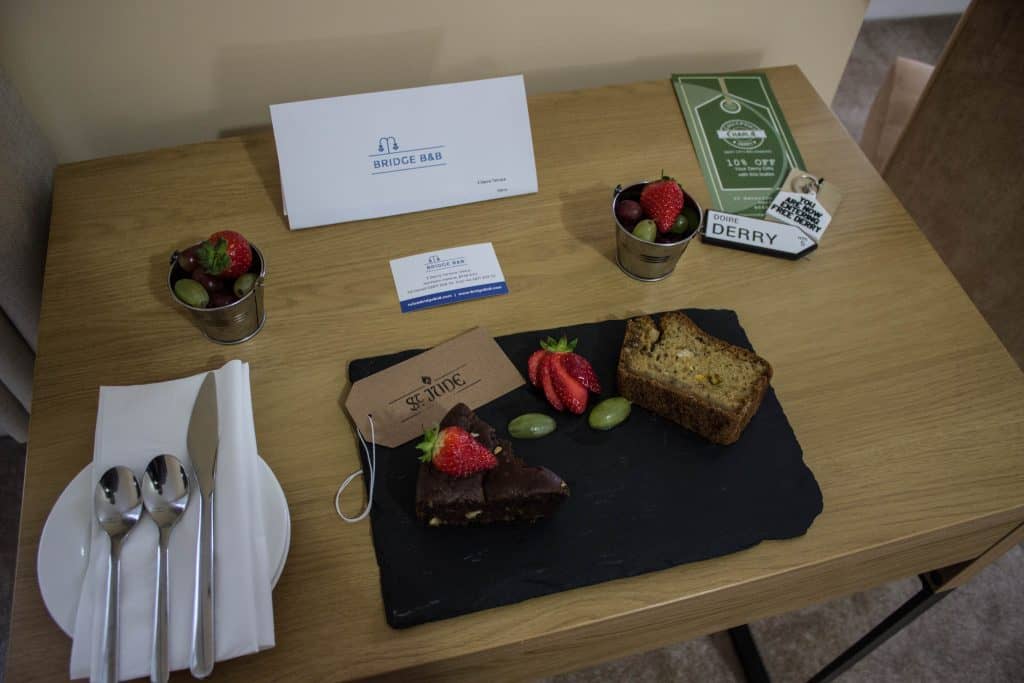 ---
Ann-Marie's Vegan Cakery
Ann-Marie's Vegan Cakery is who provides the baked goods, mostly cupcakes, to Hidden City Cafe. Ann-Marie runs her bakery out of her home but you can pick up her goodies from Hidden City Cafe or special order through her directly. I've been following her Facebook page and not only do her cupcakes take outstanding but she has made some really cute and creative things.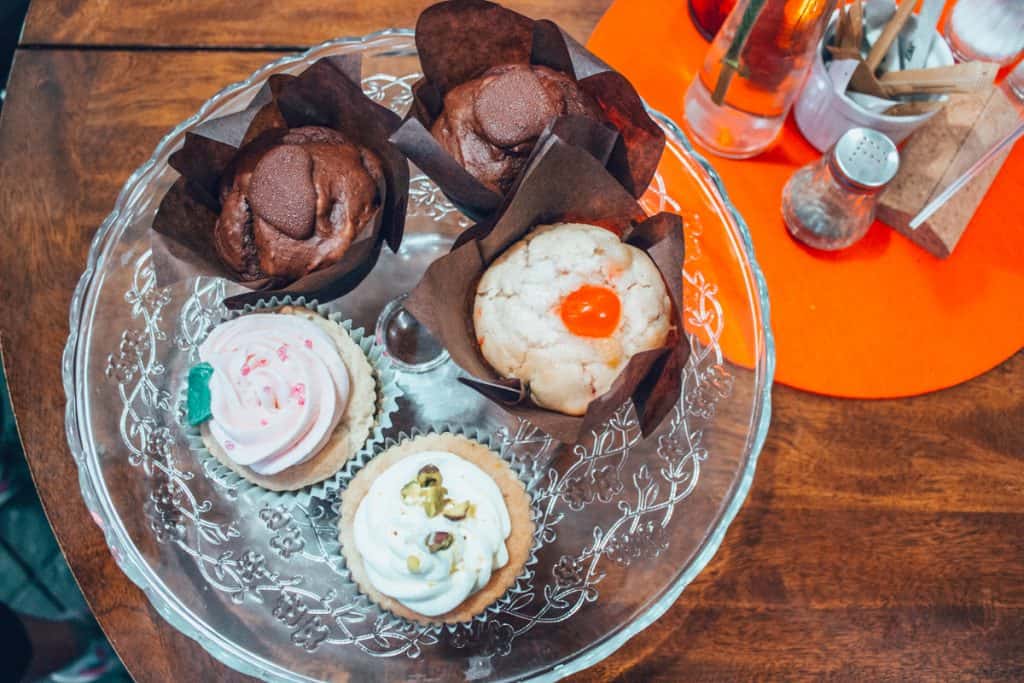 ESSENTIAL INFO
Website // Facebook
---
Nonna's Wood Fired Pizza
Who doesn't love pizza, amiright? When looking for places to eat in Derry, don't discount Nonna's. This pizza spot offers loads of vegan options with a clearly marked menu which is a vegan's best friend.
Nonna's has two locations for your convenience.
ESSENTIAL INFO
Hours // Open everyday – see website for hours of each location
Address //see locations on website
Website // www.nonnas.pizza
---
Browns Bonds Hill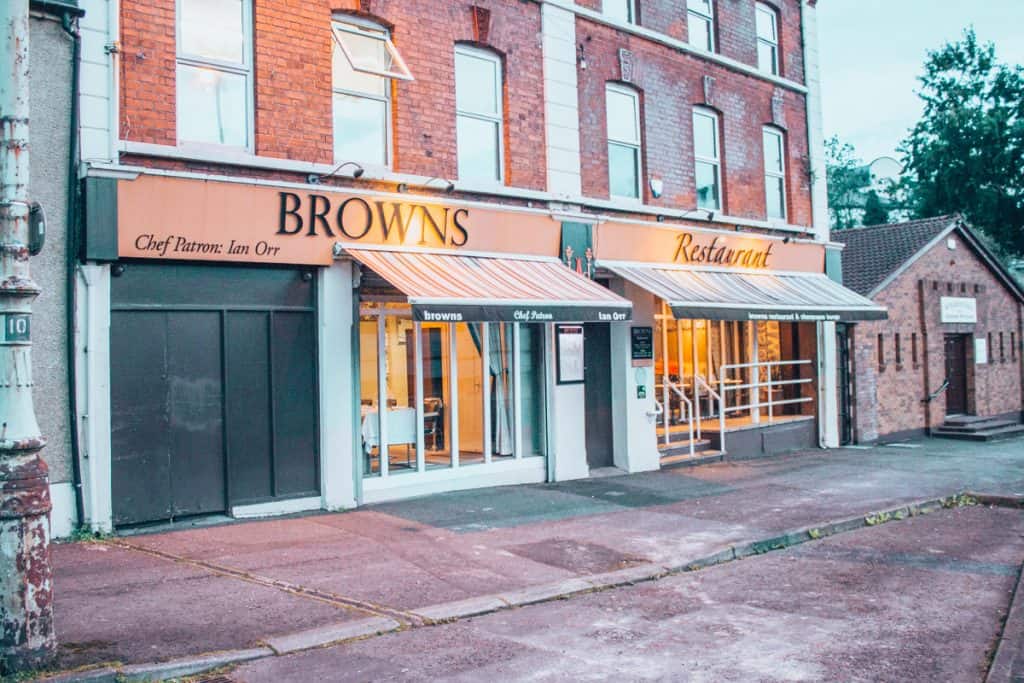 Browns is where we ate the night we arrived in Derry. It is a fine dining establishment on the opposite side of the river – only a short 10-minute walk from the walls. The food is absolutely exceptional and the service is great. This is an amazing option for vegans as they have an entire, separate vegan and vegetarian menu. You can read my full review of Browns here.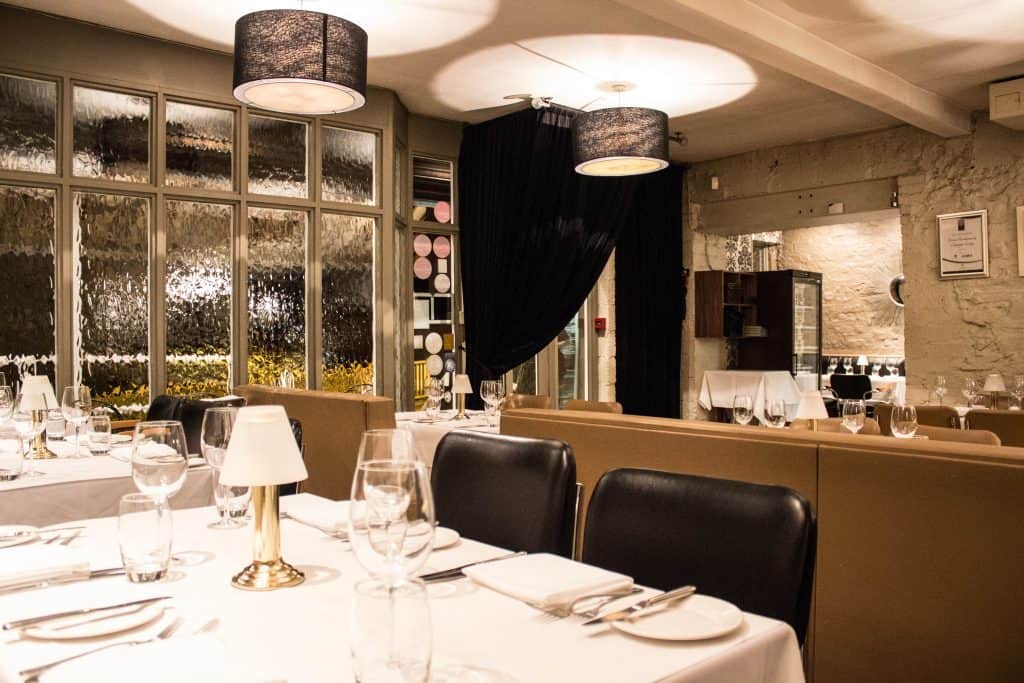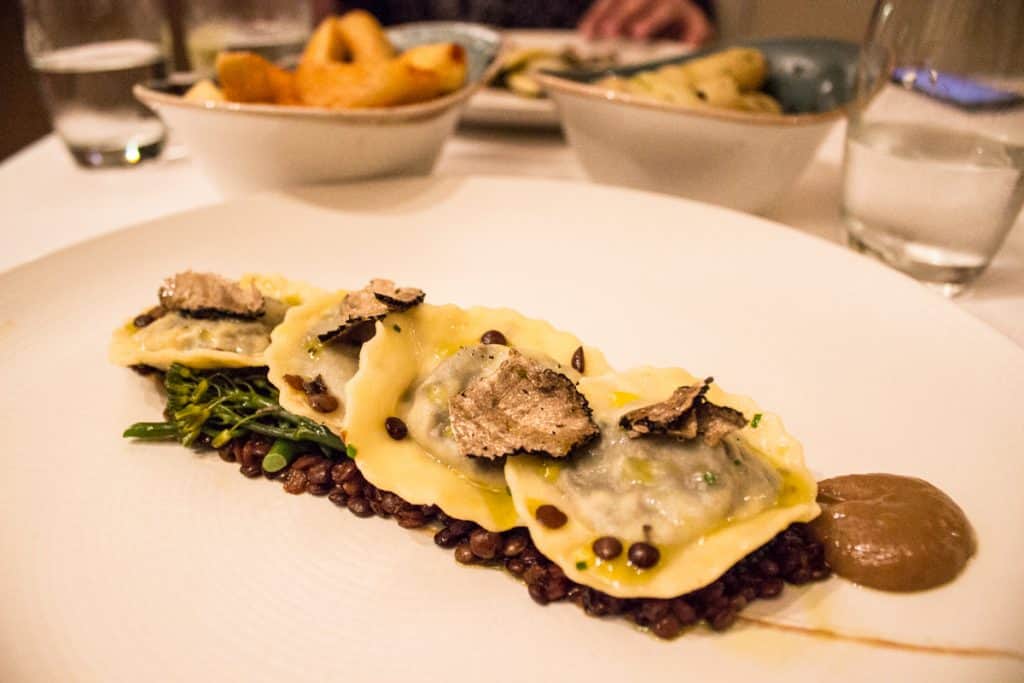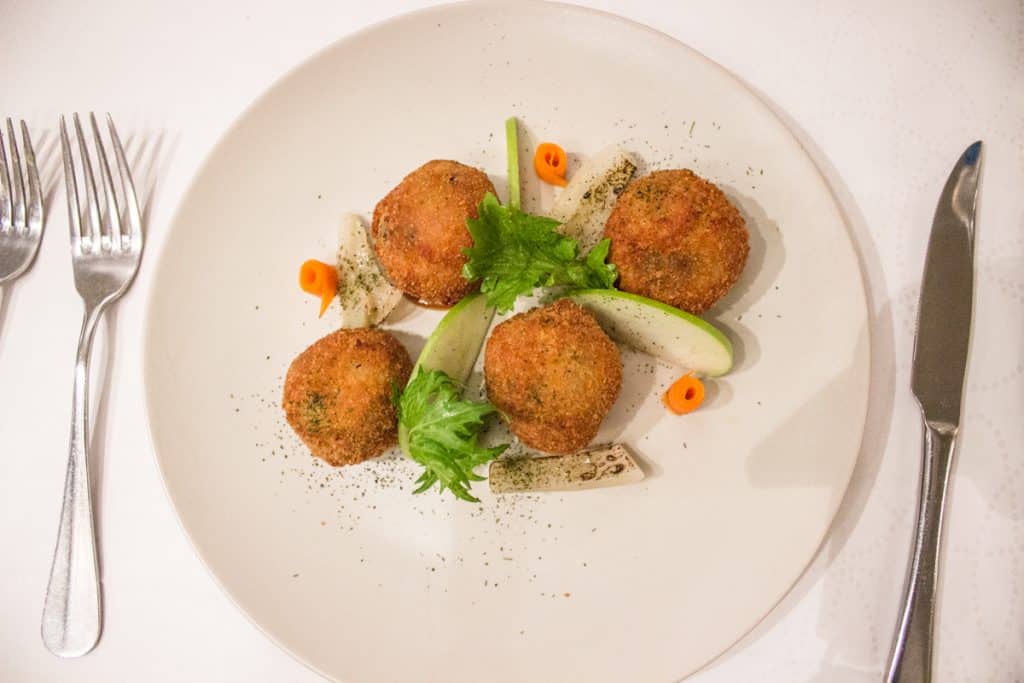 ESSENTIAL INFO
Hours // T, W, Th 12-3; 5:30-9 // F, S 12-3; 5-10 // Su 12-3
Address //1 Bonds Hill, Derry BT47 6DW, Northern Ireland
Website // brownsrestaurant.com
Reviews // mine + Tripadvisor
---
The Cow Bog
This spot has opened since my visit in 2017 and it looks great. It's all-vegetarian making the all-veg restaurants' ticker box keep climbing up in Derry!
The Cow Bog is a healthy vegetarian establishment with many vegan options including cakes, kombucha, salads, toasts, and more.
ESSENTIAL INFO
Hours // Mon-Sat 10am-5pm
Address // 2 Waterloo St, Londonderry, Northern Ireland, BT48 6HE
Website // Facebook page
---
The Quirky Raven Coffee Company
The Quirky Raven Coffee Co. has three locations in the area and offers many vegan options including a full vegan Irish breakfast, vegan pie, vegan lasagne, and more upon request.
ESSENTIAL INFO
Hours // Mon-Fri 9am-1opm – Sat-Sun 9am-5pm
Address // see website for three locations
Website // www.thequirkyravencoffeeco.com
---
Places to Stay in Derry
While I spent a majority of my small time in Derry eating – what's new, really – I did have to sleep somewhere at night. Only in town for one night, I don't think I could have found a more perfect accommodation in Derry than Bridge Bed and Breakfast.
Bridge B&B – Vegan-Friendly Accommodation
While Bridge B&B didn't advertise catering to vegans and we weren't even expecting a vegan breakfast, I soon realized they would go above and beyond for anyone's needs. I would highly recommend staying at Bridge B&B on your stay in Derry and make sure to let them know you're vegan – I'm sure Ursula would whip you up a lovely traditional Irish breakfast with a vegan twist.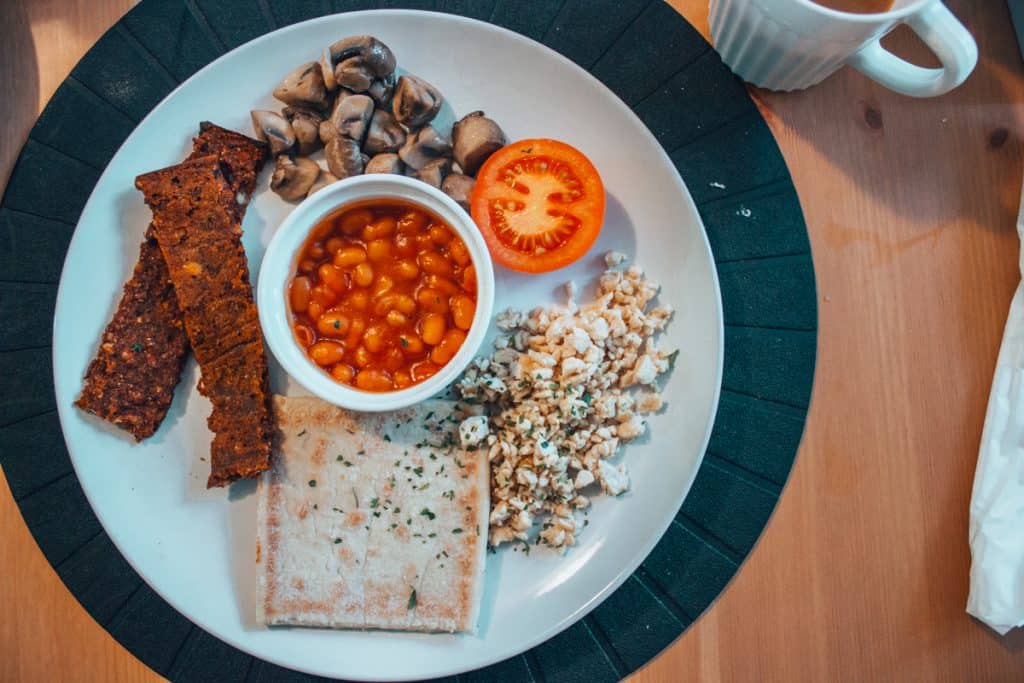 ESSENTIAL INFO
Address //3 Dacre Terrace, Derry BT48 6JU, Northern Ireland
Website // www.bridgebnb.com
Reviews // my full review here, Tripadvisor reviews, or book now (free cancellation!)
---
What to Pack for Derry
Raincoat (yep, it's not just something people say – it can rain at any moment!)
Travel Umbrella (while I didn't bring an umbrella and was too stubborn to buy one, I'd recommend it)
Pacsafe Cross Body Purse (I love my Pacsafe products and would highly recommend using them when traveling)
Comfortable Shoes (my feet tend to hurt pretty easily and these are the best shoes I've had in a while for walking a lot)
What are other vegan options would you recommend in Derry? Tell me about it in the comments below ↓↓↓
Looking for hotels in Derry? Read accommodation reviews here or book here.
Want a guidebook? Here's an Ireland one.
What else have I written? You can find more Derry posts here and Northern Ireland posts here.
Like this post? Have Questions? Hit me up on Facebook | Twitter | Instagram | Pinterest | Email
↓↓↓ PIN IT ↓↓↓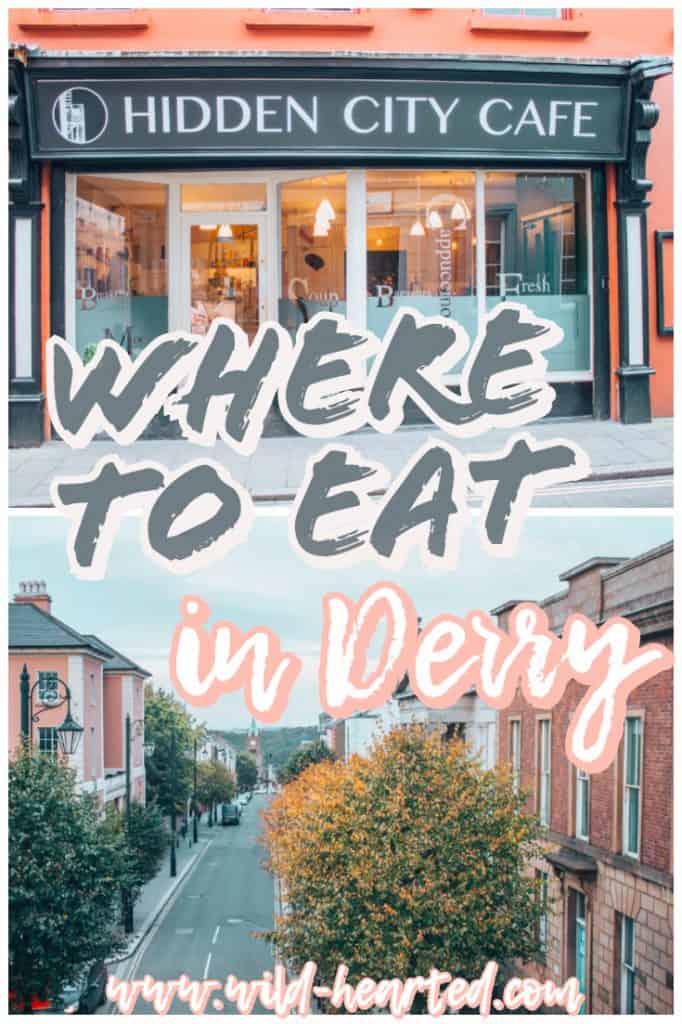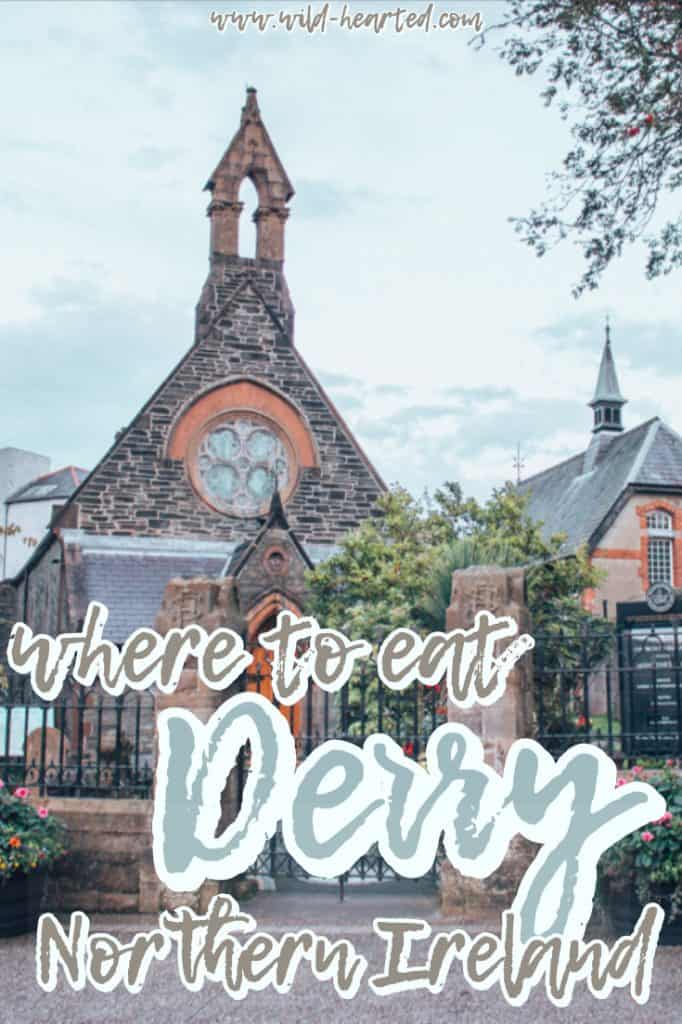 ***Some of the above were provided at a sponsored or discounted rate. As always, all opinions are my own and I will never promote something I don't personally use and believe in, regardless of who foots the bill.***
Latest posts by Ashley Hubbard
(see all)