This post may contain affiliate links, meaning if you book or buy something through one of these links, I may earn a small commission (at no extra cost to you!). Please see my disclosure.
Belfast isn't quite as vegan-friendly as Dublin but it is getting there! Upon searching 'Vegan restaurants Belfast,' I found two mouth-watering, hunger-inducing options that I immediately put on my must-eat list. There are also a few vegetarian restaurants and many veg-friendly places within the city as well according to HappyCow. Unfortunately, I only had time to make it to the all-vegan restaurants on my one day in Belfast.
The Honest Vegan
**Update as of July 2019 – permanently closed**
On our way into the city centre, we stopped at The Honest Vegan on the outskirts of the city. The Honest Vegan is located on Lisburn Road and while we didn't stay in the area long, it appeared to be a very hip area of town. You'll find shops, boutiques, wine bars and coffee houses so it only makes sense that you find an all-vegan restaurant here!
The exterior of the restaurant is adorable and had me anticipating the food inside even more.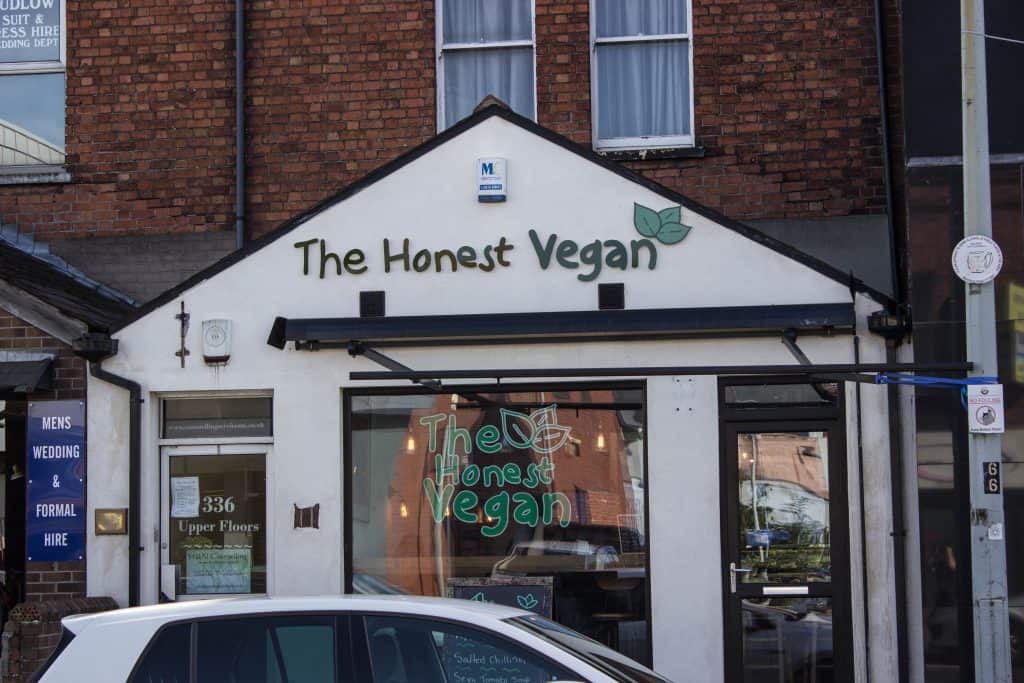 As you can see from their menu below, they have several breakfast and lunch/dinner options as well as baked goods, smoothies, coffee, and tea. They also have daily specials you can check out during your visit. After much deliberating, I decided to go with the hearty chili and Lauren got the noodle salad. Then I ordered the baked cauliflower bites because I just really love cauliflower bites. The soup was definitely hearty and even though I came in after unexpectedly fasting the first half of the day, I left very full. I used to hate chili before going vegan because I didn't like beans but I now love beans and this chili was fantastic and hit the spot. The cashew sour cream was so delicious too. I swear cashew anything is the best dairy replacement. Lauren also gave the noodle salad a big seal of approval.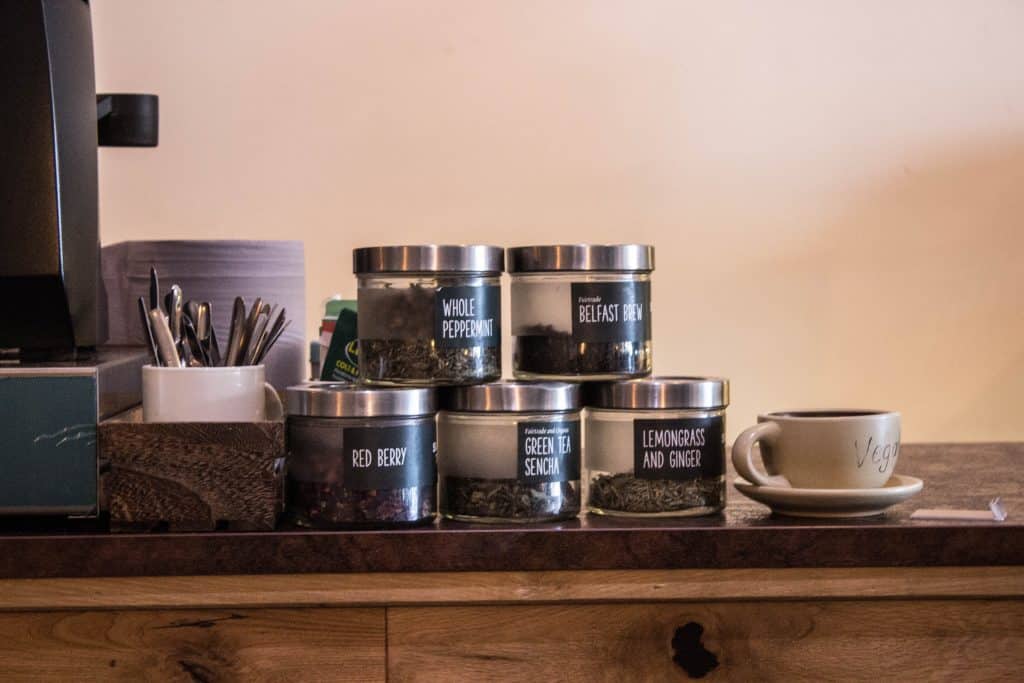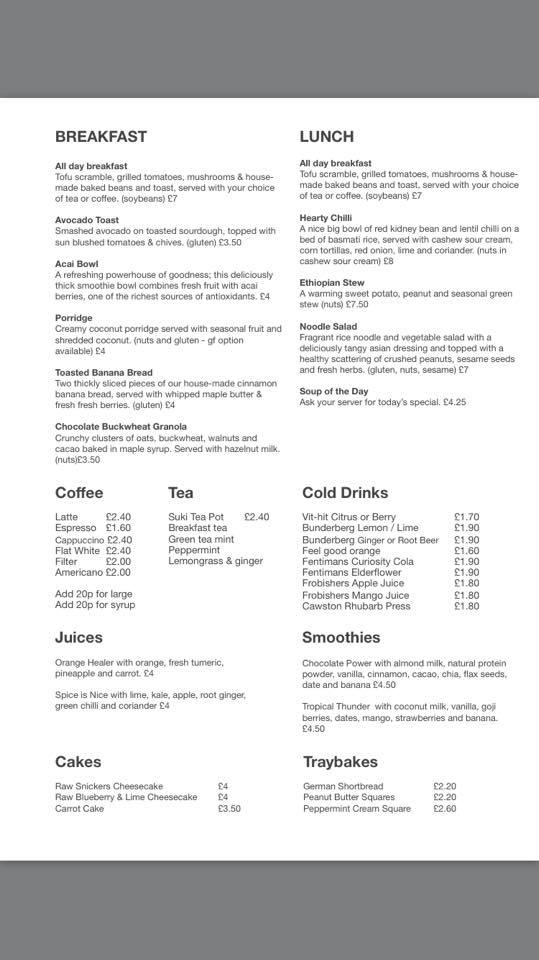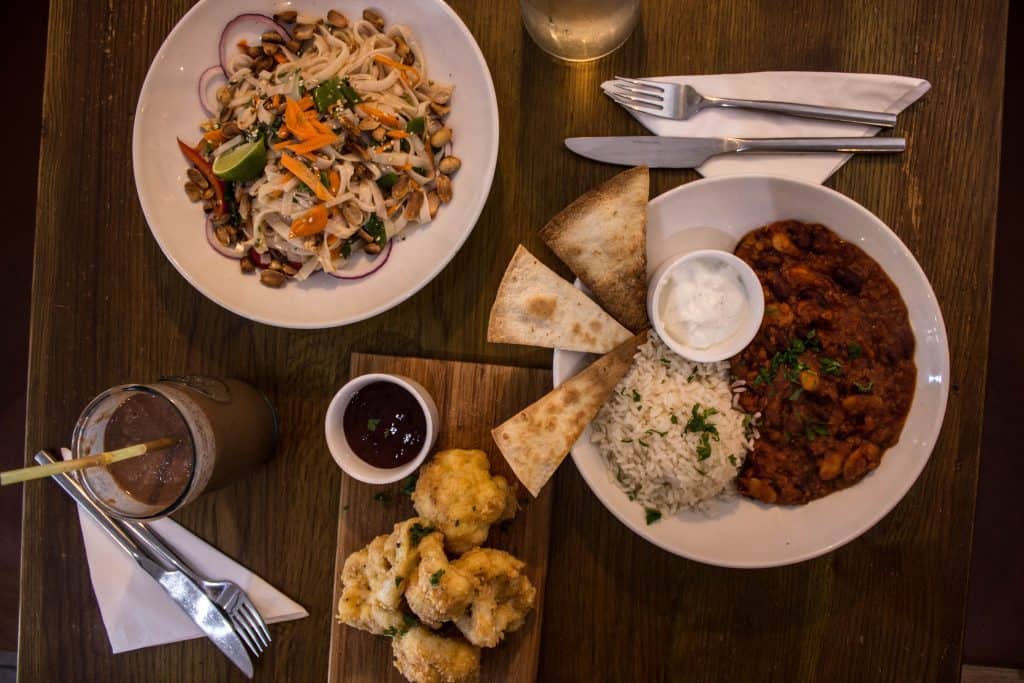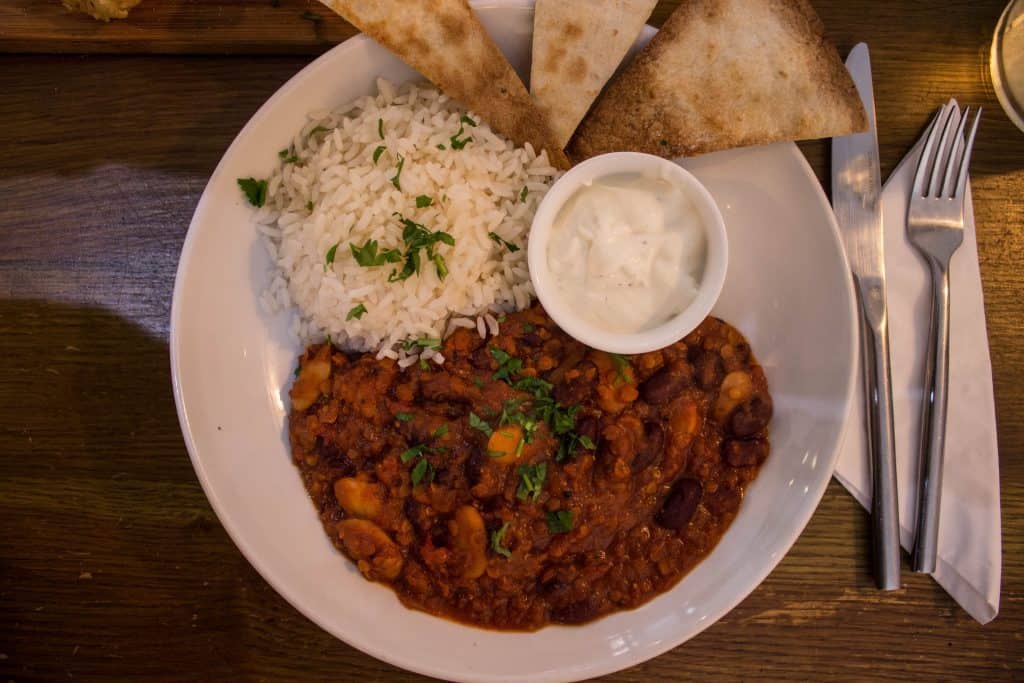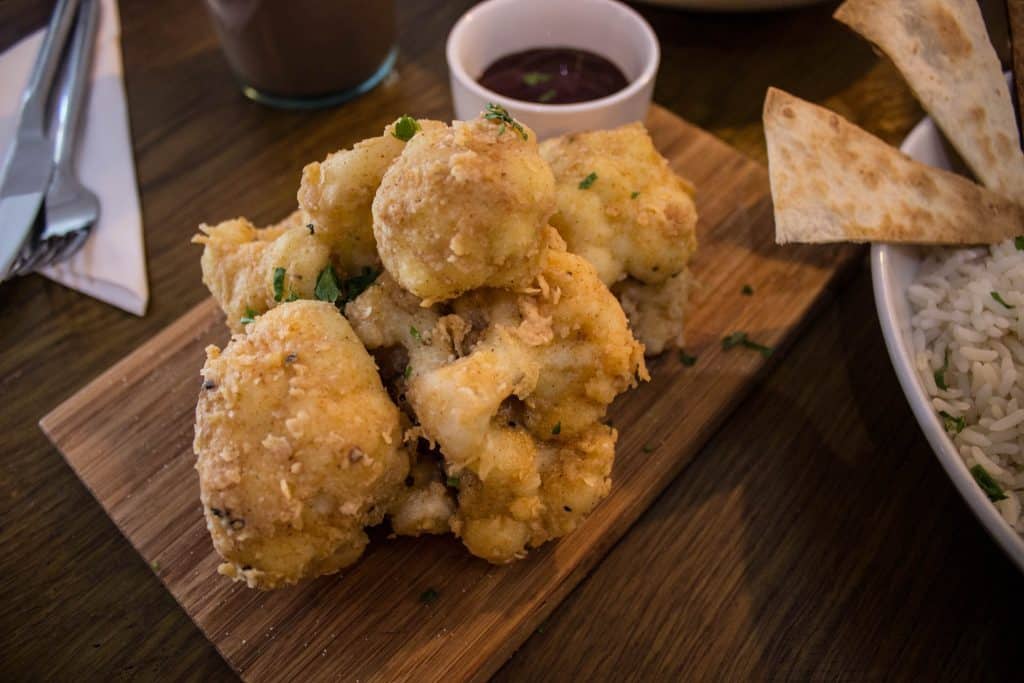 While I desperately wanted to try one of their desserts, the chili filled me up so well and we weren't going to be at our hotel for a quite a while so I opted out of it. They had a ton of different choices such as these cupcakes, cheesecake, other dessert bars and much more. They also will do special orders!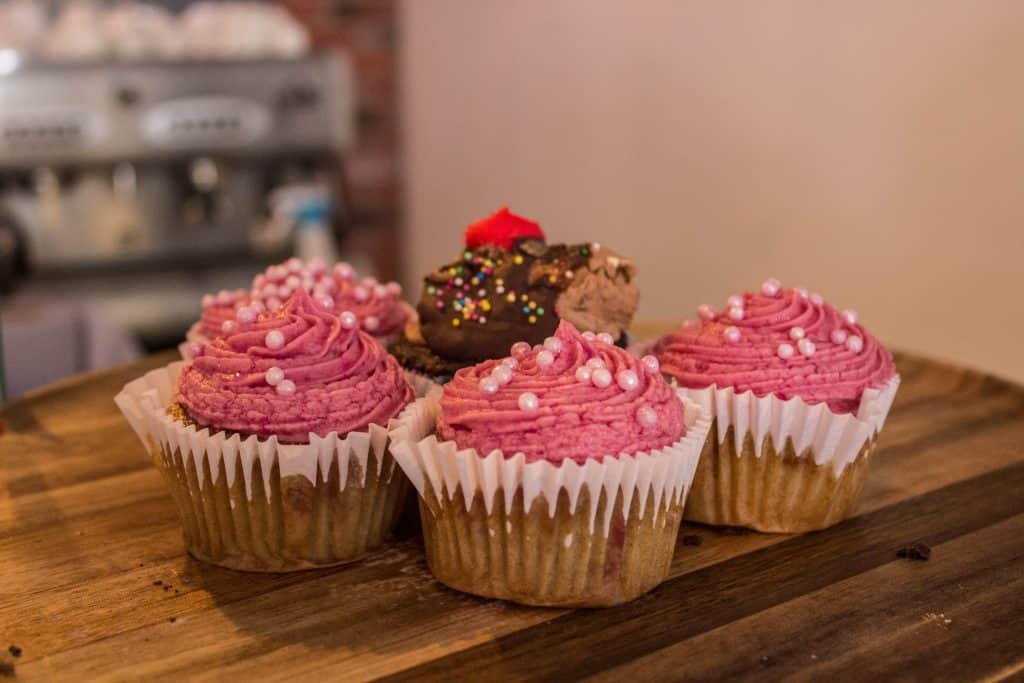 ESSENTIAL INFO
Hours // M-T (11-3) W (11-6) T-F (11-8) S (9-8) S (10-4)
Address // 336 Lisburn Road, Belfast
---
387 Ormeau Road
After spending time wandering around Belfast and seeing as much as possible, we worked up an appetite again and headed to the other all-vegan restaurant in town. This place opened up in the spring but they're already off to a great start! It is a small eat-in restaurant but also a small shop with tons of specialty vegan and cruelty-free items you can purchase! This is a great place to go if the regular grocery doesn't have that special product you're looking for! In addition to the "pantry" section, there was also a fridge and freezer stocked with things to buy.
Their menu is small but powerful! The sausage roll that I had was so good. If they weren't about to close, I would have gotten like ten more. Okay, maybe just one more. The "egg" salad sandwich that Lauren got was beautiful. I never liked egg salad before going vegan so I didn't really want to try it but I did and it was actually really tasty. We also each had a slice of cake. Lemon poppyseed for me and some kind of sinful chocolate thing for Lauren and they were so amazing. All of the baked goods at 387 Ormeau Road are done by
Crumbs Vegan Bakery
.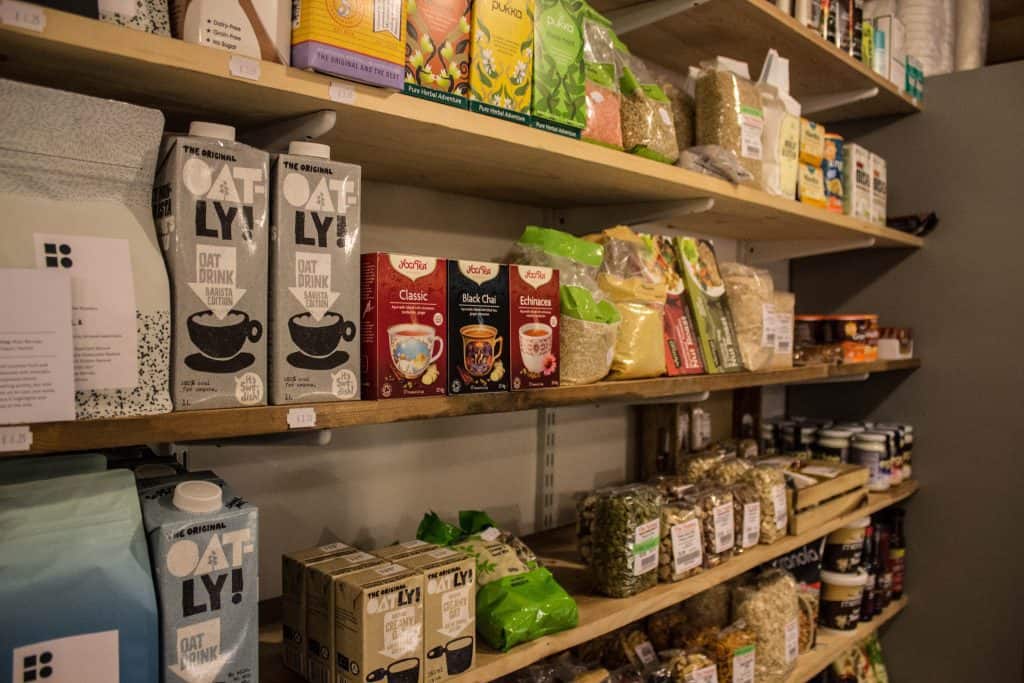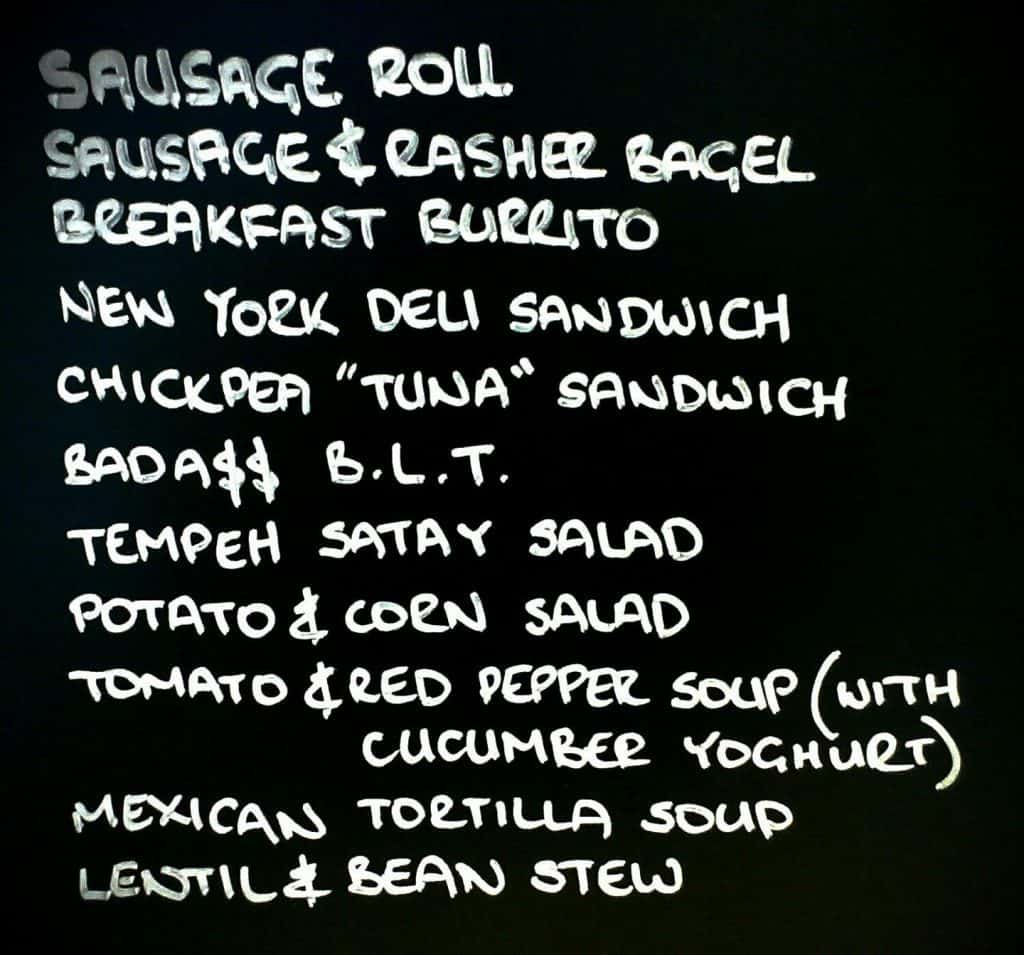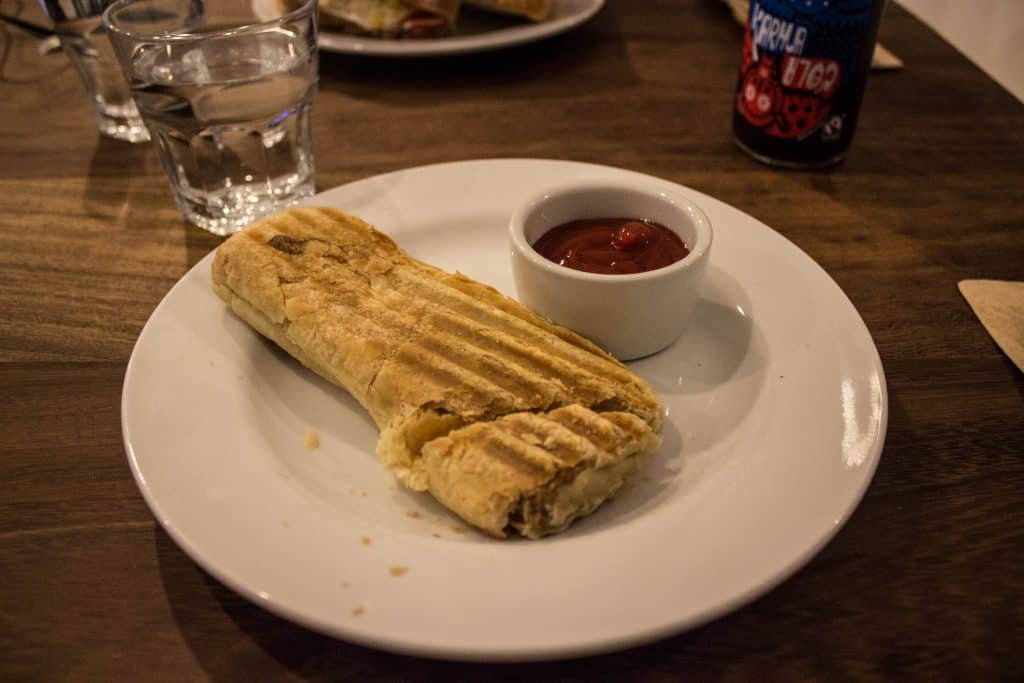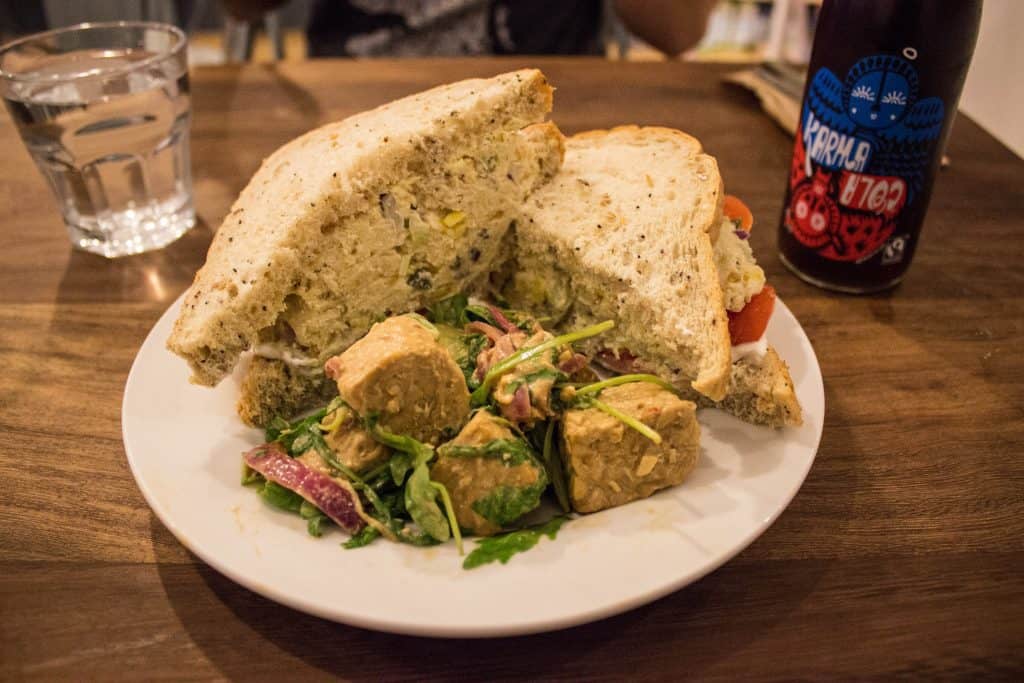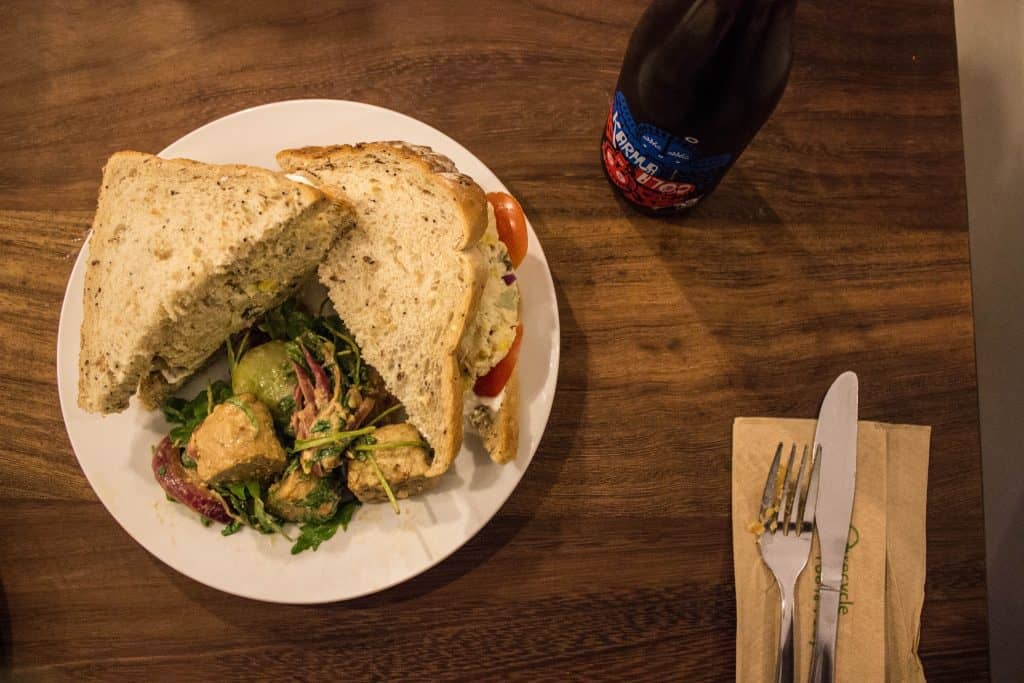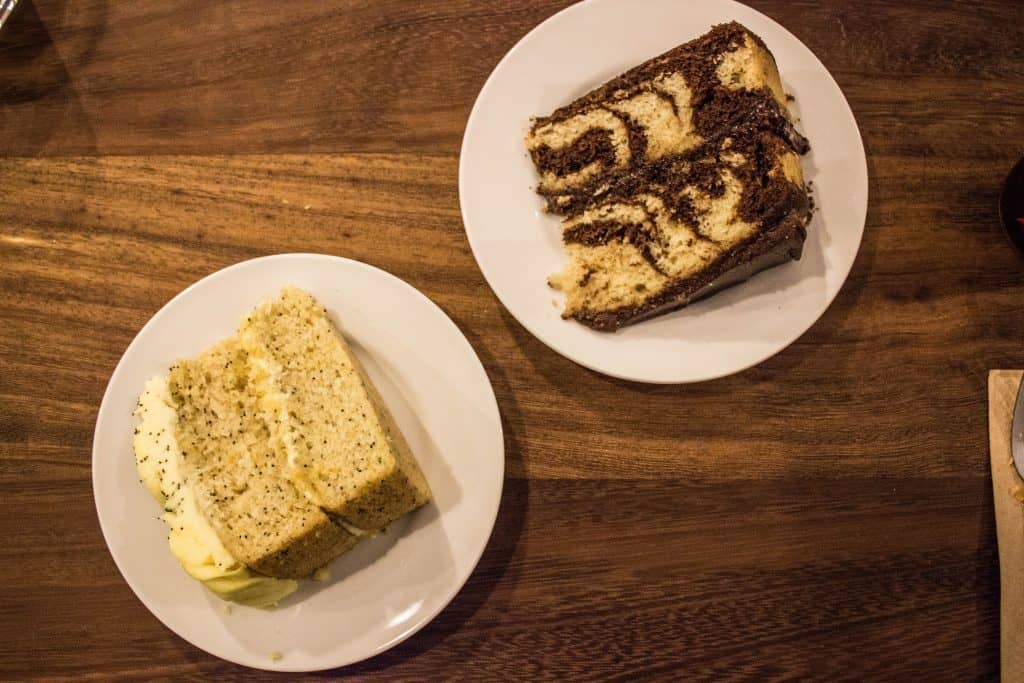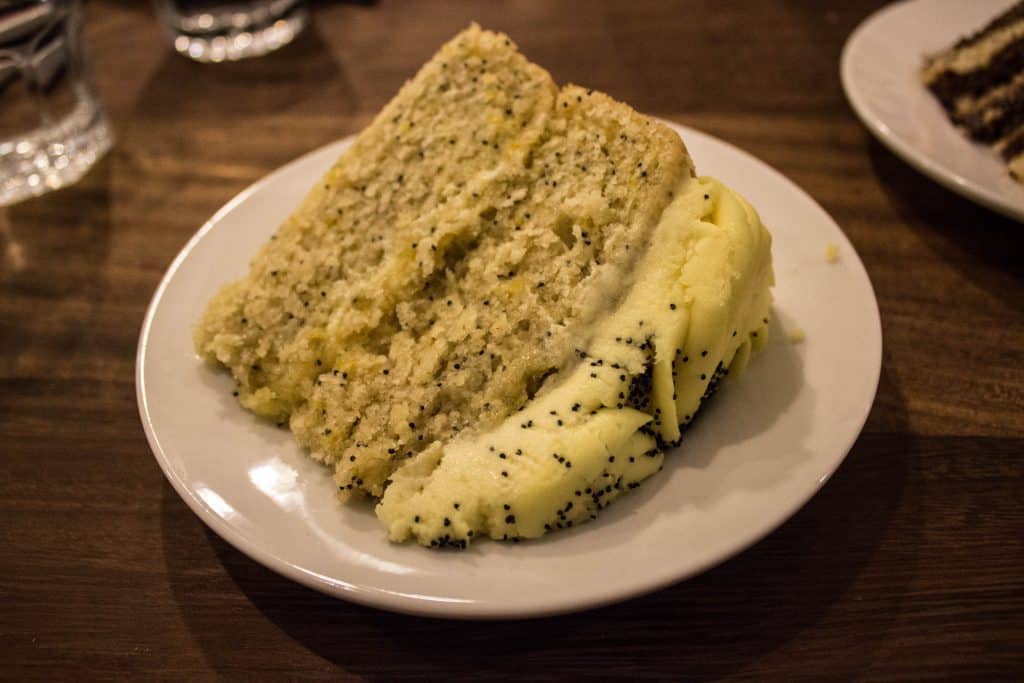 ESSENTIAL INFO
Hours // 8-8 every.single.day
Address // 387 Ormeau Road
Website // Facebook
---
Other Vegan Options
While these are the only two spots that I tried, I figured I'd give you a few more options in case you're in town longer. I can't vouch for any of these but they have great reviews on HappyCow.
---
What to Pack for Belfast
Raincoat (yep, it's not just something people say – it can rain at any moment!)
Travel Umbrella (while I didn't bring an umbrella and was too stubborn to buy one, I'd recommend it)
Pacsafe Cross Body Purse (I love my Pacsafe products and would highly recommend using them when traveling)
Comfortable Shoes (my feet tend to hurt pretty easily and these are the best shoes I've had in a while for walking a lot)
Have you ever been to Belfast? What did you think? Tell me in the comments below ↓↓↓
Looking for hotels in Belfast? Read accommodation reviews here or book here.
What else have I written? You can find more Belfast posts here and Northern Ireland posts here.
Like this post? Have Questions? Hit me up on Facebook | Twitter | Instagram | Pinterest | Email
↓↓↓ PIN IT ↓↓↓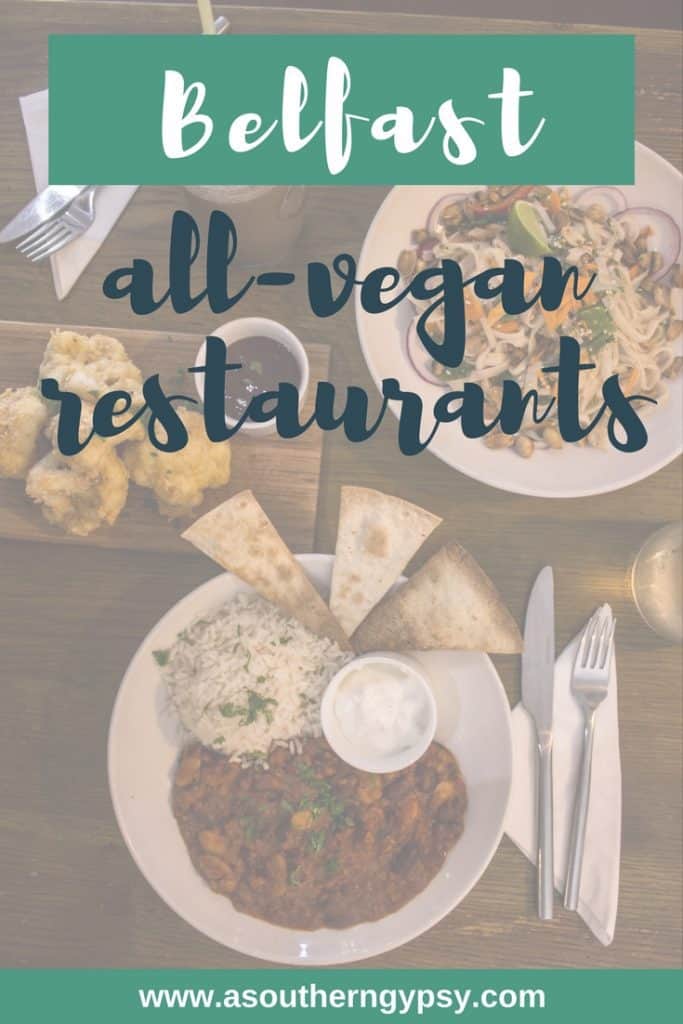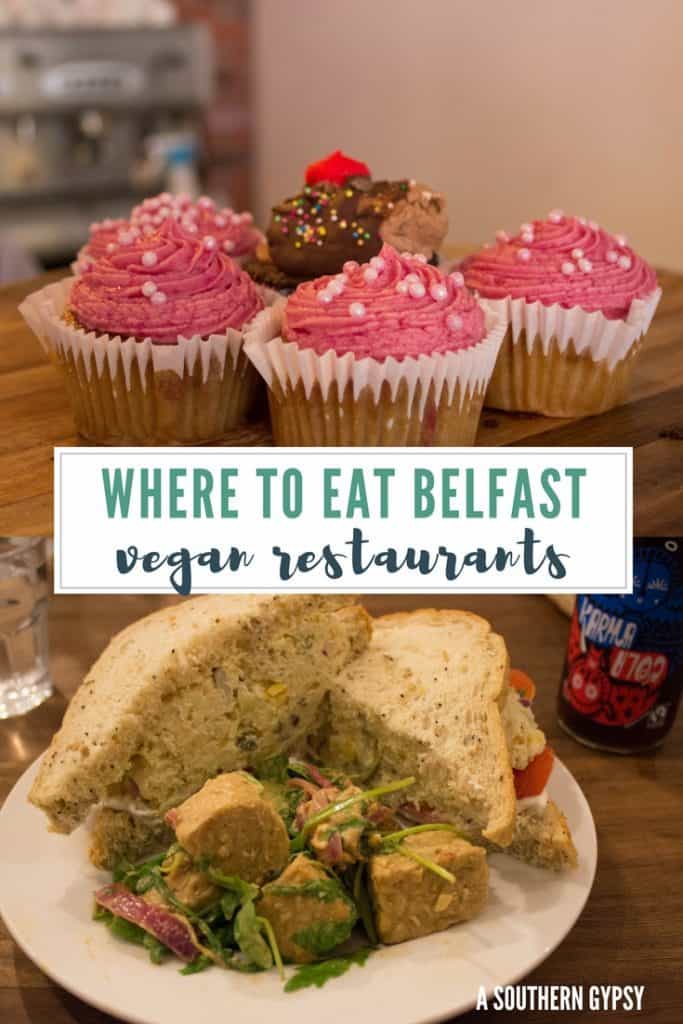 Some of the above activities were provided at a sponsored or discounted rate. As always, all opinions are my own and I will never promote something I don't personally use and believe in, regardless of who foots the bill.
Also, some of the above are affiliate links and I will earn a very small percentage of the sale if you purchase through them at no extra cost to you. Thanks for supporting A Southern Gypsy!
Latest posts by Ashley Hubbard
(see all)