This post may contain affiliate links, meaning if you book or buy something through one of these links, I may earn a small commission (at no extra cost to you!). Please see my disclosure.
Life in May 2020
I'm really struggling with what to write here. Everything feels raw, emotions, and just not okay, to be honest.
If you're coping well, don't feel bad. If you're not black and are able to be an ally during these times (by able I mean that it doesn't heavily affect your mental health), then please consider doing so.
I continue to share a bunch of resources and information (and yes, a lot of rants) on my Instagram and Twitter.
Very soon, I'll be writing a more detailed post about how people can get more involved and be a better ally.
The following photos were taken at the Black Lives Matter march this past Thursday here in Nashville. This was organized by Teens 4 Equality – five 14-16 year olds organized this massive and peaceful demonstration that ended up being at least 10,000 people. Something I was so incredibly proud to be a part of.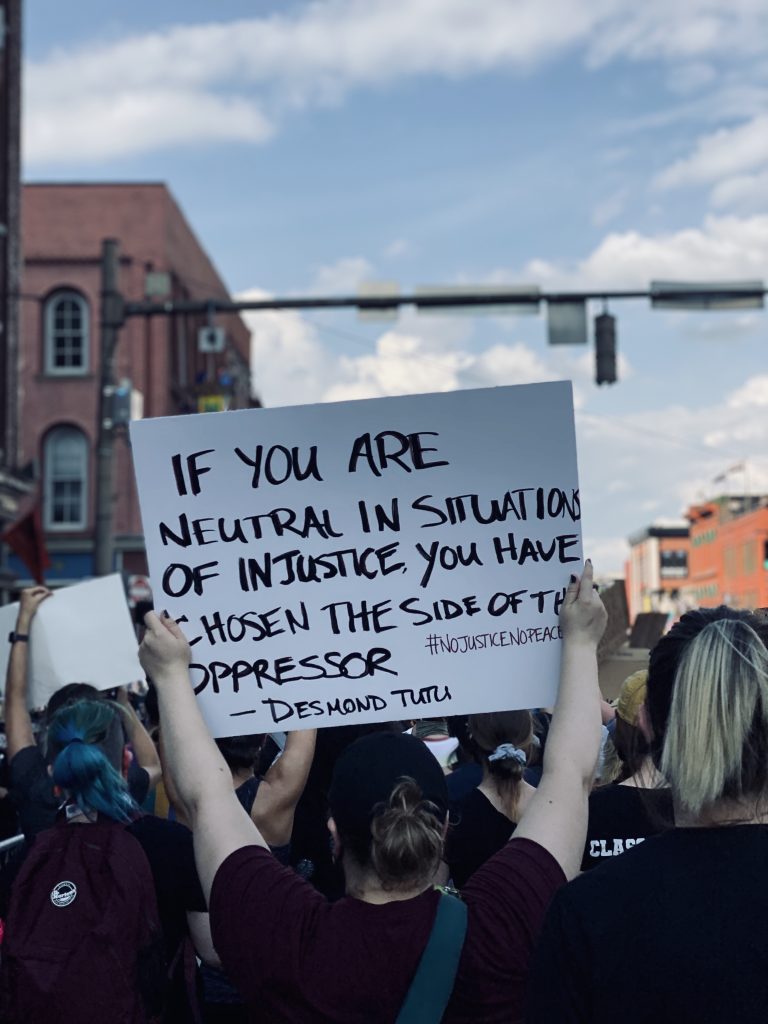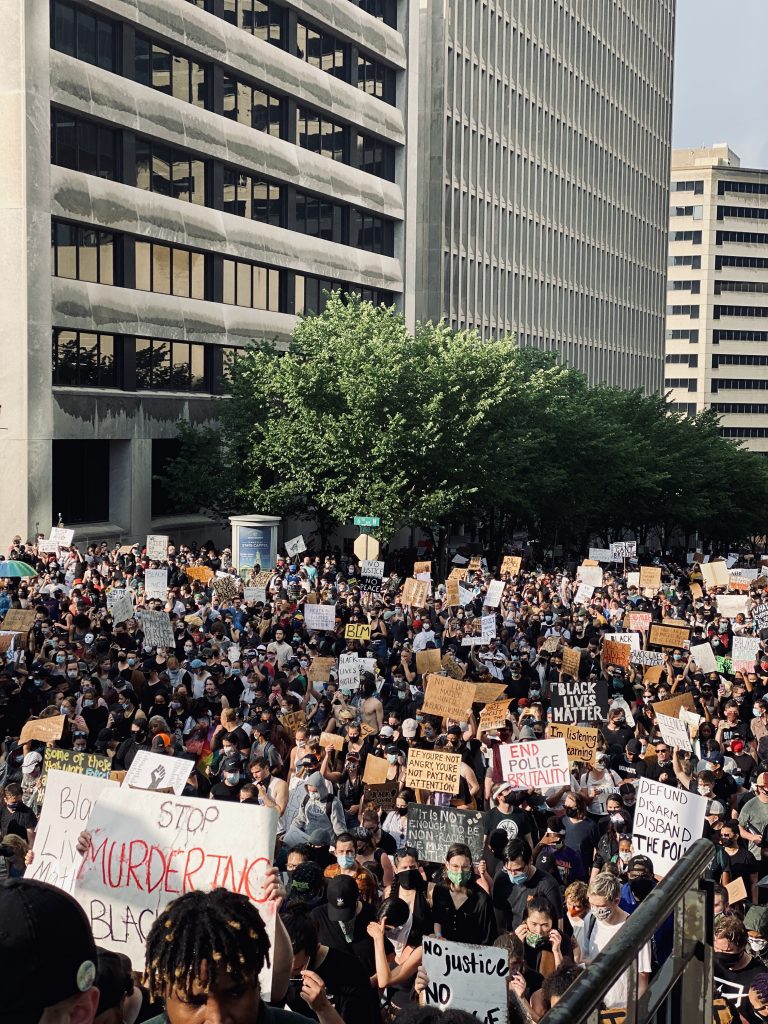 Where I Was Featured in May 2020
An article about how I was diagnosed with ADHD right before COVID-19 hit and how being quarantined with TOO much focus felt – Indigo Blue Magazine
I continued to write some super fun and light-hearted pun posts which were a nice break from the heavy stuff.
Income Report for May 2020
INCOME
In May 2020, I earned a total of $1528.23 from my blog or projects obtained through my blog.
Affiliate Income: $10.23
I don't think I've ever had such a horrible affiliate month.
Booking.com – $0
Amazon – $10.23
CJ – $0
Skimlinks – $0
Get Your Guide – $0
ShareASale – $0
Awin – $0
Ads: $18
Likewise, I've never had such a horrible month with Ezoic. Almost not worth having it.
Freelance Writing: $730
Freelance Projects: $50
Sponsored Posts: $720
Sponsored Instagram Posts: $0
EXPENSES: $416.65
Pinterest VA (for scheduling) – $90
Google Suite – $13.11
Tailwind (for Pinterest scheduling) – $14.99
Coschedule – $30
Impact Travel Alliance – $9.99
Keysearch (for keyword research) – $13.60
Adobe (for editing) – $10.96
Facebook Ads – $30.05
Hosting (pay every three months and was due this month – $105
Elementor Pro (pay once per year) – $99
NET INCOME FOR MAY: $1111.58
I'm so happy with this especially given the decrease in traffic and campaigns. I started kicking butt on pitching and making more freelance income.
Blog Traffic for May 2020
Really, really happy to see all these positive numbers this month. Every stat for all three websites went up a significant amount. I hope this is a trend.
Monthly sessions for Wild Hearted: 13,858 (+ 3.398)
Monthly sessions for Oddities and Curiosities: 8,451 (+ 1,356)
Monthly sessions for Books Beans & Botany: 653 (+400)
Monthly page views for WH: 22,067 (+4,506)
Monthly page views for OC: 15,272 (+ 1,946)
Monthly page views for BBB: 1929 (+1551)
Monthly users for WH: 12,995 (+3,099)
Monthly users for OC: 8,201 (+ 1,227)
Monthly users for BBB: 399 (+166)
Social media followers for WH: 68,575 (-145)
Social media followers for OC: 767 (+62)
Social media followers for BBB: 633 (+56)
Blog posts published/updated for WH: 8 (+3)
Blog posts published/updated for OC: 2 (+/- 0)
Blog posts published/updated on BBB: 17 (+5)
Blog Goals for May 2020 Recap
These were my goals for May and how I ended up doing.
Make $2000 in blogging/freelance income. So very close.
Finish my shop and resource pages. Did not finish, again.
Finish taxes. Not finished.
Send 60 pitches (I sent 30 in April!) No, but I sent 30 again.
Finish optimizing my profile on Upwork. Finished!
Update several posts to be relevant. Nope, not really.
Blog Goals for June 2020
Send 40 pitches.
Finish taxes.
Not going to set any other major goals this month.
Most Popular Post
My most popular post in May was this one about getting my Advanced PADI certification. Quarantine and being stuck at home was the perfect time to start the eLearning portion and continue my scuba diving skills.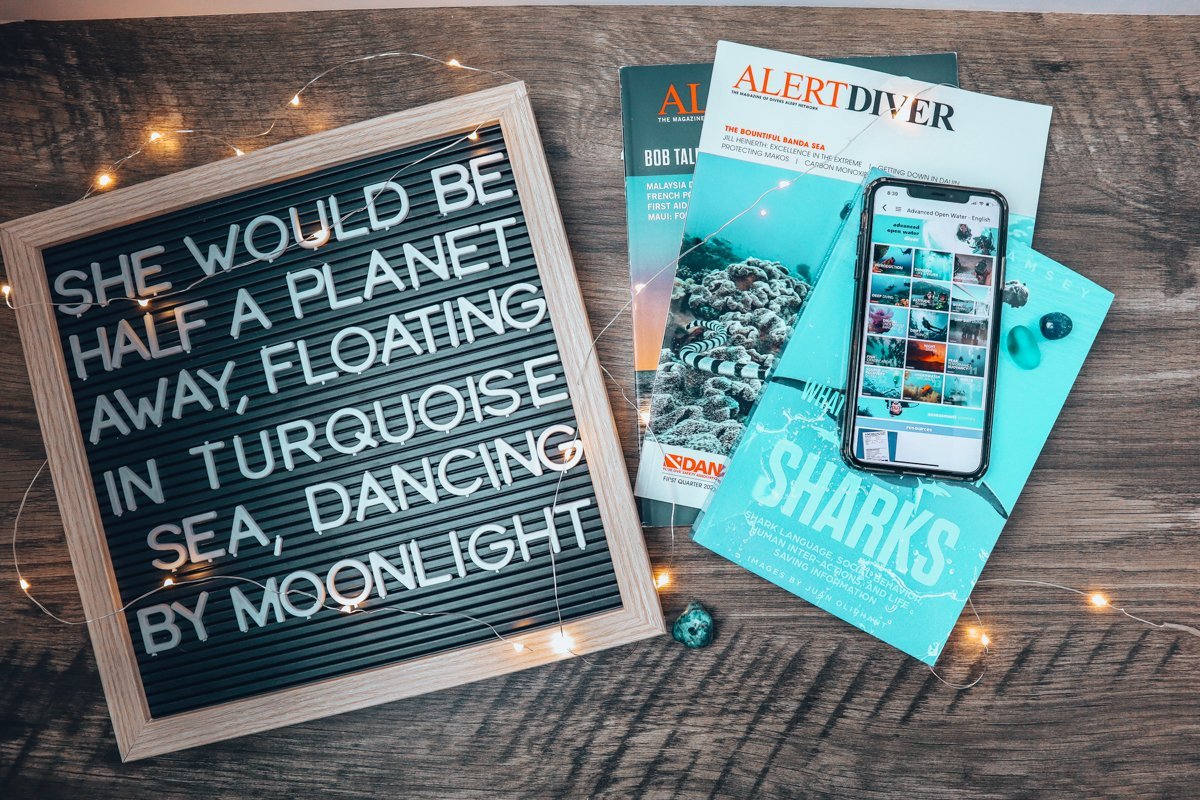 Most Loved Instagram Post
You can follow me on Instagram at @wild.hearted.blog.
View this post on Instagram
What I Read This Month
I made a lofty goal to read 100 books in 2020. And, I'm happy to say, I've finished 32 books so far. That's technically a tad behind but I'm not worried.
I've made a goal to read 100 books in 2020. Join me on Goodreads and on my new blog which is all about books and plants and coffee to read in-depth reviews!
Head over there to see everything I read in May!
What I Watched This Month
Well, at least no one can judge me on the number of movies and shows I watch now. And, I watched a lot of True Crime this month.
Run – A new show on HBO starring Merrit Weaver (love her!) and the guy who played Bill Weasley in Harry Potter. Classified as a comedic thriller, I'd say that's the most accurate way to describe it. Worth the watch!
Ozark Season 1 & 2 – I've seen both of these seasons before, but Michael had not and I wanted to get him caught up before watching season 3.
Peaky Blinders – Continuing Peaky Blinders and love it so much!
What We Do in the Shadows – This vampire mockumentary show is amazing.
Dead to Me Season 2 – I was so excited for the second season of this show I binged it in one day.
Becoming – Just like her book of the same name, this documentary about Michelle Obama is well worth the watch.
The Half of It – Another one of Netflix's rom-com, coming of age movies. This one is about a shy, introverted student helps the school jock woo a girl whom, secretly, they both want.
First Reformed – This A24 movie has really good reviews and we're making our way through all of the A24 movies so we decided to give it a try. The pastor of a small church in upstate New York spirals out of control after a soul-shaking encounter with an unstable environmental activist and his pregnant wife.
Vikings – continued and got caught up on Vikings.
Waco – The series stars Taylor Kitsch as the cult leader, and is based on the memoirs of a survivor, David Thibodeau (Rory Culkin) and FBI negotiator Gary Noesner (Michael Shannon.)
Midnight Gospel – A space caster traverses trippy worlds inside his universe simulator, exploring existential questions about life, death and everything in between. This seemingly cartoonish show actually gets quite deep and is a nice little break from reality.
Never Have I Ever – Super cute show about the complicated life of a first-generation Indian-American teenager.
I Love You, Now Die – True crime documentary about Michelle Carter who stood trial for sending aggressive texts to her boyfriend encouraging suicide before he was found dead by suicide in his car.
Once Upon a Time in Hollywood – Oh I hate that it took me so long to see this. So good. Huge fan of Leonardo DiCaprio and Quentin Tarantino and while I've never overly loved Brad Pitt, he definitely deserved his Oscar for this. Actor Rick Dalton gained fame and fortune by starring in a 1950s television Western but is now struggling to find meaningful work in a Hollywood that he doesn't recognize anymore. He spends most of his time drinking and palling around with Cliff Booth, his easygoing best friend, and a longtime stunt double. Rick also happens to live next door to Roman Polanski and Sharon Tate — the filmmaker and budding actress whose futures will forever be altered by members of the Manson Family. Ex Machina – Another A24 movie that. my brother has been telling me to watch for forever. It was so good. I hate it took me so long too. Ex Machina is a thought-provoking sci-fi and AI movie.
Upload – Cute and light-hearted show on Amazon Prime that kind of reminds me of The Good Place (not as good). I liked it but didn't love it.
Rocketman – Finally watched this Elton John biographical musical.
The Trials of Gabriel Fernandez – This docu-series is enough to make anyone extremely angry, but an important watch. A boy's murder and the trials of his guardians and social workers prompt questions about the system's protection of vulnerable children.
Uncut Gems – I enjoy seeing Adam Sandler do dramatic movies and I get why this got a lot of praise. I have to say this may have been a one time watch for me though. It was really good, but not something I'd watch often.
Unstoppable – Documentary about one of the most accomplished athletes of her generation. Bethany Hamilton became a surfing wunderkind when she returned to the sport following a devastating shark attack at age 13. As she continues to chase waves, she also now tackles motherhood.
Tell Me Who I Am – This documentary focuses on twin brothers Alex and Marcus Lewis. Alex lost his memory in a motorcycle accident at age 18 and his twin brother helped him recreate his lost memories of his childhood. This is one of the most heartbreaking things I've watched.
Detainment – this short (30 min) documentary is packed full of shocking moments. Two 10-year-old boys are detained by police under suspicion of abducting and murdering a toddler.
Mommy's Little Murderer – This documentary is about Elliot Turner, who murdered his girlfriend and his mother covered it up.
Riverdale – We started watching Riverdale this month which we've never seen.
Dear Zachary: A Letter to a Son About His Father – This documentary was also very heartbreaking. In 2001, 28-year-old Dr. Andrew Bagby is found dead in a park in Pennsylvania. He had been shot by his ex-girlfriend, who then fled to Canada, where she was able to walk free on bail, pregnant with Andrew's child. Andrew's enraged parents' campaign to gain custody of the child and convict their son's killer. Filmmaker Kurt Kuenne pairs this story with home movies and interviews with those who knew Andrew, hoping to give his best friend's son an opportunity to discover who his dad was.
Paradise Lost: The Child Murders of Robin Hood Hills – Three teenagers are accused of this horrific crime of killing three children, supposedly as a result of involvement in Satanism. As in their previous documentary, things turn out to be more complex than initial appearances and this film presents the real-life courtroom drama to the viewer, as it unfolds. This one sent me down a rabbit hole as all three boys were convicted on basically 'he said she said' commentary. All three were released after 20 years in prison for crimes they didn't commit and the real killer(s) have never been caught.
The Maze Runner – I had never seen t his dystopian movie.
Homecoming Season 2 – I've been waiting for the second season of this show. It came out. a couple of years ago and Julia Roberts was in the first season. I didn't think this season was as good but still pretty great.
Lorena – I always remember hearing the jokes about Lorena Bobbit. But, I never knew the full story. "Lorena" explores vital moral issues and the missed opportunity for a national discussion about domestic violence and sexual assault that surrounded the scandal. The four-part series, which looks back at the trial and the media coverage of it, includes interviews with the Bobbitts as they look back at the newsmaking incident a quarter-century earlier.
The Wrong Missy – I knew this was going to be an absolutely ridiculous and dumb movie but I needed that at the time.
Currently Listening To…
My Favorite Murder podcast!
Coming Up in June 2020
I'm going absolutely nowhere anytime soon as I hope is the case for everyone.
I will be focusing on my three blogs, pitching A LOT, and diversifying my income, I hope.
Lots of reading, lots of enjoying the company of my boyfriend and dog, and lots of writing (hopefully!)
HOW ARE YOU SPENDING YOUR TIME AT HOME?
Latest posts by Ashley Hubbard
(see all)