This post may contain affiliate links, meaning if you book or buy something through one of these links, I may earn a small commission (at no extra cost to you!). Please see my disclosure.
Looking for vegan food in the Philippines? Discover the tastiest
plant-based Filipino dishes and
the top vegan restaurants in the Philippines.
If you're heading to the Philippines then you're in for a real culinary treat. Whilst Filipino restaurants have been springing up across the world in recent years, nothing comes close to a typical meal in a local beachfront eatery and vegan Philippines is a total possibility!
As a traveling foodie, applying for a Philippines visa may be the first step when planning your trip, but researching the best places to eat and drink no doubt comes a close second. Keep reading to find out the best healthy breakfast, lunch, and dinner dishes to try when in the Philippines and where to find them.
With influences from Spain, India, and America, you might be concerned about the availability of healthy, meat-free meals in the Philippines. However, there are plenty of vegan dishes to try, and an increasing number of innovative plant-based restaurants.
How to Eat Plant-Based in the Philippines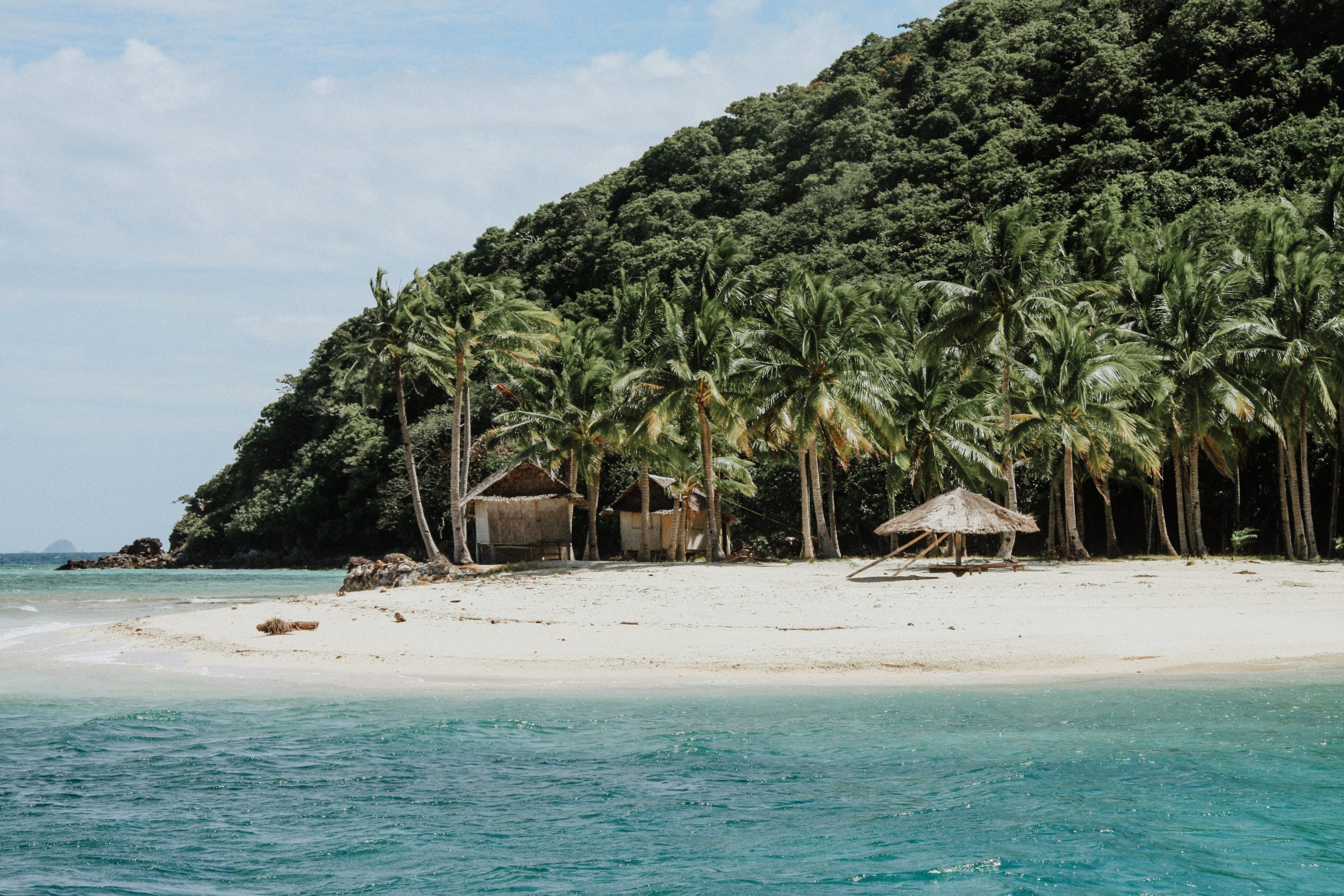 Breakfast in the Philippines
Before a day of island hopping, diving, or sightseeing, it's a good idea to fuel up on a filling and nutritious breakfast.
Whilst a first glance breakfast menus may seem full of non-vegan, fried foods, fear not. Some of the most popular, and most delicious, Filipino breakfasts are plant-based. Our favorites are:
Vegan Champorado: chocolate rice porridge
Oatmeal enthusiasts are sure to enjoy a bowl of champorado. Made with glutinous rice and dark chocolate, this substantial breakfast dish is a popular choice across the Philippines.
If you're staying at self-catering accommodation this is a great one to try making yourself, otherwise, you're guaranteed to find it on the menu at cafes and coffee shops.
Pipino, a plant-based restaurant in Manila, makes a divine chocolate porridge. If ordering from a non-vegan establishment just double-check their recipe doesn't include any dairy.
Taho: silken tofu with sago pearls
Another typical dish served as breakfast or a snack in the Philippines is taho. Taho is made from silken tofu, arnibal sweetener, and sago pearls, tiny gummy balls extracted from the sago palm.
Protein-packed, taho is filling and nutritious. For the most authentic experience, buy a cup from one of the street vendors who begin early in the morning. Calling "Tah-hoooo" as they pass through the streets, they're difficult to miss.
Suman: sticky steamed rice cakes
If you just want a quick bite, order suman, a cake made with glutinous rice cooked in coconut milk and wrapped in banana or coconut leaves before being steamed. It's particularly tasty sprinkled with latik, a caramelized coconut cream, and served with fresh fruit.
Popular at breakfast time and as an afternoon snack, suman are sold throughout the Philippines. You'll find stalls offering several kinds of suman at the Market! Market! Shopping mall In Taguig.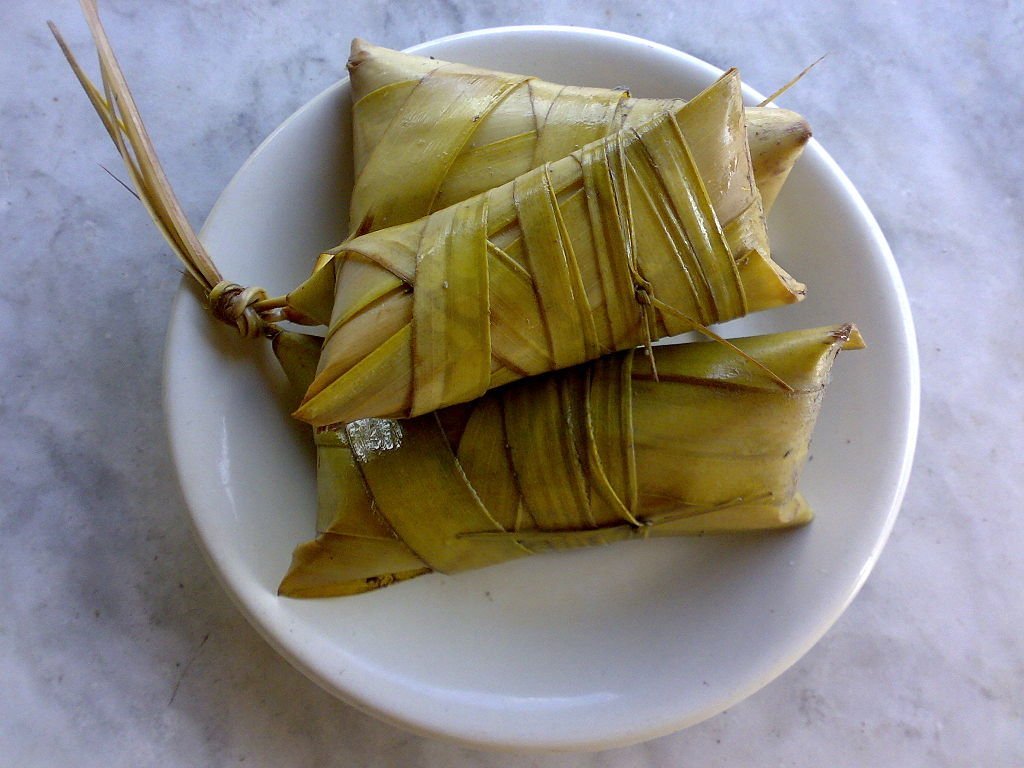 Healthy Filipino Lunches and Dinners
If you're looking for healthy vegan and vegetarian lunch and dinner options in the Philippines it's a good idea to plan ahead. There are some restaurants specializing in vegan cuisine, mainly in Manila so find out where the closest ones are to where you're staying.
When dining in a regular restaurant, don't be afraid to ask for a meat-free version of a dish you like the look of on the menu. Filipino people are generally very friendly and hospitable.
Typical Filipino dishes that are suitable for vegans
There's no getting around the fact that Flipino food is very meat focussed. The following dishes are either plant-based or can easily be made vegan by omitting an ingredient or two.
Atchara: a famous Filipino pickle made with papaya and raw vegetables such as carrots, onions, and peppers. Usually served as a condiment or side dish.
Sapin-sapin: a triple layer rice cake made from jackfruit and yams.
Pacit bihon: rice noodle stir fry, order it with mixed vegetable instead of meat
Utan: a healthy, veg packed soup that is simple yet delicious.
Pacit canton: a dish of Chinese origin, wheat noodles with your choice of ingredients including lots of vegetables.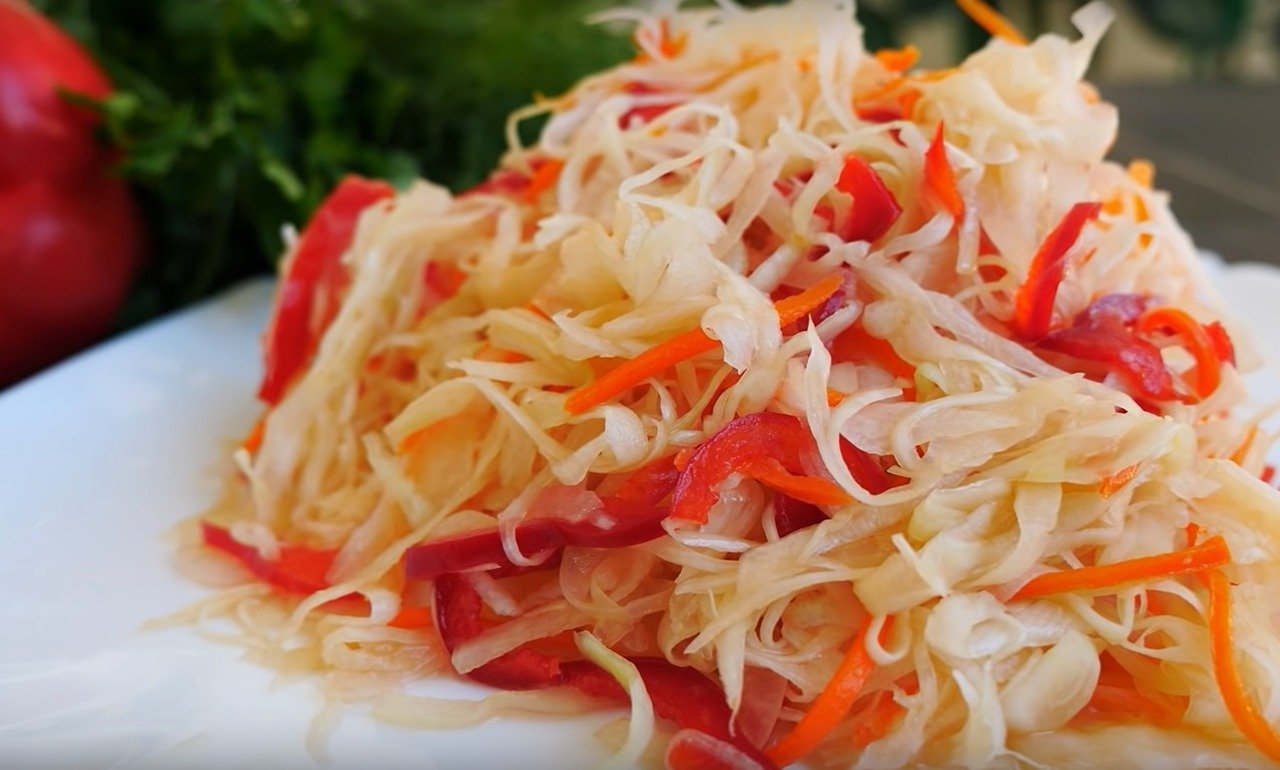 Delicious Filipino desserts and sweet treats
Typically made with coconut milk, rice, and fruit, Filipino desserts are often plant-based and always mouthwatering. Whether you fancy something sweet to finish dinner or need something to keep you going in between meals, make sure you try some typical Filipino desserts.
In case you hadn't already noticed, rice is extremely important in Filipino cuisine and features in every meal, if not every course. In fact, a number of sweets are made using a base of rice including Kutsinta and puto, two kinds of steamed rice cakes.
Turon is a simple sweet made from sliced banana and jackfruit coated in sugar and wrapped in a spring roll casing which is then deep-fried. Decadent and moreish.
Another snack combining just a few ingredients is banana cue. Bananas are skewered, rolled in brown sugar, and then fried. Look out for other varieties made from sweet potatoes.
Refreshing Filipino Drinks
The tropical climate of the Philippines calls for chilled, thirst-quenching drinks. You'll see street vendors and stalls selling juices and shakes: pineapple, grapefruit, and green mandarin orange are all popular. Be aware that fruit is sometimes blended with condensed milk so check before ordering.
Fresh coconut juice sipped straight from the shell is totally natural and much tastier than the bottled version.
When it comes to hot drinks, coffee is widely drunk by the Filipino people, there is an abundance of cafes in the Philippines serving fine quality coffee-based drinks.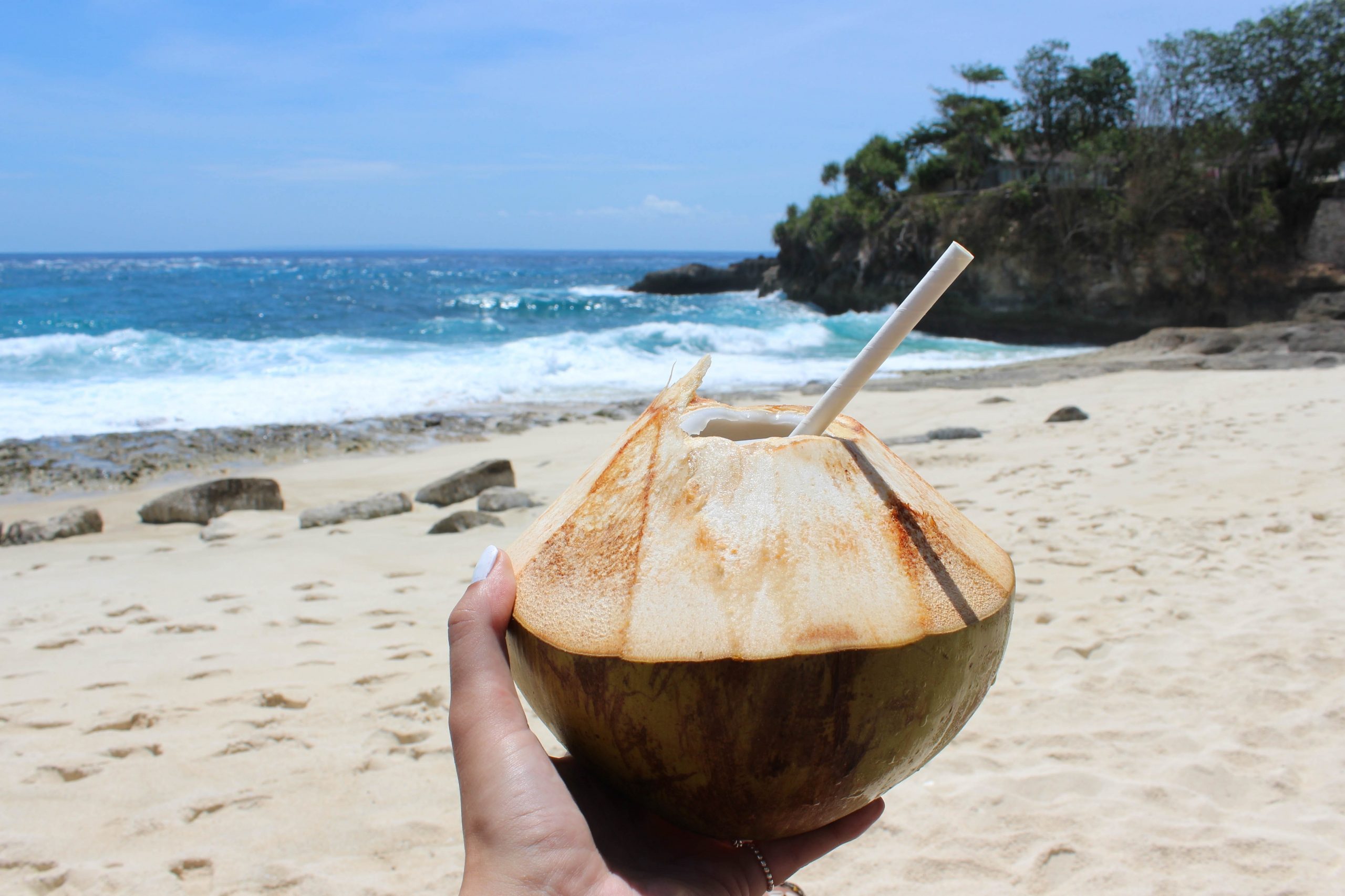 Filipino alcoholic beverages to try
For an authentic Filipino tipple, try one of the locally produced alcoholic beverages:
Tuba: a hard liquor made of the juice of a palm stem
Lambanog: known as coconut wine or vodka, this has a very high alcohol content
Tapuy: derived from fermented glutinous rice, it has a lovely sweet taste
Beer is the most popular alcoholic beverage in the Philippines, with San Miguel the predominant brand.
The Best Vegan Restaurants in the Philippines
Whilst plant-based dishes can be enjoyed at traditional Filipino restaurants, you might also like to try some of the vegan eateries that have been popping up in recent years.
The best selection of vegan and vegetarian restaurants can be found in Manila.
Greens vegetarian restaurant offers veggie Filipino dishes in relaxed surroundings. The restaurant is family-run and the service is friendly. Greens is an excellent place to try meat-free versions of some Filipino classics.
Pipino specializes in plant-based, healthy food which is colorful and full of flavor. Highlights on the menu include the pinakbet risotto and eggplant tofu miso. Pepino's version of the famous Filipino dessert Halo-Halo uses plant-based milk, coconut ice cream, and sweetened beans.
Likha Diwa is a great dinner option if you're traveling with a non-vegan companion as it also serves seafood. Likha Diwa believes in using locally grown vegetables and produce to create innovative dishes.
Lucy in the Sky Café boasts homely interiors and a plant-based menu including burgers and vegan longganisa. The so-called "Scream chocolate cake" is a must for chocoholics. Lucy in the Sky Café also runs drawing and painting sessions for kids which can be booked in advance.
GoxVegan is the place to go for plant-based junk food such as pizza, burgers, and fried "chicken" as well as pasta dishes.
As a vegan or vegetarian you'll have plenty of options for eating delicious, plant-based food without missing out on the traditional flavors of Filipino cuisine. Just be sure to plan ahead so you get to try all the best restaurants or tastiest local dishes. If you can't find a plant-based dish on the menu, be sure to ask, chefs will usually be happy to prepare you a veggie alternative.
RESOURCES
Planning a trip for the future? Here are my resources.
Interested in starting a blog? Use these resources.
Read my other vegan posts.
Latest posts by Daniel Moore
(see all)